[CNBCfix Fast Money Review Archive — August 2016]
[Wednesday, August 31, 2016]
Hillary's handlers returned Lee Cooperman's $1,000 donation because he insisted on asking a question (a/k/a requests not forwarded by bundlers to campaign honchos)
Some are eager to get the thousand bucks.

Others aren't so eager to get the questions.

Star guest Lee Cooperman shared a politics anecdote on Wednesday's Halftime Report, first asking for 3 minutes from Judge and not getting it but relaying that a Florida organizer for Hillary Clinton invited him to a $1,000 event.

Lee said he would pay $1,000 to attend if he could ask a question, which was something to the effect of, why are Hillary Clinton and Bernie Sanders campaigning against wealthy Wall Street folks without acknowledging the hard work those people do and how much they give back to society.

The organizer accepted the money, but then Lee got a call from a campaign bigwig who was apparently aware of Cooperman's public comments about the election and questioned what was going on here. Lee said he thought the campaign was aware he was going to ask a question and told the bigwig what the question was.

"They gave me back my money," Coop said.

At one point in the program, Coop wondered whether Barack Obama and Elizabeth Warren will "take up a collection for us."

Doc asked Coop if Jack Lew's stomping on inversions and the EU's claims against AAPL are catalysts for volatility. "Trump is probably the big catalyst with volatility," said Cooperman.

"I think he's dangerous," said Coop, who said he has "problems with Hillary."

"It's unfortunate the country's moving to the left," Cooperman said, adding, "The administration from an antitrust standpoint has been more engaged in a negative context, uh, than they've been in quite some time."

Actually, it's a center-right country, frustrated that for about the last 30 years, the more successful presidential candidates have been of the center-left party.
Lee kind of long on market generalities, short on stock picks, seems more interested in talking about politicians' view of rich people
"The market is fairly (Drink), but fully, valued," said Lee Cooperman on Wednesday's Halftime, a phrase that became the CNBC headline of the day even though someone says it on the channel every 15 minutes.

Coop expressed frustration at current interest rates and macro factors. "Everything's been turned upside down," Cooperman said.

Rates are "artificially low," and "the market understands that," Lee asserted.

Cooperman told Joe Terranova that non-energy profits are not declining.

Stephen Weiss suggested a hike would hurt U.S. multinationals and thus make small-caps more attractive. "It depends upon the degree of strength in the dollar," Coop said.

Judge asked about things that worry Coop. Coop said, "At the end of the day (Drink), I, I worry most about the 70 or 80 stocks I own, that the companies are performing and I understand the fundamentals of the businesses."
Cooperman: Investment-management fees may be experiencing impact of technology
Judge on Wednesday's Halftime Report asked Lee Cooperman why active management returns are so weak.

After a pause, Lee offered, "Everything is cyclical."

Cooperman said hedge funds became "cocktail party talk" from 2000-07, because of performance and partly because of shows like Judge's (except Fast Money really didn't get off the ground until 2007).

Lee said the "machines" sector of the hedge fund industry is doing well but that there's some "front-running."
'Hedge funds don't cause AIDS'
Jon Najarian on Wednesday's Halftime said someone bought a huge TSLA October 235/255 call spread.

Lee Cooperman carped at Doc's implication that the bet came from a hedge fund. "Why couldn't a mutual fund put that trade on," Coop said, adding, "Hedge funds don't cause AIDS."

Coop said GOOGL "seems fine" and it "doesn't take any special intellect" to be long the name.

Lee also trumpeted "extremely cheap" FDC.

Lee said he's "gone" from NFLX for "no particular reason." But he predicted someone buys it at a "nice premium."

Coop said he owns longtime Joe talker HES (tethered to the price of oil), and GPOR.

Lee said he likes airlines. He didn't seem interested in talking about retail or PVH and constantly had to play down his holdings to Judge.
[Tuesday, August 30, 2016]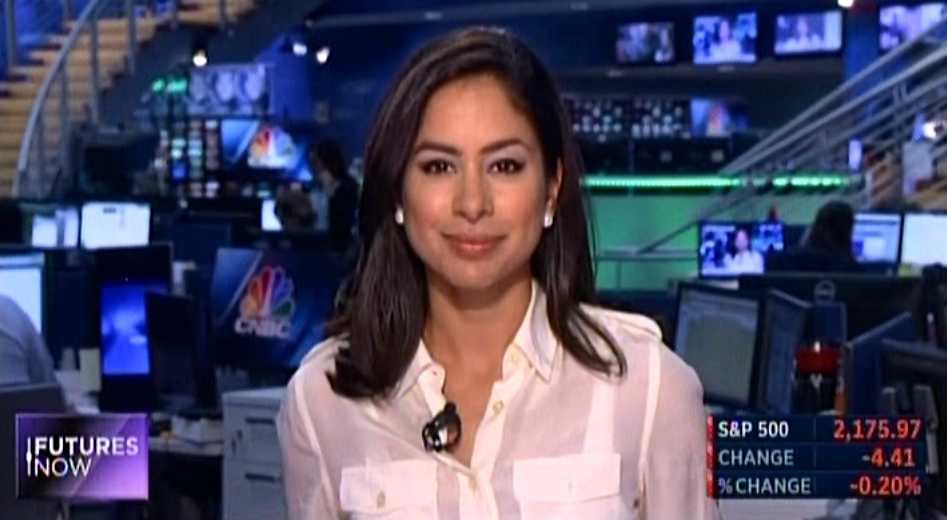 Judge wasted all of his time with Andrew Left on Hong Kong stuff that nobody cares about
Mallinckrodt, anyone?

Judge decided his limited minutes with Andrew Left on Tuesday's Halftime were best served discussing … Chinese property development accounting.

And to think we were just having a dinner-table debate the other night over (snicker) Evergrande.

"Their accounting, in my opinion, was Ponzi-like accounting," Left insisted to Judge, before admitting, "It probably wasn't the best idea to write an article on I think it's the largest property developer in China."

We can't fathom what prompted Left, a smart and entertaining guy, to write a report on this enterprise, but it looks like this time, the gag was on him.

"This situation will make me rethink about writing about anything in Hong Kong," Left said.

Steve Weiss said the stock traded down 20% on the publishing of the report and questioned what Left made from the short.

"I didn't get anything close to 20%," Left explained, stating the stock recovered after plunging 20%.

Left affirmed he didn't go to China but culled all of the material for the report from official filings, which he said makes the report all the more legit.

"A lot of what I wrote was correct. Most of it," Left said.

"Hong Kong is trying to suppress my freedom of speech," Left claimed.

Judge asked what the SEC had to say about this. "The SEC was there, and the SEC did not take any action against me," Left said. "We used their offices for a few meetings." (Well, that's a lot more useful than the SEC often is.)

Left announced he's long BABA. Judge wondered how Left can "reconcile" being long BABA after questioning the accounting of a Chinese property developer. Left made comparisons to AMZN but with a much lower valuation and stock price little changed from the IPO.

Weiss said the SEC is "highly suspicious" of BABA and is "investigating" it, so Weiss is "really perplexed" why Left owns BABA and questioned if it's a "peace offering" by Left to the Chinese government. Left ignored the quid pro quo suggestion and said "you can't ever discount the strength of the future of ecommerce in China."

What does all this mean? Haven't a clue, but sounds a bit like the Ryan Lochte situation in which, unless you're concerned about Left's future capacity to travel to Hong Kong without being escorted by a handful of stone-faced gentlemen, it probably won't amount to a hill of beans.

Oblivious to VRX and previous Public Enemy No. 1 MNK, Judge at least asked Left about his FB short. "I don't have a position on Facebook right now," Left said. "Although I believe Facebook will become a tremendous short once the engagement numbers slip. And I think we'll see them slip."

Some might wonder why there's not a picture of Judge and Left side by side above this item, but honestly, is there anyone who'd rather see a picture of Judge and Left instead of Seema Mody in sensational new white top on Futures Now?
Weiss: September hike is a 'slam dunk' … unless …
Jim Lebenthal on Tuesday's Halftime, mentioning "Nordstroms (sic plural)," said "it's starting to look like retail is toxic again," and he'd avoid ANF.

Stephen Weiss isn't happy about the severance package of the former AAL president but likes the "unbelievably attractive" airline stocks.

"You can own 'em all," he said.

Joe Terranova said SLB made a "phenomenal" acquisition of Cameron.

Meanwhile, Greg Parsons said the MBS market is a "different animal" now than in 2006.

Parsons said mortgage is a "relatively isolated, insulated asset class."

Stephen Weiss defined "negative convexity" for home viewers. Parsons said the Fed won't go in September but will go this year, after the election.

Weiss said it's a "slam dunk that the Fed goes Sept. 21st" unless there's a "disastrous" number Friday.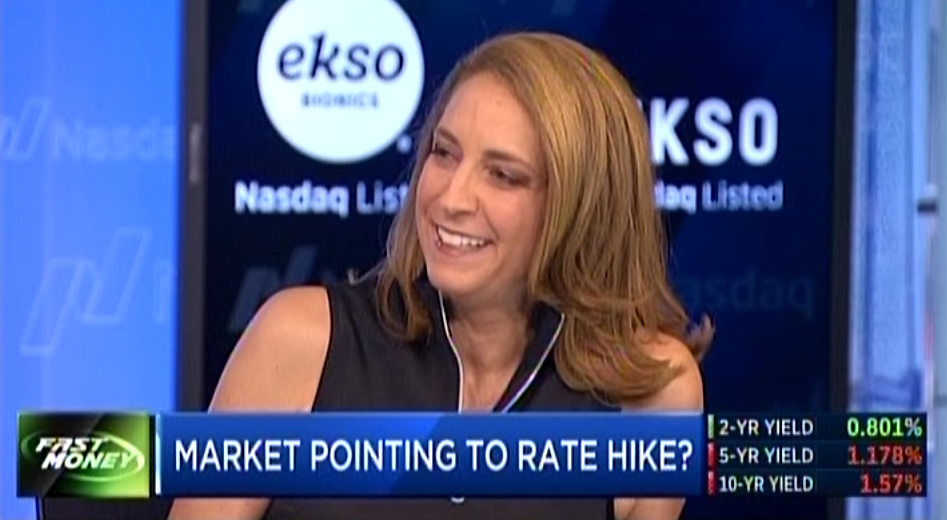 Wonder if Doc has been wearing those suits he bought from Macy's over the Internet at 55% discount
Joe Terranova on Tuesday's Halftime said he's not too excited about MCD around 115 but mentioned the pizza names, including DPZ, a great call of his back during the spring miss, as well as JACK.

Doc said all-day breakfast isn't even in every MCD restaurant yet but he doesn't like the stock because of wage pressure.

Stephen Weiss said the MCD analyst knew he missed the stock previously and decided now's the time to get in. "The low-hanging fruit has been picked by this company," Weiss said.

Karen Finerman, utterly smokin' in uber-chic black zipper top, said she thinks the Fed "should" hike in September, then added, "I actually think they will."

Unfortunately, Karen's logic seemed a little dubious: "If they don't do it now, and something else happens between September and December, they can't do it then, that's problematic for them," Finerman asserted.

However, Finerman scored points with an indirect Meat Loaf reference to "2 out of 3" when Mohamed El-Erian came on.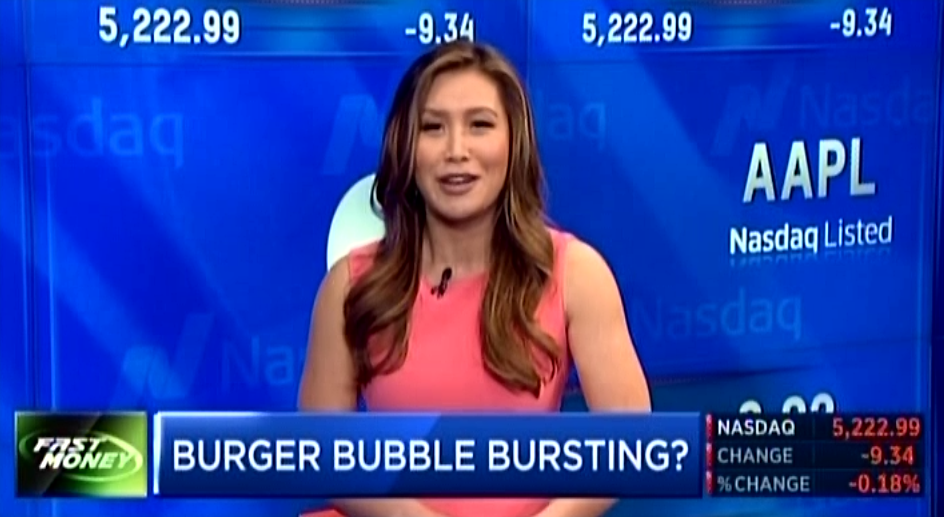 SEC supplying conference rooms for Andrew Left scolding sessions, not following up on unusual options activity
Jon Najarian on Tuesday's Halftime said volumes in fertilizer options were going crazy even before Tuesday's news.

Doc actually had the best line on the show in weeks if not months, invoking Tom Jones' "It's Not Unusual" after Judge carped about how the Najarians always talk about "unusual" activity.

Pete Najarian rightly mentioned his recent call to look at CF. Joe Terranova said, "I love Mosaic here."

Bob Pisani reported on the sluggish IPO market. Jim Lebenthal said he likes GS as a trade on the IPO market.

Stephen Weiss said the IPO road shows will get going after Labor Day but that the narrowing presidential polls will "put people on edge."

Susan Li in pink knocked viewers' socks off during a report on burger wars on the 5 p.m. show.

Guy Adami made a bra comment on the 5 p.m. show; Mel quickly moved on.

On Halftime, Seema Mody was helming Futures Now; Anthony Grisanti said the storm won't hit the coast hard enough to affect oil. Jeff Kilburg said people didn't expect the intensity of Katrina either.

Joe Terranova had to admit, "I gave up on Palo Alto" (Drink). Doc said there was "strong upside speculation" in FIT. Pete said the October 33s in MS were popular.
[Monday, August 29, 2016]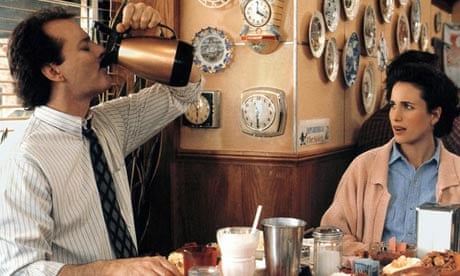 Joe and Cramer think Ackman should've tipped Carl to CNBC slam
Lessee … Carl shopped the shares, Ackman didn't buy them, Ackman announced not buying them, Carl bought some more …

Joe Terranova on Monday's Halftime contended that Carl Icahn was right about Bill Ackman's "total obsession" with HLF and even wondered, "Why didn't Bill Ackman call up Carl Icahn beforehand and say, 'Listen, I'm gonna go on TV and talk about this.'"

"Yes!" agreed Jim Cramer.

Well, that would've been a curious call. "Say, Carl, how ya doin'." "Um, OK. How about you." "Great. Just wanted to let you know, I'm gonna call Squawk Box in a few minutes and tell 'em you're dying to get out of Herbalife."

Cramer, who pronounces "Herbalife" with a hard "h," pointed out the issue here: "Ackman did something you're not supposed to do … naming names."

Bill claimed to CNBC that it would be good for him to have Carl out of the stock … but what he really meant was that it's a lot better for him to have the market think a big holder who hasn't sold yet is going to sell.

So, it's fair to conclude that Ackman breached protocol in a desperate attempt to convince the market that Carl's selling and that the warm reunion Judge hosted at Delivering Alpha wasn't so warm.

The funny thing is, imagine Ackman buying that stake in the 60s … dumping it … and having Carl scoop it back up in the 40s.

Judge has been taking this latest episode too seriously, evidenced by his descriptions on Friday and Monday and on Squawk Box.

Joe said that previously on the Halftime Report, they asked Ackman whether the odds that he would know the filmmaker from Harvard if they weren't on the same rowing team are really 1 in 10,000 if he's spending "too much mental capital" on HLF, and "I'm sorry, I don't agree with his answer."

Pointing out the stock is about the same price as a year ago, Joe noted the stress has gotten Ackman nowhere and threw in an "at the end of the day, ultimately, who needs it."

Cramer said it would be "devastating" to HLF if Icahn was a seller. Except somebody else would start buying in the 40s, and we'd have Groundhog Day again.
When they name Philippe Dauman CEO, that's the time to sell
In a case that can always be made at any point since the inception of Fast Money/Halftime Report, Victor Anthony on Monday's Halftime was the latest to offer a NFLX bear argument, telling Judge the bull case has started to "fray" because the competition is "real."

"Saturation is also an issue," Anthony said.

Judge said Mark Mahaney reiterated his outperform rating and asked why it doesn't work. Anthony predicted "churn will be an issue in the back half of this year."

Anthony said Netflix's international markets are demanding "a lot more local content."

Jon Najarian, who recently has pounded the table for NFLX, contended it is "taking a ton of business away from Google," in other words, YouTube. Anthony said YouTube will be a big competitor but isn't there yet and said Hulu is the one to watch.

The stock definitely trades wildly around its earnings reports. Any serious bear call has to be contingent on lousy or fading products. At this moment, there still seems to be momentum from Netflix's original programming. (This writer has no position in NFLX.)

Jim Cramer said of NFLX, "This is no Facebook."
Have the deputy warn about hawkish moves (in the unlikely event you have to deploy them)
Apparently because Halftime honchos think the panelists can't carry a program without a special guest he doesn't have enough airtime on CNBC, Jim Cramer sat in with Monday's Halftime and touted the banks and the Stan Fischer interview (snicker).

Sarat Sethi said of banks, "You have to keep on buying these."

Joe Terranova said buybacks have "plunged" and said "of course" he'll look at financials.

Jon Najarian first said "Summer (sic)" for Larry Summers when talking about the Fed eliminating the "dot plots."

Judge suggested we might be flipping from an environment in which the market's been telling the Fed what to do to … yeah, right.

JIm Cramer said we've got a "pretty robust economy."

"The negative interest-rate policy has not worked," said Sarat Sethi.

Doc made the most provocative and quite possibly most accurate observation of the conversation, doubting multiple hikes and contending that if/when there is one, "I think by the time we're early into 2017, they'll already be talking about walking that back because of what's happening overseas."
CNBC somehow decides to take a break from people pitching useless products to charismatic investors and create real prime-time material instead
Judge on Monday's Halftime questioned if the AAPL event has as much "gusto" as in the past.

Jim Cramer said the AAPL chart is "the worst in the book" and it's got to break out of 110 "now."

Kevin O'Leary said, "I gotta see services top 15%" (Drink)."

Pete Najarian, who had a quiet show, said there's been "paper after paper after paper" in MU. Sarat Sethi said he likes semiconductors but cautioned that consolidation occurs when the sector starts peaking.

Cramer congratulated Sully, who tends to spend too much of his interviews rattling off facts he has memorized, for a "fabulous interview" with Heather Bresch, though it didn't "endear her to the American public."

Doc touted BMY and suggested Puerto Rico might be a "continent" while trumpeting Zika plays.

"People are shorting Carnival and Royal and buying Vail because of the height difference," Cramer actually claimed.

Joe Terranova said he likes CVS; Cramer said it "rolls over every 90 seconds."

Cramer said GILD should've bought MDVN.

Judge said Andrew Left will be on the program Tuesday probably to insist MNK and VRX are still going down.

Cramer touted ADBE and BRCM. Pete Najarian predicted CSCO climbs another 10%.

Doc touted AMBA but cautioned that it's had a big run heading into earnings.

Jim Cramer introduced one of those rarest of species — an actual CNBC documentary, on rebuilding Ground Zero, that airs Thursday.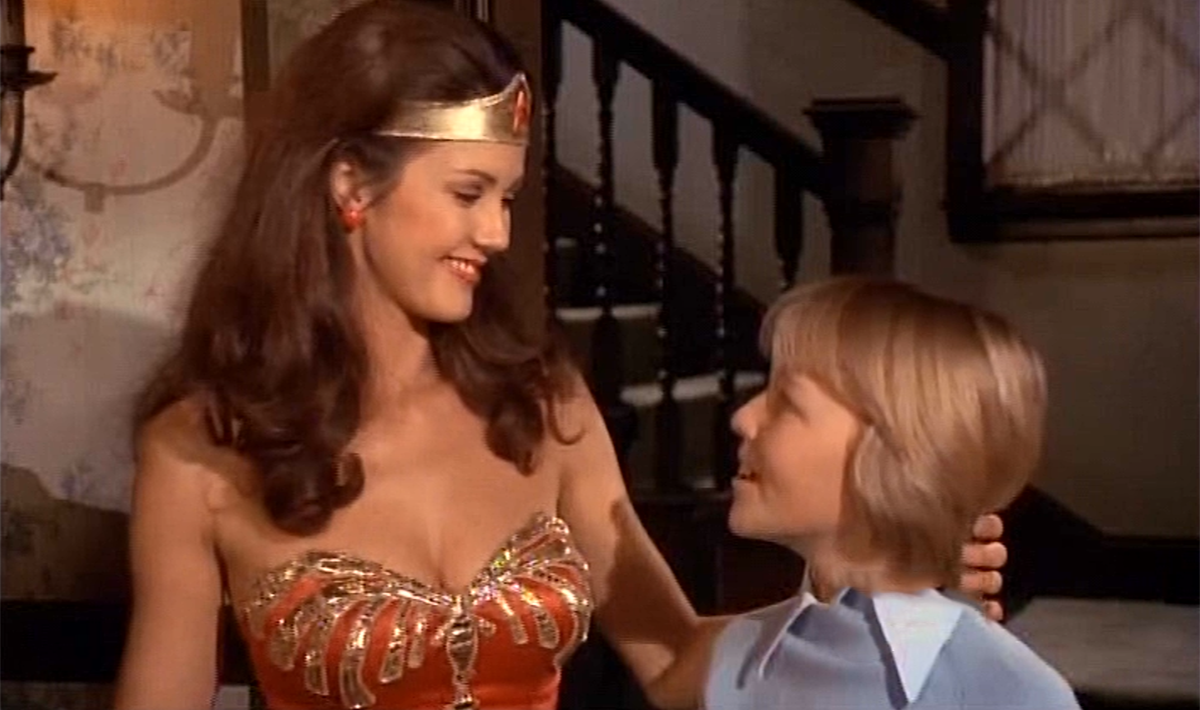 '70s TV: Heaven on Earth
Admittedly, it doesn't have much to do with Janet Yellen's speech at Jackson Hole.

The other day, we happened to stumble on a rare treat of '70s television — an episode of "Wonder Woman," featuring Lynda Carter, of course on the World's Most Beautiful Woman short list whether in superhero costume or pulled-back-hair, big-round-glasses-and-business-suit disguise.

The young fellow in this picture happens to be Todd Lookinland, that's right, the brother of the "Brady" kid who also played Matt in the wannabe "Brady" spinoff about Duane and Stevie that never got off the ground.

Todd had just turned 13 when this episode aired.

Is it possible to imagine any highlight in life greater than being a 12-year-old male … or, for that matter, 22 years old, 32 years old, 42 years old, 52 years old, 62 years old, 72 years old, 82 years old, 92 years old … and finding yourself in this particular position?

Incidentally, while not exactly a great show, "Wonder Woman" had a notably good theme song, funk-infused.
[Friday, August 26, 2016]
Not sure that Janet 'reset the narrative' nor caught the market 'offsides'
Barely 2 or 3 sentences into Friday's Halftime Report, Kourtney Ratliff Gibson invoked an "at the end of the day (Drink)," stating Yellen "said what she had to say."

Jim Lebenthal said Yellen should raise, but he doesn't think she will, though he said next week's jobs report could "tilt" a move in favor of September.

Jon Najarian said if the Fed made a dovish statement, "they would've basically lost credibility." But Doc said he doesn't think a September move is going to happen.

Josh Brown said the market doesn't think Yellen has control over a lot of macro factors.

Paul Krake, sitting in with the panel, said we could have "25 basis points per year for 3 years."

Referring to the chase for yield, "We have a global sellers strike," Krake said.

"Inflation's the only thing that matters," Krake added, tossing in a double "at the end of the day" (Double Drink).
Judge interrupts vacation to report not-so-earth-shattering news
We totally give him credit for hitting the phones on his own time.

At the end of a week of vacation, Judge dialed in to Friday's Halftime Report with a firsthand account of the latest on the Carl-Ackman front.

But all Judge really reported was that Carl said like the Najarians, he uses options so he can measure his risk and prefers losing 100% immediately to investing 50 times that amount and losing 25% temporarily no comment and that Stiritz claims to have a lot of confidence in Herbalife.

And the really good stuff came from Carl after the market close.

Judge said, "This is such a unique, uh, story in and of itself (sic last 4 words redundant)," adding "it's hard to I guess read in the, in the big picture where Herbalife shares are, are going to go in the future (sic last 3 words redundant)."

Kourtney Ratliff Gibson, who obviously knows the CNBC cliche book inside out, said, "I would be very, very cautious as to whether or not A this story's real" (no need to add the "B") and then added an "at the end of the day (Double Drink)," the 4th of the first 20 minutes.
CNBCers unclear as to rules of the Halftime Portfolio contest
Josh Brown reported on Friday's Halftime that he dumped DG from his Halftime Portfolio.

"I'm not familiar with the rules of this exact challenge," said guest host Melissa Lee.

"We could almost do whatever we want," answered Brown, asking panelists if they have "unlimited" trades and not really getting an answer.
AMZN: Buy NFLX?
Jon Najarian on Friday's Halftime Report said he likes BABA and bought it but likes NFLX better.

Josh Brown suggested KWEB for playing the Chinese Internet sector.

Kourtney Ratliff Gibson actually suggested AMZN should think about buying NFLX; "at the end of the day (Triple Drink), I think a Netflix-Amazon play could be interesting."

Gibson got to take a victory lap on TWLO, a great call on the IPO.

Doc twice said "luckily" (Double Drink) he has avoided GME lately.

Jim Lebenthal said he agrees with Jefferies that the ESRX selloff was overdone.

Josh Brown said to avoid PSTG.

Kourtney Gibson said "yes yes yes" on SBUX.

Kourtney Gibson said she bought LULU "much lower" than where she sold it.

Doc said "luckily" (Triple Drink) Pete has put Najarian clients in LULU.

Jim Lebenthal said NKE is "at the top" of the list of stocks he wants to own; he's hoping for the low 50s.

Josh Brown went to pains to say sentiment in NKE is not actually negative.

Doc predicted CDE makes another move to the 16 range because of call activity.

Jim Lebenthal suggested a PFE split will "unlock value."

Doc likes XON below 26.

Jim Lebenthal made the case for C (snicker), admitting it's a "boring name" and a play on "a normal interest-rate environment" (double snicker).

Doc said there was "very strong buying" in WLL.

Josh Brown said CME "benefits from rate volatility." Curiously, on Tuesday, Aug. 16, The Liquidator contended that CME has "lapped" the concerns about it needing volatility. (So it's made for volatility but works when there's no volatility.)
[Thursday, August 25, 2016]
Mylan CEO claims health care is in 2007-financial-like crisis (a/k/a when 'a few hours' for a senator means 'the next day')
The story of the day Thursday on CNBC had to be Joe Kernen's political commentary on Squawk Box Sully's interview with Heather Bresch, which got a recap in the first quarter-hour of the Halftime Report guest-hosted by Melissa Lee.

The panel put together an impressive roundtable with a fair assessment of multiple angles, although admittedly, Bresch didn't say a whole lot Thursday.

Mel said she gets Bresch's argument about contending with the "system" of "middlemen." But, in a curious combination of present/past tense, claimed, "Her argument for raising her own net price didn't exist."

David Maris made a weak "consumerism economy" analogy (it's charitable to call it that) involving a kid's hand in the cookie jar to the Mylan outrage.

Far more importantly, Maris said he talked to a "generic manufacturer" who thinks it costs about $3 to make an EpiPen.

Steve Weiss looked at it as "capitalist" and likened Mylan's situation to Wal-Mart or Costco telling suppliers what margin they can have before adding the extra nuance of pharma.

"Health care is just a very interesting industry where you have to balance what the social conscience-ous (sic) vs. what the profitability is," Weiss said.

Jim Lebenthal said Bresch's argument is that there's not enough competition in the insurance and PBM space.

Maris made a good point with an ambulance analogy; do patients have any kind of choice while they're being hauled to a hospital.

Maris called MYL fairly valued. As to Bresch's position at MYL 12 months from now, "I think she keeps her job," Maris said.

We learned from CNBC.com that Bresch's father is West Virginia Democratic Sen. Joe Manchin. (Translation: Now we know why Sen. Chuck Grassley might not be doing hearings.)

Bresch — who … if it's OK to say it … is kinda cute ... something no one on the show brought up but is important ... — told Sully with a straight face, "Our health care is in a crisis. It's no different than the mortgage financial crisis back in 2007."

She said she "personally" (translation: secretaries) has called senators asking for a hearing but hadn't gotten a response.

Meg Tirrell, dynamite in white, explained why Teva's generic competitor to EpiPen isn't available yet.

Jon Najarian said "it stinks to high heaven" that MYL had a deal with TEVA to eventually give way while lobbying the FDA not to approve Teva's generic. Tirrell said she hadn't heard Doc's $400 million number. (It probably came up in the unusual activity report.)

Weiss said he was struck by the "arrogance" of MYL doing this in this particular drug-pricing environment.

"It's not illegal; it's tone-deaf," agreed Mel.

Doc added, "Congress has blood on its hands," and added the FDA.

Grassley on Power Lunch said he first wants a letter from Mylan by Sept. 6 responding to his questions before he schedules a hearing. "I want my letter answered," said Grassley, in a crisp and informative discussion with the Power Lunch crew.

On Closing Bell, Kelly Evans impressively asked Sen. Amy Klobuchar for the facts about Bresch's calls and any conversations they may have had.

Klobuchar first said she returned Bresch's call "within a few hours." Kelly asked for the timeline. Klobuchar admitted, "I hate these kinds of things. What happened was, she called, the next day, I did, uh, call back."

So probably not "within a few hours."
Joe fears liquidity issues with ETFs if markets have 'day of reckoning'
Taking up OZM on Thursday's Halftime Report, Steve Weiss first stated there's an investigation into alleged bribery in Africa, then addressed the steepening hedge fund outflows.

Weiss said there's "fee pressure" not just on hedge funds, but even worse, on institutional money managers. "Because of ETFs," Weiss said.

He acknowledged to Jim Lebenthal that "every study" will tell you that smaller hedge funds perform better than larger ones.

Joe Terranova said his biggest concern is liquidity in the ETF space if there's a "day of reckoning."
Joe: NFLX $145 a 'stretch'
Jon Najarian on Thursday's Halftime said he likes the William Blair NFLX upgrade call and said he bought a call spread "so I can define the amount of risk I'm taking" (Drink) (snicker).

(Translation: If it becomes a 100% loss, at least it will be less of a loss than if he buys 10,000 shares, even though the shares might actually recover.)

But Joe Terranova called the $145 NFLX target "a stretch" and said the stock might trade over or under $100, partly depending on the broader market.

Stephen Weiss impressively pointed out the NFLX threat from Amazon, which doesn't get mentioned often since Pachter's megabust of a bear call used to cite it (even though now it's a reasonable threat) and said NFLX would be a "great acquisition" for AAPL.
Jim gets instant gratification on TIF call even though he purposely didn't seek it out
Jim Lebenthal on Thursday's Halftime Report said, after begging off a day ago on making a quarterly TIF call, that the company is enjoying a "re-rating of the multiple."

Joe Terranova said the SIG plunge is "incredible," but he doesn't want to buy it at 83.

Guest host Melissa Lee seems to think Doc's Ashley Madison trade on TIF is just as loopy as everyone else thinks it is.

Joe said to let DLTR settle; he said sales were affected by food-stamp limitations in 7 states.

Steve Weiss seemed to think the MU momentum will continue.

Jim Lebenthal said the only way to find a move like GES' on Thursday is to do your channel checks.
Mel gets jumpy at panelist's mention of chiropractors
Jim Lebenthal on Thursday's Halftime Report said Warren Buffett would be "crazy" to be shorting DOW; Steve Weiss said it would create a "whole other host of headaches for him."

Weiss said shorting common stock against credit is a "common arbitrage strategy," but he doesn't see it here.

Doc detected unusual activity in GIS and to a lesser extent, K.

Scott Nations told Jackie DeAngelis, who puts on a fashion show every other day, that the "fundamentals are terrible" in copper and have gotten worse in the last week. Bob Iaccino said "there's more downside to go," to 2.03.

Jim Lebenthal suggested it's not Dr. Copper anymore but perhaps Chiropractor Copper. Mel said she wasn't going to take a jab at chiropractors; "we all appreciate chiropractors here at CNBC."

Missy defined Doc's description of wanting to take an "L" to LaGuardia.

It seems AMGN has to get a daily bull call; Joe Terranova did the honors Thursday.

Jon Najarian said there's "very strong activity" in BABA.

Steve Weiss said he's "sitting on my hands" and predicted a "slightly more hawkish" Yellen (traders predicting "blowout" earnings or Fed tone always seems to go awry).
[Wednesday, August 24, 2016]
Mel: Nobody in the world
can time the stock market
The opening of Wednesday's Halftime Report included a curious declaration from guest host Melissa Lee.

"Nobody out there, I don't care who you are out there, can time this market," claimed Mel, who hosts a program in which panelists purport to do exactly that.

Kevin O'Leary opined of the market, "Nobody really wants to pull the trigger because there's really nothing to lose in waiting in cash," which we interpret to mean everybody thinks the market is not going much higher, which probably means it's quite capable of doing so.

Josh Brown suggested dollar-cost averaging.

Stephen Weiss contended, "Credit is egregiously overvalued in some areas," and then, in a long-winded spiel, said he added to BAC (snicker) in the morning.

Jim Lebenthal suggested old tech (Zzzzzz).

O'Leary again mentioned the "5th head fake" (Drink) of buying banks if the Fed doesn't move, suggesting a 4-7% decline if no September move.

Weiss said he has already made 20% on Cavium in a month. He also said he bought AKAM.
Josh: It's 'really outrageous' to call the EM trade over
Richard Turnill visited with Wednesday's Halftime crew intent on making the case for emerging markets, only to have Mel interrupt him before he ever got going.

Turnill said he upgraded emerging markets after some gains because he thinks they can do even better, with earnings momentum turning positive for the first time in 5 years.

Mel followed with an extended question that got a little clumsy again when she kept talking after Turnill had already started to answer.

Josh Brown said it's "really outrageous" to say anyone has "missed" the EM trade given that the sector is only flat over 5 years.

Turnill told Lee he's still underweight Europe because of the banking headwinds.

Kevin O'Leary said he agrees with Turnill on European banks but pointed to "many other situations in Europe" in which stocks are appealing with a 20% P.E. discount to North America and 40% higher yields.

Steve Weiss said "Europe as an index is never as cheap as it looks" because "they don't have tech," and the banks overweight. Weiss also said Turnill's EM call should've been made a year ago.

Jim Lebenthal actually said "there's too much opportunity in the banking sector here in the U.S."
Bust: Andrew Left shorting MNK at 62 in May; shorting VRX at 22 in July
Jim Lebenthal on Wednesday's Halftime Report said the MDVN deal is PFE's way of preparing for the split.

"The Street really does want Pfizer to break up," Lebenthal said.

Mel had prompter troubles with "acquisation" (sic), but she did have a cute way of working the mike.

Steve Weiss mentioned SRPT again (Drink).

Weiss said he's been on the "sidelines" in VRX and a "naysayer" but said it "has had some good news." He also said ENDP with the same model/issues has been moving up, and the momentum can continue.
CAVM apparently is a good trade
Doc on Wednesday's Halftime said he'd own AAPL for 5 years.

Steve Weiss said there are "other places" to put your money, then mentioned "Cavium" (Drink) again.

Weiss reiterated his view on AAPL: "I just don't worship at that temple," Weiss said.

Jim Lebenthal mentioned repatriation (snicker) in the AAPL story.

Kevin O'Leary again spoke about AAPL services (Zzzzzzz).
No follow-up on the significant September correction we heard about a day ago
"The easy money (Drink) has been made" in oil, contended Stephen Weiss on Wednesday's Halftime Report.

Anthony Grisanti said a lot of gold longs were "liquidating" in front of Yellen's speech, but "I think gold still is a buy."

Jim Iuorio predicted "hawkish talk" and said gold drops to 1,315.

Josh Brown said GDX is rolling hard to the downside and called the space a "danger zone."

Karen Finerman, returning to the 5 p.m. show, said that a September Fed hike is on the table, calling it "higher" than a 28% chance.

Jim Lebenthal said his spectacular 28% Halftime Portfolio return is due partly to the rules change that allow him to "leg in and leg out" of a name rather than going all-in.

Michelle Caruso-Cabrera owned the day in smashing blue top.
'Sucked' said
Kevin O'Leary on Wednesday's Halftime called the TSLA-SCTY merger "a really dumb idea."

Mel harped on O'Leary's joke about radiating his "package."

Josh Brown said INTU is "fine" for investors, but traders should give it some time.

Jim Lebenthal said the EXPR move seems "way overdone."

Doc said of EXPR, "the guidance sucked."

Jim Lebenthal said you should own TIF for the long term, but "I'm not making a call on tomorrow's earnings."

Doc actually again brought up his ludicrous theory of Ashley Madison individuals buying TIF.

Doc said someone was loading up on September 12 CHS calls.

Doc said he bought LC. Josh Brown touted AMGN and Jim Lebenthal touted PFE.
[Tuesday, August 23, 2016]
'Fast Break' — a curious concept
Occasionally over the last week, the Halftime Report has aired clips of panelist chatter during commercial breaks that happened minutes earlier.

They call it "Fast Break."

Instead of interrupting live airtime with clips of impromptu chatter … why not just ask the speaker to revisit the point in real time?

Unless the point is to cull the "best" of the panelists' moments, in which case, why bother doing it live; just tape for 2 hours before noon Eastern and present a greatest hits show.
Guesswork
Star guest of Tuesday's Halftime Report Dan Suzuki of Bank of America said it's "very likely" there could be a correction in September, with the risks "pretty elevated."

Suzuki claimed "there's lots of catalysts," including high expectations and "unachievable" earnings expectations.

Suzuki said the "key thing" is that he's not calling for a "2008-type of bear market."

Sarat Sethi argued the market has priced in the concerns Suzuki raised. Suzuki said he's seen a "massive shift in investor sentiment."

Guest host Melissa Lee pointed out the recovery in oil. Suzuki said high-yield and small-cap leverage, ex-energy and materials, are at "record levels" or close to all-time highs.

Pete Najarian said we will have such a correction before year-end. Joe Terranova said a 5-10% correction is possible.

Doc said he bought X on the pullback and thinks it will surge back into the 20s.

Pete said he's into far more options than stocks (Drink) because of the implied volatility (Double Drink).

Suzuki may inadvertently be right. He's throwing darts at a board.
Corporate governance alert
Phil LeBeau opened Tuesday's Halftime stating it's "pure conjecture" as to what the Tesla announcement is about.

Pete Najarian said there'a "great combination" of a resilient TSLA stock price and low volatility for those who want to get long.

Doc said there was unusual activity prior to Elon Musk's tweet.

Sarat Sethi said he'd fade the pop. Joe noted that SCTY was also up on the day.
Pete: 'Gouging' happens, but not in all of biotech
Jon Najarian on Tuesday's Halftime Report said the government "should be all over Mylan" about the Epipen price hike instead of just wanting Martin Shkreli for those who watch "C-SPAN" (snicker).

Mel went on the warpath about all of MYL's price hikes this year. Sarat Sethi predicted an "overall haze" over drug pricing.

Pete Najarian said of the industry, "I think that there are specifics that they do some gouging," but "this is not all of biotech."
Corvex staffers lining up to be 1 of the 10 names in the proxy fight
Joe Terranova on Tuesday's Halftime got Fast Fired on a just-about-instant bungle, SJM (he didn't say "go buy it" but did say to watch it), and said you have to determine if this is a "Ray Donovan trade."

Joe said Tuesday that SJM posted a "lousy" quarter but said he'd be willing to stay in the stock until it breaches 130. Sarat Sethi said it's still a "high-quality" staple.

Pete Najarian said TGT has to improve grocery but that it has been improving online.

Doc said he's happy to be in DLPH calls but is "scaling out."

Steph Link said she's not buying or selling PNRA.

There was an old-tech call. We ignored it.

Pete said he wouldn't be chasing the "huge move" in BBY.
M folks 'getting smarter'
Brian Stutland told Jackie DeAngelis (in stunning new outfit) on Tuesday's Halftime, "I'm a little skeptic (sic)" that nat gas continues its run.

Jeff Kilburg said to be a buyer at 2.50 and a seller at 3.00.

Sarat Sethi said he owns refineries as a long-term play. Stephanie Link said in the oil space, she prefers more beta with E&Ps and oil service.

Joe Terranova said refiner utilitzation has been "ramping up" for 8-12 weeks (with Folgers coffee).

Steph Link said she has taken gains in WHR and SWK. But she's still long LPX. Joe said he likes WHR to "re-accelerate" over 200. Doc suggested HD and LOW are Amazon-proof.

Sarat Sethi said he dropped XPO from his sensational Halftime Portfolio and added AL.

Stephanie Link said M has a "huge restructuring program going on" in which "they're getting smarter."

Joe said he'd buy M. Sarat Sethi touted HAR.

Doc said December 14 calls in SQ were popular. Pete said January 9 AMD calls were bought by someone "rolling up" (Drink).

Pete said his CHK calls expired Friday. "That's the negative side of the options world as well," Pete admitted.

Pete Najarian called homebuilders "very difficult to trade." Doc said their costs have gotten much higher since 2008, when governments forced all kinds of infrastructure improvements on them.

Joe predicted CVS "elevates above 100."
[Monday, August 22, 2016]
'The last thing I wanted to do was be sitting here today'
The opening of Monday's Halftime Report was booked for Keith Meister, who outlined his complaints about WMB to CNBC's Kate Kelly, who looked great.

Meister said he and 5 other "highly qualified" WMB directors exited over a difference of opinion with the CEO and other members of its "1970s board."

"When I left the board, the last thing I wanted to do was be sitting here today," Meister revealed.

But he was — with a curious plan to nominate figureheads.

Meister's agenda, which Kelly impressively restated, is running a slate of 10 Corvex people for the WMB board, but "these 10 will never actually serve for more than a day … their goal will be to be a placeholder" so that Meister can find names "over the next 2 months."

Perhaps they could do that with the presidential race, and then the parties can fill in the blanks after Nov. 8.

"It's effectively a seamless process," Meister explained.

Meister kept referring to board choices as pro jock draft picks.

Kelly called it a "pretty offbeat suggestion."

Meister said he put together a proposal for a majority of independent directors; apparently the company told him they could only take 3.

Meanwhile, Meister purportedly offered a ledger of highs and lows for judging CEO Alan Armstrong that came out like this: "We missed expectations financially for 5 years; we had growth projects … that didn't work … failed M&A … bad safety history."

Meister also said, "I would definitely engage with Enterprise."

Elsewhere, Meister called Liberty Media "a great potential acquirer" of P.

Pete Najarian said it sounds like Meister isn't very patient about P; then Pete mentioned "all the paper we've seen recently."

Joe Terranova said analysts have been talking $16-$17 for P and called Sirius/XM "the most likely acquirer."

Joe offered props to Meister for his work with YUM.

Meister said, explaining when he left the WMB board, "I hoped I could go quietly into the sunset."

He said he has "no opinion" of Carl Icahn's support for Donald Trump.

Kelly asked Meister if he has a "dog" in this presidential race, which probably isn't the best term to be using this particular year.
Philippe Dauman, a good poker player according to Doc, perhaps could try his luck at WYNN
Thomas Allen of Morgan Stanley joined in with the Halftime gang on Monday and said he's "more bullish" on WYNN, which he calls an "aspirational product" (snicker).

Allen sees "pent-up demand" (Drink) in China for gambling.

Josh Brown asked Allen why other casinos don't have that "aspirational" thing. Allen said Steve Wynn has an "aura" that helps.
TSLA, VIAB corporate governance no better than last week (cont'd)
Meg Tirrell on Monday's Halftime said the IBB was up on speculation of further M&A.

Pete Najarian suggested BIIB is one of those names that could be M&A targets; Joe Terranova halfheartedly added SGEN and ARIA.

Josh Brown seemed to endorse the Barron's bull call on FB (without mentioning Oculus). Joe suggested the stock goes "towards 150." Pete credited Facebook for its acquisitions and eventually mentioned VR (snicker).

There was also talk of old tech (Drink); we're tired of that subject.

Josh said XLE will be "fine."

Joe likes how the GS analyst got neutral on URBN.

Pete said he'd stay away from KSS.

The 5 p.m. Fast Money gang showed photos from their respective vacations during the Olympics fortnight; we noticed a few kids who probably appeared in birth announcements on this page back in the day. #timefliestoofast
Remember, the retail investor is 'ill-suited' to be an investor
Josh Brown on Monday's Halftime said "Dick's is goin' higher," and FL probably is too.

Pete Najarian said athletic wear is all about the "casualization" of society.

Pete said SBUX November 57.50 calls were "percolating," and he got in.

Joe Terranova said longer term, you're "OK" in nat gas; Joe likes RRC (Drink) and SWN.

Joe said to watch an old favorite, JM "Smuckers" (sic plural)

Doc said WFM is buyable because of all the bad news that's in it.

Josh Brown said to buy BMY. Pete said to look at CF. Doc trumpeted XON.
Bonnie Baha: 1959-2016
This page chronicles the production of CNBC's Halftime Report and Fast Money because we like talking about stocks and financial markets and because those on television have significant capacity to inform and entertain.

Sometimes, unbelievably cruel reality enters the picture.

Guest host Melissa Lee on Monday's Halftime reported the tragedy that surfaced over the weekend on financial news wires: Bonnie Baha, an elite U.S. bond portfolio manager for DoubleLine, died after being struck by a car in Virginia.

Baha made appearances on the Halftime Report and was a wonderful guest.

Josh Brown said, "She was one of the most generous, caring people in our industry, and so smart."
[Friday, August 19, 2016]
Weiss calls investing a 'professional game,' not a 'hobby'
The things you hear during discussions of … satellites.

Stephen Weiss on Friday's Halftime Report declared, "I believe that investing is a professional game. It's not, it's not- it shouldn't be a hobby or sport, you should entrust it to professionals."

That's "why the typical retail investor is ill-suited to be an investor," Weiss added.

Isn't the purported point of Fast Money or the Halftime Report to offer stock tips to amateurs?

Or are we missing something, and the target audience is actually financial advisors interested in unusual options activity?

Shouldn't Weiss, instead of opining on Sarepta's potential to hit 60, devote all of his soundbites to telling viewers to pick up the phone and call Tepper's office?

Anyway, on Friday, James Crawford of Orbital Insights explained how satellites are cheap and how his company gathers data from many of them for "an understanding of what's going on in the world."

"We've been moving closer and closer to real time," Crawford said.

Weiss asked Crawford if his company is able to use government satellites "to give information to those that can only afford it, vs. the general investing public."

Crawford said the satellites aren't owned by the government but are leased by the government, and Landsat satellites owned by the government are freely available to anyone.
Philippe Dauman does the Wall Street equivalent of smashing a gas station, calling it a robbery at gunpoint and fleeing the country (a/k/a people don't invest in corporate governance, at least the pros don't)
This time, it's not about TSLA-SCTY.

Steve Weiss on Friday's Halftime said Philippe Dauman's exit is "good riddance" and declared, "This is so clearly a corporate governance issue" (Drink).

Judge balked at Jon Najarian's "poker player" metaphor, stating Dauman is "playing blackjack, but he's, he's counting the cards."

"That's what good poker players do," Doc insisted.

Doc said the payment to get rid of Dauman is a "rounding error," so it was "worth it."

Josh Brown decided to unload on VIAB longs. "If you own this stock, shame on you," Brown said. "There are probably chapters in textbooks, um, at at Ivy League schools in MBA programs talking about how absurd a structure like this is."

(Actually, according to what we heard months ago on the show, the United Airlines board addition of 3 members is going to replace Ivy League business school curriculums.)

"What kind of a clown do you have to be to believe that you're going to get any kind of governance in a structure like that," Brown added.

Eric Jackson admitted, he's never getting anywhere with his YHOO activism "I guess I was one of the clowns that Josh was just referring to." But he said he's in the name because VIAB might be the most undervalued media stock.

Jackson said Wall Street sees Tom Dooley as a "moneymaker," even though Dooley has been "tied at the hip" to Dauman for more than 10 years.

Judge then brought in Jeff Sonnenfeld, who said he'd disagree "slightly" with Jackson's description of "this is shareholder activism at its best."

Sonnenfeld contended that Dauman "was killing the great properties that he had," as well as "driving out great talent along the way."

Rob Sechan said "consistency" of management execution matters. (Zzzzzzzz.)

Steve Weiss, a quote machine on this day, asserted that CEO quality is sort of like a bond rating. "You can't have a, uh, a C-rated CEO and own a company," Weiss said.

Weiss said John Stumpf gets far more acclaim from the market than the media, whereas Jamie Dimon is the opposite.

But everyone seems to think they're both great CEOs.

Doc seemed to somehow claim that Marc Benioff's "physical presence" is responsible for Salesforce.com's results. (Pack on the pounds; pack on the multiple, apparently.)

Near the end, Judge made an excellent observation, that a CEO such as Jeff Bezos is a HOFer for stock price, but if you rate CEOs on EPS, it's a "different story." A flummoxed panel couldn't expand on that other than stating Bezos changed the way people shop.

Sonnenfeld touted James McNerney among other CEOs; the rest of the panel also offered up its CEO all-star team.

But who cares? Do Jets fans sit around all day and denounce Ryan Fitzpatrick because he's not as good as Aaron Rodgers? We're trying to sort this out, and Sonnenfeld (and the questions he got) didn't help. What is the ratio supposed to be between company's return (stock or EPS, we don't know) and CEO pay? Would Jamie Dimon be a better CEO if he took half his current pay? Yep, didn't think so.
Weiss: DE's surge is evidence of 'machines' running the market, will come back to haunt
Josh Brown on Friday's Halftime took a well-deserved victory lap on DE (in fairness, he's been touting it for probably a year and it took a long time to take off) but suggested that buying during a business trough isn't difficult.

Stephen Weiss, citing DE and CAT, curiously asserted, "There's something wrong with the market. What's wrong with the market is the machines. So eventually, that's gonna come home to roost."

Well, gotta admit, that's a rare one. Usually they only start talking about the "machines" on down days.

Josh Brown said FL is selling "what people are wearing." Weiss said ordering from Nike, he can try the shoes for 30 days and then return them.

Weiss said CAVM has "still got a lot of upside."

Doc said the Point72 investment in SQ will draw other smart people in.

Rob Sechan, who despite hanging around for the hour had an extremely quiet show, said you can get "some really nice cyclical expsoure" in the EEM.

Sechan said he still likes energy while Josh Brown dismissed MLPs and drew flak from Weiss.

Judge stumbled again on the prompter regarding the swim jock shenanigans that will "overshadow" the swimming.

Nobody on the panel claimed to own GOOG and seemed interested in saying why.

Doc got to take a victory lap in X and its unusual activity in early July, a fine call. He doesn't think it's a "bad idea" to buy it now.

Rob Sechan said "it's tough to be a buyer" of the market today.
[Thursday, August 18, 2016]
Joe on fire: DPZ
Here's a slice for your portfolio.

It was way back in early May when Joe Terranova suggested getting long one of the decade's greatest darlings, DPZ, after an earnings miss and rare steep pullback.

The stock had fallen from about $133 to $120, which proved to be basically the bottom.

Not only that, but Joe recommended it again in late June, when it started taking off again like a rocket.

In other great calls, we learned on Thursday that Jim Lebenthal is up an astounding 28.5% in the Halftime Portfolio. He said he's adding to QRVO and GM, though JCP seems to be his Sunday punch.

We also learned that Sarat Sethi has put together an equally dominant 26% return so far, relying on a broad base of big winners including XPO, QCOM, YUM, CERN and HAR.

Tremendous work, in a tough market.
Judge scowls after guest refuses to opine on Jack Dorsey's job security
An extremely cautious Ken Sena said on Thursday's Halftime that the risk/reward isn't there for Twitter now, adding the company offers "an advertising product that is not- is not competitive with the market."

Judge seemed disturbed when Sena said he couldn't render an opinion as to whether the TWTR board might dump Jack Dorsey.

"Why?" Judge said.

Sena insisted it's a "tough question to answer."

Hmmm. Guess Judge should only ask easy questions. (And talk about the good ones of Bill Ackman.)

Pete Najarian said he's long TWTR but only calls. That makes him happy that any losses will likely be of the 100% variety. "If it goes down, I'm gonna lose some money," Najarian said. "But I'm not in the stock, so I'm gonna lose what I paid. I know exactly how much I'm gonna lose. And I've got upside potential."

Doc called the NFL a "significant driver" (snicker) for TWTR.
In general, Judge should mention the good ones, not just the bad ones (cont'd)
David Maris told a skeptical Judge on Thursday's Halftime that T. Rowe Price's suit against VRX is "really big news."

Judge said the stock has been on fire. Maris said, "I wouldn't take, uh, take that to mean anything," citing a pebble tossed down a "steep embankment."

Jon Najarian pointed out that a judge will have to decide "what the merits of the cases are."

But Doc said he doubts that a judge would put VRX out of business.

Pete Najarian said implied volatility of VRX is "significantly off."

Joe Terranova said there are positive things in VRX's restructuring, and that Maris only offered a "very bearish view."

Judge said he was thinking of all the "theoretical" ways to "have a good conversation here."
Ticker symbols that should
exist (cont'd): BRA
Joe Terranova on Thursday's Halftime said LB had low expectations and will probably get to 80, but "longer term there's still some issues here."

Joe was heard to call the Fed an "absolute joke" during a commercial break. Joe also mentioned the "Federal Resarve (sic)."

Doc bemoaned what he said was the description of the 9-1 Fed vote as a "split decision," stating that in boxing, a "split decision" might be "2-1, you know, something like that."

Judge offered an "at the end of the day" (Drink) about Yellen in New York a while back.

Anthony Grisanti said crude is "a little overdone to the upside." Scott Nations seemed to agree. Joe said sentiment has caught positioning "on the wrong side here."

Seema Mody pointed out how jail stocks were plunging.

Jim Lebenthal said it's time to be "selective" in the chip space.

Doc said September 29 calls in CSX were popular. Pete Najarian said September 29s in GT were popular too.

Jim Lebenthal said he loves Caterpillar but hates CAT and said to wait to get into the stock.

Pete said KMI did the "right thing" with the dividend (Drink).

Doc said HOG's problem with the EPA isn't like Volkswagen's.

Doc said he likes WMT though he doesn't have a position. Jim Lebenthal said it's neither cheap nor expensive.

Judge and Andrew Ross Sorkin devoted time to the swimming "robbery" in Rio.
[Wednesday, August 17, 2016]
No, seriously: AAPL price targets are nothing to chuckle about
In an OK but quickly tiresome segment that seemingly wouldn't end, Judge brought in layer after layer of AAPL discussion on Wednesday's Halftime Report.

Pete Najarian said he bought AAPL around 97 and that the BRK guys got in lower … but Pete was about the only one doing backflips on the program.

"It's made back all the ground it's lost since April," shrugged Josh Brown, saying the company's not innovating at the same "cadence" as it did under Steve Jobs.

Stephen Weiss said AAPL is a "market stock" and "the antithesis of a growth company if you look at 1 quarter."

Weiss curiously claimed that AAPL is a "great place to put money" if the market plunges.

Weiss claimed he's not "chuckling" about whether AAPL's a growth stock, because it's a "serious issue."

Pete argued Tim Cook has "created" a speeding up of the "services aspect."

Then came Toni Sacconaghi, who has a 125 target and said "absolutely" it's "smooth sailing" at AAPL, but only "for now," which he said is important.

Sacconaghi said the iPhone isn't done, but 3-5 years from now, it's hard to see "sustained iPhone revenue growth."

In a very long-winded question, Jon Najarian complained, "My phone doesn't last 2 years. I have to replace screens and replace all kinds of things to keep the thing running just to be there for when the 7 comes out this fall."

"I think these things break at a pretty rapid pace," Doc added, either trying to suggest the replacement cycle will be more robust than Sacconaghi thinks or that the product is junkier and less desirable than Sacconaghi thinks (we're not quite sure).

Sacconaghi said Apple's base is more international and price-sensitive and not on 2-year contracts, so we're not sure if that means a better or worse replacement cycle, but he also said that "the iPhone 13 will probably not be that much different from the iPhone 12 and iPhone 11."

Kevin O'Leary predicted AAPL trades between 93 and 109 "forever" and said all that matters is whether services top 10% of revenue, and then threw in an "at the end of the day" (Drink).

Judge said Tim Cook's 5-year anniversary is "literally" (Drink) next week. (See how this was going?)

Josh Brown wondered, "What if the next big thing is the enterprise." Stephen Weiss scoffed, "If any company could do this, it'd be that."

Kevin O'Leary dismissed AAPL as a "fashion" company.

Sacconaghi actually said the Apple Watch "will evolve to be a heart-monitoring device" that "could save your life." (Really … see how this was going?)

Sacconaghi also likes the car and the "television or content side" (snicker). No one said anything this time about buying TWTR or NFLX.

Weiss insisted he's "not negative" on AAPL; he just doesn't "worship at the temple of Apple."
Weiss flexes muscle, dominates active-vs.-passive discussion
Kevin O'Leary on Wednesday's Halftime Report said that if he had to pick AAPL or financials over 12 months, he'd have to pick AAPL.

O'Leary said if you buy financials now, it'll be the "5th time" you fell for the Fed-is-gonna-hike thing.

Pete Najarian asked O'Leary if he might like MS. O'Leary said if the Fed hike doesn't happen in September, forget it.

Doc said JPM's move isn't over but asserted the Fed won't move until December, and then it's a "1-and-done."

Judge stumbled over Marcato/BWLD on the prompter; "I can't read today."

Josh Brown said that what Marcato is saying is that "Sally Smith needs to go" and suggested management might indeed be "too entrenched."

In an active-vs.-passive debate that seemed to be a referendum on hedge funds, Kevin O'Leary said a lot of hedge funds in 2008-10 started "gating," and as a result trade below NAV.

Steve Weiss made some excellent points about how there are too many hedge funds but that some are definite winners.

Weiss said the S&P is not the right benchmark for hedge funds. He said he agrees hedge funds have been "significant underperformers," but so have long-only mutual funds.

Weiss also said the gating is good because it protects the other investors. Weiss said passive investing "has been the place to be," but it's not driven by fundamentals in these "unnatural investing circumstances."

O'Leary threw in an "at the end of the day" (Double Drink).
And we thought buying equities was the fool's way (a/k/a presumably he wasn't buying 10,000 shares)
Judge on Wednesday's Halftime Report gave Pete Najarian a partial Fast Fire on touting TGT the day before.

Pete, evidently spurning his brother's general purpose advice a day ago, said he bought TGT on Wednesday at 70.50.

He also said he sold some calls against it and bought calls further out. (Oh joy.)

Josh Brown said he thinks AMZN is hurting TGT and predicts you can buy TGT at 66.

Josh said URBN is "not my type of thing."

Weiss pointed to activist influence in PLCE and how China prospects can help the stock.
HLF recruits suckers to buy shakes; VRX raises prices on buyers of pharmaceutical drugs (cont'd)
Stephen Weiss on Wednesday's Halftime said MS' upgrade of VRX indicates it's a "financial engineering story" and said, "They haven't made money on anything but raising prices."

Weiss said he's not a buyer of VRX.

Doc said "knock on wood," his GPRO calls have "worked out this week." (Just think how much he would've made had he invested $500,000 in the stock … but that wouldn't have tilted the risk/reward in his favor.)

"I'm still in it," he said.

Jackie DeAngelis wore that fabulous orange/white/black outfit. Bob Iaccino said crude goes "a little bit sideways." Brian Stutland though said he sees new 52-week highs in crude.

Doc said the September 33 calls in XON were popular though the screen showed October 33 calls, predicting "another big move to the upside."

Pete said November GLD 132 calls were popular though people were selling the 140s. (BUT WHAT ABOUT THE GDXJ?????)

Stephen Weiss said he sold MDVN at 64."Maybe it can go up to 68 or so; I don't know, no idea," Weiss said, but there's "limited downside."
[Tuesday, August 16, 2016]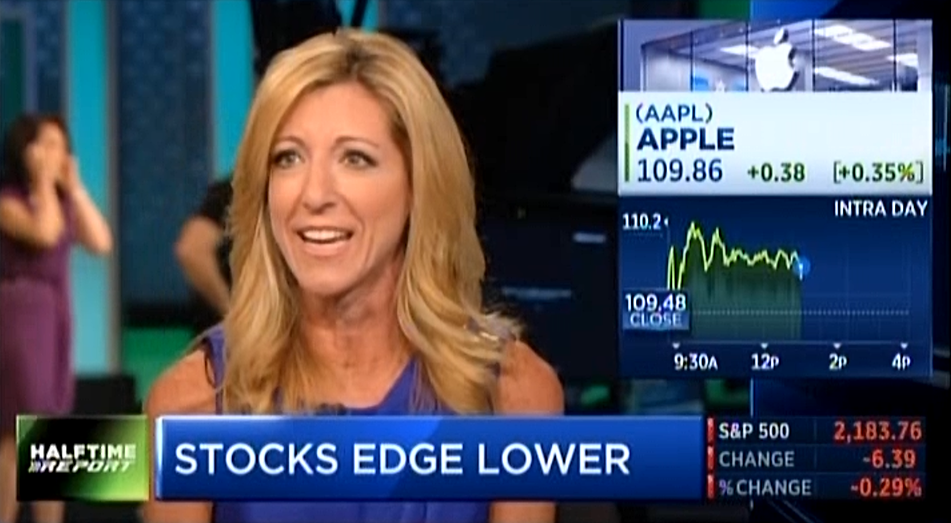 Mel shown adjusting dress, flipping hair in cute Power Lunch prep
Joe Terranova on Tuesday's Halftime suggested DKS will cruise past 60.

Judge didn't say anything about Sports Authority's "intellectual property" (Drink).

Pete Najarian twice in the show mentioned how great it is that no one's talking about Golf Galaxy (Drink).

"The Vikings are going to the Super Bowl," Pete claimed, citing Teddy Bridgewater (snicker), one of those quarterbacks who couldn't start for any other team except the one he happens to be on.

Joe called RRC "a trade of opportunity" below 40.

Josh Brown said to try MRO if you want a sexier version of the XLE.

Pete lukewarmly called STX one to own if PCs are getting better or just aren't so bad.

Joe gave a long explanation of UHS without really saying what to do.

Josh questioned Google's new app and claimed "I'm open-minded on this one."

Joe said he thinks the Fed should hike in September. Judge said the market doesn't think that will happen. The panel talked themselves into a roaring bank-stock rally if the Fed hikes in September.

Pete said someone was selling a "huge" number of November 15 puts in MU.

From the dynamic duo who don't get nearly enough time on the Halftime Report, Jim Iuorio suggested the market didn't grasp what "possible" meant from Bill Dudley, and Jeff Kilburg suggested the dollar index is a great sign for Yellen to be dovish.

Joe gave a Marichal windup to HSIC.

The cameraman caught Mel just before Power Lunch doing an adorable little appearance checkdown.
Steph says a stock down 5% on the day is only 1% off its all-time high
Tuesday's Halftime Report offered panelists another chance to discuss TJX (Drink) as well as Palo Alto (Drink).

Stephanie Link said of TJX, "The stock's 1% off of its all-time high."

"The guidance was the only issue," said Pete Najarian.

Imagine that. The market concerned about guidance.

Stephanie Link, not Joe, got to talk about "Palo Alto" (Drink). Link said she added it last week.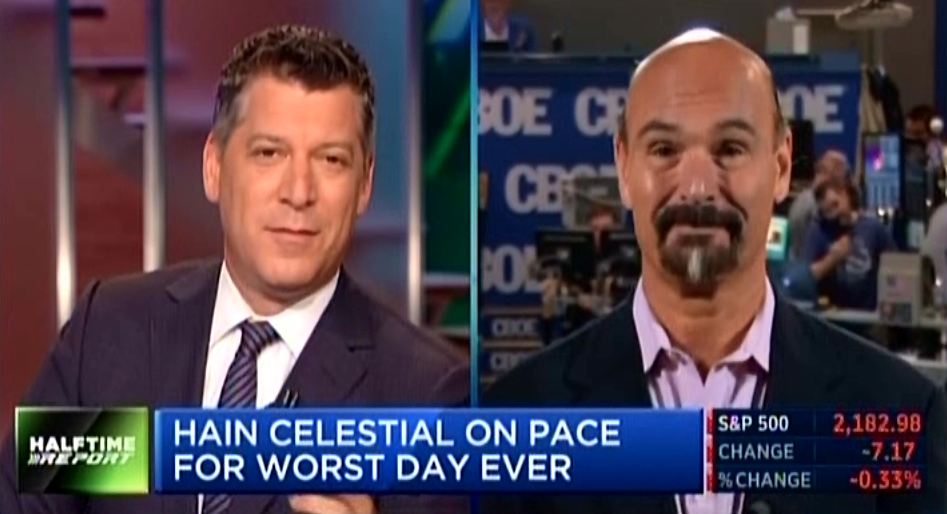 The options market: Where a -88% return is superior to a -26% return
In another instance of curious math on Tuesday's Halftime, we have the September 55 HAIN calls.

To his credit, Jon Najarian took a Fast Fire for his Friday bull call on the trade.

But what seemed a potential feel-good moment quickly devolved into a sorry exercise in 1) math, 2) sales puffery and 3) excuse-making, particularly when Judge jumped on the bandwagon to make options trading sound like taking out a CD.

Najarian said the previous HAIN call-buying seemed to "fit exactly" into the WWAV takeout mold.

That's completely fair; he noticed an appealing trade and tried it, and it just didn't work out.

Happens to everyone, and he gets many right.

But then there was this: "Obviously George Soros got fooled; we got fooled," Najarian said, citing Soros' 13F, which 1) is 45 days old and 2) it's hardly like George Soros is sitting around waiting for OptionMonster to tip him off to heavy call buying so he can do the same trade as the Najarians.

Then: "The read I believe was correct Judge," Najarian said, like when the hitter insists he should've been expecting fastball when he got a slider with 2 strikes in the 9th.

Doc said he paid $1.20 for a 55/60 spread that's now worth $0.15.

He also said Tuesday's move "basically took about 10,000 bucks out of my account today," which suggests that with rounding, the trade probably cost around 12 grand.

Then the type of sales pitch that belongs on overnight cable TV: "If I were in 10,000 shares of the stock, would've lost almost 140 grand. So, again that shows you risk/reward; it's definitely with the options, not with the stock."

Really.

So viewers just learned that those who invest $530,000 in a bad trade lose more money than those who invested $12,000 in the same trade.

Except there's a catch to that too: The guy who somehow invested half a million in tape-watching still has unlimited time to recoup the loss, whereas the risk/reward king playing options has about … 1 month.

Honestly, we can't fathom why anyone on Tuesday was paying 15 cents for a September 55 HAIN call.

In a rare embarrassment, Judge teed up a "How We Trade Options" moment, telling Najarian that by using options rather than equity, "This one I suppose worked in your favor by doing it that way."

Seriously, Judge?
JPM IS THE LEBRON JAMES OF BANKS OMG!!!!!!!
Trumpeting a 3-year-old story, Pete Najarian on Tuesday's Halftime said Morgan Stanley is moving into wealth management "more and more and more."

Josh Brown was the only panelist to correctly point out that "the focus on wealth management" is looking in the rear-view mirror, suggesting it'll never be as lucrative as the banks' brokerage businesses used to be.

Mike Mayo is undeniably a great bank analyst.

And he's very good on television.

But his CNBC appearances are useless and a waste of time, because 1) he's on all the time, 2) he's constantly pounding the table for one or two of the big banks even though they've been lousy investments for a decade and in bull markets you can do a lot better, and 3) these are boring stocks, proxies on the market in general and vehicles that are far better to work at than invest in.

So 1), we aren't writing about it anymore; 2) we don't care; and 3) neither should you.

Judge did thank Mayo for taking his "personal time" to appear on the show and talk about LeBron James.

Pete Najarian said everyone is putting banks in the "same sort of a pocket."

Stephanie Link said MS is inconsistent while GS is consistent.

Joe Terranova said it's "unique" to see an activist stake in a Wall Street bank and suggested it might open a "larger narrative" about whether, after 7 years, banks need to hoard so much cash. (Gee, wonder if anyone on Wall Street thinks so, and wonder if anyone on Capitol Hill doesn't think so.)

Joe said there's "a little bit of uncomfortableness" in MS' wealth management department.

Joe halfheartedly mentioned BlackRock, CME and ICE; the latter two are often touted during market selloffs because of the volatility. Pete at least questioned whether the current hyperlow volume is a problem for CME. Joe said that used to be a concern that "we've now lapped." (Translation giving Joe the benefit of the doubt: No one better make a bull case for these stocks because of high volatility.)
HAIN September 55 calls — get 'em while they're hot
It was just on Friday that Doc reported heavy call-buying in HAIN September 55s.

They probably should've been buying the puts.


[Monday, August 15, 2016]
Judge thinks Web address constitutes 'intellectual property'
Judge, citing FT's dividend report, gave Pete Najarian an opening on Monday's Halftime TO TALK ABOUT HOW AWESOME THE GOLD MINERS ARE!!!!!!!

Jim Lebenthal suggested a possible "sea change" in tightening sentiment on Aug. 26, which would take gold down "pretty rapidly."

"We are de facto tightening," insisted Joe Terranova, citing what other countries' central banks are doing.

Speaking of gold, Stephanie Link and Pete talked about the gold standard of second-hand retail, TJX (Drink).

Pete said he's back in MU because of the option buyers Monday and said it goes "towards 20."

Josh Brown said it's "smart" for Tesla to remove the term "autopilot" from its Chinese website.

Judge actually re-mentioned DKS getting Sports Authority's "intellectual property" (snicker), or in other words, its Web address.
It's not that it takes forever, it's that it's humdrum food at ridiculous prices
In a curious new feature called "Fast Break," Judge on Monday's Halftime aired clips of the gang talking during commercials, with Joe Terranova saying he has a "big problem" with SHAK because its customer service "takes forever."

Meanwhlie, Joe said TWLO was getting a boost from non-WhatsApp earnings.

He said at 60, the stock "scares me," but when you're scared, it often goes higher.

Joe said there's "real growth" at NVDA. (But then again, there used to be real growth in DDD too.)

Joe said, "No one talks about the move in Texas Instruments," which he's fully capable of talking about at any time (including during the commercials apparently).

(We're stopping mentioning whenever Jim Lebenthal talks about CSCO.)

Josh Brown said the question of WMT's Jet deal is whether it's offensive or defensive.
Believability was stretched on Monday's Halftime Report as the gang tried to make TWTR sound like the next Berkshire Hathaway.

Josh Brown claimed he wouldn't be "surprised" if there's "some data" showing Twitter sign-ups rise "either leading into a major event or during."

So where's the data?

And assuming it exists, which it probably doesn't, where's the data showing how many cancel or stop logging in after the "major event"?

Brown said TWTR's "deal with the NFL" (snicker) and "tie-in with Apple TV" (double snicker) do have potential to "increase engagement."

Pete Najarian, who tends to be a momentum trader, said TWTR had a big move Monday and there's been "paper, paper, paper" in the options for a couple weeks.

Apparently forgetting we have television in this country, Joe Terranova actually said that on election night, "you will get all of the news, all of the content from Twitter."

"They need more people in the living room," said Joe. "Twitter's become America's living room, for a big event."
Wondering when Judge is going to 'call' Steven Ballmer again
Jim Lebenthal on Monday's Halftime said Iraq is "pumpinin'" (sic) oil at 5 million barrels a day, and "that in and of itself (sic redundant) is just a huge number," and they're intent on raising, which, combined with other countries having similar intentions, isn't great for the price of crude.

Jim said to avoid refiners.

Joe Terranova credited Steve Weiss last week for saying the hedge fund community had gotten really short crude. But Judge said it was Helima Croft who observed the "bear trap" in oil.

Stephanie Link said "now is the time" to get into DOV; she also likes BHI and SLB.

Pete Najarian didn't get a chance to say that Delta bought a refinery. But he did admit airlines "just haven't been executing properly."

Joe Terranova said HA (half-Drink) is "probably the only investable airline at this point." Jim Lebenthal chimed in with ALK (Drink). Jim said this is "late in the cycle" and not the time to buy airlines.
HLF recruits suckers to buy shakes; VRX has 'a whole big business' of 'overpriced drugs'
Irina Koffler visited with Monday's Halftime Report to say she's been bearish on VRX for a couple quarters, but "we are moving to the sidelines" because VRX has "amended their debt covenants essentially."

Amending debt covenants. Not a typical rationale for an upgrade.

Judge asked Koffler as to whether Valeant really will sell a bunch of assets. Koffler said Valeant has "a whole big business" that no one is interested in buying "because it's a bunch of these overpriced drugs."

Then Judge asked basically the same question, who would buy VRX.

Joe Terranova basically answered that one later, stating, "Why would you buy the whole company when you can just buy the assets?"

Koffler said she's "certainly" concerned about the Philidor investigation; "I just don't think it's gonna put the company out of business." (But what if Ackman made a short presentation at Ira Sohn and got the FTC to investigate and not not call it a pyramid scheme …)

Sounds like it's ripe, as CP once was, for one of the greatest corporate turnarounds in corporate history.

Pete Najarian said he doesn't see a reason to be in VRX, pointing out Koffler went to neutral, not buy.
Low VIX alert (cont'd)
In an opening that screamed "melt-up in progress," Pete Najarian on Monday's Halftime said the cash on the sideline is "starting to chase."

"Money's finding a place everywhere," said Joe Terranova. "This is really a chase for performance right now."

Jim Lebenthal cautioned that low volatility will enable exaggerated swings and said the VIX is so low that "it's cheap to buy insurance" for the next 3 weeks.

In a curious declaration, Joe said, "Looking forward (sic redundant in reverse), I don't know if you're gonna see that retail money ever come back in the marketplace."

"There is volume not existing right now," Pete said.

Josh Brown said, "At the end of the day (Drink), um, it's not a Fed-driven rally in the absence of earnings." Brown said the worst thing that can happen is a "parabolic you know, blowoff rally," which he said is "conceivable."

More from Monday's Halftime later.
Great moments in presidential outrage: Newly sworn in Barack Obama on Wall Street bankers' 'bonuses'
Barely a day goes by on CNBC's Halftime Report where someone doesn't suggest it's a good time to buy a bank stock.

For whatever reason (gosh, it's strange how these thoughts come to mind), we started to wonder, when was the last time we heard President Barack Obama claim outrage about Wall Street bonuses?

See, we're kind of under the impression that Barack Obama and other would-be critics seem to accept the free-market compensation system while cleverly deploying the term "bonus" when necessary to appeal to their more emotional electorate.

Performing a Google search of "President Obama bonuses outrage" or something like that turned up a series of hits all from early 2009 — including some AIG venting in March, and this Jan. 29 Oval Office appearance referring to Wall Street banks mentioned in the New York Times:


"There will be time for them to make profits, and there will be time for them to get bonuses," Mr. Obama said during an appearance in the Oval Office with Treasury Secretary Timothy F. Geithner. "Now's not that time. And that's a message that I intend to send directly to them, I expect Secretary Geithner to send to them."


That story noted that the White House prevented an aviation outrage and saved taxpayers from a boondoggle by everyone's favorite $5 (pre-reverse split) bank stock: "But it took the urging of the Obama administration to force Citigroup, which received an infusion of taxpayer funds last year, to abandon plans to buy a $50 million corporate jet."

The only thing is, outrages weren't just the domain of Bulge Bracket banks … but Obama's own government. The General Services Administration in October 2010 spent $800,000 in taxpayer cash on a conference near the Vegas strip; White House Chief of Staff Jacob Lew said the president "was outraged by the excessive spending, questionable dealings with contractors, and disregard for taxpayer dollars."

Certain folks though were OK. In February 2010, the president was asked about Lloyd Blankfein's $9 million bonus and Jamie Dimon's $17 million bonus. He said he doesn't "begrudge people success or wealth." He called the two "very savvy businessmen."

Lloyd earned $30 million in 2015, according to Bloomberg. Jamie got $27 million. (Note that these numbers are reported in 3 increments — "salary," "bonus" and "stock award" — and that the "stock award" number is a lot higher than the number called a "bonus.")

Evidently, banks have become good enough corporate citizens these days that their compensation no longer inspires outrage.

On March 17, 2009, none other than Donald Trump opined on AIG bonuses. "It is a — it is very bad politics in terms of what AIG did. They took $165 billion in money from the government and now they're going around giving out bonuses and giving people bonuses that really, in many cases, did not do a very good job and, in many cases, took the bonus and left right after the bonus. And the bonuses were supposed to hold these people together and hold them into the company — hold them in the company."

"So I think it's a very, very foolish thing that they did. And certainly should have used a different name if they had to do something."

Like Wade Garrett says in "Road House," Exxxxxxactly.

Later in that interview, by the way, Larry King asked Mr. Trump how Barack Obama was doing. "I think he's really trying. He inherited a mess. Mr. Bush gave him a total mess. But he's really trying hard. And I think he's doing as well as can be expected thus far. And I think, ultimately, he will be successful," Trump said.

"Overall, I think he's doing very well. You do need stimulus and you do have to keep the banks alive."
[Friday, August 12, 2016]
Hidden value in retail — Web addresses of bankrupt companies
Sam Poser on Friday's Halftime said DKS picked up the Internet address of sportsauthority.com, so that anyone somehow typing in that Web address will get Dick's instead.

Wow. Talk about a valuable Internet property.

Meanwhile, Poser said that 18-36 months from now, people will say of UA, "I should've bought the stock."

That presented a great opportunity for Judge to entertain speculation as to what stocks will indeed be the best ones 3 years from now ... but he didn't go there.

Poser defended a bull call on FL, shrugging off Judge's concerns about mall demise, stating "if you have the right stuff," people will apparently buy it.

Doc said of Poser's 3 names, he likes UA for its longer "runway."
Judge decides that Trump's criticism of other people's tax returns doesn't carry much weight if he hasn't released his own
CNBC's John Harwood made a brief appearance on Friday's Halftime Report, stating some people think the Clintons have made "excessive" money from speaking.

Judge speculated that if Trump criticizes something about the Clintons' returns, then people can say he hasn't released his own returns, which "mutes" Trump's criticism.

Steve Liesman agreed with Judge's suggestion that the Fed might be setting itself up to be "overly optimistic."

Liesman said the Jackson Hole meeting is "July 25th and 26th, I wanna say." Judge at least corrected it to "August" (twice).
What? Nothing about this being the time to buy the banks?
Tackling a punchless opening topic on Friday's Halftime Report, Jon Najarian predicted the market keeps "backing and filling" higher.

Kate Moore suggested dividend growth stocks.

Jim Lebenthal predicted a "plateau" given that we're in the back half of August but suggested the cash on the sidelines will flow in early September.

Josh Brown said "price, internals and earnings" are what matters, and all 3 "are headed in the right direction."

Doc said he's probably hearing "twice as many rumors" about M&A as … other times.

Jim Lebenthal said nobody's really paying attention to how JCP has reduced its debt.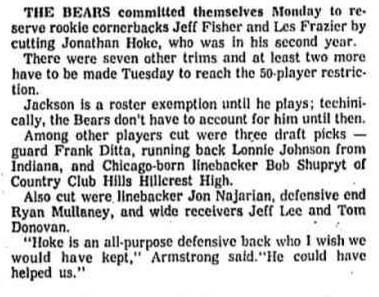 1981 Bears — Buddy Ryan suggested Kunz, not Singletary, might be starting MLB
Anthony Grisanti on Friday's Halftime Report said 1.46% is the next level of support in the 10-year, and through that, we could see all-time lows. Scott Nations quoted the PPI.

Jim Lebenthal said PLNT is a name for momentum players to own.

Judge and Doc congratulated Josh Brown's NVDA call; Brown mentioned "virtual reality" (snicker).

Doc said he bought MRO calls a day ago because of unusual activity.

Kate Moore said BlackRock is getting more constructive on emerging market stocks, including the country of the fortnight, Brazil.

Doc said there was a bunch of September 55 call-buying in HAIN.

Josh Brown said to stay with BABA. Jim Lebenthal said all the good news is priced in to HD.

Nothing's hipper than Jane Wells on a football field, but Doc took the occasion to claim Rams coach Jeff Fisher "was my teammate, uh, with the Bears in '81," except Doc didn't actually make the team, which is what counts as being a "Bears player" (see NFL.com, where Pete Najarian is rightly listed as a former player); as usual, this should've been rephrased as "He was in my Bears training camp in 1981 and played for 4 years." A training camp invite is indeed a great achievement; no one's knocking that.
[Thursday, August 11, 2016]
Doc thinks Judge actually has Steven Ballmer's cell number
Joe Terranova on Thursday's Halftime reached deep into his greatest hits, telling Yana Barton that Palo Alto (Drink) has been in the "penalty box" (Double Drink) and asking what she thinks.

Barton said people are "getting a little nervous" about the PANW multiple.

But Barton said growth is on sale in tech, calling Facebook "very cheap."

Even though we learned a day ago that the best place to make money is NOT public equities, Stephen Weiss revealed he bought TWTR on Thursday, stating "there's enough noise there" to drive the stock, and maybe the Najarians will even talk about unusual activity. Doc said he's owned it "basically" since Judge "called" (sic actually emailed according to original story) Steven Ballmer and Ballmer said no comment.

Doc said, "There's an accumulation going on" in TWTR, citing heavier volume.

"I think it's being shopped; that's what it feels like," Doc said, adding that Judge "talked (sic inaccurate based on original story) to Ballmer."

Joe mentioned "repatriation of capital" (Drink) (snicker).

Barton included an "at the end of the day."
Talented Guy Completely Blowing Easily Winnable Election (cont'd)
Judge on Thursday's Halftime aired a clip from Trump's morning interview in which Trump asked Judge to define what "mistake" means.

(Trump said the matter's closed, and he wasn't there to talk about that on Thursday.)

In a classy move, Joe Terranova said he wished Trump had referred to the ridiculous and 8th-grade-ish (those are this page's terms) Khan family criticism as a mistake.

Joe said "Mr. Trump" wants to focus on the economy and finances.
Order suit online; find a tailor
It's the rally no one was taking very seriously.

Yana Barton on Thursday's Halftime Report said "it's still not a pretty picture" in retail.

Stephen Weiss said it's "lunacy" that JWN and JCP were up despite not having reported yet, calling it a sign of a "troubled market."

Jon Najarian said he's "lucky enough" to be in some of those retail winners such as M. "However, there's going to be margin compression for these guys" as well as P.E. compression, Doc said.

Joe Terranova claimed "a few of us" about 6-8 weeks ago suggested getting long M around 32.

Joe said he likes TJX, ROST and BURL.

Doc revealed, "I just in fact did buy 2 suits at Macy's, uh, online. And I got 'em 55% off, I, I will happily tell you, Judge."

Barton likes SFM over WFM, because SFM is adding stores and WFM is shrinking stores.
Shake Shack is boring;
food's overpriced
Josh Brown wasn't around, but Judge insisted on a SHAK discussion on Thursday's Halftime.

Jake Bartlett said the "real driver" of SHAK is not same store sales but "unit growth," which is improving.

Stephen Weiss though told Bartlett that it seems "sheer lunacy" to own a stock like SHAK that has "continued to disappoint."

Bartlett said it hasn't continued to disappoint; rather, it was facing a tough comp.

Weiss later said the business isn't growing as fast; "no kidding, that's the issue."

Jon Najarian explained why he halfheartedly skipped an afterhours trade in SHAK a day earlier. "It's not for me; it's not for our clients" because SHAK has "too few locations," Doc said.

Joe Terranova said SHAK's chart reminds him of TWTR. Joe also said the SHAK experience would be much better if you could order ahead of time online.
Trump should take a page from HLF, learn how to 'co-opt' his critics as well as the government and legal system and Wall Street
Meg Tirrell on Thursday's Halftime said there are "a dozen different agencies" looking into VRX.

Stephen Weiss impressively pointed out that Valeant and other companies won't make allowances for legal fees because then those allowances become targets for settlements. Weiss said asset sales have driven VRX's gains.

Yana Barton was supposed to talk about BABA but instead gushed about AMZN. Doc said people have been buying calls in BABA for a long time.

Doc said CHK sold some shale play and suggested if it holds $5, it could go higher.

Joe Terranova said TWLO is "goin' higher" and credited Jim Cramer.

Bob Iaccino said OPEC is like the Fed, and he wasn't excited about an extended crude run. Brian Stutland said he could "definitely" see 45 but was a little iffy about beyond that.

Joe demanded to know what exactly about oil Helima Croft was talking about. Joe then said to focus on equities and suggested refineries while admitting, "This is a tough show for me."

Yana Barton made the case for NWL at the end of the show.

Doc said there's been bullish buying in BYD.
[Wednesday, August 10, 2016]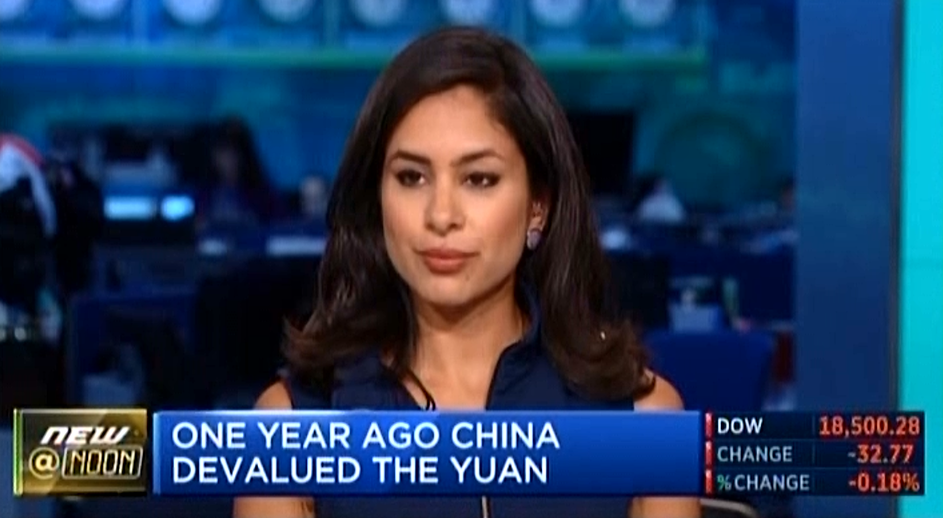 Weiss tries to impress Seema with yuan mumbo jumbo, seems to fail
Wednesday's Halftime Report was looking like a rather humdrum, forgettable affair … until Judge knocked viewers' socks off by inviting CNBC megafox Seema Mody to the table to talk yuan devaluation.

Seema delivered a nice recap and mentioned purported Chinese concerns about not wanting to destabilize the global economy but honestly talked too fast for us to keep up.

The show's resident expert on Beijing, Stephen Weiss, was then compelled to demonstrate his own insight on this subject, concluding, "They could (sic meant to say 'couldn't') care less about destabilizing the global economy."
Man gives money to Trump but refuses to go to his event and be photographed with him
A lot of the folks on CNBC's Fast Money and Halftime Report tend to shy away from discussing politics.

Kevin O'Leary though prefers to tackle it full bore, stating on Wednesday's Halftime, "I don't assume Hillary gets elected."

O'Leary said he landed in Hyannis 10 minutes after Trump and "was talking to the guys in the airport" and found they're all voting for Trump, presumably because they fear baggage handling being outsourced to Vietnam under the TPP.

O'Leary said he also talked to a woman who went to the Trump event and donated; the woman's husband didn't go because "he didn't want to be photographed with Trump, but he's giving dough to him."
All 32 of Kevin O'Leary's 32 U.S. companies have to pay a lawyer in order to hire someone
Kevin O'Leary on Wednesday's Halftime said his 32 private American companies are "buried in regulation" and can't hire workers because "they gotta pay lawyers to comply."

O'Leary said Trump does indeed resonate with the "Archie Bunker worker" though Trump says "a lot of crazy stuff."

Stephen Weiss curiously said he's going to be "neutral" in the presidential politics conversation.

Kevin O'Leary claimed that mom and pop farms around Champaign-Urbana are paying gobs to the government in estate taxes when someone dies at their million-dollar enterprises. O'Leary said that's in "Illinoise" (sic that's correct, pronounced the "s" at the end).

Josh Brown shrugged, "There's never been a candidate running for office in 30 years, that hasn't said, the tax situation is screwed up."
ESPN struggles are priced in; 'Star Wars' movies are not (cont'd)
Josh Brown on Wednesday's Halftime said his takeaway from the DIS report is that "Disney is fine."

"At the end of the day (Drink), they have the content," Brown said.

Jon Najarian said it's a "false premise" to say, as James Stewart apparently did, that the gravy train of ESPN earnings are over. Doc said just wait and see what "dynamic pricing" does for DIS.

Brown suggested DIS might be able to "meter" (snicker) how watchers pay for ESPN.

Kevin O'Leary actually suggested Iger should do to ESPN what Jeff Immelt did to his GE Capital unit.

O'Leary said it sounds to him like Iger is staying 3 more years.
No, no: The bank-stock breakout has already been happening
Judge's opening topic on Wednesday's Halftime, whether banks are now a buy, seemed a certain snoozer.

Kevin O'Leary said it's only the "4th time" they've had the conversation.

Josh Brown said "the evidence is not quite there" that it's time to buy financials.

Stephen Weiss suggested the stocks are sort of waiting for a Fed hike. But "even if they go," Weiss said, "it doesn't mean all that much."

"I"ll take a credit card company over these banks any day of the week; especially I like that trade right now," said Jon Najarian.

Josh Brown started to tout GS, but Kevin O'Leary interrupted that it has "political risk."

Nevertheless, "I've never seen more cash on the sidelines in my life," said O'Leary.

Steve Weiss contended, "The best place to make money is not in public securities."

Judge claimed it's just a "herd mentality" going on.

Weiss said health care is "by far" his largest weighting, mentioning SRPT (Drink).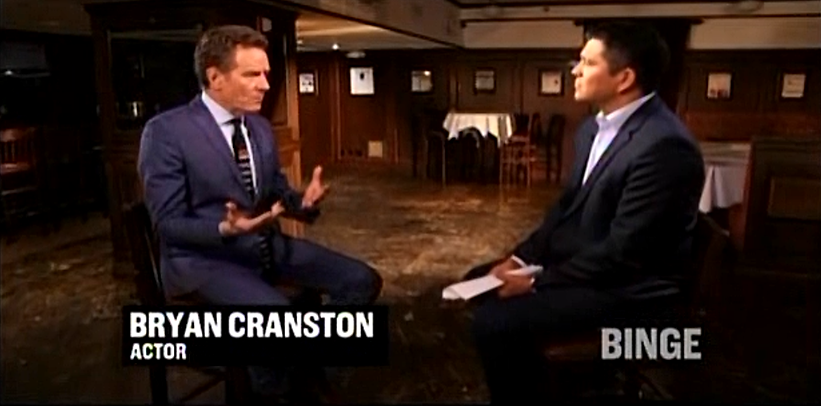 CNBC should definitely show the Bryan Cranston promo a few more times each hour (he's an actor)
Kevin O'Leary on Wednesday's Halftime scoffed at fashion stocks and said they just bring volatility to your portfolio.

Doc said RL "just crushed it."

Steve Weiss still likes the airlines and owns AAL.

Josh Brown said WEN is "not an interesting stock."

Doc said SPWR had a "horrific" quarter.

Kevin O'Leary told a tweeter he uses futures to hedge currencies. Then he said he buys SPY puts.

Scott Nations told Jackie DeAngelis that the only thing keeping crude over 40 is Venezuela and Libya.

Doc said "luckily" (Drink) he started buying YELP when there was unusual activity, though he took some profits Wednesday. Weiss said he can't see YELP's valuation in his portfolio.
[Tuesday, August 9, 2016]
Carl admits Trump speaks
too quickly at times
Judge near the end of a rollicking Halftime Report on Tuesday said Carl Icahn tweeted that Trump gave a "great speech" in Detroit.

That sort of started the eye-rolling around here, but Judge managed to elicit some reasonable commentary from Icahn, who insisted Trump is "exactly right on" about the economy because productivity, er, capital spending, is at a low for an economy not in recession.

Carl hinted that this election is basically going to be like Ross Perot in 1992, a referendum on how screwed do employed people feel.

"The Archie Bunker of the world. That was a great show; I used to watch it," Carl said. "Those guys are gonna vote for him because they're smart guys, they know they're getting screwed."

The only problem with that is that the other end of the rhetoric tends to be a bit, um unbridled, which prompted Judge to ask Icahn if he has "started to question" his own support for Trump. Icahn said he has known Trump for years, though "at times he does, you know, speak too quickly."

At least one person on Tuesday's Halftime panel has revealed contributing to Trump and attending an event. But he's not what we'd call an Archie Bunker type.
HLF is controlling your mind — guest says Herbalife co-opted the Internet, then points to negative article anyone can read online
Sigh.

It's the story that won't die.

Onetime HLF short and financier of "Betting on Zero" John Fichthorn joined Tuesday's Halftime Report and said this: "At the end of the day (Drink), you sit there and you look at the pitch, and the pitch is a dishonest pitch."

We haven't watched hours of Herbalife videos, but we don't doubt that conclusion.

What we do doubt is the government's interest in shutting down this company, given that it didn't seem to care until a rich guy made a big short-selling presentation, and after that, only mildly.

Fichthorn admitted to Judge he's been watching HLF since 2004, and "there were always sleazy things going on in the background in our opinion."

So he's on the 10-year short schedule.

And why then wasn't the FTC investigating in 2005?

Fichthorn reached for ludicrous hyperbole, stating the company had "co-opted all of its critics," as well as "co-opted the Internet" and "co-opted the government" and "co-opted the legal system" and "co-opted Wall Street."

Hmmm. That sent us scrambling for the official definition of "co-opt." We got:

"to cause or force (someone or something) to become part of your group, movement, etc."

"to use or take control of (something) for your own purposes"

So Herbalife has apparently exerted some kind of Jedi Mind Trick over government, the Internet, the legal system and Wall Street.

Maybe the problem for Ackman and Fichthorn is that they haven't been able to reach all of Carl Icahn's Archie Bunkers out there.

Judge asked Fichthorn why he quietly financed the movie when everyone would think Ackman was behind it.

"I didn't know they'd necessarily point the finger at Bill Ackman," Fichthorn claimed. (Because the director might've been at Harvard and thus only had a 1-in-10,000 chance of knowing Bill, but she did, because they were both on the rowing team.)

Fichthorn said he hasn't been short HLF since 2014 given movie director considerations. Ted Braun is "the most ethical guy you will ever come across. And he wasn't gonna make a movie if I was short the stock," Fichthorn said.

He shrugged off the 60something price of HLF and curiously said, "I think stocks largely are decoupled from their fundamentals, but the fundamentals at Herbalife are still fine, right? The enforcement hasn't taken effect, won't for 10 months."

Fichthorn said HLF reps are out there "lying to people about the business opportunity." He also said HLF and Carl Icahn "made a materially inaccurate statement" about Trump's Archie Bunker crowd claiming the FTC ruled "this was not a pyramid scheme."

He told Joe Terranova he would "absolutely" consider shorting the stock again.

Josh Brown asked Fichthorn that one problem with the HLF critics is that people wonder, "Where are the warehouses upon warehouses filled with product."

Fichthorn said, "We can drill down in the details" and questioned if there's tons of product in Lebanon, adding — despite the fact HLF has "co-opted the Internet" — "It's online; you can pull up an entire story on their shipments to Beirut."

Judge questioned if Fichthorn ever really saw this company as worthless. "I didn't put 20% of my fund into Herbalife going to zero," Fichthorn said.
Let's not lose sight of the fact that CP was one of the greatest corporate turnarounds in corporate history
More interesting than the recycled Herbalife conversation on Tuesday's Halftime was John Fichthorn's description of a company we'd hardly heard of, Primerica.

He said PRI is his "biggest short in the space" of multi-level marketing.

Fichthorn said the Department of Labor has ruled that PRI sells "overpriced financial products" that are "also illegal."

Fichthorn said the Department of Labor says "you can't overcharge retail consumers for buying generic financial products anymore."

Seriously? Overpricing financial products is now illegal? Was Liz Warren just elected president?

Whoo boy.

He said he's been short PRI "on and off" for 5-6 months.
If the bad news is priced into DIS, isn't the 'Star Wars' and Marvel deal priced in too?
Jim Lebenthal on Tuesday's Halftime Report said he's long DIS and thinks the bad news, a year old, is priced in. Then he went on to mention the always-new-revelation Marvel franchise, "Star Wars" franchise and "animated stuff."

Stephanie Link said she wants to buy DIS lower.

Joe Terranova said there's no "magic" to the DIS chart.

Josh Brown said he hopes the stock trades down on earnings so he can buy low; "at the end of the day (Double Drink), we're in the midst of a technological transition."

Jonathan Krinsky claimed (2 or 3 times when questioned repeatedly about the timeliness of his call) a bank-stock breakout has "already been happening." He said his bull call is that financials "are no longer in a downtrend."

Krinsky mentioned RF, ZION and JPM as well as BRK.

Joe Terranova stressed that it's a story about all the financials and not just a banking story.
Tanker direction determined by latest wave (cont'd)
Perhaps trying to rebound from a Brexit forecast bungle (that was basically correct in the long run), Joe Terranova on Tuesday's Halftime said he "fully" expects the Fed at Jackson Hole to telegraph a 25-basis-point hike in September.

Stephanie Link curiously said "we gotta get through earnings first," even though it seems earnings season has gone well. (Oh, forgot. People are suddenly going to rethink AMZN and FB and decide the guidance wasn't good enough.)

Jim Lebenthal said the market's been rising because people are playing "catch-up."

John Fichthorn said the market's like the "twilight zone" because it's led by utilities. Fichthorn thinks the Fed is "on hold" because of Libor's rise.

Fichthorn said automotive is in "kind of the beginning of a, of a down cycle." He said KMX and HOG are most at-risk. He said he's short KMX and AN and HOG and TSLA. But Josh Brown said automakers already trade at a 50-70% discount to the overall market.

Jim Lebenthal admitted he's long GM and said the valuation would only be relevant if there's a recession coming. Fichthorn conceded the sector is "cheap" but claimed that after rising $10,000 over 10 years, car prices are going down.

Fichthorn said he looks "idiosyncratically" for long ideas and has come up with VG. He said he also owns MRVL and MU. Josh Brown questioned, "At the end of the day' (Triple Drink), what's to like about MU when it can't control its market. Fichthorn said, "Well, you know, I think you gotta buy the cyclicals when they're gettin' killed."

Fichthorn likes XLNX for the M&A, though "I'm not sure who's gonna be the ultimate guy to pull the trigger."

He said the bad news is priced into SWKS.
[Monday, August 8, 2016]
Why did Judge pay a 4-man panel for about 30 seconds of work?
We thought, given that he was speaking during the Halftime Report, that Donald Trump would complain about Tesla disclosure and identify some unusual options activity.

No.

Nearly the entire hour Monday was turned over to Trump's speech to the Detroit Economic Club, but Judge was able to squeeze in a few words from his obviously overstocked panel.

Josh Brown said "it's tough to say" which proposals in speeches such as this are serious. Then he said "repatriation" (snicker).

Stephen Weiss said with a straight face, "These speeches are directional and positional, and by that I mean, don't expect much of this to actually become reality."

"It's just publicity; it's advertising, it's whatever you wanna call it," Weiss said.

Joe Terranova also said with a straight face, "I do believe a conversation around financial regulation is a good conversation."

Jim Lebenthal said he sees a lot of pro-growth measures in Trump's platform, but "I've got one big problem with it. Most of what he's doing is sticking with the Trump style of hurling thunderbolts from on high."

Actually most of what he's doing is getting interrupted by protesters, which happened about every 3 minutes Monday, but at least that helped negate the clumsy pivoting from left teleprompter to right teleprompter as the candidate — yes, they've all got speechwriters — espoused someone's writing that didn't sound very much like his own.

John Harwood curiously said Trump's deficit of 8, 9, 10 points is "a very large margin in American presidential politics," news to those who remember Jimmy Carter +33, Bill Clinton +30 or even Mike Dukakis +17.

Before the speech, Judge said Trump has had a "rough campaign over the last week or so."
[Friday, August 5, 2016]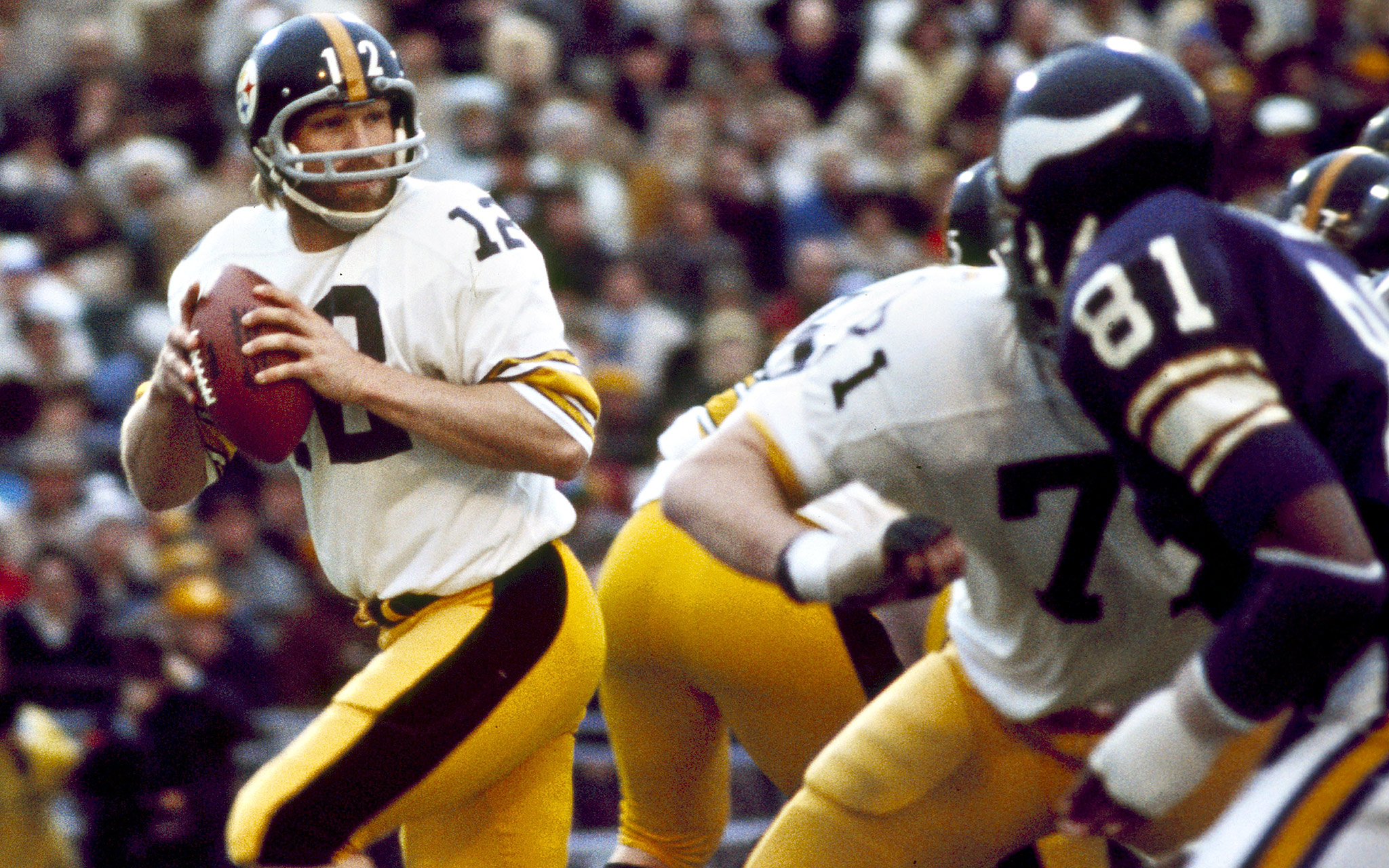 Anchored to the '70s ...
Ben Laidler, dubbed "the biggest bear on the Street," cited "economic policy uncertainty" around the world for his market cautiousness on Friday's Halftime Report.

Just like Grandpas Dan Nathan and Brian Kelly on the 5 p.m. show, Laidler took issue with Judge's suggestion that Brexit is overrated. (IT'S A SHOCK TO THE GLOBAL FINANCIAL SYSTEM.)

Laidler said S&P earnings growth expectations for 2017 are "far, far too high."

Doc said Laidler is "cautious." Judge insisted Laidler is "flat-out negative." But Doc said Laidler is not saying to short the market.

Josh Brown grumbled that "we keep hearing this thing about manufacturing is is, you know the underlying data is not- it's not coming back, guys. You're anchoring to the 1970s. Kiss it goodbye."
Remember, tanker direction shouldn't be determined by the 'latest wave'
Hopefully, they weren't required to swear out an oath that "Bill. Ackman. Is. The. Greatest. Corporate. Turnarounder. Of. All. Time."

Friday's Halftime opened with a panelist cheerleading session as everyone gushed about tech stocks and FANG (at least the first 2 and last letter; if you drop the 3rd letter, which some seem inclined to do, it becomes a much different acronym).

Stephanie Link said the jobs report "was really perfect in every way."

Jon Najarian said GPRO is up 27% for the last month and predicted the tech run keeps going.

Judge asked Doc why Doc doesn't own AAPL when Judge already knows the answer (there wasn't heavy option activity). Doc gave a different answer about "better opportunities."

Steph Link said people underweight AAPL have to chase it.

John Spallanzani suggested people were looking at AAPL in the low 90s because it's a bull market, and people are looking for discounted stocks to buy. According to the disclosures listed for Spallanzani during the program, he owns calls in basically everything.

Doc trumpeted how great the online brokers and life insurers did Friday and pointed out which ones were a "great opportunity" to buy prior to Friday, for those able to do retro trades.

Josh Brown said not to worry about "calendar, seasonal stuff."
Weiss wasn't around to grumble about the difficulty in creating a 'lifestyle brand'
Dana Telsey, who is cute (if it's OK to say that), predicted on Friday's Halftime a positive comp for COH; "the brand enhancement has occurred."

Judge asked Telsey if she's late to the party. Telsey predicted it could go higher than 49.

Telsey said she doesn't call herself "negative" on KORS (despite reducing her target from 63 to 55) but just sees it as a year of "transitioning."

We think Josh Brown said "the vicissitudes of fashion" in stating he doesn't endorse COH or KORS.

Stephanie Link said she's long JWN and is "barbelling it" with (what else) AMZN.
Judge should ask Steven Ballmer if he's noticed any unusual options activity
Meg Tirrell reported on Friday's Halftime that Dr. Mark Schoenebaum views the BMY drug trial as "possibly the biggest clinical surprise of his career."

Doc said he bought BMY in the premarket.

Steph Link said BMY was "totally overreacting short term" and also thinks you can own MRK.

Josh Brown bought BMY "immediately, right on the open." Brown said maybe non-pros don't understand, "Risk actually goes down as a stock plunges like this. It doesn't go up." (Sure … unless we're talking about VRX.)

In a great counterpoint, John Spallanzani said a lot of institutional holders of BMY still have to sell because it's down so much, so he predicts "high 50s." (We don't know who's right, only that there has to be some reason the whole market is selling BMY shares to the Halftime Report crowd.)

Doc said RCL August and September 75 calls were popular. "I bought a call spread in Royal Caribbean," Najarian said. John Spallanzani said the CEO bought shares.

Scott Nations told Jackie DeAngelis that gasoline was actually up Friday, so it was the dollar leaning on crude. Jim Iuorio said a countertrend rally in crude is "completely reasonable."

Stephanie Link said she doesn't think KHC is done with M&A and might be eyeing MDLZ.

Doc actually got Fast-Fired on his dreadful FEYE call buy but contended he saved himself gobs of money by using a spread.
[Thursday, August 4, 2016]
Thinks about it all the time, hasn't seemed to arrive at an answer
Joe Terranova on Thursday's non-Ackman-is-the-greatest-stock-market-genius-of-all-time portion of the Halftime Report asked Steve Liesman how the Fed restores lost credibility.

"I think about this all the time," Liesman admitted, knocking the emphasis on "tomorrow's jobs report" and stating, "The overall direction of a tanker should be determined not by the latest wave coming to the tanker."

So we're crystal clear on how they've lost credibility.

Just not so clear on how they get it back.

"The market has been undeniably smarter than the Fed has been," declared Judge, who said the market would be "way, way offside" if the Fed moves in September.

Late in the show, Joe predicted the Fed would "reset the narrative" in Jackson Hole and "throw the market a little offsides."

The 5 p.m. Fast Money crew got a whole show's pay for delivering a Final Trade as more than 50 minutes were preempted by a presidential press conference, which sacrificed a pair of great outfits and hairstyles from Missy Lee and Karen Finerman.
Judge should ask Steven Ballmer in an email if HLF is a pyramid scheme
In the minutes of Thursday's Halftime Report in which they weren't talking about the greatest corporate investment in the history of corporate investments, Jon Najarian cracked open the door a bit on an apparent issue with Square.

Doc said the Square phone attachment needs the cellphone headphone slot, and "when they asked Jack about it last night, he didn't have a lot of answers."

(Good thing they also didn't ask Jack what TWTR needs to do, because we learned yesterday the solution is not "well-understood.")

Joe Terranova said SQ longs should "stay in the name."

Pete Najarian said he actually jumped into TWTR because of that Steven Ballmer/Prince Alwaleed thing; "I think there's more to this story (snicker) than meets the eye."

Meanwhile, Pete made adidas sound like Amazon.com. "I wear nothing but adidas these days … it's the clothing that I seem to have."

Judge for some reason, like those "Price is Right" games where people affix 3 prices to 3 items and then have to switch them around, forced all the panelists to rank Nike, Under Armour and adidas in the order of gold, silver, bronze. Literally.

Pete again pounded the table for SMG.

Dane Leone of BTIG said biotech is in the "early stages" of recovery, so you want to pick the clear leader, which is CELG, which he gave a $138 target.

Pete Najarian said he likes CHK.

Doc really didn't say much of anything about PWR except it had a bad miss and weak guidance.

Jim Lebenthal suggested MET is setting up for another spike.

Doc said there was aggressive buying of 82.50 calls in TJX.

Jim Iuorio told Jackie DeAngelis, who looked sensational in new black top, that corn goes to "3.10-ish." Scott Nations said corn is almost oversold, but he'd let it fall farther before going long.

The cameraman gave a shockingly close close-up of Mel preparing for Power Lunch.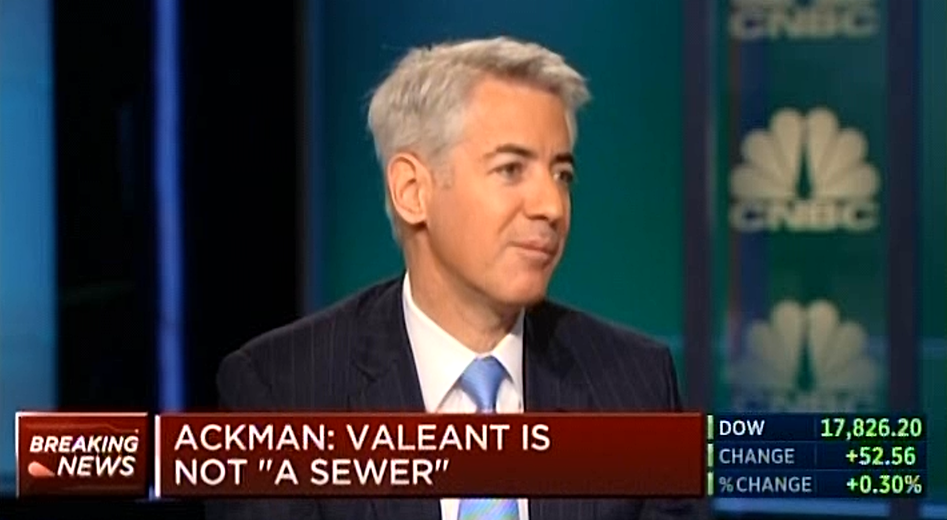 It's Be Nice to Ackman Day
Evidently, anyone who sells a stock at a profit gets the first 11 minutes of the Halftime Report.

Declaring "the good stories of his career have been overshadowed of late," Judge Thursday claimed Bill Ackman's CP deal is "being called one of the greatest corporate turnarounds, um, in corporate (sic redundant) history."

One of the greatest corporate turnarounds … in corporate history.

(So great, the stock has hardly been mentioned on the show in the last 5 years.)

Judge said he spoke to Ackman prior to the program (not sure what prevented Bill from going on-air again) and that Bill reported making $2.6 billion on Canadian Pacific, which Ackman called a "great example" of shareholder activism.

Judge also called GGP "one of the greatest hedge fund investments that has ever been made."

Kate Kelly, apparently assigned to the desk to play the bad cop on this day, said the timing is helpful for Bill because Pershing Square is down 19% through July.

Kelly said Ackman has had some "really bruising defeats" but also "some super-big scores as well."

Kelly even added, "Herbalife — uh, the story's not fully over yet."

Really. What's the next chapter to that story. Busting the HLF distributors who make a video saying "Get paid by Herbalife"? (This writer has no position in HLF.)

Our government decided "there's enough bad publicity about this; we better say something or else we might look asleep at the switch like 2008 or Enron" but otherwise declined to co-sponsor a rich guy's stock market gambit. (He insists it did despite overwhelming stock price evidence to the contrary.)

Meanwhile, Judge also enlisted his panelists to do some free research for Pershing Square.

Jim Lebenthal suggested QCOM could be Ackman's next venture. But he admitted Jana has already been an activist in the name, and that Ackman hasn't dabbled in that space before.

Pete Najarian said Ackman has been in MCD before and could try it again. (Surprised Pete didn't suggest that Bill could get them to scale down the menu.)

Kelly suggested oil drilling might be "ripe for opportunity" for an activist.

Joe Terranova suggested CF, where Ackman could tackle nitrogen pricing.

Doc said PSX, because he likes the stock and Buffett likes the stock (and Judge pointed out Ackman was called "Baby Buffett" by Forbes).

Pete also suggested PFE, then he and Jim Lebenthal agreed PFE might be too big.

Kelly mentioned FNMA; Judge said that was also a viewer suggestion. (This writer is long FNMA.)

Judge's hyperbole at the top of the program seems to be an overreaction to Bill's carping on Monday, May 2, that despite the fact Judge conducted a first-class interview, "You list our worst investments. You never mention the good ones … In general you should mention some good ones, not the worst ones." (That's correct; we didn't hear an "at the end of the day" in that exchange.)

Bill's a big boy. He ought to be able to handle the press. Nobody at least on the Halftime Report or this page is suggesting he's a bad guy or a lousy investor. If you make a national presentation out of at least 3 investments, and all turn out to be awful, one of which involves a company that piles on debt with the goal of raising drug prices to pay it off … what's a TV host supposed to do, pat you on the back?

The good news from this dubious segment is the implication that Bill still has Judge on speed dial and presumably will make further contact with the program.

More from Thursday's Halftime later.
[Wednesday, August 3, 2016]
Surprised Steven Ballmer didn't email back: 'At the end of the day …'
Judge on Wednesday's Halftime Report reached out to Steven Ballmer for this ridiculous rumor about buying TWTR, and got nothing, but he did get Bob Peck, who said "a deal seems unlikely."

Peck apparently said, "Now is simply too soon to give up on the Dorsey plan (snicker)."

Jon Najarian said when TWTR gets around the 14 level, "you do buy it."

He said Jack Dorsey has "got a year" to do … something.

Pete Najarian said TWTR loses execs "every single day."

In perhaps the understatement of the decade, Josh Brown said that with TWTR, "the solution is not well-understood."

Judge said Steven Ballmer did email him back with "No comment."
Remember, if you find growth, 'you just can't pay too high a price for it' (try telling that to an AMZN long)
Extending a recent dubious trend, Judge's opening on Wednesday's Halftime Report was so useless, we virtually fell asleep (and should've).

The hook was supposedly whether the "smart money" naysayers are correct in predicting correction.

"They've been saying this for a long time," said Josh Brown.

"I'd rather be in the market and buy cheap protection (Zzzzzzzz)," said Pete Najarian.

Jon Najarian said if consumers started retrenching, that could sink the market.

Stephen "risk-off" Weiss said, "I think there's reason to be negative."

Pete said he's buying more than he's selling.

Josh said he's 39.
Someone in government has to review HLF video boasting to satisfy rich guy's stock-market gambit (cont'd)
Sam Margolin on Wednesday's Halftime told Judge now's the time for PSX because of valuation and because of the company's "pretty significant spending decrease next year."

Weiss credited Joe Terranova for touting PSX; Joe mentioned adding it to his Halftime Portfolio a few weeks ago.

"I think the demise of oil is really overstated," said Weiss, who said it's "sorta safe" to play the energy space.

Doc said September 43 calls in ATVI were popular. Pete Najarian said someone was buying GPS August 25 calls that expire Friday.

Jeff Kilburg said the anemic GDP number "chop-blocked" the dollar, but he expects it to resume its upward bias. Anthony Grisanti agreed.

Steve Weiss knocked the "poor corporate governance" (Drink) of TSLA-SCTY and said it's "lunacy" to think of Tesla buyers picking up some solar panels. But Pete Najarian said "quite frankly" the most impressive thing about TSLA is how "Teflon" the stock is. Doc said he's "mildly bullish" on TSLA's stock price.

Weiss said HLF "mildly avoided being deemed a pyramid scheme" and called the stock a short.
Emerging biotech or mature biotech, it always comes back to SRPT
Jon Najarian on Wednesday's Halftime said KATE had "just a nightmare," but he put on a longer-term spread because of the shellacking.

Pete Najarian credited Karen Firestone for touting SMG.

Josh Brown, who made a good call a day ago, said he doesn't think PZZA is done.

Stephen Weiss said hospital stocks just can't get out of their own way and suggested managed care instead.

Doc said FIT had "blowout earnings" and said he's "psyched" about the company.

Weiss said he likes NBIX and explained how some drug companies have "mortgaged the future" by reaching arrangements with big-cap pharma.
[Tuesday, Aug. 2, 2016]
Stanford unable to explain negative rates to No. 1-ranked financial advisor
Barron's No. 1 financial advisor, Andy Chase of Morgan Stanley Private Wealth, must be a big deal, because Tuesday he got even more time on the Halftime Report than Bill Ackman generally enjoys.

Chase said he's a "relative bull," because, "At the end of the day" (Drink) (first of 2), equities are the only asset class without "serious price inflation."

(Free tip: It occurs to us that Chase could pen a clever newsletter titled "Chase for Performance.") (That's a lot catchier than "The Gartman Letter.") (He doesn't have to pay us royalties for it even though he's worth parabolically more money.)

Chase thinks the world's going to remain in a bit of an "economic funk."

Judge asked Chase if he sees an August pullback. Chase called that a "$99 question" and said, "I have no idea." But he said he thinks corrections will be "short-lived."

"It's hard to like the fixed-income space," Chase admitted.

Then the humdinger: "I don't even honestly understand negative interest rates. I go to a lot of stuff down at Stanford and try to understand this. I, I don't even get it," he said.

Stephanie Link asked Chase about a growth or value approach. Chase helpfully told Link that if you find growth, "you just can't pay too high a price for it."
Not sure if Ian Read said,
'At the end of the day …'
Meg Tirrell relayed on Tuesday's Halftime Report a phone call she had with PFE chief Ian Read, who she said reiterated a year-end decision on splitting in 2 and "really didn't seem to want to talk too much more about it."

Read also said he's "not really sure" that biotech valuations have come back very much.

Tirrell said Read thinks both parties believe in the "inherent" (sic) (Drink) innovation of the pharmaceutical industry.

Tirrell turned the tables on Stephanie Link, asking Link if she wants to be in LLY ahead of Alzheimer's drug data. Link dodged, "It depends on what the stock does."
Crude below $40; not sure who won the 'amazing battle' between a Chicago computer and New York computer
Judge on Tuesday's Halftime haggled with Joe Terranova over whether either HD or LOW actually needs a "turnaround."

Joe gave a decent explanation of previous HD/LOW comparisons. Josh Brown said he likes LOW a little bit better than HD because LOW is "underowned."

Stephanie Link said "a lot of the easy money has been made" (Drink) in the HD/LOW space.

Pete Najarian said September 49 calls in NEM were popular.

Josh Brown said he doesn't hate WEN. Joe Terranova said a lot of KR analysts are throwing in the towel, which is when you want to buy.

Steph Link is long PG. (Zzzzzzzzz.)

Pete Najarian said the dividend is the "most interesting" thing about STX and a reason to own it.

"Pizza is hot right now," said Josh Brown, endorsing PZZA.

Karen Finerman on the 5 p.m. Fast Money, in chic blue top, suggested Tuesday's market was tossing out "anything that's rallied in the last few weeks."
[Monday, August 1, 2016]
Judge fascinated by the fact WTI traded around 40 during the show
Oddly enough, no one really called the space a sell.

But everyone on Monday's Halftime Report seemed to think it's not the time to jump into oil equities.

Joe Terranova said portfolio managers early this year were using energy equities as an "ATM," but that "dramatically changed."

But now, Joe said he needs to see "further liquidation on the equity side" in the energy and materials space.

Pete Najarian said he owns XLE January calls but said if the breakdown in that name continues, it could plunge at a "rapid pace."

Josh Brown said he'd look for RSI in the low 30s to get a "broad bounce" in energy.

Joe indicated energy is more of a long-term play and not a good trade for the next couple of months.

Later, John Kilduff said he's expecting crude to hit 35.24, the low from last April.

Judge noted how crude was toeing $40 during the conversation. Joe claimed, "There's an amazing battle going on between a Chicago computer and a New York computer right now."

Joe said if crude fell below 37, "longer term would be a problem."
Not clear if Pete thinks LULU and TJX are buys or sells
Stephen Weiss opted to offer viewers of Monday's Halftime Report a public service Trade School.

Weiss said you have to divide biotech into "emerging biotech" and "mature biotech." (Which saved Pete Najarian from having to say, "The biotechs! And I'm not talking about the ones that don't have any revenue.")

Weiss you can't own the "emerging" names unless you're a pro, then he pointed out he's long SRPT and likes the sector (presumably the "mature" variety). But he didn't explain how that jibes with the "risk-off" environment.

Meg Tirrell explained how BIIB and IONS were soaring on a new drug for infants. Pete Najarian said, "Make no mistake," BMY is "essentially a biotech."

Josh Brown said Judge's "round-trip" claim of GE is "much ado about nothing," given that the stock's covered about a whole dollar and a half.

Dana Telsey said LB in 3-5 years will be "stronger than it is today." Telsey also mentioned "bralettes" (the WSJ recently did a great feature explaining the bra scene).

Telsey predicted JCP would have "the best comps in the department store universe."

Pete Najarian said Telsey likes LULU and TJX, and the "only problem" he has with those is that they're around 52-week highs.

Joe Terranova suggested TJX and DLTR.

Pete Najarian said September 44 puts in MBLY were popular.
50/50 chance of lowering
the repatriation rate
In an opening that simply refused to end, Judge handed over Monday's Halftime to another Kevin O'Leary dividend speech.

O'Leary offered that "at the end of the day" (Drink) (4 times) (seriously), dividends are the mother's milk of stock market returns.

O'Leary also said there's a "50/50" chance of the next president lowering the repatriation rate (snicker).

O'Leary suggested the presidential candidates will tackle corporate tax reform. Steve Liesman countered that according to the WSJ, neither candidate is talking about that. O'Leary countered that by Election Day, they will.

Meanwhile, Steve "risk-off" Weiss said the hunt for yield continues, and the 10-year can reach 1%.

Joe Terranova rattled off CSCO, AMGN and EXR as potential dividend growers.

Pete Najarian thundered, "You never ever buy a stock just because of the dividend yield … that's the most foolish thing in the world."

Josh Brown suggested utility valuations might be high.

Brown and Weiss eventually tangled over Apple's R&D. "Should they not invest??" Brown demanded, but Weiss asserted anyone can "slice and dice" the numbers however they want.

More from Monday's Halftime later.