[CNBCfix Fast Money Review Archive — June 2014]
[Monday, June 30, 2014]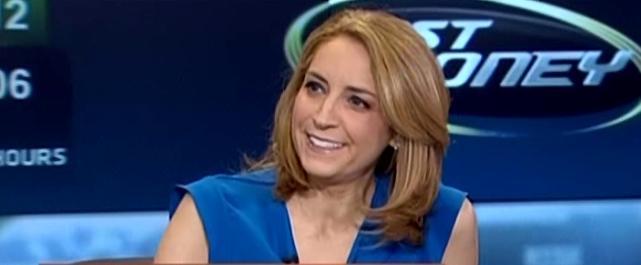 Karen Finerman:
No Dow in 25 years
CNBC markets reporter Dominic Chu visited with Monday's Fast Money crew and suggested 4 stocks — FB, CELG, SCTY and ICPT — that could be Dow components in 25 years.

Karen Finerman had a far more blunt suggestion:

"I don't think there'll be a Dow in 25 years. It just seems to have less and less relevance as the years go by, and I think the end- nobody will focus on the Dow," Finerman asserted.

Interesting.

The conversation kind of fizzled out from there. But it begs the question: Will there be a need in 25 years for the Nasdaq Composite, or Nasdaq 100?
General Motors crisis control
'has actually been excellent'
Guy Adami, harping on his favorite subject, on Monday's Fast Money openly scoffed at what he perceives as "blind faith in our Fed- our leaders" and how they're managing interest rates and the economy.

Which kind of brought the entire day full-circle you're watching too much of this, as Joe Kernen and Gary Kaminsky on Squawk Box spoke of the Fed's interest-rate policy of "hope" in search of a "trickle-down" effect.

Adami conceded that if Yellen's right, he's wrong, but still predicted 120 in the TLT.

But in terms of policy management, Karen Finerman identified a winner in the form of Mary Barra's crew at General Motors.

"I think the crisis control has actually been excellent," Finerman said, regardless of what's wrong with the cars and regardless of Phil LeBeau's protestations that we've got a boy-who-cried-wolf scenario.

John Krafcik flat out said the reaction to GM's recalls nowadays is, "So what."

Dennis Gartman, quite a lagging indicator, predicted "huge" production of corn and soybeans this year and a "reasonably large" wheat haul. Gartman suggested that bodes well for food companies such as Kellogg.

John Kapon said the story in wine investing these days is "really the incredible shrinking Bordeaux market."
Chance to show Kelly Evans
at Aspen conference
Monday's Closing Bell featured the presence of an old Halftime Report favorite, Patty Edwards — even if she didn't say "at this point in time" this time.

Edwards told Kelly Evans, who looked breezily natural ... wind flicking through the hair ... think Susan Dey just after "Partridge" ... that she'd be looking to put energy into portfolios in an "unconventional way." Patty said she also likes IT, emerging markets, Japan and smaller caps.

Patty, who reaffirmed she can't talk about single stocks anymore (Zzzzz), also explained that she cautions against posting stuff on Facebook that might not wear well, because it's there forever. (Can you imagine people in 2024 sifting through archives of all the stuff that's out there right now?)

Guy Adami, also on Evans' panel, refreshingly admitted that just last week he actually (snicker) suggested 1,860 would be possible in June and called that a "bad job by me."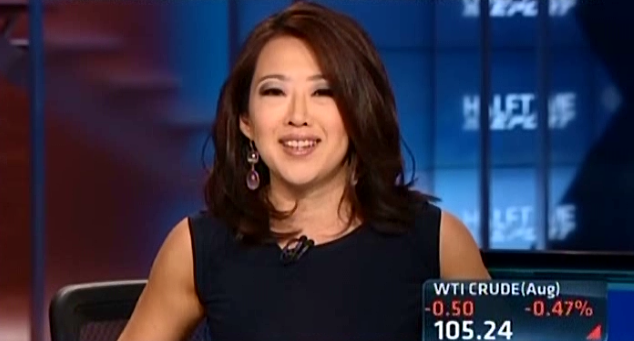 No offense, Gene, but Josh thinks you're nuts
Speaking of refreshing admissions, Joe Terranova opened Monday's Halftime Report by telling guest host Melissa Lee (who looked great in black top and new hairstyle), "I massively screwed up the 2nd quarter" in anticipating a correction and unfortunately "reduced a lot" in his personal portfolio.

While energy — and options trading — (but nothing about Nike for a change) got the usual Halftime kudos, the star guest was Gene Munster, who likes YHOO even though he admits the Alibaba story is nothing new.

Munster in fact advised viewers to try a complicated timing trade, owning Yahoo until the first quarterly report of Alibaba, and then unloading.

"No offense to Gene," said Josh Brown, but "I absolutely hate this idea ... the whole thing is contrived."

Kate Kelly, back from vacation, reported on Nelson Peltz's top holdings and said "firstly" (sic).

Pete Najarian said APC is on the options screen "each and every day" (sic redundant).

Josh Brown had the line of the day, decrying the "robo-advisor" in the "Transformers" movie.
[Friday, June 27, 2014]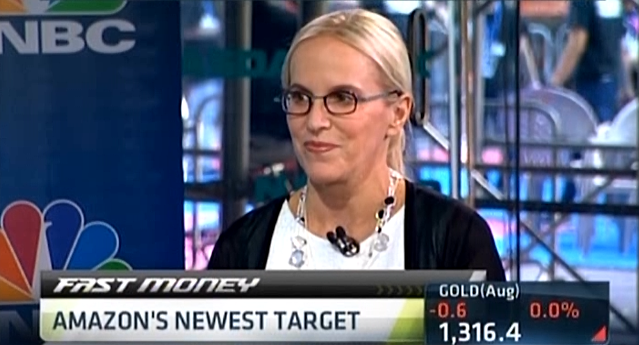 Analyst's bullish case for Amazon's grocery expansion wasn't really ready for delivery
AMZN watcher Karen Short (sort of) lived up to her surname while visiting with Friday's Fast Money and warning that traditional grocers are underestimating ... AMZN, and its capacity to take 1% of the market.

We understand the notion that this is not good for grocery stores.

However, Short did not adequately explain why it's a "no-brainer" (as she put it) for Amazon.

She claimed "the break-even is just on food." Because we're talking about groceries here, we're not sure what else it would be. Laundry detergent?

She continued, "To go into a new market and just get the food purchases at a very low break-even level is, again, a very very low bar. And you assume that they're gonna be- customers are gonna be buying higher-margin products."

We can't figure out how AMZN alone has discovered a "very very low" break-even level for groceries.

Reading between the lines here, this is what we come up with: That even though traditional grocers face extremely low margins, Amazon is able to break even in all its grocery markets, and those Amazon buyers are prone to buy higher-margin products as well. (Let's see ... books? CDs? Watches? Gift cards?) And, that those buyers are not already regular Amazon shoppers.

We looked up a Barron's article on Short's research and didn't see anything about the Amazon potential, but it does quote another analyst who thinks Amazon is "not a major threat" to grocery stores.

Unfortunately Missy didn't bring a lot of research firepower to this one, struggling to get off an initial question that was little more than an observation that traditional grocers have "razor-thin" margins.

Meanwhile, in a continuing provocative call, Jon Najarian predicted refiners keep sliding "another 10%." Guy Adami suggested COP works, but Steve Grasso advised, "I would stay away from refiners" and choose the service names instead.

Steve Grasso said that in GPRO, "Right now, you're just buyin' hype."

Grasso said he wouldn't buy ANF.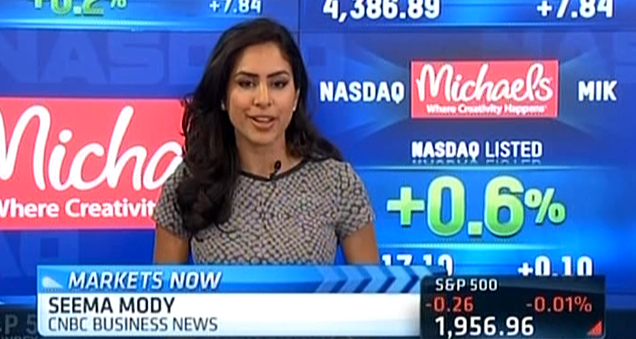 Doc admits: GPRO call a bust
A curious little thought came to mind during Friday's Halftime Report.

Exactly how many Fast Money/Halftime Report shows occur without someone recommending NKE or DIS?

Anyway. We were wondering how Jon Najarian was going to address his sell-first-ask-questions-later advice for the "bunch of" Monster Asset Management clients who were allocated GoPro IPO shares, and to his credit, Doc took the heat.

"Somewhat foolishly I told 'em to take the profits and run yesterday," Najarian admitted, calling it a "takedown of myself."

Nevertheless defiant, Doc stood behind his original call and invoked a prominent writer in hopes of beefing up his case. "I agree with Kara Swisher; this is not a media company," Najarian said.

Stephanie Link said she could only "get to $30 as a fair value." Jim Lebenthal said regardless, he thinks GPRO is going higher.

Our favorite CNBC business reporter showed off a new outfit.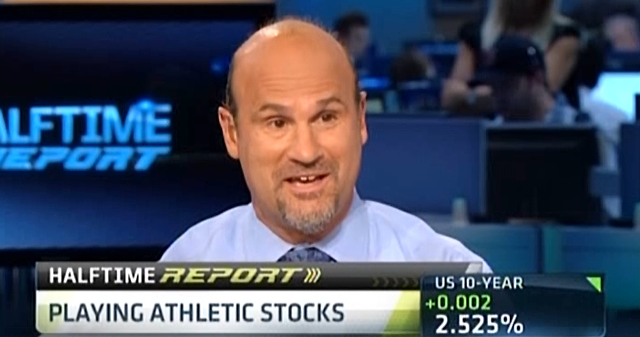 Pete Najarian admits telling Mike Tirico that Thursday's Halftime Report got low ratings
In one of the more bizarre revelations one will hear during CNBC's business day programming, Pete Najarian basically told the world on Friday's Halftime Report that Thursday's Halftime Report ratings stunk.

Pete said he actually got a call from Mike Tirico, who asked him, "Hey, how are the numbers" for Halftime Report while the U.S. soccer team was playing a dreadfully dull (and inconsequential) match against Deutschland.

"Look, they, they did slip a little bit," Pete said he told Tirico.

PeoplExpress boss Jeff Erickson sure liked telling guest host Mandy Drury that his base fare is $112.

Dr. Mark Schoenebaum said there'll be some winners and some losers in biotech. He likes CELG, GILD and MRK and said VRTX experienced "the mother of all binary events" but doesn't have a catalyst over the next 6 months.

Stephanie Link said she's concerned about airline oil hedging — a concept this site questioned in our review of Kate Kelly's book.

Trader psychologist Denise Shull told Link that she needs to be more like the Najarians.

Condolences to the Najarian family on the death of Paul Najarian, mentioned at the end of the program.
[Thursday, June 26, 2014]
Karen 'might' buy GPRO
Jon Najarian explained on Thursday's Halftime Report (see below) that he advised Monster Asset Management clients who received GPRO shares to unload by 9:45 a.m.

Those who didn't could've taken solace from Michael Pachter, who on Thursday's Fast Money practically likened the GoPro camera to the iPod circa 2003.

Missy characterized Pachter's incredibly bullish outlook as "a lot of blue sky." Steve Grasso and Tim Seymour both said they didn't want it, but Karen Finerman, the "value girl," admitted "I might" buy GPRO.

Mark Mahaney affirmed his $60 TWTR target but admitted a lot of unknowns remain. Steve Grasso said TWTR has been rising because all the sellers are gone.

Nasdaq is so confident in Bob Greifeld's media appearances that it sent Bruce Aust to Thursday's Fast Money to defend how many IPOs it gets.

"Facebook really hurt the Nasdaq as far as perception," opined Steve Grasso.

Karen Finerman said she "wouldn't touch" RDEN.

Guy Adami said you can ride IRM up to $40.

Mike Khouw said an options buyer is banking on 96 for AAPL by late July.

Karen Finerman said to wait on TGT until it gets a new CEO.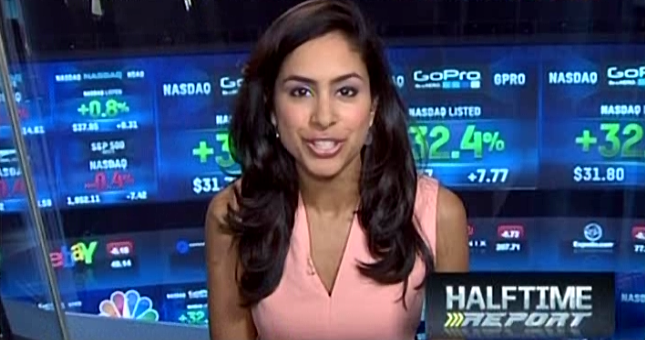 Mel gives traders stock advice, earns much-anticipated dinner date
Melissa Lee handed over Halftime Report guest-hosting duties to Michelle Caruso-Cabrera on Thursday, but still got a shout-out from Pete Najarian.

It seems Mel prodded Pete into VLO this week. "She actually sort of leaned over and said, 'Look, if I were you, I'd buy it.' So I did. And I like what I did. And I owe her a dinner," Pete said.

A lot of folks would love to owe Mel a dinner; guess all you have to do is get a good stock tip from her first.

Meanwhile, Doc predicted a "monster" fine for Barclays and stressed how it's important that Eric Schneiderman used the term "fraud" rather than the SEC using the term "fraud."

Seema Mody (above) spoke at the beginning of the program.

Jeff Kilburg, who always says gold is about to go up, this time cited Syrian attacks on ISIS targets as the catalyst.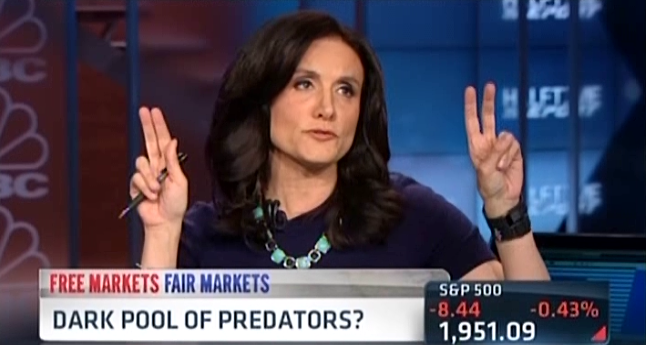 If GoPro hits $40, a lot of Monster Asset Management clients are gonna be ticked
Jon Najarian reported on Thursday's Halftime Report that he actually told Monster Asset Management clients to wait long enough to get a cup of coffee before selling their GPRO allocations.

"We said, 'Wait about 15 minutes, and sell it'," Doc told Michelle Caruso-Cabrera. "We said, 'Take your profits, because that's a gift' ... they got out north of 30."

Well, hard to argue with a healthy profit, but this one's a possible Fast Fire.

Meanwhile, faced with BBBY's lousy day, Brian Nagel insisted his clients knew he was only recommending the stock as a long-term play and that it just happens to be suffering from "near-term trend issues."

Michelle Caruso-Cabrera declared "I am a woman" (noooooo doubt about that) and "therefore I shop," but she only "rarely" goes to Bed Bath & Beyond because everything's available on Amazon and the stores look "so dated."

Nagel said he doesn't consider valuation a "near-term positive catalyst," but in this particular case, he sees BBBY at "trough valuation." Josh Brown invoked Mr. New Land's onetime favorite term and put the stock in the "penalty box."

In a first-of-its-kind reversal, Pete Najarian actually called Michelle Caruso-Cabrera "Mel."

Caruso-Cabrera went to town on air quotes like no one else.
[Wednesday, June 25, 2014]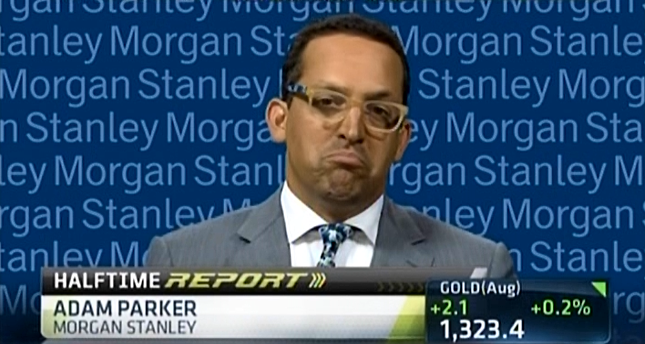 Melissa fails to convince
Adam Parker that GDP matters
(in case you didn't notice, he works for Morgan Stanley)
Jon Najarian brought all the firepower to the top of Wednesday's Halftime Report, explaining he saw "extraordinary" turnover in refinery stock and options, "institutions hitting the sell button hard."

Doc also denounced Aereo's Supreme Court argument; "it seemed like outright theft to me," which prompted Mel to offer another "connect the dots."

David Faber rarely appears on the Halftime Report, but he made an exception Wednesday to talk to Leslie Moonves, who, when not crowing about the Aereo victory, admitted that if CBS were getting paid for such transmissions, it might be interested in a deal.

Melissa started off her chat with Adam Parker (those glasses are NOT Google Glass, as far as we can tell) asking if stock investors can "dismiss" the poor GDP estimate. Parker noticeably shrugged and insisted, "It doesn't really matter." (Translation: This is what you brought me on for?)

Mel persisted, asking Parker if the GDP number is priced into the market. (In sports, they would say, look at the scoreboard; the Dow and S&P already answered Mel's question.) Parker, who nevertheless was chipper, shrugged again and went on to explain the difference between analysts and economists.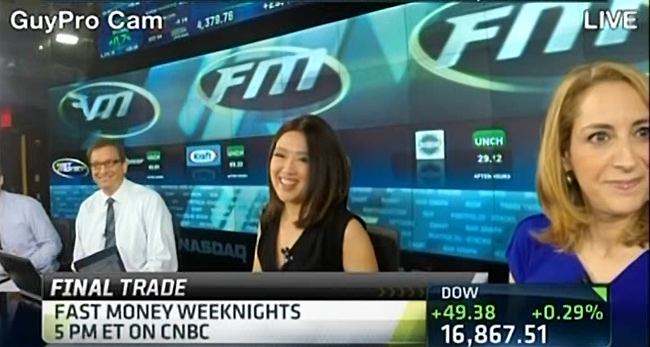 Suggestion: Owners of GM cars should wear GoPro at the wheel
Karen Finerman on Wednesday's Fast Money seized on the real reason behind GM's absurd spree of recalls and sales stoppages — "such an abundance of caution there" — and predicted the latest sales halt "really won't be a big deal" for the stock.

GoPro watcher Charlie Anderson said he applies a $26.50 valuation for the device business but only $1.50 for the media business.

Anderson said that if GoPro wants to license its content, it could actually build its own site of "higher quality" than YouTube. A provocative comment, but nobody was heard suggesting a GOOG short afterwards.

Karen Finerman reported that OpenTable actually had 7 other bidders besides Priceline and said those bidders were "creatively referred to as Party 1 through 7" by OPEN.

Finerman articulately (sic redundant) explained that this revelation was a bit of a setback for her 105 calls; best-case would be no other bids entertained yet, but worst-case would've been an already complete formal bidding process.

Dan Nathan said that since Mel got her 3-D head printed (the term she used in the show was "body scan"), DDD has been on fire.

Guy Adami criticized the editing of his karaoke clip with Dan Nathan (which could have used some of that better-than-YouTube quality that Charlie Anderson suggested for GoPro).

Missy was caught using air quotes, but no picture this time. Dan Nathan said someone was buying an August 48/45 put spread in SMH.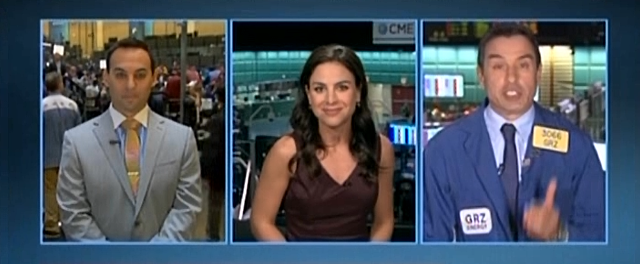 For all those who are going to force themselves to hold a stock for 10 years, here's a suggestion
Josh Brown on Wednesday's Halftime Report declared that Google is his favorite technology stock, "bar none."

Brown made the fascinating observation that if you had to buy 1 tech giant to hold for 10 years, GOOG would be the one.

It's fascinating — but a bad way to evaluate stocks, because no one has to pick just 1 stock and hold it for exactly 10 years.

Startup investor Todd Chaffee refreshingly admitted he "never got around to" meeting the GoPro brass a few years ago and missed that trade, but then uncorked a Brag Trade regarding Twitter, stating his "entry valuation" was $220 million, so at $20 billion, why not take some off.

Basketball great/soccer fan Steve Nash admitted "it's kind of hard to defend somebody who's now bitten 3 different people."

Nobody told us Jackie DeAngelis was going to show off new dress and new hairstyle on Wednesday.
[Tuesday, June 24, 2014]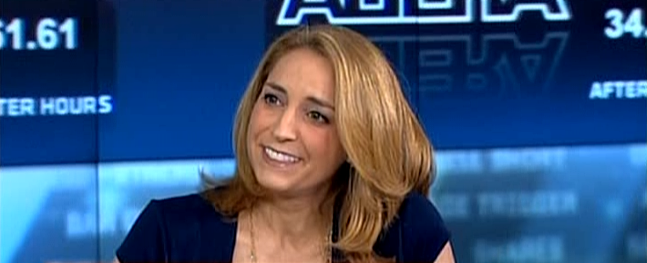 33½ said to be line in the sand for YHOO, but incredibly, no one qualifies it on 140/150/175/200 billion Alibaba valuation
In a suddenly stark assessment of the June 2014 stock market, deflation-monger Guy Adami stated on Tuesday's Fast Money, "Technically, there's a shot we see 1,860 in the S&P."

But Dan Nathan, pointing to the upcoming holiday, insisted, "You're not gonna see 1,860 about (sic) anytime soon."

Karen Finerman, beaming throughout the program, said the day's pullback in the S&P is merely a "tiny blip" in the last few weeks, and she's open to buying puts.

Guy Adami said of FB, "You've got a month to play this from the long side." (This writer is long FB.)

Dan Nathan, skeptical, demanded Karen Finerman name another company at Facebook's size trading at 18 times sales. Finerman said "Amazon." Nathan said Amazon trades at 2 times sales.

Robyn Karnauskas said of VRTX, "I would not sell this move." Karnauskas also said that ALXN has a drug that "can be really big."

SunPower chief Tom Werner said he's going to include storage with "economic solar energy" so that customers can use it whenever they want. Karen Finerman said she's long SUNE.

Karen Finerman said "so many jokes come to mind" about RDEN's troubles, including, "This chart is ugly."

Mel wondered if investors will have an "appetite" for El Pollo Loco shares.

Melissa Lee, given cover by an unnamed analyst, grilled MOVE chief Steven Berkowitz about why Zillow is winning the marketing game. "Hopefully, we're just a great value out there," Berkowitz said.

Guy Adami said the YHOO trade "is all goin' wrong," but that 33½ is the line in the sand.

Dan Nathan said someone bought a ton of September 98 puts in the XLE.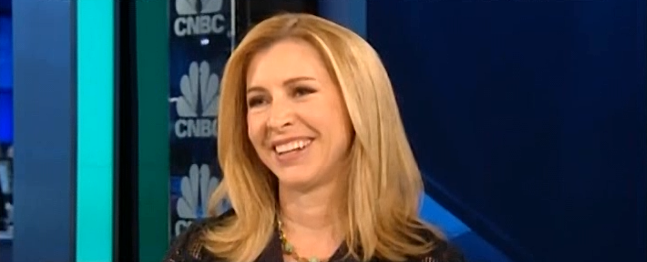 Another options trade of
'minimum risk, great reward'
Pete Najarian, who found time in his schedule for another session of the Halftime Report on Tuesday, stressed that stock-volume complainers have missed huge gains for many years now and gushed about the growth in options instead, calling them a "risk parameter trade" (that's a new one for us).

Rebecca Patterson, the star guest of the day and easily the best-looking of the bunch, outlined the tailwinds and headwinds in the market and stated, "I think equities should go higher."

Stephen Weiss gave a speech in Chicago and said his audience was anything but complacent about the stock market.

Weiss said the housing market is never going to be 2005 again, then made a dire observation of the employment market, asserting we're "seeing so many people that are never gonna be fully employed again."

Joe Terranova reached into the LPX bag once again and tossed in another favorite, AWI, but he didn't explain how to do a "risk parameter trade" for either.

Pete Najarian credited Adam Jonas as the best TSLA analyst and said the stock is just taking a "pause" before going higher.

Pete admitted he missed the dubious VRTX trade but said whoever played it got "minimum risk, great reward."

Dr. New Land said he sold MU at 16, bought back at 18, but now thinks there's too much bullishness in the name. Mel asked Pete Najarian for his view but dragged out the question while Pete clamored to talk; Pete thinks (Drink) that MU is going higher still.

Mel got interrupted by an early clip of Judge's "EVERY MORNING!" promo.

Mel was using serious hand signals to illustrate how Twitter's World Cup pages allow a way to "slice an area that you're interested in."

Mel also chided Mike Murphy for being "so mean to Joe."

Mel revealed she has "no interest" in watching "Game of Thrones."
[Monday, June 23, 2014]
CNBCfix Movie of the Week:
'Chef,' and the art of criticism
It's been a long time since we've resurrected this feature, and man does it feel good.

Jon Favreau never flinches in his tour de force of "Chef." It is hardly a perfect film, in a few instances, borderline silly.

But it's a mouth-watering celebration of winging it — hitting rock bottom, following your heart, then watching the world gloriously begin to respond to you.

A couple scenes drew particular attention around here, those being the confrontations between Favreau's chef Carl Casper and critic Ramsey Michel (Oliver Platt).

We didn't bring along a pencil to take quotes, but Carl in various ways confesses to Michel that he cares about Michel's reviews and that what Michel wrote seriously ruined Carl's day.

No question. Critiquing is serious business. Whether it's a restaurant in the L.A. Times or a Halftime Report guest in this tiny sliver of cyberspace.

Why are we here? Sometime way back when, we just felt like we had something to say. And hopefully a few folks would read it. Given the enormous reach of the Internet, there was only one qualification for doing it: effort.

If someone on Fast Money was having a bad day, and then read this page and had an even worse day, that's not the goal.

Hopefully more often than not, people see this page and are glad they did. Maybe stellar work is being recognized, or maybe a valid gripe is brought to attention. Maybe incredibly, there's actually something funny.

Most importantly, whether it's good or bad, it's 100% real.

We're here because you are. Talking about stocks. Observing financial markets. And pop culture. Reviewing television. Dedicated to the highest standards of journalism established long ago by the nation's print newspapers. All free. No bouncing ads across the screen; no registration required or even contemplated. Fighting for every click we get.

Give Favreau a chance, and he'll win you over. We're trying.
Guy Adami will be 'shocked'
if TSLA fails to test 265
Ben Kallo, designated TSLA commentator, told Monday's Fast Money that Tesla investors got good news from Model X delivery timelines and from progress among the lobbyists in the state legislatures.

Tim Seymour shrugged off TSLA's gain as a "move back into momentum stocks" and demanded Kallo tell him what's changed about the story. Kallo said the stock previously had taken an overreaction to the downside and that the Model X news was indeed new.

Guy Adami said that now that TSLA has held 225, "I'd be shocked" if it didn't retest 265.

Pete Najarian, who found time in his schedule to do both the Halftime Report and Fast Money on Monday, called FCX a "very interesting stock" with "plenty of upside"; nobody said anything about Karen Finerman's long-held contention that names such as FCX get the "lowest common multiple" (sic) of their respective businesses. Guy Adami said AA looks to be going higher.

Oliver Chen said "I think something will happen" in LULU, a consortium of some kind.

Guy Adami said "there's another chapter left" with Aubrey McClendon.

Pete Najarian predicted AMAT goes through 24.

Steve Grasso called GRPN "actually buyable."

Dennis Gartman contended that Nigeria's crisis, invoking the term "Biafra," which brought memories at CNBCfix HQ to Jello's 4-hour speech, is only going to get worse, so keep that in mind in your oil trades.

Mike Khouw indicated that an institution was selling JBLU July 10 puts and buying August 10 puts.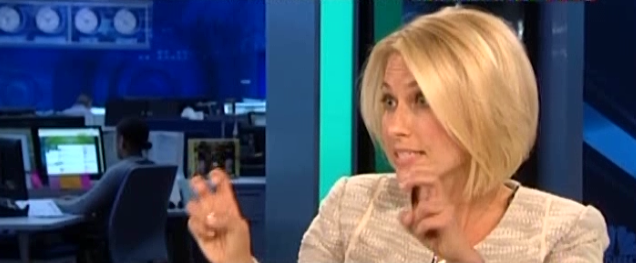 WMT gets the kitchen-sink treatment
Monday's Halftime Report, with Mel guest-hosting in Judge's chair, started off as Flashback Day as Dr. New Land leaned in to another LPX call, one of his old standbys, before quickly advising viewers to stick with winners; "The trend is your friend."

Match Inc. CEO Sam Yagan told Melissa Lee he's "worried about bringing love to the masses," a point that Mel discouragingly chose to mock.

The lovefest for automakers is back on, as Mike Murphy predicted a 40-handle for GM and said both that name and F can be held for a while. Mr. New Land said he too likes GM and F (but didn't declare how he owns a GM vehicle this time) and singled out FCX for praise. Pete Najarian said "I wouldn't be shocked" if someone starts bangin' on Eaton's door.

Josh Brown said the OIH has been up 23 of the last 27 trading sessions, then said "at the end of the day" (Drink).

Joe said ORCL's deal takes it into the "hotail" (sic) space and asserted that Oracle's run is not over.

"At some point, there's value here" in COH, said Mike Murphy.

Joe made the "kitchen-sink" (Drink) argument for WMT, a point conceded by Josh Brown even though Brown is bearish on the stock.

Heather Loomis, who is glamorous, stressed, "You want to be very careful with 10-year bonds at these levels here," but suggested high-yield bonds and bank loans as an indirect way to play a Treasury short.

Pete Najarian argued that LULU is appealing because, as Joaquin Andujar used to say, yaneverknow, maybe it'll get taken out by someone. Mike Murphy asserted a bear case because he thinks the brand has lost momentum with consumers.

Pete Najarian warned that June calls in DDD expire Friday.

Morgan Brennan used air quotes (above) when stating that Harley-Davidson believes sales of electric bikes are "insignificant."

Mike Murphy's Final Trade was EPB. Josh Brown said VWO, Joe said THC "looks good," and Pete Najarian predicted a 180 test for GS.
[Friday, June 20, 2014]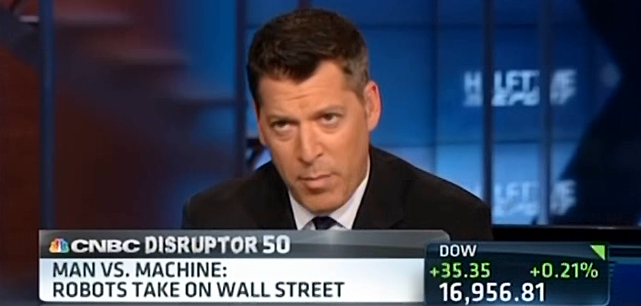 Judge rises to the occasion, forces Josh Brown to back off previous alternate-asset-manager 'disruptor' comments
Long time, no see.

Dan Fitzpatrick — whom we haven't seen in ages, since the days Jeff Tomasulo and Jared Levy were riding herd on the Halftime Report — turned up on Friday's edition to declare CAB "ripe for a fall."

But, Fitzpatrick said, DECK looks "really good."

The star guest was Bill Harris of Personal Capital, who said he's in the business of "digital wealth management," a curious term we haven't heard before.

Harris stressed that his company is there to serve $100,000aires, not just millionaires, but what kind of made us a little ginchy was when he said his company offers "a free software service that will aggregate all of your accounts, all your information." (And expect you'll never receive any promotions in your inbox after doing that.)

Harris went on to claim that people think of money as "a quantitative thing" or "analytical thing," but "it's not," rather, it's "intensely emotional."

Judge expertly reminded Josh Brown that Brown recently indicated on the show that Harris' product is among the "hokey" (Judge's term) offerings that won't hurt Schwab or E-Trade or Ameritrade.

Brown then backpedaled like Bill Clinton circa, oh, 1993-1999, insisting, "I don't think I've said that at all," but that this venture will not "disrupt" Schwab or JPMorgan.

In fact, Brown even effusively praised Harris (unconvincingly), declaring, "You're not a robo-advisor," and asserting that they're really on the same side.

Harris said his product is a "next-generation solution" before telling Brown, "Let's have a bromance."

Meanwhile, Jon Najarian said to ride Carl's coattails on FDO, "he's ferreted it out for you."

Doc argued a bull case for COH, citing a "kitchen sink" (Drink) quarter. Josh Brown suggested a 20 handle is in the works, though Pete Najarian said he'd actually buy the stock. Mike Murphy said "I'm not good enough to pick a bottom."

Herb Greenberg called TIBX a "potential activist stock." But Josh Brown said "it's not worth buying" until there's a "serious" management change.

Jon Najarian said Larry Ellison looked "confident" (sic redundant) the other night.

Friday's Fast Money, aside from Mel's sizzling red outfit (below), didn't get us particularly stoked, although GWPH chief Justin Gover spoke about promising developments in epilepsy treatment.

Pete Najarian said he'd wait for a pullback in AN. Tim Seymour rather cryptically said he would stay in YNDX "if you own it." (What's that old Karen Finerman line about everything in your portfolio at night is the equivalent of being bought that day?)

Brian Kelly said he's short Boeing.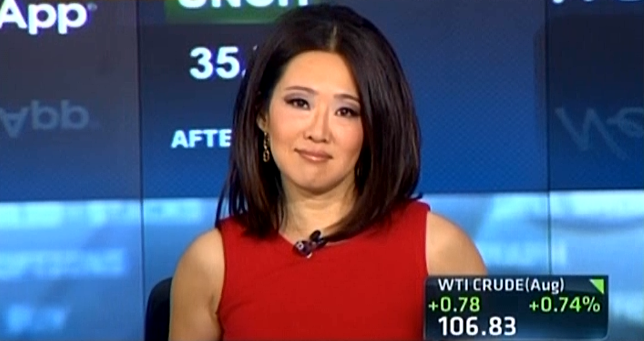 [Thursday, June 19, 2014]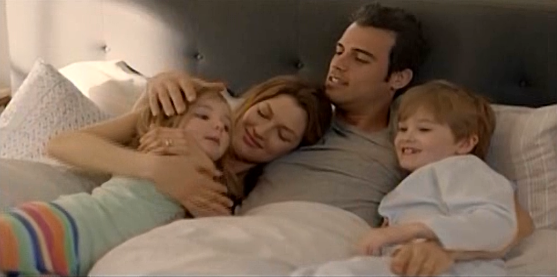 Kids.
If you watch CNBC with any frequency — and you must, or you likely wouldn't be reading this page — you've become accustomed to seeing the family in the above image about twice an hour.

There's an unmistakable yuppie element (it begins with "bonjour") that feels slick and should bring eye-rolling — before the ad suddenly closes with a staggeringly beautiful image, which you see above.

One problem: For the longest time, we never even remembered what product was being advertised here. It's actually a Lexus RX model.

The guess here is that Lexus is trying to tell viewers, it's great to own an RX when you're single, and still cool to own one when you're a parent.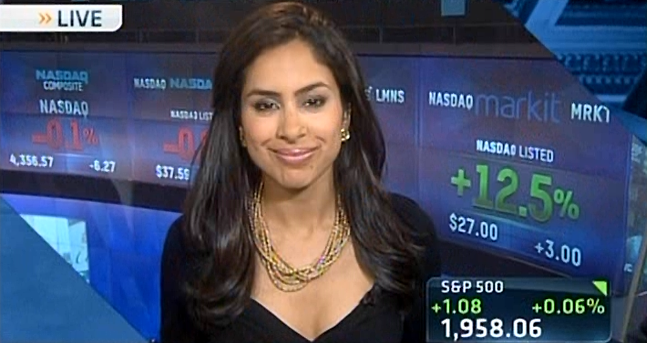 If you are able to not stare at this picture, you are not human
Guy Adami predicted on Thursday's Fast Money that "a couple of weeks from now," they'll be talking about ORCL with a "45 handle."

We should note, he didn't explicitly say it would have a 45 handle, only that people would talk about such a number.

Mel invoked the "kitchen sink" (Drink) during the COH discussion and even got very pretty COH analyst Corinna Freedman using the term. Mel then put the hand-talking in overdrive, an approach Freedman did not copy.

Karen Finerman rather starkly admitted, "With a gun to my head, I would actually, probably rather buy Coach" than KORS.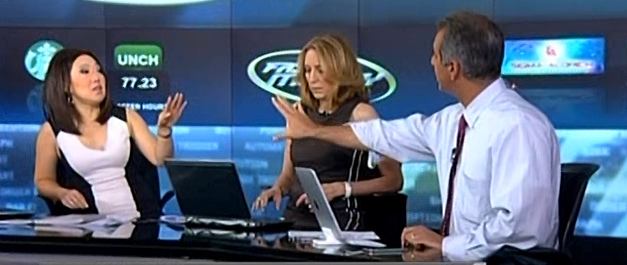 Guy and Mel argue over something of substance, ignore Karen's dynamite new outfit
Instacart founder Apoorva Mehta visited Thursday's Fast Money and told Mel that, contrary to Mel's question about Whole Foods, most grocery stores do not have an online shopping list, implying that to do such ordering, consumers need to turn to his company.

Karen Finerman asked Mehta why Instacart won't be the next Kozmo. Mehta said it's because "for the first time in history," there's a ton of people using smartphones for these types of purchases.

Tim Seymour called gold's move "absolutely a head fake."

Guy Adami said CELG goes higher. Karen Finerman said TRLA is not cheap enough for her yet. Tim Seymour said "I stay long" SBUX. Doc said FB took a hit on the overnight outage. (This writer is long FB.)

Viasat chief Mark Dankberg said "we're on a little bit of a mission" to show people beyond the reach of broadband that satellite can be the answer.

Doc said somebody rolled up July 26 AGO calls into September 27s. (Drink)

Mike Khouw said someone was buying a January 45/55 call spread in NFX.

Tim Seymour's Final Trade was ORCL, a "gift." Jon Najarian said GRA, Karen Finerman said COH and Guy Adami said CBI.

Mel had a lot of fun with the new voting mechanism at CNBC.com. If they would only (Stop now, you're going to blush) ask viewers to vote on which bathing suits Mel and Karen should be wearing to the beach this weekend, you'd see an avalanche of votes.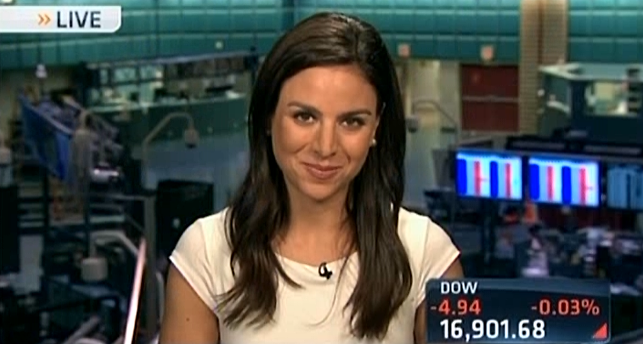 Doc: Play Macau, just not yet
The Halftime Report on Thursday got a boost from Mario Gabelli, who made an as-always articulate case for KRFT, then asserted there's no margin of safety in stocks, which could be vulnerable to a "shock."

"There's a lot that can go wrong, but there's a lot that can go right," Gabelli said.

Gabelli offered 3 "I" picks, those being IPG, IGT and IFF. Jon Najarian heartily endorsed IGT. Steve Weiss observed that Gabelli doesn't have any media favorites now.

Doc made the case for Macau stocks in the 2nd half, but frankly it was a bit convoluted and is based on the stocks bottoming at the end of the quarter before reaching Katie-bar-the-door mode.

Doc said holders of NEE 95 calls got a 10-fold return, and then (Drink drum roll) ... rolled up to a higher strike (100) on Thursday. (Drink)

Jackie DeAngelis, above, was not on the Halftime Report Thursday; actually that's from a different program, but you're glad we did it.

Jon Najarian's Final Trade was NI. Stephen Weiss said MDT, and Mike Murphy said HTZ.
[Wednesday, June 18, 2014]
Guy Adami is the one who says not to let trades get personal, yet roots against the Fed constantly to support failed thesis
Dennis Gartman spoke with Wednesday's Fast Money to circle the bases on sort of a Brag Trade on HCLP, which he said he has already sold because of the instant pop.

On Wednesday, Gartman said he is buying aluminum instead.

Paul Hickey, with a sample size of 3, told the panel of purebreds and their ringleader, Dan Nathan, what tends to happen in the year after the Fed announces a rate hike, basically that the stock market goes up.

Guy Adami asked Hickey if the central bank is just "moving the goalposts," a completely unbiased question of course given Guy's fondness for the Fed.

Karen Finerman said that GLNG and LPG were "a little frothy today."

Meanwhile, Judge told viewers of Wednesday's Halftime Report that "we do things on the fly here all the time."

To say the least.

Judge first told viewers that "our Najarian brothers are both former NFL players." Oh really? Where does Jon Najarian appear on the official list of NFL players at NFL.com?

(Sigh) We've said this countless times, but given that even Scott Wapner can't figure it out, we have to say it again: Jon Najarian, according to one of his books, was signed by the Bears to compete for a roster spot in 1981, coincidentally during the holdout of Mike Singletary. Singletary reported. Doc played in 1 or 2 preseason games and was cut.

As this site has always said ... that is still a great athletic achievement. It does not, however, make him an "NFL player."

Let's at least give some credit to the guys who actually make a team.

Wapner also referred to the "NFL (sic) Hall of Fame."

Let's get with it, Judge.

Stephen Weiss and Josh Brown both said "at the end of the day" during a TSLA discussion.
[Tuesday, June 17, 2014]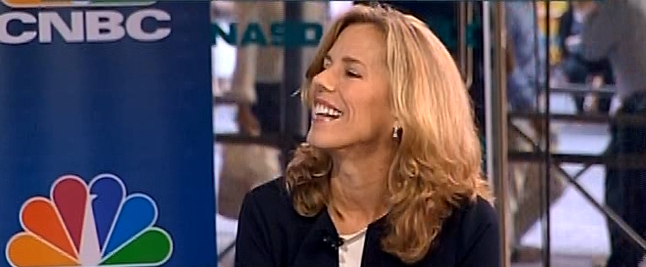 Guest: 'Faber is wrong'
Bonnie Herzog joined Tuesday's Fast Money panel to declare the Reynolds takeover of Lorillard not only "a 90% probability," but just "around the corner" — despite what CNBC's David Faber reported recently.

"I think Faber is wrong," said Herzog, suggesting the price could even reach 80 but more likely will have a 7 handle.

Mel told Herzog she liked the challenge to Faber and said "it was a good call."

Meanwhile, Brian Marshall made it through an appearance without an "at the end of the day" (Drink/non-Drink) but did say the Amazon smartphone has "probably not a large chance" of affecting Apple.

Rather, Marshall is waiting for the iPhone 6 to be the "motherlode of all Apple upgrade cycles," and he says the stock has "fairly minimal" downside.

Guy Adami said that if you're interested in GWPH, "Today's the day you should be selling into it."

Guy said of CREE, "I think it bottomed out last week."

Adami called IR a buy.

Steve Grasso said he's got a client who loves KBH. Brian Kelly said not to buy it.

Grasso said if you want DPZ, you "have to wait" and make sure it holds $71.05.

Grasso called DTV "still buyable."

Dan Nathan said OWW might be worth a shot to "play a little catchup;" use an $8 stop.

Brian Kelly said if DWS got to 32½, he'd sell it.

Tim Byun told the gang that "bitcoin is a digital asset" that is being "used as a currency." He also said "inherent" (Drink).

Dan Nathan: Handsome,
dark-haired non-stepchild
Here's one we hadn't heard about.

Pavel Molchanov asserted on Tuesday's Fast Money that the SCTY deal is about the "looming trade war between China and the United States."

(Zachary Karabell (and how come he's not on the show anymore by the way) will have to update Superfusion.)

Regardless, Molchanov didn't answer Mel's excellent question about whether SCTY is worth an 18% pop.

Andrea James, who is very pretty, told the group, "It's not easy building a gigafactory."

Steve Grasso said Elon Musk is hitting on "all cylinders" (Drink).

Guy Adami said, in the howler of the day, that you can be long TSLA against 225, "with some degree of certainty I guess."

Brian Kelly said if you can get TSLA at 215, "buy it with both hands."

The show reached a recent low when Dan Nathan opined that SCTY is Elon Musk's "ugly red-headed stepchild." (Then again, Tuesday's panel was pure, so congratulate them.) Evidently the $750, 1-year riskreversal.com subscription comes with colorful commentary.

Melissa Lee said "Dan's at the smartboard (sic)" during a report on activity in June 40 COH puts.

Melissa Lee, who likes to mention Harvard, said she has trouble determining whether Dan is being sarcastic or not.

Dan Nathan said that around 443, NFLX is hitting "new halls (sic)."

Dan Nathan's Final Trade was P. (This writer is long P.) Steve Grasso said WYNN, Brian Kelly said MSFT and Guy Adami said NCR.
Pete scoffs at stocks (and 15% returns), but appears on Halftime and Fast Money, not Options Action
Judge opened Tuesday's Halftime Report explaining the viewers that "1 in 4" equates to 25%.

But to be precise, Judge actually said "nearly 1 in 4" announced mergers are marked by unusual option activity, only to have Andrew Ross Sorkin (who's usually gone by that time of day at least in terms of airtime) say that it's "literally (sic) a quarter."

Pete Najarian grumbled that the "Player (sic) Playoffs" is all about making stock picks, maybe you get "5%, 7%, 15%," but he and Jon "trade options for a reason," because they make 1,000%, so see "how great they are."

And we didn't know that every OptionMonster account holder makes 1,000% guessing which deals are going to happen.

Pete even explained that when someone would "buy 2,000 options from me in 1 single clip," that's when he knew he'd have to get into that trade himself or he'd get killed. (1. So, piggybacking onto the 1 in 4 insider activity is not greed, but a matter of self-preservation.) (2. Wouldn't such an order naturally tip off Pete to something happening, so why even sell those options in the first place; wouldn't that be like HFT options-style?)

Stephanie Link suggested ChargePoint as a future Disruptor. Dr. New Land offered Aereo. Josh Brown said not to overrate the robo-advisors competing with Charles Schwab. Pete Najarian suggested Fullscreen, in the YouTube network.

Hemant Taneja apparently has invested in a lot of recent big winners in Silicon Valley.

Mr. New Land said he's not sure DSW can get to 35 as Goldman Sachs predicts. Judge pointed out that a Goldman chart was shown, not a DSW chart.

Stephanie Link said UPS is focusing more on ecommerce.

Flash: Chinese government
involved in commerce
Marc Ganis enthusiastically told Judge on Tuesday's Halftime that he's got a China movie play called Jiaflix, and "our partner is the government."

In an interesting apparent fact, Ganis said China allows only "34 Western movies a year," a recent upgrade. (Not sure if Bollywood is included in that.)

Josh Brown said he likes CTRP in that space.

Meanwhile, Pete Najarian said November 15 calls in MBIA were red-hot and apparently plans to hold his position "at least 3 or 4 weeks, unless ..." (Drink).

Pete offered MBIA as a dual Final Trade with GS.

Jeff Kilburg told stunning Jackie DeAngelis (sic redundancy) that, "I think we have not seen a top for crude here." Jim Iuorio said he's been long for "about 10 days" and thinks it's fine to remain long above 105.25.

About a month ago, Jackie DeAngelis tweeted a lovely mother-daughter picture.

Pete Najarian predicted EXPE is going higher.

Josh Brown predicted a lot of states will "capitulate" to the Tesla business model.

Stephanie Link said she likes AWI and IR in the 2nd half of 2014 and considers them ways to catch Dr. New Land in the Playbook Playoffs.

Josh Brown's Final Trade was VWO. Stephanie Link said DBD and Mr. New World said NTRS.
[Monday, June 16, 2014]
Reading material, juror style
Recently a jury summons turned up at CNBCfix HQ.

We figured, aside from the hassle of waking up around 7 a.m. (Ouch), just sit in a big room all day, finish an entire book, and what better option than Kate Kelly's "The Secret Club That Runs the World." (Review coming soon.)

Lo and behold, that plan was interrupted by an actual trial, in which we were compelled to ... uh oh ... opine.

We could detail all the machinations of weighing guilt vs. innocence in this particular case. (Stop it and get to the point; nobody knows what you're talking about.) But let's not get bogged down in minutiae.

One fellow juror, an older chap, pointed to the Kelly book during the deliberations and asked, "Is that a new book? Thought I'd heard something about that."

But the alternate juror — and that's a job you don't want to wish upon your enemy, sit around all day listening to instructions and testimony, then dismissed once the closing arguments are made — who appeared to be a young military type brought a different option, one of those get rich quick/beat the system/motivation/whatever books from Robert Kiyosaki.

So, it seems as though we had the 1% aspirants as well as the 1% conceders.

A diverse panel, indeed.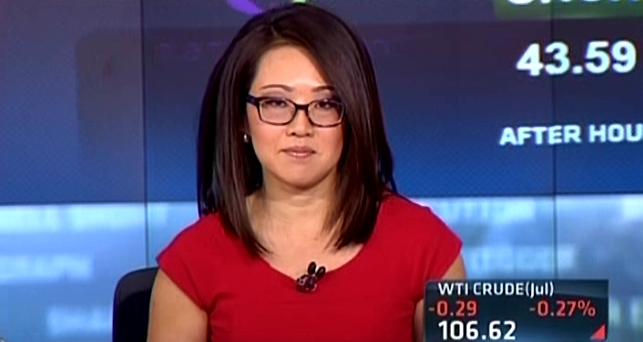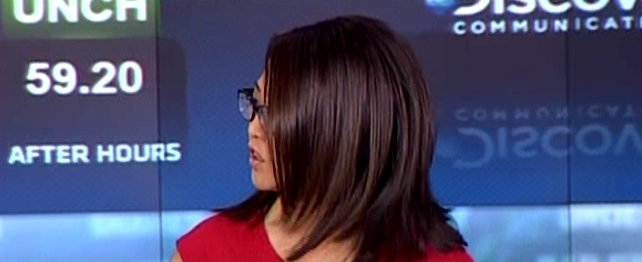 At the end of the day, Melissa in glasses, shows off dazzling new hairstyle
Guy Adami, who since the inception of Fast Money has denounced any release (or rumors of release) (or rumors that there will be talk of a release) of the Strategic Petroleum Reserve (Drink), opened up Monday's show saying that "if anything" they should be adding to it now, rather than selling.

Karen Finerman suggested NVGS and LPG as plays on the very early development of U.S. gas exporting.

Karen Finerman predicted a "gigantic" Alibaba IPO regardless of the revenue-growth slowdown.

Dennis Gartman, summoned to opine on oil prices (sigh), actually called Mel "Michelle" (that broke the drought; hasn't been one of those in months).

"Fracking is the real place to be," Gartman said, offering HCLP, a rare single-stock mention.

Tim Seymour said he would buy EEM on a breakout.

Mel said "at the end of the day" (Drink) during the Steven Ballmer conversation.

Dave Barger said "at the end of the day" three times (Quadruple Drink) during the JetBlue conversation.

Melissa, pouring it on, thinking we'd give her a pass for extra hotness from the glasses, then said "at the end of the day" (Quintuple Drink) to Barger.

Steve Grasso said "I've seen buyers" in DWA. Wish we saw the same buyers. (This writer is long DWA.)

Guy Adami floated 35 for MU.

Tim Seymour said he thinks WMB goes higher.

Karen Finerman, who was striking in aqua, bought July 105 OPEN options and called that an "interesting" tradeoff of quite possibly losing the entire trade, or perhaps making 5-10 times your money.

Guy Adami suggested BCR could end up in the "crosshairs" of big pharma.

Fast Money producer Mike Newberg explained how he disturbed a likely drunkard sleeping in Central Park to grab Hidden Cash's envelope ... and then proceeded, with a straight face, to listen to Tim Seymour actually tell him to spend the Grant and the silver dollar on WLT.

Tim Seymour's Final Trade was BIDU. Steve Grasso said TWTR, Karen Finerman said EXPR and Guy Adami said NUAN and said the show isn't making a big enough deal about the stock.
Josh seems to think only 'investors' want to buy low
Monday's Halftime Report turned into a star vehicle for Michelle Caruso-Cabrera, lookin' good in Iraq Dr. New World, clearly enjoying the opportunity to crow about his favorite sector.

It's not about the price of WTI, Joe said. "This is about energy equities."

Actually it sounded like it's more about market timing, as Josh Brown uncorked this head-scratcher: "If you're an investor, you wanna look for a down day for the group, or even a down week."

That doesn't make an ounce of sense, because if Brown thinks the sector is "a little bit overbought," then "traders" as well as "investors" should take a pass.

But Mr. New Land compounded the matter by telling Brown, "You don't worry about the entry point," which either 1) means Joe thinks there will be no dip, or 2) makes no sense.

Joe rattled off VLO, PSX and CVI as names he likes. Much later, given the spotlight by Judge to explain how he's going to maintain his 2014 Playbook Playoffs lead, Joe stumbled to say he's "formulating my strategy" around, you guessed it, energy, suggesting RRC and at least admitting (contrary to this page's advice) that he unloaded PXD way too early; "I massively screwed that one up."

Jonathan Waghorn was billed as having a $150 crude target, but it's through the end of the decade, which is really no big deal.

Pete Najarian thinks the value of FIO is greater than the Sandisk bid. Pete somehow said that Steve Wozniak is "scoring" with this deal even though it IPO'd at 19; the term "scoring" bringing smiles from Dr. New Land.

"I think Goldman's crushing it this quarter," Pete also said, and when do you ever hear someone on Fast Money claiming to know how good a bank's quarter is going (Drink) and NOT saying that it's going great.

Aswath Damodaran, our favorite prof, said "I think 200 billion would be stretching" for Alibaba because its strengths are also its weaknesses, and "my estimate is about 140 billion."

Damodaran also opined that "17 billion is pushing it" for Uber.

Mr. New World dubbed ICE a "2nd half story." (Drink)
[Friday, June 13, 2014]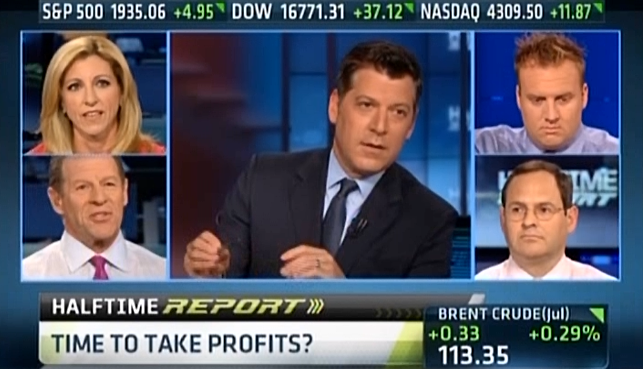 Stephen Weiss demolishes
Judge's latest Cramer promo
Here's one you don't hear every day.

A CNBC panelist actually questioned whether Jim Cramer said anything useful.

Judge on Friday's somewhat abbreviated Halftime Report opted once again to cross-sell Mad Money by airing a clip of Cramer a day earlier stating "We did nothing," but that viewers can "feel free to ring the register."

Judge somehow dubbed this message "prudent advice," and turned to Steve Weiss.

"Jim may be able to time the markets with precision, but I can't. I don't think anybody can," Weiss shrugged.

Judge, clearly miffed, interrupted Weiss, "I don't think that's the point he's making though. At all."

Weiss correctly asked, "What point is he making?"

Judge had no answer, scowled, and turned to Jim Lebenthal.

But Cramer sidekick Stephanie Link jumped in to defend the boss, and stressed that Cramer was only saying to sell "some" winners (so much for that cost-basis-is-irrelevant notion) (note that please, Karen Finerman) and not the whole market, and that aside from what was said by Cramer in the clip, they've also been buying.

So evidently the point Judge was trying to convey in his latest cross-promotion is that Cramer thinks it's fine to sell ... or buy ... or do nothing.

Prudent advice.
[Wednesday, June 11, 2014]
Grasso: GoPro is yesterday's news
A day after Melissa got a body scan (Mmmmmmmmmmmmmm) on Fast Money, Steve Grasso on Wednesday admitted, "I've been wrong on AAPL" but said he's gotten into a 50% position. (One wonders if he's still got that 20% position in YHOO.)

Grasso called it a "little bit curious" that Synaptics bought the Renesas unit, and Apple didn't. Guy Adami said SYNA is still a buy, while Dan Nathan urged viewers not to chase.

Melissa said that according to the Rayno Report, which Mel said to take "with a grain of salt," John Chambers may announce his retirement "as early as (sic first 3 words irrelevant) this September."

Dan Nathan said, "I like the stock here." Guy Adami predicted CSCO would rise on a succession announcement.

Steve Grasso said he's leaning toward getting into DDD within a couple days, but Nathan pronounced the price action as "horrible."

Guy Adami pronounced RH at 80 as "nosebleed territory."

Guy Adami congratulated Mel for a "Columbo-like" M&A question for ARNA's Jack Lief (and then revealed the "Columbo" actor's name for those who don't know) and said, "These guys are in somebody's crosshairs."

Brian Kelly called ARNA "a great buy" and said with a $6 stop you "almost have an option" (Drink).

Guy Adami called APC "still cheap."

Dan Nathan called AMZN a "really well-run company" but said to buy the stock between 260 and 280 (at least he didn't pull a Tim Seymour and call the valuation crazy at 300 but say it's a buy at 250).

For a moment we thought Michael Gorman was going to say "lifestyle brand" (Potential Drink) in regard to GoPro, but he actually said, "They wanna become a media company." Steve Grasso said GoPro "looks outdated to begin with."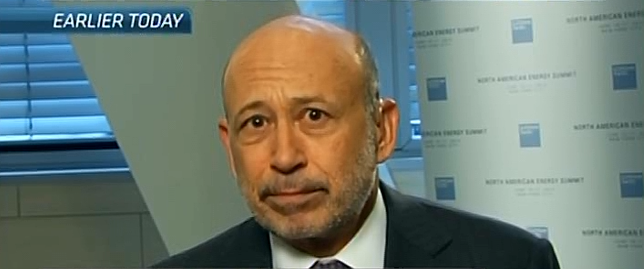 Even Lloyd Blankfein says
'at the end of the day'
Dr. New Land, who had a great gray-blue suit-tie combination going but otherwise had a quiet show going on Wednesday's Halftime Report, made a bold call in declaring, "I still don't want in" to AMZN and "I don't like it," then pulled a Najarian in pronouncing it "incredibly curious" that AMZN calls soared last week before Wednesday's Goldman upgrade. (SEC better take a look at that one. #scratchthattoomanyotherthingstodo)

Pete Najarian congratulated Steve Grasso and Jon Najarian on being bullish AMZN below $300, but thankfully he didn't congratulate Tim Seymour, who spent weeks telling everyone he liked its valuation at 250 but not 290.

Joe, evidently with a short memory regarding John Boehner's most recent government-shutdown battle, observed, "The Republican Party is divided."

Larry McDonald suggested the defeat of Eric Cantor is somehow "potentially positive for coal."

Andres Garcia-Amaya made his usual case for Europe-better-than-U.S.

Josh Brown made the Caterpillar bull case, but Doc's prime argument against it was that mining hasn't bottomed. Pete said you might be able to get CAT at $100.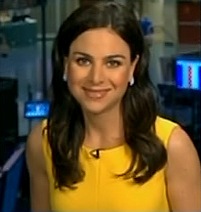 Jackie DeAngelis,
in mellow yellow
Joe Terranova on Wednesday's Halftime Report declared BAC "fine."

Kate Kelly said she congratulated Aubrey McClendon on his business success and then said that Aubrey congratulated her on "The Secret Club" but that Aubrey said "he was gonna be shy today" and thus not appear on camera (translation: dodge the map collection questions). Dr. New World deplored the state of U.S. nat gas exports.

Pete Najarian said APC calls were hot. Judge made sure to ask for disclosures (snicker) about 1) whether Pete's in that trade, 2) (double snicker) if so, whether he's in the options or stock or both and 3) (triple snicker) how long Pete plans to stay in the trade.

Pete also said the magic words related to CBS and TAP, those being, options buyers were "rolling up" from winning calls into even higher calls (Drink).

Josh Brown expressed shock that Harvard won't just put 25% of its endowment with Vanguard, except that the Vanguard guys aren't as good at "dinner conversation" as the 2-and-20 guys.

Harold Ford, addressing Eric Cantor's defeat, actually said "It'll be interesting to see" (Drink) and then "it's gonna be interesting to see" (Double Drink) what happens (if it wasn't going to be interesting, why would we be talking about it).

Pete Najarian said the pullback in NKE "doesn't seem to make sense to me."

Doc's Final Trade was FTK, Josh Brown said IEO and Joe said AAPL.
[Monday, June 9, 2014]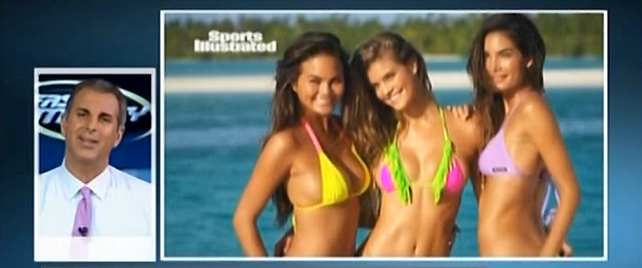 Twice the pay: Pete Najarian
does Halftime, Fast same day
The old standby — AAPL — surged again to the forefront of Monday's Fast Money discussion, and Steve Grasso said all those waiting for a pullback are likely to be disappointed.

"I don't think you're gonna get a selloff here," Grasso said.

Tim Seymour claimed that if you've tweeted anything negative about AAPL in the last 6 months, you get "suddenly vilifed." (What happens if you tweet "at the end of the day"?)

Guy Adami, curiously qualifying his advice as intended for those who have enjoyed a good ride in NFLX, stated, "I think you gotta be pulling at least half this position off the table and looking for a move," without clarifying what to do if you just bought it Friday.

Tim Seymour, who likes to talk about how he has always doubted Tesla's valuation, asserted, "This whole gigafactory is a major black hole potentially for capex and for R&D and for the share price."

Steve Grasso said to wait to buy TSLA until it holds 207. Guy Adami agreed that at Monday's level, "you're flippin' a coin."

Pete Najarian, invoking the Patty Edwards playbook, twice said "at this point in time."

The screen graphic said "heathcare" (sic) was one of Paul Hickey's 3 growth sectors.

Dennis Gartman said it "makes absolutely no sense" that debt from certain PIIGS are trading at a lower yield than U.S. debt.

Mel, who featured a sharp new hairstyle and chic orange dress, explained, "I don't wanna see men's legs in the workplace," but CNBC should realize that the real value added from showing Sports Illustrated swimsuit video is not from the video, but the comments by Melissa (and Karen when she's there) about the airing of the video. That is cute.
'$500 million out of nowhere'
Stephanie Link tried to show off her knowledge of Tyson's pro forma EBITDA in the Hillshire discussion, after Pete Najarian crowed about what a great time he had making money in the stock.

Opining on AAPL, Josh Brown tossed out one we haven't heard for a while (really since the Jeff Macke Era), "Stocks breaking 90 usually get to a hundred anyway" (Drink). (Boy if you fell for that one in late 2007 or mid-2008, you have our sympathies.)

That came just before Pete Najarian said "2nd half" (Drink) a couple times but actually refrained from adding "story."

Pete Najarian reaffirmed that UAL is in his "Player (sic) Playbook."

Stephanie Link (bull) battled Dr. New World (bear) on Time Inc., but Josh Brown had probably the best observation, that this spinoff allowed Time Warner to "create $500 million out of nowhere."

Re/Code's Liz Gannes, explaining why Uber is valuable, said "piss off," and didn't get bleeped. Judge made his feelings known on the market cap by immediately asking Josh Brown, "What do you think of this?"
Judge suggests 'no one seems to be worried about anything'
It didn't take long for viewers of Monday's Halftime Report to get a treat.

"There's still a tremendous amount of cash sitting on the sidelines" (Drink), said guest Milton Ezrati, who pronounced the stock market "still good value."

Josh Brown said the IEO, OIH and XLE have all gone "vertical" recently before referring to the "overabundance of complacity (sic)" and then correcting himself.

Dr. New Land asserted that the "yield's going to 2.75 very quickly."

Josh Brown explained to viewers what Carl's agitation style is compared with Nelson Peltz, but Brown didn't explain why, if Carl is such a believer in the "adversarial way" and doesn't believe that private calls lead to change (that's what Carl himself said), then why does Carl keep talking about his dinner with Tim Cook.
[Friday, June 6, 2014]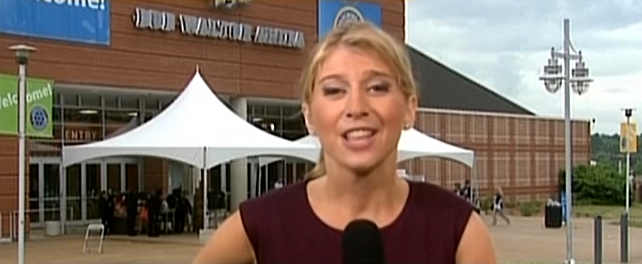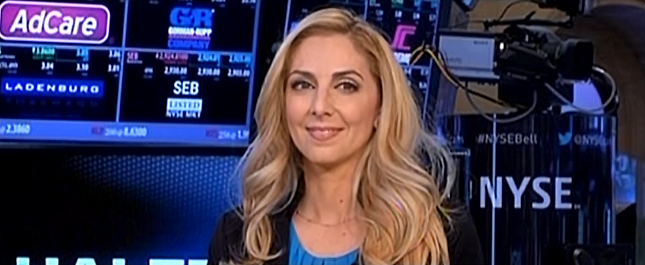 Patty predicts 'summer melt-up'
We didn't actually catch last Friday's Halftime Report.

Unfortunately, if it were anything like this Friday's, we didn't miss much.

Pete Najarian, Mike Murphy and Mike Santoli stumbled through "well the market's getting no respect but if the banks catch fire then it all can go a lot higher" commentary during the all-important first 10 minutes, but the most provocative remark was Josh Brown's prediction of a $10 gain in SHLD if Alan Mulally were to take over, from mid-$40s to mid-$50s.

That allowed Pete Najarian to say that Pete never thought Mulally was right for MSFT (Drink).

Pete Najarian managed to point out that TradeMonster is doing great (for all those interested in opening an account).

Sara Eisen — hair pulled back — looked great reporting from Wal-Mart's meeting, but the actual news (Doug McMillon has worked there a long time; it's a "massive, massive company," there are a lot of shareholders coming to the meeting, the entertainment at the meeting is really great, the company has faced pressures recently) was sort of at a discount.

Judge later got a fundraising chat at Post 9 with Quadratic CIO Nancy Davis, who is stunning.

One highlight Friday came during Closing Bell, when Patty Edwards turned up on Kelly Evans' panel and, after a clumsy transitional hockey chitchat stumble with Bill Griffeth, predicted a "summer melt-up."
[Wednesday, June 4, 2014]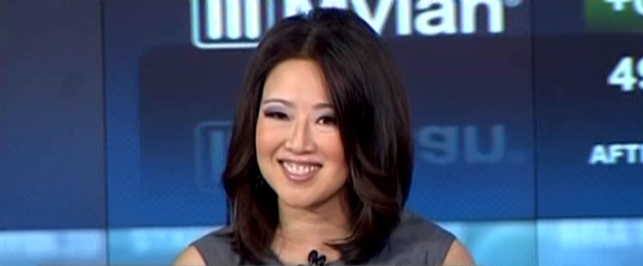 Mel dynamite in new 'do
It's the dog days of summer.

Steve Grasso on Wednesday's Fast Money was rationalizing/equivocating/rewriting history regarding mighty CLVS, the stock that goes from the $70s to $89 just because Dr. Yaron Werber talks about it on Friday's Fast Money (but presently has a 30-handle).

Grasso claimed he only bought it because he was looking for the "next possible Intercept," admitted it fell 30%, then tried a backdoor Brag Trade, stating "it traded up 50%," but the mistake he made was hanging onto it.

Not only that, Grasso, discussing Pandora, helpfully told viewers, "I don't know if I'd rather be here — or in Twitter. Which I already am." (This writer is long P.)

Tim Seymour bemoaned that the U.S. is suddenly "a very trusting superpower."

We also heard Ike Boruchow of Sterne Agee mention "lifestyle brand" (Drink) in the COH discussion.

That was just before Karen Finerman deemed a "kitchen-sink quarter" (Double Drink) very likely for COH's next call, while someone (presumably Karen) created a lot of annoying mike static.

No one stated the obvious, which is that, with few exceptions, retailers are horrible in 2014.

Karen Finerman called PVH "a little bit overdone."

The Halftime Report was unfortunately flat as a pancake, though Stephen Weiss got in a good one at Mike Murphy, stating, "I like DKS, not as much as Mike does."

We thought that cute Kate Kelly talking about her book (yes she's married just a friendly compliment) would be the highlight, but viewers did get an interesting declaration from Mr. New Land endorsing Vinnie Viola's vision of trading in the 21st century.

It was good to catch up with the Fast/Halftime gangs on Wednesday — and with the best audience in business media. Sometimes life throws a punch to the jaw (figuratively, not the "Road House" variety) (stop fooling around with that stuff and get to the point), and it takes a round or two to right the ship. We haven't forgotten for a moment about this television concept called "Fast Money," and we're not done.
Taking a break
Perhaps it was one too many "to me" from Dan Nathan. Or maybe it was Dennis Gartman's latest enthusiasm for which direction the S&P 500 is going.

But we had to take a pass on Thursday's Fast Money and Halftime Report.

They say a pause refreshes. As always, happy trading.