[CNBCfix Fast Money Review Archive — December 2013]
[Tuesday, December 31, 2013]
Worth: Year hinges
on 1st 5 days of January
Carter Worth told Tuesday's Fast Money that a big year in stocks with "this kind of little complacency" is very unusual, and the "presumption" (that's a fancy way of saying his "guess") is that it won't continue, or at least the success of buy-and-hold won't continue. (Which, quite frankly, wasn't as strong of an opinion as his 5-year "maturity date" of last week. But whatever.)

Worth later pointed to an interesting concept, the outperformance of equities over commodities, and asserted, "The presumption is that this cannot last."

Finally, Worth pointed to historical stats showing the 1st 5 days of January generally dictate how the month goes, and the month generally dictates how the year goes, so, "As January goes, so goes the market," Worth said.
Viewers get to hear about WGO twice in 1 day
Tuesday's Fast Money, like the Halftime Report, asked for traders' best and worst picks of the year (surely an objective and well-vetted exercise), and the curious thing was that we barely knew about any of them.

Guy Adami claimed that his worst trade of the year was calling for a WDC short in early November, then said "My bad."

That's one we do remember, except it seems that he's been saying that for a lot longer than November, and it never really registered on our radar.

Adami said MA, indeed a fine long-term choice, has been his best call.

Tim Seymour declared with way too much detail that he recommended IBN in April, and "I was totally wrong," but couldn't resist tossing in that he got a recent pop out of it. Seymour said his best trade was DRYS, though the screen said he's long DRYS puts.

Brian Kelly said he botched buying gold (that one we remember) and profited from DXJ (that's another one we remember).

Jim Lebenthal revealed, "I was long volatility," which we didn't know, and said his best move was WGO, which we only knew because he said the same thing at Halftime.
Kelly: Up TWTR stop
Brian Kelly, who made a good call Monday on buying TWTR on sentiment, sounded a little hesitant on Tuesday's Fast Money in advising viewers to stay long the name but keep raising the stop, as the shares are volatile.

Guy Adami said of NFLX, "I still think it trends higher."

Tim Seymour thinks the HPQ run can continue. But Jim Lebenthal said to ditch MSFT, because "it's still windows."

Guy Adami said CSCO "might be OK" right now, not the greatest endorsement. Brian Kelly said that IBM "is a name that I'd be short."
Mel & Guy maintain their bickering-married-couple routine, this time over driving, bone-in riblets and 'Trading Places'
Asked for dog picks for 2014 on Tuesday's Fast Money, Guy Adami said that FCX could be a $50 stock in 2014 with "any glimmer of hope."

Tim Seymour went to the Walter Energy well again, admitting he could've made that his year-end dog pick of last year.

Jim Lebenthal reaffirmed his enthusiasm for EXC, a stock no one else ever mentions.

Brian Kelly reaffirmed that he's calling for a PXD short, originally a good trade that soon will be in face-ripped-off land.

Tim Seymour said "you have to buy the private equity guys," specifically BX. Guy Adami agreed and said there's no reason the stock can't find its old high.

Jim Lebenthal invoked an old Dr. New Land cliche, stating AIG is still being valued like it's "in the penalty box."
Perhaps they could've served some of this episode's gratuitous whiskey to Arlene's boyfriend, or the reporter who thinks Debbie Harry's name is 'Blondie'
We understand it's a New Year's Eve program and that we should expect (especially the way things are going now) to see whiskey distributors in costumes pouring drinks for Fast Money panelists, as was the case courtesy of Nicholas Pollacchi on Tuesday, but when the NBC reporter referred to the "'70s icon Blondie" being a "she," we kinda figured it was time to switch over to Chris Matthews or Eric Bolling or whoever else is on.

Applebee's maestro Zane Tankel (gee whiz, how many times has CNBC quoted the prices of Times Square restaurants this week??) visited the Nasdaq to say that Applebee's sold out its $375 tickets, in which customers get a meal, a deejay and a bathroom, 2 days earlier.

"You had me at 'bathroom'," said Melissa Lee. (Surprised Guy didn't bicker over that.)

Tim Seymour said DIN is not expensive, not unexpected with the guest in the studio, but that he likes MCD the best. Guy Adami, in a rarity, implied that DIN has gotten over its skis and didn't blatantly endorse it.

Mike Khouw reported that DG February 62.50 calls were hot.

Mel had to strike an extra-long pose as Guy Adami said to be long LULU but get out at 55.

Tim Seymour suggested EWW and EWY in the ETF space. (And then said he never said anything about market breadth but was only asking a question.)

Jim Lebenthal said of Pfizer, "I think you're supposed to buy it."

Guy Adami's Final Trade was PSX. Tim Seymour said GE, Brian Kelly said USO and Jim Lebenthal said AAPL.
Doc gets long TWTR
His move was nothing more than a technical decision, yet he justified it with all kinds of purported fundamentals that are a pipe dream from realizing a $34 billion market cap.

Put another way, he might well be right, but for the wrong reasons.

Jon Najarian revealed on Tuesday's Halftime Report that he went long TWTR on Monday, starting with the fact it's "the site for young people."

Doc went on to claim that Jack Dorsey joining the DIS board is somehow going to open the floodgates to revenue, which brought needed skepticism from Stephen Weiss.

"In 140 characters I'm gonna watch a movie," Weiss grumbled.

"No you're not gonna watch movie (sic no "a") but it's gonna link you to a discount to that movie," Najarian claimed.

Weiss didn't have a great bearish argument. "The valuation is excessive," he mumbled, while tossing in the exalted cliche, "it's an ad model at the end of the day."
Doc: TGT caught a bid
In the 2nd-most interesting stock discussion of Tuesday's Halftime Report, Jon Najarian revealed he was buying TGT, in part because there's no such thing as bad publicity.

"They're comin' in and buying upside calls," Najarian said, pointing out that as the stock bounces, it goes higher than it did before the data-breach setback.

Stephen Weiss said he too likes the name, because "it's the cheapest retailer out there."
How soon till the gold miners start thinking 1-for-10?
Anthony Grisanti told Tuesday's glitch-prone Halftime Report that "I still think gold has another leg down," and was backed up by Brian Stutland, who said the technicals in gold aren't lining up so great, and pointed to a $400 range.

"The lower end is really 1,125," Stutland said, but in general, "stocks are in favor, not gold."

Jackie DeAngelis, in the span of about a 2-minute segment, lost microphone capabilities, necessitating Judge stepping in.

Later, Sheila Dharmarajan reported that gold miners took it on the chin this year, and her connection covered about 3 octaves during this beleaguered production.

Speaking of gold, Kate Kelly said John Paulson did well in 2013 despite his golden albatross. Kelly reported that the average hedge fund was up 8% in 2013, but that the Glenview "Opportunity" (the screen said "Opportunities") fund was the big winner at 97%.

Anthony Scaramucci affirmed belief in whatever it is Paulson's doing; "it's our No. 1 holding."
Simon talks about GRPN
as though it's Boeing
Judge asked panelists on Tuesday's Halftime Report to recall their best and worst trades of the year.

Jon Najarian said it was FB, back around 24, when the December 24 calls were suddenly hot.

Najarian tried to claim "there are so many" regrets in his 2013 ledger, but KMX was a notable bust.

Stephen Weiss said long airlines and short JCP worked for him, and "clearly Halcon" (that's the Floyd Trade) was his worst setback.

Simon Baker really only got to talk about the winner, GRPN, which was his Final Trade, while Jim Lebenthal said small caps were great and that he came up big with WGO.

Jeremy Siegel reaffirmed his 18,000 Dow target for 2014 and said it's possible stocks can overshoot "10 to 20% beyond that."
Joe disappointingly is
no-show in final 2013 week
We were disappointed to not find Mr. New Land ushering in the new year on the Halftime Report this week, but if nothing else, it's allowed Jim Lebenthal to get a workout.

Jon Najarian, who brought his A game (even if his TWTR argument was dopey) to Tuesday's Halftime Report, called NFLX "a little frothy," though he said $400 is possible if Carl Icahn sticks around.

As Steve Weiss congratulated Judge about his Dan Loeb-HTZ report, Najarian said he took off 75% of his HTZ position because the gain was so big, but that everything's going in Hertz's favor right now.

Simon Baker said he thinks BA will go higher in 2014. Stephen Weiss called the CEO "phenomenal," while Jim Lebenthal said people should "take it with a grain of salt" when jets have battery fires.

Ken Squire visited with the gang to tout the benefits of 13D investing, saying no one can capture that 1st-day pop, but "during that 15-month period, there's a 16% outperformance, uh, over the S&P 500."

Squire explained that he still likes Valeant, but seemed flustered when asked by Stephen Weiss how many positions his fund has; "we have about 38," he said.

Jim Lebenthal called BBY "still cheap." Simon Baker agreed, but Stephen Weiss said "the best days are behind" this stock.

Weiss said PBI is actually not expensive, but he's not playing it.

Simon Baker called HPQ "completely a turnaround story" that might include (oh joy) 3-D printing, then asked Stephen Weiss about it.

Weiss somehow tried to claim he was right about his embarrassingly bad ongoing condemnation of AKS in the fall, a call that was accurate only until mid-summer. Jon Najarian said he likes AKS as well as STLD, but the trade is to buy them in November, and "sell 'em right now."

Simon Baker said he's "negative Kors and negative Coach." Stephen Weiss urged viewers to sell COH.

Simon Baker's Final Trade was GRPN. Jim Lebenthal said AAPL, Stephen Weiss said both C and THC, and Jon Najarian said ABX.
[Monday, December 30, 2013]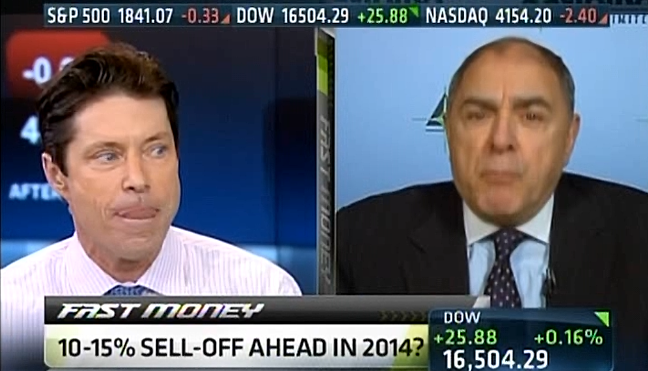 Yes, Tim, you said it (a/k/a Seymour's the only one who apparently doesn't have to listen to himself talk)
In the category of B.S. (and we don't mean "bachelor's of science"), Tim Seymour on Monday's Fast Money set a new low.

Seymour demanded Ralph Acampora "call this for us" as to how he arrives at a 10-15% stock selloff, perhaps because of the "breadth of the market that's been very poor."

"Well I disagree with you when you say the breadth is very poor," Acampora tried to say.

"I didn't say anything, I asked a question," Seymour said, cutting Acampora off.

"Yeah, but breadth is not poor," Acampora said.

"I didn't say that," Seymour somehow claimed, like a knucklehead.

Ultimately Seymour and Acampora disagreed on whether a 15% selloff is a big deal. "A 15% move in the S&P is gonna have a lot of people jumping out of windows," Seymour said.
So what was Guy's point?
Ralph Acampora told Monday's Fast Money that a pullback in stocks of 10% is "in the cards" and said "the sooner the better," even though he thinks "this market's not in a bubble."

Guy Adami told Acampora that he agrees that stocks aren't in a bubble, but the same could be said of 2007, and this time according to Adami it's the Fed in the bubble, so couldn't this get really nasty.

"Yeah. OK," Acampora shrugged.

Acampora said he likes DRYS, SEA, AA and X.
Brian Kelly's the only one on Fast Money who thinks the American oil boom is already over
Brian Kelly said at the opening of Monday's Fast Money that the 2nd half of 2014 looks "troublesome" to him, and that oil is going higher, which Tim Seymour dubbed an "outlier call."

Jim Lebenthal said he too doubts the U.S. oil renaissance is over and has data to back that up that he didn't have the inclination to produce.

Tim Seymour claimed shorts in SCCO, RIO and BHP are going to get squeezed in 2014.

Jim Lebenthal agreed with Seymour on liking mining in 2014.

Lebenthal thinks "there's room for a 5-7% correction in the 1st quarter."

Guy Adami called CAT "probably shortable" and suggested the same for IBM.
Note to Mel: DrudgeReport
only consists of 1 page
In the most interesting moment of Monday's Fast Money, Brian Kelly called TWTR "a great buy" at 60, using 54 as your stop.

Unfortunately, Jim Lebenthal, who rebounded from his bizarre feds-might-try-to-break-up-UPS/FDX implication of a week ago with a solid show, stumbled mightily in trying to say Kelly is right but too early but ended up not really making any sense given that Kelly was making a sentiment call.

Host Melissa Lee gushed that last week, TWTR's gain was listed on the DrudgeReport, "the first page (sic) on its site!"

Jim Lebenthal said, "I happen to like Apple better than Google here." Guy Adami said "I think the story still works" in MU, but he called EBAY at the "upper end of the range."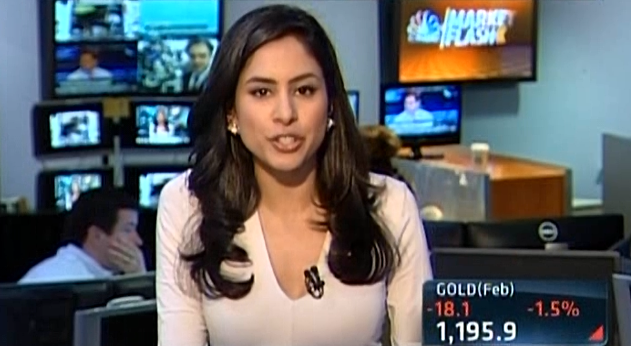 Holy. Moly.
Brian Sozzi, given a crack at Fast Money on Monday, brought the necessary soundbites for a bearish call on WMT, calling it an "absolute loser stock" in 2014 on margin and inventory-buildup concerns.

Tim Seymour, who on Monday had something to say about everything including (inaccurately) his own commentary, called WMT "very very cheap" and said he likes it on a bunch of relative valuations.

Guy Adami said you won't get "obliterated" being long WMT, but he doesn't see a whole lot of upside. Jim Lebenthal said if you're gonna go short WMT, you should pick a name like "a Dick's to go long" (sic entire quoted phrase) in a pairs trade.
Mel and Guy keep the bickering-married-couple thing going, this time over 'Star Wars'
Dennis Gartman on Monday's Fast Money delivered the day's obligatory pro-Japan trade for 2014, citing weakness in the yen and adding, "I wanna own gold in yen terms."

Dennis added a shout-out to Courtney Gartman's birthday being Jan. 1 (see, she's kind of a Fast Money honcho).

Hunter Keay visited the Nasdaq and, in a very impressive dissemination of airline-industry fundamentals, argued that the multiples on airline stocks are still low, which tells him there's still a "lot of skepticism" baked in the stocks.

Keay told a disheartened Guy Adami that JBLU is "not interesting" to him, because "they do not earn their cost of capital."

Scott Nations reported big buyers of the February 37 puts in the XLU.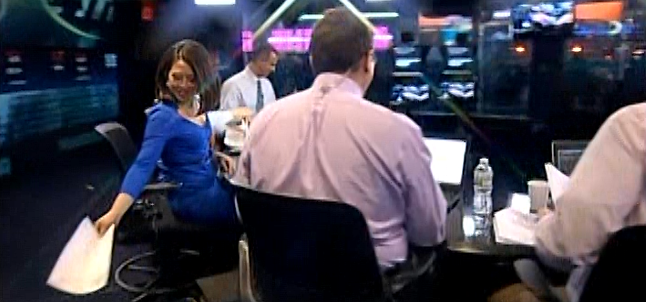 Outta here: Mel pitches notes before the program's actually over
Jim Lebenthal explained on Monday's Fast Money that he does like MRK, but "it's hard to really put your finger on a catalyst here."

However, Lebenthal said, the dividend gives you time to wait.

Tim Seymour said he's "very comfortable" owning POT and MOS.

Guy Adami said he'd normally consider the CROX news a fade, but not in this case.

Adami says you should want to be long LGF. Jim Lebenthal said of INVN, "I think you ride this." Tim Seymour said "I'm staying long" TSL.

Seymour endorsed MRO. "I think this is a stock you can stay in," said Seymour who then said a moment later he never said that but only asked a question.

Brian Kelly called AMD "worth a shot."

Melissa Lee first said that on New Year's Eve, TGI Friday's in Times Square would be charging "more than a couple grand," than clarified that to "a grand per couple."

Lee also explained and then reiterated that Dec. 31 is the final trading day of the year.

Guy Adami's Final Trade was HUN. Brian Kelly said SLB, Tim Seymour said CCU and Jim Lebenthal said EXC.
Josh thinks absolutely no teenager in Europe is on Facebook
Monday's Halftime Report, guest-hosted by Melissa Lee, prompted panelists in what unfortunately is getting to be a very tired exercise to declare their favorite and least favorite stocks for 2014.

And no subject was more polarizing than the "Web 2.0" space.

Stephen Weiss said he'd sell YHOO and the "high-flying Internet stocks."

Jon Najarian called GRMN, NFLX and TSLA overvalued.

Simon Baker made the correct call, which is that the secular tailwinds in social media should continue to lift YELP and FB. He would've made it a perfect call by pointing out the Nasdaq Composite only needs 23% for an all-time high. A few will be busts, but (if we had any money) we'd gladly do the buying on Weiss' sells and Najarian's NFLX. (This writer is long LNKD and P.)

Chris Baggini told the group he likes GOOG and FB "much better" than TWTR. Josh Brown, who seizes upon every FB headline as justification for his bearish view (similar to Gasparino/De Blasio except Charlie's generally right), rattled off an incredibly clumsy question to Baggini about Europeans ditching Facebook. Baggini chuckled and said the question involved a "whole gambit (sic) of things here" (when he likely meant "gamut"). "Europe has certainly bottomed," Baggini asserted.

Stephen Weiss said he's a believer in DIS, but "not a believer" in FB despite the growth.

Josh Brown said he'd be selling old tech, which he thinks has run its course, but he still likes solar and thinks it's early in the story. Stephen Weiss does like big-cap biotech.

Jon Najarian likes SO, BAC and NVDA. Stephen Weiss made sure to chip in that he likes BAC too. (And what about mightly C, omg, every other Fast Money/Halftime episode, C is just so unstoppable, with all that global exposure and consolidation benefits yet to be realized in a rising rate environment, etc.)

Aside from social media, Simon Baker likes FDX, and he dislikes HON and GE.

Steve DeSanctis first credited small-caps for having "a fantastic year" up 38.6%, but then he said he no longer likes the valuation; it's "very close to an all-time high." Rather, he likes global cyclicals.

Jon Najarian clumsily tried to explain that DeSanctis doesn't like small-cap utilities, but that Najarian does like SO, but it's not a small-cap.

Andres Garcia-Amaya said he likes domestic European companies, in particular retail and industrial names in Spain, and in general, financials and industrials, because of "pent-up demand," a term he said twice.
Simon likes the pretty girls
on Virgin America
It only took 4 months, but CNBC's Halftime Report on Dec. 30 finally figured out the first-class airfare guarantee that Simon Baker gave Stephen Weiss in August, something in which readers of this page have been well-versed since the moment it happened.

Reminded of this catastrophic call on Monday's Halftime Report, Baker accused guest host Mel Lee of "really some smart editing going on," then admitted, "I gotta tip my hat to Mr. Weiss" for being bullish airlines.

Jon Najarian said his favorite airline is SAVE, but he also loves flying American to NYC.

Simon recommended Virgin America, where "the girls are quite pretty."
Doc reveals what
'WSOP' stands for
Jon Najarian decided on Monday's Halftime Report to make a bull call on WYNN, for no apparent reason.

Doc's first argument was Steve Wynn, "the man is a winner," before mentioning online gambling, World Series of Poker and China.

Josh Brown said that's all great, but it's "already more than discounted."

Melissa Lee then tripped up Najarian, asking what catalyst exists for the stock in 2014. Najarian clumsily eventually claimed it's China.

Simon Baker and Steve Weiss each agreed with Brown, with Weiss calling China a "house of cards."
Mel complains about hotel fees
Simon Baker on Monday's Halftime Report took forever to get to his point about AAPL, explaining that the dividend has gone up, but the Carl Icahn news is just noise so the question is whether you own it for the fundamentals, and to him it's a "core holding."

Josh Brown actually called CTB "probably the most hated name you can find."

Brown, who got to opine about everything Monday, said CROX is "not my kind of thing," but he likes NKE.

Simon Baker likes DECK.

Stephen Weiss said TGT's data breach was "frankly unforgivable."

Weiss said MU figures to have a good 1st quarter or 1st half of 2014. Simon Baker backed HIMX, stating, "I think this has a long way to go."

Baker said STX is "a stock we own."

Jon Najarian said shorts got squeezed in NQ, and this "could continue for a couple days."

Doc said January 60 calls in RIO were hot.

Josh Brown said WFM has a lot of things going for it, but the stock has "already priced all of that in."

Larry McDonald contended that Republicans will use energy to force Democrats toward the center in 2014, making coal a promising play. McDonald conceded to Stephen Weiss that China remains a "question mark" but asserted 3 times that a breakout in natural gas is bullish for coal. Simon Baker said coal is an appealing space because few people are in it and mentioned the KOL. Josh Brown said to "err on the side of quality" if you're getting into this trade. Stephen Weiss said he'd take BTU over WLT.

Melissa Lee, in sharp blue frock, complained that nobody uses mini-bars in hotels because "the pricing is ridiculous."

Jon Najarian's Final Trade was CTRP. Stephen Weiss said JCI, Josh Brown said FCX and Simon Baker said TIF.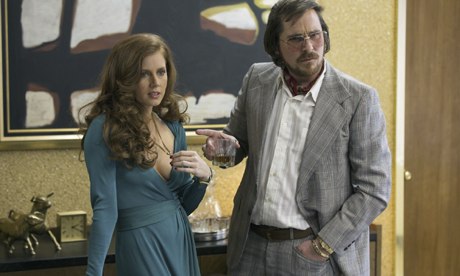 CNBCfix Movie(s) of the Week:
'American Hustle,' 'Nebraska,'
'Wolf of Wall Street' redefine
boredom at the movies
If you're like so many Americans this fortnight, chances are you're going to drop into a movie theater and catch one of several Oscar contenders now playing.

3 of those happen to be "American Hustle," "The Wolf of Wall Street" and "Nebraska."

None is particularly memorable. Each has its moments. Each is at least a half-hour longer than it needs to be.

Each begins with a character doing something dubious for the sake of money.

None of these characters actually needs to be doing this. The youngest represents greed; the oldest is confused. The middle-aged variety does it because it's simply what he does.

All 3 films sadly suggest there's an endless pool of financial suckers waiting to be duped. A more sensitive way of showing it is to suggest they are willingly overpaying for something intangible: Fantasy. Hope. Friendship. A refreshingly good conversation. Attention.

There's a profound theme between the victims and the offenders in all 3 films: These people are bored. Wherever they came from, however they got there, they need something more than their daily routine.

At least, they think they do.

So don't be bored. It's dangerous. That this revelation may occur while checking one's watch during one of these pictures feels, in fact, somewhat ironic.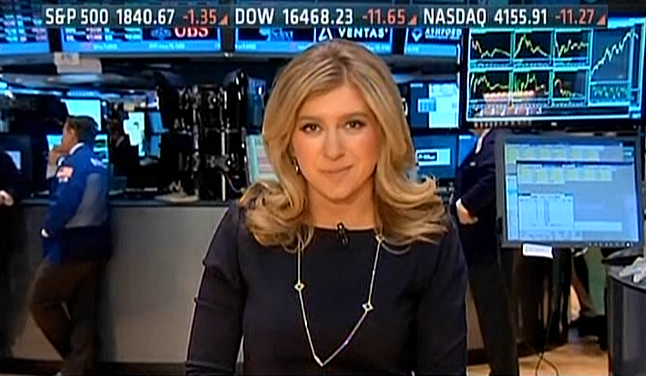 Sara Eisen.
If it hadn't been for a chance viewing of Friday's Power Lunch, it would've taken us longer to realize exactly how good-looking CNBC's Sara Eisen is.

Extraordinarily good-looking.

Of course we were aware of Eisen's hiring and, admittedly, kind of shrugged, as it seems like CNBC introduces a new pretty face every fortnight, and it becomes a challenge keeping track of who's where (except in the case of Kelly Evans, who's everywhere, all the time).

That won't be a problem here. Eisen has an uncanny look that owns the camera. As long as we're tallying the scorecard (sigh, this always leads to trouble), let's include beautiful skin, beautiful hair, beautiful figure, and stunning, elegant attire crowned by necklace on Friday.

If we could make a request (here comes more trouble), we'd say, "Don't change a thing."

Eisen has long been a Bloomberg favorite. Unfortunately not that many folks watch it. So before it sounds like we've entered the deep end of the TV-watching pool already, know that we'll reserve opinions on Eisen's TV performance until we've had a chance to see her a lot more often and can witness firsthand how she deals with a Mohamed El-Erian "It's like this, for 4 reasons" type of interview.

Some folks have the world in the palm of their hand. It can be exciting to watch.
[Friday, December 27, 2013]
Worth: Bull market nearly over
The Dominator, Dominic Chu, took the reins of Friday's Fast Money, and refreshingly the inside gags (i.e., the Guy-Mel married-couple routine) were practically nonexistent.

However, trades were practically nonexistent too, as is often the case Friday afternoons.

Carter Worth opined that TWTR's downgrade shouldn't have moved the stock 13% and that the stock in just the last few days (it took a moment to figure out he was talking about one week) put together as well-formed of a head-and-shoulders top as Worth finds possible, and so he thinks the stock will test the mid-50s.

Steve Grasso countered that the TWTR selloff did in fact have much to do with the Macquarie report, even though "this is a way-late downgrade."

Josh Brown, who once again did double-duty on TV while CEO'ing Barry's wealth-management shop, claimed that the last week in TWTR has been "a little bit of a mini pump-and-dump."

Worth asserted that "bull markets have maturity dates," and the 2013 market is Year 5, so "we are far along in this process."

Josh Brown argued that 2011 was nothing; "this current rally is a little bit over 2 years old."

Jim Lebenthal said that you should stay in the market, but "you sell the high-flying stocks and you buy the cheaper stocks."

Steve Grasso said everyone expects a pullback, but it's "probably not gonna happen" until maybe February or March.

Josh Brown said Tim Cook deserves his purportedly low salary. "Give him the money ... God bless, he's doin' a great job."

Jim Lebenthal said TGT has taken a security beating, but "as an investor, I like this stock."

Steve Grasso predicted a mean reversion of GM/F; "I'd be a buyer of Ford."

Jim Lebenthal predicted a lot of clunkers will be traded in for "more new cars on the road."

Josh Brown said he's not crazy about e-cigarette-related equities, but he does like the concept.

INSY chief Michael Babich, in kind of an abrupt transition, demonstrated the usefulness of the Fentanyl Sublingual Spray that goes under the tongue.

Steve Grasso said he owns S and TMUS and is staying long.

Carter Worth said "we would fade the rally here" in DAL.

Jim Lebenthal said to "run to the exit" in CUDA.

Josh Brown said BIDU's run will likely continue into the Alibaba IPO.

Carter Worth's contrarian trade is to fade the Nikkei by selling EWJ. Josh Brown said "I like VAW," Jim Lebenthal predicted $70 crude, and Steve Grasso said to get long ANF at 30, which isn't a contrarian trade at all.

Carter Worth's Final Trade was long SBUX. Josh Brown, devoid of material, repeated his Halftime call of BAC. Jim Lebenthal said EXC and Steve Grasso said QCOM with a goofy rationale.
Enis Taner got shipped to Turkey so he could tell people not to buy Turkey yet
Zane Brown, like most muni experts on Fast Money/Halftime (um, there's really only one who matters), lamented to Friday's Halftime Report that people heard all about Detroit and Puerto Rico and sold, and "they're paying no attention at all to valuation."

Now, Brown says, "They're starting to buy."

As for the 10-year, Brown said, "mid-year we're easily at 3 and a quarter," and 3½ at the end of the year.

Stephen Weiss questioned when tapering might be accelerated. Brown said he doesn't see "a 2nd round until March," and at that point it would perhaps be another $10 billion.

"March is a very aggressive target," Weiss opined.

Meanwhile, Enis Taner, who hasn't been on the show in ages, for some reason was enlisted to dial in from Turkey, where he's "seeing signs of fracturing" among the ruling elite and doesn't recommend buying the dip.

Josh Brown helpfully said that what's going on there could be something, or might be nothing.

Stephen Weiss, forgetting that Tim Seymour feels obligated to mention the TUR about twice a month, said viewers should "forget about Turkey."
Josh Brown: Short FB
Dominic Chu reported on stocks with increasing short interest on Friday's Halftime Report, a report largely dismissed by Steve Weiss, who said we don't know if the short interest is "fundamental" or "hedged."

However, "I've been looking at KBH on the short side," Weiss said, "and also ADT."

Anthony Scaramucci curiously said, "This is not a time to sell your bonds," and he thinks shorts will be "closen (sic) out" in 2014 ... except shorts in gold, which he considers the No. 1 shorting opportunity.

Jon Najarian said the trade he likes is actually an S&P pullback, or the 181 puts on the SPY vs. 177, which he says is "great risk/reward on with that trade."

Josh Brown actually calls FB his top 2014 short (we're gonna be replaying that one), stating, "This is not a buy here."

But Brown wisely noted, "I don't think the majority of our viewers should be shorting anything," which is true despite what Guy Adami says about "You've gotta be able to skate forward and skate backward," because while it sometimes pays off spectacularly, too often it's face-ripped-off land, and then you wonder, "why on earth did I ever do something that stoopid."
Weiss: 20% in stocks in 2014
Devoid of ideas or subject matter, Judge asked panelists at the top of Friday's Halftime Report to opine on interest rates' effect on the stock market. (Zzzzzz.)

Josh Brown said (Drink) that rising rates are generally good, provided it's not "too far too fast" (Double Drink).

Stephen Weiss shrugged off rate concerns and asserted, "I continue to be very long equities," predicting a "20% year next year" in stocks.

Weiss said we're getting the "generational move" out of bonds but that it's happening very slowly.

Anthony Scaramucci called for a "5-15% move for the market next year."

Jon Najarian said the opening to 2014 will likely be strong.

Josh Brown grumbled that people are fighting yesteryear's stock-market battles by being entrenched in utilities and defensives.

Dan Greenhaus told Judge that Judge wouldn't remember him saying this, because Halftime has plenty of guests, but that Greenhaus said "repeatedly" on CNBC that "I think this is a nonsense discussion" about fearing higher rates.

Greenhaus also said, "At the end of the day."
Did you know that Doc took off his long-TWTR trade?
Devoid of ideas, Judge had panelists on Friday's Halftime Report re-recite previous commentary on TWTR.

Jon Najarian explained (again) (Drink) how he'd been in the long TWTR/short FB trade and figured to be in it for months but had to cut it off after 4 days.

Najarian said that for social media names to sell off on Friday is "not a surprise."

Josh Brown thankfully didn't repeat (for the 6th time) that "I sure wish it had fallen into the 30s so I could've put on a full position" but did say that TWTR "may never be a cheap stock."

Jim Lebenthal made no mention of his suddenly dubious call of a day earlier that TWTR is "probably not going down" before year-end because no one wants the taxable gain.

Dan Greenhaus, a fine CNBC personality who had little to offer this program, insisted, "Valuation certainly matters, it just may not in the short term," whatever that means.

Stephen Weiss stressed, "Momentum is an investor class."
Weiss again bungles description of Simon's horrific DAL call
In a surprise to utterly no one (at least about one of the ticker symobls), Gene Munster on Friday's Halftime Report revealed that his top 3 stock picks for 2014 are AAPL, EBAY and ANGI. He said CHL is the short-term AAPL catalyst, but the real catalyst is the new-product cycle that will pose a headwind by late 2014. "Now's the time to own it," Munster said.

Josh Brown noted the pain of DDD shorts. Anthony Scaramucci said of GOOG, "This stock could easily trade up another 15 to 20%."

Asked to choose V or MA or something else, Jon Najarian said "something else," in the security space, not the most helpful call.

Josh Brown claimed shippers are in the "top of the 1st inning." The Moochmeister, who referred to Brown as "Scott," claimed "the leverage here is just too much" and that management is not shareholder-friendly. Stephen Weiss took Brown's side, saying the industry turns on capacity.

Noting Delta's cheap fares, Steve Weiss referred to Simon Baker's ludicrous, mind-numbing August offer of first-class airfare to California if DAL was above the day's price, stating, "Hopefully he (Baker) was on Delta's Web site," but then Weiss botched the story, claiming Baker said the shares "wouldn't be above 21 at year-end," when in fact it was trading on the ticker at 19.32 about the time Baker spoke during that program and Baker clearly said if it's higher than "now."

Julia Boorstin reported on some guy with expedited fantasy football (oh joy). And whatever happened to the guy selling IPOs in Arian Foster's tracking stock of future earnings.

Jon Najarian said the GDXJ was hot. Josh Brown wasn't impressed.

Josh Brown's Final Trade was BAC. Jon Najarian said HA, Anthony Scaramucci said FDX and Stephen Weiss said EWW.
[Thursday, December 26, 2013]
Lebenthal: Don't expect TWTR selloff before year-end
Thursday's Fast Money, in which viewers were treated to Jon Najarian and Jim Lebenthal saying the same things they said at Halftime, took a crack at quite possibly The Most Amazing Stock of 2013 (and no, it's not TSLA).

TWTR.

Jon Najarian said the stock has "got all the earmarks of something going on."

Reiterating that he sold out of his position, Najarian conceded, "If the stock goes to 80 tomorrow I'll look like a fool."

Lebenthal said it's "so reminiscent" of GMCR, NFLX and CMG, and given year-end tax circumstances, "it's probably not going down for the next 3 days."

Guy Adami suggested that "maybe we could see a bit of a pullback." Gordon Johnson offered, "We just think it's overvalued."
Ben Kallo puts on a blink-fest while Gordon Johnson asks a question
Ben Kallo spent much of his time on Thursday's Fast Money talking about TSLA and predicting "some bumps in the road" for that stock, or "closer to a hundred before 200."

"I'd rather be in solar," Kallo said.

Gordon Johnson, whose bearishness on solar in the last year has been a spectacular bust, questioned if China is going to pull the rug out from under the solar space with lack of support for the sector. Kallo provided an indifferent expression as though he had no use for this question whatsoever and offered that "module prices have come down dramatically," helping demand.

Kallo called SCTY "my best pick for 2014," and also likes SPWR longer-term.

Gordon Johnson advised shorting TSL.

Guy Adami said TSLA hasn't broken out until it passes 165, so "take profits here."
How else would he exit, given that you must go below 5% to reach 0%
Jon Najarian said on Thursday's Fast Money, just as he said at Halftime, that Mike Lazaridis sold below a 5% BBRY position "so that he can quietly exit" entirely.

Guy Adami said of BBRY, "I'm still in the camp that this thing goes significantly lower."

Guy Adami said he thinks TM has value, but "something's wrong here with the stock," if you told him a couple months ago where the yen and S&P were going, he "would've said 150 easy" for TM.

Jim Lebenthal said that if you've been in TMUS, it's "a good time to ring the bell."

Jon Najarian said options players are betting on DRYS topping $5. Jim Lebenthal curiously said he likes TK and "Navios Marine (sic)," which we thought was Navios Maritime.

Guy Adami said, "I think the rails still make sense," while Gordon Johnson likes CSX and NSC.
Jeff Macke used to say that a certain percentage of gift cards was like 'selling air' because they don't get redeemed
Guest Bryan Gildenberg declared on Thursday's Fast Money that AMZN is no longer a holiday novelty, but "part of the fabric" of how people shop nowadays.

Gildenberg also had the foresight to suggest that gift cards are becoming a staple, but retailers have to wait to recognize the revenue.

Jim Lebenthal said he likes "Nordstroms" (sic).

"I love JCP," said Gordon Johnson.

David Kelly warned viewers that "over the next few years the stock market in the United States is gonna give you a good deal less," maybe something along the lines of "more than 5% per year." But he said that in Europe, "They're beginning to turn the corner."
Guy and Mel maintain their
married-couple bickering act for the entire 60 minutes
Jon Najarian said on Thursday's Fast Money that he likes LULU and is long March options.

Guy Adami thinks you can play GOGO long, with "25 on the downside" as your stop.

Gordon Johnson said he'd be selling EBAY but buying back below 50.

Johnson asserted that Chinese commodity demand is slowing, so he's shorting X, JOY and RIO. But Jim Lebenthal said every 6 or 9 months this occurs and washes out; "we've heard this before."

Jim Lebenthal repeated that he prefers CVX to XOM.

Jon Najarian said DDD "looks like it trades higher into the year-end."

Mike Khouw spotted a big buyer of FB February 65 calls for $2.

Guy Adami said NUAN is OK but "not nearly as easy as it was before" when he was recommending it every night for the tiniest of bounces. Jim Lebenthal said he'd give a "solid yes" to the notion of BAC hitting $20 in 2014. Gordon Johnson thinks AMT will get to 95.

Jon Najarian's Final Trade was ATML. Jim Lebenthal said BP. Gordon Johnson said MU, and Guy Adami said APC.

Mel bungled "Bluto," but did say "dichotomy." (But not "inherently.") She also called Jon Najarian's shirt "amazing."
Jim Lebenthal actually implies feds inclined to break up UPS/FedEx this week
In a constructive opening feature on Thursday's Halftime Report, it was Stephen Weiss who made the most compelling case. (And, to be honest, it was Jim Lebenthal who kinda stank up the joint, but we don't want to sound harsh.)

Weiss argued bullishly for AMZN, UPS and FDX, as well as TGT, given the news at the end of this holiday season.

In AMZN, the "momentum's going to continue to work now," Weiss said, and coupled with the shippers, it's clear "they can raise rates now with impunity."

Weiss shrugged off the package-delay story for UPS, stating "everybody knows about this." He also called TGT a "great opportunity" after the data breach.

Jim Lebenthal cooked up a goofy bear thesis on shippers that (if it were actually realistic) is about a decade late, opining, "Now we're getting to the point where the government might actually notice, 'Hey there's 2 main shipping companies out there.' That's a duopoly. The government doesn't like duopolies, it smells too much like a monopoly," especially — Lebenthal said — one that competes with the post office.

So there are 2 big shippers (who have been shipping virtually everything in the U.S. for decades), but the government is going to decide this week that it's really like 1 shipper, and by the way there's the post office too.

Jon Najarian plowed through this gobbledygook albeit with a goofy example, stating "the government doesn't care" because it let XM and Sirius become a monopoly (as if that's the same thing). But he's right, the government doesn't care.

Najarian disagreed with Weiss on UPS, predicting, "in January, this stock will be down" and that he likes FDX better.

Josh Brown, like Weiss, is pro-UPS, saying it "still has upside" and an "economic moat that's almost unrivaled."

Weiss added, "I'm still with Macy's" (Drink).
TWTR's gain too much for Doc
Jon Najarian told guest host Melissa Lee on Thursday's Halftime Report that he expected to be in his pro-TWTR/anti-FB trade for months, but in fact, "I took it off today. Because this is just too much outperformance."

Najarian said in January he'll get into a long TWTR/short FB position.

But, "I can't explain the last 5 days of trading," Najarian said.
Jim Lebenthal calls Josh Brown's trade suggestion 'high-risk'
The Japan trade, as a CNBC talking point, continues to maintain traction at year-end, as Stephen Weiss and Josh Brown both endorsed it on Thursday's Halftime Report.

Weiss explained, "I'm playing it through Softbank."

Brown said there's more left to the DXJ, and while that was his Final Trade, he even suggested ramping that up a bit with the "small-cap version" of it, DXJS.

Jim Lebenthal called that a "high-risk" move while telling Brown, "I appreciate your enthusiasm for it."
Jim Lebenthal gets 'salivating' at PEG ratio of a 'Dow of the dog'
Jim Lebenthal, undergoing a problematic showing on Thursday's Halftime Report, tried to change his luck in the bull-bear debates.

By taking the bull side of IBM.

"I'm surprised I'm the only bull here," Lebenthal said, which shouldn't have been a surprise. "I see a PEG ratio of 1, and that gets me salivating," he said, adding, "it is a Dow of the dog (sic)."

Stephen Weiss took his role as bear a bit too seriously, stating both major IBM businesses are under pressure, and, "This should be selling at a 1 times PEG ratio."

It was guest host Melissa Lee, who put together a relaxed, excellent performance in a white/black dress similar to Karen Finerman's own variation of the Rene Russo "Thomas Crown Affair" ensemble, rather than Weiss who trounced Lebenthal's argument, pointing out that there's "not a single catalyst" in his valuation thesis.

Jon Najarian said he agrees with the bearish case, stressing, "2014's gonna be all about Virginia Rometty," and he wasn't talking about getting the green jacket at Augusta.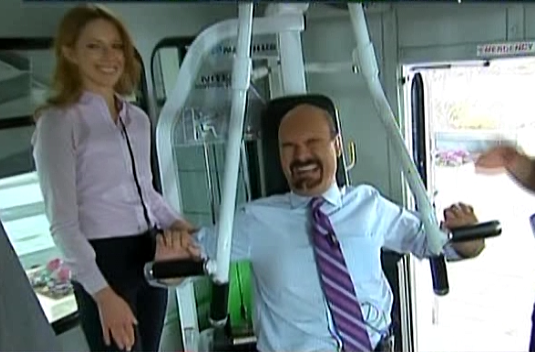 Doc gets foxy workout partner
Mark Hanson, a rather talkative guest, told Melissa Lee he's bearish on housing because rising rates have thwarted growth; Hanson said we're going to have "430,000 new home sales in all of 2013" when year-ago estimates for 2013 were 450,000-600,000, so "that's a big miss."

Josh Brown suggested there's enough "pent-up demand" (Drink) in the sector to keep it going.

Steve Weiss, though, said "I don't like the housing stocks." Jon Najarian thinks the builders are OK, but "I think the beta trade is Masco."

Jeff Kilburg predicted upward momentum in the 10-year, "We see rates moving higher." Brian Stutland called 3% a "healthy" level for the economy and markets and said it's when it hits 5.5% that it "that starts to spook the stock market."

Mel ushered Doc through a sedentary workout in Adam Zickerman's "Inform" fitness truck in which Manhattanites pay $95 for a 20-minute session.

"It hurts," Najarian complained.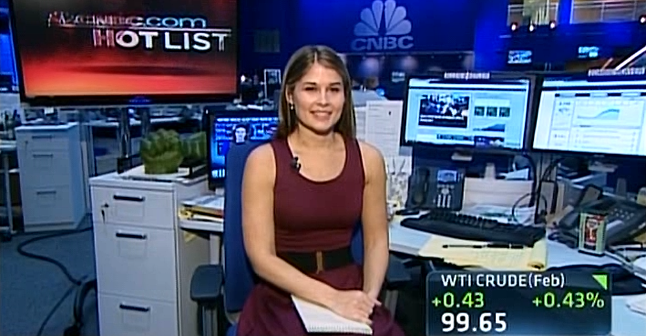 Hottest CNBC Outfit of the Day
Tobias Levkovich, playing the curmudgeon role, suggested on Thursday's Halftime Report that stocks could be bumpy in 2014 and that utilities are actually a good play, for 3 (that's the maximum number we can handle) reasons: Valuation, improvement in earnings trends, and "they're more cyclical than people think."

Levkovich in a debate with Stephen Weiss over the leanness of companies downplayed improvement in Europe, stating, "They're going at stall speed."

Jim Lebenthal said he likes CVX over XOM. Jon Najarian said Mike Lazaridis being unable to put together a BBRY deal and getting below 5% "says a lot."

Josh Brown said TMUS and Softbank is an "event-driven kind of thing" and that TMUS is not a name most people need to be involved with. Steve Weiss said he can't own TSLA but there's no reason to short it right here.

Josh Brown said of PHM, "I'm not a fan."

Jim Lebenthal said of NEM that he thinks "commodities are actually gonna grow into the new year."

Jon Najarian said GOGO had a hit in November, but "I like the upside here pretty strong."

Stephen Weiss said that rather than CHK, "I'd own the oil services companies instead."

Jon Najarian said MRVL February 14 calls were hot; "I like this and Broadcom into 2014."

Andrew McOrmond said he likes small-caps outside of the U.S. for 2014 as a "diversification tool" and suggests the SCZ.

Jon Najarian's Final Trade was CLDX, Steve Weiss said ETN and Jim Lebenthal said BP.

The photo you see above did not occur during Thursday's Halftime Report, but actually during Closing Bell, when CNBC.com Section Editor Krystina Gustafson (this is what's subtly called an audition) was given an opportunity by an impatient Kelly Evans (who kept butting in and is on ALL the time 24/7 these days) to 1) set the curve for CNBC's best-dressed of the day 2) point out a few 2014 forecasts on CNBC.com and 3) pose the question in viewers' minds of why this very impressive young woman is not on camera more often.
Patty Edwards gets carded
In terms of age, someone with a 3-handle on CNBC is a bit of a rarity.

So it comes as a pleasant surprise to learn this week that Patty Edwards reported being carded at Safeway.

Her excuse, which apparently worked, was "my ID was in the car."

Evidently, Patty's alcohol purchase went through as planned.
[Tuesday, December 24, 2013]
Grasso buys TWTR at 61
Steve Grasso revealed on Monday's Fast Money that he's all-momentum, all-the-time on TWTR, explaining he bought Monday at 61.23.

But before he could finish his point, Josh Brown (who appeared on the Halftime Report as well, guess Ritholtz Wealth Management only needs 1 principal around at a time) cut in to repeat for the 6th or 7th time that he owns TWTR but "I don't have a full position" and wish it had traded into the 30s so he could buy more.

Bob Peck, who burst onto the Halftime Report weeks ago because of his savviness at quickly establishing a $50 TWTR target before the IPO, reiterated on Monday's Fast Money that "We initiated with a $50 target," then rationalized his Dec. 16 downgrade by stating it was too "tough" to recommend to clients at recent levels.

Peck said it's been "sort of leaking out there" that FB is having a good quarter, and by the way, they've got (ding-ding-ding) "Instagram" (Drink). He's got a "Buy" rating with a $55 target (see if that makes any sense.)

Peck, who said he "loved" Mel Lee's "Rise of the Machines," actually claimed Google Glass will be the next catalyst for that stock, "it's a different use case."

Guy Adami predicts FB will pull back to the low 50s; "I think it's too much."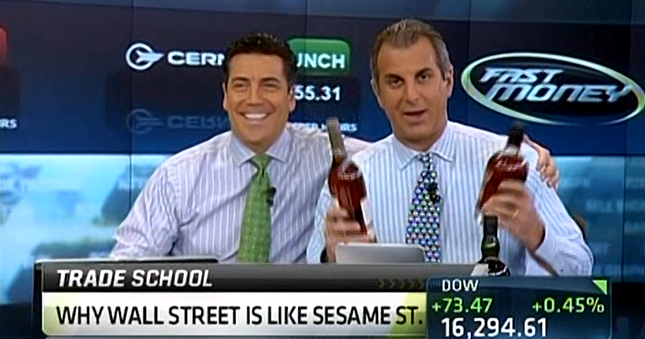 Guy: Watch AAPL 585
It was another big day for stocks, but it's also 2 days before Christmas, so we weren't surprised to see Monday's Fast Money take it light.

Unfortunately, just as we feared, Fast Money gave a longer look to the useless AAPL-CHL deal than Judge wisely saw fit to entertain at Halftime.

At least host Melissa Lee posed the sell-the-news question. Tim Seymour said to not sell the news, and Josh Brown concurred that you should let the stock ride.

Guy Adami said "585 is the next level" of importance for Apple. Steve Grasso predicted retail investors will plunge back into the name, because "they're gonna be loaded up with Apple products" under the Christmas tree, a point which Missy Lee wisely noted could've been said a year ago.

Guy Adami suggested JBL and NUAN again as derivative plays. Adami said if you're in CHL, "52 is your bogey." Tim Seymour said he likes BIDU and SINA.

Missy's opening exchange with Kelly Evans this time included a Sesame Street pop quiz, which later surfaced when Josh Brown did a bizarre comparison of today's stock market to Bert and Ernie, and Steve Grasso and Guy Adami struck the pose. Later, Melissa clarified to viewers that Dec. 5 "is the day after December 4th."
Dennis Gartman goes from Page 32 to Page 4 to Page 36
Dennis Gartman told Monday's Fast Money that he has some China fear, specifically that "short-term rates in China have risen several hundred basis points."

Gartman said it's Page 32 material that might get to Page 4 but not Page 1, but his job is to assess the stuff that appears on "Page 36 of obscure newspapers."

Gartman twice said "benign," but wasn't referring to the tape.

Bill Taubman told the gang that after Christmas, "retailers may make up some lost ground," and honestly, year after year we hear the same thing on CNBC, Christmas was a little challenged this year for weather/shorter season/economy reasons but online did great and there are winners as well as losers etc. and who really cares; Taubman also claimed that "Penney's is doing much better."

Taubman said ANF has suffered from "sort of an anti-logo moment" in teen clothing choices, and he threw in an "at the end of the day."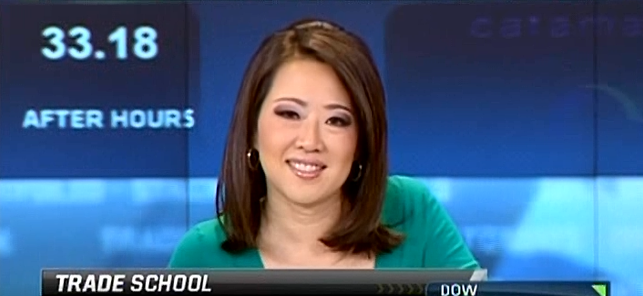 AMZN 'blatant Greater Fool'
Josh Brown on Monday's Fast Money dismissed the greatness of AMZN 400.

"I can't buy this thing at 400," Brown said, while acknowledging, "compared to Twitter, it's a value stock."

Still, Brown calls it "a blatant Greater Fool at 400."

Steve Grasso said to hold off on DRI; "wait till it pulls back a little more." Guy Adami agreed, "I don't think you rush in," but wait for a close above 58.

Tim Seymour questioned the notion of DRI spinning off Red Lobster; "this surprised me."

Brian Stutland said GMCR February 70 puts were active.

Steve Grasso said if you've been long small or mid-caps, "I would lock in something," there could be a selloff in January or February.

Guy Adami said you can stay long PXD vs. 180, but "this is a volatile name."

Josh Brown said GOGO is "not my type of stock," and "it's gonna have serious fluctuations."

Brown asserted that there have been zero 20-year periods over the last 90 years in which stocks have lost money.

Tim Seymour actually asked Flavien Desoblin a serious question about the "aspirational" alcohol consumer (i.e., not the folks in the early Double Deuce scenes in "Road House").

Tim Seymour's Final Trade was RIO. Josh Brown said SPWR, Steve Grasso said ANF, and Guy Adami said AA.

Some lucky gent is going to spend the holidays with Melissa Lee, who not only wore lovely green on Monday but looked sharp in her black coat, black boots and black bag in her mall footage, and gets to meet the relatives, go shopping with Mel, looking up those Michael Kors handbags, etc. There is no Fast Money/Halftime scheduled for Tuesday (or Wednesday for that matter). This page will likely check in (with something) once or twice. Have a happy and safe holiday.
The KOH (sic) Trade
Early December 2013 — what a great time to swipe your credit card at Target.

Jon Najarian predicted on Monday's Halftime Report that the fallout from the data breach will linger; "I think people will stay away from Target for a while."

But things might be even worse at ANF, which according to Josh Brown is "way too early in the disaster phase ... things can get even worse."

Stephanie Link said KORS is too pricey and prone to a hiccup, so she likes COH better. Josh Brown said he thinks KORS finds $100 next year but concedes it's volatile and could see the $70s.

Mike Murphy doesn't like KORS so much and thinks the $70s is very possible.

Stephanie Link likes the margin-upside story at TIF.

Josh Brown said DRI's splitoff suggestion is a good idea; "I think there's a lot of potential here." Steph Link said "I like Starbucks" and hopes it comes down more but there's just never a big pullback.
Doc: Builders are back
Monday's Halftime Report had a couple of drinks go-rounds on housing, with the panel fairly well split.

Jon Najarian thundered early that the builders and related names were surging Monday.

Mike Murphy later argued the bull case for KBH, citing "CEO comments" about a strong environment for next year.

Josh Brown said, "I don't mean to be a jerk," but with KBH, "fundamentally and technically, there's nothing to like about it." Brown said the shares got a "muppet upgrade" and that 16 is major support and if it breaches that, even 12 or 13 is possible.

Stephanie Link called KBH "way too expensive."

Doc later said TOL call activity was 5 times normal; "people just love these homebuilders."
Judge refreshingly plays down the China Mobile story
It's finally here, and now it's past tense.

We were afraid over the weekend that we'd be spending all day Monday listening to the China Mobile story (and in fact when Fast Money rolls around, we still might), but Judge wisely kept the banter to a minimum on the Halftime Report, as Mike Murphy suggested AAPL can find the low 600s and Jon Najarian said the news "certainly does" remove the roadblock to 600. (Funny how no one suggested that maybe it's a "sell the news" event with the holidays wrapping up.)

Najarian predicted a "very strong move in the first quarter of 2014," then in an unusual call suggested DCM as well.

Josh Brown said AAPL is moving on fundamentals.
What happened to Eric Bolling's 'commodities go in 14-year cycles!' thing?
Ed Morse told Judge on Monday's Halftime that the 2014 outlook for commodities isn't so great; "demand is likely to be pretty weak" and steel and copper are in for a "rude awakening."

Morse said palladium is his favorite.

He told the panel that China at 7% isn't China at 12%, and his expectations for gold are modest: "We think there will be a bounce," but only a $1,250 target for 2014.
No mention of TSLA
Stephanie Link contended on Monday's Halftime Report that "next year, GM is gonna take share from Ford."

Josh Brown actually claimed that GM is a "$50 stock masquerading as a $40 stock," and made it his Final Trade.

Mike Murphy said he thinks F might be a buy in the mid-14s. Jon Najarian said, "I still like Volkswagen the best," because it's launching all hybrids in Europe.
More suggestions
of a stock-picker's market
Kate Moore, a guest on Monday's Halftime Report, told Judge that she thinks 2014 will be positive for equities, but she doesn't want to "just buy the broad index" but rather be "more stock-pickers."

Moore is constructive on Japan at least early in the year.

Josh Brown, in the most watered-down prediction you've ever heard, first advised viewers for 2014 not to pick the "runaway leader" of the previous year, but at the same time don't go for the big-time dogs that have further to fall, perhaps just look for names that are "a little too oversold, but the news isn't all bad." (If that's the pitch Barry's making to potential wealth-management clients, somebody should be whispering "index fund" in their other ear.)

Stephanie Link for 2014 wants names exposed to international growth. Mike Murphy likes financials and emerging markets.

Mike Murphy said "I think the analyst is really missing the boat here" with MU, and "I think Micron has a lot more upside."

Jon Najarian said everyone is upgrading ARIA, and he thinks it "works its way higher still into 2014."

Mike Murphy thinks FB is going higher. Josh Brown said there's some "grumbling" over FB's instream video ads.

Murphy's Final Trade was TWI. Stephanie Link said EMN, Jon Najarian said HERO and Josh Brown said GM.

Tim Laird, the Brown-Forman "chief entertainment officer" (that's one you don't hear often), brought in some spirits for the Halftime crew, said Manhattans are popular, and then uttered a Magic Fast Money Term, "affordable luxury."

Stephanie Link likes DEO, Josh Brown likes STZ, Mike Murphy likes BUD and Jon Najarian endorses BFB and BEAM and likes the addition of the Sonoma-Cutrer label.
[Friday, December 20, 2013]
Mel waits until Fast Money crew is out of Palisades earshot to point out the place was 'empty'
Finding anything of much use on Friday's Fast Money unfortunately was difficult.

So the most important nugget was host Melissa Lee's comment that when the crew was at the Palisades mall a day earlier; "that mall was empty; there weren't people there."

It kind of seemed that way on television, although 1) the set could've been in an out-of-the-way location; 2) it was Thursday afternoon and the weather's dicey; 3) we were mostly paying attention to Karen Finerman and her sizzling black outfit. (4. We bet the Victoria's Secret was crowded, but they didn't go anywhere near that.)
If ratings slump persists, how much longer will TDAmeritrade/thinkorswim continue to pay for 6 ads and 3 sponsorship messages on Options Action
Guy Adami said, wrongly, on Friday's Fast Money that the market has "literally shrugged off" everything that's been thrown at it (not quite literally actually), but he found it interesting that TLT was up, and even made it his Final Trade.

Steve Grasso suggested that maybe it's the "lack of unknowns that takes us lower."

Spirit Airlines chief Ben Baldanza explained of his revenue sources, "We don't think of 'em as fees; we think of 'em as options."

He said going to the bathroom is not considered optional. (However, going to a nice, clean restroom, the follow-up question that Mel didn't ask, surely could be.)

Tim Seymour said of TGT, "There's no reason to jump into the stock." Steve Grasso said he likes it but "only because it's at the lower end of the trading range," and in fact his preferred play now (Sigh) (Drink) (Double Drink) is to "pick away at Amazon."

Grasso said TSLA made a nice recovery, but "I still wouldn't be a buyer."

Melissa Lee actually claimed, with a curiously sad pout of a look that was kinda cute, that "We have a road map now" with BBRY.

That prompted a debate between Guy Adami and Tim Seymour as to whether BBRY should be shorted. Guy said yes, but not right now. Seymour said to forget it, there's "unlimited risk to the upside," which frankly isn't true; BBRY is not going to $100 or even $20.

Steve Grasso told Lee he'd rather be long, "absolutely long," in BBRY than short.

Tim Seymour spoke positively of LFL and then made it his Final Trade. Steve Grasso said TMUS, and Brian Kelly said to short NEM.

Incredibly, people chuckled about Kelly endorsing a bitcoin trade.

We've been wondering recently, given the ongoing slide in CNBC ratings across the board and the demise of Money in Motion, whether the golden goose of Options Action is feeling any pinch.

It's essentially a sponsored show, as the narrator mentions at each commercial break. Anytime that occurs, that's a great deal for CNBC; it's as if someone tells Warhol he'll commission $5 million for a Farrah portrait, and then Warhol can figure out that he just needs to spend less than $5 million on the production to make a profit. (OK, it wouldn't exactly work the same way, but you get the point.)

TD Ameritrade/thinkorswim is footing the tab for the Options Action crew. (That's why you get the monthly updates from Nicole Sherrod and JJ Kinahan on the Investor Movement Index, and why you won't hear Judge actually ask what the damn thing actually means or measures.) Options Action airs late Friday afternoons, then gets a re-air on Saturday morning and Sunday morning.

The changeover from Fast Money to Options Action, as you can see on Friday afternoons, is hardly a big deal. The expense is in retaining the separate Options Action crew as contributors, meaning that host Melissa Lee spends the Friday afternoon hour with 7 total panelists rather than 4 (a few times one might overlap). Please note that no one here is rooting against Options Action. It is a quality show with quality experts. It has to be one of the most profitable productions of CNBC. Ideally this situation will remain a win-win — viewers get a niche program of actionable advice, observations and education; an advertiser gets a little extra bang for the buck.
(Sigh) Another HPQ debate; why not tackle COH as well
Jon Najarian on Friday's Halftime Report made a bull case for HPQ.

Oh joy.

This time it's based on the "Super Pods" deal with CRM.

And what about all those 3-D printing sales it's gonna get by mid-2014.

Jim Lebenthal, who hated everything Friday, was the bear, saying HPQ has a history of "not integrating well" with other companies and is not drawing the hot engineers.
(Sigh) Another Futures Now discussion on gold's path (it's either that or the 10-year)
Anthony Grisanti said on Friday's Halftime Report that "I still think we have 30 more dollars to the downside" in gold.

Honestly, we think there's a lot more than 30, but that's just an amateur guess.

Brian Stutland thinks we could see $1,155.

Anthony Scaramucci was skeptical of the gold trade; "I'd be very cautious."

Josh Brown said that one issue with gold is that "it's not convincingly a good inflation hedge." Jon Najarian though suggested gold could get a lift in 2014 from "less supply" (which is assuming the miners get a clue) (But remember, Steve Grasso says that when the spot price goes up, the miners outperform, so he's got GDX).
What does TEAM USA stand for?
In the category of You Never Know What You Might Hear on the Halftime Report, Jim Lebenthal, dubbing himself the "grinch" of the show Friday, actually claimed, "I think the Fed's gonna surprise us by being more aggressive."

Ummm, yeah, sure.

Lebenthal suggested a more defensive industrial portfolio for 2014 consisting of CAT, BP, MPC, GLW (shocked that anyone would pick that one) and NSC.

Mary Ann Bartels revealed she has a "very positive outlook going into 2014" and sees S&P 2,000.

Bartels also said she likes the auto play, in the form of an acronym, "TEAM USA." We're guessing one of those is Tesla or Toyota or Tata, but we're stumped about the rest.

Anthony Scaramucci contended, "I do think 2014's gonna be a strong year," and was dubbed a "sober adult" by Jim Lebenthal for his realistic outlook for the Fed, only to mention that he and Judge weren't terribly sober the other night.

Jon Najarian crowed about his 2014 Playbook picks (it's not 2014 yet) and how well HAL and BHI did on Friday.

Bartels pointed to baby boomer trades for boomers who are healthy, such as travel and cruise lines, and the screen graphic showed the most important one that she didn't mention, gambling.
Mooch discovers the AMZN trade
Every day this time of year, someone pronounces Amazon.com as a great play on online shopping; Friday on the Halftime Report that person was the Moochmeister, who said "I like this name a lot for next year."

(Well, at least he didn't claim the Fed would be more aggressive.)

Scaramucci said at one point, "The biggest risk for the Fled (sic) is deflationary risk," and also had a semi-hilarious mike drop. (Maybe not "semi-hilarious," but a chuckler.)

Melissa Otto, who is cute, said she thinks the Japan trade has "got some legs" through Q1, and "we like the high-end space," including, of course, SoftBank, insisting Alibaba doesn't really matter. Otto also said J. Front is "like the Macy's of Japan."

Anthony Scaramucci cautioned that he sees a "slowdown in China" next year.

Jim Lebenthal, not a fan of much of anything Friday, complained tht KMX is in the used car space which isn't so great right now, and "you hate to see a stock plunge on good news."

Josh Brown couldn't endorse buying RHT on such an up day, so he said to "Keep it on your radar."

Judge recapped some Lee Cooperman picks and even brought up the "small p," which is what viewers took during Lee's 10-minute speech yesterday. (Note: We're NOT saying it was a BAD speech, just a LONG one.) Jon Najarian likes SD, Josh Brown likes Coop's call on SUNE, and Jim Lebenthal says S is an "obvious target" in the wireless wars.

Stephanie Link dialed in to say Cramer bought NKE.

Jon Najarian said someone bought a bunch of June HIG options.

Josh Brown said he'd take LNKD over FB and TWTR in 2014, and Jon Najarian reiterated that he'd be switching out of TWTR into FB.

A couple folks gave a shout-out to Fast Money Lydia. (But nobody said anything to Melloy.)

Jon Najarian said Thorsten Heins was OK but not as good as John Chen, "he didn't have the same outside respect that this gentleman has." Josh Brown, if we understood him correctly, said to fade the short-covering rallies in the stock.

Jon Najarian said to buy F on a Mulally exit announcement if it happens. Jim Lebenthal said MA is great but looks "pretty expensive right now."

Jon Najarian complained about the limits on star college jocks accepting tokens; "Isn't that pathetic," Najarian said, when they make universities "tens of millions of dollars."

It's a fair point, but far more complicated than that, because if Doc is suggesting that backup tight ends for Wyoming and Hofstra should be paid a salary, then higher education is cooked.

Jon Najarian's Final Trade is FE. Josh Brown said SPWR, Jim Lebenthal said BP and Anthony Scaramucci said GS.
[Thursday, December 19, 2013]
Mel thinks exposing 40 million credit cards is 'par for the course'
We didn't realize that using one's credit card at a major retailer amounts to putting your financial security at stake.

Yet, host Melissa Lee of Thursday's Fast Money claimed that consumers have begun to "realize that this is par for the course when it comes to using a credit card."

Really.

Jerry Storch at least was a bit more alarmed, saying the Target debacle demonstrates how "nothing is totally safe; we should all be scared."
Tim Seymour discovers the Amazon Trade during the holiday season
It never ceases to amaze how, every year around this time, folks on CNBC will talk about Amazon like it were twerking, that is, something they first heard about 3 months ago.

Tim Seymour indicated on Thursday's Fast Money he realizes that "this secular shift is alive and well" into online shopping.

Really. Was there ever a doubt.

Also on Thursday's Fast Money, Jerry Storch touted AMZN and EBAY as holiday winners.

Karen Finerman said she's focused on mall-owner REITs and doesn't think you can own them. Guy Adami said FDX bucks bad news, and even gave us an overdue "benign tape" reference, stating, "today's tape was benign."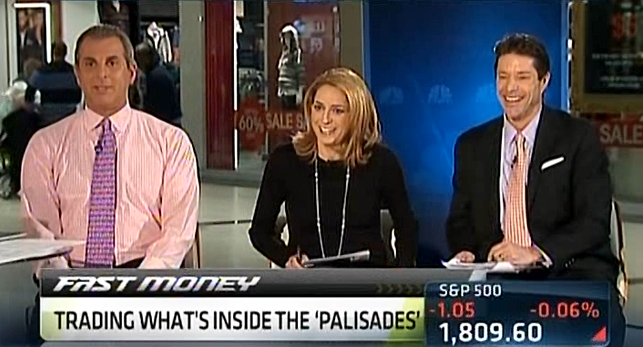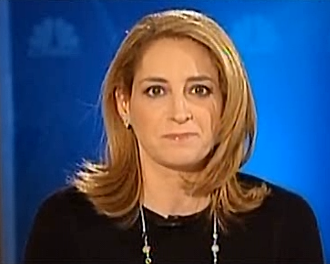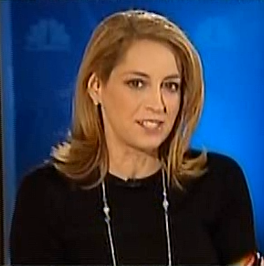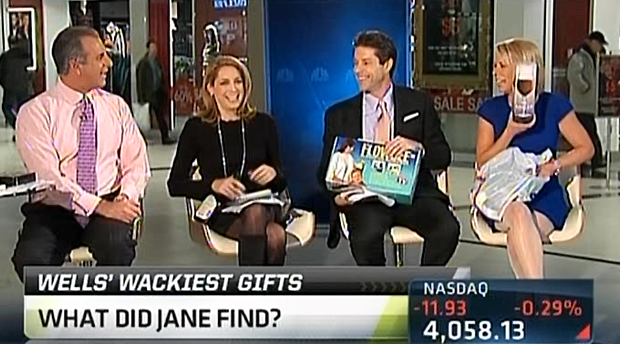 Karen. Finerman. Yes.
The beginning of Thursday's Fast Money at the Palisades Mall (think that got enough publicity from this??) featured the next Maria supposedly Kelly Evans and Melissa Lee undergoing an extremely clumsy transition (see, they're trying to expose Evans as much as possible by giving her unnecessary lead-ins into other shows) about what they're shopping for.

We'll just say, if you can manage to do your Christmas shopping with either of these 2 young women, you've hit the jackpot.

After that, it was Karen Finerman who reigned over Thursday's show in a devastating, 12-car-pileup black ensemble. (Yes, we know she's got a husband. Relax. He's OK with it.) (He's got a lot more money than we do.) (He does not know as much about football as we do.) (Caveat.) (We don't play it. We watch it.)

(Sometimes in evaluating a picture, even a screen grab, you get the entire package, the eyes, the expression, etc. The camera gave us some decent opportunities here, but not the singular perfect shot; the smirk image didn't resonate very well, but it is what it is.)

Guy Adami suggested looking at the high end at TIF and KORS.

Tim Seymour struggled mightily to produce statistics about the typical age of Chinese luxury shoppers.

Karen Finerman said that between M and WMT, "I would rather be in Macy's" (Drink), then revealed, "I sold some because the position's gotten bigger."

In what proved to be a really bad idea (Melloy, anyone?), Lee summoned Corinna Freedman to opine on NKE.

Not only was the connection severely delayed, we couldn't figure out what Freedman was talking about or in some cases even understand the words because of the static, except she did say adidas was a better pure play on Western Europe.

"Corinna, we're gonna leave it there" was one of the best things Melissa Lee has said recently.

Guy Adami said he's not sure he'd advise people to run out and buy NKE. Karen Finerman likes FINL and FL.
How come Jane didn't go to Victoria's Secret, check out the merchandise ...?
Tim Seymour on Thursday's Fast Money predicted gold would test 1,100, and he said that's where he'd buy.

Guy Adami suggested (again) that when the miners start to re-hedge, that'll be the time to buy.

Guy Adami said of FB, "I think it goes back to down to 51½, 52."

Ethan Allen chief Farooq Kathwari insisted that people are more interested in decorating homes these days, and his company's goal is to help with "great, fantastic family rooms."

Guy Adami said ETH may be due to bounce; "technically it looks pretty good."

Mike Khouw said people were selling January 29 calls in GOGO.

Karen Finerman indicated ANF is looking good. "I don't own it yet," Finerman said, but "I think there is a catalyst here," and the stock "will have a floor under it."

Tim Seymour struggled and failed to make up his mind between RH and ETH, finally stating that RH "starts to look kinda interesting here."

David Strasser insisted that BBY remains "one of the cheaper stocks out there" among big retailers, and for many products, "they're the only national player out there."

Jane Wells looked sleek and chic in those striped slacks.
Mel offended by the term
'busy working woman'
Nearly as bad as the idea to dial up Corinna Freedman, Thursday's Fast Money enlisted Melissa Lee to interview Palisades Mall shoppers, who, um, let's be honest, aren't exactly schooled at soundbites.

Nor well-schooled at showing things to the camera without bending over.

One chap bought Twinkletoes Skechers; another guy got a "p-coat" for his girlfriend. (We have no idea what a "p-coat" is and don't have the energy to look it up.) "I do like Skechers right here," said Guy Adami, and Tim Seymour clumsily said he likes GPS.

Karen Finerman said JCP is "still not cheap" but indicated it's better than Sears. (Not like she ever visits either store, but ...)

Guy Adami did some excellent man-on-the-street interviews with Target shoppers over the data breach and even got a boxer/brief question in.

Melissa Lee indicated she was agitated by the Tupperware CEO earlier in the day referring to the "busy working woman."

And that is offensive ... how ... in what way ... ? (Sorry, we don't quite get it.) (Talk about a redundancy.)

Guy Adami said he would "absolutely would buy Tupperware."

Tim Seymour's Final Trade was RH. Karen Finerman said TKR. Guy Adami said STJ.
Lee Cooperman's 5 stock picks felt a little like 500; viewers had time for a 'small p' while he spoke
Judge welcomed an all-star crew of celebrity stock-picking guests to Thursday's Halftime Report, none more garrulous than Lee Cooperman.

"I'm positive, but with a small 'p'," Coop said a couple of times. "I think we're in a zone of fair valuation."

Amid an "at the end of the day," it seemed like Lee was first rattling off 3 things about something, then 2 things about something, then 5 stocks (and you know we really can't handle lists longer than 3, really even ones longer than 2).

"Investors are still underinvested," Coop said, asserting there's not a good alternative to stocks, so he sees a 2014 S&P range of 1,600 to 2,000.

Lee likes SD, an old Halftime pick, plus S, Monitise, Qualicorp and SUNE, a couple of those likely being old picks as well.

Fellow guest Jamie Dinan said he too has a "meaningful" S position, plus TMUS.

Coop addressed something we think about all the time: "Who would get on TV and recommend something they didn't own; I'd be very suspicious of that person," he said, but then again, people talking their book is also not the most objective information.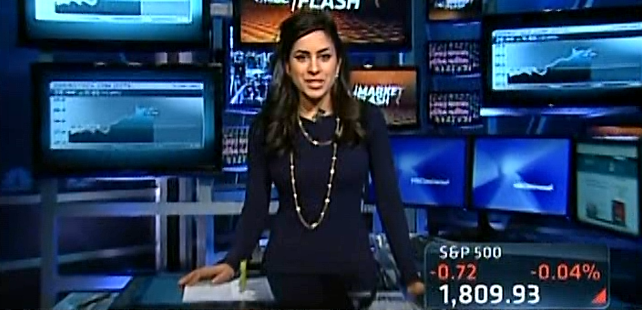 Typical 'next-year-is-gonna-be-positive' predictions are heard, though nobody mentioned Joe's 'more M&A' cliche of earlier this week
Jamie Dinan, who served as Judge's guest host for Thursday's Halftime, said that based on the market a day earlier, the Fed got it right, but "back in May, the Fed did not get it right," because of the "communication thing."

"At the end of the day, interest rates are low," Dinan said, and "we think there's a better than 50/50 chance that you actually get multiple expansion next year."

Dinan touted airlines, stating, "These companies are now being run more like businesses."

Jon Najarian, backing Pete from a day ago, predicted UAL outperforms in 2014. Dinan said he has owned AAL since before the merger.

Dinan also trumpeted HTZ.

Rob Sechan, who didn't get much airtime this time and might've wondered why he made this commitment, contended, "We might have a digestion period" in the 2014 stock market.

Marc Lasry asserted that "2014's gonna be really positive," and for the 3rd time in the show, offered an "at the end of the day."

Stacey Asher, lovely, said anyone can play the base level of Portfolios with Purpose.

Richard Pzena made the case for HPQ, saying it was simply way overdone a year ago and while consumer PCs are in trouble, "corporate PC appears to be stabilizing" and the stock is "still not rationally priced."

Pzena also contended, "Over the long term it's hard to believe that, that, this kind of interest-rate environment is permanent."

Jon Najarian said he'd rather be in TWTR than FB in early 2014.

Thursday brought the first Halftime appearance of CNBC's latest Bloomberg hire, Sara Eisen.

The picture above had nothing to do with Thursday's Halftime Report and actually occurred during Power Lunch, but aren't you glad it's there.

Jamie Dinan got the only Final Trades, those being shipping names STNG and CMRE.
[Wednesday, December 18, 2013]
What happened to
1,760 or 1,698?
Karen Finerman contended on Wednesday's Fast Money that stocks rose because "the removal of uncertainty is a positive," and then credited the Fed; "I think they've done an outstanding job, since '08 actually."

Guest Tom Lee, rightly credited by Finerman with ahead-of-the-pack optimism, said that Wednesday's rally "bodes really well" for stocks into year-end."

Tim Seymour as usual twisted this into nothing, suggesting, "Go for the places that have been most under pressure," such as RSX or EWZ, a pair of wretched dogs.

Guy Adami said he's been talking about BX and PRU for a while, and then he mentioned USB, "people get on me, they say I talk about it too much." Adami also touted AKS; "There's no reason why it can't continue to go higher."
Stephanie Cordisco didn't really answer Karen's question about who is the vapor smoker
RJ Reynolds' Stephanie Cordisco called Vuse a "game-changing" product on Wednesday's Fast Money and told the gang "we expect to see some level of cannibalization" of regular cigarettes.

Tim Seymour claimed "the growth here is unbelievable" and said LO has the most upside, a point echoed by Guy Adami.

Karen Finerman (sigh) said she likes GM (Drink), but this time pointed out it somehow has 10% short interest. Tim Seymour claimed F is better.

Mike Khouw suggested the February 16 calls in F as a bullish play.

Guy Adami said F's selloff is a "buying opportunity," and he likes BWA.

Guy Adami said he likes MHK, but "Today's not the day you go chase this thing." Tim Seymour said KBH is holdable for a few days. Dan Nathan predicted a New Year's breakout in MAS. Karen Finerman likes ReMax and Realogy.
Nobody pointed out that Brian Kelly was actually calling bitcoin a buy
Tim Seymour said on Wednesday's Fast Money that Apple needs China Mobile more than China Mobile needs Apple, and "I don't know that this deal gets done." (Drink) (Sigh)

Dan Nathan advised viewers to get out of LNKD and TWTR; "I actually avoid these names."

Guy Adami said LNKD bounced off a key level but cautioned that "ITG's been very good" and should be taken seriously.

Guy Adami said there's still upside in NUAN, a comment we'll probably hear every day for weeks.

Dan Nathan said PAY needs emerging markets growth. Karen Finerman struggled to say how she likes how CVS tends to "underpromise" and "overdeliver."

Finerman, hung out to dry for no reason by Mel Lee, who expected more on the discussion of AMC, frankly shrugged, "I have missed it," then tried to liken LGF to a movie-theater play.

Tim Seymour called AVP a "very fixable company."

Derrick Wood said ORCL had a good report but that the operating margins are the "one thing" that stands out.
Happy 50th, Guy Adami
Guy Adami said on Wednesday's Fast Money that COP is better than XOM. Karen Finerman said she likes biotech as a group; "I do own the XBI and the IBB." Dan Nathan suggested CMG will return to 450. Tim Seymour sorta endorsed LL; "this weakness is a place to buy."

Tim Seymour's Final Trade was RSX. Dan Nathan said to sell DDD, Karen Finerman said TKR and Guy Adami said JBL.

Normally, this page prides itself on being ahead of the curve on Fast Money birthdays. Unfortunately, recently we've been bogged down a bit (you should see what CNBCfix HQ looks like (check that you better not), so regrettably we weren't able to telegraph Guy Adami's 50th. (However, Pete Najarian's is just a few days away.)

Best wishes to Guy. And to continued excellent health. Thanks for delivering for the viewers each episode, and for occasionally giving the critics something to carp about.

We would've asked, for a 50th birthday gift, a chance to entertain Mel in that dynamite sleek leather top she wore Wednesday (Do NOT go saying that), but mostly what Guy received was a Wax Vac.
Please, not another word about Apple and China Mobile
We've had it with the China Mobile trade.

Glen Kacher told Judge on Wednesday's Halftime Report that he re-established his AAPL position "several weeks ago" apparently because Apple is getting into the video-game business. Judge rightly questioned if it really was a video-game thesis that got Kacher back into the stock. Kacher somehow admitted it was.

Kacher, who has done well with Chinese Internet names, said he likes SFUN and EHOS.

Unfortunately Mike Murphy brought up Apple and China Mobile, perhaps the most tiresome of recent Fast Money/Halftime cliches (which, inherently, at the end of the day, is quite a distinction, especially if it monetizes mobile ...), and asked Kacher whether there could be setbacks in AAPL's price if there's no deal there.

Kacher shrugged and said people use iPhones on China Mobile; "it's already happening over there."

Pete Najarian then uncorked another awful cliche, suggesting ARMH as an AAPL derivative.

Kacher told Judge, "We don't own Twitter, we do own Facebook."
Some short-sellers are more certain than Fleck is
Given that Fleck's enthusiasm level seems a bit low, he may want to give John Fichthorn a call.

Fichthorn on Wednesday's Halftime denounced the "bad trade" of the Federal Reserve that's going to be a disaster from which to extricate, because "people are gonna front-run it."

A short-seller, Fichthorn told Judge Wapner, "We're starting to get much more aggressive in the U.S.," but particularly sees short potential in solar because "China as a country is starting to get tight."

Fichthorn made a good argument against DDD, saying the printers are selling, but not so much the gunk. "This is like a razor, but no razor-blade, business," he said. But DDD bull Josh Brown said the consumer sales aren't the real issue here, and Fichthorn's short case is the same one made 100% ago in the stock, which quite honestly is a point that helps neither side.
Pete might use options to put on a homebuilder trade, instead of buying the stock
Nothing on Wednesday's Halftime Report was drawing as much attention as housing.

"If we start to see a selloff, I'm going right into the housing names," said Pete Najarian.

Jon Najarian said LPX (Joe's longtime favorite) and CX were seeing unusual activity.

Much later in the program, Mike Murphy said he's examining the "2nd-tier homebuilders" and said he's "looking to buy" HOV (but apparently hasn't done it yet).

Jon Najarian said he owns PHM and DHI. Pete Najarian said he's looking to play Beazer, but it likely won't be the stock, but "something in the option world."

Mike Murphy contended, "I think the Fed should taper today." Jon Najarian stated, "I've been long VIX coming into this."

Murphy said of F, "I think the selling is overdone." Pete Najarian called AMC a little overpriced and said, "I think you can wait."

Jon Najarian said WAG and CVS are both buys.

Jon Najarian said FDX is making the bull case for him just by reversing intraday. Mike Murphy said he'd buy it closer to 115.

Brian Stutland said the notion of 10-year yields soaring on the Fed is "too obvious," unless there's a major move. Rich Ilczyszyn declared "the trend is your friend" and suggested buying 10-year note puts.

Jon Najarian said there's positive action in HALO. Pete Najarian is adding UAL to his 2014 Playbook portfolio in place of KFN.

Mike Murphy's Final Trade was MU. Pete Najarian said GRPN. Jon Najarian said HAL.
Fleck attaches (flimsy to say the least) timeline to whimsical short-fund plan
Surely one of the most entertaining Fast Money moments of 2013 was Bill Fleckenstein's appearance a couple months ago announcing his thesis that basically consists of, "do NOT short this market by any means, but one of these days I'm gonna short this market and so I'm starting a short fund."

Refreshingly, Fleck visited with Judge and the crew of Wednesday's Halftime to further explain what he sees happening in the financial markets, and it sounds like as to the launch of this short fund, we're hearing the word "May."

Fleck's "Playbook for 2014," according to the screen graphic, is to "take profits," as the "bubble will pop," then "get short."

This was the timeline he gave Judge for going short on the demise/failure of QE: "That may take till May; may start in January, I have no idea," Fleck said.

"This is gonna end very badly, but I just don't know when the end starts," he admitted.

He also said he hopes the bond market will "make it clear that it no longer condones the Fed policies." (Um, hate to be negative here, but we doubt that's gonna happen.)

Judge asserted that sometime, the Fed will get to the "bench" on QE. Fleck disagrees. "I don't believe they'll ever get to the bench," Fleckenstein said.

Jon Najarian disagreed with Bill that the Fed created a stock bubble. "It didn't cause this massive bubble for the S&P, rather it just brought it back."

Doc, trying to be cordial, then told Fleck he thinks they might agree that the Fed hasn't been able to control inflation like it wants to. Fleck didn't agree that they might agree on that because he thinks inflation as reported is not adequately measured.

More from Monday's Halftime and Fast Money later.
Whaddaya know? No bitcoin
Anthony Scaramucci has long been a fan of the Meg Whitman-led HPQ, but the Moochmeister seemed to be going overboard on Tuesday's Fast Money in believing Michael Dell's comments about how great the business is and then claiming, "This is very reminiscent of IBM in the mid-'90s."

Speaking of which, Guy Adami said it feels like IBM may test 157.

Guy Adami credited himself for FB calls; "I thought we did a good job with Facebook ... I think you wanna take a little profits into today."

But then Guy, explaining "I'm not in the chase camp here" in WDC, said it's important to point out that he's been wrong for 8-9 dollars in that name.

So believe some of what he says, but not all.

Anthony Scaramucci mentioned YouTube as a driver for GOOG (Drink).

Tim Seymour said a lot of good things about QCOM, then said, "There's no reason to own this stock with the royalties in decline."

Guy Adami said DWA seems like the most interesting of the movie stocks. But Anthony Scaramucci warned, "This stock could get hammered" if there's a recession.

Mel Lee carped that pairing a movie theater with a restaurant means you're "eating in the dark."

iRobot chief Colin Angle predicted growth would be better than a lot of people think. But Tim Seymour wasn't terribly impressed. "I don't think you need to rush in and buy this thing," Seymour said.
'Upside bias' in HLF
Jon Hilsenrath found a clever way on Tuesday's Fast Money to avoid getting hung out to dry on a taper position, saying, "I wouldn't go out on a limb and say it's definitely gonna happen" in December, but that there's a greater possibility of December than there was in September.

Anthony Scaramucci contended, "We're not gonna have a taper," and he thinks dividend stocks will do better than the consensus thinks.

Scaramucci sees an "upside bias" in HLF.

Tim Seymour likes MCD in that dividend space, but Guy Adami said the comps aren't good. Adami finds T interesting and calls EMN a buy.

Adami said of CELG, "I still love the name," and he thinks AGCO can be owned with a 55 stop. And he finds EMN a buy.

Mike Khouw reported big buyers of WIN February 7 puts.

Anthony Scaramucci said "I'd be cautious here" in WFM. Tim Seymour said 56 is probably support in the name.

Anthony Scaramucci prefers M over KORS.

In a tiresome go-round on what to do if you win Mega Millions, Tim Seymour said to buy CLNE, Anthony Scaramucci said to buy GOOG, Brian Kelly said FSLR and Guy Adami said GE.

Tim Seymour's Final Trade was LFL. Anthony Scaramucci said BK. Brian Kelly said TCK and Guy Adami said NUAN.
Mario Gabelli thinks fracking is part of the 'technology' sector
Wall Street likes to pigeonhole stocks and sectors for the sake of closet indexing.

So it was rather curious on Tuesday's Halftime Report when Judge Wapner asked Mario Gabelli what Gabelli likes in technology, and got dead air/no response, until Gabelli said, "What's technology, I mean, you know, is it fracking?"

Gabelli said "earnings are OK" and that 60% of the world is OK and throughout the show rattled off a series of stocks he likes, including TKR, DAN, Viacom, TWC, Campari, POST, as well as a series of aging plays TG, GFF, PDCO and HSIC, because with all the 1-year-olds and 80-year-olds, "diapers are a common element."

CNBC's gorjus Seema Mody re-reported the vitamin-report news, but it didn't squelch enthusiasm for so-called nutrition names. Mr. New Land said, "The turn is evident for a name like Vitamin Shoppe (VSI)," but Pete Najarian likes GNC better.

Pete Najarian, who brilliantly picked KFN on Friday for his 2014 challenge portfolio, lamented that the deal came in 2013 and couldn't resist a weak joke. "Last night I'm riding home I felt like I was in the middle of Napa with all the whining I heard from everybody, 'Hey, that doesn't count'," Najarian said, but he still got an old Fast Money staple, a fist-bump, from a congratulatory Mr. New World.

Mario Gabelli said he still likes Legg Mason and Janus.

Najarian touted big pharma and said CSCO April 21 calls were hot; CSCO was his Final Trade.

David Winters contended, "In Wynn Macau, there's a home run from here ... the Chinese wanna have fun." Winters also likes Richemont.

Anthony Grisanti thinks gold can test 1,170 "no matter what the Fed does." Jim Iuorio said there's a greater chance for taper Wednesday than the market thinks and that it could nail gold.

Paul Richards said, "I think we're gonna see QE2 from the Japanese as soon as January the 22nd," and dollar yen to 112. Richards said there's a 65% chance of December tapering.

Mario Gabelli opened the show saying, "I love bottoms." Gabelli later used the term "intrinsically undervalued," which is the same thing as saying "nobody's excited about the story."

Doctor New Land hung a 400 on NFLX for his Final Trade. Stephanie Link said CMI, and Mario Gabelli said USM.
[Monday, December 16, 2013]
Guy Adami: Carl might short HLF once Ackman bows out
Steve Grasso admitted on Monday's Fast Money that "I'm a momentum trader," so even though TWTR's selloff is kind of natural, he had to take profits.

But maybe that's a good thing, as Guy Adami contended that Monday was the day that momentum came out of TWTR. Pete Najarian said Bob Peck raised his TWTR price target while downgrading it, always a neat trick.

Dan Nathan lamented why GOOG is up a lot more than EBAY this year. Pete Najarian says TGT's expansion will pay off. Guy Adami bellowed that John Deere has held 82 a bunch of times and could be a $100 stock. Karen Finerman downplayed SBUX's competitive threat to SODA and pointed to huge short interest.

Guy Adami claims NUAN is going to 15½ or 16.

Pete Najarian would buy FSLR but would hold SCTY. Dan Nathan told a Foot Locker shorter to keep a tight stop because it looks ready for a breakout. Guy Adami said his favorite airline is still JBLU, and he likes DAL. Karen Finerman refused to opine on what AIG will do Friday.

Karen Finerman said that while Bill Ackman has some puts going in the (snicker) HLF-officially-dubbed-pyramid-scheme trade, "We don't know also how long he has for this trade to work out." Guy Adami said it wouldn't surprise him if Carl Icahn plays HLF long and then shorts it once Ackman is out.

Phil LeBeau said range is the key to the Tesla Model E. Dan Nathan said to play the stock for a move "back to 120."
Karen hopes that a stock she owns doesn't go down too far on negative news
Dennis Gartman told Monday's Fast Money that the Fed only changes policy with an eye on keeping it that way long-term, and they don't want to back Yellen into a corner, so "I think they'll go ahead and defer" at this meeting.

Silver Standard (SSRI) chief John Smith refused to say silver is bottoming, but he didn't refuse to say, "I think we're in that bottom region," a term we'd never heard before.

Smith blamed QE for depressing silver; "once we get that noise out of the system," fundamental growth will return, he claimed.

Guy Adami at the top of the show during a discussion of favorite industrials suggested the former parent company with a curious assessment: "Now that GE diver- sort of diversified themselves," Adami said, it's getting more like HON, but doesn't he really mean "undiversified," or have we simply been drinking too much?

Pete Najarian likes BA, Karen Finerman likes GM and Dan Nathan suggested keeping an eye on the "pretty erratic behavior" in XLP.

Karen Finerman affirmed she's long GNC and said, "I hope that it doesn't react too badly" to the story about doubts being cast on vitamins. (That's OK, Ackman will short it, and then it'll be the long of the year.)

Dan Nathan said some ORCL put owner is playing for a break on earnings. Karen Finerman, feeling it philosophically, claimed "uncertainty is worse than certainty of bad events."

Pete Najarian's Final Trade was NLY. Dan Nathan said GM, Karen Finerman said GE and Guy Adami said CP.
Judge thinks 25%
= 'highly probable'
Deepak Narula, the star guest of Monday's Halftime Report, gave Judge an assessment of tapering odds, saying, "This week probably is 1 in 4 chance, maybe 1 in 3 chance that they taper."

"So, highly probable," Wapner claimed.

Sure, just like a Redskins victory.

Dr. New World played alphabet soup, telling Narula that the popular trade is "CMBS over MBS," and "does that concern you at all."

"Not really," Narula said.

Narula hauled out the old Fast Money playbook, which used to be that QE ceased to matter because it's like a morphine drip and each new tap is less beneficial than previous. "The impact that QE1 had was a lot larger," Narula said.

He added that there's a "fairly high probability you lose money if you're long bonds next year outright."

Stephanie Link was heard to say "Shoot!" during this discussion.

Joe Terranova predicted that in 2014, "You're gonna see an increase in M&A." Pete Najarian bellowed, "Financials have done nothing since August."

Mike Murphy said Monday's markets underwent a "big flush overnight." Joe Terranova claimed XOM is so unbeatable, "There's no reason not to own it."
What was it again: Swiss mechanic and German lover, or Swiss lover and Italian mechanic ...?
Dan Niles on Monday's Halftime Report essentially claimed he timed the FB trade perfectly between October and November. Judge rightly questioned what could've changed between October and early November.

Niles chuckled about TWTR, "This move, to me, looks a little parabolic," then invoked a backdoor Brag Trade on his 1999 DELL call as an implication that he's eventually going to be right.

Niles said AAPL is one of his biggest longs, but it's "trading, not investing."

It seemed like Judge just recently gave Tom Barrack a go-round, only to hear Barrack say "Blackstone" a bunch of times, but Barrack was back again Monday, saying, "I think it's gonna be pretty flat in the real estate sector."

Mr. New Land said he likes SPG, and Barrack's European-style heaven-and-hell joke for some reason cracked Joe up.

Barrack likes EXPE, partly because it has no capex, "the killer in hospitality."

Stephanie Link argued that TIF has revenue upside, but margins are the "most important thing." But Mike Murphy countered, "All the good news and then some is priced in." But Dr. New World backed Stephanie.

Mike Santoli was brought aboard really to say nothing about anything (tip: this is why ratings lowest since 1993 in key demos) about Friday's stock-picking challenge on which he already commented, but he did predict "a lot of pent-up demand" (Drink) for stocks.

Stephanie Link's Final Trade was BYD. Joe Terranova said EXPE, Mike Murphy said MA and Pete Najarian said BA.
Ray Borelli lands
at SkyBridge Capital
This site being basically alone in "financial media" in reporting the exit of CNBC Senior VP Ray Borelli several weeks ago, it's only fitting that we can also report that Borelli is now at SkyBridge Capital.

Put another way, Hoffman's loss is Mooch's gain.

Borelli may not have been known to daytime CNBC viewers. A respected "long-form" executive, his departure and those of Maria Bartiromo, John Melloy and Gary Kaminsky, and perhaps also Erin Burnett (though that can probably be chalked up to the Maria Roadblock), suggest the brand premium isn't what it used to be. As a doc overseer, Borelli's exit further illustrates the uncertain product mix and its leadership void as CNBC fills nighttime slots with "Greed" (an excellent show but now overdone) and reality TV while shoveling Sank & Frank and everyone's Twitter account onto business day viewers.

Best wishes to Borelli in his new post.
[Friday, December 13, 2013]
Mandy's orange top
unanimously show's highlight
Struggling to pin a headline on Friday's Fast Money, we figured we might as well use the show's top feature, which was a roundtable pick of "Stealth Tech Winners" featuring Brian Kelly on CSCO, Steve Grasso on HPQ and Guy Adami on MU, except it ended with Tim Seymour mentioning a name that, by the end of his commentary, was apparently something you should NOT be buying; "I would be very careful with Qualcomm."

Steve Grasso said he's long S and got long TMUS on the telecom report Friday.

Guy Adami said T is interesting against 33. Tim Seymour said VOD is in his portfolio and "stays there for a while."

Scot Wingo of ChannelAdvisor (ECOM) seems like a great guy; we don't really have a clue what his company does, but he said, "We help retailers manage the acquisition of traffic."

Guy Adami said that by taking on COST on some level; "Amazon might be barking up a difficult tree."

Steve Grasso said that "I would buy Google because of YouTube" (Drink), not because of whatever chips they're making.

Tim Seymour isn't impressed by whatever deal Beyonce struck with AAPL; "I don't think this moves the needle for Apple."

Tim Seymour's Final Trade was VOD. Brian Kelly said TBT, Guy Adami said TLT, and Steve Grasso said TMUS, but only a "nibble."
Gotta admit, we're
sorta rooting for Simon
Friday's Halftime Report featured Seema Mody. Seema Mody. Seema Mody. Seema Mody... a new wrinkle, an intriguing 2014 challenge among the show's regulars.

First, we're obligated to point out that making stock picks for a calendar year really makes no sense and is a bad strategy. However, this was one of the best shows of the year, with traders engaging in excellent discussion on each other's portfolio, with some good soundbites already in the can and some top-notch emceeing by Judge.

Second, none of the mini-portfolios was that impressive. They're all missing the big 2014 story, which is going to be the Nasdaq's surge toward its all-time high in the first 6 months.

Buy the QQQ, and you're on your way.

We'd also throw in LNKD to get some extra social media beta with "moat" protection.

Finally, you want the interest-rate play, which suggests TBF.

Only 1 of those picks turned up on a list. Stephen Weiss chose TBF.

(The usual disclaimer: No one should ever take stock advice from this page, unless the strategy is to lose money.)

Given the stocks mentioned on Friday's show (not including the extra selections on the Web, which we have yet to analyze), our favorite 3 picks are Mike Murphy's FB, Simon Baker's GRPN and Joe Terranova's KORS.

Solar, picked by Josh Brown, is very intriguing, but it's too small of a space (could take a big hit in a short time if conditions change) for making a 12-month prediction.

Savvy referee Mike Santoli rated Pete Najarian's portfolio No. 1, followed by Stephanie Link, then Josh Brown.

This page will give the nod to Mike Murphy, then Simon Baker.

Honestly, we're hoping Simon comes through, to make that ghastly sell-DAL call a distant memory. Joe? Occasionally the sentimental favorite here, but frankly Dr. New World's been ice cold since the September taper/war-on-momentum debacle and may need to bottom a bit before recharging the batteries. Stephanie? If she won, we wouldn't know whether the applause goes to her or Cramer.

Here's the list:

Pete Najarian: KFN, HPQ, BP

Josh Brown: XLF, KWEB, TAN

Stephanie Link: ETN, HOT, C

Mike Murphy: MU, GNW, FB

Jon Najarian: BRCM, BHI, INTC

Stephen Weiss: C, GILD, TBF

Joe Terranova: AAPL, EOG, KORS

Simon Baker: HMX, FDX, GRPN
[Thursday, December 12, 2013]
Viewers told that using credit card at SBUX costs 3%, so try bitcoin
Snapchat's first investor, Jeremy Liew, gave an extended interview to Thursday's Fast Money and said he leaves the public stock calls to others. Liew said he thinks whisper.com could be in for big things.

The real issue was that Liew — oh boy! — is invested in bitcoin.
TWTR skeptic blames rally
on short covering
Once the technical glitch was sorted out, TWTR watcher Brian Wieser on Thursday's Fast Money objected to Mel's characterization that he issued a sell rating at the worst possible time, claiming it was issued around the $45 first-day pop and that people who followed it made lots of money.

Mel accepted that explanation at face value.

Wieser says Twitter is a great company but insists it's "vastly overvalued."

Wieser claimed there is "a lot of short covering that's happening."

Tim Seymour said he bought SINA, "the Twitter of China." (Oh. Joy.)

Mel overdid it on the lipstick. Still looked good, just a bit overdone, kind of resembling that gal on "2 Broke Girls."
Grasso: Let's see 1,760
Steve Grasso said at the top of Thursday's Fast Money that he wants to see a test of 1,760 and claims "nobody believes this is gonna happen."

Guy Adami said it would be great if that happened, then warned that IBM seems like an indicator and could test the 150s.

Tim Seymour said this is an "exciting time" for the market.

Karen Finerman said the outlook for C hasn't changed at all in the recent market turbulence, so she still likes it.

Tim Seymour thinks "we're in a paradigm shift" (Drink) for FDX.
Steve Grasso got out of TSLA but apparently won't get out of gold
Steve Grasso on Thursday's Fast Money was still clinging to the quaint idea that, when gold rallies (snicker), the miners rally even more, and "I'm thinking about actually adding here" to the GDX.

"I think Newmont continues to go down," countered Tim Seymour, while suggesting others could do well.

Guy Adami said that when the first miner announces the hedges are back on is a time to consider getting long.

Tim Seymour warned about the "roll" in UNG, a longtime Fast Money cautionary tale.

Guy Adami said APC might be experiencing a flush, and then late in the program, as the shares cratered to 73, suggested getting long if it holds 75.
3 printers, 1 financing
In the category of Not Exactly The Most Robust Sales Results, VoxelJet chief Rudi Franz explained to Thursday's Fast Money that his GlenGarry Glen Ross crew racked up 3 sales last quarter and defended having one financed; "we did not invent financing."

He said his main competition for corporate clients is in the conventional printing market.

Guy Adami said to play VJET from the long side with an eye on 34. Steve Grasso once again said he likes HPQ on 3-D potential.
Karen shorts SFXE
Karen Finerman, with a fair amount of hyperbole, told Thursday's Fast Money, with several concrete examples, that she found the SFXE valuation to be "ridiculous" and is short the name against her favorite, LYV.

Finerman also said new LULU management will likely lower the bar, but "I'm not quite sure what exactly to make of it."

Steve Grasso said good news could spring JCP higher. (Now that's a new concept.)

Guy Adami had fun with "pooh-lattes," while Melissa strugged with "Cleon and Deon."

Bill Flynn of AAWW acknowledged Melissa Lee's observation that airfreight is more expensive than stuff that's shipped and so airfreight tends be more high-value electronics.

Mike Khouw said AXP January 75 puts were popular.

Final Trades were wiped out by Dominic Chu's report on APC.
Judge impressively is avoiding bitcoin, leaving that nonsense to Mel
In an effort to break the montony, Judge on Thursday's Halftime Report tried to open with a new theme, the outcome of the small-cap rally, which after a few clumsy exchanges merely fizzled like an NFL defense with 1:55 on the clock.

Jon Najarian said small-caps are "more attractive" to him than the big names. Mike Murphy was more about what to do "if" small-caps roll over as opposed to "whether" they roll over. Stephanie Link told a frustrated Judge that "it's way too early to tell" if small-caps are rolling over.

Anthony Scaramucci predicted small-caps would surprise to the upside next year.

Najarian suggested ATHN could test 115.

Jon Najarian said he gives a 20-25% chance of a tapering next week, but Anthony Scaramucci endorsed the central bank with effusive praise: "History is gonna reflect very well on these policymakers," Scaramucci said.

Mike Murphy called FCX "a great buy" if you get it with a 4% yield.

Anthony Scaramucci said he's cautious about gold because "at the end of the day" he's not sure it gives people what they want. Jon Najarian suggested the gold flush might be in play and will be worth buying around $1,180.
Liz Dunn spent $350
at a Lululemon store
Thursday's Halftime Report included a reference to Comcast's shameless promoting of the Winter Olympics one of the more colorful portions of Wednesday's program (and no, we're not talking about Dolly Lenz and the Aspen house that no one could guess).

Jon Najarian said he was inspired to get long LULU by Shaun White and predicted he'd be in the trade for 3 months. Mike Murphy said Thursday's earnings call "was really as bad as it could get for the company" and likes it so much now, it was his Final Trade.

To dampen the enthusiasm here, Judge brought in serial LULU bungler Liz Dunn, who insisted, "People don't pay 30 times for stocks that are comping flat," and "today's news was very disappointing to me."

Neverthless, Dunn does shop at LULU. "I spent $350 there, you know, last week," Dunn said.

However, Dunn said she likes JWN on the strength of e-commerce.

Anthony Scaramucci said "Macy's is my pick" (Drink), while Jon Najarian touted KORS, Steph Link endorsed COH and twice claimed it's a "2014 story" and Mike Murphy said he likes LULU and UA.
Ilczyszyn buying nat gas
Stephanie Link on Thursday's Halftime Report claimed she likes KO because of international exposure (talk about new catalysts). Mike Murphy said he thinks PEP is better because of its exposure to North American growth, and because of its snack-food division.

Brian Stutland said to wait for a pullback in nat gas. The Ilchmeister, Rich Ilczyszyn, said he's a "buyer at these levels" because momentum traders are still looking for a higher close. Mike Murphy recommended COG around 36. Steph Link endorsed SWN. Dr. J likes DVN.

Stephanie Link said "the results speak for themselves" at ORCL and she'd rather buy it under 30.

Doc did a "knock on wood" (that means he made an awesome trade) on HLT.
Guest claims you can actually get a cab on demand by just pressing a button
In a largely failed effort to determine the next big Silicon Valley thing on Thursday's Halftime Report (what about bitcoin), Judge welcomed Mike Lazerow, who said that Snapchat's rejection of a $3 billion offer "kind of amazed me."

Lazerow claims we're seeing an "uberization of every industry" that involves hailing taxis with electricity, implying far more ease at this practice than we've come to realize.

Judge's "Trader Triple Play" continues to be a spotty (that's being generous) venture (tip: Teach these dudes to stop giving speeches and start talking in soundbites). Ira Eckstein thinks 95 would be a great place to buy crude. Bob Iaccino said he's joining the chorus being long dollar/yen. Joe Greco said taper talk is weighing on markets and that traders are trying to "scrape a dollar or two" in the IPO market.

Gemma Godfrey claimed fixed-income markets are starting to view taper as a "wind-down and not a withdrawal."

Anthony Scaramucci said he'd stay away from LUV. Stephanie Link said Cramer was buying CIEN. Mike Murphy said VRA sold off, and then rallied. Jon Najarian pointed out that NFLX was bucking a tough tape and could've pointed out that Tim Seymour has been calling it a knuckleheaded sell since 300, but didn't.

Jon Najarian's Final Trade was NBR. Stephanie Link said GE, Mike Murphy said LULU and the Moochmeister said CSCO (not SYY).
[Wednesday, December 11, 2013]
'This is gonna be
a mild pullback'
Melissa Lee insisted near the top of Wednesday's Fast Money, "I don't buy what the InterWeb tells me ... in general." So, we probably shouldn't report that Mel's new hairstyle Wednesday looked dynamite, because she's not going to "buy" what we're saying anyway. (Then again, gotta admit, we don't always "buy" what we read in magazines about how everyone at Fast Money believes QE "will shortly easy" (sic).)

Josh Brown said "all the top blogs" were discussing "those AAII sentiment numbers."

Hmmmm.

Those AAII sentiment numbers were not discussed on this site.

Which means ...

Ouch.

Dan Nathan said "we sold off because we could," and "this is gonna be a mild pullback." Brian Kelly predicted a test of 1,750. Steve Grasso advised staying long things you "love."
Steve Grasso does his part to boost the AMZN multiple, suggests it can invade the low barriers to entry of some dubious company's niche and continue making virtually no profit
On Wednesday's Fast Money, TWTR long Josh Brown reiterated (for the 6th or 7th time) that he was "rooting" for the stock to fall into the 30s.

Trisha Dill contended that GRPN has only "scratched the surface" in the "enormous local commerce market." Steve Grasso wanted to know why AMZN couldn't do this. Dill said consumers are still choosing GRPN and that there's room for multiple winners. Dan Nathan said GRPN might work but he doesn't think it's a long-term hold.

Dan Nathan said he expects a P slide but thinks 25 is the area of finding support.

Mark Mahaney said he likes FB based on several catalysts, mostly Instagram. He said Street estimates are "too low" for this stock, which has a "double-barreled growth opportunity."

Josh Brown, this time not challenged by Joe Terranova, reiterated his belief that stocks bumped from indexes tend to be oversold.

Josh Brown and Dan Nathan both like BAC, but Nathan predicted GS will figure out an end-around on the Volcker Rule.

Eddy Elfenbein said the spread between the 2-year and 10-year is a good sign for the U.S. stock market. Melissa Lee told Elfenbein, "Eddy, we're gonna leave it there."

TD Ameritrade's Fred Tomczyk referred to the Investor Movement Index but (sigh) (Double Drink) (Triple Drink) was not asked by Melissa Lee or anyone else what the Investor Movement Index measures or what it is or what it does (but it's important enough to mention about once every 2 weeks on the programs).

Dan Nathan spotlighted a January 16/30 call spread in the VIX.

DXCM chief Terry Gregg spoke of the advances in continuous glucose monitoring and in parental monitoring of sleepovers at other people's homes.

Dan Nathan's Final Trade was short WMT and look for 76. Josh Brown said GM around 40, Brian Kelly said to short gold, and Steve Grasso said TWTR will rally another 10% into earnings.
CNBC's Game Plan (cont'd)
Wednesday's Halftime Report was chock-ful of:

1. Real-estate listings and virtual home tours.

2. New York restaurateurs.

3. Olympic snowboarders.

We wondered if Judge might engineer a bull-bear debate on COH between Shaun White and Dolly Lenz, but it didn't happen.
Some do it strictly for Mandy
Altamarea chef Michael White told Judge on Wednesday's Halftime that he watches CNBC every morning so that he doesn't inadvertently ask an executive "how was your day" on the same day they might've reported a bad quarter. (Interpretation: It's OK to salute Judge for putting you on the air but no need to overdo it.)

However much of a head-scratcher it was to invite White and Altamarea investor Ahmass Fakahany to a show called "Fast Money," the duo proved an excellent interview, with Fakahany joking about Volcker ("I'm trying to hold back on the calamari prop trade") and explaining that the key to the restaurant business is to "get the people-retention piece right."

Dolly Lenz played a guessing game with the Halftime gang, who couldn't figure out one of the homes featured was in Aspen. Shaun White told Judge, whose delayed voice could be easily heard from White's studio, that "hopefully" he can get a 3-peat in the next Comcast-carried Winter Games.
Did he mean what time the booking of the room occurs, or what day the room is booked for?
Another unusual Halftime Report guest, Simon Hobbs, told the crew Wednesday there's "fee payback" in the Hilton IPO for the geniuses who bought at the top of the market.

Hobbs shrugged off Judge's notion that the Hilton story is similar to Judge's experience in the tepid Marriott documentary in which 1) Judge couldn't deliver a straight answer (or a straight question) as to when's the best time to book a room and 2) Judge said Marriott's success has been in management and not owning so many hotels, saying Hilton still owns a lot of hotels.

The Najarians both backed HOT, but Pete said he'd love to get into the Hilton IPO, and Simon Baker indicated the same. Mike Murphy touted WYN.

Simon Baker likes both HTZ and CAR and predicted the group goes "a lot higher" in 2014.
Gold 'a better buy
than it's ever been'
Rick Rule told Wednesday's Halftime Report crew that for fundamental investors, gold's slide "makes it a better buy than it's ever been." (OK, almost believing that one.)

Judge tried to put words in Rule's mouth about gold not rallying in the first half of 2014, but Rule insisted, "That isn't what I said at all," explaining that Jon Najarian's suggestion that capitulation must occur first is correct.

Rule told Wapner his "pick pick pick of the decade is water," an early Eric Bolling original, and he also touted uranium, coincidentally another early Eric Bolling original (which was an embarrassing bust for The Admiral).

Simon Baker backed the water trade, but Pete Najarian scoffed at backing gold.

Anthony Grisanti said, "I still think that crude oil is a sell." Rich Ilczyszyn called $99 in crude a double-top and said he'd use that mark to sell.
Mike Murphy predicts MA split will prompt market cap to rise
Simon Baker said on Wednesday's Halftime that the momentum names keep working, so hang onto YELP, P and AMZN.

Jon Najarian admitted, "I really like Gilead a lot from here" but said BIIB is his favorite in the space.

Mike Murphy recommended not buying AMZN and others at 52-week highs.

Mike Murphy said there's a "lot of pent-up demand" (Drink) in JCI. Pete Najarian offered GT as a car play.

Pete Najarian credited Scott Devitt for hanging a "15 by 2015" on GRPN. (Why don't they do a 10-for-1 split to get the boost that MA got?)

Mike Murphy said of COST, "I wouldn't be a buyer of the stock," but he would buy it in the low 100s.

Pete Najarian said January 39 puts in SHLD were hot.

Jon Najarian said V has better market share than MA and is better in emerging markets. Mike Murphy said he agrees that V is the better company but sees MA as the better trade fueled by a buyback and — don't tell Karen Finerman — the retail investor plowing in at $80 as opposed to $800.

Mike Murphy's Final Trade was buying MU. Pete Najarian said YHOO, Jon Najarian said IRWD and Simon Baker said INTC.
[Tuesday, December 10, 2013]
Shame on Fast Money crew for not advising 2 savvy young investors to ditch these Dutch tulips
Viewers of Tuesday's Fast Money were treated to an appearance by very impressive Huntzinger brothers, ages 13 and 15, who are bitcoin investors. Karen Finerman asked the youngsters if they cash their bitcoins in for dollars. The Huntzingers said they're keeping the bitcoins.

Tim Seymour used the term "plenary" in regard to a long-winded China assessment in which all he was actually saying is that Chinese Internet names have great momentum. Dan Nathan said interest in those names speaks to a "risk appetite" among U.S. investors and not higher growth expectations in China.

Guy Adami said we're now in the "deep end of the pool" for YHOO, but he sees room to run in LVS.

Karen Finerman again pointed to the drybulk tankers, specifically NM and NNA, because of their leverage to an upswing.

Dan Nathan said the China Mobile story could be "disappointing" for Apple investors. Tim Seymour balked and called Nathan "dude."
It makes Guy wonder when everyone says something will happen such as TWTR trading to mid-30s (a k a People think PCLN is rich because its nominal price is 4 digits)
Dan Nathan contended on Tuesday's Fast Money that TWTR has taken off on "scarcity value" but that it might be buyable around 45 or 40. Tim Seymour claimed the company is "unbelievably valuable" but said he wouldn't buy it at Tuesday's levels. Guy Adami protested that he never told people to buy it, and "it becomes that Greater Fool's Theory."

Steve West said things have been slowing at SBUX since late September, suggesting even high-end consumers are throwing in the towel. He said the "core" consumer at Starbucks makes $80,000-$90,000 a year.

West said SBUX longer-term is still a buy, and "at the end of the day" next year, investors will be rewarded. Guy Adami said if SBUX gets to 75, you've gotta buy it.

David Gerstenhaber said tapering is a big risk to the markets, and he's bullish on Japan. He said he likes Softbank, not the first time we've heard that one. Gerstenhaber claimed there's "not a whole lot of complication" to Apple's gains, and that AAPL has "refreshed their products."

Karen Finerman gushed about MA but said if the split is the reason it's up, then that's "stupid," a comment we were waiting for and one we found amusing. Guy Adami said the stock seems rich but it still seems like a buy.
What exactly does it mean for companies to 'believe' in politics?
SunPower chief Tom Werner claimed on Tuesday's Fast Money that "solar's going mainstream," a jingle that's only about 4 decades old.

"We're insulated from a huge bust," Werner tried to assure, insisting "more Chiles" are on the way. Tim Seymour called SPWR "not expensive."

Dan Nathan said "I don't really like" Outerwall, which is a horrendous name according to Mel. Karen Finerman said "size does matter" with CVS but she doesn't have as much stock as previously because she's been using it as a source of funds. Guy Adami thinks FB can get to "about 55 bucks." Nobody cares what Tim Seymour said about NOK.

Mike Khouw said HD weekly 79 puts were hot, and maybe Lumber Liquidators (a little bit lower) is worth a look.

Tim Seymour said that corporations believing in the political process is what it takes to get this country moving again.

Earl Hesterberg, as well as Karen Finerman, endorsed GM's choice of Mary Barra.

Tim Seymour's Final Trade was NOK. Dan Nathan said to buy GM on weakness. Karen Finerman said to sell HTZ at 25. Guy Adami, who has never hesitated to make a Final Trade out of a CEO's visit to the set, said SPWR.
Applause for taper
Mike Murphy rather defiantly predicted an ongoing bull market on Tuesday's Halftime Report, saying, "You're seeing a market that wants to go higher."

Stephen Weiss contended that the "Crisis Trade" (Judge's curious choice of topic of conversation) was actually over in 2009. Weiss claimed "the best thing the Fed did" was not tapering in September.

Oracle of Tampa Jay Bowen argued that tapering is bullish and that the "market will applaud."

Bowen predicted a "significant reallocation of capital into the industrial sector" and said he really likes Canadian National. (Hopefully, unlike Dennis Gartman, he won't get a "hard time" from the SEC for mentioning that name.)
Adviser to hockey players
could add some clients
Stephen Weiss on Tuesday's Halftime Report called Mary Barra "a pretty good choice" for GM but said some stockholders were hoping for an outsider.

Mike Murphy said "it's kind of easy" to predict that FB is a better bet than TWTR at $50. Stephen Weiss agreed, "I prefer Facebook."

Bob Peck said news about the "more targeted ads" was driving Twitter's recent jump.

Mike Mayo contended that the Volcker Rule ensures some sanity, "No, they can't have a casino inside the bank." But he said he likes MS as well as ever; "the Volcker Rule is not a game-changer for Morgan Stanley."

Judge said he "greatly" respects Kate Kelly's opinion.

Jeff Kilburg, long a gold bull, claimed "the floor may be in for gold." Jim Iuorio said gold could trade to $1,300. Jon Najarian contended that we'll test the June lows in gold before the bounce-back happens.

Jon Najarian took a Fast Fire on Z but said, "I think Zillow and Trulia will be buys into the 1st quarter of next year."

Simon Baker said COST is "all about cheap discounting," as though that's a fresh catalyst. Mike Murphy made the wrong-headed argument that the stock up 26% is suddenly due for mean reversion to a lower YTD gain. Stephen Weiss said he prefers TGT.

Former Olympic hockey player David Emma said "my 2nd passion in life has always been about finance." Emma said he's "cautiously optimistic" on the stock market. Former player Jay Pandolfo said he's comfortable investing his money with someone he trusts.

SunTrust chief William Rogers, after a question from Judge that had to be relayed by Kayla Tausche, didn't exactly answer whether banks got off easy on Volcker. Steve Weiss called STI a "good play here." Simon Baker though suggested RF. Mike Murphy said he likes the higher-dividend payors in the space. Jon Najarian's rankings were RF, STI and PNC.

Simon Baker didn't make the most clear-cut explanation of why SD trades where it does. Mike Murphy, in a statement that would horrify Karen Finerman, told a tweeter that the issue of whether to sell AAPL in December "really depends on what your cost basis is." Jon Najarian said LNG deep-in-the-money calls are being pounded out. Mike Murphy said he'd still stay away from the homebuilder sector.

Simon Baker's Final Trade was HDS. Stephen Weiss said UAL, Mike Murphy said PBR and Jon Najarian said FB.
[Monday, December 9, 2013]
How many times has the SEC truly given Dennis Gartman a hard time for naming a stock on television?
In perhaps an early treat for viewers (there wasn't much else in our abbreviated view aside from Mel's smokin' hair-pulled-back look), Dennis Gartman on Monday's Fast Money listed his top 5 year-end trades, starting with (No. 5) shorting the U.S. bond market on the next uptick.

Gartman (Zzzzzzzzzzzzzzzz No. 4) also said to be long steel, copper, railroads and ships.

No. 3 was long Nikkei. Then Gartman actually claimed No. 2 was to be long gold in yen terms.

Gartman's No. 1 trade was long Canadian dollar and pound vs. the yen. (Which basically is a similar trade to 2-3. But there were no specific stocks mentioned, so the SEC won't give Dennis a "hard time.")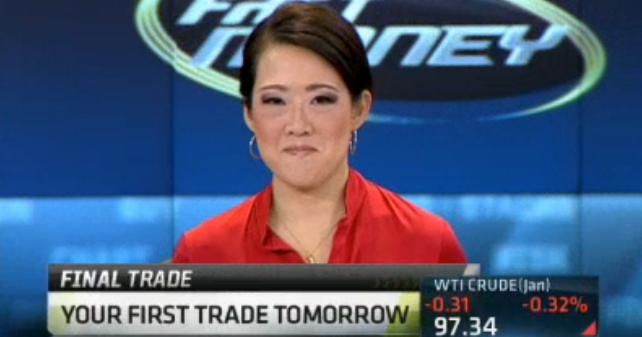 This segment brought to you
by the Winklevi
Bobby Lee on Monday's Fast Money sought to define what exactly the Chinese communique regarding bitcoin actually means, which went something like, it's not supposed to be accepted, but if it's widely accepted, it's OK.

Lee said a bitcoin owner can keep the "coins" on his computer, or store them with someone else.

Dan Hurwitz, the DDR chief who often gets big-box questions from Karen Finerman, said he's most excited nowadays about TJX, ROST and JWN (for Nordstrom Rack reasons).

Hurwitz actually said, "I think JCPenney looks good."

Karen Finerman said she's long SODA. Tim Seymour decided MCD is not a "value trap."

On cue, Mel Lee (smokin' hot with hair pulled back) asked about SYY and said "this is the food kind of Sysco."

Guy Adami said if you were long SYY, you had to pull the ripcord.

Mike Khouw reported heavy activity in Agco December 60 calls, allowing Tim Seymour a chance to mention another Chinese economic stat he reads daily (this was trade data).

Dave DeWalt, sort of an original Fast Money guest, not terribly surprisingly claimed China's threat to hacking is severe, and that it's distributing "cyber attack kits."

Phil LeBeau said to look for GM to issue a dividend "rather quickly."

Tim Seymour's Final Trade was IBN. Brian Kelly said TCK, Karen Finerman said LINTA and Guy Adami said LGF.
Judge spares Simon, conducts airline debate on day off
It's hard to imagine a more predictable, humdrum event than a bull-bear debate on airlines featuring Stephen Weiss, but that's just what Judge Wapner procured on Monday's Halftime.

Weiss argued that the bear case is the weakest possible kind, that the stocks have gone up so much (translation: that's Simon's bone-headed philosophy), and that there are still "levers" to produce revenue. Josh Brown, the designated bear, said the shorts have disappeared from the name, so let's hope Weiss' case isn't based on short-covering.

Phil LeBeau, supposedly a neutral reporter (who maybe should start running his own fund), agreed with Weiss. LeBeau gushed that the new American Airlines will have 6,700 flights.
Judge can't even remember how traders answered his question about whether FB or TWTR hits 50 first
Nicole Sherrod on Monday's Halftime Report revealed that the latest stats from the Investor Movement Index that Judge won't attempt to actually define are at "the high end of the bullish range."

Sherrod cited "net sellers of Facebook" and "net buyers of Twitter."

Barry Knapp nearly said "obvious" rather than "opposite" and said "the market has fully discounted" 9% earnings growth.

Judge implied that Knapp's 1,900 S&P target for 2014 was wimpy. Knapp explained, "There's not a lot of precision around those price targets."

Jon Najarian got to congratulate himself on his bull call on SYY, the company always described as "not the network-routing company." Najarian gloated about taking profits in the name and moving on. "Clearly Judge, something leaked."

Judge challenged Chris Marangi to explain why Charter is the most likely choice to buy Time Warner Cable. The answer was basically John Malone. Marangi said he likes the home team, Comcast (translation: sewing up an invite for another appearance on CNBC), and also hung a 160 on TWC but attributing it to "what people are talking about."

Steve Weiss said he has no position in JCP. Josh Brown said if you were hoping to get TWTR in the 30s, you're out of luck at least right now. Mr. New Land said SHLD is in "big trouble" and predicted a JCP repeat, which would be fine, except we've only been hearing that prediction punch line on CNBC for at least 10 years, before JCP was the model. #notsofreshthesis

Pete Najarian thundered that MU is going to hit $30 and made it his Final Trade.

Paul Sankey predicted a "glut" of North American crude over the next 12 months. Joe Terranova said "some" people would find Sankey's call a little "late." Sankey said it might be late but it's for the "right reasons."

Herb Greenberg, who's at Englewood Cliffs more since moving to San Diego than when he was a veritable CNBC employee, suggested Mike Jeffries as strong candidate for worst CEO of the year. Josh Brown pointed out a number of Jeffries missteps, explaining, "It almost seems like he's fighting against the possible success of his company."

Steve Weiss' Final Trade was AAPL. Josh Brown said GM and Joe Terranova said AWI.
Pete Najarian's defense
once surrendered 84 points
"Rebel" is not a term we generally associate with Pete Najarian.

Perhaps we should rethink that.

A couple months ago, this page has learned, Pete Najarian granted an interview with a Lincoln, Neb., sportswriter about a rather infamous 1983 showdown between the No. 1-ranked Huskers and the Minnesota Golden Gophers.

The Gophers lost the game, 84-13.

Nebraska scored 12 touchdowns, 21 points in each quarter, and gained 790 yards.

Najarian, a linebacker for the Gophers that day, said Minnesota's defensive strategy for this particular opponent was dubbed the "Husker Defense," which involved crowding the line with six players and blitzing nearly every snap.

In the article, Najarian claims "I did" question the coaching strategy in the week before the game; "I had huge questions about it."

Evidently his questions weren't convincing enough.

According to this article, the game "wasn't as close as the score indicates."
[Friday, December 6, 2013]
Don't. Touch. That. Taper.
In our abbreviated viewing of Friday's Halftime Report and Fast Money, nothing was more alarming than Jon Hilsenrath's outrageous suggestion that the tapering could start within weeks.

The Fed is "breathing a sigh of relief," Hilsenrath claimed on Fast Money, insisting Bernanke and Yellen are working very closely on policy.

Tim Seymour, though, balked, saying the Fed's in a "tough spot" and could stand to "regain some credibility" after last summer.

Hilsenrath said the data is better now, and "they have a story that everybody can feel comfortable with," which isn't terribly reassuring.

Guy Adami cautioned that there hasn't been a flush yet in JCP. Dan Nathan said he thinks LNKD can run back to its high. Tim Seymour said of Gap, "there's no reason to jump in and buy."

Tim Seymour's Final Trade was EWW. Steve Grasso said CMCSA, Dan Nathan said January XLF calls and Guy Adami said MYL.
FDO in 'no-man's land'
Not quite as bold as Jon Hilsenrath, Steve Liesman on Friday's Halftime Report said the tapering decision is now a "close call" but "increasingly the fog is clearing."

Anthony Scaramucci, after conceding that hedge funds have had a lousy year, suggested there could be a taper-unwind rally in the back half of 2014, and he suggested that instead of writing the "obituary for the hedge fund community, it could be the rise of the hedge fund community actually we'll be witnessing in the second half of next year."

Dan Salmon says LNKD is tapping into more HR departments, and then he really got to the good stuff/magic word, "mobile," in defending his outperform upgrade. Salmon further contended that while "disruptor" is tossed around quite a bit in this space, LNKD is one that name is "truly disruptive."

Martin Kremenstein said "you should have some allocation to China," apparently under the catalyst of "recent reforms" (snicker). He said Deutsche Bank economists see 20-25% gains in the Chinese stock market next year. Simon Baker claimed, not surprisingly, "it seems like China's a stock-picking market," so why go with the broader Chinese market.

Jon Najarian pins his INTC bull case on tablet chips. But Mike Murphy argued that "up at $25 a share is not the time to buy Intel," the argument being it was just at $23, which to be honest wasn't particularly persuasive. Murphy said people think management was too conservative or else the stock would've sold off more.

Simon Baker said that Intel should be a "core piece" of your portfolio.

Sarat Sethi said GM and Ford are like Delta and United and he likes both. But Sethi claimed PayPal is "worth a lot more than people giving credit for" and said multiple expansion is possible.

Bill Pulte sees "tremendous upside" in Masco and Fortune Brands and, as might be expected, said he doesn't see a housing bubble during a conversation in which Judge was heard to say "per se."

Simon Baker said EA bounced on the bogusness of a rumor about a late Battlefield release. Stephen Weiss said BSX will have a "great device" for back pain if it works.

Mike Murphy said FDO is "kind of in no-man's land" and to use a tight stop if you get long. Jon Najarian said "everything was wrong" with the ULTA report, to the point it got no bounce.

Jon Najarian's Final Trade was RRC. Steve Weiss said TBF, Mike Murphy said GNW and Simon Baker said DECK.
[Thursday, December 5, 2013]
Melissa should've given her question more credit, especially since CEO dodged it
In a Fast Money episode Thursday shortened by coverage of the death of Nelson Mandela, Melissa Lee told SolarCity CEO Lyndon Rive for some reason that "this is gonna sound like a naive question," which it wasn't, but the question was whether SolarCity might be subject to a Tesla recall. Rive said "not at all" but never really answered the question, only insisting this is the best battery technology available.

Questioned about Sen. Jeff Sessions' Solyndra comparison, Rive claimed there's "actually a benefit to the taxpayer vs. a drain," which is generally supposed to be the case with anything government spends money on.

(At least Rive didn't take a page from the Phil LeBeau Playbook (see below) and tell the panel they have to "feel bad" for Elon Musk for one reason or another.)

One has to wonder why LGF chief Michael Burns gets a standing invite not for particularly provocative questions … but to do little more than tout every halfway promising Lions Gate production, and then hear from the always appreciative panel how great his company is.

Thursday, Burns took a page from that Overstock.com guy's playbook, claiming, "It turns out that big day, that big down day, most of the people that sold our stock actually didn't own it."

Dan Nathan reported short-dated call-buying in ANF, someone closing out a JCP position by buying 20,000 March 8 puts, and someone buying May 62.50 calls in DG and selling the May 67.50s.

Steve Grasso predicted YHOO gets "across $40" for his Final Trade. Jon Najarian said BRCM, Dan Nathan said to short WMT, and Guy Adami said long NUAN.

Madiba: Gentle giant.
Phil LeBeau on Mulally: 'You have to feel bad for the guy'
Jim Lebenthal, making a rare appearance on Thursday's Halftime Report, made quite an assertion, stating, "There will never be, in any industry, a franchise like Windows again."

Hmmm. Not quite sure about "in any industry."

Lebenthal called MSFT a "value trap." But Jon Najarian gushed that he still likes MSFT because it has (this was his 1st argument) 12 billion-dollar businesses (talk about a new catalyst).

Phil LeBeau first suggested sympathy (snicker) for Alan Mulally because he's got all these great automotive slogans he wants to unleash but he's only getting questions about Microsoft.

Later, Judge brought in Rick Sherlund, who believes Mulally is going to be Microsoft's choice, at least "it's more likely than not."
At the end of the day,
Brian Marshall is back
Brian Marshall, discussing Apple's presumed CHL deal on Thursday's Halftime Report, uttered his favorite line, "at the end of the day," such a deal could add 10-15% "accretion" to his EPS.

Judge questioned if any of that's in the stock. Marshall had to admit this story has been rumored for years. Then he tossed in another "at the end of the day."

Josh Brown pointed out that for Icahn, AAPL proxies don't have to work, "this stock is already making him money."

In an opening go-round on interest rates, Steve ("dollar of growth, 10 bucks of QE") Liesman said to look at the 2-year to gauge what the Fed might do. Stephanie Link tried to make it more "simple" as to whether the economy was better, but Liesman insisted it's not a simple problem and reaffirmed the 2-year emphasis.

Jim Lebenthal contended to Liesman that Thursday's market should be down a lot more but it's not because money managers are playing a desperate game of catch-up.

Josh Brown said rising rates are fine as long as it's for the "right reasons" (Drink). Jon Najarian agrees.

Suni Harford said "I think we've got a way to run" in the markets and used the term "bifurcated." She also likes munis, which ought to make Jim Lebenthal happy.

Lebenthal cautioned that mortgage REITs are "not for the faint of heart."

Josh Brown said "46 is probably the big hurdle" in TWTR. Doc gushed that 42 weekly calls in TWTR racked up 900%.

Brian Stutland predicted a jobless rate of 7.2% could push gold "25 to $50 lower." Jim Iuorio would rather be short than long gold going into that number.

Bill Greenblatt predicted 210-230 in the jobs report and said his data reflected growth not seen since June 2007. Jim Lebenthal suggested Greenblatt doesn't do fast-food workers, but Greenblatt said he does.

Doug Rothschild said folks at the CME are watching for jobless data's effect on the muni market. Alan Harry said he's watching natural gas "very intensely" and said he's long 4.02-4.07. Paul Richards called the euro "still a sell."

Josh Brown's Final Trade was F. Jon Najarian said HTZ, Jim Lebenthal said CLF and Steph Link said CHK.
[Wednesday, December 4, 2013]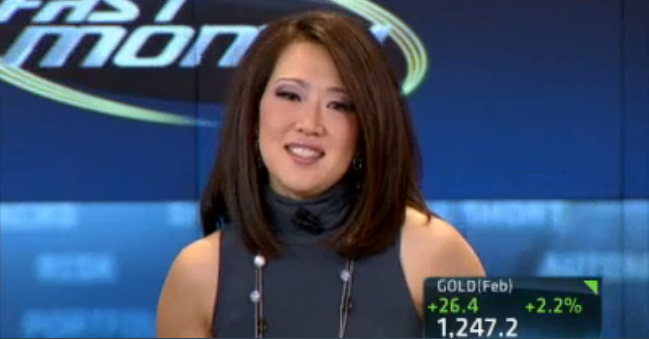 Melissa looks spectacular
Dennis Gartman told Wednesday's Fast Money that he's "lookin' to get shorter" in the 10-year but insisted "4% does not stop anything" in the rest of the economy that may or may not be happening.

Tim Seymour said 4% to him "sounds like an outlier." Gartman disagreed and revealed, "My first mortgage was 9%," and he recalls a 14¼% long bond too.

Josh Brown declared, "This is a discussion about the speed at which rates increase" (Drink). Guy Adami said PRU is a play on rising rates.

Gartman reiterated that there's a "gob" of $100 oil in the market, and "I think crude wants to rally a little bit but not much."

Melissa Lee, always glamorous, on Wednesday matched Tuesday's extremely high standard, with perfectly coiffed hair and smiles galore.
Wonder how hard it is
to 'cancel' a membership
LTM chief Bahram Akradi paid a visit to the Nasdaq for Wednesday's Fast Money and offered this curious description of his business:

"You don't pay year in advance, we don't cash anybody out, we don't owe people money," Akradi said, a strange thing to trumpet.

Evidently in the fitness world, there must be a history of revenue being recorded when a "commitment" is made and then being refunded when the cancellation is made.

Akradi said new membership tends to occur in December and January and then plateau through the year.

Melissa Lee asked an excellent question about whether LTM owns the land of its considerable fitness centers. Akradi notably didn't answer directly, saying they had a few land leases but that they own 75-80% of their clubs.

Melissa Lee gently told Akradi in a refreshing change, "We gotta go," and asked Josh Brown about his physique. It's great to have her ask, regardless of whether your physique is a Brag Trade or not.
'Benign tape' sighting
Wednesday's Fast Money brought a go-round on whether certain stocks are overrated or undervalued (or was it overvalued and underrated?).

Guy Adami actually twice said of MSFT, "I do think it's still underestimated."

Josh Brown said "I'm changing my tune in the last few weeks" on MSFT, saying "there's a lot more to this company" on the server side.

Brown said we're seeing "some jockeying for position" in TWTR, but it's "overrated" until they report at least 1 quarter.

Tim Seymour argued that HPQ is undervalued. But Josh Brown uttered "benign tape," the first time we've heard that classic in months, and suggested that's the cause for HPQ's rise.

Brian Kelly argued that LVS is underestimated.

Josh Brown said "that story's played out" in homebuilders.
A little tired of Ron Burgundy
Jordan Rohan backpedaled from specifics but told Wednesday's Fast Money that FB is "highly likely to be one of the next few to be added" to the S&P 500, as it's sort of the next big "free agent available."

Rohan said that if FB were to buy Snapchat, it wouldn't be much of an offensive move, but to "remove the tail risk."

Josh Brown wasn't impressed by the notion of such a purchase, asserting, "The Snapchat thing sounds like a future write-off."

Tim Seymour said you can stay in the Chinese Internet names, as Brown and Melissa Lee haggled over the meaning of "fat pitch."

Guy Adami said it's hard to buy YHOO on a day like Wednesday but it's nevertheless "the right thing to do."
Tim Seymour has an SEP IRA
In an interesting call on Wednesday's Fast Money, Guy Adami said of AN, "Wherever it's trading right now is a pretty interesting play."

Josh Brown said of P, "I think it keeps rollin'." (This writer is long P.)

Guy Adami said JCP looks like it wants to trade 8½. Tim Seymour said he's not happy he sold DE at 83.

Mike Khouw said GM March 44 calls were hot.

Brian Kelly suggested an Australian trade of buying EWA and shorting FXA. Tim Seymour added to that, "I would own Rio Tinto."

Guy Adami told a viewer that "a hold is the same as a buy" and he thinks AET trades down to 60.

Brian Kelly called CLF a buy.

Tim Seymour said he's long CHL in "my own personal SEP IRA."

Josh Brown said he hopes GOGO comes back to earth.

Tim Seymour's Final Trade was CHL. Brian Kelly said ESV, Josh Brown said BAC and Guy Adami said FB.

Tim Seymour said Steve Case pulled off the "greatest heist ever."
Actually Ed Yardeni came up
with it weeks ago
Adam Parker told Judge Wapner on Wednesday's Halftime Report that he picked 2,014 as an S&P "base case" target so "I could remember it."

Judge found it interesting that Parker likes materials for 2014. But Parker clarified that it's more specific than that: "We're saying buy chemicals."

Parker said he's been streamlining, from 54 to 45 names in the portfolio.

Judge credited Parker with media savvy, saying, "You know how to make a headline: 2,014 for 2,014," when he should've been crediting Parker for borrowing the line of a recent guest.

Simon Baker said he still likes the market despite rate movements but has taken "a little bit more of a neutral stance."

Stephen Weiss said "I remain bullish" and suggested as an interest-rate play to get away from housing and into banks.

But Pete Najarian likes housing, and brother Jon said, "I'm not worried about the taper."

Later, Simon Baker argued with Stephen Weiss over housing stocks, Baker being the bull because of the "pent-up demand" (Drink).
Crude upside: $1
Jon Najarian on Wednesday's Halftime Report argued that "I don't think things can get any worse for Peabody," and he called the stock a "steal." Stephen Weiss insisted that everyone's switching from coal to nat gas.

Simon Baker allowed "it's speculative," but he backs Najarian's long BTU case.

Anthony Grisanti asserted that any further upside in crude is limited to 50 cents to a dollar. Jeff Kilburg lamented shorting at 96 but the bounce is "just a technical cover."

Mike Gurka said 10-year rates are getting "jittery" regarding employment. Steve Grasso advised viewers to "remain with the long side."
Pete: Some think F
weighed down by Mulally
Stephen Weiss curiously contended on Wednesday's Halftime Report that Microsoft is "suffering from founder's malaise," which is some kind of concept of not unlocking enough value.

Weiss said Mulally spread production around too thin at Boeing and while being a good industrial administrator, is not a tech guy. Pete Najarian said there's a "decent-sized" faction of people who think Ford actually will go higher if Mulally exits.

Pete Najarian said he likes KMX the best of the auto-sales plays.

Stephen Weiss said he likes Taubman in the mall space but not SPG so much because it's tied to big-box. Jon Najarian said BRE has tripled from March 2009.

Stephen Weiss said he has no JCP position but "the jury's still out" on the name.

Jon Najarian pointed out that longs would not be happy with SHLD's day but that shorts would be happy.
Gemma says 'inherent'
Seeking an equivocated, wholly unspecific assessment of Europe on Wednesday's Halftime Report, Judge turned to who else but "resident Europe expert" Gemma Godfrey.

Godfrey said financials "present the biggest opportunities as well as the most inherent risks" and that there's going to be an examination of bank balance sheets next year and that EU officials are considering "another lending scheme."

Make of that what you will.

Simon Baker recommended an EBAY short and said he's been short the name for a while. Jon Najarian basically agreed but said he's not short.

Pete Najarian predicted MU "will test 30 by mid-year" because of the April 30 call volume, then said Wednesday was the day to trim his sudden VMW pop but that he hadn't done so because he was on TV.

Simon Baker warned that P is up 220% for the year, his favorite benchmark for making a bear call. (This writer is long P.)

Pete Najarian thinks GM will slide to the mid-30s. Stephen Weiss said the question with DE is, "is the farm cycle over." Simon Baker said EXPR looks like a buy on the bounce; "I think it's overplayed."

Jon Najarian said CF has upside potential, "I like it here but I'm not in love with it."

Sheila Dharmarajan, who is good-looking, reported on big insider selling, including that by Jeff Bezos, but said Warren Buffett bought a bunch of DaVita.

Simon Baker said he likes RF. Jon Najarian said he'd rather be in a call spread with DF than owning the stock outright. Stephen Weiss said in energy, he wants to be in oil service such as Schlumberger.

Pete Najarian's Final Trade was C. Stephen Weiss said TBF, Simon Baker said XHB and Jon Najarian suggested a donation to a youth football team.
[Tuesday, December 3, 2013]
Traffic per mall patron divided by square footage was down, but mobile spending per smartphone is up ...
Gian Fulgoni of comScore reported on Tuesday's Fast Money that the discounters and (Drink) Amazon did the best over the Black Friday weekend, but that high-end retailers weren't able to pull in as much he's sure they'd want to.

Guy Adami said Amazon has "gotta hold 373 give or take the rest of this week." Tim Seymour actually used the term "new paradigm" (Drink) in touting FDX.

Honestly we're not sure we can stand to hear or read yet another analysis of Black-Friday-weekend shopping and whether the numbers are up 2% or down 2% and whether Thursday's better and Friday's worse and online's better and brick-and-mortar's worse etc., which made Paul Hickey's presentation, that certain names you'd think would do well during holiday season such as KSS, BBY, GME and FDO actually tend to lag, and for whatever reason, names such as CMG and GPC and EXPE and TRIP and even NFLX have shown outperformance, seem all the more relevant.

Yet, unfortunately Hickey didn't seem that convinced of his own thesis, conceding some of those have already run, though he does like FTD.

Karen Finerman said Google's cloud play really doesn't matter, and that it would take "80 days in a row" of Amazon's Tuesday slide to get her interested in those shares.

Guy Adami said Rackspace "actually held the June low" and said he likes the stock on Tuesday's news.
Karen nails Tim's bungle
Guy Adami on Tuesday's Fast Money pronounced this week's selloff as a plus for bulls.

"If you're bullish you want this to happen," Adami said, stressing you "absolutely want this to test 1,760."

Tim Seymour once again tripped himself up with too much commentary, suggesting that a "close below 9,300" in the Dax and "a lower open tomorrow" with lower close would mean "at least a short-term top."

Karen Finerman, savvy as always, pursued this conversation by asking Seymour if it matters to Europeans if the Fed policy is different from the ECB. Seymour at first said "no" it doesn't matter to German investors (which isn't exactly the show's core audience) if the Fed tapers but Europe doesn't. Then he said "everything the Fed does is affecting these markets," which prompted Karen to point out that Seymour's answer is really a "yes."

Finerman saw nothing wrong with this week's action. "To have a 1% pullback is nothing ... this was not in any way puke-out selling," Finerman said.
Droning on
A lot of CEO guests on Fast Money can't hawk their products enough. AVAV chief Tim Conver couldn't have been more low-key, to the point of frustration for host Melissa Lee.

Conver, a post-"60 Minutes" must, first showed off a rescue drone that he said could be used to search for missing children, then mentioned the commercial potential of his business, but never really was specific about the timeline or exactly what the private sector would buy this aircraft for.

"We're spending most of our time understanding customer needs," Conver said.

Melissa Lee ultimately said, "Tim, we gotta leave it there."

Guy Adami said the company's orders are off the charts, but, "You just hope the backlog is a trend, and not a one-off," Adami said.

Tim Seymour said the valuation of AVAV is "warranted."
Seymour: TSO holds
'will live to regret it'
In a complete bust, Melissa Lee on Tuesday's Fast Money asked panelists what their top buy or sell is in today's market.

Guy Adami feebly offered BA as a buy, but it "needs to trade down to 120."

Tim Seymour said he wants NKE "anywhere near" its 50-day or 200-day moving average.

Karen Finerman lamented, "I should have sold some Hertz," and thinks others should.

Brian Kelly suggested taking profits in JCP but not shorting it.

Guy Adami still likes NUAN, but he lukewarmly suggested you "exit the trade" in XOM.

Tim Seymour warned against sticking around in TSO: "If you do not take profits in the name, you will live to regret it," Seymour said, also making this call his Final Trade.

Seymour, meanwhile, seemed less concerned about Tuesday than next year when saying of AAPL, "This will be a buy for 2014."

Guy Adami shrugged that 585/586 is the next level of resistance in AAPL.
Mel: Stones critic
Karen Finerman had the funniest line of the day (by far) on Tuesday's Fast Money, asserting bitcoin's "tangible book value" equals zero, and she even threw in a "the end of the day" (sic no "at") (Drink).

Finerman said activism in ANF probably puts a floor under the stock, "even with crappy earnings."

Karen said Eddie Lampert could've been lightening up on SHLD for portfolio reasons, as Melissa Lee wants to think, but Karen stressed, "It's never a great thing though."

Karen reiterated she's long GM. Tim Seymour reiterated, "The play here is Fiat ... They stole this company, I've said it thousands of times" (not literally true but figuratively true).

Brian Kelly said "I will stay long for a while" in crude.

Guy Adami pointed out the stumbles of gold miners and declared, "These guys are in total no-man's land."

Mike Khouw reported big buyers of NEM December 24 calls.

Guy Adami called CELG "bullet-proof" but said it's not wrong to take half off.

Tim Seymour said HON is a great company, but "I don't think you need to chase this one."

Brian Kelly's Final Trade was DHI. Guy Adami said MMM. Karen Finerman said to sell FNP calls.

Melissa Lee, who wore a chic striped blue top with short sleeves that the camera couldn't get enough of, said of "Miss You," "This song is overrated." We hadn't thought of that before, but she's kinda right.
Patty evidently enters realm of Gemma Godfrey, Mohamed El-Erian-style of stock commentary
Friday, this page watched with glee as our favorite Wall Street Pacific Northwesterner, Patty Edwards, was summoned to Closing Bell for a rare noon Eastern appearance on CNBC.

But, we couldn't help but notice that Patty's stock advice was so specifically unspecific (online shopping/deliverers of online shopping) that even we were able to figure out her presumed non-named stock calls in less than 30 seconds.

It's come to our attention that Patty responded to this commentary on (where else but) Twitter, which we sometimes peruse but sometimes don't because Twitter feeds tend to get filled with minutiae, for example in Patty's case attending minor league hockey games and waking up 6 a.m. seemingly every other Saturday to teach the course on CPCU designation or something like that.

Anyway, Edwards, points out, "I now work for the 5th largest bank in the U.S. and can't talk individual stocks as much as I want tooo (sic)."

Fair enough. We're actually more impressed that Patty and the other guests were able to handle the 7-second satellite delay with Kelly Edwards.

And, the fact Edwards did not say "at this point in time."

Once again: Is it "COST-uh-low," or "Kah-STOLE-low"?
TSLA shorts dying for
that next YouTube fire video
Craig Irwin was bested — in the category of getting an invite from CNBC to talk Tesla — on Tuesday's Halftime Report when Adam Jonas was summoned by Judge to explain his 153 target.

Jonas asserted "these fires have created a buying opportunity," and he said he was "impressed" that only 3 known fires have occurred. But, he said that NHTSA moves are "unanalyzable."

Jonas said the stock's bounce Tuesday was "probably excessive."

Meanwhile, Dr. New Land insisted GM should be a $45-$47 stock and predicted "activism" if there's not a dividend increase. Pete Najarian countered that they are way in front of themselves," and he would buy on a 10% correction.
Weiss went to Lululemon;
apparently lots of women there
It's a new thesis we've only been hearing for, oh, 15 years.

Judge Wapner welcomed Steve Kernkraut to Tuesday's Halftime Report to discuss brick-and-mortar shopping being at an "inflection point."

In fact, Kernkraut took the cliches further, citing a "paradigm shift," because there are so many mobile devices now, so "it's just easier to shop online."

He said that beyond Amazon and eBay, Macy's and Gap look to have the best online experience of the primary brick-and-mortar names.

Kernkraut said he likes LULU because while everyone else is heavily discounting, "everything is full price" at Lululemon.

Steve Weiss indicated he was at Lululemon over the weekend and it truly was packed, "literally shoulder to shoulder."
XOM is actually deemed watchable based on XTO
Anthony Grisanti said on Tuesday's Halftime Report that he's unable to come up with reasons to buy gold or silver, and he thinks gold has more room to the downside and will take silver with it. The Ilchmeister, Rich Ilczyszyn, said silver might catch a bounce, but that rallies into year-end should be sold.

Mr. New World predicted that pressure on gold continues (into Q1).

Judge's Trader Triple Play, a regular bust, featured Todd Colvin stating the news releases due this week, Tom Reilly predicting more strength in WTI and Joe Greco noting financials being sold off, but at least it was packaged around several hits from Seema Mody, who unfortunately was only in chair pose Tuesday.

Stephen Weiss said that even if oil goes up, at this stage, it's not a big deal to airlines.

Joe Terranova suggested CHK, EOG, UPL and even XOM based on that XTO deal which Tim Seymour actually thinks was a steal.
Pete has got so many more options positions than stock positions, congratulations
Pete Najarian opened Tuesday's Halftime Report with his favorite bizarre statement of autumn, that he's hardly got any stock positions but is doing everything in options. (Implication: Open an account with TradeMonster.)

Pete said he owns shares of big pharma and AAPL but the rest of his portfolio is in options.

Stephen Weiss said he increased his TBF stake and added TBT but advised viewers to "take some off the table."

Stephanie Link said Cramer sold WLP and sold LOW.

Dr. New World coined a new one, the "Santa Cross (sic) rally" (lessee, what images does that bring to mind ... maybe Gene Hackman chasing the bad guy at the beginning of "The French Connection"), and asserted "equities can handle a 3% print in Treasurys."

Joe moments later told Judge that the market will go higher on "profit margins to 10%," but Stephanie Link cut him off with a point about top-line growth that was neither a question nor an observation.

Stephen Weiss, echoing a months-long theme, said "markets do go up when interest rates go up as long as they go up for the right reasons" (Drink).
Mohamed El-Erian counters
Joe's question 4 times with 'no'
Mohamed El-Erian told Judge Wapner on Tuesday's Halftime that Judge's panel seemed to be "debating 3 distinct issues," a number that is low enough for us to contemplate but frankly we just weren't that interested this time, though El-Erian did say "vis-à-vis."

El-Erian claimed stocks are "no longer a general beta trade" (wonder how he came up with that particular determination as of Dec. 3) and that the "small rotation" is bonds to stocks but the "big rotation" (hint: PIMCO is in the bond-fund business) is from bonds to bonds.

Mr. New Land astutely noted that El-Erian sounds a little down on stocks and commodities and emerging markets and so is there a big enough "slice" in fixed income for investors.

"No. No no no," El-Erian protested, saying he's merely calling for lower U.S. exposure and lower equity beta.

"The key word Joe: differentiation," El-Erian said, (sigh), oh my, back to calculus, and we can't even add up the "Fast & Furious" installments.
Joe waiting for Q1
like nobody's business
Pete Najarian reaffirmed his $600 AAPL target on Tuesday's Halftime Report and then suggested people "read between the lines" of what Mohamed El-Erian was saying.

Sorry, pass.

Stephen Weiss called KKD a momentum stock and said "I personally don't like it."

Joe Terranova said of YUM, like he says about everything these days, "the real story's in Q1," but he thinks the stock is "probably fairly valued."

Pete Najarian thinks 3-D stocks, however promising, seem like they're in a "bubble."

Stephanie Link said one angle for JNJ is that they "could split up the company." (Original Fast Money cliche alert: Was it JNJ that sold PFE the consumer products business, or the other way around?)
Stephanie thinks every day every stock with a big YTD gain will suffer mean reversion
Pete Najarian reported on Tuesday's Halftime Report that December 82.50 calls in VMW were hot.

Mr. New Land walked into the trap of saying that fact says to him EMC, which Pete Najarian and Stephen Weiss jumped on as insisting that stock never moves.

Joe hung triple digits on HLF. "You have to look at hundred dollar (sic singular) being the next price target ... I would not wanna be short it," Terranova said.

Stephanie Link argued that KORS is "up 59% year to date," the argument she makes about every stock she discusses, and added, "A lot of good news is in there," and contended, "Coach is a better value at this point."

Joe Terranova thinks PEP is "fully valued" (but presumably it'll do OK in the 1st quarter). Pete Najarian said you buy GME on the game release and get out quickly and to stay away for a while because there is "much more downside" in this name.

Stephanie Link did a backdoor Brag Trade on DXJ, asserting again "a lot of this is already known" (funny she didn't say that during Steve Kernkraut's online shopping presentation) before reporting that Cramer bought the Nikkei at 1.2 times book and now it's 1.7 times book.

Pete Najarian's Final Trade was VMW. Stephen Weiss said TBF, Joe Terranova said OAS and Stephanie Link said PNRA.
[Monday, December 2, 2013]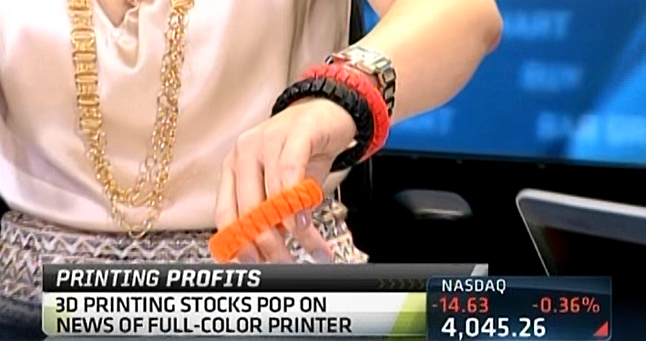 Just what everyone needs — a $2,200 machine to make plastic bracelets
Monday's Fast Money's go-round on 3-D printing offered an unexpected camera view — of Melissa's jewelry.

Melissa aired an interview she conducted with MakerBot chief Bre Pettis, who said his $2,200 machine is a great investment because instead of buying certain things you'll be able to just make them, although whether one can duplicate that watch Melissa's wearing is unknown.

Guy Adami said the concern with this sector is, "Do these companies get commoditized," but with short interest so high, he advises, "Play these from the long side."

Steve Grasso reaffirmed that he actually likes HPQ based on this concept, which seems equivalent to picking the Yankees to win the World Series because they got a new batboy.

Karen Finerman noted that after you buy the machine, you have to buy "this injectable crap," and so for people actually using it, "that could go on for a while."

Gotta ask: When is there going to be jewelry on that ring finger in the photo above?

#heyjustlendingencouragement #uhoh #bigtroubleforthisone
Melissa says 'inherently'
Continuing its discussions of bitcoin — still without adequately explaining WHAT IT IS or how you get/make one (presumably not with a 3-D printer) — Monday's Fast Money brought in Marc Chandler for what otherwise was a productive conversation.

Chandler said bitcoin is one of "dozens of these Internet- computer-based money," which doesn't sound like a premium product (talk about low barriers to entry) and that while it could help "supplement" money (this notion went unexplained), "I don't think it's going to have that wide of acceptance."

As for getting long this concept somehow, Chandler called that "just a gamble," relying on a "Greater Fool's Theory."

At one point Mel Lee told Chandler that there's a finite supply of bitcoin and asked, "does that inherently mean that the value of the bitcoin will go up." (Why didn't she just make it, "At the end of the day, is the value of bitcoin going up, because it can monetize mobile, and people think PCLN is a 'rich' stock because it's a thousand dollars...")
When a 'won't' sounds
kind of like a 'will'
Sort of like bitcoin, GOGO is something we don't fully understand — apparently you get on a plane, and you get Internet access, but not the same access as your phone ... or whatever.

GOGO chief Michael Small on Monday's Fast Money said that in the wake of the 747 expansion news, his company "still won't be streaming directly," but will have "pre-loaded movies and TV shows."

The funny thing about that explanation was that it sort of sounded like he said "still will be streaming directly." And, given that we hardly know what this company is, we hesitate to claim we know what he's talking about.

Small insisted there are "significant barriers to entry" given the investments his company has made in the business.

"We're gonna leave it there," said Melissa Lee.

Brian Kelly actually claimed "it's essentially a monopoly business." Steve Grasso challenged that, "How can you say it's a monopoly product" when the "barriers to entry are pretty low."

Guy Adami said that buying GOGO after Monday's ride is "a little dangerous."
Sure, no chance for thugs to toss up nets and intercept people's deliveries of 50 Shades of Grey
Steve Grasso on Monday's Fast Money presented an interesting description of Amazon founder/Washington Post turn-arounder Jeff Bezos in the wake of Bezos' claim of pursuing drone delivery.

"He's just such a genius in throwing so much stuff at you and making you decide which is real, which is not real," Grasso said.

Hmmm ...

One could look at the stock and interpret that as a reflection of this "genius."

Or, one could look at the stock's P.E. and interpret this company as an endless story about how it's always going to overtake some other unprofitable company's niche and how it's an impossibility that this company could ever grow into this evaluation and that the emperor has no clothes and that rather than talk about the rightful "genius" of the CEO, we should be talking about the "Greater Fool" of investors.

Melissa Lee said drone delivery might be a problem if it's "too windy, the thing can't land."

Guy Adami said this reminds him of when Arthur Fonzarelli jumped the shark.

Steve Grasso said of YELP, "I wouldn't buy this stock," because, you guessed it, Amazon could probably do this unprofitable endeavor better. (Why can't they just make 3-D printers along with the Kindles?)

Brian Kelly said "625 I think is easy" for AAPL.

Guy Adami said, regarding the price of TWTR, 36 is "where my head's been at all along," and it might even go lower.

Steve Grasso has had enough of TSLA; "I'm out of the name for now."

Brian Stutland said April 14 calls in GRPN were hot, to the point he took off some bearish positions.
No one mentioned possibility of another government standoff
Karen Finerman said on Monday's Fast Money that not only has she been shorting the Russell 2000 against the S&P 500, "that divergence had gotten so wide" that she's maintaining it, under the belief there's "more convergence to go."

Steve Grasso, in the wake of his embarrassing prediction of 1,740 a couple weeks ago, was still clinging to that mistake, saying, "I actually hope we see a pullback 1,730" or even 1,698.

But Grasso in the same discussion said he doubts anyone will "aggressively leave the market" over tapering concerns.

Guy Adami expressed concerns over Monday's gigantic 4-point S&P selloff, picking his/Tim Seymour's favorite Fast Money PMI of choice (China), doing the "market had every reason to go higher" routine and pointing to MMM as a stock that normally doesn't plunge so much. #cancelthebullmarket

Melissa Lee sounded less than enthusiastic about interviewing Bob Doll, scoffing in her first question that he was probably just going to say it's a chase for performance into year-end because no one wants cash in the portfolio ledger.

Doll said this is an environment for "industrial stocks, selected technology," and that the Fed balance sheet is in "unchartered (sic) waters."

Interestingly, nobody on Fast Money or the Halftime Report mentioned the "s" word ("shutdown").
Karen tends to look at her computer screen often during show
Karen Finerman on Monday's Fast Money suggested that one "gigantic" problem for BBRY is that no up-and-coming tech engineers would want to work there, the "brain drain" is in effect.

And, perhaps Karen was checking out BBRY while concluding her remarks as she glanced at her laptop computer.

Guy Adami said you might be able to trade BBRY, but it's a "Fool's errand" to hope it appreciates.

Traders were asked to make year-end picks. Brian Kelly came up with GLNG, Steve Grasso said GOOG ("YouTube" again), Karen Finerman said URI (it's "early on in the commercial construction rebound") and Guy Adami said NUAN, predicting Carl would say or do something and "I think it sets up for a decent long"; it also became his Final Trade.

Brian Kelly said he went long oil Monday, but Steve Grasso said, "All of these refiners are running into technical resistance, specifically Valero."

Guy Adami said he prefers to buy DOW on a breakout over 42.

Karen Finerman said she "wouldn't touch" JCP.

Guy Adami said airlines had been rising on fundamentals, but the last 5-8% seems like momentum, and now they're "gettin' into the deep end of the pool."

Steve Grasso's Final Trade was JBLU. Brian Kelly said DRYS. Karen Finerman actually said to sell M or at least sell upside calls.

Karen Finerman said the Thursday mall traffic was robust, so the notion of Thanksgiving shopping "sounds like it's here to stay."

Missy said she cooked a 12-pound turkey but had trouble with potato latkes.
Josh unable to produce single stock removed from S&P 500 that has outperformed
Josh Brown claimed on Monday's Halftime Report that things might actually be looking up for JCP because stocks booted from the S&P 500 "typically tend to far outperform" the index.

Joe Terranova, instantly in midseason form despite the long weekend, astutely asked Brown in what will surely prove the show's best question of the month for an "example" of such a stock.

Brown had none, except to say, "All of those lists, uh, appear online."

Actually, they don't. At least not in several searches we did, one of which was to a proprietary article from a couple years ago that required a subscription to read.

Pete Najarian said the biggest problem for JCP is getting customers back; "I think JCPenney is really hurting."
Josh suggests fund manager up 42% has merely accomplished a sector return
Peter Dixon told Judge on Monday's Halftime that "Traffic was OK" at the malls and said his stock picks, which lack a high-end retail name, are about specific brands and not any kind of low-end-vs.-high-end consumer.

Pete Najarian asked Dixon not really much of a question about "Dick's Sports" (sic). Dixon said Dick's benefits both because "healthy living I think is a big trend" (as opposed to last year or a couple years ago when everyone wanted to binge on junk food and spending all day in the La-Z-Boy) and because it has elite brands.

Dixon said something about how GPS is "adapting their business."

Dixon said GIII is maybe a "sleeper" in his portfolio.

Judge closed by congratulating Dixon on his 42% YTD performance. Josh Brown grumbled that the XLY sector is up 40% this year, and "almost never" does the same sector repeat like that in consecutive years.

Mr. New Land didn't have a chance to ask him for a recent example of that but did mention URBN and BBY.
Stephanie goes shopping
on Sunday
You can pretty much count on it once a week:

A Coach debate.

Stephanie Link argued on Monday's Halftime Report that COH is "only up 3% year to date." Pete Najarian countered that margins, profits and same-store sales are down, and "Michael Kors will eat their lunch."

Link rebutted, "I was in their stores yesterday and I thought there actually was quite a few good thing (sic no plural)."

Josh Brown said he agrees with Pete but stressed that 60 could be a breakout level for COH.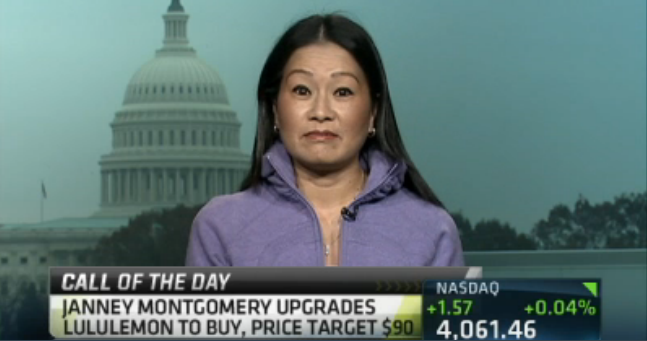 Analyst likes LULU so much, she wears it for interview with Judge
Stephanie Link on Monday's Halftime Report revealed she went to Coach "stores" on Sunday.

Adrienne Tennant evidently liked so much of what she was analyzing at Lululemon, she picked up some of the merchandise for an appearance on Monday's show, according to Judge.

(We're not really fashion critics, but it seemed like a cute enough outfit.)

Tennant likes the stock because she said it's one of the very few companies selling merchandise for full price.

And, she thinks the shares could bounce with a new COE, that "starts the clock ticking" on a new era.

Josh Brown questioned whether there is big opportunity globally or whether it's a "niche" business that is 70-80% fulfilled. Tennant said her answer is that the North American "footprint" can be "doubled globally."

Josh Brown said he owns the name and thinks it's worth holding only if you agree with the global-opportunity story but that in the U.S. it's "almost as good as it gets."

"I love what they're doin'," said Pete Najarian.
2% left in 2013 S&P
Josh Brown on Monday's Halftime Report predicted stocks will "add another percent or 2" by year-end, and Dr. New World agreed; "the good side of the economy is coming around."

They also agreed that stocks are not in a bubble, with Brown pointing out that Robert Shiller would admit he's not a market timer.

Brown called financials the "No. 1 sector to own" as rates rise slowly (Drink). Stephanie Link rattled off AXP, MS, BAC, GM and JCI.

Brown claimed that it's "pretty conclusive" that bond cash is going into stocks, but like several things he mentioned Monday, the supporting evidence was a bit light.
Pete: NFLX 'probably' a bubble stock
Pete Najarian claimed on Monday's Halftime Report that NFLX is "probably" a "bubble stock," yet no one addressed any ramifications of that.

Pete noted Goldman Sachs analysts hanging a much higher target on TWTR than the IPO price and speculated the Twitter guys "might be a little frustrated."

Pete said TWTR has gotten ahead of itself. Dr. New World revealed, "I don't understand" why anyone is "taking a flier on Twitter" without knowing for sure what it can monetize (Drink) on mobile.

Pete predicted AAPL $600 by year-end at the top of the show. Judge, evidently forgetting that, seemed surprised when Pete reiterated at the end of the show that he thinks AAPL has 7% left this year.

Pete also correctly for once pushed back at some of Stephanie Link's endlessly irrelevant statistics (this time it was historical P.E.), telling Link, "Valuations can be argued all the time Steph."
Joe first says he likes 'both components' of GS China stocks/short copper call, then says he doesn't like the copper short
Dr. New World, despite a great start on Monday's Halftime Report, opted to give viewers an end-around on the Goldman Sachs long Chinese stocks/short copper call.

Jeff Kilburg predicted copper would remain above $3. Jim Iuorio opined, "I really like Goldman's trade at least the way it looks for the next 3 weeks to a month."

Rick Rieder, who sees a 3.25% 10-year in 2014, said we're "getting to the high end of the range." He said the market is overthinking the taper timeline but suggested, "Equal weighting it's January, March."

Also, Rieder said "long-dated munis are starting to represent real value."

Joe Terranova said he likes DOW, and his "catch-up" pick for year-end is AAPL.

Stephanie Link wouldn't chase LGF but likes GE into year-end.

Josh Brown said MMM got downgrades not because it's bad but because JPMorgan likes others better. Brown, who handled most of the talking Monday, offered MOS as his catch-up pick, because it's "already been recovering from the price-war fears of July."

Pete Najarian said he's not sure there's much left in EBAY.

Joe Terranova's Final Trade was TEX. Stephanie Link said GOOG. Pete Najarian said FTNT. Josh Brown said XLF.