Stocks on 'staircase' to heaven
Joe Terranova on Tuesday's Halftime Report admitted he and "many people" were talking at year-end about "potential for a 2016-style selloff that you had in January of that year."

It's wonderful that Joe is honest; we never understood what prompted "many people" to deem this strange possibility worth talking about.

Because it hasn't happened, Joe said, it looks more like another 2017, "where you don't really do anything other than climb the staircase higher."

Joe noted "emerging markets are still doing incredibly well."

Josh Brown said he thinks the Street is "in shock." He noted last year at this time, chief strategists were expecting a strong dollar and favoring U.S. over international stocks. Brown said the Nikkei is at a level not seen since 1991. He noted the dollar's at almost a 4-year low.

DoubleLine's Jeffrey Sherman told Judge that Friday's 10-year yield close of 2.65% was above the 2017 high. He said the one holdout is the 30-year, but it's at "criticial junctures," so he expects rates to push higher.

Sherman said the global growth story "is very accretive for commodities."

Karen Finerman, in exceptional new hairstyle on the 5 p.m. Fast Money, admitted she has felt "chumpish" at times but said that historically, "it's always been OK to buy at a record high, because here we are."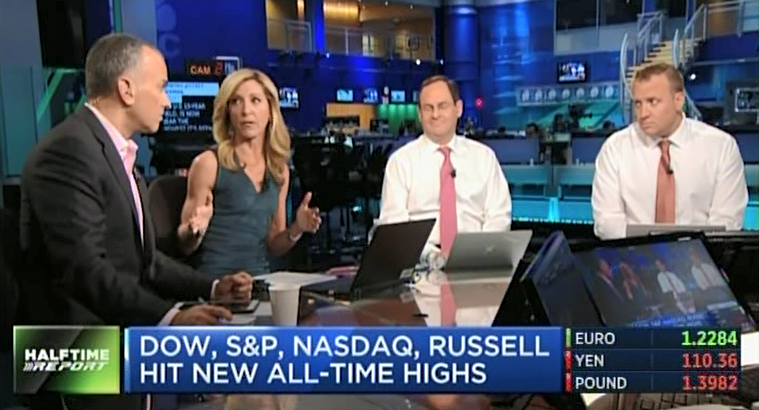 Another day without 'euphoria'
Addressing the NFLX train on Tuesday's Halftime, Jim Lebenthal stated, "There's nothing stopping this" and that a couple billion more in debt would be a "drop in the bucket."

Jim said someone told him you might want to fade NFLX over 250. He and Josh Brown agreed it wouldn't be a huge pullback.

Brown said NFLX didn't really have an earnings beat, but a "subscriber beat."

"The subs are growing because of the spend," Brown explained.

Brown said if NFLX in 2007 had focused on profitability, it would look like Pandora now.

Stephanie Link called NFLX a "secular grower" that's "first to market."

Scott Devitt, who has a 283 target, stressed NFLX's pricing power and pending incremental leverage from its "global TV platform."
How come Jana/CALSTRS and their prof who detected the 'Psychic Tax' aren't clamoring for more parental controls for TWTR users?
Scott Devitt, who dialed in to Tuesday's Halftime Report to cheer NFLX, said Anthony Noto's departure (Zzzzzzzz) is a "pretty painful loss" for TWTR.

Joe Terranova said he noted last week that the TWTR price action was concerning, so there was "some advance knowledge of this probably." (Usually they only say that when they notice the "options paper.")

Joe called Noto's exit "not a good thing" and said the quants have left the stock.

Judge speculated whether Noto would leave just before a quarterly beat. Somehow we doubt that the shape and timing of the current quarter would have anything to do with whether to take a better job.

Josh Brown noted that previously "indispensible" people such as Adam Bain have left the company. (Remember when Bob Peck was on the show once a week to predict Dick Costolo would get ousted and then that the company would succeed because of its "cadence" of new products?)

Joe said Noto's move will make him think twice about SQ and whether Jack Dorsey will need to spend more time on TWTR. That seems like a little bit of overthinking things.
Tom Lee's calling a 2029 peak
Stephanie Link on Tuesday's Halftime marveled about how she's often expecting EL to pause only to see it keep going; "the trends are definitely there for beauty," and she's going to hang on to it.

Joe Terranova called ABBV the "clear winner in the space."

Stephanie Link grumbled that JNJ's margins were below expectations. She said she added AGN a week and a half ago.

Jim said Link's buy in AGN "caught my eye." Jim predicted T will be "distracted" this year by the TWX situation.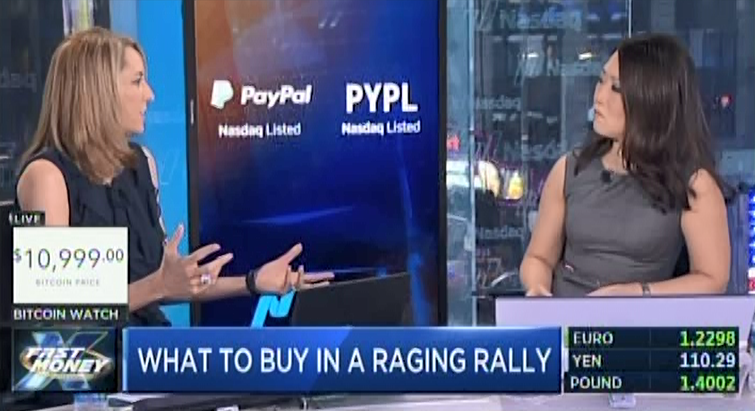 'Look out below for copper'
After speaking with DoubleLine's Jeffrey Sherman, Judge on Tuesday's Halftime curiously made an abrupt left turn to industrial stocks.

Stephanie Link said she owns EMR and SWK. Josh Brown said the 3 best charts in the space are FTV, ROK and SPXC. Joe Terranova suggested HON.

In the latter half-hour, Judge turned things over to David Faber for an interview with Lowell McAdam; Faber asked what VZ will do with tax-overhaul cash, and McAdam indicated they're spreading it out over a bunch of things and that employees will get some restricted stock.

It wasn't exactly the most exciting interview of all time.

Pete Najarian said the EEM April 51 calls got bought. He also said FXI March 53 calls were popular.

Bob Iaccino said copper is in "probably a short-lived selloff." Scott Nations contended, "It's look out below for copper."

Stephanie Link said she was buying FB "on the news" recently when it was "10, 15 points below where it is now." (This writer is long FB.)

Joe's final trade was VZ. Stephanie Link said AAPL. Jim Lebenthal said NKE. Josh Brown didn't mention the Barking Dog of the Last 3 Months, ALB. (This writer is long ALB.)

Karen Finerman on the 5 p.m. Fast Money gushed about how much safer the big tech stocks are vs. the big biotechs and said Alphabet is her biggest position.
[Monday, Jan. 22, 2018]
CNBC not interested in Rise Above campaign this time
In a thin episode of the Halftime Report on Monday occasionally interrupted by D.C. news, Judge said "the market seems unfazed" by all the shutdown activity.

Josh Brown said markets tend to be flat during shutdowns. Brown noted an all-time high in the XBI.

Brown said risk appetite is at "incredibly high levels."

He referred to the 87 level in the 14-month RSI in the S&P 500 and said Ari Wald says markets typically top a year after those RSI gains.

Joe Terranova cautioned about the "debt limit issue" if this gets pushed to mid-February and said the deadline for the debt limit "is a little bit uncomfortably close."

Judge and Jim Lebenthal said it's a "kick the can down the road" situation.

Ian Winer said fear of Democrats taking Congress "is going to be an issue as we get later in the year."

John Harwood at one point said, "I think the crisis is going to lift in the next few minutes, but it's not going to go away." Harwood predicted "well over 60 votes."

Harwood said Donald Trump "is very, very unpopular."

In another tiresome chapter in Judge's endless parlor game, Mike Santoli suggested rates aren't going as high as people think, but as for whether they hurt the stock market, "obviously it depends how high they go."

Judge delivered the signature cliché: "I think most would be fine with rates rising for the right reason."
Josh doesn't think Anthony Noto is nearly as important as Anthony DiClemente thinks he is
Judge on Monday's Halftime brought in Anthony DiClemente via phone to discuss rumblings of a key TWTR departure.

DiClemente said it would be "really difficult" for TWTR to replace someone of Anthony Noto's "caliber" and even said it'd be a "pretty terrible outcome" for TWTR investors.

DiClemente called Noto "an architect of Thursday Night Football."

Josh Brown questioned what kind of "track record" the stock has under Noto and asserted that the stock has actually rallied since Jack Dorsey came back. DiClemente said "cost controls" have improved EBITDA and can be credited to Noto, as well as "sustained improvement over key audience metrics."

Judge asked if TWTR has had a "punk move" in 3 months.
A show without GE
— or 'euphoria'
Waffling like l'eggo my egg'o on Monday's Halftime, Joe Terranova said to "get a coin" on NFLX earnings.

Jim Lebenthal said he thinks the stock goes higher on earnings.

Bernstein's buy on LOW was the Call of the Day. Jim Lebenthal said "there may still be room to run" because even though it's up 30% in 3 months, it's only up 50% over 3 years; he suggested that "you nibble a little bit."

Joe Terranova said he doesn't see a reason to sell LOW as long as there's momentum. But Ian Winer said he's not so sure it's a buy at 106. Josh Brown agreed with Winer and questioned buying at an 89 RSI while it's up 14% in 2 weeks. But Brown agreed with Joe that it's not a sell.

Pete Najarian, via satellite, said February 24 calls in HBI were getting bought. Pete also said someone's buying this Friday's January 60 calls in DAL.

Pete (who predicted a home game Super Bowl for the Vikings) said there was incredible activity on Dec. 20 in JUNO calls. We don't have any record of that coming up on the Halftime Report that day; Doc on Dec. 20 mentioned CBS, FCX and THC.

Judge brought in Kari Firestone via satellite. Firestone's apparently a Patriots fan. (Gee, isn't that exciting cheering for 5-yard passes all day.)

Firestone likes EA, which she said is trading at a discount, a 23 multiple vs. historic 28. Jim Lebenthal said it's not a "1-trick pony" because it's got Madden and FIFA as well as "Star Wars" something or other.

Joe Terranova called JNJ and ABBV strong names. Jim Lebenthal finds VZ interesting. Judge promised Lowell McAdam on Tuesday.

Ian Winer's final trade was AOBC. Josh Brown finally brought up ALB, a disaster for several months, stating he's still long. (This writer is long ALB.) Jim said MET. Joe said he's long MAR but will sell "a little."
[Friday, Jan. 19, 2018]
Could Dave Tepper save
the Pittsburgh Steelers?
In the wake of one of the most embarrassing playoff games in NFL history (for one of the 2 teams), Mike Florio at profootballtalk.nbcsports.com reported that "a small group" of limited partners of the Pittsburgh Steelers want to see a coaching change.

We don't know which of the limited partners are calling for change.

We do know that David Tepper is one of the limited partners.

And if he's not calling for a coaching change, he should be.

Mr. Dan Rooney ... God bless that gentleman ... one of the finest figures in sports as was his dad ... his dad didn't care about winning, but Dan did, and when Dan was given the reins of the franchise in the late 1960s, he looked up the top coaching candidate in the NFL, Chuck Noll, and convinced him that things were going to be different in Pittsburgh. Noll signed on, shored up the roster, ushered in a succession of some of the most staggering drafts in history with a great deal of credit to scout Bill Nunn, and produced perhaps, given the stature of pro football, the most spectacular glory in American sports.

Many years later, Dan realized that Noll's time had passed and made the difficult but necessary decision to nudge Null into retirement. The result was the hiring of Bill Cowher, quite possibly the greatest coach in NFL history (and even once a guest on Fast Money). (Seriously.)

Dan has passed on, and the franchise is helmed by his son, Art Rooney II, a modest gentleman and presumably capable businessman. Unfortunately, he is presiding over a disaster, a God-awful team that embarrasses itself virtually every week, the phoniest 13-3 in NFL history.

At the ground level, which means the product on the field, the Steelers are one of the worst-run outfits in the league. There are talented athletes here for sure, but some of them often don't seem that interested in playing, and some would never be welcome on a Noll or Cowher or Belichick roster.

It would take way too long to list all the problems. (Cutting a legend, still one of the team's best players, so he can join the New England Patriots at the end of the season has to be near the top of the list.) Laughably, replacing the offensive coordinator with the quarterbacks coach only adds to them.

We know the coaches try. We don't know honestly why it's so bad. But it is. This team doesn't know what it's doing.

Here's why that all matters now. The greatest gift in sports is an elite NFL quarterback, one of those half-dozen individuals in the entire world who are difference-makers in the NFL Playoffs. Most franchises go decades without one. When you don't have one, you can generally forget about the Super Bowl. When you do have one, you have to maximize every moment you've got with him.

The Steelers still have one. He is going to be 36 entering next season. He has a bizarre moodiness that is sometimes part of the team's problem. He's also one of the greatest competitors in NFL history. As long as he's standing, they've got a chance.

Once he's gone, don't expect the team to find the next Aaron Rodgers. It'll probably be more like the next Tommy Maddox.

The team doesn't need the next Don Shula. It only needs a fresh start with a credible boss who can hang it up after a couple years. We've got a few names, if anyone needs some names.

It's one thing if a fan feels emotionally brutalized by this monstrosity. It's another to be a paying stakeholder.

Someone please tell Mr. Rooney.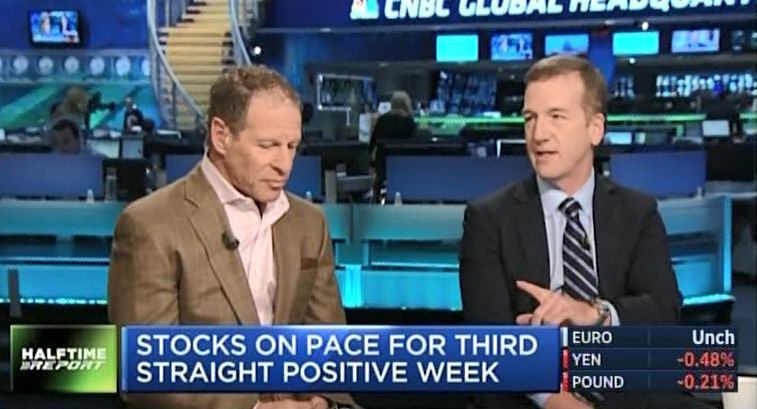 Mike Wilson has heard the chatter from all 4 million clients (apparently) (while Tom Lee makes a 2029 market call)
Judge started off Friday's Halftime with Mike Wilson, telling Wilson, "You're throwin' around the euphoria word."

That proved to be a curious and elusive term.

Judge questioned why we're not in "reality" rather than "euphoria." Wilson curiously faulted the "quality" of earnings growth.

"There's no doubt that the quality of the earnings growth we're gonna get this year is lower than it was the last 2 years," Wilson said.

Really? "No doubt?" And what does that actually mean?

Steve Weiss asked Wilson for his "indicators" of "euphoria." Wilson said, "I got a list of 'em."

Wilson said his top 5 indicators include "AAII bull-bear spread." Weiss questioned if that's "relevant." Wilson said it is, for sentiment.

Wilson also said he's got 16,000 advisors, and 4 million clients, and, "Yeah, the chatter is pretty euphoric, I mean people are really reaching now for that, for that kind of activity."

People are "reaching" for euphoric "activity."

Wilson also declared that volatility is starting to pick up this week; "the VIX is quietly kind of creeping up."

Then he said, "You can't hold as much risk if volatility goes up."

Weiss quibbled with Wilson over exposure, with Weiss finally stating, "Just because you moved higher in your exposure, right, doesn't mean you're at euphoria yet."

"It's all subjective, I agree with you Steve," Wilson said.

Jim Lebenthal said that if this is euphoria, "We're early in euphoria. And you know what, you're supposed to enjoy that. As soon as it starts, you don't just head for the exits," an undeniably accurate point.

Judge asked, "Can you truly be in euphoria with a 10-year at 2.63?"

Wilson also curiously said he's got 2 targets.

One of them is a 2,750 "base-case, year-end" target. He's also got a 3,000 "bull case" and thinks "we think we could actually hit that in the first half."

So it sounds like, if stocks go up, "I was saying 3,000 all along," and if they don't, "I had 2,750 all the way."

"This is not a better risk/reward than last year ... because this is the end of the cycle," Wilson said.

Tom Lee was also on the panel, quietly. Lee, who's got a 3,025 target, said, "I think that it's important for investors to think long term" and cautioned against "misallocation of capital."

Most importantly, Lee told Judge we're in something like the 4th or 5th inning of the bull market; he thinks it's "more like 2029 is the peak of this equity market cycle."

Wilson said he agrees with that from a "secular bull case" but not from a "cyclical bull case."

Josh Brown asked for the "right answer" about stock and bond allocations. Tom Lee pointed to negative interest rates in some bonds, "Even in equities, you can buy things that have better yields than bonds anyways."

Wilson said, "I think that stocks are gonna beat bonds handily, particularly on a real basis, over the next 7-10 years."

Brown countered, "There are no 10-year periods historically where you've had a cyclically adjusted P.E. ratio anywhere near where it is, and stocks have done better than bonds. None."

Oddly enough, Weiss seemed to agree with Wilson's timing even if not the term euphoria. Weiss told Wilson that "people see ... a finite end to this next move in the market, generally picking, like you are, and like I agree with, the 2nd quarter of the year is when you know the music really stops."

The more Wilson talked, the more curious his market call sounded.

"This is a secular bull market, OK," Wilson said. "And this is the first half of the secular bull market. You're not gonna get 1998-99 euphoria in the first half of the bull market. That comes later. Maybe many years from now."

So apparently we're having a little euphoria, but not the really big euphoria. That may be years away.

"The QE era is over," Wilson continued, and we'd like to get that in writing. "OK. And the QE era favored large-cap companies. And, over-regulation, OK, favored large-cap companies," Wilson said, predicting operating leverage in small caps will "shine through this year more than large caps."

Josh Brown noted "dramatic moves" in utilities and real estate yield plays. Wilson spoke of how he made the shift at the beginning of the year from U.S. to international stocks and "sold the rest of our high yield." (See, he's never made a wrong move.)

Wilson asserted, "We think the credit markets ... have much worse risk/reward than stocks here." He argued, "Rates are going up in the short term ... but at some point in the back half of the year, rates are likely to come down again."

Judge also asked Wilson if the market would sell off 5% in a shutdown. Wilson said "it could get there because things are so extended."

So let's see if we've got this straight ... we're in "euphoria," and that will continue up to July, except volatility is picking up, and you can't "hold as much risk" if volatility is rising, even, apparently, if we're in "euphoria" ... and then there may be a shutdown, in which "euphoria" would take a 5% haircut before re-establishing itself. Then starting in July, rates and stocks will both fall. But the big "euphoria" is still to come, perhaps years away.

Jim Lebenthal argued that CSCO and INTC are among "plenty of stocks" that are "well below the market multiple." (This writer is long INTC.) Weiss said those names are "always below the market-." Jim said, "Not by a 20% discount."

Josh Brown said, "You think a low multiple is gonna protect investors if we go to the other side of euphoria?" Jim said, "We're not anywhere near the other side of euphoria."

Weiss said he would "love to see" a 5% correction.
Weiss: Flannery is no more qualified to run GE than I am
Judge on Friday's Halftime noted GE, everyone's favorite disaster stock, fell to 16.02 before bouncing.

"Why would you wanna own it," said Steve Weiss. "I think you just avoid it, and you come back to it maybe in 6 months when it's closer to 10 or 12."

Judge re-aired Bill Nygren's GE comments from a day ago. "In what universe should this company be at a market multiple," Weiss asked.

Josh Brown questioned buying a falling knife such as GE "in a market where 9 out of 10 stocks are going up."

Jim Lebenthal made it unanimous, stating, "There is clearly more bad news coming," adding, "The day when bad news comes out and the stock rallies, that's when you buy it."

Josh Brown suggested maybe you could buy "the day Warren Buffett makes a loan to them for preferred stock."

Weiss said Flannery's been there "22 years or so ... and apparently he's surprised about what he saw. ... He shouldn't be running this company any more than I should."

Important note: We like to dump on this stock, too, because it's kinda fun, but we're not taking any pleasure in anyone taking losses on this stock or any other; we've had our share of bungles, and they're never any fun.
Weiss: KSS, TGT are 'euphoria'
Judge on Friday's Halftime noted KSS got a $100 target (snicker) from Jefferies.

Steve Weiss said "he had to go out to 2020," the "he" meaning the analyst, but Weiss said the call is "reasonable" even though Weiss is "skeptical."

Jim Lebenthal said the problem is, "We know there are store closings coming this year."

Josh Brown said KSS is up 100% in 6 weeks and has an RSI of 84.

Tom Lee said Chuck Grom thinks KSS will "maybe partner with a grocery company" (snicker).

Weiss said KSS and TGT are "just so extended. That's euphoria right now."

Brown asked Weiss, "Did you buy that coat at Kohl's." Weiss said "No, I don't think Kohl's sells real (something unintelligible)."

We thought it's a great jacket.
Judge says ADT's IPO is 'touché' to the euphorians
Seema Mody on Friday's Halftime explained ADT's IPO slide.

Judge said, "That's a bit of a disaster," which seems a bit of an overstatement.

Stephen Weiss said the company was "challenged" before it was taken private, and it was a "pretty quick turnaround for the IPO." Judge told Mike Wilson, "Touché to your euphoria."

Eamon Javers reported that Chuck Schumer would visit the White House on Friday.

Pete Najarian, via satellite, said February 22.50 calls in DSW were getting bought.

Pete said FCX February 22 calls were getting bought, "all in one print."

Josh Brown said to stay long SQ.

Mike Wilson said AXP's spending is "really good for the long-term growth but probably not so great this year."

Jim Lebenthal said to stick with NKE and avoid the "value trap" of FL.

Weiss explained why Jefferies initiated WYNN at "buy."

Pete said he likes IBM and will sell calls against it next week. Jim said he agrees; "margins are fixable."

Pete said "it's gonna be fun" watching the Vikings play in Philly this Sunday.

Jim predicted INTC will "move to new highs" after earnings next week.

Weiss said he'd love to see NFLX miss on sub growth, which would be "the time to buy."

Weiss said "CAT would be in my top 5 of indications of euphoria ... the stock should not be where it is."
[Thursday, Jan. 18, 2018]
Judge's next interview with Ross Levinsohn is probably ... at least a few years away
Back on Aug. 22, former CNBC contributor and newly installed Los Angeles Times publisher Ross Levinsohn spoke to Judge on the Halftime Report with starry-eyed visions of reporting in video or "shorts" and thinking about California "culture" and turning 2 times EBITDA into 10 times EBITDA.

Nowhere did we hear an emphasis on "damage control."

Less than 6 months into these endeavors, Levinsohn is already under investigation by his parent company after an NPR report about his alleged "frat-boy" behavior in previous work environments.

One thing we sorta realized in August is that Levinsohn — who has been an eloquent CNBC guest and appears to be a talented person, though that has no bearing on the current issues — seems to have worked for gobs of media companies. The biography that remains posted at latimes.com dubs him a digital media "pioneer," but it seems as though "stopgap" might be a more relevant term.

We're guessing we probably won't see Ross on CNBC for a while.
Panel unanimous in not understanding why Bill Nygren continues to own GE
Bill Nygren, whose GE bull call last year was obviously a bungle, impressively owned up to it on Thursday's Halftime, telling Judge, "It was clearly a swing and a miss."

Unfortunately, it sounded a bit like Bill's still in denial.

He said "typically" he'd sell that kind of disaster, but the company has had "tremendous change in people," and the problems are "largely contained in the power division."

"We like the new people," Nygren said (which is curious because Flannery is sort of a GE lifer), asserting the assets should get high multiples in sales.

Judge asked Bill if he's buying more GE on the dip. Bill curiously said, "We've been buying and selling ... we are rotating through adding shares, subtracting shares." Finally, he said, he has "more shares, smaller percent of the portfolio."

Nygren said he puts a higher multiple on GE's jet and health care businesses than others (probably Stephen Tusa) do.

On other stocks, Nygren said he exited MSFT because he sees "better long-term opportunities." He mentioned AAL and CVS and PCLN as new buys.

Judge told the panel that "Bill has a great track record" and was "very contrite" about getting GE wrong.

Kevin O'Leary said that a year ago, the company was guiding to about $1.97. "And then, I don't know how this happened, but all of a sudden within a matter of 6 months, it was a dollar gone. Evaporated. ... How is it that they don't have a class-action suit on that dollar that evaporated. And Bill made a point that there's been a lot of change in management. I don't think so. The new guy came out of the business. He was part of that board. ... I think the stock is worth 13 bucks."

Stephen Weiss bluntly stated, "I think the stock's more of a short. I wouldn't buy here. I agree they should've brought new blood in. Flannery was complicit in the decline of this company."

Judge hailed Jim Cramer for "carrying the flag for shareholders" of GE. Weiss chipped in another observation, that "health care grew organically 4%," which isn't huge, and noted Nygren's claim of high multiples. "When you're a fire-sale seller, how do you get more for your assets?" Weiss wondered.

Jon Najarian stated, "I'm not second-guessing Nygren. Brilliant guy. But I am saying that I like Microsoft a hundred times over General Electric. Not- a hundred out of a hundred times, I'll take Microsoft and jettison, which I made a bad buy on, I bought J- GE at 20.50. Um, you know, luckily got out with most of my backside intact at 18 bucks a share. Um, it's, it's a horrible slide in that company."

Pete Najarian said there's more competition for GE in aviation "than Nygren actually is thinking there is."

Judge said, "If it goes from here down to 13, I know you guys are gonna tell me, 'Don't do it.'"

Pete said it depends on whether the company has "done something."

Regarding other Nygren picks, Doc said people don't focus on PCLN being a lender.
Still wondering why CNBC isn't doing a 'Rise Above' campaign this time
Steve Liesman on Thursday's Halftime predicted this market is "not gonna be spooked" by rate hikes.

Mike Santoli said "sentiment is very stretched" but said "all the news is good."

Pete Najarian said the week's volatility is "significant" and "huge."

But Judge noted the VIX was hardly moving.

Jon Najarian said there's been a "binary bet" on whether there's a shutdown.

But Steve Weiss said generally the market trades down an average of 0.6% during shutdowns; "that's nothing to worry about."

Kevin O'Leary said of the recent roller-coaster ride and climbing VIX, "I think this is great." But Doc said if the government kicks the can to February, "Then watch how fast this goes right back to 10."

Weiss said "rates have typically ended rallies when they've risen quickly." But, he said, "Real rates are still ridiculously low."

Everyone kind of agreed that tax reform isn't fully priced in yet.

Judge actually said "buyback" is "like a dirty word around here."

In a couple of admittedly good laughs, Doc called Steve Liesman "ratings gold." Partly related, Weiss said, "The makeup room ran out of makeup when I got there after these 4 guys."
Whew — no one told to 'Piss off'
Brian Stutland on Thursday's Halftime said bitcoin has had "significant selloffs" over the last 3 years from mid-December to mid-January.

Anthony Grisanti said, "I would sell any rallies."

Meanwhile, every quarter, Doc reports heavy call-buying in SNAP; this time it's the February 15s. Judge said, "This sounds like a dice roll, Doc." Doc said it's a "really cheap shot."

Doc said April 25 calls in ON were getting bought.

Pete Najarian said July 210 calls in AAPL had "pretty big buying."

Pete said March 105 LOW calls were popular.

Kevin O'Leary said IBM's business may be "more of the same." Pete said he's been long "for a little while" and he sells IBM calls "almost every month."

Pete said he prefers TGT to WMT. Kevin O'Leary said TGT has got "really smart young people" and is going to do "amazing things online."

Steve Weiss' final trade was to sell WDC. Doc said MSFT. Pete said AAL. Judge mistakenly referred to Pete's voice as "Bobby Brady" before being corrected that it's "Peter Brady."
[Wednesday, Jan. 17, 2018]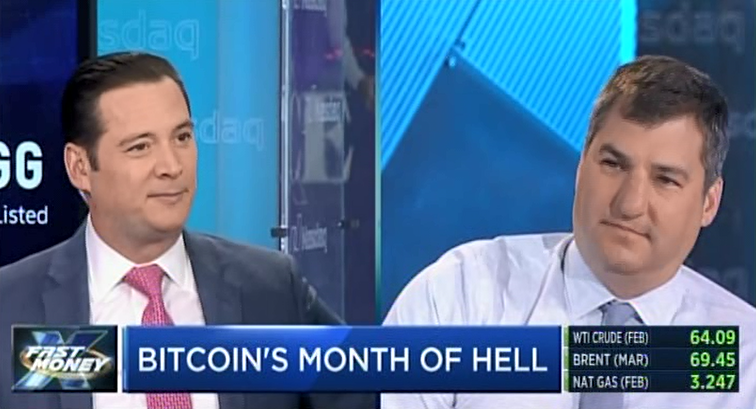 Dan Nathan tells Rich Ross
to 'piss off, seriously'
Wednesday's 5 p.m. Fast Money apparently produced a spontaneous personal argument between chart expert Rich Ross and options watcher Dan Nathan.

Ross had delivered a presentation on bitcoin and ethereum technical levels; frankly we didn't really know what he was trying to say.

Ross then took a seat at the desk. This is somehow a daily highlight for this program, cheering the guest walking over from a TV screen to the desk (that's when they're not taking the 5-minute break at the 24-minute mark) ... except maybe things aren't as chummy between panelists and guests as they might typically have you believe.

Ross took up Melissa Lee's question about "weak hands" and said he likes stocks a whole lot more than cryptocurrency, a much more concise point than what he was trying to say with the telestrator.

Nathan called Ross "Chris" (then corrected himself) and argued that a lot of "smart people" think cryptocurrency is the next big thing.

"I just think it's a little glib to come on here and say, you know, say things like-" Nathan said.

The "g" word didn't go over well with Ross. "You guys like it when we fight, so let's fight for a little bit," Ross said, asserting, "Smart people can go broke too."

"But the charts are gonna save 'em, right. The charts are gonna save 'em?" Nathan said.

"What's gonna save 'em," Ross said. "You've been bearish for 2 years, and the stock market's gone up 100%. So where are you? You're not helping people make money. I mean, let's call it what it is. You haven't liked Trump, the market's soared, and the politics aside, you've been wrong, so don't say that I'm glib. It's right or wrong. It's not about glib or serious."

Guy Adami tried to cut in on behalf of Nathan, "Well now that's, that's not true ... I think Dan's done a good-"

Nathan told Adami and viewers, "We're good. We got, we got, you know, we got the chartist here, he's got his stick, and it's, and it's fantastic, pal." Then tone suddenly changing before Ross could respond, Nathan bellowed, "Don't come on here and tell me I haven't made- you don't know what I've done, you don't know what my, my call is, OK, so go piss off, seriously."

"OK. Well tell me, what's the call now?" Ross demanded.

"Dude. Seriously," was Nathan's call.

"OK. A tough moment here on Fast Money," Ross concluded.

Then someone — guess who — announced, "We're gonna leave it there." (As opposed to "gotta.")

Had there been any reason for this particular discussion other than to talk about bitcoin as much as possible, we might've gotten all jazzed about it.

But there wasn't.
Joe suggests stock market is going from Tim Wakefield to Aroldis Chapman
Assessing the 2018 stock market, Joe Terranova on Wednesday's Halftime invoked a curious baseball analogy.

Joe said that investors last year were "stepping to the plate in 2017 and using what's relatively a light bat against a 75 mph pitcher. OK, now the 95 mph pitcher is there. And you're going to use a lighter bat in 2018."

Jim Lebenthal stressed that individual stocks will continue to be "far more volatile" than the broad averages.

Jon Najarian opted to revisit his comment a day earlier (when Jim wasn't on the show) about how Jim was talking about how the market could fall in January (even though others talked about it just as often, see below).

Wednesday at Post 9, Doc addressed Jim and said, "Yesterday Jim I was talking about you on the show. Not in a bad way."

"It may have been bad, but he turned it good," Judge said.

Doc attempted to clarify (or "amplify" as Senator Geary says in Part II), explaining that "smart men ... and women" were "pointing out things that might happen in the new year." (Lessee ... stocks could go up ... stocks could go down ... stocks could be flat ... such wise commentary ...)

Sarat Sethi told Judge the Tuesday pullback is already a "distant memory."

Dan Nathan on the 5 p.m. Bitcoin Money said he saw "a lot of panic buying" on Wednesday.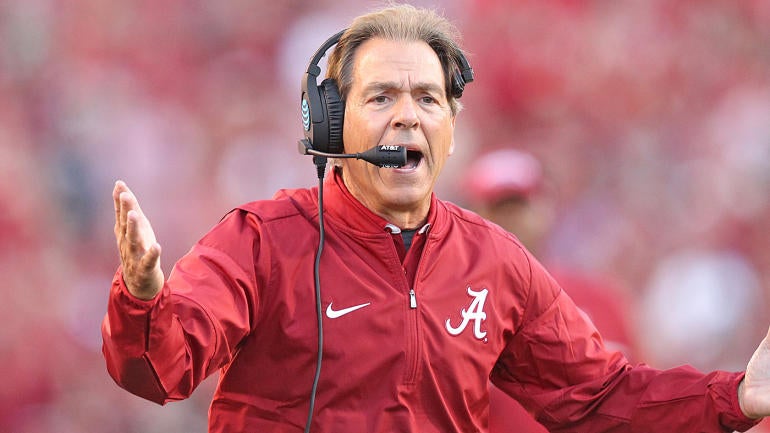 Doc suggests Goldman Sachs traders need a pep talk
Uncorking sports analogies right and left, Joe Terranova on Wednesday's Halftime said GS' performance in commodity trading is equivalent to "the New England Patriots going 2-14 next season."

"I don't understand what's wrong, because Morgan Stanley was fine," Joe said.

Jon Najarian was equally perplexed and called for some cage-rattling. "You'd like to have a guy like Nick Saban go after these guys," Doc suggested, before questioning, "How did you guys screw this up so bad?"

Doc even suggested "Lloyd needs to get down there on the trading floor ... to get these men and women's heads right."

Joe opined, "I do think they miss Gary Cohn."

Meanwhile, Judge said Bank of America upgraded AAPL to 220 while Longbow downgraded it to neutral. Jim said they have "identical estimates" for this year's earnings, so the question is the multiple. Jim said he doesn't think 15 1/2 is too much.

Joe said he doesn't see why anyone would sell AAPL here.

Jim said he'd like to add to his IBM half-position and is looking for confirmation from this week's report, declaring that if the revenues are growing again, this stock "is going to be heroic."

Jon Najarian said the Barclays analyst made a "really brave call" to upgrade IBM because he/she raised the target by 59 bucks.

Joe mentioned SAP and CRM and suggested ADBE too. He suggested IBM at 190 would put AAPL at 210, 215.

Judge said Stephen Tusa "maintains his, his sell" on GE with a 16 target. Joe reiterated seeing opportunity in UNM and CNO in GE's slump.
Jim buys ROKU
Jim Lebenthal on Wednesday's Halftime said his new buy is ROKU, "not a typical value stock," but he likes it for recurring services revenue.

Judge said it's down 21% in a month and suggested it "could be a little dangerous" getting into it ahead of the lockup. (Actually SNAP recovered nicely after the lockup occurred.)

Scott Nations said stock investors shouldn't "pooh-pooh" the idea of bitcoin contagion to stocks. Anthony Grisanti said he'd be a seller of bitcoin and even hung an 8,000 on it.

Pete Najarian likes the MRK SunTrust upgrade, stressing the pipeline. Jim said he likes PFE; Pete said he likes both. Pete predicted "more and more" in the pharma M&A space. Judge said MRK made "kind of a lame move for an upgrade." Jon Najarian explained that it made the move a day earlier.

Doc said MRO July 20 calls were getting bought. Doc said the EFA (for developed markets) February 75 calls were getting scooped up. Doc said HAWK got taken out at 45 while he reported Jan. 4 the calls getting scooped up at 35.

Pete Najarian said February 7 calls in AKS were getting bought on top of others previously bought.

Judge said special guest Sarat Sethi's fund made 26% last year, outpacing the S&P.

Sarat said FRC has been oversold. He also touted CELG as an opportunity. He even mentioned Hudson's Bay (which trades in Canada).

Sarat also touted DAL, and he thinks "there's more room to run" in UAL.

Pete's final trade was UPS. Doc said CORT. Jim Lebenthal said INTC though he admitted that when it comes to the chip flaw problem, "I don't know if they fixed it or not." (This writer is long INTC.) Joe said TXN and lamented selling it at 81.
[Tuesday, Jan. 16, 2018]
Unfortunately for GE, Rex Tillerson is not available to buy stuff for XOM
David Faber, at Post 9, spoke on Tuesday's Halftime about his report on a possible GE breakup.

Judge said it "almost feels" like Flannery (in his highly scripted news release) was "buryin' the lede." (Except CEOs will try to "bury the lede" on purpose, whereas when reporters do it, it's a bungle.)

Faber agreed he had to go "deep into the transcript" to dig up the big news.

Judge hailed a conversation "2 weeks ago today" with Jim Cramer in the morning when Cramer "so smartly as usual" said it's still not time to get in the stock. Actually, it closed that day at 17.98 and has exceeded 19 since, so it was a great call for anyone who doesn't like quick 5% returns.

Joe Terranova noted UNM and CNO were both selling off with GE; "today's pullback is an opportunity for both."

Stephanie Link complained that GE not only has power-unit problems but "tax dyssynergies" (if that's the right way to spell it).

Judge said people are "waiting for Stephen Tusa, um, to come out and say it's OK to buy."

"His sum of the parts is 15," Steph said.
Everyone seems to have an opinion on euphoria even though no one can really describe what it is
On Tuesday's Halftime Report, Jon Najarian hung Jim Lebenthal (who wasn't on the show) out to dry, stating Jim's a great guy and all, but, "Jim Lebenthal right here was saying, 'Well you know, we could see a lot of folks coming into the new year selling,' and so forth."

Actually, we don't know who was most fixated on that idea, but Josh Brown and Joe Terranova were heard to suggest in December that people were talking about this.

Regardless, Joe said Tuesday, "Stay long. Don't buy more here. I think that's the message."

Judge said, "People are throwin' out the 'euphoria' word."

Joe asserted, "The market clearly has gone parabolic." He said you can "buy in" to the momentum or "sit back" and stay long.

Joe noted, "The VIX is up 11% today."

Josh Brown admitted that some of his assessment of euphoria in the market is "anecdotal." He said BA put in a "textbook topping candle" and that it's a chart people are paying attention to.

Doc said "euphoria" usually occurs when volume spikes to 150% or 200% of daily averages. Stephanie Link protested to Josh that earnings are good and "maybe you get a pullback," but then you can buy the ones posting good numbers.

Despite that, "We are now at the highest, uh, at the highest level vs. the 10-month moving average in the S&P than we've at- been at in 5 years," Brown said.

Doc said, "There are some people a little worried" but that an 11 VIX is "cheap."

Stephanie Link pointed to UNH as an example that earnings are coming up big.

Joe cautioned against a "tip" in the balance of world currency too far in one direction.

Josh Brown said "this tendency that we all have as human beings" to overrate recent performance and forget things that happened in the past.

Judge said there hasn't been a "full capitulation" of bond bulls.

Josh Brown said people have been "freaking out" about a bond meltdown for "most of the last 8 years."

Mike Santoli was brought in and noted the market was in "overshoot" for a long time, from 1997 to 2000, but "those gains didn't survive the next bear market."

Judge noted that stocks went up for 3 1/2 years after Greenspan's "irrational exuberance."

"It would take nothing at all to spark some kind of a pullback," Santoli asserted.

Judge promised Grandpa Mike Wilson (he didn't say "Grandpa") later in the week. (Funny how often he's on these programs.)

Steve Grasso warned on the 5 p.m. Bitcoin Money that the market could sink if Steve Bannon starts talking.
Wonder if any Nobelists will sign on to Jana/CALSTRS' iPhone initiative headed by prof who detects a 'psychic tax'
Dom Chu on Tuesday's Halftime noted Greenlight was shorting CAT, AMZN and NFLX in its "bubble basket" (snicker).

Jon Najarian said February 47 calls in TER were hoppin'.

Nili Gilbert said the S&P 500 has had a positive total return for 14 straight months, a first.

Gilbert actually spoke about Nobel winners' analysis of "herd behavior." She also mentioned "recency," which Josh Brown had curiously mentioned previously in the program. (So if there really is a "recency" bias, how come so many people come on this program and talk about A) 1999 B) 2007 and C) The first 2 weeks of January 2016 and D) 1987 rather than the last 2 quarters?)

Joe Terranova's final trade was MCK. Stephanie Link said AGN. Doc said GPK. Josh Brown said "calm down."
Evidently the CEO-of-2-companies thing actually works
Judge on Tuesday's Halftime Report noted David Einhorn's "small position" in TWTR and suggested Einhorn thinks "the tide seems to have turned here."

Josh Brown said he hopes that's the case and thinks the company needs to break the cycle of a good report followed by a bomb.

Joe Terranova said TWTR is a "momentum trade" in the hands of "quantitative players" but called Tuesday's price action "disappointing."

Jon Najarian faulted the upgrade from Aegis Capital, stating, "the guy went from sell to buy," meaning he was "dead wrong."

Judge said "some are also suggesting" a boost for TWTR from the new FB policy (snicker). (This writer is long FB.) Stephanie Link said that's "apples and oranges" because "Facebook has announced this kind of thing 3 different times."
Cabbage Patch Kids slide
Scott Nations on Tuesday's Halftime Report noted bitcoin was down 18%.

Nations asserted that "bitcoin has no inherent value," so the bull case is that it's "extranational," but "if that's not the case, I don't see any value at all in it."

Jim Iuorio said as long as bitcoin is below 12,200, "it looks weak."

More from Tuesday's Halftime later.
[Friday, Jan. 12, 2018]
Tom Hanks, 61, should retire
Steven Spielberg has never made a great film. There have been some good ones (most recent was 1993); the rest maintain an emperor-has-no-clothes quality undetected by the masses who see 1 or 2 films a year and tend to seek him out for reliable ... something or other.

The latest is "The Post," which is supposed to be a late-in-life coming-of-age story of a woman asserting (according to this film's depiction) wishy-washy control of a business enterprise by determining which male's advice is most important.

It could conceivably work as a tribute to newspaper reporting (a valid goal), if not for the as-expected ghastly spree of Spielberg-trademark jokes and self-deprecating humor expressed by his A-list stars who have zero edge. It's the same old glossy photography from Janusz Kaminski, who in a few places jerks around a hand-held camera to give you that sense of that pressure and uncertainty. Nearly all the scenes look like the one above, as Hollywood is unfortunately fascinated with soft gray tones and window glare (including in "All the Money in the World," an entertaining film shot by someone else).

The script pretends to find drama in an IPO pricing at $24.50 instead of $27 because of "soft" demand (the term "roadshow" is even heard; not sure if that was common in 1971) and stacks and stacks of sheets of paper that have already been disseminated by another media entity. Oh, and there's everyone's beloved Washington dinner parties, all these cool people talking about ... maybe something mildly fascinating. (Or maybe not.) (Remember when Larry Kudlow attended the Obama meal at George Will's house?)

No scene is more saccharine than the sight of an anti-Vietnam War protest that looks like it was put together by Better Homes & Gardens.

Tom Hanks is hideous as Ben Bradlee. He has nothing to do in this picture. He should've hung it up after "The Terminal" (yep, that's Steven Spielberg), a candidate for the century's worst. Instead, he's like Steve Carlton making a go of it with the Minnesota Twins. Meryl Streep surely doesn't need the money either.

Spielberg is hailed by those who frankly haven't seen many other movies and don't want to be aware of what else is out there. The greats don't have to be obscure. Do yourself a favor and try "All the President's Men" instead.
Remember when Barack Obama in January 2009 decried Wall Street bonuses, then in March 2009 mentioned AIG bonuses, then didn't seem to care anymore?
Mike Mayo joined the set of Friday's Halftime, gimmick in hand as usual, to argue it's "Act 2 for the banks" after 25 years of Act 1 (though we're not sure what occurred before that).

Judge told Mayo, "I'm gonna start callin' you Marty from now on. As in Scorsese."

Mayo said the tax overhaul is "great for the banking industry." And now isn't that interesting.

About 9 years ago, nothing was more hated than the bank industry. Wrecked the economy. Greed. Jail (or not). The president of the United States faulted the sector for its compensation format.

Now, the government is doing things that are "great for the banking industry." (So much for outrage.)

Judge asked Mayo why Citi is underperforming. Mayo said it's "half-U.S.," so there's less of a tax benefit, and there's "some issues with their credit-card portfolio."

In the day's most provocative discussion of what we have to admit was a robust, excellent show, Josh Brown asked Mayo, what if AMZN and FB decide to enter the banking business.

Mayo answered, "There's absolutely a long-term fintech thread to the banking and financial industry," which is Mike's way of suggesting that Brian Moynihan is as Internet savvy as Jeff Bezos.

Brown asked if banks should be reinvesting "in the future of payments" and lending rather than paying big dividends and doing large buybacks. Mayo responded with a question. "Who are some of the biggest fintech players? The largest banks."

Steve Weiss jumped in on Brown's side, stating "that doesn't eradicate the threat" because of the "name value" of AMZN and FB if they chose to enter financial services.

Nevertheless, Weiss said he doesn't think it happens with Amazon because "the regulatory scrutiny that it would bring to these companies would be just mind-boggling."

See, that's where Weiss and this program are once again underestimating the FANGs ... These companies are quite possibly the most popular American corporations that have ever existed. Politicians do not want to mess with them. These are not Microsoft of 1999. They can do practically ... whatever they want.
1,000% wrong: Weiss is just about to make the most important comment of the show, then is cut off
Uh oh.

Someone on Friday's Halftime Report not named Weiss had the audacity to identify David Tepper's strategy.

Judge had noted how several prominent investors recently had endorsed this market.

Josh Brown seemed to question the relevance of those calls, stating, "David Tepper's strategy is not, um, to be, to be out of the market, um, even in a downturn."

"Hold on, hold on, hold on," Steve Weiss cut in. "You're a thousand percent wrong on David Tepper. You are a thousand percent wrong on David Tepper. I'm intimately familiar with his strategy. Dave could be net short the market," Weiss said.

Wow.

1,000%.

That's really, really being wrong.

Brown persisted, "Warren Buffett has over a hundred billion of cash. It's the biggest stockpile he's ever had. Is that a raging bull."

"But Warren Buffett has come out and said when the market's overvalued," Weiss said, apparently implying that Buffett indeed is not shy about calling markets overvalued when the urge strikes.

A moment later, Weiss was about to deliver what would've been the most important revelation of the program: "I spoke to Dave last night, he says this goes for another ..."

But he was talked over/cut off, and after multiple listens, we still don't know what goes after "another."

"Another" WHAT???

Meanwhile, Erin Browne opined, "Firstly (sic), I think that the Fed is not gonna respond to a level on the S&P 500 (snicker). ... It has nothing to do with the level of the S&P 500."

Judge asked Browne if she would put "fresh money" in the market. Yes, said Browne; "we were long, we're getting longer."

"I'm not selling anything until I see that turn," said Jim Lebenthal.

Weiss actually brought up Howard Marks (snicker).
Literally, they don't, but he's got a point
Judge opened Friday's Halftime mentioning "new records" (sic first of those 2 words redundant).

Steve Weiss said the market is "incredible" but "a little scary."

But Weiss said it's "OK" to buy on Friday. He said he added to DAL and even "bought back United" (which he recently called the worst-run consumer company he's ever seen) because of the "momentum" in transports being "so strong."

Weiss said he also bought KBR, and he "tried to buy" EME, "but the volume's so light."

Josh Brown suggested considering the RSI when looking over stock charts and cautioned about buying those over 70. Brown said the RSI of the S&P 500 is "over 80."

"Historically, from a shorter-term basis, you are not rewarded for buying 80 relative strengths in these names," Brown said.

Jim Lebenthal suggested there's attractive pricing in the "chip sector" and cyclicals including GBX.

Jim suggested no rate worries until we get to 3-plus. Brown said it's not good to focus on a number, but "it's the conditions that surround whatever number."

Judge asked, "What is euphoria gonna look like?"

Jim said, "A parabolic move," contending, "This is not a parabolic move."

"With all due respect, yes it is," Brown said. "Yes it is. Geometrically, it's parabolic."

"You're looking at a linear scale, not a logarithimic scale," Jim explained.

"Literally, charts look like the Em- charts look like the Empire State Building right now," Brown said.

Actually, they don't, but whatever.

Erin Browne asserted that "the retail community's been behind the curve, missed this rally." She added, "I'll be convinced that we're at peak euphoria when the retail community is involved in this (and) invested in this market."

Josh Brown said the AAII survey this week is "at a level we have not seen in a decade."

Weiss called that a "useless survey," explaining, "It's such a small sampling of investors who don't even invest," namely retirees.

Weiss said the P.E. on the S&P 500 is "nowhere near euphoric levels" and said "you can make the argument that the market hasn't caught up with the economic conditions globally."
Judge hears 2 humdrum non-opinions on FB but can't reveal his sources
Anthony DiClemente on Friday's Halftime Report took up the new Facebook news-feed approach and said when FB has a dip, "it's typically a good time to buy the stock." (This writer is long FB.)

DiClemente said "the real loser here are publishers, so public pages."

Ross Gerber said FB's move is "great news" and that Facebook is being "very smart" because we want "social media, not fighting media."

Apparently seeking more drama from his guests, Judge said he's "trying to figure out how this is not a game-changer" for FB because "the top line is definitely gonna take a hit."

DiClemente said "the impact to revenue is unclear" but that the ROI for marketers placing paid ads "is still quite high." DiClemente suggested users will like the changes; "I mean, look, Facebook's become annoying to a lot of people."

Gerber said, for no real reason, "I heard a rumor Sheryl Sandberg was bragging the other day that she thinks Facebook's gonna be bigger than Apple."

Judge told the panel "this is a pretty good debate" because he "talked to a couple of very big names in the world of technology, um, neither of whom I can say who they were, however, their views are, are opposite."

Jim Lebenthal said, "This in my opinion is great leadership." (He was referring to Mark Zuckerberg, not Judge.)

Steve Weiss said, "Here's how I look at it, they've got a quarter coming up. ... If I'm Zuckerberg, I'm gonna come out with this announcement that's gonna be controversial, perceived as negative obviously by the market, and I'm gonna blow away expectations when I report the quarter ... He doesn't want to dilute the good will that'll come out of the quarter ... otherwise why not hold it for 2 weeks."

Josh Brown said, "We're talkin' about the wrong stock. ... Twitter is the stock right now." Indeed, Gerber said, "This is great news for Twitter" (snicker).

Elsewhere, DiClemente has a 1,350 target on AMZN. "The voice search business, as driven by Alexa home assistants, I think is gonna be much bigger than people are, are expecting," he told Judge.
Judge gives Jim a hard time about JCP, never brings up great call in WGO
Taking up those parabolic/not parabolic charts in the retail sector on Friday's Halftime, Stephen Weiss declared, "I don't think it can last."

Josh Brown said he agrees and noted retail pays the highest tax rate of any sector and there's been "pitch-black sentiment," so the bounce makes sense, but "none of the real challenges ... have been alleviated."

Jim Lebenthal decided, "We're not gonna talk about JCPenney." Judge said Jim "opened the door" to talking about it; Judge noted it's at $4. Jim said in retail in general, "You still have too many stores."

Weiss noted Matt Boss had a 51 target on KSS, so he either had to "get off the train" or "find a reason to upgrade."

Josh Brown questioned why retailers would be talking about returning capital to shareholders; Jim said some of them need to pay the debt holders "if they're going to survive."
Just wondering if AMZN is causing as much trouble for pre-age-30 Internet users as it is for major retailers (anyone ask Jana about that?) (a/k/a Judge wears a different tie every day (cont'd))
Pete Najarian, remotely, claimed on Friday's Halftime that people were saying oh, the tax cut's already in the market KR and TGT were going to "go out of business" because of AMZN, and now look at how they've recovered.

So he doesn't think AMZN eliminates the banks, "they just make the banks that much better."

Honestly, we haven't heard a soul say KR and TGT were going out of business, because of AMZN or anything else. (And if Amazon makes everyone so much better, explain SHLD and JCP.)

Pete said OXY February 77.50 calls were getting bought after the 74.50s were getting bought. (What if Amazon gets into deepwater exploration and ...)

Jon Najarian said May 24 MRVL calls were popular. He also said February 17 THC calls were getting bought.

Everybody chuckled about Pete pressuring Mayo to upgrade WFC.

For final trades, Josh Brown said he thinks TWTR "works short term and long term." Erin Browne said the XLI. Jim Lebenthal said C. Weiss said JEC.
[Thursday, Jan. 11, 2018]
VRX touches 24
Leslie Picker on Thursday's Halftime reported on Pershing Square slashing fees by "about 15%" after 3 years of negative returns.

But Picker said the fee reduction has more to do with a "rebate" to Allergan investors.

Stephen Weiss, who thinks Tepper would never be caught with such numbers, said, "Most firms can't survive 3 years of down numbers, particularly given what the market's done." He's right.

Meanwhile, Eamon Javers on the 5 p.m. Fast Money said a word you don't hear on CNBC every day.
Cabbage Patch Kids might be at risk of slipping below 5 figures
Thankfully, the Halftime Report, to Judge's credit, mostly ignores bitcoin and leaves that nonsense for Mel's gang, which unfortunately is only too happy to oblige.

Nevertheless, it got our attention on Thursday's Halftime when Anthony Grisanti said 11,300 is "the next spot" of support for (snicker) bitcoin. "There's a lot of other cryptocurrencies that investors are goin' into," Grisanti explained.

Jim Iuorio said "technically it looks fairly weak," and he might short it if it gets to 14,280.
Remember, Doc's only
expecting 7-8% this year
In perhaps the only skeptical comment of Thursday's Halftime Report, Stephen Weiss said "some of the valuations that we see are ludicrous," pointing to CAT.

Tom Lee sat in with the group; he raised his S&P target to 3,025. Lee said it reflects earnings growth of 13% and "some P.E. expansion."

Then he invoked the "base case" mumbo jumbo that allows strategists to hide behind multiple forecasts. "I think 3,000's a good base case," Lee said.

Lee tried to bring up his "CRAP" trade.

Josh Brown said energy has had "an incredible start to the year."

Brown noted the wave of dollars into ETFs. Rob Sechan agreed with that and said people today invest in ETFs, "they invest by renting beta."

Everyone talked about how great banks are; Weiss seized the chance to tout the IUSG again.

Sarat Sethi said SCHW and MS have had a nice tailwind; "these stocks have moved, but they haven't moved like they really could."

Grandpa Mike Wilson showed up not on Judge's show but Mel's 5 p.m. edition and grumbled that tax cuts are already priced in. Wilson now says the market will "overshoot" in the first half of the year.
Karen back on 5 p.m. Fast Money, makes extensive case for DAL
Thursday's Halftime Report spent some time on the "psychic tax" that's plaguing teens who post photos on iPhones and don't get as many likes as anticipated thus prompting Jana/CALSTRS to step in airlines and oil.

"I did buy Delta. I sold United," said Stephen Weiss, cautioning about oil but noting Delta bought a refinery a while back. (That used to be Pete Najarian's favorite thing to say on the program, now it's, "How about how everyone said, 'Oh, the tax cut's already priced in.' Well, it's NOT priced in.")

Sarat Sethi said he gets the oil concern for airlines, but "capacity is so full right now," and he sees business spending.

Judge noted the tax benefits for airlines who get most of their revenue domestically. Jon Najarian spoke of how the tailwinds for the sector, including taxes and business spending, might be greater than thought.

CNBC superfox Karen Finerman, in her first appearance on the 5 p.m. Fast Money in seemingly weeks, touted DAL and said "there's so many good things that happened on the conference call; I loved how excited they were."

Meanwhile, Doc touted CVX's exposure to the Permian. Josh Brown pointed out the oil stocks haven't done as well as oil has. Brown recalled when panelists were talking not that long ago about whether Chevron's and other dividends are safe, and now CVX might churn out $7 billion in cash flow after the dividend.

Pete Najarian trumpeted how oil is working and said, "We don't want to have FANG leading the markets." Sarat Sethi said "the one downside" to crude is "we know shale comes back at these prices." Doc also mentioned "Russian elections in March." Judge said, "The other part of this is the dollar."

Doc said KMI January 19.50 calls were popular. He said April 140 UPS calls were getting bought.
Pete: DLTR may 'plateau'
Pete Najarian on Thursday's Halftime said he got into DLTR at 93 back in November, but he wonders if it's about to "plateau."

(Pete also apparently bought COP a long time ago on a dividend cut selloff. He's just never wrong.)

Pete said March calls in BAC were getting bought.

Sarat Sethi said XPO could "potentially be in play."

Stephen Weiss said homebuilders should "continue to go."

Jon Najarian said he likes EXPE and called the upgrade a "great move."

Rob Sechan said he thinks transports can keep rollin'.

Josh Brown's final trade was MA. Weiss said JEC. Doc said NRG. Sarat said DAL. Rob Sechan said KRE and MLPA.
[Wednesday, Jan. 10, 2018]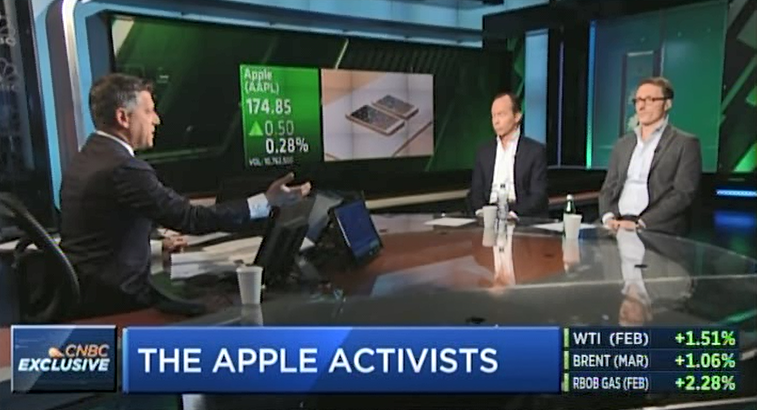 Jana's Apple-letter science partner links child's use of computer to child's use of a power saw (and by the way, what's a 'psychic tax'?)
On Wednesday's Halftime Report, Judge didn't have anything about thinkdifferentlyaboutkids.com.

(Then again, he didn't really have anything about it on Tuesday's show either, which is why this page (see below) had to take on the chore of assessing the "research" that supposedly alarmed the folks at Jana Partners and CALSTRS into realizing there's a massive children-iPhone problem that no one else in the world save for people who write pop-culture books and make speaking engagements notices.)

The Jana/CALSTRS letter to Apple trumpets a "partnership" with 2 experts. Here's the description: "In partnership with experts including Dr. Michael Rich, founding director of the Center on Media and Child Health at Boston Children's Hospital/Harvard Medical School Teaching Hospital and Associate Professor of Pediatrics at Harvard Medical School, and Professor Jean M. Twenge, psychologist at San Diego State University and author of the book iGen."

Rich, with a Harvard pedigree, is clearly the big get here. Rich's bio notes he's a "media aficionado."

His bio says he had a "12-year career as a filmmaker (including serving as assistant director to Akira Kurosawa on Kagemusha)." "Kagemusha" is an impressive credential, for those unaware. Just to verify, we checked out the credits at the Internet Movie Database, the silver standard for this type of film information (there are mistakes, but it's comprehensive, and elite critics cite it). Rich's name is the very last one, listed as "uncredited," which means IMDB has valid information to this effect ... but that the credit does not appear in the film itself.

Take that for what you will.

Rich's bio states, "His current areas of health research and clinical work bring together his experience and expertise in medicine and media." That's a curious mix of specialties, medicine and media. What kind of medicine does one take for a media problem?

The Wall Street Journal quoted Rich as stating the question is, "How can we apply the same kind of public-health science to this that we do to, say, nutrition? We aren't going to tell you never go to Mickey D's, but we are going to tell you what a Big Mac will do and what broccoli will do."

That sounds like he hasn't yet identified a problem but is fishing.

Rich told the Huffington Post that smartphones and other devices are "dramatically changing the way we behave, the way we relate to each other and the way our society really works."

"Dramatically changing the way we behave?" In roughly 28 years of watching CNBC, we've never heard anyone say people behave differently once they get a smartphone or other gadget.

Rich also told the HuffPost that Apple "can be part of the solution and thus improve their product, and thus improve their customer satisfaction and loyalty."

Solution ... to what?

Then there was this: "It's not the tools themselves that are the problem — it is actually what we do with them. You wouldn't give a power saw to an infant or a toddler, but you would introduce it to a child who is old enough to handle it effectively and do good things with it."

Seriously? You'd let a child handle a power saw?

We took a look at Rich's curriculum vitae. It is 54 pages long. Under the category "Formal Teaching of Peers," the first entry is "1995 Media Effects on Adolescent Health Risk Behaviors, Harvard Medical School Lecture."

So before there were smartphones, before Google existed, when most people didn't have a computer and the hot new thing in computing was Windows 95, Rich was presumably detecting danger for kids. One can only guess about the target of this lecture ... rap lyrics? Playboy magazine? Sega Genesis?

It appears Rich's specialty in the late 1990s was asthma.

What about Jana-CALSTRS' other expert, Professor Jean M. Twenge?

Twenge coined the term "iGen." It's the title of one of her books. Twenge's own website describes her in this order: "Author Speaker Professor Consultant." Note the clever illustrative photo.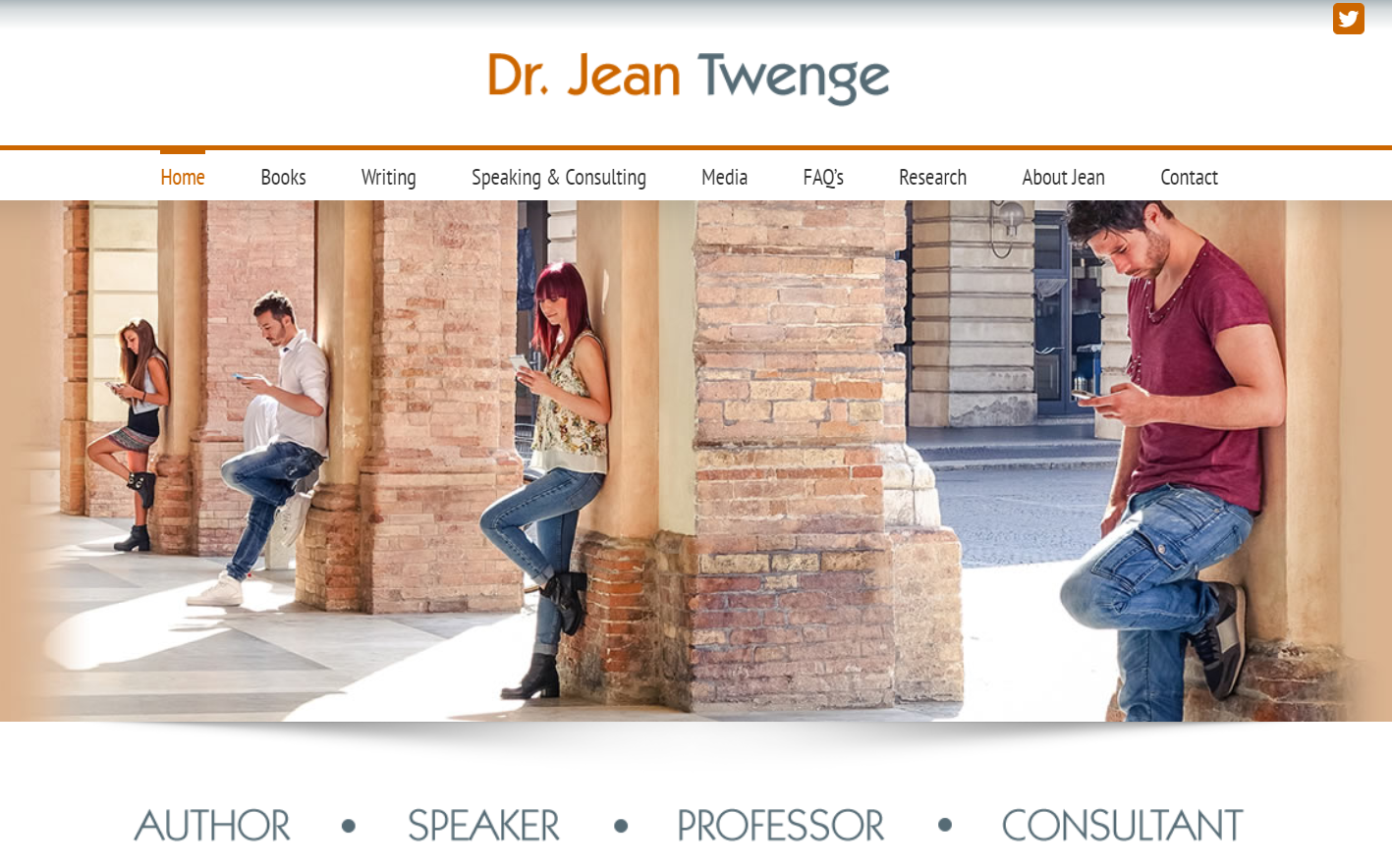 In an article last year (it's a book preview) in The Atlantic, which seems to be Jana/CALSTRS' research vehicle of choice (information from this article is in the letter), Twenge wrote, "It's not an exaggeration to describe iGen as being on the brink of the worst mental-health crisis in decades." What decades-ago mental health crisis are we referencing that is bigger than what the iGen mental health crisis might be?

The article doesn't say.

Twenge also wrote of a "psychic tax," which apparently is not what you pay for calling Dionne Warwick. Twenge wrote: "Social media levy a psychic tax on the teen doing the posting as well, as she anxiously awaits the affirmation of comments and likes. When Athena posts pictures to Instagram, she told me, 'I'm nervous about what people think and are going to say. It sometimes bugs me when I don't get a certain amount of likes on a picture.'"

OK. So it "sometimes bugs" Athena when picture likes fail to meet guidance. Perhaps Apple needs to ban the uploading of pictures on its devices?

While Donald Trump cuts our corporate taxes, Apple and Facebook are raising our psychic levy.

In the Jana-CALSTRS letter, the first recommendation is that Apple convene an "expert committtee" that of course includes Twenge and Rich "to help study this issue." We thought they already had.

The second recommendation in the letter is "research." Apparently there is already plenty to draw conclusions — according to the rest of the letter.

Most interesting is that Jana-CALSTRS suggests Apple "expand" iPhone "age-appropriate setup options based on the best available research including limiting screen time, restricting use to certain hours, reducing the available number of social media sites, setting up parental monitoring."

So they prefer "limiting screen time," even though the letter (and Charles Penner on Tuesday's program) touts the research of Alexandra Samuel, who finds that parents who limit screen time produce worse outcomes than parents who "guide" kids' screen time.

Restricting use to certain hours sounds great ... except what if your kid has an emergency between 6 a.m. and 10 p.m.

Then there's "reducing the available number of social media sites" ... so a kid spends 4 hours on Facebook and 0 on Snapchat rather than 2 and 2.

And "parental monitoring" ... watch your kids text and receive texts on their iPhone. Just what every parent wants to do.

Jana, the letter notes, is launching a "new impact investing fund."
Judge is not accused of asking Cramer's questions and not having questions of his own
Jim Lebenthal on Wednesday's Halftime said the flat-yield-curve conversation "frankly was getting a little bit annoying."

Jim said, "Nobody is selling here. There is no reason to sell."

Judge spent much of the early portion of the program rattling off all the bullish calls from famous investors in the last couple of days. (Wonder why they didn't issue those calls in late December.)

Kevin O'Leary said the "most interesting" comment from Warren Buffett was that under the tax legislation, 14-15% is going back to American companies from the government.

Kari Firestone said the notion of stocks going up 30% is "a lot" but asserted that "the market feels like it wants to go up."

Josh Brown shrugged at all the starry-eyed claims of big returns from investing bigwigs. Brown noted utilities lagging while regional banks are breaking out; "things change very fast."

Judge said, "They're already, um, buying back a whole lot of stock."

Jon Najarian stated, "We're all fairly bullish here," though he's only looking for "7, 8% this year."
O'Leary's mostly right, except it's more like the 17th time in 6 years
Judge on Wednesday's Halftime said Bill Gross believes there was "a bond bear market confirmed today" and that Jeffrey Gundlach on a webcast said if the 10-year goes beyond 2.63, "it will accelerate higher."

Kevin O'Leary cut in, "It'll be the 5th time in 6 years we've heard that call."

Josh Brown said, "Yes."

Kari Firestone asserted that rates are low because "there isn't demand for borrowing."

Joe Terranova said, "I'm long bond futures because I think you're gonna take out 2.63. Does that mean that it presents trouble for the bond market? No, it doesn't."

Joe said he thinks we go to 3% but that it's the "velocity" of the move that matters.

Jim Lebenthal, after his 2007/7 years ago bungle (see below), sorta made amends by correcting Josh Brown for saying "10%" on the 10-year instead of "3%."

Jim said he will "dare" to say the yield curve is in a "Goldilocks shape."

In a quality point, Kevin O'Leary grumbled that gold has been one of the most "boring" investments even as some warn about inflation.

Eamon Javers reported, "The president's talking about the stock market again."
Not sure what the status is of Chanos' CAT short (or kabuki theater references)
Addressing the DE upgrade on Wednesday's Halftime, Josh Brown said the stock is "not exactly a bargain" but that there's no reason why it can't keep rising.

"I'm in it from the 70s," Brown said, and while we normally scoff, correctly, at Brag Trades, this has been a great one on Brown's part that probably hasn't gotten enough kudos on this page.

Kevin O'Leary said he doesn't completely agree. "The only reason this stock has moved is the market's moved underneath it," O'Leary said. "It's a boat in a rising tide."

O'Leary even had a curious description of John Deere's businesses. "This is kind of a weirdo mix of stuff," O'Leary said, questioning why buy more now.

Brown said he disagrees and pointed out DE did "nothing" from 2011 to 2016 while the S&P went "straight up."

O'Leary insisted, "This is not a cheap stock." Brown questioned, "cheap on what metric."

Jon Najarian pointed out DE's Germany Wirtgen acquisition that gives the company a toehold in infrastructure.

Kari Firestone said it's a "positive" that farmers are getting a tax cut. Firestone said other plays include VMC and URI.

O'Leary said to "forget the past" about DE, he's looking at it now, and the German deal didn't make it a "pure play on infrastructure." Judge confirmed that O'Leary would prefer CAT. O'Leary said he's never heard an analyst say that if the wheat-combine market rolls over, he'd short CAT. Brown pointed out that "CAT rolled over because of, because of mining." Kari said "China."
MU always goes up, according to the options paper
"It's pretty ugly in the semi space," said Jim Lebenthal on Wednesday's Halftime, pointing to costly security issues beyond just INTC. (This writer is long INTC.)

Josh Brown asserted, "It's probably gonna be a while before people feel comfortable with these names again, maybe till the next time they start reporting." Jim said, "That's exactly right."

Brown said 116 or 117 is resistance for WDAY, but he's not chasing.

Judge said recent UA slammer Steve Weiss (who wasn't on the show) emailed him that UA was making a "b.s. move" on Wednesday. (Translation: Just made a bad call.) Kevin O'Leary said to buy BA instead of an airline.

Jon Najarian said ISRG just "took off" on guidance at the JPMorgan conference.

Joe Terranova said he'd buy "Chipulte" (sic pronunciation) (he's had trouble with that one basically forever) on the news of Patrick Doyle's exit from DPZ on the chance Doyle goes to CMG.

"I don't know that he goes, but I'll take the chance on Chipulte (sic)," Joe said.

Kari Firestone said she doesn't own HSY but called it a "medium house" in the neighborhood. She'd prefer MDLZ in the snack space.

Doc said February 20 calls in HST were popular. He said UNP calls up to 155, "mainly Februarys," were getting scooped up.

Brian Stutland said crude is probably due for a little pullback before moving toward 70 by year-end. Scott Nations said it'll take "something geopolitical" to get above the channel top of 64.

Pandora chief Roger Lynch talked with Julia Boorstin and said he's focused on "setting targets that are achievable for the company." Sounds like a great turnaround plan.

Joe's final trade was LNC; "it's goin' a lot higher." Jim Lebenthal said to get out of ... snicker ... SHLD. Josh Brown said to keep an eye on commodities indices. Doc said FOLD. Kari Firestone said HAS. Kevin O'Leary said STE.

Judge actually claimed with a straight face that "there wasn't a dry eye in the house" when the Benjilock creator turned up on Halftime a couple months ago. Kevin O'Leary said, "I didn't realize people are watching this live in Saudi Arabia, in Geneva, in Zurich, in South America. Who knew?" Judge later said, "You know we're first in business worldwide, right?"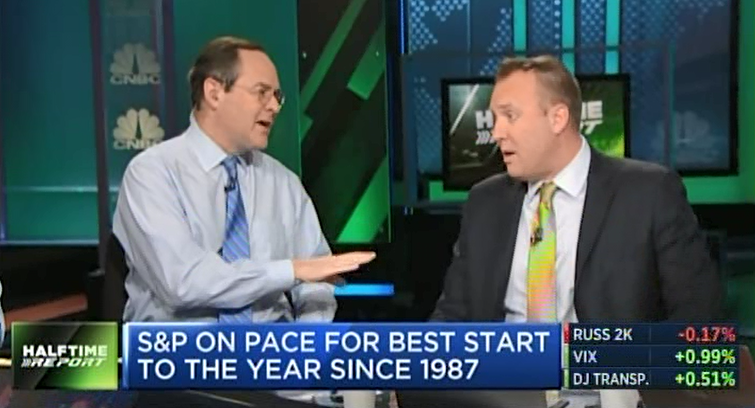 Jim out to lunch while Josh makes quality point on buybacks
Wednesday's Halftime Report, a flat, overstaffed program, stumbled early over a listening bungle by Jim Lebenthal.

It happened after Josh Brown stated that "just 11 years ago, the buybacks of '07" were "ballooning" but proved to be "some of the most atrocious uses of corporate capital in world history."

Jim cut in, "Wait. Why do you say that," continuing, "Stock prices were way lower 7 years ago. I'd much rather Boeing buying back its stock at $100 than $300. I don't hear what you're saying."

"I'll help you," Brown chuckled. "2 years later, we were looking at massive losses on these balance sheets."

"I thought you said 7 years ago," Jim said. "You were saying 2007?"

"Yeah," Brown said.

Sigh.

Much more from Wednesday's Halftime later.
[Tuesday, Jan. 9, 2018]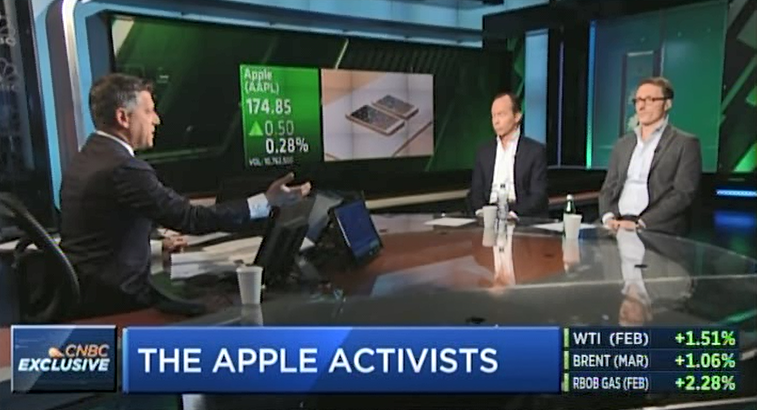 Check out the extensive 'research' Jana and CALSTRS did for their letter to Apple (as guest rips Judge for asking Cramer questions)
Oh my.

It took 22 minutes into Tuesday's Halftime Report to establish the reason Jana Partners wrote a letter to Apple.

See, Charles Penner noted "this is a new fund for us," but they didn't want to "sit on the Apple idea" because it's "incredibly timely."

Sure. Timely for creating publicity about a new fund.

Judge stumbled initially, failing to adequately set up this interview with Penner and Jana frontman Barry Rosenstein, stating Jana and CALSTRS were "targeting" Apple with a letter but not explaining what these investors are seeking. But we'll forgive him, even though the interview about this silly initiative happened to wipe out our evening. (We'll also forgive the CNBC sound man for Judge's mike not working in the opening seconds.)

Barry Rosenstein seemed surprised or caught off guard by Judge's first question, "Why Apple," pausing, then repeating it. He said "there's no question that we need to be more responsive to children's needs and children's activities."

What really got our attention was hearing Rosenstein and Penner mention the term "research" at least a half-dozen times; the Spider Sense started tingling.

First, we tried to look up the Jana/CALSTRS letter to Apple. Several news articles contained a link to the letter. Clicking on those links, we were greeted with a 1,722-word (we added it up in Microsoft Word) disclaimer requiring acceptance of Jana's terms.

We refused to click "I agree - I have read and agree to these terms" because we didn't read them. (Nor did anyone who clicked on them.) (If your goal is to dispense wisdom and information to save humanity, shouldn't it be readable without a catch?)

Penner said on the program that people could go to thinkdifferentlyaboutkids.com for the letter and/or information. Doing that, you get the same Terms of Acceptance window.

By fluke, the article on one Silicon Valley website contained a link to the letter that delivered the letter without a Terms of Acceptance window.

So we read the letter.

Take a look at this passage near the end that we highlighted in blue:

It curiously declares there is a "growing societal unease" about people "getting too much of a good thing" in the way of technology.

We wondered how they measure this "unease" and what exactly is "too much of a good thing." So we went to the footnote, which you can see magnified below:

Interesting. Pay attention to the first part of this footnote. It implies that someone named Laurent Hrybyk wrote an article at wired.com. (Note it doesn't give the article's URL; just the site's.) The quote referenced in the footnote about 2008 bankers and 2017 techies doesn't seem to have anything to do with kids using iPhones.

So we looked up this article. It's not written by Laurent Hrybyk. It's written by Erin Griffith. Hrybyk, we learned, does illustrations for Wired. Apparently Jana and CALSTRS are citing Hrybyk's cartoon as evidence of "growing societal unease" over technology. Here's what the article looks like; note Griffith's byline at the top and Hrybyk's credit under the graphic: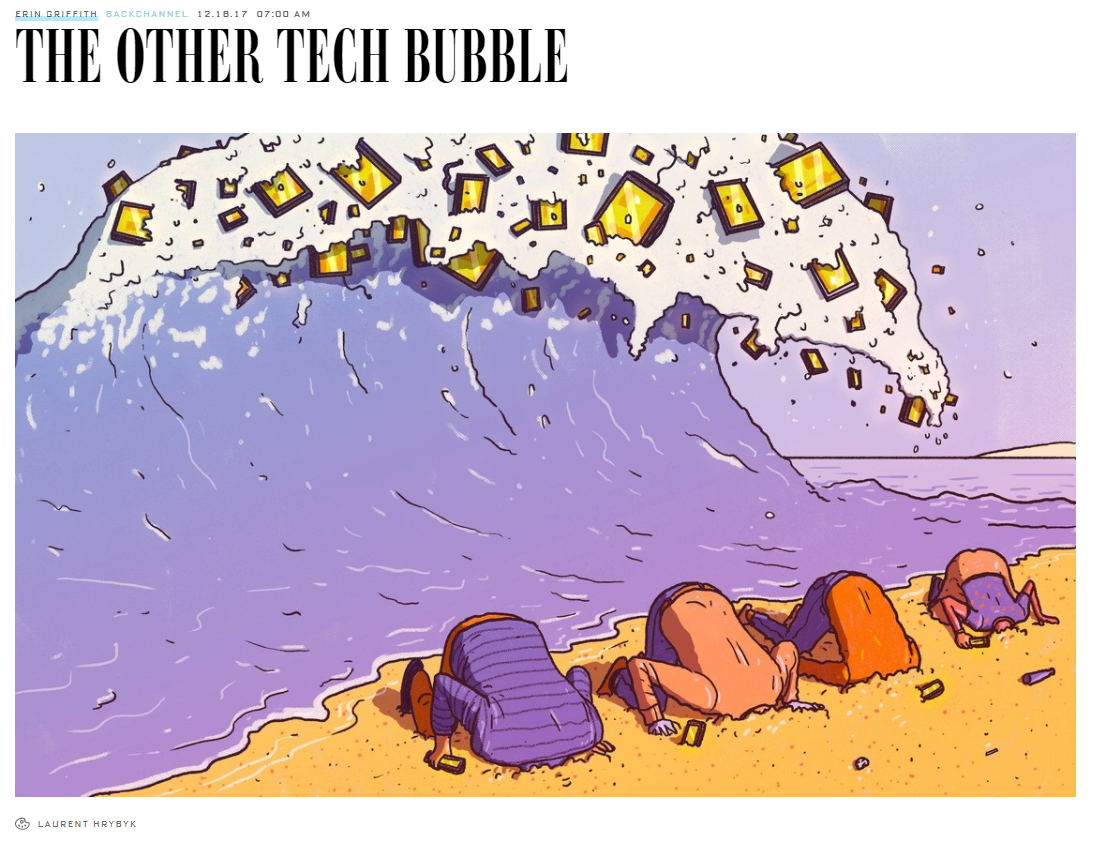 This article is about recent bad headlines in the tech industry, much of it having to do with sexism. "Apple" and "iPhone" and "children" do not appear in it.

Obviously, no one at Jana or CALSTRS actually read it.

(Honestly, no offense to the writer, we can't fathom why anyone would read all 1,890 words of this article.)

Yet it's somehow evidence of "growing societal unease."

Note the date it was posted: Dec. 16, which was probably right around the time Jana and CALSTRS were finishing the Apple letter, and someone would've been looking for any home page headline to buttress the "argument."

OK, there's more ... Penner said during Tuesday's interview, "There's research out there from a researcher, uh, named Alexandra Samuel who actually shows that parents who just focus on restricting screen time as opposed to guiding it, their kids actually have worse outcomes in terms of engaging in inappropriate behavior like you know, finding obscene material online and pretending to be other people online, than parents who actually guide their usage."

Well, that sure sounds interesting. We found that Samuel has a Ph.D. from Harvard but doesn't work there, rather she's a "digital explorer" who apparently makes a living with free-lance/consulting-type income and likes to be booked for speaking engagements (the link is right near the top of her website).

The "research" cited by Penner on the Halftime Report (and in the Jana letter) is from this article by Samuel in The Atlantic in 2015. Samuel wrote, "I've spent the past two years conducting a series of surveys on how families manage technology, gathering data from more than 10,000 North American parents."

There's no indication how Samuel surveyed 10,000 parents. Did she stand in front of grocery stores with checklists? Was this an online survey? Phone calls? How did she know all 10,000-plus respondents are parents? How long did it take to fill this survey out? Were respondents paid to participate?

The Atlantic is not a scientific, peer-reviewed journal.

It's a culture magazine.

Note that in mentioning Samuel's work, Penner said there is research "out there" (Hmmmmm ... anything posted on this page is "out there"), but the curious term he used is "outcomes."

Samuel does not use the term "outcomes" or "outcome" in the article. (Try doing a search.) We wonder whether these "outcomes" were determined after studying these subjects for years. (Um, probably not.)

Honestly, it makes a lot of sense to us that kids of parents Samuel calls "limiters" are more likely to "engage in problematic behavior" (which includes "rude or hostile comments" ... what criteria did Samuel use to determine rudeness in her survey of 10,000 parents ... did she read every one of their kids' posts ...) because they are probably being limited because of their anticipated behavior. (That's called effect mistaken as cause.)

The article mentions "iPhone" once but does not include "Apple."

The point of the article is not that Apple needs new buttons, but that parents should give kids Internet guidance ("Sonny, don't look up adult sites or make fun of people online") and not just shut it down.

Penner also said, "The research suggests actually limited levels of use actually ... probably beneficial; kids who use their phone about an hour a day actually have more positive mental health outcomes than, uh, kids who don't use it at all."

And are these "outcomes" determined when these subjects were 40 years old?

Penner also said, "Young adults who go to more than 3 social media sites a day have worse mental-health outcomes. ... As you get older the negative impacts that we're seeing with social media actually start to phase out, are gone by the time you're 30."

So people who grow up tend to make fewer hostile or rude comments online.

So Jana's protecting kids from a problem they'll outgrow anyway?

OK. Back to the program.

Rosenstein said "there's lots of research" showing that "excessive usage of smartphones is damaging to kids." He never explained how damaging.

Judge said sources told him Apple was "blindsided" by this letter.

Penner, who sounded uncomfortable the whole time and constantly insisted everyone thinks this initiative is a great thing and that it just happens to be the only great initiative of theirs at the moment, said AAPL has a "great policy" on global warming even though it's not responsible for global warming.

Judge said Jim Cramer calls the Jana/CALSTRS letter "duplicitous" and thinks it makes it sound like Apple's doing nothing. "It's clear he hasn't read our letter," Rosenstein said.

Judge asked why not target video game makers and social media platforms. Penner's answer was his loopiest comment of the program: "Well, for the same reason you wore one tie today and you'll wear another one tomorrow. We can go after one company today and we can focus on others in the future."

(Don't they know Judge wears the same tie 3 days a week?)

(That's only a joke.)

(We're blaming our experience with "limiter" Internet parents.)

Judge said he's been in "small gatherings with Tim Cook," and it sounds like Cook is already concerned about these things.

Anne Sheehan of CALSTRS said it was a "natural" to complain to Apple rather than a host of companies who make junk food that kids like. Sure. Giving kids a different button on the iPhone screen will do a lot more for them than cutting out the junk food in their diet.

Judge was getting nowhere in this series of interviews, but things actually got testy when Judge said Cramer just emailed that he did read the Jana letter and claims he didn't insult Penner and Rosenstein and wondered why Jana didn't stand up against Walgreens selling tobacco.

Rosenstein said they had a "standstill agreement" with Walgreen and that he had no ability to speak publicly but did raise the issue privately. (Obviously, whomever he spoke privately with didn't agree.)

Penner said, "I don't know, I just find this line of questioning with all due respect kind of ridiculous."

Judge said, "But Charlie, these are the kinds of questions that people are asking-"

"Questions that one person, Jim Cramer, is asking. I'm not on Jim Cramer's show, I'm on your show," Penner said. "What questions do you have?"

"I've asked you all- all the questions that are the relevant questions," Judge said.

Judge continued moments later, "You question as to why I'm asking you questions of the likes of which, which I am."

"OK. I feel like we've answered the question. I don't know what else I can say about it," Penner said.

Neither do we. Our suggestion is for Judge to bring in Lee Cooperman, who's getting more outspoken in each appearance and who might've watched this and presuambly will tell it like it is.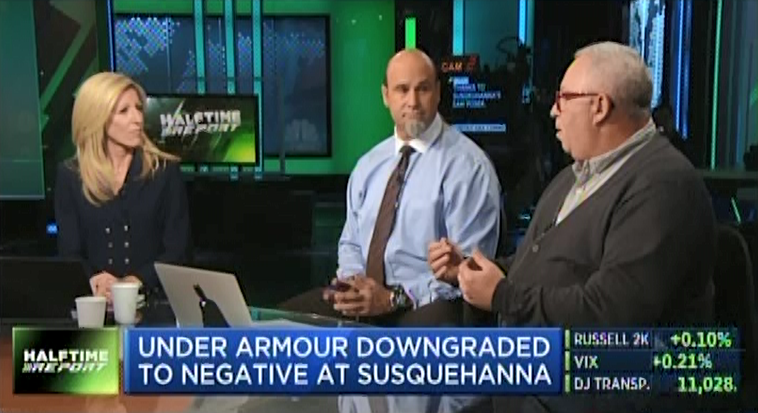 Soc Gen's negative call on banks gets expected scoffing
When Tuesday's Halftime wasn't tackling AAPL activism with Cramer questions, Judge was welcoming Sam Poser to the table to explain his sell-UAA call. Poser spent several soundbites basically saying the company bungled mightily by going into Kohl's and DSW and Famous Footwear.

Pete Najarian said the valuation of UAA is "still scary." Poser grumbled that Under Armour shoes are geared to "performance" rather than "general lifestyle" and noted that at last year's Grammys, nobody was wearing Under Armour.

Meanwhile, Stephanie Link said the yield curve was steepening Tuesday and financials were getting a bid.

Joe Terranova said he bought some bond futures playing for 2.62.

Judge said Soc Gen warned about a "euphoric" market in bank stocks. Joe said he's still long BAC and hung a 35 on it. Stephanie Link said the analyst has had a sell on GS and C "all the way up." Pete said that's "the most important part."

Pete said May 90 calls in GILD were getting bought. Pete said someone was rolling up a KKR trade from March 22 calls to March 24s.

Joe struggled to rattle off facts about EOG; he said the growth will be there.

Stephanie Link backed EOG and tossed in CVX, APC and SLB.

Jeff Kilburg said he doesn't think crude momentum will "wane" until there's a stock-market "breather." Scott Nations said it looks like the Saudis' efforts to "set the table for the Aramco IPO" are paying off.

Pete gushed about TGT. He predicted 75 "in a hurry." We're not excited about the stock, but we're happy to see Target (and any other retailer frankly) doing well.

Joe's final trade was LNC. Stephanie said DWDP. Pete said the XLF.
[Monday, Jan. 8, 2017]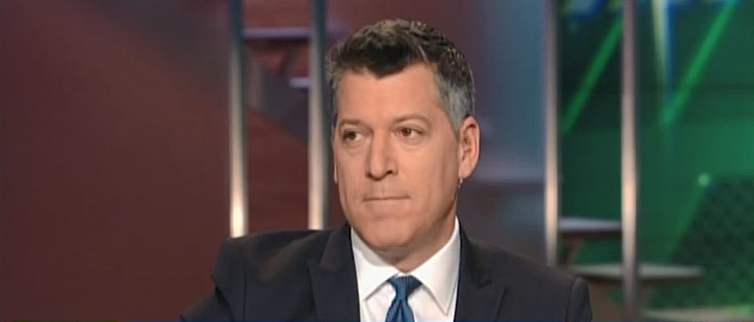 Judge for the first time addresses occasional commercial drought on his program (#lostrevenue)
We've been saying it forever, and someone finally is catching on.

Jim Cramer on Monday's Halftime Report actually said it's "amazing" that Judge can do a program "without commercials."

In his first public statement on the matter, Judge responded, "I like to let it roll."

He likes to ... let it roll.

The thing is, not only do we want CNBC (and other TV/radio/print media) to collect as much advertising dollars as possible, but for those who are keeping tabs on this program and even monitoring what's said (snicker) (You're serious? That actually is happening?), sometimes a break isn't the end of the world particularly when the material runs flat.
Joe: Stock market 'feels' expensive even if it's not
Judge on Monday's Halftime brought in Jim Cramer to open the show. Cramer and Steph Link talked about ... industrials ... Zzzzzz.

Link said you might be able to view CAT as a 16 multiple. Link touted FDX and EMR and DWDP.

Jim Cramer said it's a "mistake" to chase CAT; he'd rather buy EMR.

Pete Najarian trumpeted UPS.

Joe Terranova said he doesn't think infrastructure is priced in, "it's all about the dollar," and he said GE for years has been the "portfolio favorite" of industrials, but now the money is being spread around.

Pete for about the 17th show in a row grumbled about people who said tax reform is priced in.

Cramer said he's a "big believer" in what Tepper told Judge last week.

Joe said the market "feels" expensive even though it may not be.

Joe said the end-of-year "consensus" recommendations of the rotation trade have been "totally wrong."

Link said energy is still "very unloved."
Stephanie finds TROW's huge half-year a head-scratcher; Joe's target for GPRO is 'oblivion'
Pete Najarian on Monday's Halftime made a big announcement, that TSLA is a "tech company" and not a car company and even accused Judge ("You're one of those guys") of calling it a "car company."

Joe Terranova pointed to the amount of Tesla miles being driven and declared, "They're a software company."

Pete said March 47 calls in GM were popular. Jim Cramer said GM is a cheap stock with momentum.

Meanwhile, Leslie Picker said Jana is known as an "activist investor" but is "delving into social activism," targeting the "increased risks of depression" for children who use Apple products.

Jim Cramer said SNAP is "the equivalent of Captain Morgan for kids." Later, Cramer said of SNAP, "What the heck is going on there. It feels very much like Peterman is running the show." (Judge had to point out that was a football reference.)

Meg Tirrell, doing health care conference interviews all day, sat down during the Halftime Report with Celgene chief Mark Alles. Alles refused to opine on whether Bob Hugin is running for Senate. (That falls under the category of news you didn't know that you really had no interest in knowing.) (But it wasn't a bad question to ask, because on the very limited chance she got an answer, Tirrell would have a D.C. scoop.)

Stephanie Link said CELG has a "huge" patent cliff.

Judge said TROW got an upgrade from Bank of America and 125 target. Jim Cramer suggested, "Maybe stock-picking's back." But Jim said "it's a tough space." Stephanie Link said it was a "moonshot" last year, and "I kinda just scratch my head."

Pete said February 62 KRE calls were hopping.

Pete questioned if you can really "trade around" STX.

Stephanie Link said she's adding to NKE.

Joe Terranova said of GPRO, "I never liked this stock ... it probably goes to oblivion."

Jim Cramer said he's "not against" ALB right now. (This writer is long ALB.)

Joe's final trade was MAS and VMC. Steph Link said LEA. Pete Najarian said MU.
Joe: FB is the landline phone of yesteryear
Joe Terranova on Monday's Halftime declared, "Facebook is the modern-day landline telephone."

Hmmmm. Kinda makes sense, but then again, no one has to rent the device every month.

Stephanie Link said of FB, "I actually doubled my position last week."

Pete Najarian said the "extreme growth" in FB will come from video.

Jim Cramer said that the "N" in FANG or FAANG should be changed. "It really has to be Nvidia," Jim said.

Much more from Monday's Halftime later.
[Friday, Jan. 5, 2018]
NFL playoffs: Why the Steelers
aren't going anywhere
It's a tradition that this page take a crack every January at the NFL Playoff bracket — the toughest assignment in football-watching, as it involves projecting winners of ALL the games before any of the wild-card play-in games have occurred. (This review is posted in the early morning hours of Jan. 6.)

We're doing it again this year, even though last year was an outright bungle. Typically, we've been able to get one conference exactly right, but that didn't happen last year. We had the AFC correct until the Championship Game, wrongly picking Pittsburgh over New England. In the NFC (gulp), we made a ghastly call on the Giants reaching the Super Bowl.

It's time to make amends.

The first thing to do is write off the Pittsburgh Steelers. The league's preeminent underachievers, this is one of the most bogus 13-3 records in recent memory. We're hard-pressed to declare them any better than the previous season, when they went 11-5 and got embarrassed in the AFC Championship Game.

The general public isn't aware of the softness of this team. It's a poorly run squad in which the 3rd-best defender was somehow released so that the archrival Patriots could pick him up. The biggest stars on the roster tend to be head cases. The assistant coaches embarrass the team every year (including right now). Despite supposedly great offensive talent, this team has massive trouble scoring. The defense is a shambles against the run and regularly gets burned on deep routes.

Second, the Buffalo Bills are possibly the sorriest, most inept unit to ever qualify for the NFL playoffs; the players probably were disheartened to learn of Baltimore's collapse last week and realize they had to play another game this season.

The enigma in the NFC is whether Case Keenum can actually win playoff games. The gut here is that the defense, while not at the level of Tampa 02 or Baltimore 00, is too much for everything left in the NFC.

So here we go ...

Kansas City beats Tennessee: The Chiefs might have more oomph than people think.
Atlanta beats Los Angeles Rams: The Falcons have one good game in them.
Jacksonville beats Buffalo: The Jags wouldn't be a sure thing any game but this.
New Orleans beats Carolina: Have no idea how the Panthers won 11 games.

Philadelphia beats Atlanta: It'll be shaky but doable.
New England beats Kansas City: A lot different than the first time.
Pittsburgh beats Jacksonville: Blake Bortles can't win 2 playoff games.
Minnesota beats New Orleans: It's the next round for the Vikings that's trouble.

New England beats Pittsburgh: Surprised if it's any different than last year.
Minnesota beats Philadelphia: Without Wentz, forget it.

New England beats Minnesota: A massive disappointment for the home crowd, who will nevertheless applaud the overachievement of a Case Keenum-led club.
Ross Levinsohn's 1st accomplishment at L.A. Times may be causing formation of a union
Back on Aug. 22, Judge welcomed Ross Levinsohn back to the Halftime Report to talk about Levinsohn's new gig as publisher of the Los Angeles Times.

Levinsohn stated that he took the job because of his "incredible passion for news and information," as well as "emotional and personal" reasons and his "value perspective."

Apparently, he's fairly emotional about the prospects of L.A. Times workers forming a union, as "many" in the newsroom, according to the New York Times, believe Ross and other execs "have been unduly aggressive in the attempt to thwart the union effort."

Ross — one of our favorite CNBC guests, by the way, and a great guest — told Judge back in August that he wanted to turn 2 times EBITDA into 10 times EBITDA and (this was murky at best) apparently plans to do this by focusing on the "core" of reporting, including video and "shorts" and thinking about California culture "at its core" and being the "bible" of the entertainment industry (um, looks like the big scoops on Harvey Weinstein and Kevin Spacey and Charlie Rose have originated elsewhere) and how we shouldn't use the term "newspaper" anymore.

Looking for updates on these initiatives in the Jan. 4 New York Times story and not finding any, it seems like Levinsohn's sole accomplishment thus far is presiding over the LAT journalists' first union vote in the newspaper's 136-year history.

Judge hasn't offered an update, so we figured we probably should.
Ed Yardeni actually says the biggest risk to stocks is that they reach 3,100 too fast; Judge asks spectacular question
Ed Yardeni dialed in to Friday's Halftime and hung a 3,100 (that's Tony Dwyer's number, we think, except Tony just calls it "marketing b.s.") on the S&P for the year and said one of his concerns is a "melt-up" that carries us to 3,100 "a lot sooner" than he's anticipating.

Yardeni called it a "FOMO" market, or Fear Of Missing Out.

The jobs data was good for easing Fed concerns, he said. "I didn't see wage inflation picking up ... It's a nirvana scenario," Yardeni said.

Josh Brown said baby boomers are getting replaced by cheaper younger workers, and he tried to insist wage inflation is "definitely" becoming a cost. Yardeni said, "I'm 68 and I'm still working for a living ... I haven't had a pay increase in about 10 years."

Eventually, Yardeni said, "I guess if we're gonna have a problem, it's gonna be like 1987 ... kind of a portfolio-insurance problem, which would be ETFs experiencing a flash crash."

Well, Tom Lee around September said it seemed like September of 1987.

In an absolutely perfect question that should've occurred at the top of the program, Judge rightly asked the panel, "Can you go from what people said is like the most hated rally ever to euphoria overnight?" Steve Weiss said there are always "naysayers" but pointed to Yardeni's mention of 1987, "I often think of '87 in relation to this." Jim Lebenthal said, "I do too."
Judge jabs at Josh's inflation suggestions at year-end
Stephen Weiss at the top of Friday's Halftime took up the roaring bull market.

"It's a tough time to start getting in ... but I do think it goes higher," Weiss said.

Jim Lebenthal assured we're not in "bubble territory" even if the market's not cheap.

Josh Brown observed, "This is clearly a mega-risk-on week to, to start the year off with."

Weiss reiterated, "Nobody has seen this kind of environment. I said that the other day." Yes. And the day prior to that.

Brown stressed that machines are doing much of the trading, even in so-called "value" strategies, and it's a "huge amount of money."

In an impressive potential Fast Fire, Judge asked Josh Brown, "I wonder if you started worrying about inflation a little too early." Brown said, "I would say it's more of an investment than a trade."
9 years ago or so, Guy Adami started complaining how the Fed has 'lost control of the bond market'
Rick Rieder on Friday's Halftime might not have been as euphoric as Ed Yardeni but still appeared copacetic on the stock market.

Rieder asserted, "There's this incredible need for assets. ... I think you're gonna hit a 3% 10-year this year, but boy it's not that dramatic."

He said whoever said previously (Brown) in the show that "wages are accelerating" was "exactly right."

But Rieder said he's "not that worried" about inflation because the Fed has "so many tools to break inflation."
Panel seems to think FL 22% upgrade is a joke
Julia Boorstin on Friday's Halftime Report noted NFLX's gain on the announcement of the Letterman (Zzzzzz) series.

Jon Najarian, who had a quiet show, said "getting any big name" is "big" for NFLX. Steve Weiss said he subscribes to Hulu and Amazon Prime, and "you're always going back to Netflix because the content's so robust."

But Weiss added, "I just don't see this company getting acquired," because of the $90 billion market cap.

The panel seemed to agree that part of the bull case is that a takeout couldn't happen without a big selloff, so if Netflix has a couple bad quarters, it might be a candidate for a buyout.

Judge said FL got upgraded by Buckingham Research, which apparently sees another 22% (snicker).

Jim Lebenthal said, "I'm not too thrilled about this," pointing out the stock is "perennially cheap." Judge stumbled over asking Jim about why FL needs a "competitive moat" (snicker).

Doc said he "can't get excited" about the FL upgrade, noting retail was the weakest part of the jobs report. Weiss said "it's a low-risk trade for the analyst" who's hoping to "catch some tailwind."

Doc said there was "big activity" in TXT calls, and he also likes it as a tax play. Pete Najarian said there was "very heavy buying" of AAPL calls expiring next week.

For some reason, Judge has been critiquing panelist calls made last fall. Jim Lebenthal likened CSCO to where MSFT was years ago. Weiss shrugged that CAVM has "been a great story." Josh Brown said an "inflection point" happened in WMT's price months ago corresponding with a change in sentiment.

Jim got Fast Fired on recommending against VIAB in November. He said it's "intriguing" right now. Weiss said he's made money on WDC by "loading up" after it got "crushed" by Morgan Stanley.

Doc had to address his STZ options trade, saying he "flushed it" on Friday's news of bad wine sales. "This was a loser," he said, but he still likes it. (So much for those January 240s getting scooped up.)

Josh Brown said if you want in to LOW, he wouldn't chase but would wait for a "light pullback."

Weiss said it "makes sense" that there's "minimal downside" to CVS, but he'd worry about AmerisourceBergen.

Jim Lebenthal said he really likes EA and believes it's poised to break out.

Meg Tirrell previewed the JPMorgan health care conference. Weiss predicted the "biggest moves" will center around talk of drug pipelines. Weiss asserted, "Pricing is an issue, and the drug companies still haven't reined it in."

Jim said he sold TRN. Weiss said he bought JEC, which is "geared to infrastructure."

Doc's final trade was ZAYO. Brown and Jim said GOOGL. Weiss again said IUSG.
[Thursday, Jan. 4, 2018]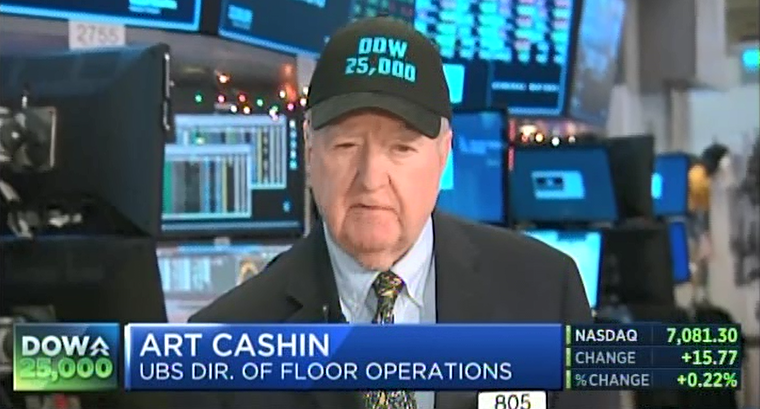 Grandpa Jeremy Siegel plays the bear, desperate to prop up his late-2017 guess that 2018 will definitely be worse
Judge opened Thursday's Halftime with a scoop — reporting his chat "exclusively" with David Tepper (who apparently talked stocks instead of Weiss' facial hair).

Judge said Tepper said, "With earnings forecasts going up and interest rates where they are, how is this market expensive? ... It looks almost as cheap as coming into last year."

Josh Brown said, "I guess it depends on your definition of expensive. So by the most popular measures, the market absolutely is expensive." Brown mentioned CAPE ratio. But Brown said that's not a "judgment" on where the market goes. He also tossed in an "in and of itself."

Steve Weiss dialed in. "I agree with Dave," Weiss said (a big surprise), stating there are no "historical parameters" for this market. "There is no playbook for this," Weiss said, adding there's "tremendous momentum."

"Going forward, I see much more positives than negatives, there's no doubt," Pete Najarian said.

Brown cautioned that everyone seems to agree the outlook is great and that some of that may be built into prices.

Keith Parker of UBS hiked his S&P target to 3,150, eclipsing Tony Dwyer's 3,100. Just like in "The Price is Right," that landed Parker an interview on Thursday's Halftime. (Perhaps Barry Bannister will rev up a 3,300.) Parker said that in the wake of the tax cut, he upped his S&P earnings to 157. Judge said, "You've essentially made the same case" as David Tepper, and Parker agreed.

Doc asked Parker about "migration of capital from Europe over here because of the tax reform" not being priced in. Parker agreed the "marginal buyer" continues to be the retail and foreign buyer.

But then Judge brought in Jeremy Siegel, who chuckled that it's "amazing" that Siegel's one of the "least bullish" people on Judge's program, but he said he doesn't even see $150 earnings on the S&P.

Siegel said GAAP earnings "are going down" because of "the hit" from foreign earnings. Siegel, who heard Brown mention the CAPE ratio, also said he's argued for many many years that the CAPE ratio has given "false signals." (But he's still among the least bullish on Judge's show.)

As for Parker's earnings call, Siegel suggested maybe 140 instead. Judge said, "Wow, 140. You're like the low on the Street." Siegel said "maybe 145" and added that he has seen "huge fades" from January to December in previous years.

What's really getting interesting (and that no one on the show has mentioned yet) is that, with such a gangbusters start to the year, the issue will quickly be whether the S&P ever gets flat on year in 2018, a key technical benchmark.

Bob Pisani said on Closing Bell, "I smell a little euphoria now for the first time."
Wolff's book paints Donald Trump as 'buffoon' who 'doesn't read'
On a day a lot of panelists couldn't make it to Englewood Cliffs, Eamon Javers on Thursday's Halftime aired a clip of Donald Trump chortling about Dow 25,000. "So I guess our new number is 30,000," the president said.

Jeremy Siegel said, "Very honestly, I can't picture Obama making statements, uh, like that." (Well, um, we really can't picture it either. So ...)

Josh Brown wondered if "we'are all forgetting" that Donald Trump during the campaign called the stock market a "bubble" and asserted all of the Obama-era gain was "fake" or "fraudulent" or "manipulated" by the Fed.

Brown cautioned that in a robust economic environment, people expect wage gains. "You're goin' on the inflation thing again," Judge concluded.

Siegel pointed to the jobs report and asserted "there isn't enough population growth to give us 200,000," which means the unemployment number goes lower, so at some point that wage pressure will "eat into profits" and figure into Fed policy.

Siegel also said, "Very honestly, I don't think any infrastructure is really gonna get done."

Meanwhile, Pete Najarian said financials have gone through cycles of pausing and then rising.

Pete said WDC is still "very inexpensive" despite the BMO downgrade, and "At this point in time, I disagree with this call, and I think there's more upside than downside."

But Josh Brown said he's "not a fan" because you have to "really look hard" to find a tech stock that topped out in the fall and didn't participate in the last 5 or 6 weeks. (Actually that includes INTC and PYPL, which both got robust bull calls on the show this week.) (This writer is long INTC and PYPL.)

Pete said there's opportunity in WDC, but Brown said there's an "opportunity cost" of being in falling stocks in a rising market. Pete said "if they've gone friendly now with Toshiba," he thinks the stock goes higher.

But let's get back to INTC and these tech stocks that haven't participated for weeks. Pete said heard about lack of "material financial impact" regarding the INTC flap, so the selloff "creates an opportunity." Brown said, "I'm with Pete, I'm long Intel, I think he's right." Brown said the stock has held the gap since it broke out late last year, "and I am not a seller."

We'd say that buying stocks that take hits on Internet security issues is a great idea (think EFX 91 when Karen Finerman was gloating about shorting it because of existential issues), the only problem is, sometimes the fallout lingers for a while.

Jon Najarian said someone sold January 270 SPY calls to roll up into 275s that expire in 3 weeks. He also said DWDP call buyers were rolling up into February 75s.

Pete said someone is selling January 30 BAC calls and someone's buying March 32 calls. Josh Brown said Pete has been "dead right" on big banks and noted some "bank experts" who have analyzed banks for 20-30 years (um, that would presumably be Dick Bove) have been "so pessimistic."

Jeff Kilburg said bitcoin futures are still in "price-discovery mode." He said the Merrill Lynch note about possible regulation "may push us a little bit lower." Jim Iuorio said bitcoin has been in a "remarkably tight channel" since Dec. 27 and that if it breaches "1,300" (sic corrected to 13,000), afterwards would be the "next big move to the downside." Jackie DeAngelis said "it's my lucky day" because both Iuorio and Kilburg would be joining her on Futures Now.

Doc's final trade was HAWK. Josh Brown said JPM and Pete said KO.
[Wednesday, Jan. 3, 2018]
Joe: Correction clock has 6 weeks; if not, expect another 2017
Continuing what will probably be the trend for the whole week, Halftime Report panelists on Wednesday offered renewed predictions for 2018 in stocks.

Jon Najarian said he's not calling for a 25% return in the Dow this year, but he'd be "very happy with 10 or 11."

Pete Najarian said, "We will see more volatility I would expect at least this year," and he said he agrees with Byron Wien that "we're gonna see some pullbacks too."

Doc said the president will use the "bully pulpit" to "hammer" at companies to repatriate cash.

Joe Terranova said "the opportunity for a correction is in the first 6 weeks of the year. And if you don't get it in the first 6 weeks of the year, again, you're gonna look at something very similar to 2017 where you really don't get it."

Joe also sounded incredulous about 4.0% calls on the 10-year.

Joe said "the opportunity might be" in energy if analysts start upgrading estimates.

Stephanie Link noted the meteoric recent rise of miners.

Tim Seymour on the 5 p.m. Fast Money mentioned "Ripple" by the Grateful Dead.
Joe says if IBM gets to 180, you're gonna want to be in something else
Tackling Dow stocks on Wednesday's Halftime Report, Stephanie Link invoked a "Dogs of the Dow" strategy and mentioned CVX and INTC (despite the latter's awful day) (this writer is long INTC).

Later in the program, Link said INTC has a new CFO and is a cheap stock, so she was buying the dip.

Pete Najarian grumbled that in the Rosenblatt note on DIS, "There was almost nothing to it." Judge said the narrative is "not all about ESPN."

Pete said, "IBM, you still have to struggle to find growth." Stephanie Link questioned if IBM can re-accelerate in data analytics.

Jon Najarian noted that Warren Buffett is "jettising (sic)" IBM shares, which figures to be a "pretty big overhang." Joe Terranova said IBM at 180 means AAPL and FB well over 200 and big gains in GOOGL and AMZN.

Bringing up one of his favorite stock-market news events of the last 5 years, Judge said AXP is "way beyond the Costco fiasco."

Stephanie Link said "if you believe in consumer spending, particularly on the high end, if you think that international is gonna continue to grow," then there's opportunty for AXP. (But the thing is, those things will happen or not happen whether you believe it or not.)

Pete Najarian said AXP is half the valuation of V and MA and maybe now you want the financial exposure that you don't get with V and MA.

Stephanie Link said of UNH, "I own it small," and she's not selling, but "I own Cigna in a bigger way."

Pete trumpeted international growth for NKE (Zzzzzzzz), which got some kind of endorsement from a shop called MainFirst. Joe was the one who finally made the obligatory adidas reference. Doc said it's a "real upgrade" and not a "clowngrade."
Judge suggests companies are giving bonuses as 'cover' for buybacks
ORCL surfaced on Wednesday's Halftime, and Judge saw an opening to pounce on possible corporate PR shenanigans.

Stephanie Link said ORCL has been a "very frustrating" stock, but the valuation is "pretty attractive."

Judge said, "The stock performed in line with the market last year." Link said it has "absolutely lagged" relative to its peers.

Judge then suggested buybacks could be a big story and pointed to the news reports about companies handing out $1,000 bonuses. "In some respects, maybe that's a little cover. For when they buy back their shares and they don't get all that criticism because they took care of their people first," Judge said.

Pete Najarian said ORCL has been "lagging" and trumpeted MSFT, like he always does.
At least Judge didn't have to elicit an energy-stock pick from Billy Gibbons
Pete Najarian on Wednesday's Halftime said March 75 calls in XLE were on fire.

Joe Terranova said Jeffrey Gundlach was "spot-on" with his call when Judge was in L.A. a couple weeks ago.

Jon Najarian said there's a "perfect storm for energy right now." Joe said there's also "paper asset demand."

Jeff Kilburg said oil bulls are smiling, but he sees "a little bit of a ceiling" because of ramped-up output. Scott Nations set a top at 63.30.

Judge told Kilburg, "I gotta give you props" about Notre Dame football (Zzzzzzzz).

Doc said TXN January 105 calls were getting bought. Doc said BB made an announcement with BIDU on driverless cars. Judge noted the calls were getting bought just before a big announcement. "Um, wow," Judge said.

Judge suggested an update on stock picks from early October. Doc said PAYX "continues to be a hold." Stephanie Link still owns and likes COF. Joe said he'll stay with MAR but with a "tight stop." Pete said he thinks it's time to take something off of LULU. Judge noted it's up 27% in 3 months.

Stehpanie Link said she's sticking with BMY and suggested there's "a very good chance" that PFE buys it. Doc predicted 112-115 for EA. Pete said he's "OK" holding onto KMX.

Joe noted the big day of NVDA but said the Russell hasn't opened the year as hot as big tech. Pete noted AAPL has bounced back after that battery controversy. Doc noted AMD's climb.

Pete said to give Jim Lebenthal (who wasn't on the show) a few props for GM. (Zzzzzzzz)

Joe said he disagrees with the Wells Fargo DKS upgrade, "I think there is still a lot of pressure coming from Kohl's ... This is not the next Best Buy," Joe said, predicting the stock will be range-bound from 30-35.

Doc suggested HOG could see 48.

Doc said he bought CELG during the show. Stephanie Link said she's long IBB and owns ALXN. Joe said he'll buy PYPL "at some point this afternoon. ... I'll buy it on the close ... I think this stock can go to 100." (This writer is long PYPL.)

Doc made CMCSA his final trade. Pete said V.

Pete said LEN and DHI are "still inexpensive."
[Tuesday, Jan. 2, 2017]
Brown: Stock market on
'precipice' of euphoria
Fresh into 2018, Tuesday's Halftime Report wasted no time in delving into semantics.

Josh Brown tackled the word "euphoria," pointing out it's "so overused" and that people were actually talking about it in 2013.

But Brown said we haven't seen it "societally" or "culturally," though he thinks "we're on the precipice of that."

Brown said if it happens, we could see "something insane" like a Dow 30,000 run this year.

Joe Terranova said in his 30 years of doing this, euphoria is measured in terms of "leverage," and he wonders where that high leverage is. Brown said, "You don't need high leverage when there is so much cash coming from every central bank in the world."

Apparently passing along a warning, Brown said a "very bright man" in Japan from Softbank is getting investor cash including from large banks and Saudi Arabia for vowing to charge the highest fees and invest in the "highest-valuation sectors."

Stephen Weiss acknowledged some "overvalued" stocks but questioned where you put money besides stocks.

Jon Najarian gushed about people with big tech holdings selling out-of-the-money calls and puts ($10 higher and lower) out in July and making "a ton of money on that trade." (Well, let's see, if they just sold those options Tuesday morning, it's kind of hard to see them NOT making money in the first few hours of the year because chances are, those underlying instruments aren't going to move $10 up or down in one half session.)

Joe said if we don't get in January or February "the long-awaited correction," then this year could be like 2017. Joe mentioned Paul Richards' assessment early last year that proved to be the Call of the Year (according to this page) for 2017 (see below; hit PgDn a few times).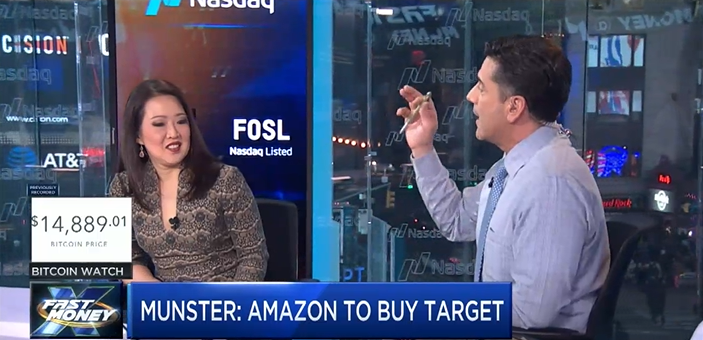 Weiss makes a good point about why AMZN may not want TGT, but Judge nevertheless apparently expects a hefty premium
Stephen Weiss on Tuesday's Halftime might've bungled the beard-Tepper joke, but he did have some impressive commentary on the idea of AMZN buying TGT.

Weiss said Gene Munster's prediction is "not farfetched." But Weiss pointed out that AMZN "falls short" of having unique, premium products of its own.

"I don't know that Target gets them there for that," Weiss said.

Joe Terranova said AMZN is going to be invoked as the solution for the "real estate problem" of retailers.

Joe questioned why TGT would want to sell to AMZN anyway. Judge said "nice price." But nobody said that WFM didn't exactly break the bank on its Amazon deal.

On the 5 p.m. Fast Money, Steve Grasso tried to make the case for AMZN buying JCP (yep, he actually said that) (snicker) on the grounds that it's a "totally different demographic" than what AMZN already has. But he admitted TGT is the "most logical way to do it." Tim Seymour said he doesn't know why AMZN needs TGT.
Weiss: United Airlines is 'probably the worst-run consumer business I've ever seen'
2018 opened for trading Tuesday, and with nearly everything trading up, it seemed like a day for smiles.

Except in regard to a certain airline.

Stephen Weiss said he "waited for the year to turn" and then sold UAL, "probably the worst-run consumer business I've ever seen in my entire career (sic last 4 words redundant unless he saw worse businesses before launching a career)."

Weiss predicted a "tough time" for airlines with crude up. Later in the program, he took up the sector again, stating airlines look cheap but like the automakers could be "perennially cheap" and complained "they've added capacity when they shouldn't."
Weiss starts the year off buying ... ETFs
Kicking off 2018, Judge and the panel of Tuesday's Halftime took a look forward and a look back.

Joe Terranova started things off chuckling about all the folks who thought that because January 2016 opened horribly we just might well do that again.

Joe suggested watching the dollar.

Judge said the "setup" for 2018 appears to be "pretty darn good."

Josh Brown said "it's not uncommon" to get a double-digit S&P return the year after a big return.

Steve Weiss said there's still no "playbook" for this investment climate. He said he bought some ETFs in the mid-cap and small-cap space. (Zzzzzzzzz.)

Jon Najarian said materials have been "scorching" and noted FCX is up "another 3% today."

Doc also touted WTW as a seasonal play.

Weiss cut in to tell everyone David Tepper is texting him during the show.

Josh Brown said Barron's made a cover story of inflation, though there's not much sign of it yet.

Doc said "everybody" (basically true) predicted higher volatility in 2018, but those who bought protection at the end of the year were getting "slaughtered" on Tuesday.

Weiss said to short the 10-year. Weiss also suggested exposure to domestic infrastructure/materials stocks in the event Congress passes a bill.
Doc insists he's not comparing MCD burgers to SHAK
Steve Weiss on Tuesday's Halftime said MCD is a story of what a CEO can do. Weiss said the company's in a "good space."

Joe Terranova said he's "concerned" about lower MCD prices (the menu, not the stock) having an effect on DNKN.

Judge mentioned the possibility of a MCD split. Jon Najarian said that would be "huge" and said MCD cleverly is now getting "2 for 3" rather than the dollar menu. (Actually we're not sure "2 for 3" is the right analysis; it sounded more like it's just 50% more, but whatever.)

Doc said MCD is "competing" against SHAK, though "I'm not saying McDonald's burger is gonna be the same Josh as a Shake Shack burger."

Josh Brown said valuation has been the argument against MCD but a losing one. He called it a "very easy hold" and would "focus only on weekly charts with this one."
It's 2018 now
Addressing an interesting stock, Stephen Weiss on Tuesday's Halftime said LULU stores are still crowded and it still has an "unassailable" brand.

The only thing is, it looks like from the chart that 80 might be a double top, so we're not sure that one's a buy right now.

Joe Terranova said ABT will perform "in 2008" (sic). Joe said he sold SYK "just the other day," and he'd buy ABT over SYK.

Jon Najarian said BB (snicker) March 13 calls were popular. Doc said someone sold 95 MSFT July calls and sold 75 puts and "took in about $5.2 million in premium." (That's the great option trade that people were cleaning up on because clearly there won't be any volatility by July.)

Doc said WM upside calls were getting bought in the last 30 minutes; he said he still likes STZ. Josh Brown hilariously said he was waiting for Doc to do "the 5-day forecast."

Leslie Picker offered an update on Stevie Cohen. Weiss admitted, "I worked for Steve."

Doc predicted "more activity" in the DIS-NFLX space. Josh Brown said it seems Macquarie is more bullish on NFLX than DIS. Weiss said he thinks cord-cutting isn't over.

Josh Brown said 50 has twice been resistance for JWN, and "it's not a bet that I wanna take."

Brian Stutland said "there's some inflation going on," which is good for gold. Anthony Grisanti said 1,334 is the big number and said if the dollar goes lower, "gold is goin' higher."

Doc's final trade was WFC. Weiss said IUSG. Brown said SCHW and Joe said TWLO in a "small trade" going long.

On the 5 p.m. Fast Money, Tim Seymour zinged Steve Grasso about Grasso's use of the term "elephant" during the Weight Watchers discussion, a word that figures in the early scenes of "Wall Street."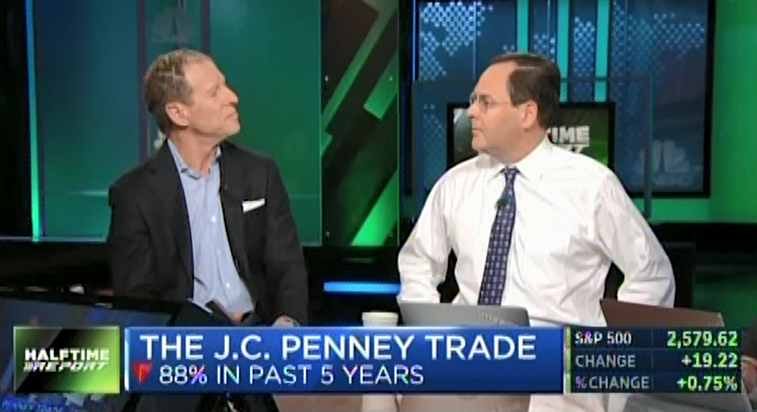 2017 in review: The best, and a bit of the worst, of the Halftime Report (and related CNBC programming)
It's that time of year.

We're not sure how many hours of programming of the Halftime Report and Fast Money occur in a given year (lessee ... 10 hours a week, 52 weeks, minus a few holidays ...), but given that this page observes many of those hours, we like to throw our own holiday party of sorts and recognize some of the programs' best moments of the past 12 months, including the always-popular Call of the Year.

(And, we might as well note a few of the less-than-stellar moments, to maintain our objectivity membership card.)

So open a Malbec or a Hamm's (please only if not driving; always drink responsibly) and see if we're on to something here ...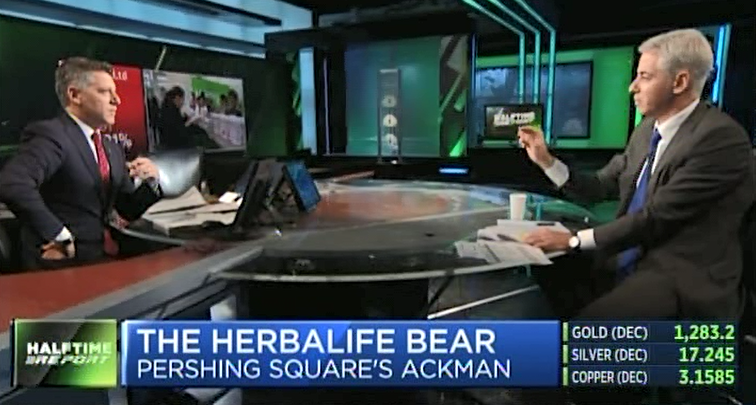 Best interview of 2017: Bill Ackman tells Judge, 'The index funds control America'
Judge on Nov. 6 put together the best interview yet with Bill Ackman, mostly tackling the ADP situation for about 30 minutes but then crossing over into other favorite subjects.

Bill got great questions and was given ample time to provide answers.

Bill not only said the word "comportment" 3 times (that's because of Lee Cooperman, see below), he made a grand statement about proxy battles:

"The index funds control America," Bill asserted, before clarifying, "I would say the proxy advisor and the index funds control America."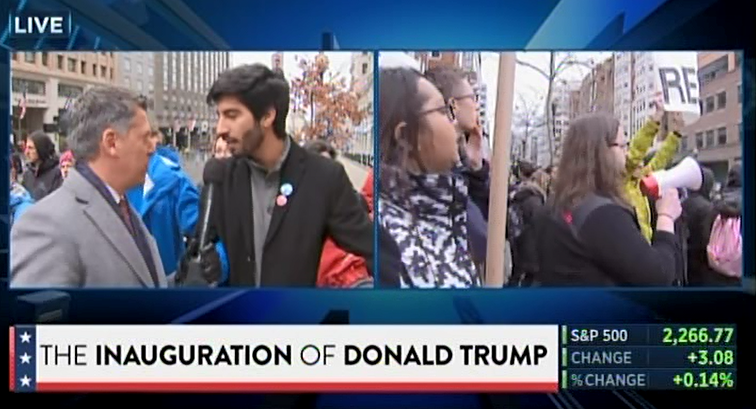 2nd-best interview: Judge confronts protester at Trump's inauguration
On Friday, Jan. 20, CNBC sent the troops out to D.C. to cover the inauguration of President Donald Trump, and Judge found himself assigned to street duty.

With live cameras rolling behind him, Judge approached a couple of unhappy folks in the crowd. "You say you're peaceful protesters, but yet I've seen you physically restraining people from going through. Why?" Judge asked.

"But are we physically attacking them?" one fellow responded. "Is there a difference between restraint and attack; are you trying to pose that question to make us look violent?"

"Why are you restraining them when they're- why you're physically restraining them (sic grammar)," Judge retorted.

"It's not restraining. Look up the dex- look up the definition of restraint," the fellow demanded.

"Why are you here today" Judge asked.

The protester was silent. "That pretty much says it all," Judge shrugged.
3rd-best interview: Judge gives Richard Fisher his first combative CNBC interview
Judge on the Aug. 16 Halftime landed an interview with Richard Fisher, who apparently was actually expecting to discuss monetary policy.

Judge said Fisher is on the board of PEP and T and asked if he believes that either Randall Stephenson or Indra Nooyi should exit Donald Trump's advisory panels in the wake of the Charlottesville fiasco. Fisher responded, "You know, I never comment on the boards that I sit on, or on the CEOs that I have the privilege of working with. So, I'm not gonna comment on that. How's that?"

Judge said part of being on a board, "other than collecting a handsome fee," is to discuss difficult issues with the "steward" of the company. Fisher actually said with a straight face, "I think the greatest responsibility of a board member is discretion, and focusing on the company's business, and that's what I do as a board member … Sorry to disappoint you," Fisher said, adding he was happy to talk about monetary policy or national economics, but "this is just not my forte."

Judge said that if Fisher doesn't want to talk about Stephenson or Nooyi, "I get it, unfortunately."

Had it just ended there, it likely wouldn't have made the list. But Fisher concluded:

"This is the first combative interview I've ever had on CNBC."
4th-best interview: Lee Cooperman says SEC's first offer should've been as good as its last
Judge landed a coveted interview on May 30 with Lee Cooperman, who had just disposed of his SEC troubles. In a candid but limited conversation, Cooperman revealed, "I've entered into what's called a no-admit, no-deny settlement, which prohibits me from commenting on the government's allegations or the strength of my defenses. I believe that the outcome speaks for itself, um, and I'll leave it at that."

He didn't quite leave it at that, admitting, "If they asked me initially for the final ask, I would've accepted it knowing it would've saved my business."

Judge asked about the SEC's initial insistence on a 5-year ban that didn't happen.

It was a mostly defiant but reasonably humble Cooperman. "The process was extraordinarily abusive," he asserted, adding his business was affected "dramatically, way out of proportion to what was, uh, reasonable."

He also reiterated how he has made the Giving Pledge.

This case was very prominent in the financial media, not so much in mainstream media. It's definitely possible there could be split opinions as to whether Lee got a raw deal or a big break because of his wealth.
5th-best interview: Kevin Plank likens himself to Tom Brady, says having a business-oriented president is a 'real asset'
Judge on Feb. 7 elicited a rare interview from beleaguered Under Armour CEO Kevin Plank, who was only about to get a lot more beleaguered.

Plank said, "You know, I think a lot of people, you know, they bet against Tom Brady the other night too."

This page took note of that. What it didn't take note of was this Plank comment: "To have such a pro-business president is something that's a real asset for this country."

That got back to Steph Curry and made national news for weeks. Unfortunately, we were asleep at the switch on that one; our bust of the year.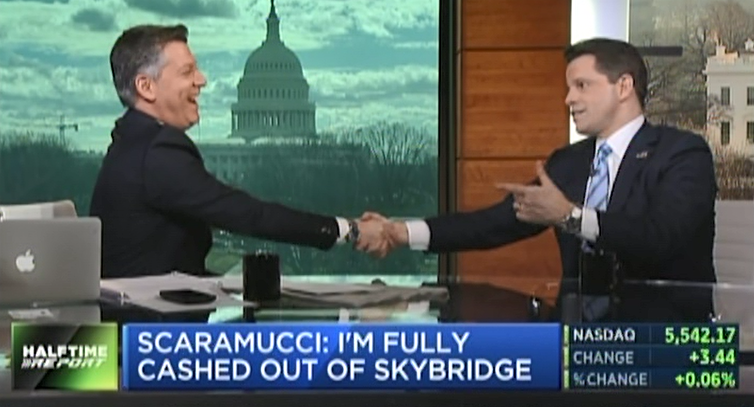 6th-best interview of the year: CNBC, Scaramucci shake hands for 8 seconds
Not only was it a reunion, it was newsworthy.

Former CNBC contributor Anthony Scaramucci, who split with the channel a few years ago when he restarted the "Wall Street Week" franchise (which now is presumably gathering dust at Fox Business unless anyone is actually watching it), returned triumphantly for an interview with Judge on Jan. 18 about Scaramucci's supposedly ascending role in the White House.

Scaramucci's title then was to be: "Assistant to the president, director, office of the public liaison."

He said CEOs who weren't excited about Trump were "coming around." (Many of those made a U-turn after Charlottesville.)

Despite some of the criticisms about Scaramucci's personality, at the time, we figured it was a plus for the White House to have a guy like Scaramucci around to kind of get everyone together and show everyone a good time. Unfortunately, in his brief tenure (he didn't get a position until later, and it was actually a bigger title), he vowed more firing than hiring; we didn't realize he might go ballistic over a leaked dinner invitation.

Scaramucci actually told Judge, "As you get closer to the White House and you get closer to being a voice for the administration, I have to start really being careful about who I'm meeting and what I'm saying, and I respect that."
Best public service: Joe, others on panel stress colonoscopies
Colonoscopies actually surfaced as a topic of short interest on the Halftime Report in 2017. For the purposes of this item, we're not going to bother rehashing that debate. Rather, we'll note that Joe Terranova (as well as short seller Andrew Left) reminded viewers not to avoid this potentially life-saving procedure. Do yourself a favor, and get it done.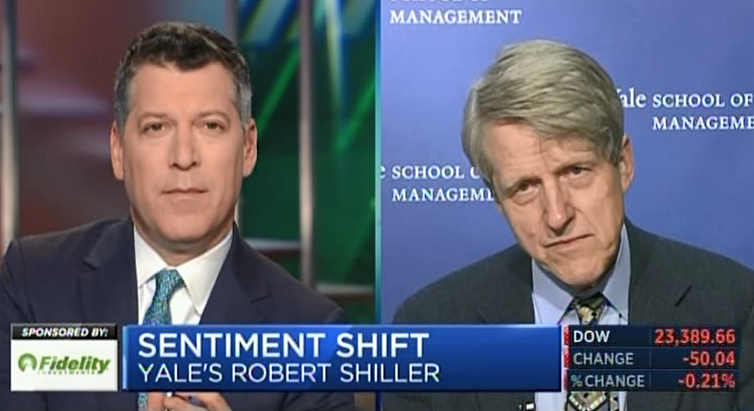 Worst interview of 2017: Robert Shiller maybe thinks stocks can go up 50%
On May 24 (picture above from a different day), Judge ushered in the latest installment of pointless interviews with Robert Shiller, who likes to chuckle about how the headlines on his reports are always not quite right.

Judge on this program stated that Shiller is saying stocks could go up 50% "from here," which prompted Shiller to hem and haw.

8 minutes into the show, Stephen Weiss said Shiller was actually making a 10-year assessment. Pete Najarian said of Shiller, "He said 10 years, but he said somewhere between now and 10 years."
2nd-worst interview: Jay Williams says 'It's not OK' that some college basketball coaches make about as much as some NBA coaches
Jay Williams on the Sept. 27 Halftime Report critiqued the FBI investigation of college basketball (not sure how this is a stock-picking subject and Harvey Weinstein isn't) and (aside from not saying anything that high school kids couldn't have said) grumbled, "The FBI's investigation actually proves No. 1 that the NCAA is somewhat obsolete."

Moments later, Williams said, "The game just got sold the rights to the NCAA Tournament (sic grammar) to CBS and Turner for 10.9 billion dollars."

Williams also complained, "The term student-athlete is not the case. It's athlete, athlete, athlete, then maybe student." OK. So drop college athletics entirely.

Despite his emphasis on "athlete," Williams complained that they're not paid. "It's OK for everybody else to profit but the kids," he told Judge.

Making very little sense, Williams ultimately complained, "I can compare the top 10 coaches in college basketball to some of the top NBA coaches salary-wise. You tell me that's OK. It's not OK." He also wants to force basketball players to stay in college 3 years. "If you go to college you have to go to college for a mandatory 3 years," he actually said. Perhaps we can apply that to the general population so that we'll have no more dropouts.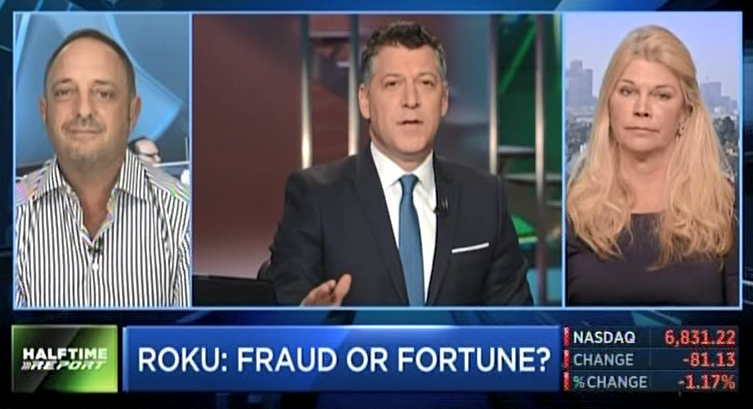 3rd-worst interview: Andrew Left faults analyst for having target at level of stock price
This was a head-scratcher.

(Obviously the CNBC Booking Dept. had run out of gas or something.)

On Nov. 29, Judge pitted ROKU skeptic Andrew Left against bullish analyst Laura Martin, allowing Left to do the grilling.

Except Left's beef was only that Martin had raised her target from 28 to 50 within 3 weeks not (according to Left) because of fundamental change but simply because the stock had indeed gone higher.

Martin said there were "a number of data points" in the 3rd quarter. The stock has easily surpassed Martin's 50 and has even made it look modest. Left is a great guest. This was buffoonery. The only thing that saved this pointless confrontation was that Martin was a good sport about it.
4th-worst interview: Mick McGuire suggests BWLD 450
It had to be one of the Halftime Report's loopiest subjects. Multiple interviews with Mick McGuire over his bizarre interest in a pointless stock, Buffalo Wild Wings.

The stock and activism were a disaster for most of the year until a November buyout gave it life. On April 20, McGuire told Joe Terranova that he could see a possible 450 share price, but only if the company could hit the "value drivers," including margin improvement and the "highly franchised model." Steve Weiss told McGuire his target is "pretty hefty."
5th-worst interview: Judge shamelessly cross-promotes CNBC's stale Shark Tank reruns with check for entrepreneur
We don't want to be hard on an industrious go-getter who is just starting to hit it big.

But enough is enough when it comes to Shark Tank. (Isn't 8 reruns a night enough exposure?)

On the Nov. 30 Halftime, Judge welcomed Benjilock founder Robbie Cabral, who apparently made a deal with Kevin O'Leary on Shark Tank about padlocks. Judge even brought in Kim Kelley, CEO of Hampton Products, which is apparently the distributor of the product, who presented Cabral with a check for $100,000. Cabral got choked up with tears in his eyes and said it's the "American Dream."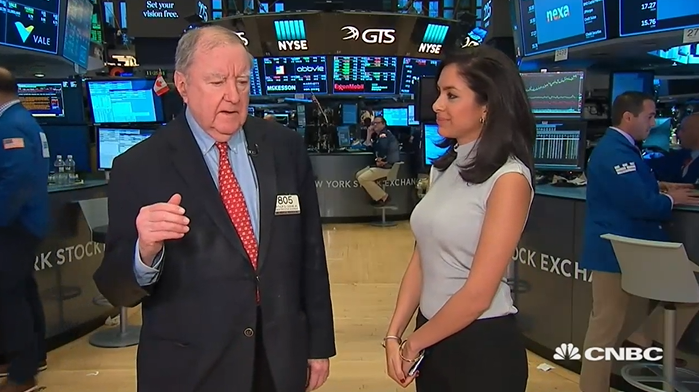 Overdue: Time for Nik Deogun to give Seema a shot at Halftime guest-hosting
"Judge" Scott Wapner doesn't often take time off.

When he does, Halftime Report viewers tend to get Sully, a fine chap whose strengths and weaknesses won't be reanalyzed here, or Mel, rock-solid after doing this for, what, 8 years now (and like Sully, also has another show)?

It certainly wouldn't hurt for CNBC to give some of the upstarts a chance during this hour and seeing what they can do.
They said it: John Harwood claims 'this president and members of his family are in deep trouble'
When word broke Dec. 1 of a legal deal involing Michael Flynn, CNBC's John Harwood was to quick to pounce during the Halftime Report.

Harwood scoffed that it's a "nice try" for the White House to shrug off Flynn's plea, "but this president and members of his family are in deep trouble right now."

"The circumstances here are very, very dire for the White House," Harwood added.

That was before ABC's Brian Ross was suspended for his erroneous report on the matter.
They said it: Ross Levinsohn claims SNAP $160 in 12 months wouldn't surprise him
Ross Levinsohn on March 17, before he was running the L.A. Times, said he "wouldn't be surprised" if SNAP was 160 a year from now, but he would be surprised if it's $5.
They said it: Karen Finerman calls Jeff Immelt a 'great CEO' victimized by 'things that are beyond his ability'
Karen Finerman on the May 24 Fast Money said of the Dow's laggards, "GE is probably the most interesting to me."

But Karen also said Jeff Immelt is a "great CEO" plagued by "a lot of different things that are beyond his ability to, you know, the financial crisis, and GE being in that situation they were in."

She didn't say anything about flying empty 2nd jets.
They said it: Steve Weiss says Donald Trump 'should resign'
On Aug. 16, Stephen Weiss called for a change at the top.

Noting CEOs creating space from Donald Trump, Weiss said, "He should resign."

Jim Lebenthal agreed, stating, "That's exactly right. You said it; I'm gonna agree with you ... We need new leadership."
They said it: Rob Sechan insists it's not a bad idea to roll student loan debt into mortgages
Rob Sechan on the Oct. 20 Halftime Report revealed, "The mortgage industry too is working on a solution in terms of how to figure out how they deal with student loans, and student loans potentially rolling into mortgages."

Jim Lebenthal opined, "This sounds awful."

"It does not sound awful," Sechan said. "It will completely change the pace of household formation."

Jon Najarian astutely noted that student loans can't be discharged in bankruptcy, but you can "walk away" from a mortgage. "So if you could roll student loans into a mortgage and then walk away, I think you'd accelerate the walkaways."

"The devil is in the details," Sechan said.
They said it: Tom Lee touts CRAP stock acronym
On March 15, Tom Lee — who's had a dubious year, to say the least — explained what his CRAP trade stands for:

"The C is tel- technology, computers, right, which is old tech, which would be an example like Oracle, Microsoft, Intel, automation. R is for resources, which is energy and basic materials. A is American-based banks. And the P is for telecom carriers, phone carriers."
They said it: Lee Cooperman calls Ackman's ADP move 'foolish, inappropriate and irresponsible'
On the Aug. 7 Halftime, Lee Cooperman tackled the ADP showdown and stated, "I know and respect Bill Ackman … Notwithstanding, I consider his behavior to be in this instance somewhere between foolish, inappropriate and irresponsible."

Lee said he was "somewhat incredulous" when he heard about Bill's move.

Referring to Bill's push for a nomination delay, "Either finish your work in time … or be a gentleman and wait for the next year's nominating committee to be open," Lee said. "They were right in not delaying."

Later, Bill would claim that Lee was only disgruntled because Bill had targeted Glenn Hubbard.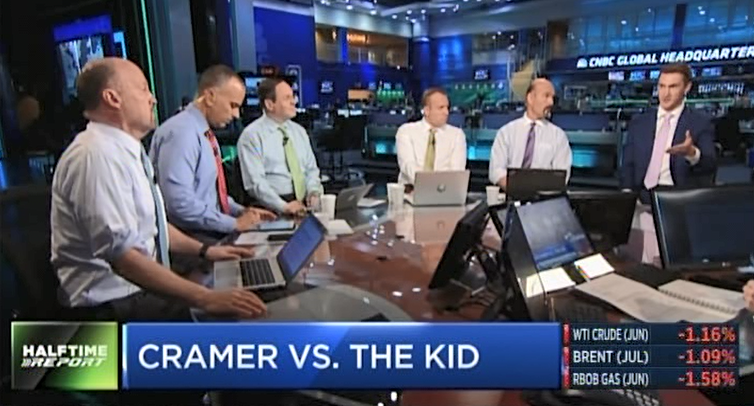 Showdowns: 20-year-old honored for calling PYPL a short at Ira Sohn runs into Jim Cramer May 9
Judge on the May 9 Halftime welcomed a 20-year-old who was honored at Ira Sohn for promoting a pairs trade of long EBAY/short PYPL. (This writer is long PYPL.)

This fellow's argument was, "eBay is a long, but, embedded in the idea that eBay is a long, implies that PayPal is also a short. Because there's a peer value transfer from PayPal to eBay, about $1 billion in earnings starting in 2020, in perpetuity."

Josh Brown said that when this youngster made his pitch at Sohn, "I was in the audience," and "everyone was like very into the idea," which indicates that the Ira Sohn crowd is hardly infallible.

Judge invited Jim Cramer to the set (what a surprise, he was nearby); Cramer took a seat and stated PYPL "perhaps is not a great short." As for the trade, Cramer said, "I would flip it."

Actually, EBAY has done well; no need to short either one.

Still better to be long PYPL, up about 50% since that day.

We're not mentioning the youngster's name because there's no need to pile on.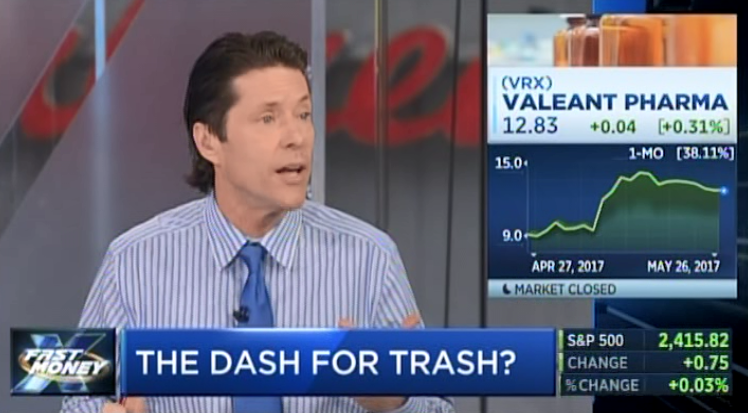 Best joke: Tim Seymour on May 26 says 'I like to buy other people's problems'; Steve Grasso asks about Tim's shirt
It sort of got the Ambassador to stop talking. Maybe for a moment. (And note the price of VRX in that graphic.)

Bust of the Year: Pete from June 12 onward starts talking about SNAP in 'single digits'
This one really hurt. (This writer was long SNAP in 2017 but has no position.)

Few well-known stocks were as awful as SNAP in 2017, a banner year for just about everything else.

In June, Pete Najarian started trumpeting the carnage in this name and began a refrain (echoed by Guy Adami) that SNAP was headed to "single digits" and that put buyers were indicating as much.

On July 13, Pete affirmed, "I've been saying for a while now that I think you're gonna see single digits, and I think that happens after the lockup."

Indeed, that appeared to be the trajectory ... except it actually bottomed in mid-August — at $11.28, according to both Google and Yahoo finance — and even crossed 15 by the end of that month and has roughly held that level into year-end.

At one point in late summer or fall, Steve Weiss actually bought it for a successful long trade.

So basically, at this time, SNAP is a great trading stock (albeit mostly down) rather than an utter disaster stock (that would basically be Sears or JCPenney).

We also heard all spring and summer how Mark Zuckerberg was going to destroy SNAP. Haven't heard much about that in months. Nor have we heard much about the single digits in months.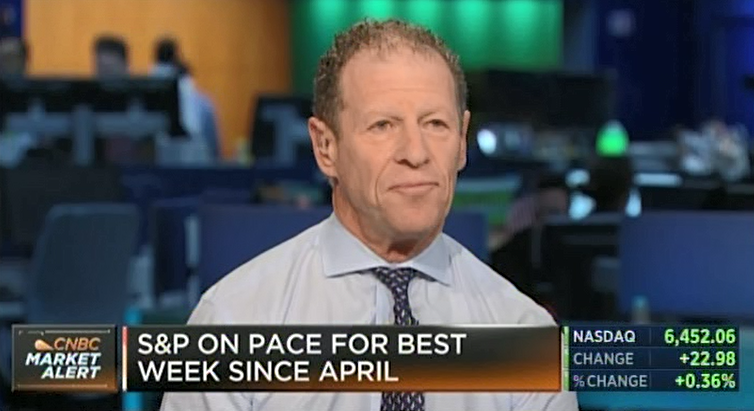 Call that might've been great or might've been a bust; we're not sure: Weiss buys X
On May 24, when it closed at 20.55, Stephen Weiss bought X but assured on the Halftime Report, "10% and I'm gone."

Indeed, in an update on June 7, Weiss said he tried to trade X but quickly got out because there was no bounce; he'd "stay away." Which is too bad, because it closed the year at 35.
2017 Call of the Year: Paul Richards declares 2017 a year without a big correction
Heading into year-end, we were leaning toward handing the 2017 Call of the Year award to Josh Brown, for his steadfast belief in riding NVDA not just for a massive gain in 1 year but for at least another year and another massive gain. (This writer has no position in NVDA.)

But then we decided another call was even more relevant.

Paul Richards, who was hardly on the show in 2017, made his limited appearances count.

Back on March 10, Richards, always a very cordial and agreeable fellow on television, sat in with the Halftime Report and stated, "I really love big corrections in markets. This is a year we're not gonna get them."

Richards added, "As long as we can get through France in May, we should be absolutely fine."

Right on.

We'll close the way we always do — We're here because you are. Talking stocks. Reviewing television. (Sometimes even dabbling into football and film.) Connecting with people who watch business television and constitute basically the most astute media audience in existence. Attempting to inform in ways the mainstream media and their still-large bankrolls can't or simply don't. No ads, no logins, no gimmicks, no javascripts that slow down your computer. 100% free. Wishing success for anyone who stops to take a look. Happy 2018 ... and HAPPY TRADING!
[Friday, Dec. 29, 2017]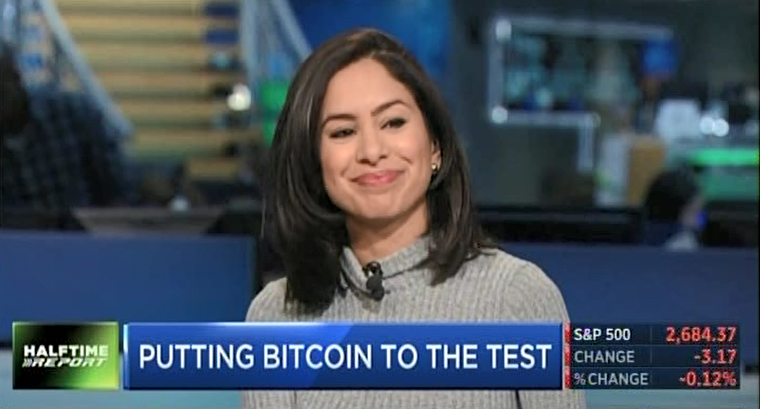 Mel unable to get Billy Gibbons to make a call on oil stocks
Dick Bove, who made a bear case for the banks in 2017 that proved terrible (though honestly we agreed/agree with him that banks have no vision #oops), surfaced on Friday's Halftime Report to tout GS.

Bove insisted he's not changing any of his previous criticisms of Goldman Sachs, but now it's in the "exact right environment" to do its best, hence his upgrade to buy.

Basically, he just thinks the company has stumbled into the right place at the right time. "Everything that could go right, in terms of the environment, has gone right for Goldman Sachs," Dick said.

Guest host Mel pushed Dick's previous comments about how Lloyd should get the boot. Dick said his belief about that "hasn't changed in any way, shape or form."

Kevin O'Leary said he's one of the GS skeptics who thinks the company is "not in a great place" and lacks great margins. Bove said "investment banking is the high-margin business." O'Leary shrugged that "your call is on the IPO market basically, right." Bove insisted, "It's only 1 part of it."

Pete Najarian said GS "has some wind behind it right now" though he likes BAC better. Jim Lebenthal said he agrees with Bove that the banking environment will be strong. But Jim said the "X factor" is what happens with trading.

O'Leary grumbled that if you buy Dick's deregulatory theme, "why wouldn't you buy the midsize banks."

Mel did NOT ask Dick about his claim that James Gorman is the "Babe Ruth" of banking.

Meanwhile, Jon Najarian said he expects AAPL to top $1 trillion "long before" BABA does, unlike what MKM says. But Pete Najarian said BABA "very easily could be No. 2."

Grandpa Kevin O'Leary said BABA is "not compliant with many institutions in America" and said he's an "Amazon guy."

Jim Lebenthal said there's "no rush" to get into GE. Kevin O'Leary said he anticipates another dividend cut by June and called the company's year a "disaster."

Doc said he's "a little nervous" about CAT and DE because the dollar might not slide 9% again.

Jim said absent a buyout, TIVO is "really going nowhere."

Doc likes the fact that PCLN's IBM dispute is over.

Kevin O'Leary said the drug lobby is "so powerful" and that aging people consume pills "like candy" and so AZN is in the space where "you gotta be." Mel joked that's the "Peter Lynch approach."

Pete says SD pulling out of an acquisition "makes sense to me," but he hasn't looked at the name very closely.

Doc said 155 calls in PLCE were popular. Pete said February 25 calls in GDX were getting bought.

Billy Gibbons dialed in to praise Kevin O'Leary's guitar playing. Mel tried to ask about Billy's investments, but Billy and Kevin mostly talked about 1960s guitars. Eventually, Billy said the energy sector "doesn't show signs of slowing down just yet" and is "not a bad place to be."

OK.

Billy said 2019 marks 50 years of ZZTop. Mel called that a "tremendous landmark." Let's hope the 50th anniversary concert is more rehearsed than what Bob and Phil and Bill and Mickey put together for Fare Thee Well (still a great party though).

CNBC bitcoin reporter Seema Mody took a seat with the panel and mentioned companies that accept Cabbage Patch Kids for payment. Mel said, "I believe you can pay taxes in Japan in bitcoin" without a ton of certainty. Doc said, "Venmo and PayPal were where bitcoin is now 5 years ago." Hmmmm. PayPal was worth $18,000 a share 5 years ago?

Kevin O'Leary said he owns some bitcoin. Seema said the SEC has a cryptocurrency unit that is "dedicated purely" toward ICOs.

Mel predicted Seema would do the "same package next year."

O'Leary's first trade for 2018 was a Russell 2000 subset. Doc said FDC and called Stevie Cohen "a friend of mine." Jim Lebenthal said to buy ROKU. "The growth is there," Jim said.

Desperate for participants during a year-end holiday week, Mel actually summoned Gina Sanchez for Friday's 5 p.m. Fast Money. (And when was the last time you heard about the forecasts of Nouriel Roubini?)

Coming up this weekend ... a matter of hours ... our 2017 Halftime Report/Fast Money Year in Review.
[Thursday, Dec. 28, 2017]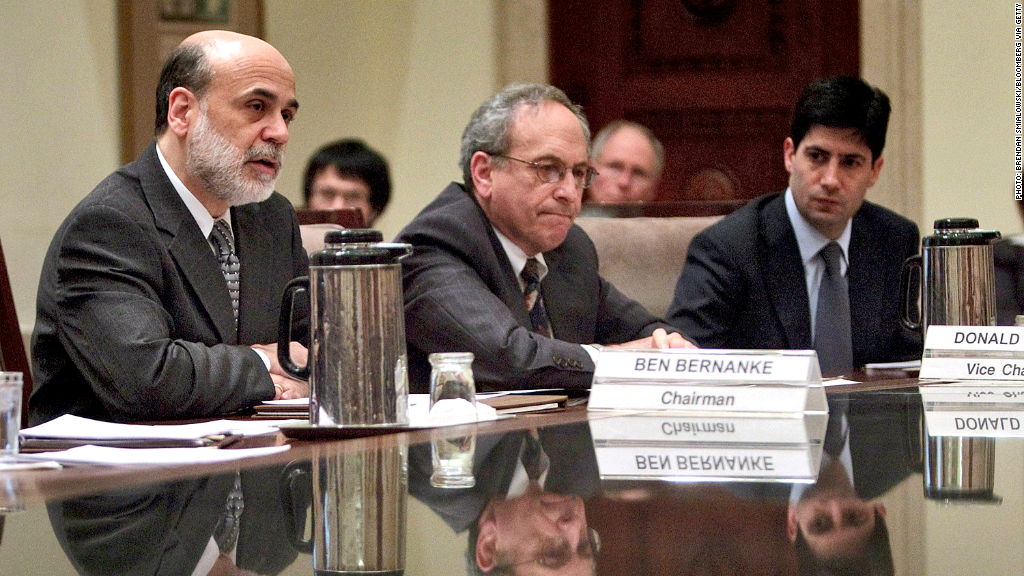 Cathie Wood says fundamental case for bitcoin is that it's about 'rules-based monetary policy'
Missy Lee, guest hosting Thursday's Halftime Report, asked guest panelist Cathie Wood about the ... Cabbage Patch Kids.

Wood said she bought GBTC when bitcoin was "below $250." (That's a great idea for anyone who can go back in time.)

Mel pointed out Andrew Left's argument that GBTC's premium to bitcoin's price is outsized and that Xapo, or whatever it is, has "the bunker storage in the Swiss Alps" (snicker) but "can't get insurance" for the bitcoins in its custody.

Wood said she believes the premium in GBTC will disappear when the "friction" of bitcoin transactions is eliminated.

"This is so much bigger of an idea than even Apple, which is a pretty big idea," Wood actually insisted.

Jon Najarian and Kevin O'Leary mentioned "the Winklevoss guys" (snicker).

Joe Terranova, on fire this month and once again knocking one out of the park, asked Wood what bitcoin has "fundamentally" going for it. Wood's answer was that she got Arthur Laffer, "my mentor," to collaborate on a paper about bitcoin. "He said, 'Wow, finally, it's a rule. They're bringing rules-based monetary policy back.'"

Doc said bitcoin has a "plus" over bitcoin cash, because the latter has a "big problem" in that there's only "2 guys in charge; one of 'em is an anarchist, maybe both of 'em."

Desperate to spend as many minutes as possible on this subject (as always), Mel later brought in Don Steinbrugge, who said there are "about 150 hedge funds" focused on cryptocurrency.

Steinbrugge twice answered Mel's questions by stating it's "all of the above."

Doc questioned how South Korea cracks down on something as decentralized as bitcoin. Steinbrugge said all these "currencies" are being driven by "supply and demand."

We're not really sure why Steinbrugge was on the program.
Cathie Wood says Tesla buyers will be able to resell their cars to fleet operators for $100,000
Cathie Wood on Thursday's Halftime wasn't just giddy about Cabbage Patch Kids, but TSLA.

Wood actually called TSLA "an autonomous taxi network company" and trumpeted a timeline of "5 to 10 years."

Kevin O'Leary, who had an excellent show including with the guitar, correctly asked, "What happens if it's just a car company trading at a crazy multiple."

It was actually Pete Najarian who responded, "It's not. It's not. It's a software company, right."

O'Leary said he bought his wife a Tesla. Cathie Wood told O'Leary he'll be "delighted" he bought that car because "some fleet operator is gonna come to you once these networks launch and offer you a hundred thousand dollars for it."

O'Leary, not particularly impressed, wondered of the automakers, "Why aren't they all just utilities." That's when Mel of all people jumped in and stressed the miles and how Tesla has a "jump start" on miles data.

Sarat Sethi insisted he thinks GM will be one of the winners in the auto space.
WYNN is going to make a lot of money from not having a building next to it undergoing construction
Pete Najarian early on Thursday's Halftime said Steve Wynn "led the way" in buying his own stock, though he's not sure how much growth is left in that name.

Later, guest host Mel brought in Robin Farley on the phone to talk about Farley's great call of WYNN.

Farley said she sees Macau catalysts for WYNN in 2018.

Joe Terranova retraced WYNN's chart and questioned if it can revisit its 249 high of March 2014. Farley chuckled that her target is only 174 but one catalyst is actually MGM opening in Macau in January, from foot traffic and "from just not having construction on that side of the building."

Mel flagged Farley's 174 target with the stock at 169. "It doesn't sound like you're very confident," Mel said.

Farley stammered that "all of these names are fairly volatile ... so that's where we are now."

Farley said she also likes the cruise lines, CCL and RCL.

Grandpa Kevin O'Leary wondered about Wynn's debt and whether "we don't care about that anymore." Farley said its "major project" is open in Macau and will increase cash flows.
Why is this January going to be like 2016? Why not 2017? 2012? 2005? 1979?
Joe Terranova on Thursday's Halftime said what many have said the last couple weeks: "A lot of people are talking about the potential for January 2016."

We'll take the other side of that one. It's not going to be like January 2016. #thankuslater

Joe revealed, "I sold out of my, uh, CRM and my Adobe just the other day," though he's holding MSFT and SAP.

Pete Najarian said he doesn't know if MU is a buy on Thursday but it's still a very "compelling" stock.

Sarat Sethi said that in big tech he prefers ORCL, which hasn't had a huge run.

Cathie Wood said the winners "are on to something" and trumpeted the "S curve."

Kevin O'Leary said he's been "mining" MTN and IDCC. He made MTN his final trade.

Jon Najarian thinks financials will just "gear up" in 2018.
O'Leary out of GE (and if oil is going up, shouldn't they start releasing from the SPR?)
Riding the energy wave, Joe Terranova on Thursday's Halftime said he's long FANG (the stock, not tech collection) and will hang on. He also touted shale plays CXO, EOG and PXD.

Pete Najarian said RRC is still "virtually sitting on the lows of the year."

Jon Najarian said JBHT had a "horrible announcement."

Kevin O'Leary said "nobody cares" that NTDOY is pushing out revenue forward.

Sarat Sethi said he likes SYF.

Doc said February 42 calls in EWZ were bought by a "smart buyer" (not sure how he knows the buyer is smart).

Pete said 10,000 February 20 calls in FCX were getting bought.

Anthony Grisanti told Seema Mody that cold weather can lift nat gas. Jim Iuorio said 2.5 is "significant support" and he sees it heading to 3.2. Seema promised David Stockman (snicker) (although he probably agrees with us on going into debt for corporate tax cuts) on Futures Now.

Joe said 2018 "sets up nicely" for LB. Doc also endorsed the name for tax benefits and prospect of "cannabinoids" (or whatever) in lotions.

Sarat Sethi likes Hudson's Bay (we think that trades in Toronto). Pete likes BBY.

Kevin O'Leary said he finally unloaded all of his GE, "a $13 stock trading at 17."

Pete Najarian's final trade was MSFT. Doc said LLY. Sarat Sethi said BAC. Joe hung a 70 on DNKN.

Mel and Kayla Tausche said they look forward to going to work every day.
[Wednesday, Dec. 27, 2017]
If oil is going up, shouldn't they be 1) investigating all the oil traders and stocking up on the SPR and 2) reversing the tailwind the economy supposedly got last year from plunging gas prices?
Guest host Sully, best known on CNBC for claiming a year or so ago about every 5 minutes that consumers were spending their gasoline price discounts on convenience-store cigarettes, oversaw on Wednesday's Halftime a decent conversation on energy names that frankly could've been a bit more comprehensive.

Pete Najarian has seen "so much paper" in the options space in energy, and "this time," it looks different.

Jon Najarian said they're still buyin' upside calls in XLE.

Jim Lebenthal said as a value investor, he's managed to stay away from RIG though it says "buy me," probably the first time since Dan Dicker's been on the program (we're talking years, not months) that someone suggested RIG is saying "buy me."

Jim told Sully that he doesn't think Sully's view that rig count is hampered by a lack of Williston workers is correct. Jim said it's about wells that were drilled but not completed, and that the move to drill could be good for RIG.

Sully cautioned that RIG operates in "super deep" and "super expensive" projects and that for companies to invest in those projects, you've gotta be "doggone sure" that crude will hold up.

We heard about 2 or 3 times — on the heels of Tuesday's and Friday's shows in which we heard it at least a couple other times — that XOM and CVX constitute 40% of the XLE.

The star guest, Doug Terreson, dialed in to explain what he meant by his "transcendental change" report on what higher oil prices mean, basically that Big Oil policies are good for CEO pay but not shareholder returns.

Terreson stated that energy companies employ strategies of "CEO pay incentives" that emphasize production growth but don't coincide with shareholder return. Nevertheless, he lists the biggies, RDSa, BP, CVX, COP, PSX as buys because they're "pledgers" of returning value to shareholders.

Terreson said XOM isn't on the list because it's not a "pledger."

Jim questioned if the RDSa dividend is sustainable. "You should stop worrying about it," Terreson assured, acknowledging a high payout ratio when crude was 55.

Doc asked if someone might take a "nibble" at ANDV. Terreson said we're not going to have "the golden age of refining," but he got more positive a couple months ago, with a note titled "it's not your father's golden age (sic dreadful cliche), but we'll take it."

CNBC superfox Seema Mody explained WTI's dance with 60.
Doc: Look at COF
Wilf Frost, whose niche at Englewood Cliffs has been deemed banking (as opposed to, say, "Frost/Nixon"), reported on bulge bracket prospects for 2018 during Wednesday's Halftime Report.

"I'd say this is a really big, big year for Goldman Sachs," Frost said.

Jim Lebenthal contended, "Volatility will pick up." And he predicted a new wave of M&A (has anyone on CNBC ... ever ... not predicted in December that there will be more M&A in the new year?).

Wilf actually mentioned something Sully doesn't know (that even we did) (snicker) (actually the first couple times we heard it, we didn't know what they meant either): "CCAR." Sully said, "What is CCAR, I'm sorry, I should probably know this." Sully realized it's "the more official name" of the stress test. Sully then diverted the conversation to English Premier League. Pete Najarian insisted on talking about a top pick among the banks; Wilf said, based on regulatory easing, GS.

Jon Najarian floated the idea of COF, an interesting call, stating he likes it because it hasn't had the ride of JPM. Wilf at one point said "rate rike" (sic). Sully, to his credit, pounced on that one.
Big-government conservatives running the country (cont'd)
Jumping on the caution bandwagon (but not quite as cautious as Howard Marks, who questions the notion of sell point), Jim Lebenthal on Wednesday's Halftime said next year won't be as good as 2017 because "really the only good news" he sees on the horizon is a "maybe an infrastructure spending bill," though he'd prefer that to be "back-end-loaded."

And why shouldn't the country spend some more money it can't afford when we've got a Goldilocks economy?

Even better, why not just do stimulus programs ... forever? All the time? No matter what GDP or unemployment levels are?

Pete Najarian said a lot of tax reform may not yet be priced in. Jon Najarian brought up Josh Brown's caution from a week ago about the first week of January being as bad as 2016. Doc said VIX futures aren't pricing in a 16 until September.

Doc said holders of April 135 MAR calls were exchanging those for the 140s. Joe's been calling this one for a while; Judge tried to ride our coattails last week in pointing out Joe's on fire, which this page had noted a week prior.

Pete said February 230 calls in STZ were getting scooped up. He said he'll buy the stock and sell calls against it.

Doc said there'll be a "better price in 2018" for TSLA.

Pete said it'll take "a lot of time" for GE's turnaround.

Jim Lebenthal agrees with the CELG downgrade.

Doc said the sell call on ELY is just taking money off the table.

Pete advised against jumping in to MAT.

Jim said SHPG is a "good company to hold" amid prospects of M&A.

Bob Iaccino told Seema Mody that copper has more room to run given "supply disruptions." Anthony Grisanti said the market's a bit "toppy" and he agrees with Iaccino on a short-term pullback, maybe to 3.15, "but definitely should be bought."

Jim suggested DKS amid the 2017 retail "bomb." Pete suggested TGT. Doc said WBA and said to buy it on the dip when AMZN gets in the space.

Pete's final trade was GM. Jon Najarian said BABA. (Sully said they should talk about ORLY too so they can do "BABA O'Reilly.") Jim said RDSa.
[Tuesday, Dec. 26, 2017]
Unbelievable — an entire episode without a Cabbage Patch Kids conversation
Guest host Sully helmed a low-key, modest Halftime Report on Tuesday in which the most provocative comment came from Joe Terranova on the subject of consumer electronics.

Joe said, "I have the iPhone X, and utilizing the iPhone X ... I don't need to see a text message in the form of an animal, uh that's not so exciting to me."

But Joe said, "it's faster, it's quicker" and endorsed cloud names MSFT, SAP and RHT.

Kari Firestone said AAPL is up 47% this year, so she can see some selling.

Kari added, "Amazon has offered convenience at a very low price." Has she compared prices of various items at a Walmart store with Amazon (including either A) the shipping costs or B) the amortized Prime subscription)?

Barbara Doran endorsed WMT as "one of the best ones" to fight Amazon. Joe said he's long the name and predicts "well above 100."

Jim Lebenthal said Sears is the "big gorilla" and that its bonds are trading at 29-30% and "eventually Sears is gonna have to liquidate its inventory," which will be a headwind for retailers.
Sounds like nobody believes the first week of January will actually be up
Joe Terranova on Tuesday's Halftime said many money managers were underweight energy and had gotten "burned" by crude; he sees opportunity in energy equities.

Joe said the XLE has been a "fantastic" play. Later in the show, he was asked to retrumpet the XLE, and he also touted Jeffrey Gundlach's commodities call.

Jim Lebenthal said "the rig count really isn't going up that much."

Barbara Doran said the market is "earnings-driven" and will continue to be so.

Kari Firestone said the FIFO provision might've prompted people to sell this year.

Mike Farr said the path of least resistance for stocks is up.

Guest host Sully told Jim, "If you read one newspaper, your taxes are going up. If you read the other newspaper, your taxes are going down. You know what I'm talking about."

Jim said he expects January to be "down modestly" and a great buying opportunity. Joe referenced January 2016.
Sully finds differing views on tax overhaul from different newspapers
Offering a Top 10 for 2018, Mike Farr on Tuesday's Halftime trumpeted BMY, FDX, MSFT and SBUX and said you can hear about all of them on his "Farr-cast." Guest host Sully for some reason said it should be called "Farr-ther."

Kari Firestone said she likes AAPL, FB, GOOGL, CRM, CHTR, TJX, BMY, ZTS, HQY.

Barbara Doran touted AAPL, AMZN, GOOGL, NVDA, FB (Zzzzzzzzzzzzz). Sully suggested that could be a "Yogi Berra Market" about nobody going there anymore because it's too crowded. Doran was unfazed. She added HD, FDX, V, MA, DAL, SBUX.

Pete Najarian, via satellite, said April 135 PEP calls were getting bought. Pete also hung a 20 on FCX.

Jim Lebenthal said to "be a little bit suspicious" about the MNK purchase, noting how big the goodwill is relative to the market cap.

Mike Farr said he likes ACN.

Barbara Doran said this is the right time for HD and its a best-in-class retailer.

Kari Firestone said PYPL is the "preferred payment platform for millennials," and she thinks stock gains can continue. (This writer is long PYPL.)

Scott Nations said oil's in a trend channel and he'd expect it to fall back a bit. Jim Iuorio thinks it can get to 61 before turning around.

Joe Terranova issued a late reminder for financials, suggesting GS if there's a little rise in volatility. Joe said to prepay real estate taxes in New York and New Jersey.

Jim Lebenthal touted MET late and made NKE his final trade.

Barbara Doran, apparently of Penn State, made CRM her final trade.
[Friday, Dec. 22, 2017]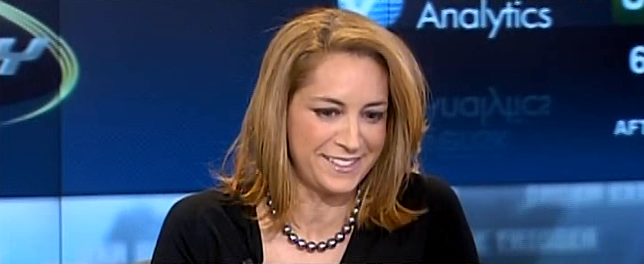 If Judge offered $100,000 in bitcoin or $100,000 in GE — and the recipient had to hold it at least 1 year — which would Brian Kelly and Karen Finerman take?
On Friday's Halftime Report, Josh Brown offered an unconventional definition of the role of a financial advisor.

"The whole job is expectations management," Brown said, calling 2017 an "amazing year."

Brown suggested commodities could be the "sleeper" of 2018 and pointed to the XLE.

Taking a break from filming commercials to sit in with the gang, JJ Kinahan said anyone who thinks 2017 is the "norm" is "fooling themselves."

"I'm actually a little nervous for the first 6 months of the year," JJ said, because he thinks people "anxious to sell" are pushing capital gains into 2018.

Josh Brown reiterated his point about the "somewhat traumatic" awful start to 2016. (See, that's fine, but you know what, when everybody knows about something that happened in the stock market, it's basically not going to happen again; in this case, it would be everyone realizing "hey the rest of the year is still going to be great, so I'm buying on the slightest dip.")

Jon Najarian pointed to "November home sales, best in a decade."

Mel, in chic green jacket, spent the first 15 minutes of Friday's 5 p.m. Fast Money on Cabbage Patch Kids. Steve Grasso actually said you have to trade it "like a stock."
Judge should summon Howard Marks, see what Howard thinks of Jim's latest commentary
Jim Lebenthal on Friday's Halftime Report declared, "Asset allocations are out of whack, right, in a good way."

Well, OK, whatever. But what really caught our ear is when Jim said, "I've got stocks that right now are above their sell targets. ... As soon as they start to roll over in the new year, I'm out."

Uh-oh.

"Sell targets."

See, over the summer, Judge invited Howard Marks to join the panel, and Marks did, Aug. 10, and Marks complained about those who grumbled about his call for caution (for lack of a better word).

"One guy said, 'The market is expensive, but I'm holding, until there are a couple bad days.' I haven't figured out what that means yet," Marks said. "And he also said, 'I have some- I have stocks that have exceeded my sell point, but I'm not selling.' And I haven't figured out what that means. What is it. What is a 'sell point.'"

Basically, we have good reason to think Jim was the panelist Howard was referring to, and that Jim had said either "sell target" or "sell point" (Howard might not have remembered the term correctly, but it sounds like the same thing.) (We actually didn't write about the "sell point" comment the day of that show because it didn't occur to us that it was worth writing about.)

We've never figured out why Howard was so perplexed. Sounds to us like a "sell point" means that Jim intended to sell the stock at a certain price (um, basically any limit order that ever existed) but let the stock ride for whatever reason, perhaps because of momentum or the duration of time it took to reach the "sell point."

But, gotta admit, Howard's got a lot more money than we've got (but he likely can't carry our jock when it comes to "Road House"), so we're probably missing something.

Anyway, on Friday, Jim said, "If you're 50% cash, you are taking career risk, and frankly, that's dumb, OK. That's- You're trying to be a hero."
Oh joy, let's load up on stock on not 1 but 2 sneaker companies (talk about asset allocation out of whack)
Pete Najarian on Friday's Halftime said the NKE selloff was an "absolutely ridiculous reaction" and predicted "much more upside" in the name.

Judge asked Jon Najarian, who sparred with Pete over NKE earlier in the week and took the bear side, how he could be buying NKE Friday when it was just a dollar below his negative call of earlier in the week. Doc pointed out that he was buying it under 60.50 on Friday morning when it opened much lower.

The only person seemingly not impressed was Jim Lebenthal. "The margins were not good, and the guidance was 'meh,'" Jim said, questioning why not buy adidas, which he said is cheaper with better growth.

Pete actually said, "Why not both?"
No mention of the really important Nomura bear call on NVDA with a $90 target early in the year
Judge on Friday's Halftime brought in Hans Mosesmann to talk about Mosesmann's NVDA initiation in February.

"The No. 1 issue is that we're in a transitional period," Mosesmann said, pointing to the transition to AI over 10 years. (Seems hard to believe some of that transition is not priced in, but whatever.)

Judge asked how much runway is left. Mosesmann said it's the best name in semis for 10 years and he's got a 250 target, so there's "substantial upside." Josh Brown and Mosesmann agreed NVDA's really far ahead of competitors in a lot of ways.
$175K is middle class
Josh Brown on Friday's Halftime took up SHAK, which makes decent-but-not-spectacular burgers and fries for astronomical prices, and stated it has "absolutely exploded" in the last 3 weeks.

Brown said there are a hundred locations in the U.S. "that even the bearish analysts concede could be 400 stores within a reasonable amount of time," a good argument actually, because store openings tend to drive a lot of these stocks.

Jon Najarian said EBAY 39 calls were popular. He said he loves the stock. Pete Najarian said NUE January 70 calls were popular.

Jim Lebenthal said he "seriously" has a "sell target" thinks the CTAS selloff is just profit-taking. He said it will bounce back.

Josh Brown said the PZZA chart "looks like a mess" and that he doubts the lows are in.

Doc offered "kudos" to Joe Terranova for touting PXD this week. (We already flagged that here; Joe's on fire.) Doc said if it breaks out, "there's nothing stoppin' it" to get to 200.

JJ Kinahan said gold has momentum.

Pete said he loves CELG, but it seems management needs a "shake-up."

Judge said the FIFO rule was "universally panned." JJ offered Judge "kudos" because he "led the way" against the rule.

Jim's final trade was AAPL, knocking the slowdown lawsuit. He predicted another 20% in 2018. Josh Brown said GOOGL and made a long speech. Doc said Chinese social media name Momo. JJ said the VIX.
JJ Kinahan gets pestered about bitcoin by cab driver
On Friday's Halftime Report, CNBC superfox Seema Mody reported the problems with Coinbase and Mike Novogratz's latest news.

Josh Brown contended, "Competing coins are not good for higher prices in the asset class."

Jon Najarian said there are "6 different, uh, ETFs launching at the CBOE" for bitcoin. Good thing they've got 6; how would we possibly make do with only 5?

Honestly, nobody has even explained how this contraption has anything to do with business or the stock market. "Oh, the blockchain is soooo great and soooo cool and sooooo permanent," the backers say, but they've never explained how bitcoin is any different than a Cabbage Patch Kid.

JJ Kinahan, sitting in with the panel, said the "average person" doesn't understand the OTC risk; "I knew that this was gonna be an issue a week ago when I got into a cab and that's all my cab driver wanted to talk about." The question is, does his barber want to talk about it even more.

Judge wished Pete Najarian (via satellite) a happy birthday, which of course was flagged on this site all week.

It's a "Whoop! ... Whoop!" day at the NYSE.

More from Friday's Halftime later.
[Thursday, Dec. 21, 2017]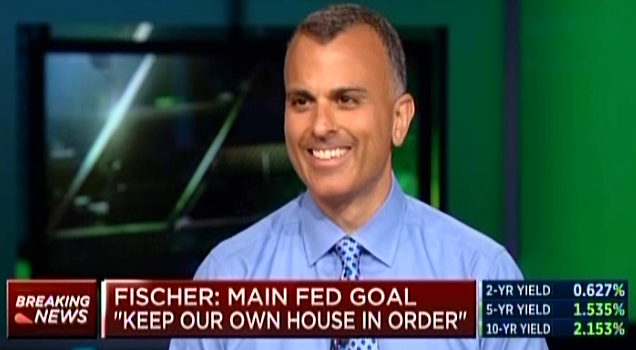 Joe on fire
On Thursday's Halftime Report, Joe Terranova noted that FANG (the energy stock, not the tech group) has "surged" since Monday.

On Tuesday's show, in fact, Joe (picture above not from Thursday or Tuesday) trumpeted PXD, FANG, EOG and CXO, which have all enjoyed a spectacular week.

The only quibbling about Joe's call is that he said they should come out big in January, when in fact it looks like the rally is well under way.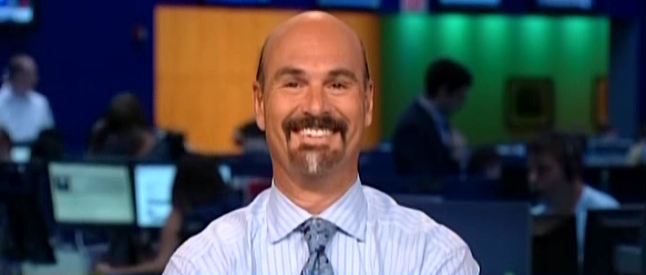 Doc says $175K is middle-class income; Judge takes him on but fails to demand names
Jon Najarian on Thursday's Halftime rehashed a point he made a day earlier, affirming he thinks people have "been lied to" about the tax cut. ("Lying" in this sense referring to sounding worse than it actually is.)

Presumably that means the liars are the media of some kind, because it's not likely the people in charge, because they're the ones who put together the tax cut.

Moments later, Judge asked Doc if the "biggest part" of the tax overhaul was geared to corporates or people. "Because it was geared towards corporates," Judge asserted, answering the question for Doc.

So, "I don't know what the 'lying to you' nonsensical comment was," Judge said.

Doc (image above not from Thursday) responded, "The lying to you part is that they say, 'The middle class is gonna suffer with this,' that they don't have anything in this. That's a lie. There's a lot for the middle class. We've sat down with a whole bunch of regular middle-class customers. Not the guys that are making 300-plus Judge. The folks that are making 125, 175, in that general vicinity, which I will call middle class."

Hmmmm. $175,000 is middle class. Probably in San Francisco. Probably not so much in Beckley.

Furthermore, A) we still don't know who "they" are, and B) we don't recall any articles from the mainstream media stating the middle class will "suffer" this legislation. Rather, the stuff we've seen is typical of this analysis by the Associated Press that says, "Average people are not the prime beneficiaries of the tax cuts. Aside from businesses, rich people get the most." But, "The tax cuts are not nearly as lopsided as many Democrats are portraying them. Almost all of the middle class would initially pay less in taxes. For the next eight years, the vast majority of middle-class taxpayers — those earning between $49,000 and $86,000 — will receive a tax cut."

So if Doc thinks Chuck Schumer is the only one being heard by "half the country" on this subject, it sounds like the Republican communications office (that's Scaramucci's old department) needs an overhaul.

But Judge noted, "The president himself sitting around the table yesterday with his Cabinet said that the corporate tax cut was really the focus."

"Absolutely it was!" Doc said, not pointing out that Judge was failing to bolster his own point.

Kari Firestone said, "The point I think Jon's making," and we went "uh-oh, remember when Stephanie Link tried that months ago," but Firestone said if there's a corporate tax cut, there's a "trickle effect" for consumers.

Doc didn't protest.

Mike Santoli backed Judge's contention that the corporate cut is "the centerpiece." Santoli suggested "rational recklessness" on the part of corporations, but honestly, we didn't really follow his point.

Kevin O'Leary insisted that companies with 100% of their revenue domestically will benefit most from the tax overhaul.
It's like 'The Price is Right': Top Tony's number, get called up to the stage by Judge
Judge opened Thursday's Halftime stating guest Tony Dwyer is the "top dog" for setting a 3,100 S&P target for 2018.

Tony said "that's marketing b.s." and that it's about the "methodology" of getting there. (Then why put out a number.)

Dwyer predicted a "choppy period" in 2018 before the market rips.

Dwyer actually claimed the "genius" of the tax overhaul is that AT&T is putting real money in people's pockets "that makes a difference," and "it's not like an accounting gimmick." Why not double the tax cut and tack on $3 trillion to the debt?

Jon Najarian said the "only risk" to Tony's number is that "he's still too low."

Joe Terranova said the "problem" he has is "everyone" is talking about reducing exposure to technology.
Happy birthday, Pete
Tony Dwyer on Thursday's Halftime said his 2018 bull call is like 1996, "increased equities with increased volatility," and predicted "nastier corrections going forward" because "the Fed policy is more unclear." (And boy, isn't everybody so sure that volatility is going to surge.)

Tony stressed that "credit is on fire."

A couple times, Tony said his opinion is "not relevant" and even cited Portuguese debt in 2011. (Zzzzzzzzzz)

Joe Terranova contended that "you need to be more selective going into '18 than you needed to be going into '17."

Judge said the Call of the Day was Citi raising CAT to 160 (snicker). Joe said he thinks that's "the right call." Jon Najarian said there could be a headwind from a rising dollar, though "I'm not anticipating that."

Kevin O'Leary said he likes the CAT call for a couple of reasons, one of them being that it's a call "on the infrastructure bill" (groan) of 2018 (#biggovernmentconservatives). O'Leary also noted CAT was not too long ago a popular short.

Jon Najarian said FDC January calls were hopping. Doc said DISCK made "a lovely pop" after he touted it.

Pete Najarian said there was "huge call buying" in XLE, the January 71.50s. Joe said he's in those and noted FANG has "surged" since Monday.

Joe suggested AGU or DAR instead of CAG.

Doc said FINL offered "significant upside guidance."

Kari Firestone said she first thought the report about WMT seeking higher-end customers was a "typo." But she thinks the stock is a "reasonably good idea."

Pete said the KMX is "creating an opportunity."

Kevin O'Leary said MAT is a sell, "avoid with extreme prejudice." He doesn't think HAS will buy it.

Judge brought in Josh Sullivan of Seaport Capital to take a deserved victory lap on initiating BA as a buy one year ago. Judge asked, "How much runway is left." Sullivan said you could still argue it's undervalued and added that it sets up for a good 2018.

Kevin O'Leary said he remembers the BA call and that Sullivan "got me into this stock," in part because of BA's growing services revenue.

Scott Nations said Futures Now has been "all over" copper. Anthony Grisanti said demand looks like it goes "straight up," and he sees copper going "much higher."

Joe said DNKN is breaking out. Doc's final trade was ADSK. Kari said CME. Tony said buying "any dip" on tax legislation, and he's going to "overweight my consumption of food at the Canaccord holiday party tonight."

Someone in the Halftime/Fast Money sphere is celebrating a birthday Friday. If you're wondering about age, it has something to do with the photo above (which is not a photo of the birthday individual).
[Wednesday, Dec. 20, 2017]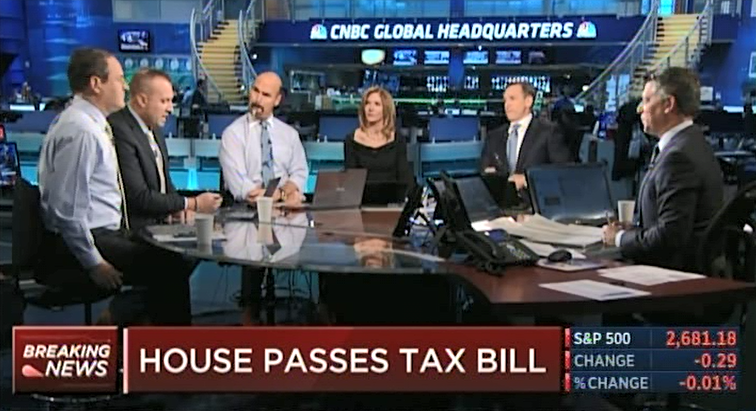 And we thought, based on CNBC reporting, the only thing in the bill was the FIFO provision
With Wednesday's Halftime partly preempted by remarks from Donald Trump about tax legislation (which meant Judge hardly took a commercial break #lostrevenue), Judge entertained a lot of the usual comments we've heard for days/weeks. But things got interesting when Jon Najarian seemed to blame the media (that would include CNBC) for public perception of the tax legislation.

"They've been fed crap about what this really- in this bill. When they feel it, for real, they will not- half the country will not hate it," Doc said, telling Josh Brown, "I'll put that one on the board with you too."

Well, couple thoughts about that ... first of all, "half the country" is always going to hate legislation passed strictly by one party. (That's why we're still talking about Obamacare during Wednesday's show.)

Second, what does it say when the people authoring this legislation wouldn't even come on Judge's show to discuss it, a fact Judge has noted multiple times.

Third, Doc never mentioned the real problem with this legislation — it's on borrowed money. What if they spent as much time reducing government as they spent hashing out this bill. Wouldn't that be the best possible outcome for taxpayers. Oh yeah, the "big-government conservatives" (sic) (snicker) are only interested in picking up the rate of government expansion where George W. Bush left off.

Doc made a fine point, "If we put a carrot in front instead of a stick, as far as how they are treated in this country, perhaps not as many jobs go overseas as have gone overseas."

Possibly the most admirable political goal of Donald Trump indeed is that he wants jobs to stay in America. However, that goal has far more to do with the "border tax" (remember that?) than a deficit-ballooning tax cut that is mere candy for this economy.

Globalization is really a subject, addressed very impressively by Zachary Karabell among others, that runs much deeper than political soundbites. It may or may not be good, and it may or may not be stoppable.

Had Trump or other leading Republicans articulated an argument as to how this legislation will keep jobs in the United States, we might be inclined to agree with Doc's suggestion. But that hasn't happened.

We do agree with Doc that the previous administration's empty-suit approach to knocking big business was the wrong way to go. But that guy's biggest corporate backer is also really chummy with the current president (and has been out of a job at GE for about 6 months). #somuchfordraintheswamp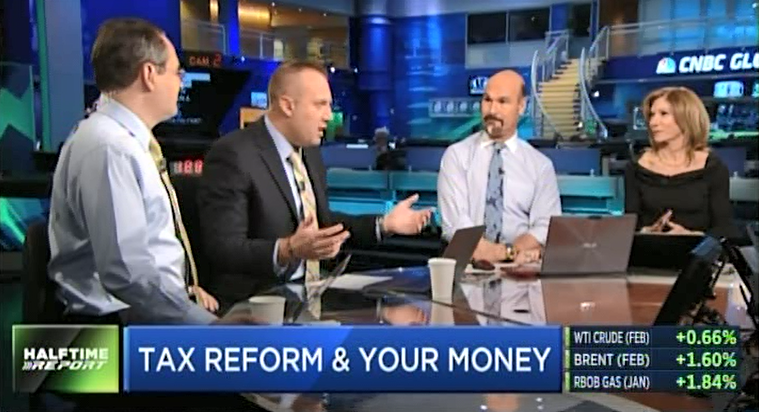 Is it even possible for Josh Brown to let another human being finish a sentence?
Judge on Wednesday's Halftime Report claimed the "most profound comments" on tax legislation are from Fred Smith.

Josh Brown said FDX has been going up all year and insisted "it has nothing to do with it."

Judge carped that Smith is raising his guidance based on tax legislation, "whether you wanna believe it or not."

"It's not about believing it," Brown sighed.

"Yeah, it is in some respects," Judge said.

Kari Firestone offered, "I would think Fred Smith would feel a little differently if the price of oil went up 35%."

Judge asked, "Is that realistic?"

Jon Najarian said "No." Josh Brown said, "It's a commodity; why isn't it realistic." Doc said, "Uh, because of the fracking."

"Excuse me, was it realistic for oil to drop from a hundred to 20, um, inside of 1 year," Brown said.

"Exactly the same reason. Because of fracking," Doc said.

"Was that a consensus call that oil could go down by 4/5 inside of a year?" Brown asked.

"Possibility is what you were arguing," Doc said.

Brown eventually told Judge, "For the 2nd year in a row, we are underweight large-cap U.S. stocks. We are overweight equities around the rest of the world."

"We're just the opposite," Rich Saperstein said.

Saperstein tried to explain differences between global multiples, but Brown kept cutting him off after each half-sentence. Eventually Judge told Brown, "Let him finish," but that still proved difficult for Brown.
Evidently Scott Wren hasn't boosted his 2018 S&P target yet
In remarks aired during Wednesday's Halftime, President Donald Trump said he wants the legislation to be called "tax cuts" and not "reform" even though he says it is "reform."

Rich Saperstein said there's opportunity in small caps, but "the biggest concern that I have is, where is the bond market in all this?" He conceded he sees a higher stock market in 12 months.

Judge said Tobias Levkovich boosted his 2018 S&P target to 2,800 (snicker) from 2,675 (double snicker) and noted the "highest targets on the Street are about 3,000."

Kari Firestone chuckled that we've gotten "I think a little ahead of ourselves." Firestone contended this is "Phase 3" in which there's not a "level playing field" as to which businesses will keep their tax benefit.

That was kind of a clumsy way of saying it, but we think we know what Kari's driving at. We doubt if the overnight crew at Denny's will be getting raises, nor do we expect a Grand Slam to get notably cheaper.

Jim Lebenthal said he finds the debate about year-end 2018 S&P levels "slightly amusing." Jim said at some point in 2018, the market will be lower than what it closes on Dec. 31.

But he admitted that's not a really profound observation.

Judge asked Jim for "the one sector" that will outperform the others next year. Jim grimaced and said "serious" 4 times and touted value over growth, stating the magnitude of 2017's growth outperformance is "crazy." (And, like Pete Najarian saying options protection is cheap, this page is totally done with ever reporting again that Jim Lebenthal thinks value will outperform.)

Judge defined "you" as "the general person out there."

Everyone loves the banks, right along with Mike Mayo.

Doc said CBS at-the-money calls expiring Friday were getting bought. He said FCX February 19 calls were popular, as were THC May 20s.

Josh Brown touted REITs as an inflation hedge. Doc suggested infrastructure stocks for 2017. Kari Firestone said industrials. Rich Saperstein said banks as well as "smaller-sized defense companies."

Jim's final trade was QRVO. Josh Brown cautioned against a big selloff in early January like in 2016. Doc said TROX. Kari said TMO. Rich Saperstein said MAS.
Brown: 'Gary Cohn is speaking out of both sides of his mouth'
Gary Cohn's comments about tax legislation being underappreciated was getting plenty of attention Wednesday, but Josh Brown on the Halftime Report was not having it.

Brown said, "Actually Gary Cohn is speaking out of both sides of his mouth," stating Cohn said 6 weeks ago "that the market is already expecting this tax reform" and suggested if it doesn't happen, "it could be a negative market event. Now, he's saying it's not priced in."

Much of the early part of the show was pre-empted by remarks from President Donald Trump. We'll have more about Wednesday's Halftime later, including Judge and Josh's dust-up over believing Fred Smith's comments.
[Tuesday, Dec. 19, 2017]
Scott Wren was booked to talk about a low S&P target that Wren says will actually be higher
Judge on Tuesday's Halftime Report brought in Scott Wren to talk about Wren's 2,700 S&P call for 2018, but that quickly proved to be a bungle.

But Wren said the 2,700 was based on 50% expensing of business investment and a 23% corporate rate, and that given the greater "magnitude" of the tax legislation, "we'll be out with a new number here in the next few days probably."

Judge said Wren may be "hours away perhaps" from raising his S&P target (Wren eventually said "next couple of days") and proceeded to bemoan that next year is being talked up as a layup, "Everybody's saying it's a layup."

Wren said, "The market is never a layup ... I hope that not a lot of people think that."

Dubravko Lakos, who has a 3,000-but-watch-out-for-tech (snicker) call, said market positioning is why he's concerned about tech stocks in 2018. Lakos actually claimed value will outperform (snicker), relatively.

Lakos said "there's too many positive catalysts" for a big January pullback.

Jon Najarian questioned if tax overhaul is being priced in enough.

Ylan said Mitch McConnell expects a Senate tax vote by Tuesday evening.
It doesn't sound as 'credible' as it sounds like having it both ways
Judge on Tuesday's Halftime claimed MoffettNathanson "raised some serious issues" about FB despite being positive and having a buy/205 price target, "which is why I think it's even more credible perhaps."

Jon Najarian said of FB, "I think there is a lot left."

"They haven't even monetized Oculus (snicker) or WhatsApp (borderline snicker)," said Stephanie Link, who calls the stock a "secular winner."

Kourtney Gibson was the most blunt of the bunch, stating, "There is absolutely no way I would ever sell this out of my portfolio right now."

Link called FB the "least-owned FANG name."

Regarding another tech giant, Pete Najarian claimed, "The phone is not the entire story any longer in Apple," even though it is.

Doc trumpeted paying $10 a month more for an Apple Watch data plan.
Oh joy, NKE
Tepidly endorsing the Citi upgrade, Pete Najarian on Tuesday's Halftime said this is "probably an opportunity" to buy DKS.

But Stephanie Link said 2018 earnings will be down 20%, and as for margins, "quite frankly, I think they go lower."

Joe Terranova said, "This is a trading call" and suggested some retail laggards tend to move in December for not very fundamental reasons.

Pete hailed that TGT is doing better than WMT recently and said 60% of WMT's revenue comes from grocery, the lowest-margin segment.

Judge said maybe KR has been bid up "because they think a deal is gonna happen somewhere." Stephanie Link gushed about COST.

Jon Najarian said he likes NKE, but because it's moved so much since the recent low, he thinks it trades back down. Pete said he's "not as nervous about the upside," singling out international growth.

Kourtney Gibson said she can't buy NKE short term. Stephanie Link said NKE is up 28% since the analyst day, after a "miserable quarter," and she thinks it's "a little ahead of itself."

Joe grumbled that Doc was a no-show for dinner the previous night, but Pete showed up. Perhaps Joe had a table at Rao's.
Joe expects burst in energy space in January
Kourtney Gibson on Tuesday's Halftime Report said downtown Chicago has no Olive Garden; she backed DRI. Judge later said someone tweeted that Gibson could get to Olive Garden in 15 minutes on the Blue Line.

Stephanie Link likes CMI over NAV.

Pete Najarian said he likes KORS and that the valuation is reasonable.

Jon Najarian said he likes F better than GM.

Joe Terranova said he likes PXD, FANG, EOG and CXO "to come out very strong" in January. Stephanie Link suggested APC and APA.

Doc said weekly 53.50 calls in AMAT that expire Friday (Pete's birthday, we telegraphed that in the previous day's report, see below) were getting bought. Pete said January 17 WEN calls were popular.

Stephanie Link said she added INTC to the TIAA-CREF portfolio; Judge kept cutting her off. Link said "the free cash flow is what got me excited." (This writer is long INTC.) Link said she unloaded GD.

Jim Iuorio said bitcoin below 18,000 in the CBOE contract chart "looks weak to me."

Joe's final trade was AKAM. Stephanie Link said PF. Doc said JD; he said he bought it during the show. Pete said MDLZ and Kourtney said DIS.
[Monday, Dec. 18, 2017]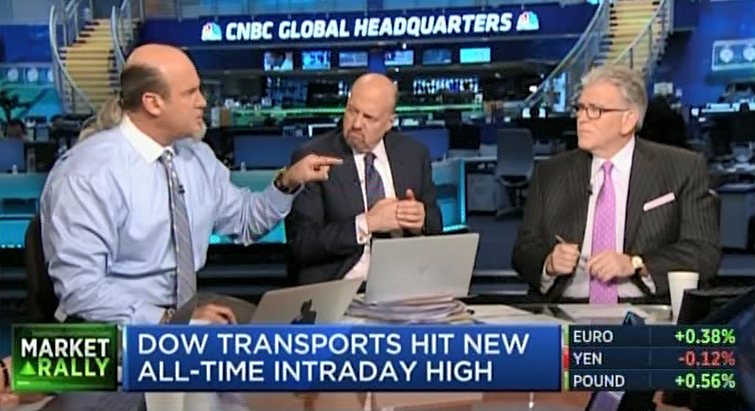 Joe: Markets poised for
parabolic move
Hardly anything got accomplished on Monday's Halftime Report, but at least the panelists — with Jim Cramer and Mike Francesa — enjoyed a Laffalympics.

The most provocative point came from Joe Terranova, who said, "The markets right now, are the greatest potential to go parabolic. And I think that's the beginning of what's about to happen."

Joe touted financials and the Russell.

Joe told Francesa he laughs when people make analogies to 2007; "the leverage in 2007 is nowhere near the leverage in 2017."

Judge asked, if Nasdaq 7,000 isn't euphoria, then what would be.

Josh Brown offered, "Euphoria's happening in San Francisco, when Uber is worth $70 billion." (Then again, Steve Weiss said Nov. 1, "The best days in technology, I think, I think everybody here would think, are behind you. They're not in front of you.")

Judge told Francesa, "You're really into stocks."

Jim Cramer conveyed that he doesn't think earnings estimates are high enough given the tax overhaul.

Pete Najarian again mocked those who supposedly claimed tax overhaul is all "priced in."

Josh Brown stressed an interesting observation, "There is a shortage of stocks."

Pete advised Francesa that volatility is so low that options protection is very cheap; we're sick of writing that, and this will be the last time. "I don't do options," Francesa refreshingly said.

Pete Najarian revealed that "if I have an option that doubles, I take a half off." Apparently options go up or down based on Pete's cost basis and not because of demand to buy or sell the underlying stock.

Mike Francesa asked several questions about whether it's "too late" to "jump in" to the rally. That's just another way of asking, which stock(s) is going to go up now. Pete trumpeted opportunity in HD "2 quarters ago." Didn't know you could go back 6 months and buy stocks.

Joe asked Francesa, "Do you wanna be a long-term investor, or do you wanna be a trader." Francesa responded, "I just think you don't wanna get in at the top, that's what you're really afraid of."

Francesa asserted, "Cable is dead," probably not the greatest comment from a guest on a cable channel.

Joe said he bought TWTR because it went from being not a quant name to a quant name. Pete said, "There's at least 30% or more fake accounts on Twitter."

Francesa said he likes CRM and MTN as well as his core tech names of AAPL and AMZN and NVDA.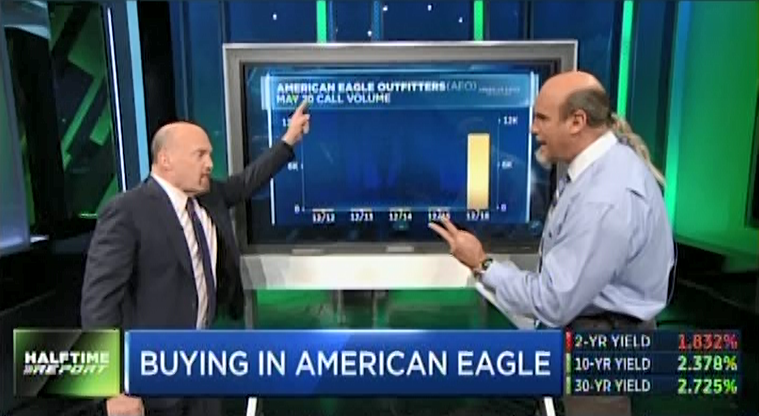 Judge takes 2 calls from viewers, only addresses 1
Judge on Monday's Halftime, in honor of the presence of Mike Francesa, promised to take a few calls that sounded like they were recorded a week ago. (What Twitter handles had to do with this feature, we have no clue.) Pete said he'd own just-out-of-the-money calls in MU. Judge couldn't get Cramer or anyone else to opine on VZ.

Mike Francesa called Roger Goodell a "pit bull" who's done a "terrible job," but worst of all, Francesa says "he is a humorless guy."

Joe Terranova's final trade was MAR. Josh Brown said TWTR. Pete Najarian said he plans on getting back in to FCX (though he just got out). Jim Cramer said AKAM. Mike Francesa predicted a "great next 6 months" for AAPL.

Pete said AEO May 20 calls were getting bought. (Yep, there was a chart with a tall yellow bar at the right end.)
Happy birthday, Guy Adami
We were hoping for a cake and candles on Monday's Fast Money.

For whatever reason, that didn't happen.

Anyway, Guy Adami marked another year Monday. We're hoping it's a year of prosperity and good health.

Another panelist marks a big day Friday; we'll bring that up later in the week.
[Friday, Dec. 15, 2017]
Is it possible to have
negative unemployment?
We got yet another newfound bull case for tax legislation on Friday's Halftime Report, this time from Jon Najarian.

"We do need it. Absolutely do need it," Doc insisted. "We needed this 8 years ago," Doc said, but the then-president "refused" to lower the corporate rate.

That's interesting, because in the last 8 years of chronicling these programs, we can hardly remember Doc at all talking about how disadvantaged the economy was because the corporate tax rate is 35% instead of 21%.

"It'll be great for people who need jobs," Doc added.

Hopefully that's the case … but isn't unemployment at a historic low?

Like Larry Kudlow and all the other advocates of these machinations, Doc ignores the cost of it all, which suddenly no longer matters to the "limited government" party.

This legislation is like giving yourself an extra $2,000 in salary this year in exchange for $5,000 additional debt on your credit card, under the theory that with your extra $2,000, you'll get a better job or more money from your existing job that will quickly pay off the $5,000.

Doc actually said that increasing the child tax credit for Marco Rubio was "really near and dear to his heart."
If it's such a great idea, why not 10% corporate rate, 20% max individual rate?
JJ Kinahan on Friday's Halftime thanked Judge for "leading the way on your show" about the FIFO provision but cautioned that while it appears to be out, they're going to shake the couch cushions for every dollar they can find. (Late Friday afternoon, Ylan reported that FIFO indeed is out. Unclear what bit of revenue is replacing it; maybe the cash repatriation taxing being 15.5% rather than 15%.) (CNBC had little to add to the official GOP release and aired a regular edition of Cramer at 6 p.m. Eastern.)

Judge said of FIFO, "If it is out, the individual investor gets a W."

Ylan said "it's hard to deny" that the corporate tax cut "is much bigger" than anything the middle class is getting.

Josh Brown said he appreciates JJ's lobbying against FIFO and also Sen. Ron Johnson's concern about pass-throughs but said it makes him think this legislation is not "tax reform" as much as it's "corporate welfare."

Despite this supposedly awesome legislation that prompted Kevin O'Leary to declare, "I'm glad just to be alive for this" (seriously, he actually said that), O'Leary added that "This next year, uh, I'm not anticipating we're going to enjoy 18% upside in any markets you go to."

Really. No market will return 18% next year. Interesting.

Judge tried to get O'Leary to admit this tax legislation is good for big caps. O'Leary kept insisting small caps are the big winners.

Judge said corporate balance sheets have never been more flush, but capex has been minuscule, so maybe tax legislation will change that.

"This is the right time for capex," said Erin Browne.

Kate Moore has a "little nagging doubt in the back of my mind" that everyone will drop their focus on business "metrics."

Josh Brown cut her off to say there's no risk to raising the dividend but there's "a lot of risk" in planning massive upgrades to facilities, which we think was the point Moore was attempting to make.
Kevin O'Leary wants to cut spending but can't name a single thing he'd cut
Friday's Halftime Report served as something of a tax-overhaul duel between Josh Brown and Kevin O'Leary. (Unless you count Jon Najarian, although he had a quiet show.)

Brown shrugged that tax legislation will bring a "massive fiscal stimulus, which we could've used 7 years ago," and it's "squarely aimed at probably the one area of the economy that needs it the least: corporate, uh, profits."

O'Leary ignored that and said the Russell 2000 will be the "mainor- (sic) major beneficiary."

Brown told O'Leary, "Small caps are not exactly cheap," and he predicted inflation. O'Leary called Brown "Debbie Downer" and asserted, "I don't see any downside here." (Then why not do a $5 trillion package and tack that onto the debt?)

Judge told O'Leary that some on Wall Street are questioning whether tax legislation will create the growth its backers predict. O'Leary, like Larry Kudlow a day ago (see below), didn't answer the question and scoffed, "OK, let's go the other way. Let's increase taxes … Why don't we tax ourselves at 66% and give all the money to the government?"

Brown told O'Leary, "We are going to be adding north of $1.4 trillion to the deficit. And if you don't care, that's fine too. Um, but it seems to me that the biggest proponents of doing this tax reform right this minute right now um just 2 or 3 years ago were looking to hold the government for ransom unless we cut the deficit."

"How about we cut spending," O'Leary suggested.

"That's fine with me, but where," Brown said.

Once again, Kevin had no answer. "Go through every single program- " O'Leary said.
After this tax business is done, what's the president going to do with his spare time?
Unlike Kevin O'Leary, Kate Moore on Friday's Halftime Report was more positive on big caps than small caps.

Judge said nobody's talking about what Lee Cooperman sees as the tax legislation's risk to inflation and that the Fed could be "forced to be more engaged than it wants to be" (snicker). O'Leary said "most people" fear wage inflation, "and I don't fear wage inflation."

Erin Browne said, in a very provocative point that went unnoticed by everyone else, "I don't think that you're gonna see massive wage inflation on the back of this because there's nothing that's forcing the companies to spend it and deploy it back to the consumers." (But other than that, it's really important for this to happen.)

See, going back to Larry Kudlow's non-answer to Joe's question of a day ago, this tax legislation is like when you've got a fine car but go out and buy a Lexus SUV for $40,000, under the theory that the Lexus makers will give you a higher-paying job to pay it off.

Judge cut to clips of Kevin Brady taking questions and insisting middle-class Americans will benefit from this legislation.

Josh Brown said VMC might be an interesting play "for what's coming next," in other words, if there's an infrastructure bill.
Judge hasn't asked Ackman for thoughts on tax legislation
Judge on Friday's Halftime reported Dubravko Lakos' 2018 outlook, "the most interesting part" being the underweight (snicker) technology call.

As to whether UA's 10.55 was the bottom (it's a confusing stock situation; the other ticker is UAA and trades only a couple dollars higher), Jon Najarian said, "I hope so," but "I haven't seen the turn."

Josh Brown called UA "one of the most hated stocks in one of the most hated categories … nobody wants to own this thing." But Brown shrugged off the ludicrous P.E., insisting "it's the past" (even though it's the forward P.E.).

Doc said March 22.50 calls in DISCK were popular. Doc said AAL 50.50 calls were getting bought. (Zzzzzzzzz.) (How come Doc didn't say the options market predicted MU's 20% drop.)

Doc said it's a "great day to be a Costco shareholder."

Josh Brown said ORCL's results suggest being in the cloud doesn't mean someone's winning. He said he wouldn't be "afraid" of being in the stock.

Judge seemed to question the notion of "Value Factor" investing even though Kate Moore endorsed it. "If you say so," Judge said.

Kevin O'Leary endorsed PFE; "I'm eating pills like candy." Judge said "A little TMI there" and waited for O'Leary to respond, but O'Leary didn't. "He doesn't even get it," Judge chuckled as the dead air continued.

Judge promised Mike ("Albemarle at 125") Francesa on Monday's show. (This writer is long ALB.) Judge promised to take live calls.

Doc's final trade was JBLU. Erin Browne said EEM. Kate Moore said financials and didn't answer Judge's question about whether EM will best the S&P 500 next year. Judge asked, "Are the banks too obvious? … Now everybody's on the bandwagon." Of course, nobody seemed to think so.
Is FIFO really out?
While we were taking stock of Friday's Halftime Report, it was crystal clear that much of today's tax-legislation excitement would be happening during or shortly after the 5 p.m. Fast Money.

Who knows, maybe CNBC will even do a special edition during the Cramer and 7 p.m. hour. (Those are always cool.)

In any case, we're going to hold off on the Halftime review until Friday evening, when a lot of tax-overhaul issues are likely to come into focus.
[Thursday, Dec. 14, 2017]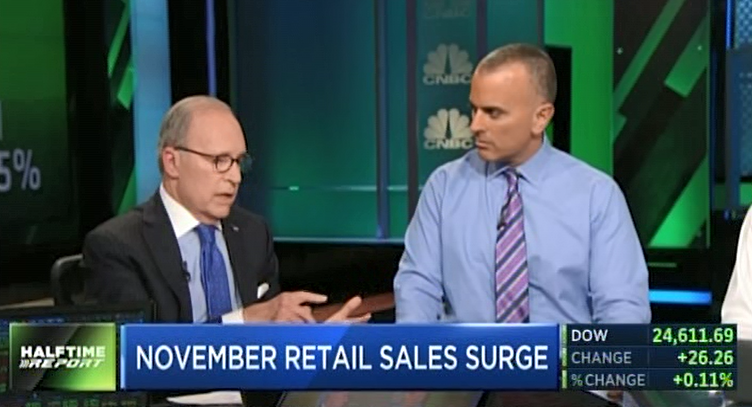 Larry unable to answer Joe's outstanding question (a/k/a
the GOP seems like the
Big-Government Party)
Sully got the guest-hosting gig, but Joe owned the day.

In one of the best moments of the Halftime Report in months, Joe Terranova on Thursday — after someone somehow managed to get Larry Kudlow to stop talking for 2 seconds — asked Larry a tremendous question:

"Why do we need this tax bill right now?"

(Note: Joe said others are asking it, not necessarily himself, so we'll deduct a point for watering down excellence.)

Here's the answer, or the process of delivering an answer: Larry called it a "good question" and first said "there's a difference between supply side and demand side" (whatever, doesn't answer the question, if that's the best you've got …) and then said "this whole bill … is about the business side" (OK, but then why have FIFO and SALT been a part of it?) and then said "the corporate tax rate is the single-most powerful growth propeller in any policy" (Hmmmmm, first we've heard that one, and we've seen a LOT of CNBC, and by the way, Joe's question still hasn't been answered) and then said "second is business-expensing immediately" (still didn't answer Joe's question) and then said "third, this is unusual for America, is the repatriation" (still not answering Joe's question) and finally, "we're gonna see a big wage increase" (Hmmmm, wonder if that will pan out).

Sadly, because Larry (and we do like Larry here, always have) was allowed to monopolize the time, Joe, who stood tall in this moment, didn't get a chance to follow up.

Of course, the question for Larry's response is, if the corporate tax rate is really the most important growth factor in our economy, 1) why weren't Mitch McConnell and Paul Ryan dealing with this Jan. 20, and 2) why weren't Mitch McConnell and Paul Ryan talking about this (instead of health care) for the last 8 years.

The truth is that this is just another big-government program.

It's no different than Obamacare.

It's a non-solution in search of a problem being cooked up because the majority in Congress wants something to do.

It's being pushed by a fellow who no longer gets official CEO advice (unless you count Gary Cohn) because of what he said … about Confederacy protests.

It's about to pass with basically zero bipartisan support (and good Republican leaders get at least a few Democrats to do the right thing) after taking enough money here and there from hard-working Joes and Janes to better support Cisco's buyback without blowing the deficit beyond the amount that it takes different rules to pass it.

Basically — and this is very disappointing — Larry (and all the people touting this travesty including the guy in the Oval Office) sounds no different than George W. Bush, who was more than happy to tack on some new venture to the nation's grotesque credit card balance.

They tried to call him a "big-government conservative."

OK.

"Big." "Government." "Conservative."

Yeah. Right.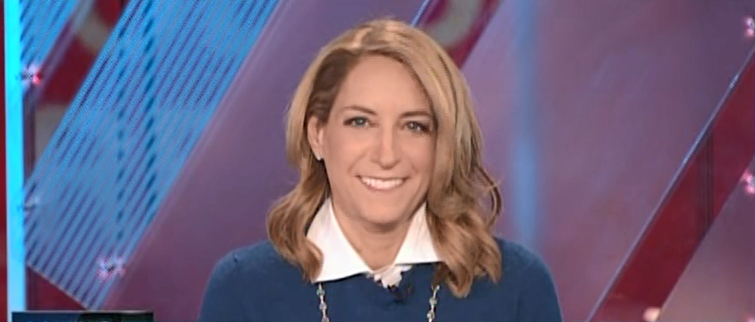 Jim's unhappy with return on N.Y. taxes; Sully's unhappy that people call AMZN an 'online retailer'
The purported reason for Larry Kudlow's appearance on Thursday's Halftime was that Larry has learned (he said he reported Wednesday night to the "producers group") that FIFO is out, then he rattled off his sources without naming names.

So what alternative will offset the omission of this feature from the great tax overhaul that is going to give us a "big wage increase"?

No word on that. (Also no word on who introduced FIFO in the first place.)

Larry said he and Steve Moore "went on the warpath" to get FIFO out.

Larry said relieving capital gains of this provision "helps re-oxygenate the economy."

Larry kept insisting this bill will trigger 4% growth as opposed to 2%. But Rob Sechan, struggling like everyone else to get a word in, said the tax overhaul will prompt wealthy folks in New York and California to move to Florida. (Remember a few years ago when that was Meredith Whitney's thing, that the U.S. economy would reconfigure away from the coasts to the heartland where all the new high-paying jobs were going to be.)

Hilariously, Larry actually claimed that the "SALT thing" could put "pressure" on governors "to stop taxing and spending in Connecticut, in New Jersey, in New York and so forth." (See, if tax legislation were a stock, this is like those $800 price targets on YHOO in 1999.)

Jim Lebenthal suggested that could be an "unintended consequence" of tax overhaul but a "benevolent" one. "I live in New York state. I don't exactly feel like I'm getting my money's worth for the taxes I pay. I mean, I- that's an understatement, right?"

Ylan said on the 5 p.m. Fast Money that Marco Rubio is threatening to be a no on tax legislation.

Karen Finerman, striking in blue/white combo, said (again), "I think it gets done … I think they will do whatever they have to do to get this across the finish line." Karen added, "I think there's a lot to be happy about for Corporate America."
Jim doesn't think selling now is smart, unless it's BA
Jim Lebenthal on Thursday's Halftime said he "sometimes" thinks a stock-market correction "can be healthy." (Perhaps that means a year without a correction is "unhealthy.")

With 2 weeks left in the year, "Who's gonna wanna sell right now," Jim said.

But later in the show, guest-host Sully said Jim "recently" sold BA, a curious timing call. Jim said it was a "great investment." But if we're so close to year-end, why is he taking big gains right now?

Actually, there is a decent reason to sell: If everyone's going to take gains the first couple weeks of January, you might want to have dry powder ready for that.

But Rob Sechan said it's "almost irresponsible" for advisors to take gains at this time of year.

Sully asked a good question of Rob, what if someone with a couple kids in college has had a couple good years and wonders if he should sell. Sechan of course (you KNEW this answer was coming) said it depends on the "client's profile." (Which means it's theoretically possible that Sechan could be telling a 30-year-old with a newborn to buy IBM while telling a 59-year-old with 2 kids in college to sell IBM.)

Kari Firestone said she doesn't think it "unreasonable" for those who've had a "phenomenal" year to take profits.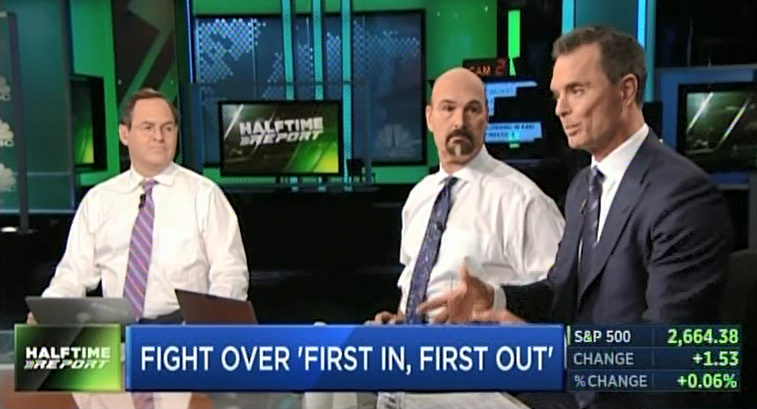 FIFO is out; not sure about the idea of rolling student loan debt into mortgages
On Thursday's Halftime Report, Joe Terranova hailed WMT's investment in Jet.com.

Guest host Sully asked a question nearly as good as the one Joe asked Larry Kudlow: "How is 3 billion for a money-losing company a good deal?"

Joe said it gave the stock market phony hope it gives WMT the "logistical network to build out and, and advance the online platform." (Translation: More ability to sell things online for smaller margin than what they get in the stores.)

Kari Firestone dismissed NKE, calling retail a "tough road" and doubting the rally is "sustainable."

Jim Lebenthal said he owns NKE, "but if it goes much higher, I'm out of it." (Hopefully that doesn't happen before January, because no one should sell before then; in fact, Rob Sechan calls it downright irresponsible.)

Rob Sechan struggled to explain "what's missed" in Kari and Jim's points about retail, bringing up driving through New York City with the "Uberification" and "Amazonification" but not arriving at a point.

Joe said if you're going to invest in airlines, DAL, JBLU and LUV are the 3 you want to look at.

Jim stressed he's not calling LUV a short but it's now trading "kind of as good as it usually gets."

Phil LeBeau, who joined the gang, said DAL just ordered a bunch of planes from Airbus and that it's "hard to get to New York" without flying, presumably in Phil's case from Chicago (which, believe it or not, is drivable to New York). He insisted "this is a big loss for Boeing."

Jon Najarian, who had a quiet show, said MO June 75 calls and January 240 STZ calls and WMT calls of some kind were getting scooped up.

Joe said you don't buy TEVA just yet. "This is a sad story," Joe said (about 3 or 4 times), referring to Teva's job cuts. (But with Larry's corporate tax cut, those wages will climb.)

Jim isn't interested in DIS and FOXA but does like the industry consolidation prospects and thus is interested in VIAB, CBS, AMCX and DISCA.

Doc said he's long KO and likes the Deutsche Bank initiation of the name.

Rob Sechan thinks MLPs are a "trade" and said there could be a "big rotation" into the space down the road. (But he's been promoting them throughout 2017.)

Jeff Kilburg said people at the CME are "really excited" about bitcoin futures because the futures carry substantially less risk than the actual commodity. Jim Iuorio said if the spot price traded 17,580 (snicker) (#winklevi), a new high, that would tell him "another push higher" is ahead.

Joe's final trade was V, offering a 115-120 target. Jim said EEQ, an "MLP without the K-1." Doc said SWKS because 98 calls were being bought; he said he bought it Thursday. Rob Sechan said XLF.

Karen Finerman on the 5 p.m. Fast Money said VRX is "much higher" than where she got out of her position, and she was happy to see it down Thursday while admitting that's "mean."

"I am nice," Karen asserted.

That call is 100% correct.
[Wednesday, Dec. 13, 2017]
President Donald Trump
as a commodity
Allotted the entire hour of Wednesday's Halftime Report, Jeffrey Gundlach told Judge (on location in L.A.) that overhauling the tax code is "kind of a strange thing" to do now.

"Why would you be stimulating the economy?" Gundlach asked, pointing to various growth factors.

After complaining that his own taxes appear to be going up, he added, "I think if there is a net tax cut, it has to be bond unfriendly."

He said the tax legislation will "probably harm some companies, some sectors," pointing to possible defaults in the junk-bond market.

Gundlach grumbled that Donald Trump complained all the time on the campaign trail about the carried-interest deduction, but it survives. "To me it doesn't sound like draining the swamp. It sounds like maintaining the swamp," Gundlach explained.

"I voted for him over Hillary for sure, but I didn't support him," Gundlach added.

That brings us to another angle that's worth tying together here.

Gundlach said his best idea for 2018 is to add commodities, citing the relationship between the Goldman Sachs Commodity Index and the S&P 500 and stating the cycle is once again favorable for commodities; "the repetition of this is almost eerie."

Asking a question from Englewood Cliffs, Joe Terranova said he agrees with Gundlach on gold and silver but wondered about mortgage-backed securities and munis. Gundlach didn't care much about the former but he did say "munis look overvalued" and cautioned that deductions could get "capped" given that Congress seems to like that now.

Josh Brown also backed the idea of commodities and asked Gundlach a good question, how to best invest in them, given that "the products are terrible," pointing to the 3 and 30 on managed futures and K-1s for the ETNs, which also have contango problems. Gundlach should've given a more detailed answer but said thanks for the "incredibly fat pitch" and recommended "The Doubleline Strategic Commodity Fund."

What Judge didn't ask Gundlach — nor anyone else recently — is what the purpose of tax overhaul really is.

Reducing the corporate tax rate is a noble goal.

It seems that everything else being thrown into this mess is borderline buffoonery, given that 1) just about everyone on this program including Steve Schwarzman (whose type of business got a break) is carping about some angle to it and 2) they can't get a single Democrat to support it and 3) Larry Kudlow called one prominent idea the "dumbest" thing he's ever heard.

Karen Finerman has bluntly stated that they're just desperate to pass anything, so that's why it will get done.

The person who's about to sign this legislation decided Roy Moore actually was the right choice for the U.S. Senate.

It may be that reducing or eliminating deductions and hiking capital gains is really important in 2017 and something the Republican establishment will be proud of years from now.

It's also possible that those Republicans (that would be more like Bob Corker and Richard Shelby and less like Mitch McConnell) resisting the buffoonery of the last 12 months might, like silver according to Jeffrey Gundlach, be out of favor now, but richly regarded in years to come.

Notice that Jeffrey Gundlach told Judge that even though he voted for Donald Trump, "I didn't support him."

Ylan delivered several updates on the state of tax legislation, including that "the corporate AMT is out."
'I don't think cryptocurrencies are legit'
Jeffrey Gundlach, who refers to CNBC hosts by first name, asserted on Wednesday's Halftime that the "message of 2017" is that "this is the year the Fed won."

"Now the Fed is quantitative tightening," Gundlach explained, stating "the real worry" about central banks is "forward about a year," pointing to Draghi.

Gundlach called Jerome Powell a "slight upgrade" to Janet Yellen and predicted Yellen's legacy (snicker) is "gonna be strong" because "nothing fell apart."

Gundlach called the flattening of the yield curve "the real deal." He also made a "big rock" analogy about junk-bond prices. (This one was different than Death Valley being next to a mountain illustrating how market volatility will rise.)

Gundlach said he thinks the 10-year will head to 3.0%, where there's "substantial support," but it will put a "drag" on stocks.

"TIPS are strangely attractive to me," Gundlach said.

Pointing to consensus calls of a rising dollar in 2017, Gundlach — who enjoys trumpeting his previous correct calls including the 10-year yield dropping between 2.25% and 2.0% — stated, "Short-term Fed moves are not what drives the dollar."

Gundlach said he likes INDA, the India ETF.

On the Topic of the Month, Gundlach mocked "cryptokitties." He said, "I think if you short bitcoin today, you'll make money," though he cautioned it can go higher, pointing to the Nasdaq from September 1999.

Telling a story that Jon Najarian had already seen, Gundlach said his 86-year-old mother sent him a link from "her cousin's daughter" about … you guessed it … buying bitcoin. Doc said he read that story when bitcoin was "under 4,000, roughly 3,800 or something like that," but Jeffrey said it was $4,500. So maybe Mom should've bought. But Gundlach said he informed that her that those types of emails more often occur at the top of the market than the bottom.

"I don't think cryptocurrencies are legit," Gundlach asserted.

On the Futures Now clip, which is just a couple people reading a chart (doesn't matter what the commodity/bond is), Brian Stutland suggested maybe 3.20 is possible for copper. Jim Iuorio said "if it gets over 3.10, then I think 3.30."
[Tuesday, Dec. 12, 2017]
CNBC's D.C. crew still hasn't identified who put the FIFO provision in tax reform
In a rare moment, perhaps taking a cue from Judge in the last couple weeks, Pete Najarian on Tuesday's Halftime attempted the mock voice: "I don't know how many times I sat here and listened to people come on and say, 'Well you know, this whole tax reform thing, this is completely priced in.'" He didn't do it with quite enough oomph, but it wasn't bad.

Judge aired the morning clip of Senator Pat Toomey complaining of FIFO. Sensationally gorgeous Ylan Mui (who will now just be known as "Ylan" on this page) said Kevin Brady said that "Nothing is final until everything is final."

Ron Insana said he thinks removing state and local tax deductions is dumber than the FIFO rule. Insana said the FIFO rule still seems "patently unfair."

Kayla Tausche admitted that "lobbyists on K Street" are asking, "Who wants that in there and what's in it for them?"

Ylan added an "X factor," that "it's still unclear which provisions inside the tax bill will actually take effect on January 1st." Judge immediately switched to CNBC HOFer Jane Wells, at the edge of Montecito wildfires with … an inmate crew. "California depends heavily on inmate crews," Jane said.
Does anyone follow the CNBC IQ 100 (which includes MAT but is really an intellectual-property play)?
Opening a program without a topic, Judge and his crew stumbled through the opening minutes of Tuesday's Halftime randomly grabbing at various tickers.

Jon Najarian said he's not aboard NKE, explaining it's "not exciting to me" before botching the "burn (fool) me once" slogan.

Stephanie Link talked up CAT and URI and CMI and GS. Judge called GS "a veritable Dog of the Dow."

Josh Brown said to stay with MA, which he's long. He said "it's an embarrassment of riches for the whole banking sector." Brown also mocked Dick Bove for coming on the air to "shame us" this year. "The multiple has expanded way faster" than the growth, Brown stated.

"I would not touch GE," said Stephanie Link, citing her "problem with power gen."

Doc said among laggards, he would pick IBM, citing blockchain.

Josh Brown mocked Judge's intraday Dow high, explaining he forgot his "24,534 hat."
Pete says the video-game community is 'true blues'
Judge on Tuesday's Halftime said the Call of the Day is Goldman Sachs upgrading ATVI.

Stephanie Link said ATVI is up 79% this year but "flat since August," but "the most important thing" (why wasn't that mentioned first?) is that it's got "3 huge products in their pipeline."

Josh Brown, who a while back promised Judge that the next time they talked about these names, he'd have a position (but didn't Tuesday according to the on-screen disclosures), said the video game makers have got a "Salesforce-esque recurring-revenue model."

Judge said EA, which was removed from the Conviction Buy list, is down 9% since it was added to the list Sept. 8.

Doc trumpeted TTWO.
Judge at the 50-minute mark promised a 2-minute commercial, then final trades, but the commercial break was really about 7 minutes
Ylan on Tuesday's Halftime reported on Rand Paul's tweet about the deficit that isn't 100% clear (thought the additional TWTR characters were supposed to clarify those things). Josh Brown scoffed that the tax legislation will be offset by a fiscal cliff logjam.

Jon Najarian said January 20 calls in EGOV were getting bought in "pretty big numbers." Pete Najarian said someone rolled up to the January 12.50 calls in F (the screen just said January 12).

Doc said FCX 16 calls were getting bought; he thinks the stock goes higher.

Stephanie Link said of STI, "not sure I would be buying it here."

Josh Brown said if ABT takes out 57, "there really aren't any sellers in here."

Pete said he's not so sure he's listening to the MAT analyst.

Jim Iuorio said he's "flipped a little bit bearish" on crude and sees 55, "perhaps lower."

Pete Najarian's final trade was C. Doc said KGC, because they were selling downside puts. Stephanie Link said EMR. Josh Brown gave a speech about "the 'i' word," meaning inflation.

Instead of ending the program on that actually provocative note, Judge realized he clumsily had some time to fill, bringing up defense stocks (Stephanie Link likes NOC over GD).

Judge promised to see Jeff Gundlach Wednesday in L.A.
[Monday, Dec. 11, 2017]
Doc, Andrew Left actually argue over how easily the government can unload cocaine (a/k/a who drained $100,000 from Andrew's Citi account?)
The meal ticket of Monday's Halftime Report was undoubtedly the spirited bitcoin debate between Andrew Left and basically anyone else.

Left's first observation was a good one, the size of the bitcoin float. He said bitcoin futures had traded "around $50 million worth." But the APRN IPO "traded around $400 million." So bitcoin, Left said, is getting outsized media attention that can't be "paralleled with the money going towards it."

Left said someone a couple hours earlier was pointing out on TV that bitcoins are held by few people who can talk about it on TV and get others to buy it. "It's almost like manipulation, low float, let's get it going higher."

That brings up a permanent issue with CNBC and other business media, that guests might simply be trumpeting positions they'd be happy to exit.

But the scorecard is what it is, and with bitcoin legitimately exchanging hands in the 5 digits, CNBC is obligated to put people on TV talking about it.

Jon Najarian, Left's initial adversary who apparently really believes in this bitcoin stuff, countered, "The fact that more people are scrambling into this is why it's going higher."

Doc said the listed exchanges aren't letting people short bitcoin, which is keeping a premium on the price.

Left challenged Doc as to whether Doc has ever tried to buy more than $500,000 in bitcoin. Doc didn't directly answer but said someone in Europe asked him for help unloading $50 million in bitcoin, "and I said, 'I can do it with one phone call,'" and one of the big primary dealers offered a market "$400 wide."

Doc insisted, "There is plenty of liquidity."

Left asked what kind of spread he'd get with $50 million in gold. "Right. I agree with you on this point absolutely," Doc conceded.

Doc contended that the fact bitcoin is going to be listed on 4 U.S. exchanges is the biggest endorsement of it.

Left said he and Doc met last month in Vegas, and "we had a very nice breakfast."

"Great conversation," Doc agreed. (See, some people have great conversations over breakfast in Vegas; others can't even get CNBC hosts to take them to Denny's for a Grand Slam.)

But that aside, Left said Doc's point is like saying people should gamble in casinos, and the fact they're opening new ones in a couple years is what validates that.

Things got a bit loopy when Doc said the U.S. government seized stuff from Silk Road and sold the bitcoins, unlike the cocaine or marijuana, which it burned.

Left chuckled, "Come on, the government would have a very difficult time trying to unload cocaine on someone."

"No they wouldn't! If they could do it like that! They could do it like that, Andrew," Doc insisted.

"The fact that this conversation has gone from bitcoin to a possible cocaine trade within the same 8- uh, 3 minutes, only shows the nature of bitcoin," Left asserted.

In another tangent, Left said $100,000 left his Citibank account; "somebody wired money out of my account." (What the heck??) Left said he called Citibank, "and within a week, they put the money back in my account."

(Translation: If you lose your bitcoin, you're SOL.)

Left said the bulls argue bitcoin is decentralized, and then say it's validated because it's centralized. Doc insisted "it can never be centralized."

Judge asked both if it will "end badly." Doc said, "Judge I think it goes a lot higher," while conceding, "There will be several blow-ups."

"It ends badly because people do not have an understanding," Left said.

Left said his Uber driver in the morning "wanted to know how he was going to retire" on bitcoin.

Judge finally turned to the panel. Josh Brown seemed to side against Left, stating he doesn't understand why it's a "badge of honor" for those who don't understand bitcoin to give a "10-minute monologue" on why it's fake or whatever.

Brown scoffed that all the "anecdotal stuff" about bitcoin coming from "my barber, my taxi driver" is "such a waste of time."

Stephen Weiss offered, "Right now, it's a momentum trade." But Weiss predicted the bitcoin blockchain will be hacked someday.

Joe Terranova stated, "No one has proven yet, OK, that it's not an asset class, and that is a fundamentally strong argument for bitcoin and blockchain. Because it doesn't seem to correlate with anything."

Weiss and Brown agreed "I have no idea" what bitcoin should be priced on.

Joe said, "The futures trading so far is disappointing."

Jim Lebenthal curiously asserted that "none of the prices" that people are arguing about is "relevant" to bitcoin/blockchain.

Left rejoined the conversation and suggested "the blockchain will be the ultimate disruptor of bitcoin." Brown conceded, "OK, you could be right."

Left asked if someone would rather own $40 million in bitcoin on the blockchain or $40 million in AAPL on the blockchain. Brown said, "I don't know. You can't do it. It's a hypothetical."

Hate to say it, but this is one of those debates in which both parties are probably going to be right, which is little help to the (supposed) "Fast Money" viewer. Should you buy this stuff NOW? The gut here is that it'll probably see $25,000 (think about the dudes who sold a week ago in the 4 digits), but there seems to be enough clumsiness to the spreads and nominal cost, etc., that it doesn't seem worth the risk, which probably explains why no one on the program was telling people to buy it.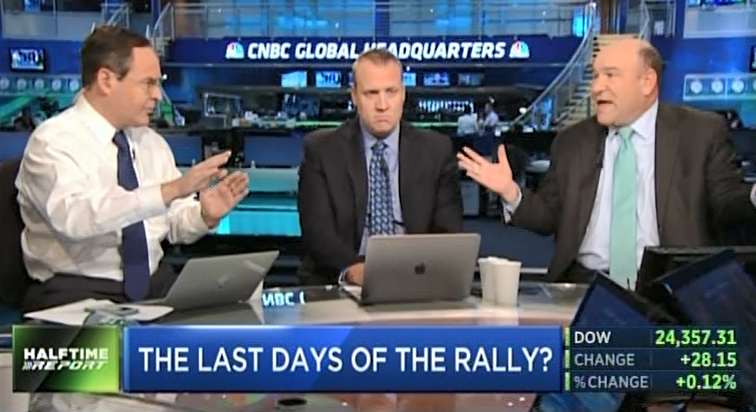 'President Mike Pence'
is sooooo 2 weeks ago
Judge opened Monday's Halftime asking if Yellen's "last stand" (snicker) will mark "the beginning of the end of the bull market."

"I don't think so," said Jim Lebenthal, stating it would take "interrupted" profit growth to derail stocks.

Joe Terranova said the Fed is "normalizing," which is "what they should be doing," and he'd be more concerned if the Fed opted to "pause."

Stephen Weiss said "3 hikes are baked in," and it only matters whether they "quicken the pace."

Judge wondered about "unintended consequences" of the tax bill. Josh Brown said tax legislation will boost the stock market, not the economy.

Brown said the rally needs to broaden leadership to carry into 2018, and banks would be a great leader, and he echoed Weiss' point about the pace of rate hikes.

Steve Liesman floated the notion of a "policy mistake," suggesting the tax bill is potentially just that.

Liesman said there's 3 folks on the Fed who don't want to hike.

Jim Lebenthal said, "I know plenty of people who are saying, '1 hike.'"

Liesman said there's people who still believe "the armageddon of the Fed's exit."

Weiss said "the Fed is reactionary to a large extent."

Liesman said he had a "perfect forecast" for the Fed this year but an "abysmal forecast for the long end" of the yield curve.

Jeremy Siegel, one of those 2018-is-guaranteed-to-be-worse guys, said 3 rate hikes would bring the yield on cash to 2%, so, "It's gonna be a little bit more difficult for the stock market." He also cited "political risks next year" from midterm elections, even suggesting both houses could turn Democratic.

As for stocks next year, "I could see 0-10%," Siegel said. Interesting. So stocks will not fall next year.

Siegel reflected on Philadelphia's bittersweet game in L.A. on Sunday.
VRX crosses $20, 52-week high
Sometimes, tracking the legends is very reassuring … because some of their trades can be just as bone-headed as the ones in the typical E-Trade account.

Judge on Monday's Halftime brought up Goldman Sachs' 135 on ADP.

Joe Terranova said having Ackman in the conversation is a "positive for ADP," but "if you take Bill out of this," it's a company that has shown growth and continues to move higher.

Steve Weiss said ADP needed a "wake-up call." Weiss chuckled that ADP doesn't have the "downside" of Ackman getting on the board "and doing what he did to JCPenney or Valeant."

Nobody bothered to mention that Bill unloaded his VRX stake in March around $11, according to CNBC sources; Ackman said he couldn't devote the time to it anymore.

But while he hasn't been devoting any more time to it, it's been nearly doubling.

Had Ackman just kept his VRX stake and ignored ADP, he'd be wealthier now.

Whatever.

Joe Terranova offered praise. "Bill is taking something that's good and making it even better," Joe said.

Jim Lebenthal questioned if all the good stuff is "baked in" to ADP at 27 times next year's earnings. Jim questioned, "How much more employment are they gonna get?"

Judge said, "By the way, it's up 10½% since Ackman took his stake in July." (Translation: Bill wants me to bring up the winners too, and I need to book him for the show.) (Yep. And VRX is nearly a double.)
Yowza! Mel smoldering in
sleeveless red on Fast Money
Not really wanting to cut off the bitcoin chatter on Monday's Halftime, Judge had to abruptly veer to Meg Tirrell with Foundation Medicine CEO Troy Cox.

Judge also had to cross-promote CNBC's Healthy Returns conference.

Josh Brown said Barron's top 10 picks for 2018 is just a "momentum stock list." He said DAL "looks really good to me" and that he likes GOOGL and ALLY.

Stephen Weiss said Enterprise Products is not a momentum name and that the MLP space has been left for dead.

Joe Terranova said he's not sure where PXD "comes from" on the Barron's list; "this isn't the best name in energy."

Jim Lebenthal said he likes AMAT; "it's still pretty cheap." (Judge didn't ask this time if Jim was looking at the same list.)

Joe said there's "a lot of strong momentum" in TWTR. Josh Brown said he doesn't know why it's up but that it's "underowned." Weiss said SNAP has a "similar chart." Weiss offered XBI or CELG for final trade. Jim said PFE.
[Friday, Dec. 8, 2017]
Memorable Moments in Politics: Ross Perot's 'giant sucking sound' (a/k/a Judge didn't give this topic enough air)
On Friday's Halftime Report, Judge curiously brought up Lee Cooperman's Trump-AMZN reference from a day earlier.

ICYMI, 1) Just PgDn a few times; 2) Trump for some reason asked Lee at a White House dinner (man, we can't get invited to those; we can't even get CNBC hosts to take us out to Denny's for a Grand Slam) if Bill was nuts to take on ADP Amazon is a monopoly.

On Friday, Steve Weiss said "the only reason" Trump asked Cooperman this question "is because Bezos owns the Washington Post."

We gotta agree with that.

Then things got even more interesting. Weiss claimed "Amazon's done nothing but advantaged the consumer by bringing prices down." We would disagree with that. The appeal of AMZN is not price, but the ease and convenience of the format. There are so many things sold on Amazon, many of them semi-unique, it is hard to know whether the price is "brought down." If someone compiles a list of things Amazon sells that are also sold in national chains such as CVS, Target, Kroger, Macy's, Foot Locker, etc., and shows definitively that Amazon is cheaper (don't forget to add in the amortization of the $99 Prime fee), then we'll believe Weiss' point. #Kenshoanyone?

Then things got even more interesting. Josh Brown said the people who might push a monopoly case against Amazon are brick-and-mortar retail CEOs who might complain to their senators or attorneys general about all the jobs lost and how those people who fold sweaters aren't shifting to writing code in Seattle … but no public official wants to be the first to launch a case and potentially look like an idiot.

Sarat Sethi said that if Amazon starts to wipe out "another vertical," regulators might step in.

Unfortunately, they all missed the bigger picture.

1) AMZN is an enormously popular company, one of the most popular in U.S. history (possibly No. 1), which is much different than Microsoft 1999, thus it's unlikely government will touch it.

2) Graybeard viewers of the Halftime Report will recall that during the 1992 presidential campaign, one fellow of questionable credentials briefly catapulted in the polls largely because of his complaint about a specific agreement (we don't think it's a "treaty" … that's an issue with the Iran thing too … and then we've got the Taiwan "country" thing and Puerto Rico "territory" thing … man, do we love government semantics … that'll be a really long post someday) that by itself would create a "giant sucking sound" of American jobs to Mexico that people actually believed.

Except this fellow had become a billionaire by founding a data-processing company that, among other things, computerized Medicare records. That's the real sucking sound, and it's not so much jobs but the nation's wealth, and it's not going to Mexico but the Pacific Northwest. (The company in question was actually in Texas, but you get the point ... where's Dell by the way?)

So basically this fellow was offering a classic bait-and-switch, telling gullible voters that someone else was to blame, when in fact his own industry was at that moment in the process of siphoning away much of the dollars that went into the old way of doing things, to the benefit of the folks at Yale and Harvard and MIT smart enough to be taking computer science and interested in living in Monterey.

As the Cupertino-to-Redmond Beltway wipes out industry after industry, revenues previously distributed around the country are now all vacuumed up basically by 2 locales, which are swimming in so much money that RICH people who work for these companies now have to live 60 miles away because not all can afford the $1 million starter homes within the actual city of the company they work for. (This site posts those kinds of stories on our home page probably once a week.)

Many of these companies are hyper-popular, which helps them avoid scrutiny, but it figures to only be a matter of time before the rest of the country decides it's not OK if the Pacific Northwest is Riyadh.

Smart operators are aware of this and skate to where the puck is going; hence we have Amazon.com (or is it just "Amazon Inc." now?) very publicly shopping around the whole country (especially places not exactly synonymous with Silicon Valley) for a place to build a "second headquarters" (why any company needs more than 1 HQ or what would be accomplished there, we have no idea) that should probably (if our guess is accurate) and artificially redistribute a token of this computer-age wealth from Northern California into a Rust Belt economy.

Someone on the panel could've brought up those 2 angles, but they didn't; that's what we're here for.

Anyway. During the Halftime Report, Steve Weiss and Josh Brown tangled over what percentage of items sold on Amazon.com are actually made by AMZN. After a commercial, Brown cited TechCrunch data from August that it went from 2% to 12% this year through Prime Day.

Nothing about that sounded terribly convincing. And honestly, for some stuff on Amazon, it can be confusing figuring out who the seller really is.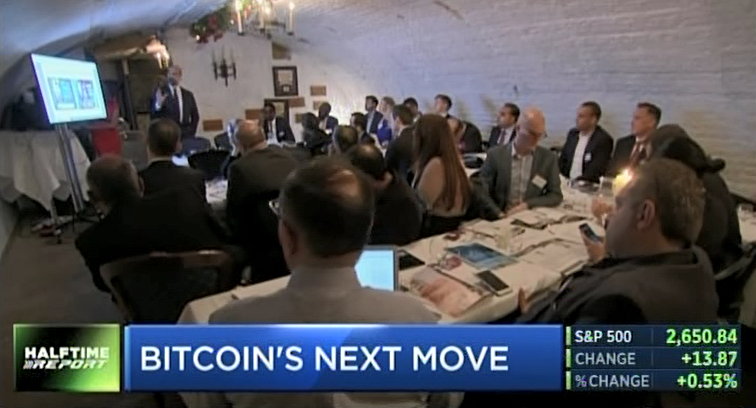 Looks like standing-room-only for Doc's bitcoin-or-whatever presentation in Europe
On Friday's Halftime, Jon Najarian (via satellite from Chicago) trumpeted his European itinerary to discuss bitcoin, stressing "London, Geneva, Paris, Cannes, Monaco, Lugano, Milan, Paris, Zurich … I was doing 2 conferences a day."

(Yes. And some of them were apparently in "Citizen-Kane"-style airplane hangars with maybe 20 people.)

Doc said in "95% of the cases," he was paid in ethereum. We have no clue how these things are handled, but we're guessing ethereum doesn't come with a W-2, and it may not exactly be defined yet what the actual value of compensation in ethereum actually is.

Doc insisted to Judge that the wild swings in bitcoin have "almost nothing" to do with the launch of futures this weekend.

In an important question, Judge asked Najarian if people were setting up bitcoin rallies this week to short it. Doc didn't answer the question, telling Judge "you get paid to short this thing … if you lend your bitcoins Judge, you can get paid by any of these online exchanges."

OK. We don't really have a clue about anything, but we're not sure how lending out your bitcoin is the same as shorting it. For example, if we think IBM might fall, according to Doc, we're going to buy IBM shares, then lend them, collect interest … and then hope for the shares to take a haircut when someone finally gives them back to us.

Judge pestered Doc over wine on Doc's Twitter feed. Doc said of JPMorgan's CEO, "Jamie is a friend" and is "very positive on blockchain." And … at the end of the day … who DOESN'T like the future of blockchain?

Doc said Jan. 5 expiration INTC 44 calls were getting bought. (This writer is long INTC.)
How come we haven't seen Peter Schiff for a while talking up $5,000 gold?
Grasping for headlines and apparently out of gloom scenarios for the moment, Judge opened Friday's Halftime with the Oppenheimer call for S&P 3,000 next year by John Stoltzfus.

Josh Brown said there's a "decent probability" it will happen and that the note was "fairly rational."

Stephen Weiss noted the 10-year and global yields, "so where you gonna put money." Judge interrupted, "This is Goldilocks, is it no?" (OK, if that's the way it is, what's the point of having an hourlong program in which Jeremy Siegel and Mike Wilson assure us it's not Goldilocks and things will definitely be worse next year?)

Jim Lebenthal said it's "reasonable" to expect the S&P is up next year, but "15% is too much."

Jim actually claimed that Stoltzfus' 3,000 call is part of the "early stages of euphoria."

Sarat Sethi said articles like the WSJ piece by James Mackintosh about value probably not coming back are "a great contra-indicator."

In what can only be considered hyperbole, Sarat actually claimed that for the individual investor, the FIFO rule is a "death knell."

Jim used 2017 dollar forecasts to illustrate that when everyone thinks something will happen, "usually" everyone's wrong. (OK. So tomorrow, the sun comes up in the West, because everyone thinks …)

Jim said value could come back on fundamental reasons, including "if growth disappoints" (snicker).

Judge, practically incredulous, questioned, "What's the reason to believe that it will?"

Josh Brown suggested investors "delineate" within value (translation: pick the value stocks that are actually going to go up).

Judge said Jim and Sarat are suggesting a possible "renaissance" (snicker) in value stocks despite trends to the contrary. Judge almost employed that good mocking voice he's developing, but it didn't quite carry through this time.

Judge said Stoltzfus would be on the 5 p.m. show. He was, and it wasn't terribly exciting.
Do people in Brazil invest in companies called Appalachia?
Judge on Friday's Halftime said Evercore ISI hung a 106 on MSFT, and he dialed up analyst Kirk Materne to explain the reasoning.

Judge asked Materne how MSFT gets to $1 trillion. Materne said that over 5 years, the business has become much more of a "compounding annuity stream of revenue and cash flow."

Materne said the business is "incredibly durable" and thus able to grow very fast despite its enormous size.

Jim Lebenthal said he owns MSFT competitors that he thinks are cheaper, including INTC. (This writer is long INTC.) Jim also questioned a 3-year target of MSFT $1 trillion when there could be a recession within that time, why not do a 1-year target?

Sarat Sethi pointed out MSFT broke out after the new CEO. Pete Najarian loves to point that out (but somehow, MSFT goes up despite Heather Bellini's wrongness, whereas Katy Huberty is the reason AAPL makes money …). Josh Brown said MSFT is the easiest chart trend to follow; translation, it's a buy with a trailing stop.

Josh Brown said Forbes interviewed Bill Gates, the world's most boring interview (gave away all his money but somehow still the world's richest person), and asked him 3 times to define quantum computing, and he said, "I can't even explain it."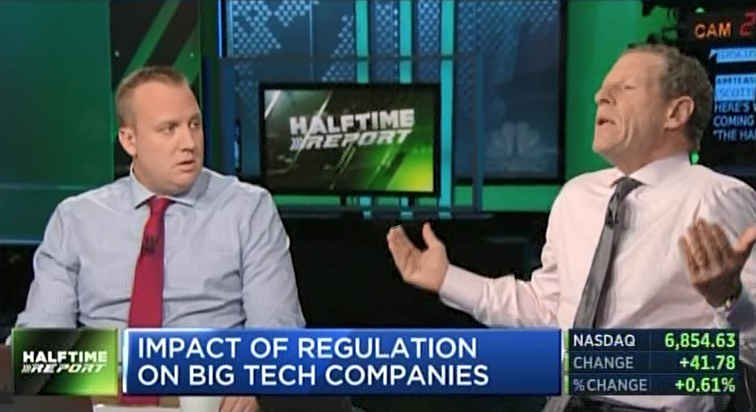 Weiss loads up on WDC
On Friday's Halftime, Judge was trying to speculate what Dow number Bob Shiller recently tossed out. (That's called backhanding your guests that you shouldn't have taken seriously in the first place.)

Sarat Sethi endorsed CELG after some dead air.

Jim Lebenthal said AAPL is the winner in the WDC settlement. Steve Weiss said he bought more WDC Thursday and Friday. "I also added to Micron," Weiss said.

Nobody took up KORS as Judge skipped ahead during his sloppy program of Laffalympics; eventually, Josh Brown said he's not a buyer of KORS because of its "totally off the charts" RSI.

Weiss said he bought GVA while talking about IR. He said he'll buy CAT at some point.

Bob Iaccino said crude's in a "good environment" to go higher next week. Anthony Grisanti expects a test of the lower range before it hits 60.

Judge asked for opinions on the Credit Suisse recommended list. Jim Lebenthal trumpeted KLAC. Judge questioned if he and Jim were looking at the same Credit Suisse list. (See, like we said, it was a sloppy show of Laffalympics.)

Weiss said he thinks PYPL's run continues. (This writer is long PYPL.)

Nobody found JNJ to be a "barnburner."

Sarat's final trade was Delphi and the spinoff. Weiss said JD. Josh Brown said SHAK; he's "not a seller."
[Thursday, Dec. 7, 2017]
Donald Trump says 'there's too much anger' for him to unify the country
Lee Cooperman was asked about the stock market during his visit Thursday with the Halftime Report at the Wells Fargo conference.

But Lee sounded more interested in talking about White House meals.

Lee said he was at a mid-July White House dinner with "10 other people" and the president, and "twice he asked me if I thought Amazon was a monopoly."

Lee said he told the president "No."

Lee said Donald Trump assured him he has a "fabulous reputation" and that Trump asked about the SEC and whether Lee's "open letter to President Obama" (we posted the highlights here) was the cause of Lee's SEC problem.

"So somebody briefed him," Lee pointed out. (Or, he watches the Halftime Report like other people do.)

Lee said he told Donald Trump, "The SEC treated me very unfairly, but I gotta go on with my life." (OK, we've been trying to analyze that for a while. We think that means, "What I did was no big deal, but they had just enough that they could make my life miserable, so I had to settle.")

Lee said while at the White House, he congratulated Donald Trump on his victory and told him, "I think personally if Hillary Clinton had won, we'd be in recession today."

Lee said he told the president that the "best thing" the president could do is "unify the country." Lee said Trump's response was, "I hear ya, not really likely to happen, too much anger."

Cooperman said the president deserves "a lot" of credit for the stock rally; "he's unleashed animal spirits to a degree."

Lee said "the intelligent people" who voted for Trump (translation: some weren't) knew what they would've gotten with Hillary and didn't want it.

As for 2020, "I would vote for Donald Trump ahead of Elizabeth Warren or Bernie Sanders," Lee said, stating the Democratic Party "has become the left-leaning party in this country." (Actually that's kind of been the case for a while.)

"President Obama had a foot on the throat of the economy," Lee added.
Bill's lunkheaded ADP campaign escapes mention by Lee Cooperman (a/k/a Lee notes Carl's market calls aren't always right)
Lee Cooperman on Thursday's Halftime gave the market lukewarm props, calling stocks "reasonably fully valued."

Lee downplayed the tech selling of the past week that Judge is so hyper about.

He said he's finding individual stocks even though the S&P is "not exciting."

Judge brought up Carl Icahn's mention of "euphoria" (but not the Day of Reckoning).

Lee called Carl "absolutely brilliant" and said he has "a world of respect" for Carl. But then Lee said, "I think he closed out his fund at the end of 2008 because he saw limited opportunities and he didn't want the responsibility of running other people's money. … So clearly the conservatism he expressed in '08 was wrong."

Lee said that a year ago, "average expectation" of this year's S&P was 2,350.

Lee said the tax package long term makes sense, but "short term, I think it's dangerous." (He could've said it makes no sense for the government to be crafting a stimulus package now, but whatever.)

In a clumsy dialogue, Jim Lebenthal asked Lee if value "needs to be redefined." Lee mentioned that he's got positions in GOOGL and FB.

Lee touted AMCX, trumpeting the regular buybacks, as well as SHPG and UAL.

Lee downplayed the importance of an inverted yield curve, calling it a "more technical phenomenon." Jim clarified that Lee is saying the underlying factors are more important than whether the curve is inverted or not.

Lee said he listened to the Mike Novogratz interview with Mel and stated that Novogratz predicts bitcoin $40,000 in 2018. But Lee has "no money at all" in bitcoin.

Lee said there's "euphoria" in bitcoin and German bonds at 38 basis points.

Judge told Lee, "It's nice of you to, to, cite, uh, Melissa and, and, and what they've done on- on that show about bitcoin, bringing on Novogratz." (Actually landing Novogratz to talk about how great bitcoin is has not been too hard recently.)
Scott Minerd actually had to ask Ken Rogoff where title of the book comes from
Scott Minerd on Thursday's Halftime said, "I think we probably have another 10-15% ahead of us next year."

But, "I'm becoming much more cautious about things."

Minerd tried to claim that U.S. market valuation, relative to GDP, is in rare air. "We're starting to approach the same levels we were back in 2007. We're beyond now 2007, uh, back in the Internet bubble in 2000," Minerd said. (But nothing about 1929.)

Minerd said higher corporate earnings will support higher stocks even amid higher rates. But Minerd said, "People are chasing the stock market," and we're setting up for a "massive short-volatility trade." (That's the Jeffrey Gundlach thing from August.)

Joe Terranova asked Minerd if liquidity will be there as volatility rises in a passive-investing/ETF climate. Minerd said the ETF folks will try to get out the fastest and said he's concerned that some ETFs are holders of "relatively illiquid assets."

Judge noted that Lee Cooperman brushed off yield curve ramifications. Minerd said he loves Ken Rogoff's book This Time It's (sic Minerd's pronunciation) Different. "The reality is, it's probably not different," Minerd said. But actually, Lee wasn't saying it's different; he was saying that an inverted yield curve isn't as significant as the conditions on the ground.

Minerd felt the need to clarify he was in "South Korea" and not the other Korea.
Mike Mayo goes from intermediating to disintermediating to re-intermediating
Mike Mayo on Thursday's Halftime said there are 1,700 people at the Wells Fargo conference, but he considers Judge "one of the most important at the moment."

Mayo said "complacency is the biggest risk for JPMorgan or any bank when they're doing so well." (Zzzzzzzzz)

Mayo said his 2020 target for JPM is 135.

Jim Lebenthal asked Mayo if he favors big banks over regionals. Mayo explained that big banks' market share has risen. "Goliath should continue to outperform David," Mayo asserted.

But, "Trading businesses are not doing so well," Mayo said.

Jim asked Mayo if C&I matters much to big banks and is disintermediation a problem. Mayo said "it's a good question" and that there's "classic disintermediation," but then there'll be "re-intermediation to traditional bank lending."

Mayo told Judge the concern about persistently low rates is "so, you know, 2016."

Joe Terranova and Jim Lebenthal both expressed concern about possible regulation of AMZN and others. Jim though said it'll "come to roost first" internationally, stating our government is "a little bit more judicious."

Joe's final trade was CTAS. Jim said NKE.
[Wednesday, Dec. 6, 2017]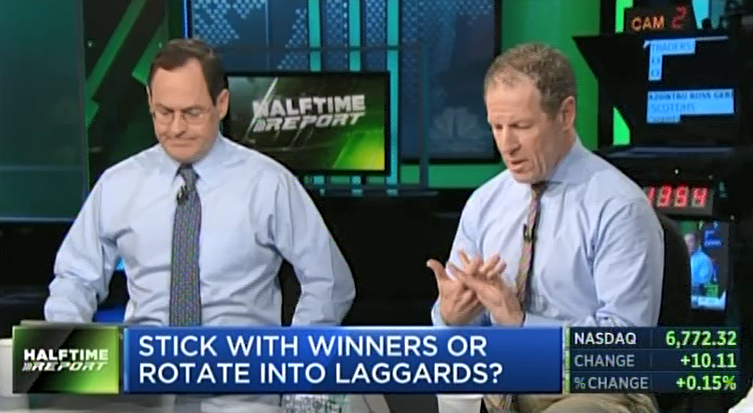 Weiss gets his fingers in a bunch trying to elucidate his 3 reasons
The beginning of Wednesday's Halftime Report was devoted to taped remarks by Donald Trump, largely about tax legislation.

Eamon Javers said Trump was "in a very good mood."

Judge asked panelists why the markets have been rocky in December, at least for the Nasdaq. Steve Weiss, who acted like this subject is more important than the 1943 Tehran Conference, said hedge fund managers are racing to sell with expected changes in carried-interest rules, plus FIFO, plus the expected negative impact on high earners next year.

Jim Lebenthal suggested that some things might come out of the bill, and if so, people who sold on those factors might've "shot themselves in the foot."

As for selloffs, "It hasn't been all that brutal," Pete Najarian said.

"This is just something called money flow," said Joe Terranova, stating it doesn't have anything to do with fundamentals. Joe's right.
So isn't this a good time to be an advisor who opens bitcoin accounts?
Ross Gerber, whose volume seemed to be amped up, joined Wednesday's Halftime and trumpeted how he's shifted from FB, NVDA and NFLX to HD, DIS and AAPL.

Gerber complained, "We're getting calls every day, people wanna buy bitcoin, it's like ridiculous."

"I'm very worried about interest rates," Gerber added, as well as "the government starting a huge war in the Middle East."

Steve Weiss said those who had a great year are going to "bank it" and not "gamble" on the last few weeks of 2017. (As opposed to a week or two ago, when the panel could find absolutely no reasons to sell.)

Joe Terranova mentioned "corporate AMT" (Zzzzzzz). Weiss claimed it's a big deal in terms of R&D write-offs.

In a new one for us, Tony Dwyer said there's a possibility of a "Sanford & Son correction." (We think that means he thinks investors will think it's bigger than it really is.) (We DON'T think it has anything to do with "We locky at wristy.") (You "Sanford" fans know EXACTLY what we're talking about.)

Dwyer reiterated that the market's a buy when the yield curve gets this flat. (Guy Adami on the 5 p.m. Fast Money warned that the flattening process is a little concerning.)

Dwyer suggested stocks are in "weak hands" at this year's end. He's looking for reasons to get back into technology.

Steve Weiss wondered why Dwyer isn't just buying tech now. "I really stink at trading," Dwyer explained.

Kayla Tausche provided a FIFO update. We doubt if he actually believes it happened, but Joe Terranova said "hopefully" Steve Schwarzman dialed Donald Trump after getting off the air with Wilfred Frost a day ago and complained about FIFO.

"There's plenty of stuff that needs to be straightened out," said Pete Najarian.

Weiss said because of the tax legislation's impact on the deficit, "There's virtually no chance of an infrastructure spending bill unless it's all private."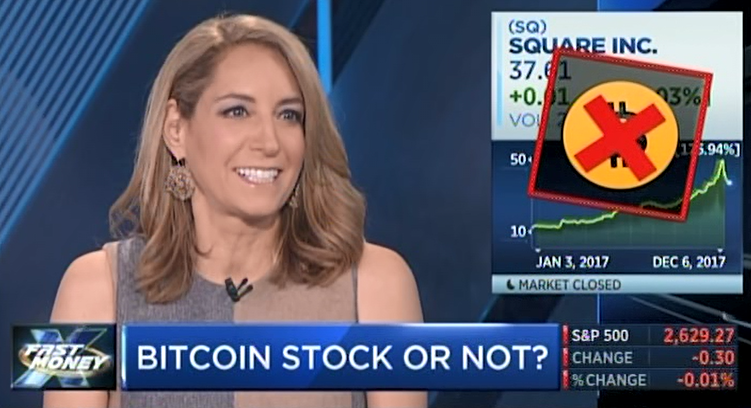 Mike Wilson is really sure that 2018 won't be as good as 2017
Jim Lebenthal on Wednesday's Halftime Report said HRB was surging because people will need help with taxes next year.

Joe Terranova explained why WMT is dropping "Stores" from its corporate title. (Remember when it was important for AAPL to drop "Computer," because they don't really specialize in computers anymore.)

Pete Najarian said April 65 WBA calls were getting bought. Pete said T April 37 calls were getting scooped up.

Pete said "any significant pullback," like 10%, is when you buy HD.

Steve Weiss said LULU is "still understored," and he still likes the name.

Pete likes the AMAT overweight by Wells Fargo and thinks the 65 target is no reach. Weiss said this is a "good opportunity" to get into MU.

Jeff Kilburg explained what constitutes an "essential company" (rather than just a momentum-stock index) in Fish's 40 said "I believe we're range-bound" in crude. Anthony Grisanti though said, "I think we're goin' lower from here," predicting a test of the low 50s before 2017 ends.

Pete's final trade was PEP. Weiss said FCEa. Jim said XLE but in the next couple weeks, so it wasn't really a final trade. Joe said he'd "take some profits" in DPZ.

Judge promised Lee Cooperman, Scott Minerd and Mike Mayo on Thursday's show. (Expect to hear something about Bill's loopy battle with ADP.)

Mike Wilson was compelled to join the 5 p.m. Fast Money to state again "we're not as bullish as we were last year for the year forward."

CNBC superfox Karen Finerman was mesmerizing in two-tone beige/gray ensemble.

David Faber on Mel's show actually said Bob Iger has given "serious thought" to running for president.
[Tuesday, Dec. 5, 2017]
CNBC's Capitol Hill team still hasn't learned which senator added the FIFO provision
On Tuesday's Halftime Report, Steve Schwarzman sat down with Wilf Frost and called tax reform "sort of a game-changer" and a "whopper."

Things got good when Wilf brought up Judge's favorite subject, the FIFO rule.

Schwarzman chuckled and said, "It's buried in that bill; this is actually the first time I've even heard about that."

(The fact it's the first he's heard about it … but he still knows that it's "buried" … indicates he was told in advance that this question would be coming up.)

Moments later, Joe Terranova complained to Judge, "Steve Schwarzman doesn't know what's- the FIFO's … what … you know, not … I mean, do we know what's in the bill?"

"He said it was buried in the, in the bill," Judge said. (And how did he know that if this is the "first time" he's heard about it.)

"Right. And he didn't know," Joe said, adding, "full disclosure," during the presidential campaign, "I wrote the president a check. Let's get that out of the way. Josh."

Joe added, "We are cobbling together something just to get it done … and that's a problem for investors." (Well, that point has been made here several times already. But whatever. #hearditherefirstandnot"buried")

Judge insisted, "We have taken a particular interest on this program in the FIFO provision." (Yes. Except this "particular interest" hasn't determined which legislator is floating this measure.)

Mark Fisher zipped through what he would do if he were Schwarzman — own BX stock, margin against it, borrow out against it, get the deduction, never sell anything — and called Schwarzman's tax rate effectively "zero."

Judge said they've asked "every single member" of the GOP Senate Finance Committee to talk about FIFO on-air, but no one will do it.

Schwarzman also told Wilf that private equity isn't getting a break in keeping the carried interest deduction because it's only for holdings longer than 3 years.
12 of 19 signals activated
Judge on Tuesday's Halftime brought in Savita Subramanian to explain her 2018 year-end S&P target of 2,800 (snicker). But she said it's "more of a question" about where we are in the cycle. "Closer to the end than the beginning, definitely," Subramanian said.

Savita said we're not at the "fever-pitch euphoria on stocks that typically heralds the end of a bull market."

Really. "Typically"? Does anyone remember the great "fever-pitch euphoria" in October 2007?

Savita has a "checklist of 19 signals that you typically need to see triggered before you hit the end." (But what happens if one of the unmentioned signals is unactivated?)

Fish got to talk again about the "Essential 40." He wanted to let Jeff Kilburg (who wasn't on the show) talk about the big plans for this index.

The CNBC graphics gremlins said "The Essnetial (sic) 40 …" (Trust us. We might not be able to get pictures today.)

Josh Brown questioned if CME is an "essential" company.
Judge has heard about advisors getting calls about whether clients should sell
In a tepid, clumsy opening of Tuesday's Halftime Report, Judge asked in scattershot manner whether everyone should sell.

Joe Terranova said, "You want to sell into strength" in tech, but it's only "a very short-lived phenomenon."

Stephanie Link said "rotation" (Zzzzzz) again. (Translation: Any day that FANG doesn't lead the market.)

Judge said advisors are — "I've heard the calls, are- heard of the calls — are getting calls asking whether people should sell."

Josh Brown told Judge, "I gotta be honest with you" (that's a good approach), that Monday was just a "typical market day."

"Yesterday was a normal day within a strange year," Brown asserted.

"Um, I don't know about that," Judge said.

Steve Weiss dialed in, with a bad connection, to say this is something "we hadn't seen before." Weiss said carried interest "goes away for hedge funds," incentivizing selling in 2017. Weiss might've had a good point to make in the rest of the conversation, but we couldn't understand him, so whatever.

"The connection's not all that great," Judge finally admitted and cut the cord.

Mark Fisher said he's seeing more volatility "in all the equity indices" in the last week.

Pete Najarian said November was a "huge month" in options. (Zzzzzzzzz)

Judge and Fish quibbled over what "makes sense."
Bitcoin evidently isn't part of Fish's Essential 40
Ultra-gorjus Seema Mody handled CNBC's Futures Now on Tuesday's Halftime. Scott Nations said copper is below 3-month support. Brian Stutland said there's a "ton of support" around the 2.80 level.

Pete Najarian said WFC February 60 calls were zooming. (But how come the options market didn't predict Micron's 20% drop?)

Fish suggested oil is a place to be "trapped" and that upside is limited to 62, 63, and the downside is to the high 40s.

Joe said he too thinks oil is range-bound, then said, "Pete's done a good job talking about this." Joe mentioned FANG (the Diamondback stock).

Fish said, "Bitcoin is what silver was back in the late '70s and '80s. For sure." He said people will trade it because of the volatility. (Evidently Judge somehow couldn't bring in Mike Novogratz, who's giving about 5 interviews a week on how great bitcoin is.)

Joe's final trade was WMT. Stephanie Link said PM. Josh Brown said JPM, SCHW, MA. Pete Najarian said KMX. Fish said ABX.
[Monday, Dec. 4, 2017]
Weiss points out lapse in Judge's questioning of Keith Parker
Shortly into Monday's Halftime, Judge brought in Keith Parker, who has a 3,300 S&P target for 2018 (but there's some kind of best-case qualifier; the "base case" is more like 2,900).

Judge asked, how do we get there.

"Sure," Parker said, before suggesting growth, tax reform and "valuations that we would argue are still somewhat cheap to the drivers of asset prices, namely rates."

Parker said a tax cut is "20-40% priced" into the market.

Steve Weiss said he would've asked Parker how much of the gains are multiple expansion vs. earnings growth. Weiss questioned to no one in particular if repatriation will really lead to capex, pointing out companies with large balances have been buying back stock.

Weiss also questioned the benefits of tech reform. "There's no tax cut for me in this bill. There's tax increase," Weiss grumbled.

Joe Terranova asserted, "Value is not gonna lead us to 3,300" and called 1-year S&P predictions a "foolish game."

Judge said it's not foolish if you're predicting it'll be lower, an interesting theory.

Kevin O'Leary said Parker's call is "crazy" and is "way too high."

Judge said "let's not go to the, the most hyperbolic level of, of the call," pointing out Parker's base case is 2,900.
#where'sKensho
In a stark intro, Judge in his opening statement for Monday's Halftime questioned if tech "is firmly out of favor."

Josh Brown said "firmly" would be "probably a bridge too far."

Brown said Monday's curious market activity is a "repeat" of "Wednesday of last week (sic last 3 words redundant)." Actually, it's also a repeat of a day or two we remember from last year, huge up day in the Dow/huge down day in the Nasdaq, and tech seemed to recover OK. (You'd think someone on CNBC would look for data points on that.)

"I'm selling the banks because I'm up 50% in many names," Kevin O'Leary said, explaining he bought BA and that he likes the idea of "derisking" into 2018 (Bad Year Ahead Re-Alert). "I think derisking is the theme."

O'Leary predicted a "sell-on-news" situation when tax reform passes.
How come all the options paper didn't predict that MU was going to fall 20%?
Stephen Weiss on Monday's Halftime said we'd have to see 3 rate hikes next year to keep the momentum in financials.

But Josh Brown quibbled over the notion that the trend in banks hasn't already been happening.

Jim Lebenthal protested that "'tech,' that term, is too broad a term to use."

Jim said there are things rallying now to be suspicious of, specifically retail.

Weiss said M announced hiring more holiday workers.

"They do that every year, Steve. Every year," Jim said.

Weiss admitted he "sold Macy's foolishly" and isn't buying retail now.

Jim said he'd "absolutely" buy MU and others though he's "kinda filled out in that space."

Ylan Mui outlined the differences between the House and Senate tax bills. Mui said Congress and herself will likely have to probably "give up part of their Christmas vacation." Judge promised Mui "comp days."

Joe Terranova told Judge, "It's a rotation. People are ringing the register."

Brown said, "Maybe I'm weird," but he doesn't know anyone with a portfolio of "just banks and no tech." Brown suggested people own varying sectors and it's too hard to pick when each will turn.

That line of conversation set off Weiss, who said he disagrees; "I invest where the fundamentals and where I think they're gonna be."

Weiss then questioned why Brown's been doing this for 19 years or why investors need him when they can "just buy the S&P ETFs." Kevin O'Leary answered for Brown, stating, "Because when vol comes back, they're gonna fall in love with him again."

O'Leary somehow knows that "next year's darling" is "not gonna be tech."
Jim, Pete, Steph all scoffed at Joe's UPS call that kicked butt
Monday's Halftime panel was unanimous in dismissing the notion of getting long APRN, even though Judge tried to suggest it around a commercial break.

Judge "wanted to make sure" Kevin O'Leary revealed that he invested in Plated.

O'Leary said APRN is a "zero" unless KR buys it.

Pete Najarian said January 36 calls in TRN were being bought.

Jim Lebenthal said "there's all sorts of regulatory hair" on the CVS-AET deal and predicted it would get tied up in the courts "a long time."

Joe Terranova recalled getting grilled for saying weeks ago that he likes UPS as well as FDX (back when Jim was "reporting the facts on the ground"). But now Joe says he likes FDX better because UPS has gotten "a little bit rich."

Josh Brown said CMG needs to hire a marketing expert. Brown said "momentum was actually improving" while the stock made new lows. But he said he wouldn't buy it.

Weiss sounded a little lukewarm on DIS.

Kevin O'Leary touted BA for several reasons.

Pete Najarian called EBAY a "very inexpensive stock," though "I'm not in it right now."

Judge entertained extended dialogue about sports gambling. Kevin O'Leary said, "I don't know about you guys, but the guys I watch football with on Sunday, all have bookies. I al- I tell 'em every Sunday, they're bad bad guys, you shouldn't do this."

Joe said, "Full disclosure, I was a customer of TradeSports."

Everybody had fun with the pronunciation of "Urus."

Kevin O'Leary's final trade was HUM, on a "speculative" theory that WMT buys it. Weiss said UAL. Jim Lebenthal said IBM. Josh Brown said SCHW, in a "major, major breakout."
[Friday, Dec. 1, 2017]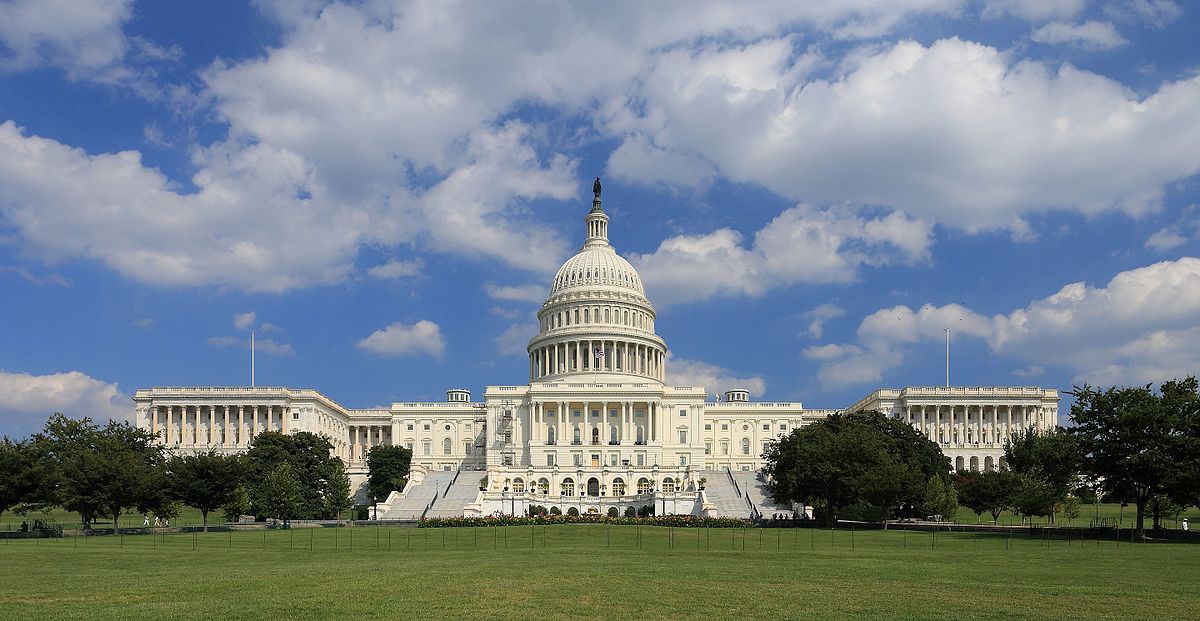 This isn't any way to do
landmark legislation
So it's apparently going to happen.

Republican tax reform is apparently about to pass the same way Democratic Obamacare passed.

100% partisan. Zero contribution from the other side. Barely pushed across the goal line.

Hopefully no one — despite whatever merits of the bill — thinks this is good for the country.

For people in government to trumpet this process — or the Obamacare process — as a victory is borderline sickening.

Rather, both are a signal of weak leadership that cannot attain broad support.

Any bill that cannot get 60% support in either house likely is not needed and quite possibly is a bad idea.

No one expects the other side to completely agree with a party's legislative initiatives. There should be some outreach. Republicans should've set a goal of 10 Democratic senators and maybe 40 representatives for tax reform.

We get that some Democratic resistance to this bill is bogus, that secretly some of them probably agree with the merits but don't want to be perceived as working with a major Trump issue. They own that, going back to when Barack Obama and Harry Reid tried to block a perfectly good judge for the Supreme Court who thankfully now sits there. That might've been presidential-type leadership … in Russia.

But Mitch McConnell and the president need to give them more chances. This nation needs some Democrats to vote for this bill.

An important part of politics is getting various people to join you in your initiatives. The president claims to be a great dealmaker. He can't get the other party to support anything he does.

A big part of life is getting along with people who may not see the world the same way. Neighbors, co-workers, relatives. If you want to write off everyone who prefers different cable news channels to you, you're making a big mistake.

The 2000s have been a very discouraging century in American politics.

Let's hope it's a blip, not a trend.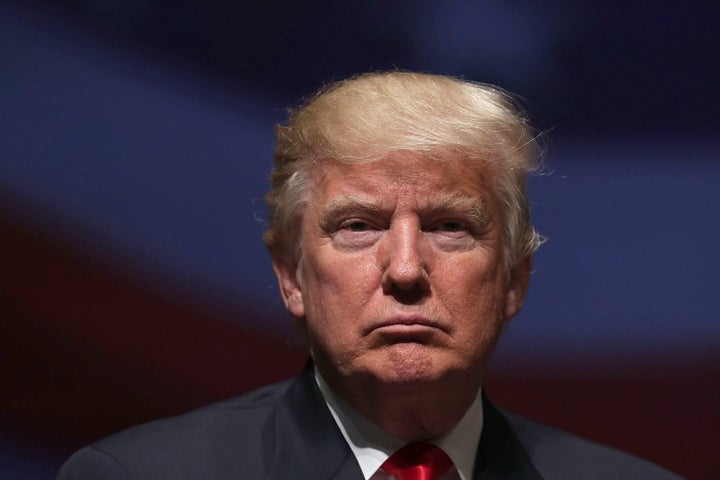 John Harwood: 'This president and members of his family are in deep trouble'
We're not sure what we've heard more often in the last 12 months: increasing volatility, or Donald Trump in big trouble.

Judge on Friday's Halftime impressively glided between Michael Flynn news and Mitch McConnell news, of course, he did have the help of CNBC superfox Ylan Mui, who had a tremendous day in the nation's capital.

Mui reported, "This tax bill is moving faster than folks had thought."

John Harwood started with the White House statement on Michael Flynn's plea, scoffing that it's a "nice try" to shrug off Flynn's plea, "but this president and members of his family are in deep trouble right now (sic last 2 words redundant, needless)."

"The circumstances here are very, very dire for the White House," Harwood added.

On taxes, Harwood said Mitch McConnell might be playing "a bit of a confidence game."

Eamon Javers was mostly pointing out the "media frenzy" (twice) as Mike Flynn walked to a car.

Larry Kudlow dialed in to tell Judge the Senate has 50 votes.

Judge at one point mentioned property "tux" but corrected himself.

Larry Kudlow said that in the Flynn case, "None of it's good."

"He really has to be a damn fool to lie before the FBI," Larry said.

Kudlow questioned what the problem is contacting Russia. "I don't know, and others I've consulted don't know, why is it illegal for the Trump campaign to make contact with, with Russian officials, in this particular case, Ambassador Kislyak. I don't know if that's illegal."

Judge said, "On the face of it, maybe in and of itself (sic 4 words redundant/needless) it is not," Judge said.

But moments later, Josh Brown responded that the Logan Act is why Trump's people can't reach out to Russians.

Larry said he doesn't see "any impact" of Flynn's case on tax legislation.

However, "I don't think the White House has figured out their response" to Flynn, Larry said.

He did grumble about the gain/loss assessment. "The Joint Tax Committee has not scored the repatriation properly," Larry asserted.

Javers reported a tweet from James Comey that seemed a bit over the top. Javers said Comey had previously been using a "ghost account." (See, that's how TWTR boosts those daily active users.)

Javers said there's some "real confusion" about how much access reporters would have to the president Friday.
Another Halftime guest is sure 2018 will be a tough year in stocks, heavy on volatility
Sitting in with Friday's Halftime crew, Grandpa Mike Wilson said markets are always looking for an "excuse" to do something.

But it was this comment that got our attention:

"It's gonna get harder to make money than it was in '17," Wilson asserted.

Really. Isn't it interesting how everyone on the Halftime Report seems to know that.

The curious thing is that Wilson took up the notion of euphoria and said "we're getting there," while Judge noted that Ken Griffin thinks it's the "7th inning."

"Sentiment has changed a lot in the last year," Wilson stated.

So the way we understand it, virtually every guest on the Halftime Report (except the guy who makes the fingerprint lock) knows that the market will be rough in 2018, but everyone else is euphoric and leading the market to trouble.

Judge, who has waved through all these predictions like the Ten Commandments, finally at least offered a half-bent STOP sign, telling Wilson the "harder in '17" comment "piqued" his interest. Wilson said there will be "likely a topping" of earnings growth in 2018, and, "volatility is going to pick up. It's definitely going to pick up next year."

"Definitely." OK. Has he been buying VIX futures through December 2018? #Judgedidn'task

Wilson added, "This is not gonna be a double-digit year probably in '18 from here." Wilson noted other markets are up "even more" than the U.S., though what that has to do with the 2018 market, we have no idea.

Judge said maybe hedge funds will be "excited" about increasing volatility.

"Late cycle can last for years," Wilson acknowledged.

Meanwhile, Wilson suggested a tax deal might be a sell-the-news event.

Josh Brown said the VIX got to 14, but, "Any time you hear somebody quoting a percentage in a percentage, they're a charlatan, don't get riled up about that."

That's an interesting definition of "charlatan," but whatever.

"We really don't have a panic on our hands," Brown assured.

"The markets will get through this," said Jim Lebenthal, then he brought up the 3.9% GDP forecast of the N.Y. Fed.

Jim said (possible) President Pence "might actually unite the Republican Party."

Joe Terranova's advice is that viewers should be "taking a step back and really doing nothing."

Joe, who had a quiet show, said of tech, "I do believe it is the pause that will refresh."

Judge twice said "in and of itself" during the program.
Jeremy Siegel becomes 2nd person on same program to predict 'tougher' year ahead for stocks
Lo and behold, on Friday's Halftime, Jeremy Siegel was predicting a "tougher" year for stocks in 2018.

It started when Josh Brown asked Siegel if it's possible that high GDP in 2018 will actually put the brakes on the market.

Siegel said, "Listen, I've been on record saying next year is not gonna be anywhere like this year … Next year's gonna be tougher. There's no question."

Really. On Dec. 1, there is "no question" that the 2018 market will be lower return than the 2017 market.

Good that he knows that. #professorscallingthestockmarket

Siegel observed, "The tax plan is the prime mover of the equity market right now."

Judge kept trying to insist that Trump has driven the market higher; Siegel said it was the election of a Republican. "I think the stock market pre- prefers President Michael, uh, Pence to Donald Trump," Siegel said. "The market never liked the Trump agenda one bit."

Siegel suggested the corporate rate in the negotiations could creep up from 20% to 22% if they have to "buy off" some holdouts.

Mike Wilson said he'd pick Europe and Japan over the U.S. for the full 2018.

Pete Najarian took a long time to say there's a bunch of buying of XLF December 28 calls, most recently Dec. 29 expiration.

Pete acknowledged the VIX, stating, "I don't think it's a panic level at this point in time."

Joe Terranova's final trade was CME, ICE, NDAQ. Jim Lebenthal said QCOM, "a great time to buy the stock." Josh Brown said TWTR; "this thing has its place in society" (snicker). He predicted it will play a "very big role" with the day's Flynn developments. (Ohhhh. Boy.)

Judge said December is "historically the best month for stocks."

Judge finally went to commercial at the 42-minute mark. #wornout
[Thursday, Nov. 30, 2017]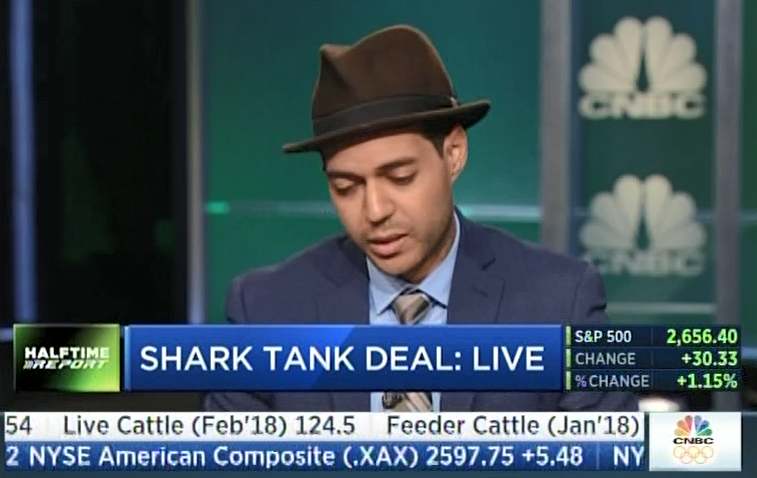 CNBC ticker stops showing stocks near end of Halftime, into Power Lunch
Here's a curious development.

Around 12:46 p.m. Eastern during Thursday's Halftime Report, CNBC's ticker stopped showing stock trades.

Instead, viewers got repetitive indexes and internal market data on the bottom line and, on the top line, all kinds of commodities, including, lumber, sugar, cocoa, etc.

This lasted into Power Lunch. We're not sure when the stocks returned. (In the meantime, it gave us the incentive to turn on Gasparino's channel, whose stock ticker was indeed working.)

This also reminds us of a long-ago campaign by this page: Trying to determine where exactly the ticker data comes from. Which exchange(s)? What's the size criteria for making the ticker? How recent are these trades?

If that information is disclosed on cnbc.com, we haven't been able to find it.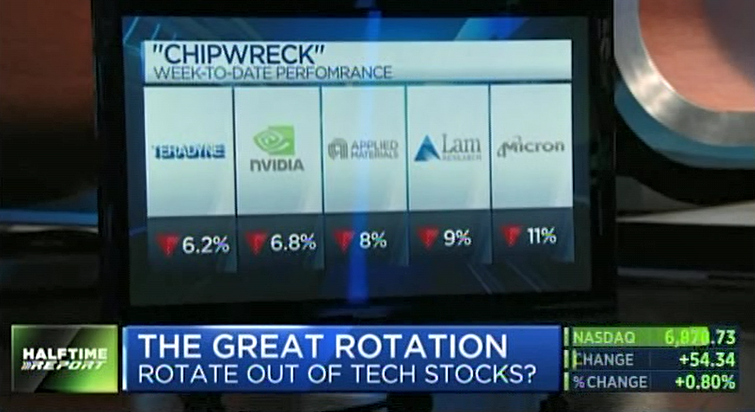 CNBC graphic on chips said 'perfomrance' (sic) (spellcheck not used)
Joe Terranova on Thursday's Halftime Report predicted "more and more parabolic moves," though of what, we're not sure.

Judge said the Call of the Day was Citi's cut of GPS to sell. Joe first called it "Cap," then corrected to "Gap" and said the company seems to be "the story that is overcoming the secular obstacles in retail itself (sic last word redundant)," and he doesn't think the rating cut is reason to sell.

Pete Najarian noted Citi previously had a hold while the stock surged, and he wondered, "Have they been right with that hold thing." (Probably not as right as Katy Huberty is about AAPL.)

Steve Liesman reported that Randal Quarles said digital currencies have "no intrinsic value" and could pose a risk if they get bigger.

Liesman called it "some of the tougher words" from a Fed official.

Judge predicted "a tidal wave's worth more of commentary from members of the Fed and elsewhere."

Josh Brown said bitcoin is "almost getting too big" for anyone to "kill" it; the time to do so would've been at least 3-4 years ago.

Pete said the VIX was up partly because of people seeking upside.

Pete Najarian said December 25 M calls were getting bought. In an update, Pete said HUM January 250 calls have "more than doubled" since he mentioned the name, and he would've been better off being in those calls than long the stock.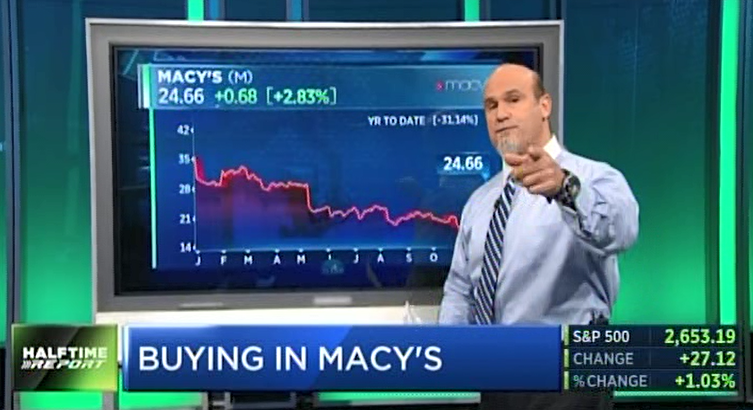 Once again, Judge interviews Carl without providing a backstory, viewers hardly know what he's talking about (and also doesn't ask about the 'Day of Reckoning') (a/k/a trendy thing is calling a tough market in 2018)
Judge decided at the top of Thursday's Halftime to talk to Carl Icahn about … SD's corporate governance.

Carl said the rules for the company's meeting are "the most ludicrous thing I've ever seen," but the most ludicrous thing we've seen (OK, that's an exaggeration) is Judge spending the top 10 minutes of his show on this Zzzzzzzzzzz topic when the Dow is up 350 points.

Carl began his commentary talking about Bonanza for a couple minutes, then said, "But here's the really important thing." That apparently was that "Bennett" got 50 million for himself but nothing for the shareholders.

"It makes a banana republic look good," Carl said.

Carl thinks SD has a "terrible board." So there you go.

Meanwhile, Carl said he's "surprised" about the stock-market "euphoria."

He mentioned a "euphoric state" and said, "there's a bit of irrational exuberance."

But moments later, he clarified, "I can't say it's insane … maybe I should say 'a little too much exuberance at this time.'"

And moments after that, "I don't think it's completely irrational," Carl said, issuing a correction for the 3rd or 4th time.

Judge said Carl taking a position in SD is news "in and of itself" (sic redundant/irrelevant) because it's his first activist position of the year.

Meanwhile, on the topic of bitcoin, "I don't understand it," Carl said. "I just don't get it."

Kevin O'Leary said of Carl's SD venture, "I love this stuff. I think this is what it's all about." (Zzzzzzzzz)

Josh Brown said energy is one of the "target-rich areas for value investors right now."

Judge said late in the show that SandRidge responded to Carl, calling the Bonanza deal "strategic" and one that will create "long-term value."

Steve Weiss said there's "euphoria" on Thursday because of tax-bill anticipation, but otherwise, "I don't think it's euphoria."

Dan Niles on the 5 p.m. Fast Money told Judge (who was guest-hosting for Mel) that the market could be "rougher" in 2018. That's the cool thing for Halftime/Fast Money panelists to say right now (despite having no evidence). (Oh, that's what's going to happen in August too.) (Oh, if DIS hires Sheryl Sandberg to succeed Iger, that'd be soooooo awesome....).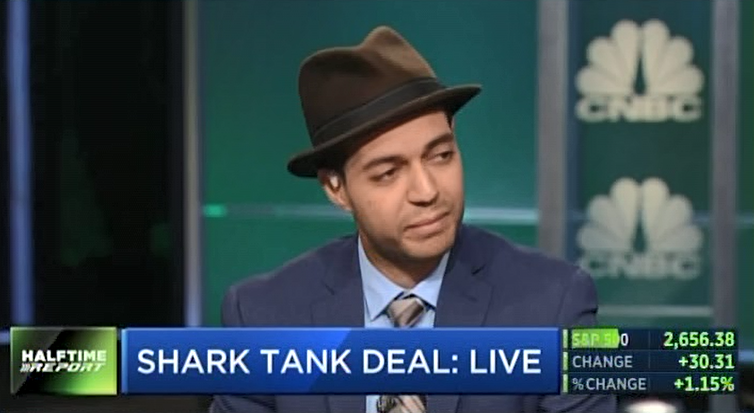 Getting a check and being on Judge's show brings guest to tears
Judge on Thursday's Halftime Report cross-promoted Shark Tank with Benjilock founder Robbie Cabral, who apparently made a deal with Kevin O'Leary.

Cabral's padlocks use some kind of fingerprint technology.

Honestly, if we weren't so sick of seeing this show when we flip on CNBC primetime or overnight, or seeing all the stupid commercials during the daytime ("AMERICA, YOU ARE WELCOME!!!!!!"), we'd be more excited about it.

Judge even brought in Kim Kelley, CEO of Hampton Products, which is apparently the distributor of the product, who presented Cabral with a check for $100,000. Cabral got choked up with tears in his eyes and said it's the "American Dream."

Meanwhile, Josh Brown said all the notions of what "inning" the bull market is in are "mental shortcuts."

Joe Terranova said, "There's no incentive to sell."

Pete Najarian said, "Let's not make too big of a deal" of MU's slide.

Jeff Kilburg said OPEC members have always "cheated" on announced production cuts, but now they've had an "ah-ha" moment and will keep talking up cuts. Jim Iuorio said short term, he sees 55 crude, and if it breaks that, think "high 40s."

Pete's final trade was ETFC. Steve Weiss said MU, insisting it's "not an expensive stock at all." Josh Brown actually said SHAK, explaining it has "record" short interest. Kevin O'Leary said KR (actually he said "Krogers" (sic plural)). Joe said FDX.
[Wednesday, Nov. 29, 2017]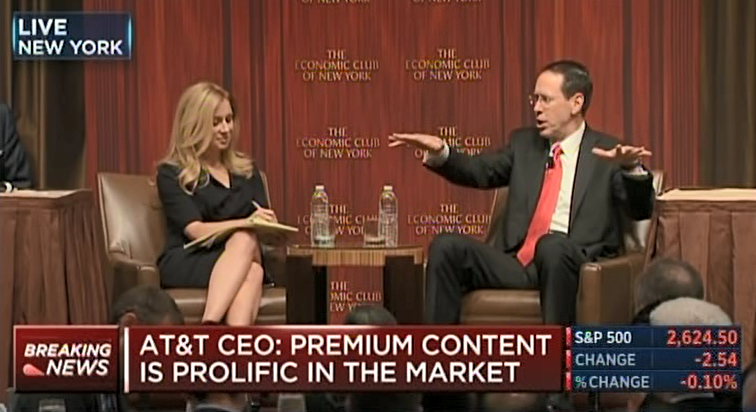 Randall Stephenson made a lot of hand gestures while making his point
Judge's transition midway through Wednesday's Halftime to Becky Quick/Randall Stephenson was actually fairly smooth, all things considered.

Quick looked dynamite.

Stephenson said Amazon Prime has "at least 60 million" subscribers.

Stephenson explained what he says is the beef against his TWX deal. "The government contends that with AT&T with 25 million subscribers, that, uh, somehow we have market power," he said. "We don't understand that." (Translation: We understand it perfectly; it's the argument we prepared for in defending this deal for the last 12 months.)

To address the blackout/price-hike concerns he sees as unfounded, Stephenson said he's offering a 7-year ban on blackouts and "baseball-style arbitration" for all contract disputes. (The issue there is what kind of arbitration rules/jurisdiction apply, how are the arbitrators chosen, etc.)

Unfortunately, Stephenson said something about "the ability to integrate social media with premium content," the same jingle from TV executives for the last 15 years which basically amounts to Judge reading questions submitted by Twitter users on air.

Stephenson suggested that the idea of unloading CNN is one of the government's "illegitimate concerns" about this matter.

Judge finally cut the cord when Stephenson was complaining about the timeline.
Carping about FIFO for a week and with 2 reporters in D.C., CNBC still can't say which lawmaker put it in the bill
As CNBC continues to lead the charge to knock the FIFO rule out of tax "reform," Judge on Wednesday's Halftime brought in former Fast Money veteran J.J. Kinahan to explain TD Ameritrade's open letter to Capitol Hill.

"This isn't a political comment or anything like that," Kinahan said, except when you write to congressmen, isn't it by definition political?

"It really affects a lot of retirees," Kinahan insisted, even adding, "Thank you Scott for take- for talking about this so much."

As an indication of how little traction this letter has gotten, Judge noted it was dated Nov. 23 but told Kinahan, "I just found about this from you, um, last night."

Kinahan said he's spoken to "staffs" but not actual members of Congress. Judge said Ylan Mui says the provision is still in the legislation.

"It is remarkably stupid," said Mike Farr, who said he's "just incensed."

Steve Weiss said it's another provision in the bill that's "really an increase to a number of people. … I think this is a bargaining chip."

Judge said, "It sounds so un-Republican." Farr agreed. "Stupid on every level," Farr said.

Jim Lebenthal said, "This is an obvious one to give up to get something else."
Tuesday, there was no reason to sell; Wednesday, they were saying, 'Hey, I can't wait any longer'
Receiving lukewarm opinions from his Halftime panelists Wednesday, Judge decided to do some opining himself, insisting it "doesn't necessarily feel like, um, a pause" in tech stocks but something "more substantial."

Stephen Weiss suggested a combination of MU downgrade, WDC hearing in Japan and ADSK's miss were part of the day's meltdown, then claimed "a lot of people that had massive gains were waiting for the tax plan to come in for next year and were going to sell. … They're saying 'Hey, I can't wait any longer.'"

Really. That's an interesting 1-day U-turn.

Weiss also claimed there's a concern of rates rising faster than people anticipated.

"Today you have to buy things," Weiss said. "If I weren't involved, I'd nibble."

Pete Najarian said the day's tech slaughter looks to him like a case of "rotation." He pointed to banks' gains.

Pete and Jim Lebenthal agreed the selloff creates opportunity.

Kari Firestone pointed out how much a lot of these big losers on Wednesday are up this year. The ticker symbol on the screen that got our attention was SQ, which is down 20% in barely 3 days. (This writer has no position in SQ.)

Mike Farr offered, "We've got a Fed tightening cycle."

Judge wondered if the bitcoin surge has people thinking "froth." Weiss said he doesn't see any "correlation." But Jim said "it's a good question to ask."

Pete said the banks' move has "staying power."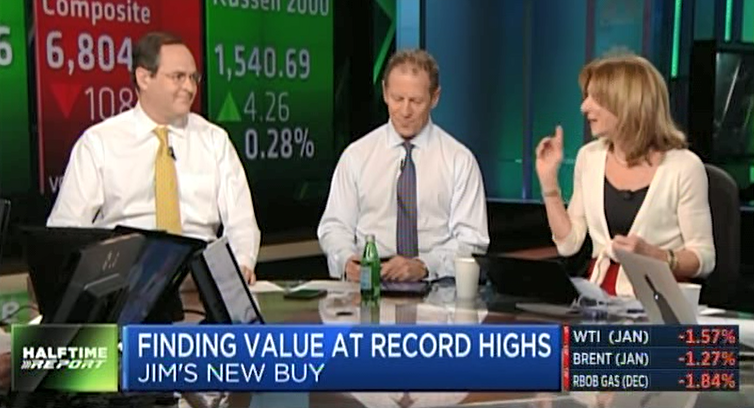 Weiss: 'There's something wrong' with a CEO 'missing' 22 quarters
Jim Lebenthal on Wednesday's Halftime is actually buying IBM, noting the dividend, stating he might be early and calling it an "artificial intelligence (snicker) play."

He conceded there are "warts" in the name.

Kari Firestone endorsed Jim's move; "at this price, I mean, you know, why not?"

For whatever reason, Firestone suggested GE and IBM could merge into "General International."

Steve Weiss said he's been looking at IBM, but to him, "A company reporting 22 quarters, missing 22 quarters, there's something wrong with that CEO. The CEO's gotta be booted out."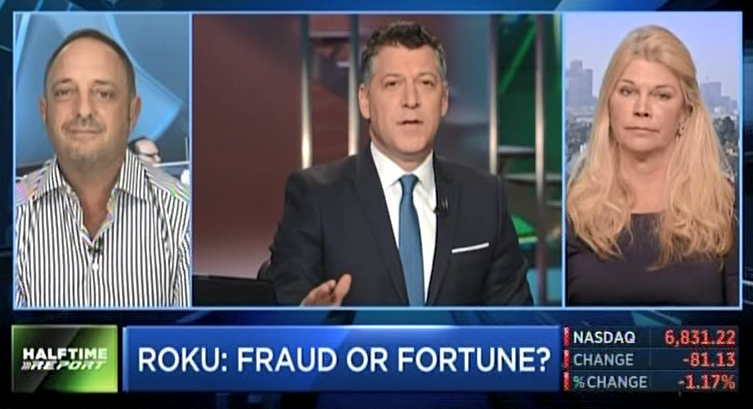 ROKU has already exceeded the price target that Andrew is quibbling with (a/k/a when someone is obsessed with $28 price targets) (a/k/a when 4x45=160)
Judge on Wednesday's Halftime brought in both ROKU backer Laura Martin and ROKU skeptic/short Andrew Left for what purported to be a classic stock debate.

Instead, it was tired, pointless quibbling as Left proceeded to make virtually no point whatsoever.

Judge began by asking Martin about Left's tweet about her "irresponsible" research. (Oh joy, alert those feds whom Randall Stephenson is dealing with.)

"What Andrew's missing is this is, Netflix all over again. This is the identical twin," Martin asserted.

Left said "that sounds great" but demanded to know, "When did you figure that out."

Martin said there were "a number of data points" in the 3rd quarter.

Left proceeded to make what apparently is his beef, that Martin had a 28 target 3 weeks ago, which Left agreed with, and now Martin has upped it to 50.

Judge noted Oppenheimer seems to agree with Left and that Judge read something on Seeking Alpha (snicker) pointing out that NFLX has original content that ROKU doesn't.

Martin said Disney's move into streaming is bad for NFLX but good for ROKU.

Left told Martin that if the stock were presently at 26, 27, would she be issuing a 50 target? Left answered it himself: "Probably not."

OK. Let's say he's right. What is this, the worst analyst call of all time? 50 on a stock at 46?

Martin said, "Andrew, how can you say that being a non-consensus person is a criticism? That's what you do for a living."

"Then I think you shouldn't have put that note out 3 weeks ago," Left muttered.

Judge, who tried to appear all stern and stiff as if anyone was taking this seriously, pointed out the stock is near Martin's target. "You and I both know why stocks move," Left grumbled.

Judge said that maybe investors do agree with Martin's assessment. Left insisted, "We've seen this so many times in the past (sic last 3 words redundant)."

Correctly summarizing this bogus debate, Martin stated, "Andrew was supposed to defend why he thought it was a ridiculous valuation when he didn't."

She added, "I get paid to deal with bullies."

Martin also took issue with Left's "irresponsible" claim. "You, putting people in harm's way at a $45 a share price, when this stock is gonna go quadruple? That's irresponsible, in my view," Martin said.

Left said, "A quadruple? So now it's a $160 target? C'mon Laura, you're better than that, let's stop this." (Indeed, they should stop it when someone quadruples $45 and ends up with $160.)

Judge said they'll "revisit it down the road."
Jim likens bitcoin
to late-'90s AMZN
Throwing in the kitchen sink in a virtual commercial-free episode, Judge late on Wednesday's Halftime asked Jeremy Siegel about the overall market strength and Wednesday's tech meltdown.

Siegel said growth is "extended relative to value" and suggested a "harder slog" for the markets in 2018.

Judge brought up Grandpa Robert Kaplan and mentioned (again) Ken Griffin's "7th inning" notion.

Siegel said he thinks bitcoin's a bubble that will end badly. Jim Lebenthal said AMZN was 80 in 1999 and then 2 years later, "it was a $10 stock." Jim said bitcoin will come down, but "it's gonna be here."

Jeff Kilburg and Jim Iuorio actually showed up at Englewood Cliffs to talk about the 10-year yield. As for the yield curve, "It's gonna get flatter before it steepens," Kilburg said. Iuorio said he sees the 10-year going to 2.8. Pete got Iuorio to state that he's eyeing a 6-month time frame.

Judge suggested the negative yields around the world may "in and of itself" (sic redundant/useless) keep rates from rising.

Steve Weiss said he was surprised that Siegel was saying if there's another 2-3% down in tech that people will hit the exits.

Kari Firestone's final trade was BX. Pete Najarian said big banks across the board. (On the 5 p.m. show, he touted TGT.) Jim said XRT. Weiss said financials.
[Tuesday, Nov. 28, 2017]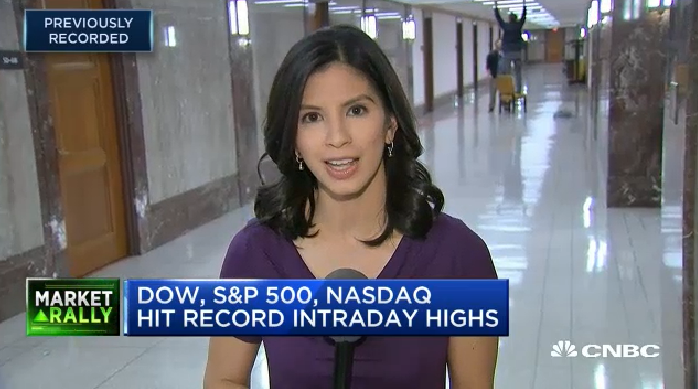 Isn't this about the time when some grizzled investor says 'Look at how low the VIX is!!!!' (a/k/a why Death Valley is next to a mountain (or something like that))
Part of Tuesday's Halftime was preempted by Fed hearings and "tax reform" news updates; quite frankly, 15 minutes of program would've been more than enough.

Judge for whatever reason let 39 minutes elapse before taking a commercial break (#lost revenue), apparently so that everyone including himself could make redundant observations about whether tax cuts are baked into stocks.

Anyway, Kourtney Gibson told Judge the "melt-up" will continue into year-end.

Joe Terranova said yes, this is "the lift," and banks are breaking out.

Josh Brown shrugged that banks have become "high-earning utilities." But Brown said the XLF is "overdue" for a breakout.

Taking aim at bears, Brown said, "You're welcome to keep reading apocalyptic uh blogs (note: this one can be weak but never 'apocalyptic') and watching these people's amateur homemade videos (note: have none of those here)," but it's clear this market is "under accumulation."

Jim Lebenthal said, "Why would anyone sell? There really is no reason."

Jim said a delay or demise in tax reform would hit the market 3-4%, but not more.

For whatever reason, Judge kept trying to assert that "the market's start- is now clearly banking on something."

Brown said, "I disagree."

Judge allowed Brown the opportunity to deliver a speech about how Brown has nailed the global synchronized recovery-or-whatever story.

That prompted Joe Terranova to say, "I don't believe that it is in the market," which unleashed Judge's tirade at Brown.

Judge said, "At all?"

"Impossible to say!" Brown said.

"Well you just spoke so definitively in your mind that none of it's in the market," Judge said, angling along the lines of the mock voice but not using it nearly as well as the previous few days. "But now it's impossible, when you raise the other side of it."

"We have to leave open the possibility that some percentage of investors uh are counting on this happening," Brown admitted.

Like Tittle to Owens (or Lee to Walton), Joe offered to throw Brown an "alley oop," stating the tax-cut details are so complicated and variable that no one could design a strategy around it anyway.

Finally, the lede of the program buried for maybe half an hour, Joe stated, "You could make the argument that it is at the wrong time that this policy is coming forth."

Brown added, "What's the economic rationale for doing stimulus for the S&P 500 right now." (Note, gentlemen: Just be blunt about it; these people have nothing to do, that's the only reason they're doing this.)

Jim Lebenthal got hung up on "opinion" vs. "factual."

Judge brought up Ken Griffin's "7th inning" again (Zzzzzzzz) (What about Howard Marks' claim "that this is a time for increased caution"?) and mentioned the World Series. (We think Judge was trying to suggest the market could still have huge gains left even though it's the 7th inning, but given the loopiness of the arguments Tuesday, we're not really sure.)

Steve Grasso on the 5 p.m. show said, "Right now, I think the market still marches higher."

Karen Finerman said "I think we'll get something" on taxes because it's a "must, must win." (That's sure a good reason for doing something.) (Karen also said the Internet bubble chart looks "adorable" compared with the bitcoin chart.)

Sensationally gorjus Ylan Mui (image above from Tuesday but not the Halftime Report) stressed the importance of Sen. Bob Corker and Sen. Ron Johnson to tax-reform legislation.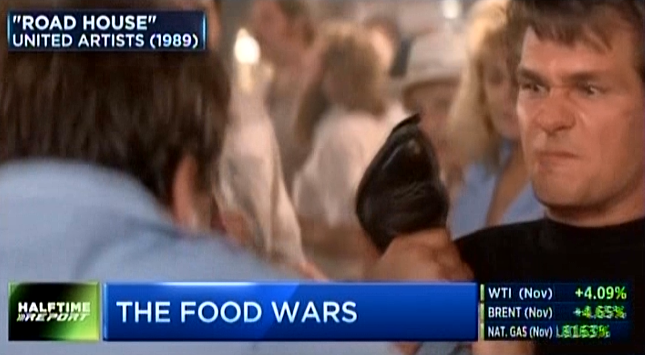 Doc knocked it out of the park, touted THO on Nov. 14
Jim Lebenthal on Tuesday's Halftime said his NKE position is "not my favorite" and a "small position" because the stock is expensive.

Kourtney Gibson questioned who would sell NKE into Christmas.

Joe Terranova said EMR withdrawing its bid for ROK is good for EMR, suggesting it will have money for possible GE asset sales.

Kourtney Gibson said ULTA "shouldn't have been crushed" in June and that it's a name you want to be long.

Josh Brown said Arby's buy of BWLD "makes sense" because BWLD "got too big" for the family business running it.

Noting the spike in THO, which Jon Najarian recommended a couple weeks ago, Jim Lebenthal said "millennials are buying RVs," and that you should be buying THO and WGO. Jim has nailed this trade, touting WGO after THO's earnings over the summer.

Brian Stutland said China is having an effect on copper's struggle. Anthony Grisanti said he expects copper to hold the 3.06 level. (Zzzzzzzzzz)

Eric Chemi said the NFL is having a "variety of committee meetings." (Zzzzzzzzzzzz)

Joe's final trade was PNC. Jim said RDSa. Kourtney Gibson said VZ. Josh Brown said he read the VZ story in Barron's and thinks Gibson is right. Brown's final trade was JPM.

Joe and Jim said Stephanie Link owns AMZN.

Proud and beaming mom Kourtney Gibson likes "at the end of the day" and said it thrice, though that phrase thankfully has been disappearing on CNBC recently.

Mel on the 5 p.m. show said "Square is the greatest thing since sliced bread right now in the market."

Tim Seymour mentioned "Road House" (photo above) and "right boot" (that was kind of impressive actually) (that's the boot in the photo). Steve Grasso said, "Be nice."
[Monday, Nov. 27, 2017]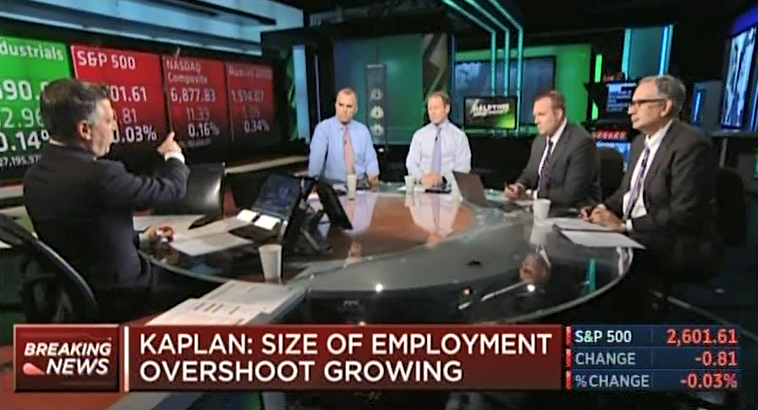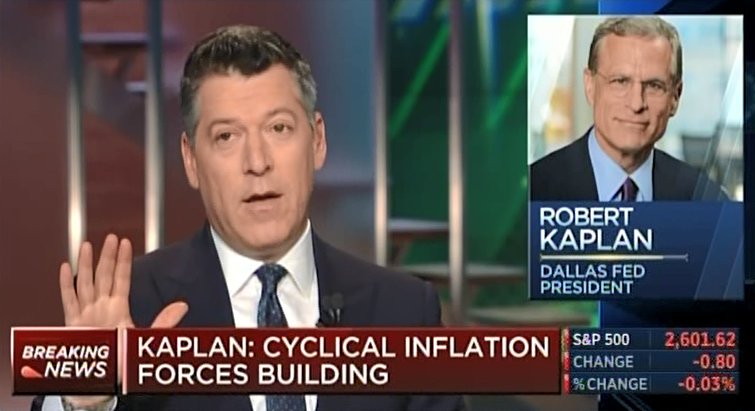 Judge developing impressive comedic voice, correctly illustrates Grandpa Kaplan's observations
Steve Liesman on Monday's Halftime reported that Dallas Fed Grandpa Robert Kaplan is "increasingly cognizant" of financial imbalances and believes that commercial real estate appears "notably extended," that market capitalization is highest relative to GDP since 99/2000, that it's "extraordinarily unusual" to go a year without a 3% correction and that margin debt is at "record levels."

Liesman said Kaplan and Eric Rosengren are "thinking more about monetary policy through the prism of market valuation" (man, that hasn't happened at all since 2008 (or earlier)) and that 2018 rate hikes could perhaps be motivated by such. (Nobody bothered to ask exactly what that means; sounds like they're more interested in restraining stocks than boosting them.)

Judge stated, "Though it all comes down to the word 'gradual' yet again."

Joe Terranova asked Liesman if the Fed pays attention to the yield curve. Liesman said they look at it more from an "inflation standpoint."

Stephen Weiss said it's a question of "how fast they move." (Never heard that before.)

Weiss said not every flattened curve has meant recession (you can probably hear that once a day on CNBC for the last, oh, 23 years).

Impressively ramping up his comedic repertoire recently with mocking voice, Judge pointed and said Kaplan is talking about all these "potential bubble over there" observations, but Judge noted they're still doing everything at a "gradual pace."

Joe said, "What's good about that is the fact that there's no bubble where all the leverage is."

Josh Brown said the "caricature" bubbles are "very far removed" from big ones that really matter. Brown said the Fed had 1 Bloomberg terminal at its D.C. office prior to the financial crisis. Brown is "totally OK" with Kaplan's remarks.
Howard Marks' forecast seems to have resonated with Grandpa Kevin
Josh Brown on Monday's Halftime pointed to last week's market records and said if you don't want to accept the trend, fine, but you're on the "wrong side of history." (All of you Neville Chamberlains out there who are selling your stocks …)

Stephen Weiss predicted volatility from Congress' tax discussions. He said that's the only "predictable wild card" before year-end.

Nevertheless, "Where else are you gonna put money," Weiss asked. He expects financials to get a boost from the (pending) Fed hike.

Joe Terranova said "sometimes the best trade is no trade," and there's really no incentive to sell before year-end.

Meanwhile, Grandpa Kevin O'Leary grumbled that "no one's focused on an inverted yield curve yet."

Grandpa Kevin again concluded we won't get 20% on the S&P 500 next year, and "there's better value in Europe right now."

Judge actually was the one who had to tell O'Leary that stocks aren't "ridiculously expensive," nor is there the type of "euphoria" one sees at the peak.

Grandpa Kevin suggested in 2018, you'll want to "de-risk your portfolio a bit" and pick more "conservative" stocks, predicting a "repeat of 2016."
Weiss' smugness about AAPL ends with clueless point about low-tax-rate companies
Judge on Monday's Halftime dialed up Toni Sacconaghi, the No. 1 something-or-other who thinks AAPL earnings could get an 18% boost in reported earnings from tax reform.

But Sacconaghi thinks tech in general stands to benefit less from tax reform than other sectors. He said those benefiting the least are those with lower existing tax rates and "little to no trapped offshore cash."

Sarat Sethi touted ORCL "whether you get tax reform or not."

Sarat said one effect of tax reform is companies spending more on technology. Joe Terranova said "the software side" stands out. Stephen Weiss said AAPL has "apparently cured to a large extent" its production issues.

Weiss smirked about being long AAPL February 180 calls.

Weiss even claimed "an Apple employee came up to me in the store and said, 'I agree with you on the innovation points.'"

Grandpa Kevin O'Leary said the biggest winners from tax reform are in the Russell 2000, which produced a logical mess from the panel.

Joe Terranova said, "A high-tax-rate S&P company so far has underperformed a low-tax-rate S&P company 8% vs. 20%. OK."

Josh Brown opined, "That's evidence that the Street knew pretty much all along from March on that this wasn't happening this year."

Then Steve Weiss curiously said a lot of those companies with low tax rates are "not productive companies," so that will "prejudice" the stats.

Joe said "right" and nodded. But the point didn't make any sense. If the low-tax-rate companies are not productive companies, why are they returning 20% this year?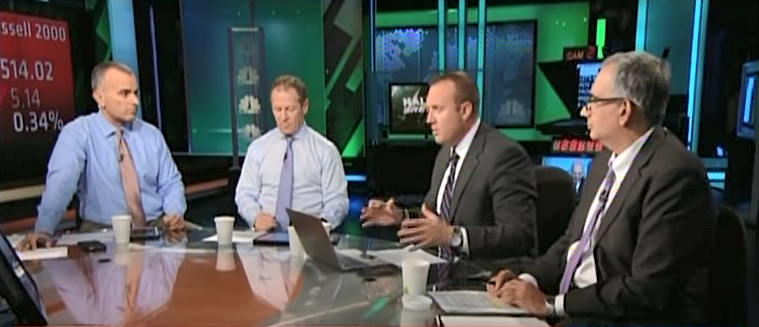 Josh Brown weighing offer from SQ to try to 'transact' in bitcoin
Joe Terranova on Monday's Halftime said the tumble in SQ is the "first shake-out" in the name but that revenue growth is "very strong," and merchant adoption is accelerating.

Josh Brown said he likes the type of downgrade that BTIG gave to SQ, because "ultimately the dips are bought very very quickly."

Then Brown revealed, "In full disclosure, Square reached out to me. I may be a trial user of bitcoin cash- to, to transact in bitcoin. I'm not sure yet."
Pete promised to be 'real quick' on HUM options but rambled on
Ken Griffin's "7th inning" got about 5 or 6 references during Monday's Halftime Report.

Leslie Picker at one point said "euphorio" (sic), and Ken Griffin at one point in the clip said "bitcones" (sic). Bob Pisani could be seen chatting someone up while looking over his shoulder at Griffin speaking to Picker.

Judge said DIS is the only individual stock Griffin mentioned, but Judge didn't see DIS in Citadel's 13-F and asked Picker if Citadel owns the name. Picker said we don't know if he owns it or is trading in and out of it. Steve Weiss clued in Judge how Citadel works and said it's a shop of "constant turnover" and suggested anything in the Sept. 30 13-F could be sold Oct. 1.

Weiss said he thinks WDC still has "pretty good upside" despite the "well-reasoned" Morgan Stanley report.

Joe Terranova mentioned the "mean-reversion strategy" between HD and LOW. He said to wait for more visibility from the HD analyst meeting Dec. 6.

Sarat Sethi said the LB comps "get much better" next quarter; he thinks the stock has room to grow.

Josh Brown said the analyst's cut on NSC is specific to that company. "I'm not a fan of the name," Brown said, touting KSU.

Pete Najarian trumpeted HUM and its January 250 call-buying. "I actually bought the stock," Pete said.

Sarat Sethi's final trade was CERN. Josh Brown said BOX and TWTR. Weiss said WDC and MU. Joe said HON.

Sully on Power Lunch said he has a "weird conspiracy theory" about the Time-Meredith deal that involves Trump learning about the Person of the Year.
Judge's choice of terminology
trips up Kevin O'Leary
On Monday's Halftime, Judge claimed Kevin O'Leary was "callin' a bottom" in GE, saying O'Leary thinks "14 is the bottom."

But O'Leary insisted "No, I'm not" and that it's "extremely expensive" and that he sees it trading to 14; "the bottom is not in yet."

But that's exactly what Judge said he thinks.

"Help me out," Judge said.

O'Leary protested, "I say the range is 13-14" before admitting he'd buy it there.

OK, both at fault here, but it's 80-20 on O'Leary. Normally when someone is "callin' a bottom," it's presumed to be right now. So Judge should've rephrased his intro to, "Kevin O'Leary thinks 14 will be the bottom for GE."

By saying "callin' a bottom," Judge initially implied O'Leary is suggesting the bottom's in now.

O'Leary, who last week thought Weiss was Brown, obviously wasn't listening to the whole lead-in from Judge, heard "callin' a bottom" and mistakenly felt the need to clarify what Judge already clarified in the remainder of the intro.

They're rusty; there's been a holiday break.

More from Monday's Halftime later.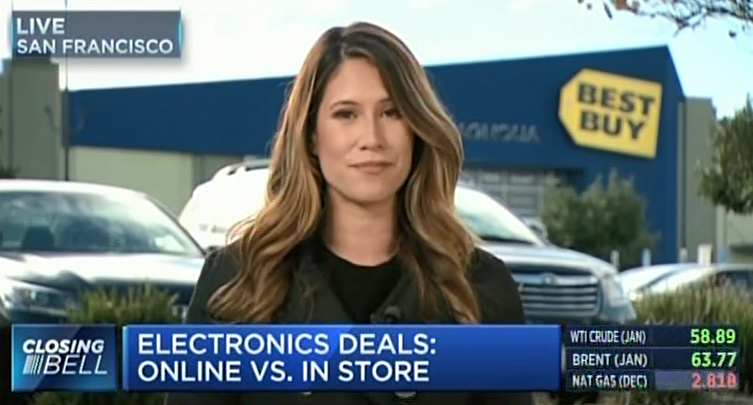 Closing Bell's Black Friday botch highlights snoozer of an episode
It's ridiculous that it happens, but honestly, it seems like every year, some retailer has an issue on Black Friday. Or some random day when it's launching a new product, and its website isn't equipped to handle the demand, etc., you know the drill.

Nevertheless, when we heard about a Macy's issue firsthand, we knew that we had to get that story up the flagpole.

CNBC was all over it Friday — the only issue being that CNBC had its own glitch, as Carl Quintanilla and Melissa Lee prepared to turn over the reins to Bill and Kelly at noon Eastern, the screen went blank for a minute with no sound, then displayed graphics while Quintanilla and Lee, who thought they were done for the day, had to narrate market averages for a couple of minutes until working cameras finally found Bill and Kelly at the NYSE.

At least the camera also found CNBC superfox Deirdre Bosa, at Best Buy. Kelly credited Bosa for "good research" and said, "I know it's been a long day for her."

We were wondering if anyone from the Halftime/Fast Money panels would be tapped for some commentary. Steve Grasso obliged, telling Bill that big round numbers (such as 2,600 S&P) "act as a magnet, (and) once you get back on that momentum wheel, they're usually good for another 1 or 2% overshoot from there."

Honestly, CNBC needs to adjust its Black Friday approach; listening to people talk for 2 hours about brick-and-mortar vs. AMZN is like sitting in the front row for back-to-back Thor movies.

Mostly, we hope all readers had an outstanding Thanksgiving and safe travels.
[Wednesday, Nov. 22, 2017]
Mel says it'll be a 'tall order'
to get a 'broad market selloff'
Josh Brown on Wednesday's Halftime said while everyone's "inner contrarian" wants to call an overheated top in tech, the hot names are simply "crushing" it, so their gains make sense.

Joe Terranova said "the signs are not there" to suggest a tech meltdown. Joe also said repatriation would bring $400 billion to the tech sector, whatever the companies will do with it.

Stephen Weiss noted that Europe doesn't have the same tech exposure as the U.S.

Josh Brown said WMT has added $70 billion since the Jet acquisition, which cost … remember … $3 billion.

All of this sounded great, but Grandpa Kevin O'Leary warned, "If you let tech become more than 20% of your holdings, you're crazy."

Guest host Missy Lee, with a great new hairstyle, pointed out that 25% of the S&P 500 is tech. O'Leary said he's not indexed to the S&P 500.

Weiss told O'Leary that you need "elements of concentration to generate return," or else you might as well buy an ETF. Weiss said the tech giants aren't overvalued.

O'Leary called Weiss "Josh."

O'Leary suggested the panelists are "lemmings."

Jon Najarian said he was buying more BABA Wednesday. Doc told Mel he doesn't feel like a "lemming."

Josh Brown said he actually added to TWTR (snicker).

Later in the show, even Grandpa Kevin acknowledged CRM is as close as you can get to a monopoly in enterprise software. Josh Brown mocked complaints about CRM's P.E. ratio (but not with as good of a voice as Judge stating a day ago that no one would buy GE at 15).

Brown said he wouldn't be in CRM now but would like to scoop it up in a "broad market selloff." Mel said such a selloff is a "tall order." Brown said it could happen in January because it happened in January 2016.

Joe Terranova disagrees with Roth Capital's CRM downgrade and said the price target should be 120-125. Doc said he doesn't own CRM but loves the stock, and he's looking at selling 105 puts.
Weiss actually gets long M
As much as Kevin O'Leary scoffed about the abundance of tech interest, Wednesday's Halftime Report struggled to talk about anything else.

Stunning Christina Farr of CNBC.com (formerly of Fast Company) reported on the "huge deal" for Amazon Web Services with Cerner.

Joe Terranova said he's "not surprised" by the AMZN-CERN partnership. Stephen Weiss said it's more a shot at ORCL than the drug distributors; he likes MDSO. Doc said CERN upside calls were getting bought aggressively.

Meanwhile, Weiss said he bought M and LULU, partly because "seasonally, it's a great trade," and because he's positive about the U.S. consumer.

Joe Terranova shrugged that brick and mortar is "more for a trade than anything else."

Josh Brown said that rather than try brick-and-mortar, he's playing STOR, a REIT that focuses on retail that isn't facing huge Amazon risk.

Doc said Berkshire might be interested in AXTA, so December 37 AXTA calls were getting bought. Doc said "July" 14 HIMX calls were getting bought, but the screen chart said they were "January" calls.
Anyone interested anymore in what Janet Yellen (or Ben Bernanke) thinks about the trajectory of inflation?
Steve Weiss on Wednesday's Halftime said he doesn't think Dow Theory has "applied here for a long time."

Weiss said he owns airlines, but they've had trouble "managing the narrative." He said he sold some DAL but he called UAL and AAL "very very cheap."

Grandpa Kevin O'Leary insisted transports are leading indicators and should be watched, and the fact they're underperforming is "not a good sign."

Jon Najarian gushed about DE's "phenomenal" quarter. Josh Brown said DE is in the "sweet spot." Weiss said he's not buying the stock, but the company put up "unbelievable" 25% revenue growth.

Steve Liesman stumped the panel asking what happens next Tuesday (answer: Powell's hearing). Guest host Mel guessed that it's the "Fed meeting," then said, "Oh wait- next Tuesday."

Doc said GES was slumping because same-store sales were down 10%.

Joe Terranova said CHK is "challenged," and if you're going to do anything with that company, look at the credit side.

Josh Brown called MNK a "rolling disaster" and noted the shorts have been "dead right." (That's basically Andrew Left.)

Weiss suggested selling GME and "save your money."

Mel took 24 minutes without a commercial. #pushingit
Wonder if the investors in the Shiller survey are still the least bullish since at least 2001
Leslie Picker on Wednesday's Halftime said the PG-Peltz battle is "largely about semantics."

The camera for some reason went out of focus while Picker spoke.

PG long Kevin O'Leary said "I'm starting to question management now" because of its obsession with Peltz.

Josh Brown said the packaged-goods companies are struggling with an explosion in consumer choice.

Jeff Kilburg suggested there's "optimism" in the crude market. Anthony Grisanti said oil has had a "perfect storm," but "I'm not buying into this." He'd sell at 58.

Joe Terranova said he's thankful for SYK and made MDT his final trade.

Stephen Weiss trumpeted CAVM. Josh Brown said he's thankful for SCHW under 40, but he's unhappy he doesn't own more. Doc said he likes FAST.

No Halftime/Fast Money until Monday, but this page will have some updates and cheer over the holiday.
[Tuesday, November 21, 2017]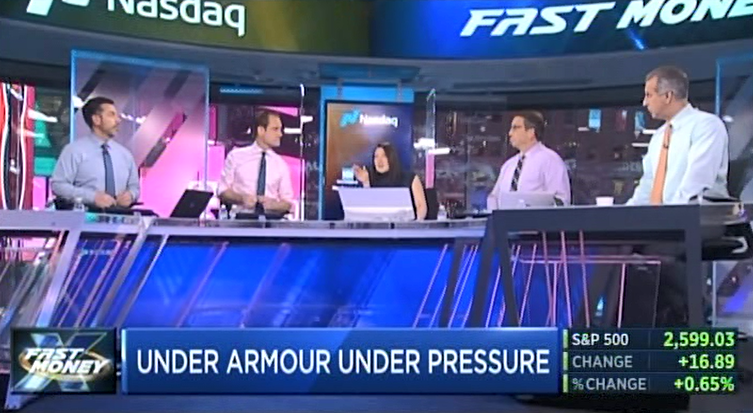 Brian Kelly says Kevin Plank is 'probably one of the greatest CEOs of all time'
On Tuesday's 5 p.m. Fast Money, Brian Kelly uncorked a jaw-dropper, stating Kevin Plank is "probably one of the greatest CEOs of all time."

Steve Grasso wondered how Kelly is "gauging" that distinction. Kelly said it's because Plank has done a "phenomenal" job as a "manager and as a founder."

In a remarkable UAA prediction, Guy Adami suggested, "At some point they sell out to a rival for some take-under perhaps from prices that we still haven't seen."

David Seaburg said Plank is a "celebrity-esque-type CEO."

Mel said, "He was celebrity. But not anymore. That brand has lost a lot."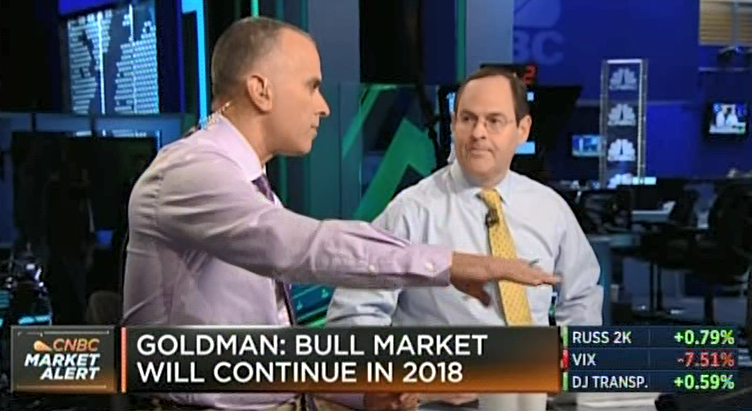 Jim suggests XLE as an investment to 'get paid to wait' (but he isn't asked to name the No. 1 holding)
At the top of Tuesday's Halftime, Jon Najarian hemmed and hawed to affirm or reject the Goldman Sachs tax reform-or-bust scenario, stating if it doesn't happen by Jan. 1, there will be an "air pocket," but he doubts it'll be any more than 5%.

Jim Lebenthal said David Kostin is "extremely intelligent" and that Kostin's call is right, but he noted that Kostin has raised his S&P target.

Jim said there's "no way" the market will go up in a straight line. "To get a real correction, you've gotta have a growth scare," Jim said.

Erin Browne said the yield curve will continue to flatten but won't invert next year.

In a bit of a soliloquy (after perhaps overdoing it on Kensho), Joe said S&P companies with a high tax rate are up 8% YTD, while those with a low tax rate are up 20%.

Pete Najarian ripped all the fear-mongering about the yield curve but touted JD and BABA and WYNN and how great those are.

Joe questioned how much of the market gain is from buybacks; "I would tend to believe a lot of it."

Erin Browne said Kostin downgraded technology to neutral from overweight, which Browne called a "valuation play." She said he has an overweight on financials and industrials.

Doc said the Dax is still near multi-year highs even though Angela Merkel can't get a government together.

Jim suggested there's been a lot of sector rotation and that you can try (ETF alert) the XLE, where you "get paid to wait."

Judge said Kostin uses the term "rational exuberance." Joe said he's "very comfortable" if the leverage is in the options market.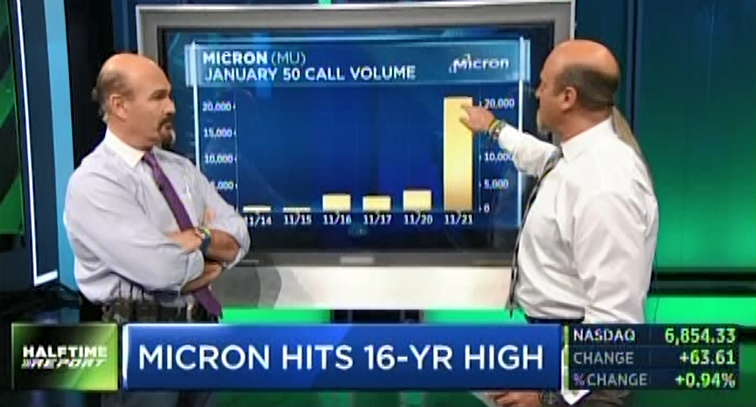 Nobody sounds ready to make an investment decision based on distance from 200-day moving average
Judge on Tuesday's Halftime struggled mightily to introduce what Dom Chu was talking about regarding 200-day moving averages.

Chu said NRG, PYPL, NVDA, MU and ALGN were all seriously above their 200-day MA, making them "overextended," while GE, CTL, NWL and EVHC were all way below.

Pete Najarian said he likes MU regardless and later said January 50 MU calls were being bought. Joe Terranova tried to explain how volatility got him to exit (he didn't say "liquidate") some positions last week (including RHT).

Jon Najarian said he doesn't know what stops PYPL; "this thing moves like bitcoin." (This writer is long PYPL.)
What happened to Adam's great 'transfer of wealth' from insurers to Houston car owners?
Judge on Tuesday's Halftime said "widely followed" Morgan Stanley analyst Adam Jonas is calling for TSLA to see 400 and then 200.

Apparently, that's unusual, because at one point Judge said, "I've never seen a call like this."

Jim Lebenthal contended that Jonas has the "order reversed." Jim sees TSLA going lower, "but not out of business" (snicker), and he believes it will "thrive 5 years from now."

Jim and Judge tangled over whether TSLA has momentum up or down based on either the whole year or the last 2 months. As Judge continued to stumble through this conversation, it took him 5 minutes to verify what Jim said at the outset, that Jonas has the numbers reversed.

Jim insisted that TSLA's performance over the last 2 months is "not trivial."

Jon Najarian said Elon Musk has learned "how to play Wall Street like a fiddle."

Steve Weiss dialed in to say he bought GM. After interminable minutes of jokes, Weiss finally said he bought the stock because of a "major mobility presentation" on Nov. 30 that will provide a lot of "clarity and transparency." (About what, we were never really sure.) Weiss went on to say the "mobility" division of GM might be worth $60 billion and might be spun off or at least separated as a company division. (Apparently this is all about … you got it … Driverless. Cars. #ohjoy)
Actually went a day without a 'goofball' FIFO update and how congressional staffers do 'weird' things
Jim Lebenthal on Tuesday's Halftime said CPB is a "disaster" and that "nobody's buying" Campbell's soup.

Jon Najarian said "big upside calls" were getting bought in DE.

Doc said TRIP January 35 calls were getting bought with a "vengeance" when the stock hit 30. He said HPE made a nice pop.

Pete said January 60 calls in PANW had been bought, then the stock had a "huge pop," but he's still hanging on. Pete said "some of this stuff" is on CNBC.com.

Pete said he can't wait for a pullback in HD.

Doc said investors were just "hittin' the exits" in SIG. (But he didn't say whether to buy the plunge.)

Joe Terranova said "the other shoe dropped" in DSW.

Erin Browne said stocks offer "tremendously more value" than does high yield.

Jeff Kilburg said copper still has an "upwards" (sic with an "s") trajectory. Jim Iuorio said he wants to see the March copper contract settle above "3.16ish." Judge made another Notre Dame football joke. #tiredrepertoire

Doc said there some call activity in DHI. Joe insisted MAR is going to 130.

Pete's final trade was BAC. Doc said HIMX, Erin Browne said XLI, Jim Lebenthal said QRVO and Joe said SAP and MSFT.
GE: 'If it bleeds, it leads'
Judge on Tuesday's Halftime said Deutsche Bank reiterated its sell on GE with a target cut to 15. Jim Lebenthal said it's going there, though "I'm not happy about it … It's going to 15; I don't think there's any question."

Judge asked why, then, GE was up Tuesday. Jon Najarian said, "175-point rally in the Dow is why it's up. … There is just a weight on this stock."

Doc mentioned Bill Nygren liking it at 22 (snicker) but didn't say anything about the 2% Doc is making every 2 weeks selling upside calls in GE.

Aside from GE's obvious struggles, Joe Terranova contended that pension liabilities will be a problem "in the next couple years" and are "the reason why" GE and other older industrials won't see "significant appreciation."

Pete Najarian decried that GE doesn't seem to have growth (a word he used about 5 times).

Joe credited Stephanie Link and Jim Cramer (who weren't on the show Tuesday) for touting HON, and "I don't understand why people don't talk enough about the positive story that's occurring at Honeywell."

Judge said people have been talking about HON. But Pete cracked, "If it bleeds, it leads."

Judge mocked the idea of people rushing in to buy GE at 15, suggesting (in a rare good mocking voice for Judge) panelists will tell him at that point that "it's a falling knife, it's going to 13."

Judge suggested to the panel that there's "no price" at which they'd buy GE. "Not true," Pete twice said.

More from Tuesday's Halftime later.
[Monday, Nov. 20, 2017]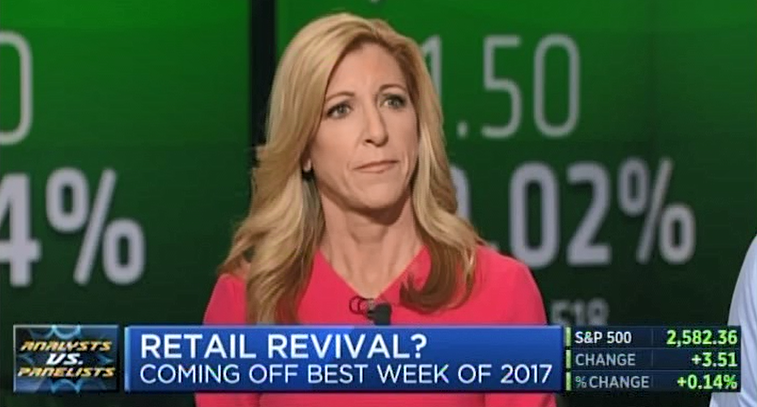 Stephanie claims AMZN is the 'biggest name' in the XRT
Despite the fact it is often mentioned on the Halftime Report that ETFs are taking over retail investing, Judge and the panelists rarely discuss them, focusing on single stocks, presumably because they are more interesting.

Perhaps also presumably because the panelists don't even know what's in the ETFs that occasionally surface on the program.

On Monday's edition, Judge asked Stephanie Link whether you can own the XRT. Not only did Link not answer the question, her response was, "The biggest name in the XRT is Amazon, right, so, I mean, you sure can- you can own Amazon, I think."

Moments later, Josh Brown said, "Amazon's in the XLY (correct), um, the consumer SPYder. XRT specifically brick-and-mortar retail. Uninvestable."

But even that sounds fishy. According to SPDR's XRT page, the No. 5 holding is Groupon (snicker), which hardly strikes us as a brick-and-mortar operation.

Also, in the "fund overview," the XRT "seeks to provide exposure the retail segment (sic missing "to" between "exposure" and "the" #lackofproofreading) of the S&P TMI, which comprises the following sub-industries," one of them being "Internet & Direct Marketing Retail."

Maybe Judge can sort it out on Tuesday's show. (Remember when Pete Najarian went months bickering with someone over the XHB-vs.-ITB?)

By the way, the No. 1 XRT holding, according to the site, is LB. (Yowza)

Meanwhile, JPMorgan's Matt Boss said that while JCP's top line may have shown improvement, "the bottom line actually seems like it's getting worse."

Boss recommends BURL (and the usual names), ROST and TJX. In a ray of light, he said department stores have inventory under much better control heading into this holiday season.

Boss said LULU is starting to separate from the pack; "we still like LULU."

Jon Najarian said AEO, ANF and GPS have all had unusual options activity, though he's not sure he'd hold them past Black Friday. (For years, he trumpeted the buy-Labor-day-sell-Black-Friday retail trade, but not this year.) However, Doc said he might be willing to own DLTR longer. Jim Cramer touted PLCE.

Stephanie Link touted NKE as a 2018 story. Pete Najarian called NKE a buy at 59.

Jim Cramer touted OLLI at the end of the show and said retail ETFs "don't work." (Then again, that probably depends on whether the buyer knows what's in them.)

Karen Finerman, stunning in light blue on the 5 p.m. Fast Money, lukewarmly endorsed the XBI but wasn't given a pop quiz by Mel as to its components. (But let's note that Karen endorsed this vehicle "if you do think there's M&A." Tip: The XBI does not go up or down based on whether you think there is M&A. It will likely go up or down depending on whether there actually is or isn't M&A. So what Karen means is that, if she thinks there is going to be M&A, she'd buy it, but there's no indication she expects that M&A now.)
Judge clinging to prediction of GE at bottom
Reflecting his ongoing interest in stock-picking, Judge on Monday's Halftime took up GE again and admitted, "I thought the day that it hit 17.46 was the bottom."

Jim Cramer seems to think it's in the ballpark, asserting that "at a certain point," you get a 17 multiple in GE.

"They have to recognize that they're a fossil-fuel company," Cramer said, noting Jeff Immelt's insistence that the company doesn't care about the price of oil. "They're more levered to oil than, than a lot of the independents in Texas."

Pete Najarian called John Flannery's GE purchase "Nothin'!!"

Brian Stutland said the Keystone Pipeline news was weighing on crude. Scott Nations said traders won't get "really interested" in crude until it breaks out of its 52-58 channel.

Pointing to the Barron's article on IBM, Judge said the company is "epic" when it comes to buybacks. Cramer said, "They have to stop pleasing Buffett."

Josh Brown said BOX would be a transformative purchase for IBM. Cramer agreed. Stephanie Link said IBM could "work for a quarter," but she finds it one of the top holdings of the XRT a value trap.
But are the Senate and House going to reconcile the idea of rolling student debt into mortgages?
After remarks from Donald Trump, Judge on Monday's Halftime brought in Eamon Javers to revisit the proposed FIFO rule under the Senate's tax reform.

Javers explained the concept well with an AAPL example.

The problem is, nobody ever explained how this situation doesn't wash out in the end … for example, if someone buys 100 AAPL in 2010 and 100 more in 2015 and sells 100 in 2017 and the remaining 100 in 2020 … boy does that make the head spin … ultimately we got the same total dollar amount for capital gain regardless which block of shares were deemed sold at different times. But whatever.

Judge said a bunch of GOP senators (he named them all) refused to come on the show to discuss this provision.

But Larry Kudlow was happy to show up, calling this idea "the dumbest thing I've ever seen." (Unfortunately, we don't really believe that.)

Revealing "I've tried to explore this," Kudlow said, "this becomes a backdoor capital-gains tax hike." He said a 2nd issue is that "they're trying to stop short-term trading." (There's already a strange 1-year rule designed to do that.) (By the way, how come nobody talks about the importance of the Uptick Rule … this was SO important in 2008 … now it's evidently not that important … same for releasing oil from the SPR and cracking down on oil speculation ...)

Kudlow dismissed Javers' report that the FIFO rule would bring $2 billion in revenue (Kudlow said $2.5 billion), insisting, "You'll never see that money."

"This sounds like some goofball revenue-raising staff thing. Staff does weird things," Kudlow said.

"They're interfering with market action here," Larry concluded.

Joe Terranova said, "First in, first out OK is the default strategy in most brokerage accounts." Joe suggested a better idea is raising the $3,000 capital-loss limit in a "one-time holiday."

Javers said his sense of how the FIFO provision got into the Senate bill is that it was part of the "stack of ideas" on the shelf for years for raising revenue.

Josh Brown said he expects the measure not to be in the final bill; "there are only voices against it" and no big backer. But Larry Kudlow said it's "trickier" to get this kind of provision out than Brown indicated. Eamon Javers said the "champion" of the bill is the $2 billion in revenue.
No word if Pete's still riding the FL bandwagon
Josh Brown on Monday's Halftime said there's an "arms race" in the semiconductor space and shrugged off the notion of M&A signaling a top.

Stephanie Link made the case for ever-popular TJX, calling it "misunderstood." She said the purported threat from Tesla to CMI is a "joke."

Joe Terranova said high yield concern has "removed itself from the conversation" and that there isn't "isolated leverage" in the capital markets now.

Jon Najarian said KO December 44 calls were getting bought. Pete Najarian said November 190 BABA calls that expire Friday were getting bought.

Stephanie Link's final trade was ZION. Joe said PVH. Josh Brown said INTC. (This writer is long INTC.) Doc said MRO. (This writer is long MRO.) Pete Najarian said NKE and WYNN. Jim Cramer said XPO.

Judge tried to rein in Josh Brown as Brown briefly started to mention historical problems in Germany.

Judge went 35 minutes before a commercial, finally cut off by Sue Herera's news update. #lostrevenue
[Friday, Nov. 17, 2017]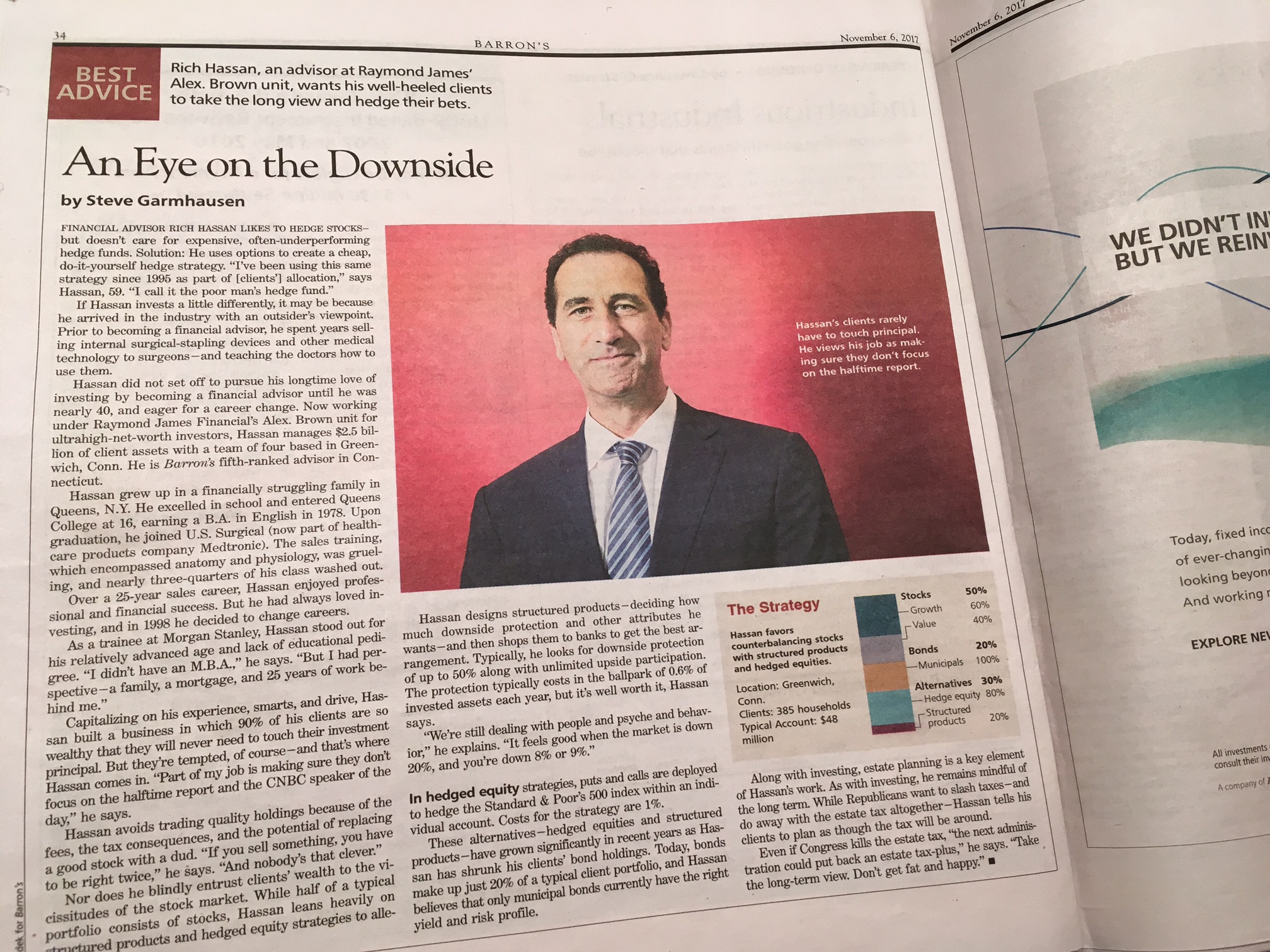 Elite Raymond James advisor actually says 'part of' his job is getting super-wealthy clients to ignore the Halftime Report
We were paging through the Nov. 6 edition of Barron's the other day (that's correct, nearly 2 weeks ago, takes us a long time to read and comprehend these things), and lo and behold did we run into a doozy on Page 34.

Raymond James/Alex. Brown advisor Rich Hassan, who manages money for "ultrahigh-net-worth investors," explained part of his strategy in the passage below:
Capitalizing on his experience, smarts, and drive, Hassan built a business in which 90% of his clients are so wealthy that they will never need to touch their investment principal. But they're tempted, of course — and that's where Hassan comes in. "Part of my job is making sure they don't focus on the halftime report (sic lower case and not in quotes according to Barron's) and the CNBC speaker of the day (sic not a real term)," he says.
Ouch.

Not the greatest endorsement. (Then again, aside from the dis for those on the show, what about the people who actually watch it? #oops)

Hassan also explains how market psychology works: "It feels good when the market is down 20%, and you're down 8% or 9%."

We know Gasparino would address something like this, but we've heard no response from Judge or his crew.

If they say something, we'll report it.
Rob Sechan doesn't reveal latest on movement to roll student debt into mortgages
In a choppy, not-very-convincing opening stanza of Friday's Halftime Report, Steve Weiss said "seasonal patterns" should take stocks higher into year-end but that tax reform has introduced volatility.

Josh Brown said the Russell 2000 had a nice bounce while the S&P paused.

Tom Lee, a guest for the hour, revisited that boneheaded 5% selloff call for September said the "seasonal" trend is most important right now, but credit markets haven't been rallying of late.

Weiss said he's not concerned about the European high yield shellacking because it's largely limited to telecom (a phrase you've heard about a dozen times this week).

Jim Lebenthal noted gold and the VIX aren't saying there's a risk of high-yield contagion.

Rob Sechan said tax reform and Fed communication will be market factors, as well as tougher comps in 2018, so next year, "I think it's really likely that we see a downshift in returns and a pickup in volatility."

The panel seemed to think the Goldman Sachs "heavy lean" on emerging markets was a no-brainer, with Josh Brown suggesting it has to do with "recency bias." Rob Sechan said he agrees with the "go global" notion but argued it's more about developed markets than emerging.

Tom Lee predicted that next year, FANG will "really disappoint." Lee again made his loopy point that FANG only outperforms in odd years. (Now you're starting to understand why Rich Hassan instructs his ultrahigh-net-worth investors to ignore the Halftime Report.)

Jim Lebenthal warned that wage inflation would knock the market multiple from 18 to 16.5 "in a big hurry."

Tom Lee said his clients "unequivocally believe" tax reform is "important" for markets because it will "reset" earnings higher, but he said what isn't discounted is whether tax policy is "actually good for markets."

Josh Brown said there's a "great chance" that tax reform will be a sell-the-news, "interim top" of the market. Weiss indicated he was just thinking about that.

Brown cut off Rob Sechan while Sechan was trying to make a long point about what companies will do with repatriation cash. Sensational CNBC hire and sensationally gorgeous Ylan Mui said companies have an "8-year window" to take advantage of repatriation. Mui said it's "very likely" that the corporate tax cut will be delayed until 2019.
Pete suddenly purports to be a believer in Foot Locker
Pete Najarian on Friday's Halftime said he "absolutely" agrees with the Deutsche Bank upgrade of FL, suddenly on fire after an utterly disastrous 2017 in which it put together one of the most ghastly charts we've ever seen (this writer was long FL in the summer but has no position now).

Pete mostly took the opportunity to hail NKE. Judge interrupted to say Deutsche Bank actually claims "Foot Locker is back." Pete said he really does believe that.

Stephen Weiss said FL "did get oversold" but still has "down earnings next year."

The real spoilsport was Josh Brown, who shrugged that FL's remarkable day is a "short squeeze," adding it's "way too premature" to start celebrating in this name.

Pete agreed it's a short squeeze but insisted there are still "interesting levels of growth."

Meanwhile, Jim Lebenthal said NKE has an "easy 10% up from here (sic last 2 words redundant), and then you sell it." Judge asked why sell NKE after a 10% gain. Jim said this just happens to be the start of the seasonal retail trade (he made XRT his final trade).

Josh Brown shrugged that the XRT had a great week on "essentially dead-cat bounces."

Rob Sechan said retail is a story of "haves and have-nots." (Um, there's not exactly very many "haves.")

Out of the blue, Steve Weiss claimed, "Amazon's not a pleasing shopping experience."

We've gotta agree with Brown. It's true that some stocks that surge 25% in a day are massive breakout buys. With a chart like FL's, it may be paradoxical, but a 25% gain is a sign of something seriously wrong.
Nothing more from Judge about GE being at the 'lows'
Josh Brown on Friday's Halftime said SQ got an upgrade from Evercore (but didn't say whether to buy it).

Jim Lebenthal said there's "no catalyst" in the near term for VIAB and "no hurry" to buy.

Steve Weiss said CMI's fall is based in part on investor day but that the market also sees a "viable competitor" in Tesla (snicker).

Rob Sechan said to be "really careful" in utilities.

Tom Lee said he still likes energy though being long feels like "fighting the tape."

Judge said biotech is near correction territory. Meg Tirrell said "a lot of people in the space are really spooked." Weiss predicted more tax selling into year-end but said late December is the time to get in front of the "huge" JPMorgan conference in January.

Josh Brown contended biotech "bottomed this week."

Weiss said he'd be "shocked" if CRM disappointed.

Josh Brown said he's got a double in DE (which doesn't mean anything as to whether viewers should buy it).

Tom Lee gushed about bitcoin, claiming it's "negatively correlated with almost every other asset class." (See, here's another reason Rich Hassan tells his clients to ignore the Halftime Report.)

Weiss' final trade was Forest City Ratner. Josh Brown said he owns bitcoin.
[Thursday, Nov. 16, 2017]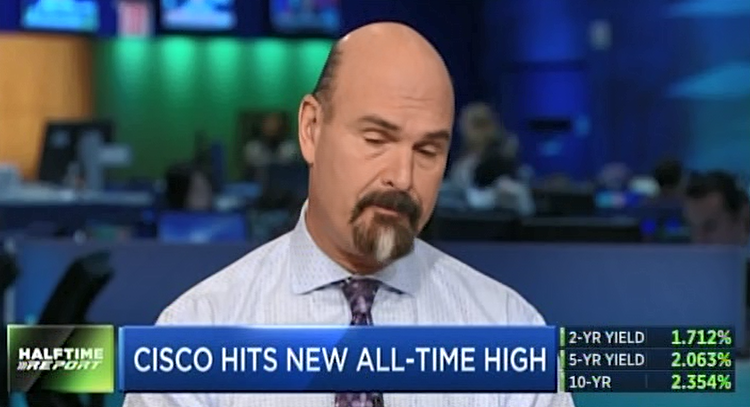 CNBC graphics crew thinks CSCO is trading at all-time high
Pete Najarian on Thursday's Halftime declared, "Cisco is doing everything right."

Pete hailed that CSCO "cumulatively" (he struggled with that word) has bought back more than $100 billion of stock at an average $21 price.

Josh Brown offered "2 minor things," one being that the screen text proclaiming "new all-time high" for CSCO was wrong (yup, but he didn't mention the redundant "new") and that the buybacks were motivated by the need to retire "notorious" options that were "lavishly bestowed" on execs and employees. (Other than that, Pete made a great bull case.)

Jon Najarian said the CSCO leadership handoff has gone "very smoothly."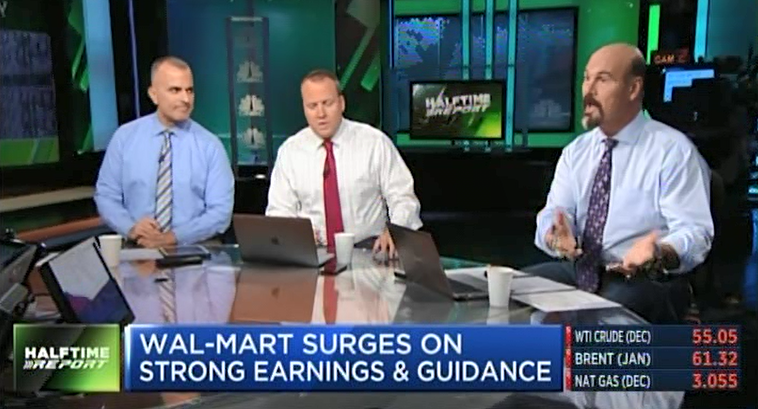 So AAPL should've bought Jet?
Joe Terranova on Thursday's Halftime said he bought WMT "because I think this stock continues to go higher" (that's a typical reason for buying a stock).

Joe called the Jet purchase "sensational."

Josh Brown noted skepticism of the Jet purchase. "They underpaid for Jet," Brown asserted, stating analysts now talk about "GMV" in regard to WMT.

Brown also pointed out the diverging charts of WMT and TGT in 2017.

Jon Najarian called the Jet purchase "transformative" and hung Kevin O'Leary (who was the one who derided it but wasn't on Thursday's show) out to dry. Doc also compared WMT's Jet purchase to AAPL's Beats purchase for the same $3 billion price and said Jet is "clearly" the transformative transaction.

Pete Najarian wasn't as fired up about WMT as Joe was, stating "I wouldn't be chasing it" even though he understands Joe's "methodology."

Pete was more interested discussing his chat with Brian Cornell, who Pete said told him, "We're a couple quarters behind."

Pete suggested TGT is the "opportunity" for 6-9 months rather than WMT.

Barely 3 minutes into the show, Judge quoted Jim Cramer, who apparently calls WMT's success a "reinvention."
Panelists mock MAR 'clowngrade'
Judge on Thursday's Halftime announced Bernstein's MAR downgrade as the Call of the Day.

Joe Terranova, who has trumpeted that stock, said he has about 7% of the portfolio in this name; he thinks what the analyst is missing out on "is the revenue per available room dramatically grew on the international side."

Judge noted the analyst raised the target from 116 to 132 despite the downgrade, which Doc and Josh dubbed a "clowngrade." Judge said the downgrade isn't a sell but market perform and that the analyst is merely recommending HLT instead.
Joe unloaded RHT day before Nasdaq surged
Gorjus Ylan Mui on Thursday's Halftime Report put together a crisp interview with Republican Congressman Peter Roskam of Illinois.

John Harwood said tax reform is on a "very tough road."

Rick Rieder said the bid for yield and bid for credit will "absolutely" continue.

Judge asked Rieder about the either-high-yield-or-S&P-is-right notion. Rieder said high yield is not cheap, and "I don't know that one is necessarily telling you something aberrational in the other."

Joe Terranova said we're "still seeing the discounting in the Victoria's Secret brand," and he doesn't see the "clarity" of the turn in LB.

Josh Brown said RF has a good chart, and if it gets above 16 "meaningfully, there really aren't any sellers in this stock."

Jon Najarian said RH "caught a huge short interest" but is "doing a lot of things right."

Pete Najarian questioned the amount of upside in ALK but said he can see 70 "in the fairly nearby future."

Doc said 36,000 puts in the XOP at the 32 strike got bought. He also noted how BBY puts had fared since he mentioned them last week on the Intrepid. He's right; this page mistakenly made it sound like his final trade that day was BBY long, which was originally how it sounded like he was saying it, but he did state that he was looking at the put activity. Pete Najarian said QCOM December 70 calls got bought.

Nili Gilbert contended that when the yield curve begins to flattening, "at first, it is often a positive environment for the stock market."

Bob Iaccino said "the weakness in WTI is real." Jim Iuorio pointed to 53.25.

Judge said Notre Dame "got waxed" last weekend.

Have to admit we found Joe letting himself get stopped out of RHT a day ago a bit of a head-scratcher; evidently he should've waited a day, but it's not like we knew anything.

Doc's final trade was COT. Josh Brown cautioned that the primary trend is what matters with EEM (translation: don't get bearish). Joe reiterated WMT but said he'd "wait for a pullback" to buy SJM.
[Wednesday, Nov. 15, 2017]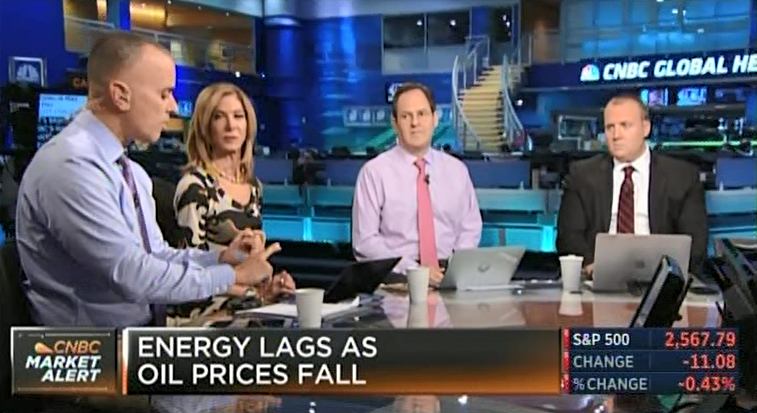 Joe says the only reason to buy DKS is because AMZN might buy it
Wednesday's Halftime crew managed to put together an excellent conversation on another angle of the mall crisis.

That said, there are a couple ways it could've and should've been better (but that's our job, to point out these things).

Things unfortunately nearly got derailed before they got started. Addressing JPMorgan's upgrade of DKS, Josh Brown said, "I'm all about fading Dick's." (Jim Lebenthal struggled not to laugh out loud.)

After that annoyance, Brown said he buys stuff from DKS, "but more and more, I'm just defaulting to Amazon."

Judge said that sounds good, but, "you could've said the exact same thing about Best Buy 5 years ago."

That's a good point. Most of these names are going to be losers, but a few will be surprise winners.

Joe Terranova asserted that "Best Buy is managed completely differently than Dick's Sporting Goods is." He explained, "They don't have the debt levels that Dick's does, they have a better management team" and have "successfully" redesigned their stores. (He could've added that BBY sells more expensive goods.)

Jim Lebenthal said DKS is a "speculative trade," and in that context, "actually not a bad idea."

Jim said Dick's specializes in items that aren't so easy to buy online, such as basketball hoops or specialized football cleats.

Joe said "there's one reason to buy Dick's," which is that AMZN could buy it like it did WFM. But Brown made probably a better point: "That's a reason not to be short it more than it's a reason to buy it."

Here's how the conversation could've been better. 1) The panelists never addressed what the "meal ticket" of DKS is. These stores are enormous. Golf is in decline. Performance apparel seems like it can be made decently and very cheaply and is available everywhere. Fishing seems to be the specialty of Bass and others. Whether footwear or something else is the biggest driver of Dick's traffic, the chain (and its competitors) needs products that people are talking about. 2) The show is supposedly a "fast money" trading show. Which means forget about matching Best Buy's 5-year return. Is it possible DKS is a great buy from now through Jan. 1, or is that in fact a big risk if early holiday traffic proves to be light? If the best argument to own it is for an AMZN deal, we have to doubt that will happen before 2018.

Meanwhile, the panel also took up TGT. Joe Terranova said, "This is brutal," pointing to higher inventory and a not-so-great buyback. "I don't know what's going on with Target other than, it's getting Amazoned," Joe said.

Judge said Telsey (or somebody else) is saying TGT is getting "squeezed" between WMT and AMZN.

"We're overstored; everyone knows that," Josh Brown said.

Jon Najarian said "Guidance was brutal" for TGT and that Pete was chatting up the CEO.

Kari Firestone contended "there's no strategy" at Target. Judge and Joe said Target has a strategy of $7 billion investment including omnichannel.
Gotta admit, Joe's argument for selling RHT sounds flimsy
Josh Brown on Wednesday's Halftime said nobody should view a 5-10% pullback in stocks as "out of the ordinary," but it was Joe Terranova who ran into turbulence after revealing a couple of sells.

Joe said that using quantitative models, "I got stopped out of a bunch of names that I have bought along the way since August and September," explaining those were RHT and COST and AMG and TCBI and IBTX.

Judge stated it sounds like Joe is "leaning more defensive."

Joe insisted, "I am running a rules-based system that is dictating to me when to enter the market-"

"I got it," Judge interrupted.

"70% of what goes on in the marketplace strategy-wise right now is rules-based quantitative, so, let's not dismiss it," Joe responded.

Josh Brown asked Joe why those particular stocks generated sell signals. Joe said, "They are breaking down in terms of both mean reversion, in terms of moving averages, in terms of the slope of the moving averages."

But Joe told Judge it's "wrong" to think of that as a "more defensive posture."

Jim Lebenthal bluntly declared, "This stock market is going higher," pointing out the S&P was down about 1%.

Judge insisted he's looking at it "from regular guy on the street," not any "fundamental, quantitative, technical, mumbo jumbo, this that and the other thing."

Jon Najarian said if you've got more capital to deploy, "I think you wait." Doc cited extra put buying in the IWM. Josh Brown questioned if there wasn't heavy put activity before the Brexit vote and 2016 U.S. election.

Judge in the 11th minute brought up Bob Shiller's survey of bearishness (snicker). Jim Lebenthal said that conclusion "flies in the face of other surveys."

Mike Santoli said the HYG has been a "beacon" for the market all year. Doc said HYG puts were outpacing calls 4 to 1 and that people were buying 80 puts into next year.

Within 2 minutes, Judge was airing Cramer clips about a "rollover" and "air pocket."
People in government looking for work (cont'd)
Eamon Javers on Wednesday's Halftime Report said one provision in the Senate's tax reform (snicker) is to require that, when investors sell a partial stake of stock, the oldest shares be sold first. Javers said one person told him this would "ding" active investors in favor of passive investors.

Josh Brown told Javers that the idea is "disgusting" because they're "nickel-and-diming regular households" to fund tax cuts for large corporations.

Brown concluded, "I actually think it's gross" and that any senator who tossed in this wrinkle "should be embarrassed."

Jim Lebenthal questioned the ideas being proposed. "It doesn't feel like tax reform. It feels like it's shifting one loophole or one little rule for another," Jim said. "I don't like this."

Now we're getting somewhere. It's absolutely not "reform." It's pointless activity among a bunch of people who have nothing to do.

Jon Najarian said the idea mentioned by Javers "looks like a negotiating ploy more than anything else."

Josh Brown said it's a "fantasy" that corporations are going to invest their tax savings in hiring.
Kari comes up short in argument for buying AAPL
Jon Najarian on Wednesday's Halftime said ALK is down 28% on the year; he doesn't like the Raymond James upgrade but praised JPMorgan for being "dead right" and lowering its target from 104 to 64.

Josh Brown said SQ is on fire but the bitcoin news is a bigger deal for bitcoin than Square.

Jim Lebenthal said IBM "could get really interesting" with another good quarter.

Kari Firestone said she likes AAPL, promising 3 reasons but only saying China (that's 1) and cheap valuation (that's 2).

Doc said AMLP January 10 calls were getting bought. He said X was "hitting again," this time November 26.50 calls.

Brian Stutland said some may see upper 50s as a ceiling for crude. Anthony Grisanti said he could see crude at 60 by spring but below 50 before then.

Doc's final trade was EA. Josh Brown said INTC. (This writer is long INTC.) Jim Lebenthal said CSCO, which proved excellent afterhours. (This review was posted after the market close.) Kari Firestone said FRC and Joe said BAC after a "very powerful" reversal higher.
[Wednesday, November 4, 2009]
We only mention this to be nice,
to pay a compliment
We've never seen a birthday celebration as muted as the one for Mel Lee on Wednesday.

No cake, no singing, no cheering, etc.

Guy Adami broached the subject fairly early. "We won't give you a number, because you haven't told me the number. I'm sure you could look it up out there folks," Adami said.

"Google," said Tim Seymour.

"She doesn't look a day past 47, she looks great," Adami said.

Actually, we have Googled before ... she is obviously either 36 or 37 ... but one reason Lee hasn't yet made our "CNBC Star Profiles" page where she clearly belongs is because there is little information to be found about her in cyberspace. (Note to searchers; there are a couple other famous Melissa Lees worldwide, we think maybe Australia and South Korea, so careful.) Even Lee's Wikipedia page, which apparently has been the subject of fierce editing battles this year and just today added the Nov. 4 birthdate, is pretty light on details.

However, we did stumble upon this December 2008 interview in Asiancemagazine.com, and were floored by the final question and answer.

It went like this:

ASIANCE: Do you have a boyfriend? Are you married?
Melissa: ha-ha. No and no.

We knew she wasn't married. Granted, this interview was from 2008, and for all we know, things might've changed.

But, "No and no"?

And what's with the "ha-ha"?

Melissa Lee didn't (perhaps doesn't?) have a boyfriend??

Here's the deal ... hard work and career success are great. Lee probably gets up at 5 a.m. or even 4 a.m. and probably sometimes is at the office 12 hours a day.

Socializing is a big part of life too. We've always kind of imagined Lee getting whisked away to Campagnola after every show by some proud guy and yukking it up for hours about Lloyd Blankfein or Jimmy Cayne or Keith Olbermann or whoever with Charles Gasparino or whoever else happens to be there.

The idea that might not be happening is disheartening.

A female CNBC star evidently didn't have a boyfriend.

Wow.

Guys, it just goes to show, sometimes you never know if she's spoken for until you ask.

CNBCfix, by the way, exclusively broke the scoop on Karen Finerman's birthdate many months ago.

Melissa Lee gave the camera one of those mesmerizing little looks again during the RIMM portion of "Pops & Drops."