CNBC star bios, and
other news personalities
(Sources: CNBC.com, other cable networks online, municipal real estate records, official sources online, Wikipedia, plus information presented on CNBC and other cable television; others where noted.)



Jim Cramer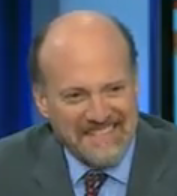 Most famous stock-picker of all time. Born Feb. 10, 1955, in Wyndmoor, Pa. Magna cum laude, Harvard, 1977, a "government major." J.D., Harvard, 1984. Wrote for Tallahassee News Democrat and L.A. Herald Examiner, helped launch American Lawyer magazine. Joined Goldman Sachs; in 1987 formed hedge fund, Cramer & Co., which operated out of offices of Michael Steinhardt. Later co-founded TheStreet.com. Co-hosted "Kudlow & Cramer" before launching "Mad Money," March 2005. Hailed for recall of company facts and ticker symbols, plus sense of humor; accused by Barron's and Henry Blodget of delivering subpar returns for those who follow advice. Married Karen Backfisch, a trader in Steinhardt's firm, in 1988. Couple sold New Jersey home and bought new one in 1999 after zoning board rejected plan to convert driveway to yard, per Howard Kurtz. Couple divorced in 2009; girlfriend in February 2014 is Lisa Detwiler. Credits CNBCers Kyle Remaly, Keith Greenwood, Bryan Russo, Laura Koski, Kat Ricker, George Manessis, Heather Butler, Chris Schwartz, Candy "Props" Cheng, Kate Welsh, Jackie Fabozzi, Tim Dewald, Kareem Bynes, Justin Johansky, Henry Fraga, Brian Steel, Jen Dauble, Tom Clendenin, Steve Smith, Aisha Royall, Erin Burnett and Regina Gilgan in Getting Back to Even. (Jim Cramer Twitter.)
Charles Gasparino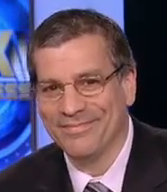 Toughest reporter on the Street, legendary ex-CNBCer, now The Franchise at Fox Business; impact waning on low-rated channel. Born in the Bronx, grew up in Westchester County; father a Marine, union iron lather who worked on World Trade Center. Graduate of Yorktown High School, Yorktown Heights, N.Y., 1980. B.A., Pace University (N.Y.), 1985. Master's in journalism, Missouri, 1989. Spoke of being dishwasher at Silver Moon restaurant in Yorktown Heights. Had stints at Dallas Morning News, Newsday, Tampa Tribune, The Bond Buyer, Bond World. Wrote for Wall Street Journal from 1995-2004 before joining Newsweek, then CNBC as "on-air editor." Former amateur boxer. Gets $15 haircuts at Yan and Son. Favorite restaurant said to be Elaine's of Manhattan. Combative on-air, famously interrupted/cut off on "Fast Money" after referring to President Obama as former "community organizer," then "borderline socialist." Sense of humor can be off the charts, says he likes "crazy" things about him on Dealbreaker. Author of The Sellout, a detailed chronicle of Lehman/Bear/Wall Street implosion. Last appeared on CNBC December 2009; officially bolted for FBN February 2010 for reported $1 million-plus. Married to Virginia Juliano, director of online marketing for Showtime cable channel who has MBA (2004) from NYU. Lives in Stuyvesant Town. Claimed Friday, Sept. 23, 2011, he received "death threat" from Morgan Stanley PR spokeswoman; insisted "they will not silence me." (Charles Gasparino Twitter.)
Marcus Lemonis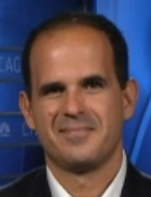 Celebrated entrepreneur; star of CNBC's "The Profit." Born in Beirut, adopted at 9 months old by Lebanese-American family. Started lawn-mowing business at 12. Graduate of Miami's Columbus High School (also attended by Orestes Destrade, Brian Griese, Alonzo Highsmith and Mike Shula), 1991. Attended Marquette University "on a whim," earned degree, 1995; "I really felt like I cut my teeth at Marquette." Threw javelin, interned for Sen. Herb Kohl, an "average student." Father, Leo, and grandfather owned Anthony Abraham Chevrolet. Lost bid for Florida House seat at 22, took job at AutoNation, inspired by Lee Iacocca to take risk in RV business. Consolidated family dealerships, rose to chairman and CEO of Good Sam Enterprises/Camping World. Donated to St. Jude Children's Research Hospital, NVEEE, New Journeys Transitional Home, Lincoln Park Zoo, Photocharity, Joffrey Ballet Bridge Program. Miami Dolphins fan, drinks a green smoothie daily, practices yoga. (Marcus Lemonis Twitter.)
Karen Finerman
The Chairwoman of "Fast Money," financial pioneer, generous donor to charities. Born Feb. 25, 1965. Grew up in Southern California; B.S. in economics from Wharton, 1987. Traded for First City Capital, joined risk arbitrage at Donaldson, Lufkin & Jenrette. Co-founded Metropolitan Capital Advisors in 1992. One of the first women to run a hedge fund, pre-2008 crisis reportedly earned $5 million a year, worth $100 million, according to Guardian. Very active in Parkinson's research, on board of Michael J. Fox Foundation; with husband, "fairly active politically." Replaced Eric Bolling as panelist on "Fast Money." Known for balance sheet scrutiny, M&A arbitrage, value investing, sense of humor. Described as "brilliant" by former colleague Jeff Macke and "gorgeous" by former colleague Dylan Ratigan. Married to Lawrence Golub, A.B., economics, Harvard, 1980; MBA & J.D., Harvard, 1984, money manager and friend of Eliot Spitzer, ("tall, dark-haired, smart-dressing executive.") Metropolitan Capital hired Spitzer's wife, Silda Wall Spitzer, October 2008. Live on Upper East Side, made large gift to Harvard Stem Cell Institute in 2006, also $500,000 to New York Stem Cell Foundation in 2011 to establish Golub Stem Cell Initiative for Parkinson's disease. Two sets of twins. Karen is sister of Hollywood producer Wendy Finerman.
Sara Eisen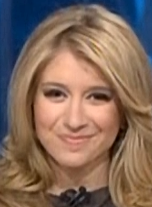 Co-anchor, "Squawk on the Street"; currency expert. Graduate of Seven Hills School, private, college prep, Cincinnati, 2002 (also attended by actress Tiffany Hines); attended NYU, master's in broadcast journalism (concentration in business reporting), Medill School of Journalism, Northwestern University. Landed internship at Bloomberg Television, hosted radio program "On the Economy," co-anchored "Bloomberg Surveillance." Jumped to CNBC, December 2013. Said she does ad-libbing "on a daily basis," said "My goal is to interview the most important people in the world." Promoted to "Squawk on the Street" co-host, May 2014. Married Matthew Levine, May 2016.
Seema Mody

CNBC reporter. "I grew up in Oregon, born and raised in Portland." Graduate of Valley Catholic School, Beaverton, Ore., played tennis. Received B.S. in biological sciences, University of Washington, 2007. Worked for Accenture Consulting before joining CNBC-TV18 (India), July 2011. Praised Indian desserts as university junior; "most desserts are full of sugar and make every Indian's mouth water." Blogger questions why she pronounces last name with hard d as in "dat" rather than softer "that." Singles out Maria Bartiromo for admiration, calls her "amazing." Possibly CNBC's best-dressed. Cloud-multiple gorgeous.
Melissa Francis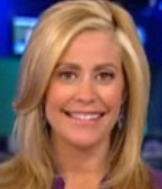 Former child actress, staunch free-market advocate, remarkably photogenic TV anchor, author who confronted living mother with lifetime of grievances in the form of a purported Hollywood book. Left CNBC for Fox Business, announced Dec. 2, 2011. Born Dec. 12, 1972, Los Angeles, per IMDB (full name: Vini Melissa Ann Francis). As a child, known as Missy Francis, played Cassandra Cooper Ingalls in "Little House on the Prairie," also appeared in episodes of "ALF," "Mork & Mindy," "Hotel" and "St. Elsewhere." B.A., Harvard, economics, 1995. Researcher for MacNeil/Lehrer NewsHour, became reporter and anchor at several New England TV stations. Worked as reporter for CNet before joining CNBC, where she has been energy reporter and host of several shows. Known for smile, beauty, intense free-market viewpoint, tendency to badger guests, quirky segments on the porn industry. Once target of Howard Stern tirade. According to an Aug. 29, 2007, report in N.Y. Post Page 6, was one of several CNBC female stars to complain to management about preferential treatment for Maria Bartiromo and Erin Burnett. Husband is asset manager Wray Thorn; delivered second child, baby boy, Greyson Alexander Thorn, on April 26, 2010. Wrote erratic memoir of Hollywood childhood and family difficulties, Diary of a Stage Mother's Daughter, 2012. (Melissa Francis Twitter.)
Larry Kudlow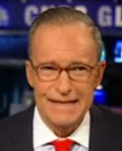 Born Aug. 20, 1947 (per Wikipedia), grew up in Englewood, N.J. Graduate of University of Rochester (N.Y.), 1969, History major. Studied politics and economics at Princeton's Woodrow Wilson School but (per Wikipedia) left before earning a degree. Began as economist at Federal Reserve Bank of New York. Worked in Reagan administration. Chief economist at Bear Stearns until 1995. Specializes in spirited, high-level economic debates, if forgoing explanations to less-educated viewers. Among best in allowing guests equal time. Publicly acknowledged addiction battle. CNBC shows have evolved from "Kudlow & Cramer" to "Kudlow & Company" to "The Kudlow Report," which signed off in March 2014. Opted against bid for Chris Dodd (D-Conn.) Senate seat in 2010. Avid golfer. Married in 1986 to Judith Pond Kudlow, prominent New York City painter whose "method is based on the 19th century academic tradition which emphasizes working from life to produce paintings based on precise drawing, careful modeling to produce the 3-dimensional illusion, harmonious and accurate colors and values, and compositions based on time-honored rules." Told Brian Grazer on April 8, 2015, that "Cinderella Man" is "probably my favorite all-time movie." (Larry Kudlow blog.)
Mark Haines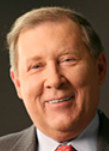 Giant of CNBC, legendary "Squawk Box" anchor, died Tuesday, May 24, 2011 at home in Marlboro, N.J. Born April 19, 1946; grew up in Oyster Bay, N.Y. Graduate of Denison University (Granville, Ohio), 1969; law degree, Penn, 1989. Wife, Cindy; 2 children, Matthew (a star lacrosse player) and Meredith. Private 2-hour memorial service was held June 4, 2011, at Rannon School, New Jersey. Cause of death reportedly "congestive heart failure due to cardiomegaly."
Michelle Caruso-Cabrera

CNBC's Chief International Correspondent (named Oct. 5, 2011), network's purest on-air conservative. Daughter of Kenneth and Maria Caruso; said on "Squawk Box" on Dec. 27, 2011, "I was raised in New Hampshire, I love it, good for your dime, great libertarian state, why do you think I am what I am?" Grandfather emigrated from Cuba, pitched her writing as 17-year-old to Miami Herald, which hired her in Broward County. Bachelor's in economics, Wellesley College (also attended by Hillary Rodham Clinton, Elisabeth Shue, Madeleine Albright, Ali MacGraw and Diane Sawyer), 1991. Began career as stringer for New York Times. Went on to Univision, then WTSP-TV in Florida before joining CNBC. Staunch defender of free-market capitalism. Board member of Ballet Folklorico of New York City. National Association of Hispanic Journalists Broadcast Journalist of the Year, 2004. Co-hosted "Worldwide Exchange," now regular on "Power Lunch." Has spoken of being part Italian. Said of social networking, on-air, "I do not do Facebook, no. I have a profile but I never go to it." On Friday, March 19, 2010, during "Power Lunch" discussion of "How to Train Your Dragon," said, "Sounds like my ex-husband might say that." Said Aug. 12, 2011, on "Squawk Box" she was "not even pregnant." Said on "Squawk Box" on Nov. 23, 2015, "I can read El Pais. There's some Spanish literature I would struggle to read, like reading Gabriel Garcia-Marquez in Spanish is difficult for me." Popular with viewers for smooth camera presence, free-market views, beauty, smile, figure.
Kelly Evans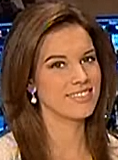 Business media prodigy at the height of success; hoped-for successor to Maria Bartiromo. B.A., magna cum laude, Washington and Lee University, Lexington, Va. (also attended by Tom Wolfe, Pat Robertson, J. Michael Luttig, Robert Mosbacher, NFL coach Walt Michaels, investor Bill Miller), 2007, majoring in business journalism, First-Team All-Region in lacrosse. Joined Wall Street Journal as economics reporter, June 2007. Wrote Journal's "Ahead of the Tape" column and hosted WSJ "News Hub" video report. Jumped to CNBC, starting February 2012. Twice entered reader comments in debate with blogger over WSJ article on NGDP targeting. Panelist at 2012 Republican debate. CNBC "Squawk Box" debut on March 1, 2012, called "A Star is Born" by Barry Ritholtz. Handed reins of "Closing Bell" in November 2013 after departure of Maria Bartiromo. Says she is "almost" 5-11. (Kelly Evans Twitter.)
Jane Wells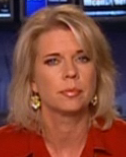 World's hippest TV business reporter. Born March 31, 1961 (per Wikipedia), Los Angeles County. Graduated with honors from USC with bachelor's degrees in broadcast journalism and philosophy. Worked for TV stations in L.A., Miami and Albuquerque, also Fox News Channel, before joining CNBC in 1996. Often handles entertainment and California industry (defense, wine, farming) issues. Married, two children. Moderator for CFA Society of San Diego's 2010 Annual Forecast Dinner, March 2010. Best CNBC field reporter at communicating smoothly with studio host. Known for sense of humor, beauty, ability to glide between serious news and light, amusing stories. (Jane Wells Twitter.)
Gemma Godfrey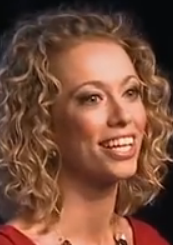 Head of investment strategy, Brooks Macdonald; CNBC go-to pundit for European glamour. Graduate of North London Collegiate School, an independent day school for girls, also attended by Anna Wintour, Rachel Weisz, Jane March, Gillian Tett, Barbara Amiel, Stella Gibbons, Zarif, Kate O'Toole, 2001; not among school's noted alumnae on Wikipedia, March 2014. 1st BSc, quantum physics, first-class honours, University of Leeds, West Yorkshire, England (also attended by Mark Knopfler and Chris Pine,) 2004. Lists 1-month, April 1997 stint at BDO Stoy Hayward wealth management unit that was started by father Barry Stillerman. Praised 2003 internship at Goldman Sachs, said "all the doors were open to you." Graduate Training Program at UBS, worked for GAM under UBS then Julius Baer, joined Credo Capital, 2008. Left Credo December 2011, joined Brooks Macdonald, February 2012. Reports being alerted to credit crisis in 2008 by friend at UBS. Warned of "risk of acronym over-exuberance" such as "BRIC." Claims male colleagues underestimate her abilities. Married British film producer Wayne Marc Godfrey, Jan. 10, 2010, at The Grove, Hertfordshire, England. Associate producer, "Strippers vs Werewolves," (2012). Baby boy, Dexter Louca Godfrey, June 7, 2013. Thanked sister-in-law for birthday wishes, Sept. 11.
Erin Burnett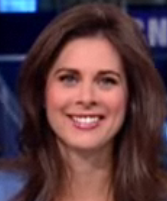 CNBC's Maria in waiting; bolted for CNN before Maria left. First child, baby boy Nyle, born Nov. 29, 2013. It Girl of television for years; extraordinarily gifted host, instant CNBC star, jumped to CNN April 2011. Born in Mardela Springs, Md. Graduate (1994) of St. Andrew's boarding school, Middletown, Del. B.A. in political economy, Williams College (also attended by former President James A. Garfield, George Steinbrenner, Stephen Sondheim, Elia Kazan, John Frankenheimer, Mika Brzezinski, Bethany McLean, Gordon Clapp, Max Gail, Steve Case and Edgar Bronfman) in Williamstown, Mass. Played lacrosse, field hockey; second-team all-conference. Began career in 1998 in Goldman Sachs investment banking. Moved to CNN as business writer and show booker. Became vice president at Citigroup, then joined Bloomberg Television before CNBC. Subject of infamous on-air flirt remarks from MSNBC host Chris Matthews. Married Citigroup managing director David Rubulotta, Dec. 21, 2012, at New York's City Hall; wore red dress. CNN announced April 29, 2011, it hired her from CNBC, which she joined in 2005. Saluted by co-host Mark Haines in teary farewell, May 6, 2011.
Amanda Drury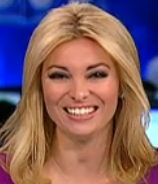 Co-anchor, CNBC's "Street Signs;" returned to Australia, early 2016. Born in Australia. Attended MLC (Methodist Ladies College), suburban Melbourne, 1990, "1st school in the world to introduce laptop computers for all students from Year 5–12." Bachelor's in Fine Arts, French, Japanese from University of Melbourne, 1994. Attended Australian Film, Television and Radio School. Began career in Japan working in international relations. Worked for Bloomberg TV/radio in Japan. Joined CNBC Asia Pacific in 2001 as anchor of "Market Watch" (2001-02 and 2004-07) and "Business Centre Australia." Also anchored "Asia Squawk Box" and "CNBC's Cash Flow." Relocated to CNBC U.S. team, Englewood Cliffs, N.J., May 10, 2010. Emcee of events including GE International annual conference. Emceed black-tie Platts Global Energy Awards at Cipriani Wall Street, December 2010. Sued by William Morris Endeavor talent agency, 2012, over commission dispute. Noted for Australian accent. Husband, 2 sons. (Amanda Drury Wikipedia.)
Melissa Lee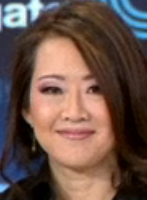 CNBC host of "Fast Money," "Options Action," pioneering Asian-American journalist. Father's parents emigrated from southern China to run laundromat in Buffalo; mother's family emigrated from Hong Kong. Grew up in Great Neck, N.Y.; received B.A., government, with honors, Harvard, 1995. Says "When I entered Harvard, I thought I would be a doctor ... I loved calculus in high school ... I think Harvard is an amazing place," gives it A-minus grade in teaching her about government. Father, brother attended Columbia; sister went to Barnard. Paid $25 an article covering Board of Education meetings for Great Neck Record. Dealt with layoffs at Mercer Management Consulting in Boston. Took "entry level job as a production assistant" at CNNfn, found "Wild West of opportunities" at Bloomberg, enlisted agent for jump to CNBC in 2004, laments 10% agent fee. Claims to be "agnostic" on politics; interrupted Charles Gasparino's "borderline socialist" commentary about Barack Obama. Calls Scott Wapner a "super-capable anchor," says "I think David Faber's book is fantastic" and Andrew Ross Sorkin did a "very fine book." (Melissa Lee Twitter.)
David Faber

Former host of "The Strategy Session," purveyor of "The Faber Report." Born March 10, 1964. Grew up in Forest Hills, Queens. Bachelor's in English, cum laude, 1985, from Tufts University (Medford/Somerville, Mass., also attended by Meredith Vieira, William Hurt, Jessica Biel and Andrew & Lea Weingarten Fastow). Spent seven years at Institutional Investor covering corporate finance and global equity markets. Joined CNBC in 1993. Has broken numerous scoops, including fall of Long Term Capital Management and WorldCom. Winner of Emmy, Peabody and DuPont awards for reporting excellence and impressive "long-form" documentaries. Nicknamed "The Brain" by colleague Mark Haines. Married Jan. 16, 2000, to Jenny Harris (Cornell 1991), who was a producer at CNNfn and daughter of entertainment lawyer/producer Jay Harris and soap opera actress Marie Masters, played daughter Emily of Masters' character Dr. Susan Stewart from 1975-79 on "As the World Turns." Couple met at National Association of Financial Writers event, per Kurtz. Two children. (David Faber Twitter.)
Guy Adami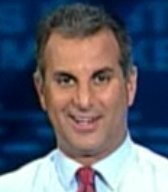 The Negotiator, and frontman, of "Fast Money." Born Dec. 18, 1963. Graduate of Croton-Harmon High School, N.Y., 1982, football captain (wide receiver and safety). One of five children of Nancy C. and Guy M. Adami. Attended Georgetown University, Class of 1986. Started at Drexel Burnham Lambert in 1986. Was head gold trader. Later worked for AIG International. Joined Goldman Sachs in 1996 as head gold trader, moved to CIBC, where he was executive director. Joined "Fast Money" while at CIBC; in August 2008 joined CNBC colleagues Jon and Pete Najarian's optionMonster group in a division called Drakon Capital. Says he is half-Sicilian, half-Italian. Huge fan of actress Marisa Tomei. Low-key, highly respected trader. Last original "Fast Money" member still on the show. Married, wife Linda a medical researcher for Merck; three children. Lives in New Jersey. Has donated to Children's Aid Society and Hospice Care Network; raised $400 for the Delbarton School, Morristown, N.J., by auctioning off a 4-person visit to the "Fast Money" set followed by dinner at the Bar Room in The Modern, November 2009. (Guy Adami Twitter.)
Pete Najarian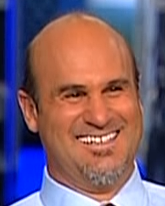 Options king, Pit Boss of "Fast Money." Born Dec. 22, 1963, San Francisco, son of Dr. John Najarian. Three brothers, including Jon (not a twin). Father was a celebrated college football player at Cal-Berkeley and decorated, pioneering transplant surgeon at University of Minnesota Department of Surgery. Pete is graduate of the University of Minnesota, cum laude, degree in genetic engineering. Played linebacker for Tampa Bay Buccaneers and Minnesota Vikings. 6-2, 233 (as NFL player). Also played for Toronto Argonauts of Canadian Football League. A top five state hurdler in high school in Minnesota. With brother Jon took up options trading in 1992 at Mercury Trading and helped execute its sale to Citadel in 2004. Was an official of the CBOE. Celebrated trader of options strategies. Possesses deep knowledge of promising medical treatments as well as pharmaceutical stocks. Wakes up at 4:30 each morning. Known for long ponytail, occasionally wearing shorts or flip-flops to "Fast Money" set, hyperbole including terms like "absolutely phenomenal." Married, wife Lisa. Proudly speaks of Armenian heritage. (Pete Najarian Twitter.)
Jon Najarian

Options entrepreneur; eloquent pundit. Birthdate Sept. 29, 1957. Son of famous doctor; oldest of four brothers (David, Paul, Pete). Graduate of Central High in Minneapolis (also attended by Prince). Enrolled at five colleges, including Cal-Berkeley and Cornell, in search of pro football career; ultimately joined brother Dave at Gustavus Adolphus (St. Peter, Minn., also attended by jazz singer Kurt Elling and actor Peter Krause); has degree in art history and design, aspired to be architect after football. A linebacker, signed with Chicago Bears for 1981 training camp while Mike Singletary held out. Wrote of being nicknamed "Elvis" by Walter Payton. Told agent Dick Lurie he wanted to be a stockbroker; agent set him up trading options at CBOE instead. Has spent 25 years in option trading pits. Founded Mercury Trading in 1989, sold to Citadel in 2004. Nickname "Dr. J," CBOE floor badge is DRJ. Extremely well-spoken, often presents options and stock activity and strategies in easily understood layman terms. Owns home in Chicago. Wife Brigid; couple donated to Chicago Children's Museum. Has written of being big fan of movie "Wall Street," hosting Oscar parties, sometimes with red carpet. (Jon Najarian Twitter.)
Tim Seymour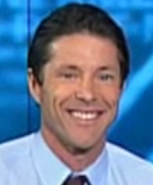 The Ambassador of "Fast Money." Born May 6 (Flash Crash date), 1966. Grew up in Scarsdale, N.Y., jokingly speaks of "mean streets." Holds BSBA in marketing/theology from Georgetown, 1988, and MBA in international fixed income from Fordham. Worked at a hedge fund group at UBS, completing MBA training in capital markets. Worked for Morgan Stanley, then Union Bank of Switzerland in New York, then became partner and managing director at Troika Dialog, largest independent investment bank in Russia. Was a managing partner at Red Star Asset Management, then founder and managing partner of Seygem Asset Management and founder of Emerging Money. Extensive knowledge of not only financial but political activities in other countries. Per FEC, contributed to John Kerry campaign in 2003 and 2004. Said he's never been union member. Once reported using "a lot" of hair gel. Has implied he is Italian. Married, wife Leah. Said March 30, 2011, he's owner of WXOU Radio Bar in New York. Part-time drummer. Member of Board of Advisors of Georgetown University Wall Street Alliance. (Tim Seymour Twitter.)
Zachary Karabell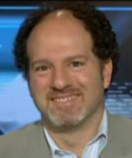 CNBC contributor, prolific author, China-watcher, highly regarded expert in the international community. B.A. in History, Columbia, Ph.D., Harvard (1996), also holds M. Phil in Modern Middle East Studies from Oxford. Has taught at Harvard, Dartmouth. Previously chief economist and executive at Fred Alger Management, now president of River Twice Research. Also a senior adviser for Business for Social Responsibility, member of the Council on Foreign Relations, board member of World Policy Institute and New America Foundation. Designated "Global Leader for Tomorrow" by World Economic Forum, 2003. Book subjects include 1948 U.S. presidential election, President Chester A. Arthur, What's College For, Muslim-Jewish-Christian coexistence, and most recently, Superfusion of Chinese-American economics. Known for intellectual humor, calm stock-market and economics commentary. Married, wife Nicole, two sons, lives in New York. (Zachary Karabell blog.)
Ekta Batra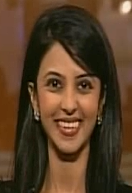 CNBC TV18 India stunner, research analyst, seen on Worldwide Exchange. From Mumbai. B.S., Integrated Marketing Communications, 2007, Ithaca College, Ithaca, N.Y. (also attended by Rod Serling, Bob Iger, Jessica Savitch and Karl Ravech), named one of American Advertising Federation's "Most Promising Minority Students 2007." M.Sc., Business Management, Warwick Business School (U.K.), 2008; wrote testimonial promoting school. Spent 4 months working for Merrill Lynch, joined CNBC TV18 India, November 2008.
Becky Quick

CNBC's most popular host, network's Warren Buffett correspondent, anchor of "Squawk Box." Born July 18, 1972 (per Wikipedia). Originally from Indiana; lived in Oklahoma and Texas. Received Bachelor of Arts in political science from Rutgers, 1993; editor in chief of campus newspaper. Spent seven years at the Wall Street Journal, including its online division, before joining CNBC in 2001. Married in 2008 CNBC's Matthew Quayle, described by Howard Kurtz in The Fortune Tellers as aggressive "Squawk Box" producer. Returned to "Squawk Box" from maternity leave on 11/11/11. Said of Facebook on Dec. 14, 2011, "I have an account that I never use. I don't even remember my password." Pregnant per N.Y. Post, July 2011; delivered Kyle Nathaniel Quayle Sunday, Aug. 14, 2011. (Becky Quick Twitter.)
Joe Kernen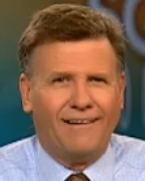 Born Jan. 6, (likely) 1956; (said on Jan. 6, 2012, "I'm not 58 and I'm not 57, but that's where it ends"). Grew up in Cincinnati. Bachelor's, University of Colorado-Boulder (1978), in molecular, cellular and developmental biology, and a master's in molecular biology from MIT. Was a stockbroker for 10 years, trained at Merrill, then was VP at EF Hutton and Smith Barney. Joined Financial News Network; came to CNBC in 1991 merger. Polarizing pundit; often describes state of the markets, politics, world, in questions to guests. Married Penelope Scott, a former commodities trader who joined CNBC and has been "Squawk Box" producer, in 1998 on the 18th tee of the Four Seasons Kona Hualalai golf course, golfing morning of wedding and day after. Couple shoots in high 80s; wife sometimes wins.
Nicole Lapin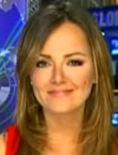 Former U.S. anchor, CNBC "Worldwide Exchange," announced CNBC departure on Sept. 8, 2011. Born March 7, 1984 (per Wikipedia), Los Angeles; mother said to be former Miss Israel. Entered Harvard at 15, transferred to Columbia, then UCLA; studied at L'Institut d'Études Politique in Paris, valedictorian of Northwestern University's Medill School of Journalism, 2005. Worked at CBS stations in Palm Springs, Calif., Lexington, Ky., and Sioux Falls, S.D., also as reporter for First Business Network at Chicago exchanges. Joined CNN at 22, celebrated as network's youngest or one of youngest anchors. Joined CNBC in January 2010. Vegetarian. Single, announced relationship with New York Times media reporter Brian Stelter on June 13, 2011. Announced on Sept. 8, 2011, her departure from CNBC to form production company; "mutually ended" tenure before contract expiration, according to N.Y. Post. (Nicole Lapin Twitter.)
Herb Greenberg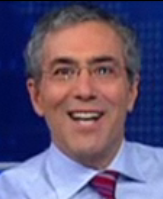 Longtime CNBC Senior Stocks Commentator-turned contributor; investigator of corporate troubles and skeptic of high-flying stocks. Bachelor's in journalism, University of Miami. Has written for Crain's Chicago Business, St. Paul Pioneer Press, Amusement Business, Boca Raton News, Chicago Tribune, San Francisco Chronicle, Wall Street Journal and Fortune. Joined MarketWatch after six years at TheStreet.com. Stopped appearing on CNBC after leaving MarketWatch on May 1, 2008, to establish "independent research boutique" with Debbie Meritz, called GreenbergMeritz Research & Analytics, that supplied high-net-worth clients with short-side research. Rejoined CNBC, spring 2010; ended full-time work in 2013. (Herb Greenberg Twitter.)
John Harwood
Born in Louisville, Ky.; grew up in Maryland's D.C. suburbs. Father, Richard Harwood, was political reporter for the Washington Post. Graduated magna cum laude, Duke, 1978, history and economics. Wrote for St. Petersburg Times and taught at Harvard before joining Wall Street Journal in 1991. Promoted to Journal's chief political editor in 1997. Joined New York Times in a part-time role as political writer on Dec. 24, 2007. Has been CNBC's chief Washington correspondent since March 2006. Taped last "Meet the Press" interview before Tim Russert's death. Married Frankie Blackburn, named one of Montgomery County's 25 Outstanding Women in Business," 3 children. Among favorite media figures of Obama economic adviser Austan Goolsbee, who says, "I like the team of John Harwood, Steve Liesman and Maria Bartiromo quite a lot."
Steve Liesman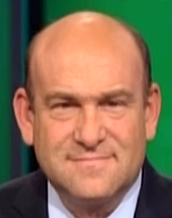 CNBC chief Fed observer. Born in Bronxville, N.Y. Holds B.A. in English from SUNY-Buffalo and master's of science from Columbia's Graduate School of Journalism. Was a business reporter from 1987-92 at Sarasota Herald-Tribune and St. Petersburg Times, then became business editor of The Moscow Times. He joined the Wall Street Journal, covering energy and later becoming WSJ Moscow bureau chief. Known for high level of accuracy in analysis/prediction of Federal Reserve moves. Among favorite media figures of Obama economic adviser Austan Goolsbee, who says, "I like the team of John Harwood, Steve Liesman and Maria Bartiromo quite a lot."
Mary Thompson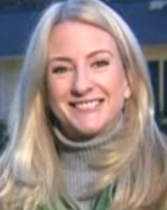 Prettiest hair on cable television; left CNBC July 1, 2016. Said on CNBC February 2012 she is a "Boston native." B.A. in English from Notre Dame, 1985, M.S. in journalism from Columbia. Spent four years at Fidelity investments in sales positions. Worked for Bloomberg radio and television for eight years before joining CNBC in 2000. Reports throughout the day on financial and other industries. Emceed for Notre Dame Club of New York's Annual Universal Notre Dame Celebration, 2008. Sister of NBC reporter Anne Thompson, also a Notre Dame graduate, 1979. Now listed on Notre Dame "Notable Alumni" page with Anne, after CNBCfix.com noted only Anne was listed.
Trish Regan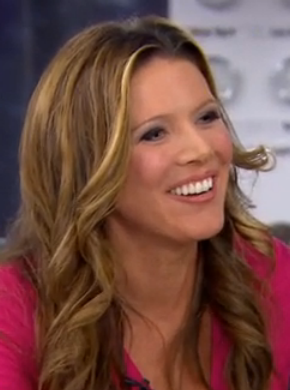 Ex-CNBCer left March 2011 apparently over reassignment refusal, joined Bloomberg December 2011. Born March 8, 1977 (per Wikipedia, IMDB), Portsmouth, N.H.; grew up in Hampton, N.H. Honors graduate, Phillips Exeter Academy. Bachelor's, U.S. History, Columbia, cum laude, 2000. Studied at New England Conservatory. Trained as opera singer. Spent one summer in Graz, Austria, at American Institute of Musical Studies. As Miss Deerfield Fair, chosen Miss New Hampshire 1993, told Jon Friedman of MarketWatch she did it "as a one-shot thing to earn money for school, and it turned out I won," competed in Miss America pageant, 1 of 3 winners in preliminary talent, did not crack Top 10 or garner swimsuit award. Worked for Goldman Sachs, D.E. Shaw & Co., Bloomberg, CBS News, Spike channel before CNBC. Speaks Spanish, Italian, German. Married investment banker James A. Ben in 2001 (photo), lives in New York. Couple each made $1,000 primary donation to George W. Bush in September 1999. Couple donated to Ride for Roswell cancer fight and Harlem Educational Activities Fund, 2006-07. Announced in July 2009 she was pregnant with twins; delivered Alexandra and Elizabeth on Dec. 8, 2009. Announced Dec. 19, 2011, she had joined Bloomberg TV as 3-5 p.m. Eastern anchor of "Street Smart," starting Jan. 9, 2012.
Gary Kaminsky
"Wall Street Week" co-host; former CNBC Capital Markets Editor who took vice chairman post at Morgan Stanley; former co-host of "The Strategy Session." B.S. from Syracuse, radio/TV/film management, 1986; earned MBA in finance from Stern School, NYU, 1990. Analyst at hedge fund J.R.O. Associates, went to Cowen & Company in 1992. Joined Neuberger Berman, where brother Michael worked, in 1999, pair established "Team Kaminsky" with father Gerald by 2001. Described by hedge fund great Anthony Scaramucci as "arguably one of the best money managers of our generation." Critic of "closet indexing." Left Neuberger/Lehman in 2008 (has EXNEU license plate on CNBC desk). Says "My first dream was to become a commercial airline pilot." Triathlete, 5-time finisher of NYC Marathon, scaled Kilimanjaro. Lives on Long Island; wife Lori, 3 sons.
Anthony Scaramucci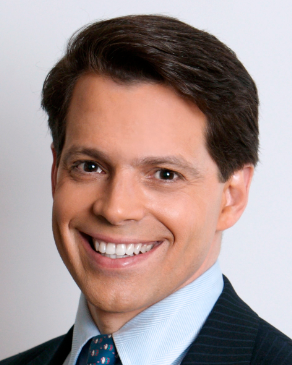 Skybridge Capital founder; conscientious hedge fund visionary. Born Jan. 6, 1964. B.A., economics, Tufts University, 1986 (year after David Faber), summa cum laude, Phi Beta Kappa. J.D., Harvard, 1989. Worked for Goldman Sachs, 1989-1996, becoming VP, 1993. Says "I was fired from Goldman a year and 5 months into Goldman. I got fired from the real estate department in February 1991. Some of it was me, I was subpar at what I did. I was probably a below-average first year investment banker." Rehired 3 months later. Co-founded Oscar Capital Management, sold to Neuberger Berman in 2001. Worked with Neuberger/Lehman through 2005. Author of Goodbye Gordon Gekko. Board member of The Lymphoma Foundation and The Brain Tumor Foundation. Heavily devoted to Tufts. Staunch advocate for brain tumor research, support; father a brain tumor survivor. Staunch supporter of Mitt Romney's 2012 presidential bid. Announced acquisition of "Wall Street Week" franchise in May 2014, leading to end of long run as CNBC contributor.
Maria Bartiromo

World's preeminent TV financial journalist; in 2013 after 20 years left CNBC for Fox Business, launching new show February 2014. Born Sept. 11, 1967, in Brooklyn's Bay Ridge neighborhood (setting of "Saturday Night Fever"), daughter of Vincent and Josephine Bartiromo. Attended Fontbonne Hall Academy, an all-girls Catholic high school in Brooklyn. B.A. in journalism, minor in economics, NYU, 1989. Spent five years as assignment editor, producer with CNN business news before joining CNBC in 1993. Known for CEO interviews, tireless reporting and several scoops, notably off-the-record comments from Fed Chairman Ben Bernanke in 2007. Openly lamented murder of Gianni Versace during live report from trading floor in 1997. In January 2007 filed to trademark the name "Money Honey." Married June 1999 to investor Jonathan Steinberg, a founder of Wisdom Tree investments and son of Saul Steinberg. Per N.Y. Post, is represented by P.R. guru Ken Sunshine. Brought Chicago charity crowd to tears with story of mother afflicted by second-hand smoke surviving lung cancer. Waist measured at NYSE by Dr. Mehmet Oz, Feb. 7, 2011, 34 inches with "equipment on," asked how tall, told Oz she is 5-5. Inducted into Cable Hall of Fame, June 14, 2011, Chicago. Criticized by newfound Fox colleague Charles Gasparino, March 21, 2011, for letting Meredith Whitney "off the hook" in "press release" interview. Told Bill Griffeth on May 30, 2012, "I don't think I've ever shopped at JCPenney."
Kate Kelly

Pregnant per N.Y. Post, July 2011; delivered Josephine India in October 2011. CNBC Wall Street Reporter. Born in Washington, D.C. Bachelor's from Columbia College at Columbia University. Wrote for New York Observer, then Time, then joined Wall Street Journal in 2001. Worked for WSJ Money & Investing group covering New York Stock Exchange; spent time at WSJ Los Angeles bureau covering movie industry. Author of Street Fighters: The Last 72 Hours of Bear Stearns, the Toughest Firm on Wall Street. Hired at CNBC May 2010, just after maternity leave. Husband is New York Observer editor Kyle Pope. (Kate Kelly Twitter.)
Darren Rovell
Former CNBC sports reporter, Twitter monster, announced June 21, 2012, he was returning to ESPN. Graduated cum laude, Northwestern, 2000, where he created sports business radio show. Known there for hustle and strategies that attracted prominent sports figures. Sent demo tapes to potential employers in largest boxes possible so as not to be ignored. Floated idea for business angle to FoxSports.com and was rebuffed; made effective pitch to ESPN and was hired from campus. Spent 6 years with ESPN reporting on agents, stadium deals and contracts. Joined CNBC in July 2006 in part for more air time, produced a documentary on Nike. Has authored two business books. Sports lover and baseball card fanatic as a child. Completed the New York Marathon in 2004. In November 2008 married Cortney Schlosser, a marketing manager at American Express and graduate of Syracuse. (Darren Rovell Twitter.)
Carl Quintanilla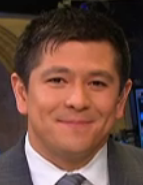 "Squawk on the Street" co-anchor, prolific documentarian. B.A., political science, University of Colorado-Boulder, 1993. Reporter and columnist for Boulder Daily Camera, 1991-93. Wrote on airlines and manufacturing for the Wall Street Journal from 1994-99 in the WSJ Chicago bureau. Became correspondent for CNBC in 1999, NBC News correspondent in 2002 and appeared on "Today" and "NBC Nightly News." Covered 2004 election for NBC News. Has won an Emmy and Peabody for coverage of Hurricane Katrina. Married former CNBC/MSNBC producer Judy Chung, June 17, 2005; welcomed twin girls Ava Jane and Lily Anna on June 17, 2009.
Kayla Tausche
CNBC General Assignment Reporter. Native of Atlanta, 2004 summa graduate of Greater Atlanta Christian School, Norcross, Ga. (Finally put on Wikipedia's notable alumni list for school.) Bachelor's from University of North Carolina, Chapel Hill, majoring in business journalism and international politics, 2008. Bilingual, started in Associated Press Brussels bureau while in college, interviewed Jacques Chirac, worked for Bloomberg with Steamboat Foundation fellowship, moved to DealReporter. Interviewed Spike Lee and Whoopi Goldberg in line for iPhone. Chosen one of Rosewood Hotels and Resorts' "30 Under 30" in 2010; "manages 10 journalists, as well as 5 analysts, assigns articles, conducts research and writes articles herself." Joined CNBC January 2011.
Courtney Reagan

CNBC General Assignment Reporter, head-turning beauty; gradual, albeit impressive, climb up broadcasting ladder. Born Nov. 8, 1982. Graduate of Centerville High School (also attended by football stars A.J. Hawk, Kirk Herbstreit, Dave Preston, Andy Harmon and Mike Nugent, also actor Gordon Jump), Centerville, Ohio, 2001. Chosen Queen of Holiday at Home pageant, 2002. Bachelor's in finance and mass communication, Miami University, Oxford, Ohio; member of Kappa Alpha Theta sorority (VP of Fraternal Conduct, 2004 Interfraternity Council), Habitat for Humanity, Lambda Sigma honor society. Page for NBC Universal, 2005-'06. Joined CNBC as Newsdesk Producer, 2006, then Segment Producer, then Business Headline Anchor, to General Assignment Reporter, February 2011. Pursuing MBA from NYU's Stern School, expected 2013. Member of the Pancreatic Cancer Action Network of New York. (Courtney Reagan Twitter.)
Julia Boorstin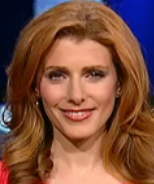 Daughter of Paul (producer of TV documentaries) and Sharon (author) Boorstin. B.A. in history, Princeton, 2000. Worked for Vice President Al Gore's domestic policy office and U.S. State Department. Began writing for Fortune in 2000 in New York, joined CNBC in 2006 and became L.A.-based media and entertainment reporter. Married Hollywood mover and shaker William Couper Samuelson in December 2007 after earlier meeting (per N.Y. Times) during a "PG-13 weekend" at the Sundance Film Festival; romance chronicled in New York Times. Known for pretty red hair and serious, no-nonsense business reporting. Gave birth to baby boy, Henry, July 13, 2011. (Julia Boorstin Twitter.)
Joe Terranova
The Liquidator of CNBC's "Fast Money," chief market strategist for Virtus Investment Partners. Born Oct. 29, 1966 (per Wikipedia). From Nassau County, Long Island, N.Y., graduate of Chaminade High School (also attended by Bill O'Reilly and former NBC Universal chief Bob Wright, actors George Kennedy and Brian Dennehy, former IBM CEO Louis Gerstner), Mineola, N.Y., "a Catholic school for young men in grades 9-12," enrollment 1,600, writes that school "helped make me the man I am today." Earned B.S., finance, St. John's University, 1988. Worked for Swiss Banking Corp. and JP Morgan Securities, then spent 18 years at Mark Fisher's MBF Clearing Corp., rising to Director of Trading, managing 300 traders. Credits Susan Krakower for giving him chance with CNBC's "Fast Money" in December 2007. Joined Virtus in June 2008. Created Bossy's Bunch charity in 2006 to help underprivileged children. Inked book deal in September 2010 with Business Plus for Buy High, Sell Higher, released late 2011. Does speaking engagements; "customizes his presentation for seasoned financial advisors and investment newcomers alike, sharing his successes and failures of more than two decades on Wall Street." Quite possibly most modest "Fast Money" personality in terms of trumpeting trading success. Wife Tiffany, 3 children.
Jon Fortt

Hired as CNBC Silicon Valley correspondent, replacing Jim Goldman, shifted to on-air editor in Englewood Cliffs. Attended Montgomery Blair High School. B.A., English, DePauw University, Greencastle, Ind. (also attended by Dan Quayle, Eli Lilly, Vernon Jordan Jr., Bret Baier, Patricia Ireland, Ford Frick, Mary Meeker, Bill Rasmussen), 1998. Wrote for San Jose Mercury News, Business 2.0 and Fortune before joining CNBC in July 2010. Shaved head, chiseled physique served as Mercury News model for Oscar statue illustration. (Jon Fortt Twitter.)
Scott Nations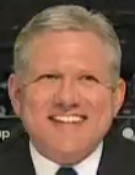 CNBC "Options Action" panelist. Kansas native grew up in Overland Park, graduated from Shawnee Mission South High School (also attended by NFL players Rodney Peete and Steve Little and "SNL" veteran Rob Riggle), 1981. B.S., University of Kansas, 1985. Worked as fixed-income options trader and CBOT floor manager for The Arbitrage Group. Was one of first traders in S&P option pit to use wireless handheld computers while serving as head trader for Sovereign Capital at Chicago Mercantile Exchange. Launched Fortress Trading and NationsShares division, said to be "leader in creating option-enhanced indexes," in 2002. Heard on CNBC's "Options Actions," "Fast Money," and occasionally as guest on other shows. Member of The Economic Club of Chicago. Wife Wendi (DePauw University, Northwestern University) is chief marketing officer for executive search firm; couple live in Chicago's Lincoln Park neighborhood.
Carolin Roth (Schober)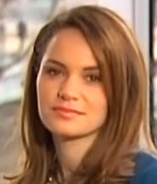 CNBC Europe stunner. Bachelor's in international economics and finance, Tilburg University, Tilburg, Netherlands, 2007. Master's in banking and finance, University of Zurich, January 2009; thesis titled "Overestimation of one's own capabilities/Overconfidence in Management: How can hubris be identified?" Fluent in German and English. Fan of Roger Federer and Starbucks. CNBC colleague Michelle Caruso-Cabrera said on "Squawk Box" on Nov. 3, 2011, "She is gorgeous. Have you ever seen her in person? Oh my goodness. ... Breakfast at Tiffany's." Said Aug. 12, 2014, she saw "Mrs. Doubtfire" "20, maybe even 30 times." (Carolin Roth Twitter.)
Diana Olick

CNBC real estate reporter; chiseled biceps. B.A. in comparative literature with a minor in Soviet Studies from Columbia College in New York, 1989, plus master's in journalism from Northwestern's Medill, 1991. Parents both lawyers in New York. Worked as TV reporter in Maine, Michigan and Seattle before joining CBS News in 1994. Joined CNBC in 2002. Based in Washington, D.C., known for provocative inquiries of real estate individuals and markets. Married to Scott Gold; has twins. Wrote book about in vitro fertilization. (Diana Olick Twitter.)
Profiles of other cable/TV stars
Cheryl Scott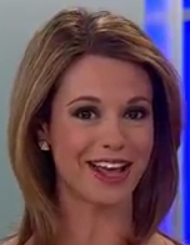 ABC7 Chicago (WLS) weekend phenom; nation's preeminent weatherfox. Native of Atco, N.J., attended Paul VI high school, Haddon Township, N.J. (Not yet on Wikipedia's "notable alumni" list; also attended by Andrew Bailey and Jonathan Grimes.) Leaped 18 feet to win state's parochial long jump title; also an all-star in 4x400 meter relay. Graduate of Brown, 2007, bachelor's in geological sciences; ran 400 meters in 56.42 at 2007 Ivy League Heptagonal Championship, finishing 6th. Intern at WCAU-NBC10 Philadelphia, 2006; joined WSEE in Erie, Pa., 2007, as weekend meteorologist. Joined NBC's WBIR in Knoxville, Tenn., 2009. Has forecasted for 24-hour Caribbean Weather Channel; received meteorology certification in 2010 at Mississippi State's Distance Learning Program. Jumped to NBC5 Chicago, September 2011. Dubbed WMAQ's "most talked-about personality," March 2014. Named to board of directors of American Red Cross of Greater Chicago, March 2014. Declined station's offer to renew, August 2014; agent Andrew Stroth said she will "explore her options." Says "The Wizard of Oz" is her favorite movie. Roots for the Philadelphia Eagles. (Cheryl Scott Twitter.)
Martha MacCallum

Popular Fox News host. Daughter of an IBM executive. Grew up in Wyckoff, N.J., attended high school in Franklin Lakes, N.J. Bachelor's degree, poli sci, St. Lawrence University (Canton, N.Y., also attended by Kirk Douglas, Viggo Mortensen, Maine Sen. Susan Collins, NHL coaching great Mike Keenan and former N.Y. Giants punter Dave Jennings). Per New York Times, studied at The Circle of New York's Square Theater School and is a founder of the Miranda Theater Company. Began career at Corporate Finance magazine, then joined Wall Street Journal Television. Became anchor at WBIS-TV in New York, 1996, then joined CNBC in 1997, hosted several shows until departing for Fox in 2003. Married Daniel Gregory, son of the founder of Gregory Packaging Inc. of Newark, N.J., Aug. 22, 1992. 2 sons, 1 daughter. According to Gawker, threw parking-garage tirade in July 2009. (Martha MacCallum Wikipedia.)
Margaret Brennan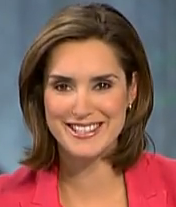 CBS State Department correspondent; previously Bloomberg Television crown jewel. Native of Danbury, Conn. Award-winning Irish step-dancer as child. Graduate of Virginia with the "highest distinction," B.A. in foreign affairs, 2002. Called "superb student." Also holds B.A. in Middle East with a minor in Arabic. Studied Arabic at Yarmouk University in Jordan. Worked for CNN International, translating bin Laden tapes. Joined CNBC as a writer, booker of guests and producer for late financial legend Louis Rukeyser, also worked on "Street Signs with Ron Insana" before becoming CNBC correspondent in 2006. One of 12 national recipients of George J. Mitchell Scholarship, 2007. Studied conflict resolution in Dublin, attended University College Dublin, honored at UCD School of Business dinner in New York Oct. 7, 2008. Has taught English (as second language) for Children's Aid Society of New York. Honored with Irish Spirit Award by American Ireland Fund, March 2009. Left CNBC in June 2009 for Bloomberg; jumped to CBS, July 2012. Popular for intellect, stunning figure. (Margaret Brennan Twitter.)
Robin Meade
Headline News anchor, "Morning Express with Robin Meade." Born April 21, 1969, daughter of Linro and Sharon Meade. Graduate of New London High School, New London, Ohio, 1987. Attended Malone College, graduated from Ashland University (Ashland, Ohio, also attended by Madalyn Murray O'Hair), 1991, majoring in radio/television production, programming and performance; minor in political science. Chosen Miss Ohio, 1992, platform was "the importance of buying American-made goods"; finished 7th in Miss America 1993 pageant. TV stops at WMFD, WCMI-I, WJW, WSVN, WMAQ, before joining Headline News/CNN. Hosts eponymous show with colleagues Richard Lui, Bob Van Dillen, Jennifer Westhoven. Author of Morning Sunshine! How to Radiate Confidence and Feel It, Too. Has written of early fears of public speaking, on-air anxiety attacks. Did tandem skydive in Kennebunkport, Maine, 2009. Chosen America's Sexiest Newscaster in runaway in 2004 Playboy poll. Part Native American. Husband is Tim Yeager (married Nov. 6, 1993).
Matt Lauer

"Today" show kingpin; preeminent morning TV star. Born Dec. 30, 1957, son of Robert Lauer and Marilyn Kolber. According to IMDB, attended Ohio University, Athens, Ohio (also attended by Paul Newman, Mike Schmidt, Roger Ailes, Richard Dean Anderson, George Voinovich, Clarence Page, Peter King, Ed O'Neill, Arsenio Hall, Piper Perabo), left in 1979 4 credits short of graduation to be producer of noon news at WOWK in Huntington, W.Va.; received degree in 1997 after writing paper and giving commencement speech. Joined "Today" in 1994 as news anchor after stint at WNBC; co-anchor since Jan. 6, 1997. Previously married to Nancy Alspaugh, once engaged to fiancee Kristen Gesswein. Married to Annette Roque Lauer, have sons Jack and Thijs and daughter, Romy. (Matt Lauer Wikipedia.)
Katie Couric
"CBS Evening News" anchor. Born Jan. 7, 1957, Arlington, Va., to Elinor Tullie and John Martin Couric Jr. Cheerleader at Yorktown High School. B.A., with honors, University of Virginia, 1979, English with focus on American Studies. Member of Tri-Delta sorority. Started as ABC News desk assistant, worked at CNN, WRC, WTVJ. Joined NBC News in 1989 as deputy Pentagon correspondent. Substituted for Deborah Norville as "Today" co-host in February 1991; installed as permanent co-host April 5, 1991. Announced departure to CBS in April 2006. Was married to the late Jay Monahan; 2 daughters, Elinor Tully Monahan and Caroline Couric Monahan. Dating Brooks Perlin; calls cougar jokes about 17-year age difference "stupid." (Katie Couric Wikipedia.)
Dylan Ratigan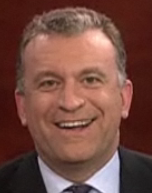 Former CNBC juggernaut, landed show at MSNBC, announced departure June 2012. Born April 19, 1972, in Saranac Lake, N.Y. Has B.A., Political Economics, 1994, from Union College (Schenectady, N.Y.; also attended by President Chester A. Arthur). 6-2, 215. Began career at the Portsmouth (N.H.) Herald. Speaks of friend's ties to wife of Michael Bloomberg, which led to Bloomberg job and got him out of working at parking garage. Was global managing editor at Bloomberg News; joined CNBC in September 2003. Developed anti-bailout and anti-Washington themes as MSNBC host. Said to like cooking and gardening, and drive a Porsche, in New York Times profile; also reported being engaged twice. Has spoken of being part Irish and part Jewish. Created "Fast Money" with Susan Krakower. Sported a beard in early CNBC days. Single. Abruptly quit CNBC on Friday, March 27, 2009; launched on June 29, 2009, "Morning Meeting" on MSNBC, nixed at year-end, became "The Dylan Ratigan Show" as Chris Matthews lead-in, Jan. 11, 2009.
Eric Bolling
Superstar oil/commodities trader, original king of "Fast Money," now Fox Business host of "Money Rocks." Born in Chicago, graduated 1980 from Loyola Academy (also attended by actor Chris O'Donnell, Indianapolis Colts owner Jim Irsay, pitcher Charlie Leibrandt) in Chicago suburb of Wilmette, made school's Hall of Fame as All-Catholic-League shortstop. On scholarship at Rollins College, Winter Park, Fla.; B.A. in economics, 1984. Attended Duke on fellowship, drafted by Pittsburgh Pirates, played in minor leagues until shoulder injury. Learned trading in late 1980s, rose to prominence at Nymex, NYBOT, COMEX. Wears trading badge "RBI." According to "Fast Money" caller, nickname on floor is "Raging Bull." Wife, Adrienne, son. Honored in January 2007 by Trader Monthly as Maybach Man of the Year, awarded $369,000 car. Attended 2007 Artrageous Gala Dinner and Art Auction at Cipriani, 42nd Street, Manhattan. Has hosted fundraiser for Widows and Children of the New York Firefighters Fund. (Eric Bolling Twitter.)
Maryam Nemazee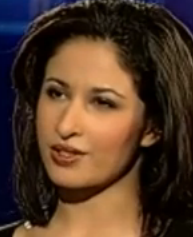 London-based Bloomberg anchor, host of "The Pulse," classic beauty. Studied history and politics at Durham University, Durham, England, (also attended by Roger Moore and George Lazenby); trained for broadcasting at London's City University. Worked for London TV, BBC, Russia Today; joined Al-Jazeera in September 2006; jumped to Bloomberg in January 2010. Iranian-British; fluent in Farsi. (Maryam Nemazee Twitter.)
Jeff Macke
Former CNBC pundit; Minyanville blogger. Born April 7, 1969. Graduate of Edina (Minn.) High School, 1987. Bachelor's from Dartmouth, 1991, psychology major. Holds MBA from Stanford, 1997. Worked for Senn-Delaney Retail Consultants, developed a training program for Sears. Ran hedge fund, 1999-2004. Founder and president of Macke Asset Management. Joined board of directors of Duckwall-Alco Corp. in 1998; resigned June 11, 2007, calling it a "tough decision" and citing "relocation to New York and the demands of helping create a daily television program." Has been member of Dartmouth Club of Greater San Francisco. Known for humor, cliches on "Fast Money." Says he is not a member of Mensa. Married Anne Taylor), lives in Bedford, N.Y. One brother, one sister. Father Kenneth (died 2008) was former CEO and longtime executive of Target stores. Left CNBC weeks after tumultuous exchange about "car people" with Dennis Kneale; last day on-air was June 12, 2009.
Julie Chen
CBS "The Early Show" co-host. Born in Queens, Jan. 6, 1970 (per Wikipedia); mother from Burma, father from Chiang Kai-shek's China. Graduated USC, 1991, majoring in Broadcast Journalism and English. Began career in 1990 at ABC's "Nightline," worked for Dayton's WDTN from '95-'97, jumped to WCBS as reporter/anchor from '97-'99 before joining "Early Show" as news anchor, Nov. 1, 1999. Also hosts CBS' "Big Brother." Married (2004) to CBS President and CEO Leslie Moonves. On April 21, 2009, announced pregnancy and due date of Oct. 4. Given on-air baby shower, Sept. 18. Delivered baby boy Charlie on Sept. 24, 2009.
Anderson Cooper
Premier CNN news host. Born June 3, 1967, New York City, son of heiress Gloria Vanderbilt and writer Wyatt Emory Cooper. B.A. from Yale, political science, 1989. Interned with the CIA during college, contracted malaria in Africa. Worked for youth network Channel One, reporting from Southeast Asia, including Myanmar. Studied Vietnamese at the University of Hanoi. Returned to U.S., working for ABC News, left to host reality show "The Mole." Returned to news, landing job at CNN as co-host with Paula Zahn before debuting "Anderson Cooper 360°" in September 2003. Known for objective, quality reporting, often from Third World areas. Says "I'm not a member of Mensa, I'm not even sure how to spell Mensa." Single, based in New York City.
Erica Hill
CBS "The Early Show" news anchor. Born July 20, 1976 (per Wikipedia), Clinton, Conn. B.A., Journalism, Boston U., summa cum laude, 1998. Started at PC Week as a production assistant for "PC Week Radio," 1998. Worked for ZDTV and "Tech TV News;" joined CNN family at Headline News, 2003. Anchored "Prime News Tonight," 2005. Landed "The Early Show" Saturday co-anchor post with Chris Wragge after 6-week tryout, September 2008. Left CNN for good to join CBS "The Early Show," January 2010, prompting emotional farewell from colleague Anderson Cooper, "It is with a very heavy heart I say goodbye." Husband is David Yount (married Oct. 15, 2005), 2 children.
Stephanie Abrams
The Weather Channel meteorologist, co-host of "Wake Up With Al" with Al Roker. Born in Miami, grew up in Wellington, Fla., graduated from Wellington High School. B.S., Geography, Phi Beta Kappa, University of Florida, Gainesville. B.S., Meteorology, Florida State University, Tallahassee, cum laude. Member, American Meteorological Society. Morning meteorologist at WTXL before joining TWC in 2003. Also co-hosts "Your Weather Today" with Mike Bettes. Described by Palm Beach Post in 2006 as "the hot new star on The Weather Channel ... a brainy meteorologist with multiple degrees and a passion for weather ... (also known for) bouncy ponytail and snug T-shirts." Says of growing up in Florida: "I loved it. I was in a bathing suit constantly." Father is Dr. Barry Abrams.
Neil Cavuto
Highly regarded business anchor who has inspired with health struggle. Born Sept. 22, 1958, Westbury, N.Y.; grew up in Danbury, Conn. B.A., journalism, 1980, St. Bonaventure University, Buffalo, N.Y. (also attended by baseball great John McGraw, NBA Hall of Famer Bob Lanier, former NBA coach Chuck Daly, former NFL coach Ted Marchibroda); master's from American University. White House intern during Carter administration. Worked for PBS' "Nightly Business Report," then became part of the CNBC startup and spent 1989 to 1996 there, anchoring "Power Lunch" among other shows, before jumping to Fox in July 1996. Eight years after beating cancer, learned he has M.S. Married Mary Fulling, Oct. 15, 1983; three children. Resides in New Jersey.
Liz Claman
Born Dec. 12, 1963 (per Wikipedia), Beverly Hills, fourth of five children, to Canadian parents, theater actress June Faibish Claman and urologist Morris Claman, who died in 2007. Had scoliosis. Attended Phillips Academy, Andover, Mass. Graduate of Beverly Hills High, 1981; voted "Biggest Non-Conformist" senior year. Bachelor's in French, Cal-Berkeley, 1986; also has Certificat Superieur from the Universite' de Paris, La Sorbonne. First TV job as intern at KCBS in Los Angeles. Was assistant to Paula Zahn, speaks of doing Jane Fonda workouts with her. Landed position at WHDH-Channel 7 in 1994, per Boston Herald. Accepted offer of 13-week CNBC tryout in 1998 despite minimal business background ("I didn't even balance my checkbook"). Quit suddenly in 2007, joined Fox Business Channel after non-compete expired. Ran N.Y. City Marathon, 2006. Accomplished skier. Member of Big Brother/Big Sister program affiliated with Jewish Board of Family and Children's Services of Manhattan. Married to CNN producer Jeff Kepnes. Two children, Gabrielle and Julian. Lives in Edgewater, N.J. (Liz Claman Wikipedia.)
Rebecca Jarvis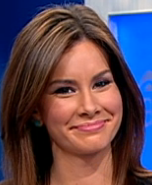 Ex-CNBCer joined CBS as newsreader for "The Early Show Saturday Edition," April 2010, named co-host on Jan. 12, 2012. Born Sept. 28, 1981, Minneapolis, daughter of James Jarvis and Chicago Tribune finance columnist Gail MarksJarvis. Beauty at early age: "When I was 5 years old I auditioned for a Spam commercial." Grew up in St. Anthony West neighborhood of Minneapolis, 1999 graduate of St. Paul Academy. A.B., Economics and Law, Letters and Society, University of Chicago, 2003. Raised more than $750,000 for a children's charity at age 15. Worked on Citigroup's London desk, then with Banc of America securities. Left for journalism. Competed on Donald Trump's "The Apprentice" and broke her ankle playing hockey, made finalist but lost to Randal Pinkett. Says "I would say that my entire life has been built around academic excellence." Left CNBC September/October 2009; CNBCfix reported exclusively Oct. 21 name was no longer in profile menu on CNBC.com, no on-air video since Sept. 18. Exit confirmed 12 hours later by CNBC spokesman. Announced Dec. 17, 2010, on CNBC that she is engaged to Matthew Hanson. Received on-air well-wishes from CBS colleagues and friends, wedding date apparently Jan. 28, 2012.
Caroline Hyde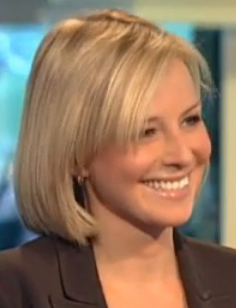 Bloomberg London-based markets reporter; knee-buckling blonde. Graduated from Woldingham School, a Catholic independent all-girls school in Woldingham, Surrey, England, (also attended by Carey Mulligan and Vivien Leigh), 2002. B.A., Politics, Philosophy and Economics, Oxford, 2005. Worked in PR as debt market specialist for London's Moorgate Group, managed campaigns for clients including S&P. Joined Bloomberg in 2008, starting with covering European debt markets. (Caroline Hyde Twitter)
Monica Crowley
Conservative, "McLaughlin Group" regular. Born Sept. 19, 1968 (per Wikipedia). B.A., poli sci, 1990, Colgate University, Hamilton, N.Y. (also attended by journalists Andy Rooney, Howard Fineman, Gloria Borger, Bob & Lee Woodruff, former NFL player Mark van Eeghen, hockey player/exec Mike Milbury, NBA player Adonal Foyle). Has two master's degrees and a Ph.D. in international affairs from Columbia. Aide to Richard Nixon in his final years. Landed own radio show on WABC in New York, has been frequent political commentator on cable news shows. Had to defend article she wrote about Nixon in Wall Street Journal against plagiarism charge. Known for staunch conservatism, beauty. Resides in New York City. Sister Jocelyn Crowley, a Rutgers professor, is married to Alan Colmes, former co-host of recent "Hannity & Colmes" show.
Bill O'Reilly
Standard-bearer of Fox News political commentary. Born Sept. 10, 1949, New York City. Graduate of Chaminade High School. B.A., history, from Marist College (Poughkeepsie, N.Y.; also attended by NBA star Rik Smits), 1971. M.A. in broadcast journalism, Boston U., 1976. Master's, public administration, Harvard, 1996. Taught high school in Miami. Reporter/anchor over two decades in Miami; Scranton, Pa.; Dallas; Denver; Portland, Ore.; Hartford; Boston, New York. Became CBS News correspondent, 1982. According to Rolling Stone, impressed ABC News boss Roone Arledge with moving eulogy for friend Joe Spencer that led to him joining ABC News as correspondent in 1986. Joined syndicated "Inside Edition," 1989; left in 1995 after arrival of Deborah Norville. Joined Fox News in 1996. Regarded by many as conservative, expresses non-conservative opinions on issues such as gun control, same sex adoptions and capital punishment. Married Maureen E. McPhilmy, who worked for a video company, in 1995; has daughter and son. (Bill O'Reilly official site.)
Jen Carfagno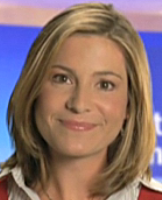 Co-host of "First Outlook" on The Weather Channel. Grew up in Collegeville, Pa.; graduated from Perkiomen Valley High, 1994. B.S., Meteorology, Penn State, 1998. Co-recipient of Penn State's Hans Neuberger Award (for outstanding teaching), 1998, and Robert O. Cole Award, 1997. Member of Chi Epsilon Pi Honor Society. College pal of Weather Channel colleague Maria LaRosa. Visibly pregnant on air, spring 2009, delivered baby girl, June 21, 2009, went on maternity leave. Known as The Weather Channel Wedding Expert. Writes "I LOVE cutting the grass!" Lifeguard in high school. Husband, daughter.
Betty Liu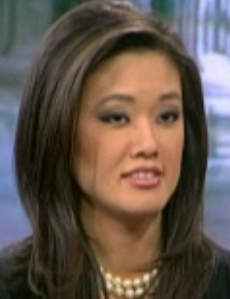 Bloomberg TV star; former CNBCer. Born in Hong Kong, moved to New York at age 3, grew up in Philadelphia. B.A., English, University of Pennsylvania, magna cum laude. Taiwan bureau chief for Dow Jones Newswires, Atlanta bureau chief for Financial Times, anchor and correspondent for CNBC Asia in Hong Kong before joining Bloomberg in 2007. Speaks Mandarin Chinese and some Cantonese. Married to "Bill" in this September 2010 New Jersey profile, apparently in Hong Kong.
Rachel Maddow
Popular progressive/liberal cable host. Born April 1, 1973. Bachelor's in public policy, Stanford, 1994. First openly gay American to win Rhodes scholarship, 1995; earned poli sci doctorate from Oxford. Launched radio career in Holyoke, Mass., and later Northampton, Mass., before joining Air America at its inception in 2004. Joined MSNBC as political analyst in January 2008. After several well-received appearances, awarded her own show in September 2008. Known for educated discourse respected by both sides. Lives in New York City and Massachusetts with partner Susan Mikula, an artist. (Rachel Maddow Wikipedia.)
Susie Gharib
Anchor, PBS "Nightly Business Report." Born in New York City, grew up in Cleveland. Graduate of Case Western Reserve University (Cleveland, also attended by CDC director Julie Gerberding), 1972, magna cum laude, Phi Beta Kappa. Master's, international affairs, Columbia. Was reporter for Cleveland Plain-Dealer, Associated Press, Newsweek and Fortune; moved on to television including CNBC, NBC and ESPN. Joined PBS in 1998. Told Marketwatch's Jon Friedman, "I would want to emulate Tim Russert more than Jim Cramer;" said she was told at White House, "The president does not like to be interrupted." Married to Fereydoun "Fred" Nazem, a corporate turnaround specialist, philanthropist and motivational speaker. Founded with husband a Distinguished Lectureship in Journalism at Case Western in 2001 with large donation. Lives in New York City with estate in Bridgewater, Conn.; son Alexi and daughter Taraneh both attended Yale. Avid figure skater. (Susie Gharib Wikipedia.)
Jane Skinner
Popular Fox News host, quit June 2010. Born Feb. 12, 1967, Chicago, daughter of prominent Republican former White House official Sam Skinner. Enjoyed playing football as a child. Graduate of Lake Forest High School, 1985; inducted into the school's Alumni Wall of Fame, April 2009. Bachelor's in broadcast journalism (1989) and master's (1990) from Northwestern. Listed as donating $1,000 or more to Northwestern during 2006 academic year. Before Fox, had worked in Duluth; Portland, Maine; Milwaukee and St. Louis. Married to NFL Commissioner Roger Goodell, twin daughters. Left Fox News on June 24, 2010, citing desire to spend more time with family. (Jane Skinner Wikipedia.)
Kimberly Guilfoyle
Popular Fox News personality. Born March 9, 1969 (per Wikipedia), San Francisco. Graduate of Mercy High School and University of California-Davis, magna cum laude; attended University of San Francisco law school and Trinity College in Dublin, Ireland. Modeled for Victoria's Secret and Macy's (is half-Irish, half-Puerto Rican). Worked as assistant district attorney in San Francisco and Los Angeles. Married San Francisco city supervisor Gavin Newsom in 2001; he became mayor in 2003. Worked for Court TV in New York; joined Fox News Channel in January 2006 as host of a crime-based program. Citing difficulty of coast-to-coast travel, was divorced from Newsom Feb. 28, 2006. Married Eric Villency, CEO of Maurice Villency Inc., in Barbados, May 27, 2006. Announced separation, June 2009. (Kimberly Guilfoyle Wikipedia.)
Deirdre Bolton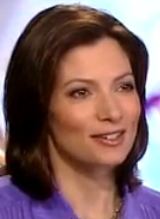 Host of alternative-asset show "MoneyMoves" on Bloomberg TV. Native of Newtown, Pa. Graduate of Council Rock High School (also attended by Villanova coach Jay Wright), Newtown, Pa. B.A., English and French literature, University of Iowa. Master's, NYU. Did translation for French banks after college, worked in institutional equity sales for CDC North America and Société Général; sold European equities to U.S. portfolio managers. "Tired" of Wall Street, made pitch to Bloomberg as magazine writer. Joined Bloomberg Television in 1999. Made Maxim's 10 Hottest News Anchors list. Favorite book is How to be Good by Nick Hornby. Married, lives in New York. (Deirdre Bolton Twitter)
Courtney Friel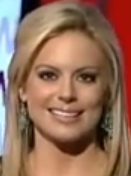 Entertainment reporter, Internet beauty sensation. Born April 22, 1980, Baltimore. Grew up in Philadelphia; attended Methacton high school in Norristown, Pa.; two younger sisters. Attended Elon University (Elon, N.C., also attended by longtime baseball manager Jack McKeon, NASCAR driver Ward Burton), Received B.A., poli sci, San Diego State University (also attended by Gregory Peck, Tony Gwynn, Carl Weathers), minoring in broadcast journalism. Began career at Channel One News. Anchored local news in Jackson, Tenn. Was reporter for various cable networks and hosted shows on Travel Channel (poker) and Court TV. Was anchor at KPSP in Palm Springs, Calif., before joining Fox News Channel in 2007. Made top 10 of Miss California and Miss Tennessee pageants, 2002 to 2004. Photos including bikini pictures prominent on Web. Married to CBS News reporter Carter Evans, lives in New York.
Uma Pemmaraju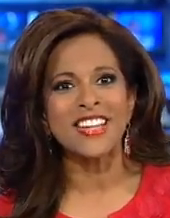 Popular Fox News host. Born 1958, Rajahmundry, Andhra Pradesh, India. Moved to San Antonio at age 6, per Boston Globe, said to be only Indian family in San Antonio at the time; father a scientist specializing in birth control. Attended Oliver Wendell Holmes High School, San Antonio. Bachelor's in poli sci, Trinity U., San Antonio, Texas, 1980; editor of the Trintonian, where "I shook things up a bit and changed it from reporting solely on sororities and fraternities to reflect on community issues." Worked in print and TV media in San Antonio, left for anchor position in Boston in 1986. Joined Fox News Channel for its launch in 1996. Left for Dallas in 1999; returned to Fox News in 2003. Workaholic, said to sleep four hours a night. Known for extensive charitable work, including with March of Dimes, Big Sisters and the Boys and Girls Clubs, as well as helping Mexican earthquake victims. Married millionaire Andrew Petkun, owner of Allen Furniture Co., Sept. 12, 1993. Daughter Kirina.
Michelle Kosinski
NBC News correspondent. Born in Cinnaminson, N.J. B.S., Northwestern, 1995 apparently didn't attend 15-year reunion, October 2010; master's degree also from Medill. Started at WIFR in Rockford, Ill., worked in Charlotte, N.C., before rising to prominence at WTVJ, Miami. Joined NBC News in 2005. Noted for pursuing Natalee Holloway disappearance, dubious "Today" show moment in canoe. Bought estate in Coral Gables, Fla., in 2009 for $5.3 million. (Michelle Kosinski Wikipedia.)
Joe Scarborough
MSNBC host/conservative, former congressman. Born April 9, 1963, in Atlanta; lived in Meridian, MS, and Elmyra, N.Y., before graduating from high school in Pensacola, Fla., where he played quarterback. B.A., Alabama, 1985; law degree, University of Florida, 1990. Involvement in anti-tax petition drive led to successful congressional bid in 1994 for open seat. Became first Republican to represent panhandle since 1872. Part of the GOP House takeover, signed "Contract With America." Resigned seat in 2001, expressed weariness with Washington and interest in more family time. Launched "Scarborough Country" on MSNBC in 2003; now hosts "Morning Joe." Member of Beggs and Lane, oldest Florida law firm. Married Melanie Hinton, 1986, two children, has questioned potential causes of son's autism; divorced in 1999. Married former Jeb Bush staffer Susan Waren in 2001, daughter Kate. Lives in Pensacola. Played in at least a couple bands. (Joe Scarborough Wikipedia.)
Terry Keenan
N.Y. Post financial columnist, longtime Fox News, CNBC host; died of cerebral brain hemorrhage at age 53 on Oct. 23, 2014. Born Albany, N.Y., to Joseph and Marie Keenan; has two sisters. Father was sociology professor at SUNY-Albany; mother (passed away in 1999) owned employment agency, per N.Y. Times. B.A., mathematics, 1983, Johns Hopkins. Began long career in CNN business division in 1986, working as producer, then as reporter and anchor. Jumped to CNBC in 1995, back to CNNfn in 1998. Married April 23, 1994, at National Academy of Design in New York (per N.Y. Times) to Ronald Kass, executive with Masco. Son, Benjamin Keenan Kass. Known for beauty, down-to-earth disposition. According to TV Newser, citing Johnny Dollar, left Fox News "on her own terms" in autumn 2009, landed at N.Y. Post as finance columnist.
Bill Ritter
Premier New York City anchor, WABC-TV. Born Feb. 26, 1950. L.A. native. Attended San Diego State University, majoring in Accounting and Economics. Writes of being an anti-war college student. Worked during college at big-box retailer FedMart. Started in print journalism, 1972, wrote for L.A. Times in San Diego. Joined Fox TV, then KCAL, then "Good Morning America Sunday" in 1993. Co-anchor of WABC-TV 11 p.m. newscast, September 1999, teamed with Liz Cho since 2003. Married to Kathleen Friery, a 1984 alumna of SUNY-Potsdam and onetime executive producer of "Anderson Cooper 360" on CNN, Sept. 6, 2008. Previously married to N.Y. Times reporter Janny Scott.
Ron Magers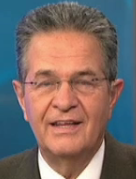 Premier Chicago news anchor, WLS-TV (ABC); possibly greatest local TV anchor in history. Born Aug. 27, 1944, in San Bernardino, Calif. Grew up in Alaska, Washington state; graduated from Toppenish, Wash., high school, 1962. Hosted radio shows at early age. Started in 1965 at KEZI-TV in Eugene, Ore. Spent 6 years at KPIX, San Francisco. Reigned from 1974-1981 at KSTP with co-anchor Cyndy Brucato. Enjoyed 16-year run at Chicago's NBC station, WMAQ, with Carol Marin; both quit in protest against hiring Jerry Springer for news commentary after arrival of Joel Cheatwood. Said "I had a bad experience with Mr. Cheatwood." Joined WLS, 1998, co-anchors with Kathy Brock and Cheryl Burton. Acknowledged alcohol problem, 1970s. Married, wife Elise. Older brother of fellow anchor Paul Magers.
Carol Marin
Possibly greatest local TV anchor in history; NBC5 Chicago political editor, newspaper columnist, public television host. Born Oct. 10, 1948 (per Wikipedia). Moved from Chicago apartment to Rolling Meadows, Ill., attended Palatine High School and University of Illinois. Began career at WBIR, Knoxville, Tenn., 1972; joined WSM in Nashville in 1976 before jumping to NBC5 Chicago in 1978. Winner of 2 Peabody Awards, 2 duPont-Columbia Awards, 2 national Emmys. Teamed with Ron Magers at NBC5 Chicago in perhaps history's greatest local anchor pairing. Ended long NBC5 run with Magers over station's decision to add Jerry Springer for news commentary. Spent 5 years as correspondent for "60 Minutes" and "60 Minutes II." Attempted groundbreaking experiment as sole anchor of CBS2 Chicago evening news. Formed Marin Corp productions with Don Moseley. Married in 1972 Jonathan Utley, Tennessee professor and author of critically acclaimed Going to War with Japan: 1937-1941. Couple met at University of Illinois. Hit by car in Chicago's Loop, 1978; dedicated jogger since. Ran Chicago Marathon in 2000 and 2001.
Marc Brown
Premier Los Angeles news anchor. Born Sept. 29, 1961, L.A. Graduate of Narbonne High School, L.A. (Harbor City neighborhood), 1979. B.A., Broadcast Journalism and Poli Sci, USC, 1983. Worked at California stations in Eureka, San Jose and San Diego, and in Reno, Nev., before joining KABC in 1989. Has co-anchored 3 daily newscasts with Michelle Tuzee. Told USC students in 2006 that local TV enjoys advantages over media competitors. Moderated California GOP Senate debate, May 2010.
Chrystia Freeland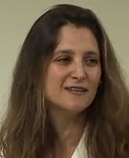 Editor of Thomson Reuters Digital; formerly U.S. managing editor of Financial Times, occasional guest on "McLaughlin Group." Born 1968, Peace River, Alberta, Canada. Graduate, 1986, of United World College of the Adriatic, a highly selective, scholarship-based school of 200 students in Duino, Italy, that prepares students for university education. Bachelor's in history and literature, Harvard, 1990; chosen Rhodes scholar, earned master's in Slavonic studies from St. Antony's College, Oxford. Began career in Ukraine (is of Ukrainian ancestry) writing for FT, Economist, Washington Post. Named Moscow bureau chief for FT in 1995; deputy editor of Toronto Globe & Mail from 1999-2001; returned to FT as online editor in October 2001. Jumped to Reuters March 2010 as global editor at large. Written extensively on Russian capitalism and former tycoon Mikhail Khodorkovsky. Spoke at Oxford North American reunion, April 2008, on media coverage of elections. Has spoken to Harvard Club of Toronto. A Canadian citizen, lives in New York with husband and two daughters. (Chrystia Freeland Wikipedia.)
Savannah Guthrie
Co-host of "Today" 3rd hour; "Today" chief legal correspondent, Born Dec. 28, 1971 (per Wikipedia). Family moved to Tucson, Ariz., age 3, attended Amphitheater High School, school's most famous grad (also attended by Erubiel Durazo). Journalism degree, University of Arizona, 1993; "meandered through the education process for a couple of years," credits Professor Jacqueline Sharkey for encouragement. J.D., Georgetown University, magna cum laude, 2002. Began career as anchor and reporter, KMIZ-TV, Columbia, Mo., 1993-95; moved to KVOA in Tucson from 1995-99 before working free-lance at WRC in in Washington, D.C., from 2000-02. After earning law degree, received top score on Arizona bar exam, 2002. Joined Akin Gump Strauss Hauer & Feld, emphasis on white-collar litigation, 2002-03. Correspondent for Court TV, 2004-07, before joining NBC News in September 2007. Spoke about Gabrielle Giffords shooting at 2011 University of Arizona commencement speech; told graduates, "Don't settle." Once married to BBC reporter Mark Orchard; believed dating former Gore aide Michael Feldman for years. (Savannah Guthrie Twitter.)
Daniella Guzman

Stunning morning anchor, WMAQ-NBC5 Chicago. Native of Sugar Land, Texas; parents Bolivian. Graduate of Clements High School, Sugar Land, Texas (also attended by Patrick Wang and Bryan Stoltenberg). B.A., bilingual journalism/communications, 2003, University of St. Thomas, Houston. Worked for Houston Chronicle, Televisa Mexico and Univision Network; worked in advertising before joining Houston's KPRC-Channel 2 as reporter in August 2006. "It all started when I was little and I hoped by the year 2000 I'd figure out who killed President John F. Kennedy." 1 of 5 Channel 2 reporters pregnant in 2011. Jumped to Chicago's WMAQ in January 2012; "opportunity knocked and I opened the door." Beautiful, natural teeth. Husband, Hector. (Daniella Guzman Twitter.)
Natasha Curry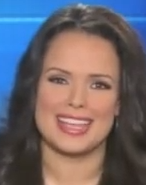 CNN Headline News anchor. Daughter of Dr. Roland (dentist) and "Charlie" Vantramp (hygienist, former Mrs. America runner-up), Puyallup, Wash. Bachelor's in biology, Pacific Lutheran University, Parkland, Wash. Also studied at Sichuan Union University in China and Arizona State University. Miss Washington 1998; finished 8th in Miss USA pageant, scored 9.04 in swimsuit, 8.80 in evening gown. Joined KOMO-TV and News Radio, Seattle, June 2007; left after long-running "Northwest Afternoon" was dropped. Later served as anchor for KDFW-TV in Dallas. Also worked at KIRO-TV, WLTX-TV and KYMA-TV. Joined CNN Headline News in December 2008. Criticized in N.Y. Post, June 26, 2010, for overdoing it on hipper, younger language, including "You guys want fries with that?"
Drew Pinsky
"Dr. Drew," celebrity addiction/sex expert; possibly America's favorite doctor. Born Sept. 4, 1958, Pasadena, Calif., son of Morton Pinsky and Helene Stanton. Attended Polytechnic High School, graduated 1976, played football, was class president. Biology degree, 1980, from Amherst College (Amherst, Mass., also attended by President Calvin Coolidge, Prince Albert of Monaco, Charles Merrill, Joseph E. Stiglitz, Patrick Fitzgerald, Burgess Meredith, Dan Duquette, William Webster, John Deutch, John Abele, NFL players Doug Swift, Freddie Scott and Jean Fugett, big-league pitcher John Cerutti); earned M.D. at USC, 1984. Became chief resident at Huntington Hospital, Pasadena. Joined friend Jim Trenton's KROQ (L.A.) weekly radio show "Loveline" in 1984 just before receiving M.D. as the "Ask a Surgeon" specialist. Later teamed with Riki Rachtman and Adam Carolla. Premiered "Dr. Drew" show on HLN on April 4, 2011. Says he had no plans to do radio; was asked to read the news for ill friend at Amherst. Criticized for interview advice to parents of Lindsay Lohan, April 2010: "If she were my daughter, I would pack her car full with illegal substances, send her on her way, call the police, and make sure she was arrested. I would make sure she was not allowed to get out of jail. I would then go to the judge and make sure she was ordered to a minimum of a three year sobriety program." Married, wife Susan, teenage triplets (2 boys and a girl), lives in Pasadena.
Jeffrey Kofman
Miami-based ABC News correspondent. Born in Toronto, 1959. graduate of Queen's University in Kingston, Ontario, majoring in political science. Started at Global Television News, Toronto, 1982. Spent 11 years at CBC before joining CBS News, then ABC News. Once subject of DrudgeReport headline. Coached by voice expert Sam Chwat, 1999, "for on-air Standard American English delivery." Speaks French, Spanish. Openly gay.
Jane Velez-Mitchell
Headline News host, "Issues with Jane Velez-Mitchell." Born Sept. 29, 1955 (per Wikipedia), to Puerto Rican mother, Irish father. Worked for KCAL-TV and WCBS-TV among other stops. Attained prominence on "Celebrity Justice," provided courtroom commentary from Michael Jackson case on "Nancy Grace." Has written of coming out as lesbian and once delivering a news report in bikini and T-shirt after drinking; one of few openly gay network TV anchors. Lives in New York.
Debbye Turner Bell
CBS "The Early Show" correspondent; 1990 Miss America. Born Sept. 19, 1965 (per IMDB), Honolulu, daughter of Gussie and Frederick Turner Jr. Graduate of Jonesboro, Ark., High School, 1983. B.S., Agriculture, Arkansas State University, 1986. D.V.M., Missouri, 1991. "It took 7 years, 11 tries, in 2 states to get to the Miss America Pageant." Co-host for "Show Me St. Louis," 1995-2001, also PBS veterinary series "The Gentle Doctor," 1995-98. Joined CBS News, 2001, reports on pet and animal news. Spoke at Missouri commencement, 2009. Charity work includes Children's Miracle Network. Has run NYC, L.A. marathons. Member of Alpha Kappa Alpha sorority. Lives in New York with husband Gerald Bell (married July 2008) and daughter.
Cristina Alesci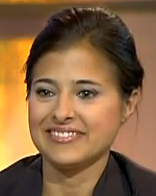 Reporter, Bloomberg News. Master's, City University of New York Graduate School of Journalism, 2008. First recipient of Frederic Wiegold Award honoring senior editor at Bloomberg Markets magazine. Known for coverage of Leon Black.
Dennis Kneale
Preeminent cable news blog-basher. Left CNBC after contract expired October 2010; joined Fox Business. Graduate 1975, Hialeah-Miami Lakes High School, (also attended by Vincent D'Onofrio), Hialeah, Fla. Father was hit by car, died when Kneale was 14. Bachelor's in journalism, University of Florida, 1979; said he went there "because tuition was cheap." Wrote for Fort Lauderdale News/Sun-Sentinel for two years, then Wall Street Journal from 1982 to 1998, when he was hired by Forbes, serving as managing editor. Frequent guest on CNBC panels, joined network Oct. 15, 2007, as media and technology editor. Was "Power Lunch" regular until June 2010. Had on-air argument with Charlie Gasparino during Eliot Spitzer segment, demanded apology. Known for endless optimism about stocks and economy. Denounced anonymous and/or critical bloggers, summer 2009, calling them "digital d---weeds," invited some to speak on show.
Christine Romans
CNN business reporter, host of "Your Bottom Line." Native of LeClaire, Iowa; graduate of Pleasant Valley High School. Bachelor's, Iowa State University, 1993, majoring in journalism, French. Member of Pi Beta Phi sorority. Spent one summer traveling Europe and studying French literature and media at L'Instut Catholique de Lyon in Lyon. Former editor of Iowa State Daily, also interned at Des Moines Register and weekly Leader of Scott County, Iowa. Told alumni mag, "I crashed and burned twice in economics. I think I dropped every business class I took." After graduation, worked for Des Moines Register, Reuters and Knight-Ridder Financial News in Chicago. Jumped to CNN Business in 1999, often sharing reports in studio with Lou Dobbs. Married Reuters reporter Ed Tobin. Pregnant according to TVNewser (Feb. 2010), gave birth to 3rd child, Edward Arthur, on July 11, 2010. (Christine Romans Wikipedia.)