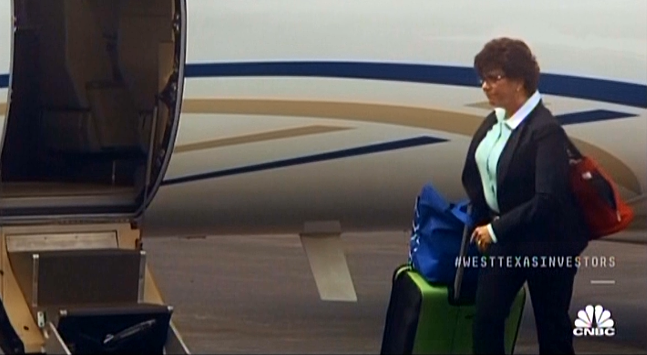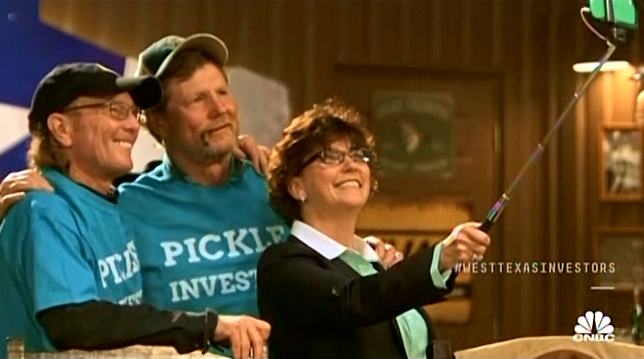 'West Texas' hopefuls wear the same clothes to make their pitch, entertain the offer
Last updated: Wednesday, Aug. 19, 2015
Reviews of early "West Texas Investors Club" episodes below

Instead of making equity investments, perhaps Butch Gilliam and Rooster McConaughey could start with buying their applicants some clothes.

A curious fashion trend is revealing itself through Episode 3 of CNBC's "West Texas Investors Club."

Entrepreneurs are shown arriving at an airfield in business attire. In that clothing, they make a sales pitch. Then they get an assignment and wear different clothes. Then they return to negotiate wearing the original airfield clothes.

Nothing wrong with traveling lightly.

The show strongly implies that the prospectives fly in, are picked up at the airfield by Gil Prather, meet Gilliam and McConaughey, make a business proposal, then change clothes for an assignment at some later time, then return the day after that assignment to negotiate a deal.

But the strange coincidence of every applicant thus far re-donning the arrival clothes for the negotiation suggests it's possible that both the introductory sales pitch and the concluding negotiation are actually occurring after the applicants have already met Butch and Rooster for their work assignments.

It would make sense that some folks wouldn't want to pack an extra jacket.

You'd think a clean shirt wouldn't hurt.

Jack Scalfani in Episode 2 arrived in a red golf shirt and wore the same shirt back for his negotiation. (One slight exception: There is no sign of a cross necklace when Scalfani arrives at the airport, but he is wearing a prominent one for both his pitch and negotiation.)

Rooster McConaughey and Butch Gilliam wear the same clothing for every appearance at the club.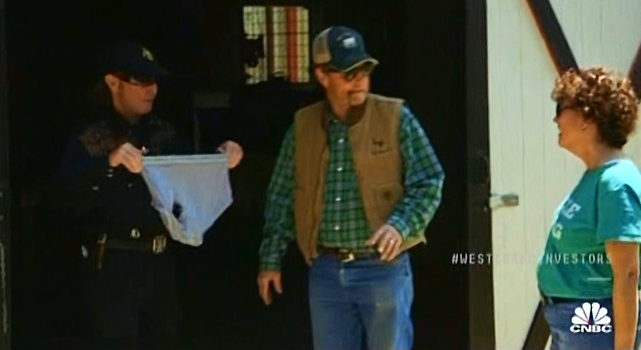 Jenny is spending too much of her time on reality TV (but it worked)
She's not in any pickle.

Jenny Fuller grosses $300,000, her product has been in major groceries for years, and her troublesome previous partner apparently is in the past.

And, she can't adequately explain "exactly" what she needs money for. "This money is to move us forward, and to grow the business ... I've already talked to about 5 different marketing firms ... Facebook apps ..." are her answers.

So it's not clear why she's seeking investor cash for Miss Jenny's Pickles.

But she got it, courtesy of "West Texas Investors Club" frontmen Butch Gilliam and Rooster McConaughey, who couldn't help but be impressed by Fuller's staggering tour de force of their dirty ranch.

The pair ended up paying $200,000 for 35% of the company. (The fact she didn't ask for a higher investment, rather than a lower percentage, is another sign that the money is only part of the endgame of this kind of endeavor.)

Fuller ended up on the program after a "Shark Tank" tryout, an indication she might be a little more excited about publicity than the bottom line.

One thing that might've occurred to her is to get some close-ups of her product/brand on camera, perhaps wear a T-shirt with the logo.

But despite some of the comments on the program, Fuller is a highly savvy entrepreneur. She conceived the idea not when she was laid off as a Morgan Keegan stockbroker, but when her assistant was laid off.

She wisely tested her pickle concept on strangers — and heeded their advice. "Your friends and family lie," she said. "We really appreciated total strangers. They gave great feedback because they have nothing to lose."

Based on Jenny's comments early in the program, she maybe wasn't disciplined about certain big financial decisions. Asked why she's not the "biggest pickle seller in the country," Fuller paused and said, "We learned some hard business lessons. You know, uh, I brought somebody into the business and gave 'em some equity because I didn't have cash to pay 'em."

How that explains soft sales, we have no idea.

This product is one of the staples of the business-reality-TV genre, a niche food item in an enormously competitive space that's made — or hopes to make — a few grocery shelves.

Whether pickles alone can sustain a living for Jenny is certainly unknown.

Regardless. Jenny's a winner. She more than proved herself in a curious assignment (another reminder that few things — whether they are people or machines — are more valuable than something that can clean a place up). Overnight, people are going to start asking for Miss Jenny's Pickles in grocery stores. Now she's got a bankroll, from benevolent investors who aren't exactly going to be hands-on in North Carolina. Mission accomplished.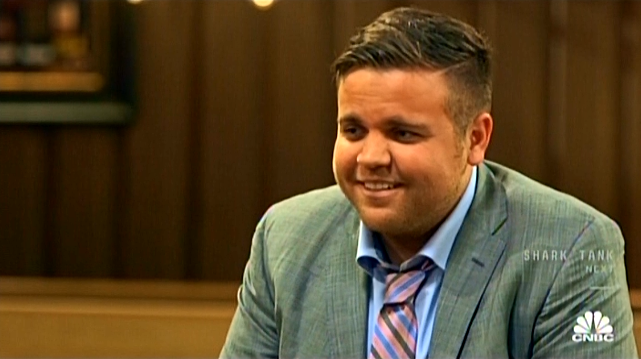 The tail end of Episode 3 of "West Texas Investors Club" featured another curious assignment, this one sending Prestige Food Trucks' "brand ambassador" Jeremy Adams to The Lone Star Bar to sell a bunch of products he knows nothing about (after downing several shots and drinks).

Adams' request, $600,000 for 20% equity plus a million-dollar line of credit at 4%, seems curious given that his business partner has provided all the financing, and Adams' own 50% share is "a sweat deal on my end."

It was never made clear why the business partner wasn't also there or what he thinks of this despite a question to that effect.

Though not the greatest salesman in this episode (why he didn't start at 32 when told he could sell at a price of 30, who knows), Adams prevailed with his honest account of his upbringing and quick grin whenever at a loss for words. Then, he overachieved in his closing description of the value and needs of his business. Gilliam and McConaughey gave him a $1 million loan at 11.5%, after which they get equity.

Oddly enough, Adams says Prestige is "the world's leading custom-food-truck manufacturer," which might put him at odds with one of Marcus Lemonis' subjects, Worldwide Trailers (Lemonis actually declined to invest on the program).

"Club" has Texas charm, but significant portions of Episode 3 felt like filler, namely Jenny's interactions with her hired help and Adams' extended tour of the Lone Star Bar. There's an extensive departure here from the in-depth product analysis of "Shark Tank" and "The Profit." Whether there's room for this alternate approach, only the ratings will tell.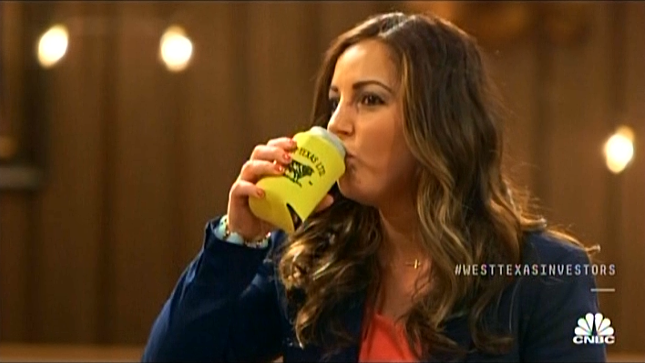 Can you do better
than 150 Wal-Marts?
There was something about Jack Scalfani's barbecue sauce that felt a bit inauthentic to Rooster McConaughey and Butch Gilliam on the 2nd episode of "West Texas Investors Club."

"He's never barbecued before??!" asked Rooster McConaughey.

Scalfani also wasn't totally certain of either his grilling or his margins, which is generally a problem for applicants on these programs.

Butch Gilliam observed, "He's asking for $300,000 and he doesn't know his numbers."

Nevertheless, Scalfani has something going; a "huge cooking show on YouTube." Rooster even admits Scalfani has some fame; he found "there were some people that knew the guy."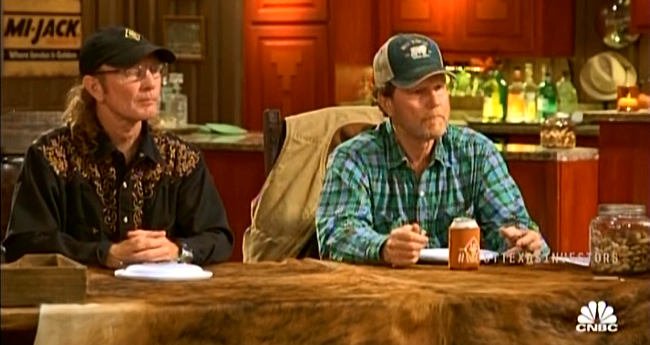 Scalfani, who said his product is in 150 Wal-Mart stores, seemed to have high aspirations. He claimed to be the developer "of the best sauce that you'll ever taste" and proposed a $300,000 investment for 20% of the equity.

He said his "best year" was $106,000 gross.

But he said he makes "between 3 and 5,000 a month" for his cooking show on YouTube that he says draws "a million a half to two million views a month."

However, he doesn't want to sell any percentage of his YouTube show.

After an outdoor grilling contest against a local favorite who refused to shake hands, Jack's sauce seems competitive enough but mortal. Refusing to budge on his YouTube rights, Jack prompted Rooster to ask, "Did you just come on down here to get on a TV show"

"Really? That's not why," Jack said.

Jack insisted he did an "amazing thing" in "breaking down the Wal-Mart wall."

He added, "I am like the only YouTuber that answers every email."

But Gilliam called his proposal a "fantasy," and the West Texas crew said no.

Jack accused the pair of calling him a "liar." They said no. He said their complaints are equivalent to calling him a "liar."

The duo also entertained pretty Desiree Shank, founder of the Future College Fund, a venture that seemed like a fine idea but not much of a defensible business model.

Desiree was almost too nervous to deliver a presentation and sadly admitted, "I'm completely alone." But by the end of the program, she had a couple of partners.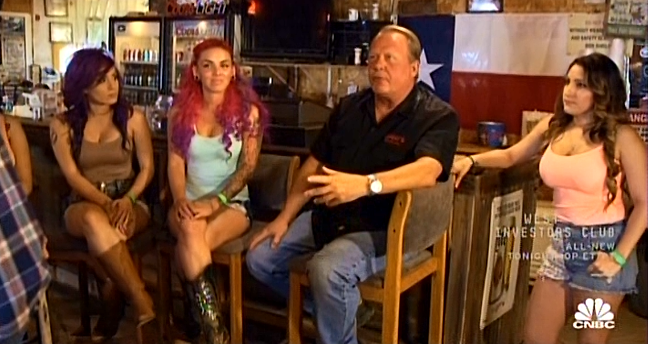 Some waitresses, you just don't wanna mess with
Timing, in many cases, is everything.

CNBC's new reality series "West Texas Investors Club" would be a sure-fire hit had it debuted 5 years ago.

In 2015, there's serious question as to whether the market for investment reality TV is as saturated as that for barbecue sauce.

The show mixes the formula of a pair of CNBC nighttime staples, "Shark Tank" and "The Profit." Like "Tank," it involves an aspiring entrepreneur making a pitch, and no overhaul of the business occurs. But the pitch is to one pair of investors, and as in "The Profit," the show cuts to observations of the principals as to what just happened.

"West Texas" offers a down-home spin on the concept, with drinking occurring during the production and imagery evoking Peter Bogdanovich's legendary "The Last Picture Show." This show features Rooster McConaughey (The Gunslinger), whose various bios on the Web indicate he's a "self-made millionaire," and Butch Gilliam (The Hatchet Man) and their sidekick Gil Prather (The Tenderizer).

McConaughey's screen presence would impress his Oscar-winning brother, Matthew McConaughey, but Gilliam and Prather are equally good on camera, a trio with a heart the size of Texas and likely the business acumen to match.

In the premiere episode, which tends to be the best of this genre, it's Adam Garfield, 27, of Miami, who pitches his SpeedeTab app concept.

Garfield described his product as "a mobile platform that lets people order and pay for their drinks at the bar, their coffee, or even their concessions, straight from their phone."

He said venues pay a "processing fee on each order" which amounts to 2.9% plus 30 cents an order.

As McConaughey and Gilliam pointed out on a couple of occasions, the concept seems better suited to packed upscale urban nightclubs as opposed to Texas honky tonks.

With TV crews flooding a bar called Corky's, apparently a bunch of patrons did use the SpeedeTab service. But it was Garfield's winning persona and the background check of other SpeedeTab clients that sealed the deal.

Esther, a server at Corky's, said Garfield "seems a little preppy." And in fact, Garfield seemed most unprepared for the concerns about eliminating waitress jobs, which is what his app is driving at.

Garfield in some ways bungled his audition. He should've shown up in Paul Bond cowboy boots and put the "Urban Cowboy" soundtrack on the jukebox. Instead of just shrugging when the app went down, Garfield should've been going table to table and writing down orders.

Regardless, Garfield, who said he has put $120,000, his life savings, into this venture, is going to succeed, if not with this product than with something else. Gil pronounced Garfield a "pure winner."

While everything ended in smiles, it feels like investments at this stage of a company should involve a little less negotiation.

Another pitch was made in the closing moments of the episode, by Christy Chang and Amy Pepper, who are selling the No Touch Pen for those who don't want germs from public computers or ATMS.

Christy Chang said "70% of the ATMs was found to have e. coli."

Chang at one point told Gilliam, "I know you like Heineken," a strange comment for this particular program. (Also, it's unknown why Christy was wearing a badge of some kind.)

The West Texas crew politely told Chang and Pepper that they didn't think the No Touch Pen is an investable concept now.