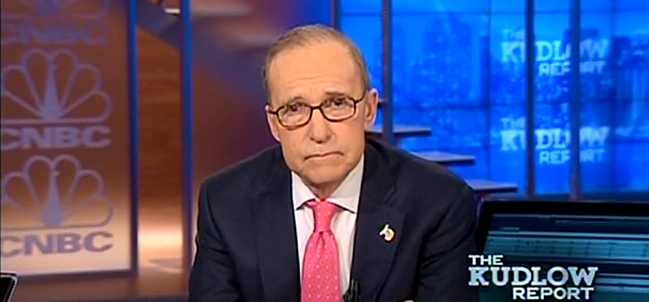 'A 2nd chance in life' —
Larry Kudlow signs off
with powerful statement
Posted: Sunday, May 4, 2014
Larry Kudlow's remarks from the final episode of "The Kudlow Report," Friday, March 28, 2014:


Let me just take a moment to say a few words of thanks, and gratitude and humility. To all the viewers and well-wishers who have e-mailed and tweeted so beautifully and wonderfully, I am humbled, just in the last couple days.

It's been my honor to host this show for the past 9 years. Before that, with my great pal Jim Cramer for 3 years, and let me say how wonderful Jimmy was when he came on last night.

Now you know my credo: Free-market capitalism is the best path to prosperity. And let me add to that. From our Founding Fathers, our Creator endowed us with the inalienable rights to life, liberty and the pursuit of happiness. In other words, freedom. Freedom to work, invest, take risks, and the freedom to get rewards and incentives that motivate us all. It is freedom that makes this the greatest country in the world. And it is freedom that so frequently keeps me on the optimistic side of life.

Down through the years we've always tried to represent all points of view on this show, left, right and center, in what I hope was a civil and respectful way, I have tried to listen and learn and debate both my liberal and my conservative friends. Civil discourse on the issues of the day is what we always tried to do, and salted with some financial market advice, which I sometimes got right, and sometimes got wrong.

I'm also proud to have recruited some of the best minds to be our expert guests, many of 'em had never been seen on television before. Now, they're going on to their own bright careers, and makes me proud.

Finally, I want to thank this network. Not only for the privilege of hosting this show, but for giving me a 2nd chance in life, that resulted in a new career. This from a guy who nearly 20 years ago was completely shipwrecked on a sea of hopeless alcohol and drug abuse. And I went away for a long time, and with the help of many people, I learned to replace addiction with faith. And it is that faith that guides me every day.

Again, let me thank all the viewers who have stayed with me down through the years, and all who have wished me well. I am truly grateful. And I will be beginning a new chapter as a senior contributor here at CNBC. It is the place where I call home. And to all of you out there, as always, thank you, and God bless you. We will be right back. And I am, a blessed person.

Postscript:

As I said before, I am a grateful camper. I really am. The Lord has blessed me, with a beautiful bride, a great life, 2nd chance, a new career, some wonderful friends, and some of the best debates on TV that there ever was ...

The guest list: Mike Holland, Steve Forbes, Mitch McConnell, Jared Bernstein, Jim Pethokoukis, Steve Moore, Robert Costa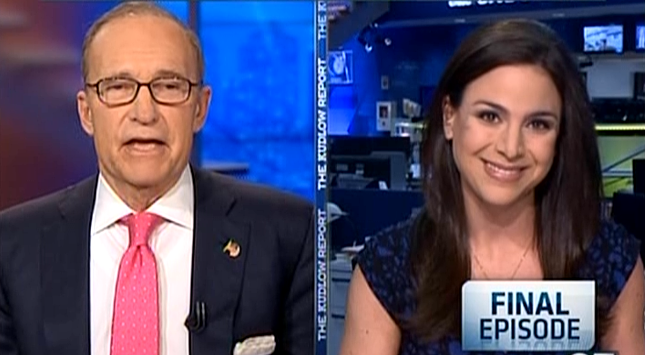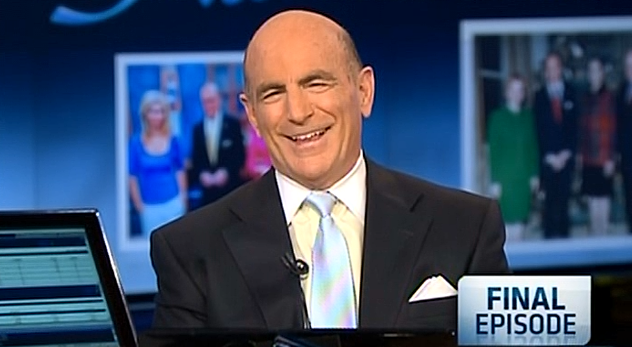 Jackie DeAngelis: "It's been a pleasure reporting into your show. Thank you so much for having me on all the time and always being such a gentleman. I look forward to hearing your insight earlier in the day, on all our other shows."

Mike Holland: "I've known this guy for 35 years. Every time he changes something ... it's really exciting. I am so excited for the next part of his life."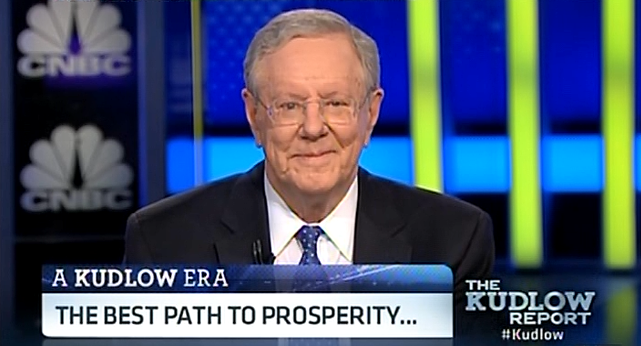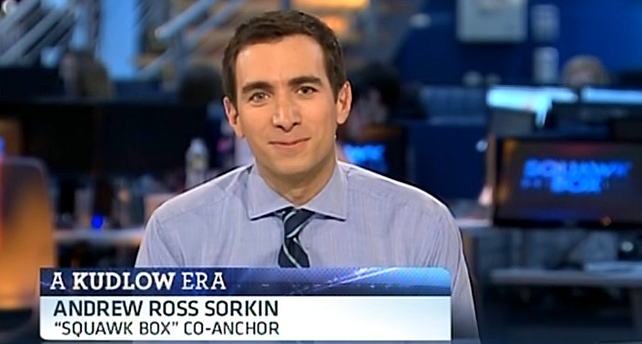 Steve Forbes: "Happy warrior for freedom ... Leading light."

Andrew Ross Sorkin: "I gotta thank you, I don't know if you realize this, but you and Jim Cramer were the first people to ever put me on CNBC, when I had no business ever going on television. ... I am tremendously grateful."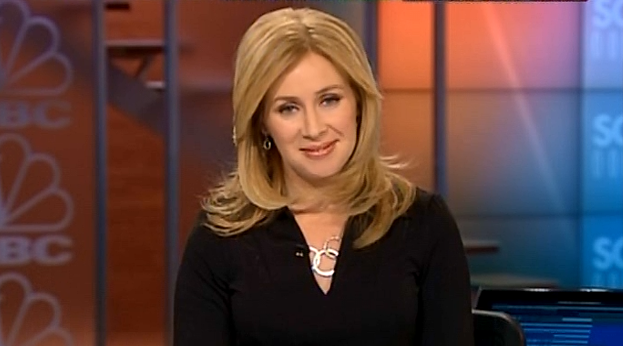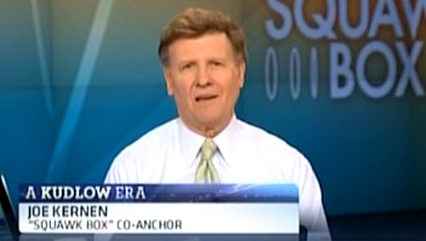 Becky Quick: "We're looking forward to seeing a lot more of you Larry right here on 'Squawk Box.'"

Joe Kernen: "We're soulmates, we never had to drink any, uh, any of that, that Kool-aid, because it courses through our veins, the free-market Kool-aid. We go back so far, and I know you remember when Penelope, uh, brought you on, uh, 'Squawk Box,' you- you had many times said that- that restarted your- your career, and was the beginning of the huge comeback, which was just magnificent."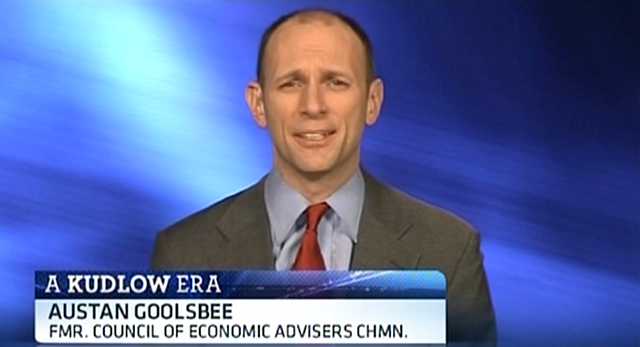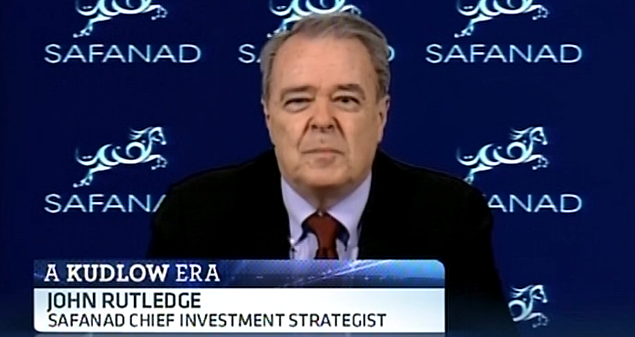 Austan Goolsbee: "Larry, you're a legend, you're one of a kind, one of the all-time greats. We've gone up against each other many times, and I always enjoyed it, and I always learned something from you. And I hope wherever you go and whatever you do, you have the greatest, greatest time, because you've been a fabulous host, and, and, and, really exciting show. Been quite a run."

John Rutledge: "There's only one Larry Kudlow. And Larry is the foremost spokesman for free-market capitalism anywhere in the world. We're gonna miss him, and this show has made a huge difference in the markets and in politics, uh, for the whole time it's been on."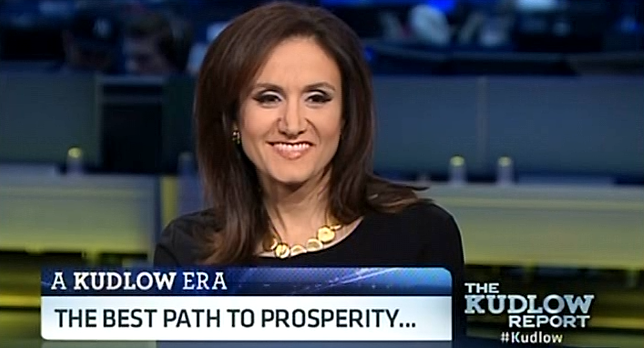 Michelle Caruso-Cabrera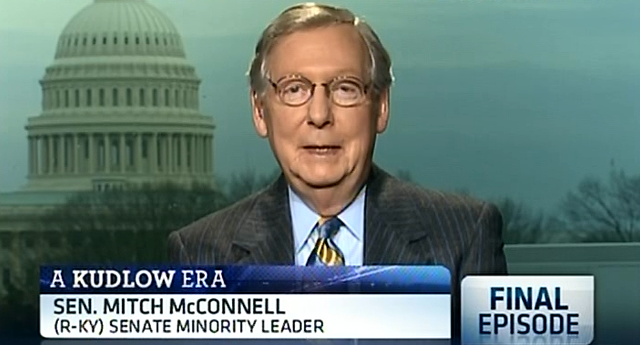 Mitch McConnell: "I'll miss this show; I think it's been great."

Art Laffer: "You and I have been partners for years and years, doing lots and lots of adventures, and I'll assure you this one is not our last. As you've said to me many, many times, 'Art, stick around, there's a lot more work for us to do.' I'm there with you Larry, Semper Fidelis, your old friend, Art Laffer."

Seema Mody: "My very first hit on CNBC was with you Larry and I was admittedly nervous, but, you made me feel right at home. Thank you so much for all your support. You've been a mentor, a trusted friend, and a role model."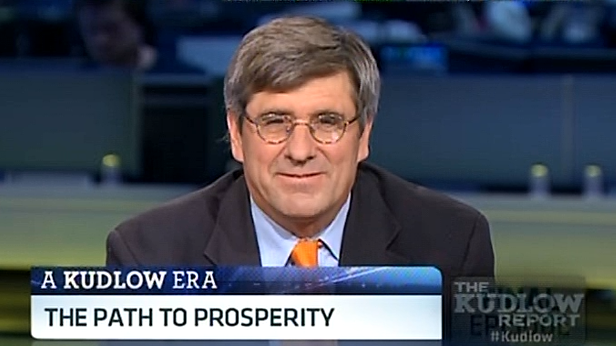 Steve Moore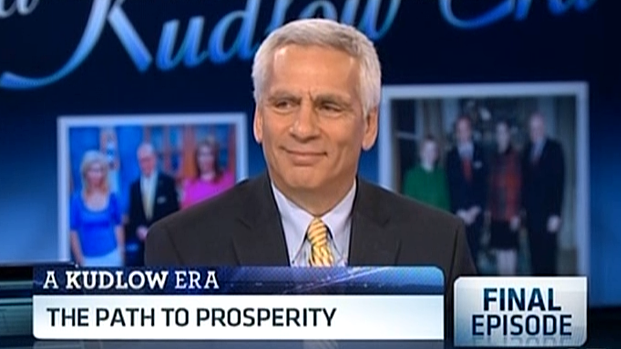 Jared Bernstein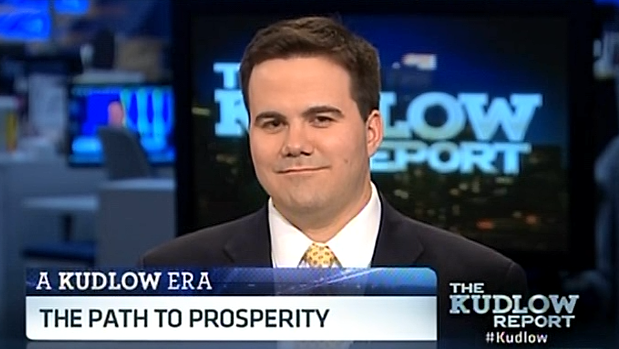 Robert Costa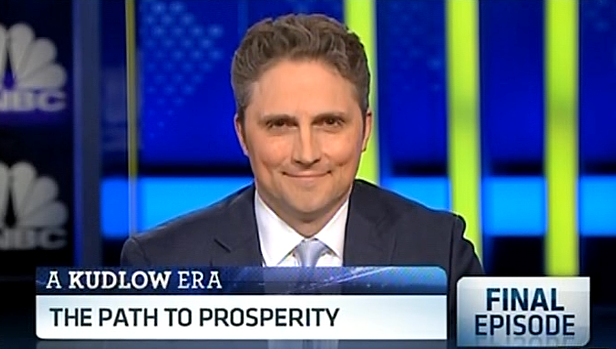 Jim Pethokoukis

Steve Moore: "Larry, you're a living legend. Nighttime TV will never be the same without you. And never forget that the best path to prosperity is free market capitalism."

Jared Bernstein: "I feel incredibly privileged to be here with you because, uh, of all the folks that we've had on the set in our discussions, I'm the one that disagrees with you and with them the most, and the fact that you've continued to come back and have these, uh, arguments with me is, is a testament to, uh, just, uh, how- how, how you're able to disagree without being disagreeable, and you don't see that a lot in this town."