[CNBCfix Fast Money Review Archive — May 2014]
[Wednesday, May 28, 2014]
Grasso: Split is AAPL top
Steve Grasso declared on Wednesday's Fast Money that "the split is probably the top, near-term top, of Apple."

Melissa Lee invoked rare editorial commentary on the part of the host, calling the Beats deal a "head-scratcher," which was questioned by Guy Adami, who said "it makes a lot of sense" in terms of the "cool factor."

Karen Finerman said she agreed with Guy and pronounced the price as irrelevant to Apple's ability to do other deals.

Dan Nathan said he expects hate via Twitter in opining that Apple is reaching, and there's "a lot of odd things going on here." Nathan suggested the announcement this week might foreshadow a lackluster WWDC, so "maybe next week is the sell the news."

Brian Blair called the Beats deal "an admission that Apple did a lot of things wrong," contending that "Apple had enough of its own cool" and didn't need to buy some.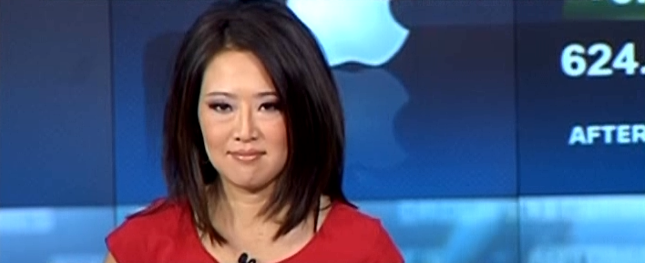 Even Rick Sherlund doesn't
know what Satya meant
Dan Nathan on Wednesday's Fast Money pronounced TWTR an appealing sentiment trade and reaffirmed that he got into the calls. Steve Grasso echoed that sentiment but said he resisted buying more on Wednesday.

Guy Adami said he thinks LNKD is technically promising.

Rick Sherlund said "the consumer is very weak" for Microsoft, so "it's not exactly clear" what Satya was talking about at /code regarding building something "big."

That prompted an "at the end of the day" from Melissa of all people, but she looked great saying it, and our offer of a night of dancing still stands, so we'll let it go.
Dennis Gartman thinks as stocks go higher, funds will sell more of them to buy bonds
Honestly, we often can't figure out why Dennis Gartman is making regular appearances on Fast Money.

Wednesday, Gartman got grilled by Melissa Lee as to how, as Gartman suggested, pension funds can dump equities to buy bonds and the market can still go higher. Gartman said "because there's plenty of money out there."

Dan Nathan tried to convince Gartman that buying TLT puts was a smart move. Dennis said Dan is welcome to try that, but it reminds him of the guys trying to short the JGB 20 years ago.

Karen Finerman said DSW "traded like a failed Phase 3 drug trial." Nevertheless, Finerman called this otherwise a "great company" and said she "dipped my toe in the water" with a "tiny position."

Guy Adami said the KORS reversal was impressive, and he thinks it goes higher.

Dan Nathan said he's got a bearish put position going in COST and has thus "defined my risk."

Nathan observed that "something's wrong here" in Yahoo, given that the valuation doesn't seem to reflect Alibaba, and that Karen Finerman is playing Alibaba through Softbank rather than YHOO.

Steve Grasso said that if he were long STJ, he'd stay long.

Karen Finerman said to expect a "long fight" in AGN.

Dan Nathan said he "wouldn't touch" a name such as WDAY because he thinks that space is in a downtrend of lower lows.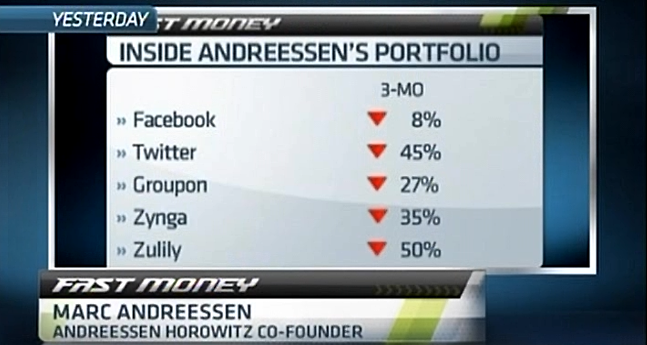 Like we said a day ago, Fast Money really likes showing Marc Andreessen's 3-month performance
The star guest of Wednesday's Fast Money was Regis Philbin, who got a call from David Einhorn, who said hello and then pronounced MU consensus estimates "dramatically too low."

Steve Grasso suggested that MU has gotten ahead of the DRAM chart, so he thinks it could pull back.

Meg Tirrell said that 45 million men have taken Cialis, and that "more than half" of men over 40 have erectile dysfunction. (Eventually, Guy Adami got a dig in at Philbin.) The point of Tirrell's report was to explain that Sanofi and Lilly are trying to sell Cialis over-the-counter, so folks don't have to ask their doctor about it (which hopefully will bring an end to much of the material that ends up in our inbox).

Karen Finerman said MCP debt is trading "horribly," then advised Philbin to take a tax loss and buy it back in 31 days.

Philbin said his Final Trade was buying CAT, but the screen said his advice is to sell it. Steve Grasso said buy TWTR with a 29 hard stop. Dan Nathan said TLT July puts. Karen Finerman said DSW, and Guy Adami said CSCO.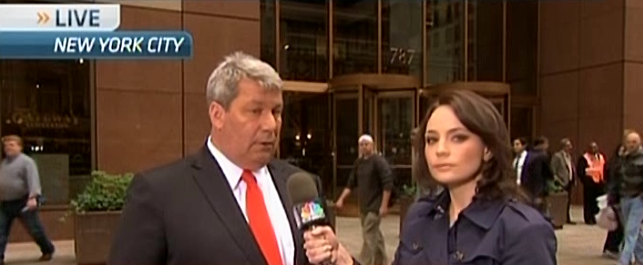 Home run for Meg Tirrell
Pharma reporter Meg Tirrell joined CNBC just at the right time, delivering a big score with Valeant's J. Michael Pearson on Wednesday's Halftime Report.

Pearson told Tirrell that a higher offer might've already snared Allergan, but his company is going to be disciplined, and that they won't make another offer until Allergan sits down with them (translation: if Allergan is at all interested, this is getting done at a higher price).

Steve Weiss cautioned that Valeant is a "roll-up," and that Chanos has pointed out that roll-ups don't end very well.
Judge missed a chance for interesting TWTR debate
Evidently, it's kind of a humdrum affair.

Paul Meeks told Judge on Wednesday's Halftime Report that of the announcements at the /Code conference, "Nothing really uh surprises me, either upside or downside."

Bob Peck said we're entering the "post-post-PC" era, and then made the case for TWTR being a buy because it doesn't need to be FB to succeed.

But Meeks, who likes GOOG and FB, dismissed TWTR, calling it "egregiously" priced upon the IPO, and while it's come down, he thinks it's still "drastically priced," and most of all, it's locked in a battle with FB for the same space.

Pete Najarian said it's all about the chips, SNDK, MU, QCOM, and like Meeks defended FB while expressing skepticism about Twitter's engagement.

At the end of the show, Peck got in a dig at Meeks that should've occurred earlier when Judge could've set off an intriguing debate, stating he talks to the advertisers regarding TWTR and FB, and the stocks are in "different buckets."
TradeMonster merging
In the biggest story of the day on Wednesday's Halftime Report, Pete Najarian explained that General Atlantic is merging TradeMonster with OptionsHouse, a couple of "best in breeds" in the online brokerage space.

OptionsHouse, we learned in this article, was founded by Peak6 (the shop of onetime Fast Money regular Jared Levy (we don't know if he's still there).) According to the article, TradeMonster is praised for its combination of simplicity for beginners and tools for experts but criticized for higher trading fees.

Regardless, congrats to the Najarians; hopefully the merger is a hit.

Diana Olick reported on TOL earnings and said one of the magic terms, "pent-up demand" (Drink).

Stephen Weiss told Bill Pulte about the housing market being a "bifurcated" one.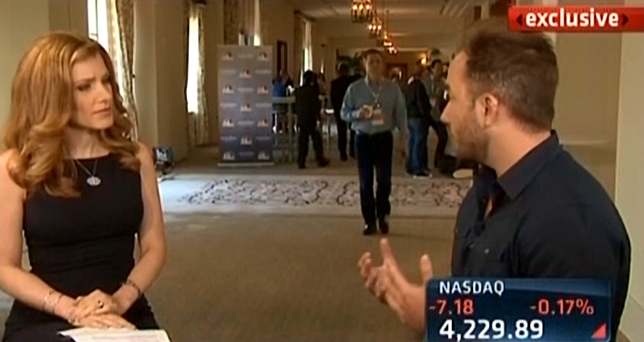 Weiss: MDSO a 'great story'
Dr. New World contended at the top of Wednesday's Halftime Report that the 2.44% 10-year amounts to a "speculative game" that a lot of people have missed.

Steve Weiss pointed out that Gundlach floated 2.40% at Sohn, so maybe that's where we go.

Weiss said people really do buy shoes online, so DSW is seriously challenged, and he still thinks the stock is pricey, but after that kind of slam, it's interesting.

Joe said the MCD capital plan isn't enough to elevate the stock beyond 103 or 105.

Dropbox chief Drew Houston (pronounced "HOWS-ton") sat down at the /code conference with freshly-back-from-leave Julia Boorstin, who is even more gorgeous than previously (if you can believe that) and revealed that she uses Dropbox for photos. Houston, meanwhile, insisted his company won't get wiped out by the biggies because it starts by appealing to consumers, who then use it at work.

Pete Najarian endorsed MSFT (Zzz) and HPQ (Really ZZZZZZZZZZZzzzzzzzz) and then RHT (getting better). Joe mentioned EMC and SAP (yawn), and also CKP.

Stephen Weiss said "Dropbox has created a moat right now."

Weiss said MDSO got punished by the PFE-AZO fallout but he's long and thinks it's a "great story."

Pete Najarian said July 60 calls in IR were hot.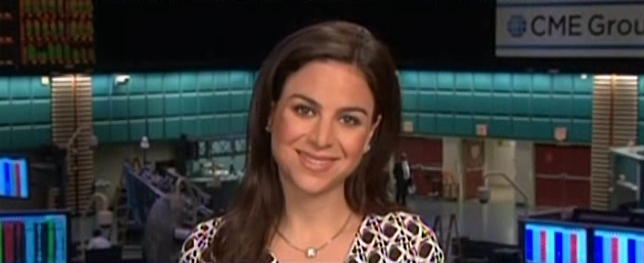 Weiss: Sell WLT
Pete Najarian asserted on Wednesday's Halftime Report that KORS is not only regularly beating, but continues to get stronger worldwide.

Herb Greenberg (haven't seen him for a while) said he was wearing a Michael Kors shirt and owns a lot of KORS clothes but that he is increasingly getting them at a discount at Bloomingdale's, and then stressed that high margins might be challenged.

Mr. New Land said the KORS inventory number was a bit high.

Scott Nations redefined for viewers what the VIX is and then concluded, "the VIX is probably where it should be." Anthony Grisanti pointed out that the market didn't really correct over Ukraine or poor housing numbers.

Neither Nations nor Grisanti complimented Jackie DeAngelis on her stunning new dress, so this page will.

Stephen Weiss called WLT "extremely more expensive" at $5 than it was at $30 or $40 and called it a sell as his Final Trade. (Boy, from 2006 to about 2012, that thing was a buy on every dip according to the Fast Money gang.) Pete said long MCD, and Mr. New Land said APA.
[Tuesday, May 27, 2014]

CNBC's graphics gremlins sure liked showing that 3-month chart of Marc Andreessen's holdings
Reporting live from California on Tuesday's Fast Money, Mel had everything working at the VMWare campus in Silicon Valley — including air quotes for "old technology," the quotes being delivered with a nod to the camera as though Melissa is aware people pay attention to that — and elicited from VMW chief Pat Gelsinger that there won't be a reunification with EMC (for those holding their breath), while Dave DeWalt this time dodged a scolding from Brian Kelly.

Perhaps we can make it up to Mel for the air quotes observation by pointing out she looked dynamite in the foxy white dress she packed for her latest western trip, and new hairstyle, and our offer for dancing still stands.

We'd kinda like to see DeWalt taking over, say, the Jacksonville Jaguars, just to see what happens, but we're not sure if football is Dave's niche.

Mel's star guest was Marc Andreessen, who raised a good point about indicting 5 Chinese military brass; "are we gonna dispatch SEAL Team 6 to go get these guys?"

Andreessen put a 20-year timeframe on bitcoin, as though anyone will even remember it in 2033.
Tim Seymour claims he can already turn on his thermostat with his iPhone
Peter Misek told Tuesday's Mandy-led Fast Money that he's "pretty excited" about Apple, primarily because of the next iPhone and its larger screen.

Dan Nathan credited Walt Mossberg for reporting on Re/Code that Apple is breaking with its past and suggested that iMessage must be worth a lot based on WhatsApp. Misek said iMessage is worth a lot, but the new phone is what moves the needle now.

Tim Seymour revealed he bought AAPL on Tuesday and lamented that he previously bought at 525 and sold at 592 (that's a backdoor Brag Trade, only the 3rd time we've heard it).

Guy Adami likes AAPL but conceded the potential of "double tops" from 2012.

Guy Adami said "this is a fade" in WDAY, like the recent YELP trade. "I wouldn't be getting long here on this rally," Adami said.

Dan Nathan said you shouldn't touch DDD until it has a "4 handle" on it.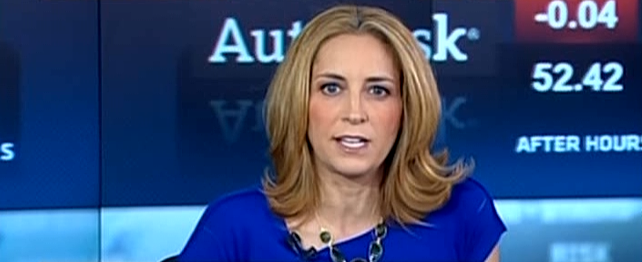 Karen gets new hairstyle
Tim Seymour contended on Tuesday's Fast Money that the S&P is at a point where you "think about throwing some shorts back out there."

In the most predictable comment of the day/week, Dan Nathan said of the S&P 500, "I don't think you buy it here" ... and then, in the biggest treat of the year ... mentioned "bifurcated market" (Drink).

Karen Finerman said long S&P vs. short IWM "has worked, until very recently."

Guy Adami crowed that IWM bounced off his 107 level and "wants to trade" up to 115.

"Gold's going to 1,200," said Tim Seymour.
'A lot' may think ARO is a zero, but not John Jannarone in a recent Fast Money appearance
Karen Finerman, never one to express a negative word about BAC or JPM or C, said on Tuesday's Fast Money that she thinks the BAC capital-plan selloff was "overdone" and she hopes the slide is over.

Guy Adami predicted SYMC gets to $23 or $23.50.

Tim Seymour said of ARO, "A lot of people think this is a zero."

Dan Nathan warned against "bottom-fishing" in SPLS. Karen Finerman would've pointed out that Staples is the 2nd-biggest online retailer, except Karen was asked instead to explain why NADL had a very good day thanks to Rosneft.

Mike Khouw said May weekly 90 puts in KORS were hot. Karen Finerman said that maybe KATE's great results are priced into KORS.

Tim Seymour's Final Trade was TBT. Dan Nathan said long TWTR September calls. Karen Finerman said NADL, and Guy Adami said JBLU.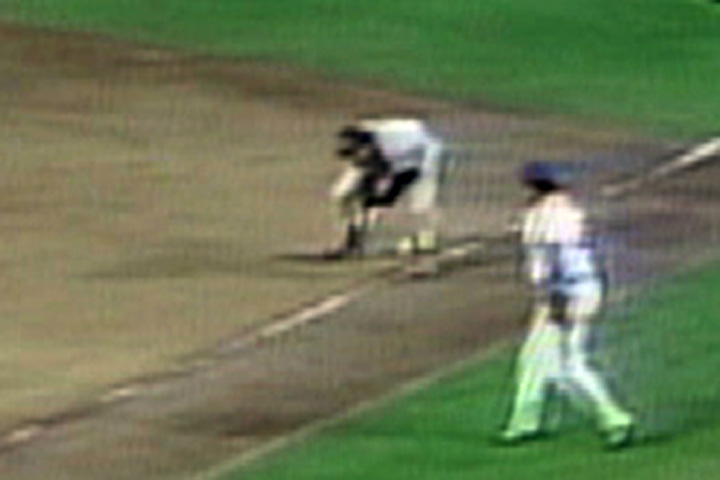 Joe needs to get his act together, recruit ringers for the ballclub like the savvy teams do
Josh Brown admitted at the outset of Tuesday's Halftime Report, "Today's action is totally inexplicable. I'm at a complete loss."

But Brown added that he's noticed the "lack of volume" despite gains. (#reachingforwhat'salwayslastbearishargument)

Dr. New Land revealed he's in a "cranky mood for multiple reasons," including, "I had someone run up the score on me in Little League baseball."

"Guys like me are expecting the pullback," Joe admitted, but it's not happening, so we're in a "chase the tape" scenario.

Steve Grasso, who has handled the strength in the May stock market like Bill Buckner handled that ground ball in Game 6 of the 1986 World Series, scoffed at the rally; "you don't wanna buy into it," and added that you have to see 1,925 on the S&P 500.

Grasso said he'd sell banks and buy energy.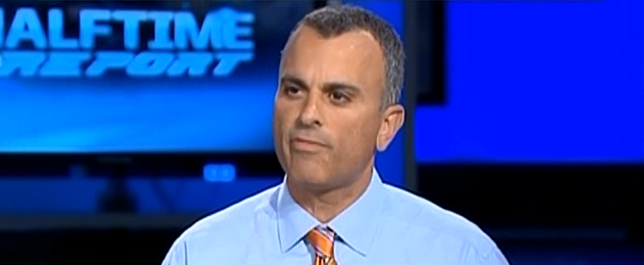 Pete's portfolio
should scare no one
Nothing gets this page's fist pumping more than when Dr. New World gets his mojo risin'.

Unfortunately, Tuesday's Halftime Report was close, but not quite a cigar, as Joe struggled to articulate how his 40% (or whatever it was) exposure to the market is going to pay dividends whenever.

The conversation had a rocky start when Joe and Judge bickered over how active Joe has been in the 2014 Playbook Playoffs before Joe declared, "This isn't a game to me," and then made a reference to rising rates and asserted, "I have a plan." (Joe's Playbook portfolio picture appears to be about 10 years old, but who's counting.)

Joe explained that he's looking for growth to "accel-kerate" (sic) in Q3.

Judge tried to bait Joe into a Playbook showdown with Mike Murphy. Joe, gentlemanly as always, resisted trash-talking but claimed, "I'm more concerned with Pete."
Carl thinks private meetings with management accomplish nothing but constantly mentions dinner with Tim Cook
Rick Rieder proclaimed on Tuesday's Halftime Report that "there's not enough financial assets in the world," and that world financial conditions "are extraordinarily easy."

Rieder predicted a "fairly low rate phenomena for a while," and said high-yield credit will continue to work.

Judge chipped in a "fundamuntal" (sic) in the Rieder conversation.

Meanwhile, Sarat Sethi joined the group and pronounced a lot of value in large-cap tech.

Sethi even invoked a favorite term of Gary Kaminsky, referring to how the "closet indexers" provide a tailwind behind AAPL shares.

Joe admitted he's focused on Carl calling AAPL a $630 stock way back when.

Sethi said we're in the "4th or 5th inning" of the auto-parts cycle.
Dennis Gartman apparently issued
a correction to his correction
Mr. New Land asserted on Tuesday's Halftime Report that PFE would right itself after this bungled, knuckle-headed AZN gambit.

But Stephanie Link said Pfizer faces a "big hole" from generic "compechi- competition," then admitted, "I'm confused" about what Pfizer is trying to be.

Judge said to vote for "eye-ther" (sic pronunciation of choice) the hashtag bull or bear. And if you're so inclined, you can squeegee Judge's windshield after helping him out with your texting vote.

Jeff Kilburg told Jackie DeAngelis, "I think gold goes higher from here." But Jim Iuorio asserted "the bears definitely seem to be in charge" of the gold market.

In what had to be the line of the show, DeAngelis promised that Dennis Gartman would deliver a "correction to his correction" on Futures Now.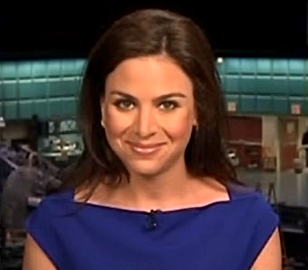 Relax, take a moment to appreciate just how astonishingly good-looking Jackie DeAngelis is
Mario Gabelli on Tuesday's Halftime said that at the moment, "it's clear" that Pinnacle should take the breakup fee for its pursuit of Hillshire and let Hillshire try to wring $47 out of Pilgrim's Pride. "Maybe the Hillshire shareholders will get another buck, a dollar or so improvement on the price," Gabelli said.

Pete Najarian, who makes a living on detecting unusual options activity, observed that HSH options had much heavier than usual volume last week, which he said give you an idea of the "leverage" out there and "what's going on in the markets."

Josh Brown said he likes AMAT because if the shares can break above "21ish," then "there really aren't any sellers here." (Yeah, sure.) Steph Link prefers LRCX.

Dr. New World had the audacity to wonder "who did my makeup" for his horrid RAX bear call on May 13, then insisted "competition is crushing them" and if they can't find a buyer forget it.

Josh Brown said CTXS is the "most interesting" name in the Barron's list of takeovers.

Pete Najarian said it "would make some sense" that someone would want to buy ALK.

Josh Brown's Final Trade was AMAT. Pete Najarian said S. Joe Terranova said AET. Stephanie Link said AXP long.
[Friday, May 23, 2014]
Dan Nathan had to admit on Options Action that he got his 'face ripped off' on his NFLX short
Trulia chief Pete Flint, the star guest of a pointless Friday edition of Fast Money (start selling ads and revive Money in Motion), said he's seeing a lot of housing inventory come on the market, but new homes are slower.

Guy Adami told Flint that the short interest in his stock suggests the space could become "commoditized." Flint insisted his company has built a big base, including relationships with "thousands and thousands of brokers across the U.S."

Tim Seymour said of TRLA, "the stock actually has traded very well." Doc said Stevie Cohen was adding recently to Trulia in the last filing. Guy Adami, despite his barriers-to-entry concerns, said, "I think there's more beta in Trulia right now."

Guy Adami said HD at 79.25 is a buy.

Steve Grasso contended that KBH is "not really that expensive" and is heavily shorted.

Doc mentioned one of Mr. New Land's previous favorite names, LPX, and said it "could have a nice run."

Doc said someone bought big in the July 67.50 FB calls, and he went in with it.

Steve Grasso referred to TWTR as a "damn thing."

Guy Adami maintained that if you're buying HPQ at 33.75, "you're buying hope," and he would recommend a sell.

Tim Seymour said he would be on the "probably sidelines" in HPQ because he thinks it might have lost its mojo.

Steve Grasso said of GOOG, "I still think you buy the stock."

Doc stated that he's an Amazon Prime subscriber, but the problem with Fire is, "This product, not enough people wanted it," so they had to "give it away."

Tim Seymour called FL worth a nibble.

Doc said "I'd stay away" from ARO.

Guy Adami said WWE "might be a buy right here," then took ribbing from Mel over his dividend debate with Kevin O'Leary.

Steve Grasso said wait for BRCD to close above 8.79.

Tim Seymour said Russian biggies consider U.S. sanctions "the equivalent of a political Oscar."

Mel said she'll be interviewing Dave DeWalt next week.

Tim Seymour's Final Trade was to sell IBN. Doc said RAD, Steve Grasso said KBH and Guy Adami said to buy ORCL.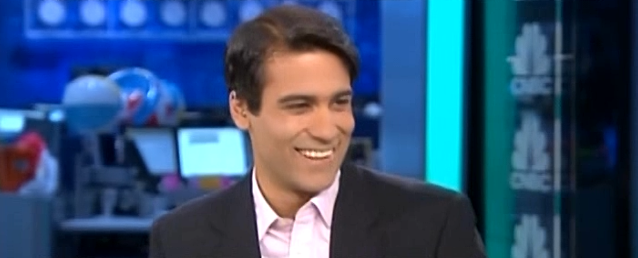 Facebook outperform: Despite being Winklevi acquaintance, Divya Narendra impresses on Halftime Report (but Judge still won't ask anyone if WhatsApp is a good buy if it only cost $5 billion)
Divya Narendra, friend of the Winklevi (don't hold that against him), visited Friday's Halftime Report for an impressively eloquent conversation about the status of tech stocks.

Narendra said this has been a "choppy" year for the space, but blessed GOOG and FB. (This writer is long FB.)

Dismissing Barron's thoughts on this sector, he even knocked the financial mag for saying "Facebook was worth $10 a share" last year, so he's not sure it's the "best source for valuing tech stocks."

Narendra suggested Twitter needs to "pitch their story a little bit better." Honestly that sounded too kind; we just think they need to start making money, and that the prospects for that remain a bit dicey.

Narendra spoke about Sumzero's "top idea" contest with "exclusive sponsor" FactSet; we don't know much about it (apparently there are several contests), but given his presentation, sounds like a quality event.

Mike Murphy said you can own homebuilders though he'd prefer to get them lower. Pete Najarian stressed that builders are "trades."
Putin plays options?
Does he 'measure risk'?
It was Make Fun of Jay Carney Day on Friday's Halftime Report, as Pete Najarian pointed out that the RSX June 27 calls were hot, and he's buying.

Josh Brown said other markets besides the U.S. are working, specifying India.

Doc insisted he wasn't overdoing it on IBN, and chided anyone who thinks Vladimir Putin is only long Russian equities, suggesting they "talk to a friend at the NSA."

But "I think there's more upside here," said Mike Murphy, than in markets abroad.
Dick's golf results
getting a lot of traction
Pete Najarian on Friday's Halftime Report mentioned the "bugaboo" of golf at Dick's, and called FL "still very cheap."

Mike Murphy called WFM "much better" than TFM.

Josh Brown said it's "kind of funny" that ARO is blaming the weather, and said "at the end of the day" (Drink) for the 2nd time in the show's brief early moments.

Doc contended that GME still has "room to run."

Pete Najarian hung another 36 and possibly 40 on HPQ, then said you can "contribu" (sic) the earnings growth to the printer section, and struggled to say "Meg Mit- Meg Wi- Whitman." Mike Murphy said "I would not be buying the stock here" because sales are declining for 11 straight quarters.

Josh Brown said sluggish HPQ sales are factored into the shares and asserted management "has time to figure that out."
Pete: Penny stocks 'scary'
Judge curiously delved into penny stocks on Friday's Halftime, prompting Josh Brown to say that people want to speculate in marijuana stocks, which aren't on big exchanges and account for intensifying interest in penny stocks.

Pete Najarian called penny stocks a "scary area."

Mike Murphy said hopefully those trading in penny stocks are only using a "small fraction" of their portfolio.

Mike Santoli said "it's very easy and cheap" to trade penny stocks these days, and the sector has some legitimacy from FNMA and other known names trading in "OTC mode." (Oddly enough, this writer is long FNMA, basically because Josh and Joe said a couple months ago to sell it at $3.75 (it's north of $4.30 now) #shoots #scores.)

Santoli said bubble potential exists in "riskier parts of the credit market."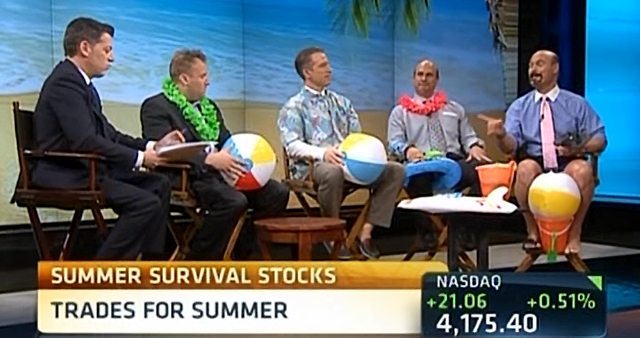 Ridiculous
Stephen Weiss dialed in (who knows why) to Friday's Halftime to tell Judge he's adding to his irrelevant Playbook Playoffs Portfolio OCN, a stock he said has gone from "overloved to way underloved." Why Judge gave Weiss the run of the program, who knows.

Pete Najarian explained that if he was going to make a move in his portfolio, he would probably sell a dog such as BZH.

Judge set up his panel in an utterly ridiculous summer trade feature; we might've listed their recommendations if they had only one apiece, but sorry, not buying it.

Jon Najarian's Final Trade was IR, Pete Najarian said NKE, Mike Murphy said ARII and Josh Brown said to "avoid penny stocks at all costs." (What's the cost of avoiding them?)
[Thursday, May 22, 2014]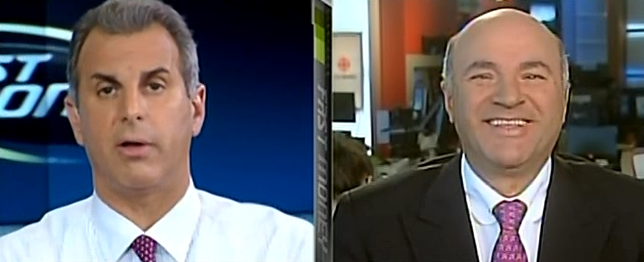 Why in the world would
Guy Adami have to apologize to Kevin O'Leary?
Talk about conceding.

We couldn't fathom why any CNBC show would want to bring on the insufferable Kevin O'Leary, but evidently, as we learned Thursday, O'Leary recently had a dividend snit with Guy Adami of all people on a recent Closing Bell.

Introduced Thursday as though O'Leary was coming down to the Nasdaq (he didn't), Fast Money pitted O'Leary and Adami again in an extended conversation ... and we have to admit, it was pretty good.

Except that Guy botched it like Kevin Cogan in the 1982 Indianapolis 500, deciding to argue not just his original valid point that dividend-paying stocks can decline, but that the 10-year is safer than dividend-paying stocks.

Much worse was that for some God-forsaken reason, Adami actually told O'Leary that "I'll apologize to you absolutely" if Treasury yields do indeed spike.

O'Leary argued, "If rates go back up to 4%, the 40-year average, you're gonna be dead in the water, down about 18% on that bond."

Guy made a fine point about risks of stocks that pay healthy dividends.

But we'd have to side with O'Leary that names such as XOM or MSFT (he didn't mention those specifically) are more appealing than a 10-year.

"It's going to be blood in the streets my friend when rates go back up," O'Leary told Adami.

Mel unfortunately nodded a bit immediately after asking O'Leary a question.
Proposal that should pass:
Please no more Oculuses
Karen Finerman opined on Thursday's Fast Money that it's "sort of funny" that a Facebook shareholder submitted a 1-share, 1-vote proposal that won't go anywhere because of the supermajority. (This writer is long FB.)

(See below for how Judge went to sleep at the switch on this subject at Halftime.)

Guy Adami predicted "Facebook goes higher from here" while admitting again (Drink) that he didn't see it trading down to $55.

Amit Daryanani, who has a $36 target on HPQ, said "it looks like outside of PCs, nothing was really improving for them."

Guy Adami said "it's all about revenue growth at this point" and called HPQ a sell. Steve Grasso agreed that "at this point, you gotta take profits."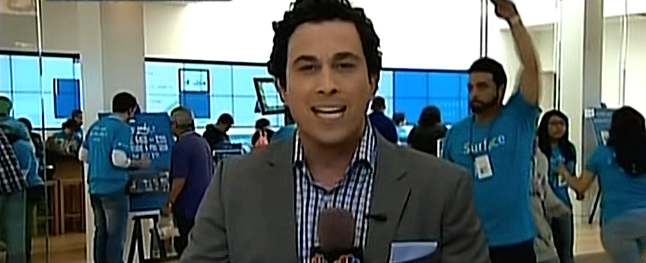 Surface guys enjoy
'Saturday Night Fever'
Remember in early 2014, when Tim Seymour was tripping over himself to buy BBY calls while the stock was in the mid-20s?

It's still there.

David Strasser on Thursday's Fast Money said Best Buy is being "realistic" about the electronics business. But as Strasser got a little overly rosy, Mel pointed out that Josh Lipton was just at a Microsoft store in an earlier segment, and manufacturers are competing with BBY with their own stores. Strasser rebutted that Best Buy has a Microsoft store within a store that is very succesful.

Strasser said "everyone's waiting to see what happens this holiday."

Brian Kelly said the store-within-a-store "just doesn't seem to be working."
Too bad there was no update on whether Fleck has put the short fund in high gear yet
Thursday's Fast Money, reaching for a hook, pushed panelists to declare stocks they would begin to trim.

Brian Kelly said to "sell half" if not all of your HD position.

Guy Adami put HD in "no-man's land."

Steve Grasso said XOM is "frothy," and he expects a "breakdown" when the stock market returns to "normalcy."

Karen Finerman said a lot of the thesis of the URI bull case is reflected in the stock.

Guy Adami contended that "you have to take profits in WSM."

Steve Grasso called the market "toppy" and said he's waiting for the other shoe to drop.

Mel signals touchdown for Grasso
Steve Grasso said on Thursday's Fast Money that GME, with short interest of 27%, is "always susceptible to a gap higher," but he wouldn't buy it.

Grasso said HES is "probably OK" at these levels.

Karen Finerman said the revenue miss of ARO — a colossal bust of CNBC reporter John Jannarone — is really a big problem, but "I wouldn't short it here though."

Guy Adami called LO a "great brand" with a "great dividend."

Brian Kelly said he doesn't think you "get hurt" in DRI.

Karen Finerman noted that DDD was up on a Seeking Alpha (snicker) report about being undervalued.

Jeff Papp called the JD.com valuation "pretty fair." Karen Finerman said Alibaba is a "much better business, so we wait."

Mike Khouw said ORCL August 45 calls were hot.

Steve Grasso's Final Trade was POT. Brian Kelly said CTRL. Karen Finerman said PLCE, and Guy Adami said TIVO after gushing about it earlier.
Question Judge has never asked: If WhatsApp cost $5 billion, would that have been a great buy?
Mark Mahaney, in a surprisingly curt conversation for some reason, told Thursday's Halftime Report that the question for Facebook in the wake of its shopping spree is, "How many more of these should we expect." (This writer is long FB.)

Mahaney said there's a "reasonable argument" that Zuck overpaid for WhatsApp, but suggested investors may have to get used to these acquisitions every couple of years as Facebook strives to keep tabs on the next hot thing.

Judge utterly whiffed here — or perhaps stood watching a called strike 3 — given that he never acknowledged what Mahaney was implying, which isn't that making acquisitions is bad, but that in fact these last 2 weren't well-received, and if Zuck suddenly starts making deals that impress people, nobody will complain about how many of them occur.

Mahaney said video ads and Instagram are capable of accelerating FB revenues in a bigger way than anticipated.

Stephanie Link said she likes the stock, but Grandpa Steve Weiss, who allowed the stock could go higher, said, "I wouldn't be buying it on multiple expansion."
Joe earns $50 every time
he says 'consensus'
Dr. New Land opened Thursday's Halftime declaring, "The consensus Scott has been completely wrong." Yes, he said that Thursday. Yes, he also said that Monday, Friday, Tuesday, Saturday (that's an Apollonia reference for "Godfather" fans).

Joe said, "I think Janet Yellen might've misspoke in saying 6 months, you know, using that term ... but I think in the reality, that's exactly what's gonna happen."

Joe said the Nikkei/yen trade "got even more crowded in February" and opined, "All of these thesis (sic singular), all of these trades, investments, generally have to unwind, before eventually they work."

Is it June yet? Judge actually claimed, "We're almost really halfway through the year here."

She of the Perfect Teeth, Gemma Godfrey, said she likes Chinese state-owned companies.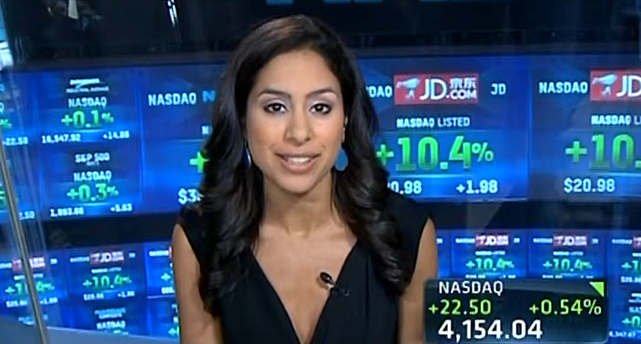 This dress works
Cloud multiple gorgeous Seema Mody delivered on Thursday's Halftime Report an update on the JD.com IPO. (It was enough to get a visual; we don't recall the details of JD.com.)

Stephen Weiss actually claimed Chinese Internet is in the "2nd inning." He said he likes Ctrip, the Chinese Priceline.

Dr. J made a bull case for BBY based on rising operating margins and cost-cutting. He also claimed it's "more and more of a distribution play." Stephen Weiss said Best Buy has good management and will continue to cut costs, but there's too much of a headwind in the space.

"Best Buy has probably seen the upside," contended Dr. New Land.

Doc said DHR fans were buying July 77.50 calls after cashing in.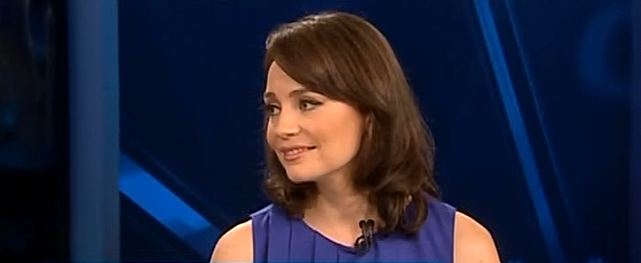 Joe admits unloading
PXD too early
Meg Tirrell, who looked dynamite in new hairstyle on Thursday's Halftime, reported that antibiotic pricing has gotten so low, some drugmakers have spurned projects. Stephen Weiss blamed that on "too heavy" of a hand on the part of the government and said he likes names with more "mature" business models, including his newfound favorite that Tepper must've mentioned to him, ENDP.

Mr. New World endorsed TEVA, and said LLY is "hitting on all cylinders" (Drink).

Judge told Meg that she'll eventually "understand" Stephen Weiss. (#wishfulthinking) (We know some folks at CNBC HQ who have known Weiss for a long time and still don't want to understand him.)

Joe said of the oil market, "There's more going on than Ukraine." He said to stick with domestic shale names such as EOG and PXD and APC and CNQ and SU. (He could've said that Brian Kelly stank up the joint in his ongoing short-PXD-because-the-drills-run-dry call as this page predicted, but didn't.) Stephanie Link predicted MRO would put money into U.S. shales and see production gains.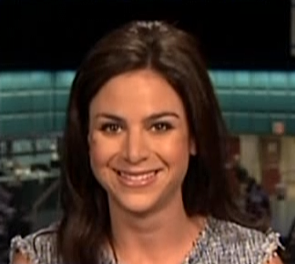 What happened to HTZ?
Kate Kelly reported on Thursday's Halftime Report that incredibly, according to Goldman Sachs research, General Motors is among the most popular hedge fund long positions (with GOOG, AAPL, AIG and TWC), while GILD, T, IBM, XOM and INTC are the biggest shorts.

Stephen Weiss defined what the term "hedge fund" means and claimed that by definition, they're actually ahead this year, then said most of GOOG is owned by mutual funds, so that's where the bungle actually is.

Mr. New Land said he doesn't get how XOM is on the top-shorts list.

Jim Iuorio told incredibly good-looking Jackie DeAngelis that "they run up gas prices into driving season. They do it all the time," and we never learn. Scott Nations said not to expect gasoline relief.

CNBC's California fox Jane Wells reported on "Lady Potrepreneurs" and said she has "anecdotal evidence" that 7-Elevens in Colorado are doing great. Doc endorsed GWPH and said he'd buy it on dips, after the chief was on Fast Money at SALT.

Stephanie Link's Final Trade was PCLN. Doc said DHR, Weiss said OCN and Joe said APC.
[Wednesday, May 21, 2014]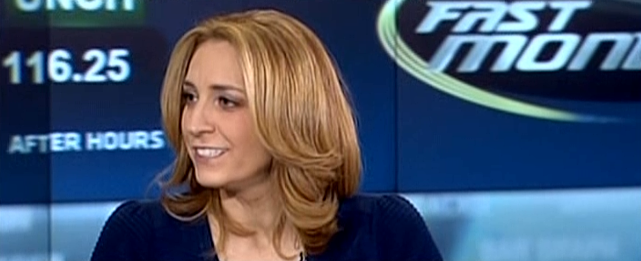 Guest: Twitter is 'yesterday's news'
Eric Jackson, who hasn't been on Fast Money or Halftime for a while, uncorked quite a social-media assessment Wednesday.

"I think Weibo and Twitter are sort of yesterday's news when it comes to messaging; I think WhatsApp is the future," Jackson said.

We have no idea if any of that is true, but it's the strongest argument against TWTR we've heard. (This writer is long FB.)

Meanwhile, Jackson said Spotify "is sort of lining itself up for an IPO later this year, markets permitting."

Jackson said Google has sort of turned its back on China and blamed that on Sergey Brin; he called Larry Page "much more pragmatic."

Karen Finerman emphatically stated why Google raised the specter of offshore deals; "he said that, because he had to say something to give a better spin of why they keep that much money offshore. They don't need it, they don't do deals that big," Finerman said.

Tim Seymour decided to compare GOOG and AAPL on valuation (Zzzzzzzzz) (#getalife) and predicted that if AAPL gets over 610, you won't get another shot lower. But Brian Kelly opined that the selloff in GOOG is "more of an opportunity." Pete Najarian, who did 2 shows on Wednesday (imagine that), trumpeted AAPL (see below).
Missy dubs NFLX guest
'Anthony Netto'
Anthony DiClemente — at least we think that's his name — told Wednesday's Fast Money that "longer-term," he likes Netflix's expansion, providing it gets "a pass" on short-term investment.

Grandma Karen Finerman wondered when the lack of earnings would catch up with them. DiClemente never answered but suggested new "catalysts" might be needed or might happen.

In fact, by the end of a several-minute interview, we honestly had no clue whether DiClemente is bullish or bearish on the stock.

In closing, Mel said his name was "Anthony Netto of Nomura."

Pete Najarian thundered that Netflix has great international potential, and that Reed Hastings is saying that the price hike hasn't caused a bunch of people to drop the service.
Pete: More to go in DAL
Grasping for subject matter, Mel opened Wednesday's Fast Money asking panelists where they see growth outside the U.S.

Tim Seymour nominated SBUX and claimed "this is really exciting."

Karen Finerman said she looks to Norway for NADL and the drilling space.

Brian Kelly suggested EWZ based on a possible "regime change" in Brazil. Pete Najarian suggested EPI, then added that IBN is "not done yet."

Brian Kelly said to "stay away" from TSN, which is what he says about every stock he gets on Pops & Drops.

Tim Seymour said he thinks CSCO goes higher.

Karen Finerman blamed Canada for Sears' troubles.

Pete Najarian said "this is not the end" in DAL despite a long-running streak.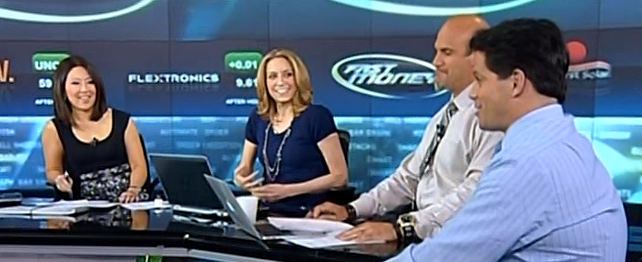 Male fantasy: Mel, Karen beam as Mooch talks about great conference
Karen Finerman said on Wednesday's Fast Money that TIF is "pretty much hitting on all cylinders" (Drink) but lamented that it's too late for her to buy. Pete Najarian said TIF posted "unreal" numbers overseas.

Tim Seymour said you stay with TIF, but he actually lumped it in with NKE.

John Jannarone said British American Tobacco "does not want to be diluted," and mentioned "at the end of the day" (Drink).

Tim Seymour was forced to deal with a SINA selloff and suddenly warned people to "be careful" with this stock.

Nili Gilbert said you'll "frequently hear" that momentum stocks are getting crushed, but not all of them are, witness ARCB, which is up 10% since Yellen's comments appeared to sink many momentum names.

Gilbert also likes UTHR, in part because it's buying back shares.

Brian Kelly said Gilbert's picks are solid because they have fundamentals behind them and represent "value momentum."

The Moochmeister, Anthony Scaramucci, said Jamie Dimon made a "great move" by investing in Detroit, helping stop "urban blight."

We agree, except financiers can't revitalize a city. It needs to rediscover itself on its own, and then the money will come pouring in; doesn't work the other way around.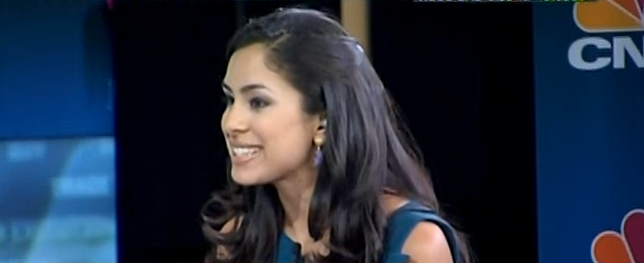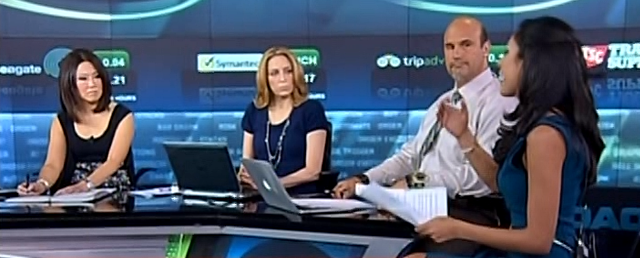 Pete Najarian enjoys the sights of last-minute breaking news
Tim Seymour said on Wednesday's Fast Money, "I think you fade this rally" in the RSX.

Pete Najarian though said "I think the RSX goes higher," and "I think this is huge."

Pete Najarian said YGE June 3.50 (snicker) calls were hot. "I think this is goin' higher. That whole sector's on fire," Pete said.

Mike Khouw's mike was bungled during a CBS options segment, to the point Mel had to cut him off and take another TD Ameritrade break (that probably puts money in JJ Kinahan's pocket).

Cloud-multiple gorgeous Seema Mody — Did you see her on Wednesday? Do we have to expand to a different multiple? — reported that JD.com has priced its IPO at $19. Tim Seymour claimed "the rails are being greased" for Chinese IPOs.

Tim Seymour's Final Trade was to sell RSX. Brian Kelly said TLT. Karen Finerman ATVI or NADL. Pete Najarian said CBS.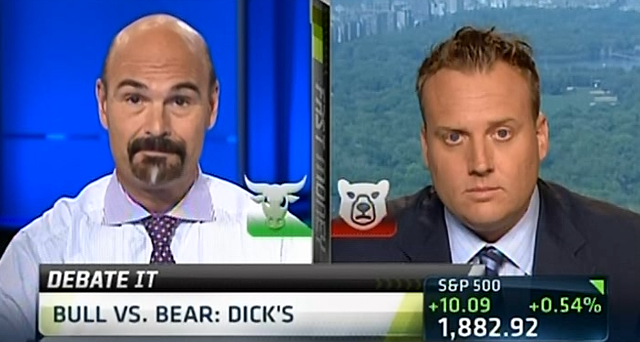 Guest actually claims people opt against shopping at Dick's because of lack of confidence in D.C.
Tom Stemberg visited with Wednesday's Halftime Report and said there's a "differentiation" between retailers doing well and retailers that aren't doing well, then cautioned against beating up on Dick's.

Stephen Weiss, though, grumbled that DKS has "missed quarter after quarter after quarter" and asserted that maybe the management isn't so great.

Stemberg rebutted that the weather was bad, and even offered, in the howler of the week, "there's not a lot of confidence in what is going on in Washington."

Later in the program, Jon Najarian admitted that Dick's sucks right now, but with 25% return on invested capital in the last 3 years, that's a positive. Doc, of course, also mentioned ecommerce potential (Drink).

Josh Brown told Najarian, "I can appreciate that you like Dick's," but said weather isn't to blame, rather, the company has "masked" weak results with new stores.

Stemberg, by the way, opined that the Washington that people don't have confidence in will finally pass a law about online sales-tax collection, and that AMZN can't be profitable unless it raises prices, in which case it will lose its pricing advantage.
Pete bungles NFLX, spent too much time whining about the 'high-fliers' and 'momo names'
Week after week, Halftime/Fast Money traders tell you how bad the "momo names" are.

Yet there was Pete Najarian on Wednesday's Halftime admitting he's been caught looking on NFLX and hasn't bought it; even later declaring he had "no excuse" for missing it.

"The market looks solid," offered Stephen Weiss, who said it's not a 4% economy but that 3% will take stocks higher.

Weiss contended that rates found a bottom around 2.40% or 2.50% and that the risk is to the upside. He touted ENDP, for whatever reason.

But Weiss grumbled that iron ore stocks are overvalued and that X isn't down enough.

Grandpa Josh Brown meanwhile played Dan Nathan in this exercise, calling the XLY a "very distressing chart" for bulls.

Jon Najarian trumpeted IBN and REDF and said there's more to the upside; the former being his Final Trade.
Bill McNabb balks at
Tyler's semantics
Steve Weiss, relaxed and at the top of his game on Wednesday's Halftime Report (to whatever extent you think he has a top game), said AIG looks good but he's skeptical of the property-casualty cycle.

Josh Brown said "I would actually pull the trigger here" in HRL.

Jon Najarian said CRM was "setting up decent" under 50.

Vanguard's Bill McNabb explained why he doesn't want to be part of "too big to fail," after Tyler Mathisen decided to call congressional hearings moving toward such distinction as a "proposal."

McNabb insisted it's not a "proposal," but just a "study" that's been done.

McNabb asserted that "high-frequency trading means a lot of different things," but he cautions people not to "overreact" to some of the commentary.
How did Herbalife not make the greatest-brands discussion?
Judge decided it would be a productive exercise on Wednesday's Halftime Report to ask a panel whether, perhaps, IBM might be the world's greatest company right now. (That's only a partial exaggeration.)

Pete Najarian said AAPL is not only better than GOOG, but the best, even citing wearables. (Oh joy.) Josh Brown picked GOOG, and Doc picked DIS.

Steve Weiss said Facebook should be part of the group, but Brown said Facebook does not enjoy "unanimous positivity" among users.

ARK Investment CEO Cathie Wood pounded the table for ATHN and ILMN (the latter on the tired human-genome explosive valuation theory) and 3 times said "at the end of the day" (Triple Drink).
Jackie's great bod
Anthony Grisanti told Jackie DeAngelis, a stunning young woman, that "certainly Texas tea is perculating (sic pronunciation) right now." Scott Nations said crude's strength is "all about optimism for global growth."

Jon Najarian said June 19 IPG calls were hot; he bought the stock but wasn't able to get the options because his subscribers beat him to it.

Robert Frank spoke about choppers to the Hamptons, but at least Dolly Lenz didn't sell us a house.

Stephen Weiss' Final Trade was to short VALE. Pete Najarian said buy C, and Josh Brown praised Doc while apparently backing DE according to the screen.
[Tuesday, May 20, 2014]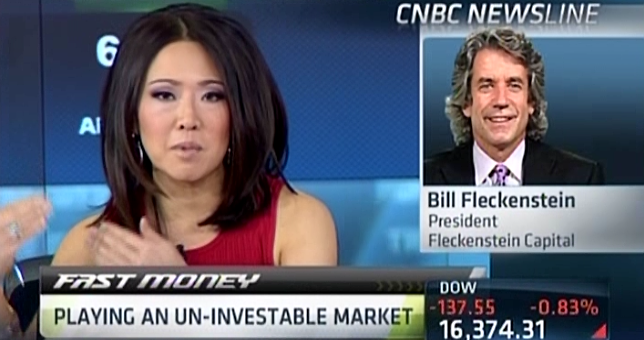 Mel hopes hand signals will prompt Fleck to start moving on that short fund
It was way back on Oct. 11 when legendary Fast Money guest Bill Fleckenstein declared his intention to "restart my fund, early next year."

It's not very "early" anymore.

This train wreck of a concept continued to run off the rails Tuesday, when Missy Lee told Fleck, "We've been saying all program long that you see a Flash Crash coming. When?"

"No, that's- that's not really accurate. What- what I had- What- What I, what I think is that, we could have one any time," Fleck stammered.

Aside from that, Fleck decided to ask the questions as well as answer them. "At some point the S&P and the Dow are gonna join the Nas- the Nasdaq Composite, the high-fliers, on the downside," Fleckenstein said. "Now, will that be tomorrow, will it start, or will it be after another round of tapering? I don't know."

Again pushing off details of the purported short fund that is just around the corner, Fleck added, "I wouldn't attempt to short Japan."
How come NKE isn't vulnerable to a slowdown in golf?
Dan Nathan was given the honor of opening Tuesday's Fast Money and said the XRT has been struggling for months, with the gains coming from buybacks.

Nobody was claiming this is a booming economy. "I don't know where these economists find 4% GDP," said Steve Grasso.

Somehow, things veered sharply into golf, as Grasso said golf's reversing trend from DKS "migrates" to ELY. Brian Kelly suggested CAB and ELY are "very vulnerable" to the news from Dick's.

Guy Adami said to wait on HD, if it breaks 80, going significantly higher; and if it breaks 75, much lower.

Steve Grasso said "I'm more inclined to sell" than buy at this stage.
Tim Seymour scoffs at the 470 P.E. at $300 but really likes the 390 P.E. at $250
Mel told Gene Munster on Tuesday's Fast Money that $20 million for Chinese delivery is a "drop in the bucket" for Amazon when in fact that's about the total profit it makes every quarter (or something like that). Munster conceded "they're struggling" in China, and this is "absolutely the right strategy."

Munster called AMZN "a great buy," especially if you've got a 5-year perspective.

Guy Adami said OWW is not expensive, but you have to see how it trades after pricing the offering.

Dan Nathan actually eloquently stated how P has so far withstood Apple's challenges and is an "attractive property." (This writer is long P.)

Nathan called CRM a "good company" but said the valuation doesn't make sense.

Guy Adami said what "concerns" him about FFIV is a series of lower highs.

Steve Grasso said FSLR has "made a series of lower highs" and isn't buyable until it clears $59.62.

Colin Gillis said if you're a company that has got 4% penetration in tablets as MSFT, "You've got to take matters into your own hands."

Gillis said that for Surface, "10 million a year" would be a great number. However, he predicted a possible stumble in the next quarter; "I would be particularly nervous about this June," Gillis said.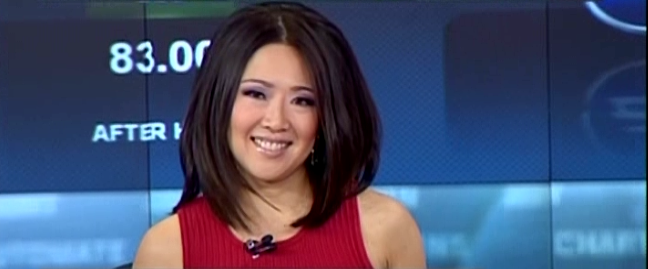 Brian Kelly has no clue what is going on between Facebook and Publicis
We've pointed out before that sometimes things are heard on Fast Money that make you think the panelists are making it up as they go along.

Such was the case on Tuesday's Fast Money, when Brian Kelly actually called the Facebook-Publicis arrangement, "if anything," an FB short, because, "They're giving out all their data to Publicis, right. That tells me they don't know what to do with it."

Seriously? Kelly thinks Facebook is asking Publicis for an education about its own data? (This writer is long FB.)

Steve Grasso said AMC's new Tumblr drama is "great for Tumblr" but that cable companies will have to "start taking hits on margins" in the developing "a la carte" system.

Guy Adami, revisiting the panel's 2nd-favorite name, GM, said "it's very hard to trade this stock," and 32 is still key: "Breaks there, the stock is done."

Dan Nathan put WYNN in the "Triangle of Death" but insisted he wouldn't short it, rather, use longer-dated options and look for levels like 210 or 215. (He also said something about the floor smelling like an ashtray.)

Steve Grasso, who loves to evaluate casino names month by month, said WYNN does well in July, so you might just want to take a "hiatus" for a couple months, then get back in.

Grasso tried the same game with CCL, stating, "I would not be playing Carnival to the upside just yet."

Mel didn't know Jerry Lee Lewis' nickname or the fact he's the performer behind "Great Balls Of Fire," but she did look good while not knowing it.
'Steel has a lot more to drop'
In a boring debate on Tuesday's Fast Money, Gordon Johnson called X "a great short" right now, pointing to Chinese steel prices. "Demand in China is very weak," Johnson said, causing China to spread its steel around to other markets.

Guy Adami, meanwhile, said Johnson made "great points," but "they seem to be operating better than they have," lower pricing is already in the stock, but you buy it when the news is worst or nearly the worst.

Steve Grasso contended that steel "usually" follows iron ore, and "steel has a lot more to drop."

Dan Nathan said "And before I pile on" 4 times (seriously).

Brian Kelly said MCP is a great example of a momentum stock that broke.

Dan Nathan said June 100 puts and July 97.50 puts in CAT were active.

Dan Nathan's Final Trade was P. Steve Grasso said TSLA. Brian Kelly said SDS, and Guy Adami said NEM.
GM has 'hired someone' to deal with recalls, and 'this guy' will clean it up
Hard to believe, but someone admitted on Halftime/Fast Money that he/she doesn't like GM.

Josh Brown on Tuesday's Halftime told Judge, "I just threw up in my mouth when you said the ticker symbol" and added, "I would not be a buyer."

Stephanie Link defended owning the stock, saying "they hired someone" to deal with all the recalls and "this guy" is doing this "to get it clean," and it's still a restructuring story. (Oh well, at least it's not Finerman-esque, "I like Mary Barra, I like the valuation, it seems like all the bad news is in ...")

Stephanie Link said she wouldn't "chase" Caterpillar, and in a backdoor Brag Trade said that the time to buy it was "80, and the mid-80s, which is when I was bullish."

Steph Link said Cramer keeps buying STI on the dip (which sounds a bit like averaging down). Pete Najarian endorsed STI and those options.

Joe said "the time is close" to rotate out of Wells Fargo into JPM but he's not sure it's here yet.
Pete: Satya possesses
a 'Steve Jobs-type edge'
Lacking opinions on Tuesday's Halftime Report, Pete Najarian sidestepped an opinion on NFLX but said "you could understand why" some guy at Topeka put a $421 target on it.

Likewise, Dr. New World refused an opinion on SWHC, citing "the gun debate" as one of the 3 reasons it's been rising.

Jeff Kilburg said gold has a "coiled chart" but said owners have to be patient. Brian Stutland said he's a buyer below $1,300 and would sell above $1,300 and thinks that range "stays intact."

Toni Sacconaghi said he "firmly" believes that longer-term, tablets and notebooks will converge.

Unfortunately, Sacconaghi actually said "it'll be interesting to see" (Drink) (sic if not why else would they be talking about it) if Apple starts making a bigger tablet or "kinda tries to reinvent the category."

Dr. New Land said "there might be some maturity" already in the tablet space, so companies chasing now might be late. Pete Najarian insisted that Microsoft's not chasing anything and then, in quite an endorsement, said Satya has "almost that Steve Jobs-type edge to him."
Small-cap valuations
'absolutely insane'
Josh Brown implied on Tuesday's Halftime Report that believing the market will hold up in the face of the small-cap smackdown is a "low-probability" trade.

Brown also said the dollar/yen trade "is about to break down."

Pete Najarian disappointed Judge when he actually admitted, "I look very little at these small-caps."

"Better start looking at them more, Pete," Judge chided.

But Pete breezily told viewers they can play SNDK with options and "own this through the options and have very little risk on the table."

Mr. New Land said "what's consistent in the sectors in the weakness is the consumer discretionary," and he's actually warming up to Gundlach's XHB short.

Lori Calvasina, who is pretty, proclaimed small-cap valuations "absolutely insane," and there's "still a ton of risk in this space."

"I think energy is your single-best valuation story in small-cap right now," Calvasina said.
Stephanie thinks Target doesn't know what its strategy is (#installantimalware)
Pete Najarian contended on Tuesday's Halftime Report that Target has had a "long hiccup," but "it's an incredible share-shrinker."

Stephanie Link countered that "fundamentals stink," they don't have a CEO and still need to "figure out a strategy."

Pete said the next Target CEO must be someone "who understands the online" (Drink).

Joe parsed and waffled, claiming Stephanie is right on the short term and Pete right on the longer term. (So why bother debating it Tuesday; just wait a few months instead.)

"There's no catalyst to buy it here," said Josh Brown.

Shifting gears, Joe said, "I think the trade is over in JCPenney."

Stephanie Link said during the retail discussion that "it's a stock-picker's market." Link said she wants TJX to "settle" in the low 50s before taking a nibble. Pete Najarian claimed "I love it down here," so much that he's not even in it.
Why do Steve Weiss' Playbook Playoffs portfolio moves even get mentioned, let alone 5 minutes?
Herve Humler joined Tuesday's Halftime Report in celebration of Ritz-Carlton's first U.S. hotel opening in 4 years. Honestly — and this is not a subject this page pokes fun at, just a legitimate TV observation — Humler, while eloquent, has a fairly thick accent, and we didn't quite catch everything he said.

Ever modest, Dr. New Land said he can't stay at Ritz-Carltons, but Pete and Judge do.

Joe said it really has been "a buyback and a dividend story" in the hotel space.

Stephanie Link likes WYN.

Mr. New World modestly explained his spectacular 2014 portfolio strategy as "keeping losses small" (actually he probably should've hung onto PXD). Pete Najarian lamented again not unloading United Airlines when it peaked.

Josh Brown said he's adding EPI to his portfolio, which could be "the Japan trade of 2014." Steve Weiss dialed in to say he's adding CYH, the "least expensive hospital stock out there" (which a graphic maker dubbed "CHS").

Josh Brown said he wouldn't buy GoPro the first day but he would be an investor. Pete Najarian said "Apple should've bought" this company.

Josh Brown's Final Trade was EPI. Joe said DVN, Pete said COP and Stephanie said TXT.
[Monday, May 19, 2014]
May's most overcrowded trade (cont'd): Money managers to take 'panic position' in AAPL
Given the presence of Dan Nathan, it took basically no prodding from Melissa Lee for Monday's Fast Money crew to return to their favorite subject this spring — horrible valuations in the tech sector.

Oddly enough, Nathan said that while the Google deal for "eyeballs" is reminiscent of "the last tech bubble," nevertheless, "I think it makes sense."

Tim Seymour bemoaned a bunch of recent well-publicized acquisitions but said, "In Google's case, I don't care."

Karen Finerman reaffirmed that she somehow thought YouTube was a "ridiculous" acquisition before it turned into a "home run." Finerman said part of the impetus in buying "lottery tickets" is to prevent other Silicon Valley companies from buying lottery tickets.

Guy Adami for whatever reason cautioned that Ingersoll Rand "top-ticked Trane" when looking for growth. Guy said he'd look to an organic growth name such as MU.

Steve Milunovich said the presumed Apple-Beats deal is "pure speculation" at this point. He said (yada yada yada) that Beats could complement iTunes or help out in wearables.

Just like with the Halftime Report, the most eye-opening commentary was reserved for the pride of Cupertino. Milunovich said the "apathy" that has greeted AAPL for a long time is starting to lift, and portfolio managers might actually activate a "panic position" in the shares.

Dan Nathan claimed people will get "really excited" about AAPL's 7-for-1 split.

Tim Seymour issed an AAPL Brag Trade, saying he bought at 525 and sold at 590.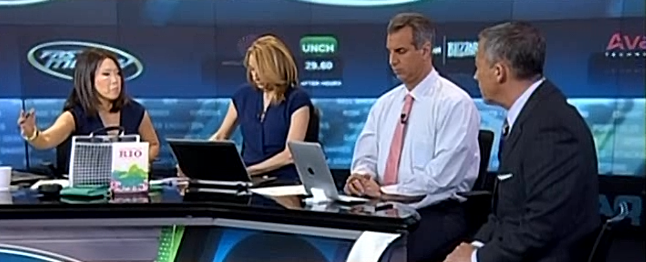 Karen, Guy glued to those exciting computers while Mel makes a point about Kate Spade
It turns out, according to Wikipedia, there really is a Kate Spade, a designer who married David Spade's brother.

Every niche retail exec on Fast Money gets at least 2 questions, 1) what are your strategies for boosting online sales, and 2) how come I see your stuff at TJ Maxx.

KATE CEO Craig Leavitt explained to Monday's Fast Money crew that his brand doesn't get watered down because it uses a "balanced approach."

As for online (the question was whether KATE should no longer outsource its Web site), "It's certainly something that we continue to evaluate," Leavitt said.

Karen Finerman explained why she sold the stock too soon. "I'm an idiot," Finerman said.

Guy Adami said $45 is within range for KATE.

Dan Nathan said a January 42/52.50 call spread in ANF was hot. Guy Adami made ANF his Final Trade.
Dennis Gartman, who's been doing this for nearly 40 years, says that in a bull market, there are only 3 positions you can be
Dennis Gartman said he has now detected a "divergence between the various indices" that he hasn't seen since 1972, when the Dow continued to do well.

Now Dennis says he's back to "market neutrality."

And, he says it's going to take "a lot" actually to make him "fearful."

Mel opted to prolong this useless discussion by asking Dennis about the state of his coal, aluminum and basic materials positions, and we can't recall whether Dennis is hedged or not.

Dan Nathan said he's "actually getting pretty close to covering the Q's."
Guy Adami takes U.S. economic espionage allegations a little too seriously
John Jannarone said on Monday's Fast Money that if VZ were to court DISH, the valuation of the spectrum would have to be dealt with or else become one of those "Yahoo-like situations."

Melissa Lee suggested DISH looks like an "orphan" right now. Jannarone agreed and said any move higher would be based on spectrum-monetization assessments.

Meanwhile, Jim Lewis asserted that "The Chinese will definitely look for some way to retaliate" against the U.S. Justice Department's hacking allegation.

Tim Seymour grumbled that these accusations against China have been made "for decades." Lewis countered that the U.S. has been talking to China in private about "economic espionage" for 4 years.

Guy Adami said "we're maybe goin' down a road we might not wanna be goin' down."
Guy: WWE could stage
possible reversal at $10.55
Josh Lipton said on Monday's Fast Money that GoPro has 54% of the action-camera market and that he somehow hasn't heard any talk about Google interested in buying it.

Tim Seymour questioned how GoPro gets beyond hardware that anyone can duplicate. Lipton said GoPro has established a "brand" that once it's out there, is hard to overcome.

Dan Nathan said Facebook "may be a little too late" to the Snapchat space but will eventually figure it out regardless.

Guy Adami said URBN must hold 35, or else it's a "straight beeline" down to 30 bucks.

Tim Seymour said DB will become more highly levered but more highly profitable, and a stock that "looks very interesting to me," interesting enough to be his Final Trade.

Guy Adami said you can't count Vince McMahon out in WWE, and you can maybe get long against $10.55.

Dan Nathan said Rick Sherlund was out pounding the table for FEYE and his $55 target and "if the thing gets nailed ... it's probably a buy."

Karen Finerman said FL is a better choice than SKX.

Karen Finerman said the stock market's punishment for AZN, as opposed to AGN, relates to Britain's "final offer" rules that don't apply in the U.S.

Mel pronounced "Carrizo" as "Caruso."

Dan Nathan's Final Trade was short SBUX through June options. Karen Finerman said to short CXW.
Guest: AAPL innovation
gone for good
Guest Ron Sloan, perhaps a bit overcaffeinated on Monday's Halftime Report, said he's "grown up as a stock person," but "we're all inferior, uh, inferiority complex (sic grammar) to the bond guys."

But, Sloan pronounced the "kind of stock market valuation, Fed-led world is done."

Lofty as that sounded, he really got into the good stuff when he called this a "stock-picker's market" (Drink).

But the really really good stuff came when Sloan contended "the innovation is- is not gonna be there anymore" at Apple.

Sloan said his favorite stocks have "pricing power, pricing power, pricing power, that's- that's the new world," also known as a "Terranova" according to gorgeous Michelle Caruso-Cabrera (but Sloan didn't say that).

Sloan said he likes ITW because it's going from 800 businesses to 500 businesses. He also endorsed SWK and APC, and told the New World that "well you don't" own banks here, though he's OK with insurers. He told Pete Najarian he likes TEL and the telco space.
Talk about crowded trades:
a study in behavioral finance
Mr. New Land came rarin' to go on Monday's Halftime Report, only to experience a quick stumble.

This notion of an "all or none" market between stocks and bonds is "completely incorrect" this year, Joe said (again), before asserting "it's about behavioral finance."

We're no experts on behavioral finance and awaited the description, but Joe explained that money managers weighted down in "fixedicas- (sic) in fixed income itself" are now reweighting.

Joe said he's adding to his AAPL position because it's a "bond-like equity."

Judge said everyone on Monday's desk is long AAPL.

Joe then reverted to "behavioral finance," which he basically defined as resisting the temptation to take a gain in AAPL and instead hang on for bigger gains by the end of the year.

Josh Brown said "at the end of the day," traders can't place bets on how good Apple's innovation might be 3-4 years down the road.

Joe mocked — in his gentlemanly, polite way — anyone who claimed that the Beats deal was going to make AAPL "roll over."

Apple is "still a show-me," said Pete Najarian.
The other 40% of the time is apparently a bifurcation
Pete Najarian, who referred to "Mr. Tepper," stressed on Monday's Halftime that Tepper said "the markets are nervous," not that Tepper was nervous, as SALT 2014 continued to make headlines days after it ended.

Judge said, "I think he's a little nervous."

Pete protested, "Why did he double-down on Whirlpool?"

Pete affirmed, "through and through I'm a stock guy all the way," when in fact he's purportedly an options guy. (Yes, we know he was referring to stocks vs. bonds.)

Stephanie Link said "bonds don't really make a lot of sense" right now.

Josh Brown said that according to "8 or 9 decades worth of data," stocks and bonds go up together "about 60% of the time." Brown affirmed he still likes the PFF. Dr. New World challenged Brown to declare whether he'd "run for cover" if Treasury yields rise 25-50 basis points. Brown could only answer, "not necessarily."
Pete should be thankful that
Pfizer isn't buying Oculus
Dr. Mark Schoenebaum said Pfizer's bid for Astra is "probably wounded" but "not dead yet" and listed the odds at 50/50.

"Unfortunately I can't give you a yes or no," Schoenebaum told Judge.

He said, "It's really in the hands of AstraZeneca shareholders."

Schoenebaum also said "it's gotta be a really big company" for Pfizer to pull off the inversion, so there aren't a whole lot of alternatives.

"I hate this whole deal," said PFE long Pete Najarian.

Josh Brown pointed out how Pfizer just stated that its purported strategy was to streamline, and now there's this, so if Astra doesn't work out, will it be back to "Plan A."
Perhaps JCP could buy Astra, save a fortune in taxes
Judge was only sorta right about JCP's recent unloved history on the Halftime Report.

Mike Murphy used to make washout-based short-term bull calls on the name, which might've worked a couple times but ultimately proved busts (buying at 15, buying 10, etc.).

Stephanie Link said Monday that JCP is "getting back to their roots," which frankly isn't a bull case, but a scary notion. "Most importantly, they're getting the right product back in the stores," Link said.

Dr. New World argued that all Mike Ullman has done is "stabilize" the downside, and that this is a good level to exit JCP.

Link actually admitted "I'm a little nervous" about M given JCP's potential to take market share back.

Josh Brown said the JCP chart is an inverted head-and-shoulders pattern, but like Joe, he thinks too much of the easy money has been made.

"I certainly don't wanna be long the stock," said Pete Najarian.
Josh Brown thinks gold will be 'explosive,' sounds like he's writing player profiles for the NFL Draft
Joe Terranova on Monday's Halftime Report said the NFL Sunday Ticket is the "major catalyst" in subscribing to DirecTV.

Stephanie Link said it's a "little bit of a surprise" that JCI is putting its auto interior business into a JV rather than selling it outright.

Pete Najarian said "Mmm, mmm" bad for CPB, but the stock looks "not so bad from here."

Josh Brown said that Zuck got "punk'd by this kid" from Snapchat who publicized their dialogue and said no, and Zuck won't forget. (This writer is long FB.)

Joe said he thinks WAG goes to 80.

Pete said he likes MU through 30, and likes QCOM. Steph Link likes XLNX and said Cramer started buying more last week. Joe even squeezed in an NXPI reference.

During a Deutsche Bank discussion, Joe Terranova said European debt has been the trade and "still seems to be" the trade.

Pete Najarian said KGC November 5 calls were hot even though there's been "a lot of diceyness" in the name. Judge asked Pete for his holding period for the trade (Drink). Pete said 3 weeks (yeah right) (#2weeksisthe"Drink").

Josh Brown said gold's "really interesting pattern" betrays no bias toward which direction its "explosive" move is going to go.

Josh Lipton actually said somebody makes a living doing color commentary during Twitch video-game broadcasts.

Mr. New World said Google always gets a pass on acquisitions such as these even if you "really don't get what the objective is."

Pete Najarian's Final Trade was STI. Stephanie Link said HUN. Joe said AKAM, and Josh Brown said PFF.
[Friday, May 16, 2014]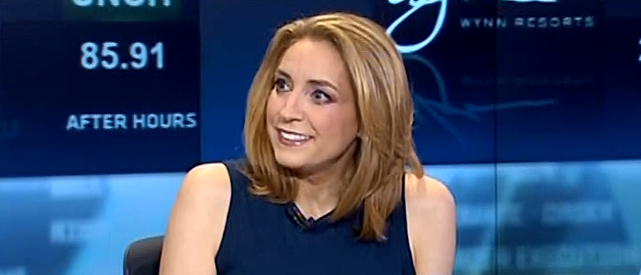 Grasso: Expect 1,786
Steve Grasso opined on Friday's Fast Money that the S&P 500 is "probably going" to 1,786 so it can "touch" the 200-day. (In other words, we somehow have to sell a bunch of stocks so that we can buy them all back.)

Grasso pointed to the reaction to Tepper's comments as evidence of jitters; "he wasn't even that bearish."

But Dan Nathan asserted that from 1,800 to 1,900, "We can bang around there all year long," and it can be a "tough trade."

Dan Nathan, asked if volatility is slamming around stocks, said "it is," unless you're looking at the VIX, where "it's not."

Okey-doke.

And Nathan said "to me" (Drink) twice in his opening remarks, and 4 times for the program.

Karen Finerman said "I love this rotation" out of momentum names into "value" names, and called banks "inexpensive."

Guest Adam Parker immediately protested that Mandy Drury used the term "pullback," bringing in (yep) Dan Nathan with "Whoa whoa whoa whoa whoa whoa (sic 6 'whoas')," chiding Parker and asserting "we have a situation here where a large part of the market is not acting well."

Jim Lebenthal had his best line in months, stating Nathan set a "world record for jumping in."

Parker shrugged that his 2,014 in 2014 target is only 7% from here.

"I think about the Fed all day long," Parker sadly admitted, before adding his own "to me" (Drink).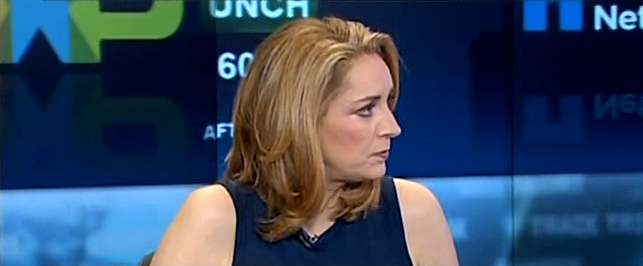 Karen's 'tempted' by GM
We keep sayin' it, 'cause we keep not gettin' it.

That would be, why right-leaning Wall Streeters love GM stock (despite utter inability to describe a catalyst other than that they like it).

On Friday's Fast Money it was Karen Finerman who said she's sort of "tempted" to get long GM again; unbelievably, the whole panel didn't make it their Final Trade. (Oh, forgot, C got in the way of that.)

Phil LeBeau admitted the GM case "really has been messed up from the beginning."

Steve Grasso said he saw WWE down 48% premarket, and "for me, that's an opportunity."

"I sold it a couple hours later," Grasso revealed.

Steve Grasso said "I wouldn't be a buyer of Chesapeake" (CHK).

Karen Finerman said JWN's report had "everything good."

Dan Nathan said he wouldn't chase RAX.

Jim Lebenthal said "I'd be out" of PEP.

Dan Nathan said Pinterest is another name with "bubble valuations."

Nathan said his "grave-digging" stock would be CSCO. Steve Grasso said his would be TWTR, with a 29.50 stop. Jim Lebenthal said IBM, and Karen Finerman said ADT.

Nathan's Final Trade (surprise) was CSCO. Steve Grasso said WTR, Karen Finerman said HTZ and Jim Lebenthal said C.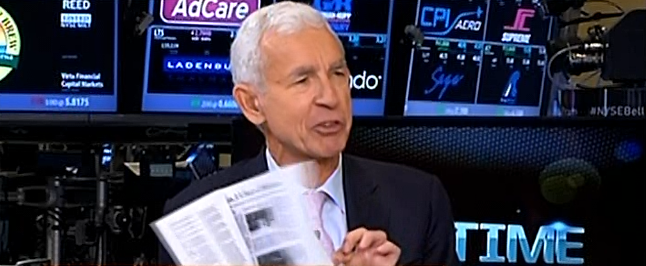 Laszlo Birinyi shows off his notes from SALT 2014
Laszlo Birinyi joined Judge's Halftime Report on Friday to assert that the last 2 months of market uncertainty happens all the time.

"There's an awful lot of noise," Birinyi said, and he's still "comfortable" with his 1,900-by-end-of-Q2 prediction.

"It's really a fragmented market," Birinyi said, pointing to ORCL and MSFT being up.

Birinyi told Stephanie Link that his firm did a "30-page study on small stocks" a couple years ago and found "there are long periods where they outperform and there are long periods where they underperform."

Birinyi said the capitalization of the social media space, minus Facebook, is $55 billion, while SLB alone is $120 billion, and is up 10%.

Jim Lebenthal used a Juan Marichal-style windup in asking Birinyi a question about TRN perhaps being overcooked as Lebenthal thinks GBX became. Birinyi said not to get "too cute" and to stick with winners, then hoisted his impressive notebook of clippings of "major stories" from newspapers dating to 1962 and pointed out how the same themes and worries keep resurfacing, and people forget the worst didn't happen.

"It's still a bull market," Birinyi said.

Birinyi likes WHR for a "trade," and RH for an "investment," and "if you're scared about housing, look at NVR," he said, citing that name as a reliable indicator of housing too nominally high priced for "high-frequency things."

Birinyi said this is the first time in his career he's seeing economists "tweak" GDP.

Wish you were here:
Steph obviously SALT-less
Stephanie Link on Friday's Halftime Report observed that we heard "a variety of different levels of bullishness and bearishness out at the SALT Conference for sure."

Except "at" is a relative term, given that Link was actually at Post 9 for Kelly Evans' show Wednesday when SALT was kicking into high gear (and we doubt she flew out to Vegas and back on Thursday).

Either way, Link heard what Tepper said (see image above). "I don't think he was bearish," Link said, just "less bullish."

Jim Lebenthal asserted, "There are pockets of value out there."

Mike Murphy predicted stocks will be "a lot higher" by Q3 or Q4.

Joe Greco said it's "a bit alarming" when someone like Tepper suggests you might want to head for the exits, but "it's a trader's market right now" (Drink).
Jim Lebenthal sees a better economy than most, Target shoppers suddenly streaming into Nordstrom
We're all for enthusiasm.

Really, who isn't.

But ya gotta think Dom Chu was overdoing it a bit on Friday's Halftime Report when he actually said the quarterly 13F release is "one of the funnest (sic)" days of the year.

Ken Squire re-explained, quite well again, why he follows 13Ds instead of 13Fs. (Much shorter lag time between ownership and the filing.)

Jim Lebenthal said of Pfizer's breast-cancer development, "this thing came out of nowhere," so don't believe that big pharma R&D is dry.

Mike Murphy said rumors of someone is looking to make an offer for EBAY drove the stock.

Jim Lebenthal called JWN a "great story" because people are moving up from TGT into high-end shopping and said he'd buy the stock if it pulls back.

Stephanie Link said JCP "went back to their roots" and started selling things people want, and that you can own the stock going into the next quarter.

Jon Najarian noted that WWE is shifting from a Pay-Per-View model to an "NBC Universal model" (that's correct, negative Comcast reference), and "I don't know if this is the right move."

Seema Mody — on the beach
One of our ongoing fears of watching Fast Money/Halftime Report is that Dolly Lenz might sell us a house.

If Seema Mody actually comes with it, then #omggetthatcheckbookNOW.

(Again we'll ask: What. Must. Have. To. Happen. To. Get. This. Individual. Into. A. Swimsuit.)

And who better to talk about Narendra Modi than our favorite cloud multiple gorgeous knee-buckler with the homonym (is that the right term?) name, who said Modi's election could be good for AMT, CMI, MOS, POT, WMT and Ikea.

Stephanie Link said all well and good, but the EPI is the best way to play India.

Meanwhile, Lenz said of Diana Olick's North Carolina home (lessee, the CNBC personality based in D.C. showed a home in the Carolinas, and the CNBC personality based in Manhattan showed a home on Long Island), "She's a sporty girl, and they're doing all those sports there" (sic meaningless/useless).

Scott Nations said the VIX reflects the fact the S&P hasn't bounced around very much. Anthony Grisanti said there's "definitely" a correlation between a rising VIX and rocky markets. Jon Najarian said "it's still very reasonable to buy protection here."

Michael Santoli said bank stocks have been hurt by flattening of the yield curve, delays in capital allocation plans, and housing sluggishness. But he said he would expect banks to be trading better given the strength in credit markets.

Mike Murphy said that if he sees BAC "printing 13.90, I'm buyin' it," and he said it's "very impressive" that the S&P 500 is reaching highs without the banks.

Randy Moss (not that Randy Moss) called California Chrome "the one to beat" in NBC Universal's Preakness.

Jim Lebenthal's Final Trade was C. Mike Murphy said WEN. Doc said ESRX, and Stephanie Link said IP.
[Thursday, May 15, 2014]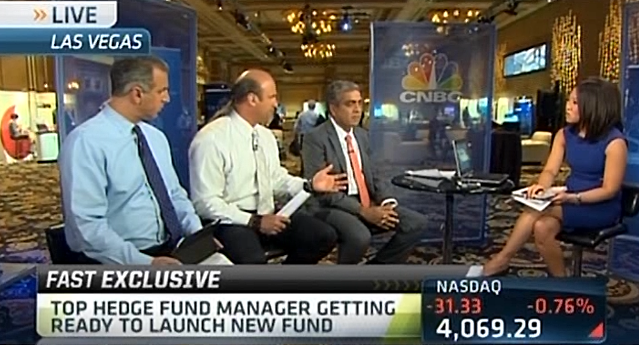 Guest declines to look at Pete even while Pete is asking him a question
Deepak Narula patiently explained to Melissa Lee on Thursday's SALT-based Fast Money how he's launching a fund that will invest in delinquent mortgages, articulately stating that banks will be shedding non-performing loans that can be bought below the value of the real estate and then boosted by "working with the homeowner."

"You don't need home price apprecation for the strategy to be profitable," Narula concluded.

Narula said that shorting bonds is very pricey and fraught with "negative carry." He said instead he prefers mortgage-backed securities that do well in rising-rate environments and deliver high yields, with put protection.

Pete Najarian wondered how high the put premium is. Narula didn't address Pete but directed his answer to Mel (well, which one would you rather look at), saying he buys puts that are "long-dated."

Eloquence from the 1%
Even the great ones sometimes stumble.

Such is the case of David Tepper's remarks at SALT 2014.

Please note: This page is not saying Tepper is wrong.

This is what we're saying: Look at that image above. And try not to laugh.

There's just something laughable about it.

(The usual caveat: He's got a lot more money than we do. But we've got him beat on "Road House" and watching football. Probably golf too.)

Anyway, before cracking up over that graphic, Mel made viewers blush when reporting that Tepper likes "stocks that have been beaten off (sic) in the latest selloff."

Pete Najarian pointed out that "we never got the panic" in the VIX.

Guy Adami said that what Tepper meant is that "There's a time to make money, and there's a time not to lose money."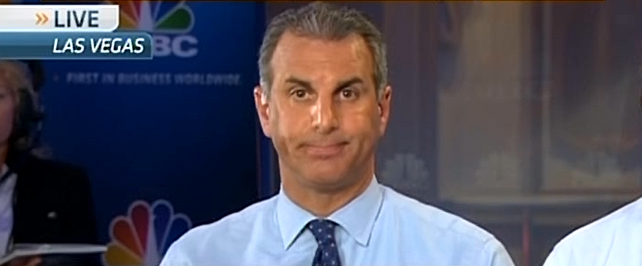 5 o'clock shadow dogs Guy
throughout stay in Vegas
This page pointed out this week that Guy Adami went all the way to Vegas to say what he's always saying at the Nasdaq Marketsite in Times Square.

Thursday that almost happened again on Fast Money, as Guy re-insisted, "Priceline is not an expensive stock" (Drink), but merely one that was "caught up in the maelstrom" (Double Drink).

However, nothing this time about moving the decimal point to the left one (sic) (potential Triple Drink unfulfilled).

Pete Najarian called PCLN "a great momentum stock" but a "different animal" than the sky-high P.E. names.

Brian Kelly said he sold all his gold and about 2/3 of his bond positions.

Mel at one point said "what the 10-year yield is yielding" (sic).
JCP: 'Darwinism at its finest'
Making the Ron Johnson era sound as distant as Gerry Faust, Dana Telsey insisted on Thursday's Fast Money, "We liked JCPenney before; we like it now," citing an "improved reception to the product."

Telsey said if she had to make choices, she'd own JCP in place of AEO and ARO.

Guy Adami said JCP is "Darwinism at its finest," and given the "somewhat disastrous numbers," he'd be looking for a place to sell, not buy.

Guy said airlines "continue to be impervious" to the tape, and his favorite is DAL.

Adami said you can't be short RAX. Pete Najarian said CSCO was really impressive.

Pete said RHT June 52.50 calls were hot and he likes the trade.

Brian Kelly, who made waves by saying "cauterize," said of BX, "If you like it, buy it."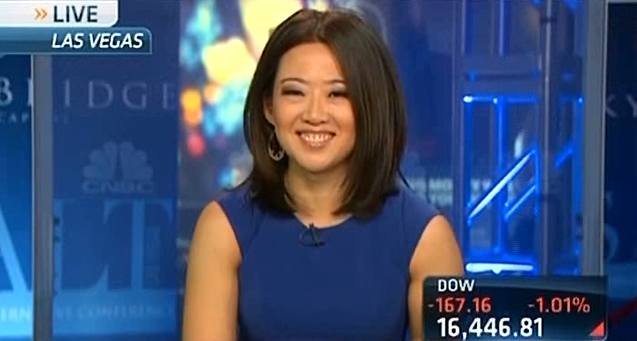 Mel does it again; packs 2 sizzling outfits for Vegas trip
One guy not terribly impressed by David Tepper's market meltdown was Fast Money guest Jacob Walthour, who told Mel Thursday that while he doesn't have as much money as Tepper, he disagrees and thinks "you stay invested in this market."

And then he said he wonders where Tepper puts the 40% that he pulled from equities, a great question.

Walthour at one point said "Sarsbane (sic) Oxley."

Bethany McLean said the morphing of activism and private equity "seems like a natural merger."

Tim Seymour dropped by to say he's short MPEL but that $30 is the level to cover.

Seymour contended that "people have priced in the worst" in China.

Mike Khouw said July 20 puts in WTW were hot, and so were January 17.50 puts. Khouw interpreted those trades as reflecting some people's belief that "this company could be toast."

"Wow," said Mel.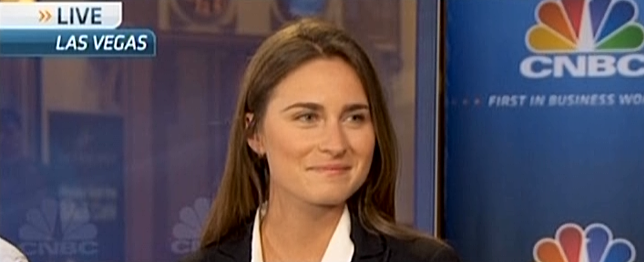 She really is married to a guy named Lauren, according to Wikipedia
Don Drapkin told Melissa Lee on Thursday's Fast Money from SALT that he didn't "take down" his GM position, but sold the shares and bought options (which sounds like a Pete Najarian trade). "We're actually still very bullish on GM," Drapkin said.

Fair enough, except Drapkin actually claimed that GM management is "scrubbing the place clean."

Honestly, we don't get it. Here we've got a company that historically has been hopelessly mismanaged (not every exec is a bad exec), union dominated, and continues to extend its decades-long streak of failing to produce a product that people actually buzz about ... yet the Wall Street Right trips over themselves to endorse this name on Fast Money.

Anthony Scaramucci called GM a "good defensive name." (See?)

Lauren Bush Lauren — who is cute and has a cute name — was the star charity guest of SALT, telling Mel how FEED Projects has donated 75 million meals.

Guy Adami's Final Trade was GT. Brian Kelly said to sell TM.
It's all about content — SkyBridge entering television business
The biggest announcement from SALT 2014 came on Thursday's Halftime Report, when Anthony Scaramucci revealed that SkyBridge Capital has actually bought the "Wall $treet Week (with Louis Rukeyser)" brand and archives from Maryland Public Television.

During the day, Business Insider reported that former CNBC creative honcho Susan Krakower is actually joining SkyBridge and will spearhead the revival of this notable brand (perhaps with vinyl couches).

Curiously, Scaramucci suggested "W$W" will be resurrected as a half-hour program on weekends. We'd have to think that's a long-shot for success.

But who knows.

Meanwhile, Anthony Scaramucci said the rumbling at SALT was that deflation is a bigger worry than inflation.

Steve Kuhn said this is one of those interesting times when "markets don't actually talk to each other," and even suggested the 10-year "is trading at a P.E. of 40."

"I think that's- that's, a little bit too low," Kuhn said.

But while we were confused with the notion of a 40 P.E. being "too low," we decided Kuhn really meant that the yield is too low, hence the 40 P.E.

Kuhn helpfully said, "You REALLY don't wanna be in bonds" if you think the 10-year yield is going up.

Kuhn likes "boring" stocks CAG and RKT.

Josh Brown said there's "complacety" (sic) in the market, then corrected himself.

Mr. New Land's Final Trade was AAPL. Josh Brown said PFF.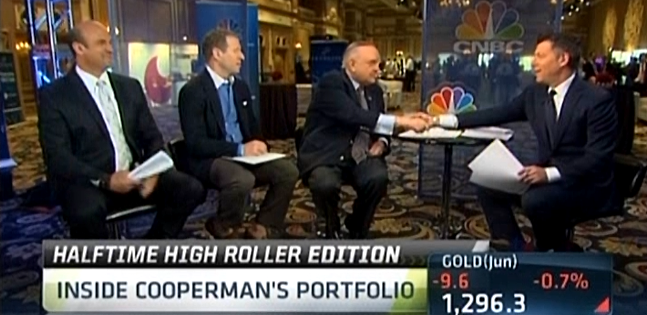 The Doug Kass Effect: Judge asks Lee Cooperman for size of AAPL position
Legendary investor Lee Cooperman told Judge on Thursday's SALT-based Halftime Report that he got back into AAPL in the "low 500s" and thinks the stock gets to the "mid-600s."

Judge then asked this incredibly important question:

"What's the size of your position in Apple?"

"1.2%, something like that," Lee said.

And with that, Judge ensured that another messy business-media fiasco similar to the one that started with an irritated Doug Kass' email that ended up in the New York Post and — most regrettably — cost Dougie a seat on Larry Kudlow's final episode ... will be avoided.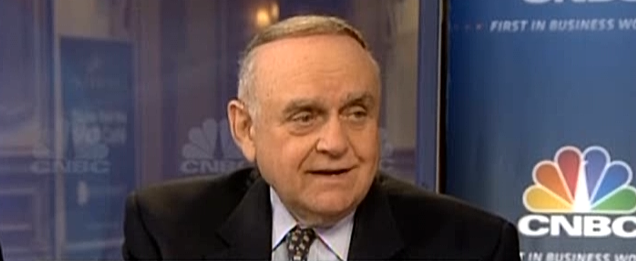 Coop down on GM because he sees few American-made cars at the country club
Meanwhile, Judge opened Thursday's Halftime interview with Lee Cooperman with the flattest of questions: "What's your take" on David Tepper's comments. (C'mon Judge, show some life here.)

Cooperman said "opinions are like noses" and that Tepper "should be listened to and respected," but that, while Lee was saying at the beginning of the year that the market was fairly valued with a 16 multiple on $117 earnings, Tepper was suggesting a multiple of 18 or 19, which concerned Lee a bit, and "clearly he's changed his view."

Cooperman predicted a 10-year Treasury at "4 or 5%" within 2-3 years and added, "I think stocks are your best bet in financial assets."

Coop predicted the S&P will not breach either 1,700 or 2,000, and, like a king of Fast Money terminology as well as a king of Wall Street, included an "at the end of the day." (Drink.)

Steve Weiss suggested that Tepper is concerned about GDP growth and maybe doesn't see 4% in the 2nd half.

Weiss also said he was talking to the "SPYder guys" at SALT, who said flows are great, particularly into MLPs.

Cooperman touted one of his stock winners, Monitise (which either rose 65% or 100% in the last year based on whether you believe Coop or Judge), saying it's a winner because "the customer wants it on both ends" (ouch) (don't go there). The screen text said Coop predicts a double in the name, which is traded in Britain.

Pete Najarian tepidly asked which banks would Lee put "fresh" money into. Cooperman suggested AIG, C and JPM, and threw in a "below tangible book" (Drink) for C.

In a bit of a Brag Trade, Cooperman said he sold GM at 39, partly because he owns 3 Lexuses — "2 2002s, 1 2008" — "and I just can't find many American-made cars in my parking lot in my country club, uh, or where I, or for my friends."

Cooperman said his DG stake is "very modest," and he's into TWC because it's a cheaper play on Comcast.

He said his biggest position is Sprint, because "We think the government should allow Sprint and T-Mobile to merge."

"I like to give my money to charity," Lee said.

And he added, "We're not big traders."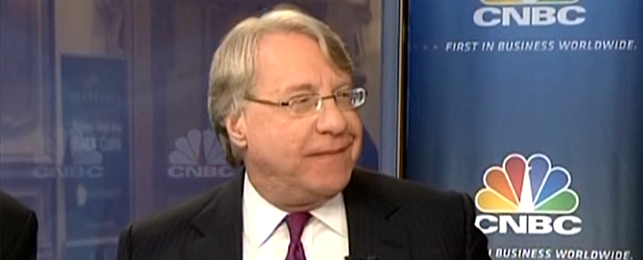 Ackman's friend ledger:
Chanos yes; Carl still a maybe
Jim Chanos affirmed he is short BID, based on "a lot of silliness" in the art market, which he said "usually" marks the time to get out of Sotheby's.

"Dan is a smart guy," Chanos said of Loeb, adding there are always smart people on the other side of every trade, good or bad.

Chanos at one point said he's "increasingly concerned" about a crackdown in Macau but didn't want to say what he might be shorting in Macau because "I'm sitting in a casino."

While long AGN, Chanos is short VRX. "We're short, because it's a roll-up," he said, asserting that Valeant insiders might be even more "negative" than he is based on depatures and stock sales.

Stephen Weiss said he's skeptical of Valeant defining the "end game" not by the companies it acquires, but what its own market cap will be.

Chanos said "Bill is a friend of mine," so he doesn't want to discuss the "deal dynamics" of how Ackman's getting rich on VRX-AGN.

Chanos said he's short GMCR and SODA, but long SBUX. He said "a ton of Green Mountain insiders" have been unloading stock.

He said "I don't know" why CAT keeps going up.
Joe: 'We're rolling over'
Joe Terranova contended on Thursday's Halftime Report at SALT that "I think we're rolling over," and that the "trough" isn't in yet as the demand for bonds intensifies because of "most money managers being wrong" this year.

"Anything worked in '13," said Stephen Weiss, who called the selloff (not sure which one, maybe Thursday's action) a "natural evolution" of the market.

Pete Najarian said "John Chambers finally returned to the John Chambers of old," boosting CSCO with bullishness.

Steve Weiss said "momentum cuts both ways" in XONE, and it should be down.

Joe sees an "opportunity" in BMY, MRK and LLY. (He had to say "I think it's an opportunity" 3 times, for each one, but we're not going to type that all in.)

More from Thursday's Halftime and Fast Money later.
[Wednesday, May 14, 2014]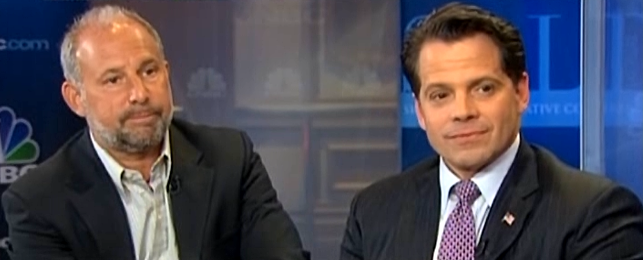 2 hours? 3 hours? 30 minutes? How much sleep does Anthony Scaramucci get nightly during SALT week?
If it seems like he's on camera every 5 minutes at this time of year, think about whether he ever gets a nap.

Which may explain why Anthony Scaramucci, in trumpeting on Wednesday's Fast Money the SALT Conference appearance by Gen. David Petraeus, actually said it's "gonna be very interesting as it relates to the Ukraine."

Zzzzzzzzzzzzzzzzzzzzzzzzzzzzz.

It'll only be very interesting if it relates to Paula Broadwell, a name we're guessing is going to be off-limits, and not just in Fast Money teasers.

Scaramucci sat in during Wednesday's Fast Money with Gary Kaminsky, former co-host of The Strategy Session (CNBC's last new show) that was profiled on this page and now a Morgan Stanley wealth management honcho.

Kaminsky asserted that "interest rates are gonna remain low and probably trend lower as a result of the misallocation by many of these managers out of the bond market and now coming back in."

"There's no credit bubble that I see," Kaminsky said.

Ingrid Pierce, who Mel said is a SALT regular, said there seems to be a "real pickup" in demand for alternatives in the hedge fund industry.

Kaminsky, who likes closet indexers as much as this page likes "at the end of the day," got in a dig at his favorite target, and also declared that "Magic Johnson is the most inspirational speaker ... that I've ever heard."

We're hoping Mel or Judge can produce an answer to the question in the headline of this item. Honestly folks, when it comes to getting ahead in business, motor is as much of a component as anything, and given that a conference of this magnitude revolves largely around one person, that's pretty impressive.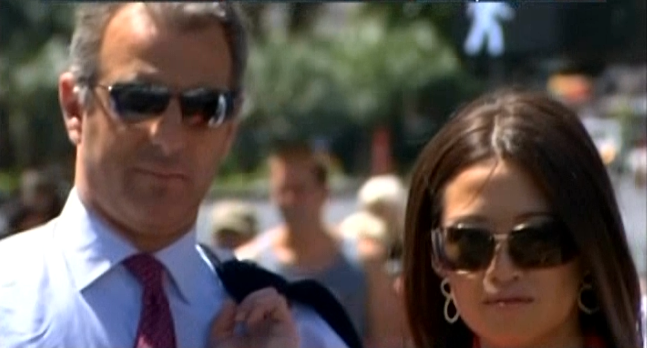 Wild pitch — Mike Novogratz's bitcoin explanation makes no sense
We were shocked to learn from the Halftime Report that Ultimate Fighting is actually 20 years old, and even more shocked to learn from Wednesday's Fast Money that there are 30,000 smart people working on bitcoin in some fashion. (What about it needs to be worked on, we have no clue.)

It was when Brian Kelly asked Michael Novogratz if bitcoin is a bubble, and Novogratz uttered the number of the day, which was bitcoin market cap being "about 4½ billion dollars."

Novogratz added that there are "30,000 independent programmers" working on bitcoin (he didn't say if some are hackers, and Missy didn't ask), as well as people like Marc Andreesen.

But he never answered Kelly's question, concluding that "rarely" has there been a project with this much "human capital" that you can buy at $4½ billion.

"So that's the easy, uh, pitch," Novogratz said. (Huh?) (#talkaboutcommentarythatmakesonethink"bubble")

Novogratz admitted his firm, and individuals, have a "small position" in bitcoin.

Meanwhile, Novogratz said "the idea is to have less chips on the table" in a market such as this one.

Mel was heard to question "whether or not (sic last 2 words redundant) there's a credit bubble." Novogratz said there isn't, in fact banks are fortresses, with no pun intended.

Novogratz asserted "it's hard to argue" why the 10-year should be less than 3.60%.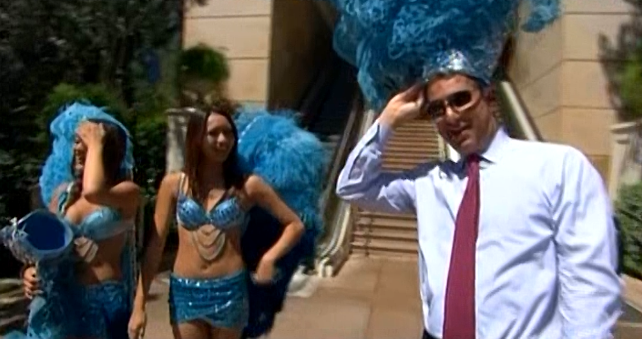 The most exciting subject
in Vegas is ... Cisco Systems
He came all the way to Vegas ... to say the same thing he's been saying for months/years.

Guy Adami, who unleashed a 5 o'clock shadow, maintained at the top of Wednesday's Fast Money at SALT that he thinks the 10-year will gravitate toward 2.0% as the economy continues to struggle.

Guy Adami predicted CSCO gets to 26½, which is where he thinks it "should be trading."

Later on in the program, in case viewers feared he had changed his mind, Adami maintained he is "pretty convinced" on that 26½.

Jon Najarian, who said he's in the CSCO trade, uncorked a new one for the lexicon, software-defined networking, or SDN, and said Cisco's emphasis on this industry can drive the stock.

Brian Kelly said to stay away from SEAS, but play DIS for parks.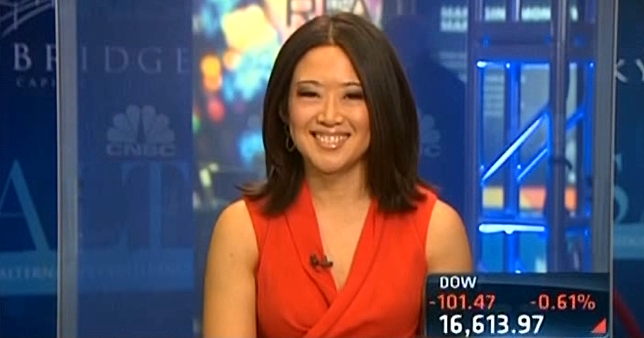 Mel packs possible top outfit of the year for trip to Vegas
Have to admit, we utterly scoffed at the presence of Dr. Nouriel Roubini and Peter Schiff at SALT this week.

But we gotta admit, their appearance on Wednesday's Fast Money was interesting, a credible argument understandable to the armchair economist.

Roubini asserted that he sees the opposite economic environment of what Schiff sees and believes the dollar will strengthen, not weaken.

Schiff spent much of his time mocking Roubini's contention that inflation is good because otherwise people will indefinitely put off purchases to get them 1% cheaper. But his strongest point/question was why 2% is a more noble inflation goal than 1%, which Roubini didn't try to answer.

Roubini rightly questioned Schiff's gold optimism. Schiff insisted, "you have to wait more time" for $2,000 or $5,000 or whatever it is.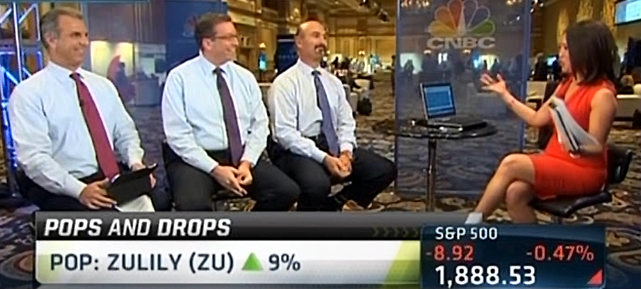 Mel shows off smokin' dress
to appreciative panel
Justin Gover, chief of GW Pharmaceuticals, explained on Wednesday's SALT-based Fast Money how the company is pioneering in "cannabinoid," using the non-high parts of hemp to hopefully help treat, among other things, children with epileptic seizures, and people with MS.

Guy Adami asserted that "obviously, these stocks are extraordinarily volatile," but he does see "upside" in the name.

Jon Najarian suggested "defining your bet" and said GW is a lot more "real" than johnny-come-latelys in the THC market.

Meg Tirrell reported that stocks are moving based on ASCO, everyone's favorite speculative-stock conference. Guy Adami said the moves made by Fast Money favorite CLVS, which is well below the price when Yaron Werber has recommended it, are "about the cash burn," and he thinks there's "probably some room on the upside."

Brian Kelly was really thrown a curveball by ZU.

Jon Najarian said Sony "seemingly can't get out of its way."

Mike Khouw said the November 62.50 calls in Macy's were active; he called the stock a "value play" (Drink) (but he didn't say it's best in breed or hitting on all cylinders).

Guy Adami's Final Trade was TLT. Kelly said CSH.
Larry Altman: 'Risk/reward'
is to the downside
Larry Altman, known as TraderXAspen and a shining star to day traders everywhere who dream of making a comfy living on their home computer, joined Judge for Thursday's Halftime Report at the SALT Conference ... and instantly sounded like he had prepared his remarks with the help of Dr. New World.

Altman pronounced this "an enormous, confusing market at the moment" and said the market must "show itself" before you can make directional trades.

Meanwhile, David Albrycht said if there's an "escalation" in the Russia-Ukraine situation, the 10-year could head to 2%. But he thinks it'll go the other way, to 3%.

Josh Brown, who got a quick hook and then returned, questioned Albrycht as to whether Greek debt makes sense against Treasurys. Albrycht mentioned the Baltics and said the European yields are "warranted." (Albrycht also said something about "preserve reserves" and didn't stumble.) Albrycht likes high-yield munis, specifically Puerto Rico and airport bonds and while he couldn't think of a 3rd, overcame that glitch quite nicely.

Altman finally told Judge, "I think the risk/reward is to the downside" in the S&P 500.
Rain or shine, everyone's always optimistic about the potential of growth in Vegas
Judge shocked viewers of Thursday's Halftime by pointing out that Ultimate Fighting has been around for 20 years; even worse, co-owner Lorenzo Fertitta, who paid a visit to the SALT Conference, said there's a "continued explosion" on the international front. (OK, we're only partly joking; if it works for you, more power to you.)

Fertitta mentioned something we didn't know, that the Station casinos, a staple of Vegas-area "neighborhoods" and owned by the Fertittas, are non-union.

Fertitta, demonstrating high aptitude for Fast Money slogans, managed to say "at the end of the day," and inadvertently jabbed Omaha, which probably won't sit well with the GBR element of the CNBCfix community.

Doc's Final Trade was GD. Joe Terranova said to buy KATE, and the Moochmeister said IBM, before closing with a flourish, referring to "The Judge, The General" before drawing a blank about the prime minister.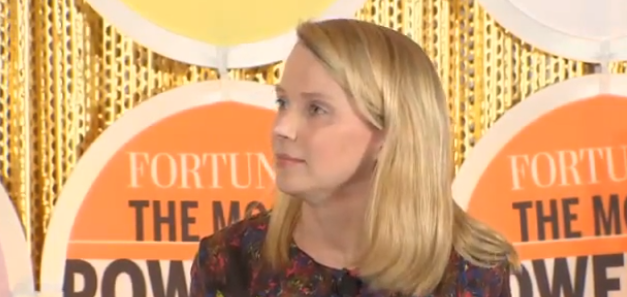 Who's in charge of Yahoo?
Judge opened Wednesday's Halftime Report with a "doesn't stay in Vegas" joke, but it was Pete Najarian quickly delivering the (inadvertent) comedy.

Pete said Yahoo's deal to buy Blink is a "great move by Melissa (sic) Mayer."

That was before the discussion turned to the art market, when Pete observed a "tale of 2 different (sic added 'different') cities" between Sotheby's and Christie's.

Mr. New Land turned up around that time and asserted, "Longer-term, you bet on the Sotheby's turnaround," though he's "not necessarily sure" that art is a good investment and may in fact be at the "ceiling."

Anthony Scaramucci said Dan Loeb's BID negotiations "took a turn for the better last week," and Loeb will get "exactly" what he wants.
Nothing against Ira Sohn, but this looks like a lot more fun
Either he's on fire, or everyone handed him the stage.

SALT host Anthony Scaramucci opened Wednesday's Halftime Report by pointing out an underreported story, the Russian economy being in "tatters" as the Ukrainian situation escalates and what that will mean for Europe.

Scaramucci also noted that in May 2011, "temperance" was the word at the SALT conference (which not only included the George W. Bush speech helmed by Melissa Lee but one of the last public appearances of Jon Corzine), and that week or so was the market high for the year, but we've still got a very "lenient" Federal Reserve that might tip that equation the other way this time.

Scaramucci promised "live ideas" and "actionable stories," although he did happen to mention a bit of a clunker, alerting viewers that "Dr." Nouriel Roubini and Peter Schiff were already on stage (how did they get invites?) (#yesterday'snews) (#morethanyesterday).

Pete Najarian predicted that viewers will get "a lot of tips" and "great ideas actually quite honestly" about getting into and out of the markets, and then astutely suggested copper's move to 3.17 "could be telling us something."
'30 to 40%' in PTEN
Despite all the promises of "tips" and "great ideas," Judge's 1st guest from the Vegas-based SALT on Wednesday, Jacob Gottlieb, actually had nothing to say when Judge asked whether he supports Valeant's Allergan bid, explaining he'll "have to reserve comment."

Gottlieb said he's "pretty constructive" on markets but rather than making directional plays, prefers to be stock-specific. Rather than trumpet a health-care name, Gottlieb instead touted PTEN, for its onshore drilling; he expects "30 to 40% upside."

James Dinan (that's correct, not "Dimon") told Judge he too was "pretty constructive" on the stock market, though it's been "very frustrating" for a lot of people.

Dinan said the "event-driven" space is what's appealing, for M&A.

Dr. New World reaffirmed that "consensus has been completely wrong" and asked Dinan if financials will stop underperforming. Dinan noted that high-growth companies have had trouble, some being "overowned," but acknowledged that interest rates just seem unable to go up.

Jon Najarian, who just joined the set, made the mistake of asking Dinan about MTG being a "contrarian bet." Dinan protested that "a hundred lawyers" don't want him talking about specific positions, and then he referred to 13F and said he's not in the name because it didn't work.

Josh Brown said "there's very little not to like" about M (Drink).

Brown called DE a buy though he wasn't 100% happy with the report.

Pete Najarian said SODA is "in and out of the news" all the time and has "plenty of room to the upside."

More from Wednesday's Halftime and Fast Money later.
[Tuesday, May 13, 2014]
Steve Grasso realizes that
the Fast Money crew gets bored
As another day passed on Tuesday without a 75-point Nasdaq meltdown, the Fast Money gang once again found itself with almost nothing to talk about.

Which made it rather startling when, in the most unbelievable comment in weeks, Steve Grasso dialed in to actually claim, "We get bored of talking about moe-know- (sic) momo names."

They do?

Grandpa Grasso said he felt like Monday's rally was a "gift" and he sold AMZN, BAC, ANF, HPQ and "liquidated" his QCOM stake also.

Grasso nevertheless said that TSLA's bounce was "pretty impressive," and he's still got TWTR.

But Guy Adami said he'd be "inclined" to be long ANF.

Guy said "General Electric clearly comes to mind" (snicker) as an industrial with some gas left in the tank and also backed HON and BA.

Tim Seymour said small-caps "should be sold" but that FDX shows there is growth in transports.

In a twist, Dan Nathan actually suggested BIDU has potential given the size of the Chinese market, and even called CELG "a very cheap stock," as the show opened with no theme whatsoever.
Guest says he'd invest Grandma's cash in SPLK
Dan Ives said on Tuesday's Fast Money that it's a "bipolar tech market." He thinks IBM would or should be interested in SPLK, and Tableau Software would appeal to SAP.

Finally, Ives said Satya would find Imperva a "natural fit" for MSFT.

The other Dan, Dan Nathan, protested that IBM wouldn't pay the price it would take to buy a name like SPLK. Ives insisted it's a "very narrow window of opportunity," and is so confident in these calls that he said he'd recommend them to his grandmother.

Guy Adami was convinced enough to make IMPV his Final Trade.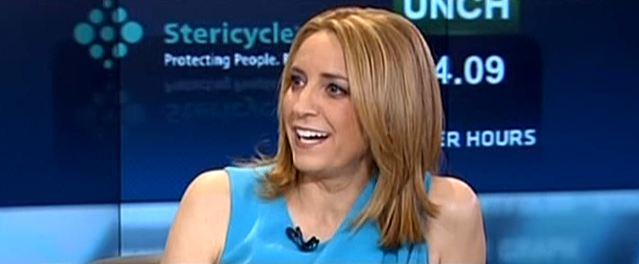 Tim thinks a K-Cup brewer
is like a Dell Computer
Tim Seymour on Tuesday's Fast Money had no argument for a WMT bull case, starting with retail sales and claiming the bar is "incredibly low."

Grandpa Dan Nathan said the risk of WMT succeeding online is "large," and it may struggle to pass along food inflation costs, and the high of $81.37 looks like a ceiling.

But Karen Finerman (above) said she "doesn't get" Nathan's claim of "asymmetric risk" of being short WMT.

Meanwhile, Seymour insisted he owns KO without GMCR and then claimed that the "at-home, cold and hot beverage market" is like PCs 20 years ago.

Guy Adami warned SODA could be 37 "when you wake up tomorrow," and then took heat from Dan Nathan for congratulating himself for a "great call" in recommending it from 33 to 45. But Karen Finerman defended Guy, "He did have a great call."

Karen Finerman lamented that FOSL didn't deliver more optimism about the 2nd quarter.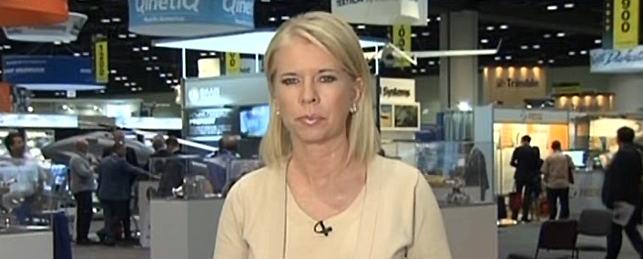 Mahatma Gandhi isn't president?
Jane Wells, with chic new hairstyle, on Tuesday's Fast Money delivered another defense report, this time on the prevalence of pilot training by virtual reality.

Mel burst into giggles when pointing out that "Top Gun" wouldn't have been the same in virtual reality (or whatever Kelly McGillis' sexuality is/was supposed to be).

Tim Seymour actually remembered the film's "110 degrees" line.

Mel agreed that Jane "is the best."

Guy Adami pounded the table for defense names, stating, "Mahatma Gandhi could be president, and defense spending is not going down."
'To me' takes a breather
CLNE chief Andrew Littlefair visited with Tuesday's Fast Money and tried to parse the company's approach to CNG and LNG, and quickly lost viewers; then he told Karen Finerman there's growth in trucks, likening it to the trash business years ago.

Tim Seymour referred to "Cummings" (sic pronunciation) and said he'll stay in CLNE.

Mike Mayo praised Morgan Stanley for converting wealth management into half the company's business, and called tangible book a "floor" in the shares.

Dan Nathan said weekly 23 calls in CSCO were hot and issued his first and only "to me," stating he thinks it will move on earnings in a wider magnitude than the options market expects.

Guy Adami said WHR "feels sort of toppy" and predicted it goes lower.

Dan Nathan said he "wouldn't chase" DTV.

Tim Seymour said he'd stay in Weibo.

Karen Finerman said a VFC buyout is no reason to be long LULU; she's not in it.

Anthony Scaramucci congratulated SkyBridge's positively giddy Kelly O'Connor for "doing all the work" at SALT. Mel revealed that "a bunch of us" were taking the redeye to Vegas.

Tim Seymour's Final Trade was BP. Grandpa Dan Nathan said QQQ puts. Karen Finerman said HRB.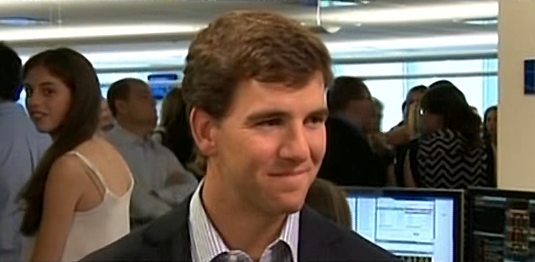 Bob Pisani seems shocked that traders would applaud Eli after horrible 2013
Eli Manning graciously visited with CNBC's Bob Pisani on Tuesday's Halftime Report while raising charity cash at BTIG for the March of Dimes and Robin Hood.

We were actually more struck by the woman behind Eli in the skimpy outfit, but whatever.

Anyway, in by far the clumsiest question of the day, Pisani told Manning that while he didn't have a good year, he still got roars from the folks in this office, so "how do you manage that public persona side."

Say what?

Eli said, "You just try to be a good guy," whether you've had a career year or just put your life savings into FEYE the same time Brian Kelly bought the stock. (OK he didn't say that last part.)

Pete Najarian stumbled in peppering Manning with not 1 but 2 irrelevant questions, one about the Giants' draft that Pisani had already asked, the other about doing business with Peyton. Eli said he wants to "bring a little urgency to this offseason."
So is VFC trading at 19 times next year, or only 17?
In making a VFC bull case on Tuesday's Halftime Report, Stephanie Link had little to offer other than "quality names" under the company umbrella.

Mike Murphy, the bear, said he won't buy it because it trades at 19 times next year's earnings. But Link argued that "MY earnings estimates" are "more like 17 times."

Fair enough. Mel obviously sided with Murphy, stating "19 times" twice and adding it's a "good point."

Pete Najarian backed Link, stating margins can get better so the stock "actually can go even a much (sic) further to the upside."

Pete Najarian said June 24 calls in DHI were hot, given that people who had May 23s were trading up. Stephanie Link said TOL is "worth a shot."

Meanwhile, Mr. New Land said he disagrees with Jeff Gundlach's short-XHB call. Mel trumpeted the lack of builders in the XHB as though she were the first person to realize that.

Wonder how much money would be raised if they raffled off lunch with Karen Finerman?
Scott Nations made what must be his maiden voyage on the Halftime Report Tuesday, welcomed "to the Futures Now family" by staggeringly good-looking legal eagle/TV fox Jackie DeAngelis.

Nations said it was "warehousing" and "momentum" that were carrying copper, but issued too many qualifiers and caveats as to the ongoing direction. (He'll have to learn the art of brevity to succeed at this feature.)

Anthony Grisanti said China is warehousing copper because it expects production to pick up.

Mike Murphy predicted coming quarters of ARII "will be much better than the past quarters."

Murphy noticed that AA hit a new high on Tuesday.

Pete Najarian thinks CP can "get up to 170."

Steph Link said "the truck cycle is very strong."

Dr. New Land said he's still avoiding coal.

Mel Fast-Fired Pete over his 4/11 bearish call on GILD but said he was only "sorta wrong."

Joe couldn't resist another chance to say the 2014 stock market is "confusing," stating he's not convinced the bottom's in for biotech.

Stephanie Link actually said that if she could have lunch with Tim Cook, she would ask about what's the "next bex- (sic) best thing."

Pete Najarian's Final Trade was VLO. Stephanie Link said AWI. Mike Murphy said ARII, and Mr. New World said LLY, as well as lunch with the Moochmeister and Gary Kaminsky and perhaps Harold Ford.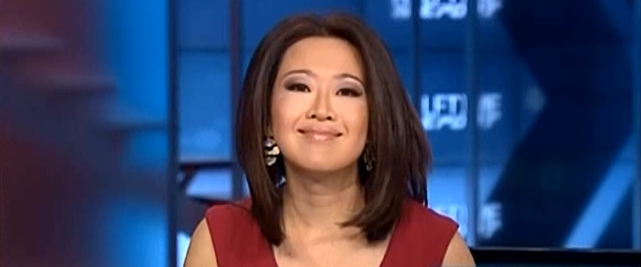 Mel handed sluggish market,
sluggish panel
Missy Lee, who handled Tuesday Halftime hosting duties as Judge presumably gets settled in Vegas for a couple days, followed up Monday's cute purple frock with a sharp burgundy dress on Tuesday, and just like Judge a day earlier, had serious issues trying to launch the program with any pizzazz.

Pete Najarian started it off by stating, "I still like the big-cap names." (Zzzzzz.)

Stephanie Link said she'll be interested in the "commentary" of retailers, which will either center around 1) the weather or 2) Donald Sterling or 3) Michael Sam. (Just a joke, she didn't say that.)

Mike Murphy said this is a "great opportunity" to ride stocks to 1,920 or 1,925.

Live from SALT, Dr. New Land said he and Gary Kaminsky and Anthony Scaramucci were at a "great event" in Vegas the night before talking to "a lot of advisors," and everyone is "uncertain" what's going on. Joe said he is "caught basically chasing the tape" but doesn't trust the notion that we're in a new phase higher.

Steph Link mentioned MPC and said she/Cramer added to ESV.

Pete Najarian said calls were hot in VLO.

Mel also returned to one of her curious favorite subjects, the commoditization of the cloud space.

Mr. New Land said, "The trade is to run from Rackspace as quick (sic should be adverb) as you possibly can." But Joe tepidly blessed FFIV and EMC. Mike Murphy chipped in MSFT as a possibility to reach mid-40s, while Pete Najarian added that "it's not if, it's when." Stephanie Link observed that RAX results weren't helping others.

Stephanie Link ho-hummed the Ginny Rometty interview that David Faber said Monday he was really preparing hard for and admitted Cramer owns IBM; "you're getting buybacks, and you're getting dividends," and "I think you're kinda safe with this one."

Mr. New World admitted he actually watched Monday's IBM debate while on the plane and contended that IBM won't see a $200 print in 3 months, but the "downside here is somewhat protected."

Steph Link called WHR "priced to perfection at this point" (as opposed to some other point 3 years ago), but she does like the story and was impressed by their quarter and likes it under 150.

Murphy said "I don't think you jump in and chase" DTV.

Pete Najarian said Elizabeth Arden experienced an "absolute monster miss."

Mike Murphy strongly implies he's on a hot streak with TWTR and SODA
CNBC permanent superfox Jane wells reported on Tuesday's Halftime that the defense industry is hot on drones.

Stephanie Link endorsed BA and UTX, which is "an auto- aero- pace, parts company" (sic whole phrase more or less). Pete Najarian said he likes BA. Mike Murphy sees "nice little consolidation" in BA around 130, and he likes it.

Joe Terranova said if you're PEP, "you have to" buy SODA to match whatever KO did in GMCR. Murph crowed he's been buying SODA at 39 and selling 45 and "it's been working 3 times now" and he hopes it works even more often.

Mike Murphy, after "to me" (Drink), said he won't sell Twitter if it pulls back again; he'll buy more.

Mel mentioned "2-time Super Bowl champion quarterback," and we wondered for a moment — gasp — if Ben Roethlisberger was actually coming on CNBC to talk stocks.

No. It was an event involving Eli Manning.

More from Eli Manning and Tuesday's Halftime and Fast Money later.
[Monday, May 12, 2014]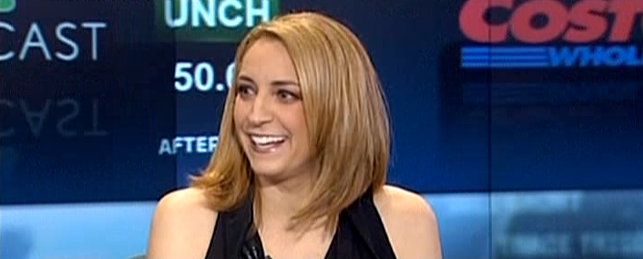 Smokin' Karen throws ice
on 71-point Nasdaq rally
Melissa Lee, just like Judge at Halftime (see below), opened Monday's Fast Money asking panelists if the flight to safe old tech is over.

Guy Adami said there's been "stabilization" in a lot of momentum names, then praised himself for saying last week not to fade a Russell bounce.

Brian Kelly said once the momentum names break, they're done. (Yeah sure. #checkoutCMGinthe240sabout18monthsago)

Steve Grasso said that if you're seeking outperformance, "You've gotta chase these momo stocks again."

Still, Grasso opined, "No one can make up their mind what they should be buying."

Karen Finerman, in hot new dress and hairstyle, said momentum stocks are only "lower," not "cheap."

Chris Verrone said the S&P 500 chart "looks fine," but "underneath the surface," it's a "more selective rally" and "unlikely" to get much past 1,920 given that leadership among select stocks.

Verrone said he likes MSFT at 38 or 39, citing the chart and analyst ratings.
Funny that 'delusional' isn't heard on Fast Money more often
Former Sears exec Steve Dennis said on Monday's Fast Money that Eddie Lampert hasn't offered a winning strategy for Sears, and Dennis apparently thinks Lampert is either "lying" or "delusional."

Mel asked Dennis a question that made no sense, wondering why it wouldn't add value "if they sort of become really small and get really focused."

Dennis said he's not a fan of the "shrinking to prosperity model."

Karen Finerman said it's hard to understand the "very labyrinthine debt model" of Sears.

Brian Kelly pronounced Sears "a trade gone bad" for Eddie Lampert.

Steve Grasso used the discussion to tout AMZN.

Guy Adami joked that Eddie "talked himself out of a kidnapping, so maybe he is a little bit delusional."
Karen insists on personal-space boundary as David Faber gets close-up view of her smokin' new outfit as he prepares for the Rometty interview
Karen Finerman on Monday's Fast Money questioned David Faber as to the timing of Ginny Rometty's "rocky times" remark just 2 days before investor day and before an interview with David Faber. Faber said IBM is trying to emphasize its growth units, but he doesn't know "what the content of the interview will be like" though he's been preparing mightily for it.

Steve Grasso said Big Blue is technically "challenged," faces low margins as it gets into the cloud, and then said "bohemoth" (sic pronunciation).

Guy Adami predicted that IBM would "underperform a lousy tape."
Missy seems to think
everyone loves coal
Melissa Lee on Monday's Fast Money asked FirstEnergy chief Tony Alexander what he's talking about regarding the "war on coal." Alexander said this has been talked about for "quite some time," but what they're really talking about are government mandates to buy things that people don't really want.

"I do believe there's been a war on coal," Steve Grasso said, recommending people buy a "basket" of these names.

Meanwhile, Dennis Gartman brought up the old "copper has a Ph.D." (Drink) or whatever and asserted it's more than just China driving strength in base metals.

"I think you buy gold here," said Brian Kelly.
Karen 'definitely'
wouldn't short BBY
Brian Kelly said on Monday's Fast Money that he thinks "a hundred bucks" will be the number for DTV.

Kelly delivered a Brag Trade of sorts, reminding viewers he sold TWTR at 40.

Guy Adami said not to fade RAX "for at least a few days."

Guy also said you can be long AAPL against roughly 575.

Mel introduced Phil LeBeau as "Phil LeBoy." Karen Finerman said GM stock has "digested" the bad news "pretty well." Steve Grasso said to keep a 34 stop in GM.

Mel seemed to be concerned that Elizabeth Arden would be targeted by LG Electronics. Bertha Coombs said that LG is actually a Korean beauty firm. Karen Finerman said the RDEN revenue shortfall is terrible but not a valid read-through of RDEN competition because they could be gaining share.

Steve Grasso said he "took some profits" in PAY and thinks it goes higher, but he's not in the name.

Brian Kelly said he'd "still stay away" from FEYE.

Karen Finerman said AGN's rejection of Ackman shouldn't have been a surprise.

Guy Adami said there's more room to the upside in TRIP.

Mike Khouw said someone bought a bunch of PHM July 21 calls.

Guy Adami said "CBS goes higher." Brian Kelly said to sell XRX. Karen Finerman said evaluating Best Buy is a "tough one," but she "definitely would not short."

Steve Grasso said May's not such a good month for CCL, it's really an April trade.

Steve Grasso's Final Trade was POT. Brian Kelly said GDX, Karen Finerman said GLPI and Guy Adami said X is "in for another bounce."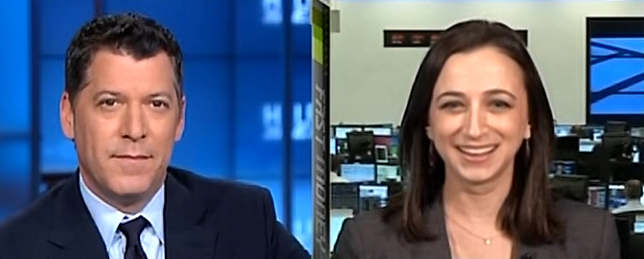 Judge tries to play contrarian with everyone in the housing discussion
The World's Cutest Economist, Michelle Meyer, paid a long overdue visit to Judge's Halftime on Monday and conceded "there are a number of challenges" in the housing market, the first being affordability, then credit conditions, then inventories, which sounds the same as what Diana Olick said a week or two ago.

Meyer, however, who is staggeringly cute, said there's no need to fear another housing bubble like we just had, even though "in certain areas" there are some "overvalued" homes, and even though Judge said he knows people who are "concerned about that."

Stephen Weiss said a lot of private investors have bottom-fished in housing and claimed "most are still there" while Judge suggested they're "long gone." Regardless, Weiss said it means a "permanent lid" on the market, and advised viewers to play it with HD and LOW, and then he backed OCN.

Pete Najarian said he's in "D.R. Holt- (sic) Horton" and told Judge he knows "exactly what you're thinking" after he said that, as Judge jabbed Pete a bit about the XHB components (oh joy).
Something can keep going,
but what, we're not exactly sure
Making very little sense at the top of Monday's Halftime Report, Stephen Weiss was asked about the stock market and ambiguously said, "I don't think it's sustainable."

Which left viewers wondering whether he was talking about utilities/REITs or the Monday bounces of "momentum" names.

Who knows, but he did say that PCLN looks appealing whereas TWTR is just a bounce, while "the market looks good."

Pete Najarian said, "I think there's plenty of staying power," but apparently was referring to industrials, rails, airlines and energy, and CP specifically.

Anthony Scaramucci said that if this remains a "liquidity-driven market," then momentum names will "catch fire again."

Kenny Polcari said he thinks everyone has made the "perfect point."

Judge was heard to say "a tale of 2 markets" (Drink) (Sigh).
Cramer knows how to trade M
Steve Kernkraut opined on Monday's Halftime Report that "Macy's really is a best-of-class department store" (Drink), and while Terry Lundgren's stock sales are "concerning," Kernkraut doesn't expect him to leave.

Kernkraut, who noticed that "most of the retailers had a pretty difficult 1st quarter," especially in apparel, said Target is "in the bull's-eye of Amazon," and said he'd be on the "sideline" until there's a "new strategy" in place.

Stephanie Link, as she always does, reported that Cramer just sold a stock higher than it presently is, M in the low 60s, and that they've bought more.

Pete Najarian endorsed UA and NKE (Drink) and then said, "You can see some of the strength Dick's has as well."
Ginny given 'vision' test
Pete Najarian claimed on Monday's Halftime Report that IBM "truly" has been in "transition phase" since 2005 and is a "stock-shrinker," and Warren Buffett likes it, so he thinks it'll go higher.

Stephen Weiss shrugged that Warren Buffett goes "in and out of names," and mocked that Ginny Rometty, after 33 years, "should have a pretty damn clear vision."

(Some like to say she also should have a green jacket, but that mysteriously hasn't come up for a while.)

Stephanie Link, pegged for the show's "diplomatic corps," said she can "see both sides" of the IBM debate. Anthony Scaramucci praised Big Blue's "great job on the financial engineering side."
Beats us: Anthony says apparent Apple headphones deal will be 'very positive'
Whew.

Pete Najarian said on Monday's Halftime Report that Apple is "absolutely not" the dumbest company.

Anthony Scaramucci called the likely Beats deal an "intellectual capital acquisition" and predicted the move will be "very positive" for Apple. Judge said David Sacks didn't respond to CNBC's request for comments.

Steve Weiss, opining on the HSH-PF deal, predicted "more M&A in the food group."

Anthony Scaramucci predicted the Ackman-Gets-Rich Deal (VRX-AGN) will happen at a "slightly higher price." But Pete Najarian said the Pfizer-AstraZeneca prospects are dicey; "I don't know if this deal gets done."

Stephanie Link predicted a "catch-up" for FOXA after lagging DIS, "and I would be buying the stock."

Jeff Kilburg called $1,300 the "middle of the range" in gold and is looking for a breakout to the upside. Brian Stutland said there's a "tug of war" around 1,300, you should buy when above, sell when below.

Anthony Scaramucci predicted gold "languishes" as the Fed is more concerned about deflation than inflation.

Bob Peck told Judge that investors waiting for the TWTR lockup "to come and go" are now ready to build a position. Pete Najarian said "congrats" to brother Jon for scoring a TWTR bounce.

Tyler Mathisen said Judge would be "right brack (sic)" after a break.

Pete Najarian's Final Trade was IMAX. Stephanie Link said STI, Stephen Weiss said GOL and Anthony Scaramucci said M.
[Friday, May 9, 2014]
RSH not trill, 'looks like it's headed to zero'
Pete Najarian and Josh Brown are fine Fast Money/Halftime panelists.

Who happen to be on television all the time.

Never so much as Friday, when, after Judge enlisted these 2 for the Halftime Report, Mel somehow was compelled to invite them back to say the same things on Fast Money. (Sigh.)

Pete grumbled — stop if you already heard this — that Jon Fortt questioned AAPL's Beats pursuit, and "where on earth" did they get that price given the now-famous Carlyle valuation Pete loves to quote.

Brown asserted again it's a worthwhile deal; "I don't think Pete is respecting Tim Cook's gangsta right now."

Guy Adami, who wasn't on Halftime thankfully, actually said it's a "toe-dip into fashion apparel industry."

Brown then brought up "trill," which proved the Word of the Day.

In the midst of this redundant nonsense, Bob Lefsetz stood tall, explaining the panel's financial analysis (that would be a dig at Pete Najarian) was "cracking me up."

Lefsetz declared that "Apple is desperate; they're clueless ... they have no vision ... this is about getting into the streaming music market."

"YouTube dominates everything," Lefsetz added.

Josh added, "At the end of the day, they do need to do a better job in streaming."

But Pete added, "This is absolutely ridiculous."

Elsewhere, Josh Brown made a confusing, clumsy, elongated point about Russell divergences from the S&P 500, and said those predicting an S&P collapse should know it "hasn't happened yet."

Guy Adami said if the Russell ETF holds 107, he "wouldn't fade a bounce."

Dom Chu said Ackman made 38%, or $1 billion, in the AGN shenanigans.

"This does smell awful," said Pete Najarian, pointing out how Ackman made this happen.

It "doesn't pass the sniff test," agreed Guy Adami.

Brian Kelly took SSYS from Josh Brown and said it doesn't work in this type of market.

Pete Najarian said of RL that it's available at TJ Maxx, see below that it "seems to me like the stock is broken."

Guy Adami said Bank of America hung a 36 on TWTR, and "on a bounce, I think you can get there."

Josh Brown said of another Halftime repeat FUEL, "I would stay away from this."

Pete Najarian said another Halftime repeat RSH has had "shore (sic) shut-, store shutdowns," and "looks like it's headed to zero."

Guy Adami said of TUMI, "I think you can actually get long this stock."

Brian Kelly said "I would stay away" from NFLX.

Pete Najarian said THC August 45 calls were hot.

Guy Adami said to "stay away from FireEye."

Pete Najarian's Final Trade was UA. Josh Brown said SPWR, Brian Kelly said gold and Guy Adami said SYMC.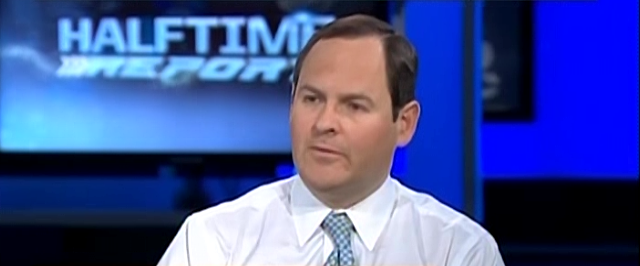 10 words: What in the world is Jim Lebenthal trying to say?
Without question the most bizarre comment of Friday's Halftime Report came from Jim Lebenthal regarding the Johnny Manziel discussion.

Lebenthal vowed "2 words," then said: "Bernie Kosar."

Hmmm ...

So, either Lebenthal means 1) Manziel is a college great who will enjoy a long NFL career and get at least as far as AFC title games ... or 2) Manziel will be broke, dealing with an alleged intoxication incident, and claim to be suffering lingering concussion effects during arrests.

Perhaps Jim will clarify in a future episode.
Where Bernie Kosar
meets Leslie Moonves
Chris Marangi, another Gabelli guest, on Friday's Halftime Report like Jim Lebenthal had 2 words for Judge's panel, in this case regarding CBS: "cap shrink" (sic, those were the 2 words).

We think he meant buybacks, but whatever.

Marangi added, "I like News Corp a lot too," and also likes LMCA.

Josh Brown said this is a "pretty good entry point" for CBS.

Jim Lebenthal said CBS is part of the "tug of war" between content providers and distributors, and then dubiously asked Marangi a 3-part question, one involving the Comcast-TWC deal.

"I think it gets approved," Marangi said.

Marangi said NBC's current programming status is a plus; "it's hard to fall out of the basement."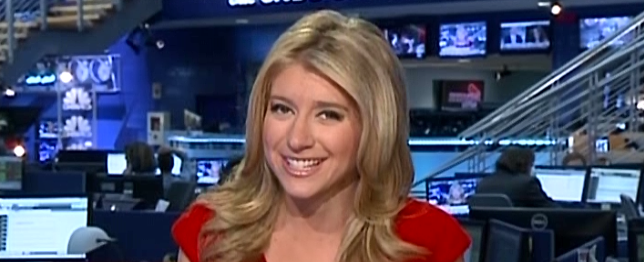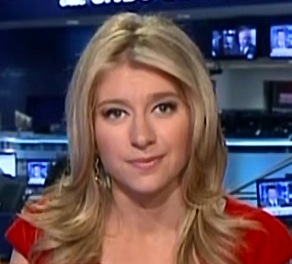 Pete and Murph are hopelessly wrong; Johnny is a bust who only a desperate team takes
It was one of Judge's finer moments.

After CNBC's magnetically gorgeous Sara Eisen got screen time with an interview with adidas chief Herbert Hainer, Pete Najarian, who is not as good-looking as Eisen, said "Nike's got plenty of upside."

Mike Murphy warned adidas to be "keeping an eye on" Under Armour. But Jim Lebenthal grumbled that Under Armour is the "same story" as a decade ago (and then Lebenthal said "adidas is football (sic)" when he meant to say "adidas is Superman" in soccer).

The conversation got much more interesting when Judge took up the NFL Draft and asked his crew, in a great question, what kind of "stock" Johnny Manziel would be.

Unfortunately, Pete Najarian sounded like a bonehead in trying to paint Johnny as GMCR when it's more RSH, actually claiming "it's just a matter of a fit ... he's gonna be fine actually where he is."

Mike Murphy said that when it comes to Manziel, "I'm interested to watch and find out" (sic useless comment) what happens, and actually claimed that falling to 22 put a "bigger chip onto his shoulder."

Manziel was a phenomenal college player, in the conversation for greatest of all time ... and he's also 1) a short knucklehead who can't succeed in the pros and 2) wouldn't be wanted by elite teams. (Please, Cleveland fans, don't desert this site; we like Cleveland.)

Pete Najarian sounded incredulous that Houston might not have taken Jadeveon Clowney; "this guy's an impact player right away."
Apple making 'a good deal,'
but 'absolutely overpaid'
Josh Brown found himself in rare air on Friday's Halftime Report, defending Apple's pursuit of Beats.

"I actually think this is a good deal," Brown said, lamenting that "all the snark and schadenfreude and anger, misplaced anger comes out."

Pete Najarian chose to quibble over whether the price is too high. "They absolutely did overpay for it," Pete insisted, pointing to Carlyle's investment.

Brown insisted, "the sales growth is there" and that the dollar amount is small for AAPL.

"I'm not talking about the amount," Najarian said, when he couldn't possibly have been talking about anything else.

Continuing the argument later, Pete insisted, "They absolutely overpaid."

But Brown insisted Beats represents one of Fast Money's Magic Words, "affordable luxury."

Mike Murphy claimed the presumed deal has "more far-reaching ramifications" which means "wearables."

But CNBC's Jon Fortt was not at all impressed. "There's a danger they'll dilute the Apple brand here," Fortt insisted.

Jay Yarow, who has gotten screen time by posing the question of whether AAPL is "mismanaged" for a popular "business" Web site, said Tim Cook should "go buy Spotify" instead, because Beats is "not considered, you know, the best" in what it does.

Jim Lebenthal asserted that one good thing is that "this is an understandable deal," nobody has to do "research" on what Beats is or does.

Pete Najarian concluded this deal is "meaningless" for AAPL.

Mike Murphy opined, "There's no way I see this as a negative."
Richards: 'S&P breaks 2,000'
Mike Santoli told Judge on Friday's Halftime that the Russell rollover is "another symptom of what we're seeing in terms of risk appetite."

Judge asked Santoli how long the Dow can stay afloat while momentum stocks get pulverized.

"I don't know," Santoli said.

Josh Brown claimed the divergence is evidence for either bulls or bears. (Translation: He doesn't know which move is going to prevail.)

Paul Richards conceded that "26% of European companies missed in the 1st quarter," and allowed that Ukraine and the China property bubble are 2 risks to stocks, but "I think stocks are gonna go again" and that the "S&P breaks 2,000."

Jim Lebenthal said of China and Ukraine, "we really feel those are containable" and asserted that small-caps are contingent on whether bank lending dries up, and there's been "no disruption in the capital markets at all."
The added value Pete gets from his favorite places to shop
Jim Lebenthal on Friday's Halftime Report made a bull case for RL; "hardly an expensive stock" with aspirational buyers; "today's Gap buyer is tomorrow's Ralph Lauren buyer."

Lebenthal also asserted there are "more stores" coming, and "this is an easy one to be long."

Josh Brown, who said you call the guy "Ralph Lorin" because he's from Brooklyn, claimed RL is the "ultimate buy the clothes, not buy the stock type of situation," because it's "not cheap yet" and "the outlook just wasn't great."

Brown even said the stock is in "absolute free fall" with support at 120 but "real support" at 100.

Mike Murphy said clothing stocks tend to be based on the "next hot fashion," so he avoids them, but RL is OK, "I'd be a buyer."

Pete Najarian bemoaned that Ralph Lauren items are in discount stores; "I can find that in TJMaxx; I can find it in Marshall's ... You do not find Michael Kors ever in those types of places," Pete said.

But Pete thinks Johnny Manziel is "gonna be fine" because he's in Cleveland; why can't RL be "fine" in TJMaxx?
Pete starting to think the AstraZeneca deal doesn't happen
Mike Murphy said on Friday's Halftime he thinks TWTR has bottomed, then claimed "bottom's in" as he made it his Final Trade.

Josh Brown suggested there's "potentially a 20% rip in this stock."

Pete Najarian though said he'd "rather be in the options right now than the stock," because, you know how it goes, you're somehow only taking "limited risk" but potentially making gobs more money (in other words, lottery ticket lite).

Jim Lebenthal said there's a "lot of life" in JCP and said it could use "some growth in same-store stales (sic)."

Josh Brown pounded the table for DE.

Pete Najarian said SPLS May 13 calls were "extremely active."

Pete said of PFE-AZN, "I'm starting to think this deal never happens," which he said would be a "good thing for Pfizer."

Josh Brown scoffed at RSH; "I can't believe this is still a publicly traded company ... I would not be involved."

Jim Lebenthal said you "can be long" GPS because "it's dirt cheap."

Mike Murphy said he likes CRTO more than FUEL but both have potential.

For Mom stocks, Josh Brown advised EEM, for "3-5 years" of outperformance. Mike Murphy said RYAAY, Jim Lebenthal said IBM and Pete Najarian said DIS.

Josh Brown's Final Trade was SPWR. Pete Najarian said DAL, and Jim Lebenthal said TGT.
[Thursday, May 8, 2014]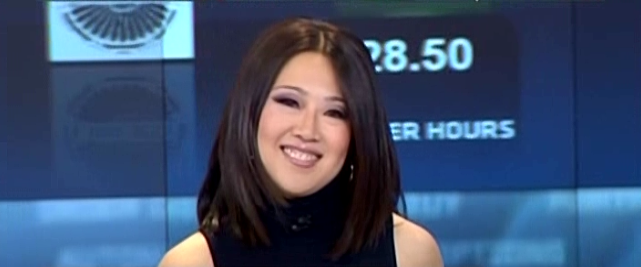 Somehow Mel wrestled The Professor away from Judge's Halftime
The Professor, Aswath Damodaran, who normally does his valuation-explaining on the Halftime Report, told Thursday's Fast Money that Alibaba is a "great company" and probably worth $125 billion before the cash from the IPO, then perhaps $140 billion, but it's facing a "cap" on how much more it can grow.

Anthony Scaramucci asked about a "corruption discount." Damodaran said he wouldn't use that term, but "I'm not sure who Jack Ma knows," but that "has to be a factor here."

Tim Seymour said he's been "hearing a lot" of 180 for a valuation.

Guy Adami, who like many on the program enjoys repeating himself, explained again how he's been wrong about YHOO's price and how he doesn't get it.
Dan Nathan has never seen a handful of stocks fall this much in his 15-year career
Dan Nathan opined on Thursday's Fast Money that the longer the "rotation" goes on, it "has the potential to snowball" into disaster for all those "Web 2.0" stocks Nathan hates.

"To me (Drink)," Nathan claimed, from his career beginnings in the late '90s, he's "never seen this sort of damage done" to a sector of stocks.

Tim Seymour said, "I would prefer to look at the Russell," rather than the S&P 500, for clues as to what's happening to stocks (apparently).

Grandpa Anthony Scaramucci chided the momentum names as having "no basis" for going up like they did until March, except that people thought they were going up.

Grandpa Mooch was down on the government, saying the Fed hasn't been able to get the middle class or lower class back, and the economy needs help from the "Executive Branch."

"What bothers me is the global central banks," said Guy Adami.
Tim Seymour: TSLA to 80
Phil LeBeau suggested on Thursday's Fast Money that as Tesla fights various states' dealership blockades, dealers might agree to legislative deals that cap the number of showrooms and in effect "put a corral around Tesla."

Jalopnik guest Matt Hardigree ran roughshod over the questions he got, stating political momentum favors dealers, and, "right now, in most states, Tesla is not gonna win."

Yet, Hardigree insisted that Tesla's lithium-ion battery has "military applications."

Dan Nathan scowled that TSLA "encapsulates everything" about the momentum market, and he sees it reaching 150 or 160.

Tim Seymour slammed that by predicting "80 bucks" and then trying to blame that on Bank of America's purported 70 target. "They call it giga, gigantic, risk," Seymour said.
Thanks for the reminder, Guy
It's astonishingly one of the worst cliches in Fast Money history.

One of the worst ... because it makes utterly no sense.

Guy Adami insisted on Thursday's Fast Money that PCLN "is not an expensive stock," especially "if you move a decimal place over to the left one." (Drink multiple)

Instead, "people get confused at $1,200 stock is expensive (sic grammar)," Adami said.

How exactly do people get "confused" reading a P.E. ratio?

And how did this 4-digit nominal price prevent it from surging in the last 12-18 months.

Adami parsed, insisting PCLN is not a high-valuation name, but "clearly is part of the momentum" (so what's the difference?).
Tim Seymour says TWTR is 'actually cheaper than Facebook'
Tim Seymour, who doesn't like AMZN with a 400-plus multiple but thinks it's great with a 300 multiple, insisted on Thursday's Fast Money that the "relevance" of the stock improves at 250.

"The valuation's still not gonna make sense," Seymour admitted. "I wouldn't touch it until 250."

Guy Adami congratulated himself and others for calling AMZN a sell on its recent earnings over 340, then insisted there has not been capitulation yet.

Dan Nathan scoffed that "To me (Drink) ... every day there is a new competitor" for NFLX, so he's long puts.

Tim Seymour actually made a bull case for TWTR, insisting on a "lot of caveats" and insisting he's just a "tactical bull," but on some cockamamie metric, Seymour claims TWTR is "actually cheaper than Facebook."

Dan Nathan assured that TWTR is "not goin' to 40 ... To me (Drink)," the big moment will be in "early to mid-August" on the next report, and he thinks the stock has to touch 26.

But Guy Adami opined that "you can see a bounce here."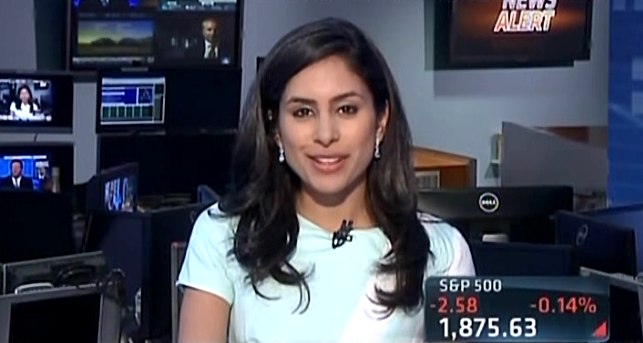 How come Dan Nathan isn't shorting everything with a high multiple?
Dan Niles, taking a page from Karen Finerman, said on Thursday's Fast Money that he's endorsing GOOG, "It's a name we've liked for a bit," especially now that it's "getting rid of Motorola."

Niles also advocated an MSFT short, because of the Nokia train-wreck, causing "at least 10 to 20 cents having to come out of earnings."

Guy Adami, undeterred, said "that last quarter was pretty spectacular" for MSFT. Dan Nathan predicted "10% downside" in the name.

Nathan also predicted a "quick 10% downside" in COST if there's anything wrong in the next report.

Cloud-multiple gorgeous Seema Mody spoke about the Winklevi and some bitcoin nonsense.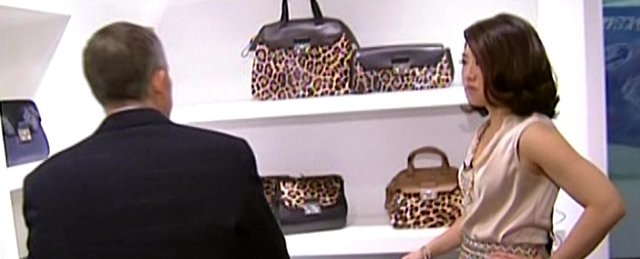 Wonder what Carl will tweet about Tim Cook's new venture that probably wasn't discussed at dinner
Cloud-multiple gorgeous Seema Mody reported on Thursday's Fast Money that the FT was reporting that Apple is going to buy Beats.

And the instant reaction was harsh.

"I don't think that this is what people wanna see out of Apple," said Tim Seymour.

"I think the stock will trade off on this news," Seymour added.

Dan Nathan said such a deal is the "most un-Steve Jobs" thing Apple can do; "I think it's a disaster."

Anthony Scaramucci said "we'd be buyers here" of TIF.

Guy Adami said it's "imperative" for FDX to hold 130.

Tim Seymour said of TAP, "I stay in the name."

Dan Nathan actually called F a "cheap stock."

Dan Nathan said someone bought a July 33/40 1x2 call spread in KATE (Zzzzz).

Someone said Mel, in hot dress in the Kate Spade shop archive footage, was displaying "good-lookin' bags."

Tim Seymour said of CBS, "I would buy this stock." Guy Adami said of SYMC, "I do like the name here still." Dan Nathan said that "towards 17," NVDA is "probably a buy ."

Andre Reed bragged about his conditioning (where is Cliff Branch in the Hall of Fame?) and said Jadeveon Clowney would go No. 1.
McDonald: TWTR, WFM, FEYE
might be capitulated
Larry McDonald dialed into Thursday's Halftime Report to point out sort of a Brag Trade call in EEM in February, using a "model that measures capitulation" that apparently found EEM oversold at the time.

McDonald suggested that right now, TWTR, WFM and FEYE seem to be in that category.

But he cautioned, AAPL during its slide had some rallies, only to keep falling, so you've gotta be careful.

Jon Najarian admitted that he "violated my own 3-day rule" in averaging down into TWTR but then trumpeted that he followed Pete into WFM; "these are washout kinds of numbers."

Stephanie Link issued a Brag Trade, stating Cramer sold WFM "ahead of the quarter" but took a "little loss," so as "not to be a hero."

Doc insisted he thinks WFM can fend off the competition because it has deeper pockets to absorb promotions.

But Steve Weiss asserted that in many stores, there are "aisles and aisles of this stuff," and even added, "To me (Drink), Hains is in trouble."
Stephanie seems enamored
with collegiate stock-picker
David Kudla told Judge on Thursday's Halftime, "We've seen some of these high-fliers come back a little bit," prompting Judge to declare "little bit" to be quite the understatement.

Unfortunately, without getting specific at all, Kudla would only say "some of these are a falling knife," while others apparently might be a buy.

Kudla's presence apparently was for the purpose of introducing student investor Alex Winrich, who said he has turned Kudla's $1 million fund into $1.1 million.

Winrich, highly impressive but overly prepared and dispensing a little too much wisdom, said he likes HFC because it's best in class and because of its location.

He also has a job on Wall Street and said that's the natural long-term goal; "everyone's always pursuing that Wall Street dream." His Final Trade was to short the dollar vs. the rupee based on an election hypothesis.

Stephanie Link's Final Trade was EPI, congratulating Winrich for also looking at India even though they'd never met before Thursday; "great minds think alike."
Stephen Weiss regrets not keeping a stock that went higher
Illumina chief Jay Flatley predicted blue skies for his company, suggesting an "almost unbounded market opportunity over the next 5 years."

Part of that opportunity evidently involves the "$1,000 genome," which Meg Tirrell asked Flatley about, but we don't really know what it means, except that Flatley mentioned projects of "very large scope."

Stephen Weiss said he wishes he had stayed in the stock, that he keeps looking for a pullback, but it "keeps making new tops." Doc said he likes it "a lot," but he's not in the name.
Weiss' bullishness decreases
Stephen Weiss revealed on Thursday's sluggish Halftime that "I'm not as bullish as I was before," only to have Stephanie Link chirp that "we're actually overweight the consumer" and that Cramer likes cyclicals.

Phil LeBeau said Elon Musk is promising revelations about the battery factories, and asserted that, for those who think Tesla is spending an "outrageous" amount on R&D, "nobody has told me that yet."

Anthony Scaramucci reiterated, "my son works there," but he thinks TSLA shares are "just too expensive" and that management admits it.

Steve Weiss called SCTY "still overvalued, I'm not buying."

Jim Iuorio said that given what's happening globally, "our 2.60 looks pretty good." Rich Ilczyszyn asserted that "the line in the sand here is 2.572" and if that's breached, can fall to 2.47.
Forward guidance was
not a lie, but ...
In a tepid debate, Jon Najarian on Thursday's Halftime said he prefers FDX to UPS because of the "return on invested capital."

But Stephanie Link prefers UPS, explaining, "Right now UPS is more domestic."

Stephen Weiss prefers C FedEx, because of Europe, but doesn't dislike UPS.

Jon Najarian said good for GMCR, but "I just can't wrap my arms around buying this one."

Anthony Scaramucci stated "we would avoid" Z because it's "too high of a multiple," and when he heard the CEO in the morning, "I'm not saying he's a liar, but I don't like the forward guidance of this company."

Stephanie Link called PCLN "one I would buy."

Jon Najarian said October 21 calls in PHM were hot.

Phil McConkey declared Jadeveon Clowney the "best player in the draft" and mocked, in a good line, the proliferation of fan interest in this exercise; "even this year I think Janet Yellen had a mock draft."

Jon Najarian asked McConkey about Kelvin Benjamin, who was rumored to be liked by the Steelers. McConkey said Benjamin has "gotta go in the first round," which he did, but not to the Steelers.

Anthony Scaramucci's Final Trade was XOM. Stephen Weiss said the Floyd Trade (HK), and Jon Najarian said FSL.
[Wednesday, May 7, 2014]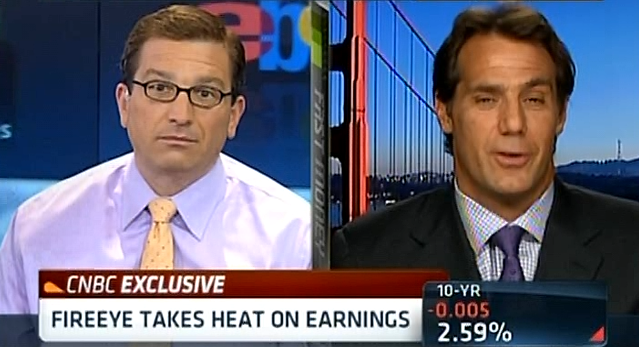 CEO apologizes to panelist
on Fast Money
This had to be a first.

Dave DeWalt, long a friend of Fast Money (we just noted that yesterday, see below), visited with the gang Wednesday to try to bolster what obviously was an awful quarter.

Missy Lee, struggling from the get-go to pin DeWalt down on exactly what the Street hated, asked DeWalt about organic growth and what's wrong about the analyst focus.

Shockingly, DeWalt admitted, "I don't know that they're focused on the wrong thing," only to add that he's focused on "growing this business."

Then, DeWalt embraced the "totality" of the report.

"When looked at in total, we grew very very well," DeWalt said, stressing the "totality of all the components together."

DeWalt said FireEye has been selling Mandiant products and "blended our growth model" since Day 1 of Q1, and then mentioned "totality" again.

Lee persisted, "What is going on here," insisting it's "very rare" for a stock to fall this much in one session.

DeWalt still was fuzzy, stating, "I can't control whisper numbers."

Lee pointed to potential lockup issues and asked, "Are you concerned that you will be the next Twitter?"

DeWalt insisted he has no plans to sell, nor do the other top execs, and others have "cap limits" and a "very strong insider policy model."

In a remarkable moment, Lee then turned to one-time FEYE long Brian Kelly, who rather impressively recited a recent company timeline of share sales and ultimately told DeWalt, "You've lost credibility with me," and opined that the stock was hit so hard because "nobody believes you anymore."

In an equally remarkable response, DeWalt said he's on the show "rain or shine," that he doesn't know whether "the right price" of the stock is 90, 82, etc., insisted "I still have 90-plus percent of all my holdings in FireEye," and finally, "I apologize to you if you feel like you lost, you know, faith in me. But I'm gonna work hard for you."

Karen Finerman chuckled that analysts still have $70 price targets, "so maybe they're a little off."

But then Finerman defended DeWalt and other insider sales. "I can't fault anyone for selling a stock that came public at 20, and 6 months later was 82. I don't think that shows a lack of confidence, I think it shows, 'Wow, this is ridiculous'," Finerman said.

"It's a grasp of realism," Melissa Lee said.

Kelly reiterated that "they knew that the quarter was going to be horrible," but then did a secondary, and DeWalt sold. "It smells wrong," Kelly said, in what was, despite being a tiny bit whiny, by far his best performance on Fast Money, although we also agree with Finerman that insider selling in the 80s was not out of line.

Guy Adami said, "Great question by BK. I think it was great that he came on, shows that he's a gentleman; a lot of people would shy away from that."

Adami said he thinks the issue is the security space; "these stocks can't get out of their own way ... what's wrong with the space."

Steve Grasso agreed and asserted that "on paper ... this should be really wanted."

Why in the world
is Dan Nathan covering?
In the category of Dopey Guy Somehow Gets Date With NFL Cheerleader, Then Cancels, we have Dan Nathan's take on TWTR on Wednesday's Fast Money.

Nathan said he covered his short a little higher than Wednesday's close; "you just had to cover," and he's "not looking back" even though he's hearing people want to buy it in the 20s.

Then, Nathan went on a binge with his favorite term.

"To me ... I think the stock will work again," Nathan somehow claimed, continuing, "To me ... I still hate all of these stocks," predicting they're "all going much, much lower" this year, which at some point will put him in face-ripped-off land but not now.

Regarding NFLX, "To me ... still waiting for that tweet from Carl Icahn" revealing a sale of the rest of Carl's stake, Nathan said, adding, "To me," NFLX has a "whole host of competitive issues" and "could see 280 kinda quickly."

Nathan also advised, "Don't be fooled by the VIX at 13." But what about James at 15? Or 16?

'How they manage their
managerial skills'
Melissa Lee actually suggested on Wednesday's Fast Money that a lot of high-multiple stocks still have high multiples; "there's still a lot farther to go."

Karen Finerman agreed that AMZN has only gone "back to ridiculous from stratospheric ... there's still a lot of room to go down."

But Guy Adami stated that "the S&P is impervious to all of this so far," and started to say "dich(otomy)" before using "chasm" instead.

Brian Kelly feebly said there's a "chance that you could probably buy Green Mountain right here."

In the quote of the day, Steve Grasso actually said of CZR, "No one really understands uh a lot of how they manage their managerial skills."

So Grasso said, "For me it's still a no-touch; I don't understand it."

Guy Adami said PRU trades up when interest rates rise, "not coincidentally."

21st-century fox Karen Finerman (above) said FOXA will forever be known as 20th Century Fox and revealed she likes "24," explaining, "I did binge-watch an old one ... nice to be in the content business these days."
Steve Grasso actually believes that TSLA is enough of a battery play that it's no longer a momentum stock
Guy Adami opened Wednesday's Fast Money declaring of Tesla, "When momentum stocks lose their momentum, all of a sudden, valuation matters," (and that's a Drink-Drink-Drink).

Adami said he wouldn't buy TSLA until there's a "huge" capitulation.

But Steve Grasso revealed that Karen Finerman said in the green room that TSLA hasn't been hit like "momentum" names, and because of the battery element, "They don't look at it as a bubble stock anymore" (snicker).

Karen Finerman, given a chance, suggested that margin accounts could face "absolutely forced selling," but that hasn't happened yet in TSLA. (Which is what Grasso already said she said in the green room.)

Brian Kelly, in a Brag Trade, said he sold TSLA at 224.

Guy Adami questioned if the battery niche is actually good, suggesting it could become "extraordinarily easily commoditized."

Adami even posed this question to TSLA expert Ben Kallo, who insisted that "cost per watt," which is "1/3 lower kilowatt-per-hour" for Tesla apparently, makes batteries indeed a crown jewel for Tesla, with "major barrier to entry."

Kallo added, "I personally think Panasonic will be there," but we don't know what he's talking about regarding that situation. (#insidebaseballthatevenpanelistsdidn'taskabout)

Kallo said the stock was suffering on "market backdrop" while the "quarter was very clean," because people are "wary of these high-multiple stocks."

His TSLA advice was, "I'd wait for the dust to settle tomorrow ... 175 or so, you start buying there."

Steve Grasso said Kallo "nailed" the 200-day at 175.

Kallo backed SCTY; "I think we can see- see shares rally."
Steve Grasso insists AOL results sank his 20% YHOO position
Guy Adami admitted on Wednesday's Fast Money that he figured YHOO would trade accordingly with Alibaba's perceived value, but "I couldn't have been more wrong" about Wednesday's price action, which would suggest "their core business is zero."

Karen Finerman rationalized that the reason YHOO fell was not Yahoo's fault, but Alibaba perception; "on a day like today, $200 billion is not the number."

Steve Grasso insisted that YHOO was experiencing "collateral damage" from the AOL fallout; "you can't tell me the spillout" wasn't a factor.

Karen Finerman suggested it was generic "collateral damage to stocks in, in any Internet-related anything."

Brian Kelly suggested "the underlying Yahoo business really isn't worth that much."

Guy Adami credited Missy Lee for pointing out a while back that maybe the Twitter lockup expiration wasn't fully priced in.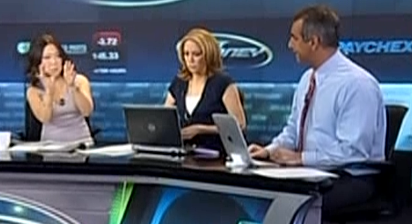 Karen stares at her computer while Mel tries to visually make a point with her hands
In a chummy, to say the least, interview on Wednesday's Fast Money, LYV chief Michael Rapino and LYV long Karen Finerman took turns thanking each other.

"Congratulations on an excellent quarter," said Finerman, wondering how well the TicketMaster platform is doing.

Rapino offered a lot of corpspeak before concluding, "The opportunity is really on the top end."

Mel asked if the channel-stream would lead to "cannibalization" of LYV events.

Oh no, Rapino said, with a pronunciation of "distri-bewters" (sic).

Mel asked about the "On the Run Tour," which no one else was aware of.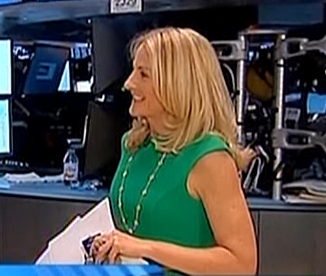 Sister Golden Hair
in green on Power Lunch
Sheila Dharmarajan said on Wednesday's Fast Money that Sprouts, a farmers market stock we'd never heard of, was actually rising.

Steve Grasso repeated himself on WFM; "I don't know if it can ever regain that, that marquee status."

But Karen Finerman noticed that HAIN has been "very unscathed" during WFM's slide; those names are "really starting to decouple."

Steve Grass concluded of TSLA, "I would say it's all about batteries right now."

Mike Khouw said the weekly 1,000 put in PCLN was active, but he thinks the stock "might be reasonably valued here."

Steve Grasso's Final Trade was SO. Brian Kelly said long FEYE FXE, Karen Finerman said CMLS and Guy Adami said SODA.
Doc now expects Alibaba 'pop'
Judge used the term "literally" on Wednesday's Halftime Report, which is generally safe when you're talking about the Halftime/Fast Money vast warehouse of cliches.

Josh Brown was lamenting that Alibaba's IPO might be coming late enough that it somehow pushes the market into a tailspin (a curious CNBC theory this week); "almost feels like it's a comet headed directly for the Nasdaq."

Brown somehow moaned that it might've worked in February; now, "It might be too little, too late," even (sigh) "The straw that breaks the camel's back."

Judge claimed, sadly not terribly surprisingly, that Brown "literally took the words out of my mouth."

Mr. New Land asserted that "it's awful timing" and even admitted that he retweeted Cramer. (See, that's the "upper level" of society that Pete mentioned the other day.) (This site has no Twitter account.)

Jon Najarian, who just a day ago was trumpeting Alibaba as a short if you were able to short it, on Wednesday decided it will get a "significant pop" on the IPO because only 10% of the shares will be allocated in an effort to "try to create that feeding frenzy."

Pressed by Judge, Najarian insisted the pop is "sustainable" for as long as the float is only 10%.

Josh Brown muttered, "This is just a late deal."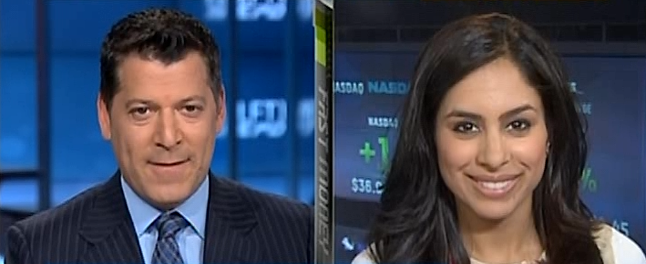 Judge gets half the image because he did have an awesome suit
Wednesday's Halftime crew seemed at a loss to explain another disastrous day in the Nasdaq.

"2014 is confusing," opined Mr. New Land, who said "money managers are trying to find a safe home for money."

Josh Brown said the issue is "whether or not (sic last 2 words redundant) we can have a selective correction ... so far that's been the case." But, Brown conceded, "I don't see a lot of positive signs," and he thinks "eventually the large-cap trade does succumb."

Mr. New Land said the stocks with "multiple expansion" are the ones falling hard. Brown stressed that there are "record highs for New York Stock Exchange margin debt."

Brown actually invoked Jeremy Stein leaving the Fed (first we've heard that excuse) and suggested, "at the end of the day" (Drink), that makes it a "very dovish regime" (really).
Brown: WFM so tapped out,
it's expanding in Newark
With the stock market in a tailspin, some were seeing opportunities.

Pete Najarian said on Wednesday's Halftime that WFM is "absolutely in a world of pain," but at 38, "I like this name," adding that he bought a call spread.

Mike Murphy, who made a bull case for WFM a day ago that quickly looked ridiculous, dialed in Wednesday to say, "It's an unbelievable reaction to the quarter," and apparently like Pete (except for the word "more"), "I bought more of the stock this morning, just over 38."

"I still believe in the long-term story," Murphy said. "Still the best-in-breed company."

Josh Brown, on the other hand, suggested that this is the "first of a string of difficult quarters" for WFM, because organic is so popular, "everybody wants a piece of it," and "at the end of the day" (Drink), WFM is actually opening in Detroit and Newark, which means it's "out of space to expand." (Please direct all gripes to Brown at CNBC; we don't endorse it, we only report what he says.)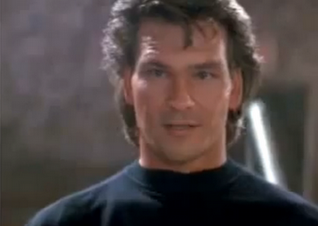 U.S. is playing 'checkers'
over Ukraine
Mike Harris told Judge on Wednesday's Halftime that "our systematic strategies continue to have us long the bond market," and he thinks 2.47% will be the next big level.

He also said that because of Ukraine, his firm has "established a long position in a number of commodities," including wheat and nickel.

Harris made our day in rolling out Dalton's initial assessment of the Double Deuce on his first visit.

"At the end of the day (Drink), I really think that Putin is playing chess here; we're playing checkers, and uh, this crisis is probably gonna get worse before it gets better," Harris said.
But everything Pete trades is based on whether options are flowing into it
Nasdaq stocks (snicker) may look terrible to you, but not to everyone.

Guest Ken Allen on Wednesday's Halftime said "there are some pretty attractive opportunities" even in the tech space, such as "Amazon and LinkedIn, which I like a lot at these levels."

Allen said he likes the ecommerce space, and BIDU, RHT and NOW.

Jon Najarian opined that "Disney put up phenomenal numbers again ... I don't think it's over in Disney."

In the head-scratcher of the day, Doc admitted he averaged down on TWTR; "I bought it again today so I'm averaging in Judge but I mean, this this this stock is a nightmare."

Najarian also said FEYE reported "a TERRIBLE quarter."

Pete Najarian actually said he might buy SPLK. "I see options start to flow into this name in a big way, I'm gonna jump on it," Pete said.

Jon Najarian, like Ken Allen, said he likes AMZN, "they just moved up the price of Prime" (Drink) (but he didn't say what the price should be).

Josh Brown called AMZN a "great stock to trade" but warned that this year will be the first with "sub-20% revenue growth ... I think the best days of Amazon are behind it."

Mr. New World endorsed RF and STI and said acquisitions could be a catalyst in the bank space.

Pete Najarian endorsed NBC's seemingly lifetime deal to show the Olympics; "it's all about content right now."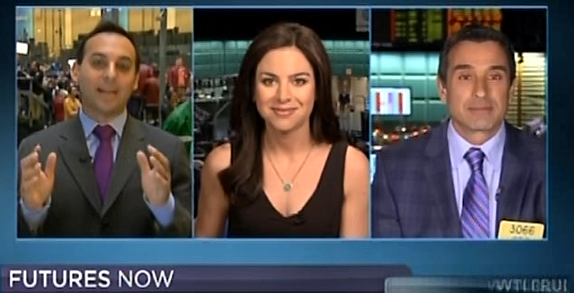 Check out that outfit (no, not the people on the ends)
Anthony Grisanti told Jackie DeAngelis on Wednesday's Halftime Report that gasoline isn't affected by geopolitical concerns like crude is. Brian Stutland agreed that there's not a big geopolitical effect but said "prices at the pump probably stabilize here," though gasoline won't be a "runaway."

Dr. New World said, "I don't like gold, I like the soft commodities," and endorsed oil and natural gas.

Pete Najarian said of AAPL, "I think it's goin' higher."

Josh Brown suggested Z might actually bounce; "maybe this is the type of name that you buy when the storm passes."

Joe Terranova warned that when Tesla reports, it "better be an incredibly bullish earnings report."

Jon Najarian argued that GRPN is a buy (snicker) because revenue and margins are up, and it bought Savored (whatever that is) a while back.

Dr. New Land disagreed, stating "I think there's vulnerability below 5" and suggesting the stock could even get "below 3 bucks ... they don't know what they are."

Josh Brown's Final Trade was BAC. Jon Najarian said DVN. Joe Terranova said TRV, and Pete Najarian said HOLX.
[Tuesday, May 6, 2014]
Kayla Tausche wrongly quotes Karen, and makes no sense
Alibaba finally made its long-awaited filing Tuesday and won over Tim Seymour.

"It's very impressive to me," Seymour said, adding that "190 billion is really what I'm hearing," and that the company "could dwarf Amazon."

Seymour even downplayed the list of risks in the filing. "You're gonna see risk factors that are a lot longer than your arm," Seymour said.

Guy Adami re-emphasized that with Alibaba valued around $150 billion, "Yahoo should be trading north of $40 ... I don't understand ... I think it's an opportunity" in YHOO, he said.

Karen Finerman said the problem for Yahoo is, "we don't know what they're gonna do" with the Alibaba proceeds, when they should say that all the proceeds will go to shareholders.

That prompted a curious rebuttal from none other than Kayla Tausche, who said, "I heard Karen mention earlier that it will be mostly shareholders selling stock. That's actually not the case." (Actually, we're not sure, other than a naked short, how someone who is not a shareholder can sell a stock, but that's beyond our pay grade.)

But Karen never said anything like that, as Guy Adami pointed out; "I don't think she was saying what Kayla said."

Steve Grasso reiterated that he has a 20% YHOO position now (Drink) and that theoretically it should be $42, but that's "exactly where it's had problems."

Sam Hamadeh at one point gushed "what a monster this company is" (that's Alibaba, not Yahoo) and offered a "sneak preview" of his own valuation, which is $195 billion.

Bob Peck claimed he upgraded YHOO at 33 and insisted that Alibaba really is "that big of a deal," that even if it bought UPS and FedEx, it wouldn't be able to handle all of its packages.

And, in the category of From Alibaba to Arianna, Peck, addressing a point by Karen Finerman, said Yahoo will "return a majority" of the proceeds to shareholders and could use the rest to look at Snapchat, Pinterest or "portions of AOL."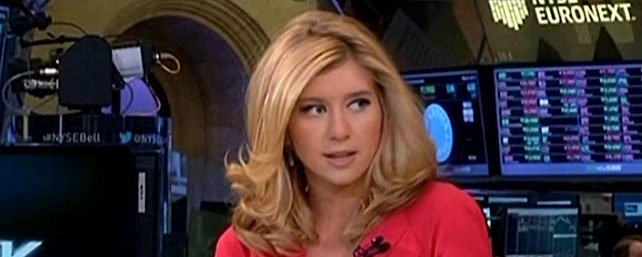 Guy: WFM a buy
on the washout
Much of Tuesday's Fast Money centered on earnings disasters, including WFM reports delivered by CNBC's Sara Eisen, a magnetically gorgeous young woman (that image is actually from Squawk on the Street).

Tim Seymour chortled that WFM is/was "way too expensive."

Steve Grasso said WFM has been the "only spot to get organic," but now there's competition and "it's just not gonna come back."

Guy Adami though urged viewers to watch for a WFM washout Wednesday; "I do think it's gonna be a buying opportunity."

Meanwhile, GRPN backer Tom Forte of the Telsey Group seemed a little taken aback by Mel's you're-wrong line of questioning, asserting that the Street is much too negative about "the same Groupon I'm looking at," which had "better-than-expected sales."

"This is clearly an amazing opportunity," said Forte, not terribly convincingly given his apparent $17 price target.

Tim Seymour insisted, "You don't go near this stock."

Karen Finerman agreed that GRPN has a "ridiculous valuation." (And don't you love the risk-off stock market environment?)
Wonder if TWTR fell again
Another day on Fast Money, another implication that the ticker for the Dow Jones Industrial Average is TWTR.

Bob Peck, who has done a bang-up job on tech earnings reports this spring, on Tuesday waffled and wavered and equivocated that he wasn't bullish on TWTR but doesn't hate it either, or "neutral" as he put it.

"It sounds to me like you're saying it's a buying opportunity," said Melissa Lee.

The "valuation's way more in line," Peck allowed, adding the stock has had an "expectations reset."

Mike Khouw said people stuck with losses in TWTR may be playing a comeback by buying the September 33 calls and selling 2 September 40 upside calls. Mel thankfully only briefly nodded after asking Khouw a question.
Karen's DIS homework
proves lacking
Steve Grasso on Tuesday's Fast Money called FEYE a "no-touch."

Tim Seymour mockingly asked of FEYE, "Is this JDS Uniphase ... was a hundred-dollar stock like a month ago."

Melissa Lee reported that actually, "90 was the high." (She forgot to mention that Dave DeWalt is a Friend of the Show.)

Guy Adami said of TRIP, "I think you can buy this stock" with a 75 stop.

Tim Seymour said, "I think you're kinda neutral" on FSLR.

Karen Finerman said LYV was "pretty good on the top line and the bottom line."

Karen also said of another holding, ATVI, "This is a pretty good earnings report."

Anthony Scaramucci defended the big banks, specifically JPM and Barclays, "we actually like these names," which he said are "trading at roughly book value," and added he also likes RF and FITB.

Steve Grasso repated that "I actually got back in" to BAC with a 50% position around $15 (Drink).

Barton Crockett said DIS is "hitting on all cylinders."

Tim Seymour said the DIS multiple is actually "pretty good."

Karen Finerman stated, "We're getting near the end of Bob Iger's tenure," and she thinks he'll do everything to "go out on a high note."

But moments later, during Final Trades, Karen allowed that "Bob Iger's actually staying" and has pushed back his retirement.

Karen's Final Trade was GOOG. Tim Seymour said to sell PBR. Steve Grasso said buy SO. Guy Adami said APC, assuming the "tape's benign."
Pete: Twitter users are in
the 'upper level' of society
In a rather stark assessment of the trading action in TWTR Tuesday, Mark Mahaney told the Halftime Report it's the "most extreme example I've seen" of a lockup liquidation.

Mahaney even went so far as to say he would "assume" that all the execs who pledged they weren't selling were "truthful," but "perhaps they're not."

Mahaney said 2 obstacles remain for Twitter, that it needs to improve its monetization, which he thinks is doing OK, but also "improve the engagement and the user growth." But the good news, Mahaney added, "We think they will in the back half of the year."

Mike Murphy actually said, "I'm looking for an entry point" around 32-33 (snicker).

Jon Najarian actually admitted, "Today I did buy it," around "34.60 or so" (snicker).

Even Pete Najarian said of TWTR's midday slide, "This feels like a flushing ... this is probably an opportunity" (snicker).

Judge questioned that if there is indeed a bubble in tech, maybe TWTR's decline is the "first real pricking of that bubble."

Dr. New World, on fire like "The Towering Inferno" in 2014, was the only one who astutely held back. "I wouldn't take the shot here," Joe said, predicting anyone who does is "gonna have to make a very quick fast trade on this one."

Murphy insisted the stock's already had a "shellacking," and "they already have Facebook's playbook."

Pete Najarian curiously claimed that TWTR users are an "upper level" of some sort of population subset, and so the company can "charge more."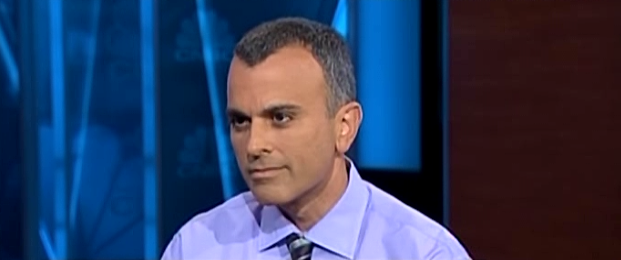 Dr. New World killin' it
He won't issue a Brag Trade.

But in 2014, he's kicking derrière and taking names.

This page at the beginning of the year assessed Halftime Report panelists' 2014 Playbook Playoffs portfolios — the primary means of gauging their performance even though it's not really a realistic competition given the artificial trading limitations — and, while blatantly cheering for Joe Terranova to win, we couldn't help but quibble with a couple so-called dogs in Joe's lineup.

One of those was AAPL, which Joe has now somehow ridden to 600 in a staggering portfolio that somehow cannot do anything wrong this year.

Joe would only shrug on Tuesday's Halftime Report and advise viewers to "hold onto it," while his colleagues all disagreed.

Given "the lack of catalysts," said Jon Najarian, "I wouldn't get too giddy" about $600.

Mike Murphy said, "I would not be a buyer of Apple."

Pete Najarian told viewers to "hold off" and wait for the product cycle.

On another tech name, Joe stated, "I pray that LinkedIn is trading at around 150 as we moors- (sic) move towards the end of the year; I will buy that aggressively."

Jon Najarian said he doesn't like Z or TRLA. Mike Murphy said GME "can go a lot lower," and if he were playing it, he'd be short.
Paul Hickey 1 week late in discussing Super Tuesday
Steve Liesman pointed out at the top of Tuesday's Halftime Report that in terms of GDP estimates, "we're now negative and going more negative."

Rick Santelli said he would "completely agree" with Jeff Gundlach that there's a "significant chance" bond yields could steeply drop, perhaps to 1.60, though Santelli seemed to think 1.39 is a reach.

Liesman quibbled with Santelli's characterization of investors selling German bunds and buying Treasurys as a dubious European signal of some kind; "that's a relative trade."

Mr. New Land declared, "This is just a very confusing environment," and while money has come out of hot sectors, "it seems to all be going in energy."

Pete Najarian said there are "pockets of strength" besides energy, such as airlines, but pipelines for some reason are weak, and we won't get to 1,900 without the financials.

Mike Murphy said it's an environment in which he wants to be long equities.

Paul Hickey described the 2014 market's regular Tuesday outperformance (which didn't happen this day) as "more coincidence than anything."

Hickey said the market reminds him of late 1995, when he said semiconductors were ending a 5-year rally and fell 40% in 6 months, while the "rest of the market was flat and even rose during that period."

Judge said they had to end it, and Hickey said, "Cool, thanks."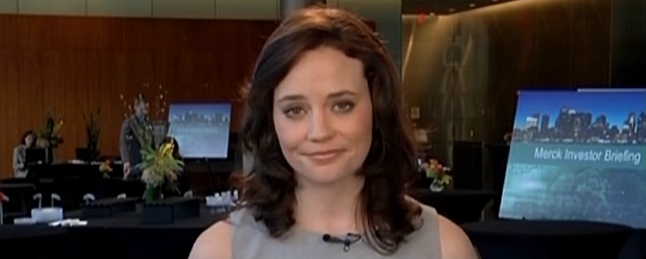 Meg Tirrell has new hairstyle
Meg Tirrell, who pronounces "Bayer" like "Buyer" (sic), reported on Tuesday's Halftime that the German giant is "Bay-ing" the Merck consumer division.

Joe Terranova said health care is getting more growth-oriented and not defensive. "I like health care," Joe said.

Pete Najarian quibbled with the defensive tag and said "everybody's finding their own niche" as big pharma streamlines its product lines.

Pete said of all the big pharma names he owns, PFE is the "most disappointing by far."

Mike Murphy made the argument that ahead of WFM earnings, "This is your chance to buy best in breed" (snicker), a brand that is "hands down better than all of the competition," and looks good after a "25% pullback" (snicker).

Pete Najarian disagreed, stating, "You see competition everywhere you go."
Doc: CMG has '400 written all over it'
Inspired by David Einhorn and Jeff Gundlach, Tuesday's Halftime crew took up which stocks they find the most shortable.

Mike Murphy actually said Safeway, which he said has come "too far, too fast," and even added while Pete Najarian scoffed, "I would be long Whole Foods, short Safeway." (Snicker.)

Pete Najarian said his top short would be "3-D Printing" (sic, we think he means DDD), which "still trades at a 115 P.E. ... This one's still sitting in a bubble," Pete said, suggesting Meg Whitman could encroach on the space.

Jon Najarian first curiously offered Alibaba, even though "you can't short it," because of "a lot of very questionable business practices over there in China," but then settled on CMG, "I think it's got 400 written all over it."

Mr. New Land said, "Get ready to send the hate Twitter comments towards me ... I think gold is a complete bubble."

Speaking of which, stunning Jackie DeAngelis observed gold's sluggish day despite a weak dollar and asked Jeff Kilburg why that is. "We're laser-focused on Ukraine," Kilburg said, asserting gold is range-bound. Anthony Grisanti agreed with that and said gold longs and shorts are increasing at the same rate.
Pete shouldn't have said 'no,' but he's correct that it's basically a home-furnishings play
Mike Murphy gave a backhanded compliment to David Einhorn's ATHN short on Tuesday's Halftime Report, stating, "I think it's a great call by Einhorn if he's been short for the last few weeks."

Jon Najarian, kind of chippy all program, then sort of mocked Einhorn, wondering, "When does he bring out the next one ... does he call into the Halftime Report uh you know in the next couple weeks and release what that name is?"

Pete Najarian faulted Jeff Gundlach for shorting homebuilders via XHB. "The XHB has no homebuilders ... why not go for the ITB," Pete wondered.

Joe Terranova observed that Gundlach is "really saying that he's betting against the consumer."

Then Judge asserted that the XHB includes PHM, TOL, DHI and LEN.

Mike Murphy said Gundlach would only be right if we have another 2008-like "recession-type environment."

Jon Najarian said he talked to Bill Pulte, who "likes the space" for builders and will be at SALT.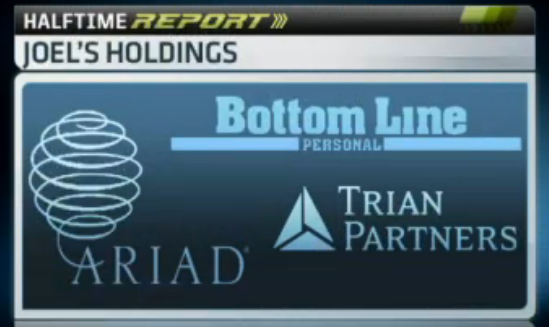 What's the ticker symbol
for Trian Partners?
In a curious, to say the least, chat, Judge on Tuesday's Halftime Report welcomed Joel Cohen, a University of Cincinnati student who won Institutional Investor's Student Analyst Competition, which Wapner said was a "3-month portfolio challenge."

Cohen said he was looking for "low-risk, high-reward" stocks and found beaten-down ARIA, "that was my golden child."

Here's where it gets goofy. According to the screen graphic and what Judge said, Cohen apparently invested in "Bottom Line Personal" and "Trian Partners" ... which appear to be a magazine publisher and Nelson Peltz's hedge fund, which according to its Web site seeks investors with $5 million or more ... something most college students presumably don't have.

Asked by Wapner about those 2, Cohen said he was looking for "diversification" and "safety nets," and then started talking about Trina Solar ... not Trian Partners. (Confused?)

Sensing a train wreck, Judge wisely asked Cohen for his top pick now. Cohen said RFMD, after buying TQNT.

Mike Murphy observed that "RFMD has had a huge-run-up here recently."

Pete Najarian said, "I'd be a bull on Disney."

Joe Terranova's Final Trade was DTV. Mike Murphy and Pete Najarian said BP. Jon Najarian said MTW.
[Monday, May 5, 2014]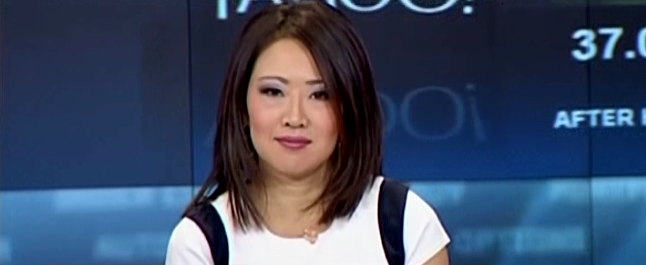 Missy says 'crap'
Monday's Fast Money welcomed "JJ Flash," John Jannarone, to point out that JD.com is not the same thing as Alibaba (for all those confused).

JD.com actually sounded pretty weak, though Jannarone said, "The one good thing they've got is their Alibaba-like marketplace business."

Melissa Lee questioned if underwriters are "trying to shove out (pause) issues before Alibaba" goes public.

Jannarone didn't quite understand the question, telling Lee, "Be careful about comparing them too much."

Lee insisted, "Right, no, I guess my point was that maybe they're trying to shove out the crap (sic)," which was a good point.

Jannarone, catching on, admitted, "That's a good theory," but said neither company would be happy if that's what bankers are doing, though "it's possible."

Pete Najarian said, "I still love Yahoo."

In the transition from Closing Bell, Mel stumped fellow brainiac Kelly Evans, who suggested "Weibo" rather than JD.com when asked which IPO was going to be featured on Fast Money.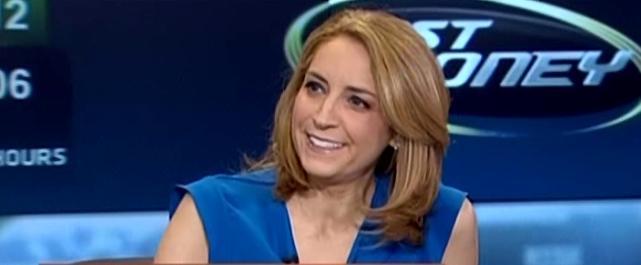 Karen on Target:
'Something's wrong'
Jerry Storch, who apparently thinks Target is hiring spokesmen, told Monday's Fast Money that "under that tarnish, there isn't just brass, there's gold," and unfortunately sounded like a 2nd-tier PR flack while insisting "the breach is a 1-time issue."

Guy Adami saw what we did, stating that Storch sounds as wedded to TGT as Guy is to GS, which clouds one's feelings, but meanwhile Guy somehow likes "ANF for a trade."

Karen Finerman sensed a problem in Gregg Steinhafel's departure; "you gotta think that the earnings are gonna be terrible."

Finerman added that it seems "something's wrong," drawing agreement from Mel.

Brian Kelly said of TGT, "You have to stay away."
Dennis Gartman
delivers a (Drink)
Dennis Gartman wasn't asked about flip-flopping this time but did tell Monday's Fast Money that "Oil I think has some problems here" and suggested that Barack Obama may tap the SPR.

Meanwhile, "I actually like coal," said Gartman, who pointed out, "If you drop it on your foot, it's gonna hurt" (Drink).

Guy Adami said an SPR release is the "political 3rd rail" and wondered if it's really feasible. Gartman insisted it's "absolutely" on the table, and "the only tool that we have left," while conceding, "I'm not a supporter of this president."

Pete Najarian said he disagrees with Gartman and "I like XOM" as well as BP and COP (his Final Trade), sensing all 3 names will be "exploding" to the upside.
Needing subject matter, Fast Money turns to ... Cramer
Given that they weren't on location at Ira Sohn, Mel and Monday's Fast Money panel opted to open the show with ... Cramer's comments from early morning about a "house of pain" in financials.

Guy Adami said to the contrary, he thinks financials are "far from a house of pain," though he pointed to BX's 18% recent drop and pinned that on being "caught up in the maelstrom."

Pete Najarian added, "I disagree with Jim also" and said, "I'm looking at JPMorgan extremely close ... on the dips, you buy it."

Karen Finerman insisted, "I think a lot of this is noise," specifically the BAC glitch, and "I'm happy to own 'em here." (But when is Karen ever NOT happy to own banks?)
Happy hour at Ira Sohn
A roar went up on Monday's Fast Money — not because of anything that was said, but because the Ira Sohn attendees started heading for the exits the same time Mariko Gordon got miked up for an interview with Melissa Lee.

Lee told Gordon that Gordon is short EFII, but Gordon stated, "Actually we're long the stock," because it's "at the epicenter of the conversion from analog to digital in commercial printing" and has acquired a Spanish company.

Lee also asked Gordon about PCRX, which Gordon said specializes in "full surgical pain relief," and "yeah," is a takeout candidate. (Impressively, Mel wasn't caught nodding this time after the question.)

Gordon likes WDC for its "compelling valuation." Pete Najarian agreed, saying WDC "really makes a lot of sense to me."
Karen reads her computer, Guy prays while Mel asks guest a question
TWTR watcher Eric Hippeau told Monday's Fast Money not to expect much from the lockup expiration; "my sense is it's gonna be a non-event."

Hippeau admitted that "it's hard to tell exactly what the company's worth," but it's "kind of in a world by itself."

Pete Najarian noted AAPL touching 600 and said, "That's obviously a key level."

Both Sheila Dharmarajan and Kate Kelly pointed out that Einhorn says ATHN can fall 80%. Kelly said that Einhorn in his presentation showed clips of Jonathan Bush that "really made the CEO look foolish."

Kelly also said Einhorn "very funnily" (sic) made a reference to his bubble thesis.

Meanwhile, traders took up Jeff Gundlach's disdain for residential housing and the XHB. "You'd think there'd be better ways to manifest a short position in that space," said Guy Adami, while adding that Gundlach's "premise is probably spot-on."

Karen Finerman said "we're out" of RLGY, a "levered" name that is trouble when sales or prices are low.

Pete Najarian questioned, "Why not short the ITB" rather than XHB as Gundlach said; it "makes absolutely no sense to me."

Pete said there was "all kinds uof upside call-buying" when NKE was 72 and change.

Karen Finerman said oF GME, "I actually don't know why it was down so much today."

Guy Adami said PFE "should've been down a lot more."

Pete Najarian said of CMG, "I think it's a great opportunity here."

Brian Kelly said he'd be a seller of CRM close to 57, and he'd sell AIG.

Mike Khouw said weekly 44 puts in WFM were active though it represents a lesser move on earnings than WFM generally makes.

Brian Kelly's Final Trade was STZ. Karen Finerman said M vs. XRT puts. Guy Adami said BP.
Carl says that private chats with CEOs accomplish nothing, then trumpets his dinner with Tim Cook
On Monday's Halftime Report, Carl Icahn, seeking to establish some kind of common ground with Warren Buffett, said he took note of Buffett's point that there could be a "major disturbance" in the markets caused by derivatives.

Icahn insisted some executives are indeed very good; others can't be left to the "golf course," and then most importantly, disagreed with Judge's contention that Buffett's private chat with Muhtar Kent is better than a public battle; "you don't get that result on boards if you do it in private."

Fast forward to moments later, when Icahn reported a "very nice dinner" with Tim Cook, in which "maybe he did listen, and maybe he didn't."

Icahn even said he heard "Ross Sorkin" on Squawk Box state that the "only way" one has to get CEOs to change is to "embarrass" them.

Judge evidently didn't realize that the burr who's really sticking in Carl's craw these days is Jeff Ubben, who reminds Carl of the "aristocrats" of the 19th century who makes his "20%" while insisting "everyday investors shouldn't play stocks."

"He's now recommending Herbalife," Icahn said. "I take a little umbrage in that."

As a result, Carl said he's "thinking very seriously of a new paradigm," which apparently involves pledging on Twitter that he won't sell AAPL (or other) stock for a year.

Icahn told viewers they should've followed him into AAPL at 470 and added, "You little guy, you don't have to pay, uh, Jeff Ubben 20% for doing his great research."

But, he was quick to add, "I always liked him ... I sort of like the guy."

Icahn said he thinks America's "great presidents" all have/had "the fighting gene."
Note to self: Dial Icahn's office, say 'Tell Carl I forgive him'
On the one hand, there was Ira Sohn during Monday's Halftime Report.

On the other hand, there was Carl Icahn on the other end of Judge's phone, and you know what that means.

Getting to what's really important, Carl explained how Ackman initiated détente: a phone call to Carl's office with the message: "Tell Carl I forgive him."

Icahn explained that the skirmish was just a "gratuitous fight," the two had a follow-up conversation, and took up the matter of "corporate governance."

We gotta give Ackman credit for his approach — a tremendous way to defuse a situation when the defuser believes he's right.
Steve Weiss makes a move for the worst possible reason
During Monday's Halftime Report, regular guest Jay Bowen, a fine semi-regular choice, reached deep into the past for a Brag Trade, revealing, "My father actually purchased Coke for the fund for under a dollar a share back in the '70s."

However, in a rather provocative comment that sort of does make a lot of sense, Bowen said Coca-Cola is selling a "20th century product in a 21st-century, Whole Foods-type of world."

Bowen said the stock market is "not a raging bull" but a "slow bull." He likes HON and MMM, the latter being the "premier China play."

Meanwhile, Sam Isaly told Judge that "Pfizer's a mixed story" and in fact "it's not growing," and when you break up 1 non-growing entity into thirds, you get 3 non-growing pieces.

Isaly said the AstraZeneca move looks more like "Plan B" than Plan A, but "we actually think it's gonna succeed."

Isaly likes Roche and ITMN and reported a "good-size position in Allergan."

Anthony Scaramucci volunteered that the Pfizer-AstraZeneca talk opens up a "broader issue" about taxation, but regardless, he sees a "very positive bias upside to Pfizer."

Steve Weiss revealed he exited TBF in his Playbook Playoffs (this page gulp endorsed that instrument at the beginning of the year, along with various Nasdaq names relax plenty of year left, don't hit the panic button) not because he totally dislikes it but because he only sees a "slow climb" ahead.

Then, in the worst comment of the day, Weiss said he also dumped Softbank, because "I gotta play a little bit of catch-up." (Tip: Softbank does not go up or down based upon the YTD return of Stephen Weiss' Playbook Playoffs portfolio.)

Courtney Reagan said the exit of Target's CEO is "actually a resignation."

Josh Brown said what he finds "very strange is the reaction to the share price" of TGT, which he says has a "huge gap below the 59 level."

Stephen Weiss said he doesn't think it's just a data breach that cost Gregg Steinhafel; Weiss would "almost guarantee there's more to it."

Dominic Chu said Mike Novogratz thinks Brazil is "so bad, it's good."

Stephen Weiss said if you're interested in Brazil, try GOL.

Chu said Chris Shumway finds MCO "one of his best long ideas." Weiss said that used to be an "old media" name but is now "ripe."

Finally, Chu reported on Jeff Gundlach suggesting residential housing is a short. Anthony Scaramucci said in the short term, Gundlach may be right, but "we've made a lot of our money on residential home mortgages."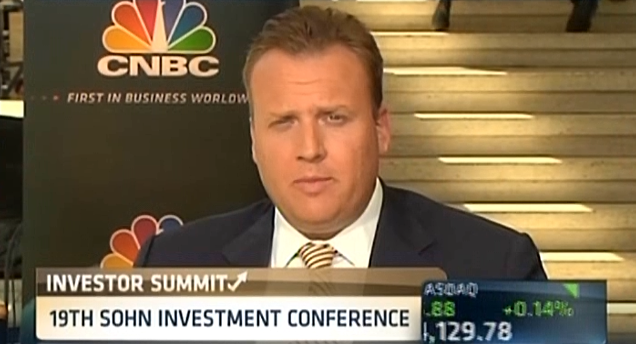 It takes Ira Sohn to get Josh Brown to comb his hair
Monday's Halftime Report crew suited up for the Ira Sohn conference, leading off with Josh Brown, who actually said this gathering is "especially poignant" because it includes a lot of "value-oriented" managers.

Jay Bowen opined that "the monetary theme (correct, originally reported as "thing") is gonna dominate," and "we think the bubble's on the fixed-income side."

We'll have more from Halftime and Fast Money later.
[Friday, May 2, 2014]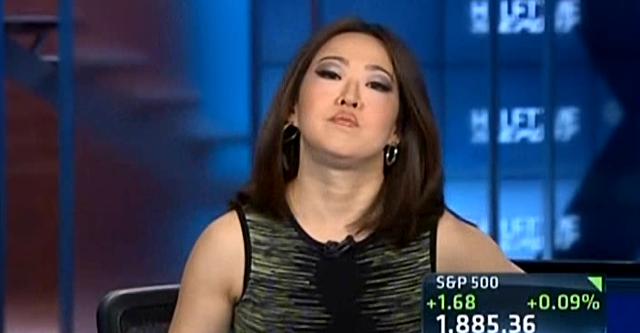 Fast gang doesn't seem terribly worried about the stock market
Let's hope this isn't the blueprint for the next 25 years.

You'd think after a week of "to me," being "surprised" at how FB trades, listening to someone try to calculate what 375 of 700 is, air quotes, viewers not "as good" as Pete, the fracking trade the fracking trade the fracking trade, Steve Grasso's 1/5 YHOO position, and actually hearing that Tim Seymour goes to a gym ... that Melissa Lee would give viewers a break and spend Friday's ridunculous episode of Fast Money following up on that Karen Finerman comment about "trying to get into your bathing suit," or something fun like that.

But no.

"Viewers" (assuming there actually were any) instead got ear wax, O-Squared, Joanie & Chachi, nautiluscoin, biometric earbuds ... and JNJ's famous consumer-products-division purchase from PFE.

As punishment, we're reposting that foxy lunchtime photo of Mel flipping her hair back while wearing that tiger-striped outfit (above).

Tim Seymour opened by stating "I actually bought the TBT today" and closed by making it his Final Trade.

"I actually think yields are goin' higher," Seymour said.

But Brian Kelly insisted "the growth just isn't there," and made TLT his Final Trade.

Guy Adami said he's been saying all along that the TLT will go to 115, but "my conundrum" is that he would've expected the S&P 500 to be a lot lower in that scenario.

Mel said people can look at the same data and make different conclusions, like "reading tea leaves."

Steve Grasso said, "The S&P wants to head lower."

Tim Seymour said, "I'm long Coke," on "valuation arguments."

Guy Adami though said "I'd rather buy it on a breakout," above 44.

Adami said XOM is at "nosebleed levels."

Steve Grasso said energy names are starting to roll over, except LNG and the big integrateds, but he said to sell XOM for his Final Trade.

Guy Adami observed that BRK made an all-time high, then closed lower, then insisted he wasn't implying anything; "I don't know if that means anything."

Meg Tirrell, a regular nowadays, said Pfizer is going to report its results in 3 divisions for the first time.

Guy Adami said, "I think you're long PFE," because it's "cheap," then suggested someone "archive the Fast Money tapes" to look up the sale of consumer-products division.

Tim Seymour tried to state his AAPL position seriously (sold half of it, looking to buy more at 565) but had trouble given the giggling.

Brian Kelly said that if you like KRFT, don't worry about this wheat-futures flap.

Guy Adami said of ISRG, "You can actually buy this stock here," with a "350-ish stop."

Tim Seymour said of EL, "I would stay in this name."

Steve Grasso said "I wouldn't be a buyer here" of COP.

Brian Kelly said nautiluscoin is somehow official now and trading for 9 or 10 cents (snicker), and got no comments from pushover colleagues when he curiously said, "I have a central-bank-type of, uh, mechanism in there to stabilize the coin."

A "central-bank-type of mechanism."

Nautiluscoin is already invoking QE?

Steve Grasso said to wait on TWTR; "let it breathe for a week or so."

Guy Adami's Final Trade was to buy WU.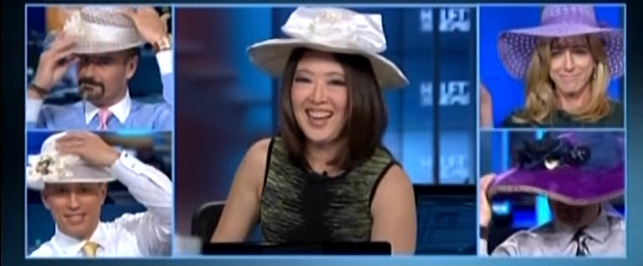 Stephanie's concerned
about the Facebook 'bandwagon'
The stock is actually down about 18% in barely 2 months.

Yet, you've gotta take your hat off to Stephanie Link, who revealed on Friday's Halftime Report that "I'm just starting to get nervous because everybody is now on the Facebook bandwagon."

Pete Najarian had no trouble scoffing, "I don't care how many folks are on the bandwagon; I think there's room for more folks on this bandwagon." (This writer is long FB but is not on the "bandwagon.")

Mike Murphy stated, "Facebook to me is the name to play in this space."

Link complained, "There were some issues with LinkedIn."

"It's a hundred forward P.E.," chimed in Mel.

Jon Najarian said, "I still like all those fracking names ... CRR and the rest."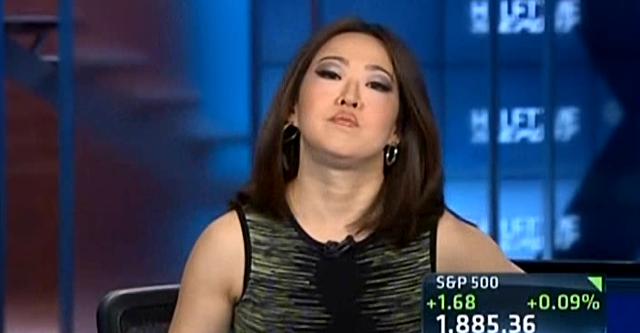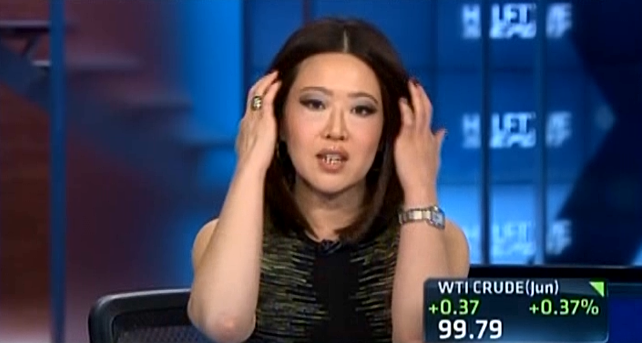 Normally scheduled interviews during a press conference would be scrapped, but not when it's an NBC Universal event promotion
Guest host Melissa Lee, caught twice doing a hair flip in the final moments of Friday's Halftime Report while in sexy green/black striped top, asked Churchill Downs chief Bob Evans "how important" the Derby is to the company.

Evans said it's "a third of our overall company's performance."

Another part of the hard-hitting dialogue included Evans pointing to the giant video screen but stating he didn't want to look at it because "I'm afraid I'm gonna be up there."

Mel asked if Churchill might do some REIT-like restructuring to unlock value. Evans said that's "not something we'd wanna talk about" if they actually were doing it (see, the idea is to promote an NBC program).

At the end of the program, everyone donned a Derby hat. (See, the idea is to promote an NBC program.) (Drink.)
Stocks in 'digestion phase'
Viewers' loss is the reviewer's gain.

In an unbelievably lucky break, we avoided an hourlong Halftime Report on Friday as guest host Melissa Lee introduced a timely press conference featuring Barack Obama and "Angela Merkrel (sic)".

Prior to the conference, Stephanie Link said the market has "pockets here that are encouraging," but it's the "big, broad macro" that's an issue.

Mike Murphy said stocks seem to be a technical ceiling, at which point excuses emerge for selling.

Mike Santoli agreed about the technicals and said market action is "reflective of this digestion phase."

Pete Najarian said now's the time to buy VIX below 13, do it when you can not when you have to, but "I still like the big caps."

Mel called the bond market "really fascinating."

Jon Najarian said there was "a lot of activity" in gold ETFs.

John Harwood dubbed the press conference "mainly as we expected."

Stephanie Link's Final Trade was LEA. Pete Najarian said S, Jon Najarian said HIMX and Mike Murphy said ARII.
[Thursday, May 1, 2014]

Honestly it's one of those questions that has little practical relevance because no one's getting fired or hit by a bus tomorrow, but still intriguing
It was one of the more interesting Fast Money discussions in months.

And Karen Finerman made the best observation. (And also wore a dynamite white dress.)

The question was, which stocks would be a buy — or sell — on a CEO change.

The best Dan Nathan could do was CSCO, which he said would "probably get a boost" if John Chambers left because it could be like MSFT, which we doubt, because he's not as disliked as Steven Ballmer.

Jon Najarian uncorked a real head-scratcher, Shelly Ibach of SCSS causing a buy if she exits (admit it, you haven't brought up that one at the dinner table in months), which is apparently a good call, but an obscure one.

Guy Adami said Reed Hastings, an excellent point.

But it was Karen Finerman who came up with Elon Musk, stating one "would have to be a seller" of TSLA if he exited, and given the high premium, we would call it a slam dunk.

Finerman pointed out that AAPL did not get slammed immediately after Steve Jobs' death (that came well into Tim Cook's guidance) because "the market knew for several years that Steve Jobs was going to be leaving."

Dan Nathan overdoing it in bid to establish himself as preeminent momentum-stock critic
LNKD took a hit on earnings Thursday, so who else would Melissa Lee start with on Fast Money than Dan Nathan.

Nathan said the LNKD price action "should be very troubling for the sector ... so to me (Drink), I think it's very troubling."

Jon Najarian, on the other hand, said "I like the quarter," and "I like the stock after that significant correction."

Nathan grumbled, "If it doesn't rally here, I mean, I can't imagine it's going up though (sic), anytime soon, you know."

(Apparently wavering by the end of the program, Najarian said to wait for the "washout" in LNKD.)

Guest Michael Graham agreed with Doc that LNKD had a "solid quarter" and said "they did raise the full-year outlook."

It was then Karen Finerman, though, who jumped in, pointing to Graham's 250 target and wondering, "How do you get there."

Graham said he uses a "discounted cash-flow analysis," and the company has a "long runway for growth" with a "safety net around their growth trajectory."

Nathan, scraping for every conceivable angle in Graham's commentary, sneered, "I don't like his comparison to Amazon ... I mean, to me (Double Drink) ..."

Karen Finerman agreed with Nathan that LNKD is "so ridiculously expensive" on any metric.
Dan Nathan rips 'financial press' for not hating Alibaba as much as he does
Melissa Lee on Thursday's Fast Money asked Dan Nathan about his "anger" regarding Alibaba.

Nathan delivered a too-long analysis of Jack Ma's ownership of Alipay and then, in quite a rip, stated, "I'm surprised sometimes the financial press isn't asking these questions ... to me (Triple Drink) ... what's goin' on here."

This time Nathan failed to sway Karen Finerman, who suggested that cleaning up the Alipay ownership "would help Alibaba trade that much better," a motive that could be attributed to Ma.

Nathan grumbled that he hasn't heard "intelligent" questions or answers, and said "to me (Quadruple Drink) ... to me (Quintuple Drink)."

Guy Adami said of YHOO, "I still think it's underpriced. I think it's wrong here."
Fast Money panel unswayed
by new-car salesman
Jared Rowe, who tried to make Fast Money viewers rush out to dealer showrooms, told Thursday's crew that Ford just had a "momentary blip," but still has 23 new products due out in 12 months, including the F-150, so he expects a turnaround in sales, even though they haven't been able to grab market share from GM.

Rowe said a survey showed that "less than 5%" of car shoppers will take GM off their list because of a recall.

Guy Adami noted old cars being on the road a while and asked Rowe, "What's the next big cycle" in car-buying.

Rowe said the "age of fleet" has been "increasing steadily ... since 2001," but now's an "incredibly good time" to buy because cars are better than ever.

Guy cracked, "The argument he just made, Jared's a smart guy," but they've "been saying that since the Model T was out."

Karen Finerman said GM seems to have some kind of bottom and is permanently shrugging off bad news; "I'm starting to wonder if I should get back in."

Karen Finerman doubted that the Ford CEO change is a big deal; CEOs are "really important during a crisis," but this is a different era, Finerman said.
Guy continues to endorse Nathan's YELP call (without saying 'To me') (Drink)
Jon Najarian said on Thursday's Fast Money, in the wake of the Box IPO postponement, that cloud could continue to have problems.

Doc stammered when asked what names he's been trading, finally mentioning VMW and EMC but insisting he didn't hold them for long.

Dan Nathan said the "price action is really, really bad" in CRM and NOW.

Nathan's mike went bad when he brought up OPEN, calling it a "pretty useful sort of service" and a "takeover candidate" but cautioning it "has to get washed out before you buy it."

Guy Adami reaffirmed he thought YELP could rise to the upper 60s but still thinks "Dan's gonna wind up being right" and is "more in Dan's camp after today's action than I was yesterday."

Jon Najarian likes PLCN over EXPE.

Najarian said he'll probably take profits in WYNN on Friday.

Karen Finerman is gonna hang onto OUTR.
WLT in 'Octagon of Death'
Karen Finerman drew a jab from Missy Lee on Thursday's Fast Money after opining on AVP, of which Finerman said, "Avon is everywhere you don't want to be," rattling off the countries.

That's "very New York-centric of you to say," Lee scolded.

Finerman insisted, "I don't think it's cheap."

Jon Najarian thinks MWW "tests more towards 5."

Dan Nathan suggested getting into TMUS at 25 or 26.

Guy Adami called WU "not an expensive stock" and one with "decent guidance," and "I think it bounces here," maybe to 17.25 before you start shorting again.

Guy said WLT seems to be in "sort of the Octagon of Death .. it's amazing how quickly it's turned."
Doc disowns Google Glass
Tracie Grella explained on Thursday's Fast Money how AIG is rolling out an insurance policy for cyberattacks, an "emerging risk that organizations need to be concerned about."

In fact, it's "becoming a, its own category of risk," Grella said, in a conversation lacking many specifics.

Guy Adami nevertheless called it an "interesting space."

Jon Najarian said November 17 calls in STLD were active.

Karen Finerman cracked that MIK is a "banker's dream."

Dan Nathan said May 17 calls in MRVL were hot.

Invensense chief Behrooz Abdi insisted to Mel that his results are about nothing but the "seasonality" of the business, which prompted Lee to wonder how the Street got the seasonality so wrong. (Translation: It wasn't just typical seasonality.)

Abdi picked up the lingo well, stating, "At the end of the day" (Drink).

Guy Adami said of INVN, "I think it's worth a shot against $16."

In the most pointed remark of the show (no, not Mel wearing burger shoes), Jon Najarian revealed he shipped back his Google Glass to the outstanding customer service department because "the product stunk" and among other problems "heats up on the side of your face."

Dan Nathan's Final Trade was EWG puts. Jon Najarian said NUE, Karen Finerman said GOOG and Guy Adami said BKW.
Steve Grasso was making a good point to Weiss until his AAPL analogy made no sense
Steve Grasso, somewhat of a contrarian (not only to others on Halftime/Fast Money, but himself) recently, told Thursday's Halftime crew that sort of likes XOM and CVX that if you're really looking for alpha, "you need to buy the bubble names."

Grasso asserted that "this is the earliest so many funds are trailing their benchmark," and there's no other way to catch up except by playing the names that move, an observation that brought hemming and hawing from Stephen Weiss.

"Let me explain to you how investing works: You need to beat the S&P," Grasso said, rather aggressively.

Weiss argued that that's "the strictly retail view."

"It's not retail; I deal with insti- I deal with institutions," Grasso said.

Weiss said that if he's been investing in a fund that owned CVX and now has piled into YELP instead, "We're putting in our redemption notice."

In quite a dis, Grasso then said, "You also held onto Apple from $704 all the way down to the 3s."

"Me? I didn't hold onto Apple," Weiss insisted.

"The people you're talking about," said Grasso, failing to show what that's got to do with TWTR 2014.

Grasso even mocked Weiss; "He's the great prognosticator of the past."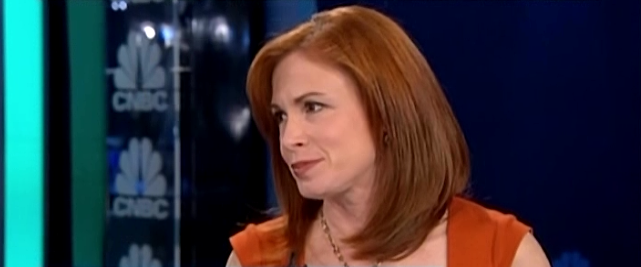 Diana Olick: Overdressed
CNBC real estate ace Diana Olick, in striking orange dress/red hair, told Thursday's Halftime Report that "the entry-level buyer is not there" in the housing market, prompting builders to court the move-up buyer and the luxury buyer.

Steve Liesman quoted Alan Greenspan as once saying that the "vast number" of 35-year-olds are going to be 65 in 30 years before contending, "We are vastly underbuilding relative to the population."

Olick though stressed that people want to be "mobile" nowadays, and so we've got "renter numbers off the charts."

Stephen Weiss pointed out that it's hard to get a loan, which is based on "cash-flow lending."

Pete Najarian said HOV options had "incredible upside activity."
Good idea to bring up YELP at Halftime, as Dan Nathan is generally only on the 5 p.m. show
Gene Munster started off with a verbal blunder when telling Thursday's Halftime crew that he likes YELP.

"Ironic about the valuation call here is that there's not a ton of historical support," said Munster, when in fact there's nothing "ironic" about that.

Munster said that the "real essence (Drink) here" is that "this is a company that can grow at 40%-plus for the next 6 years," so "we're jumping on this opportunity."

Stephanie Link sounded alarmed. "They're really spending a lot of their growth," Link said.

Munster insisted this is not like the 2000 bubble. "I'm not naive," he said, but the current well-known high-flying names have "more defensible positions" than what he recalls in the late 1990s.

Jon Najarian said he likes YELP but bought JIVE.

Pete Najarian complained about YELP, "These guys don't make money," and that FB is "incomparable" to such names. (This writer is long FB.)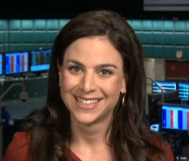 TV business pays more
than legal business
Jeff Kilburg said on the Futures Now section of Thursday's Halftime Report that crude is affected in part by Ukraine, and "people do not wanna get caught short here."

Jim Iuorio took a dig at Jackie DeAngelis' question about possible gas-price relief (no); "you're like a lawyer, you never ask a question if you don't know how the person's gonna answer," Iuorio said.

"I am a lawyer, I don't just play one on TV," DeAngelis said.

Iuorio chuckled, "I don't think the Ukraine thing is over yet so I'm not ready to sell crude."

DeAngelis said Gina Martin Adams would be on the Futures Now show, which prompted Judge to ask if she's actually still bearish.
'Tremendous overvaluation in the fixed-income markets' (Drink)
Rich Saperstein told Thursday's Halftime that there's a "tremendous amount of cross-currents right now in the fixed-income market," keyed by "tremendous demand" and "lack of supply."

Saperstein thinks higher rates and higher stocks is very possible.

Stephen Weiss said he agrees but complained that compared to some European issues, somehow the U.S. Treasury is still a more attractive yield.

Saperstein wondered why the Spanish 5-year is "trading through" the U.S. 5-year and asserted there's "tremendous overvaluation in the fixed-income markets."

Saperstein said some clients have experienced "asset allocation creep" in which robust stock returns distorted the desired portfolio mix, but then sort of parsed about his view on equities, stating, "We rebalanced, but we're still with full equity positions."

Saperstein said he likes insured Puerto Rican debt.

Weiss said as always, it sort of comes down to whether money managers think they'll make more money in stocks or bonds.
Steve Stevens is not mentioned during Vegas discussion on CNBC
MGM boss Jim Murren insisted on Thursday's Halftime Report that his company needs a new arena because "we turn away over a hundred events a year."

Vegas this year is going to see an "all-time record" in visits, Murren said, asserting his company is "very leveraged to an improvement in the U.S. economy."

He thinks the international gambling names will make "another move higher" once people get comfortable with Macau.

Jon Najarian said WYNN is his favorite in the space. Pete Najarian predicted WYNN would "absolutely crush it" because of Macau. Stephanie Link mentioned H, HLT and HOT but without a whole lot of conviction.
Stephen Weiss suggests a couple of Eamon Javers' sources are clueless
Eamon Javers reported on Thursday's Halftime Report that a couple of customers of Fidelity and Scottrade sent him letters they got from those brokerages informing them that they can't exclusively route all their trades through SuperBrad's IEX.

Stephen Weiss protested, "I gotta say, that's unfair. I deal with Fidelity all the time. Dealt with Scottrade. They probably just haven't gone through the process of certifying on their system."

Weiss added that "Fidelity doesn't sell you anything." (Really? Sure have a lot of commercials on CNBC.) Rather, he said it's a client "uneducated about the process Fidelity goes through in checking vendors."

Hardeep Walia said 3 hot Motif trades include Frack Attack, High-Yield Dividends and Drug Patent Cliffs.

Kate Kelly reported that Lansdowne is down 6% for the year, Maverick is down 3%, and curiously said Third Point is up about 2% for year while the screen graphic said down.
'Risk is clearly back on'
Stephen Weiss said on Thursday's Halftime that "risk is clearly back on" in the stock market, and "I think there'll be some selective buying," specifically with FB.

Jon Najarian grumbled that "everybody pooh-pooh'ed" Yahoo's report, but look at the stock.

Stephanie Link said she sees renewed strength in "Underline" (sic) (UA), NOW, FB and "Ulta" (sic) Software (ULTI)."

Pete Najarian grumbled that in the momentum-stock discussions, "We lump them all together," but FB is one that is "starting to make money."

Jon Najarian thinks the T-DTV dialogue "does have legs" even though they talked about it back in 2010 and 2011.

Stephanie Link complained that for T, such a deal "doesn't give 'em any spectrum ... I'm not sure it really makes strategic sense."

Pete Najarian said that in early February, the September 80 calls in DTV were being bought for $1.47 and now are $7.00.

Stephen Weiss observed that VOD, a possible T target, was taking a hit on the news.

Jon Najarian said he'd hold EBAY; "I gotta go with Uncle Carl."

Stephanie Link said she sold ETN and bought SWK for her Playbook Playoffs portfolio. (One of these days we'll figure out how bad our own makeshift (not actually a real selection) portfolio for this event is doing. #can'tbethatgreatwithLNKDandGRPN).

Link's Final Trade was WYN. Steve Weiss said FB (for the 3rd time). Jon Najarian said JIVE (for the 2nd time). Pete Najarian said DAL.