[CNBCfix Fast Money Review Archive, September 2014]
[Tuesday, September 30, 2014]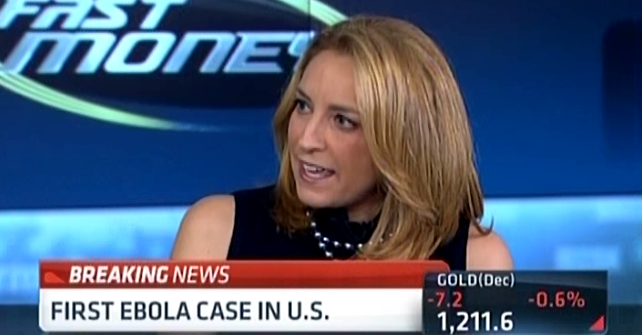 Karen suggests PLCM as Ebola trade (unclear though how Vegas casinos are preparing for it, maybe asking blackjack players to cough first)
Well, this one's a bit out of left field.

Karen Finerman on Tuesday's Fast Money suggested PLCM as an Ebola play based on people not traveling as much, admitting "it's a leap."

Sandwiched around an Ebola news conference in Texas, Sarepta chief Chris Garabedian uncorked an old standby — calling Mel "Michelle" (Drink) — before stating he's got the drugs ready if his company gets a formal request for the Texas Ebola patient.

Jane Wells, attending whatever that Vegas convention is, couldn't resist, springing a what-do-you-do-about-Ebola question on an obviously unprepared Jim Murren. Murren said he's sure "most companies have been preparing for this eventual situation" of an Ebola diagnosis in the U.S. and said he worried about anyone including his mother in Connecticut.

Steve Grasso said MGM is the casino stock for playing Vegas whereas LVS is the play for a Macau revival. Brian Kelly said it looks to be "as bad as it gets" for Macau and recommended "looks toward" buying those stocks.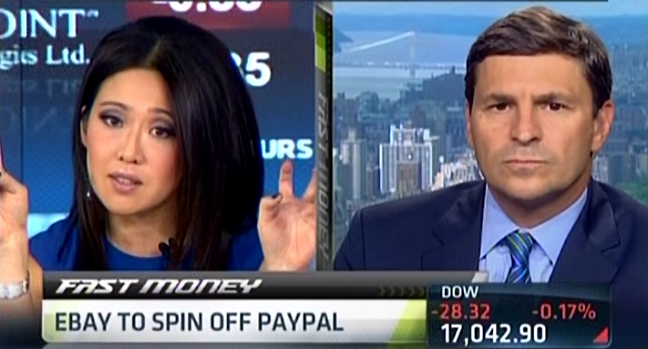 Steve Grasso remains adamant that the correction's just around the corner
Steve Grasso on Tuesday's Fast Money predicted the S&P has to test both the 100-day and 200-day and contended "October is probably a good day (sic) to sit on the sidelines."

Grasso also asserted, "We're probably going much lower in- in crude, at least to the $85 level."

David Faber, who is rarely on this program, told Karen Finerman he "can't fully answer" why John Donahoe did a 180 on spinning off PayPal.

Guy Adami suggested that move was a reaction to Apple's wallet (even though Dan Nathan says Tim Cook "sucks" at product announcements), while Karen said "I feel like it's maybe a Google approach or something like that."

Paul Hickey said GOOG has traditionally been great in October, and he also likes R and RAI. Mel told Hickey that MS, ICE and MA showed up on her screen as typically great in October and asked Hickey why those names aren't on his list.

Steve Grasso's Final Trade was KBH. Brian Kelly and Guy Adami said TLT, and Karen Finerman said FINL.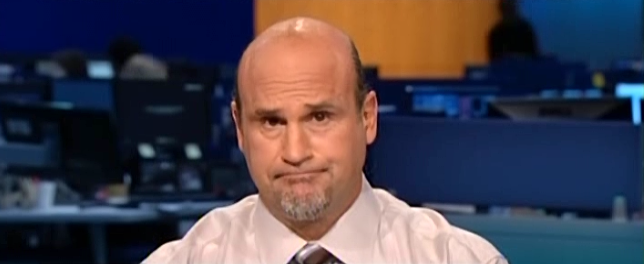 Pete pretends to make a call on EBAY while actually avoiding one
Josh Brown contended on Tuesday's Halftime Report that PayPal "has not been looked at as an innovator" even though it invented the space, and it needs that "veneer" in the Valley.

Pete Najarian, who had a subpar show, fumbled over "eBay" and "PayPal" and helpfully told viewers that November EBAY call-buying he saw on Sept. 19 was really significant.

Pete said Carl deserves "70%" of the credit for EBAY's PayPal move. Stephanie Link mumbled that they've been talking about doing this since 2007.

Finally Judge got to the point. Josh Brown said he wouldn't buy EBAY on Tuesday but maybe PayPal as a separate in 2015. Pete Najarian punted on that question, wouldn't answer it, but curiously said he thinks it's going to 60 but that you "wanted to already be positioned" in the stock.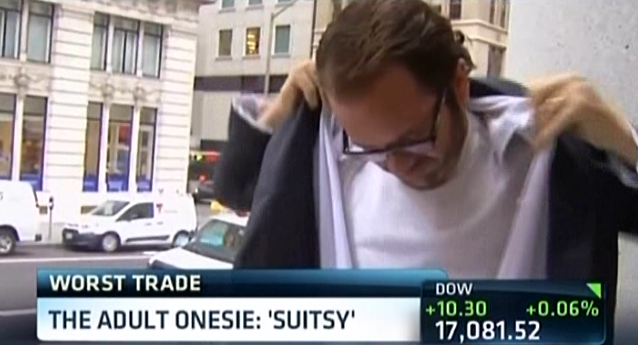 'Today is the bottom' in crude
Well, Judge's Halftime crew on Tuesday had quite a day.

They called the bottom in crude, reported internal ORCL gossip, projected an EBAY trade in 2015, explored how to use the restroom in a suitsy and even read a little prompter.

Pete Najarian began by observing that people are seeing Hong Kong protests "each and every day" (sic redundant) and if all the market's trouble spots were to ease, we could have a "liftoff" in stocks.

Joe said "it boils down to" the dollar and "it boils down to" rates.

Josh Brown gushed that the Nikkei is rolling. Pete Nardashian snipped that the U.S. appears to just be "consolidating" after already rolling during the summer.

Judge asked guest Ron Sloan if Sloan wanted to talk about the markets without asking him an actual question; Sloan said "a little bit of everybody" was making sense (snicker) but the market will "probably not" see 2,300 in 2014.

Sloan stressed that operating leverage is only moving in "singles and doubles."

As for the S&P year-end, Sloan said "anything over 2,000" would be "great."

Near the end came the stunner: In oil, "Today is the bottom" Sloan said, apparently not heeding Dennis Gartman's refrain that "We've seen a lot of 105 crude and I'll wager we're going to see a lot of 85 crude."

Addressing crude's cratering later in the show, Joe actually said "Ron might be right."

Sloan likes AMAT; "so much going on there."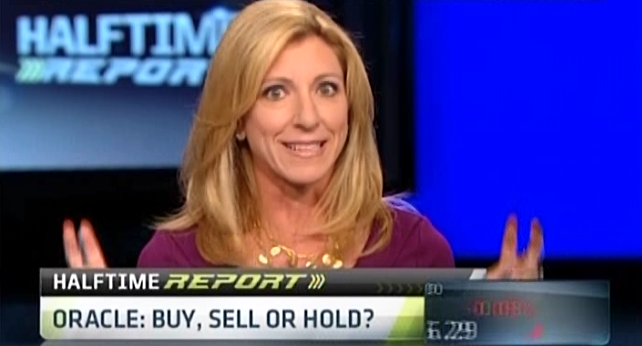 Stephanie takes a cue from Mel, invokes air quotes on Larry Ellison's job description of 'executive chair'
In a rare Fast Money/Halftime panelist-reporting scoop, Pete Najarian on Tuesday's Halftime said "it felt like" Larry Ellison was moving away from day-to-day oversight of ORCL but Pete's been "hearing differently from other folks that are inside there."

Dr. New World called ORCL a "hold" and first sounded like he was saying "absolutely 100%" that it will try organic growth, then seemed to imply he means it's "absolutely 100%" that it will buy something, so we're confused.

Stephanie Link said Cramer added to WAG over low expectations.

Josh Brown called FB a "beast" and said "there's no reason to fight it."

Joe predicted "more room" upward in MAS.

Steph said Cramer bought PNRA.

Pete said to keep an eye on EXPE.

Subbing for Jackie DeAngelis, Bertha Coombs created dead air when calling on Jeff Kilburg to opine on gold; Kilburg didn't say anything and then everyone seemed to agree Bertha should've called on Scott Nations first. Kilburg said he actually likes gold as long as it holds 1,179. Nations only said that gold has been struggling.

Pete Nardashian said the bad news at F is priced in. Josh Brown called the stock "dirt cheap" but thinks it's "dead money" and suggested a "12 handle" is possible.

Mr. New Land suggested you can't "extrapolate" Ford's kind of European weakness to GM and indicated he prefers the latter name.

Mr. New Land also predicted EOG "comes around" in the 4th quarter and indicated PXD is a name he'd add.

In a strong indication that Judge is worth every cent of his salary, Pete Najarian struggled to read a commercial tease to Jane Wells off the prompter.

Jane Wells gave a glimpse into her day's report on Vegas' future. Pete halfheartedly endorsed WYNN.

Josh Brown's Final Trade was FSLR. Joe said CP. Stephanie Link said CMCSA and Pete Najarian said (yep) DOW.
[Monday, September 29, 2014]
Mel botches DWA interview
Not too long ago, this page lamented the decrepit performance of DWA and its chart that should only be viewed by those in hazmat suits (this writer is long DWA) and figured it would take the Jefferson Starship treatment (that would be "Miracles" (sic plural)) to ever make those shares see 30 again.

Well, ask and ye shall receive.

The only problem is, after watching Monday's discombobulated Fast Money interview with studio analyst Matt Harrigan, we're not sure whether to ask for 67, 44 or just plain old "cost basis."

Missy Lee introduced Harrigan by stating DWA might not be the only studio in play.

Then, without mentioning any other studios, she asked Harrigan how he gets to 44 or 67.

Harrigan, presumably talking about DWA, said that over 3 years we'll either see an "outright takeout" of DWA or a major investment from Silicon Valley.

Then he started talking about LGF, and mentioned 67 ... so we assume he's talking about 67 for LGF and 44 for DWA ... unless he's pinning those numbers possibly on both, given that as of Monday they're not ridiculously far apart.

Lee never sensed there were serious holes here and didn't bother clarifying. (Maybe that Flavian guy can bring some more brandy to the set and loosen up the gang.)

Guy Adami called LGF "worth owning."

Later, after Courtney Reagan (who looked great by the way) reported that DWA was falling afterhours on a Dow Jones report of cooled talks, Guy affirmed he likes DWA and LGF regardless.

Tim Seymour, perhaps because he noticed the flat performance in DIS and TWX Monday, said the DWA talks help "affirm" the valuation in those names rather than suggesting those companies need to make an acquisition.
Dan Nathan: Crisis might not be in banks' rear-view mirror
Gerard Cassidy told Monday's Fast Money that there's "decent year-over-year loan growth" and said C could surprise to the upside.

Tim Seymour endorsed C because he thinks the "regulatory quagmires" are about done.

Then things suddenly got interesting as Dan Nathan claimed, without offering any evidence, "We could be closer to the next financial crisis than further away from one."
Can Russia send a convoy across the Hong Kong border?
Tim Seymour on Monday's Fast Money shrugged off the Hong Kong demonstrations; "there's been plenty of protests in Hong Kong since '97, I would not get too worked up over this."

Dan Nathan said "the U.S. is the best neighborhood in kind of a crappy block."

Dennis Gartman, who said Hong Kong's troubles have "the same beginnings" as Tiananmen, said the issue is going to bolster the dollar.

Gartman said he's "less bullish" on markets than 2 weeks ago.

Tim Seymour said Korea "looks vulnerable."

Later, Seymour said he trades China based on its ability to "control social policy" (but he's too offended by AIG's bailout to buy that stock).

Guy Adami said bulls should be heartened that key price levels have held.
Pete evidently likes that $15,000 robot that reminds Granny when to take her meds
Pete Najarian chortled on Monday's Fast Money, just as he did at Halftime, that Intel is "doing everything right" and will get through 35.

Guest Chad Bartley said AMZN, "the sleeping giant," could have the best data of anyone for advertisers, for those who haven't figured out why they get regular product recommendations.

Guy Adami is not impressed by AMZN and thinks it might touch 285. Tim Seymour said to watch 325, and "protect yourself at 300."

Dan Nathan said BABA's November 85 puts and November 95 calls were active, apparently by a trader who thinks the stock is range-bound.
Who's first to 100:
GPRO, or BABA?
Phil LeBeau spoke with Monday's Fast Money to say Ford's forecast "spooked investors."

Tim Seymour said he wouldn't jump into F on Monday but the stock looks "very interesting." Dan Nathan said it's a "shoot first, ask questions later" type of situation.

Dan Nathan said if you're long GPRO to "ride the wave" to 100 but predicted it's "probably gonna be like a sort of Webvan."

Guy Adami said names such as X are giving you an opportunity to get in.

Guy said he thinks all the bad news is in MCD.

Dan Nathan said he bought puts in PEP.

Tim Seymour seemed to endorse SUNE.

Guy predicted JACK goes higher.

Dan Nathan predicted "a couple more bucks to the downside" in INVN.

Tim Seymour's Final Trade was to sell IBN. Pete Najarian said happy birthday to Doc (and apparently likes MCD). Dan Nathan said PEP puts and Guy Adami said LGF. Mel said happy birthday to her mother and brother.
Sorry, but have to ask ... what in the world about this situation is controversial enough for these well-informed people to debate?
As Hong Kong comprised a significant chunk of Monday's Halftime Report, Gordon Chang told Judge, "I'd be very concerned ... They can't restore order."

Chang admitted to Josh Brown that Chang's book said the Chinese communists would fail in 2011, "so I'm about 3 years out of date."

Stephen Roach said he "literally" was just teaching 250 "well-informed, bright students" and stopped the class "to debate this subject." (See, that's what smarties like Mel did in school unfortunately the profs apparently never said to make sure the guests explain which stock(s) might have a 67 target and which might have a 44 target.)
Make it simpler, Steph:
This is television
Melissa Lee's interview with Matt Harrigan on Monday was hardly an all-time great, but admittedly Steve Yacktman's appearance on Monday's Halftime Report was nothing to write home about either.

Yacktman assured Judge his firm is "not really worried about where the market goes," but focused on certain names such as Samsung.

Stephanie Link asked Yacktman one of the longest questions of all time, which we think culminated in what does he think about consumers given declining oil. After a moment of dead air, Yacktman seemed perhaps rightly unsure what the question was and mumbled, "that's just not an area that we focus on heavily."
What happened to Mike Mayo's demand that C fire the CFO?
Well, it's been many months since we've heard this one.

Josh Brown on Monday's Halftime Report invoked an old standby, stating BAC and big banks are starting to return to a "more normal scenario" where the fines, litigation, inability for anyone to get a loan fade away.

Stephanie Link agreed that banks' legal costs are in the "7th or 8th inning."

Josh Brown said the "pain point" in the market is anything tied to the dollar, such as energy.

Judge pressured Ben Willis to concede Hong Kong is a big deal; Willis turned the tables and said CNBC factored into the lousy market by airing an interview with Charles Evans, whom Rick Santelli assured is a permanent dove (but didn't mention anything about the "steak and potatoes" Fed we need or address Steve Liesman's point about how do higher interest rates make the economy better).

Dr. New Land, who had a quiet, indecisive show, said "the thing to do now" is to get "smaller" and take advantage of the next trend.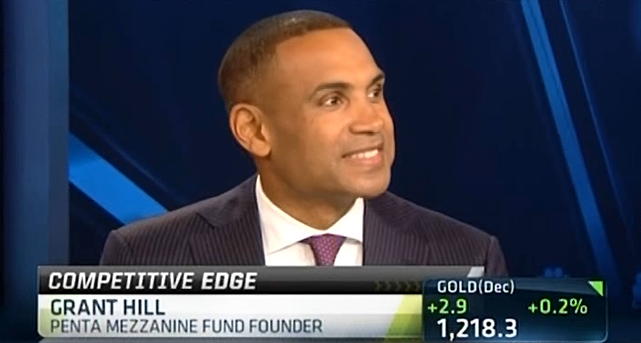 Surprised this guy didn't say something like 'I've seen absolutely phenomenal activity in October 45 DOW calls and I'll probably be in the trade for 2 weeks unless it doubles ...'
Pete Najarian on Monday's Halftime Report said GPRO's great, except, "Has it gone up too fast?"

Yep, that's kind of an important question, which is what Josh Brown tried to address before Pete practically scoffed him off the set with the old "You could've made that argument $20 ago" (Drink) refrain.

Josh Brown said if you own DWA, there's "good reason" to hang onto it and see what happens with the Softbank talks. (This writer is long DWA.)

Stephanie Link called ECA's move "really a great story."

Mr. New World said to stay with NI though the "natural inclination" is to start unloading it.

Gil Luria defended his 105 target on BABA by stating it's more like FB and less like BIDU and Tencent.

Grant Hill, founder of Penta Mezzanine Fund, which he said is invested in multi-family apartment complexes in North Carolina and Florida, said that when he "first entered" (sic redundant) the NBA 20 years ago, "I looked at myself as a businessman." Then he told the panel he's "watched you guys many times before."

Pete Najarian and Steph Link each offered DOW for Final Trades. Joe said MCK and Josh Brown said WAG and Grant Hill said Kevin Love for whoever.
[Friday, September 26, 2014]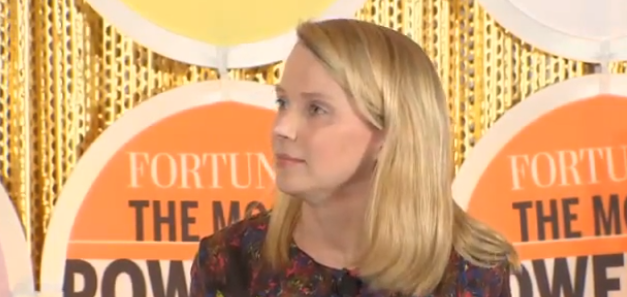 Marissa's next big move:
tax efficiency
Tim Seymour kicked off Friday's Fast Money observing that the dollar closed higher for the 11th consecutive week.

Actually, it was Pete Najarian who kicked it off observing that the VIX dipped below 15.

Guy Adami said LVS and WYNN look interesting.

Eric Jackson said "there's not a lot of confidence" that Marissa Mayer can unlock value in YHOO and said the most exciting element of the stock is the "tax efficiency" (Zzzzz).

"Essentially, Yahoo is in play," Jackson said.

Guy Adami predicted the stock would "blow through that 45 level."

Tim Seymour predicted there won't be "mass selling" in the bond market over Gross' exit.

Guy Adami said you can't chase AGIO. Tim Seymour said he's staying long MO. Pete Najarian said he likes MRK even more on Friday's drop. Brian Kelly hung a 35 on MU.

Brian Kelly said he added to his BBRY calls. Pete Najarian congratulated Kelly for using options and "defined risk."

Guy Adami called NKE's move "too much, too fast." Tim Seymour said he's long but took a third off.

Tim Seymour's Final Trade was XOM. Brian Kelly said to take off shorts in HYG. Pete Najarian said YHOO and Guy Adami said BMY.
Starboard validates Josh
Josh Brown, who said on Friday's Halftime Report that the market's got a "TINA" thing (he defined that as "There Is No Alternative"), rehashed a nearly forgotten cliché in complaining that collective performance in GOOG, AMZN, NFLX and PCLN doesn't "augur well" (Drink) for "animal spirits."

Jim Lebenthal said the market "feels ugly" though he hates to say that.

Kate Moore said she doesn't think anyone has been a "big buyer" of the rally anyway; "there's a lot of skepticism still."

MCC asked David Faber if Starboard's push for YHOO buying AOL is "2 drunks holding each other up."

Jim Lebenthal invoked Meat Loaf in saying Michelle took the words out of his mouth (sic no "right").

Josh Brown took a victory lap — actually a justifiable one this time — in reminding viewers he pointed out a few days ago that YHOO is now the No. 1 activist target.
Was there anyone on CNBC Friday who was not asked about Bill Gross?
David Faber, who rarely takes part in these programs, said on Friday's Halftime Report that, "You've gotta assume that money's gonna leave" Pimco, especially from sovereign wealth funds, but it's unclear how much.

Jim Lebenthal predicted that advisors will cash in their Pimco Total Return holdings and only re-invest half of it now in fixed income.

Julia Bonafede conceded Gross' move is a "negative announcement" for Pimco and claimed that a lot of clients were already asking about this.

Todd Rosenbluth said management change adds "another negative wrinkle" to the Pimco story.

Josh Brown said this is "one more argument" against picking a manager and predicted much of Gross' old portfolio will find its way into passive funds.

Jeff Sonnenfeld had little to say about Bill Gross and bungled basic grammar in contending that Gross "wants to fight and not flight" (sic).
Pete thought NKE at 84 was too steep
Pete Najarian, who a day earlier was skeptical of NKE's afterhours bump, suggested on Friday's Halftime Report it's legitimate but said the stock "might be a little rich."

Josh Brown said UA has the potential to make a "Nike-like move."

Pete Nardashian said October 18 calls in Cadence Design were hot (CDNS). Pete said he "probably" would hold it 3-4 weeks (Drink).

Pete came sooo close a couple times to calling MCC, who looked dynamite in green, "Melissa."

Mike Murphy bought weekly 32 calls in MU. MCC asked Murphy why he'd originally bought the stock; Murphy responded with a $20 cost basis Brag Trade.

Pete Nardashian's Final Trade was MRK. Jon Nardashian said NCR, Josh Brown said Pimco (snicker) and Jim Lebenthal said BP.
[Thursday, September 25, 2014]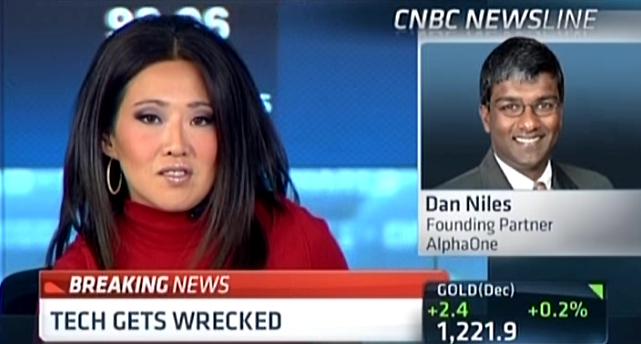 Breaking news: Dan Niles' view is just the opposite of what Mel twice says it is
Fast Money producers decided Thursday that a rather ho-hum selloff that really happened early in the morning still merited the "Breaking News" banner and music ... for basically the entire 5 p.m. Eastern program.

The first guest was Dan Niles, introduced by Mel as calling Thursday's meltdown a great opportunity to buy tech.

But Niles said he wasn't sure where Mel got that intro because what he actually believes is "180 degrees the opposite."

Nevertheless, Niles likes AAPL and predicted it would regain phone market share now that it's giving customers the larger screen that they want and because of its services potential.

However, "There's no reason to own Yahoo," Niles said, explaining he unloaded at 42.60 on Sept. 16 (that's called a "Brag Trade").

But Doc said if you put the pieces of YHOO together, "it's well north of 50."

Niles said ORCL has well-qualified people, but "usually it's a really bad idea" to do co-CEOs.

Guy Adami said he had PCLN "really cold into the summer," but "I've been wrong ever since though." He said he thinks it wants to test 1,100, and also said that he and Mel are planning to go to a drive-in.

Pete Najarian called AMZN a "no-touch."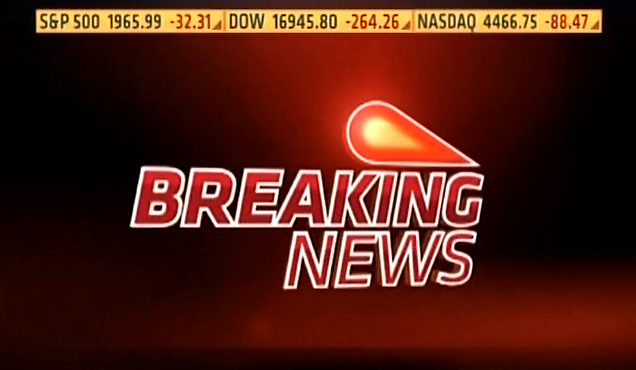 Breaking news: Apple really exhaustively tested the iPhone 6
CNBC's Silicon Valley ace Josh Lipton sounded a little Jim Goldman-esque on Thursday's Fast Money in stating that no AAPL product has been tested as "exhaustively" as the iPhone 6.

At least a couple times, he said there have been only 9 reported bending incidents out of 10 million phones sold.

Either Brian Kelly or Pete Najarian cracked up off-camera when Lipton said you can take your bent iPhone to one of the "geniuses" at an Apple Store.

Guy Adami said, "I think the stock is going to 88" (Drink).

Doc insisted, as he did at Halftime (see below), "This is a problem for Apple," and "there are a helluva lot more than 9 incidents, I don't care what Apple says."
Steve Grasso wasn't around to explain the risk of buying CLVS
Robyn Karnauskas predicted on Thursday's Fast Money that REGN could be the next Genentech. (Perhaps that's one she's recommended previously; we're not inclined to look it up.)

Karnauskas also has a 127 on VRTX. (Perhaps that too is one she's recommended previously, but we're not inclined to look it up.)

Pete Najarian repeated his tired refrain about liking big pharma and AMGN.

Guy Adami said Karnauskas "sat on my left," not "sat on my lap."

Mel brought up the old "different market paradigm" routine regarding biotech.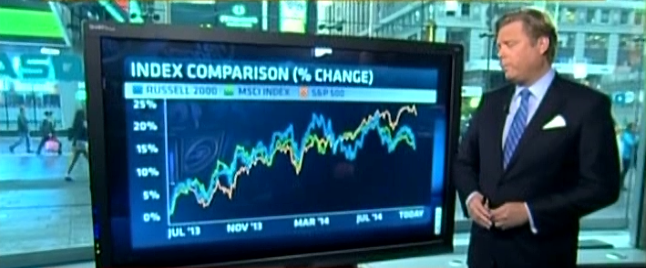 Carter Worth once again predicts a deeper downturn than is likely to occur, blames it on the chart
In a bizarre preemptive strike at scapegoating, Carter Worth insisted to Thursday's Fast Money crew that "I don't draw these lines, these lines draw themselves."

Yes, but he does interpret these lines, they don't interpret themselves.

(Look at that colorful mess of squiggly lines that Worth actually believes will tell you the short-term direction of stocks.)

And, once again Worth predicts a steep fall in the biggest averages because more volatile averages have already fallen more. "The break is presumptively at hand," said Worth, projecting 1,780 for the S&P 500.

Meanwhile, Frank Holmes said real interest rates have strengthened the dollar which in turn weakens gold.

Holmes likes RGLD and FNV, but he doesn't like gold ETFs.

Brian Kelly was heard chortling off-camera when Holmes referred to "Chindia."

Dana Telsey thinks NKE's "very impressive quarter" is all about "acceleration." But while Telsey said to chase the stock, Pete Najarian said to wait for it under 80.

Guy Adami said you can be long TIF with a 96 stop. Pete Nardashian said you don't have to chase MHR.

Doc said weekly 52 calls in DOW were hot.

Guy Adami actually claimed, "I hate being predictable."

Mike Khouw said NXPI October 65 puts were active but don't even capture earnings activity.

Doc gloated that the name he likes, BRCM, was up Thursday.

Pete Najarian's Final Trade was PFE. Brian Kelly said to sell the dollar. Jon Najarian said DOW and Guy Adami, who always has to give himself the grandest introduction possible for his Final Trade, said VRTX.
Mark Mahaney was well-prepared for Mel's criticism
Jon Najarian contended on Thursday's Halftime Report that a video of a bending iPhone getting 23 million views does not represent just "casual interest," but something that figures to affect serious would-be buyers.

But Stephanie Link practically scoffed, stating the stock is barely down in a lousy market. Josh Brown chimed in that it's holding around the 50-day.

Pete Najarian called BABA a "no-touch" (even though he likes YHOO for its BABA stake).

Mark Mahaney said the major YHOO catalyst has "come and gone," and the real fundamental growth hasn't been happening.

Mel tried to say Mahaney's picks such as NFLX, PCLN and GOOG have had "terrible months," but Mahaney said his top pick since the March momentum smackdown was Facebook.

Stephanie Link said she's interested in BABA.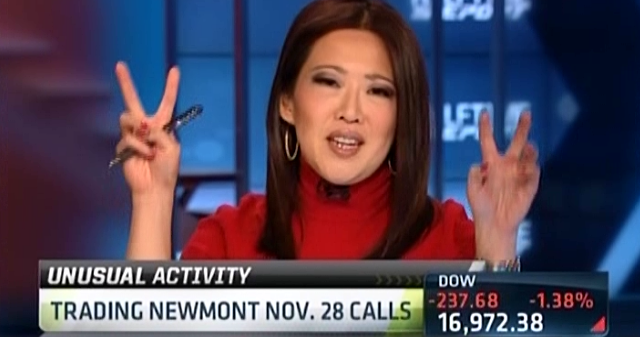 Notion of gold as 'safe haven' prompts Mel's air quotes
Offering a guess, prominent blogger Josh Brown said on Thursday's Halftime Report that the S&P 500 is finally "starting to show a lot of weakness," predicting "we need a little bit more damage" before we get the bounce.

Jonathan Corpina predicted next week will be the "selling point" of this market.

Daniel Gamba told guest host Melissa Lee that emerging markets still have specific areas of outperformance, such as Korea or "areas in China."

Pete Najarian trumpeted big pharma.

Jeff Kilburg told Jackie DeAngelis that banning U.S. companies from exporting oil is an "archaic" policy and said we should start exporting and give refineries here an incentive to "retool."

Pete Najarian said to wait before jumping into refiners.

Josh Brown likes LNG and said it "probably gets above a hundred."

Pete Najarian said NEM November 28 calls were hot.

Stephanie Link's Final Trade was M. Pete Najarian said CF; Jon Najarian said call spread on the VIX that he will trade out of Friday "on the pop."
[Wednesday, September 24, 2014]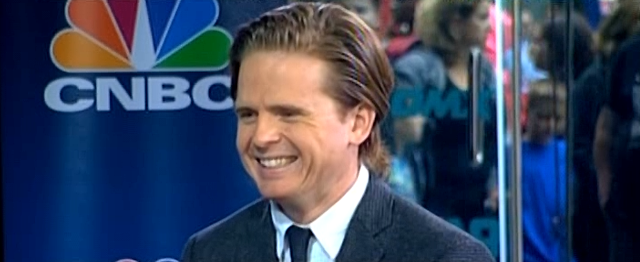 JJ Flash caught smiling (sorta)
CNBC's John Jannarone, who always brings his best Charles Oakley game face to his Fast Money appearances (and now appears to be bringing the Pete Najarian hair look — in back, not top), said Wednesday an elite wine auction was heavily populated with Chinese buyers, despite recent data showing lack of luxury spending in Macau.

Dan Nathan offered that "China could be on the precipice of a massive credit bubble about to burst."

Yet, Nathan said nothing Wednesday about the "new volatility regime" he warned about last week.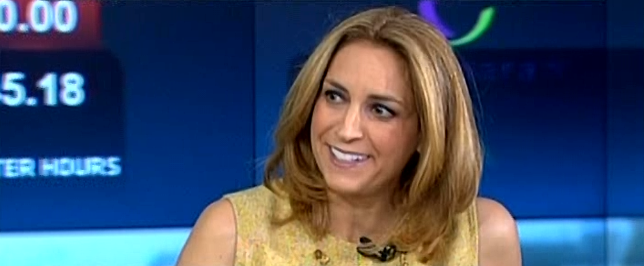 Talking her book: Karen says she wished GE was buying SUNE but wonders why GE didn't just tell Mel 'no comment'
Ben Kallo, one of the 2 Fast Money go-to guys on TSLA, said on Wednesday's show that SCTY got a "big win" from New York, but "that gives us pause that they're moving into manufacturing." He said he prefers SPWR.

Kallo said he'd buy TSLA and said Bob Lutz misquoted Elon Musk in calling the stock "grossly overvalued."

Guy Adami gave a shout-out to Kallo and called SCTY "probably dead money" and said TSLA at this point represents better risk/reward.

Dan Nathan said there's a big buyer of October 20 calls in SUNE, one of Karen's favorites.
Guy says he's still in the 88 camp
For all those looking for something new on Wednesday's Fast Money, Guy Adami opened the program stating (Drink alert) he's still in the "88" camp for AAPL (Drink).

Karen Finerman called the AAPL update problems a "complete blip, non-event."

Dan Nathan warned of AAPL, "You could have a lot of big holders head for the door."

In other fresh news, Guy recommended CELG, GILD and AMGN.

Later, Peter Keith agreed with Mel that "it's entirely possible" that Best Buy will benefit from iPhone 6 traffic but it might be a wash if those people aren't buying other things.

In an impressive explanation, Keith told Karen Finerman that Best Buy loses money on iPhone hardware but gets a fee from a carrier for signing up customers, net being a gross margin in the low 20s, but if they sell a case with it, those margins at 40, 50, 60% would be accretive.

Regardless, Karen said Macy's is her "favorite retailer by a lot."
Josh: LULU 'done'
Paul Hickey told Wednesday's Fast Money that materials, industrials and energy are "deeply oversold" and due for a bounce as the dollar sees a "reversion to the mean." Hickey likes COP, DOW and NOC.

Guy Adami said he would "absolutely" stay long JBL.

Guy said KBH might've flushed out on Thursday.

Guy said he likes LULU, but Josh Brown — who presumably was tapped for the afternoon show because Pete somehow couldn't make it — claimed "that brand is done."

Dan Nathan likes T and USO. Guy Adami backed COP, while Karen Finerman feebly offered FLS and then GT.

Josh Brown (bull) and Dan Nathan (bearish) tangled over whether SBUX has topped out.

Guy Adami likes WMT. Karen Finerman said "sorry for the pun" but SKX seems to shoot itself in the foot, and she'd "much rather" be in FL. Dan Nathan said he wouldn't be long LNKD but called 200 "a big level."

Guy Adami said to wait for a washout in FUL before buying, something north of 5 million shares.

For a Final Trade, Dan Nathan said to short TLT. Josh Brown said FSLR. Karen Finerman said GOOG and Guy Adami said JBL.
Judge & Kate fail to clue in viewers on what's going on with Argentina
In a curious little exchange on Wednesday's Halftime Report, Kate Kelly found herself making Kyle Bass' arguments about Argentina debt, apparently because Stephen Weiss scoffed at them.

Kelly said Bass was one of the investors who agreed to a haircut on Argentina bonds; Kelly then aired a clip of Bass complaining on Squawk Box that "3%" of bondholders are holding everyone else hostage.

Stephen Weiss said Bass "contradicted himself" in some way that wasn't clear from Weiss' commentary, then unleashed a rip: "He also said, Japan's going down, Japan's failing, I'm shorting Japan," which is true, Bass started that up in 2011 (along with claiming Greece was a big deal), one of the bigger busts of this decade.

Kelly concluded, "Regardless of the legal issues ... some people do consider this behavior to be sleazy."

Given the lack of details about this topic from the show's presenters, we figured it'd be worth looking up some articles to discover what "this behavior" is. If we get it (as if), it sounds as though folks who were royally hosed by an earlier default are demanding to be paid before these investors such as Bass who have euro-denominated Argentinian debt, while Argentina is happy to pay the euro-denominated guys but isn't budging on the guys who got hosed. A judge recently sided with the hosed guys, leaving Bass and others to twist in the wind.

Kelly might well have taken the approach of Kara Swisher last week on Peter Thiel, stating that right or wrong "depends on your opinion."

Hate to say it, but we'll sort of agree with Weiss; not all judicial rulings make sense to say the least, but the fact a judge has ordered a bank to halt payout distribution suggests the hosed crowd has a decent case.
Judge is actually still taking seriously the notion of BABA marking the top
Ed Yardeni told Judge on Wednesday's Halftime that the market "may just go sideways the rest of the year" as Judge tried to resuscitate the BABA-marking-the-top theory (snicker).

Josh Brown said sentiment is turning on a dime and added an "in and of itself" (Drink).

Joe said he bought more QQQ puts before going on-air Wednesday, because he thinks earnings will be "disappointing" and the dollar will rally.

Jim Iuorio thinks the dollar goes higher, while Jeff Kilburg contends the rising dollar will have a "negative impact" short-term on stocks.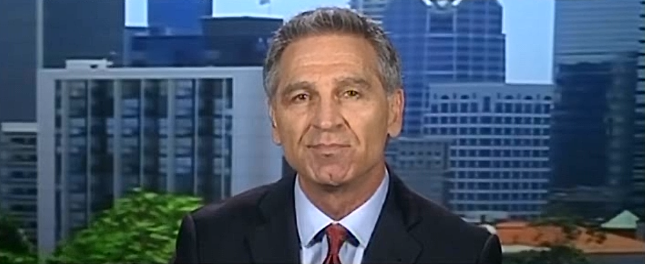 Still waiting for Halftime crew to define what Phil McConkey meant by 'get this right'
Dan Chai said on Wednesday's Halftime Report he likes MDT even if the COV deal doesn't happen. He also likes TRNX, but with 5 reasons (like we always say, we can't handle more than 3).

Judge could hardly wait to end Jon Fortt's BBRY Passport report, prompting Fortt to wonder if he wouldn't get to talk about the bending iPhone 6. Josh Brown said phones that can't be carried in pockets are trouble; "I think this is a problem."

Doc re-gloated how he shorted YHOO on Friday, when it started tumbling from 43. But we'll bet the next package of Fudge Stripes that neither Doc nor Pete nor Joe will "gravitate towards" telling us on Thursday or Friday what in the world Phil McConkey was talking about in his nearly-as-bad-as-Goodell's-press-conference appearance on Monday's Halftime.

Ben Lerer said Wednesday that Thrillist has 3 brands that are some kind of "content platforms" that allow e-commerce success.

Josh Brown's Final Trade was RIG. Joe said URBN, Doc said TGT and Stephen Weiss said AAL.
[Tuesday, September 23, 2014]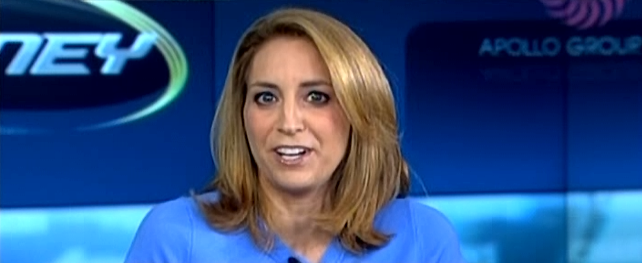 Karen implies a greater stigma to inversions than others are willing to concede
Edward Mills told Tuesday's Fast Money that the White House's new anti-inversion plan amounts to subjecting more of a company's earnings to the U.S. tax code for longer than previously thought.

Mills rightly asked, "What's the pressure on Congress to go further" now that Treasury has acted.

Karen Finerman contended that even if the economics of inversions still work, the "perception" may prevent companies from doing so. Mills didn't seem to buy that, pointing out most of the companies doing it are not well-known household brands.

Guy Adami said if MDT holds 60, you should buy with "both hands."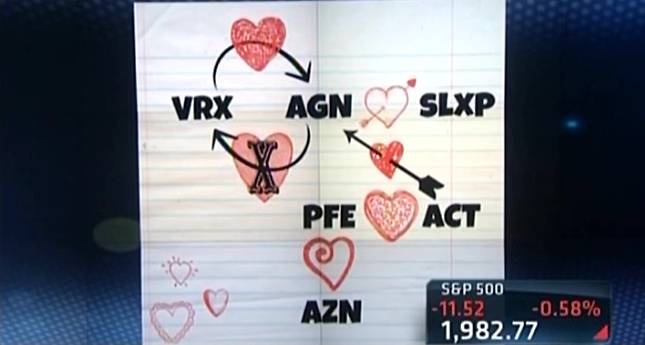 Mel calls Karen's chart
a 'love hexagon'
Unveiling a slick chart that she attributed to an assistant, Karen Finerman on Tuesday's Fast Money said AGN probably could buy Salix if it really wants to.

Guy Adami asked Missy if she's ever "been involved in a love hexagon." Missy said "even if I were," she wouldn't share.

Guy Adami said the "upside far outweighs the downside" in GOGO.

Karen Finerman said, "I'd be afraid to own a stock whose ticker's GOGO."
Karen evidently thought
AMZN would start plunging Friday
They didn't bring in Gene Munster or Toni Sacconaghi, but Fast Money wasted little time rehashing its favorite recent AAPL punch line, Guy Adami admitting he's still in the "88 camp."

Later, the show took up what they used to call the "Apple derivative trade," but even that was clumsy, as Pavel Molchanov first said there's downside in GTAT to the "high teens" (it's presently around 11), then said that means $8-$10.

Guy Adami endorsed INVN. Dan Nathan said QCOM went from a darling to a pig and if you're owning it, keep a tight 75 stop.

Guy Adami urged Mel to put BABA's 2-day slide in context but conceded it's been a slide.

Karen Finerman tried to scoff that she's "really shocked" that AMZN "levitates" especially with a cheaper-priced rival out there.
Nathan: 1,900 'very soon'
Dan Nathan predicted on Tuesday's Fast Money we'll see S&P 1,900 "very soon before year's end."

Mel admitted, "I'm not familiar with the weather in Detroit," reporting that recent rain ruined some DDD machines, as the stock rose on news of the company's deal.

Karen Finerman pointed out the company is up $130 million on this new revenue of $6-8 million and said to DDD bull Brian Kelly, "You're good with that."

Guy Adami said if you've enjoyed the move in 3-D stocks, you need to take profits.

Guy Adami said to avoid BTU. Brian Kelly said he "might get excited" about Dick's at 42.

Karen Finerman said WLT's debt pricing is not a sign of optimism for the company.

Guy Adami predicted TKMR could get to 30.

Dan Nathan said someone was making bullish bets on DG.

Guy Adami is "not in love" with what F has done recently. Karen Finerman said she likes GE regardless of what it's doing with the appliance business.

Dan Nathan's Final Trade was IBM puts. Brian Kelly said GDX, Karen Finerman said GOOG or GOOGL and Guy Adami said AGU.
Pete finds Judge's opening question the most ridiculous thing he's ever heard
Pete Nardashian on Tuesday's Halftime shrugged to Judge that the notion of BABA's IPO marking the top is "the most ridiculous thing I've ever heard in my life."

Josh Brown said "maybe" BABA signaled a market top, but 1) we won't know for a long time, and 2) "most of the time" we're not making a "major top."

Yet, Mark Hulbert told Judge he thinks the market has been near a top for a while, so he used "shameless journalistic fashion" to attach the BABA IPO to it as the hook for a report that succeeded (i.e., netted a TV appearance).

(Actually, Bert Dohmen's BABA-bust prediction is off to a good start.)

Mr. New Land told viewers that such a conversation "is, is really not where you should be focused," but asserted "it's several conditions" that are signaling trouble.

Mr. New Land claimed the market has "gone straight up all year," which isn't true.

Paul Richards predicted that as long as payrolls are at 200-215, "the party continues," but if we start seeing 320, then a "near-term top" is possible.
Still waiting for Judge to tell viewers what Phil McConkey's point was
Presumably responding to a Drudge link over the weekend, Judge on Tuesday's Halftime Report asked halfhearted panelists to discuss something they had no interest in discussing, whether the "so-called death cross" in small caps means anything.

Josh Brown observed of the people talking about it, "Most of those are bloggers or are guys writing for clicks." (Writing for clicks ... what an awesome idea)

Brown went on to point out that most of the time, the market is robustly up 12 months after the cross.

Dr. New Land shrugged off the whole topic and said he bought Russell puts for more legitimate reasons.

Brown responded that he wasn't calling the Russell a buy here, only that the purported death cross is not a reason to sell.

Bandwagon jumper Pete chimed in that he'd only start buying the Russell once it gained momentum.
Nobody's discussed recently whether Iran is manufacturing any nuclear weapons
Col. Jack Jacobs (evidently Gen. Barry McCaffrey was unavailable) told Judge on Tuesday's Halftime that the U.S. can't destroy ISIS "with uh, airstrikes or cruise missiles or any of that stuff."

But, Jacobs contends the U.S. military risks are "de minimis."

Josh Brown actually claimed people are "waiting to hear" the speeches at the U.N. this week.

Anthony Grisanti said the strikes against ISIS are bearish for crude because it stops the advance. Jim Iuorio said he doesn't think the dollar's going lower.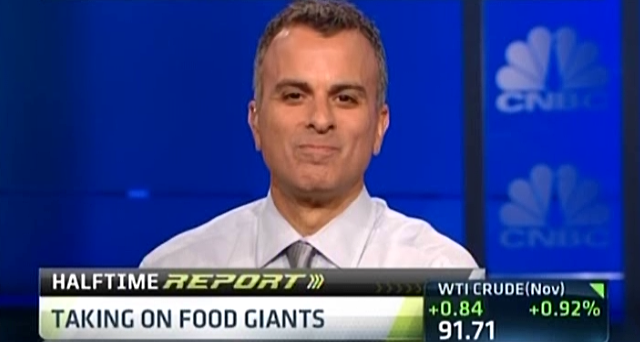 Joe gets more than a mouthful
Flummoxed and/or frustrated most of the program (but at least not gravitating anywhere), Mr. New World on Tuesday's Halftime noted that Blair claimed that Dick's will lose market share to Amazon and Alibaba, and "I just don't understand this note whatsoever."

Joe said "the first thing" he'd be doing on a day like Tuesday is "buying more and more Apple" (as opposed to buying less and less).

Josh Brown said to avoid KMX and warned if it breaches 45.

Pete Nardashian called POT "still too cheap."

Joe endorsed CVI and PSX and MPC and asserted refiners are working "in an environment where they shouldn't be working," then haggled with Mike Murphy over whether a widening spread would be additional benefit or additional pressure.

Rohan Oza, who said "I would like to be a regular" on Judge's show, apparently is planning to load up supermarket shelves with new products, sharing several of them with the hungry crew.

Joe actually offered PNRA as a trade on the hockey season.

Joe's Final Trade was OAS (he actually said "Oasis Petroleum, long," but the official CNBC.com disclosures (snicker) list Joe as a seller. Josh Brown said BAC, Pete Nardashian said C and Mike Murphy said MU.
[Monday, September 22, 2014]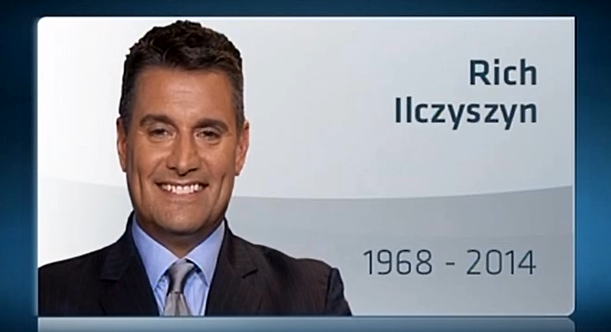 Rich Ilczyszyn
Unthinkably tragic.

Scott Wapner reported on Monday's Halftime Report that CNBC contributor Rich Ilczyszyn died on Saturday.

Ilczyszyn was 46.

He appeared on Wednesday's Halftime Report, discussing gold.

He evidently had made posts on his Twitter account as recently as Friday.

Mom used to say, "The TV camera never lies."

Rich Ilczyszyn came across — not just in his TV appearances but in his social media postings — as a vigorous, enthusiastic, likable, photogenic, savvy person who like most CNBC guests celebrated the markets and their meritocracy, and didn't mind a healthy debate.

We do not claim in the slightest that we knew Rich Ilczyszyn. We will claim that there's a small universe of stock market/futures/options/Wall Street/business media people, in which this site is just a tiny speck, and many of us tend to have some sort of connection, however limited, with each other that in many ways keeps us all going ... and we can say that Rich Ilczyszyn was a class act.

There is the shock, and there is the reality that programming such as Halftime/Futures Now and pages such as this continue on. We can only imagine the grief of Ilczyszyn's family, which includes 3 children. In a statement, they note Rich's perspective on life, reminding us all to try to make the most of every day.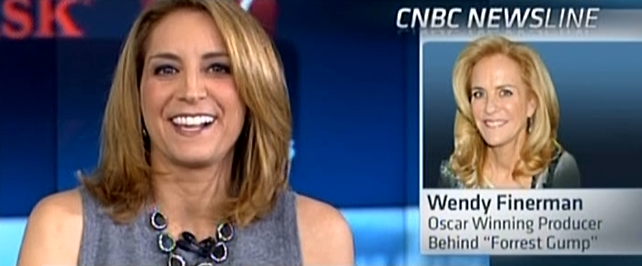 Wendy, please option our script
This page has lamented for years that Fast Money can't get an appearance from Wendy Finerman.

Monday, they at least got the next best thing, as Finerman dialed in to discuss Jack Ma's fascination with "Forrest Gump."

Wendy said that Ma, like Forrest, "has the ability to find needles in a haystack," whatever that means.

Wendy said they're hoping to get a "huge home video bump" in Gump thanks to Ma's comments.

Melissa Lee asked Wendy for her reaction if Ma wants to finance a "Forrest Gump" sequel. (Please, no.) Finerman said, "He needs to go talk to Paramount first." (That is, assuming he's not already talking to Steve Grasso and Bob Pisani.)
Last couple weeks,
2 months ago, last year ...
Pete Najarian on Monday's Fast Money bored us (that tends to happen when people do 2 shows every day and tend to repeat themselves) that YHOO is being used as an Alibaba hedge until those ever-popular BABA options debut.

But moments later, Nardashian was still clinging to a $50 YHOO target and suggesting it would happen because Jack Ma said (first) "in the last couple of weeks," then (second) "month and a half, 2 months ago," he would be "very interested" in buying it.

After another go-round, Pete said Ma's "very interested" comment actually came "last year" at Stanford, for those seriously evaluating this particular tip.

Neil Doshi said there's now "less opportunity" to own Alibaba through YHOO.

Karen Finerman said she unloaded some Softbank shares and frustratingly, it was a "giant buy-the-rumor-sell-the-news."
Tim makes the most useful point he's made in ages
It was oh so close to an awesome Trade School.

Karen Finerman said on Monday's Fast Money that she wants to hang onto her AAPL stake a while longer because it's apparently nearing 1-year capital gain land.

Tim Seymour asked Finerman if he could ask her about that, stating, "I don't understand that, if you think the stock can go down 10%, who cares about your tax efficiency."

Finerman responded she doesn't think the stock will go down 10%.

Here's one of those instances where we agree with Tim Seymour — taxes, except for the hyper-rich in certain situations — shouldn't cloud your view of a stock's direction; how many people have enjoyed a great 6-month climb, then instead of selling held on for the 12-months-and-a-day round trip as the stock returns to even, and you enjoy the long-term tax rate on a $0 gain.

But, we agree with Finerman, AAPL isn't about to get slaughtered, so might as well hang on for the lower tax rate.

Guy Adami said GTAT could "easily" reach 13½ or 14.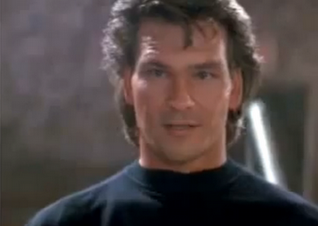 Karen invokes Dalton's 1st night working the Double Deuce
Karen Finerman, a virtual chatterbox on Monday's Fast Money, was surprised that the day's impressive M&A provided "no floor whatsoever" to the market, and, observing what Dalton observed on his first workday in Jasper, said, "I think this gets worse before it gets better."

Guy Adami re-predicted the IWM touches 108 but said it doesn't mean the end of the momentum trade.

Ari Wald told the gang, "In a selective market, you have to be selective." Wald, who pointed out the 120-day moving average and said S&P 1,935 has to hold, likes big caps over smalls and predicts continued underperformance by the IWM.

Dennis Gartman said there's no "great need" to own gold in dollar terms.
Karen doubts Carl-HLF-sale rumor
Karen Finerman said on Monday's Fast Money she's "close" to buying more M (Drink), which became her Final Trade, but already shorted Tesco "after" the bad accounting news was released.

Karen Finerman said the rumor that Carl was selling HLF "just doesn't make sense."

Tim Seymour said to "take some profits" in TTM, and later made that his Final Trade.

Pete Najarian said the October 12 calls in TA were hot; that became his Final Trade (see a trend here of uninspiring picks?).

Jane Wells' report on larger iPhone size, including beard references, was kind of a bust.

Mike Khouw reported November 30 puts in FCX were active.

Guy Adami suggested buying ATVI below 20.

Guy's Final Trade was to buy ADBE.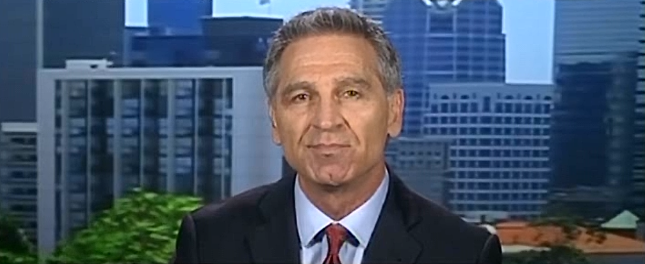 Phil McConkey must've owed
Roger Goodell a favor
If anyone has the foggiest idea what was the point of Phil McConkey's Halftime Report appearance Monday, please let us know.

McConkey — we're sure he's a fine guy, but he's also one of the biggest Super Bowl hot dogs in history (watch the 2nd half of XXI) — conceded Roger Goodell isn't the most popular guy in NFL locker rooms; "there's an outright hate of the man."

Perhaps. And perhaps most people including NFL players don't care who the commissioner is — except that this guy who has never thrown a touchdown pass or invested any money in the league gets $44 million a year (i.e., Brady and Manning combined) to fine guys for trying to do their jobs and putting their own health on the line.

Moving on. McConkey claimed Friday's embarrassing press conference was a "no-win situation."

Actually, this is where certain politicians are worth admiring ... if the commissioner had simply declared, "We blew it, we're gonna throw the bums out," and articulated a reasonable point — there are 1,500 players in this league every year, some have already had brushes with the law before entering the league, most are there for the physicality they provide, it's in no one's interest to suspend quality players — and THEN thrown in the carrots ... we're going to lift these ridiculous blackout rules, let everyone have the Sunday Ticket, give the media greater access to the field and practices ... then you'd be hearing people talk about the guy like he's the next Jack Ma.

McConkey, who somehow knows "there are less animals being harmed today" because of the Michael Vick case (hopefully he means because of the prison time, not the NFL's happy re-introduction with Tony Dungy), said "the NFL really needs to get this right, and I think they will."

Get WHAT right?

And we're sure McConkey, knowing the life led by Lawrence Taylor, would prefer the NFL "get this right" if it somehow could retroactively remove LT from the 1986 Giants and seeing if they could win it all without this model citizen at OLB.

Pete Najarian said it's not "just an NFL problem" but actually suggested the league has to "penetrate the college game" as far as right and wrong.
Actually, it was a lockout
Adding to his fumbles on Monday's Halftime Report, Phil McConkey told the gang that the NFL Players Association could've officially objected to Roger Goodell years ago.

"They were in a strike not too long ago, and they had a new collective bargaining agreement," McConkey claimed.
Someone actually dislikes BABA???
It had caught our attention last week that CNBC seemed to be batting .000 in finding guests to denounce BABA, so it was only a matter of time before Bert Dohmen joined Monday's Halftime Report.

Dohmen said Jack Ma "pocketed $22 billion for selling a shell company," when "all they've got is a contract" to make money.

Counter-guest Rob Sanderson only barely acknowledged that Dohmen's concerns are the same for every Chinese ADR, then later said there's a "thousand holes in the argument of the other guest," but he and Judge agreed they didn't have time for every hole, so Sanderson just said that Jack Ma didn't pocket $22 billion, that much of it was sold by Yahoo.

Dohmen last made waves in January, when he hung a $320 price target on mighty AAPL, then trading north of 500.

Speaking of which, we knew it wouldn't be long until Toni Sacconaghi came on the Halftime Report to talk about how awesome the iPhone 6 and iPhone 6 Plus are.

Monday, Sacconaghi obliged, telling Judge weekend sales beat expectations, but he was a little down because the phones aren't available in China and the delays were expected to be longer than usual.

Sacconaghi said of the Apple Watch, "The contribution's gonna be pretty modest." Gravity introduced into Halftime lexicon, and we don't mean the Sandra Bullock thriller
Mike Murphy opened Monday's Halftime Report stating, "I don't like today's price action too much at all."

Stephen Weiss said the market was experiencing an "unwind of the Alibaba trade" (translation: selling of any China Internet stock).

Dr. New World, obviously boning up on new terminology the way offenses change their audible terms to avoid the defenses figuring them out, cautioned that the markets may "gravitate towards" a correction.

Demonstrating that comment wasn't a fluke, Joe predicted customers are going to "gravitate towards" the iPhone 6 Plus and go "all in."

We're not quite sure how something "gravitates towards" a correction, but we'll give Joe the benefit of the doubt.
Pete hangs a 25 on BAC
Mike Murphy on Monday's Halftime Report said all the fines and penalties weighing on BAC are "pretty much behind 'em."

Pete Najarian agreed and said that if rates rise and the dividend comes back, then there will be a lot of catalysts. "I see 25, very easily," Pete said.

Mr. New Land questioned if Brian Moynihan exits and called that "probably" a positive if it happens. Joe said BAC has to figure out "how to monetize Merrill Lynch."

Mike Murphy called RLGY a buy.

Joe said you can gravitate towards own CLX.

Steve Weiss said he's not sure AZN's slide is the end of the story.

Pete Najarian backed LOW over HD.

Joe in July was talking up EOG like it's the next Alibaba; faced with a Fast Fire Monday, he said he's "still up 20% for the year" on the name and would still be in it and even double down in the Playbook Playoffs if he could.

Stephen Weiss' Final Trade was C. Mike Murphy said HTZ, Pete Najarian said MRK and Dr. New Land said to short EEM.
[Friday, September 19, 2014]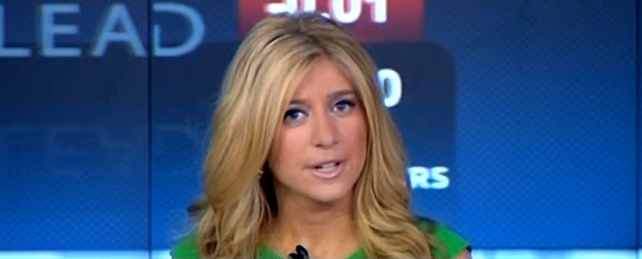 Not a word about Scotland
or the pound
Steve Grasso dialed in to Friday's Fast Money to tell sizzling guest host Sara Eisen that Jack Ma was "really interested in the pricing mechanism."

Guy Adami credited Jon Najarian for suggesting that people would sell YHOO on Friday as a hedge against BABA.

Brian Kelly said he bought YHOO at "40½-ish." Pete Najarian, who performed 2 shows on Friday, expanded on his Halftime comments about YHOO, saying he added to call spreads when BABA traded around 90 because Art Cashin apparently said the deal was going to hold around 90.

Martin Pyykkonen contended that BABA may seem pricey, but "they can grow into that valuation." (AMZN can't, but that doesn't stop most people from buying the stock.)

Guy Adami said if you're long HD, you've "gotta" be taking profits.

Brian Kelly declared, "I thought the action was terrible in Apple today."

Tim Seymour said ORCL "might have some issues" but made it his Final Trade.

Pete Najarian asserted WMT is going higher.

Guy Adami predicted TSLA tests 225 and said to buy it there.

Pete Najarian said November 55 calls in EBAY were hot, so that was his Final Trade.

Brian Kelly's Final Trade was ITB, and Guy Adami said MBLY.
Problem is, they hardly ran any advertisements during the program
In a show devoted to Alibaba cheerleading and partly co-anchored by Carl Quintanilla, it was Ross Levinsohn who made the most eye-opening comment on Friday's Halftime Report, actually saying, "obviously, CNBC's a winner today with ratings."

Jon Najarian revealed the outcome of his struggle to secure $68 BABA shares for OptionMonster clients. "We got some on the wealth-management side ... about a quarter of what we expected," said Najarian, who nevertheless took satisfaction in reporting he sold his position at 94½ or 95.

Dan Niles told Judge he wasn't buying BABA, "not at this level."

But Mike Murphy told Judge he hadn't yet bought any BABA but that he would be buying it later in the day.

Jeff Papp said "people are making too big of an issue" of Alibaba's Chinese ownership.

Pete Nardashian said "this thing is a monster," but the "one thing" to watch is the "$90 level."

Pete questioned whether YHOO could become a target "from somebody" (sic as opposed to themselves) and said he's buying more upside calls.

Josh Brown called YHOO the "No. 1 target" for activists.

Brown recommended CTRP.

Ross Levinsohn said the next 6-12 months will be "the real moment of truth" for Yahoo, which is like saying the next 4 months will be the real moment of truth for the Steelers (actually after they lose this Sunday they could quite possibly go to 5-2).

Pete Najarian's Final Trade was DOW. Doc said "middle of next week," it'll be YHOO, but "not now."
[Thursday, September 18, 2014]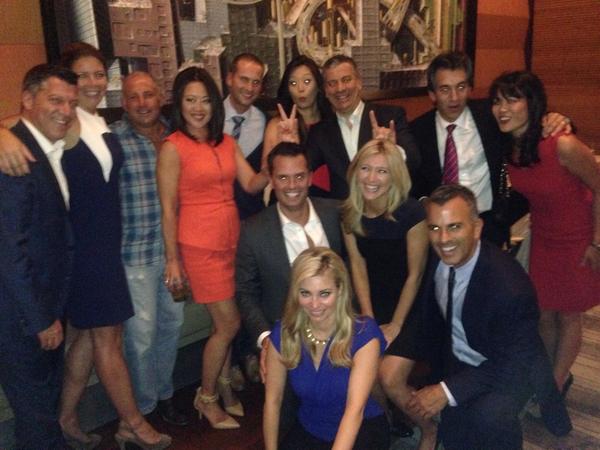 Mel shows off bod
at The Core Club
Every once in a while, Twitter is useful.

Such apparently was the case Thursday night, when Rob Sechan engineered a photo of faces you know and love.

Some are more formally dressed than others. We're just relieved that Gasparino actually was able to pick an event that wasn't closed to the media.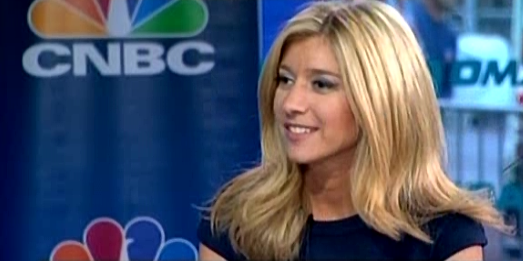 If Scots were voting on Sara Eisen or Jackie DeAngelis or Michelle Caruso-Cabrera the outcome would be Yes-Yes-Yes-Yes-Yes-Yes-Yes-Yes-Yes-Yes ...
In one of the 3 or 4 important business stories on Thursday's Fast Money, Dan Nathan warned you'll get "mutilated" if you use market orders on BABA Friday.

Eric Jackson actually predicted Softbank will buy YHOO "in the next 6 months."

Guy Adami took the time to recite his and Pete Najarian's history of recommending YHOO. Pete then somehow found the need to expand on that and explain he had been in the stock but recently has been playing it with options.

Sara Eisen visited the set in showstopping navy dress and said "it's a fairly binary outcome" for currencies in the Scotland vote.

Eisen also asked "where's our nighttime special" after Guy Adami noted the magnitude of recent currency moves.
Kayla Tausche delivers breaking news while Dom Chu mulls where ORCL ranks on analyst most/least lists
Thursday's Fast Money opened with Jon Fortt declaring, "You cannot discount the importance of Safra Catz," the first time we'd ever heard that line.

Guy Adami said ORCL had a "quasi-kitchen-sink" (semi-Drink) quarter.

Dan Ives said Mark Hurd's sales crew has had "massive misexecution" and said the shake-up feels like the "manager of baseball team leaving the team 7th inning when they're losing," even though to us it sounded nothing more like irrelevant title changes (sort of like when "Kentucky Fried Chicken" tried to become "KFC").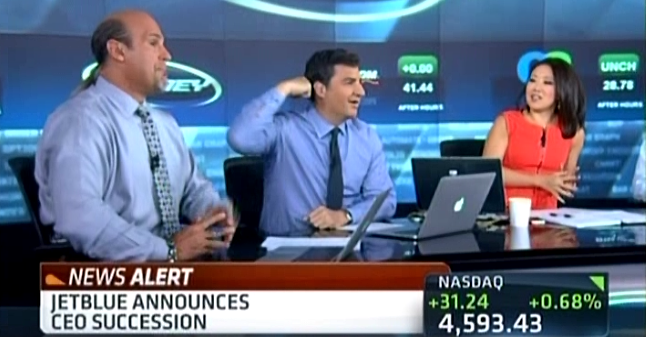 Dan Nathan looks ready to nominate Pete Najarian for Pro Football Hall of Fame (either that, or he's about to punch his own ear)
Guy Adami said on Thursday's Fast Money that you can own APD and PX and pointed out that APD is restructuring on a high when most companies do it at the 52-week low.

Intel's Brian David Johnson said Intel's new robots, Big Jimmy and Little Jimmy, "do whatever you want them to do." The top purpose of the robots suggested by Johnson was that they can remind Grannie to take her meds, which sounds like a quality reason for spending $16,000.

Dan Nathan said someone bought a bunch of January 13 puts in BTU.

If you'd seen our home page recently, you'd know that apparently anyone can nominate any football player for the Pro Football Hall of Fame ... so nothing's stopping a campaign to get Pete to Canton, although he'll probably only stay in that trade for 2 weeks (unless it doubles right away).

Pete Nardashian's Final Trade was F. Dan Nathan said ORCL, Doc said HTZ and Guy Adami said JACK and said he was going to Cipriani and rehashed the tired argument that Wall Street always gets a "bum rap."
Barry Bannister, Tony Dwyer
declared too high
Dan Greenhaus, who raised his year-end S&P target to 2,100, thus ensuring himself an invite to Judge's Halftime Report, told the gang Thursday he thinks others are overdoing it, explaining, "I think some of my contemporaries are one of those, one of the- the 10% that are coming to work high."

Greenhaus said, "at the end of the day, we've sort of become desensitized" to "the Marc Fabers of the world." (If only that were the case with Judge).

Dr. New World endorsed SCHW and said he bought NTRS on Wednesday but was heard to say "stay away" from the exchanges, even though he seemed to lump all those plays together.

Further complicating exchange picks (or pans), Doc said Terrence A. Duffy "said all the right things" on the show last week, and Doc indicated Doc likes ICE and CME and CBOE.

Joe said he bought some QQQ puts in the morning, but it's only a "tactical trade."
Jim Iuorio says polling has become 'a lot more difficult than it has been'
Jim O'Neill visited with Thursday's Halftime Report and said even a "No" vote in Scotland has ramifications and that a "Yes" vote will really stir up the Catalonians.

MCC wrongly said "Yes" when she meant "No," for anyone actually keeping score.

Jim Iuorio told Jackie DeAngelis that the Scotland vote is "probably gonna be a No," but then curiously claimed, "I think that polling is, is a lot more difficult now than it has been in the past."

Mr. New Land, vigorous Thursday, said he's thinking about establishing a short position in the EEM. Joe touted U.S. names JWN, MAR, JACK and WEN and correctly pronounced JWN "Nordstrom."

Joe said the "bullish" (snicker) case for Monitise is that IBM "steps in" and buys it and pointed out that he's not in IBM's offices so he doesn't know, so he advises "wait here a few days" before making a decision.

Stephanie Link prefers M to KSS.
Doc opted against having secretaries call Goldman Sachs et al.
Jon Najarian reiterated on Thursday's Halftime Report that he "made personal phone calls" to get his clients shares of Alibaba and assured everyone he'll "clear the decks" to take whatever he can get.

Doc predicted, assuming a $68 pricing, that BABA opens at 80.

John McDuling said Marissa Mayer needs to "articulate" a strategy now that BABA will be public.

Former GM ad chief Mike Jackson said there's a "lack of communication" between the NFL and advertisers.

Stephanie Link's Final Trade was CI. Pete Nardashian said MET, Jon Nardashian said NTAP and Joe said SCHW.
[Wednesday, September 17, 2014]
'Jackie Brown.'
Guy Adami on Wednesday's Fast Money asked panelists a great question:

What's your favorite De Niro film?

Talk about a humdinger.

Tim Seymour said "The Untouchables," and Guy said "Raging Bull."

Missy said, "You know I can't remember which movies I've seen" (translation: She never goes to any), but added, "Casino's a good one."

This one can be torturous. He asked for "Favorite," not "Best," so our list has to begin with "1. Jackie Brown" and "2. The Godfather, Part II," rather than the other way around.

Beyond that:

3. "Taxi Driver"

4. "The Deer Hunter" (not exactly a happy picture, but awe-inspiring)

5. "The Untouchables"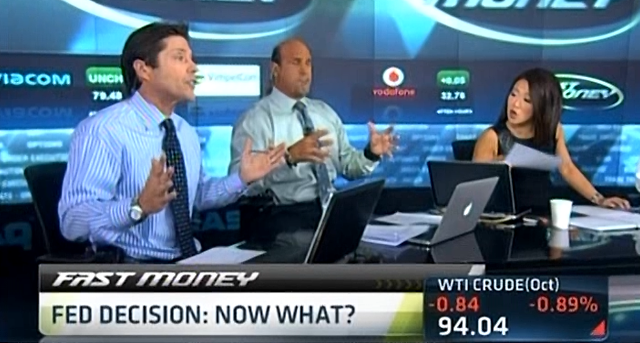 Pete, Tim not exactly on the same page on volatility (but it doesn't seem like Dan Nathan's new regime has happened)
Pete Najarian opened up Wednesday's Fast Money with a stumble in making a point about low volatility, then sounded practically offended that Tim Seymour predicted higher volatility and a notable impact of the dollar on stocks.

"I still think rates go down," said Guy Adami, and no, that's not a reprint from a hundred other shows.

Paul Hickey said "investors are confused, and rightly so" about Janet Yellen's timeline. Hickey said he would avoid LVS and CAT in the wake of the Fed meeting.
Dodd-Frank sticking it to
the blue-collar guy
Barely able to contain his glee, Bob Wetenhall contended on Wednesday's Fast Money that the return of the 1st-time homebuyer "represents a powerful source of incremental volume."

Wetenhall conceded it's hard for the "average, blue-collar person" to buy a home nowadays under Dodd-Frank.

Nevertheless, he likes DHI, PHM, KBH and FBHS, MHK and MAS. Guy Adami picked KBH of that bunch. Pete Najarian trumpeted WHR.

Pete said to "stay away" from SNE. Tim Seymour said he's long TSL and suggested pairing it against a short YGE. Guy Adami said of RAX, "I think you buy it here for a trade."

Pete Najarian predicted "more downside" in GIS.

Tim Seymour said PF could be "back in play."

In a group gush about X and others, Guy Adami didn't seem excited about owning steel names until they report again but thinks there's still momentum.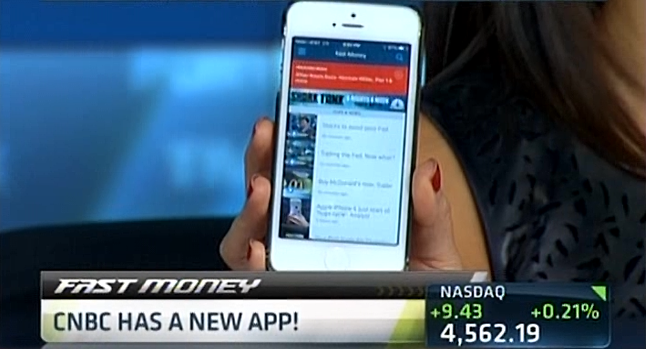 What? No SODA takeover talk?
In one of those bookings that has to make you scratch your head, Aswath Damodaran — one of our favorite guests actually — was summoned to Wednesday's Fast Money to contend that Alibaba is fairly priced ... but he has no opinion on whether to buy it on the IPO because he looks at it from an "investor" standpoint, not "trader" standpoint in which his concerns won't matter.

Pete Najarian said someone rolled up the September 55 MET calls to December 57s. "I am not in it," Pete said. (But if he was, it'd probably be for "about 2 weeks." (Drink.))

Mike Khouw said November 40 WFM calls were hot.

Melissa showed off the new CNBC app that's on her phone and implied that you can filter out Fast Money panelists (she said Guy Adami) that you're not interested in ... which is a breakthrough development for the program.

Missy said it's her understanding that stoned people like Doritos.

Tim Seymour's Final Trade was BIDU. Pete Najarian said MET, Brian Kelly said EWH and Guy Adami said CME.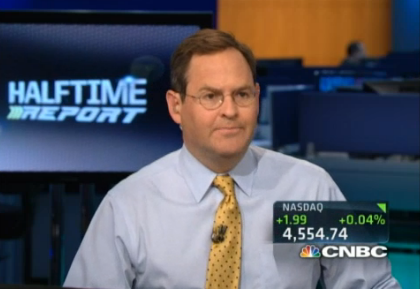 Jim Lebenthal bungles
DD-vs.-S&P 500 showdown
(Sigh) Thanks for adding so many variables, guys.

Josh Brown and Jim Lebenthal tangled in a little DD donnybrook on Wednesday's Halftime Report regarding the returns of DD vs. the S&P 500, "since 2010."

Lebenthal said DD has doubled since 2010 but that the S&P has "far more than doubled" (sic) since then.

Brown insisted, "It's the same performance, S&P and DuPont since 2010."

"I don't think so, Josh," Lebenthal said.

"Take a look," Brown said.

"I did earlier today. I don't think you're right on that, pal," Lebenthal said.

The issue is the words "since 2010," given that it wasn't clear whether Brown and Lebenthal meant since Dec. 31, 2009, or Dec. 31, 2010.

In either case, Lebenthal is wayyyyy off on the S&P having "far more than doubled," as it closed 2009 at 1,115.10.

If we're talking end of 2009, DD has returned 106% in nominal share price (not including dividends), while the S&P is up 79%. If we're talking end of 2010, DD is nominally at 39%, 57% with dividends, while the S&P has posted 59%.

So basically, Brown was a lot closer.

Pete Najarian contended that Nelson Peltz's plan would send DD to 75.

Jim Lebenthal said he's not buying the DD breakup because sum of the parts in this case is a sum of "very boring businesses."
Guest predicts 37 million
Apple Watches in Year 1
Before long, we'll be hearing from Toni Sacconaghi, Brian Marshall, Gene Munster ...

Brian White told Judge on Wednesday's Halftime Report why he sees AAPL in a "supercycle."

"The watch will be important," White claimed, predicting 37 million in the first year.

Doc told White he'd be "shocked" if the Apple Watch is a 20-million seller, then rightly mocked White's projection of a "20%" conversion rate of iPhone users to Apple Watch buyers.

White nevertheless complained that boring companies trade at 19 times, and "I don't understand" why AAPL can't get a higher multiple.

Jim Lebenthal brought up the "law of large numbers."
Kara Swisher: Right or wrong
'depends on your opinion'
On another Silicon Valley front on Wednesday's Halftime, Judge asked CNBC partner Kara Swisher if Peter Thiel is wrong about Twitter and Uber.

"I don't know; it depends on your opinion," was Swisher's helpful answer, but she did call Thiel's pot-smoking comments "obnoxious."

Pete Najarian said Thiel's remarks make for good drama but are better-suited for a football field. Herb Greenberg said Pete is taking this too seriously. Doc said he agreed with Pete and called it "over the top."
Drama added: Judge pretends to be taken aback that guest predicts 2.25-2.75% range for 10-year
Kenny Polcari said on Wednesday's Halftime Report it's "beyond ridiculous" that everyone's analyzing 2 words from the Fed.

Pete Najarian tried to assure Kenny that he's sort of right but (like Mike Murphy a day ago) you've got to trade the market in front of you, which prompted Kenny to wonder whether smart algos are trading on this as opposed to humans and insist it's the former and not latter.

David Albrycht said CPI on Wednesday was a bit of a "curveball."

Judge seemed amazed for some reason that Albrycht is predicting a 2.25-2.75% range for the 10-year. Albrycht said that's "for the short to intermediate term."

Rich Ilczyszyn said he's "lookin' for a bounce" in gold, then rattled off a range of 1,220 to 1,240, a breach in either way sending gold between 1,180 and 1,280.

Judge told Jackie DeAngelis he's "heard and read" a bit about her Bill Fleckenstein interview but didn't explain when he's going to ask Fleck for the date of the short fund restart, which Fleck vowed a while back on Judge's show.
Answer likely will be 'no'
Jon Najarian said on Wednesday's Halftime Report he made a "personal pitch" to the banks for Alibaba shares for OptionMonster's wealth management clients.

Doc said he'll take whatever he can get, which is kind of the way most people go about life.

Nardashian could say little more about LEN than Mike Murphy surely likes the gain.

Rick Horrow asserted corporations "are going to be watching the NFL very very very very (sic 4 times) carefully."

Pete Najarian asserted that Roger Goodell could be "much more proactive."
Josh Brown offers Alibaba IPO shares as his Final Trade
Josh Brown on Wednesday's Halftime Report said X still has more room because it's down 80% from all-time highs.

Jim Lebenthal grumbled that GIS is "pretty boring."

Lebenthal said "crack speds (sic) seem to be moving higher" for refiners.

Pete Najarian's Final Trade was GS. Doc said KO, Josh Brown actually said "if you can get Alibaba on the IPO" and Jim Lebenthal said MPC.
[Tuesday, September 16, 2014]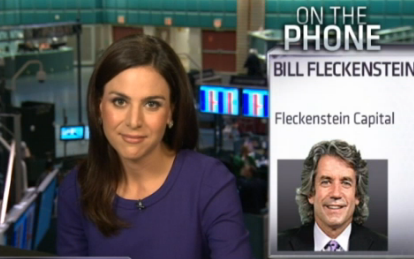 Fleck on missing the rally:
'So what?'
The biggest news of Tuesday's Halftime/Fast Money involved Jackie DeAngelis.

Anthony Grisanti during the Halftime portion of Futures Now predicted a "very dovish Fed" and told DeAngelis he sees rates moving lower.

Then one of our longtime favorites, the Ilchmeister, Rich Ilczyszyn, contended rates have come "too far too fast."

But most significantly, DeAngelis said Bill Fleckenstein was going to visit later with Futures Now and "tell us if now is the time to short the market."

Indeed, that's the question this page has posed for weeks.

So we checked out Futures Now Tuesday and first found Fleck carping at Jackie, and fake laughing, over whether he "misunderstood" the Fed or whether there's "mutual confusion" (of course not, he closed his short fund in 2009, even though he admitted he "never dreamed" the Fed would print $3 trillion, nothing was "misunderstood").

So, when is it time to restart the short fund?

"I don't know the answer to that question of when the timing will be," Fleck now admits.

Fleck then dismissed the gains that have brought the S&P from 666 to 2,000, stating "So what?" at least 4 times (we counted).

Anthony Grisanti balked at that, then tangled with Fleck over whether they were talking about missing 2 months of the rally or 2 years, with Grisanti contending that missing out on this market is not a happy occurrence and Fleck insisting the crash is coming.

"Who says I have to do anything? I'm not running your business; you're not running mine ... I'm not kicking myself," Fleckenstein scoffed at Grisanti.

The Ilchmeister congratulated DeAngelis and Grisanti for their "1-2 punch" against Fleck.

Apple product launches:
'Tim Cook sucks at it'
Like we said however many days ago, we were hoping we were done hearing about AAPL for a while, but Tuesday's Fast Money brought Ramon Llamas, who agreed with Mel that Feb. 19 (Chinese New Year's) is the right time for the iPhone to get into China.

Llamas said he doesn't know when the Apple Watch will debut in China, but — despite the fact we're not aware of anyone wearing one — he issued "kudos" to the company "for doing a great job with that," which Dan Nathan hailed as a sign of ... something.

Guy Adami reaffirmed he's in Swann mode, that would be the "88 camp" for AAPL, and stated, "Here comes the vitriol."

Guy Adami posited that Apple has "done a great job of convincing the world that the world needs their products."

But Dan Nathan said, "Tim Cook sucks at it."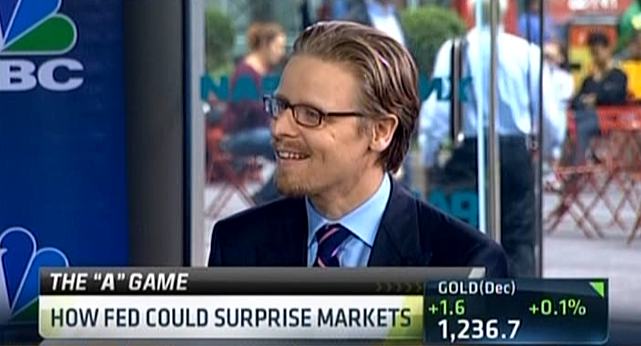 Fed watcher takes victory lap for spring rate hike that hasn't happened yet
Evidently, Jens Nordvig is feelin' it.

Grinning from ear to ear on Tuesday's Fast Money, Nordvig asserted that he was previously basically alone in predicting a spring rate hike, and people thought it "outrageous," but now everyone else supposedly is jumping aboard.

But, he said consensus isn't quite there yet, so the market hasn't priced it in.

We might give that call more credence if Nordvig hadn't also been inventing Fed-interpretation mumbo jumbo, asserting that what Janet Yellen said at Jackson Hole was "very, very important," because "she moved herself toward the center of the committee" (which operates in consensus 100% of the time but whatever).

Nordvig contends that the dollar could be strongest against emerging markets currencies.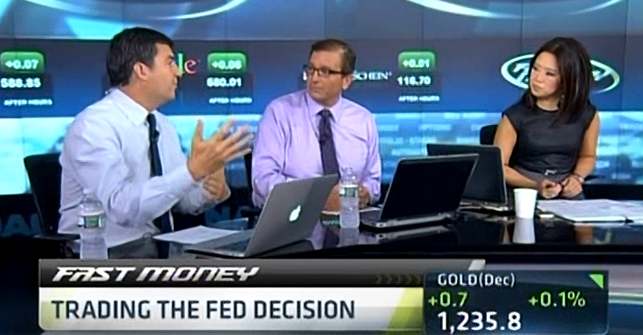 Beware, you could wake up one day and find yourself in a 'new volatility regime'
In perhaps the most bizarre financial warning we've ever heard, Dan Nathan on Tuesday's Fast Money wrapped a Brag Trade around an outlook that only must've occurred to him after 3 or 4 martinis.

With the market around its all-time high, Nathan actually gloated that he's been "selling a little bit every month for the last 6 months," because what you definitely don't want is to "wake up one morning and see that we are in a new volatility regime."

Uh huh.

Shouldn't one be doing that with options ... where you MEASURE the risk??

Almost equally bizarre but not quite, Guy Adami and Brian Kelly actually seemed to think Fast Money viewers don't think the Fed has anything to do with the stock market rally. (Even worse, they used 1 day's worth of decent trading to affirm that conclusion that it does.)

Nathan predicted we could see a "sell-the-news" rally on the Fed on Tuesday.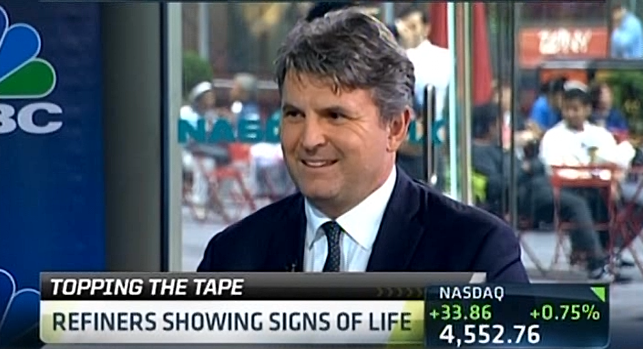 It may be a 'Mickey Mouse argument,' but too many other things on the show are just plain Goofy
He didn't name any names.

But Paul Sankey suggested on Tuesday's Fast Money that the theory that Brent will stay elevated while WTI gets cheap is a "Mickey Mouse argument" because "the refiners are running more and more of this U.S. crude, and they're preventing the spread from blowing out."

He likes MPC, WNR and a previous Dr. New Land favorite, DK.

Brian Kelly endorsed XLP, Guy Adami said XOM and Karen Finerman likes Dorian (LPG).
Marc Faber says the market's due for a correction; someone else says SODA is due for a takeover ...
Karen Finerman on Tuesday's Fast Money said she bought DRI on Tuesday, then made it her Final Trade.

Guy Adami said, "I think you buy the weakness in Rackspace."

Guy Adami said he couldn't figure out why SODA wasn't at 37 on the latest of its endless takeover rumors Tuesday but feebly asserted you should still own it. Karen Finerman said "no way," and if anything she'd fade it.

Karen Finerman, who loves LYV, said Liberty is already a "very large shoulder" (sic), er "large shareholder," but has maxed out at 35%.

Finerman said the "Band-aid" for Sears might have come from Eddie Lampert "personally," though she's not sure, and first he gets $7 million for doing it, then it's a "1st lien on properties," which means he is "so protected" and could even get properties that are worth more than the loan.

But while it may be an advantageous loan, for the sake of the company, "He's gotta do something, much bigger than this," Finerman said.
Nathan: Pandora 'probably
goes the way of Napster'
Dan Nathan opened eyes on Tuesday's Fast Money saying he's turned seriously south on P, suggesting it "probably goes the way of Napster."

But Brian Kelly said that if the market rallies, you want to own Pandora given how it's held 25.

Karen Finerman said to stay away from VHC.

Dan Nathan said a trader rolled into the GTAT October 12 puts.

Brian Kelly invoked Patty Edwards at least twice with "at this point in time" (sic last 2 words redundant).

Dan Nathan said Guy Adami likes Dick's and demanded Guy explain why. Guy wouldn't.

Dan Nathan's FInal Trade was AAPL puts. Brian Kelly said EOG, Karen Finerman said DRI and Guy Adami said WNR.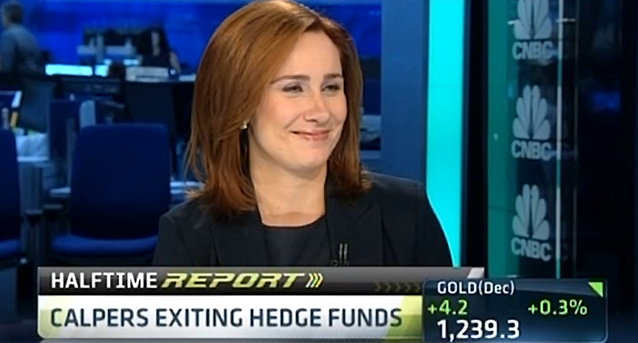 Kate Kelly doesn't seem to be buying argument from Judge's billionaire pal
Kate Kelly visited with Tuesday's Halftime crew to discuss the apparent topic of the day, CalPers' exit of hedge funds.

Judge said he spoke with a hedge-fund bigwig ... lessee, Anthony Scaramucci? (probably not but possible given Kelly Evans' comments on our home page) ... Lee Cooperman ... Bill Ackman ... hmmm ... who made a quality observation, that perhaps CalPers was overly concerned about fees and only picked the "2nd-tier" managers who agreed to bargain, a point that brought a pretty smile from Kelly.

Josh Brown said private equity returns are "indistinguishable" from the small-cap value index and that it got "demolished" in 2008-09 and that once the market turns south, people will start racing back to hedge funds.

Tom Barrack said CalPers has a "battery of consultants" in areas in which it lacks expertise.

Joe refreshingly correctly said the Goldman Sachs research article he praised was "titled" something (rather than the more common "entitled" something).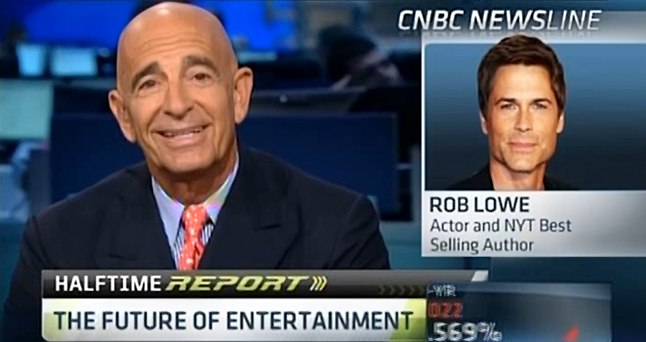 Tom Barrack brought Rob Lowe;
David Kudla brought Peter Frac
Guest Tom Barrack told Judge on Tuesday's Halftime Report that he views the market "with fear, trepidation and caution."

We're not sure what kind of business Rob Lowe is actually doing that prompted an appearance (via phone) on the Halftime Report, but Lowe told Judge he's spent his entire life "boots on the ground" in the creative arts and that Tom Barrack knows more about business than anyone he knows and doing business keeps Lowe "interested and enthusiastic."

Barrack, whom the cameraman struggled to center in the image above, called Lowe "a Renaissance Man."

Meanwhile, fellow guest David Kudla, who predicted a "secular move for the dollar" higher, said that for traders, if the Fed language comes out, then forget Tuesday's rally; we'll see "all this go away and more."

Peter Frac, a double major and part of David Kudla's sphere in managing the Dayton fund, said they're "leaning towards" the industrial cyclicals" and affirmed to Judge he's making a "big bet" on the economy.

In the longest, most technically clumsy Final Trade of all time, the Dayton dudes offered JBLU and Eagle Materials as Final Trades. Dr. New Land, who had a quiet show, said WEN, Josh Brown said UPS for seasonal reasons, Mike Murphy said MU, and Tom Barrack said SPG and DIS.

Patty Edwards turned up on Closing Bell but said she couldn't speak specifically about JWN, and given that Patty can't/won't talk about single stocks anymore, she's going to have to find another angle to avoid Gemma Godfrey-caliber relevancy (but at least Gemma associate produced 2012's "Strippers vs Werewolves").
[Monday, September 15, 2014]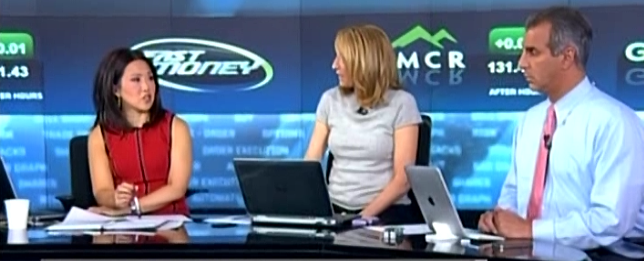 No one had any answers
Karen Finerman on Monday's Fast Money addressed the Nasdaq rout by stating it would make sense to make room for BABA by selling AMZN and EBAY, not TWTR, suggesting the TWTR selling was a "different phenomenon."

Guy Adami, who seizes on every IWM stumble, asserted that "108 is the line in the sand."

But no one seemed particularly worred. Guy Adami said TSLA could "retest" the 225 level, while Tim Seymour reaffirmed that he's "definitely not" a buyer of TSLA.

Nick Colas told the gang that big IPOs come near market tops, not bottoms. Guy Adami said he's in the "take-profits mode" in YHOO. Karen Finerman advised the same for Softbank.

Tim Seymour, who's been pounding the table relentlessly for Chinese Internets, rationalized WB's move by uncorking a Brag Trade, stating he sold Friday on the spike and after Monday, "that feels nice," but not wanting folks to think he was really bragging too much, adding "it almost feels lucky" (note the inclusion of "almost").

Brian Blair said the big question for AAPL is what the December quarter looks like. Dan Nathan tried to bully Blair into declaring the iPhone 6 will cannibalize the iPad Mini, which Blair partly conceded but then suggested maybe people will buy one of each.
Oh joy, another guest who recommends GILD and CELG
This time, Steve Grasso wasn't around to carp about CLVS.

Robyn Karnauskas, who charges into her Fast Money appearances the way John Madden used to charge through that poster in the old Lite Beer from Miller commercials, told Monday's crew that GILD could gain 30-50% next year.

Karnauskas told Guy Adami that REGN can make antibodies faster than people think, so the valuation's not bad. She also likes CELG and an old favorite, ACHN.

Karen Finerman said she's sticking with the panel's default biotech trade old reliable combination of XBI and IBB.
Guy asks Mel a 'dating question,' but no details you'd want to know about
Dennis Gartman visited with Monday's Fast Money to perform his specialty, hopping aboard a trade (bullish crude) based on a couple days' worth of chart activity.

Gartman said of his AA trade, "I'm out and I'm gone" (sic last 3 words redundant).

Guy Adami, who made a great call last week on DRI bouncing, said he thinks it goes higher. Karen Finerman said "the margins are terrible" and so there's room for significant improvement.

Tim Seymour said that in the beer space, "the best of these days are over; all these guys need to consolidate."

Guy Adami called MSFT a buy as long as it holds 45.

Karen Finerman is long NADL but expects it to be "sort of mired" for a while.

Kate Kelly didn't need a do-over on Pershing Square's IPO but got one anyway on Fast Money. Kelly said there's some "confirmation" that Ackman shorted HLF at $48. Karen Finerman said she's still in the AGN trade. Guy Adami said HLF made a 52-week low.

Dan Nathan said December 14 calls in JBLU were active. Tim Seymour said he'd buy JBLU. (And if it goes up, it'll "feel nice," but also "almost feel lucky.")

Tim Seymour's Final Trade was ABX, Dan Nathan said TWTR in mid- to low 40s, Karen Finerman said PLCE because Gymboree is "imploding" and Guy Adami said DRI.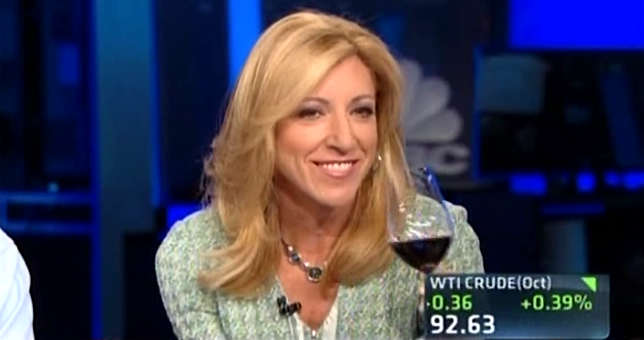 Wonder if Herb & Bob Peck had any of this before their 'debate'
It's a solution in search of a nonexistent problem.

In a strange discussion on Monday's Halftime Report, Herb Greenberg argued that Amazon should buy Best Buy, for the size of its "footprint," while Bob Peck countered that Amazon should buy RadioShack instead, for its "same-day delivery" opportunity.

Stephanie Link wondered if either had actually calculated what either move would do to AMZN margins. Herb chuckled that "margins have never meant a thing to Amazon." (Translation: No.)

Joe reaffirmed, "I'm short Amazon," and even suggested that if anything, AMZN should be buying 99-cent stores.

Judge said most of the folks who cared to cast a vote prefer AMZN buys neither.

Later in the show, Screaming Eagle winemaker Charles Banks acknowledged he didn't create his hot wine but asserted "we were smart enough to, to buy it and see the opportunity for it to go to the next step." He said it auctions for $2,000 a bottle, but he's got some $70 stuff that he thinks might take off.
Pete: Beer dealmaking 'not over'
Judge and Joe Terranova on Monday's Halftime Report said Heineken gave "the Heisman" to SAB Miller; Joe said he "truly" believes that InBev "wants to potentially go after SAB."

Pete Najarian said "this isn't over" and pointed to the big gains in TAP.

Ross Levinsohn said he wanted to invoke a football analogy to Marissa Mayer's tenure, only to first say "first inning" (sic) and then "first quarter," then contended she was dealt "pocket aces."

Pete Najarian said AA January 19 calls were hot. Pete claimed he'd be in the trade for "multiple months."

Kate Kelly reported that Pershing Square is going public on Euronext Amsterdam on Oct. 13 and is expected to raise $5 billion on Day 1.

Kelly said Pershing Square's top winner of 2014 is Platform Specialty (PAH); Judge said he will "guarantee you" that the stock hasn't been mentioned on the show "in at least" 6 months.

Josh Brown called DO "still a good investment" and "probably a buy for investors."

Joe managed to make it through a program without mentioning "Palo Alto."

Dr. New Land's Final Trade was short SHLD. Stephanie Link said buy MCD, Pete Najarian said YHOO and Josh Brown said SAM.
Nasdaq down 48;
S&P 500 down 1
Josh Brown contended that the bankers in the Alibaba IPO "know exactly what they're doing."

But nobody at the top of Monday's Halftime Report could say the same thing about the knuckleheads who apparently are going to buy BABA but waited until Monday to start unloading their existing tech "momo names" to create room.

That was the consensus for Judge's panel, as Dr. New Land suggested Amazon would be the "prime" (our good pun, not Joe's) target.

Stephanie Link said to start making your "shopping list."

Joe seemed in disbelief that Judge brought up that Alibaba already has solid earnings unlike Twitter and Facebook and thus the IPO represents less risk; "that's exactly what we talked about last week ... the downside is protected," Joe blurted.

Ross Levinsohn, who has struck this page as a quality executive even though they handed over the cash spigot to Marissa Mayer, said Alibaba is exciting to everyone and that if you're a short-term trader, you'd like it to price fairly, go higher, and then get out.

More from Monday's Halftime and Fast Money later.
Business Insider scoop:
Judge's afternoon candy bar
"Judge" Scott Wapner is an up-and-comer, a busy guy on the cable TV scene.

Which makes it a bit odd that he would devote any amount of time to the curious projects of a rival business information source.

Such as this "day in the life" profile Judge supplied to Henry Blodget's Business Insider.

The profile begins with a ... let's not be too harsh here ... college-Facebook-caliber introduction from a writer whose logo appears at the top.

Everything after that is a photo (such as the one above) tagged "CNBC/Scott Wapner" (translation: Business Insider did not make the effort of shooting the photos itself) (question: Why are they tagged "CNBC" property when Wapner or his family presumably took the vast majority of them?) with captions that had to have been supplied by Wapner for context.

And then at the end, you're invited to do the same thing with Mandy Drury.

The first time we saw Wapner's feature, we were forced to flip through each image on a separate Web page (hint: that boosts page views, although comScore et al. supposedly was rejecting that tactic a few years ago), but now you get it all in one click if you so choose.

Does that mean, if we just write a couple grafs stating that Judge is awesome, he'll ship us a day's worth of his Facebook feed to fill out the post?

Dylan Ratigan once got a New York Times profile (which, coincidentally, pointed out how he likes to cook) while hosting Fast Money; surely Ratigan and his CNBC bosses considered such publicity a bonus.

Instead of this gratuitous, empty-as-saccharine posting (calling it a "profile" would be an exaggeration), one wonders why Judge didn't just distribute his day-in-the-life material to CNBC.com, which presumably could benefit from the clicks.

Why is Judge messing around with these jokers?

Henry Blodget, a decent chap who shouldered a disproportionate amount of blame for 1990s Americans' propensity to buy Internet stocks, is an occasional guest on Judge's show, which implies these folks are all buddy-buddy and in some form of partnership, except we're pretty sure Blodget's appearances stem from CNBC's Yahoo arrangement.

Meanwhile, when not attempting clickbait, Business Insider is capable of a scoop, even embarrassing ones, such as CNBC's ridiculous "Chinatown"-esque reaction to Anthony Scaramucci launching a brand new "Wall $treet Week" (he's our contributor/he's our competitor/he's our contributor/he's our competitor/maybe he'll be our contributor AND our competitor), a story we have no doubt is true.

Business Insider gets oceans more clicks than this site. Partly because folks such as the 1999 Time Person of the Year help it raise $12 million, partly because business media personalities help it out.

We're not here to post pictures of Judge's candy bars. We're here because you are. Talking about stocks, reviewing television, dedicated to the highest standards of journalism established decades ago by the nation's leading newspapers and magazines. All free. No login. No registration. No ads. No investors.

100% real.
[Friday, September 12, 2014]
Judge, Mel bound to be squaring off over Alibaba analysts
Here's yet another one we should've seen coming miles away.

(But then again, if you actually paid attention to the yinz's stink-bomb on Thursday night, you'd understand why we're dragging.)

Gil Luria has already hung an $80 on Alibaba, which landed him an appearance on Friday's Fast Money.

Next week, there will surely be plenty more.

Tim Seymour used the opportunity to refer to the "3 horsemen."

Guy Adami said it's "probably prudent" to lighten up on YHOO.

Pete Najarian said COH is "going more towards men," and he likes it to reach 40.

Brian Kelly said he bought a basket of 3-D printing stocks.

Tim Seymour called TGT "worth owning."

Pete Najarian said a bunch of SPLS December 14 calls started trading at the open.

Tim Seymour said he's long TSL and thinks it goes higher (sic redundant why else would one be long).

Guy Adami called $20 "the absolute line in the sand" for NEM.

Pete Najarian suggested it's time for a TTWO pause.

Guy Adami said $45 has been support for DRI and "you gotta believe" that all the bad news is priced in, so take a shot with a $45 stop.

Tim Seymour's Final Trade was TBT. Pete Najarian said GS, Brian Kelly said BBRY and Guy Adami said WFC.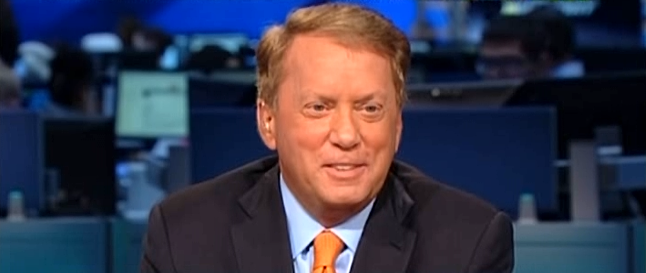 Terrence Duffy unwilling
to anoint the Fed victorious
It happened to be Peter Schiff, but it might as well have been Guy Adami or Rick Santelli.

Joe Weisenthal, who writes for an online business publication, successfully got Judge's attention with an article on "humiliation" of Fed critics, prompting Judge on Friday's Halftime Report to unleash a showdown between Weisenthal and (recently absent guest) Peter Schiff.

"Everything that the Fed haters have said has come wrong," Weisenthal declared.

Schiff's response was that he was right about the housing crisis when others insisted he was wrong, the implication being that he's right again this time (and apparently about everything).

Weisenthal scoffed at Schiff's argument that higher inflation exists represented by gold. Schiff said Weisenthal is like an ostrich "with your head in the sand."

Chicago Mercantile Exchange Executive Chairman and President (that's correct not CEO) Terrence A. Duffy, sitting in for the program, hedged his bets, saying 1) he went broke on his first trade because he didn't have an exit strategy, 2) the Fed's exit strategy is not "well thought-out," 3) so far the Fed has been right, 4) "but it's not over with yet."

Mr. New Land asked Schiff a clumsy question about technological advances not being reflected in economic statistics.

Judge thanked Schiff and Weisenthal for a "civil" debate, "for the most part."

Duffy at the end of the program went into refreshing detail on how that first trade lost the family home and how he worked other jobs on the side to pay off the loss.
Jack Ma didn't set up enough chairs
Lawrence Delevingne told Judge on Friday's Halftime that 800 people attended the Alibaba event at the Waldorf-Astoria, "300 more than were planned ... literally standing room only."

Dr. New Land would only lukewarmly say he thinks the "downside is protected" in Alibaba.

Doc said his wealth-management business (whose clients were previously told that $31 for GPRO was a "gift") is trying to get into the Alibaba IPO "in a big way" and it would be a lot easier if they cleared at Goldman Sachs.

Terrence Duffy said in 2002 he took the CME's IPO pricing "up right to the last second."

Pete Najarian said YHOO is going to 50.
Judge reaching for bull-bear
debate props
Joe Terranova, who yesterday balked at Alan Knuckman's "simple" description of the energy market, told Judge on Friday's Halftime that, "plain and simple," there's no need to be concerned about what's happening in commodities.

Guest Terry Duffy said the narrowing Brent-WTI spread indicates oil is "becoming less and less relevant in this country."

Pete Najarian said copper was actually strong and pointed to banks and transports.

Joe conceded the importance of a widening spread for refiners but said CVI and PSX "work in a portfolio" (sic redundant as opposed to work in a meatpacking factory).

Todd Colvin said oil demand is down, supply up, but he's "more concerned about the volatility aspect of it."

Doc once again touted BHI.

Jon Najarian (bull) said "Capital Grille" during the DRI debate about as many times as Joe (bear) said "Palo Alto" yesterday.
Joe really likes Palo Alto
Joe Terranova revealed on Friday's Halftime he dumped UPL from his Playbook Playoffs portfolio and then said "Palo Alto" 3 more times.

Dr. New World called HTZ's move a "good deal" and said to stay with the stock.

Jon Najarian said ULTA "caught a lot of people short."

Pete Najarian made LULU sound like the greatest thing since "Breaking Bad."

Joe said it was "very easy" for him and Doc to order iPhones and contended that (snicker) no one's talking about AAPL being added to the Dow.

Pete Najarian predicted CHL goes higher.

Terry Duffy said that in the stock exchange space, "transparency is going to be the name of the game from now on (sic last 3 words redundant) going forward" (double sic last 2 words redundant).

Joe's Final Trade was MDVN. Pete Najarian said C and Doc said NUE.
[Thursday, September 11, 2014]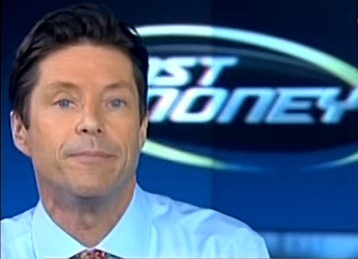 Tim Seymour claims he saw the first plane hit the tower
Tim Seymour said on Thursday's Fast Money that on 9/11 he was in Moscow, where they apparently had more advanced television coverage than anywhere else because Tim said he recalled "actually getting onto the trading floor at my firm and watching the first plane hit."

Pete Najarian said, "There's nobody like Steve Buscemi."
Schedule for next several business days: Toni Sacconaghi, Gene Munster, Brian Marshall ...
Wishful thinking.

Around here we figured we had finally heard it all about Tim Cook's 2 hours of showing products to cheering guests ... (honestly, here's a fair question ... does Tim Cook deserve cheers from anyone? Nobody's saying he's a bad guy. But what exactly has he done in his career to merit cheers?) ... only to see that Andy Hargreaves was adding his $.02 on Thursday's Fast Money.

Hargreaves said Mel's question (are the best days behind the stock) was really a declarative statement about his opinion while contending 2016 "is gonna be an issue" in terms of Apple adding new users.

Tim Seymour asked Hargreaves, "Why so cynical," arguing people said the same thing in 2013 but were wrong in 2014 (without noting they were right in 2012).

Hargreaves said he's been seeing a decline in new user growth for the iPhone "over the last few years."

Pete Najarian criticized the Watch's price and tether to the phone but said he likes the stock on China potential. Guy Adami said he's still in the Lynn Swann Camp (that would be 88).

Meanwhile, Brian Kelly said BBRY has figured out a way to put 2 numbers on the same phone.
When is Jerry Yang going
to get his old job back?
Jason Helfstein joined Thursday's Fast Money to say he attended the Alibaba road show "virtually" and thinks the company is still in the "early innings."

But his primary purpose seemed to be to defend his $43 target on YHOO, whose actual business he conceded is declining.

Tim Seymour took a victory lap in WB "after running 25%."

GOGO chief Mike Small refused to comment on whether he'd be interested in a Verizon buyout. Guy Adami said he thinks you should own it because "some headline will come out."

In a decidedly different tone from the Halftime gang, Guy Adami said of LULU, "I think this bounce can be bought." Pete Najarian seconded that, but Tim Seymour would only say "maybe" it'll benefit from the "dash for, for trash."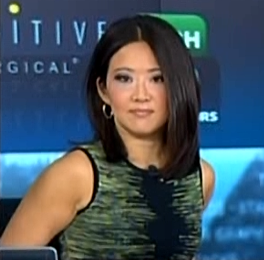 Guy: 'Ridiculous selloff' in OREX
In yet another example of the idea drain at Fast Money, Mel, despite wearing that smokin' green form-fitting tiger-striped dress, decided to open Thursday's show with ... Fed wording.

Guy Adami backed the TLT while Pete Najarian trumpeted big banks and big-cap tech.

Guy said APC remains a buy while Tim Seymour said he exited half of his TSO short Brag Trade.

Brian Kelly revisited his "constant treadmill" of Bakken shale wells.

Meg Tirrell visited the set to explain that OREX fell on post-marketing requirements and extra steps necessary for its diet drugs and noted, "Doctors are really scared to prescribe these drugs." But Guy Adami said the "ridiculous selloff" is overdone given what OREX may come up with, so he'd buy it.

Guy Adami predicted "further upside" in X.

Mel said she wants to trademark "McDinner" so that McDonald's will have to buy it from her. Guy Adami, Pete Najarian and Tim Seymour said MCD has bottomed.

Pete Najarian said January 42 calls were hot in WWAV, but he "missed" this one.

We're not quite sure what the difference between Bill Rancic and Donald Trump Jr. is, but the latter joined Thursday's Fast Money to say "there is a lot of crap being produced, sort of being sold as 5-star."

Mike Khouw said there was a big buyer of October 36 puts in CCL.

Tim Seymour's Final Trade was to buy EEM either now or later. Pete Najarian said GS, Brian Kelly said SIVB and Guy Adami said LULU.

Mel invoked air quotes for "bromance."
Palo Alto-ing your portfolio
In an intriguing call, Mike Murphy on Thursday's Halftime Report said he got long FEYE around 33 and sees a continued breakout to 42.

Josh Brown didn't disagree but called it a "really, really, really volatile high-beta stock with an untrustworthy management."

Brown demanded to know if Murphy has a stop. Murphy said no but that he's eyeing a call spread.

Dr. New World said "Palo Alto" about 6 times in contending the FEYE story right now is about "Palo Alto," and even declared he would add "Palo Alto" to his Playbook Playoffs portfolio on the spot.
General backs airstrikes but doesn't warn against expecting perfection
Richard Engel told Thursday's Halftime Report that, while Russia and others don't like it, Bashar Assad is happy to have U.S. airstrikes against ISIS in his country.

Gen. Paul Eaton questioned whether we brought up our "we don't have a plan yet" with Turkey ahead of time but called strikes "absolutely appropriate" even though we didn't hear the president's "anti-ISIS ideology campaign."

However, Gen. Eaton never said we can't be perfect.

Dr. New Land said he's "not very encouraged" about Turkish cooperation with the anti-ISIS effort.

As it pertains, or doesn't pertain, to oil, Alan Knuckman made the mistake of calling the crude market "simple" in telling Judge that "90 is the midpoint support."

Dr. New Land pounced on "simple," stating it's actually "incredibly complicated" and a "heavidally (sic) dominated HFT marketplace."

Yet, Joe managed to recommend CXO, EOG, PXD, MRO (or was it MPC, we're never sure).

Mike Murphy suggested viewers "do some homework" on COG and touted HAL.

Josh Brown said the XLE is a buy around the 200-day.

Brian Stutland told Jackie DeAngelis that commodities face a lot of headwinds right now. DeAngelis said Marc Faber would be on Futures Now.
Hats off to Steve Buscemi
Steve Buscemi and Nancy Carbone spoke with the Nardashians on Thursday's Halftime Report about the Engine Company 55 charity; unfortunately Doc stumbled and bumbled through a "Boardwalk Empire" question.

Judge impressively chipped away at Mike Murphy's recent bearish opinion on LULU; Murphy complained that he didn't have a position until he bought puts Thursday.

Josh Brown chimed in that "I think the stock's in trouble still." Stephanie Link advised not chasing it but called it a (Drink alert) buy on the pullback (Drink).

Stephanie Link is "looking to buy" RH on the pullback.

Josh Brown said of the JDSU splitup, "I don't get it."

Mike Murphy said to "fade this" move in GPRO over 70.

Joe predicted GOGO climbs over 20.

Joe said the dollar recovery will continue and said it's a good sign for the economy. Steph Link said to trim industrials on that move.

Will Landers said Brazilian polls are indicative of a strong catalyst for stocks. Joe carped, but Landers pointed to attractive valuation even while conceding it's a "binary" trade.

Josh Brown reiterated that Pandora will get taken out, even going to "happen soon." Stephanie Link's Final Trade was to sell CAT. Joe said to buy TER, Josh Brown said RIG and Mike Murphy said FEYE.
[Wednesday, September 10, 2014]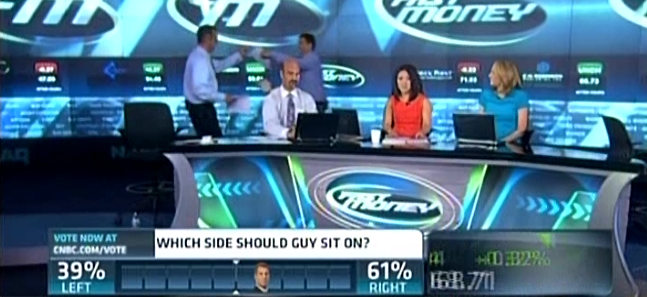 Wonder Twin Powers activate
as Guy, Dan switch chairs
They should've just talked about Ray Rice.

In a dead show (not the Grateful variety) highlighted by switching seats, Wednesday's Fast Money found no better place to start than the Brent-WTI spread. (See, this page has pointed out before that the idea machines are gone, unless you count whoever came up with the "is this million-dollar home in Seattle or Akron?" thing.)

Guy Adami said he didn't want to get "wonky" but opined that a lot of people thought the Brent-WTI spread would widen, then went on to his perpetual "global economies are slowing" routine.

Dennis Gartman predicted $85 for crude.

Jon Najarian said NBL October 29 calls were hot.

Nili Gilbert told the crew that small stocks look expensive relative to large-caps. She likes EXC and WLP. Karen Finerman said WLP is still attractive despite flying high for so long.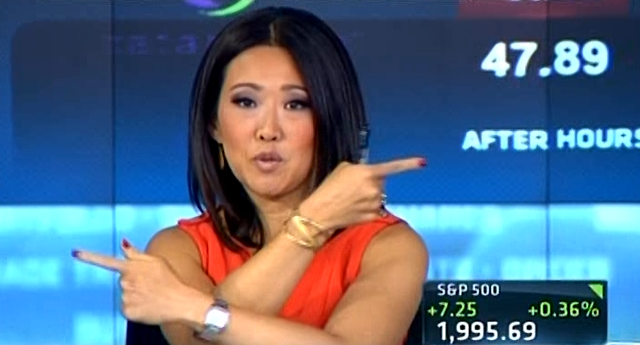 Mel keeps us guessing as to whether she sold that iPhone 5 for $200
Jon Najarian made the case on Wednesday's sleepy Fast Money that AMZN's "same-store sales" were up, and he likes Bernstein's $450 target, but really he seemed most interested in arguing that the Fire phone embarrassment is nothing.

Dan Nathan said Nardashian made "some good points," but the Fire phone is "at the heart of the problem." (However, Nathan did not cite the fact Dr. New Land called the stock an "outright short" a day earlier.)

Doc insisted on the last word, hailing "that Zocalo thing."

Bob Peck said TWTR is making a good move by raising money.

Dan Nathan said buying Minecraft "makes sense" for MSFT.

Guy Adami said MBLY will be "extraordinarily volatile," but he thinks it's got "more blue sky."

Karen getting ahead
on EBAY short
Karen Finerman said on Wednesday's Fast Money that Gene Munster helped out her EBAY short with a downgrade overnight.

Finerman said RH is "scary on either side," and she'd stay away.

Karen reiterated that she likes SUNE but lamented missing TIF.

Dan Nathan said the October 21 EWU calls were hot.

Doc said DOW can keep rising.

Dan Nathan's Final Trade was to sell S. Doc said to buy ZION (in case you missed it, that was Pete's Final Trade at Halftime), Karen Finerman said to buy GOOG and Guy Adami said to buy MCD.
Nobody said whether it will
help Stephanie's golf game
Judge initially on Wednesday's Halftime Report couldn't make a connection with Leander Kahney, prompting chuckles from Pete Najarian.

But once everyone got wired, the hyperbole ran amok as Kahney contended the Apple Watch is "gonna take off in a big way" with "massive, huge potential."

Kahney also called the new phone an "astonishing piece of hardware" and twice said it will "sell like hotcakes."

Josh Brown questioned whether Kahney was overlooking the Apple Watch's need for an iPhone. Kahney likened it to the iPod initially needing a Mac and noted how successful that product became.

But Doc pushed back, stating the iPod represented digital music, whereas the watch is entering a heavily competitive market and amounts to a "minor upgrade for a very small number of Americans."

Pete Najarian bellowed that nobody's even seen the Apple Watch yet.

Doc told Judge "the real home run" from Apple's show was the Plus phone.

Steve Weiss said he'd give AAPL a "B, B+" for its presentation.

Doc cautioned that while the Apple Wallet could be popular, it's only secure until it's used at retailers, and "they could still screw it up."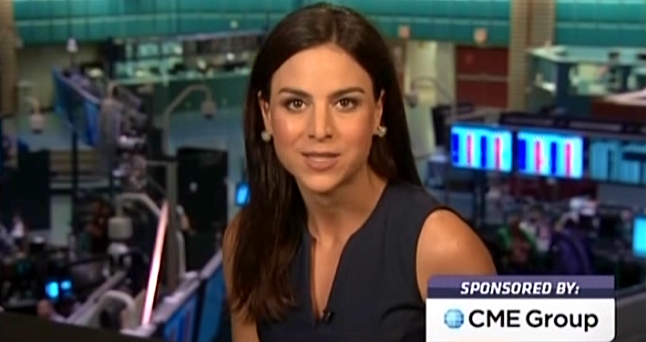 National Security Tip of the Day:
'Don't ask for perfection'
(contrary to the image above)
Evidently, involvement in Middle East politics is a messy business.

Why else would Gen. Wesley Clark have been compelled to tell Judge Wapner on Wednesday's Halftime Report "don't ask for perfection" about 3 or 4 times in regard to U.S. strategy.

Scott Nations told Jackie DeAngelis that spillover to southern Iraq would put a floor under crude, but that's unlikely.

Stephen Weiss contended that TWTR is trading willy-nilly, "most people don't even know what's driving the stock," but that they're just hoping to replicate Facebook's path.

In The Interview That Wouldn't End, Zillow chief Spencer Rascoff told Judge that there's 1 big question that matters for IPOs but it tends to get "buried" in all the other questions and hoopla.

Stephen Weiss said he "allocated hundreds of deals literally over my career when I was in the sell side" and that "all that matters" on IPOs is "how well the company tells a story."

Doc said he was buying EBAY on Wednesday and that PayPal is not "done" and in fact might get spun off faster. Josh Brown argued that if it wasn't Carl's 6th-biggest position, "it would already have a 3 or a 4 handle."

Hardeep Walia said that now that AAPL has announced a wearable, he's got a Wearable Motif, even though it's been "sitting around ... for about a year now." But this Motif includes GOOG and QCOM, which probably are driven by things other than wearables.

Pete Najarian's Final Trade was ZION. Stephen Weiss said Softbank/YHOO, Doc said POT and Josh Brown said to sell EBAY.
[Tuesday, September 9, 2014]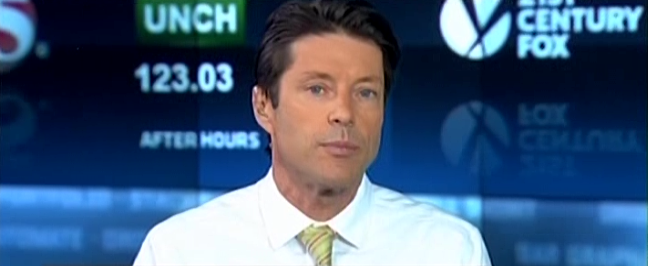 Tim Seymour actually suggests purchasing a home with the Apple wallet
The stock market Tuesday delivered what everyone seems to be dreaming for — a pullback — yet the day's stumble went utterly unmentioned by Melissa Lee on Fast Money.

Instead, Josh Lipton opened from Cupertino and told the gang a bunch of people actually spent "almost 2 hours" cheering while a CEO showed pictures of a cellphone and watch.

But that wasn't as dubious as the time Paul Hickey must've spent concocting a cockamamie case that the S&P apparently tends to outperform AAPL and the XLK in the weeks after a product launch. But Hickey said there's a lot of "pent-up demand" (Drink) for the iPhone 6.

Guy Adami said he's staying in the "I-think-we-print-88 camp." Tim Seymour said he'd buy more AAPL if it breaks 95.

Karen Finerman said she began shorting EBAY on Tuesday, which became her Final Trade.

Colin Gillis warned that at some point the "marginal utility" of the iPhone will become less attractive.

Gillis scoffed at the amount of revenue AAPL could make from payments, suggesting $15 a day per phone. Tim Seymour actually suggested, "How about buying a house with it?" while acknowledging that suggestion is "extreme."

Pavel Molchanov said he sees "further downside" in GTAT and was credited by Mel for a "pretty good call there."
Yes. But what she really wants to know is do you think the stock is toppy.
It seemed like just another one of those "are you willing to be acquired" interviews.

Then, it suddenly turned into an unapologetic stock sale.

Boulder Brands (BDBD) chief Stephen Hughes told Melissa Lee on Tuesday's Fast Money that "We're pretty bullish about the total portfolio," then said, "Excuse me, I can't hear."

Once he reconnected, Hughes defended his plan to sell 20% of his stock by stating he started the company "from scratch" 9 years ago, and for 5 years "took little or no income," and it's the "prudent thing to do" regarding financial planning.

Karen Finerman said the "bigness" of HAIN makes the company "more enticing" to an acquirer.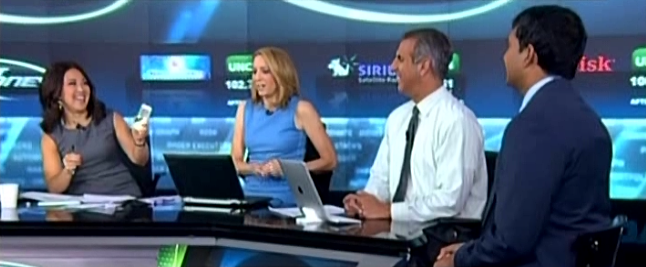 Our bid for Mel's phone: $210
Guy Adami, who said last week to ride the bounce in PANW, said on Tuesday's Fast Money he thinks it is still being underestimated.

Karen Finerman credited Guy for an "excellent call" on the stock last week, which it was, except he watered it down a day later when he said he didn't really like the price action.

Guy Adami predicted the HD breach story won't go away for a while and advised viewers to get out.

Karen Finerman said we know that GCI is splitting but what "we don't know is where the debt goes," and perhaps Carl is doing something about the debt that doesn't have to go in his equity filing.

Tim Seymour actually claimed GCI was "3 steps ahead" of Carl in spinning off the papers (but at least he wasn't advising Carl to buy a home through his Apple wallet).

Karen Finerman advised continuing to stay away from AVP.

Guy Adami said he thinks THC goes higher.

Kirk Skaugen told Mel how INTC, "at the end of the day" (Drink), wants facial recognition to supersede passwords.

Mike Khouw said there were a lot of sellers of YHOO September 43 calls.

uSell.com founder Nik Raman said he sees a "massive, massive spike" in people reselling old iPhones after new product introductions and predicted the same this time.

Missy Lee asked Raman what her iPhone 5 is worth. Raman said about $200 now, and only $40 in 6 weeks. But to some folks, it'd be priceless.

Tim Seymour's Final Trade was to sell TSO, Brian Kelly said to buy FCX and Guy Adami said to buy GD.
Joe has long memories of the shutdown/fiscal cliff (which didn't really do anything to the market but whatever)
First Barry Bannister ... then Adam Parker ... This is one we DEFINITELY should've seen coming.

Tony Dwyer headlined Tuesday's Halftime Report to say he upped his S&P 500 year-end target to 2,230 "not because of multiple expansion," but because he upped his S&P earnings estimate to $117.50.

Dr. New Land told Dwyer that he should've considered "political concerns" and fund flows, but apparently didn't. Dwyer said it's a "great question" but then likened this market (history-doesn't-repeat-itself warning) to 1996.

Josh Brown observed that the market keeps experiencing "V-shaped selloffs" in which people always seem to reload after "48 hours." Dwyer reverted to 1996 and said people would've considered that market near the end of its run.

Jim Iuorio said there's no reason to own gold. Anthony Grisanti said he doesn't see support until 1,225.
Joe: AMZN an 'outright short'
Judge on Tuesday's Halftime Report asked Re/Code's Lauren Goode, who is very pretty, whether Apple can meet the hype and was told that everyone is not so much concerned about "what is the phone" or "what's inside the phone," but rather, "what can you do with these phones."

Mike Murphy said that if Apple's event were just about the watch, "it's a sell-the-news event in a big way."

Joe said he was staying long AAPL because of the "significant upgrade cycle" that's coming.

Doc said someone just ahead of the Apple event bought 10,000 of the September 107 calls.

Steve Milunovich told Judge that Apple tends to sell off upon its product announcements but has always recovered except in 2012, so he's bullish.

Dave Briggs said Roger Goodell will have to explain why he didn't insist on seeing the Ray Rice video.

Stephanie Link admitted MCD has been a laggard but offered the dividend as the top reason to be bullish. Mike Murphy said a 3.50% yield might not be enough to support the stock.

Joe Terranova called AMZN "an outright short."

Josh Brown's Final Trade was AAPL. Steph Link said WAG, Mike Murphy took the FEYE plunge and Dr. New World offered MJN.
[Monday, September 8, 2014]

Tim Seymour wonders why Alibaba wouldn't buy Yahoo
Kayla Tausche, who basically stole the show with pink shoes, visited with Monday's Fast Money crew to say that everyone is excited about Alibaba, from the 800 folks who packed a room to the investor folks who bid up YHOO on Monday.

Mel rightly questioned Tim Seymour's dubious contention that Alibaba would benefit from buying YHOO, asking whether, if that news hit the tape, Alibaba's shares would be worth more than $66. Seymour said, "Maybe."

Karen Finerman said "it's just incomprehensible" that Alibaba and Amazon could have such different valuations.

But that wasn't the only shot Finerman took at AMZN, stating that what's "amazing" to her is that the Amazon Fire phone expectations were "exceedingly low," and they "disappointed by a mile," and yet the stock has barely reacted, which Karen called "astounding."

(If nothing else, at least Karen isn't "a little" offended by Amazon as she is by Under Armour for signing a deal with Giselle Bundchen.)

Dan Nathan called Amazon's Fire phone a "very disingenuous product," which he said is designed only to compel people to "buy more crap on Amazon."

Tim Seymour said he actually thinks expectations for AMZN stock "are so low."
Still waiting for an update
on Fleck's short fund
Phil LeBeau told Monday's Fast Money that the driverless car buzz at GM is "only gonna get hotter."

Missy Lee questioned why anyone would buy a GM driverless car given its recall issues. LeBeau said, "It's still the No. 1 brand in this country."

Tim Seymour used the conversation to recommend selling TSLA (something he doesn't actually do). Pete Najarian said he likes TSLA, but Dan Nathan carped that Elon Musk called the stock overpriced. When that didn't sway Pete, Nathan said Tesla will have to raise money.

Karen Finerman seemed to hint she kind of likes MBLY. "As an absolute value, it's not that big of a company ... I think it's interesting."

Pete Nardashian said airlines look great but it's not yet time for the energy trade.

Kia Makarechi visited the set and called Marc Newson a peer of Jony Ive and said Newson might fulfill the "soulmate" role for Ive.

Brent Thill said he upgraded FIRE because (Dave DeWalt is such a friend of the show) it's a hot space and "they are an absolute leader," at least according to "numerous customers."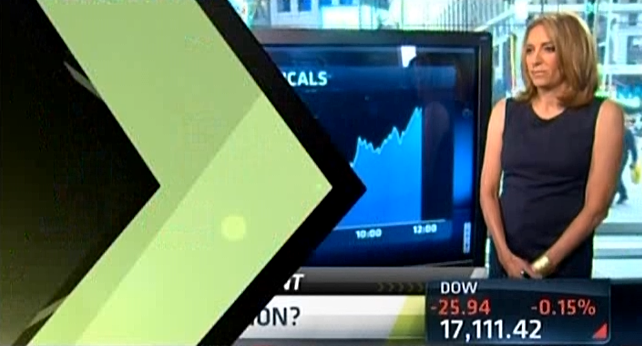 Karen does nice job at smartboard but looks a bit stiff
Karen Finerman stood by the smartboard on Monday's Fast Money to point out that Shire shares rose after Jack Lew indicated the government is not doing anything to stop inversions.

Much of the show was dedicated to discussion of the BNNY deal; Pete Najarian said he didn't see any unusual activity ahead of time (translation: Doc won't call for an SEC investigation on Tuesday's Halftime).

Karen Finerman said the BNNY deal makes you wonder if HAIN would listen to offers.

Karen added that BNNY has 22% short interest; "that's gonna be some pain tomorrow."

Mitch Pinheiro said BNNY has "really good mainstream appeal."

Pete Najarian scoffed at the notion of buying the Dave & Buster's IPO.

Pete Najarian said to buy the dip in CPB.

Dan Nathan indicated GPRO has more potential but it's not his "cup of tea."

Tim Seymour said he wouldn't buy YGE.

Dan Nathan said that, unlike some options buyers, he doesn't think AAPL will move that much this week.

Tim Seymour's Final Trade was WB. Pete Nardashian said NKE, Karen Finerman said MOH and Dan Nathan said to sell AMZN.
Stephanie claims smartwatch
helped her golf game
It's (likely) only just begun.

Steph Link took up wearables on Monday's Halftime Report, telling Judge she wore the Garmin watch for golf, and "I think it's absolutely incredible ... it really helped my game." But, for the general public, Link said "they're gonna have to get a lot smaller."

In the category of regular non-smart-footwear, Jon Buscemi, a shoe entrepreneur we'd never heard of, said he wants his product to be "very limited, and very high quality."

Dom Chu, in CNBC's latest attempt at a business day programming gimmick (at least it's not guess which $1 million home is in Florida and which is in Bismarck), said SPLS, NFLX and GMCR are among the most hated stocks (in terms of price targets) on the Street. Judge chided Joe for taking forever to declare a bull's-eye then later conceded the evaluations of bull's-eye and full of bull were confusing for viewers.

Pete Najarian said October 35 (screen said 34) calls in YNDX were hot on Monday. Judge asked Pete, "Are you're (sic) in it?" Pete said no, "Maybe by the end of the day."
Evidently none of the Branson family had any harrowing rescues Monday
In a curious mea culpa of sorts (especially for a 1st-place entity), Dr. New Land on Monday's Halftime told Judge that in the Playbook Playoffs contest, he's "ridden the wave of, of many things" and over the last 2 months, "I'm basically Eli Manning. ... I gotta get myself in gear on multiple levels when it comes to trading."

(Hopefully he doesn't do something willy-nilly, like plunge into Dennis Gartman's long-gold-in-euro-terms trade.)

Pete Najarian said he's a buyer of Alibaba and YHOO while admitting "Yahoo's made mistakes."

Josh Brown said Chinese Internet companies "become more legitimate with every passing day."

Mr. New World said the "vulnerability in terms of the downside is somewhat limited" in tech.

Kathleen Smith said "the very large IPOs" don't often have big pops, for example, JD.com was only 10%.

Rob Sanderson said a lot of the "easy money" on the YHOO-Alibaba trade has already been made.

Josh Brown said he thinks TNET (which was his Final Trade) goes higher. Pete Najarian agreed.

Arizona Cardinals President Michael Bidwill actually mentioned the Pro Bowl as something the team is excited about.

Stephanie Link's Final Trade was WHR. Joe said MCK, and Pete said YHOO.
[Friday, September 5, 2014]
Pete: YHOO to $50
Walter Piecyk told Friday's Fast Money crew that Apple's booked an auditorium for 2,000 people, so it's bound to be a big event, and there's less risk than last year because everybody knows what's coming and it won't be like last year when people didn't get the cheaper phone.

Guy Adami insisted Apple's pattern is "hauntingly similar" to September 2012 and said he thinks you might get it at $88 but noted Pete Najarian and Tim Seymour disagree. Pete Najarian hung a 106 on the stock.

Pete Najarian, who was able to do 2 shows on Friday, actually claimed YHOO has "$50 written all over it."

Pete also said DAL calls were taking off.

Brian Kelly remains long CTRL. Guy Adami said a Seeking Alpha article actually sank GILD on Friday and warned "volatility is back in Gilead;" he said he'd take half off.

Mel said, "Men lack the judgment to remove themselves from sharky situations."

Tim Seymour, who has prejudged TSLA for years, got yet another chance Friday to grumble about the valuation expectations. Brian Kelly thinks AMZN is overvalued.

Guy Adami listed TRUE as one stock that's gotten ahead of itself.

Tim Seymour's Final Trade was TBT. Pete Najarian said UAL, Brian Kelly said SBUX and Guy Adami said JAH.
VRTS makes serious move over 2 days; apparently off-limits for Halftime panel
First, viewers of Friday's Halftime Report got President Barack Obama at NATO, concluded by Gen. Barry McCaffrey saying Iraq is "broken permanently."

(Ummm, was it ever previously considered a tightly wound machine?)

Paul Richards told Judge he prefers stocks over bonds because he sees bonds as "quite a boring market" for a while.

Pete Najarian said he would "loudly" rather be in stocks than bonds and predicted upward revisions to August and September jobs numbers.

But Mike Murphy said the market at 2,000 might be poised for a 3-4% pullback and said he likes BP and BWP.

Doc said he likes WAG, which brother Pete just a couple weeks ago didn't like at 60.

Pete said he owns calls in TSLA and noted it has done OK since the last time Elon Musk commented on the valuation.

Judge found temporary dead air when trying to agitate the panel into a KORS discussion that nobody was interested in. Doc said that if he knew yesterday that $900 million would be coming on the market Friday, he could've predicted the stock move.

Jon Fortt demonstrated the new Moto 360 Android watch from the NYSE. Doc said that watches that require connection to a phone are a "non-starter" even if Apple does it.

Mike Murphy argued in favor of YHOO on a "sum of the parts valuation." Josh Brown mocked Murphy's bull case as Alibaba-related data that even his mother already knows about.

Murphy insisted the Alibaba IPO would be great and that rather than fleeing YHOO, people would buy it to get a piece of Alibaba.

John Schroer said his top biotech pick is BIIB, he'd be a buyer of GILD, and (of course) he likes CELG.

Mike Murphy said there's "a lot more" to go in GILD.

Neither Josh Brown, who likes talking about elephants in rooms, nor Judge nor anyone else mentioned the week's startling stock performance of one panelist's employer. (Honestly, our off-the-cuff reaction is that, down 40 bucks in 2 days, when we see comments in the WSJ about "let's sell now" and let the dust settle and that the worst-case scenario is not actually likely, it sounds like a screaming buy, although perhaps not for a few days.)

Josh Brown's Final Trade was KORS. Mike Murphy said GILD, Doc said AEO and Pete said DAL.
[Thursday, September 4, 2014]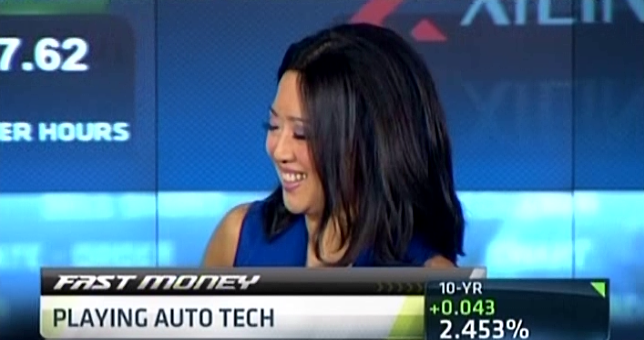 Curious: Cops meeting with empty vehicles, trying to determine who was at fault
FLIR chief Andrew Teich told Missy Lee on Thursday's Fast Money that "demand has been good" for his X-ray vision iPhone app but that it's too early to tell.

Beyond that, we hardly had any clue what Teich and Mel were talking about. Guy Adami called FLIR an "extraordinarily volatile name" but a "really interesting stock" for those with the "wherewithal." Tim Seymour claimed FLIR is "expensive relative to itself."

Doc said he hasn't traded TSLA for the last 60 points. "I don't wanna be in the name," Najarian said, while meeting the company quota of endorsing playing it with options.

Tim Seymour, who has prejudged TSLA the same way Guy Adami and Rick Santelli prejudged QE in 2009, called the gigafactory "a money pit" but for whatever reason opted not to mention what he thinks about the company's valuation.

Ravi Shanker said MBLY is his top pick in the U.S. auto space, then threw in an "at the end of the day" (Drink), then said that while he expects competition, the stock could reach $100 beforehand.

Guy Adami said momentum remains in MBLY. In an interesting, futuristic tangent, Doc said MBLY represents good and bad issues with car insurance.

Mel (above) twice called her driving record "flawless," which opens the door to the opportunity to say that nearly everything about Mel is flawless, with the caveat that we're skeptical of Mel's capacity to dial down the career intensity and throw on some jeans and a T-shirt and enjoy a night at the movies and dancing.
Unsure what happened to Dennis' long-gold-in-yen-terms trade
Normally, it's a Zzzzzzzzz-type of conversation.

But Thursday's Fast Money panel crisply tackled the notion of rising rates in a conversation that proved not completely useless.

Guy Adami affirmed "I am still firmly in the lower-rate camp," but then suggested TLT might open weakly Friday and if so, "I think you buy that weakness" immediately.

Jon Najarian said he respects "the heck out of" David Tepper and that he probably will be right about rates longer term, but "I don't think we've seen the bottom for rates yet."

Things only got loopy when Dennis Gartman recommended owning gold in euro terms instead of just recommending selling the euro.

Tim Seymour correctly asked Gartman about gold, "Why own it at all."

Gartman didn't have a good answer, admitting, "I think you'd rather own equities."

Tim Seymour said to buy German exporters such as SI.
A biotech conversation occurs somehow without any reference to CELG or GILD
If you were to rank Fast Money guest appearances by sector, biotech would probably be No. 1, cybersecurity might be No. 2 (though who knows if Dave DeWalt wants to face Brian Kelly again), and perhaps Dave Barger has singlehandedly made airlines No. 3.

Anyway, one wonders what's the point of bringing on biotech chiefs when the panelists in near-unanimity are just going to say "it's too hard to play these binary outcomes, you should buy the XBI or BIB."

Thursday, BDSI chief Dr. Mark Sirgo explained how Bema Buprenorphine is now more accessible to patients and said "each and every time" (sic 2nd and 3rd words redundant).

Guy Adami said he thinks the stock "has a lot more room to run." Tim Seymour called BDSI "not a terrible play" on a risk/reward basis.
Brian Kelly's Final Trade
is to buy bitcoin
Tim Seymour said on Thursday's Fast Money he "absolutely" would take GPS over KORS.

Guy Adami said GPS "absolutely" has to hold 44 because the bad comps "came out of nowhere," otherwise a 3 handle is possible.

Doc said Gap was having "50% off sales in the middle of August," then pointed to heavy upside call-buying in COH.

Guy Adami and Tim Seymour lukewarmly endorsed holding INTC.

Tim Seymour said BP has bigger troubles in Russia than with the Gulf spill costs.

Guy Adami called OLED not ridiculously expensive and said it "could be an interesting beta play."

Brian Kelly invoked a Patty Edwards (wonder if she was happy with Thursday night's result) staple, "at this point in time" (sic redundant last 2 words), while stating that if GLNG holds its secondary price, you buy it.

Mike Khouw said TSL September 14 calls were popular.

Jon Najarian said if he were long EXPE, he'd get out and buy PCLN.

Tim Seymour's Final Trade was to sell EDC. Jon Najarian said buy COH and Guy Adami backed NUAN. Brian Kelly actually said to buy bitcoin.
Halftime panel blows chance to draw NFL analogy to stock-picking
Wynn NFL bookmaker John Avello visited with Thursday's Halftime Report to say the Broncos, at 5-1, are the house favorite to win the Super Bowl, but that 2 others are in "that same category," specifically Seattle and New England.

Fair enough, except the screen graphic said New England is only 5th, trailing San Francisco and Green Bay.

Whatever.

And, if we'd been on the show, we would've taken the opportunity to suggest that any team with an elite quarterback — there are about 8 — that is getting 20-1 or worse is worth buying in a basket of teams. (We're not advocating sports betting, only suggesting a tactic.)

Avello claimed the "worst-case scenario" is that Denver goes 3-1 without Wes Welker.

Judge said he's "kind of surprised" that Seattle is rated so highly given recent struggles of Super Bowl champions.

Joe said a couple times that Thursday's game will be a "tough game."

Not surprisingly, but an interesting point nonetheless, Avello suggested that college football is more difficult to handicap than pro games and thus the casino is "more vulnerable" to college.

"This is the best sports weekend of the year," said Stephanie Link.
Doc: iWatch might have
'no traction whatsoever'
Prompting us to think this is 2010 (or even 2007), Dr. New World on Thursday's Halftime Report balked at Andy Hargreaves' call to take profits in AAPL, saying whatever AAPL makes will be "the product that folks will want to buy" for the holidays.

Pete Najarian asserted there's been "pent-up demand" (Drink) in AAPL. Doc said Sapphire supply issues could be a problem (Brag Trade alert; he said he talked about it last week at 103) and that there's a risk "the iWatch just has no traction whatsoever."

Stephanie Link said she sees an "easy $10 upside" in TWTR.

Judge corrected himself after initially stating that Link "is buying" Twitter that really Cramer has just added it to Action Alerts.

In yet another rehash of the show's most tiresome semiregular topic, Joe Terranova asked himself, "Do you move away from the United States," then answered, "You do not do that."

Judge invoked the old standby, "As long as rates are rising for the right reason" (Drink).

Gemma Godfrey contended that "bonds are looking a bit shaky."

Jon Najarian said Draghi didn't unleash everything; "this wasn't the big bazooka."

The Najarians trumpeted DAL, but Stephanie Link suggested waiting for a bigger pullback.

The Nardashians helpfully pointed out that LNG was a great buy a week ago but that they're now out of it. Doc even claimed it would be "embarrassing" if the options continue to climb.

Pete Najarian pounded the table for SSYS, then admitted he bungled his GRPN bear call.

Doc said of LOCO, "you buy this one on the dip."

Doc's Final Trade was CODE. Pete said C, Joe said VSI and Stephanie said OSK.
[Wednesday, September 3, 2014]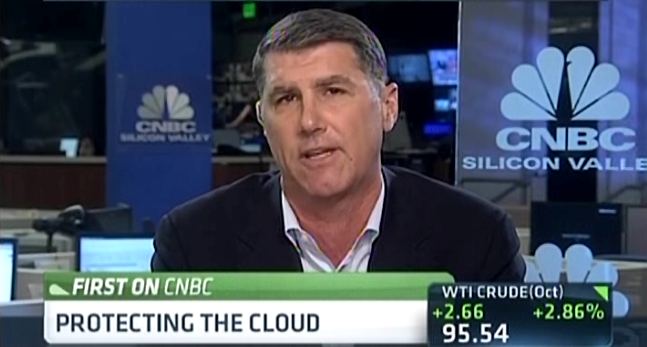 So never shop at Target, Home Depot or any retailer accepting credit/debit cards
Barracuda chief BJ Jenkins told Melissa Lee on Wednesday's Fast Money that in the wake of the purported Home Depot hack there is "user awareness, uh, that can help prevent some of these things from happening."

Guy Adami lukewarmly said CUDA has short-squeeze potential but said he likes PANW, which he touted a day earlier, only to say that Wednesday's price action "bothered" him a little bit.

Brian Kelly knuckleheadedly tried to claim that bitcoin is less hackable because of its "decentralized" blockchain. (Wonder what Karen Finerman would've said if Kelly made the gold-works-in-inflation-and-even-better-in-deflation argument this episode.)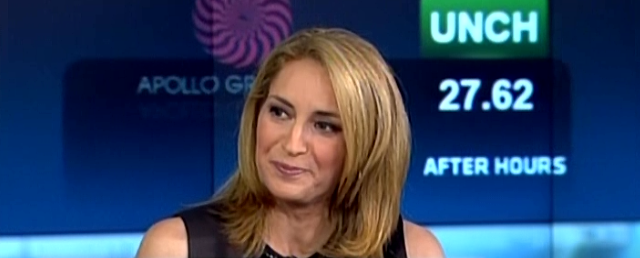 Karen Finerman:
'Could be more to go'
It wasn't surprising on Wednesday's Fast Money to hear Guy Adami float the notion of an AAPL double-top.

It was, however, a bit noteworthy that Karen Finerman warned (that Giselle Bundchen modeling Under Armour clothing is a little offensive) "there could be more to go" in AAPL's slide, because of a possible change in sentiment.

Guy said that with a disappointment, AAPL could reach the "high 80s."

Brian Kelly suggested "1 or 2 kinda major players" were exiting AAPL, and that it could reach $80.

Guy Adami said he's staying in the "500 camp" for NFLX.

Gentherm chief Dan Coker told Mel his company has plenty of growth and is already converting exhaust to energy on an industrial platform.(But, Mel didn't ask him if he could do anything about those reclining airline seats.)

Guy Adami said he doesn't like the way THRM traded Wednesday but he thinks it can go higher (wow).
Mel ignores the most interesting thing about Doug Yearley; favorite albums are 'Rust Never Sleeps' and 'Harvest'
On Fast Money, misery loves company.

Adrian Mowat on Wednesday told the gang "I'm a bit of a cynic on QE" (join the Guy Adami/Rick Santelli club) and downplayed its impact on emerging markets.

Mowat said he likes Brazil.

Pete Najarian, who actually managed to do 2 shows in 1 day, said the EWG September 30 calls were hot.

Guy Adami said YUM has to hold 66.

Setting up a likely Fast Fire, Brian Kelly said to "take some profits" in DAL. Guy Adami said to buy the dip, specifying JBLU.

Karen Finerman said she was surprised PVH didn't raise guidance, so people might think they were "sandbagging." Guy Adami predicted "high 60s, low 70s" for M.

Douglas Yearley, impressive not just for his business acumen but for telling Barron's in 2013 the last book he read was by Neil Young, said TOL and the homebuilders in general thought they'd be further along in the recovery than they are. But he said they're "feeling pretty good" about September and October.

Pete Najarian said he's "not very happy" with the TOL calls he owns.

Guy Adami thinks the steel space "is still in play" and the stocks have higher to go.

Karen Finerman said she's short VNCE.

Mike Khouw said option traders think LOCO could move 15% on earnings; he found the September 33 put purchases intriguing.

Pete Najarian's Final Trade was DAL. Brian Kelly said XLE, Karen Finerman said SUNE and Guy Adami said M.
Ben Lerer thinks AAPL's watch might be cool but freely admits he has no idea
Judge on Wednesday's Halftime brought in Apple investor Ben Lerer, who called Apple "fundamentally the most interesting hardware producer in the universe" before stumbling into watch commentary.

Lerer admitted "I don't know the answer" whether wearables will take off, even though Judge pointed out that Lerer also said everyone wants to see the watch. Lerer said it's got "potential" to be a "game-changing product."

Steve Weiss told Lerer that if wearables don't take off, Apple is just a hardware maker with a 10 to 12 multiple. Lerer said the company's been a victim of its own success and that it's "a little bit crazy" to bet against AAPL (even though that worked like a charm in September 2012).

After an earpiece glitch, Lerer told Dr. New Land, "The mobile payments thing is gonna be awesome."

Joe said he truly believes that Apple will be the first to get the retail environment to "adopt the mobile wallet" (wonder if the Home Depot hackers are paying attention).

Pete Najarian said AAPL 104 calls were being bought and 107 calls were being sold. "I think we still see 110 before we see 95," Pete said.
MCC has wardrobe schedule
In an unfortunately dull assessment of the stock market to kick off Wednesday's Halftime, Joe Terranova predicted "the market would snap back" if the Dow were to suffer a 500-point down day.

Josh Brown said the "elephant in the room" that no one talks about is the "sea change in investor behavior," which seems to favor passive funds.

Stephen Weiss said hedge fund returns for August are "all over the place."

Steve Liesman contended that no matter how much people talk about doom, "Nobody seems to be putting their money into the doom trade."

"That's just not true," bristled Stephen Weiss.

Weiss clumsily observed that Michelle Caruso-Cabrera was wearing orange.

Michelle told Steve Liesman she'll be wearing a blue dress on Thursday; "it's already planned."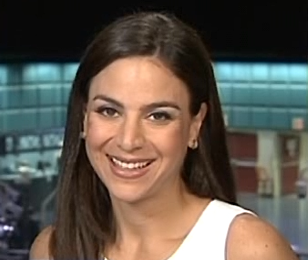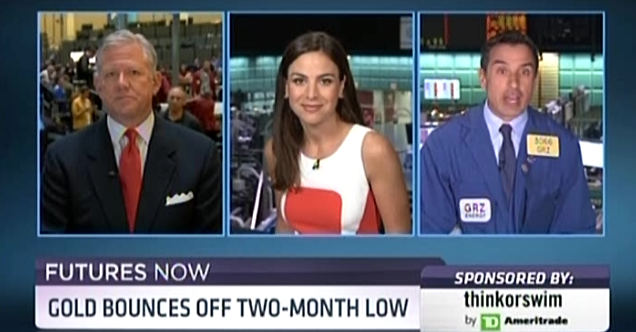 Initial shot hints Jackie DeAngelis merely wearing hot white; instead it's mix of hot white and red
Josh Brown on Wednesday's Halftime Report uncorked a Brag Trade, saying he got long MBLY at 40.

Pete Najarian called the DAL setback a "great opportunity."

David Herro said Draghi has pulled off "the best example of, of jawboning that we've ever seen" but "really hasn't done anything." He likes Japan, plus European banks.

Joe chipped in a "U.S. is better than Europe" and Japan (Drink). Pete Najarian added, "You always go with the U.S." (Drink). Stephen Weiss agreed.

Scott Nations told Jackie DeAngelis that gold could be at 1,200 "next month."

Pete Najarian said NUE calls rose 300%, which is "why options can be such a great vehicle with limited risk." (Sic "limited," as in, "100%;" he should know from Dan Nathan that you're supposed to say "measured.")
We interrupt this program to bring you Richard Branson's breaking 1% news
Joe Terranova, bouncing back from a sleepy day Tuesday, argued on Wednesday's Halftime Report that TOL is separate from other builders as best in breed, then sought to debunk the bear case before touting margins and traffic. Stephen Weiss contended that TOL is an early-cycle stock in the 6th year of the cycle.

Josh Brown sided with Weiss; "it's probably too late; I would be looking elsewhere."

Mr. New World predicted mid-40s for X, and upper 20s for STLD.

Judge decided to bring in Richard Branson to explain how his son got helicoptered off the Matterhorn after suffering altitude sickness. Judge didn't ask Branson to make a call on AAPL but did admit it was a "weird segue."

Steve Weiss' Final Trade was AAL. Pete Najarian said GS and Joe said ALL.
[Tuesday, September 2, 2014]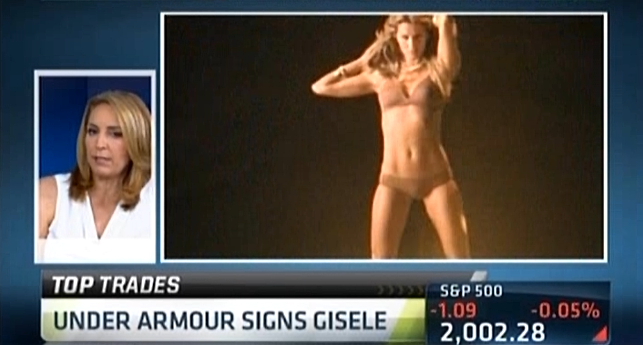 Karen Finerman 'a little'
offended by Gisele's deal
Under Armour signed Gisele Bundchen to a contract.

And that somehow didn't go over well with Karen Finerman on Tuesday's Fast Money.

"I find that a little offensive actually," Finerman said. "Because, OK, she's clearly absolutely magnificent, no question about it. But is there no woman athlete, what about a like a Misty May-Treanor or somebody like that, or Mia Hamm-"

"But she's married to Tom Brady. She kinda gets the football-" said Tim Seymour.

"Married to an athlete doesn't make you an athlete," Karen snapped.

Hmmmm ... OK, how do we put this delicately ... Misty Mae-Treanor isn't the same as Gisele Bundchen.

They are trying to sell clothes, not receive a patch from Gloria Steinem.

Melissa Lee essentially endorsed this opinion, stating, "I mean, if I can get that physique by wearing Under Armour, I'm there," to which we will say, no need for that ... don't ... change ... a ... thing.

Tim Seymour called Under Armour "an expensive stock."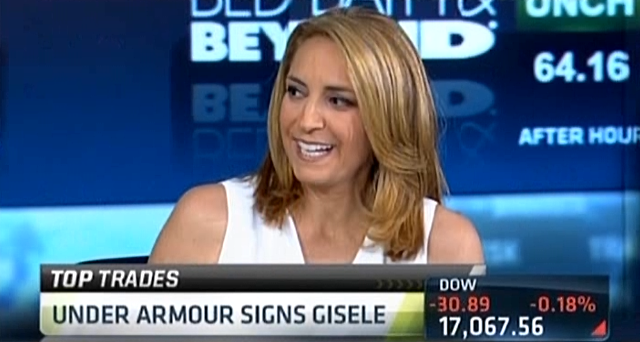 What about 'Dress Barn'?
Paul Hickey visited Tuesday's Fast Money to do some Carter Worth-type parsing, stating that September might be the worst month in general, but there are "2 big caveats," which is how the year is already going, and that the last 10 years haven't been too bad.

Hickey said he likes CME and NKE in September, and doesn't like FITB and RAI.

Karen Finerman called Fifth Third "the dumbest name ever," though in past years she has given that type of label to Radio Shack and a women's clothing retailer.

"I think banks are your call for September," said Tim Seymour.

Guy Adami said CME would "quickly" reach the mid-80s if it gets above 78.

Thomas Fitzgerald said "we had a bullish outside month" in August, which has only happened 3 times since 2009 and each time we had an up move of 4 of the next 5 months, which is why he sees the S&P "at least" reaching 2,150 and perhaps 2,400.
Too bad — Guy didn't get a
chance to mention BorgWarner
Speaking of parsing, Missy Lee on Tuesday's Fast Money tried to explain the relativity of David Leiker's MBLY bearishness before Leiker asserted that there's "sort of a natural limitor on the pace of adoption" of Mobileye technology.

Mel said she was "shocked" that all of Mobileye's chips are made by STM in 1 facility in France.

Tim Seymour did the old "wouldn't go near shorting" MBLY but he wouldn't own it either. (Drink.)

Who woulda thunk that Tim Seymour would be given a chance to handle TSLA in Pops & Drops. (He's skeptical, big surprise.)
Seymour: Buy QCOM pullbacks
Guy Adami said on Tuesday's Fast Money that QCOM "may be" a warning sign and "better hold 72" if you're a bull. But Tim Seymour said "any pullback by Qualcomm" is a good one to buy.

Tim Seymour said of INTC, "I wouldn't be buying, you know, at 34 bucks."

Doug Freeman said "there's a lot of valuation attractiveness" to the semiconductor sector.

Karen Finerman claimed "payments could be the holy grail" for AAPL, then unfortunately added an "it'll be interesting to see." Karen said she's selling 105 calls against her AAPL position.

Finerman was heard to say the iCloud hacking is "not a great thing for sentiment in terms of security," whatever that means.

Dan Nathan said GRPN is "probably not a bad speculative name."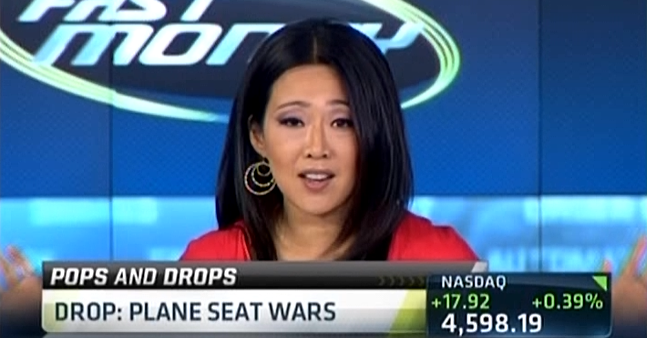 Mel: Seat-reclining on jets
is unavoidable
Melissa Lee told viewers of Tuesday's Fast Money that it's "ridiculous" to have fights over Knee Defenders and other shenanigans.

"You go on a plane, you have to expect that somebody's gonna recline into your lap. That's just the facts of the matter (sic last 3 words redundant)," Lee said.

Guy Adami said BA has "gotta hold 120."

Guy said he'd take profits in HD, but for reasons beyond hacking.

Karen Finerman said she likes MOH "a lot."

Dan Nathan reported a big buyer of January 14 SPLS calls.

Karen Finerman admitted she had "sort of a bitter relationship with Staples ... it's really got an Amazon problem."

Tim Seymour's Final Trade was to sell BBY. Dan Nathan said to sell HD, Karen Finerman said to sell AAPL calls and Guy Adami said to buy PANW.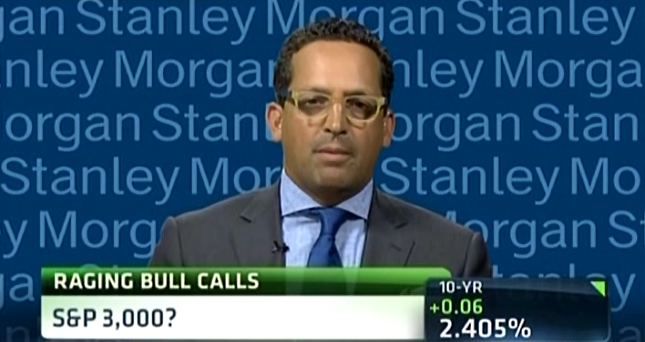 Visual aid: Adam Parker works
for Morgan Stanley
Adam Parker launched Tuesday's Halftime explaining to Judge that he reached a 2020 S&P 500 target by "getting together with our economics team" and determining how long this expansion could last (as opposed to, "I saw Barry Bannister about 10 days ago and realized this is a good way to get on television and drum up buzz about my research.")

Steve Weiss questioned Parker's "relatively benign forecast" of 10-year yields at 3.25 or 3.50 in 2 years. Parker responded that "our house call" is actually that the 10-year gets to 3 or north of it by year-end.

Judge actually invoked the "land the plane" analogy for the Fed and called Parker's note "provocative" (translation: thanks for giving us headline material to talk about on the program instead of having to begin the show asking Weiss and Josh whether the U.S. returns are going to be better than the rest of the world).

Richard Pzena conceded it's a "mediocre year" for financials but thinks "the upside far exceeds the downside."

Pzena predicted a "big big boost" to Citigroup's earnings, "if interest rates ... return back to a more normal level" (sic people still think this is "abnormal").

Jeff Kilburg said the momentum trade right now is the "surging" dollar.

Josh Brown reaffirmed that DNKN's Western potential "cannot be overstated." Judge rightly carped that Brown constantly touts this stock and it's been a dog since March.

Stephen Weiss said "My guess is 80 is not gonna get it done" for FDO.

Jon Fortt told Judge that at least one consultant thinks the celebrity hacking (that's smart, by the way, if you're a celebrity, to stash nude pictures of yourself somewhere) has more to do with a Dropbox username/password issue than anything with Apple, which according to Fortt issued a statement saying it takes security seriously.

Gene Munster actually said "we're getting beyond all the hype in the near-term" about AAPL.

Dr. New World, who had a very quiet show (but so did Josh Brown and Mike Murphy), touted the mobile wallet, citing the "ease of the tranjack- (sic) transaction."

James Albertine said he toured a Tesla factory and found that just like Adam Parker a great way to get publicity for research is to hang something like a $400 target on a hot stock the company's "ability to scale production um, was, was staggering."

Steve Weiss said he just bought a new car and "seriously considered" a Tesla, but "at the end of the day," the range was the drawback.

Mike Murphy said "Now is not the time you wanna jump in here."

Dave Briggs apparently said something about NKE overpaying for Kevin Durant.

Steve Weiss said he was "clearly wrong" about INTC.

Mr. New World's Final Trade was DFS, Josh Brown said DNKN, Mike Murphy said JBLU and Stephen Weiss said TBF.