[CNBCfix Fast Money Review Archive — July 2016]
[Friday, July 29, 2016]
Anyone think Tesla should've disclosed that crash before the filing?
Josh Brown on Friday's Halftime said each of the FANGs has something "idiosyncratic" going for it.

Jim Lebenthal said, "I really don't believe that FANG is a useful acronym anymore," stating NFLX should "obviously" be taken out of the mix.

Josh Brown suggested DDD NVDA as a replacement for NFLX partly because of "virtual reality" (snicker) and was allowed to talk up this concept for several minutes during the program. "What's really going on with graphics cannot be understated," Brown asserted.

Stephanie Link dialed in to say GOOG is great.

Judge mentioned Brian White's rosy AAPL forecast. Doc said repatriation "proposals" (snicker) could either be a big positive or big negative. Jim Lebenthal knocked White's "here comes the sun" suggestion but said he's in the stock because "it generates a ton of cash." Josh Brown said he's long but doesn't need it to go to 185.
What happened to buying when Rex Tillerson buys at 68?
Big Oil delivered a stink bomb on Friday, but Doug Terreson was not deterred.

Terreson told Judge on Friday's Halftime "we're not wavering at all" on XOM and CVX while conceding the "really poor results."

Terreson predicted $60 a barrel by end of 2017 and suggested the "abundant" bad news is already in the stocks.

He also pronounced the Big Oil dividends "safe."

Jim Lebenthal said refinery inventories are too high. Terreson said he thinks the peak will be about mid-year, which would be about now.

Judge asked Terreson to explain his PSX buy vs. VLO hold. Terreson didn't really answer that question but said he thought early in the year that refiner estimates were too high and still sorta thinks that, though some valuations have gotten interesting.

Doc backed PSX and TSO.

Josh Brown backed XOM and CVX and called those names a "smart place" for investors seeking total return.
Whew — Judge didn't try asking anyone this time if Ford was a bellwether for the economy
Meg Tirrell, who's letting the hair grow long, explained on Friday's Halftime why MCRB was taking a hit.

Jim Lebenthal said the biotech rally "doesn't seem to be lasting." But Josh Brown said buyers are "back in control" in the biotech space. Jim questioned whether biotech is experiencing a triple top rather than triple bottom.

Jon Najarian predicted Hillary's drug-pricing tirade is yesterday's news and that her strategy will now be "all about taxes."

Doc retold how he bought BCS and HSBC right after the Brexit vote, but, "What I should've done of course was shorted Deutsche Bank against it." (He had the right idea; he was just buying the wrong stocks.)

Doc pointed to YELP's run since February and said November 38 calls were popular. Doc said he sold YELP puts and suggested his subscribers beat him to the calls.

Josh Brown said he'd avoid UPS.

Jim Lebenthal said you want to stay out of stocks that are having a "troubled merger" such as CI.

Jon Najarian said EXPE rebounded from opening lower.

Wilfred Frost is interviewing Jamie Dimon on Monday (in case you hadn't heard).
[Thursday, July 28, 2016]
Several folks struggle to convince Judge that Ford is not a barometer of recession
Judge on Thursday's Halftime for some reason tried to push a very reluctant panel into discussing Ford; no one was the least bit interested, and the crucial opening minutes were about as exciting as the 4th quarter of a Tampa Bay Buccaneers preseason game.

Sort of entertaining Judge's endless question about Ford's relevance, Steve Weiss said automakers and homebuilders are usually the 2 biggest "tells" of an economy, however, "this time it's different."

"I sold my Ford 2 years ago; I haven't missed a thing," Weiss gloated.

Karen Firestone explained to Judge, "GDP could be growing, could be rising right now as Ford sales are coming down."

Joe Terranova said "peak autos are here" but told Judge that's not what would take the market down.

Joe referred to China concerns with Ford and its "luxury bland (sic), Lincoln."

Jon Najarian said VW would be a better buy than F.

Phil LeBeau said local Chinese automakers are a problem for Ford.

Pete Najarian said it's "way overplayed" that Ford is "a great read-through" on the economy.
Judge on Thursday's Halftime brought back Rich Greenfield so that Greenfield could explain his (snicker) downgrade of Facebook last Friday.

Greenfield admitted he missed the "blowout" quarter but, seeing the stock come in since Wednesday's aftermarket, "I think there is really a fear of decelerating growth in the back half of this year" and especially 2017.

Doc of course sold at 131.40 in Wednesday's afterhours, "luckily" (Drink).

Joe Terranova said the one thing people are underestimating about FB is its international potential.

Karen Firestone curiously said, "You can see why Sheryl Sandberg did not take the job at Disney."
The worst predictions (by far) on Halftime/Fast Money: When a panelist predicts blowout earnings
Jon Najarian on Thursday's Halftime Report reiterated how he called AMZN a sell into Prime Day but said he now thinks they'll knock the earnings out of the park.

Karen Firestone lamented not owning AMZN but said it's because of the P.E.

Pete Najarian pointed to Prime's launch in India as a catalyst for AMZN.

Joe Terranova said he's "rather apathetic" toward GOOG's direction but said he'd be "more inclined" to look at AMZN, FB or even NFLX.

Joe thinks a Fed move is "back on the table" and could happen before the election.

Karen Firestone made the case for SMG and IR and HDS.

Doc said FEYE September 19 calls were popular. Pete Najarian said there's insider buying at ABT and that ABT November 44 calls are hot.

Jeff Kilburg said this is "very conducive environment" for owning gold. Brian Stutland, whose name was misspelled in the graphic, said he thinks gold hit a "brick wall" in the morning, but he'd buy around 1,310 or 1,320 and watch it go to 1,400.

Pete Najarian said to keep an eye on XLNX.

Pete called WFM a buy simply because the stock is so low. Doc took a long position in GPRO.

Joe started talking about nat gas again, SWN and RRC.

Karen Firestone actually said you have to be careful that BMY and other health-care names don't run into a "political pushback."

"Well, they already have," Judge pointed out.
[Wednesday, July 27, 2016]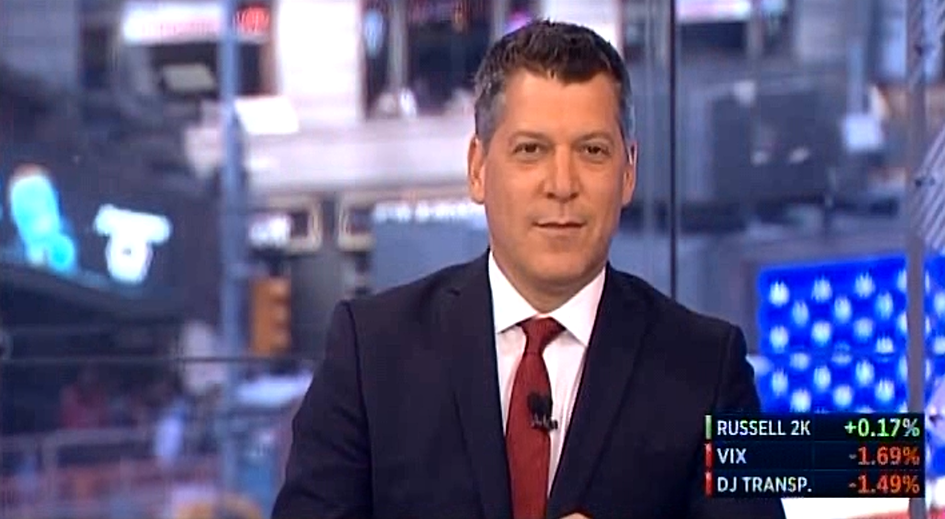 Judge wrongly claims Rich Greenfield cut FB to a 'sell'
The talk of the Halftime Report was (Zzzzzz) AAPL, but it was FB dominating the opening of Wednesday's 5 p.m. Fast Money.

Pete Najarian said on the 5 p.m. show that if FB trades over 131 on Thursday, it's time to trim.

Karen Finerman though said the stock has "a ways to run" and that FB at 131 with the quarterly update is better than 122 without Wednesday's info. "I don't think this moment is the peak," Finerman said.

Tim Seymour mentioned Oculus (snicker). On the Halftime Report, Pete Najarian (who did double duty) actually mentioned the "VR" element (snicker) of FB.

Judge, who guest-hosted the 5 p.m. show after Halftime duty, threw Rich Greenfield under the bus, pointing out Greenfield's downgrade Friday that was discussed on the Halftime Report but bungling the level that Greenfield actually downgraded to.
Weiss: The only thing Tim Cook has created is the Watch
Defying gravity, Pete Najarian on Wednesday's Halftime said Apple service revenues are starting to "slide up" (sic).

Kevin O'Leary said "the services number is getting interesting" and then claimed the "kicker" to the AAPL story is the possibility of Trump allowing it to repatriate (snicker) at 10%.

Josh Brown pointed to an AAPL/S&P divergence. "This stock has completely decoupled from the market," Brown said.

Steve Weiss, skeptical, said, "Their revenues in services only look as big a part of the pie as they are because product sales were down so much."

Weiss also knocked Tim Cook. "The only thing he's created is the Watch, which is a dud," Weiss said.

Later, he piled on, calling AAPL a "huge laggard in technology" and pointing to its hardware slide as not meriting the term "staple."

"You don't see those kind of drops in product sales in staples. Never," Weiss said.

Jon Najarian hailed the "all-time record" of Apple's app store revenue. But Colin Gillis scoffed that the app store is only 14% of revenue.

Gillis had to defend his recent negative AAPL opinion, telling Judge from the floor of the NYSE, "absolutely I do not regret making that call" and shrugging off Apple's "typical" quarterly move.

Josh Brown said "I don't understand" how Weiss could argue AAPL is not a "staple." But Weiss got a chance later on for the same debate with Tavis McCourt.

McCourt indicated the iPhone is a staple, but "it is not a consumer staple that you go out every week and buy."

McCourt said "operating systems are, are, are almost natural monopolies."

Weiss questioned if a house or car is a staple.

"It is what it is," said McCourt, stating an iPhone is "not a discretionary purchase."

McCourt said Colin Gillis is "just not looking into the future."
Company is about the present but sure seems to have a lot of past issues
Judge on Wednesday's Halftime brought in CNBC superfox Meg Tirrell, who's letting her hair grow long, to lead the interview with Kadmon CEO Harlan Waksal, who insisted "the present is what is important," not whatever Sam Waksal did back when.

Judge said the company has an "enormous amount of debt" and "enormous rate of cash burn" and asked Waksal how he can assure investors. Waksal said those are "good questions" and said the debt is a legacy from a hepatitis C treatment and threw in an "at the end of the day."

We couldn't figure out why anyone should get excited about 1) the stock or 2) the interview; Waksal said "it's hard for me to know" why the stock was slumping Wednesday.

Meanwhile, Josh Brown said, "There weren't any bright spots" to the Twitter report.

Kevin O'Leary said the only reason to own TWTR is for a takeout within 6 months. Doc said if there weren't a takeover premium in TWTR, "this thing would be single digits."

Jeff Kilburg said the "reduction in production" should keep copper elevated. Jim Iuorio said the fact copper took out Tuesday's low is a sign of further weakness.

Doc said X has had a "phenomenal" run, and he laments not keeping it longer in his Halftime Portfolio.

Pete Najarian said January CNX calls were popular.

Josh Brown said he'd add to AMGN if it disappoints.
[Tuesday, July 26, 2016]
What are the chances of Hillary mentioning VRX in convention speech?
Judge decided to shake up Tuesday's Halftime with one of the toughest gets on CNBC: Dick Fuld Jim Cramer.

Jim Cramer started off saying there's a "weird restaurant ennui" going on, likely the first time we've heard "ennui" on the program. (Oddly enough, we somehow don't think we caught an "at the end of the day" (Drink) on Tuesday.)

Pete Najarian affirmed he's got MCD calls and admitted he "probably should be cutting them off" but nevertheless insisted there's "something to hang your hat on" in the report.

Stephanie Link said of MCD, "Nobody wanted it at 90, and everybody wanted it at 125. ... I think the momentum got too great." Link said she swapped out into YUM.

Jim Cramer praised the Goldman Sachs bull call on SBUX.

Joe Terranova said the restaurant space isn't bad if you're in DPZ, but if you're in TXRH or NDLS, you're having a rough day.
See, the way to get invited on the program is to hang a $200 on AAPL
Jim Cramer, who enjoyed a chuckling fan club of panelists on Tuesday's Halftime Report, said the guys who love AAPL actually "hate it." (See, that's not bad, but we could write him some better lines.)

Stephanie Link dismissed Colin Gillis' appearance a day earlier; "Nothing he said was new."

Joe Terranova rattled off the AAPL analyst scorecard: "43 buys, 6 holds, 3 sells, average price target 122."

Jim Cramer said he doesn't care what he pays for his iPhone, or Netflix, or Costco, and even, "I would pay triple for Amazon Prime."

Joe got a chance to say "Palo Alto" (Drink) twice.
Evidently, there's no Rodney Dangerfield of athleisure stocks
Jim Cramer on Tuesday's Halftime Report claimed UA is spending too much to get "in-line sales."

That gave Pete Najarian a chance to talk about Under Armour. Pete said he likes the international and footwear growth. "But, the slip of the sales ..." Pete lamented.

Steph Link mentioned LULU and said "the easy money's been made in this group" but said NKE is probably the most appealing of the bunch.

Joe said he likes the direction of UA inventories, and he's OK with taking a shot at the stock in the mid-30s.

Pete Najarian said the short interest in JWN is part of the story.

Jim Cramer made the pitch for GPS becoming chic in Rome.
If the 'easy money' has already been made in several places, then what's a buy?
Atul Lele, a Halftime Report guest on the same program as Jim Cramer, predicted the Fed would be "more aggressively" raising rates (snicker) than the market thinks.

Lele contends this is "the single best time" to be a homebuyer.

Pete Najarian and Jim Cramer praised Steve Wynn's stock buy months ago when WYNN rolled over.

Joe Terranova said "the 10% down crowd" is holding out for China rolling over.

Scott Nations said Morgan Stanley's $35 crude call is "pretty optimistic," but the direction's right. Jim Iuorio said he's got a 38 target and is building his thesis on a possible Fed tightening in September.

Joe Terranova said the problem in oil is that everyone is looking for the "home run trade," while the "easy money is over." Joe predicted Brent will begin to outdo WTI, which will help refiners. Pete Najarian suggested a lot of bullish option activity in VLO.

Atul Lele backed regional banks on a steepening yield curve (snicker). Stephanie Link likes STI and, like Pete Najarian, is still long BAC.

Joe brought up Ross Levinsohn's "24 months" prediction for a TWTR takeout. Jim Cramer said he "totally" agrees with that and suggested Tim Armstrong.
[Monday, July 25, 2016]
Hard to believe, might have avoided talk about how cheap the bank stocks are for an entire program
Judge began Monday's Halftime Report with a fresh update on whether the Hillary Clinton tweet permanently destroyed biotech stocks.

Jim Lebenthal agreed with Josh Brown, "the damage is already done" in the space, so risk/reward is favorable.

Les Funtleyder said biotech historically is "battered down by Democratic administrations, only to run a lot afterwards." But he did caution that biotech is sensitive to rising rates (snicker).

Michael Yee pointed out that Republicans still control Congress. He said if the sector takes off, he likes AMGN and CELG.

A little overly dramatic, Joe Terranova said, "The importance of Gilead I don't think can be underestimated going into tonight's report."
Some might say AAPL is the Rodney Dangerfield of computer hardware stocks; you know, it doesn't get any ...
Colin Gillis on Monday managed to make time for a CNBC interview, arguing on the Halftime Report that AAPL is facing a "continued slowdown" when the new iPhone hits, meriting a sell/$85.

Jim Lebenthal said if AAPL can't break through $100 on earnings, "there's no way this thing's going through 100 anytime soon."

Joe Terranova said people will see Gillis' call as an "indictment" of the sector. Pete Najarian said, "They shouldn't."

Jim Lebenthal actually suggested AAPL should buy GM or F (snicker).
Joe Theismann: $65 crude within a year
Pete Najarian on Monday's Halftime said September 130 calls in MCD were popular, and he bought the calls.

Joe Terranova agreed the stock is a long. But Josh Brown said YUM is the stock to buy in the space.

Stephanie Link said MDLZ might get HSY, which would be good, and if not, might get gobbled up by KHC.

Josh Brown said he's "probably" a buyer of DE in this range. "I don't think anyone thought it was turning this year anyway," claimed Brown, who has touted the stock for months if not the last year.

Joe said he likes BX.

Jim Lebenthal said he thinks Boeing's sale to Iran will go through.

Josh Brown warned that it's "dangerous" to join the crowd shorting a name such as OUTR.

Judge referred to "Nordstroms" (sic) (Drink) and then handed off the subject of retail to Pete, who said virtually nothing.

But at the end, Judge squeezed in a moment for Pete to talk about Under Armour (Drink).

Ross Levinsohn claimed Yahoo is a "scaled player that's an alternative, uh, to Google and Facebook that, that really is focused on premium content" (snicker).
[Friday, July 22, 2016]
President did not watch the convention but 'read some of what was said'
Sometimes people say things on CNBC's Halftime Report that sort of defy belief.

Such was the case Friday — not from stock traders, but President Barack Obama.

"I did not watch the convention ... I got a lot of stuff to do," the president claimed.

Seriously?

He claims he didn't watch anything that was all over prime-time cable television this week?

Oh, "But I did read some of, of what was said."

OK. He didn't actually watch it on TV. He just spent his time reading about it instead.

So he's apparently aware that Donald Trump was nominated for president.

Whew.

The president's press conference with Mexico's president ate up nearly all of the Halftime Report, but Judge did manage to squeeze in a few moments on Facebook and Rich Greenfield's downgrade to neutral.

Greenfield said, "I think expectations is really the issue here." Which is what he or anyone could say about 7,000 stocks.

Jim Lebenthal said Greenfield was making far more of a "trading comment" than an "investing comment" and insisted that for a large-cap growth investor, "This is right in the sweet spot; you can own this easily." But he didn't say Facebook is the Rodney Dangerfield of social media.

Guest Rob Sechan said that in tech, "The risk is the entire sector gets de-fanged."

Sechan added that the fear factor is fueling stocks; "When we stop worrying, we stop rallying. Basically."
[Thursday, July 21, 2016]
GM: Easy money?
Jim Lebenthal on Thursday's Halftime Report got to take a victory lap on GM.

But Josh Brown said GM still had "terrible price action" on great news. Jim said that's "100% right."

Then Jim said ... brace yourself ... "It's kind of a Rodney Dangerfield stock." Then he added ... brace yourself even more ... "It doesn't get any respect."

(Sigh.) (Here we go again.)

For those trying to deliver a line on television ... It's weak enough if you're reaching back for Rodney Dangerfield ... but it's rock bottom if you feel compelled to explain what it means.

Dr. Mark Schoenebaum, given the opening of the program, did not say VRX is the Rodney Dangerfield of stocks but touted BIIB, explained what's going on with CELG and GILD, then lukewarmly endorsed PFE in the big pharma space. (We don't think anyone mentioned the famous Hillary Clinton tweet (Drink).)

Joe Terranova said "the worst is past" Pandora. Pete said he's long the calls.

Aetna chief Mark Bertolini made the case for the Humana merger. Joe said UNH has been the winner in 2016, so stay with it. Josh Brown said UNH has one of the most "flawless uptrends" of any stock. Paul Richards said people are looking for "any value out there."

Pete Najarian said a 17 target "seems pretty aggressive" for GPRO.

Josh Brown said he "absolutely" thinks a GPRO earnings beat could happen, and if so, that's your opportunity to exit. (But he didn't say that all the GoPros bought for 2014 Christmas presents are now sitting in drawers (Drink).)

Josh Brown explained how Italian mom & pops could vent their wrath in an Italian referendum that could cause a selloff. But Paul Richards didn't see such a stark concern, stating, "Draghi was really comfortable talking about European banks."

At the end of the program, Judge brought in Joe Theismann from Lake Tahoe. Joe said, "I think we'll have $65 oil probably within a year again."

Judge on Wednesday first said the Dow had hit "16-8" before correcting himself, then got tripped up over what NHTSA stands for.

CNBC superfox Deidre Bosa, in sizzling outfit, electrified the 5 p.m. Fast Money Thursday with one of her many reports of the day on the Starbucks results.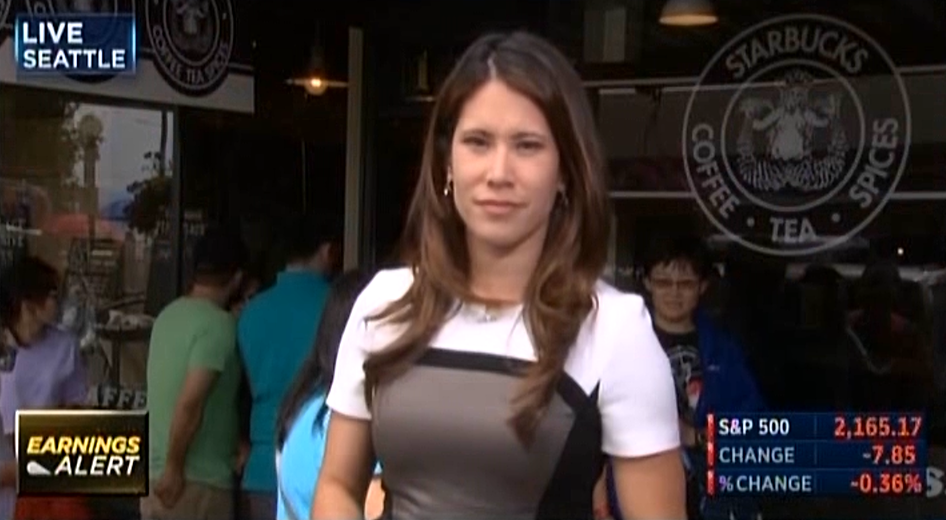 [Tuesday, July 19, 2016]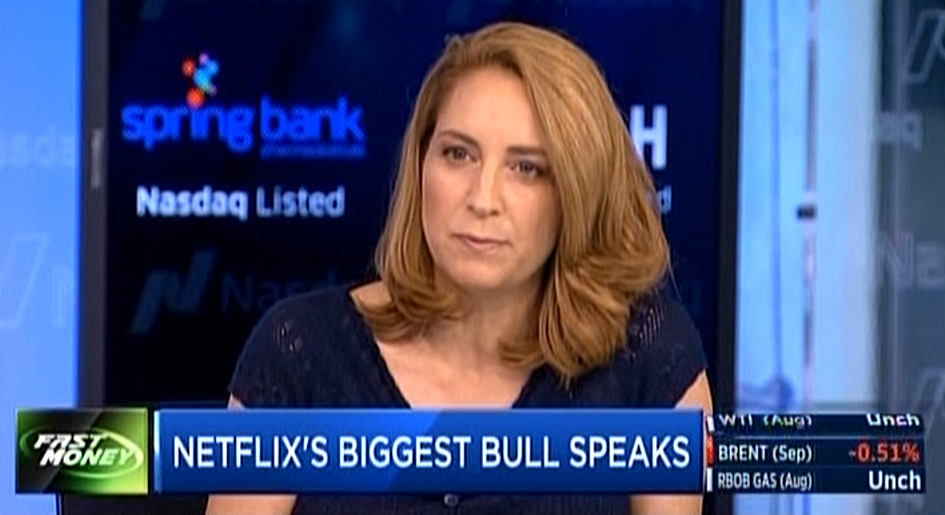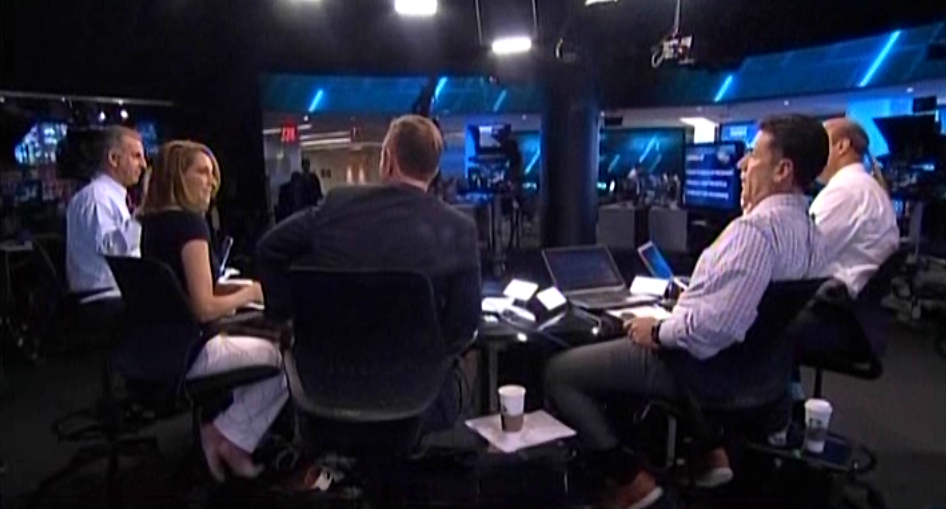 Have Pershing Square staffers found a replacement 'fun little activity' now that HLF has settled?
Tuesday's Halftime/Fast Money likely would've been a washout had Karen Finerman not showed up 49.0 rating/73 share gorrrrjus.

Karen, who endorsed GOOG, took issue with one of the Najarian Strategies. "I don't like stock replacement because then I have a gain," explained Finerman.

Karen agreed with Steve Grasso that bank CEOs don't want to break up their companies despite the prospects of higher multiples because they're "empire builders."

But Guy Adami suggested the multiples may not be any higher if certain bank entities don't have the backing of the overall company's balance sheet. Grasso insisted "certain entities" within the banks still would get higher multiples.

The Halftime show didn't feature Doc bragging about scalping NFLX from the Monday afterhours "whoosh" featured a tired refrain of Netflix headwinds. Bob Peck, who accelerated Ross Levinsohn's TWTR-buyout timeline to possibly sometime in 2017, said he couldn't discuss ratings but did take his NFLX target down to 110.

Joe Terranova called the international numbers the "real focus" of NFLX investors.

Kevin O'Leary said it's "very disturbing" that Netflix is talking about spending $6 billion on new content.

Joe and O'Leary tangled over passive-active management. We didn't pay attention to what product O'Leary was endorsing.
[Monday, July 18, 2016]
Levinsohn: It might take 2 years, but TWTR will get taken out
Ross Levinsohn is a likable and capable fellow who should be running something really big right now.

But when it comes to opining on the worth and future of Yahoo, something he's asked to do about quarterly on CNBC's Halftime Report, you'd be more likely to get a pointed opinion from Dwayne "The Rock" Johnson.

Levinsohn did predict on Monday's Halftime that TWTR won't be a public company in 24 months. We sort of have the feeling Levinsohn might've made the same forecast at least 12 months ago, but we don't have the inclination or wherewithal to look it up.

Once we saw in Monday's afterhours that NFLX was plunging, we intended to bet some folks that the first thing Doc will say on Tuesday's Halftime is that he bought NFLX Monday afternoon on the "whoosh" and has already scalped the big gains. Dan Nathan on Friday's Turkey-laden 5 p.m. Fast Money suggested the possibility of "civil war."
[Friday, July 15, 2016]
VRX 1/3 the price of HLF (cont'd): How many government resources have been/will be devoted to monitoring what Herbalife distributors say in videos?
(Sigh) It's apparently not over.

Judge entertained a lengthy discussion on Friday's Halftime about the Herbalife settlement in which, curiously enough, Bill's dream seemed to remain very much alive.

Robert Chapman, for example, said he doesn't think there's "any question" that the FTC agrees with Ackman.

In fact, Chapman suggested that the term "pyramid scheme" was only left out of the settlement as "part of a negotiation."

Well, this is the Trump Era, and everything's negotiable.

Tim Ramey, long a featured guest on this subject, told Judge, "I've always thought Bill Ackman was wrong."

The problem is, Ramey misquoted from Thursday's show.

"As he said yesterday on your air, it's not an illegal pyramid scheme," Ramey said.

Um, no. Ackman did NOT say on TV Thursday that Herbalife is NOT an illegal pyramid scheme. As this page pointed out (see below), he just didn't unambiguously declare that it actually is, and he qualified his description of the term, which seems a backpedal from the initial Ira Sohn presentation.

Ramey continued, "You can't find that language anywhere in the complaint-"

"Sure," said Judge. "Nor- nor can you find that it's not. To be fair, nor can you find that it's not."

OK. So the government, whose enthusiasm for this investigation was about 1/100th of Bill Ackman's, has found this to be a pyramid scheme ... but just doesn't have the brass to say so?

Ramey threw in an "at the end of the day." (Drink)

Ramey said the part of the company under the most scrutiny is not the bulk of sales, but the restrictions could hurt earnings. Chapman said he doubts Carl Icahn will increase his stake and only got the 35% provision in case the shares got hammered Friday.

Nearly everyone on the program suggested the stock's not very tempting now in either direction but could be down the road.

Ackman didn't dial in but did release a statement late in the hour: "We congratulate the FTC for allocating a large amount of resources toward validating our potentially lucrative short positions enforcing the law that will lead to protections for consumers," said Ackman, who hasn't addressed the lack of consumer protection from VRX buying drug patents and then jacking up the prices.

Josh Brown pointed out the government basically never shuts down dubious companies. But he used a strange example, Arthur Andersen, pointing out that the entire company, a venerable name for decades, was sacrificed merely because of the actions of people in one office.

Ackman has always been right morally on this particular subject. No one should be champing at the bit to sell Herbalife products.

But no one besides Ackman seems to think that shutting this company down should be an urgent priority of the U.S. government.

Before Ackman's Sohn presentation, people on CNBC's Halftime Report occasionally recommended HLF. Nobody ever suggested the company should be shut down by the government. Scott Wapner has never asked an HLF long, "Does it bother you to be profiting from fraud?"

Basically, the general public doesn't give a (bleep).

The message seems to be that if you're megarich, you can influence otherwise unmotivated government officials to carry some water for your latest stock-market gambit.

A couple years from now (sigh), Pershing Square will post videos claiming Herbalife isn't doing what it's required to be doing under the injunction, and the FTC won't confirm or deny whether it's reopened the investigation.

Surely, this long-running government inquiry has better served poor Americans than Bill Ackman.
[Thursday, July 14, 2016]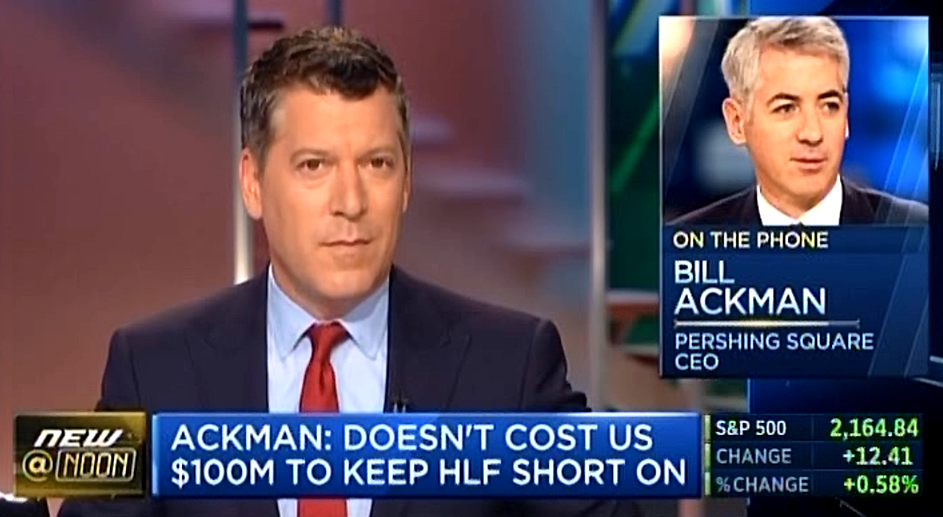 Ackman: Trashing HLF provides a 'fun little activity' for Pershing Square staffers
Here's a question.

Let's say Bill Ackman posted video of all the people lining up to play all of these state and national lotteries and all the comments those people make and showed the stats of how probably less than 1% of them actually profit from the lottery system over time.

Would the government shut down this endeavor?

Didn't think so.

What about those companies that air advertisements on CNBC overnight depicting models boasting about how much weight they've lost while real overweight buyers' "actual performance may vary, and users should not expect to achieve the same results."

Should those entities be shut down?

See where we're going here?

Ackman dialed in to Thursday's Halftime Report for 23 minutes and uncorked a jaw-dropping embarrassment.

Basically, viewers were led to believe that a company that lures unsophisticated individuals with puffed-up claims is the devil incarnate ... and another company whose business model is overpaying for American health-care assets including pharmacies for the purposes of jacking up consumer prices so the CEO who even when he goes bust can still collect $97 million and get his name on something at Duke University ... is noble.

Honestly, we were amazed Judge didn't call a halt to this and ask, "Are you for real?"

We've noted before that, despite his initial claims, Ackman has not exactly been pounding the table on this program for the term "pyramid scheme."

Thursday, he did use the term at least twice — but with notable qualifiers (and none of them involved the purported Sullivan & Cromwell opinion that Carl Icahn shot down a couple years ago).

He said, "I think this thing's gonna end up with the government suing Herbalife for being a pyramid scheme or Herbalife capitulating and agreeing to changes."

So, maybe the government will call it a pyramid scheme ... or maybe it won't.

Later, he said, "The company's a pyramid scheme if recruiting is effective- you know, more dominant than retail sales, and that's a certainty for Herbalife."

"More dominant" ... that's an interesting standard. Why the "if"?

"The reality is, the fraud continues," Ackman said. Is it just "fraud," or a "pyramid scheme"?

For what this company is purportedly doing to American society, Ackman sounded a remarkably light tone, opening with a joke about his anti-HLF videos: "We're diversifying into the movie-production business."

He said a couple Pershing Square staffers produce the videos, and it's "kind of a fun little activity for them." (Glad this qualified pyramid scheme is enabling amusement for short sellers.)

Ackman downplayed the effect of this years-long short on his resources. "The good news here is it doesn't actually consume a lot of our resources," he said, stating the cost of carrying his position is more like $20 million than $100 million.

"The good news" ... that seems to imply his short has otherwise been "bad news."

When it came to Valeant, the company that made just one mistake and otherwise does everything right with all these great unrealized assets, Ackman sounded sympathetic toward a rather dubious CEO.

"The whole thing is sad for Mike," said Ackman, explaining how Pearson got a margin call while making a big pledge to Duke.

What about the massive share dump by Pearson on July 1 as reported by Judge. Ackman claimed without a snicker that "the government unfortunately doesn't, uh, wait for you to pay your taxes."

Really.

So we are to believe that Mike Pearson really believes in Valeant but sold 4 million shares on July 1 to meet an immediate $97 million tax bill?

Ackman unleashed another jaw-dropper in asserting that at Valeant, "literally, there's $10 billion worth of stuff I would say that shareholders, most shareholders don't even know exist."

Seriously? $10 billion in assets most shareholders aren't even aware of? What in the world is in this company's reports?

Ackman insisted "there's no need to fire-sale assets" at VRX because "the phone is literally (sic) ringing off the hook from strategic buyers." (Are all these purported calls actually making the headsets separate from their holders?)

Ackman also tried somehow to blame Judge for Andrew Left's apparent success. "He never tells you what he does with his position ... I just feel like, uh, you guys are doing a very good job helping him make money on his portfolio. I'm not sure it's good, uh, you know, for investors."

Ackman was on CNBC Thursday disclosing whatever he chose to. Does that mean Judge was helping him make money?

(Left on the 5 p.m. show said Ackman "almost wrote the book" on trumpeting positions in the media, citing "thousands of articles written" about Ackman's tactics.)

Finally, "I gotta run; it was only supposed to be 10 minutes," Ackman said. What possibly was on Ackman's agenda Thursday (short of a meeting with Trump's VP committee in which he would've been given the runaround anyway) that was more important than this session on CNBC?

Stephen Weiss pointed out that Dave Maris says of Valeant, "Their businesses haven't made money if you include their drugs- unless they've done it by raising price."

Sounds like a great business plan. One that will make you a VIP at Duke.

Jim Lebenthal said VRX won't be getting "high-ball bids."

Pete Najarian wondered, "Where is the discipline?," apparently referring to Ackman's obvious lack of an exit strategy in VRX.

As sorry as Ackman's defense of VRX was, we haven't heard a better trading theory on the stock than Jon Najarian's point a day ago that the big sellers are probably out for the short term.

Judge put together a blockbuster hour, engineering a first-class interview.
Citigroup is likely the (worst player in the NBA) of banking
In the non-Ackman portion of Thursday's Halftime, Pete Najarian seemed to think stocks haven't really merited their stunning new highs.

"They probably don't deserve to be at this level," said Pete.

Stephen Weiss, who didn't say a word about "risk off" in his first appearance since his post-Brexit victory lap, said Larry Fink is "dead on."

Mike Mayo actually dialed in to say JPM is "the LeBron James of banking" ... and helped out viewers by re-explaining why that is ... we kinda can hardly believe we're even including this frivolous remark today.

Jim Lebenthal grasped for reasons of hope at C. Pete suggested WFC could "really surprise."

Josh Brown said YUM had the "real-deal breakout."

Steve Weiss said "I sold most of my trading position yesterday" in DAL.

Jim Lebenthal is "unethused" about PG.

Pete suggested that if NFLX does great in international subscriber growth, it might produce some surprisingly great numbers. Weiss said NFLX would be the "perfect acquisition" for AAPL.

Weiss curiously claimed, "Buying an IPO from a quality underwriter is a riskless trade." Nobody challenged that.
[Wednesday, July 13, 2016]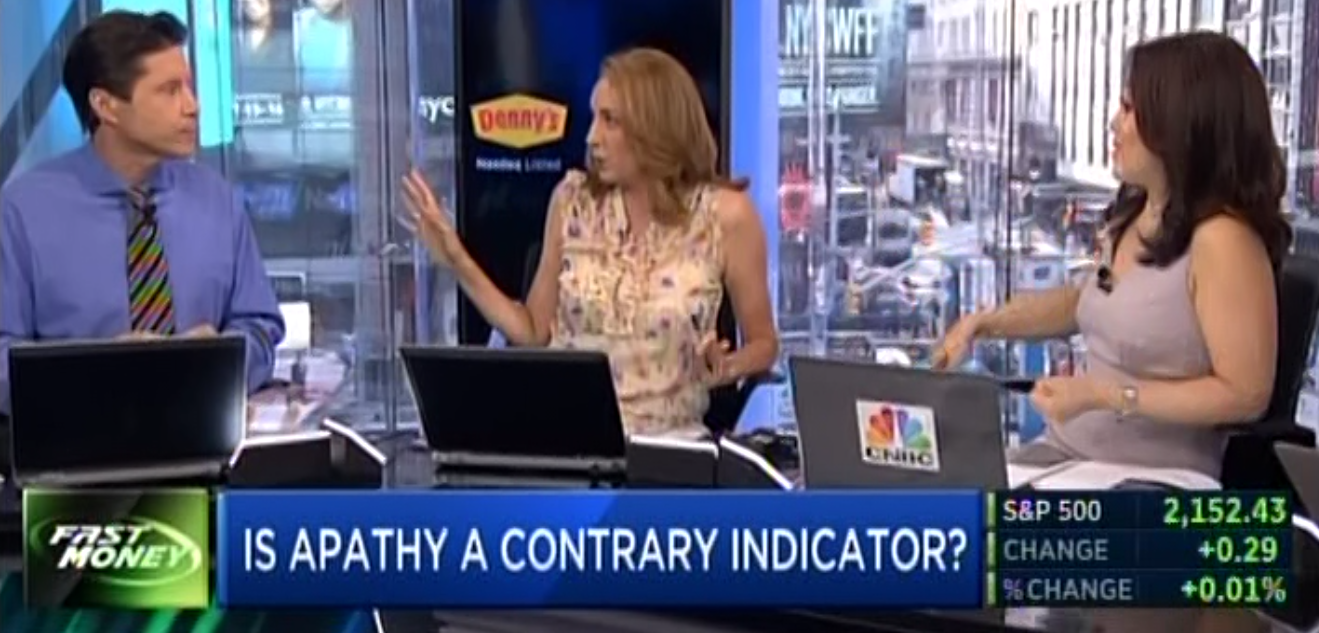 Karen, Mel convince Tim it's OK to eat at Denny's
Judge opened Wednesday's Halftime with a crisp, impressive report on Mike Pearson unloading a "mother lode" of 4.1 million shares of VRX on July 1 — and his panelists stood around with hands in their pockets while Doc converted the alley-oop for a slam dunk.

(See, the other recent purchases might've already been known, but the July 1 block is apparently new, Judge explained like 3 or 4 times.)

"I don't think the market knew, uh, or knows about this sale of the 4. Million. Shares," Judge said.

Judge said Pearson got "an average price of 20 bucks."

Kate Kelly, sitting in for this one but apparently without a whole lot to add, reminded viewers, "There have been a number of issues at the company."

Kelly also actually said, "You could confidently make a supposition that he needed the money for some reason."

Ah. We can "confidently" suppose that maybe, he could use the money.

The Liquidator said Sequoia is just "protecting the business more than anything else."

"Sequoia was the very best," said Josh Brown, emphasizing "was."

Josh curiously opined that Pearson's price doesn't matter much; "Your lifestyle is not different if you're 300 million vs. a hundred."

Brown said the only thing holding VRX with a 2-handle is the "Ackman presence."

Finally, Judge turned to Doc, the only one who actually decided to consider the trade here.

"I think this is an all-clear at this level," said Doc, pointing out that with the huge dump from Pearson and the Sequoia exit, at least a couple big sellers are gone.

Doc's almost certainly right, at least in the short term; if you hear that a big holder is already out, that's generally a good sign. (This writer has no position in VRX.)

Nevertheless, Judge later said Andrew Left "is taking a new short stake" in VRX and calls it an "obvious zero."

The cameraman got several wonderful profiles of Karen Finerman (below) on the 5 p.m. Fast Money as Karen took the opposite approach of Najarian, stating she's "sort of thinking of initiating" a short position in VRX.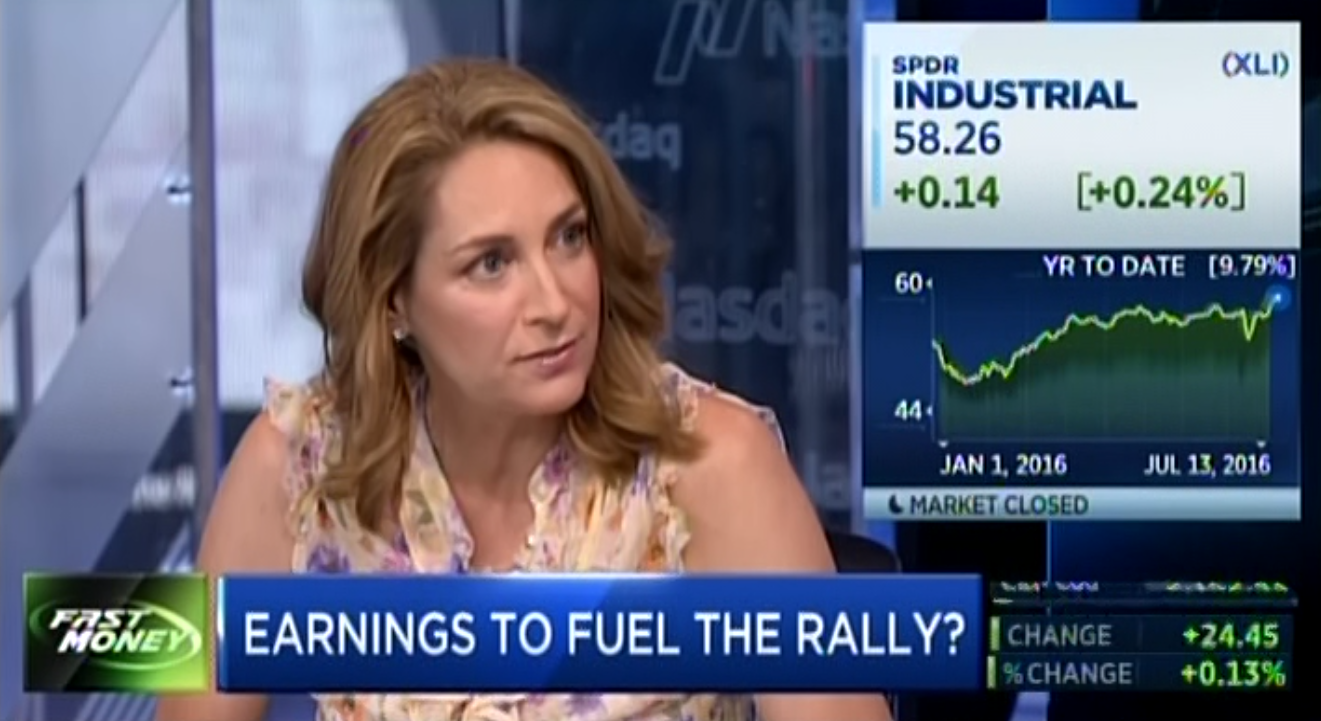 Been a while since Doc mentioned Heather Bellini's MSFT rating; it apparently is Neutral/56
Judge on Wednesday's Halftime gave James Chappell a long windup about Chappell's "sea of debt" call on banks; Chappell told Judge, "Banks will struggle to grow the top line" and said the U.S. banks are at least ahead of Europe in tightening up the balance sheets.

He said, "The U.S. banks can grow tangible book value per share ... but a lot of that's already in the price for us now."

Chappell wasn't big on JPM, stating "we struggle to understand why it should be at that 20% premium to tangible."

Joe Terranova asked about WFC getting a boost from mortgage refinancing. Chappell said consumers are "deleveraging" and deposit growth is ahead of loan growth.

Jon Najarian said he's been short C puts at 40 or 42.50 because it always seems to bounce back.

Pete Najarian said he likes JPM even though he doesn't seem to think they're going to "kill it."

Joe said "the debt side" is where the performance is in banks.

Joe even suggested banks today are like MSFT/ORCL in 2003-04.
What we learned: Storytellers
are also visionaries
Talk about a big buildup, then a big bust.

Professor Aswath Damodaran told Judge on Wednesday's Halftime there are "pathways" to TSLA being "worth a lot more," but he didn't answer Judge's question as to whether he changed his target from 250 to 220.

Colin Langan said he looks at TSLA from a "fundamental perspective" (snicker), and he's "very cautious" at the moment.

Josh Brown suggested that evaluating the stock is like doing "astrology."

Damodaran called Musk "the biggest weakness" of Tesla despite being the driving force.

Langan begged off Judge's question about Harvey Pitt's suggestion that Tesla might have to give back the money from the secondary.

Damodaran undoubtedly made Judge happy in stating, if he were Tesla, he would've reported the crash (Drink).

Joe Terranova mentioned the "corporate governance" (Drink) element of the TSLA-SCTY deal.

Pete Najarian declared, "The only way I think you can play this by the way is through options — not because I'm an options guy (snicker)."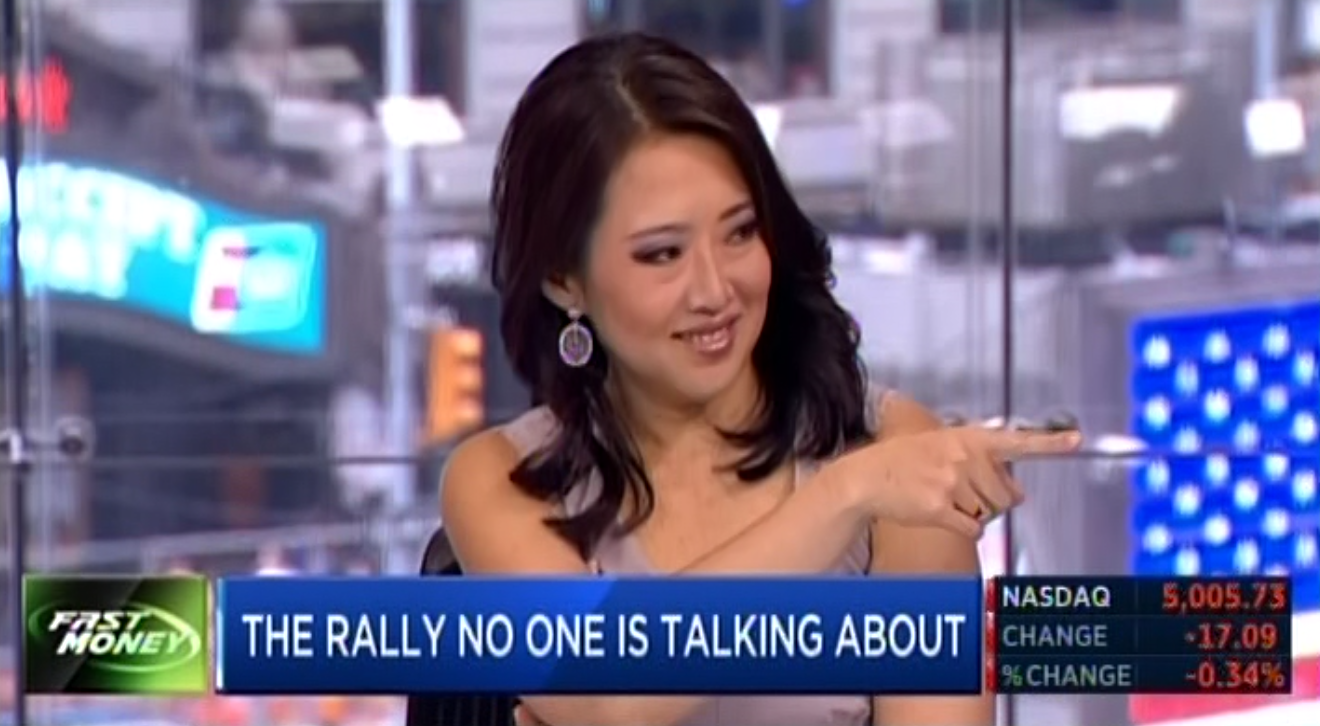 We want Mel-lllll ...
show us the way ...
Judge on Wednesday's Halftime tried to cross-promote interest in Cramer's show by asking the panel about Jim's bull call on CAT. Doc wasn't interested; Josh Brown said CAT actually looks a little better technically than DE but isn't really his kinda Shackburger.

Jim Iuorio told Jackie DeAngelis, "At the end of the day" (Drink), we'll start talking about higher U.S. demand and not slowing global demand, so he likes crude, "maybe a little lower than this."

Bob Iaccino, trying to add some pizzazz to the proceedings, said Iuorio is "so smart on everything else, but I think I got him on oil." Iaccino said he's switching his long-since-May position to selling rallies and is looking for 43.35 or even 41.90.

Joe Terranova, failing to mention "the new trade in energy," nat gas, said you're "investing" around crude and not trading it. He said he added PSX to his Halftime Portfolio. Josh Brown trumpeted XOM again.

Helen Zhu said Chinese policymakers are seeking an "L-shaped landing." Zhu said she's not looking for a surprise in either direction from China GDP.

Zhu suggested reform in the works for some "zombie SOE companies."

Joe said "we seem to be past" the conversation about Chinese devaluation.

Pete Najarian touted the casinos, WYNN and LVS.

Joe said "there's more upside than there is downside" to P.
[Tuesday, July 12, 2016]
Still not sure what's happened to Weiss' 'risk-off' environment
Judge on Tuesday's Halftime was still harping on Tesla's crash non-disclosure, this time with Harvey Pitt.

"It appears that it should have" notified investors, Pitt said, citing the sale of registered securities and suggesting "probable, potential violations of law."

Pitt said that after word finally got out, "Tesla's stock dropped precipitously," a sign it was viewed as "highly material" by investors.

Pitt also said "the SEC has a long history of disliking intensely boilerplate disclosures." (Let's hear it for the mighty SEC, stamping out investment practices that are bad for the market.)

Judge noted that the 10-Q included the term "inherent" (Drink).

Kevin O'Leary said Tesla investors "don't give a damn" about this accident. "I think at the end of the day (Double Drink), he should've disclosed," O'Leary said.

Joe Terranova questioned if the SEC gets involved in the "terminology" of Toyota "Motors" "Autopilot."

Meanwhile, O'Leary said he "took advantage" of Japanese auto stocks that got crushed post-Brexit. (He also rattled off some Asian names that no one has heard of, cares about or will ever invest in.)

We knew after O'Leary's comment that Joe would again mention "Toyota Motors (sic plural) (Drink)," and we weren't disappointed.

Pete Najarian said of the airlines, "We all talk about valuation, and at some point you get tired of talking about that." Then he said "maybe" people are deciding they're too cheap. (Zzzzzzzz.)

Joe said he was surprised that JBLU wasn't on the Deutsche Bank list and said it's the one of "opportunity."

Jon Najarian pointed to the amount of time it takes to make airline consolidation work.

Kevin O'Leary said he likes DPS, but he didn't really pound the table.

O'Leary said he's long HSY; "I think this time, it's gonna happen ... this company needs scale."

O'Leary said NOC will be a "great name" no matter which candidate is elected president. He threw in an "at the end of the day" (Drink) when Stephanie Link asked why not RTN instead.

Jeff Kilburg shrugged off crude's rise with that of stocks; "the correlation is so tight." Scott Nations said 49.75 is next.

Pete said January 75 calls in XLE were popular. Doc said a bunch of ETSY calls traded.
Joe says 'all of us were wrong on Brexit' while Doc is sitting there
In what has to be the premier call of 2016 on the Halftime Report, Jon Najarian on the day before the Brexit vote predicted "Leave" would win (see below).

But memories on the show are short, given that Joe Terranova on Tuesday told a panel that included Najarian, "All of us, we were wrong on Brexit."

Joe admitted that in the aftermath — which perhaps is what he was referring to, when nobody including Najarian was particularly bullish, although Joe didn't specify that — "I thought you'd have a sideways market." (Translation: Flat is the new up./Not.)

"Safety is right now where you need to be," Joe said.

Kevin O'Leary said if companies are soft on their numbers, market optimism will be "short-lived."

Curmudgeon Kevin said the most conservative investors who manage money for schools, hospitals, etc., have the "largest cash position I can remember in 20 years." He said one of these fellows asserts that when bond yields go this low, it can't end well.

"We're not getting earnings growth here. Everybody knows that. We're getting P.E. expansion," said O'Leary.

Stephanie Link said she has "kinda like a 75% cyclical bent" in her portfolio.

Pete Najarian said the money on the sidelines that was previously in the defensive names but then pulled out is now going into the more cyclical names.

Jon Najarian stated, in one of the more tepid stock calls you'll hear, "I'm short puts on Citi," then pointed out how much airlines have taken off since Brexit.

Kevin O'Leary seemed to doubt the merits of Hyperloop and chuckled over whatever lawsuit is going on there. "I love it when there's a noose and a girl," O'Leary said. "That's a great story."
Stephanie takes victory lap on AMZN
Curmudgeon Kevin O'Leary said on Tuesday's Halftime Report that the Amazon P.E. is "asking for a perfect environment for this company in perpetuity," and then took the opportunity to say the same thing about 5 other times.

Stephanie Link first stated not where the stock is going but that "I was buying it under 700," then said this is a "game-changer" for the long term.

"The cloud business, it's staggering how much it's growing," Link said.

O'Leary said "I'm not against high P.E.'s," but "I've heard this story before on cloud, when it was called security," and there were massive run-ups until the margins got squeezed, then the stocks got crushed like cockroaches.

More from Tuesday's Halftime later.
[Monday, July 11, 2016]
If Friday was 'the day you had to get right,' then why does Monday matter?
Viewers of Monday's Halftime Report were treated to a shock — Bob Peck actually downgraded TWTR.

It was only a lowering to neutral with an 18 target, but nevertheless "feels like a little bit of a throw in the towel," Judge said.

For the last 2 years (notably not in recent months), this was CNBC's equivalent of Gilligan nearly getting off the island. They're going to start engaging those non-logged-in users, they're going to dominate the World Cup, they're going to dump Dick Costolo, Google needs to buy 'em, it's a "unique property," etc.

Peck is a fine fellow, but this is an absolute bust, almost but not quite at the level of Bill Fleckenstein's monthly threat to restart his short fund (snicker).

Pete Najarian helpfully opined that Peck thought some of Twitter's "efforts" were going to "maybe materialize" — and they haven't.

Joe Terranova said Facebook "had issues in the first couple of quarters," and what you want to see from TWTR is the "strong quarter."

Doc said he'd be "nervous" being either long or short TWTR.
Wondering when Weiss will return to talk about the 'risk-off' environment
Stephanie Link turned up on Monday's Halftime Report to endorse ABT despite the fact it's had a good month.

Judge told Link that "$860 billion (is) uh your AUM," but the TIAA website says it's only $639 billion.

Christine Short said "we're still looking for declines" in earnings. She said energy is "getting to be less of a problem."

Doug Terreson said it's not yet time to get out of big oil; amid a series of reasons, he finally got to the biggie, "We also felt that oil prices will continue to recover."

Sarat Sethi said there was a lot of selling of big oil months ago when people feared dividend cuts.

Joe Terranova said to stay in the multinationals.

Doc pointed out the strength in AMD and NVDA after others pounded the table for (Zzzzzz) CSCO, QCOM, etc.

Doc also expressed skepticism about TSLA longer term. "I think Mr. Musk is playing with fire here," said Doc, "but people have given him a pass."

Joe suggested staying in PCLN and watch it overcome the European fears.

Doc said TXT September 42 calls were popular.

Pete said there was extremely aggressive buying in August 27.50 SFM calls.

Judge made it sound like Theresa May was going to deliver the Gettysburg Address; she only talked for about a minute and a half.
Trades You Should've Made (cont'd): Buying the market June 27
Judge on Monday's Halftime Report said a "multi-billion-dollar hedge funder" told him it is a "tactical but dangerous market" and that "stocks could rip between now and the election."

That prompted Pete Najarian to curiously say "the time to buy in" was the Monday after the Brexit vote.

Unfortunately, on that Monday, June 27, we PgDn'ed to the summary (see below) and found no record of Pete telling Halftime viewers to plunge into the market. (Translation: If we can wait until Nov. 9, we can probably tell you who wins the presidential election.)

Furthermore, on Thursday, June 30, Pete maintained, "I don't think that everything- the dust has settled and everything is clear right now (Drink)," and at that point he was trumpeting buying volatility.

Joe Terranova said Monday the question of why bond yields aren't rising is "almost unanswerable" but that the strategy is to "stick with winners," and 2016 is "somewhat similar" to 2007.

But June 30, Joe said the "environment of uncertainty" (Drink) will keep us in a "sideways market" (Double Drink).

Jon Najarian said Monday that bonds are telling us that "things aren't all that rosy." But he called Brexit fears "wildly overblown."

Meanwhile, Josh Brown dialed in for a victory lap on GE (Zzzzzzzzzz). "There are no sellers here," Brown said. Sarat Sethi said he has owned GE for a while and said the stock's breakout is "GE-specific."

Steve Liesman said Helicopter Ben is probably in Japan to tell them to "double down."

Melissa Otto, Judge's go-to guest on Japan, dialed in to say "there is buzz that there is some sort of likelihood that the BoJ is gonna do something."

More from Monday's Halftime later.
Doc was right — WWAV took off
On Thursday, June 30, Jon Najarian said on the Halftime Report that "volume has been building" in WWAV options activity as the stock traded that day at 46.

This page scoffed, stating, "And if this site had a dollar for every stock that is mentioned as a possible takeover target as soon as a similar company receives an offer and then never does get a bid, we'd be Facebook."

By Friday, bid in hand, it was trading at 56. (We had a good point; we just made it at the wrong time.)
[Friday, July 8, 2016]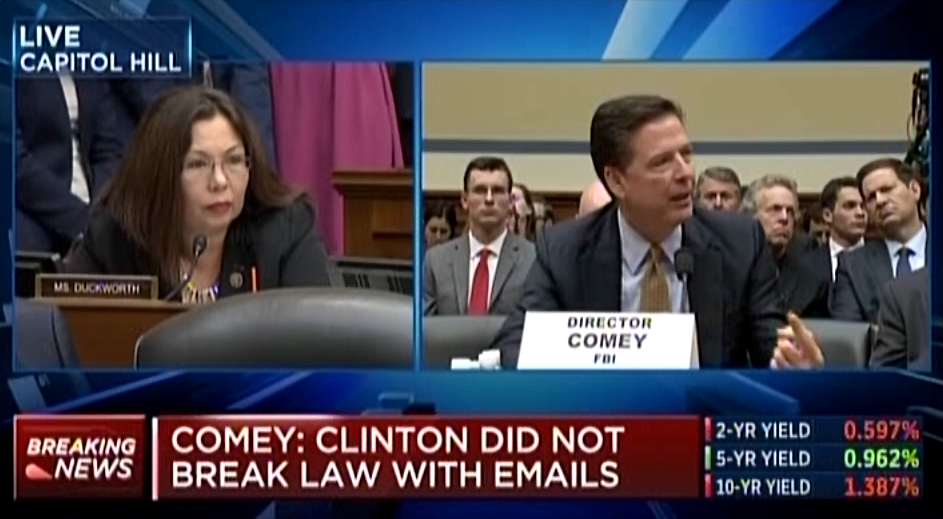 Comey hearing — what in the worlds (sic) was she talking about??
FBI Director James Comey took a decent amount of heat this week for his handling of the Hillary Clinton server matter.

But we gotta give him props — for enduring questions from one Congresswoman Tammy Duckworth, D-Ill., with a straight face.

Duckworth could be heard early during the hour of Thursday's Halftime Report when you'd otherwise expect to see Judge, except CNBC honchos decided Comey's testimony deserved wall-to-wall coverage.

Duckworth began by stating, "I actually sought out this committee; I wanted to be on this committee because I wanted to tackle the challenges of good government."

Um, OK, a little Mr. Smith Goes to Washington in the middle of a heated partisan firestorm; nice touch.

Then Duckworth said she works to reduce veteran homelessness (not sure how that applies to Hillary's servers) — and then, reading a rather clumsy monologue, proceeded to ask Comey about government record-keeping.

"Even the best policies in the worlds (sic) will not work without proper implementation. And so, when it comes to implementing true and lasting reforms that will make sure that electronic records and other records and the history of our great nation are preserved for future generations; I've done my best to approach this goal: seriously" (sic colon given the way she spoke).

So she is "serious" about saving emailed White House press releases ... and the Declaration of Independence.

And thinks we need reforms of some kind of these processes.

In her greatest gesture, she apparently had more room to talk but told Comey, "I am out of time, but thank you." (Translation: I have no interest whatsoever in being part of this hearing.)

We checked a map and discovered Duckworth probably represents some of the fellows at the CME.
How's Weiss' risk-off?
Jim Lebenthal on July 1 told Halftime Report viewers that the S&P was tapped out.

"I think this is as far as it goes, to tell you the truth," Jim said.

But it closed 2,102 then and 2,129 now.

Josh Brown said Friday, "I think you never lost the green light" to buy stocks, suggesting 1 jobs number doesn't change the world.

Defiant regardless, Jim said, "I don't think that we can still ignore what the bond market is telling us."

"It's forced buying in the bond market though," said Josh, who added, "40% of the time, stocks and bonds go up together."

Brown also questioned whether the 10-year yield is "saying anything," as Jim contends.

Jon Najarian declared, "The dip buyers are right, yet again."

Doc curiously referred back to the Friday after Brexit and said people in the afterhours that day weren't even seeking protection and were actually buying (not sure we heard that observation the Monday after).

Paul Richards opined, "This was the day you had to get right." We're not really sure why that's the case.

Steve Liesman said the way to look at the jobs number is to "take the average."

Liesman questioned, "Should we ever have been betting on a serious downturn in either U.S. corporate profits or the U.S. economy from whatever happened over there," adding "it's always struck me as overblown."

Doc said the DOJ concerns over AET-HUM has caused the arbs to "basically just run."

Josh Brown said TWTR has "probably double-bottomed" (which means it's in Greater Fool Mode).

Sarat Sethi said he'd take some money off of GPS.

Jim Lebenthal said he's "gonna call it like it is," stating Intel is a "cyclical company."

Doc called AMZN a sell in the run-up to Prime Day after Sarat Sethi refused to say so. Josh Brown said, "All it does is, it pulls forward growth from the next quarter."

Josh said he's "really proud" that no one mentioned "P.E." in the Amazon conversation.

Sorta out of nowhere, Doc said David Cameron and others did a "terrible job" of making their case to stay.

Silver Wheaton chief Randy Smallwood said he feels "very confident about the continued flight to safety" (on a day the S&P rose 32 points).

Judge asked Smallwood what would happen to precious metals if the U.S. economy kicks into high gear (snicker). Smallwood pointed to the dollar and said having the strongest currency in the world is not the "path to success."

Doc said he likes GDXJ (Drink).

Jim Iuorio was caught doing the Shields & Yarnell routine, while Jeff Kilburg, highly adept at handling these situations, suggested crude will hold a 45-50 range.

Julia Boorstin, at the Sun Valley conference, said something about sports content. Josh Brown said whatever they were talking about seems "more experimental" to him.

Sarat Sethi said he and Jim Lebenthal "normally agree on almost everything." Judge said to "forget the niceties."

Josh Brown said he sold CHD (nobody chuckled this time) in his Halftime Portfolio and added TTC — which, for those veteran viewers, was an original "junior ag trade" from Eric Bolling. Doc unloaded X and SFUN and added HOLX.

Judge gave a shout-out to producer Lydia.
[Thursday, July 7, 2016]
Comey preempts Judge
CNBC's Halftime Report yielded the entire hour — not even the 15-minute update with Judge pointing out the S&P move — to James Comey's congressional testimony.
[Wednesday, July 6, 2016]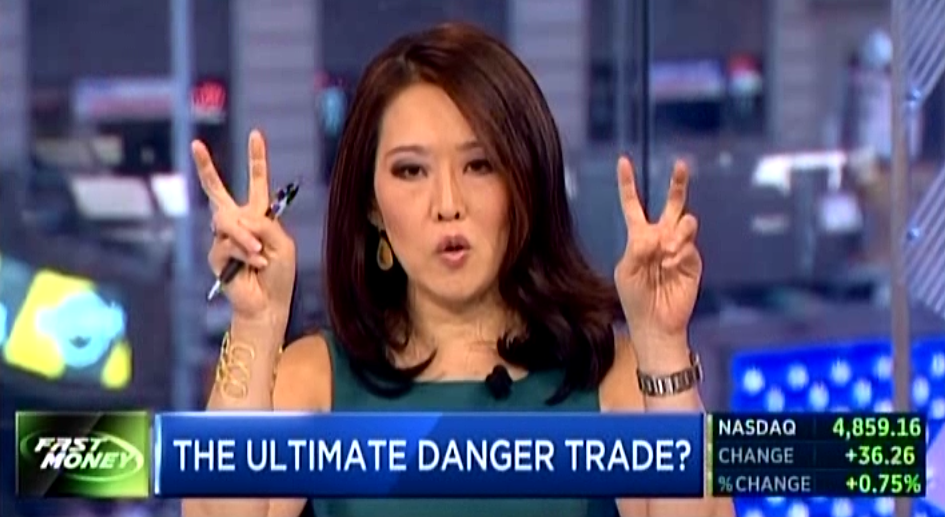 Mel sticks it to those who complain about air quotes
Lorenzo Codogno, a professor of some renown in Europe, told Judge on Wednesday's Halftime it's difficult to see how the Italian bank situation can improve without government intervention.

"I think there needs to be a policy reaction, possibly an immediate one," in Europe as well as Italy, Codogno said.

Josh Brown said he doesn't buy the notion of Brexit triggering an Italian banking crisis, stating 17% of loans from Italian banks are non-performing.

Meanwhile, adding to the unanimity on this subject, Pete said he agrees with Judge, the Tesla accident was "material." Then Pete said the stock is at a "pretty interesting level" but didn't explain what that means.

Josh Brown said the Tesla story is "a little bit reminiscent of like the cliffhanger at the end of 'Dukes of Hazzard.'"

Joe Terranova said there won't be institutional mutual fund money buying TSLA "anytime soon."

Brian Stutland told Jackie DeAngelis that money is flowing from Europe into the gold market, and he doesn't see $1,400 as too far off. Anthony Grisanti said, "I actually tried to buy gold a couple weeks ago, and I was told I'd have to wait months to get the coins delivered." Grisanti said $1,450 before year-end "definitely isn't out of the question."

Doc said he still loves NFLX; he's not in it now, but it's in the Najarians' UIT with Nuveen. Josh Brown said "it's not realistic" that Netflix can keep churning out the content to remain as exclusive as it has been.

"It's a good company; maybe not a great buy," Brown said.

Joe sounded like he was paid by the Najarians to comment on NFLX, stating, "You play this name through options."

Doc said he's made "so many bad trades" in his Halftime Portfolio but fortunately has been cutting the cord quickly. "My intention by year-end is to be up 30some(unintelligible)," he said, adding, "If this was an option account, it would be up much more than that."

Josh Brown predicted he'd finish the year in the top 3. Joe said he plans "to play a significant amount of defense from now until the end of the year" because of expected volatility in the 4th quarter.

Mel did the "quote unquote" air quotes on the 5 p.m. show for "safety trades." On the plus side, Mel had a dynamite new teal outfit that held its own with Karen's sizzling blue ensemble.

Mel revisited one of her finest hours in recent memory — asking Josh Brown what he'd do if a customer demanded he make a trade he doesn't want to make — on the 5 p.m. show, telling Massachusetts Secretary of State William Galvin that she "had made the argument to somebody else I was having a conversation with" about the ability to call a financial advisor and say, "At the end of the day (Drink), these are my funds, and I want you to either buy or sell and that's what they in theory should do." Galvin said that at Betterment, "there was no one to call."

Melissa Lee called USA Today "probably the most mainstream of the mainstream newspapers."

Steve Grasso said "at the end of the day" (Double Drink) during the Tesla conversation.
Take Gross with a grain of salt because he runs an unconstrained fund
Joe Terranova on Wednesday's Halftime said low yields aren't a sign of a recession coming but pointed to a recent dubious year.

"Maybe this is a little bit of a 2007 moment, where you get a look ahead to what might be coming," Joe said, adding "there's no herd mentality in any particular asset class," but then he acknowledged a herd mentality in Treasurys and utilities. (Are those asset classes?)

Joe again mentioned DPZ.

Pete Najarian cited Mohamed El-Erian as stating "you have to take advantage" of volatility swings; Pete trumpeted big pharma.

Jon Najarian said Wednesday's crummy morning trade was "a slow-motion crash" and recapped the post-Brexit Friday-Monday.

Josh Brown said Bill Gross has been "saying the same thing for 5 years," and "I respect, uh, Mr. Gross, but at the end of the day (Drink), he runs an unconstrained bond fund."

Adam Parker indicated that it will take rising multiples to make stocks rise, but that's possible if U.S. stocks get an influx of cash.

In his conversation with Parker, Judge kept referring to "birdies" vs. "bogeys" in the 2nd half of the year, but about all Parker really talked about was finally downgrading financials.

Parker said "biotech looks quite cheap" but admitted fears of "onerous pricing."

Overall, "You haven't really seen the growth stuff come back yet this year," Parker admitted.
Full disclosure (cont'd)
Judge finally returned from his Italian-inspired vacation, revved up by Tesla's disclosure issues.

But Phil LeBeau on Wednesday's Halftime danced around Judge's question on whether the crash was "material," outlining Tesla's regulatory requirements (perhaps like Joe whether they've attended Trump events) while insisting, "I think investors would argue that it was material."

Phil dubbed the investor disclosure a "separate question," but Judge said, "I think it's the primary question."

Judge cited Tesla's 10-Q from the end of March that mentions possible claims against Autopilot. "Why was it material then, and today it's not material?" Judge asked.

"Well, that's a great question," LeBeau said, and one he wasn't particular eager to answer.

Sydney Finkelstein said "Phil is exactly right," that Tesla "did what they needed to do in terms of regulation," but Finkelstein agreed with Judge it's "case closed" that it's material based on the 10-Q.

Phil concluded the way so many on the Halftime Report do, "I think that's at the end of the day (Drink) what a lot of people- what, what bothers them about this, is the fact that it was not immediately disclosed before that secondary offering."

We also caught an "at the end of the day" (Double Drink) from Carol Roth on Closing Bell.

More from Wednesday's Halftime later.
[Tuesday, July 5, 2016]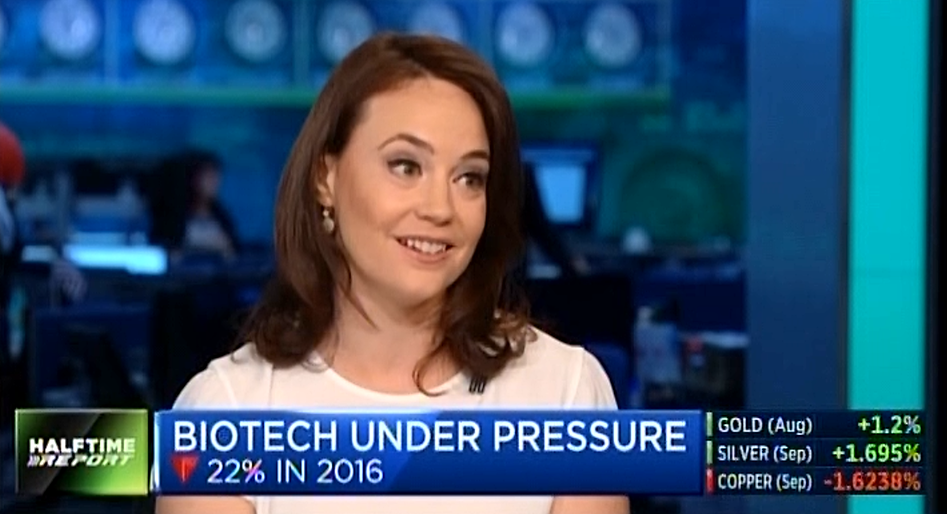 If Joe needs to declare,
shouldn't the others?
It's the first real political declaration we've heard since Steve Grasso a while back bluntly announced being a Republican.

Joe Terranova on Tuesday's Halftime Report revealed, "I am not a pol- I am not a political analyst. And full disclosure, I have attended a Donald Trump event. I have donated some money to a PAC for Donald Trump, so that's full disclosure."

Fair, and well said.

Some will be giving Joe virtual high-5's, and others will wonder what the heck he's thinking.

(Some are actually still pining for a different Republican nominee, but there's about as much chance of that happening as Mel taking us to Denny's for a Grand Slam.)

(We do wish he hadn't said "full" ... not that we don't believe him, because we do ... but that's a word that can trip up people and companies and quite frankly, disclosure on CNBC has never been "full.")

(Actually we're not sure why Joe was compelled to disclose anything given that 1) nobody else did it and 2) all he talked about was "business fixed investment," a real humdinger in the stump speeches.)

Joe added that discussion about "corporate tax reform" (Drink) (snicker) has "evaporated."

Later in the program, CNBC's Meg Tirrell, who is letting the hair lengthen, said this was "the worst first half for biotech since 2002."

Stephanie Link said "everybody's kind of- a little freaked out" that the pressure on drug pricing will persist after the election. Tirrell said people expect Hillary to keep talking about drug pricing, but as for Trump's views, "nobody can quite put their finger on it."

Perhaps someone should've asked Joe, who was sitting right there.

Pete Najarian said the big biotech names are "tradeable" but not necessarily "investable."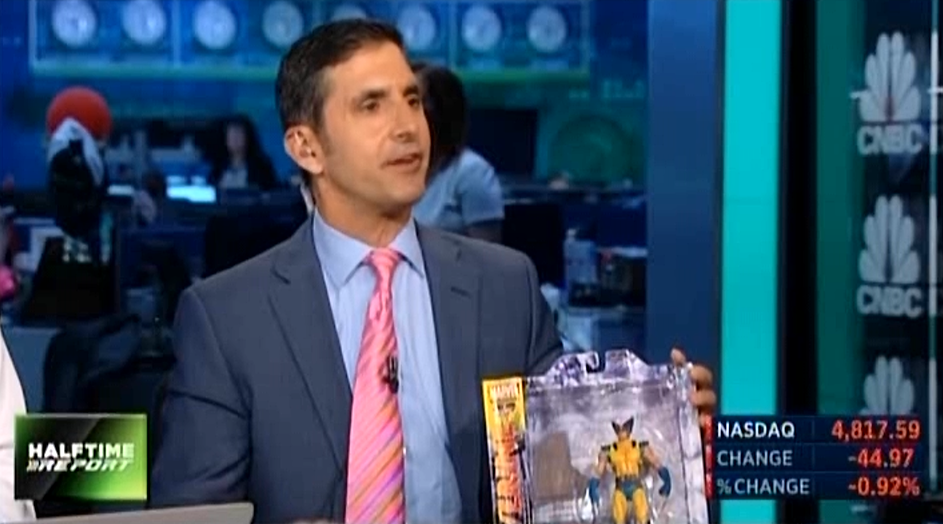 Bank bulls reduced to playing with action figures
Mike Mayo, who hasn't been on the Halftime Report for maybe a couple months (but still ends up on other CNBC shows), said Tuesday, "I have 2 numbers on the U.S. banks, one negative and one positive."

The negative is the 10-year yield; the positive is the $400 billion of "extra capital" after assuming a Lehman-type crisis.

Mayo said in appreciation of Mel having him as a guest, he brought a gift — a Wolverine action figure to represent the resiliency of banks' balance sheets. (Every time you watch "The X-Men," that's the first thing you think of, tangible book.)

Josh Brown asked Mayo if we're seeing "some shades of things that went on in '06" regarding people unable to get their money out.

Mayo didn't really answer the question but addressed earnings impact and told Brown "it's not a concern at least at the largest banks."

CNBC's Kate Kelly reported, "It was largely another disappointing month for hedge funds."

Kelly said that Saba Capital, up north of 10% YTD, is "doing very well guys by 2016 standards which, uh, aren't very high."

Kelly said Pershing Square laid off about 8 people, "largely IT, other back-office functions."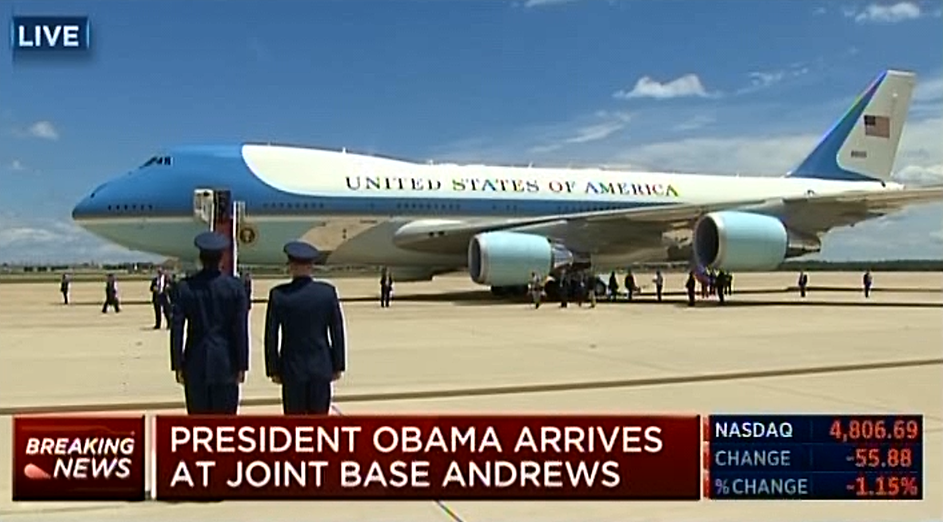 What's the difference between 'negligence' and 'abdication of duty'?
Rudolph Giuliani, star guest of Tuesday's Halftime Report, said he was "shocked" at James Comey's decision.

"I don't know how he can possibly avoid Section 793, Subsection F," Giuliani said, then referred to Comey's mention of proving intent.

"Jim knows that we usually prove intent through circumstantial evidence," Giuliani said.

"People have been charged under these statutes for far less than this," Giuliani added.

Mel told Giuliani, "It is up to the DOJ at the end of the day (Drink) to decide whether or not (sic last 2 words redundant) to pursue- pursue charges," then asked that if the Justice Department doesn't charge, is that "in and of itself" (Double Drink) (redundant) negligence.

Giuliani responded that it's an "abdication of duty" and said Comey's decision is "a grossly negligent decision" and gives the Justice Dept. a "way out."

It didn't happen on the Halftime Report, but Power Lunch producers gave viewers about a 5-minute look at a jet on a runway.
Jim Lebenthal called top of the rally on Friday
Stephanie Link on Tuesday's Halftime Report said the rally's not over, but we're in a "pause."

Link predicted a "continuation of the chase for yield."

Joe Terranova asserted, "It's all about where oil is."

Pete Najarian said the SLV "absolutely started to explode" and even said "each and every (sic last 2 words redundant) day."

Guest host Missy Lee suggested some think last week's rally was "false."

Josh Brown said it's an era of higher volatility, so we're paying more attention to Italian banks.

Michelle Caruso-Cabrera expanded the grammar repertoire, reporting on Italian banks' woes and mentioning "29 billion worth of bail-in-able (sic) bonds, if you can use that as an adjective; 29 billion in this day and age (Drink) (sic last 2 words redundant) isn't all that much."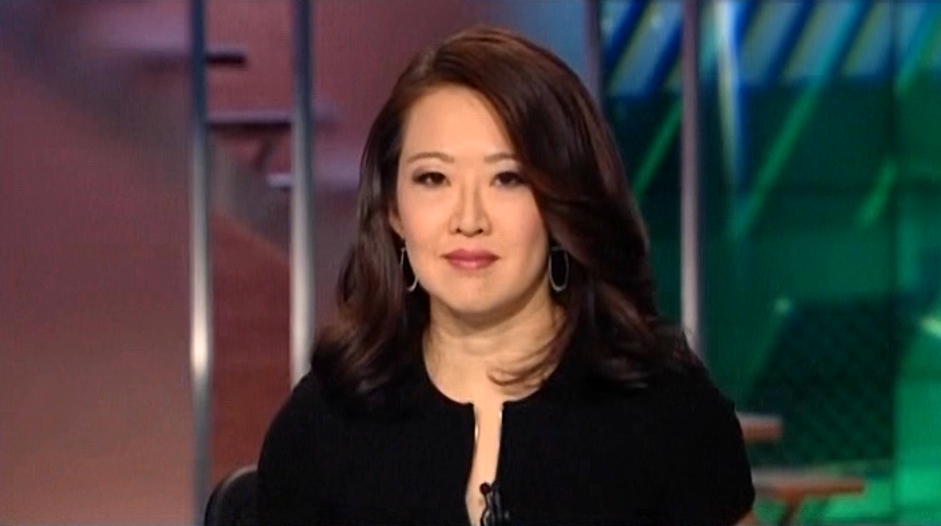 Differences between hosts in the last week: More would-you-rather games and air quotes, less 'literally,' same number of Church & Dwight innuendo, no letup in 'at the end of the day'
Scott Nations on Tuesday's Halftime Report told Jackie DeAngelis, "There's no good news, no matter where you look, if you're a crude oil bull." Jim Iuorio said, "I don't think the rally's over yet" and called "46-ish" a spot to buy.

Joe Terranova conceded his "new trade in energy," nat gas, was down with everything else; "it's broad-based selling."

Pete Najarian said to watch if the XLE can hold the 50 or 200. Josh Brown endorsed the XLE and pointed to XOM's YTD gain. Stephanie Link rattled off BP and CVX and OXY and EOG and SLB and BHI (but remember you're supposed to be selective and pick carefully).

Link said the NFLX-CMCSA deal is "really positive" and a "win-win" and called Comcast a "huge long."

Pete Najarian said it "makes some sense to me" that HOG doesn't want to be sold now.

Joe said airlines have been "incredibly difficult" to invest and trade in 2016.

Stephanie Link said "there is a trade here" in the hard-hit department stores.

Josh Brown said he would avoid TSLA.

Stephanie Link likes WBA.

Pete Najarian said he's been trimming in the GDXJ, and it's time to "re-evaluate."
[Friday, July 1, 2016]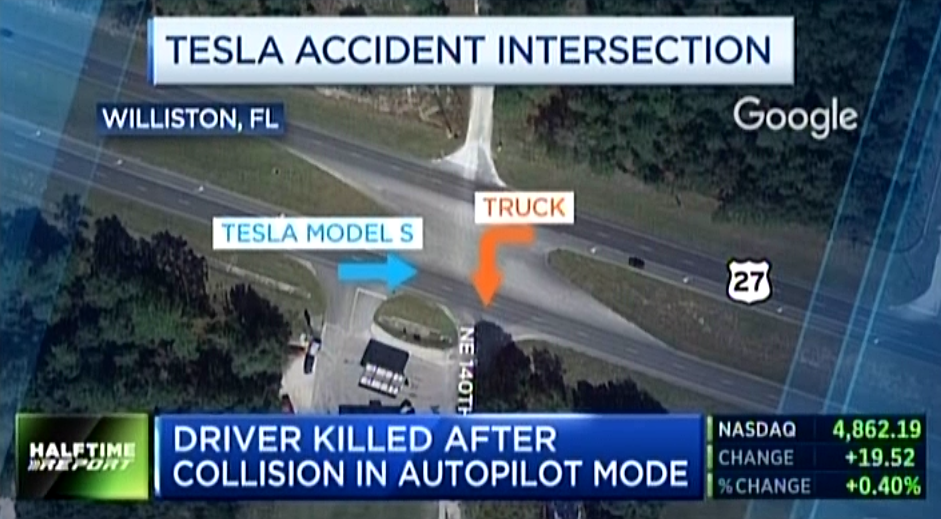 But did the Tesla Autopilot driver post his video with GoPro devices that are now in people's drawers?
Phil LeBeau on Friday's Halftime Report explained how the Tesla Autopilot crash happened — although his graphic really didn't explain anything.

"The truck turned in front of him," LeBeau said.

"I think that you're gonna unfortunately hear more and more about these things," said Steph Link, but she said TSLA is not a sell on this news. (Ronnie Moas said it was a sell on April 7 and still a sell after the SCTY news.)

"The software is not ready for prime time yet," said Josh Brown.

Jon Najarian said it's a question of "how soon" they should make this Autopilot feature available to everyone. But he said he's bullish on MobilEye. He said the self-driving technology shouldn't be available until it's approved by the "National Highway Safety Adminstration" (sic).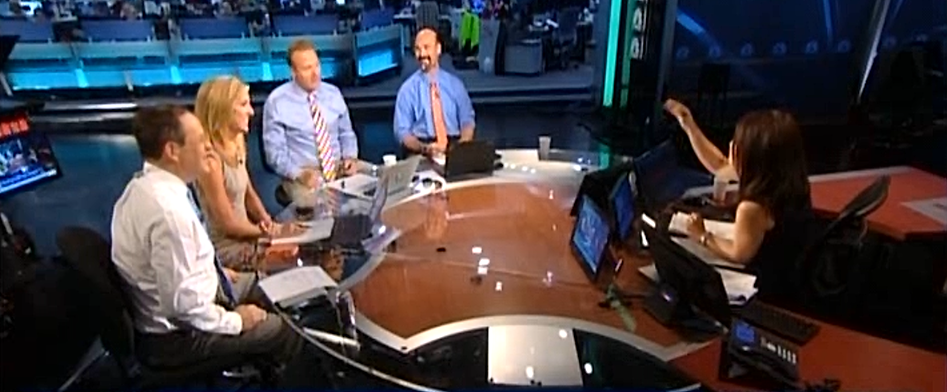 Always a buy signal — someone on CNBC saying 'we're not out of the woods yet'
Stephanie Link on Friday's Halftime Report said she's "encouraged" by the rally, "but I don't think we're out of the woods quite frankly" (Drink).

Jim Lebenthal basically agreed. "I think this is as far as it goes, to tell you the truth," said Jim.

Josh Brown said, "I'm skeptical of any rally," and "there is a possibility it's a dead-cat bounce."

Sudden trader Bob Pisani says his "sense" is that there's "minimal upside" in the stock market now. "I think we're in a trading range," Bob said, suggesting 10% upside and "significantly more on the downside."

Doc had an alternate take, stating it's "basically, central banks flooding the system."

Mel tried one of those stock tournament things for the 2nd half of the year; we don't follow those anymore. (Stocks don't play games against each other in real life.) We did learn everyone likes AMZN, which is only up about $250 in 5 months. Doc at the end of the show even made AMZN his "all-American" trade for the 4th.
Brexit comparisons to Lehman were 'decried widely here on the desk'
Michael Graham on Friday's Halftime explained his 120 target on NFLX, stating he doesn't know the next couple of quarters will be "bumpy" but then that they may be "bumpy." However, he likes the potential of international subscriber growth.

Graham called Brexit a "slight headwind" (Drink) on the stock.

Josh Brown said you can own NFLX with support around 80 but is "skeptical" that it can create enough original content to offset the expiration of things like the Disney deal.

Jim Lebenthal questioned Europe's impact on NFLX expansion and said it looks "priced for perfection."

Doc said NFLX and TSLA have been great buys when they get the big "whooshes" down.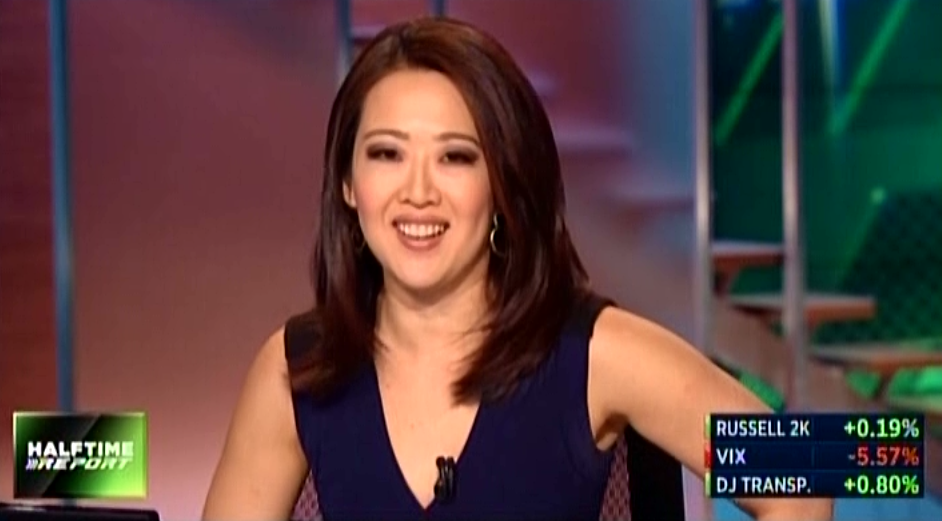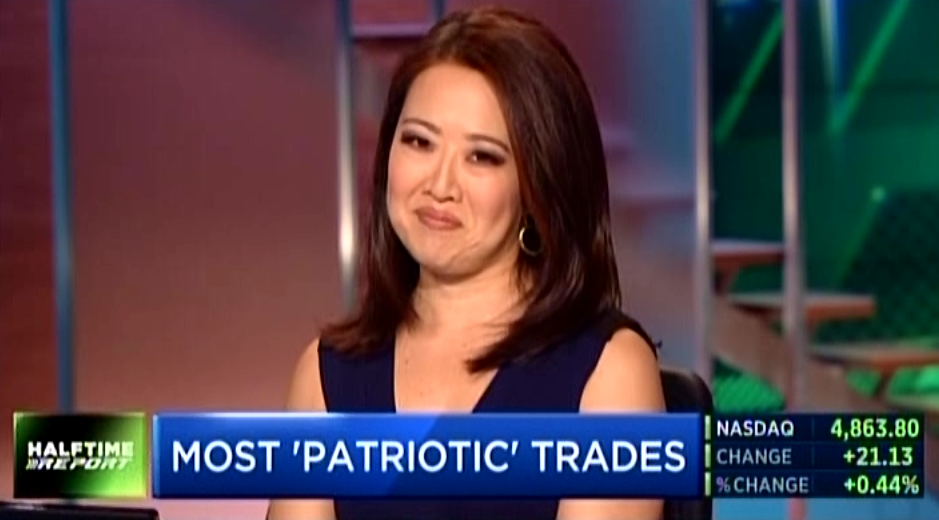 Jon Najarian on Friday's Halftime Report said he's in HOG, short the puts and long the calls, because of heavy options activity.

It's "probably something very short term," Doc said.

Jim Lebenthal though said there's an "air pocket" if the KKR rumors don't pan out. Josh Brown pointed out HOG was $70 in 2014.

Stephanie Link trumpeted CELG (Drink), GILD (Double Drink) and ALXN. Jim Lebenthal said he likes PFE, MRK and BMY, citing strength in oncology.

Doc trumpeted the "very good trade" he made in GDXJ. But then he actually said he bought December 78 puts in HYG that didn't go up 300%.

Doc said X January 24 calls were popular; there was "bang bang bang bang bang bang, rapid-fire buying of these calls."

Jim Lebenthal said he doesn't see gold going anywhere.

Josh Brown said MU is in a "terrible business" and "not necessarily a well-run company."

Jim Lebenthal said he doesn't like Tim Cook being lead director at NKE, which he said is a negative for AAPL.

Stephanie Link said there are "cord-cutting issues with ESPN as an overhang" (Drink) on DIS.

Doc suggested WMB will keep falling.

Josh Brown said FDX "seems to have run out of steam," and he's not a fan of the stock.

Josh Brown said homebuilders are in a range, though "the housing picture is good." He said he's watching ITB for 29½. Jim Lebenthal said he's on the opposite side and likes the HD and MHK and USG type of names. Steph Link and Josh Brown both endorsed LOW over HD.

Jim Lebenthal said he was dumping MPC from his Halftime Portfolio. Stephanie Link said she "tried to trade around" the turmoil in January and February, "and that's just not me."

Josh Brown touted SAM as his "all-American trade." Stephanie Link said KHC and predicted it gets into the MDLZ-HSY thing. Jim Lebenthal said GM (Drink).

Mel was absolutely enchanting in new blue frock.