CNBCfix review: 'Miracle'
worker Al Michaels leaves
the drama on the field
Posted: Sunday, December 14, 2014
Al Michaels, America's premier sportscaster, has found himself at the Super Bowl, World Series and of course the Miracle on Ice.

His modest memoir, "You Can't Make This Up," packs as much punch as a preseason game.

Give him the benefit of the doubt. Michaels isn't done. Nowhere close. At 70, he owns sportscasting's No. 1 post, "Sunday Night Football," and perhaps a greater stature than any who have come before him. He doesn't need any new enemies. Unfortunately for readers, he vows several times in his book not to become "jaded." Those who do tend to share the juiciest stories.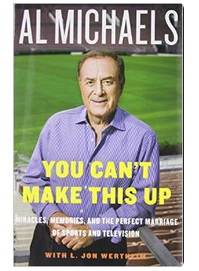 The book, written "with L. Jon Wertheim," wouldn't make Steinbeck blush but bounces rapidly through Michaels' career in what occasionally feels like stream-of-consciousness recollection. It reads much like Michaels' play-by-play: Not a whole lot of opinion, but various moments of skepticism.

Whatever it lacks, "You Can't Make This Up" is a likable tour of sports broadcasting with a likable tour guide. Whatever Michaels' ego, he appreciates the opportunities life has given him and still views sport with child-like zeal. It's impossible not to be happy for a talented guy who paid his dues and got a break here and there and widely credits his colleagues for his own immense success.

Yet one can only wonder what Michaels, a man of the world who golfs with presidents, is leaving out. "You Can't Make This Up" barely skewers a few of the dead and spares nearly all of the living. Howard Cosell ("the world's biggest pain in the ass"), Boomer Esiason, Mark Shapiro (the latter dubbed a "self-promoting and self-anointed wunderkind") and Jack Kent Cooke/Chick Hearn receive what would be considered the brunt of the sanitized criticism.

Michaels can't even bring himself to render a verdict on O.J. Simpson. "Obviously, the vast majority of people in this country feel that he did it," is as far as he goes, suggesting that himself opining would be "ad nauseam redundant" … even though he also claims "I look at it clinically now and I look back on it historically."

But at least he's not going to talk to the Juice anymore.

Michaels called the 1980 U.S. Olympic hockey upset of the Soviet Union. He was 35. That this is his signature moment speaks to the randomness of sports. The game was not even aired live. Entering the 1980 Winter Olympics, the Americans were not expected to be a factor. Their 4-0-1 record entering medal-round play was a surprise. In an unfortunate happenstance based fairly on standings, their matchup with the Soviets became scheduled for 5 p.m. Eastern on a Friday afternoon while Sweden-Finland was given the U.S. prime-time slot 3 hours later. According to Michaels, the USSR refused to change the time. He says Roone Arledge made the difficult decision to not air the U.S. game live, but to show it in prime time. There was not a perfect answer here. A live showing would've preempted news broadcasts and other programs, and many potential viewers still at work would simply not get to see the game; this was an era largely pre-VCR. On the other hand, Americans did not see this national treasure as it unfolded.

Michaels, who takes digs at Arledge in passages, spares him here, but this was not Arledge's finest hour. The game should've aired live, and then again later that evening, perhaps after local news.

It's possible no one would recall the announcer were it not for Michaels' unforgettable closing Q&A, "Do you believe in miracles? Yes!" (If you remember the color commentator, you deserve a medal.) The perfect summation of the perfect moment. Fair, inspired, spontaneous, classic. Fate suddenly turned to Al Michaels, and he made a play.

"You Can't Make This Up" hints at the enormity of spectator sports in American pop culture. Given the amount of elite broadcasts done by Michaels, it is astonishing how many famous moments he did not call. He didn't do "The Catch." He didn't do Game 6 of either the 1975 World Series or 1986 World Series. Nor Kirk Gibson's home run. Nor North Carolina State's upset of UCLA. He didn't do the most famous "Monday Night Football" game, Chicago at Miami. Nor any of Michael Jordan's titles, Magic Johnson's titles or Larry Bird's titles. Nor the Thrilla in Manilla or Tyson-Douglas. Nor the Doug Flutie-Miami game or 1971 Nebraska-Oklahoma. Nor the 2004 ALCS. Nor Tiger's 1997 Masters win or Greg Norman's 1996 Masters fail. Nor Christian Laettner's shot.

Besides the Miracle on Ice, Michaels singles out a pair of games as his favorites, Game 5 of the 1986 ALCS and Super Bowl XLIII. Both undeniably epic contests; neither recalled nearly as frequently as the ones in the list above.

Michaels does not philosophize about sports broadcasting. That's too bad, because his career spans a time from when sports owners feared television would erase attendance to "Sunday Night Football" being the No. 1-rated TV program almost weekly. Certainly biased, Michaels is an ideal candidate to point out how the sports world enormously underestimated television.

Would-be TV professionals, and interested bystanders, will find no tips here. There's no magic formula. Michaels liked this line of work at an early age, practiced it as much as he could, and just kept doing it.

Unfortunately for one who really is a great artist of sorts, there is nothing rare or exclusive about Al Michaels. He has witnessed far more sports than anyone ever should. That's OK, that's his job. At some point the games become cafeteria food. Once in a while there is steak. Lakers, minor league baseball, Reds, Olympics, Giants, Monday Night Baseball, Wide World of Sports, college football, Monday Night Football, horse racing, pro basketball, Sunday Night Football. Excellence across the board, inevitable dilution of the brand. Fortunately for Michaels, his career arc resembles that of Curt Gowdy, who enjoyed some of sports' biggest moments in his twilight … rather than Brent Musburger, not mentioned in the book, once omnipresent on CBS Sports in his 40s only to overexpose himself into regional college football assignments by his 60s.

Several names are treated reverentially — Vin Scully and Curt Gowdy and Jim McKay; John Wooden and John Madden and Frank Broyles and Ken Dryden. Virtually all of the name-dropping is positive; among the warmly mentioned are Dan Dierdorf, Frank Gifford, Cris Collinsworth, Joe Nuxhall, Tim McCarver and Doc Rivers.

Roone Arledge, who died in 2002, is portrayed with some degree of respect as aloof, coasting and out-of-touch; Michaels clearly enjoys pointing out that he convinced Arledge of the foolishness of announcing Olympic swimming results before the match aired that evening.

Recognizing that this is a book for sale, the details of notable disagreements and incidents don't need revealing here. But it's accurate to say the Chick Hearn debacle grates on Michaels so much, he must mention it in at least 5 passages.

For that offense, Michaels claims to have forgiven Hearn but exacts a bit of revenge on Jack Kent Cooke a couple of times, pointing out how he could've written a "beauty" of an "appreciation piece" upon Cooke's death in 1997 but didn't, and how he called a sportswriter prior to Super Bowl XXII after the writer quoted Cooke as taking credit for being the "launching pad" of Michaels' career. "Don't for one second believe Cooke's bull----," Michaels writes. "That megalomaniac almost ended my career."

Yes, some of Michaels' gripes are petty, including ESPN's adoption of Hank Williams Jr.'s theme song for its Sunday night telecast.

With virtually every slight, there is payback. Michaels quickly supplanted Cosell, who had already left the show, and Frank Gifford, whom he writes of warmly, as the face of "Monday Night Football." Esiason was ousted from the "MNF" booth after a couple years. Shapiro ran from the business, never to make "MNF" booth decisions again. Hearn? He remained a Lakers legend, never the national voice that Michaels became.

"People in my career (and life, too) keep coming and going and coming and going. And then reappearing. I love it," Michaels chortles.

If those feuds seem beneath Michaels, know that such an ego is part of the job description. You don't reach his level by accident. Given his age and the tone of the book, it feels like more of a refreshing feistiness than collection of unhealthy grudges.

Like everyone in the entertainment business or most walks of life, Michaels hates the liars. He was bamboozled a few times, and even though this person's lifetime earnings are certainly in the 8 digits, he'll pitch quite a fit at being paid less than Bob Costas for a pointless movie.

Michaels mentions some of his salaries, but only if they're below 6 digits.

Much of the book's content feels rehashed from this Sports Illustrated profile from 1988. One thing he leaves out this time is his notable satellite-TV feud during the 1987 World Series with a Minnesota sportswriter who found Michaels' between-innings commentary newsworthy. Their exchanges suggest a couple things, that Michaels, like many broadcasters, 1) doesn't want to be part of the story, just the observer of it and 2) is capable of being prickly. That it's not in the book suggests Michaels now views the situation with regret. He refers to himself occasionally in the book as "The Rascal," though we're talking "Little Rascals"-caliber infractions.

Despite being a quick read, "You Can't Make This Up" could be all that much shorter, given phrasing such as this: "In 1968, you couldn't exactly go on the Internet (which didn't exist) … This, of course, was before the International Olympic Committee allowed professionals to compete. So, in theory, the Olympics were an amateur competition …" (maybe a few more commas would make that observation a bit clearer).

Almost certainly, no book has ever used the term "muckety-mucks" as much.

Accounts of close deadline calls at the 1984 Olympics and 1981 World Ski Flying Championships, while brief, are almost excruciatingly dull, particularly the latter. Nothing is as tedious though as Michaels' bizarre scorecard, out of hundreds of hours of O.J. Simpson programming, of flaws or lapses in TV coverage of the unfolding live event.

Among some of the minutiae:

O.J. once bailed out Wilma Rudolph.

Warren Buffett apparently didn't realize TV networks influence scheduling decisions of sports events.

Dave Kingman liked to play tennis.

Ken Dryden once passed a very important test during a very busy time.

Harry Caray got a game to start 3 minutes later than the umpires wanted to.

One story he manages to leave out is his own DUI in Santa Monica, from 2013. He was caught making a U-turn at a sobriety checkpoint and found to have a 0.08% BAC. Whether this is regarded as a serious lapse by a prominent 68-year-old or a low-level, victimless violation depends on your point of view. As of the book's publication, he is still on probation.

It can be inferred that a person of Michaels' success pays a price in terms of family time. Constantly on the road, countless nights in hotels. With one exception — the 1974 birth of his daughter while he was in Houston — he does not lament the tradeoff. He writes appealingly of meeting his wife, the former Linda Stamaton, amid the skepticism of her father, and regularly singles her out for support. He also mentions the difficulty John Madden experienced flying. Nothing suggests Michaels has ever gotten road-weary.

Rarely is it heard discussed, "Who is the greatest sportcaster of all time?" Many radio greats were associated with one team, heard regionally, are remembered mostly by an older audience and didn't have the challenge of describing to listeners what they were seeing live. Given the brief period of time of televised sports, the list of contenders is small. The short list must include Curt Gowdy, Vin Scully, Jack Buck, Bob Costas, Jim McKay, Howard Cosell, Jim Nantz, Dick Enberg, Brent Musburger and Keith Jackson. Some would nominate Harry Caray, John Madden, Tim McCarver, Marv Albert or Dick Vitale. In an enormously polarizing profession, Michaels might easily win a plurality.

This is very rare air. Many people would love to be a sports announcer; few get a serious chance. The tiny amount of openings often occur with little notice. In several passages, Michaels writes of having to make life-altering decisions within days — even as an established great, when NBC secured "Sunday Night Football." Drop Hawaiian minor league baseball for the Cincinnati Reds? Bolt the Reds, just entering their peak, for more money with the flagging San Francisco Giants? Add "Monday Night Baseball" to a monstrous schedule? When his talent presented him with opportunity upon opportunity, Michaels found it hard if not impossible to say no. Thankfully for America's sports lexicon, he said "Yes!"


You Can't Make This Up: Miracles, memories, and the perfect marriage of sports and television (2014)
Featuring: Curt Gowdy, Jim McKay Lila Michaels, Jay Michaels, Red Barber, Russ Hodges, Mel Allen, Jack Brickhouse, Connie Desmond, Vin Scully, David Michaels, Sal Bando, Reggie Jackson, Bill Parcells, Mark McCormack, Gordon Jones, Vonda Kay Van Dyke, George Allen, Linda Stamaton, Jerry Colangelo, Al McCoy, Stephen Cannell, Chuck Barris, Jack Kent Cooke, Ken "Jiggs" McDonald, Chick Hearn, Alan Rothenberg, Hot Rod Hundley, Frank Valenti, Jack Quinn, Dick Phillips, Marty Chase, Tom Lasorda, Bobby Valentine, Chuck Tanner, Jack Lord, Harry Caray, Roland Hemond, Roone Arledge, Howard Cosell, Dick Wagner, Steven Scott Michaels, Nick Clooney, George Clooney, Bob Hertzel, Pete Rose, Johnny Bench, Ken Dryden, Chet Simmons, Sparky Anderson, Bob Howsam, John Wooden, Eddie Einhorn, Charlie Fox, Art Eckman, Jennifer Elaine Michaels, Bobby Murcer, Hank Stram, Bob Lurie, Frank Gifford, Herb Granath, Bob Prince, Bob Uecker, Warner Wolf, Chris Schenkel, Ed Hookstratten, Doug Wilson, Art Devlin, Geoff Mason, Dennis Lewin, Art Kaminsky, John Martin, Bob Iger, Jim Lampley, Lee Grosscup, Frank Broyles, Ara Parseghian, Cris Collinsworth, Richard McVay, Chuck Howard, Ken Boyer, Earl Weaver, Jim Palmer, Chris Schenkel, Tim McCarver, Dick Ebersol, Don Ohlmeyer, Marty Liquori, Zola Budd, Mary Decker, Alex Wallau, Dennis Swanson, Ken Wolfe, Dan Dierdorf, Al Davis, Gene Mauch, Warren Buffett, Curt Gowdy Jr., O.J. Simpson, Bob Kardashian, Howard Bingham, Bill Redeker, Judy Muller, Ted Koppel, Barbara Walters, Dave Leveton, Bob Costas, Steve Bornstein, Brian McAndrews, Boomer Esiason, Craig Janoff, John Filippelli, Howard Katz, Drew Esocoff, Dan Fouts, Dennis Miller, "Malibu" Kelly Hayes, John Madden, Fred Gaudelli, Mike Pearl, Mark Shapiro, Doc Rivers, Terry Jastrow, Anne Archer, George Bodenheimer, George Hill, Steve Hirdt, Ken Hirdt, Melissa Horton, Audrey Mansfield, Andy Freeland, Vinny Rao, Bob Kraft, Mark Lazarus, Vladislav Tretiak, Aaron Cohen, Bruce Cornblatt, Marvin Demoff, Joe Cohen, John Shaw, David Highfill