[CNBCfix Fast Money Review Archive — January 2017]
[Tuesday, January 31, 2017]
Judge says notion of Halftime Report getting fewer viewers than other channel is 'not happening'
Who woulda thunk that Tuesday's Halftime Report would deliver a TV ratings update (despite the fact CNBC doesn't do daytime Nielsens anymore).

Judge told UAA watcher Sam Poser that maybe the big problem is that "retail stinks; retail's dreadful."

Poser said the macro scenario is an "equal-opportunity situation" and then uncorked an analogy: "If, if, if some other network (sic means "channel" by almost any real definition) started getting more viewers than you, God forbid, would, would- who's fault, would, would, would you be blamed, or would you say, 'Well that network's just doing a better job than us…"

"We would blame Weiss probably for that. Thankfully that's not happening," Judge said.

Joe Terranova didn't have much to offer about UAA at the top of the show, simply stating, "I don't buy stocks that are down 23%."

For that matter, Doc said the "worrisome part" about UAA is that the CFO has been in the post only "about a year" but will depart with about 3 days' notice; that's why Doc won't buy on the selloff.

Stephen Weiss, in the clumsy phone connection between himself and the Najarians, suggested "somebody's gotta be blamed" for the bad results; "that's why he's gone."

Steph Link said Under Armour has got "real issues" with performance-focused and apparel products. "Why not go with Nike?" Link asked.

Josh Brown said UAA has already had a dead-cat bounce and praised the market for being ahead of the analysts.

Steve Weiss called in to say he wouldn't buy it and said UAA has been "overvalued." "The growth and the sales are atrophying," Weiss said, before mentioning "fad," which got Judge's attention, and then quickly backpedaling to say "some of" the products that Under Armour is "trying to go into are a bit faddish."

Pete Najarian, via remote, praised Morgan Stanley UAA analyst Jay Sole for downgrades last year. Weiss said "just turn on CNBC at noon (which gets the highest non-recorded ratings apparently) … we've been on this story longer than the analysts have been on it."

Joe said adidas might be the next of these brands to move. Josh Brown agreed with Joe that there's no definite number at which UAA is a buy.

Sam Poser said the change at UAA is "they don't have that lifestyle product." Judge asked Poser what he means by "lifestyle product." Poser suggested a "Jordan retro shoe … those are fashion, those are lifestyle," rather than regular Jordan basketball shoes.

Finally given a chance to talk, Jim Lebenthal trumpeted NKE; he and Steph Link barely even let Josh explain what the UAA bull case would be (Nike has a lot more share that UAA can eat into).

Joe said Sears is trading at $6. "I don't know that the consumer is hurting," Josh said, suggesting they may be realizing they only need 5 pairs of shoes instead of 8 (snicker).

Joe invoked that bogus refrain that no one has actually proved but sure sounds good in business television/blogging soundbites, stating shoppers now "want the experience, not the stuff."
Doc: Trump 'hasn't been a Republican for very long really'
Jon Najarian on Tuesday's Halftime suggested Donald Trump will get GOP pushback on fiscal policy; "he hasn't been a Republican for very long really."

Stephanie Link said pharma stocks are pricing in "devastation," and she bought more LLY.

Doc said CELG February 117 calls were popular. Pete said February 19 calls in POT were also popular. (In the old days, while issuing daily blanket buys for fertilizer stocks, Fast Money panelists would always say, "People gotta eat!")

Doug Terreson said XOM was being lightly punished Tuesday for results that were roughly in line but "messy."

Judge noted XOM is up 7% in a year despite oil prices doubling (credit goes to Rex Tillerson, who got promoted to solve the Israeli-Palestinian conflict and the Northern Ireland Troubles). Terreson pointed out others had a great year and said it's "too early" to give up on big oil.

Joe Terranova said it's a "tough investment strategy" to hope oil goes $10 higher for XOM to perform. Joe said he'd only carry energy at an underweight.

Josh Brown said it doesn't really matter that Rex Tillerson is changing jobs. Stephanie Link said to own CVX, not XOM.

Jeff Kilburg said Trump policy will "keep gold bid." Jim Iuorio, with no discussion of a man-fur this time, predicted gold heads to 1,225 and then retreats.

Steph Link touted PCAR, and Jim Lebenthal lukewarmly boosted QRVO.

Toni Sacconaghi said the AAPL story is about the iPhone 8 launch in September. He has a $140 target, which Judge said is "nothing to cry over." (Judge will ask Sam Poser what he means by "lifestyle products" but won't ask Toni what he means by subscribing to an iPad.) Toni at one point said "iflone" (sic).
[Monday, January 30, 2017]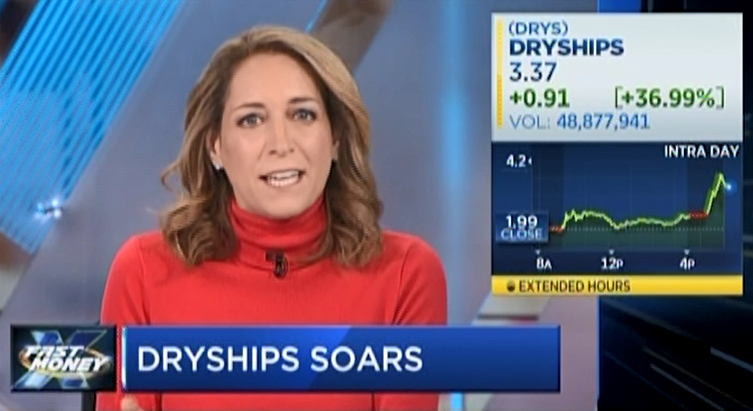 There was also discussion about whether ESPN is fully priced in (Zzzzzzzz)
On Monday's 5 p.m. Fast Money, nothing was going to steal the thunder from Karen Finerman's mesmerizing orange turtleneck that instantly took off 15 years that don't even need to be taken off.

But in terms of a trade, Karen's windup about how Trump is suddenly going to have trouble getting his agenda through was backed up by just one meager trade, selling URI, mentioned repeatedly.

Steve Grasso picked up the baton from Steve Weiss, arguing with Tim Seymour that Americans train the foreigners who come to Silicon Valley, and then the foreigners get hired and the Americans lose their jobs, and what's wrong with taking a pause in our immigration program and making sure everyone who's here is supposed to be here.
Just one episode previously, Josh was hailing the certainty of the Trump administration (and Judge said the market likes the 'agenda')
Monday's Halftime raised eyebrows when Steve Weiss started talking about how the Obama administration "was well-steeped in finance" when handling the GM takeover.

Jim Lebenthal questioned that, and Josh Brown actually said "Obama's guys were Robert Rubin" (snicker). (Talk about a time when the show needs Gasparino around.)

Eventually, an intriguing debate took shape when Josh Brown, overreacting to the weekend's events however clumsy or dubious, insisted, "There are technology companies that absolutely require foreign workers um, in, in order to be able to do what they do."

"I, I, OK. I don't necessarily agree with that either," said Weiss.

"That's what the CEOs literally are saying," Brown said. "So, you can disagree with the people that run Google, but I think know more about their own company than you do."

"I think that's an overreaction," Weiss said. "And I think that denigrates the American, the American people, say 'Hold on, we can't do, we need people from outside.'"

"So Apple, Google are incorrect about their staffing needs and you know better?" Brown retorted.

"Thousand percent," Weiss said.

Both missed the point that Judge nailed — if stocks are selling off less than 1% because of this, it's not really a big deal. (And what Judge didn't say is that if the market is pulling back for one lousy weekend at airports, it's likely a buy.)

Otherwise, both are right … Google and Apple aren't going broke with a limited immigration ban, but on the other hand, we can use the Wernher von Brauns.

Eamon Javers pointed out that presidents don't typically hail the stock market. All the more reason to buy; this fellow is watching the ticker and presumably will push buttons to try to help it.
One of these days, Sean Spicer will discuss whether ESPN is priced in
In more of the tired old same, Pete Najarian on Monday's Halftime touted AAPL. Steve Weiss shrugged.

"They've been late to the party on everything," Weiss said. "But they've always been late to the party!" Pete bellowed.

"I'm not a hater; I'm telling you the truth," Weiss said.

Jim Lebenthal said FB is cheap. But Weiss said it's "unanalyzable," though he likes the stock and business model and management, "so it's somewhat of a leap of faith." Josh Brown said FB has an 18-quarter streak of making earnings. Pete Najarian quibbled that FB is somehow even cheaper than Jim said it was.

Pete touted Amazon Web Services (Drink). But Jim Lebenthal warned that there's a "50/50 chance" that AMZN not only misses, but misses big.

Josh Brown wouldn't buy UA but likes NKE better.

Judge welcomed Eliot Spitzer and Uri Gruenbaum to talk about batting averages of stock-market analysts (snicker).

Pete Najarian said CRM March 85 calls were popular.

Stephanie Link likes GD and APD.

David Albrycht spoke about all his great trades from last year in energy and banks; "those trades are still working." He predicted "no move tomorrow."

Judge decided to close with a Cramer "cheap" call, AXP. Sarat Sethi seemed to like the name. Steve Weiss said DKS still has issues with online retail.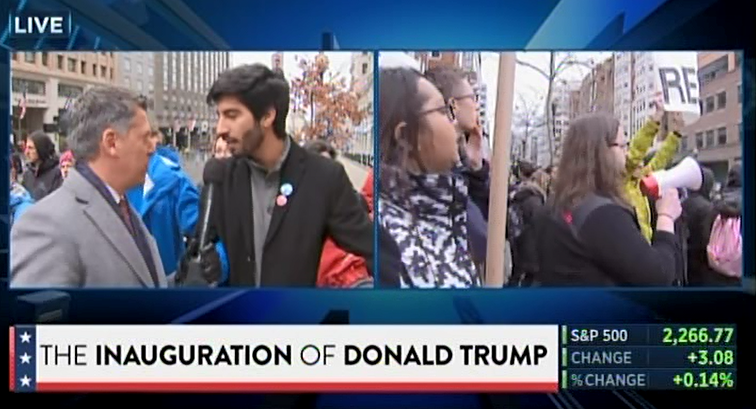 Trump protester challenges Judge over … the dictionary
The Friday, Jan. 20, 2017, episode of the Halftime Report was preempted by something a little more important: the presidential inauguration.

(Sorry, we're just catching up now with some of this stuff. Busy times. We just heard that some guy named Lindbergh actually flew solo across the Atlantic too; maybe we'll get to that later.)

CNBC's coverage of the inaugural was a tour de force. Fair and informative. Helmed by Carl Quintanilla, mostly driven by Michelle Caruso-Cabrera's exceptional commentary, sprinkled with astute observations from a wide-ranging group of observers and reporters. (If anyone has Mark Hoffman's ear, ship him this link; he needs to know this.)

The inaugural address was indeed lousy, although in fairness, nobody remembers anyone's inaugural except JFK's. Obviously, this individual had little to say and ended up relying on a stale stump speech that people thought was behind us about 2:30 a.m. Nov. 9.

Anyway, on Inauguration Day, rather than assessing whether ESPN has been fully priced in to DIS, Judge was assigned street duty, keeping tabs on D.C. protesters who apparently don't think much of the new president.

Seizing the moment to approach demonstrators with live cameras rolling, Judge confronted two fellows and managed to elicit a comment from only the latter, which allowed Judge to attack on terminology grounds. "You say you're peaceful protesters, but yet I've seen you physically restraining people from going through. Why?" Judge asked.

"But are we physically attacking them?" this fellow responded. "Is there a difference between restraint and attack; are you trying to pose that question to make us look violent?"

"Why are you restraining them when they're- why you're physically restraining them," Judge retorted.

"It's not restraining. Look up the dex- look up the definition of restraint," the fellow demanded.

"Why are you here today" Judge asked.

Oh man. If we had ANY idea this protester chap was going to appear in this situation, we would've offered him a grand to say, "At the end of the day, Scott, we think the pendulum is swinging from passive to active, and we don't think WhatsApp's monetization is priced in, in and of itself."

But no. He was silent.

"That pretty much says it all," Judge shrugged.

Honestly, this fellow's argument didn't make much sense. First he seemed to say that Judge was implying they were "attacking" people and suggested there's a big difference between "restraint" and "attack," then insisted they weren't doing either, which makes his initial soundbite pointless and a distraction to his own cause.

Judge wore a fine gray coat but would've looked cooler in this episode in a trench.
All the talk about MSFT, and no one mentions LNKD
Judge on Thursday's Halftime Report asked the gang why everyone likes MSFT.

A bunch of panelists obliged.

Sarat Sethi gave 3 reasons: Increasing dividend, "great cash flow" and cloud computing.

Pete Najarian hailed Satya Nadella for his "entire strategy" of "turning this thing into the cloud." Then he touted MSFT's entry into "artificial intelligence" and "security."

On Friday, Judge asked for another round of opinions.

Kevin O'Leary mentioned MSFT's "services businesses." Kari Firestone started to indicate the stock might be a little toppy before she was interrupted by breaking news.

Not once in several minutes of commentary over 2 days did anyone mention LinkedIn.

So here we have about a half-dozen catalysts for this stock getting mention, but nothing about a recent $26 billion acquisition.

Which means it's irrelevant to the investing case.

So shouldn't it be considered rather foolish to spend $26 billion on something that doesn't even matter?

And shouldn't that reflect poorly upon the CEO, who we're being led to believe is the next Leonardo da Vinci … but might be the next Rex Tillerson?
[Friday, January 27, 2017]
Jim suggests Trump likely won't be able to order up a war on his own
Michelle Caruso-Cabrera on Friday's Halftime reported on rising tensions between U.S. and Mexico leadership.

Judge insisted, "The market doesn't seem to care all that much."

Jim Lebenthal said executive action works to a point, but it'll fail "if he unilaterally gets into any sort of conflict that involves armed forces overseas."

Josh Brown said Texas is affected by strained relations with Mexico, so don't necessarily believe it'll really be that way.

Kourtney Gibson said of China (unless she meant was Mexico, it wasn't totally clear), "We've never had a conflict with that country." (If she meant Mexico, um, we did actually have a conflict.)

Kevin O'Leary dodged Judge's question about Vicente Fox's comments about Trump not questioning imports from Canada.
GOOGL, FB now 'duopoly'
Kari Firestone on Friday's Halftime Report said SBUX only missed earnings because of a "desirable situation" (too many mobile app orders) and then uncorked a whopper, stating there's "pent-up demand, uh, for their coffee."

Is there anyone on this planet yearning for a cup of Starbucks coffee who can't find a location within … 100 feet?

Firestone thinks the stock is a "good buy." Josh Brown said it peaked in November 2015 and just isn't working.

Josh said GOOGL and FB have a "duopoly" (correct, better than Sarat Sethi's oligopoly) in advertising; he predicted "TV advertising budgets start to shift online in large numbers."

Jim Lebenthal said GOOGL provides "FANG-like growth for a value-type, uh, multiple."

Jim predicted INTC goes higher. Kari Firestone said problems with Latin America routes aren't good for AAL. Josh Brown said WYNN could "absolutely explode" if it breaks through 106.
Halftime Report available
on coast-to-coast flights
6 days into the presidency of someone who has done little but sign papers and bark out tweets, Friday's Halftime crew pronounced uncertainty gone in the stock market.

Kourtney Gibson said Donald Trump is "executing" on what he said he would do as president.

"He's absolutely doing what he said he would do," claimed Josh Brown.

Making this conversation even more bizarre, Judge interrupted to claim that "it's the agenda that the, the market is happy with or seems to be as well."

"Is that what they told you?" asked Gibson, who said her institutional clients "are not moving based on these policies."

Judge insisted the tweets aren't so relevant, rather, it's the "tax cuts," "infrastructure" and "regulation."

Then again, Judge in mid-December suggested the market was toppy because he overheard previous Heisman winners talking about stocks at the 2016 presentation (above) (snicker).

Kari Firestone said she watched the Halftime Report the other day on a flight from San Francisco to Boston, and "everyone was so euphoric," she thought they'd all be leaving on wings.

Firestone pointed out "there hasn't yet been a tax cut" and we don't have 4% GDP.

Jim Lebenthal is "unimpressed" by earnings so far.

Kevin O'Leary said the rally is "all P.E. expansion." Oddly enough, he crowed about speaking with institutional and sovereign investors in Europe who are supposedly "moving more into the Russell 2000."

"Well, they're derisking the portfolio by first buying the Russell now, at 23 times earnings?" questioned Josh Brown, who said diversification seems to be working. Brown said that according to Gallup, 66% of Americans think they'll be better off in a year.
Kevin O'Leary's only notable point was that European sovereigns are derisking by buying the Russell 2000
Judge on Friday's Halftime reported that Citi upgraded MSFT to neutral … after 2 years at sell.

Josh Brown said, "Why would anyone listen to this? … I would stay long," Brown said.

"This call, I don't even get," said Kevin O'Leary, who questioned why IBM hasn't done the same things as MSFT.

Kourtney Gibson called FB a "good play" for the long term and said the Loop Capital analyst has a 165 target, and she's not even sure she'd sell it there, "at the end of the day" (Drink).

Josh Brown said the FB bull case has been known for 100 points and asked if it's not already priced in. Gibson said there are "so many different tools," and not all are priced in.

Gibson also likes T, regardless of the merger; "the company overall is good."

Kari Firestone touted BX, in part because its K-1 structure "may change" and because of the possible enabling of "the ability for 401(k) plans to invest in alternative assets."

Firestone likes CHTR because it's not a content provider.

Jim Lebenthal doesn't like CVX, but Judge said Jim Cramer wouldn't sell the stock. Josh Brown predicted it wouldn't get worse than a 4% yield.

Jeff Kilburg said the "bulls are in control" of crude and may test the Jan. 3 high of $56.02. He didn't mention Jim Iuorio's "man-fur." Iuorio suggested that increasing U.S. production will make OPEC more non-compliant with its purported cuts.

Kourtney Gibson, who has established a $125,000 scholarship at her alma mater, the University of Miami, said CL, "at the end of the day" (Double Drink), guided "truthfully." She does like PG.

She threw in a 3rd "at the end of the day" (Triple Drink) at the end of the show.
[Thursday, Jan. 26, 2017]
Panel practically mocks
bear call on GOOGL
GOOGL bear James Dix on Thursday's Halftime confirmed to Judge he's "not a contrarian just for contrarian's sake" but believes the longer-term monetization prospects of search aren't that great.

Dix was eloquent and rolled well with the punches but quite frankly didn't make much of a case for shorting this stock.

Sarat Sethi argued that GOOGL is part of the "oligopoly" (sic probably meant "duopoly") of search and that the management team has "discipline." Dix responded that "search is roughly half of the digital ad market" and how much can it go up in 5 years.

Josh Brown lumped in Dix with Pachter's NFLX call; Dix chuckled. Brown said he'd buy GOOGL on a pullback.

Meanwhile, Pete Najarian called CAT a "hold." Judge didn't give Pete much of a chance to answer Judge's question about why it's not a "sell" (Pete eventually said a few of the fundamentals make sense).

Steve Weiss said CAT has traded on "scarcity value" and called whatever rating they were talking about a "strong ignore."

Josh Brown said CAT trades on raw commodity prices, roughly his same argument for DE.

Josh made a wishy-washy case for being long NKE, suggesting it "ultimately works." Sarat Sethi said he'd wait for a pullback in NKE, something with a "4-handle."

Josh Brown called MSFT "a $75 stock." Weiss said the MSFT multiple isn't cheap, but it's got growth. Pete Najarian didn't say anything about MSFT he hasn't said dozens of times previously (Zzzzzzz).

Josh Brown suggested not buying VMW ahead of earnings.

Pete Najarian and Stephen Weiss said to stay long airlines.

Sarat Sethi said not to expect "anything" in QCOM "for about 6 to 9 months." Pete Najarian trumpeted INTC (Zzzzzzz).

Josh Brown predicted trouble for MAT. Pete said a VZ and CHTR deal would "make some sense."

Weiss hardly said anything about URI.

Brian Stutland called 100 "absolutely critical" for the dollar and said if it stays above it, "I think the dollar moves significantly higher."

Pete Najarian touted AMJ March 34 calls. Steve Weiss said TLLP "hits a new high every day."

Weiss called CVX a "market stock" and touted SXL again.

Thursday's 5 p.m. Fast Money was largely unwatchable; it too often is unless K-Fine is there. Really nobody with the exception of Dan Nathan is an actual "trader," and he's an acquired taste that not everyone acquires. Mel did bring in Deirdre Bosa and Aditi Roy, the only real highlights.
Weiss: We just had '8 years of the worst foreign policy'
Viewers of Thursday's Halftime saw the process for disembarking Air Force One while the crew shrugged off the Mexico-U.S. standoff.

Steve Weiss said "the market doesn't seem to care at all" about protectionist rhetoric.

Judge pointed out that Vicente Fox has been rather rough toward Trump on Twitter; Michelle Caruso-Cabrera agreed and said Mexico is talking about boycotting SBUX.

Nevertheless, "Certainly when it comes to Mexico, they need us much more than we need them," said MCC.

John Harwood said he appreciates the commentary about markets not being "rattled" by international disputes, but "there's a buckle-your-seat-belt quality to this administration" (which has been in power a total of ... 6 days).

Weiss retorted, "We've gone through 8 years of the worst foreign policy and the worst relationships with ALL of these nations than (sic) we've ever been through. At least now, we have the other side, which is fiscal stimulus coming, so I'd say net-net, we're in a better situation than we were for 8 years."

Harwood revealed "there's a lot of skepticism that Mexico won't pay" for the wall. "In many ways, Mexico is already paying," said MCC.

More from Thursday's Halftime later.
[Wednesday, January 25, 2017]
'Radical regime change
in Washington, D.C.'
The star guest of Wednesday's Halftime was euphoria as Judge failed to find anyone who would claim this market is going down.

Mike Farr, who has become a regular guest, said if Donald Trump reduces banks' capital requirements, "Katie bar the door, we're goin' a lot higher."

Jim Lebenthal asserted that things "really picked up steam" when Donald Trump issued executive orders on pipelines. "I'm not being political; I'm being observational. He is going to do things by fiat, and that is good for the markets," Jim said.

Jim pointed out that Dick Bove a day ago was insisting that deregulation isn't coming to financials, but Trump's pipeline action shows he'll "unilaterally" take action.

Steve Weiss said he doesn't care if Trump attacks Dodd-Frank; he owns C and BAC, and the end of Dodd-Frank is merely a "bonus." He said he added to C and LUK on Wednesday and also bought SXL but redid his AKS short.

Pete Najarian stated, "I think we're just at the beginning of a rally that could really last."

Joe Terranova said he thinks the rally is sustainable and that "getting to 23 will be good" for the S&P.

Joe suggested the hyperlow VIX is an indication stocks aren't heading for a crash.

Art Cashin, not often on this program, told Judge he thinks the rally has staying power, though he allowed that the VIX is a bit of a concern. Farr said he thinks the rally is going "farther."

Ed Yardeni, who conceded there are "elements of euphoria," said "everything changed on Nov. 8; we had a radical regime change in Washington, D.C."

Yardeni predicted "another 10%" in the Dow, though "I do things with the S&P 500."

Jim Lebenthal contended, "I think it's easy to get another 5% out of this rally because you're not at euphoric highs."

"This crescendoes for at least a few more days," Jim added.

Pete Najarian and Steve Weiss each reported being 40% in cash.

Erin Browne, who had a quiet show, said the market trades at its highest multiple when inflation trades 2-3%.

Joe said Anthony Scaramucci, whose name is now safe to mention on CNBC again, tweeted that this is the biggest election rally since 1900. "It's more than just a good feeling," Joe told Judge.

"But I was suggesting that it was more than that," Judge protested.
Trump administration is going to watch the jobless reports 'just as closely as the Obama folks'
Jim Iuorio on Wednesday's Halftime said the only way to explain gold's slide is the risk-on trade. He thinks this continues to 1,170.

Brian Stutland said 1,222 is "serious resistance" but it probably is headed lower.

Eamon Javers, for those who think the White House historically doesn't care about unemployment, said "the jobs report is going to be a sort of monthly progress report on where this administration is … they're gonna watch that just as closely as the Obama folks."

In a curious argument with himself, Jim Lebenthal said the defense space is the "secret driver" for BA over the next couple years. But, "this is, at heart, a very big cyclical," and he's going to "wait for a little bit of this euphoria to come off," specifically waiting for a 2% pullback.

Joe Terranova, though, said he'd buy BA now. Jim asked Joe if Jim should buy it; "I'm seriously curious." Joe said, "I never tell a man what to do with his money."

Rich Saperstein said "the market is not excessively valued right now."

Judge wondered about "everybody" growing more positive and whether that's something to worry about "in and of itself" (Drink). Saperstein touted the MLP space, either Maingate or Salient funds. "We think the Fed could tighten aggressively if we get a bout of, of, of inflation (sic), but at this point in time we're not looking for any major upheaval to drive the market much lower," Saperstein said.

Pete Najarian said there was "huge call activity" in RIO March 47.50s.

Joe said "there's nothing but upside potential" for GOOGL. Jim shrugged that QCOM has "made it through these issues before … Qualcomm's easy to own here."

Joe backed BLK over 400. Jim touted BX for a final trade while Weiss mentioned C, Pete mentioned MRVL and Erin Browne said XLE.
[Tuesday, Jan. 24, 2017]
Josh slightly misquotes Dick
Guest host Brian Sullivan on Tuesday's Halftime introduced a clip of Richard X. Bove declaring, "There's no likelihood whatsoever that Dodd-Frank is going to be repealed."

Josh Brown said, "I heard him say in that clip, 'There is absolutely no chance whatsoever of Dodd-Frank being re-," but that isn't precisely what Dick said. (Although it's pretty close.)

"Anytime you hear people in the investment business say 'absolutely no chance,' that means it's about to happen," Brown chuckled.

Apparent Bove skeptic Stephen Weiss said Dick dismissed the banks 3 months ago, so "the hole that he's in is gettin' a lot deeper; pretty soon he won't be able to see out over it unless he's standing on a ladder."

Jim Lebenthal touted BAC and C only because they're trading below book value; he sees the rest as fairly valued.

Atul Lele said he likes WFC and CFG. Joe Terranova said he likes VIRT, ICE and CME.
Joe explains to Sully what Joe has been telling viewers for months
Jim Lebenthal on Tuesday's Halftime Report said it "makes perfect sense" to pressure automakers to create U.S. jobs, but he hopes the CEOs are urging Donald Trump to "avoid a trade war at all costs."

Josh Brown said you can play GM with a trailing stop (Zzzzzzz). Stephen Weiss said you want to buy these stocks when the multiples are high.

Guest host Brian Sullivan quibbled with Weiss over where cars bought by Americans are made.

Sully, who enjoys dispensing his own perspective even more than that of his panelists, explained to Joe Terranova that environmental orders are often used to block infrastructure projects for non-environmental reasons and questioned if Joe is still buying the infrastructure play.

Somewhat incredulously, Joe responded, "Why wouldn't you buy these?" Sully demanded names. Joe offered PSX, SU, CNI, ETP, MLM and VMC, "but I'm not telling the viewers anything that we haven't talked about for the last 3 months!"

Josh Brown said these stocks have been in the "penalty box" (Drink) for a decade.

Sully named the company, TPC, that's rebuilding the Verrazano-Narrows bridge and said it's up 166% in 12 months.

Stephen Weiss said we're in "early days" of this trade, and "it's gonna take a while for all these plans to pass through."

Josh Brown said DE has "just started to get going" and asserted it'll trade on a rebound in ag prices more than anything else.

Joe Terranova wondered about the analysts bearish on DE, "Are they walking around the cornfields of the Midwest figuring out the agriculture picture right now? Technically it's a stock that has broking (sic) out."

Brown said there's a "big disconnect" between analysts covering the DE space "and what's really about to go on here."

Stephen Weiss said CAT should really trade at $60.
Sen. Amy Klobuchar invoked during episode of the Halftime Report
Beaming in from Minnesota, Pete Najarian on Tuesday's Halftime Report said he would "probably be adding" AKS but would have to look very closely at it to find the best opportunity "going forward from here" (sic all 4 words redundant).

Stephen Weiss predicted the steel stocks would be "OK," but he finds them overvalued and is looking to short them.

Josh Brown asserted it's no "random occurrence" that these stocks are rising. Weiss insisted it's a "momentum trade."

Pete even said Sen. Amy Klobuchar "has been very very aggressive" about the "dumping idea" of Chinese steel.

Joe pointed out AKS a year ago "was a dollar-ninety-something." Sully explained (Drink) that "it was a $70 stock in 2008."
Really — an entire episode without NKE or DIS
Joe "Main Street" Terranova on Tuesday's Halftime Report said he's "100%" a buyer of VZ.

Josh Brown though said he'd avoid it because it's not working now. "It's done nothing in a year," Brown insisted.

Jim Lebenthal endorsed VZ at one point but cautioned that people are overlooking that the earnings recession might not be over. But Joe said that whether the earnings recession is over or not, "none of it's leading to an economic recession."

Steve Weiss called Jim "professor" and asserted no one's "missing it."

Jim Lebenthal said at this cash/multiple level, he's buying AAPL "all day long." Weiss called that an "old story" and questioned "what does it matter."

Scott Nations said OPEC is "well on its way" to implementing expected cuts. Jeff Kilburg predicted a test of 56, though "at the end of the day" (Drink), we're stuck in a range.

Pete Najarian said services are the place to be in the oilfield space.

Pete said March 18 calls in FCX were popular.

Sully told Joe that rig counts were up 29 last week. Joe said he has botched the energy trade, and his bank account doesn't like it because he's not making money in the space.

Weiss tepidly endorsed DHI. Jim said the MU trade gives "credence" to a pickup in PCs. Josh Brown gushed about BABA and Joe did so with ADBE.

Weiss backed AGCO.

Melissa Lee on the 5 p.m. Fast Money didn't mention the lost opportunity to show off a new swimsuit while in Florida a day earlier.
[Monday, January 23, 2017]
So much for our new free-wheeling business climate (Part I)
Bertha Coombs on Monday's Halftime reported on the judge's (lower case "j") ruling against AET and HUM, though the stocks didn't seem to be taking a big hit.

"Why wouldn't you appeal," shrugged Joe Terranova, suggesting a possible "settlement under a new administration."

Stephen Weiss indicated the judge is right; "there's no reason for these companies to merge" and the deal would only "increase pricing."
So much for our new free-wheeling business climate (Part II)
Pete Najarian, who backs about every big pharma stock and every research upgrade, was beamed in to Monday's Halftime from Minnesota to hail the Jefferies BMY buy call.

Pete said he's not in BMY because he hasn't seen the (Drink) options activity yet.

Pete conceded health care is an area "under attack" in this government and said we have to be "very, very advised" (sic grammar) by the president on the subject.

"I'm avoiding it. I don't see the value here," said Steve Weiss. But Josh Brown said he likes BMY and that it seems to bottom at the 3% yield level. "We're talking about some relatively minor issues" in the big picture, Brown said.
ETF conference is discussed, but nothing about the passive-vs.-active debate
Judge on Monday's Halftime called MCD a "big sorta Dow stock."

Josh Brown said "it gets really tough" to build on all-day breakfast and said he'd "stay on the sideline" in the stock.

Joe Terranova said MCD was "basically flat" in 2016 after a good 2015 and curiously claimed, "McDonald's doesn't seem to have the technology initiatives" of SBUX or others, for all the fast-food restaurants that are apparently dabbling in driverless cars.

Stephen Weiss indicated the pipeline at MCD is dry. "You gotta wait for the next big idea. It's not coming," Weiss said.

Joe said QCOM is a "fallen angel" and said he wouldn't touch the stock. He also referred to the "smartphone face" (sic pronunciation). Pete Najarian said you don't have to try to catch the falling knife of QCOM but consider SWKS and CRUS and INTC.

Steve Weiss said he bought M because this is its bad season and it has a high yield and "it's so ugly, it's almost cute." Josh Brown said CHKP is "becoming a subscription business" and "there are no natural sellers" if you get a pullback.

Bob Pisani reported from the ETF conference, where Mel's at. Josh Brown said If someone approaches you with a Trump ETF, "run as far as you can in the other direction." Judge mentioned the policies "in and of themselves" (Drink) (sic redundant).

Judge tried to tease Jeff Gundlach's pro-India/Japan call ambiguously as if Gundlach might be on the show but of course he wasn't or they would've said that explicitly. Josh Brown backed Gundlach's call. Joe said that in India, they need to do a border tax (ideally on Kashmir) if they want to lower the corporate rate "the time to invest is now."

Pete Najarian said there was bullish call activity in C. Joe backed CNI and CP and Josh touted GOOGL.

Mel hopefully packed a swimsuit for her trip to Hollywood, Fla., for the 5 p.m. Fast Money, though there were no indications of that Monday.
Surprised Judge didn't summon Doc and Kara to critique Trump's latest business meeting
Judge thought he had a hot topic to open Monday's Halftime — Trump's meeting with a group of business executives encompassing everything from solar panels to Steph Curry sneakers.

Judge on the one hand kept suggesting no one's really taking protectionist rhetoric that seriously but still spent the show's entire opening 20 minutes on the subject.

Judge said Andrew Liveris put the meeting together and that Liveris, using the benchmark that all the pro-Trump crowd is using for success, noted the meeting lasted longer than the official time allotment.

Josh Brown characterized the meeting with faint praise: "I guess that's what you wanna see" and "at least" Trump's doing what he said he would do.

But Josh doubted there'll be a massive pullback in regulation, citing all the layers beyond the federal government.

Stephen Weiss said the visuals of the meeting are "very positive," but "unfortunately that's not the issue" that investors are concerned about and warned of the "off-point messages" on Twitter and elsewhere.

But Judge insisted this meeting is the "quintessential example" of focusing on what Trump does and not what he says. Weiss said he's a "big fan" of Trump's business initiatives so far but wants him to "dial back" the nonsense.

In a head-scratcher, Joe Terranova said the market needs to stop "responding" to what's happening in D.C. He pointed out the strategy of buying U.S. sales is down 3% year to date.

After haggling from Judge, Joe said that rather than buy or dump the market, you should "tactically trim a portfolio."

Josh Brown insisted that the bank uptrend is intact.

Judge presented his conversation with John Paulson (um, a Trump backer) as some kind of newfound pro-Trump call. "He's in the Trump administration in the economy policy," Weiss shrugged.

Kevin O'Leary said "the biggest news I heard today" was Trump's approach on value-added taxes. "This is scary stuff, kiddies," O'Leary said.

Joe Terranova opined that if someone is going to lower the corporate tax rate, he has to go for a border tax and "do it right now."

Kevin O'Leary accused Joe of being Josh and stated, "That's gonna be a very ugly trade war."

But Weiss said Trump is only getting real about what all other countries do. "Trump is absolutely right," Weiss said.

Judge eventually got everyone to agree that nobody really believes the extreme ramifications of Trump's rhetoric. Josh conceded, "This stuff is changing day to day."

But the panel disagreed with Judge's claim that they're all "hung up" on Trump's rhetoric.

O'Leary apparently is hung up, however, insisting, "He added risk to the S&P."

Joe reiterated for those who didn't hear him the first time that if someone's going to cut corporate taxes, he's going to pay for it with a border tax (Drink).

O'Leary complained that Justin Trudeau didn't "pivot" after Trump's win and is out of step with U.S. policy. Judge said some are calling O'Leary "Canada's Donald Trump." O'Leary actually decided that "people are no longer (sic) happy with politicians."

O'Leary, who said he's Irish and Lebanese, also asserted he could make an instant deal with Trump on the XL pipeline.

More from Monday's Halftime later.
[Friday, January 20, 2017]
Guy, Grasso: Market going higher
Among the cogent observations made by Guy Adami throughout his long run as the linchpin of Fast Money is this:

"The market doesn't give you this much time to buy the low or in this case sell the high."

Tremendous advice, maybe not 100% infallible, but always relevant whenever stocks seem to hover around a tight range for days or weeks.

Guy made the above comment on Friday while the 5 p.m. Fast Money crew observed inaugural festivities. He said he thinks the stock market "grinds higher."

Guy described Trump's speech this way: "He was sort of describing it's- a sort of dystopian United States."

Steve Grasso said this type of speech "is what got him elected." Grasso predicted "the market will go higher."
[Thursday, January 21, 2017]
Karen gushes about Mnuchin performance at Treasury hearings
Thursday's Halftime Report was All Mnuchin for the hour — not even a quick market update from Judge.

On the 5 p.m. Fast Money, Karen Finerman, who looked downright dynamite in black, said Mnuchin "actually did an outstanding job … really held his own … very thoughtful … very smart … very comfortable with his skills … excellent job."

Guy Adami said he could "easily see" stocks soaring Friday to complete or flirt with the Trump-Dow-20,000 narrative. But Steve Grasso asserted, "Every one is set up to sell the inauguration."

According to our cable TV grid, the Halftime Report and Power Lunch will be preempted Friday by inauguration coverage.
[Wednesday, January 18, 2017]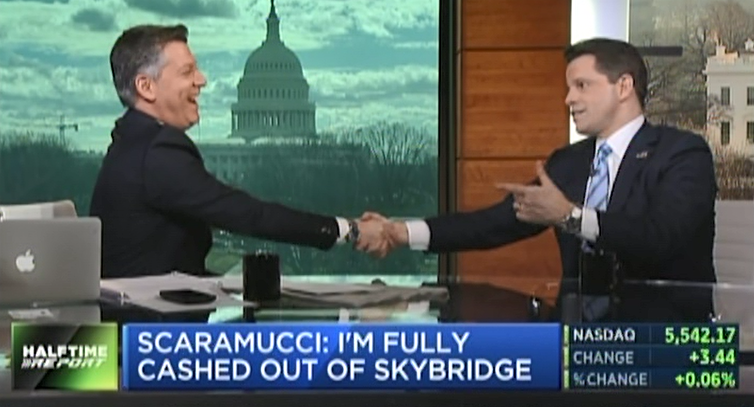 CNBC, Scaramucci shake hands
(for 8 seconds)
It was maybe the biggest split in business television since Louis Rukeyser got the boot from "Wall Street Week."

2½ years ago, CNBC cut the cord with longtime contributor Anthony Scaramucci, coincidentally over that same "Wall Street Week" franchise after Scaramucci decided to resurrect it on his own.

The snit had the potential for juicy television-bloggy sniping, but the issue sort of publicly died after Scaramucci turned his attention to the rebooted show and CNBC suddenly dropped its coverage of Scaramucci's SALT Conference, a move decried by this page.

Apparently, bygones are gonna be bygones. Judge welcomed Scaramucci back to a CNBC set on Wednesday's Halftime in a lengthy chat from Washington, where Scaramucci is gliding into his new role as a fairly close voice to Donald Trump.

Scaramucci told Judge, "I'm glad to be back, Scott."

Judge responded, "It's good to have you back. It is good to have you back. We'll get into a little bit of that later."

But they never did.

Nevertheless, it was a likable and chipper "reunion" (if that's even the right word), with quality questions from Scott Wapner; our scowling new president is fortunate to have the voice of Scaramucci on his side.

Career-wise, hopefully this isn't going out on a limb, but Scaramucci is probably best categorized as a wealth-management specialist … who might be somewhere between Grant Tinker and Henry Kissinger. Oddly enough, he actually asserted early in Wednesday's interview, "I like staying in my lane, staying in my core competency."
Question Judge never asked: Anthony, what did Barack Obama do for, or to, American business?
Judge in Wednesday's Halftime chat with Anthony Scaramucci rattled off Scaramucci's new title: "Assistant to the president, director, office of the public liaison."

Scaramucci described his role as a "community outreach, uh, department inside the White House. I think it's an intergovernmental agency outreach Scott where we talk to state and local governments … it's a business outreach, businesses large and small, trade associations."

That's a lot of entities to be outreaching.

He said he has gotten a boost from Valerie Jarrett. But, "I don't want to overstate my position" relative to Barack Obama's circle, said Scaramucci. He praised Jarrett as a "patriot first, and a partisan second."

Scaramucci described CEOs as "thrilled" about the Trump presidency and said some who didn't vote for Trump are "coming around."

"If anything, it's gonna be disruptive change for the better," Scaramucci asserted.

He said he and Wilbur Ross were agreeing that "just about every company" will grow around 30% next year in terms of profitability if a tax cut is pushed through. There was no discussion about potential deficit spending.

Judge questioned, indirectly, whether the new president is thinking through everything he says.

"Some of the off-the-cuff stuff is actually pretty well planned," Scaramucci claimed, calling Donald Trump "one of the most thoughtful, disciplined people that I know."

Judge asked how much credit Trump deserves for the rally. Scaramucci said "big-league credit," because "at the end of the day" (Drink), "the psychology has changed in the United States." Judge pointed out that Ray Dalio says "the legislative process in and of itself (sic redundant) is messy."

Obviously up-to-date on the week's Davos headlines, which have mentioned Scaramucci in abundance, Judge noted Scaramucci said at Davos that Trump "could be one of the last great hopes for globalism" (snicker).

Scaramucci told Judge, "He's not a protectionist. It's an interesting turn of phrase and I know that was used in a headline. Uh, and what I mean by that, the America First strategy uh that the president-elect has put in place is actually very good for the global economy."

Obviously the buzzword for administration trade goals is "symmetrical," a term Scaramucci used Wednesday and one he mentioned 5 times in one FT article alone.

Scaramucci said Larry Summers (a "Wall Street Week" guest, not mentioned by Judge) makes a "good point" about the direction of the peso, but he's "leaving out" the notion of giving the plan a little time.

Scaramucci said the dollar is not his "purview." Judge said some think it's not the president's "purview" either, but he talks about it anyway. Scaramucci called "purview" a "good SAT word."

2 of Judge's 3-person panel, Joe Terranova and Jim Lebenthal, stumbled or whiffed in limited opportunities. Joe congratulated Scaramucci and called him "our first U.S. ambassador to the United States" but then inexplicably asked about "DOL fiduciary" (snicker) and requested Scaramucci explain how removing this rule benefits both Wall Street and … (drum roll) … "Main Street" (Drink).

Scaramucci pointed to his November WSJ op-ed in which he said "401(k) people" do not need a "federal baby sitter. … There's enough fiduciary standards already, uh, inside the Wall Street system." (There's your stock tip from the interview.)

Scaramucci added, "In down markets, hedge funds provide a, uh, a buffer against that volatility … if you read through the rules, no 401(k) holders will own hedge funds anymore."

Jim Lebenthal questioned how many other political rivals the new president is going to vow to jail if "I'm gonna be waking up every morning and first thing checking the Twitter feed." Scaramucci said, "Some presidential historian 25 years from now is gonna look back at this and say, 'Wow, President Trump changed the game in terms of the way he's communicating with people.'"
After 25-minute chat, Judge needs to clarify Anthony's role with SkyBridge
Judge noted in the Halftime Report's Wednesday interview with Anthony Scaramucci that Scaramucci sold SkyBridge "to a Chinese consortium" and questioned how much of that is "China wanting to get closer to the administration through someone like you."

"I love the way the papers like report this stuff," Scaramucci said, at least his 2nd jab at the news media, although we're not sure whose article he's faulting (probably this one). He explained, "I am fully cashed out of SkyBridge and then disencumbering myself from all of those business relationships."

He said HNA Capital is "U.S.-based" and "run by United States citizens."

He acknowledged "the HNA piece is owned by a Chinese conglomerate based in Beijing." But, "There'll be a full Chinese wall between me and them," Scaramucci said.

But he also mentioned that George Hornig "is gonna come in and help our management team grow the business," the use of "our" making us wonder whose management team he's talking about.

Later, Judge offered a "quick clarification" that "Mr. Scaramucci is also stepping down from his role as co-managing partner and will no longer be affiliated with the firm or the SALT Conference, which has been spun out as a stand-alone entity. That will be run by Victor Oviedo and Kelly O'Connor."

Scaramucci insisted the SkyBridge sale was a "market-based transaction."

Scaramucci seemed to acknowledge a perception issue about his Davos meeting with a Russian investment chieftain even though Wapner didn't suggest one. "As you get closer to the White House and you get closer to being a voice for the administration, I have to start really being careful about who I'm meeting and what I'm saying, and I respect that," Scaramucci said.
Nothing this time about having an investment plan until you get hit in the face
In the remainder of Wednesday's Halftime Report, Rebecca Patterson mentioned the pluses and minuses of the Trump market and predicted "a year with a lot of push and pull." But she thinks the gains are more than a "sugar high."

Jon Najarian suggested one of the reasons "Jamie" didn't want a post in the Trump administration is that he sees "30, 40, maybe 50% upside out of JPMorgan stock."

Joe Terranova said Mike Mayo might be right, that MS might be the "crown jewel" of the big 5 banks. Judge admitted that "every day over the last week minimum, we have asked the question (sic last 2 words redundant) whether it's too late to get into financials," and that Dimon says it's not.

Jim Lebenthal said the financials are "in lockstep" with the 10-year.

Kari Firestone wanted to offer 4 reasons why financials will outperform over the next couple years, but we can't handle more than 3, and we're not sure she even got to 4. She touted BX.

Mark Mahaney said he doesn't see a "particular reason" to buy NFLX into the print. He said there are "4 numbers that matter," but we can't handle more than 3, and we're not sure he even got to all 4. He said you can "aggressively" buy the stock on a correction.

Brian Stutland predicted crude will be stuck in a 51-55 range.

Doc said someone who tripled his/her money in HPT calls is now buying the March 31s. Judge called that "super bullish."

Joe touted SCHW. Jim touted QCOM as a "great buying opportunity."
[Tuesday, January 17, 2017]
Funny how nobody ever mentions an actual must-have car when recommending GM
The 5 p.m. Fast Money is celebrating its "10th" anniversary.

But it was the Halftime Report that was full of little more than greatest hits Wednesday as Judge took the gang on a tour of JPM, AAPL (Drink) and DIS (Drink).

Judge said David Einhorn is long AAPL and cites the "repatriation" angle (snicker); Einhorn apparently is also stepping up his GM long.

Josh Brown said the only way to play GM and F is to buy the bottom end of the range; "these stocks don't do anything." Judge countered GM has done great over the past year.

Stephen Weiss said he owns NFLX and contends it hasn't "matured" yet in the U.S.

Joe Terranova, who somehow avoided mentioning FANG for a change, asserted that viewers can't stay in the PXD and EOG shorts that Einhorn played as long as Einhorn can stay in them. (That's like telling viewers they can't run Sears Holdings for as long as Edward Lampert is running it (snicker).)

Jon Najarian had a much sharper and better comment on Einhorn's oilfield plays, stating, "There's a world of hurt waitin' for ya out there" if you're trying to short the fracker space like Einhorn.

Erin Browne, who looked great, said European banks are a "prime place" to be.

Doc said he likes Goldman's DIS bull call. Judge said Goldman claims that Disney's film slate "might be the best ever" (Drink) and "ESPN headwinds may abate" (Double Drink).

Doc said TWTR is "still in a world of hurt" and presumably a "take-under."

Scott Nations said if the pound continued upward, it would be "the mother of all key reversals."

Josh Brown suggested gold might be "the primary way" to play Trump's perilous world alliances.

Doc said WFT March 6 calls were popular. (Pete already trumpeted those on Jan. 3. It closed $5.35 that day, about what it was on Tuesday.) He also said SPLK January 55 puts were popular.

Joe likes Canadian rails. Weiss said to buy VIX futures.
Judge spends 24 minutes talking about JPM and banks (Zzzzzzzzzz)
It was a once-a-decade trade since October, but all over since mid-December.

Yet Judge and the Halftime crew continue to talk about JPMorgan like it's Netflix or Amazon.

("But they're STILL not expensive!!!!!!!" nobody actually said Tuesday.)

On Tuesday's Halftime, Jon Najarian predicted "fits and starts" in the stock market for a while.

Judge seemed intrigued that someone was buying 21 VIX calls. Doc indicated people do it all the time.

Tony Dwyer said 60% of newsletter writers are bullish, and given that and a couple other sentiment indicators, "history shows you're gonna have a correction."

Steve Weiss though seemed to think some of the optimism might be fading. "Protectionism keeps getting more and more prominent," Weiss said. Also, "There's some reason to be concerned" that Trump's political clout is less than advertised.

Erin Browne offered, "It's gonna be a lot harder to get a tax plan done as quickly as the administration would like."

Joe Terranova began by reporting a botch; "my mistake for the year" was predicting that the market would "accelerate" past 20,000 into the inauguration. (That was after he quickly took off the S&P puts on he added in late December. #overthinkingit)

Joe said of all the things that can go wrong in 2017, JPM is the "least of your problems." But Weiss predicted a "better opportunity" is coming in banks though he wouldn't use the term "overbought."

Josh Brown advised keeping a list of stocks you want to buy in the next correction with "buy-stop limits." But Doc said, "Everybody has a plan until they get hit in the face." Doc reaffirmed everyone has a plan, but it's a question of, "Can you stick to that plan when the crap hits the fan."

Joe mentioned SJM again (Drink) and pointed out the dollar's down in 2017. Erin Browne advised being underweight financials. Joe grumbled that it doesn't have to be "binary."

Joe said V has a 38% tax rate that's not going up; "it's comin' down in some capacity." Erin Browne shrugged that financials have been "entirely driven by the yield curve."

More from Tuesday's Halftime later.
[Friday, January 13, 2017]
Toni Sacconaghi: 'Unclear' if AAPL is investable for the next 5 years
Judge asked Toni Sacconaghi (whose name was misspelled by the graphics gremlins) on Friday's Halftime if he agrees with Peter Thiel's AAPL comments.

"I agree in part but not wholly. Um, Apple's best days are behind it, there's do doubt about it," Sacconaghi said.

Judge said, "Tom Brady's best days are behind him too but he's still pretty damn good." (Not good enough to stop Le'Veon Bell. Hint. Hint.)

Sacconaghi said "Absolutely," and he feels "very comfortable" recommending AAPL into the iPhone 8 cycle. Around an interruption by Phil LeBeau on LMT, he twice said AAPL has a lot of "pent-up (Drink) upgraders."

But Sacconaghi said it's "unclear" that you can invest in the stock for 5 years. Judge said he's "really struck" by that comment. Sacconaghi said the "operative question" is whether AAPL will be an "ongoing growing company."

Jim Lebenthal said 5 years is "the wrong time frame to look at," rather, it's a "pretty easy stock to make money in the next year." (sic probably needed another "in")
'Watch what happens to Facebook when Snap goes public'
Judge on Friday's Halftime said he's "really stunned" by Jodie Gunzberg's note about a commodities supercycle reboot.

Gunzberg said she's seen "2 really bullish signals," one being big outperformance of industrial metals, the other being the performance of industrials and energy.

"We may see higher inflationary impact," Gunzberg said, adding "we're looking for the weaker dollar."

Jim Lebenthal told Gunzberg he doesn't agree, citing iron ore supply. Gunzberg acknowledged supply needs to come down, but, "I would look to the suppliers to start pulling back." (If Weiss were there, he would've scoffed at how iron ore is woefully oversupplied and how Samsung probably does it better.)

Jim Iuorio said gold was feeling effects from the recovery of the "risk-off" day in stocks a day earlier; he sees 1,177. Anthony Grisanti said "extreme tweets" from Trump have supported gold a bit, but he sees $1,000 by summertime.

Josh Brown doesn't disagree with the Raymond James FB upgrade, but he likes GOOGL better. Sarat Sethi said he's been buying FB.

Ian Winer said to "watch what happens to Facebook when Snap goes public." Judge said it's not like everyone will dump Instagram. Winer said he'd rather play AMZN out of the FANGs.

Sarat Sethi said "momentum-wise," you probably want to own NFLX. Jim Lebenthal said TIF sentiment "has been picking up for several months now," and he loves the stock.

Jim Lebenthal touted BA. Ian Winer said to buy LULU.

Phil LeBeau again practically served as Sergio Marchionne's spokesman, explaining that Marchionne already knew that there would be an investigation after the EPA finding and implying that the stock was falling Friday on old news. (Note: Not saying is Phil is not being objective, only that he is strenuously presenting Sergio's outrage and disgust for the last 2 days.)
Weiss says Apple's late to everything, borrows against foreign cash at 25 bps, pissed customers off with the jack, the phones break, CNBC uses other phones for instant video, the Watch is a bust, etc.
We can't fathom why — probably O'Leary and Cramer were busy — but Judge summoned Mike Farr to Friday's Halftime for a market call.

Farr said markets went up 8% between Reagan's election and Reagan's inauguration before we ultimately went into recession.

Josh Brown made the mistake of asking Farr if Trump maybe has nothing to do with a lot of the sectors that have been rallying. "I don't know is the answer, Josh," Farr said.

Judge then gave Brown, "with all due respect," a lecture for being "too technical."

Jim Lebenthal said banks and the overall market are in a "stair-step" pattern in which stocks aren't going to give it all back.

That was backed by none other than Wilfred Frost, who predicted bank stocks will be "more steady from here, the share price appreciation."

Ian Winer said, "This group has a lot of room to run."

Josh Brown said there's no "evidence" that the uptrend is over and that HBAN is on the "verge of a breakout." He also touted RF and ZION.

Judge actually said "what a difference a day makes" (Drink) about the regional banks.

Sarat Sethi twice suggested buying banks when the 10-year yield comes down; Josh Brown agreed.

Anton Schutz said "there's kind of a floor underneath these names" in banking, and it comes down to "stock-picking." He owns BAC ("a lot more upside") but not JPM, which is "more of a growth stock."
[Thursday, January 12, 2017]
Leaks, Trump style
A day ago, Donald Trump complained, probably correctly, how his intelligence briefings keep getting leaked to the media.

But this fellow, who bluntly tweets his views about Arnold Schwarzenegger and Meryl Streep and other subjects, decided the best way to convey his supposedly skeptical thoughts on Time Warner-AT&T a week ago was to have a "confidant"-via-"friend" quietly give Bloomberg News Service a call and mention that not only Trump but Steve Bannon is "opposed" to the deal.

What does that mean? Jim Lebenthal, whose easy-10% call on TWX from a few weeks ago had hit a thud recently, said on Thursday's Halftime that the deal is experiencing "maximum pessimism," so buy it now for an easy 15%. Yep. (This writer is long TWX and basically agrees with Lebenthal.)
ESPN priced in, 'Star Wars'
somehow not (cont'd)
Judge on Thursday's Halftime told Brian Wieser, who downgraded DIS, that one panelist finds it "ridiculous."

Steve Weiss, whose 2017 New Year's resolution apparently is to make a provocative call in every soundbite, then clumsily told Wieser that it would be "ridiculous" as a "research call" but that it's not a research call but based on rates, etc.

Wieser cited "uncertainties" facing the company including from the market/econ environment.

Kevin O'Leary asked Wieser, if one were to sell the stock, where to redeploy the capital into a content play. (Translation: What do we buy instead?) Wieser mentioned FOXA and suggested better Sky synergies than T-TWX, though he said the latter deal goes through "despite the rhetoric (sic actually a quiet phone call to a Bloomberg reporter) at the top."

Jim Lebenthal, who had a very strong show, said a DIS target of 85 would put the multiple around 14 or 15, which would be the lowest in years. Jim touted the potential of Marvel and the "'Star Wars' franchise" while claiming the "TV viewership" issues have been priced in for 18 months. (That wasn't the strongest part of Jim's show.)

Joe Terranova shrugged at concerns over Bob Iger's replacement. But Judge pointed out that Pete Najarian has also cautioned about this. (And the next time this show or the 5 p.m. Fast Money takes up the successor issue, a bunch of people will gush, "Oh, that'd be sooooo great!!!" if Sheryl Sandberg takes the job even though they've never met Sandberg in their life.)

Pete decided on Thursday to stomp on the anti-DIS messenger, stating "this is an analyst who's been wrong, let's be honest," and Pete would rather follow analysts who are "ahead of the curve."

Weiss at one point said he's waiting for a better entry point on DIS and said ESPN is still "atrophying."
Weiss agrees with Karen, drugmakers should have to negotiate with government
It gets a bit tiresome, but it's also the most robust debate on the Halftime Report — whether you can buy pharma/biotech now.

Judge on Thursday's Halftime reported 3 upgrades for MRK.

Pete Najarian, of course, owns it. Another fan, Jim Lebenthal, offered, "Merck has all the momentum right now."

Joe Terranova twice asserted, "You have to be in the health care space" because it's 13% of the market, despite the "saber-rattling."

Stephen Weiss argued that financials used to be a lot higher percentage of the index and now they're a lot lower, and as for drug prices (as Karen Finerman stated yesterday), "they should have to negotiate" with the government.
Apple's reach hasn't 'extended past the user base'
Stephen Weiss on Thursday's Halftime Report said he agrees with Peter Thiel.

"Apple's late to everything," Weiss grumbled, and everybody's into content.

AAPL champion Pete Najarian insisted Katy Huberty's got 3 great reasons but didn't even have services! the company is "always" late to everything.

"They have not grown their service business," Weiss insisted, prompting Pete to practically explode. Weiss said it hasn't "extended past the user base," whatever that means.

"The Watch is a bust," Weiss added, asserting Fitbit does more. And he said AAPL has "pissed customers off with the jack" and earbuds thing.

Weiss also said he got his iPhone 7 free because he had to replace his previous one 3 times "because it kept breaking." It's true these things are hardly glitch-free.

Kevin O'Leary touted how great the iPhone 7+ camera is and even usable for TV. "CNBC uses other phones to do it," Weiss scoffed.

Joe Terranova said "the retention rate" for AAPL is over 90%, then mentioned "favorable policies" for repatriation (Drink). (What exactly are those "policies"? A game plan to give AAPL, GOOGL and FB more money because they don't have enough?)

Joe said customers at that retention rate are willing to wait and "pay for" the next products.

Weiss wasn't done. "They've been borrowing against that cash at 25 bps," Weiss said, adding "BlackBerry, Zenith, RCA." (Guy Adami always says "Sony in the 1980s.")
O'Leary: De-risk
Pete Najarian on Thursday's Halftime Report said the metals selloff was pulling down the rest of the market and also said "range" (Drink) 3 times.

Joe Terranova said the selloff is "healthy," and it's not time to sell financials. "I welcome this volatility; I think it's good," Joe said, adding "we're still at the top half of the range" (Drink).

Kevin O'Leary said 2% down is not a "catastrophe," but a "dose of reality," then slammed his least-favorite bank sector again.

"Regionals have really ugly balance sheets," O'Leary contended, reaffirming he's short the space.

In general, "I would be de-risking," O'Leary said.

Stephen Weiss noted the 10-year is down to 2.31%, triggering "algos."

Jim Lebenthal mentioned "policy (sic) uncertainty," talking about possibly getting ahead of our skis a bit on deregulating banks.

Weiss said the Trump press conference a day ago was "more reality TV than presidential."

While Joe Terranova was welcoming the "healthy" volatility and being in the "top half" of the range, Nili Gilbert was talking about another range — 10% down — citing "underlying macroeconomic reality" as well as "investors' perception" of that reality in suggesting the optimism is already baked into stocks.

Jim Lebenthal contended that "corrections are notoriously difficult to time."

Gilbert, whose trade according to the screen graphic is apparently long Travelers, short UBS, suggested you could avoid the worst of the correction by focusing on individual stocks, and now she's "completely hedged."

Stephen Weiss asked for a "trigger." Gilbert suggested "sentiment" and pointed to rising rates.

Joe asked Gilbert about the "so cheap" VIX. Gilbert said, "This is exactly what we're talking about" as far as overcooked optimism.

We put that whole conversation far down in the thread because we're honestly not seeing it.

Kevin O'Leary said he doesn't like the notion of a "border tax" and said he didn't know what it was until about 48 hours ago.
Jim: Seasonal retail slide could be 'great buying opportunity'
Ike Boruchow, who like Brian Wieser did well on Thursday's Halftime regardless of one's opinions of their calls, said the retail sector "at the end of the day" (Drink) (that was his only bad part) has "really choppy fundamentals" and also faces dicey import issues.

Basically, it's disaster mode.

Boruchow apparently thinks LULU and ROST and a few others are OK but suggested "cyclical" issues are turning to "secular."

Jim Lebenthal conceded the headwinds but asked, "Isn't there a certain element of seasonality?" suggesting in a quality point that this might be a "great buying opportunity" for the sector.

Boruchow said perhaps, but the growth is what is is, and "things need to rebase."

Joe Terranova agreed with Boruchov, saying "Sears is the poster child for it. … Brick and mortar is in trouble."

Phil LeBeau reported that Sergio Marchionne is really, really, really mad and thinks it's "absolute nonsense" to think Fiat has Volkswagen-like problems. (Sergio on Power Lunch told MCC he's part-Canadian as well as Italian.)

Jim Iuorio said he bought gold 3 weeks ago, and he still likes it. Brian Stutland said there's been a trend reversal, and we may test 1,275, though he'd sell into the strength.

Pete Najarian said people were selling April 16 puts in SLV. Stephen Weiss touted BAC. Joe twice endorsed FDX and UPS as a retail play.
[Wednesday, January 11, 2017]
John Harwood questions how easily the new president might conduct 'policy'
John Harwood, who was inexplicably late to the party on Wednesday's Halftime Report post-Trump conversation, mentioned one of the world's dumbest words:

"Policy."

Harwood noted the criticism leveled by Donald Trump at the intelligence community during Trump's press conference and said it's "not a positive tone with which to begin conducting national security policy."

Let's think about that for a moment.

"Conducting policy."

Forgive us for asking … but what exactly does "policy" mean?

Nothing, of course. It's faux intellectualism. It's merely a mythical legality, something not enforced by courts but established by some kind of authority that, to a large extent, is capable of making its own rules. (Dictionaries are free to adopt that definition; we don't expect to get paid but we're not going to contribute free labor to Wikipedia or Amazon or Facebook or Twitter or eBay or Yelp.)

It's actually a laughable term because intellectual types fall for it. Remember when your math teacher stressed, "Don't assume that what you're trying to prove is true!!"?. People who talk about "policy" mistake cause for effect — surely the most common human intellectual mistake — and don't know which end is up.

For example, you've heard, "It's company policy not to respond to rumors." Really. What they're really saying is, "We thought about this one (and every one) and decided this one is not worth commenting on."

One of the early initiatives of the George W. Bush administration, led by Vice President Richard Cheney, was to develop an "energy policy."

A lot of people on CNBC cheered this, likely Larry Kudlow, although we don't have any such commentary on file, so you'll just have to take our word for it that we're sure we heard him cheering this endeavor.

Eventually we rolled into Iraq — that apparently was another "policy" — and people stopped talking about an "energy policy."

What the administration was really doing — in the best-case scenario of this ridiculous task; we're giving them the benefit of the doubt here — was likely trying to assure that the nation has plenty of accessible oil and electricity (whether we choose to use it or not), enough to carry us through a shock, at the lowest prices possible, and reassuring the fossil-fuel providers who tended to support that ticket that they wouldn't be wiped out. It's like this page declaring, "Our policy is that Seema Mody is gorgeous."

The goal is important. The "policy" is just the backfill.

What exactly is the great energy "policy" that the country enjoys now based upon this time-consuming and court-clogging activity?

Probably the most famous declaration of American policy is John Kennedy stating, "It shall be the policy of this nation to regard any nuclear missile launched from Cuba against any nation in the Western Hemisphere as an attack by the Soviet Union on the United States, requiring a full retaliatory response upon the Soviet Union." Which really meant that if the only country in the world capable of committing this act actually did so, we would bomb them in retaliation. (That was enough to merit a national television speech, but there was no speech about the unfolding policy of sending a couple million American young people to jungles of Southeast Asia over the next 10 years and charting a path of crisis for 1962 America's 9, 10, 11, 12, 13, 14-year-old (and older) males who'd soon be faced with a very difficult decision, a policy their parents might've actually found a lot more surprising and debatable.) (There was also some clever terminology, "quarantine" rather than "blockade," that seemed to make quite a bit of difference in this matter. Sorry, we like this stuff.)

"Policy-makers" are really just making it up as they go along. As they should. Declaring how one will react in a mythical situation is dumb. Pretending otherwise is laughable.

So anyway … when John Harwood is wringing his hands about the lack of pleasantries between the incoming president and the intelligence community … we're not exactly concerned and actually will side with the incoming president on this subject … the last thing the public should want this person (or really anyone in that office) doing is eagerly looking forward to briefings in which he/she can wear his/her commander in chief jacket and dream up new ways to use the American military.

And the next time John Harwood laments this policy-stunting climate, we'd appreciate if Judge would ask him exactly what policies Harwood thinks this country needs to adopt.

Quite frankly, you could argue that "policy" is even as worthless as "at the end of the day" (Drink).

The Halftime gang didn't delve into this subject nearly enough, but Steve Weiss nailed it in a soundbite about security briefings: "CEOs don't need an update to say, 'Same as yesterday.'"
Karen: Wal-Mart doesn't let suppliers tell it what to charge, Trump has 'great issue here'
On Wednesday's 5 p.m. Fast Money, The World's Most Interesting Woman, Karen Finerman, made a rather provocative statement about Donald Trump's interest in pharmaceutical prices.

"To me, this is a great issue for him," Karen said. "This is America. We do it to ourselves! Literally. (Drink) We're not allowed to negotiate. It's ridiculous. I mean Wal-Mart, which self-insures, do you think they just pay whatever the- whatever the supplier says to pay? It's ridiculous. So, he's got a great issue here."

Honestly … here's the deal … we're not about to disagree with that, because we hardly have a clue about that or anything else. We do know it's kind of complicated, and because even Democratic presidents (who tend to be most outraged about this subject) haven't really tackled it as Donald Trump appears willing to, there's a little more to it than what Finerman said.

Mostly, people seem to have an aversion to the government declaring what something costs.

But she has a good point.

Stephen Weiss, who made by far the most eloquent remarks on Wednesday's Halftime Report, said not to underestimate Donald Trump on this subject. "Anybody who's surprised about his comments relating to pharma … shouldn't be."

Josh Brown said "the easiest game in the world to play" is for CEOs to go to Trump Tower and announce the hiring of 3,000 people in the U.S, "and you're one of the good guys." Point taken, but are any of them actually interested in hiring 3,000 workers?

Jon Najarian said Weiss is right about drug prices; "you can't get a proper replace of the health care, ObamaCare law, ACA, without addressing drug prices," though many would also like to see the "litigations" (sic plural) addressed.

However, Najarian at the same time (see, this happens occasionally) reiterated that Trump didn't "decimate" biotech or health care, according to the stocks' performance since the election.

Rob Sechan said Trump has "the latitude to shake up the status quo" and said the "chart of the year" was small-business optimism, highest since 1980.

Judge and Doc tangled over whether the Trump business agenda might get "bogged down" if there are Capitol Hill hearings about Trump's relationship with Russia. Doc bungled this one, scoffing "IF! … If Martians land tomorrow, will that change the space program. YES!"

"I think it's more likely that there could be an investigation or hearings than Martians landing on planet Earth," Judge retorted, actually too politely.

Mike Mayo said he sees "50% upside for bank stocks over the next 3 years." Mayo tried to complain that "these guys come on your show and they say, 'We're negative on banks.'" Judge pointed out, "Everybody is now positive on the banks."

Mark Yusko said every year, "the Fed and everybody else" predicts an upside surprise to GDP, and it never happens. He said he likes to fade it "when people get ebullient on hope with no action."

Steve Weiss at one point noted that U.S. GDP never reached 3% during the 8 years of the Barack Obama presidency.

Weiss pinned down Yusko on why he likes FCX and not coal (except for Teck Resources), apparently because of coal debt loads.

Stacey Asher and Yusko trumpeted Portfolios With Purpose.

Doc said there was unusual upside activity in CRM. But IF Martians land ...
[Tuesday, January 10, 2017]
Stephanie mocks Joe's trade, then claims she was only mocking the same Citi call
Mario Gabelli bought GS below tangible book; Joe Terranova sold GS at 240 last week.

How that helps you determine whether to buy it now, we don't know, but Citi's call to sell the name produced some derision from Stephanie Link on Tuesday's Halftime.

Mario Gabelli explained, for whatever reason, "After the election, capitalism beat out socialism as a way to- and that's good for people that wanna have assets protected under the rule of law."

"I bought Goldman uh, when it was selling below tangible book," Gabelli said.

Joe Terranova said he "firmly" believes GS at some point will have a $300 print. Nevertheless, Joe said, "I sold Goldman Sachs at 240 last week."

And what did he do with those proceeds? "This morning, I bought JPMorgan. I bought Bank of America," Joe said, which sounds kinda similar to what Citi analysts recommended (at least the sell part; they didn't say anything about the other banks).

Joe predicted a continuing Trump rally, forecasting a "very strong price action from Friday into his inauguration."

Judge questioned why Joe got out of GS while buying JPM and C, which brought mocking from Stephanie Link.

"It doesn't make any sense," Link said. "If you're gonna downgrade one stock, you're gonna downgrade the group, because they do trade in a pack. … They are all going to trade in lockstep."

Judge ordered Link, "You're not calling out Joe. You're callin' out the call."

"I'm callin' out the call. Absolutely not callin' out Joe," Link said, following orders.

Joe said he hasn't sold RF and believes in it. Jon Najarian said he's long JPM, BAC and C and disagrees "wholeheartedly" with the "bad call" by C. Doc suggested 6-10% moves in the banking group in the wake of JPM earnings.
Mario not exactly chock-full of stock tips; Judge's questions were better than Meg's
Judge on Tuesday's Halftime Report asked Mario Gabelli to opine on the rally "in and of itself" (Drink) (Redundant).

Gabelli pronounced the name "Pew-tin" rather than "Poo-tin" and also said "Tweeter" (sic).

Gabelli said he has been to Trump Tower.

VRX chief Joe Papa spoke with Meg Tirrell, and then remotely with Judge, at the JPM health care conference and said the goal is to clear $5 billion of debt in 18 months.

Papa said VRX brass discovered they haven't raised the prices of opthalmology and dermatology products since 2015, and that one product even had a "64% price decriss" (sic pronunciation last word).

Papa said "there's some fiction out there that some of the analysts have made." He was non-committal to Judge's question about whether Salix is off the table.

Mario Gabelli said he has "a little tiny position" in VRX and is "thinking about it." Joe Terranova said he sold it last week at 240 you can't buy VRX until they decide what they're doing with Bausch & Lomb.

Later, with Tirrell, AGN chief Brent Saunders conceded the stock, often touted over the summer on the Halftime Report, was a "disappointment" in 2016.

Saunders said "we have to be prepared" for tweets from Donald Trump, ignoring that once the boy-who-cried-wolf routine gets old (possibly before he even takes office), nobody's gonna give 2 (bleeps) about these tweets.

Joe Terranova insisted, despite Bill Gross' 2.6% warning, "rates are not gonna spiral out of control," then said "rites" (sic).

Mario Gabelli, who always talks about VIAB, said, "I think they'll turn it around in 2 or 3 years."

Gabelli said he wasn't for or against a Viacom-CBS deal. Judge complained that every conversation with Gabelli was like a "riddle."

Bob Iaccino said copper's at a resistance level, but he sees it moving higher. Jeff Kilburg said "there's momentum," and he thinks copper tests 2.95. Stephanie Link likes copper, including FCX.

Doc said 29 calls in OLN were popular. Joe predicted BABA over 100.
[Monday, January 9, 2017]
Not sure if Kara listens to the show every day, but ...
Jon Najarian on Monday's Halftime said "we criticized Kara Swisher" for "ridiculing" the Silicon Valley CEOs for meeting with Donald Trump.

But it was only "he," not "we."

Celgene CEO Mark Alles told CNBC's supercute Meg Tirrell that a conversation with Trump would be "wonderful" it it were "virtuous" (snicker) and "forward-looking."

Doc said since Trump's Time comments on Dec. 7, XLV is up, and the IBB is too. Josh Brown said, "These stocks are back to being the belle of the ball," but he cautioned about 75 resistance in XLV.

Pete Najarian said he'd be less concerned about health care stocks if the industry actually could be "educating the president more about the exact process" (snicker).

Josh Brown said the answer to whether to buy or sell KO might hinge on whether one's a trader or investor.

Pete Najarian said Katy Huberty had 3 reasons for an AAPL upgrade but "left out" services.
'Very negative on casual dining and fast casual'
Matt Drapkin on Monday's Halftime Report said the shift from active to passive has "distorted some of the indexes." So, he's short the Russell 2000, but he's finding "great opportunities" in the realm of stocks.

Josh Brown got Drapkin to explain that he's only short the index as a hedge.

Drapkin was a fine guest, although he did run up the score on saying "free cash flow." He thinks LGF.A has 30-40% upside and also likes XOXO.

Jim Cramer saluted Drapkin as "kind of a small-cap Nelson Peltz."

Drapkin also likes TWNK; he sees "a lot of room to run there."

But, Drapkin allowed, "We're very negative on casual dining and fast casual."

Jim Cramer said he runs a bar, and he's "surprised at my costs" for 17 tables.

Stephanie Link said now's a great opportunity for EL and rattled off all the relevant growth numbers.

Pete Najarian said DIS call longs are rolling up into June 120s.

Doc said he's in February 15 DDD calls.

Joe Terranova, who had a remarkably quiet show, touted ADBE. Jim Cramer suggested IDXX. Doc endorsed FTNT, while Josh Brown touted JPM and HBAN.
Josh Brown: Unimaginable that Alibaba would create U.S. jobs
It took a while to get going, but Monday's Halftime crew put together a provocative dialogue on Alibaba and the Web economy.

Josh Brown on Monday's Halftime demanded, "Show me the progression by which Alibaba entering America uh in any form of the various businesses it's in creates jobs. I can't even imagine it."

"Distribution centers to compete with Amazon," Doc offered.

"So we have one Amazon with hundreds of thousands of employees, most of which they're trying to replace as quickly as they can with automation," Brown retorted.

Jim Cramer agreed with Brown that "Alibaba is another way to disenfranchise small businesses in America."

Doc actually argued that Alibaba could sell "food itself" (sic last word redundant) back to China "through small businesses in the United States" (snicker). (And when they all start to get meat in their diets, they don't want to go back, so buy all the fertilizer stocks (Drink).)

Joe Terranova said "we should all like" that these Trump Tower conversations are all about examining the economy.

More from Monday's Halftime later.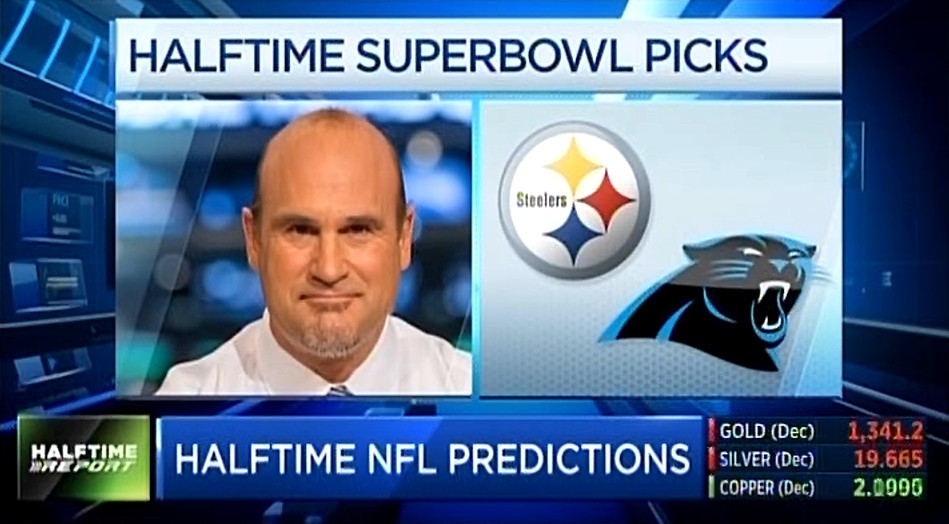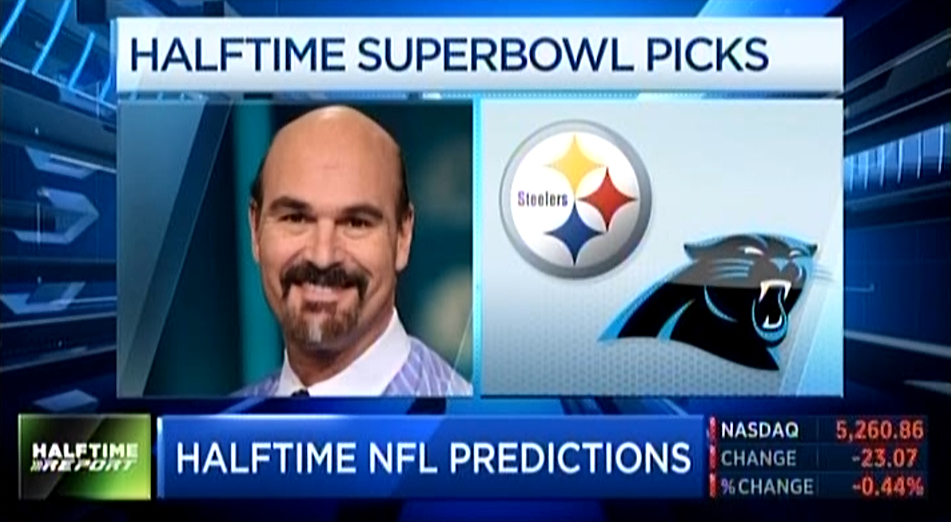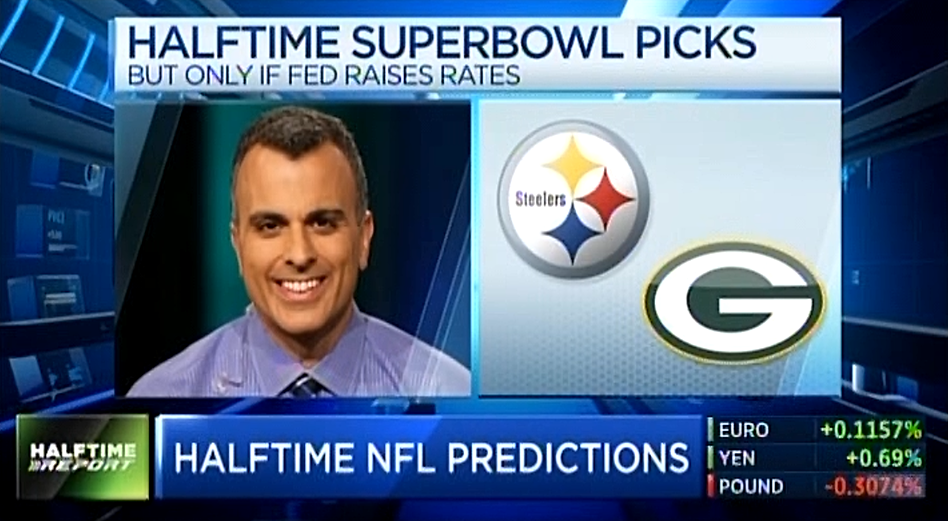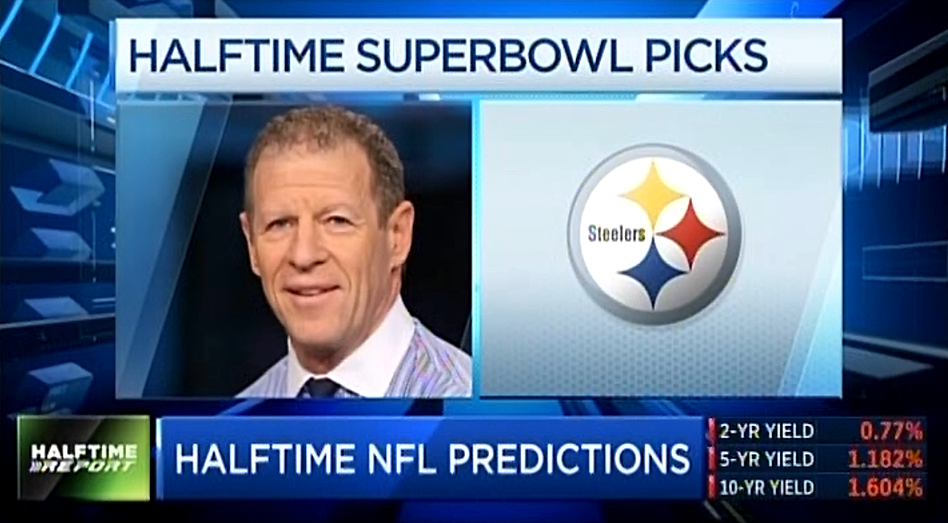 The yinz' year?
It's the toughest playoff forecast around.

That's why we love it.

This page every year in early January predicts not just the winners of NFL Wild Card Weekend … but every expected matchup of the playoffs.

Obviously, the most critical games are the 3 vs. 6 on Wild Card Weekend because the outcomes determine the matchups of the next couple weekends.

Unfortunately, we've had a few clunkers in that regard over the years, but please note that for the last 2 seasons (see the archive), this page has gotten the NFC bracket exactly right.

We're cutting it a bit close this year, but rest assured this post (despite lack of a time stamp) goes up about 10 minutes before Texans' kickoff.

Here's how it looks:

Houston beats Oakland: A cringe-worthy pick, but not as cringe-worthy as Oakland vs. Denver last week.
Seattle beats Detroit: Pete's never lost a home playoff game and won't to these guys.
Pittsburgh beats Miami: Dolphins in a little bit over their head.
New York beats Green Bay: Eli has twice won playoff games here.

Atlanta beats Seattle: Rematch of a few years ago.
New England beats Houston: Really, will the line be 20 points?
Pittsburgh beats Kansas City: It was 43-14 in October.
New York beats Dallas: Eli vs. Dak? We're taking Eli.

Pittsburgh beats New England: Why not; gotta happen someday.
New York beats Atlanta: The Giants' road gradually gets easier.

Pittsburgh beats New York: It wasn't terribly close the first time.

Here are the 2 things that really matter: The Giants-Packers game is really the NFC Championship Game, and the gut here is that nobody in the AFC can adequately stop Le'Veon Bell, on fire the 2nd half of this season. Rarely does a running back carry a team through the Super Bowl, but this could be one of those times.

Honestly, in the preseason, we never saw this as the yinz's year. Shockingly, the entire Halftime Report crew did (see photos above) (Note: Doc waffled during that episode and tried to pick the Chiefs instead). But before we do any celebrating, there's a lot of business to take care of first.
[Friday, January 6, 2017]
Doc sells AMZN; Steph buys
It ultimately got written off into Dow 20,000 scoreboard-watching, but Friday's Halftime Report also struggled to get off the ground.

Kate Moore said she thinks "equities are the place to be in 2017."

But Jim Lebenthal said he's in the "wait and see category" ahead of the "deluge of earnings."

Jon Najarian crowed about how FCX and WFT have taken off since the Najarians flagged unusual call activity a few days ago, a pair of impressive calls.

Doc also crowed about pounding the table for FB at 114. But, "I took profits in Amazon today though."

This proved an important conversation, because Stephanie Link said she bought more AMZN Friday, "So I probably bought what you were sellin'."

Judge said value investors are buying AMZN because it's such a "disruptive force." Jim Lebenthal responded, "That's a very dangerous thing to say."

Stephanie Link insisted we're in the "2nd inning" of Prime growth internationally and "50th (sic, corrected)" or 6th or 7th inning of Prime growth domestically.

It seems Najarian believes AMZN to be in a range, whereas Link really didn't offer a rationale for buying the shares Friday.

Josh Brown suggested "traditional valuation metrics" just don't apply to AMZN and suggested how you can own M or even (previously) Eastman Kodak if you want low P.E. ratios.

The other notable call was Andrew Left asserting cybersecurity is "not a trend," and he likes PANW, basically because everyone's fascination with FB, GOOGL, AMZN etc. is based on "a notion of security," even though it's "an unloved company" that admittedly "did get ahead of itself 2 years ago."

Left, like Steph Link on AMZN, didn't offer a convincing catalyst for buying now. Link in fact warned about short-term "disruption" in the PANW share price. Left said it's not a quarter-to-quarter story but a "land grab."

Josh Brown said cybersecurity and climate change are "THE biggest story that we don't talk enough about." But he said CHKP is the better name than PANW.

Steph Link said a lot of banks were at the Goldman Sachs conference a couple weeks ago "and all of them were very optimistic."

Meg Tirrell is excited about "the biggest week in health care investing of the year." Kate Moore likes the space, but Stephanie Link said, "We're one tweet away from this whole group being down 5%."

Jim Lebenthal predicted what everyone always predicts in December and January, "Active stock-picking this year is gonna matter quite a bit more."

Doc late in the show reaffirmed that "I decry" (Drink) the notion of pent-up tax selling.
[Thursday, January 5, 2016]
Lee Cooperman's
curious word
Lee Cooperman, star guest of Thursday's Halftime Report, happened to mention 1 word that might go a long way toward revealing the state of his SEC battle.

"Story chaser" Judge (according to his Twitter account) utterly failed to notice and missed what's quite likely a scoop. (He's also, according to his Twitter account, an "aspiring chef," but this time, he didn't know what was cookin' in the conversation.)

Judge opened the show with Cooperman, stating "the elephant in the room" is the SEC case, so he would ask about that first. Lee told Judge "you probably know as much as I know," then said his credit fund was up 16% in 2016.

Cooperman complained the case will cost "probably a hundred million dollars," and he'll get nothing but "satisfaction" out of winning because unlike in the U.K., the losing party doesn't have to pay expenses.

Here's where it went from boring to highly interesting: Cooperman said the outcome is "up to the judge and the jury" … then curiously added, "I'm here ready to cooperate and present a case."

He's ready to "cooperate"?? That's what defense lawyers typically say when clients are seeking a deal.

Judge should've pounced all over this … "You say 'cooperate'? Are you trying to make a deal?"

But no. Judge sat and watched a called strike 3.

The guess here — simply a guess, based on the comments of this program — is that Coop is open to a deal but has gotten the cold shoulder. At one point, too late for glory, Judge did ask a good question, whether any of Cooperman's investors have "urged you to settle." Cooperman paused and shared anecdotes about how Ken Langone urged him to fight and how one person at a Columbia business school event volunteered that the SEC "ruined my life" in the '80s, so "give 'em whatever they want and get rid of 'em." Cooperman said he's leaning Langone's way.

Cooperman said he loves Langone but clarified "I'm heterosexual" (yes, he really said that).

Cooperman complained about instant withdrawals by "a bunch of institutions that use fiduciaries" who didn't even bother to call. This is a fair point and one that resonates, no matter how wealthy Cooperman is.

On the other hand, consider the investors. Halftime and Fast Money panelists often recommend avoiding controversial situations such as this. Loyalty's great, but we're also talking about net worth here.

We're not about to research all the details. Cooperman's primary argument seems not that the case is bogus but that it's depriving charities of his money. "The thing that I'm most depressed about in all honesty, um, is the cost, uh, because of where this money could be going," he said, mentioning again the Giving Pledge. "I have a plan to send 500 kids to college," he said, adding it could be 2,500 if the SEC never brought a case. "I'm 73, I'm giving my money away to society."

The screen text once again said Cooperman "refutes" SEC charges, but we know (see previous take on this), unless the case has been dropped, that the best term is "rebuts."

Lee said he's "mildly positive, not ebullient" on the stock market and went on to forecast a more "normalized" economic environment.

When he wasn't quoting all kinds of famous figures, Cooperman touted both AMZN and GOOGL, the latter touted by Karen Finerman in mesmerizing orange turtleneck on the 5 p.m. Fast Money. (Karen also called Donald Trump's "rapid-fire tweeting" about various automakers "insane.")

Lee Cooperman briefly tangled with Jeremy Siegel over exactly how optimistic market bulls should be. Jeremy predicted Dow 20,000 in January. Lee equated Dow 20,000 with trading five $1 bills for one $5 bill.

Cooperman told Doc he sold WBA 75 puts for $3.

He also positively mentioned SHPG and AGN.

Fitbit chief James Park told Jon Fortt not much of anything.

Anthony Grisanti said it's not a "fear trade," but the "concern trade" for gold is back in play. Jeff Kilburg said it looks like gold wants to test $1,200.

Joe Terranova said HES is "tethered" "highly sensitive" to the price of oil.
[Wednesday, January 4, 2016]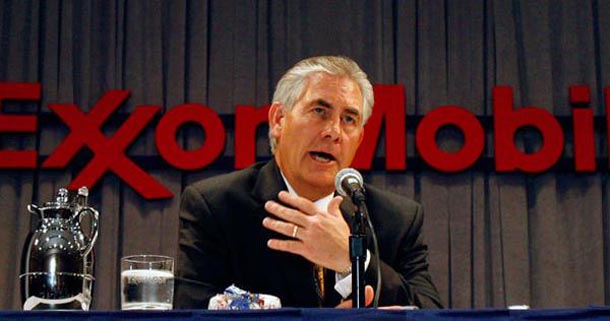 Judge, Mel unwilling to opine on whether this fellow is the best-qualified person to secure a deal between Israelis and Palestinians
Wednesday's 5 p.m. Fast Money crew must've lunched at Burger King, because Steve Grasso uncorked a whopper.

Discussing one of the most bizarre Cabinet picks of a generation — Rex Tillerson for the State Department — Grasso admitted, "For about 5 seconds, I thought, uh, this is such a terrible pick."

Then, apparently, he thought about how Rex knows "every foreign leader in every area that there's hotspots" and thus is a "tremendous pick."

"He knows regions better than anybody in the United States," Grasso claimed. Too bad he didn't know the price of XTO better than just about … anyone with a calculator.

Meanwhile, Karen Finerman, who looked dy-no-mite in new top, pointed out that labels such as KORS, COH and KATE have been "pulling back from the wholesalers," but she didn't really make a call on retail.

Finerman also dubbed the border tax a "disaster."
Joe's FANG trade
Perhaps it's the next Nvidia.

Or perhaps it's the next Chipotle.

Josh Brown on Wednesday's Halftime said IBM has a "very distinct" inverse head and shoulders chart and looks to be in breakout mode.

Joe Terranova suggested EOG as a shale winner and also mentioned his newfound favorite name again, FANG (Drink). Doc touted BHI. Marc Lasry said there's still "massive opportunities" in energy debt (Zzzzz).

Josh Brown said WTW's valuation is "stretched." Doc said he owned the stock in late November/early December and sold at-the-money calls.

Pete Najarian stumbled over "retailers" and "Realtors" and said there was upside call-buying in JWN.

Pete said June 115 calls in DIS were hoppin'. Doc said someone was excited about ABBV August 67.50 calls; Doc got in but not for that long of a time span.

Doc and Josh said shorts hate that TSLA always comes up with the next big something when there's a shortfall in results.

Joe Terranova likes PCLN a little better than EXPE.

Pete likes airlines and said they can move up with oil, until maybe the 70s.

Jim Iuorio hung a 3 on the 10-year.

Judge noted that Marc Lasry made $261,000 on a Wonder Woman comic book.

Lasry said he's buying "end-of-life planes." Judge wondered how in the world Lasry figured out that particular trade.

The "at the end of the day" tally stopped at 3.
It took 2 minutes for the first 'at the end of the day'
Marc Lasry on Wednesday's Halftime said the stock market is "all positive" and said stocks should be up "at least 10%" if we have 2-3% or 3-4% growth.

Lasry said there are "a lot of different views" in Trump's Cabinet. He called Gary Cohn a "great pick" and referred to someone else — we think Steve Mnuchin, but Judge didn't enunciate his question well enough — as a "smart guy … I've met him a few times."

Joe Terranova wondered about a "dislocation" in the credit markets. Lasry said "right now, it's gonna be benign."

Lasry cautioned there's still "systemic risk" with European banks but said there will be "idiosyncratic type of opportunities" in the U.S.

More from Wednesday's Halftime and Fast Money later.
[Tuesday, January 3, 2016]
Joe says MBLY might
be the 'next Nvidia'
On Tuesday's Halftime's Will-They-All-Recommend-Disney-Or-Will-They-All-Recommend-Nike Question of the Day, it was the former, with Josh Brown stating he's "positive" on DIS despite knocking the suggestion it's a "Trump play" because of its China exposure.

Joe Terranova said he can see 115 "clearly" and thinks DIS has "overcome the headwind of ESPN." But Steph Link said she "certainly" would not be chasing it at 106.

Jon Najarian said "Star Wars 8" (snicker) is one of the many movie franchises that's "huge" for DIS. (Yes. But what does that have to do with buying the stock right now. Was "Star Wars" invented last night?)

Doc said FCX January 14 weekly calls were hoppin', well ahead of earnings. Pete said March 6 WFT calls stood out. Josh Brown said WFT has 10% short interest, but it's "not my type of stock."

Pete said there's positive "movement" in gold.

Joe said nat gas was down 12% in a day. Scott Nations said the only thing nat gas bulls can hope for "is that January and February are really cold."

Joe said it's the "perfect timing" to try SJM and MCK for alpha.

In a bit of a Yogi Berra-ism, Pete Najarian said "it's the best time to continue to buy the financials." (If you're continuing to buy them, doesn't that mean the best time to buy them was lower?)

Pete said he agrees with an analyst that it's time to be on the "sidelines" with KORS. Steph Link likes both CMI and PCAR. Doc said to buy SIG on weakness. Josh prefers GOOGL to FB. Joe said MPC's gain was a "sell-the-news-type of opportunity."

Joe Terranova said to look at MBLY and suggested it could be the "next Nvidia." Josh Brown hung a $100 on JPM. Doc said there's unusual activity in ZNGA (snicker).

Tony Dwyer on the 5 p.m. show suggested a 3-4% correction is coming because of "extreme" optimism.

Sue Herera delivered tips for child-proofing a home on the CNBC News Update.

Judge said Marc Lasry will be on Wednesday's Halftime, which means bunker down for a barrage of "at the end of the day" (Drink).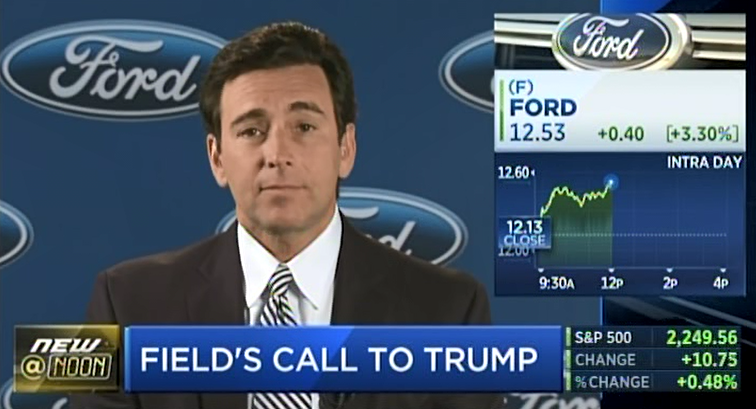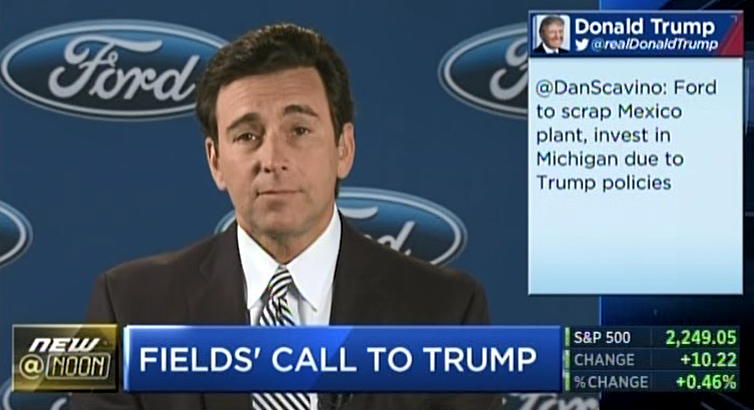 Ford CEO: Mexico decision was strictly about demand
It's the first misspelling of 2017.

CNBC's graphics crew had a little apostrophe trouble with Ford boss Mark Fields, who told Phil LeBeau on Tuesday's Halftime that "we've seen a market decline in demand for small vehicles."

Phil seemed to feel a bit snookered, pointing out that Ford insisted a month ago it was still building the Mexico plant. Judge tried to corner Fields into admitting that Trump made Ford change its plans, but Fields adeptly wouldn't bite.

"Less than 15% of our sales here in the U.S. come from Mexico," Fields said.

Jon Najarian flat-out stated, "This particular move seems like uh Ford is listening and reacting to the president-elect."

Josh Brown said, "The announcements are happening at a certain cadence," the first time we've heard "cadence" since Bob Peck was talking up Twitter's new products (snicker).

"I think what Trump is doing is very healthy quite frankly," said Stephanie Link.

Doc claimed Jeff Immelt "immediately" embraced "wind" and "solar" while Barack Obama was president-elect. Actually, Immelt was into that long before (check out some Vanity Fair articles), and Immelt strangely seemed most interested in how many people showed up to protest Obama at the University of Notre Dame.

Joe Terranova probably drew howls while stating that automakers are interested in tax reform and currency issues, but "most importantly, they need safety standards surrounding autonomous vehicles."

Doc said he "decried" the predictions of "pent-up" selling in 2017. Joe said he took off the S&P puts he put on just last week.

More from Tuesday's Halftime later.