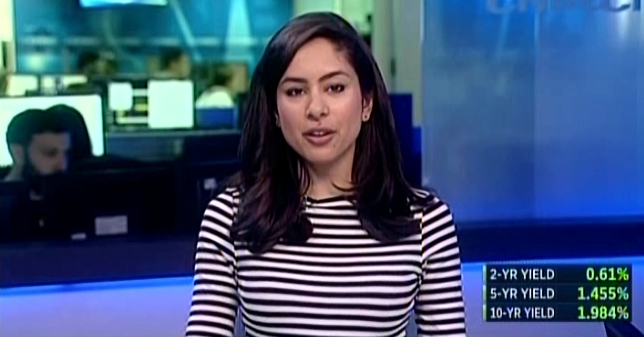 Seema Mody in stripes
CNBC's "Worldwide Exchange" ends week on a high note
"Likely to be gradual"
"Awesome, awesome, awesome, although I did not have the potato"
Doubt: "Nothing should have been written in stone. There were later developments that convinced me that maybe we missed something"
"Had the authorities asked us to do so, we would have voluntarily provided them with all the information they seek, but they chose instead to pursue a different tack"
"Enjoy a dinner out compliments of Coach Dean Smith"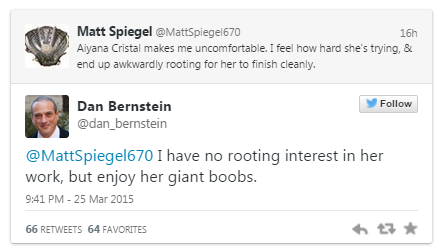 "I own it, and I wish I would have had a second thought about sending it. And I'm learning my lesson about what is appropriate, what is inappropriate to say and I feel bad about it"
"It's like something right out of his horror movies — a nightmare"
"Was such an incredible story, we initially had a hard time believing it, and upon further investigation, we were not able to substantiate any of the things that he was saying"
Cops: It's a reminder to meet in a public place
Beer garden operator: "I don't know where they get their numbers. We wrote them a check, they've never cashed it and this is the first we've heard of (a lawsuit)"
"Nice to meet you"
"My ISIS is the police. Nobody from ISIS ever terrorized us as a people as the police do us daily. And they get away with it"
Bought by George for $10 million in 1973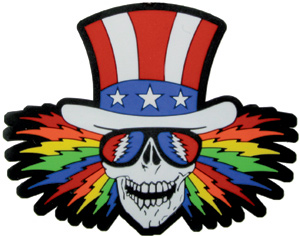 "two concerts June 27-28 at Levi's Stadium"
Shop closed to allow colleagues to grieve; county crisis workers to visit
Town of 40,000 devastated: "The folks at City Hall were just kind of numb"
Economist: "As inventories go down, the prices go up. This is normal behavior"
"Ruth has always maintained her ties to California, serving on the Stanford Board, visiting family, and working with clients there. I have no doubt she will succeed in her new role"
"Hopefully within a matter of five to ten years, we have a viable screening test"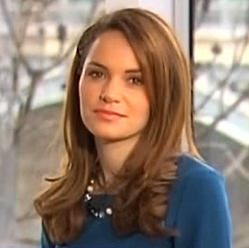 Stanchart interview closes with a visual flourish (above)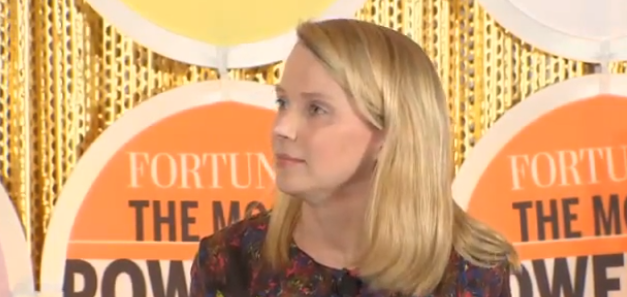 Claimed to be "central player and decision-maker" by rival party
"He suffered a broken shoulder and other assorted injuries. He chose to seek treatment there rather than come back to New York, where it might be more public"
"Worst start of career for a title playing in 2,000 or more theaters"
"Unfortunately, we will have to politely decline your request to interview Starbucks (employees). We strive to keep our store disruptions to a minimum to avoid interfering with business and our customers"
"One with alcohol and the other cannabis"
"The selection committee thought we were good enough to play in this tournament, and I think we proved it"
"If the S&P can hold 2,100 it will be very, very bullish"
"I think the basis of today is the weaker dollar lifting commodities"
"The day-to-day relationships are mixed up. We're just continuing to ride the idea that Janet Yellen is never going to raise rates and even if she does it's going to be so slow that we're not going to notice"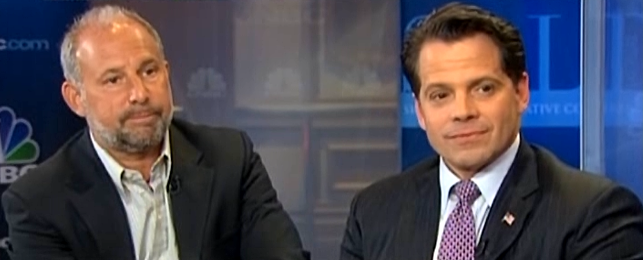 Advisory Board member taking on-air role with reborn weekly franchise, this site has learned
"Storage is going to be topped out very soon"
"History always does it. It typically happens in one of three ways—either through revolution, higher taxes or wars. None of those are on my bucket list"
Larry Brown: "I'm sick for those kids"
"On Tuesday night and Wednesday, none of the baristas observed at a sampling of locations in Downtown's Market Square, Oakland, Shadyside and Dormont wrote this message on Starbucks cups"
Claim they paid $117,000 for exclusive rights in August 2014 — but there was a catch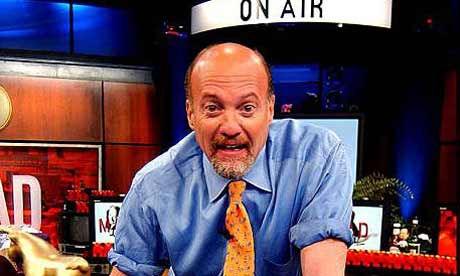 From 53,000 Tuesday to 22,000 Thursday
Glory: Hoffman hosts celebratory bash at Southern Hospitality
But: Unclear how much it cost firm to prepare 1,434-word report on this subject
I read with great interest your recent comments about growing up in Rochester Hills and your description of our residents as 'basic, provincial thinking people.' ... Despite your distaste for us, we actually have enshrined you on our Community Wall of Fame at the Van Hoosen Museum"
"Trooper Melissa Matey told the Associated Press that an arrest warrant was issued for the former Limp Bizkit frontman and he was rebooked in the Orleans Parish Jail on Monday"
"I do have a comment. I know that I expressed an act of civil disobedience. But that act was necessary. I'm very knowledgable about that part of the world. I teach about U.S. imperialism in Latin America. And the U.S. has declared war against Venezuela. That means military aggression. They tried to take out Hugo with a coup, and then they took him out with cancer"
University: "We're trying to figure out what the next step is"
"In his farewell address, Jackson spoke of the 'dangers and mischief' of paper currency, questioned the reliability of corporations making the money and called it 'an engine to undermine your free institutions.' It wasn't just a mention. He went on for a while"
"Outbreaks of avian cholera have occurred sporadically in the region over the past few decades"
Sustained minor shoulder injury in fall while running from van
"Sometimes the line is discovered by crossing it"
"Hard feelings left over from aborted talk the tech giant held last year with Comcast"
"It basically insulted 3 women who were not able to defend themselves, and that is probably why Hearst, who had a very thick skin, took such umbrage"
Jeffrey Pohlman: "I had an extraordinary run at CNBC, where I worked with some of the smartest people in the TV business, but I am so incredibly happy to be at FleishmanHillard working with Betsy and her amazing team"
According to press release, has invested more than $20 million in businesses featured
Doug Gottlieb: "UCLA safely in is a joke to me. It makes no sense"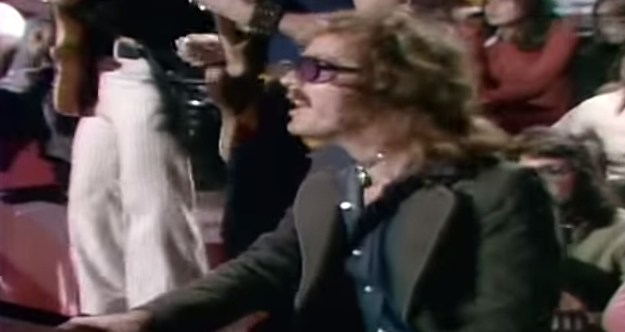 5 months after asking fans to help fund his medical expenses for melanoma battle
The band: 3 No. 1 singles, "Mama Told Me (Not to Come)," "Joy to the World," "Black and White"
Listen at YouTube: "Black and White" in 1972
"The killings were among several horrific and bloody events in the late 1960s and 1970s by San Francisco radicals, including the Zodiac serial killer, the Symbionese Liberation Army and the Rev. Jim Jones"
Supposed to be serving 4 years; not clear how long he's already been there
Celebrates by quoting line from "The Outlaw Josey Wales"
"I am especially grateful of the opportunity to play before some of the greatest fans in football today. Despite any concern and speculation that may ensue, I appreciate those that are respectful of my decision"
Swann on leaving at 30: "There's not a single day that goes by where I ever regretted it. Now, there are times I wish I was born in 1972 or 1982, but I never regretted my decision to retire"
"Posts about 200 video clips per day, with about 50 original videos per week"
"Speakeasy with John Harwood" ... "Retire Well with Sharon Epperson"
"We love the fact that you highlight innovation as a centerpiece of your show"
But: "Just last year, Cramer endorsed 'Fibonacci analyst' Carolyn Boroden, who had performed a numerology chart reading and determined that Apple was in retrograde while IBM was ascendent. 'Avoid Apple, embrace IBM say charts,' implored CNBC's 'Mad Money' headline"
Bloomberg: "The FBI is investigating a consultant hired by Pershing and whether they made false statements to regulators"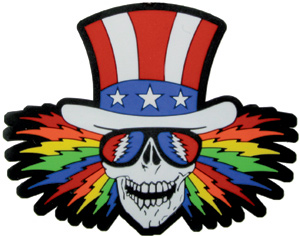 "I just didn't see any way around the situation. In the moment I was trying to do the right thing, but knowing what I know now, I would have made a different decision"
Realized: "Say my daughter had the opportunity to go see U2, I would want her to go"
No to Chicago reunion: "I can't put my mind around what a show would be like without Jerry. I just don't have it in me to re-create it"
"The kitchen table from the Grateful Dead's office in San Rafael, California, 'where the band gathered around to drink coffee and consider the day'"
"Covering the Ebola epidemic last fall in Liberia, and then becoming part of the story upon my return, contributed to my decision that now is the time to return to academic medicine"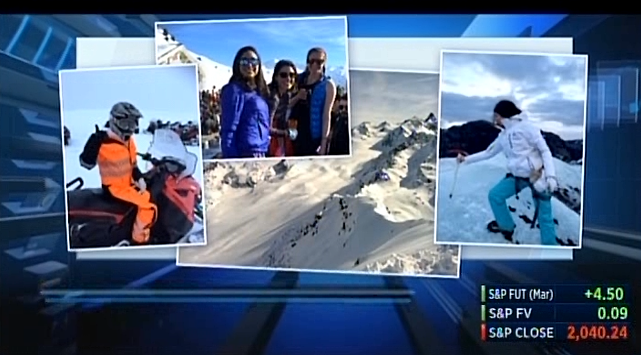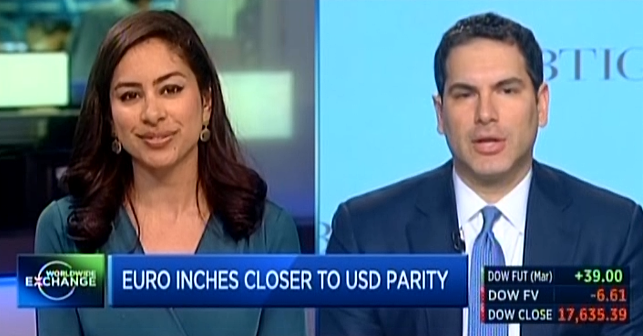 Dan Greenhaus thinks hike with Seema Mody would be great
"Reykjavik is probably pretty happy to have Seema Mody climbing their glaciers, I'll tell you that much ... believe me, if I was in the U.K. with you, that's- I would've been right next to you my friend"
Film Society of Lincoln Center screening 7 greats: "Butch Cassidy and the Sundance Kid," "The Candidate," "Jeremiah Johnson," "Ordinary People," "Quiz Show," "Three Days of the Condor," "The Way We Were"
"Rich is an incredibly strong person, and never let the disease get him down. He always wanted to keep life as normal as possible"

Lennon-McCartney, a healthy competition
"Mark's very philosophical. He has it easy. He's got 2-3 years left... He goes from Scarsdale to Englewood Cliffs. He's been there for 10 years ... Here's his attitude: 'I run a worldwide network and it makes money... I don't need headaches in my life'"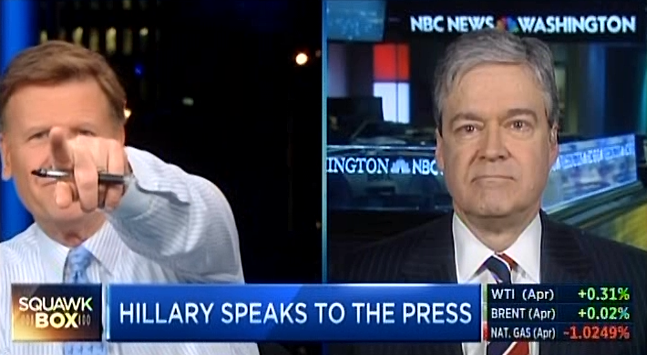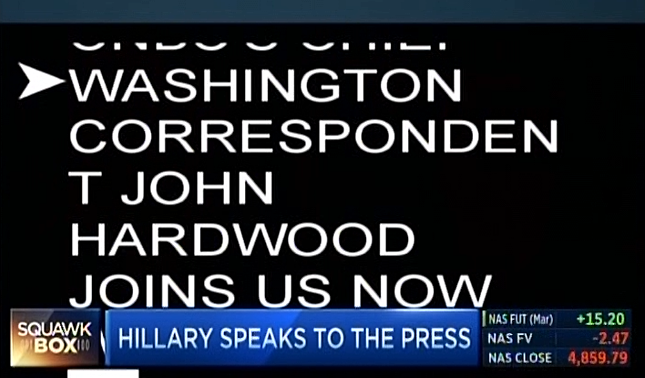 Joe Kernen amused by John Harwood prompter glitch
"Are you going into a different business? Are you branching out a little bit?"
"Wasn't paying attention"
Will cater to musicians, also offer instrument repair
"He gave a voice to children and endangered animals who can't speak up for themselves. And he gave away his fortune so that they may have a chance at a better life"
"He enjoys life more. I think he appreciates it because he was close to not having one"
Buyer: "I probably buy more hay than what I need just to watch him sell"
"I apologize for posting this on Facebook. Like too many people these days, I fell into the trap of posting something first and then thinking later"
"He was only in for about 15 minutes, his driver was waiting outside. Fans were pretty excited to see him and he signed a comic book ... he hadn't read any of the new 'Star Wars' comics"
"No one considers the damage they are creating"
"I think Friday was support for the view that the Fed will move either by or at September. So is it June, is it September, I think that's debatable, but it's pretty obvious that they are likely to move"
Frustrated theater owner: "There are so many PG-13-rated movies that almost without exception violate the statute ... Movies like 'Fifty Shades of Grey,' the ladies come to our theater — responsible mothers, grandmothers, et cetera — they watch a movie, they share wine. It's part of an experience. It's part of what they want. We clean up the bottles whether we sell those bottles to them or they sneak them in"
"In fact, I have a big f--- you for anybody who is so stupid not to have gotten the irony when you've got a country that is so xenophobic. If they had their way, you wouldn't have great filmmakers like Alejandro working in this country. Thank God we do"
"Not doing the deal and having that exposure was probably the best scenario for us"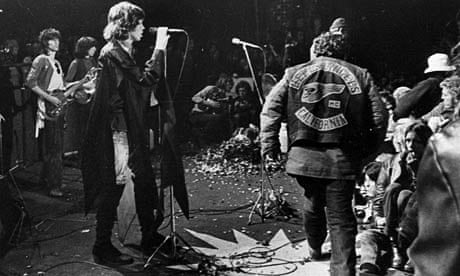 NYT: "Made ends meet by doing television commercials for large corporations like IBM and Merrill Lynch, then made their early reputation with 'Salesman' (1968)"
Credits: Worked on Sports Illustrated's annual swimsuit issue
"We would have sold off much harder if average hourly earnings had increased more"
"She was invited to meet with Hillary Clinton when the former first lady visited the Bay Area last spring and American Girl has based a doll on her"
"Currently a global anchor at Yahoo"
"Does the name Visalia on the side of the plane near the nose mean it graced the skies of Tulare County in the 1940s?"
Performed song for Lawrence Welk in 1963: "Our parents absolutely loved it although we might have thought it was somewhat corny. But Welk was an absolute gentleman"
Listen online: The Chantays on Youtube
Widow: "Now, I think it's funny. Playboy, can you believe it?"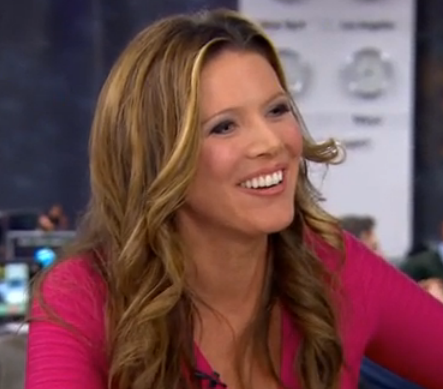 "Look forward to utilizing her broad industry contacts, along with her expertise in international economies"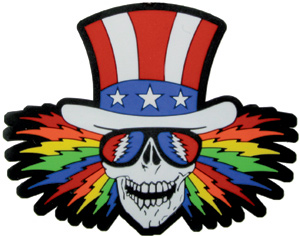 "We're not being inundated, but their fans are calling, asking us to reconsider. Some are coming to the stadium and once we talked to them, most of them are understanding and appreciative that the thought was there"
Cops: "We were there within 2-3 minutes, we were there so quick she was telling us as we were getting there, you better hurry he's walking out the door. Yes, we've caught burglars before but never on a 3.99 cent app"
Homeowner: "I went around the entire day grinning, I felt empowered because I had set this thing up. I feel really good that I don't feel like a victim"
$352 million internationally; $150 million domestically
"He was clearly undergoing something"
Estranged wife declines to give her name
"I understand he has a portfolio he has to manage. We're still a very attractive opportunity for people who want to have a piece of this part of the global economy, which will always be there in the global economy, because there's never not going to be energy demand. ... The stock is largely held for people who are looking to send their kids to college. We pay a lot of pension funds, dividends to people"
"All things considered, the damage looks minimal — thankfully"
"Included are a set with numerous high-definition monitors, expanded areas for weather and sports reports, and a stuffed red bench for interviews ... had switched to high-definition broadcasting in 2010, but the cameras were 'upconverted' from standard-definition ..."
Used focus groups: "They were very critical, and that's what we needed"
"Neil Patrick Harris' running gag bout his Oscar predictions has been awful and too time consuming! Who cares?"
"It's sad to see it go. We had a fantastic customer base, and it was profitable for its first 2 years. We just couldn't invest the time anymore. Running a business like this with several partners is certainly doable, and that was the plan. But when your partners don't provide the support they're supposed to and you're left running it solo, it soon becomes all about what's most important to you"
"Our market is so strong, there is a lack of inventory in the downtown area condo market. If this would have happened a few years ago, it would have had a much greater devastating effect because we did not have a market that could absorb units that people had to sell"
"The details of the emerging deal have not been made public, so it's impossible at this point for us to support or oppose them"
"This says a couple of things about the new Husker coach. He's serious about evaluation and development. In the past 10 years, I've heard criticisms from former Husker players who went to practice and saw players standing around, not doing anything. That won't happen here"
Still new: "I walk by most of the team and I don't know their names"
"She said an employee at the hospital told her her brother admitted to having a $1,000 per week cocaine habit and that people were after him to collect debts, the affidavit said"
Donated $50: "His car was totaled by a tractor-trailer. It jackknifed, and it crushed him between the tractor-trailer and the railing … All we're trying to do is help them out to get them back on their feet"
But: "One concern about requring (sic) a disclaimer on tweets is that there might not be room"
$1,000 bond
"I believe that the NTSB will review pilot Peterson's diagnostic actions in the aircraft during this 3.5-minute flight and realize the heroic efforts that took place in those 4.9 miles"
"There's no 2 sides of it. I had too much to drink. I thought I was going to my house. I don't even know these poor people and I scared the hell out of them .. I thought I was going home. I went to the wrong house. After that, I really can't tell you what happened. I have no idea. I read the report, too, and I feel awful. I scared some poor lady. I treated the police poorly who have been so supportive of us ... I'm not afraid of saying 'I'm sorry.' I'm afraid of scaring them again. I've asked the police to relay a message for me and that's not something they can do. I'm better than this. ... There's no 2 sides to it. I messed up"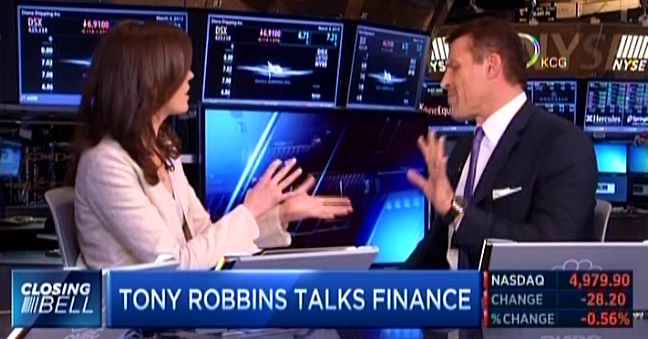 Kelly Evans gets nowhere questioning Tony Robbins', 55, book
Kelly: "What troubles me is the actual advice seems to come down to what Templeton as you've invoked has said, you know, buy when others are selling, sell when others are buying, et cetera. But for most people, market timing. Will. Never. Work."
Tony: "Well that's actually not what's in the book. If you read the whole book, it's not even close. Templeton's only 1 of the people. I interviewed them all, and what I tried to find is, what do they have in common. Templeton is blood in the streets. Jack Bogle is buy the index. But the commonalities is what I try to bring out, and then I showed you everybody's strategy ..."
Tony: "Do you play blackjack?"
Kelly: "I- I know enough to know that all you need to do is not try to pick the winners or pick your moments"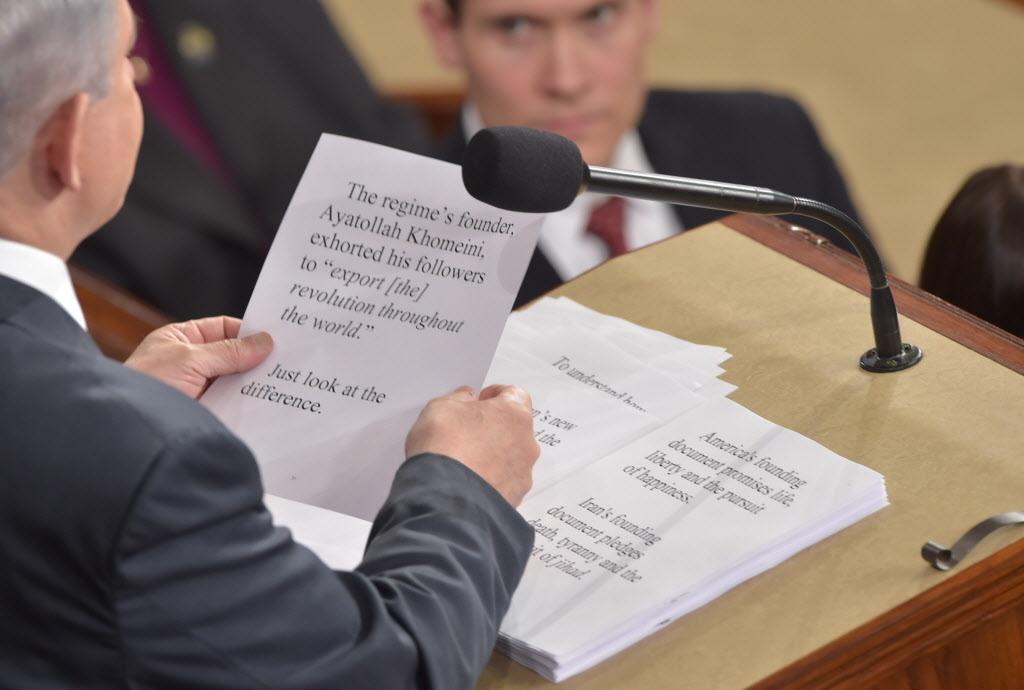 "Sheer number of pages was quite impressive"
"It's a silly exercise to pretend the day-to-day living expenses for the Griffin children even remotely resembles the norm"
"Immediately flipped out and began screaming"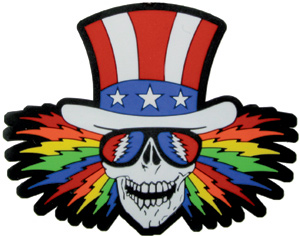 "There's a lot of ideas out there right now to do something for those folks"
Hilton hotel spokeswoman: "We sold out in less than one day. I don't have the amount of hours, but it was for the whole weekend. In seven years, I've never seen anything like that. We have people in our revenue office who've been here since the '90s and they said they've seen anything like it"
"Wove through a crush of media with her fiance to privacy and warmth"
Resurrection of Rukeyser/PBS staple will pay TV stations around country to air it
Scaramucci: "This way I can control everything"
Scaramucci on caliber of guests: "Peers will want to be on a show like this because they'll want to be on a peer-to-peer conversation"
Thoroughness: 1-source article doesn't ask the source what day of week/time of day it will air on these stations or what guests are lined up for the April 19 premiere, or what the goal (make money, gain influence, etc.) is, nor was any other person (from business TV, Wall Street or otherwise) apparently asked to analyze the project
Gasparino's review: "more great press for my friend @Scaramucci and his new biz venture "
Anthony Scaramucci: "I can't comment on CNBC's executive decisions as it is sometimes hard to know what they are thinking. We will miss them but welcome Bloomberg and Fox Business to SALT and look forward to breaking news there"
"But I meant what I said. One of the reasons I was so blunt about it was that I wanted to really send a wake-up call to the company that we're going to get a lot more aggressive about it, and it's going to start right now"
Suggests some overstating problem: "In the wake of the news of that internal memo going out, I'll get emails from people that say, 'I agree, and here's a great example of someone being harassed on the platform' — and it's not at all harassment, it's political discourse. And, in fact, fairly rational political discourse"
Arrested without incident at parents' home
"I think we put an end to something that was developing"
"Moral of the story: Never let aggressive panhandlers win. Especially when they're preying on your initial kindness for monetary gain"
Cop: "Only working together can we protect these victims who fall prey to the worthless scum who prey upon the elderly and less informed"
"NBC Nightly News" broadens gap with "World News"
"I want you to be nice, until it's time to not be nice"
Skeptical officer: "It's just ridiculous, the stuff they're showing us. It's crazy. They're showing us something from a movie and they want us to act like that in real life. It's not realistic — it's Hollywood"
Mother, 57, daughter, 25, at odds over "Fifty Shades of Grey"
No word on injuries
"The real issue is that this agreement only gets them to the nextbig debt maturity which puts them back at this all over again. A kick the can down the road for now"
"It's widely speculated in NFL circles that a franchise that moves from a smaller market to L.A. could end up being worth 150% of its current value"
"No official word from the company"
Production company founder Bill Kurtis: "When we started in 2007, we knew we were onto something big. But we had no idea how big. With each year, it seems white-collar crime and prosecutions become more prevalent. Greed shows no signs of slowing down"
Editor's note: If you click the link and run into a paywall, just put the headline in Google and access it that way
De Niro attached to long-percolating HBO project on same subject
"When he was in Iraq ... I was in 9th grade and there was a father-daughter dance ... before he left he said he would be back in time ... As the day was coming, it didn't seem like he was going to make it as he had promised ... I was so upset and I got a surprise call from my dad from Iraq, and he was asking if I had a date to the dance. So that's the kind of man he is"
Guest speaker at 9th annual Lincoln-Reagan Dinner on April 24
"Took a 2011 Chevrolet pickup to Michael's Cadillac on North Blackstone Avenue for service, according to Fresno County Superior Court records. After a mechanic discovered that the pickup's vehicle identification number didn't match automotive records, he contacted police"
Charlie: "its probably time to take the dog out or recharge the generator on your trailer"
Response: "For sure, I just need to siphon some gas from my neighbours pickup first."
Charlie: "maybe eliz warren can help u get a federal;y (sic) backed loan from fannie or freddie?"
Response: "Nah, I'm good. Between my food stamps, my wife (who is also my sister) and her extreme couponing, I figure we be livin' large"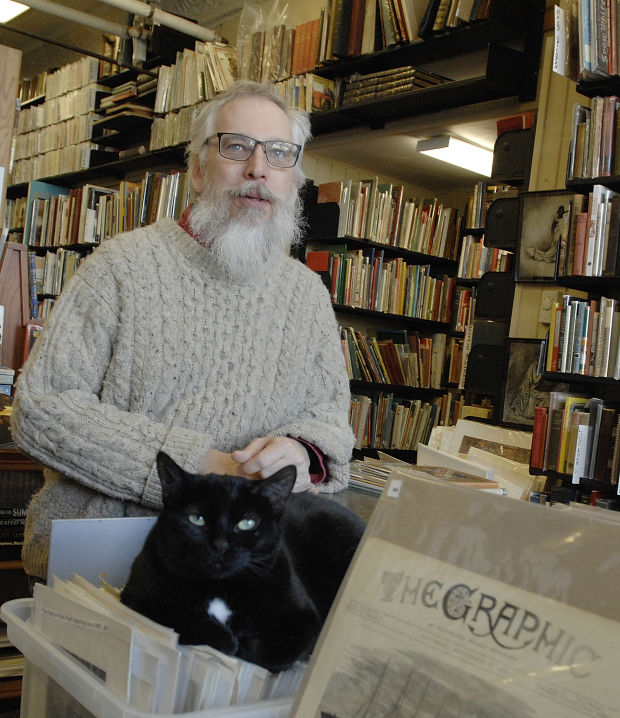 "There's been a societal shift from reading in general. There's a societal shift on how you read if you do and a societal shift in terms of collecting"
Investigated as felony assault with a deadly weapon
"if u insist on being a pain in the ass ill insist on putting my shoe in your ass"
"Everybody wants to talk longer, and then everybody complains that the show's too long. You learn when you do this show that you can't win. You have to just do what's necessary and not worry about what people are gonna say"
"It's possibly a shortened shotgun. It's hard to tell for sure, but it could be a weapon that's been sawed-off, essentially. What motivates them is not known to us, but it was certainly a violent crime. It certainly scared everyone involved"
Slightly injured woman in Malibu shopping center
Allegedly knew he was "susceptible to inducement and confusion"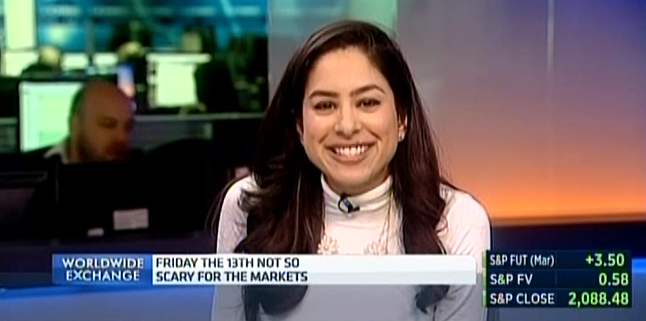 Seema Mody wearing pants on 'Worldwide Exchange'
"Special weekend, Valentine's and all ... I will be singing to my extra-dry virgin martini"
"What's left to believe in? The great home-run race between Sammy Sosa and Mark McGwire was a lie. Lance Armstrong was a fraud. We can't even trust NBC 'Nightly News' anchor Brian Williams, who seemed to be the epitome of trustworthiness until he started telling stories"
"Let's be honest, at times the guy can be a little hard-headed"
"What started out as eye-rolling escalated into genuine concern, but no one took action earlier because the statements that drew attention of staffers were not aired on the news broadcast"
44-year-old driver might've experienced heart attack near West 30th Street
"Giant of broadcast journalism, and a dear friend to everyone in the CBS News family"
"This is Washington. There's always a leak"
"We don't believe in such laws as laws of large numbers. It's just sort of an old dogma"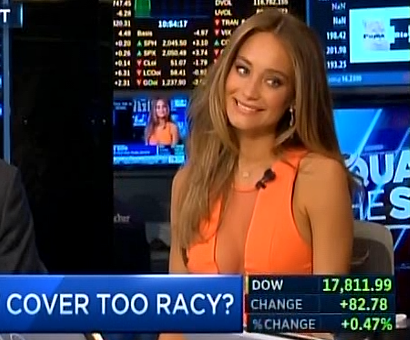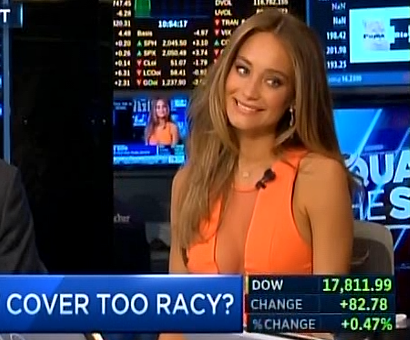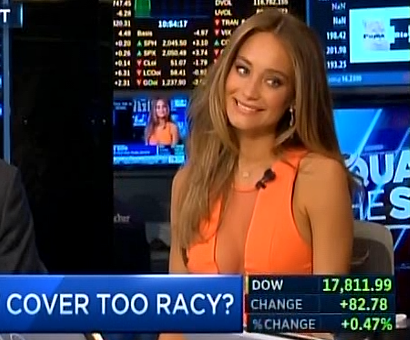 Sara Eisen: "It is a risque cover"
"I was just disappointed. I had only been in the country an hour and a half. It can happen in any country, or city in the world. I thought it was safe, and it didn't cross my mind"
Omega Overseas Partners fund down 3.57% in January, steepening 2.13% loss for 2014
"Believed him to be responsible for a string of burglaries"
Manager at Cinnabon featured in premiere: "People have been calling the store and people have been taking pictures out front"
Played extra in Odenkirk scenes: "I remember him saying, 'If you need the weekend off you gotta get that shift covered'"
Downtown cafe in background of scene: "Already we've gotten a big reaction to the show last night. It's really good for small business like ours to be able to get this kind of exposure"
"It was degrading and rude, but they've apologized and I accept the apology"
"My son wants to know if I'm going to be in the airport now"
"I realized it was a story about me, as everything I've ever done turned out to be"
Calmed fellow soldier at Battle of the Bulge: "I knew that he liked to draw horses and cowboys. We stood in that trench full of freezing water with everything coming at us, and I showed him how to draw a horse in a rodeo scene"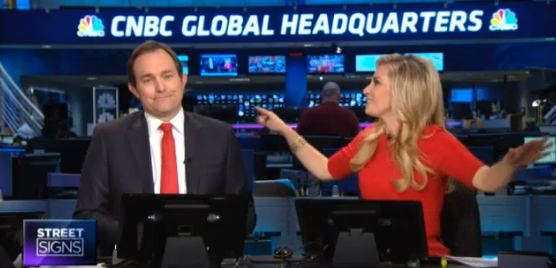 "You've been the greatest person I've ever worked with. Spectacular human being. Intelligent, professional, funny, talented. And that's all I- I don't want to get emotional"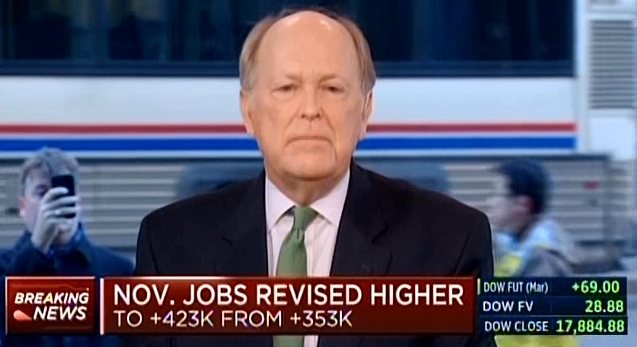 Passerby snaps picture of back of Charles Plosser's head
CNBC's NYC studio proves a hit
"Potential fraudulent activity"; Intuit opening helpline
"There would be a lot less business for the 'professionals'"
"Tom Brokaw and Steve Capus knew this was a false story for a long time and have been extremely uncomfortable with it"
Ego: Employee calls Williams "real pompous piece of s--- ... He's an a–----. He's not a journalist. He's a reader. It's embarrassing ... He's a liar. Everyone knew it"
Larry Kudlow: Williams is "first-rate professional newscaster" who made mistake, handled in "stand-up way," deserves "more than the benefit of the doubt"
"It's inevitable but I don't like how they made the decision. You're taking away another avenue for me to trade"
"We're going to start kicking these people off right and left and making sure that when they issue their ridiculous attacks, nobody hears them"
Gasparino: "like i said im always around come by del friscos and ill wash ur mouth out w soap"
"I spent much of the weekend thinking I'd gone crazy. I feel terrible about making this mistake, especially since I found my OWN WRITING about the incident from back in '08, and I was indeed on the Chinook behind the bird that took the RPG in the tail housing just above the ramp"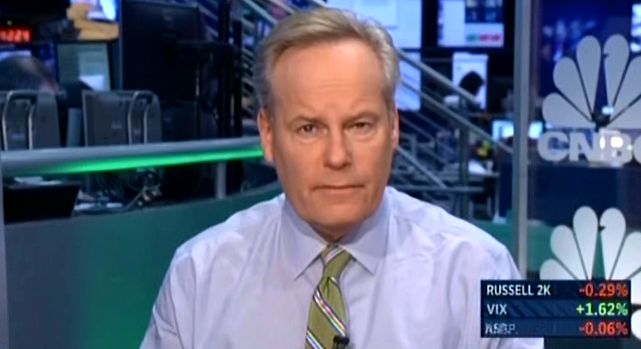 "Now back to Scott and the Half-Assed Report"
"He said there is going to be retribution like ISIS hasn't seen"
"Vehicle owners are responsible for getting their cars towed out of the lake"
"It's a friend for her, a companion. And we have a little car seat and stroller"
"I went to Jackie and told him what I wanted to do. He asked me if I was a quitter. I told him I wasn't a quitter and he told me to go ahead and take the challenge. ... I really would like to know how good I could have been with a fair chance. I loved the game, and I had a gift, but I had too much pressure. I will never know"
"Rocky" spinoff "Creed" launching the Wednesday before Thanksgiving
"Part of the problem is that you end up having interviews like this where the interview is so slanted and full of distortions that you don't get useful information. I think this is what is bad about TV sometimes. So frankly, I think if we do this again, you need to start out with a little more objectivity going into the interview"
"Never in her wildest dreams would she have imagined that RadioShack would have done something like this. It never crossed her mind. It was a simple repair, and it's just totally outrageous. Something has to be done about this"
"The steady movement towards online shopping, mostly with Amazon, has taken a steady toll on bookstores throughout the world and Borderlands was no exception"
Cites minimum wage hike to $15: "Although all of us at Borderlands support the concept of a living wage in principle and we believe that it's possible that the new law will be good for San Francisco — Borderlands Books as it exists is not a financially viable business if subject to that minimum wage"
"Never, nothing, nothing is going to happen, absolutely zero. No corporate tax lowered, no meeting of the minds. There is just, no one is even counting on it. It is a draw. The State of the Union was colossally, just misplaced in terms of the 529, in terms of the notion of the step up in base which would help the middle class more than anybody..."
AP: "The initiative will allow TV shows and films to display an onscreen badge that tells viewers the show they're watching has been certified by the group Got Your 6, which derives its name from military slang for 'I've got your back.' To be approved, the film or show must cast a veteran, tell a veteran story, have a story written by a veteran or use veterans as resources"
"The Machiavellian maneuvering recalls that of another film about the birth of an American corporate monolith: 'The Social Network'"
"I would say 70% are from Minnesota, 70 to 75% are coming across the border"
"We have gained a huge amount of market share"
"I got a really heart-warming letter from Phil saying that he and the other three guys had talked about it and hoped I would do it. I didn't hesitate for a second to say yes"
"When we raised the price of Prime membership last year, we were confident that customers would continue to find it the best bargain in the history of shopping. The data is in and customers agree — on a base of tens of millions, worldwide paid membership grew 53 percent last year — 50% in the U.S. and even a bit faster outside the U.S."
"It's as authentic as 'Dirty Harry' ... A hero must be honorable, must have honor. And you can't have honor if you're a liar"
AP: "Republican Rep. Jason Chaffetz says the National Football League and National Hockey League are for-profit businesses that earn millions of dollars a year and should be taxed as such. Currently, NFL and NHL teams are taxable, but their leagues are not"
Betsy Sharkey's no-source article on biopics is little more than a list of well-known titles through the years ... with a headline that makes frankly no sense ...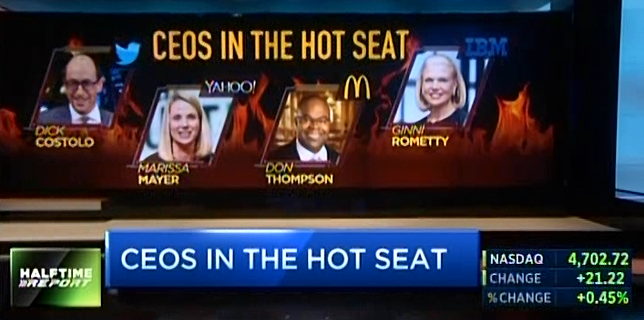 CNBC.com search turns up no interviews on network while CEO
Dec. 9: Brian Kelly of "Fast Money" called for Thompson's ouster
Average balance hits record high of $91,300
"Following a lavish dinner of grilled meats and Arabic desserts at the king's opulent personal palace, Obama and Salman spent just over an hour discussing a range of regional issues ... Salman spoke fluently about each issue without notes, but did not stray from the positions the kingdom held during his half-brother Abdullah's reign"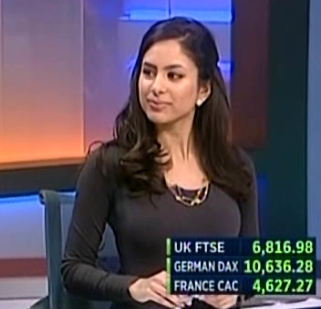 Seema Mody statuesque on 'Worldwide Exchange'
By the way, AAPL reported largest profit ever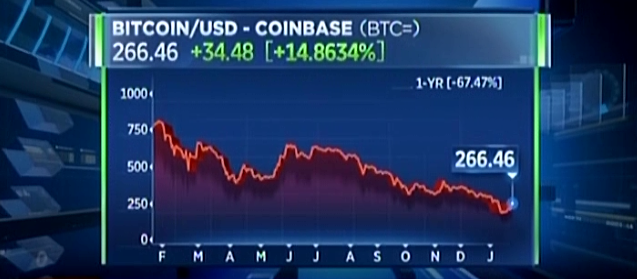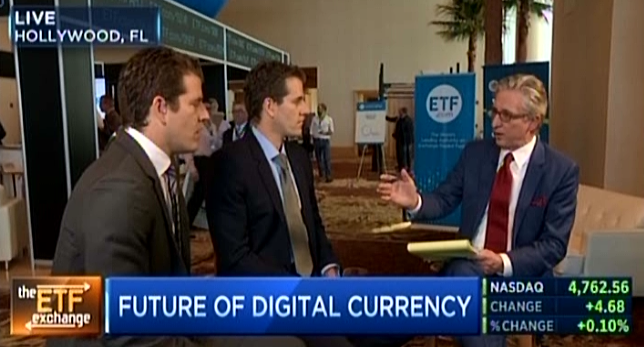 Winklevi admit owning 1% of all bitcoins, insist they
don't check price daily but claim 300 as chart shows 266
Bob Pisani: "We're at what, what are we today, 250, 270-"
Winklevi: "Uh, closer to 300. 300 ... We don't check the price minute to minute or day to day ... If this is a global payment system that is the future, it should have a market cap of Visa, Mastercard, AmEx, Discover, Western Union combined, which would put it at 400 billion. If it's a better gold, which we think it is, and most people do agree with that, then it should have a market cap of a trillion"
"Dynamic pricing will be capped and all Uber proceeds will be donated to the American Red Cross to support relief efforts"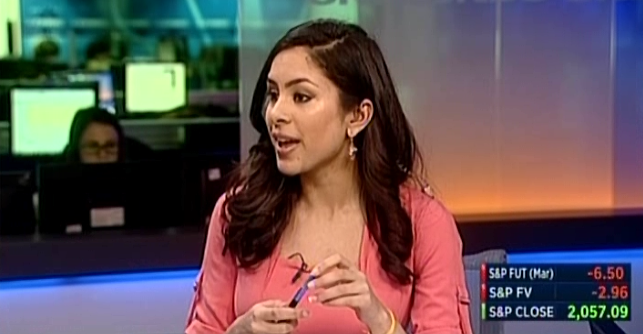 For those interested, no ring on Seema Mody finger
Because people want to know
"Hundreds of violent messages" from moviegoers
"They're really excited about it as a technology, and these people are bitcoin believers"
"We just have to figure out what this new structure is"
"funny about @CNBC #Davos2015 bullying: they throw the first punch & cry foul when we hit back @NickDunnCNBC @BrianWSteel @ScottWapnerCNBC"
Twitter heckler: "@LizClaman @CGasparino --After hearing you folks whine about CNBC and talk about how great you are, I find myself watching CNBC more."
Response: "yeah but you're also three French fries short of a happy meal #moron"
"We'll do everything in our power to keep it alive here … It's not exclusive to Paris … wake-up event"
"Yelled he was a marshal and showed the audience a .45-caliber handgun and a badge, authorities said. Someone called 911 … told the officer he was a deputy U.S. marshal and was allowed to return to the movie, the complaint said"
"America's lifestyle expectations are far too high and need to be adjusted"
Criminal complaint: "Bought American Girl merchandise on a discount website known as Jill's Steals and Deals and then returned them at the American Girl Store at the Mall of America for full price without providing receipts"
"Barry Ritholtz pointed out that Robbins has been giving provably awful money-losing investment advice as far back as 2010"
"I paid some guys off to get the balls right"
"He said to us, 'Man, you guys are fast. You're making me look bad!'"
League said to be "disappointed ... angry ... distraught"
"Marissa has a chance to really boost the stock if she plays her cards right"
"Doesn't want to be remembered as the boy who survived the accident"
"Receipts showing they'd sold more than 1,000 grates to scrap-metal dealers"
"I think it may be overly complicated for the average layperson"
216-131: "I was at the right place at the wrong time"
"Eleanor was a devoted Pittsburgh Steelers fan, and the family firmly believes that the recent separation of Dick LeBeau and the Steelers' poor performance this season might have inadvertently contributed to her demise"
"Already sports a mural of Vonnegut on Massachusetts Avenue"
"Both for his professional achievements and for his passion for his Jewish heritage and the Jewish state"
"Street Signs" disappearing; folds into 2-hour "Power Lunch" with Mandy, Brian Sullivan
"3rd season to premiere in the spring"
"Though she instantly corrected herself, it was too late"
"Prominent Fast Money CNBC regular Guy Adami flatly declared that the U.S. 'economy is lousy' despite the most recently reported 5% quarterly GDP growth rate, in order to support his generally anti-Obama and anti-Fed views. ... Beyond Ms. Domm, other CNBC staff writers who regularly post pieces suggesting imminent 'corrections' or even crashes in the market include Jeff Cox, whose views seem to coincide with short-selling hedge funds ..."
"Ordered silent yesterday. Now I can comment: The story I wrote was awful. Tasteless. Mean. Bosses felt it was inexcusable. They fired me"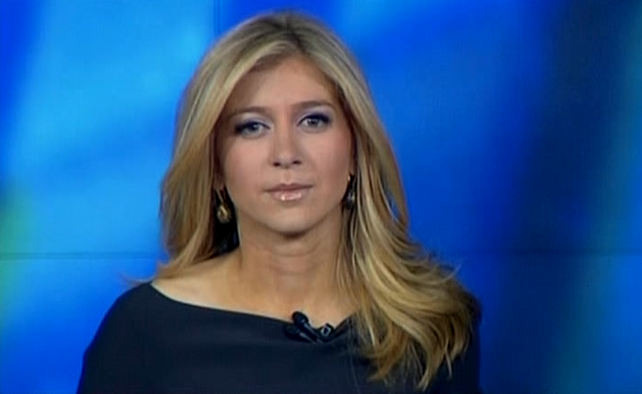 "The Swiss National Bank also cut interest rates deeper into negative territory to help cushion the blow and make the Swiss franc seem more unappealing since low rates are bearish for currencies ..."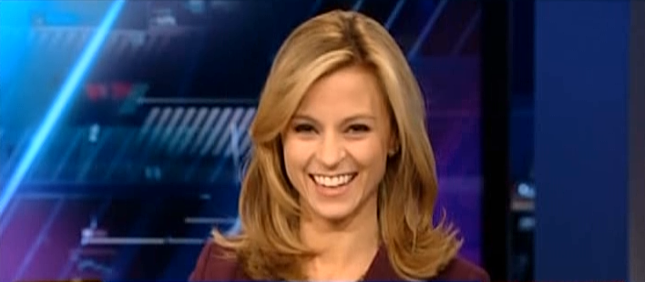 Courtney Reagan beams after winning bet vs. Steve Liesman
Steve wins by losing: "I'll get it back in the revisions ... I get to go out to dinner with Courtney which is part of- part of the bet. How much of a loser can I be; if you're joining me, I'm even more of a winner ..."
AP: "'I'm a really big fan. Yeah I guess that's about it. I don't speak Spanish but I like her Spanish music,' said Zuckerberg, laughing, before moving on to the next question"
Possible now, "if we weren't growing and investing great amounts of money"
"I have no ideas, and I'm not sure where to begin"
"Will spearhead CNBC's broadcast and digital coverage in Northern California and work closely with our partners at Re/code"
"We've had some of our companies closer to the drilling rig layoff upwards of 25 percent of their employees. We want to retain our good people but you have to deal with these circumstances, and it's going to call for expense control"
"Quite simply, it stands out, with its unique narrative, in a year in which few other films do, and I'd be very surprised if its momentum stops anytime soon"
Non-emergency: Paramedics called after Globes guest passes out; call canceled
Allows employees to exchange U.S. dollars for the digital currency
"ill ask again: who wldnt authorize water boarding to prevent what happened in Paris?"
Tells critic: "statements like that one reflects why u have 12 followers and pick up my laundry"
Devastating edge rusher's 5 rings may not beat out Mick Tingelhoff, Will Shields
FBN Carl Icahn scoop on Day 1 viewed as "Quite embarrassing"
"A small, symbolic gesture in defense of free speech"
"One wrote the 'shoot minorities' line on the page proof as a joke and the second — in charge of the front page — put it in the story"
"Rejected state's claim that getting tied up and robbed at gunpoint was part of the job"
"The paper will continue because they didn't win"
Amber Vinson's visit proves devastating
"Detectives from LAPD's art theft detail recovered the trophy Dec. 16 ... Both the university and player receive Heismans. Simpson reportedly sold his own copy"
The other: Owner of small steel company apparently bought player's for $255,500, quietly stashed in Philadelphia safe-deposit box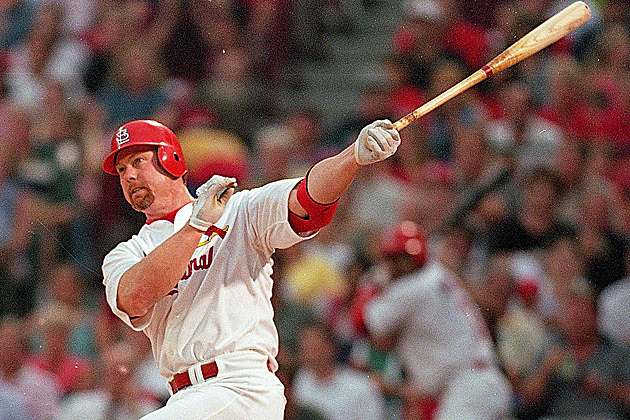 9 votes save Sammy Sosa from being knocked off ballot
Pronounced dead at construction site
"The league has put in place a number of safeguards, if you will, which make it very, very, very hard for a team to ... act as a rogue agent"
Hiring Cogent to give advertisers a better reason to open the checkbook
"Perhaps CNBC is hoping Grindr users will cruise the business news between hookups"
Suspect lit a doormat at Pacific Heights home
Batches weighed 80-90 pounds
Critic: "It's as if Bitstamp realized they couldn't internalize the risk anymore so just decided, Let's suspend operations until everything settles down"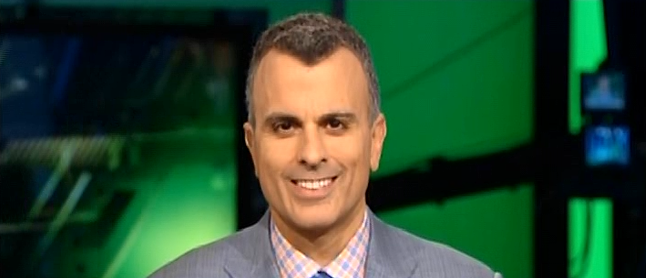 Topped 24% riding PANW, AAPL — "Never lose a lot of money on 1 singular position"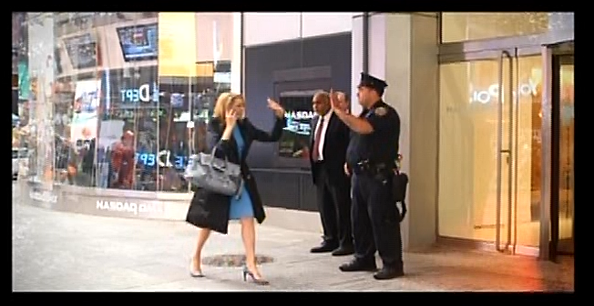 "Fast Money" gets a fresh promotion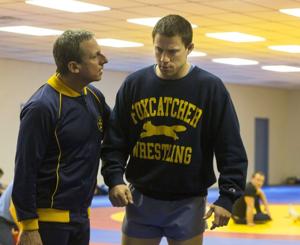 "Posting anything that can be seen as a negative comment about one of our competitors is totally unacceptable and contrary to our operating policies"
Schultz gripe: "Leaving the audience with a feeling that somehow there could have been a sexual relationship between duPont and I is a sickening and insulting lie"
"A source close to Marrone also noted the coach was bothered deeply by media criticism"
Nasdaq just 8.37% from all-time 5,132.52
$16 million payment was all it took
"The last 3, 4 years ... I mean, it was a slam dunk"
"Overwhelmed today with calls from season ticket holders having problems"
4 holdout schools: "Tulare Union Redskins are part of a long and proud tradition dating back to 1890. Our school has worked closely with our local Indian tribes to include them in the discussion regarding how the Tulare Union Redskin depicts both pride and respect"
"It's not the time to be careful now. Enjoy the ride"
"I was here in 2005 when I won a $250,000 Mega Millions prize. It's great to be back"
"Many on social media claimed letters stood for 'Down Da Hill' and '[expletive] The Law'"
"You got to ask him about that. He was talking about some 'He said, she said' type of a deal. I guess a teammate told him that I said something regarding him that's untrue. Ask him. I've got a lot of respect for Reggie Nelson; he's a good player"
Backing in: "The best thing CBS did: Regularly update viewers with the score of San Diego and Kansas City until at one point, they put it at the bottom of the screen and left it there"
Had fellow wideout stand at his locker after game to answer questions from reporters
"Officer observed a half-inch puncture mark in the man's right armpit"
"You are the best. We thought this might not happen at all"
"We'll not stop marching because it's Christmas"
"I wish I could have been there in the car when they opened the box"
"One movie will take less than one second to download. We are talking about a game-changing speed ... No one on planet earth offers 10 GBPS Internet. It does not exist unless you are a Fortune 500 company and you want to spend $100,000 a month for Internet"
$13,000 in equipment gone: "I'm hoping people may know something ... that we'll actually get the pictures back. That's all we really care about for the bride and groom"
"As a news program, the 'Today' show doesn't allow guests to put restrictions on interviews. In this case, after hours of discussion we felt uncomfortable with the demands being made, and we determined the best course of action for all parties involved was to cancel the interview"
Weinstein ticked: "Host Matt Lauer tried to smooth things over after the drama with a call"
"Even though the actress Gwyneth Paltrow had created a best-selling cookbook and popular lifestyle blog, Mayer, who habitually asked deputies where they attended college, balked at hiring her as a contributing editor for Yahoo Food. According to one executive, Mayer disapproved of the fact that Paltrow did not graduate college"
"I think quite frankly the president made a mistake by not being assertive ... It was the obligation of the president of the United States to call them and say, 'OK, everyone to the White House'"
30-cent differential with neighbors: "It kind of sucks, but you have to get gas"
Explained: "The market works. It rations the available supplies, and very often in small towns things in general are more expensive ... That's what stations tend to do, especially in the era of GasBuddy where anybody can know what everybody else is charging anytime"
"As soon as they are finished, we will publish their report"
"The Steelers and Bengals are well-acquainted with late-season games with playoff implications"
"It might mean prioritizing some calls that are nuisance calls"
Showdown with Cincinnati will determine AFC North champion
"Got hacked last night. Changed password. Thank goodness I don't work at @SonyPictures. Must have been a deal gone bad. Sorry #theprofit"
"The Fed set the tone and that what's fueling the market right now"
"Yes, it's liberal. But when there is no political will for the fallback positions that historically we have taken — namely increasing the sales tax — they need new ideas, and the governor should be applauded"
"Feel that management and engineers are not taking these incidents seriously enough"
"Within 30 seconds of talking to the doctor, she had us realizing the gravity of the situation"
Unclear how animal fared
"He did scratch his head and say, 'You know I deliver so many boxes it's hard to know for sure, but it does seem like somebody did come up not out of the house and maybe sign for it'"
Remedy: "I've changed all my shipping addresses to my work addresses"
"The U.S. government is working tirelessly to bring the perpetrators of this attack to justice, and we are considering a range of options in weighing a potential response"
"We urge Sony to release it for home video, at least. The movie deserves a viewing — and North Korea doesn't deserve to win this fight"
L.A. Times: "Even though the terrorists won this round, Sony still can — and should — make the movie widely available through other means"
"I didn't really have any relationship with the A.D. The guy, you guys saw him, the guy's a total p----. I mean, he is. He's a total c--- ... He goes, 'I disagree that I haven't supported you.' I said, 'Hey bud, you can't support somebody underneath a f------ rock.' I said, 'To do your job at this level, at a place like this, you gotta be a grown-a-- f------ man to lead something.' I said, 'You can't lead anything under a f------ rock.' I said, 'You don't spend any time with us. Our players don't even know who you are.' And I said, 'That isn't leadership.' And he said, 'Well I appreciate (your) advice'. I said, 'I suggest you take it, but see you later.' And that's how it went down"
"Views of the private boat dock as well as downtown Miami"
"A white-four door sedan was seen leaving the area around the same time"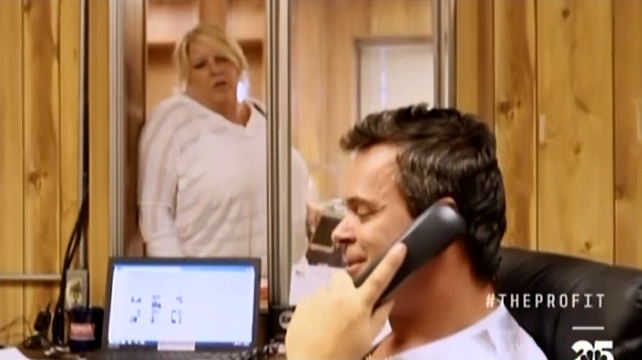 CNBCfix review: If not for cross-selling and Marcus' largess, we're looking at a lot of busts
"We're declining to comment"
Hacker threat: "All the world will denounce the SONY"
"Despite having announced its target of reducing newsroom staff by 100 — and accepting the buyout applications of 57 Guild members and nearly 30 excluded employees — the Times told the Guild on Monday it would lay off another 21 Guild-represented employees this week"
"So it's total fiction?"
"Yes. I run an investment club at Stuy High which does only simulated trades."
Television: "We were at CNBC. That's why we're dressed up. But we were there and literally in the building stressing out. We had 20 minutes. Then we three times asked them could we have 20 seconds to talk?"
"4 times the usual per-mile rate to leave the city center"
Response: "Explained that it had used automatic 'surge pricing'"
"I do think it's a wakeup call for them. I do think it's certainly of note that the shooting was halted when good guys with guns showed up"
"But I would like to be a little better prepared for the fallout"
"The transition that's taken place, I view as a rather natural one"
"Climate change is the top priority of the California state Senate"
"Employees in the EEOC filing allege a boys club culture of lewd behavior, including a booze-fueled naked romp"
"The attention is not what we expected — we never wanted the hype. This was about friends trying to make something exciting together ...We expected a regular article about what we hope to do ... The way we were portrayed is not who we are"
Mag: "The story does not specify an amount. However, Mohammed provided bank statements that showed he is worth 8 figures; he confirmed on the record that he's worth 8 figures"
TV: "Prompted to reconsider" CNBC interview amid publicity, pre-interview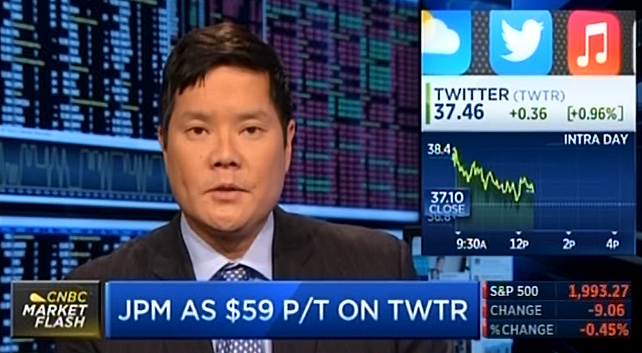 Shop, price target wrong; "has" misspelled
"Becoming a familiar face in major league clubhouses, out-hustling the sales forces of his competitors, Mr. Berger offered ballplayers annual payments of $125 to sign exclusive deals with Topps, and he appealed to their vanity by giving them dozens of cards printed with their likenesses"
Oops: "Dumped dozens of cases of unsold 1952 cards into the Atlantic Ocean"
Other than digs at Cosell and Esiason, "Miracle" man prefers compliments to controversy
The contenders: Gowdy, Scully, Buck, Costas, Nantz, Cosell ... is Al Michaels
the greatest sportscaster of all time?
"Just as we turned up 27th Street, the crowd started yelling at these two guys, saying they were undercover cops. Somebody snatched a hat off the shorter guy's head and he was fumbling around for it. A guy ran up behind him, knocked him down on the ground. That guy jumped backed up and chased after him and tackled him and the crowd began surging on them. The other taller guy had a small baton out. But as the crowd started surging on them, he pulled out a gun"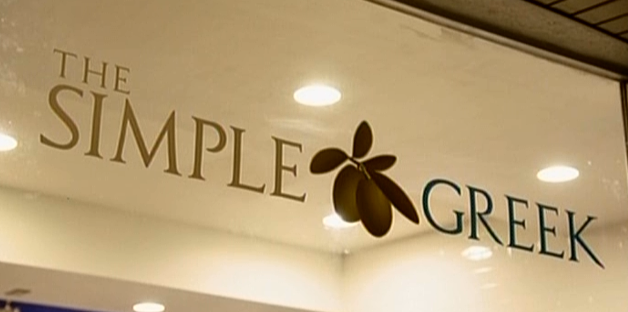 CNBCfix review: Should've just renamed it "My Big Fat Gyro"
"He did say he emptied his magazine and believes one of the subjects should have been hit"
"Tango down: oaklandpolice.com"
"Appellate judges said that the circumstantial evidence in the case was 'too thin' to conclude that the corporate insiders received any personal benefit, casting further questions on the status of a number of other of the government's cases"
"Some 11% of digital ads and 23 percent of video ads were served to phantom bots"
"Asked the team to change out clear glass with 'fritted' glass"
"Got into fights with residents and more peaceful protesters who tried to stop them"
Claims to have purchased a $500 "vessel pass" from man in Chinatown
"Slashed the tires of the van and then they smashed the windows and attacked the van"
"The culture there seems to be kill your colleague. They [the hosts] seem to think they're more important than the guests"
"Demand was reportedly high and the new competition appeared to trigger a weekend uptick in the number of traditional taxis in and around downtown"
Company: Was never an "employee, agent, joint venture or partner of Uber"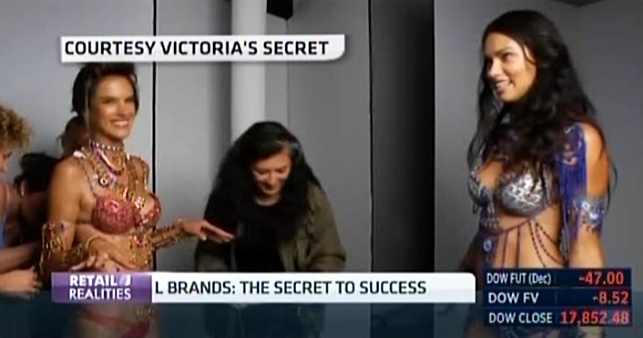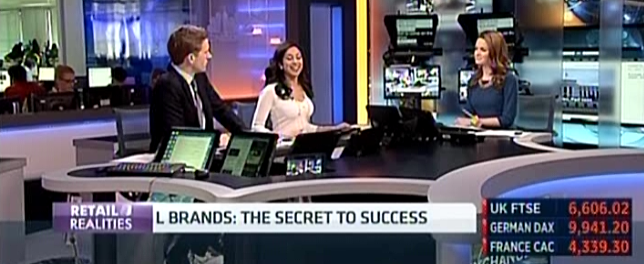 Guest, or participant? Seema Mody at Victoria's Secret show
"There was a lot of buzz around this event; I did attend the fashion show"
But: "It was like going to a funeral and the departed was very much alive and sitting up front"
One man uses skateboard to break window at Trader Joe's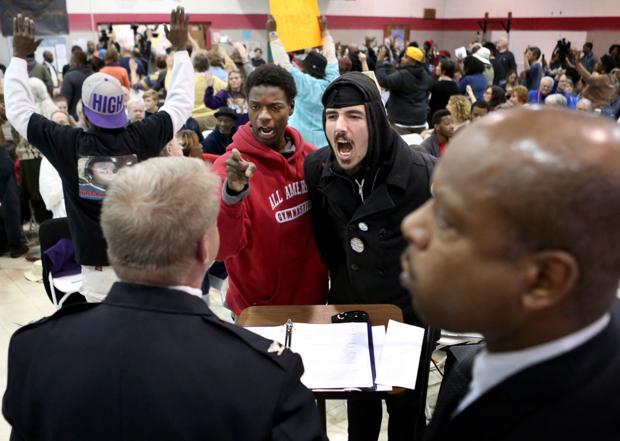 "Man, your two minutes are up. Get off the mic"
"Well, technically this meeting is over"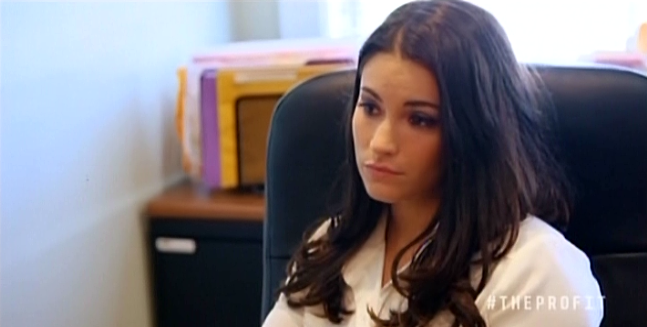 "How awful this whole experience was for us ... My father is one of the nicest guys you will ever meet ... He also had a good reputation ... They were getting threatening emails, calls and people driving by their house. It was SCARY"
Needed "best possible" cast for a film "on a budget of this scale"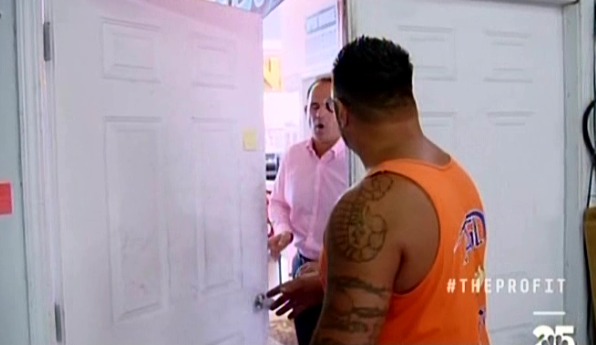 Marcus: "He called me for a piece of my business. Well that was the last straw for me"
CNBCfix review: "Somehow, it's perhaps the first time in series history that the subject has tried to sell Lemonis its product. Somehow, that's deemed a no-no"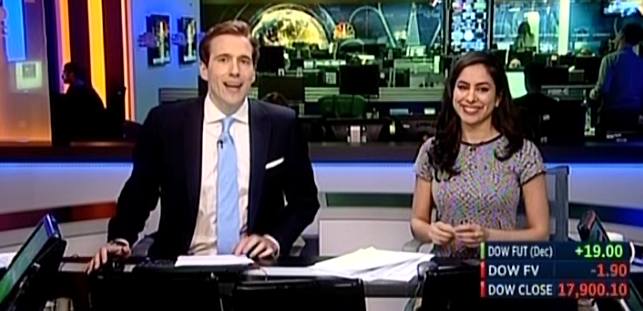 Seema Mody tells flirting Wilfred Frost it's OK for her to drink
Frost: "You were out late, drinking, on a weeknight?"
Mody: "It was 5 p.m., happy hour. I'm allowed to do that Wilfred"
"You can leak that!"
"Unloaded 75% of Twitter stock held in his family trusts earlier this year"
"When Lampley asked Buffett for his favorite restaurants in Omaha, he said, 'Gorat's and Piccolo's.' That's funny, Lampley said, because everywhere the crew went to eat in Omaha, they were told it was Buffett's favorite spot"
"The University of Athletic Association announced it will pay CSU 3 million over a period of six years and McElwain will personally pay the school $2 million over a period time. The Gators also agreed to play Colorado State in the Swamp some time between 2017 and 2020, with UF paying the Rams $2 million for the game"
Legacy of ex-coach: "The UAA already owes Muschamp and his staff more than $8 million, with $6 million due Muschamp. He will receive $2 million per year for the life of the contract"
"Why in the very worst years for TST shareholders must you pay yourself more than $3.5 million per year? How will you reflect upon on your legacy?"
"We've seen a dramatic increase over the past year of people 'shopping' at our store, getting in-depth service from our knowledgeable staff and then telling us they'll 'think about it' and leaving, presumably to buy online" ... some even make Web buys in front of store staff
"Be frank with your children about your family's finances"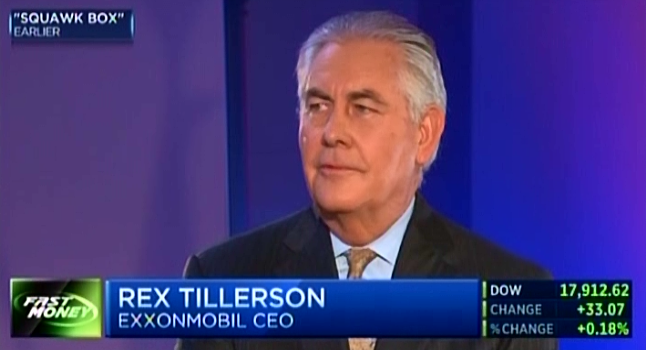 "There's been a lot of people entering this space. Some are good. Some are not as good"
Prof: "Most athletic department budgets include reserve funds, although I am not familiar with many programs that would have 10-plus-million dollars sitting in such a fund for this kind of expenditure. Even for the five major conferences, that strikes me as a lot"
"gonna be fun running into my old pals @SquawkCNBC when they move into new digs on 6th avenue where the mets are now and CNN used to be"
Claims: "She and other women at the Seattle-based real estate services provider were ranked by breast size ... propositioned relentlessly ... adult frat house atmosphere in which male managers frequently had sex with female subordinates ..."
"After listening to all these people, I'm going to come back and be coach again"
"He made the Vikings what they are today"
"Not just a great athlete, but a great man and a great advisor"
"Information that only has value to a criminal when used in relation to the stock market"
"This guy takes a shot at me on Twitter, so I came back at him ... People in glass houses shouldn't be throwing stones. He is an unctuous, disgusting, balding jerk ... you should not be attacking my street cred as a reporter"
"It was like a punch in the gut"
"Forcing open a locked front door ... a garbage bag full of liquor ..."
"To plead guilty, he has to admit he violated the law. And I am not hearing that"
Lawyer: "I think my client and the judge were just talking past each other"
"Regretted any offense their officers may have taken"
"Thousands of Nebraskans just rolled their eyes"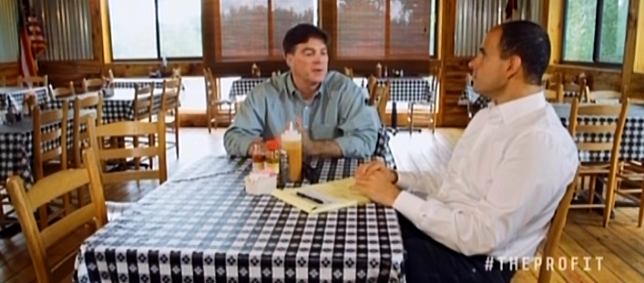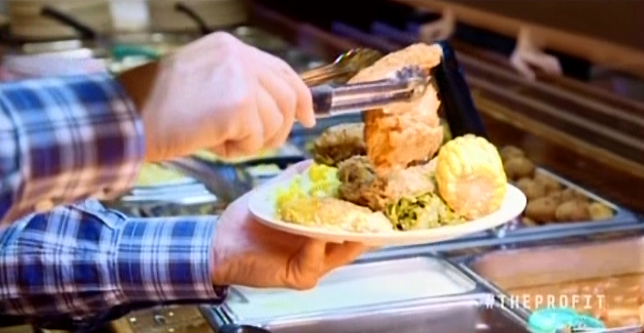 CNBCfix review: Mouth-watering PR proves win-win for everyone at Shuler's Bar-B-Que
"for especially meritorious contribution to (1) the security or national interests of the United States, or (2) world peace, or (3) cultural or other significant public or private endeavors"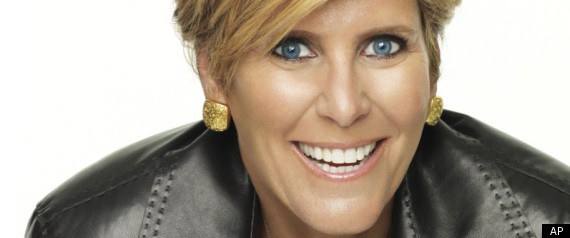 "Money Wars" will be "a bit like a 'People's Court' for money"
"She loaded the audience with over 20 members of the Kennedy clan"
"I've lived in Oakland my whole life. F— these m------------. It's f------ stupid, these out-of-town, lifelong activist whatevers"
"'No wonder everyone hates the (expletive) cops, and I'm trying to defend you guys, (expletive) you, I'm writing a column as soon as I get out of (expletive) jail, you (expletive)' ... stated that he would get Trooper Isbell's badge ... insinuated his political connections and position as a reporter formed a basis for special treatment ... 'You guys (expletive) up, that kid is an idiot, I'm the (expletive) editor of the local paper, you (expletive) arrest me, what a dumb (expletive) (expletive) move' ... The defendant's vitriolic tirade lasted the entire 23-minute trip all the way to the Lake County Jail and continued through the booking procedure where the defendant was verbally abusive with jail staff ..."
"Presumably intended for a fellow Twitter executive"
"When it came time to pay his $9.23 bill around 2 a.m., all he could produce was a stack of his business cards and a $5 bill"
"Mimicked the stance of 'The Karate Kid' ... begged for his freedom not to be arrested"
"Nobody believes it and we're not there yet"
"Each employee was given 60 days of pay and benefits, according to HP"
Palomino Fund down year to date (sic) more than 2.3% through the end of October
AP: "Pilots who deposited bonuses into retirement plans will have those returned. Those who received a cash disbursement will have the amount taken out of paychecks over the next four months, or they can just write a check"
Criticized for pushback to 2015: "The bookkeeping and tax complications, plus the waste of staff time, simply do not justify recovery of monies today just to repay in a short period"
"He called out our names. He said he's sorry and said his brakes locked up. I didn't think he was [drunk] at the time. He could have been. He was freaking out"
"What happens to South African mining stocks immediately after resolution of labor strikes?"
Surely you can guess the other 2
Passenger in similar state; "extremely intoxicated"
"During Monday's telecast, reader Paul Curran emailed us to predict ESPN would not show whether, if or how Tomlin and Whisenhunt interacted at game's end. He was right"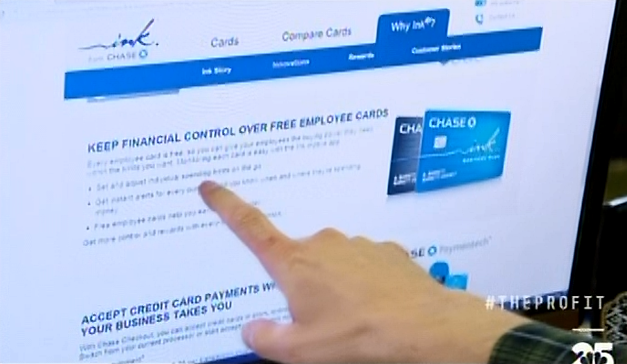 Tweeter: "@marcuslemonis @TheProfitCNBC used to be the best show until it became a credit card commercial/endorsement. #TheProfit #SmallBusiness"
Lemonis: "I hear you. Not happening again"
CNBCfix review: Used the same terminology Chase uses in its commercials ... volunteered endorsement to business partner who indicated he's already satisfied with his bank ... aired business partner's endorsement of the product even though he apparently has never used it ... suggests phony drama is being manufactured with the business partner(s) ... makes one wonder if Tyler Mathisen and Sue Herera are going to start asking guests to invest with Fidelity or thinkorswim ...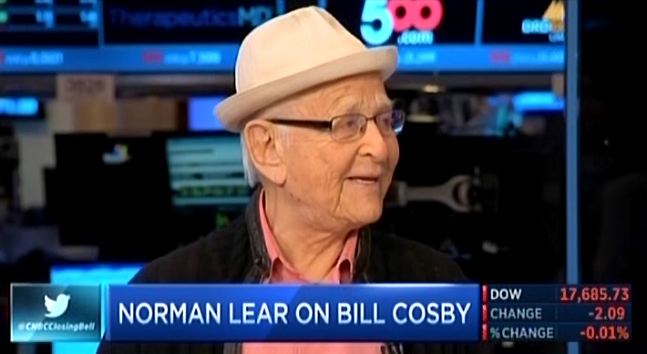 Kelly Evans asks Norman Lear, 92, if sex abuse is 'endemic' to TV
Kelly Evans: "Was it something his character- something that people had discussed in the industry"
Lear: "I've never been in a discussion about Bill Cosby in that sense in the industry"
Evans: "It's a surprise to you?"
Lear: "Well, it would be a surprise to anybody"
Evans: "I simply wanted to ask. Especially because when I spent time recently in the U.K., there were a series of uh, of revelations about former TV stars along these lines, and you do start to wonder, going back to the question about the impact that television and its culture has, uh if there's something endemic to the industry"
Lear: "Ha ha ha ... would there be something endemic that's illustrated by that kind of behavior? Uhhhhh ... it's uh ... can I say it's a ridiculous question?"
Evans: "You absolutely can. I hope it's a ridiculous question"
New York Times: "The analytics will tell viewers and visitors to the CNBC website, for example, how energy stocks have historically responded after a huge snowstorm, or how stocks of Apple suppliers have typically performed after an iPhone release"
"You're off doing a secret deal and someone is tracking your whereabouts — it's insane"
"Clearly it comes from someone who really wanted to hurt Jeffrey Katzenberg and did ... It is a big risk for someone because it is illegal and actionable"
"We're selling everything that's not nailed down"
"Any Amazon member with a registered selling account can create authentic–looking pages and list items "for sale" online. Consumers need only take a screen capture of the page and show it to a cashier at checkout in order to request the price match"
"I climbed for many, many years until I heard of this list and when I did and I started going to these far-out places, it was amazing, towns I couldn't even find on a map"
"I honestly have no idea what I will be doing, which is never ideal when you're the No. 1 breadwinner for the family"
Team suspends social media accounts
"Hell, yeah. That sh-- pissed me off"
"There was a lot of insecurity and instability created when he walked in the door. He would pit anchors against anchors and producers against producers and it created a lot of internal problems. He would ask the staff ... who were the weakest links in the organization"
Insisted Gordon Gekko wouldn't remove jacket in front of employees:
"He just wouldn't, because he's the man"
"Confirmed that Manson can have a wedding at the prison and invite an officiant from outside the prison to perform the ceremony. Manson and his prospective spouse also would be allowed to invite 10 guests who are not inmates"
"Our income has been cut so bad, you'll definitely see more of this"
Tweet: "wise guys? You connected? Faker"
Charlie: "totally unconnected unless i wanted ur legs broken"
To New York Post: "That's laughable, but we take notice, because as the fastest-growing network in prime time, we're always on the lookout for high quality comedy writers and actresses"
To Howard Kurtz: "Laughable"
"We have a lot of gaps in our public transportation system. If someone has a 3rd-shift opportunity and we don't have a bus route that is timely or even available at all, this may be a solution that we can support as a community"
Company: "We already have a pool of people from the area who are interested. There are people just organically applying, but we have not turned the system on there yet"
"The total bloodbath was unexpected. They pushed out a lot of loyal, very qualified people. It was like watching people get executed"
"When you look at what you're buying with a college education, you're buying obviously a lot of knowledge, but you're also buying the near certainty that you will make more money than a high school graduate"
"Was cited for Sudden Pedestrian Movement, to which he responded with a (sic) 'expletive laden statement' that expressed his desire for the Cornhuskers to defeat the Badgers"
Tweet: "lol, you're not 5'8 @cgasparino #smallmansyndrome"
Charlie: "im just tall enough to scrape this POS off my shoe in a ny minute"
So-called organization called "Blue-men-ton Knights"
CNBC reax: "That's laughable, but we take notice, because as the fastest-growing network in prime time, we're always on the lookout for high quality comedy writers and actresses"
2 hired amid "re-allocating resources"
"The current owners have done an amazing job renovating the home, including a first-floor office they remodeled to try to make look like the office in the 'Godfather' movie"
The making, 1971: "Anticipation ran high on Staten Island as word spread that Marlon Brando and a cast and crew numbering well over 100 would be heading here in late May for the movie. Scores of Staten Islanders would enjoy fleeting moments of fame as movie extras"
"He believes that if you make a mistake ... and you straighten your life out, you deserve a 2nd chance. There's no reason why he wouldn't hold his son to that same standard"
"Livingston stated that Gilbert was likely drunk when he fired off that letter, and then pointed out that Plain Dealer reporters had also been the target of other late night, angry letters from Gilbert when the issue of the casino was still being debated"
"We don't see a pay raise as outlandish. Based on the total payroll for Guild employees, every 1% increase in wages amounts to a little more than $111,000 ... Our members want a fair contract, and a fair contract includes a pay raise after five years of nothing"
"Some websites removed their ads while the problems was (sic) being addressed"
CNBCfix review: If the FCC policed sincerity, this would get a Janet Jackson-esque fine
"Chill (unless we are talking about something that is chilled), Fool, Cuz (this goes for cousin and because), Bruh, Bae and Guh. ... Stop accusing people of having Ebola"
"They are selling pretty quick today. Orders keep coming through"
"Made a comment to the mom ... about the noise level of the child's cries"
"When you look at a fully loaded semi hitting the back of a squad car and the fact that the officer walked away from it is nothing short of a miracle"
"Had also purchased a case of Corona beer at a nearby Texaco"
"It is believed these defendants victimized dozens of different (sic) people. It is also believed that if the defendants are released, they will continue to victimize the citizens of King County with car prowls and subsequent identity theft"
"At no point did I see any evidence of any drinking nor did I see or smell any marijuana. If this had been the case, I am sure the police would have been called to the room and my daughter and her friends arrested"
"im heading to vegas in a bit staying at the wynn first one of u trolls to meet me around 8pm gets $10 to carry my bags"
Divers "were saying it was zero visibility — they were blindly feeling around"
"A waste of trust assets"
"Another network was in reruns, something about a shark, a tank. Well they're in the tank"
Charlie: "He's jealous because we are doing better things than him"
Insana: "To be clear, when an ad shows up on my wall saying some reporter beats [David] faber, [Andrew Ross] sorkin, [Steve] leisman (sic), or k. kelly, to the punch, I HAVE to clarify. With respect to a Fox Biz ad about Charlie Gasparino, on my wall, I said David Faber was a better reporter. Never said anything about me"
Charlie: "he started it i just fought back"
Charlie: "todd: at least insana is old bald scumbag you're young GOING bald and are a scumbag"
Insana: "@KeithMcCullough @CGasparino How's your crash forecast working out, Keith? Did u tell Charlie about when you tried to sell SAC your advice?"
Keith McCullough: "I feel bad for you Ron — this is not how a man's career should end. #Retire"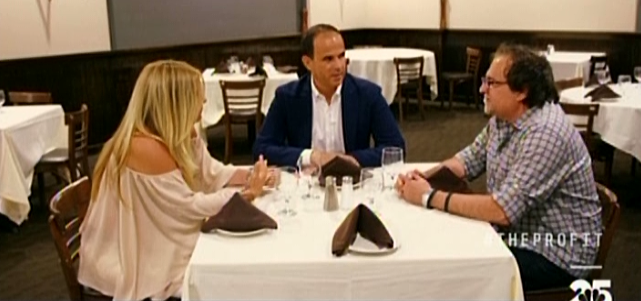 CNBCfix review: "The Profit" forced to invent 5 minutes of drama in light episode
"I thought 'Wow, I'm getting 'schooled' here by a TV talking head — or an online TV talking head — I thought that's all part of the psychological mosaic, right?' You could look at all the sentiment polls. You could look to the behavior of the participants. Now, when the newscasters are castigating you for not understanding monetary policy — um yeah — I mean I thought that was an extreme moment ..."
"They just kind of made up a bunch of stuff that I found really hurtful. They made up this whole plot line about how I somehow decided to create Facebook to attract girls"
"The core audience of a business network is the out of home viewer"
"Bruce Rauner has not yet spoken to Pat Quinn."
"The idea is to make the whole building as a part of (the) landscape"
"I called [House] Speaker [Michael] Madigan. I called [Senate] President [John] Cullerton, and I said to them: 'This is an opportunity for us to work together'"
But: "There was no call ... and no conversation"
"In the rest of the country the price of gas is going down fast, but in Western New York it's falling slower. I'm concerned that families and small businesses across Western New York may be taken advantage of by middlemen in the oil industry"
"A spokesman for CNBC declined to comment on the reaction to the exchange, and the channel's website only includes video of the first part of the interview, before it went off the rails"
"Bruce thinks what Ray Rice did was deplorable and the NFL has badly mishandled the situation"
Incumbent: "I've been one of the best mayors we've had in the last decade"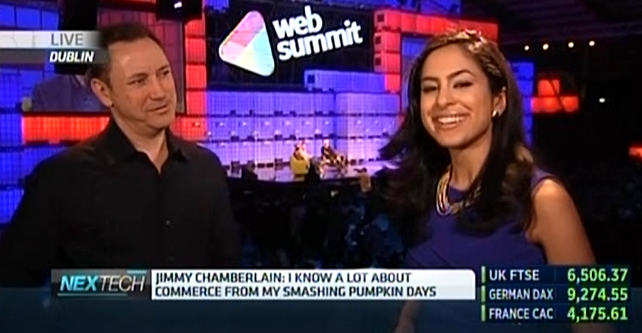 CNBC's Carolin Roth implies she's too young for Smashing Pumpkins
"Did you know the- the Smashing Pumpkins ... I wasn't born yet"
"Bizarre accident that still have (sic) friends and family scratching their heads"
Kernen: "You have pounds anyway don't you still?"
Shanahan: "We have euros"
Kernen: "You have euros in Ireland?"
Shanahan: "Yes."
Kernen: "Why do you have euros in Ireland?"
Shanahan: "Why wouldn't we have euros in Ireland?"
"Mad at the camera" ... thinks it's "morally wrong"
Became dislodged from worker's belt on 50th floor; hard hat was in car
Camp admits: "This appears to be overly aggressive legal due diligence"
Executed transaction with customer below $100,000 minimum denomination of the issue
"Had lights and siren on when it crossed the tracks"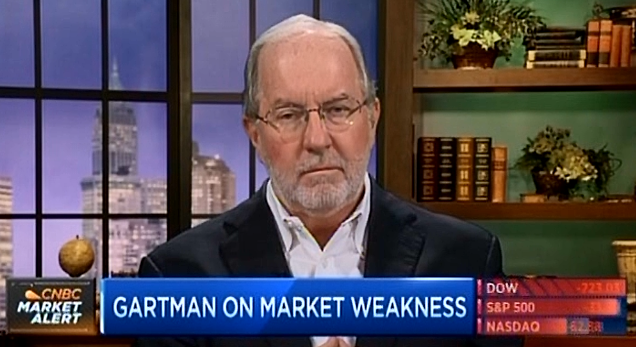 "I actually turned quite bearish for a couple of days — clearly that was wrong"
Daredevil completes pair of high-wire walks between Chicago skyscrapers
But: "Suggs was more hot dog than playmaker last night"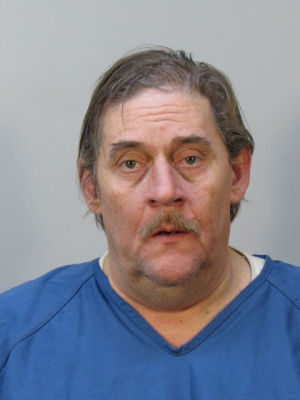 "Some residents told investigators that Clark was indifferent to rampant drug use in the home and would refer them to God if they pointed out that another resident was high"
"It is possible the driver did not know"
Demanded drugs; 14-year-old dispensing candy unhurt
"When you get something unexpected like this, you buy equities and sell commodities"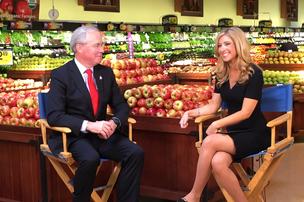 "Over-the-Rhine is amazing. I don't even recognize it from when I lived here. And it's great what they've done downtown"
Uh-oh: "I always knew I wanted to get out of Cincinnati, no offense"
"There's no way to stop it. If they win next year, it'll happen next year"
"He selected words that were unfortunate, inflammatory and, in our view, inexcusable"
Wrote: "A gigantic thug who was higher than a kite when he attacked Ferguson Police Department Officer Darren Wilson, who unfortunately had to put this animal down"
Might have been base jumping
Overseen by James Goldston
"We have no plans to pull the collection"
Both labeled in critical condition
"Always, always has something interesting going on there"
Charlie: "gary kaminisky's (sic) life is pretty good for a PG rated audience"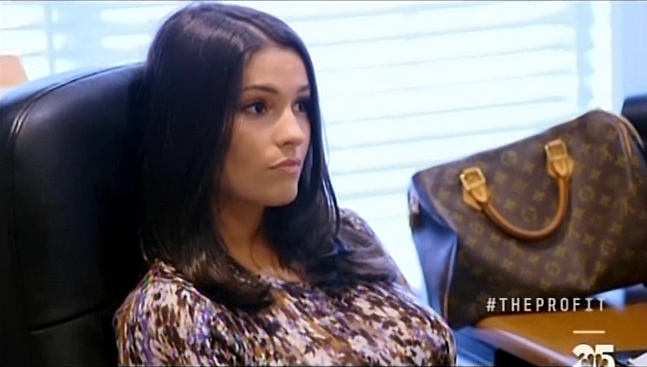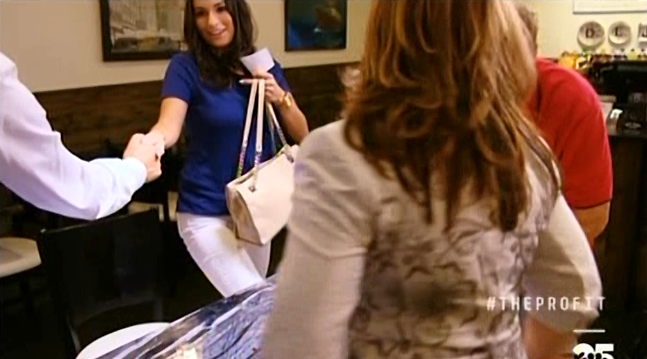 CNBCfix review: A fish market owner is 3-for-3 in profitable insurance disasters
Store owner: "Some things exaggerated for dramatic purposes"
Sophie's Great Food: "I feel like naming the brand after her makes sense because everything she prepared for our family was done with love"
"Sports teams have expressed concern to the FAA that drones will be used to photograph or record games, diminishing the value of the teams' contracts with television networks"
Chapter leaders facing meeting about "our institutional values of inclusion"
Arrested after complaint of noise at his apartment
Driving in the wrong lane
"Noto dominated most of Twitter's call, delivering 20 of the 26 responses to questions from Wall Street analysts, while Chief Executive Officer Dick Costolo answered 6 times"
"The price of crude oil has gone down 20% in 4 months and accounts for about 70% of the cost of gasoline. Yet the prices our local gas stations have been charging us have gone down a piddling 2% ... It's time to show our local station owners/managers that greed doesn't pay"
California: Station owner drops price 1 cent below competitors, to $2.98
"Feisty, take-charge journalist who cut straight through corporate-speak"
"Power Lunch" encore on Oct. 28
"The city brought in $7.6 million more in business tax revenue last year from the tax-break zone than the area had generated before the incentive, while the city gave up only $4.2 million in waived tax revenue under the program in 2013"
Tweeter: "@CGasparino you're really an arrogant jerk."
Charlie: "GFY (hows that for arrogant)"
Bystander gives chase, is punched in park
"He put a sawed-off shotgun in his pants ..."
"Because of the competitive nature of our industry, we cannot share the details of our research and innovation approach at this time"
"Society has lost its integrity"
"What a pompous gasbag he's become after all those years of studying at the feet of his former partner Dan Dierdorf"
"Hope just went up a notch today"
Charlie: "spoke to cpl critical care MDs today who said NY ebola doc shld have stayed in west africa for 21 days then return under proper precautions"
Tweeter: "Then what would he do (now that he is sick)... Would rather Bellevue than Guinea General"
Charlie: "then u bring him home KNOWINg (sic) he has the virus and treat him accordingly"
"The more we see of Snowden ... the more we see not only his intelligence and the strength of his resolve but the linked idealism and zealotry that must have motivated his actions. ... But once Snowden leaves the hotel room to go into hiding ... this film's energy departs with him"
Vikings great Joey Browner: "This word has to go"
Then: "I'm afraid that this might be the very beginnings of a bear market that could last for some period of time. I think it's going to be more than a mere 7 to 10% correction ... This is the start of a bear market, and it could last for several more months I'm afraid"
Now: "In retrospect, I should have thrown all caution to the wind, covered any short positions, and spent cash and bought stocks. Clearly, in retrospect, I should have bought it. I'm not that smart, nor should I ever be. Clearly, I missed the V-bottom"
CFO: "We do have a lot of opportunities in front of us; but we do have to be selective"
Analyst: "I guess we'll find out what he means by selective, but I think the phone may be one good example where it may not make sense for Amazon to make incremental investments"
"memo to @businessinsider: if ur gonna say someone took a job for 'huge cash' wld be nice to know just how huge it is:"
Chooses $7.5 million payout rather than $250,000 a year for 30 years, buying gifts for poor kids: "I'll be just as happy to see the smiles on children's faces who, otherwise, may not get anything"
"All of these studies do suggest some kind of a link where a family who has children with autism were living usually closer to areas with higher [air toxic] measurements"
Sounds like famed investor determined not to make headlines in Robin Hood remarks
In the past 45 days, 50,000 have opened Uber app on smartphones in Southern Nevada
New York Uber drivers strike: "Uber has become like Wal-Mart. Drivers now make less than the minimum wage when we do the math"
"He had a girlfriend and he had money problems. And she (his wife) had all the money"
"I'm less concerned about the data breach being the the magical thing that harmed Target. I think Target has a longer run issue like Wal-Mart does; their brands are losing a bit of relevance"
"The same reason why young women on juries aren't a good idea. They don't get it. They're not in that same life experience of paying the bills, doing the mortgage, kids, community, crime, education, health care. They're like healthy and hot and running around without a care in the world. I don't think they shouldn't be — I just think excuse them so they can go back on Tinder or Match.com"
Narrowed search to 6-mile radius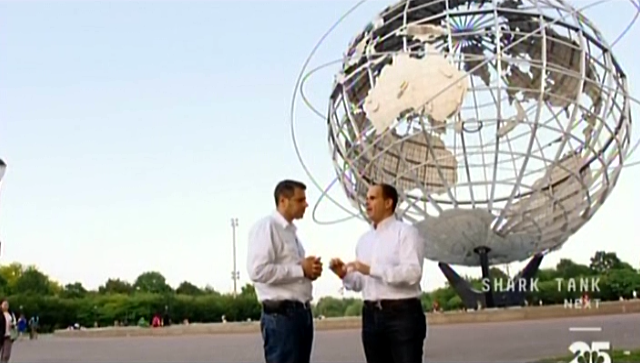 CNBCfix review: Dubious turnaround effort pins hopes on awful logo
Filed for bankruptcy protection in 1988
"Let's just say, the action figures have taken an indefinite sabbatical"
Barack Obama: "For Benjamin Bradlee, journalism was more than a profession — it was a public good vital to our democracy. A true newspaperman, he transformed the Washington Post into one of the country's finest newspapers, and with him at the helm, a growing army of reporters published the Pentagon Papers, exposed Watergate, and told stories that needed to be told — stories that helped us understand our world and one another a little bit better"
"Becoming one of the most exciting and dynamic culinary zones in the world today"
"It will drive golfers away for good"
"We're proud to be the first airport in the U.S. to have both signed permits from both companies. This gives customers at SFO more choice, without compromising our focus on safety"
UberX driver accused of battery against woman: "I think responding to an incidence of violence after 20 hours is not OK when you're running a 24-hour business. Our question was how many passengers did he drive after that, and before he was fired? Did he spend the rest of the night picking up women?"
"Everyone went into survival mode. The shark was attacking him and bit his board one time, and after that the shark was circling him"
"Eventually would succeed Jerry Taft as the ABC-owned station's top meteorologist"
"Law enforcement did a spectacular job preventing a murder from happening"
"You've got to vote"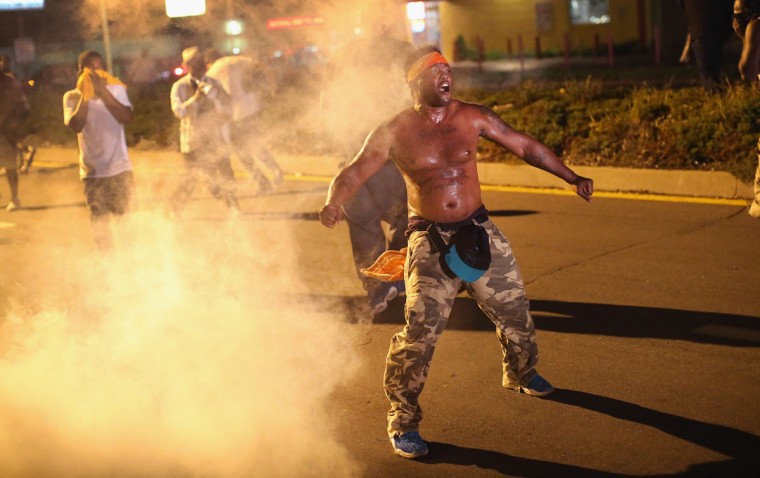 "I was shocked when I pulled the data. It doesn't really look that bad"
Had to be chiseled, lubricated with dish soap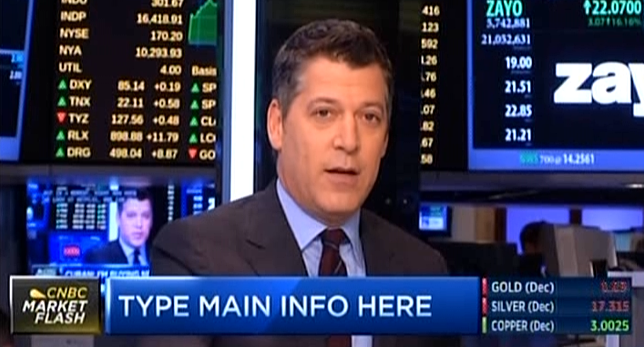 Probably could've said something about volatility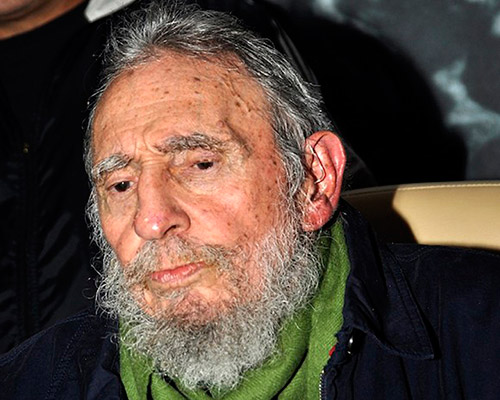 "The greatest example of solidarity that a human being can offer"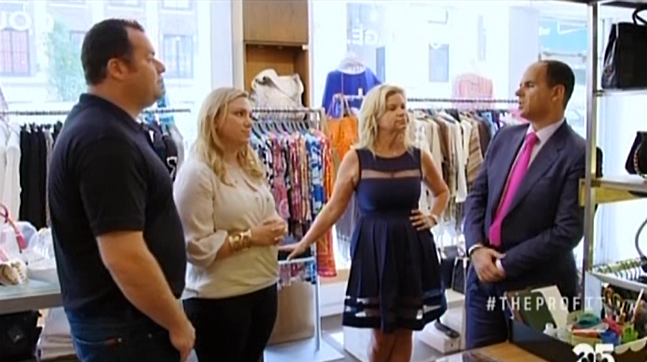 "It's not like he's Donald Trump. He's not recognized everywhere. But Greenwich is such a financial community that he couldn't even walk down the street. Everyone stopped him. Everyone knew who he was in Greenwich"
"I am pissed off ... I am angry that they missed a great teaching opportunity"
"it is funny that after initially ignoring Ebola's impact on the mkts how @CNBC is now in the process of blowing it outta proportion"
Saved by hitting air conditioner on 3rd floor
Ban on "unnatural (hair) colors" continues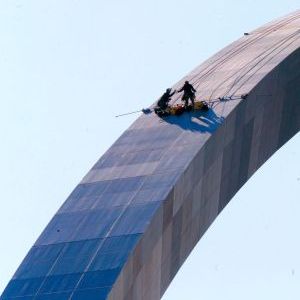 Adrenaline "high"
23-year-old driver cooperative with officers, no alcohol in system, not issued ticket
"It's kind of gouging a little bit"
So is Jeff Zucker's "Crossfire," "Unguarded with Rachel Nichols"
"Camera man attempted to offer the man money, but he refused"
"A tip pointed deputies to the house where the trio and the child were staying"
"Obviously we slowed down, rolled down the window and he was like, 'You can't be here!' She was like, 'I know, I know.' Then we felt bad. You could hear it in her voice"
"The camel kicked and bit him practically to death, and when he was almost dead, he sat on him. Between the blows and the weight of the camel on top of him, he was asphyxiated"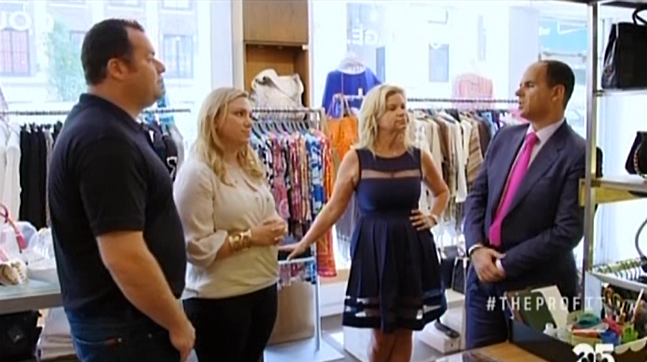 CNBCfix review: Can Noemie sustain the momentum at Courage. b?
"We need to get Ebola under control"
"I don't know what religion Sen. Collins is or what her family background is — it's not for me to ask. However, we do take it seriously and will report it to the attorney general"
Wikipedia: "Collins has Irish and English ancestry"
"Pulled out after learning that concealed weapons would be permitted"
"I have been following every pitch of this postseason and am excited to be here with the fans to welcome the team back from St. Louis. I also want thank everyone for the outpouring of well wishes and support during my recovery. Your notes, cards and messages have been the best medicine anyone could ask for"
"Goldberg made a series of mistakes that included misidentifying players and coaches, mispronouncing names and losing track of the down and distance. But that probably all would have been forgiven by FOX if it hadn't been for the profane Twitter tirade"
Tomlin: "I don't worry about that. That's elevator music as far as I'm concerned"
"They asked what life was like on a tank, what we did for excitement, what we were eating ... I wouldn't give up my experiences if I had for a million dollars, but I wouldn't take 5 cents to go through it again"
Inclusion of needless extra market average only clutters new graphics scheme
"We feel we need a longer operating season in order to be truly successful and make this business flourish ... As a European, I'm used to fresh food and not microwaves, fast food and quick meals. ... I figured, why not? I have a passion for cooking and everybody is still alive after eating my cooking"
"I apologize if people thought I was criticizing the hospital"
$95 annual, $10 monthly, or pay a delivery fee per order
Arrested without struggle near aunt's house
"He stated several times during the interview that he was 'drunk'"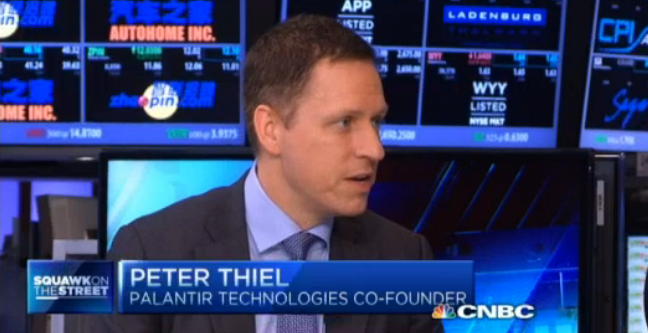 "I think the thing that is most distorted is the bond market and fixed income, and perhaps less on the equity side, but we certainly are back on a government bubble of massive size"
"The Steelers won't make anything that can be described as real progress again in this league until someone else is the offensive coordinator"
SHLD drops another 2% after hours
Sheriff: "When they move the war into the casino, it meant we had to stop this"
No staff saw what happened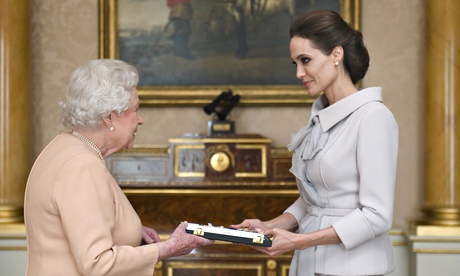 "As an American citizen, the actress cannot become a Dame, but can use the initials of the award after her name"

"Every once in a while, a good man briefly takes on the condescending, paternalistic, stifling, sexist role we thought we'd only see from someone else ... Here's the problem — he probably assumed the hypothetical woman asking for a raise was already being paid fairly. Sadly, we can safely assume that statistically, she was not ... Thank you, Satya Nadella, for igniting the discussion on equal pay once again. And women, part of this is on us"
"It's not really about asking for the raise but knowing and having faith that the system will actually give you the right raises as you go along. And that, I think, might be one of the additional superpowers that quite frankly women who don't ask for raises have. Because that's good karma. It'll come back"
Rethinks: "I answered that question completely wrong"
"I think they're bombarded with whatever's on TV"
"This was a pretty bold and brazen theft"
"Looking at the places he's been, it doesn't strike me as prime lion country. He was living quite close to a lot of people in Daly City and Pacifica. Despite how close he was to people, he didn't cause any harm to anyone and I find that quite fascinating"
"It's about marketing the Amazon brand. Same-day delivery, ordering online and picking up in store are ideas that are really catching on. Amazon needs to be at the center of that"
"I can't advise buying stocks that have only been more expensive in 2000 on some metrics ... and I can't recommend buying any long-term bonds as the yields also stink relative to inflation ... maybe you should buy some gold, but I know that yields nothing either"
"Might be done as a lottery open to those licensed to hunt in Missouri"
"From time to time markets go down. Stocks can go down"

"We're really a start-up when it comes to this kind of content"
Writer: "It wasn't until CNBC landed the rights to 'Shark Tank' reruns when people began taking notice of the network's new strategy"
1. "His window was down, and we pulled up and I said, 'Hey man, just a heads-up, something's burning from your exhaust. Your exhaust smells horrible, just wanted to let you know.' He looked over at me and said, 'I'm going to kill everybody in your (expletive) vehicle.' It was so random, so bizarre, I was like, 'What?' And he said the exact same thing again ... It was a fight or flight situation and, unfortunately, we had to take flight at about 110 miles per hour. It was very scary ... He's been swerving all over the road. We're exceeding the speed limit, but it's because he's literally trying to do whatever it takes to hit us ... I am not trying to soil this guy's reputation or his legacy. I know this community thinks very fondly of him. I am just being honest, and I'm trying to get this off my chest. He tried to kill us. He told us he was going to try and kill us. I've never gotten a look from somebody like that, I just don't understand it. That's a face that's been in my head the last few days"
2. "As we got closer, the white SUV took like a bat out of hell and passed us. He passed us going very fast. We were like 'Holy crap, what was that?' It was startling how fast he was going. He was going very, very fast. He was stopped, and he just floored it"
Wife to cops: Bironas told her good night at 10:30 p.m.
Wife to 911: Last spoke with Bironas around 9:40 p.m.
"The apparent cause of Rich Ilczyszyn's tragic death was a pulmonary embolism caused by deep vein thrombosis, Rich's coworker told us today"
Family: "Rich had a love for life as well as an appreciation for the fragility of it. He always encouraged others to live fully and spend time with those they love and hold dear. iiTrader is a testament to Rich's inherent creativity and resilience. iiTrader will continue to innovate and move forward"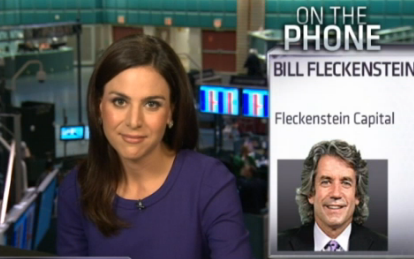 "The certainty with which the woman that I got interviewed by this week sees the future, and the need to be involved in stocks is rather remarkable since most talking heads don't know anything about investing"
Still waiting: Article notes no sign of short fund promised since late 2013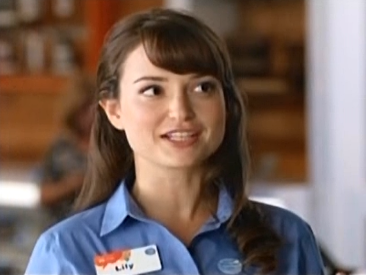 Credits include "ER," "Days of Our Lives"
"I've been a bit slow in coming around to the United States, but there were so many people asking me to do that, that I just felt an obligation. I wouldn't be writing songs if I didn't have something to say"
"Photos including the shirts and 'a banner with stick figures portraying a sex act with Penn State written on the top' appeared on the official Rutgers football Facebook page"
"Wasted the time and resources of the defendants and their counsel, and those of the court"
Crashed nearby; no arrests
"Pretty much destroyed the bar area ... All I can say is it's a miracle no one was killed"
"Painful affront to every victim of domestic violence and sends a troubling message to our community and especially our children that 'zero tolerance' are empty words, not real actions"
"Six Californias will conduct a review of the signatures determined to be invalid by the registrars in several counties to determine if they were in fact valid signatures"
Goal: "A few more days and make them the best they can be"
In ICU, able to speak
"how can u have shareholder rights on @AlibabaTalk when a-the co is run by the communist Chinese b-the ownership structure looks like enron"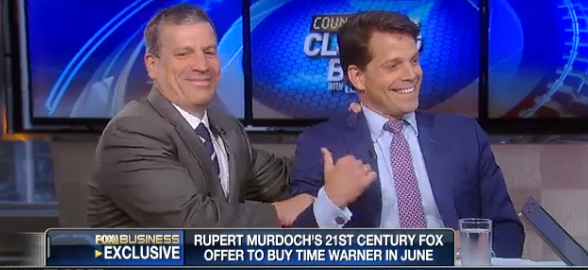 Business Insider: Business channel had 2nd thoughts about ending partnership with Anthony Scaramucci after ultimatum, got no reply
"Let me just say one more thing: Facebook has 7,000 workers. Microsoft just laid off 18,000. Why doesn't Mr. Zuckerberg call his friend Mr. Gates and say: Look, I have to hire a few hundred people; do you have any résumés you can send over here? Maybe I will not have to take somebody from a foreign country for a job an unemployed U.S. citizen might take"
"The way the NFL is doing this whole thing is wrong"
"She's a huge Neil fan"
Alert professors "helped us put two and two together"
Should've called 911, but "we were able to find a needle in a haystack with a little help"
"This is a gentleman who has terrorized a minimum of 14 people when you look at the number of robberies and contacts he made … This is a prolific robber and we are happy to get him off the streets"
Notre Dame grad: "I want to unconditionally apologize for my comments the other day"
"The Pac-12 Network said Robinson will undergo sensitivity training"
But: "Posts deleted from your profile can remain on Facebook servers for up to 90 days"
Complained of headache, did not seek treatment until feeling dizzy next day
"Wearing a mask 'like a hoodie (but) only his eyes were showing' ... The bullet hit the shotgun before striking Ziminack in the stomach"
"We don't agree with their action given our demonstrated history of honoring our financial commitments while continuing to invest in our transformation"
Greeted members from Big Brothers/Big Sisters program at screening of "Annie"
Grabbed after walking across construction beam
"Some days you go home and realize you helped build this building and help build this bridge"
Pair were heading downhill when driver lost control
"I lost my son last September. And they didn't have to go down more than 2 feet [for burial.] This increase is excessive. How long does it take to fill a hole?"
Chair: "It's tough when you lose someone. We can find a revenue source somewhere else"
1st player on team to pass; stricken by apparent heart attack in lobby of his ice rink
Off the ice: "One of Bob's unique talents was connecting with kids. ... He helped them with equipment and gave them quarters to play bubble hockey. For children aged 5 to 105, Bob was like the fun uncle for a thousand kids that came through those doors. Bob did not care where a kid came from or what his or her name was. He helped them" ... "It's all about the kids. He dedicated his life to kids and hockey. They were his passions"
Contract "doesn't specifically include 'Wall $treet Week' but has 'great flexibility'"
CNBCfix comment: 1. They're glad they unloaded Bartiromo's salary; 2. Kelly Evans/Jacqueline Kennedy Onassis has already been emphasized; 3. David Faber got a heightened role a few years ago; 4. Discovering a "greater number of stars" is like saying "Draft a bunch of Hall of Famers" ...
"It seems like it's about intimidation"
State: "The law is on the books. It's our obligation to enforce the statutes"
Paper: "Trans-fat laden butter substitutes have fallen out of favor with consumers"
"Even the neighborhood security guards would pull over to chat when their shifts ended. Ron was a fixture. In a lot of ways, he was our mayor" ... "He had that old-fashioned sensibility, but he adapted it to a modern format. And he did it just the way he wanted: on his own terms"
"He has always understood optics. He just temporarily stopped caring about them. It was as if he wanted to escape the theatrics of his office, if only for a few weeks"
"Trail of a white powdery substance on his nose and around his nostrils, around his mouth and chin, on the front of his shirt and the front of his pants"
"Wickersham says his Race Torch would be a lower decibel, less expensive option to starting guns and the blanks that are fired from them at track meets"
Others: "My Combine," an assessment system for high school athletes
Girlfriend found out month later, split, called cops
"As is often the case with stories from similar hoax news sites, the slightly plausible nature of the headline induced many users to post and repost the link without careful examination"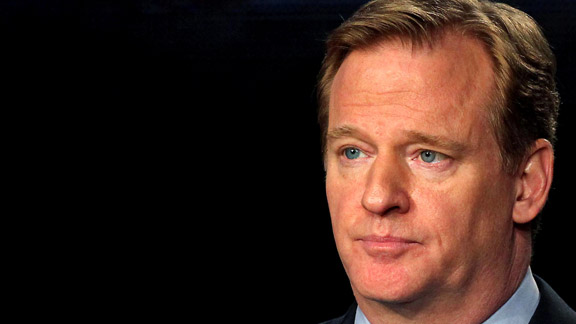 "He's pathetic. The national media did to him what we didn't do here in Baltimore: Publicly shame him for the joke 2-game suspension he levied against Rice. If Goodell has any shame, it's time for him to think about an exit strategy"
Bill Plaschke: "If a coverup is confirmed, he should lose the public's faith, his owners' good will, and ultimately his job"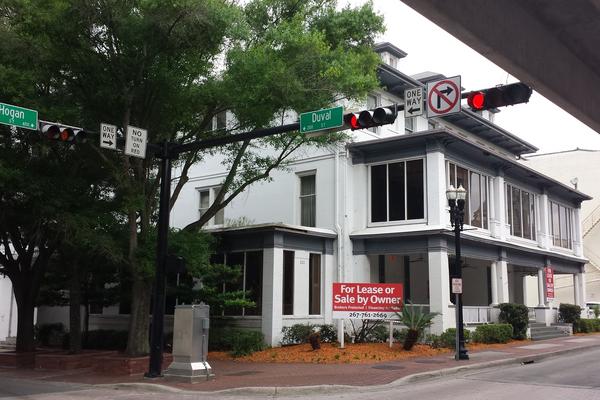 "It's a little bizarre. I don't think anyone's targeting me. I've got other businesses and no one's trying to light them on fire. I'm hoping it's just kids pranking. I worry about it, though"

Tells Imus about trip: "This is Fox country ... they ask about you, they ask about Cavuto ... It's not something I wanted to do; it was something that I was asked to do ... took me 2 days to get there ... transfer from a fleabag hotel to, uh, less of a fleabag hotel ... I'm told by one of my producers- I'm there with Charlie Gould and Elka Worner, whose uh, you know, one of the producers- 2 of the producers here at Fox, that we should go to this party because it's open to the press ... I didn't get a lot of sleep, I'd like to go home and relax ... So I walk in, duh duh duh duh duh, hands in my pockets ... not bothering anybody ... out of nowhere, the goon squad descends upon us ... Brian Coughlan, he's a New York City cop ... Now Charlie Gould is not exactly the biggest guy in the world if you ever see him; you know, he gets manhandled ... if you put your f-ing hands on me, there's gonna be a problem, and I will walk out of this party. I will not be thrown out. This lasted about 4 minutes ... The next morning we get up to do our thing ... actually had a good sleep, the air-conditioner, condition (sic) worked. ... When he started pointing his finger in her face, I lost it"
Imus: "Did he put his hands on you?"
Charlie: No, but it got close, because what I said to him, you know, you know- I caught him, I caught him being, being a bully to a woman. And when I caught him, he lost it"
Imus: "What was he saying to her?"
Charlie: "Between the curses and the finger-pointing, something along the lines that she should've known that the event we went to was, was, was off-limits to the press. Now here's the backdrop to that, that event, every year, was on-limits to the press. We didn't know"
Not drinking: "Anybody that knows me, if I'm tipsy, I'm actually nice"
Suggests rationale: "He may have gotten amped up by then, he may have had no sleep ... this guy Coughlan accused Elka of havin' a few. Elka doesn't drink"
Suggests conspiracy: "I know a lot of cops. And this guy and I probably have 5 or 6 at least mutual acquaintances, maybe mutual friends ... often these Wall Street guys will sit there and tell them, when we give you the signal, we want you to, like, grab that guy and throw him out"
Smokescreen: "What I wanna know, if Mr. Coughlan stubs his toe, you know people, as he's throwing Charlie Gould out of that party, and needs to take off 3 days from the New York City Police Department, do we have to pay for his sick leave?"
Imus: "Well he wasn't in Sun Valley Idaho working for the New York City Police Department, was he?"
Charlie: "No no. But he's on the job. Remember he's still working here"
Flop: Imus not interested in hearing Zuckerberg/Christie story
Says 3 times he loves/likes NYPD cops: "I love New York City cops ... I've been sticking up for cops forever, particularly in this onslaught from Bill de Blasio. So I'm not a cop-hater. ... I love the cops. I have friends, I defend 'em ... I like cops. I'm a big supporter of the New York City Police Department ..."
Gasparino's "rent-a-cop" antagonist is bomb-squad sergeant, elite musician, father of 4, heroically busted bank-robbery thugs: "Since I was old enough to remember, the only job I've ever wanted was to be a member of the NYPD ... My most memorable moment was the day 2 colleagues and I interrupted an armed bank robbery, on 3rd Avenue in Manhattan. We chased two heavily armed gunmen and apprehended them in a taxicab along 2nd Avenue"
"Attempted to barge into a private event at Duchin, a bar within the Sun Valley Lodge … confronted the head of security, screaming: 'How dare you put your hands on my producer?' … given a trespass citation and kicked off the entire property for trying to cause a scene …"
Scoffs: "question: if youre (sic) a producer 5'2'' 100lbs getting verbally abused by a 6'3" 300lb rent-a-cop u want me backing u up or the ppl at gawker?"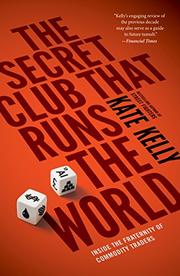 Kate Kelly's dry account of commodities world fails to pose an important airline question
"The irony and the jokes are just too easy to come by"
Response: "stick to mowing your lawn because i dont do stock picking and if i did i wld recommend the vangaurd (sic) 500 fund"
Signed over patent royalties to the company
"The labels are a hopeful message that we all are capable of changing the outcome of the global warming problem. The label identifies you as part of the problem. It's a gentle reminder that says, 'Hey, you can do something with what you drive. We need to cooperate to deal with this problem'"
"This isn't just lefty kooky Berkeley speaking. Berkeley is doing something rational. This is in line with the city's and the state's climate plans"
Saw dropoff from $15 million in prior year, happened to gloat about subprime
"Very volatile" marriage led to "fairly bitter" divorce
"No reason other than the word 'other'"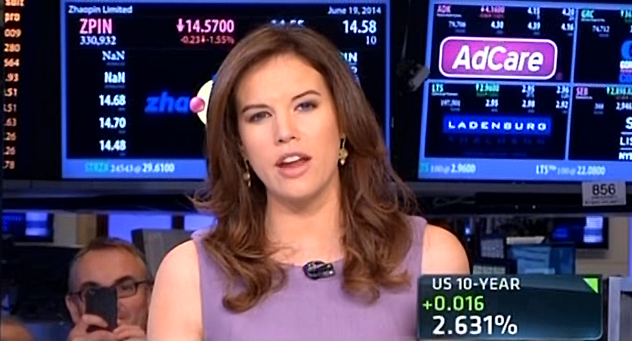 Man at NYSE takes photo of Kelly Evans' back
Carpe diem
Discovered in maintenance yard around 3:44 a.m.
"Whether he started it or not, I don't know. We'll have to investigate"
"You will never solve this problem if you paint all homeless people with the same broad brush ... You've got to look at this like your son or daughter was on the street"
"They were jumping on officers' backs. One officer was kicked in the head. They were punching and scratching. It was a melee"
"Will help recruit high-level talent in the Midwest, oversee charitable contributions and play a role as the public face of the New York-based banking giant"
"If was definitely a team effort and we couldn't have done it without everyone there"
"my sources @GoldmanSachs say lloyd and the boys are praying the trading downturn is cyclical if not the firm will be downsized big time"
Dis of CNBC's Scott Wapner: "In the Jacksonville @CNBC news stand and staring at me: a photo of @ScottWapnerCNBC which is why I'll be skipping breakfast"
"Uber reached out to us, which I see as a positive thing. We're an aggressively technology-centric city, and Uber is the new thing right now, with a new way of doing things. ... They just make blanket statements that they do background checks and have insurance, and don't say much else about it"
"He said, 'Give me your wallet, old man.' The main thing going on in my mind is, 'You aren't going to get my wallet.'... He was kind of slow. I think I could have taken him, to tell you the truth. ... I'm 79, but I really don't feel like 79"
"Started an argument," but, "employee left the woman inside the store alone"
Woman, 47, "had 9 bags of heroin, a pipe, a scale and more packaging in her possession"
Paper: "Did not report any income he earned from 1999 through 2010"
"After this, she says the campers will eat elsewhere and store their food indoors"
"We had some very rude, irate motorists. Quite frankly, I'm appalled"
"If I am doing a $2,000 trade, you're concerned about a conflict of interest where I might have to pay an additional 40 cents? Is that what this is about?"
Indignant study author: "No, it's about the fact that you didn't get to trade. Your assumption that you trade is wrong"
Mulls move to California, "if I could afford it. Why wouldn't you want to live out here? Seriously?"
"Apparently he decided to drive anyway"
"These bears are exactly the kind of bears we don't want to see"
"Oh my God, I'm right back to '91. We went to get lunch and smelled the fire. There was lots of ash around our house — I'm talking one-inch-size ash. I saw people packing up their cars with scrapbooks and hard drives, because in '91, it was like, 'You don't wait, you do it now"
Sen. Claire McCaskill, 60: "I get that you do a lot of good on your show ... I don't get why you need to say this stuff because you know it's not true"
Last owned by John E. du Pont: "You're not going to find anything rarer than this. It's a stamp the world of collectors has been dying to see for a long time"
3rd graf: "praised MailOnline for 'having done a spectacular job in the U.S.'"
Had just given up 8 runs in 3⅔ innings
"It is unfortunate Stanley died before he had the opportunity to clear his good name"
Landmarks: Cadillac Ranch observing 40th anniversary this week
Witness calls 911, on hood of vehicle when police arrive
AP: "In a letter Monday to the team's president ... rejected Bruce Allen's invitation to a Redskins home game until the team does the right thing and changes its name"
"Merrill Lynch, which was acquired by BofA in 2009, added extra mutual-fund charges for small business retirement plans for five years, even after discovering that it shouldn't"
"The complaints run from the purely aesthetic (it's ugly!) to dubious claims about regional values (modest Midwestern Chicago versus egotistical East Coast New York)"
"headline of the day: TERRORISTS CONTROL IRAQ; OBAMA TALKS ABT CLIMATE CHANGE"
"There is no fence around the yard. Right now we're investigating what happened"
No one injured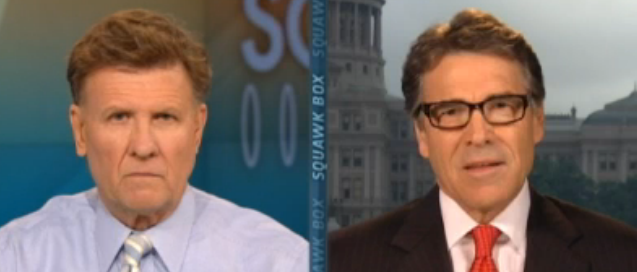 "The psychologists — they've already weighed in. They've dismissed the idea that sexual orientation is a mental disorder and they've told their mental health professionals to avoid telling clients that they can change their sexual orientation"
"It's just a shame of the amount of people that are getting killed in drunk driving accidents, it's just something that shouldn't be done"
"Delays at some checkouts, but is not in any way related to a security issue"
"You start thinking about Chuck and when all of the wonderful things that come to mind, you realize he's in heaven and spending eternity in peace. That's very refreshing. I'm proud to have played for him. It was a great honor. My relationship wasn't good, as you well know, but he made me understand my job responsibilities, because I had to grow up. ... I learned how to be mentally tough with him, and for that I can never say thank you enough, because that got me through divorces, Super Bowls, and those times when I had bad moments in big games. He made me mentally strong, which I wasn't. And he instilled in me a great work ethic. I had a good work ethic, but preparation was paramount with him, so we spent a lot of time going through preparations for the games. He was an amazing guy. ... You try to get better and better, and then when it's all said and done he says, 'Thank you. You were a great quarterback.' And you say, 'Wow!' He was different than anybody I had ever been around and played for. He was smart, really smart"
"Weird stuff, huh?"
Continued contacting clients and taking cash even after being fired
No word about ranking in wealth-management standings
Judge "argued that Chrebet claimed that he personally suffered damages in the suit but that the restaurant was actually controlled by a corporation"
"I wish we would have known about this. We probably could have salvaged her"
"The falsifications often included incorrect and made up business expenses"
"Even if you pay it off, it won't be removed. It will only show a zero balance. The only way it can be removed is if the credit report is inaccurate. In the eyes of the collection agency, he owes $640"
"Both deals were very lopsided in favor of one set of shareholders"
River North tiki bar Three Dots and a Dash: "She wasn't in a bikini"
Resident "thinks it was in retaliation because he opposes a neighborhood dog park"
"I am worried my insurance company might drop my coverage, because I know people this has happened to"
Wages: Lyft driver works 20 hours a week, makes $550
"While my position may not be popular, I believe that my rights to privacy and the preservation of my rights to due process should not be trampled"
"In hindsight, should we have done more to investigate Donald? I'm frankly not sure. In this case, I mean, in addition to the fact that this tape in essence was broadcast to the world and so quickly became available to us, in the past these were issues that did not directly impact the NBA. And we're not the government. He was investigated by the Department of Housing, the Department of Justice. There were individual lawsuits with him that settled out. So I was at the League during that time, and when we monitored those events, at least it felt at that time that we were doing the appropriate thing. It's a fair point that in hindsight possibly we should have done more. Certainly if I had to do it again, maybe we would have done more but our eyes are open going forward"
Bill Clinton coincidentally speaks same day: "In a larger sense we are too divided, not because we shouldn't argue but because we don't want to resolve ..."
"The quality of their reporting is as good as there has ever been on television"
"He was so arrogant. Somebody had to say it. It was obvious"
"Boston-based firm has been accumulating shares since the 2nd quarter of 2011"
"I bought a very old house that needed a ton of work. We didn't have kids so we figured, it was so close to work and the taxes were low. Quiet town. I fell in love with it. I really loved it ... There's a great sense of community commitment by the local businesses here, whether it's Tenafly or Alpine or Closter, that I didn't find in Los Angeles. It's just a different feel ... I like the small-town atmosphere and small-town living ... I couldn't imagine living anywhere other than Alpine"
"A source said the network has told advertisers that only half its clients asked for guarantees, anyway ... Instead, said a source close to the network, the company is offering guarantees based on its own internal measurement of ad deliveries"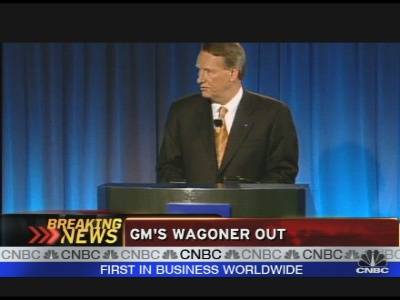 "A source had left him a hot news tip: General Motors CEO Rick Wagoner was being fired. As CNBC's automobile and airline industry reporter, LeBeau knew this was a huge story"
Reporting: "We hit a story pretty hard. The people who watch CNBC are investors. The investors, they're focused on what's going to happen to the business, not what's going to happen for the consumer. The two don't always come together"
Refuses companies' offers of free cars: "I don't do car reviews. My job is not to talk about how great a company is. If they have great sales, I'll report that. But I've got good news and bad news stories on all automakers and airlines"
Robberies down 38%: "There is still an important distinction between celebration of good news and announcing conclusions about cause and effect"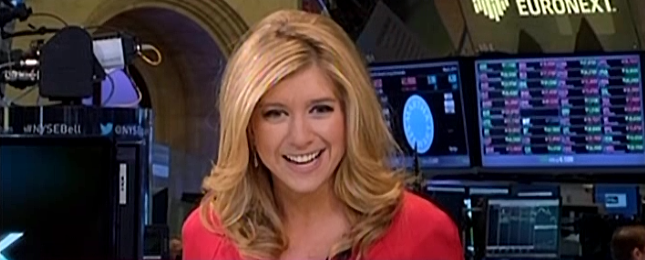 Deogun: "Has been so ably contributing to Squawk on the Street, will permanently join the team as a co-host of the 10 am ET/7 am PT hour, effective immediately"
Oh by the way: Launching "Squawk Alley" at 11 a.m. Eastern hour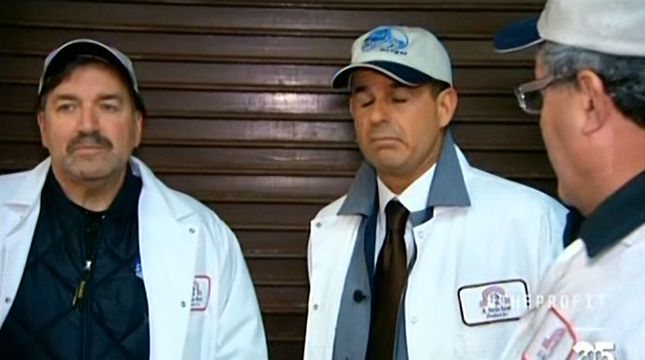 "You go in and try to help people and they defy your trust. It blows my mind"
Rebuttal: "There was never any talk about giving us the $190,000 to purchase Brooklyn Burger until the filming. We plan on giving him back the money. That was always the understanding"
Actual program comments that Daily News failed to quote (show review here):
Lemonis: "And how much do you need?"
Howard Mora: "About 200,000."
Lemonis: "You know, I can't just give you the money. I can't just write you a check and give you a gift, as much as I like you guys ... in order for me to give you that money, I'm gonna need to get a return on my money. And the only (thing) that I can think of is that I buy Brooklyn Burger from you. And I'll repackage it. And I'll get it back on its feet."
Howard Mora: "We're willing to do whatever it takes. But uh, with your guidance now, I think that um, that, things will work out, mu- much much better"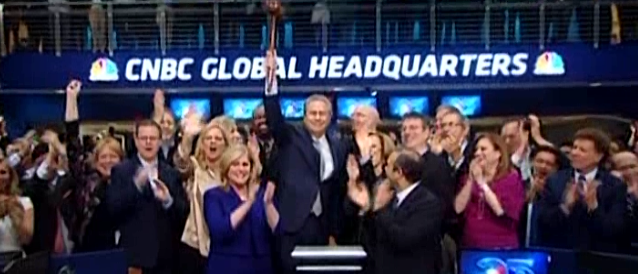 "There's been a lot of highlights ... I would say the proudest I was of the organization, was in the- leading up to the financial crisis in 2008, and the year or year and a half or so that followed it, I felt like, as if all of the hard work that had gone into building the organization over the first 20-plus years, or so, had really paid off ... I was so proud of the way CNBC not only reported the story, but the way they treated the seriousness of those events"
Tears: "Do I see a little moisture in your eyes, Tyler?"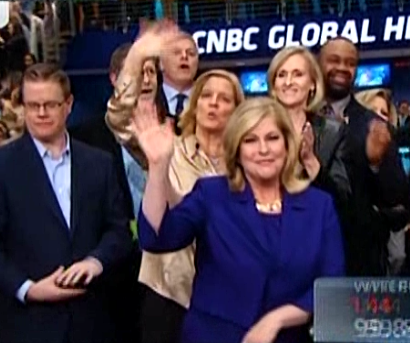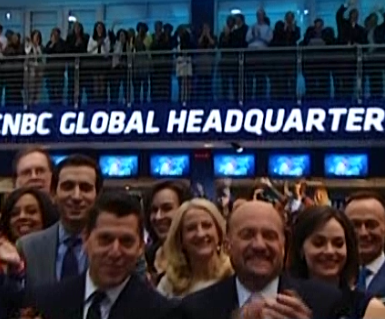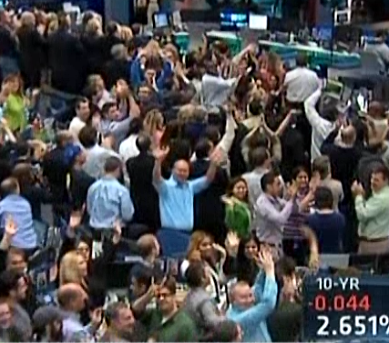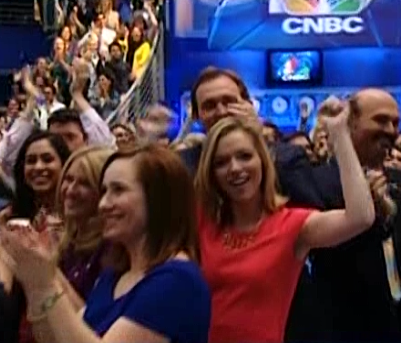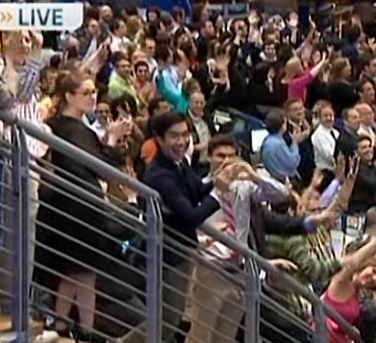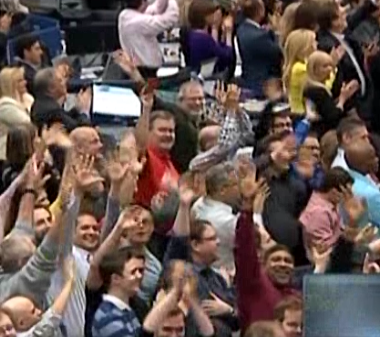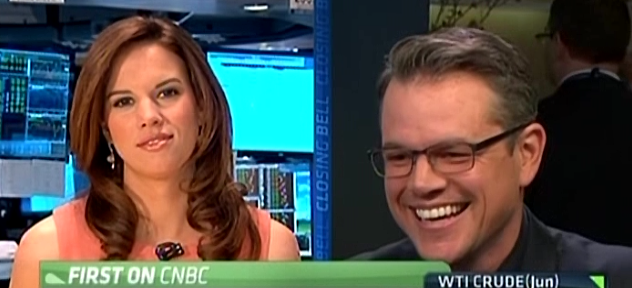 Looks like someone finally fixed it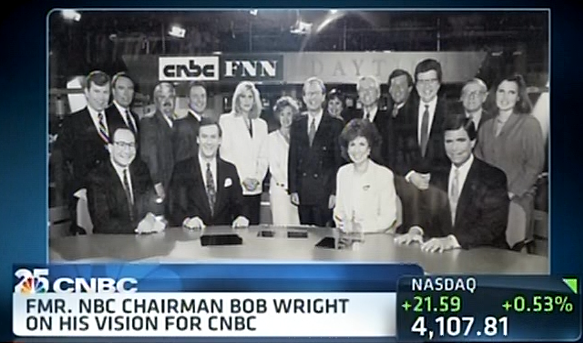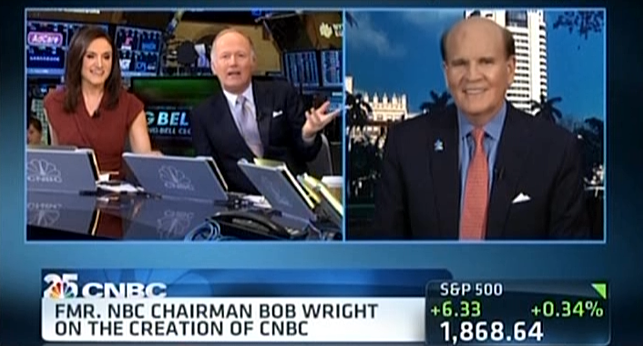 Launching CNBC: "Enormous challenge ... brutal effort ... very, very difficult thing"
Bill Griffeth: "We forget Bob, that back then, no e-mail, no Internet, no cell phones, I mean, the, the information flow was a lot different than it is now. So, for people who wanted up-to-date information about the stock market or whatever market they were trading, I mean, FNN was it for the '80s, but CNBC did a much better job of providing that information when it went on the air 25 years ago, right?"
Bob Wright: "Well, it was also remarkable how much the trades were actually generally daily newspapers. They covered the networks like it was, every day was a presidential election. Every little thing was covered, every argument, every default, every- every issue was covered. So, you couldn't get out of the-, uh, of print."
Michelle Caruso-Cabrera: "Well, what do you think is the next 25 years for CNBC. What does it hold?"
Wright: "I hear a lot of sirens. Is this- is this kind of Ukrainian situation you're in?"
Caruso-Cabrera: "No, you know what it speaks to, it speaks to the fact that the floor is so empty now they get bored and there's a guy whooping over here like crazy, I don't know why."
Griffeth: "Well it's the day before a 3-day weekend and they usually do something like that. So, It brings in a holiday mood."
Wright: "They don't-"
Griffeth: "Don't take it personally Bob."
Wright: "They don't have Russian flags. They don't have Russian flags, do they?"
Griffeth: "Yeah, no, no, everything's fine here."
Unanswered MCC question: "Why didn't we have the peacock way at the beginning?"
Wright: "The peacock was like 'The War of the Worlds' with the affiliates. Uh, We had knock-down, drag-out battles, uh, 6 months ahead of time about using the peacock. It was uh, very- you have no idea how difficult this was"
Caruso-Cabrera: "Glad it finally happened."
Names: Ted David, Chuck Dolan, Tom Rogers, David Zaslav
Omitted: Roger Ailes
"I don't think, you're an individual investor it's something that you get all, you know, ginned up about ... I don't like this rally ... either the Fed is perceived to be moving more aggressively ..."
Claimed HFT as possible catalyst: "In the wake of Michael Lewis's "Flash Boys" hitting store shelves, moves by regulators to slow down high-frequency trading (HFT) could also affect the market at some juncture"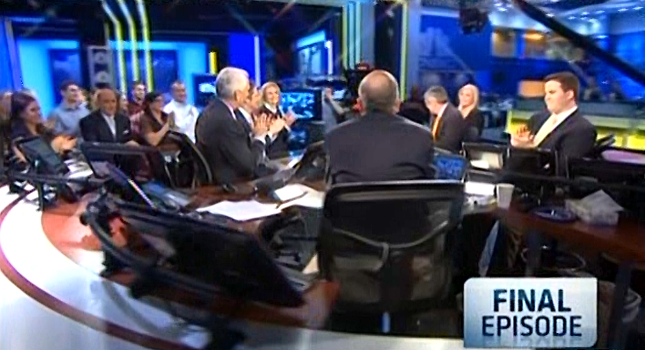 "I am a grateful camper. I really am. The Lord has blessed me, a beautiful bride, a great life, a 2nd chance, a new career, some wonderful friends, and some of the best debates on TV that there ever was ..."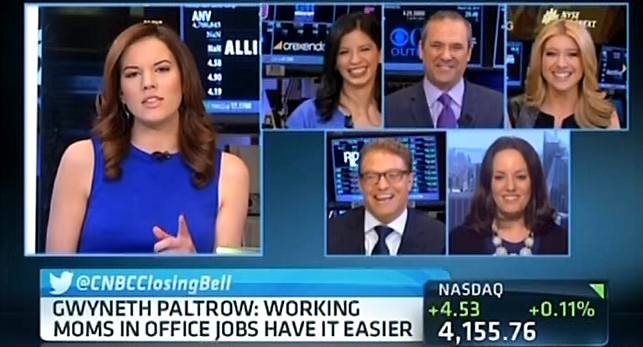 MacKenzie Dawson: "I think Gwyneth is a little bit tone-deaf"
Ylan Mui: "She kinda hated on everybody else ... why does it have to be a competition?"
MacKenzie Dawson: "She may be assuming that most jobs are 9 to 5"
Sara Eisen: "I think it's like crazy, out of nowhere ... Paid millions of dollars to work for a few days, I mean, it's like, crazy to me"
Scott Cohn: "She's being very well-compensated for all of those hassles"
Kelly Evans: "We did by the way reach out to Paltrow so she could comment or clarify; didn't receive a response"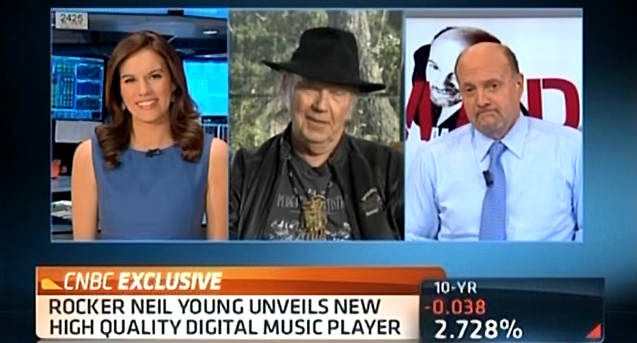 Kelly: "And Neil when you're choosing, what I think a lot of people are trying to understand is, is this just a way of presenting music files differently, or if you become part of this whole ecosystem that you're pushing for, does each artist have to record it specifically, have it be distributed one way and then played on your device in order to capture that full experience?"
Neil: "That's a good question, Michelle. Uh, uh, the, the uh, artists get to do exactly what they want to do. There is no format with Pono. It's completely different. It's not a CD or an MP3. It plays back exactly what the artist gave you. ... Whatever the artist created in the studio is exactly what you hear"
Interruptions: Every Evans question afterward cuts off a Young answer
Neil: "Kelly, I'm sorry I called you Michelle, that was my mistake"
Kelly: "Oh no, hey, that's a compliment, come on"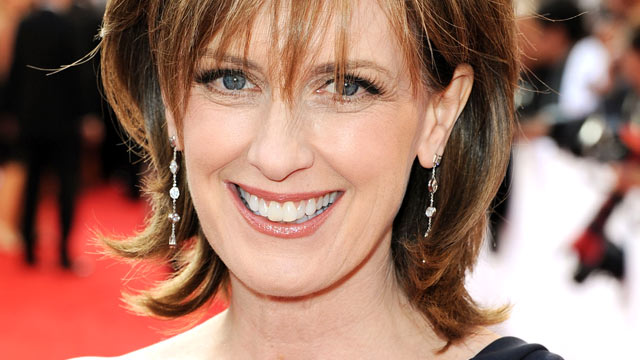 Anne Sweeney praised "for knowing what she wants out of life"
Relative "asked how many items were stolen and gasped when the reporter told her 26"
"Police say this case is not connected to the thefts of packages delivered by UPS and left outside recipients' front doors"
Too often used as a put-down for girls
"In case you haven't heard, Hillary Clinton may have a secret terrible illness ..."
Defense gripes he "had all the answers to the test before he ever took the test"
"McDonald's might actually go into the printing business"
"Perhaps ArtPrize is a masterful piece of performance art. A carnivalesque happening of the sort Warhol would have loved, sly and subversive precisely because of it preposterous openness, a giant paper-mache middle finger rising out of flyover country, gesturing toward the bastions of the elite"
"We were standing in line at the boarding gate, just with everybody else and the pilot and co-pilot walked past us and came back and asked us if we would like to sit with them in the cockpit during the flight so obviously we said 'Yes!' ... Throughout the whole flight they were talking to us, they were actually smoking through the flight which I don't think they're allowed to be doing. They were taking photos with us in the cockpit while they were flying. I was just completely shocked ... possibly a little bit sleazy. They asked us if we could arrange our trip to stay in Kuala Lumpur for a few nights ... they could take us out. ... I'm really not saying that I think co-pilot was in the wrong on this flight at all"
Girlfriend called friends, who lifted car with jacks and blocks, but victim already dead
Rob Williams led 1982 Final Four team featuring Olajuwon, Drexler
"@BrettArends #loser"
Time-consuming: "Jerking Charlie Desparino's chain is just too tempting. I've had to block him to get work done!"
"Just met worlds worst sales person at $KORS. How did that one get through. Total outlier"
Wearing seat belt, not speeding
Columnists "will clearly support the protection of individual liberties and freedoms"
"It's C-SPAN's second most watched video after Obama's inauguration"
Young woman searching: "I would really like to see somebody who looks like me, and maybe I have (biological) brothers and sisters ... I'm really frustrated. I just wish I knew more about her"
State's attorney: "Most" prosecutors would "exercise sound discretion"
Amway co-founder not that far behind
Note to editors: "I should have quit from week one really, but I didn't and allowed myself to take shortcuts. These shortcuts — although temporary in easing my stresses — have hurt you, your staff and your publication, so widely cherished around our campus and beyond"
"Defensive end. ... Sacked Johnny Unitas twice in one game"
Married to actor's mother 3 times; divorced twice
"The process was much more enjoyable then (sic) opening up a bank account and the people involved were nice, accommodating and friendly"
"Blog and Twitter feed were suspended, causing an outcry"
CNBCfix comment: Fine program and host; 10 years of same routine a bit much
"The plane caught the side of the canopy, flipped the plane 180 degrees and flipped the skydiver into the air. You heard the airplane hit the parachute, which sounded like you falling on your face into your pillow; a 'woof' sound"
JJ Kinahan: "Weighing on the market is the fact it's a Friday, and we've had a very nice run over the last couple of weeks, and world tensions, or the Ukraine situation, is still stirring, so to speak, so it's not surprising to see some people take profits"
Hoffman: "A new 7PM strategy ... In my career, I have encountered few television hosts with Larry's range ... Larry has always brought great enthusiasm to every program"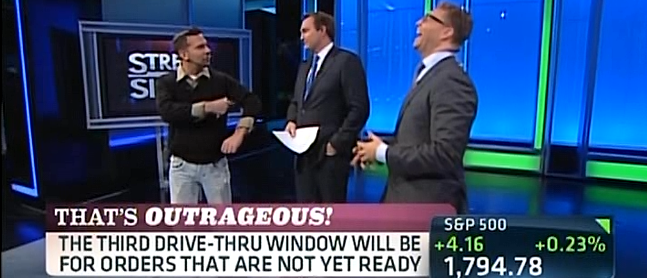 Brian Sullivan doesn't know what McD's 3rd drive-thru window is for:
Brian Sullivan: "So some Mcdonald's are now adding a 3rd window, order, you know pay, pick up, and then a 3rd window to respond to this. When does it end"
Sank: "It's not gonna end, the next thing they're gonna have is a 4th window where you can get your diabetes medication. Just gonna dangle your arm out the window"
Frank: "We want our McFlurrys in 2 minutes instead of 3. I mean, IT'S INSANE"
Sank: "It's now 3 minutes and 15 seconds and that's WAY too long to wait for your Big Mac. People are not happy."
Sank: "We're gonna see new advertising throughout Canada now. The Canada Board of Tourism, their new slogan is, 'Canada — we're not that boring after all,' with a picture of Rob Ford. So ..."
"Excited to announce I'm moving on. Will start at @CNBC dec 16"

Ending is cut from video clip at CNBC.com; here's the transcript you won't see:
Mike: "My goal now is to be helping people, and be sober, and be responsible for our children and if, um, be present for the day."
Maria: "And be what?"
Mike: "Be present."
Maria: "You wanna be president."
Mike: "Be present. I'm present. I'm present for the moment. I'm present with you."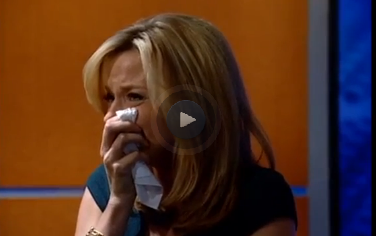 It was actually during taping of "Nightly Business Report," CNBC's PBS vehicle ... Tyler Mathisen used great puns, but Jared's presentation was a little awkward
"He didn't return a phone call and email seeking more of his insight"
Police Department removes Facebook overreaction gripe
"Bob is going to be better than he's ever been before. Because if he isn't, I'm going to put a [expletive] cattle prod up his a–… I'm going to do him on TV. I'm going to do him at Cubs games… We're going to make this station alive"
Parents "having a talk with Bryton"
Fundraiser: "It was a typical, off-the-cuff, off-the-script, Paul LePage comment"
Dines with Moynihan at the Happy Hollow Club in Omaha
"They did it again. I dont (sic) really know what I can and can't say at this point"
Aloha: Last song before format changeover was "It's the End of the World as We Know It;" first song under new format is "Listen to the Music"
"She's very rich"
Airlifted after 2:10 p.m. incident
State senator: "If you look at my Facebook and Twitter feeds, lots of constituents have been contacting me about this"
Paper: "City Colleges of Chicago retreated — at least for now — from an effort to force part-time and administrative employees who are both tutors and adjunct instructors to choose between the two jobs. An employee and union representatives think that effort was meant to keep the employees' workweek under 30 hours, which could mean they wouldn't qualify for health-care coverage under the Obama administration's health-care reform law"
"We would still be outraged if this was not a revenue agent. But with a revenue agent, it's like 'Are you kidding?'"
"A bank receipt was found in the car, even though she previously denied visiting the bank"
Shanghai index surges 6% in 3 minutes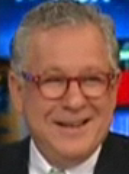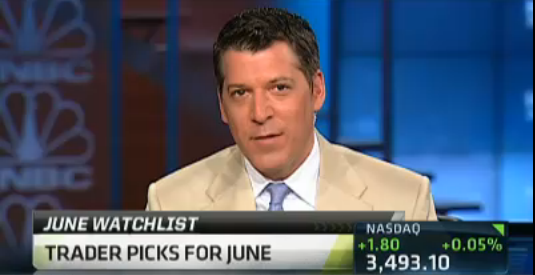 "Lee purchased only 31,000 shares of APPLE! I think your emphasis on Apple/Omega is hyperbolic and in the interests of good reporting you should quantify the importance of his Apple buy" ... "They should say, we advise investors to be careful after Apple shares appreciated. That is the obligation of the media business. The job is not to regurgitate the headline, but to provide additional information to the retailer. These activists have learned how to basically manipulate the news purveyors and it's a very dangerous thing. It's good for people's careers and you all do it to gain favor without thinking about it. This is a very important story"
"Just because it's not the best system is not an excuse for us not using it"
John Peterson made $3 million a year, catapulted by Internet-based lead-generation business
"The main flaw of 'Jobs' is that it limits itself to the ancient history of Jobs' rise and fall and rise at Apple. The movie might begin in 2001, but it never returns to the 21st century ... Another problem is that when Jobs is in conflict with his board of directors, it's not entirely certain whose side is right"
L.A. Times: "Even TV movies are done with more verve than this"
2 stars out of 4: "Amounts to a glorified TV movie"
2 stars out of 4: "Kutcher is everything except interesting"
1.5 stars out of 4: "Instead of showing, there's reams of expository dialogue"
"Once again, I was wrong!!!! ;-)"
Joe Terranova: "While I have the ultimate respect for @herbgreenberg as a journalist, I have even more respect for him as a true class act and gentleman"
"They're so tight, who knows what you're cutting off?"
"It's a 'stop everything, drop and go' priority"
"Today is my last day as a full-timer at CNBC. Tomorrow my status shifts to CNBC contributor. ... It's about Southern California. Many people thought my wife and I were crazy (no — nuts!) to leave San Diego, where we lived for 10 years, for the East Coast. Turns out they were right. This, our third time doing the East Coast stint, was strike three"
"re icahn and apple: isnt co in middle of a buyback and doesnt it need $ to innovate? if this were steve jobs he'd tell carl to pound sand"
Challenge to Twitterer: "i bet whatever is in my pocket u have no idea why carl is doing what hes doing and probably neither does he"
"It wasn't an accident"
Water tension: "Cyclists not obeying stop signs, riding more than 2 abreast and using people's garden hoses outside of their house without permission"
Critics: "Unpaid work, be it internships for young women or volunteer positions for older moms, is exploitive. Shame on lean in. Pay up"
Snarky defense: "Dear What Appears to Be My Entire Facebook Feed: Want to clarify previous Lean In post. This was MY post, on MY feed, looking for a volunteer to help me in New York. LOTS of nonprofits accept volunteers. This was NOT an official Lean In Job posting. Let's all take a deep breath"
Retired as columnist over disenchantment in 2000: "I really found this campaign odious. I just couldn't get up for it. The quality of the candidates and the campaign, I just found the whole thing second-rate. I didn't know how to explain to my granddaughter that I was spending my dotage writing about Al Gore and George W. Bush"
"We just have too much in the middle of the organization"
"Students have been shunning such instruction because employers are not interested in it"
Neither driver wearing a seat belt
Hiker first thought cries for help might be prank
Seller: "The entire upstairs was almost like you were walking into smoke except it was steam. I was in shock ... Words can't even describe the situation I walked into. I immediately turned off the steam shower, opened up all the windows, all the doors and then began the process of restoration. ... It's a big un-forecasted remodel project"
"You've got to turn it off sooner or later"
Craig Stadler: "I had a blast ... I've had a great time every year"
Jamie Farr pays a visit to honor late friend
50-year-old woman passed out at end of visit to bowling alley
Video: Pair shown talking hour earlier "in an apparently familiar manner inside the store"
Subdued by bouncers; so intoxicated, police couldn't understand what he was saying
"There is no indication of foul play and the fall appears accidental"
"The unseasonably cool weather may have played a role ... Still, gaming revenue has fallen every month this year, which could be a broader sign that would-be gamblers have less money to spend"
Gun went off inside vehicle; victim died at scene
"I received a call that 'due to changing business needs' I would not be the Field Editor"
"I had 8 holes-in-one so I thought I saw everything, but never 2 in a row. Unbelievable"
"There is no way to calculate the odds on a par-3 course — not enough data"
Was showing group of 6 campers how to slide down rocks to get to swimming hole: "The water is extremely cold and moving quickly, and those rocks are as slick as you can imagine"
Fake postings on legit sites prompt renters to wire-transfer money
"Why did you block me on Twitter?" "You just answered your own question"
Gasparino's daily scorecard: "i need that shoe shine and while you're at it, a grande from starbucks thanks ... like u wld know ... are u really that dumb? ... cldnt care less ... like u wld know between shining my shoes ... ur coming close to getting blocked ... do they all dress as weirdly as u in fly over country? ... if i shld be fired its for responding to morons like u with 3 foloers ... didnt i block u already? either im slipping or im giving a trailer park exemption to haters ..."
"Even if they are not hurt or they don't go to hospital, we will still give them this money"
"Abel, put that camera down. You're fired"
"There was an altercation with a basketball game that, at the end of the day, these guys start shooting and this house of worship was riddled with bullets"
Breakthrough role in "Easy Rider," cemented counterculture rep in "Five Easy Pieces"
Treatment: Husband's public appeal on crowd-sourcing site raised $60,000
Spiritual: Longtime adherent of Scientology; "It just works for me"
Regrets: Claimed A-list career was ruined by "The Day of the Locust"
AP credits CNBC (Scott Wapner) for scoop on mysterious letter to the board
"We can confirm that the missing person report has been taken"
"They had a nice little enterprise going there"
"He is not interacting with the general population"
"It would be unfair to penalize a municipality for legislation passed by Russia's central government and it would be unfair to penalize all of Voronezh for violent acts committed by individual citizens"
"It was the only tool I had that would make a difference, it was the only thing I could do"
Page from "Road House": "He says Rule No. 1 is always expect the unexpected"
"job is safe but board worried about innovation and new products in the pipeline"
"We all make mistakes. I've made a few myself, but not with Mrs. Jones. I'm a serial monogamist"
"Korean pilots' actual names had been reported several days before the phony ones were read"
Crashed into power line while landing; wife, daughters have life-threatening injuries
"He was an incredible gentleman": Land donation brought Pepperdine to Malibu in 1972
"Stock for our soon-to-be-former parent company, the Washington Post Company, is up about 6 percent, from $568 at the close of business Monday to more than $600 today ... And 6% of $4.4 billion is a bit more than $250 million"
Seems post-Bancroft committee griped about Marcus Brauchli exit, then just went away
"We have multiple sources confirming this"
"They need shelter from the pressure of quarterly financial statements and reports"
"To get everyone warmed up, we are kicking off 30 days of change"
"Icahn: says his battle with ackman not personal 'thats not what i do' (give me a break)"
Said his phone alarm just didn't go off
"Yes, you can rattle off any number of ordinary investing vehicles that are doing better"
"By taking it private, he won't be subject to shareholders seeking quick returns"
CNBCfix comment: Yes, it's demanding shareholders who have drained ad revenue
"By using this device, defendant Koster tricked the video poker machine into paying out winnings well in excess of those to which Koster was entitled"
AP: "Wearing his trademark hoodie and sneakers"
S.F. Chronicle: "wearing his trademark hoodie and sneakers"
And what if he says "no"? "Mike Galle, the casino's assistant general manager, said after the news conference that once casino employees identify a patron with a gaming problem, they will talk to him privately and ask him if he thinks he has a problem. If he says 'yes,' they will tell him about a statewide, voluntary exclusion program"
"There's no real way to find out what's motivating these guys to pick it up all of a sudden"
Went under water with scuba gear, found 5½ hours later
"Massasoit currently offers online course (sic) in blackjack and poker"
"Ending group punishment, administrative abuse, providing adequate and nutritious food..."
Family-owned publication called meeting, announced "big changes"
News anchor for "Today" abruptly replaced by Deborah Norville in 1989, given her old job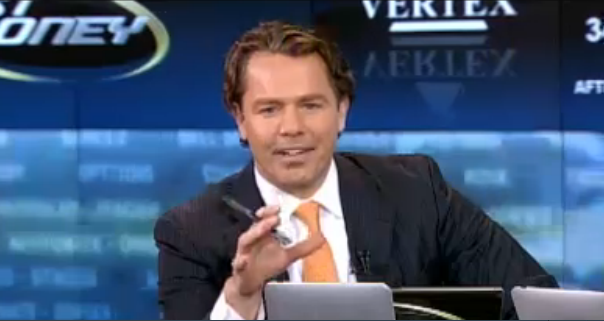 Barry: "@KeithMcCullough @ReformedBroker We run an asset allocation model; we have no interest in day-to-day noise. Thats for traders, not investors"
Keith: "@ritholtz Barry, everyone knows you know everything - but we've made the best asset allocation calls of 2013"
Barry: "@KeithMcCullough I didn't ask you to pitch me your services on Twitter, and I don't appreciate your obnoxiousness."
Keith: "@ritholtz weak excuse for your envy of our success - our Macro Themes are intermediate to long-term, and you know it"
Barry: "MY ADVICE TO ANYONE FOLLOWING ME IS TO UNFOLLOW and/or BLOCK @KeithMcCullough"
Keith: "Caps lock envy from the one and only Barry Ritholz - the most humble man on Old Wall @ritholtz"
Barry: "@KeithMcCullough Your smarmy attitude is the reason you are in the Fox News Ghetto (banned from CNBC & Bloomberg)"
Keith: "Its funny how these old wall bloggers make up their own truths - Ritholz was actually banned from CNBC, whereas I quit"
Barry: "@KeithMcCullough I was offered a contributor agreement and turned it down. So in addition to being a douchebag, you are a liar also"
Keith: "@ritholtz funny, because you told me yourself you were banned from Squawk Box, then you asked me how I got my deal"
Barry: "@jackpat22 No, those are facts. They made an offer -- in writing -- I said no thank you."
Keith: "Being called arrogant by a strong island jabroni just made my day"
Barry: "@KeithMcCullough No one is envious of you. If you were less smarmy and more tolerable, you would be less detested on Twitter."
Keith: "Today's pre-game to a made-up government number that no one can predict is brought to you by Barry's Big Picture"
"I wonder, you know, Peter, what do you think the chink in the armor here might be? That's what Zabel is so good at, is finding a chink in the pre-nups and all these trusts. What do you think they may be looking for to get more out of this divorce?"
No one, and I mean no one, in the sports betting community I speak with knows who this guy is"
CNBC: "We are merely betting that viewers will be interested in the world of touts and handicappers and in no way endorse either Stevens' picks or his business model"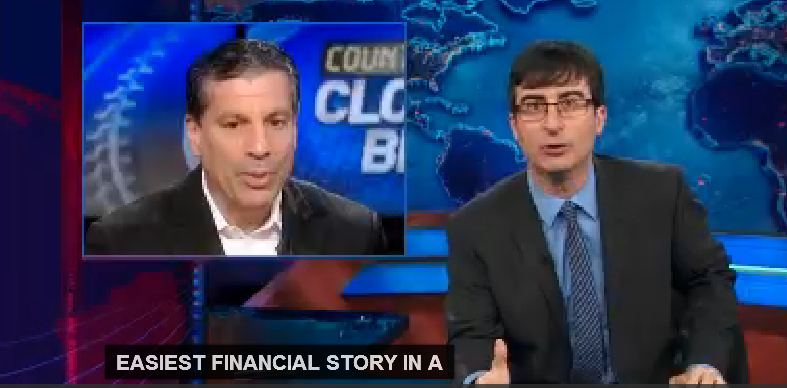 "I wanna tell you that I did not understand that story. OK, I read it 3 times ... I don't quite get the scam ... I read that story, how many times, I read it 5 times. Somehow, they manipulated the price of aluminum, I don't know how ..."
Orders shoe shine, tuna on rye from Twitter critics: "i luv the twitter hate mail i receive when one of my dopey comments makes the dailyshow: 20-something; under or unemployed probably stoned ... srsly i know my biz better than u; likewise i wont be telling u how to clean pools ... meanwhile before u come over w ur shine box i need a tuna sandwich from the diner as well ... i also hear steve needs someone to mow the SAC lawn that pay $4 an hr not bad for u ... i need my lunch delivered arnd noonish when u come by ill leave $1.50 tip on my desk hey its better than foodstamps ... i have blocked ur ass ... remember tuna on rye ... dude: prozac ... i see unemployment office closed early ur back on twitter ... are u fat? ... hey there are always dental implants ..."
"There's a lot of stuff out there, you have to be willing to take shots. And you have to be willing to say, hey that didn't work, let's move on. The commitment is as strong as ever"
"What a day! Sad to be leaving @BloombergTV & very excited to be joining the team @CNBC! Tks for all the support! The best has yet to come!"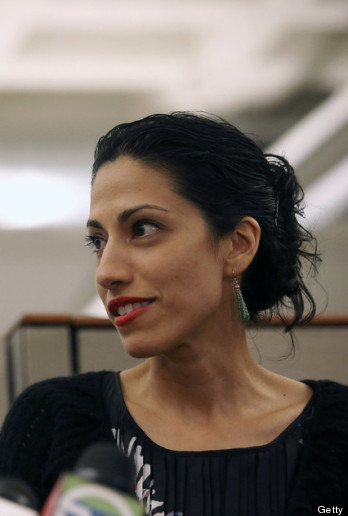 "I have no way of knowing whether Huma, for whom I have great respect, is responding out of new motherhood, the Stockholm syndrome or a mystery. I strongly object to holding one spouse responsible for the other's acts. He's the one who should get out of the race"
"We never hear that type of stuff from Trey these days, but there he goes, calling the 'fan holding up the sign' an asshole. ... So finally, the whole band asks this guy 'what do you mean by that' they just decide to give this guy a voice. To bring him on stage, and to give this fan, who is complaining to their face, a chance to make his case. ... They say they are from Philadelphia before saying 'Harpua is our favorite song, but you've been telling the story wrong.' ... One fan then mentions the emergence of Al Gore, before the rapping begins, and ends when one fan says 'I believe in women's right to choose.' ... Trey asks the audience if the 'fans told it right' or 'do I usually tell it right.' ... Trey kicks them off the stage, saying it was 'really weird...'"
"He came as a soldier and war enemy to England and became a celebrated hero"
"There are fewer better examples of the power of football to build bridges than Bert Trautmann"
Brad Bondi: "I think the fact that the SEC has gone first indicates that there is a, a less of a likelihood now that there'll be criminal charges against Steven Cohen. Usually, if there are criminal charges, the prosecution goes first with those charges. So the fact that the SEC's moving now should be a sigh of relief for him"
New York Times: "Though a legal deadline to file some insider trading charges is approaching, authorities are planning to navigate around that requirement by filing a broader criminal conspiracy case against SAC" ... "The meeting was separate from the agency's typical weekly gathering to discuss enforcement cases, a measure that allowed the agency to keep a tight lid on the case." ... "'Please keep this to yourself as obviously not well known,' Mr. Horvath wrote. ... Three hours after the earnings release, Mr. Cohen e-mailed Mr. Steinberg: 'Nice job on Dell.'"
Bethany McLean: "There's something strange here ... I have been hearing whispers of something against the firm coming, coming, coming, criminally"
Ron Insana: "From the time that I was there and as you know it was only 5½ months, uh, both Peter Nussbaum, the general counsel, and, and Steve Kessler, the head of compliance had, had schooled me quite a bit in, in the strictures of, of compliance activity at SAC"
Bethany McLean: "When SAC makes a big deal about how strong their compliance is, when you look at the specifics of some of the e-mails surrounding these, these charges it does make you wonder, and what some people have, have alleged, that it is compliance in name rather than in, rather than in actuality. When you, when you look at some of the e-mails that were sent, you say, 'Well, why on earth didn't this raise red flags at SAC's Compliance Department if its Compliance Department is so good?' And the only answer I've gotten was that it was 2008 and that was a different time than, than today. But that's not really a satisfying answer"
Bloomberg: "'They face a very high burden of proof if they're going to get some sort of conviction' of Cohen"
AP: "Coffee said it is significant that the SEC did not charge Cohen with insider trading. That suggests none of his subordinates 'flipped' and told investigators that they provided Cohen with information, he said. ... The actions could signal a new direction and strategy under SEC Chairman Mary Jo White, who assumed office in April"
WSJ: "His decision to keep buying trophy properties, even as his former employees and firm were facing charges, privately irked government officials"
Gasparino: "Mary Jo White making her mark: SEC didnt offer Cohen chance to settle ala Corzine, i am told"
Gasparino on CNBC: "also hate to tout brand-x but go back and look at preet's explanations about possible RICO charges against a hypothetical firm"
Andrew Ross Sorkin: "But the SEC case, I understand most lawyers who have seen it so far think it's actually a very, very strong case"
David Faber: "I think if the SEC is successful in this, with these civil charges ... it doesn't have the power to stop him from managing his own money ... Again, if the SEC is even successful in, um, in getting the conviction on the civil charges, much of SAC would still be intact potentially"
Ed Butowsky: "I'm not pulling any money out ... Since the mid-1990s, he has returned about 4,000% back to his investors. The, the trades that are in question right now, where he failed to supervise, represent $275 million. Now, that's a big number, but put it in the context, it's less than .005% of the gains that he has, uh, returned back to investors since the mid-1990s. So I have never thought about moving money out. Matter of fact, I've often thought about how can I get more money back to this wonderful investor"
Scott Wapner vs. Ed Butowsky: "You seem to be making the argument ... I don't know, money trumps morality. You don't care if he did anything wrong, his returns have been astronomical over the years"
Butowsky to Wapner: "Those are words that I didn't say, and I resent the way you're putting it"
Anthony Scaramucci: "I think at the end of the day, Steve is gonna have to make a decision which way to go ... this case is gonna go on for a while ... If we're on a witch hunt to nail somebody, and then we, we spend 10 years and we back 'em into a corner of failure to supervise, it doesn't seem like you have a guns-blazing case there, and I respect Steve for not settling"
"Ruth and Juliana were my life and my passion. I was going to end it all. If faith could justify taking these two beautiful creatures, I just didn't want to go on. But something kept me going"
Wife: "A few years ago a poll asked who was the most envied man in the country — and Alan won by a country mile! He said that he didn't know where work ended and private life began. Quoting Noel Coward, he would say 'Work is more fun than fun'"
"Over time it became gradually more and more clear to me that my job was not to fight for certain principles, but to fight for Larry's personal agenda. Although the show adopted The Kudlow Creed, 'I believe that free-market capitalism is the best path to prosperity,' that dogma was being supplanted by another more foundational creed: economic and market optimism. My job was to come on the air and make the bull case. ... More recently his columns have been praising the zero interest rate and 'unlimited easing' policies of the U.S. and Japanese central banks. This is free market capitalism? ... The constant pressure for optimism, producers calling and saying 'Larry's looking for the optimism case.' Larry putting formerly optimistic guests 'in the penalty box' for not providing it. Larry dropping good thinkers with good minds when they turned pessimistic. And even worse, those who stayed around, bending their minds and their principles to always find good news so they could continue in his good graces and get the publicity they needed"
Gordon Wood: "When he was first writing, the dominant thinking among historians was that ideas didn't matter, that the founders only cared about the rich and that they didn't mean what they were saying about freedom and government. But Morgan started with the assumption that their ideas were to be taken seriously. He was really bucking the tide"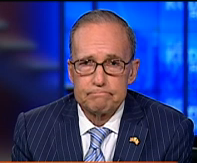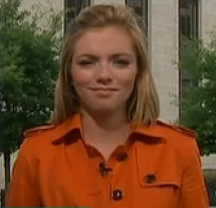 CNBC considering "rapid-fire talk show about stocks"
"Michael was a great, fearless journalist with an incredible instinct for the story"
"Energy-efficient appliances, you can get a tax write-off for those"
Karen Finerman: "Well my first response was I just could not believe he said it. And so I, I wanted to make sure that I had it right, and I went and I looked at the video, and of course you just showed it, so yes, he said it, and, uh, I, I, I know, I know that he's apologized, that he didn't mean to offend anyone, and I believe he was saying it, he was- an attempt to be very candid, I can't believe also that he didn't think that will- would never get out, but it's sort of- I mean on so many levels, it makes me wonder, 1, what if you don't nurse, do you not then have that- are you, do you keep your judgment then if you don't nurse. That's sort of something that popped into my head"
Amanda Drury: "And also, is he also saying that global macro traders that are guys are not great dads because they're always off 24/7 on the phone trading stuff"
Karen Finerman: "Right, I just- I don't really accept that premise either. If you are a mother, I really sort of do wonder, how long this would knock you off your game for. And, it, I don't know, on so many levels, I know so many women, far more successful than I, who have done an extraordinary job of raising kids, and also, uh, you know, trading, trading their books"
Michelle Caruso-Cabrera: "I think Paul Tudor Jones said out loud what we all know to be anecdotally true. That women, it's not that they don't have the ability, it's just, if they have a child, priorities tend to change. It takes up a lot of time. A child is a huge, huge commitment. And so-"
Amanda Drury: "And not necessarily a bad thing"
Michelle Caruso-Cabrera: "It's not necessarily a bad thing, he's not saying that, that they can't do it, it's just, it gets a lot tougher. Priorities often change. And I think Karen, you are awesome, but you are the exception I think that proves the rule. Let's face it: How many other women are on 'Fast Money.' I mean when you look at the breakdown of people- when you look at the breakdown of people who are on CNBC. It's a guys-and-ties network. I mean let's not kid anybody!"
Karen Finerman: "Yes I hear you-"
Brian Sullivan ridiculously removes tie: "Here we go, no more guys in ties"
Karen Finerman: "Let me just add 1 thing"
Brian Sullivan: "I don't wanna get accused of dodging the conversation. All right, I know hedge fund managers that have what they call the large-house indicator. Right. What they say is, if they have an investment manager, or a fellow hedge fund manager, whatever, that starts to build a new mansion, they will often times use that- or CEO of a company, they'll use that as a negative and either get out of it or trim, because building a home is a year-long process, takes a lot of energy, you're not focused on what you're doing. So I don't think just has to be about gender. If you've got any big undertaking you take on, that reduces your focus. I'm not defending what he said-"
Michelle Caruso-Cabrera: "Except this happens to be about having babies for women, which is just a huge thing in, in most women's life"
Brian Sullivan: "If I was a hedge fund manager and a CEO of a company bought a 200-foot yacht, I would sell the shares of that company probably short that next day"
Karen Finerman: "I mean also there's the private plane indicator, you get the private plane, you're not hungry anymore, then you don't care. I, I don't really buy that, I think it also makes the case that women don't have the judgment to know, after they've had a baby, whether or not they are still interested in being in the game. Now that may be his experience, and I believe him when he says that's what he's found to be true, and he gave a couple examples of a, you know, two women from Maryland the '70s, he probably has more recent examples than that, but is he just open to the possibility, the possibility, that maybe it's not true, that there will never be just as many women investors as men, never, period, end of story. Isn't it possible?"
Amanda Drury: "And the other thing is Karen, and you've touched on this, I mean, we would've said in the past, it would've been decades, maybe not even so long ago, we would've said that we can't have a good female doctor, she can't possibly be on call because she's got to be at home feeding her child at night. Right?"
Karen Finerman: "And now look. Now look, there are just as many women, or maybe it's about the same number of women graduating from medical school as men and you're right, years and years ago, that was thought as an impossibility"
"Rituals of confession and humiliation"
"We don't feel that we can prove the she committed any crime"
"Every single investment idea . . . every desire to understand what is going to make this go up or go down is going to be overwhelmed by the most beautiful experience . . . which a man will never share, about a mode of connection between that mother and that baby. And I've just seen it happen over and over"
Dean insisted audience keep it off the record: "No quotes with attribution should leave the room. We must prohibit any discussion or description of the event in print or video, through electronic media or through Internet-based technologies including Web sites, blogs or social media, such as Twitter or Facebook"
Female hedge funder: "Given Paul's fine reputation, if the quote is accurate, I am stunned"
Clarification: "My off-the-cuff remarks at the University of Virginia were with regard to global macro traders, who are on-call 24/7 and of whom there are likely only a few thousand successful practitioners in the world today. Macro trading requires a high degree of skill, focus and repetition. Life events, such as birth, divorce, death of a loved one and other emotional highs and lows are obstacles to success in this specific field of finance"
Ripped league's addiction program: "That's what (ticked) me off for so long. I kept saying, 'What's wrong with this picture?' I needed help, and I got help from another program when I got out (of jail), but it wasn't from the NFL. Back then, the NFL program was a joke. They send you away for 30 days and when you're done they send you back to the same environment that got you there in the first place"
"I can tell my children they don't need to fear they will lose me to breast cancer"
"So unabashedly unoriginal, it just might work"
Influence: Wrote "Up & Down Wall Street" since 1966
Training: Bachelor's in English and chemistry, CCNY, master's from Iowa Writers' Workshop
Litigation: Often sued, sometimes accused of conspiring with short sellers; "To the best of our knowledge, Barron's never lost a lawsuit while Alan was editor"
Tough: Filed 1975 libel suit against BusinessWeek over alleged leaks
Performance: 1995 study found stocks recommended in column outperformed by 2% on day appearing
Setback: Asked by Dow Jones to step down during redesign, agreed
Critic: "Though he is a clever and talented writer, by any objective standard Abelson has the distinction of being one of the worst market forecasters in history, He has been skeptical, if not outright bearish, on the stock market for his entire career as a Barron's columnist"
Homes: Split time between NYC apartment and Croton-on-Hudson
Successor: Randall W. Forsyth, who took over during 3-month medical leave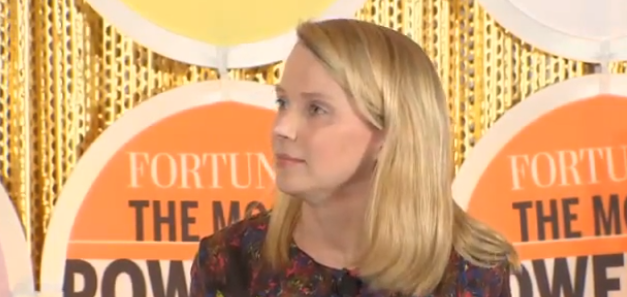 Media mastery: "Why create a PR firestorm ... To create a storm of discussion and keep Yahoo in the news for a few news cycles … Perhaps, the press exposure was considered more valuable than any ill will this might create ... Case in point, we have the NYT, the Economist, and every tech blog on the planet … and a whole bunch of other companies coming out with statements about telecommuting, all of which constitute free press for Yahoo (the most they have gotten in years, even more than when Mayer was appointed CEO last year) …"
Prompted Karen Finerman essay: "Think about this: Have you ever been at the office and your boss is working from home? Can you honestly say that you work quite as hard, are just as diligent, and get just as much done as when your boss is there? Honestly, probably not"
September: Less traction from buying phones for employees, BlackBerry dis
Cute: "The overwhelming and immediate response was that yes, the blonde-haired-blue-eyed Mayer is, in fact, hot … It goes without saying that Mayer is brilliant. … But Mayer has always been savvy — leveraging both her brains and her beauty in the media ..."
"Gorgeous": "Young and personable to the point of investor fawning"
"Beautiful": "Blonde hair and blue eyes with an arresting smile; it seems likely Brian Wilson anachronistically wrote 'California Girls' about her" Stock: Up 46% in 8 months since day of hiring announcement
Future candidate? Hosted President Obama at her home for $30,000-a-plate fund-raiser
Priorities: "For me it's God, family and Yahoo, in that order"
Flat CNBC documentary struggles with visuals, overloads on corporate talking points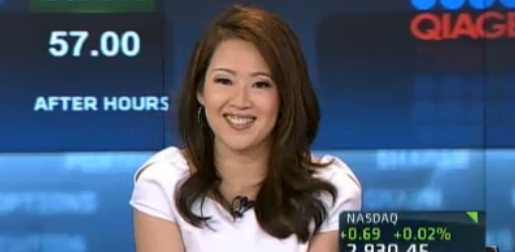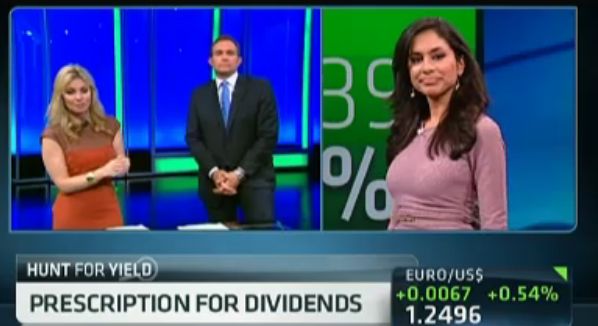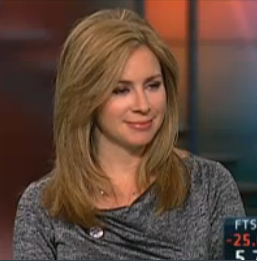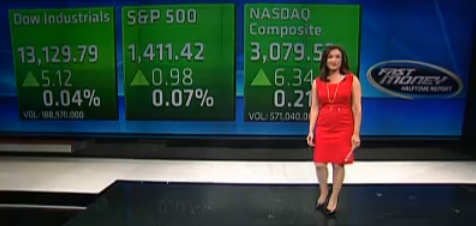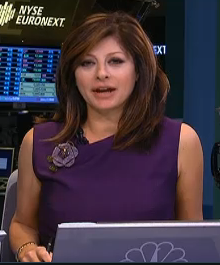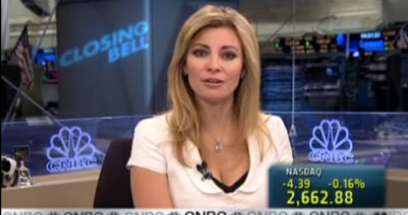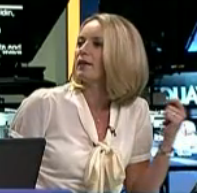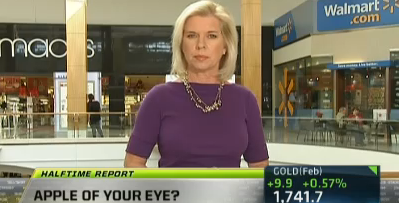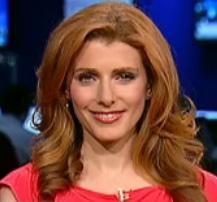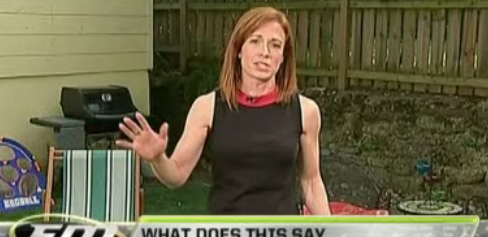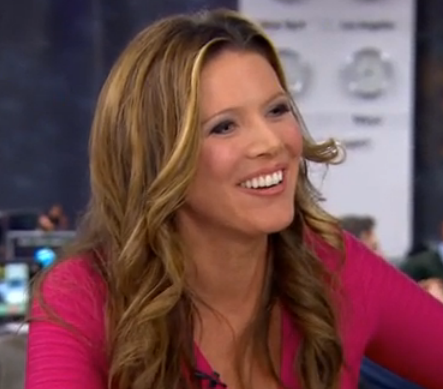 Kayla Tausche refers to self as "anchor": "If you're esteemed, you can wear a bright-colored dress. But for younger anchors like myself, I worry that wearing bright colors might appear amateur. In classes, some of the clips professors are using to demonstrate a successful reel include interviews with Diane Sawyer from early '90s. You're supposed to focus on content, but students can't help but wonder, 'What was Diane Sawyer wearing? How can I re-create that?'"
Edward Zabitsky reportedly focusing on other parts of his business
Obituary: Given $150,000 portfolio of 15 stocks at age 18, went to Yale
Wife was Judith Anne Lund, 3 children; marriage ended in divorce
Stephen Roach: "We were a U.S.-centric business, and within 3 years, he said, 'Look, I'm going to step down as U.S. strategist and redefine myself as a global strategist'"
Good calls: 1999 U.S. tech, "the biggest bubble in the history of the world," 1982 U.S. beginning major bull market, warned against Japan in 1989
Bad calls: "Blindsided" by 2008 credit crisis, sold stocks in September 2011 and July 2010 just before 20% S&P gains
Fiction: Regularly cited bullish plumber in 3 years worth of reports, acknowledged fabricating all quotes but "buy the dips" after Bloomberg identified plumber
CNBCer Josh Brown: "Barton Biggs was a giant, founded $MS Investment Mgmt, has been relevant since before many of us were even born. Godspeed. $$"
Press release from boss Lou Tosto sounds kind of corporate-y: "With our large suite of mobile products and services growing in usage and scale at exponential rates, it became apparent that we needed a dedicated sales leader on board to help our clients best leverage the strength of CNBC's unique cross-platform value proposition"
Does much better on NBC outlets in syndication
"We welcome him to help us recognize the achievements of our scholarship winners and hope his success will inspire them ... probably sat in the very same seats in class, had some of the same teachers, played sports around town and worked after school at many odd jobs including washing dishes at the Silver Moon in town. Gasparino has always remembered where he came from. Through hard work and a drive to succeed, he made it. Young people need positive role models"
Hobbs: "To tell people at home we have a Lehman situation is simply not correct"
Cramer: "No we're not there at this stage, but I think it's important to tell people that's what the scenario is ... I do know that there's large hedge funds that are concerned about the liquidity of banks and they're gonna try to do what they did here"
Hobbs: "... Hedge funds that are attempting to make money by destroying the equity of the banks and you're citing that as a golden light of what we should follow"
Cramer: "I never said that you should buy Bear Stearns I said it's OK to keep your money there"
Hobbs: "You told people to buy Bear Stearns. That's a very different argument"
Melissa Lee: "You guys are not really too far off"
David Faber: "Simon and Jim are both right"
Steve Grasso: "i am best efforts going to wear the american flag tie every friday"
Mandy Drury: "I'm joining the American flag tie brigade ... If you have one, wear one too"
N.Y. Post: Insider says felt ill Tuesday, left work early
Special Report: Erin Burnett takes part in CNBC hourlong tribute
Obituary: Wife, Cindy, reported death, at Marlboro, N.J., home, cause of death not released ... born April 19, 1946; grew up in Oyster Bay, N.Y. Graduate of Denison University (Granville, Ohio), 1969; law degree, University of Pennsylvania, 1989 ... member of the N.J. state bar ... 2 children, Matthew and Meredith
Pioneer: Joined CNBC in 1989, became first host of "Squawk Box"
Tribute: Traders on NYSE floor observe moment of silence
Mark Hoffman: "One of the building blocks of CNBC since the very beginning"
Sandy Cannold: "The toughest day I have ever had in my TV life"
Joe Kernen: "His fingerprints were on everything," finest hour 9/11 coverage
Jane Wells: "I'll miss his bluntness, his patriotism, his skepticism"
Barry Ritholtz: "A no-nonsense straight shooter. He knew what questions to ask and how to ask them. He was trained as an attorney. He brought that keen lawyer's eye to everything he did. It wasn't something often seen in the financial media"
Pete Najarian: "Mark was the best and just a solid pillar for us all from the exchange"
Mark Cuban: "I really enjoyed being interviewed by him. Smart. Witty. Quick. None better"
Kate Kelly: "A sad day at CNBC. Our thoughts and prayers are with Mark Haines's family"
Guy Adami: "I was fortunate enough to meet him ... A very sad day"
Sharon Epperson: "He found his way into the hearts of many of the traders here at the NYMEX"
Gary Kaminsky: "I'm probably not here if it's not for Haines ... I have admired his transparency, and the way he handles himself"
Herb Greenberg: "I thanked him for being the first one to get me on air here"
Matt Quayle: "Simply put, Mark Haines made my career"
Darren Rovell: "He was who many of you would have been if you had been on our air"
Darren Rovell: "Along with dinner tonight, CNBC staff will be treated to Cheetos & ketchup, one of Mark Haines' favorite combos. Great tribute"
Courtney Reagan: "Unbelievably sad day here at CNBC"
Nicole Lapin: "Mark Haines, you've inspired me to be a fine business journalist"
Melissa Lee: "Whenever he walked in, he sort of just made everybody smile"
Melissa Francis: "My favorite memory, his steel cage death matches with Arianna Huffington"
Steve Grasso: "The absence of the 9am call ... 'Live from the financial capitol of the world' will be a constant reminder of the loss of mark haines"
Jon Najarian: "Such a fun guy, truly enjoyed each talk with Mark"
Bertha Coombs: "This is a guy who didn't put on airs. He came to work in ratty sweatpants and god-awful bright-colored Crocs. He didn't suffer fools, but at the end of the day he really was always fair"
Rebecca Jarvis: "Mark Haines was the best - he always made me laugh and think. I will miss him dearly and my thoughts & prayers go to his family"
Carl Quintanilla: "Words can't describe our loss at the passing"
Mary Thompson: "He was a masterful interviewer, our best I always thought"
Ron Insana: "Mark had a style ... he called it the way he saw it"
Sue Herera: "Mark's legacy will be the way he challenged all of us to be better at what we do ... He was also an incredibly kind man"
Tyler Mathisen: "There was no phoniness about him, no pretense, no self-consciousness"
Bill Griffeth: "He loved his family ... So many CEOs, politicians ... who Mark interviewed over the years and was especially hard on, many of them are the ones coming in and saying, 'I grieve along with everybody else'"
Michelle Caruso-Cabrera: "We're just gonna miss him so dearly ... I think he'd be mortified that we spent so much time talking about him"
NYSE: "Mark was an outstanding professional and pioneer in business journalism, and we are proud that his legacy includes years of excellence in reporting from the NYSE"
Charles Gasparino: "For all my battles at cnbc i never battled mark haines; a class act thru and thru. i used to call him the real chairman of the board; RIP"
David Faber: "Skill as an interviewer coupled with his wonderful wit, that I will miss the most"
Larry Kudlow: "Unspeakably sad passing of my CNBC pal Mark Haines.Great broadcaster. Total pro. Sharpest questions. Sincere condolence to his family. RIP"
Amanda Drury: "I watched Mark Haines from Asia, well before I met him, and thought, 'I want to be a journo like that.' He didn't put up with nonsense. RIP."
Erin Burnett: "He made it clear he accepted me from the get-go. He treated me as an equal. He made me feel important ... He loved to do things for his kids. He was always on the Web looking for things his kids might like"
Jim Cramer: "Mark Haines was our Huntley, our Brinkley, our Cronkite all rolled up into one giant of a business journalist. He was the first business journalist ever to ask a CEO a hard question that I had ever seen. When I met him 15 years ago, I was scared to death of him. I was a guest co-host. He said to me when he shook my hand, 'No free passes, to you or anyone else.' He stayed that way. Forever"
Maria Bartiromo: "Mark Haines was a true hero. His coverage of 9/11 was historic. He handled the adversity incredibly well. He will be missed by all"
Network: "Erin is the kind of all-star player that knows how to connect-the-dots"
Anchor: "I began my journalism career at CNN, so this is like coming home for me"
34 years old: "We are going to develop a show with her and for her"
Pop: Time Warner shares gain 1.7% on the day
Chief investment strategist at Stifel Nicolaus was CNBC pundit since network inception
Barron's: "Died on Thursday of a heart attack, Fox Business News reported"
Son Jeff star tackle for Naval Academy: "He's been a model Midshipman. He's done well academically. He's excelled at every phase of the academy"
Navy community loss: "Joseph and Mary Ann Battipaglia never missed a road game"
Doug Kass: "I knew Joe well ... He will be badly missed"
Neil Cavuto: "The gentle giant ... who never forgot ... the little guy"
Obituary: Died at 55, was at Georgia speaking engagement
Last CNBC.com video April 8: With Jim Iuorio and Doug Roberts on "The Kudlow Report," said, "You continue to buy this profit season. You continue to watch for the U.S. economy and the global economy to expand, to absorb the higher cost of energy; nobody likes it ... you have to continue to buy this market." Favorite investments: "Industrials, the energys and materials still work."
Commodities king laughs off report, calls Oracle's 45% loss "inexcusable ... poor trading"
Told Brent Hunsberger of Oregonian in June: 'Warren Buffett is an idiot'
Responded to reader critics at Oregonian site: "Last year I did indeed lose money... 2%.
Other than that, for the previous 14 years I've averaged about +12%, with 22% as my best year.
... I'm also long of Goldman Sachs and Loews while short of Berkshire Hathaway for the past
two months, and have added to that trade along the way as the profits have built up."
Ignored? Days later, CNBCfix was only media site to pick up jaw-dropping Oregonian story
Jeff Macke on BRK-B short: "Congratulations to Dennis Gartman, who saw this coming"
CNBCfix exclusive: Baseball needs to scrap "leagues" and give fans intra-city rivalries
Overreaching documentary shows strengths, weaknesses of anchor, could use Tim Seymour
One sentence by arrogant chap deserves scrutiny for puffery at the expense of logic
Carl Quintanilla has some interesting stories, but lacks comment from Queen of Talk herself
CNBCfix review: Scott Cohn's "Secrets of the Knight" has good but unfocused material
Outsourced CNBC original with Melissa Francis mostly seems like promo for NBC broadcast
Doesn't dig as deep into infomercial ads as it could, but cuts like a Ginsu knife
CNBCfix exclusive: It doesn't provide "competitive balance," but manipulates stars
All from Jared Bernstein's fee: Consider Tony Paradiso a must-read at nashuatelegraph.com
Becky Quick, Erin Burnett, Trish Regan appear to make hot list, with nod to Maria Bartiromo
(Ex-)CNBC reporter/Arabic scholar/beauty praised by philanthropic American Ireland Fund
Impressive documentary of mortgage collapse will appeal to the pros and the laymen
Lackluster documentary is decent, but Trish Regan puts on a fashion show
CNBC travel correspondent Peter Greenberg digs into Norwegian Pearl's financials
CNBCfix.com ©2014