"The economy is running too hot and that brings fear of higher rates. But that's better than having to jump-start an economy that's running cold. Earnings expectations are also rising for the first time in 7 years. That's a big positive"
"No joke. Call me crazy but that doesn't seem right"
"I love the scene where I'm translating for Sally on why I should help her save this creature. On that day, there was a different energy. We rehearsed it a lot, but it just felt new and alive when we shot it"
The Oscars: "I love the effort the Academy puts into that night. I like the love. It's for the industry. It's hard to explain unless you've been in that room the amount of effort that went into it. It doesn't feel like a competition to me, it's just a bunch of people saying they loved each other's films"
"Had a complete lapse in judgment which resulted in me drinking and getting behind the wheel of my car"
"Despite the glaring similarities between the Play and the obviously derivative Picture, Defendants never bothered to seek or obtain a customary license from Plaintiff of motion picture and ancillary rights to the Play, nor did Defendants credit Zindel on the Picture"
Fox Searchlight: "These claims from Mr. Zindel's estate are baseless, wholly without merit and we will be filing a motion to dismiss. Furthermore, the estate's complaint seems timed to coincide with the Academy Award voting cycle in order to pressure our studio to quickly settle. Instead, we will vigorously defend ourselves and, by extension, this groundbreaking and original film"
Paper: "The suit contends that the fund's value nosedived by 80 percent from $9.82 on Feb. 2 to $1.94 at the close of trading Feb. 7. The plummet was the product of the 4.6 percent drop suffered by Standard & Poor's 500 Futures Index on Feb. 5, the suit says"
Fund's status: "It's pretty much cooked"
"I take responsibility for not thinking about it enough. Someone I respected gave it to me, and said, 'I signed this. Will you too?' And I was like, 'Sure.' It was a mistake. The thing I feel like I gained from it is empathy towards people who have made mistakes. We lived in a different world, and that doesn't excuse anything. But you can have your eyes opened and completely change the way you want to live. My eyes were not open"
"Over the past year, many brave women have stepped forward to tell stories of pervasive sexual harassment and worse in the film industry — forcing the nation to realize how little power women have had in Hollywood and sparking new demands for change"
"It appears the sweeper was backing up, and the pedestrian was kneeling down, possibly tying his shoe or something like that"
Paper: "The 45-year-old apparently forgot to put his truck in park"
"Things get trickier, however, after 1Q. Past March, markets will need to digest rising … core inflation and declining [purchase manager indexes], economic surprises and (quite possibly) earnings revisions"
"Once you're on the new train track, there's no way to stop, have a timeout on the football field and confer"
"This is a rare opportunity for our students to hear from someone who has walked in their shoes and now has risen to the top of his field"
"I'm a risk taker artistically, but clearly this rendition didn't strike the intended tone. I love this country and honestly tried my best"
"Until the end I was perversely trying to fix what I had already done ... I can't believe I did not stop myself when I had the money to give back, and I will live with that for the rest of my life"
"Demand has been far outpacing supply. One can only hope that the situation will normalize with the construction of new housing, and of new affordable housing in particular"
"We can see a case for bitcoin's resilience here given the sharpness of the recent decline"
"He was the hero, he led the charge"
Trails only AAPL ($849.2 billion) and GOOGL ($744.8 billion)
"I didn't realize there were these many direct flights"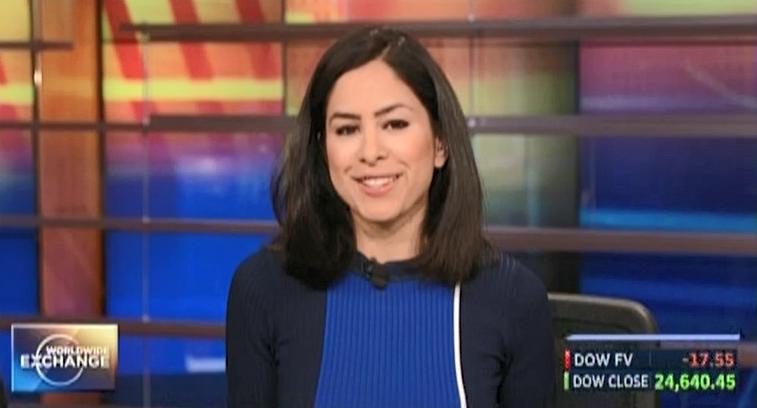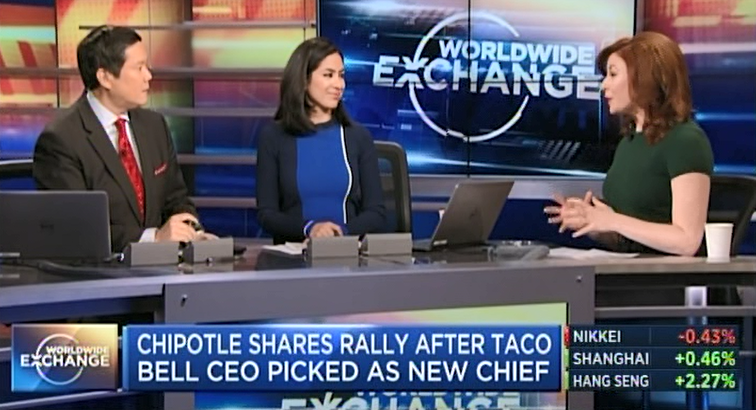 The ultimate Valentine: Seema Mody in triple-blue
Futures soar
"The Netherlands embassy to the United States invited Couric to visit the country to see all of the innovative ways the Dutch get around"
"Despite our review of Quinn Norton's work and our conversations with her previous employers, this was new information to us"
2:51 a.m. incident; took himself to hospital
Still 2nd-largest U.S.-based corporate employer, to 40,000 from 5,000 in 2010
Manager of targeted unit: "People are in terrible shape ... so much stress on campus"
Engineer: "Amazon has a problem right now with overpopulation"
"Chatting and laughing with the checkout lady"
Paper: "Expected to receive roughly $5 million from the state in April. ... It's money the district didn't plan for, and now the school board must decide which projects to spend it on"
30% higher than 2012
MPR firing was in late November
"From one local to another, Congratulations Nick Foles"
AP: "Japan occupied Korea from 1910 to 1945. Petitioners said anyone familiar with Japanese treatment of Koreans during that time would be deeply hurt by Ramo's remark. They also criticized the accuracy of giving Japan credit for South Korea's resurgence"
Reagan's ambassador to Mexico
Sought 2nd term as actors guild chief but defeated by Dennis Weaver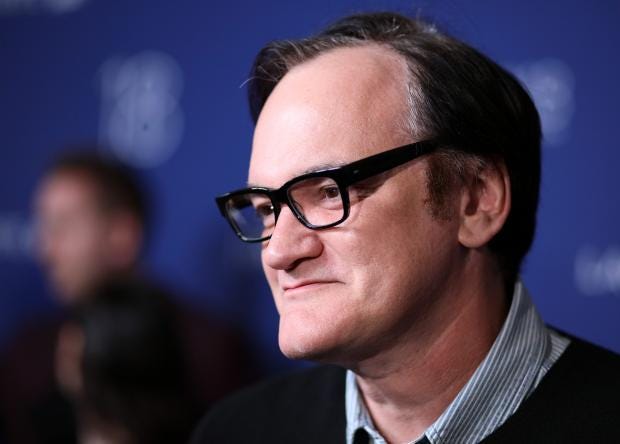 "I want to publicly apologize to Samantha Geimer for my cavalier remarks on 'The Howard Stern Show' speculating about her and the crime that was committed against her. Fifteen years later, I realize how wrong I was. Ms. Geimer WAS raped by Roman Polanski. When Howard brought up Polanski, I incorrectly played devil's advocate in the debate for the sake of being provocative"
"Whether they affected the outcome is another question"
CNBCfix comment: Presumably paid handsome fee for speaking in Abu Dhabi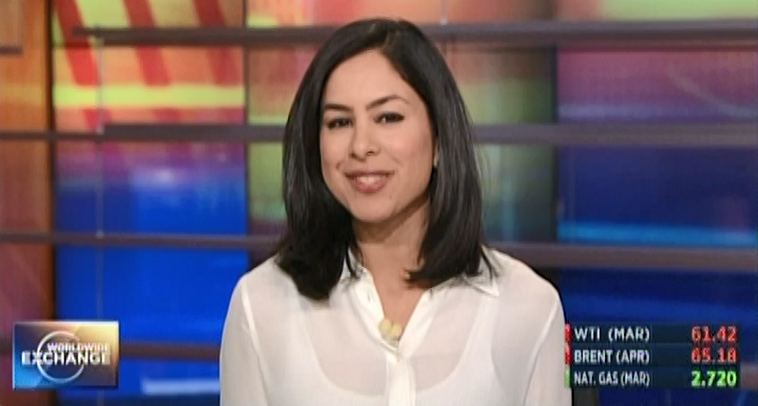 Seema Mody wows in white
Great start to the day on "Worldwide Exchange"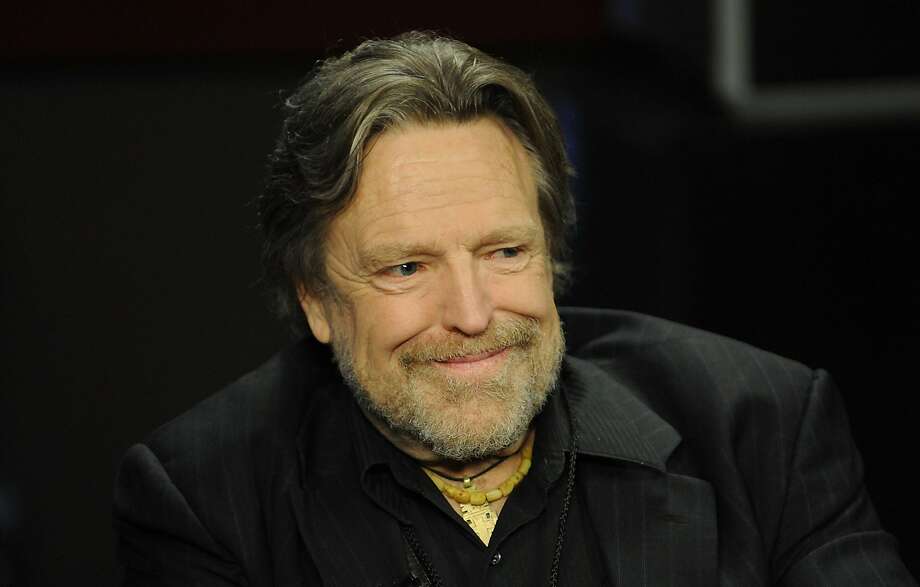 "Cassidy," "Mexicali Blues," "Black-Throated Wind"
"Barlow's lasting legacy is that he devoted his life to making the Internet into a world that all may enter without privilege or prejudice accorded by race, economic power, military force, or station of birth ... a world where anyone, anywhere may express his or her beliefs, no matter how singular, without fear of being coerced into silence or conformity"
Because: "Obama has described Jones as his political godfather"
Another who's never held office vows to be chosen speaker of the House
Built in 1938: "Kaiser hired a crew of 300 men to complete the estate in 30 days, and, working around the clock, they built 17 residences, servants' quarters, several small cottages, a yacht club and a boathouse in that time. He called the community Fleur Du Lac"
"She wishes to continue this work and the freedom to walk into a grocery store or attend public events without being known or targeted as the winner of a half-billion dollars"
Lawyer acknowledges some may view suit as "frivolous"
"We want to find out how she went into the water. Was she unconscious and put in the water? Or did she accidentally fall in the water? We can never force him to talk to us. He has rights and he can not talk to us if he doesn't want to ... . He's refused to talk to us. We're not pressing charges on anyone. We're still trying to figure out what happened"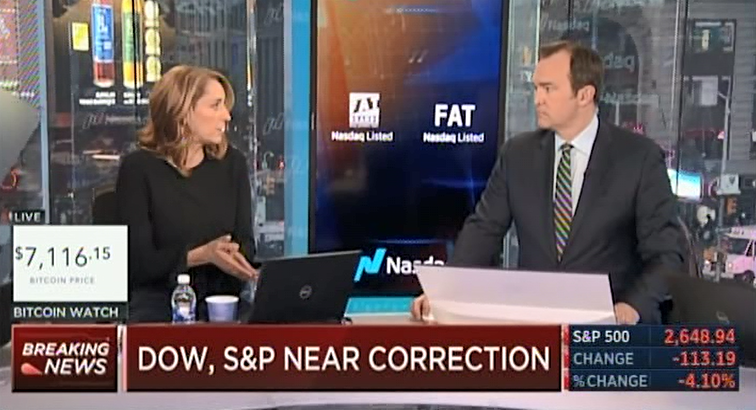 "I think tomorrow, I would not be the least bit surprised to see it trade down a lot on the heels of the rest of the world trading down overnight. That could absolutely happen. If it does, and we see things getting sold in integers ... that very often is an opportunity to buy"
Dropped more than 50% for the year
Dow falls 1,500 points; S&P negative on year
Jon Najarian on "Closing Bell": "There was obviously automated, uh, cancellations of orders on the bid side, and perhaps, somebody being liquidated that was being front-run, that's what it looked like to us on our side, looking at our data, it looked like a very large order was being front-run ... Just a slam, from 800 down to 1,500 down, that 700 points came out of nowhere"
"I think the big thing that helped me was knowing that I didn't have to be Superman. I have amazing teammates, amazing coaches around me"
"My husband cannot f****** throw the ball and catch the ball at the same time"
"I haven't seen him tell the details that match ... all the other witnesses in this case. I think he's constantly ... he's changed the -- his story a little bit. ...and his version of events just don't add up"
Paper: "The university said it has been a century since it took away an honorary degree, but 'credible' allegations against the men warranted the action"
"EBay's decision to reduce PayPal's prominence represents a major setback for PayPal. Although the share of revenue from EBay has diminished over the years, the share of profit is far more substantial due to the terms of the spinoff. Furthermore, the possible deal to add Adyen more prominently helps propel Adyen to a much more meaningful competitive position"
"One of my sons and I own a vineyard down in Napa Valley, and I take care of my own personal investments, so I've got a lot to keep me busy"
WSJ: Looking to pay "significantly more" than $450 mil. price of 2017
"The company says the only workers who will receive the full $1,000 are those with 20 years of experience at the company or longer. ... Think of it this way: A Home Depot employee with, say, 5 years of work and a full time job there will get a bonus of $300. That's a bonus of 14 cents per hour over a year. ... The corporate tax cut, however, is a gift that keeps on giving ... to shareholders"
"This policy is intentionally broad while we work to better detect deceptive and misleading advertising practices. We will revisit this policy and how we enforce it as our signals improve"
Bitcoin: Falls 12% to $9,817
Legislation criminalizes use of term "Polish death camps"
"No systematic participation of the Polish nation or the Polish state (in exile) in the Holocaust, but the Polish resistance and Polish state (in exile) fought the Holocaust in an organized and systemic way ... there were wicked people who sold their neighbors for money, but it was not the Polish nation, it was not an organized action ... There were also cases of Poles giving up their lives to save their Jewish neighbors"
"It appears that they're going after the unmarked tech buses"
Protected for "entertainment services, namely, live, televised, and movie appearances by a professional actress and entertainer ... personal appearances, speaking engagements; autograph signings ... providing a website featuring content in the field of motion pictures"
"Our Goldman Sachs Bull/Bear Market Indicator is at elevated levels, although the continuation of low core inflation and easy monetary policy suggests that a correction is more likely than a bear market"
Still attracting shoppers in droves, raking in more than $1,000 per square foot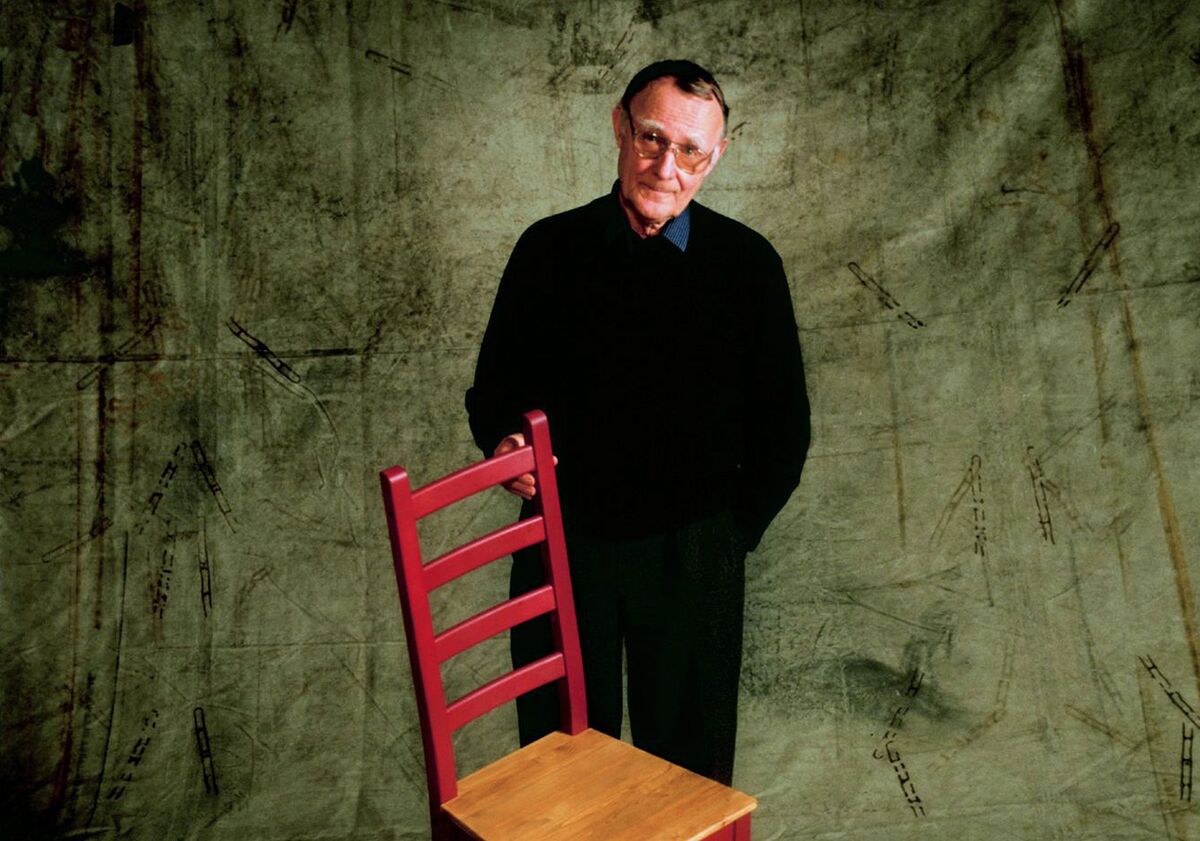 "Uncle Scrooge" drove an old Volvo, recycled tea bags, took home packets of salt and pepper from restaurant visits, avoided suits and ties, traveled in coach
Produced a "Rambo"-style knife; deputies fired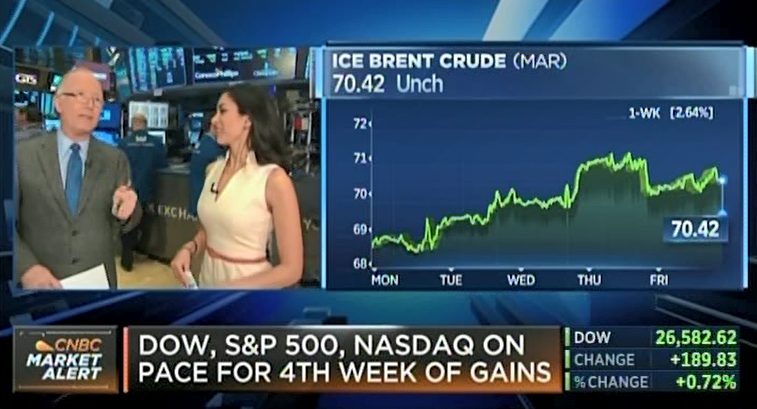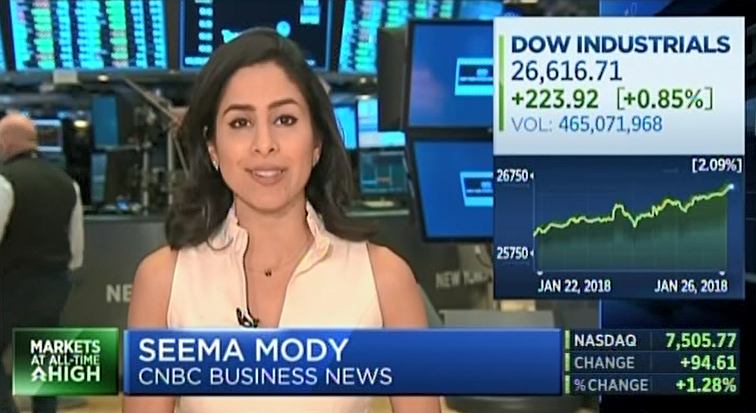 Seema Mody sensational in off-white on 'Closing Bell'
Major indices soar
"We made a decision not to include James Franco on the Hollywood cover once we learned of the misconduct allegations against him"
Paper: "Subjects for the Vanity Fair cover are often photographed separately in small groups and combined via digital imaging — Franco's removal, then, did not require a reshoot"
Academy appreciates the decision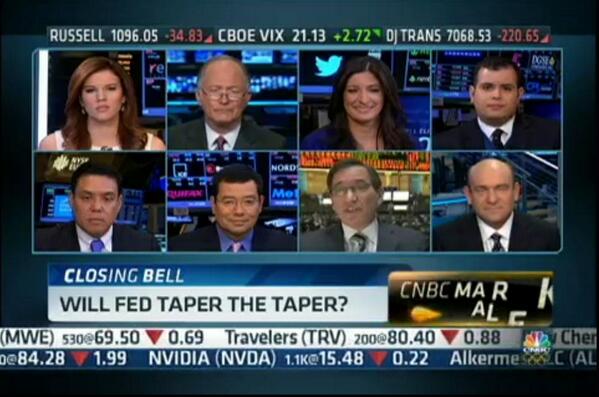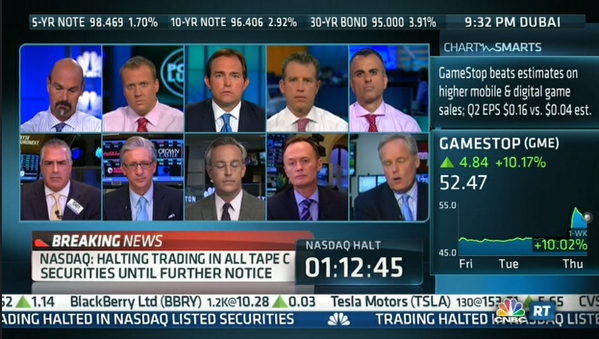 All it took was the fall of Lehman, Nasdaq malfunction
CNBCfix summary: The fewer faces on screen, the better the market's doing
"I've done good in my life — I've done more good than hurt"
Judge: "He earned every day of his sentence"
Whew: "I won't be running for public office again"
Jeff's vision: Imagine a drama akin to "Grey's Anatomy" but shrunk to 10-minute episodes made for mobile consumption. Or a 5-minute talk show, or a 2-minute newscast — all with high-profile talent attached
New Jersey insurance exec shocked to buy it in 1974 for $6,000 ... drove it for about 6 years, adding 30,000 miles before clutch gave out in 1980
McQueen tracked down car and twice tried to buy it back, but wouldn't sell
"They said to be low-key with the Amazon signage, but we did put that logo on the package"
"Accused of buying deep out-of-the-money options on U.S. Treasury futures at a discount to their minimum settlement value of about $15.63 each, making the trades seem profitable until the options expired as worthless. ... covered up the realized losses by continuously acquiring larger out-of-the-money positions"
"Why should a free woman with a college education either fight Machoman or serve him? Why should she live her life on his terms? ... I hope you live without the need to dominate, and without the need to be dominated"
Paper: "His bosses learned of his arrest Jan. 16 — the first day of the spring semester — when Johnston didn't show up to his classes and a colleague came across a news report"
"He and his wife had a spending problem"
Many turned off by both steep prices and hyper-gimmicky way seats were sold
Paid in 2 installments, for those hired before Jan. 1
"The Shape of Water" leads the pack
"Man we would have put up a better fight" ... "Ain't no miracle. Shhh"
$9 billion in assets, less than half the 2015 peak
Condition undisclosed
"When she first complained, I chose to say nothing. It's time to address the 'poor me' routine. ... No regrets about that question. Nor am I in the market for a lesson from Jane Fonda on what is or is not appropriate ... This is a woman whose name is synonymous with outrage. Look at her treatment of our military during the Vietnam War. The moral indignation is a little much. Honestly, she has no business lecturing anyone on what qualifies as offensive"
Jerry's reason: "Played a vital part in the LaBianca murders, one of the most notorious of the Manson family crimes. The devastation and loss experienced by the LaBianca family and all the victims' families continues today ... still shifted blame for her own actions onto Manson to some extent"
Argued: "Through advertising targeted to U.S. consumers, and in-person communications, Defendants lead U.S. consumers to believe that the Todos Santos Hotel is associated with the Eagles and, among other things, served as the inspiration for the lyrics in 'Hotel California,' which is false"
Paper: "In sworn testimony, Levinsohn reportedly acknowledged that he had rated the bodies and relative 'hotness' of women who worked at AltaVista"
Allegedly said: "Why would I hang out with a bunch of ladies and fags?"
Paper: "Daughter said that it was this movie that 'perfectly captured the essence' of her father, particularly during the scene on a boat when the actors reminisce about their lives and best moments"
"First, I used to just say, 'Thank you,' and move on. But when ... you look at these women who are finally speaking their truths and being brave, that makes me brave to say, 'I'm more than just my looks. I'm more than what I wear. And I don't want to have to worry about how long my skirt is, how tight my clothes are, what my makeup looks like because that's what I get comments about"
Deogun in 2012: "The election is over, but the American economy will only be unleashed if we avoid the fiscal cliff, pare our deficit and rise above partisan politics. ... Politics and politicians can solve this crisis but they are now in the way. For a deal to get done, we must rise above partisan bickering. ... With the American economy held hostage by politicians from both parties, CNBC and CNBC.com are launching a network-wide initiative aimed at calling attention to the fiscal crisis. ... The network's campaign is called 'RISE ABOVE,' a call to action appealing to everyone to rise above partisan political views in an effort to come to agreement on a plan that tackles both the long and short term challenges to the American economy ..."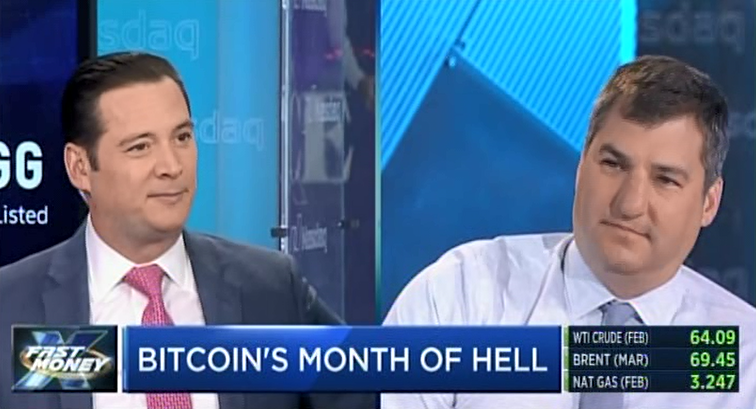 Ross: "You've been bearish for 2 years, and the stock market's gone up 100%. So where are you? You're not helping people make money. I mean, let's call it what it is. You haven't liked Trump, the market's soared, and the politics aside, you've been wrong, so don't say that I'm glib"
Nathan: "Don't come on here and tell me I haven't made- you don't know what I've done, you don't know what my, my call is, OK, so go piss off, seriously"
Paper: "Salisbury said a customer went to the restaurant Monday and reported he thought the girl had taken too long to give him back his credit card when he made a drive-through purchase Sunday. Management reviewed security footage, saw that the girl had taken a photo of the customer's card and then called police, he said"
Suspect: Said to be a "rogue individual"
"Due to recent incidents of broken windows along the commute route, specifically on highway 280, we're re-routing coaches for the time being. This change in routes could mean an additional 30-45 minutes of commute time in each direction for some riders"
AP: "Between 2007 and 2014, prosecutors say a Martha's Vineyard woman paid Johnson about $3.5 million for services that claimed to rid the woman of demons. Prosecutors say Johnson didn't report the income and tried to hide the money to avoid paying taxes"
"CBS and NBC paid a combined $450 million to air 10 games this past year, and Amazon.com Inc. added $50 million for the online streaming rights. All 3 are planning to bid again this year, at varying levels of enthusiasm"
"Exclusive wine sponsor of the Sundance Film Festival in Park City, and the brand will be the sole wine poured at the 90th Oscars and Governors Ball, the official post-Oscars celebration"
"Property owner noticed tracks leading out to a hole in the ice on his pond and a bunch of fishing gear sitting nearby but no person"
In good condition
3 on the Forbes' "30 Under 30" list: "Studied computer science at the University of Illinois but dropped out after 2 years. He moved to Silicon Valley, learned software coding online, interned at Facebook ... dropped out of Indiana University in Bloomington with one semester left to launch his own media startup in California ... started a digital social platform at 16 and decided not to go to college after high school ..."
"This one will be remembered here for all the right reasons"
Won California seat in 1970, ousting Republican George Murphy
Rivals: Fended off Tom Hayden primary challenge in '76 but lost seat
Genes: Dad twice beat Dempsey for heavyweight title
S&P 500 up 4.2% vs. 5.9% in first 10 days of 2003
"Saddened and appalled that Fox 2000 agreed to finance and produce a movie based on Toobin's book (with a similarly themed screenplay, also written by men) and that CNN has agreed to continue to perpetuate a one-sided dialogue romanticizing my torture and rape by hosting a podcast and docuseries through Toobin's distorted lens. I refuse to give Jeffrey Toobin, 21st Century Fox, CNN or anyone else involved in these projects about my life the power to make me a victim again, or the power to provide a platform where victim blaming is OK"
"Has nothing to do with me, or my song ... it irks me when people seek to capitalize on the popularity of my music"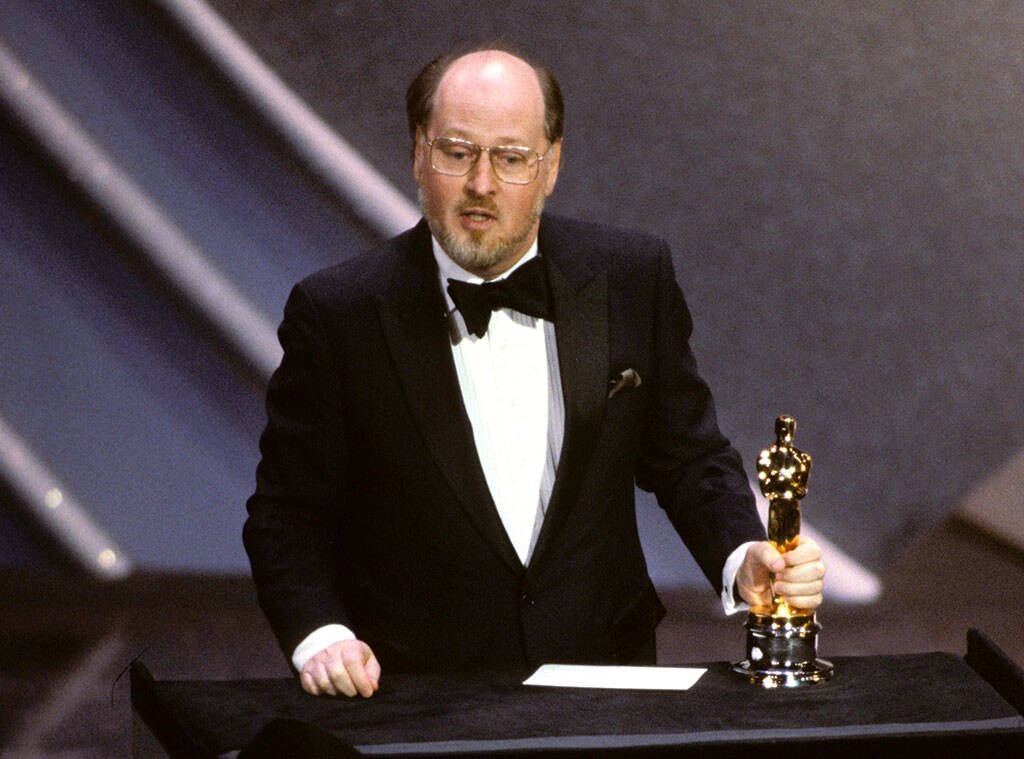 "He is the most influential film composer that has ever lived. He bridged the Old Hollywood and the New Hollywood. And he has done more than anyone to elevate the awareness of the art form of film music"
Mark Hamill: "He elevated our modest little movie into an epic. We owe him so much. Aside from George Lucas, nobody deserves more credit for the success of those films than John Williams"
"He was a super guy and a great cop. And he told me that he still went every year on Oct. 11 to the Paul Stine murder scene to look around and try to figure out why they couldn't catch the guy. The Zodiac case gnawed at him. He said it gave him an ulcer"
"Some of those rivalries can come true when we're method acting"
Underrated: "When people come and see the concerts, they're really surprised how much of a force the Christine McVie songs are. I think a lot of casual fans barely know there's two women in the band. They all know Stevie because she's so iconic, but Christine McVie has just as many big hit songs"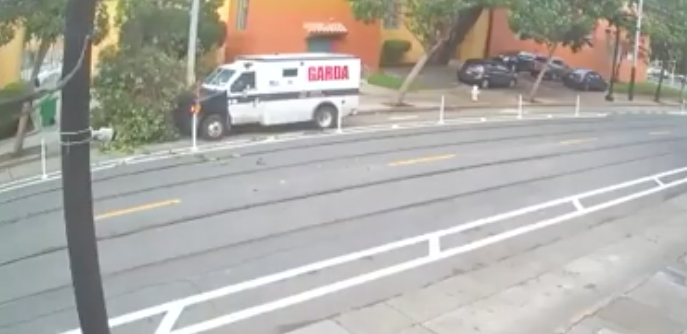 "They said they had just stumbled upon a tree that had fallen ... There used to be a lot of people getting hurt out here. It was an unending succession of broken arms ... If the bike lane was better marked, maybe people wouldn't be driving in it"
Employs more than 1,000 people in Boston and Cambridge
"Shows me to never be nice to people again"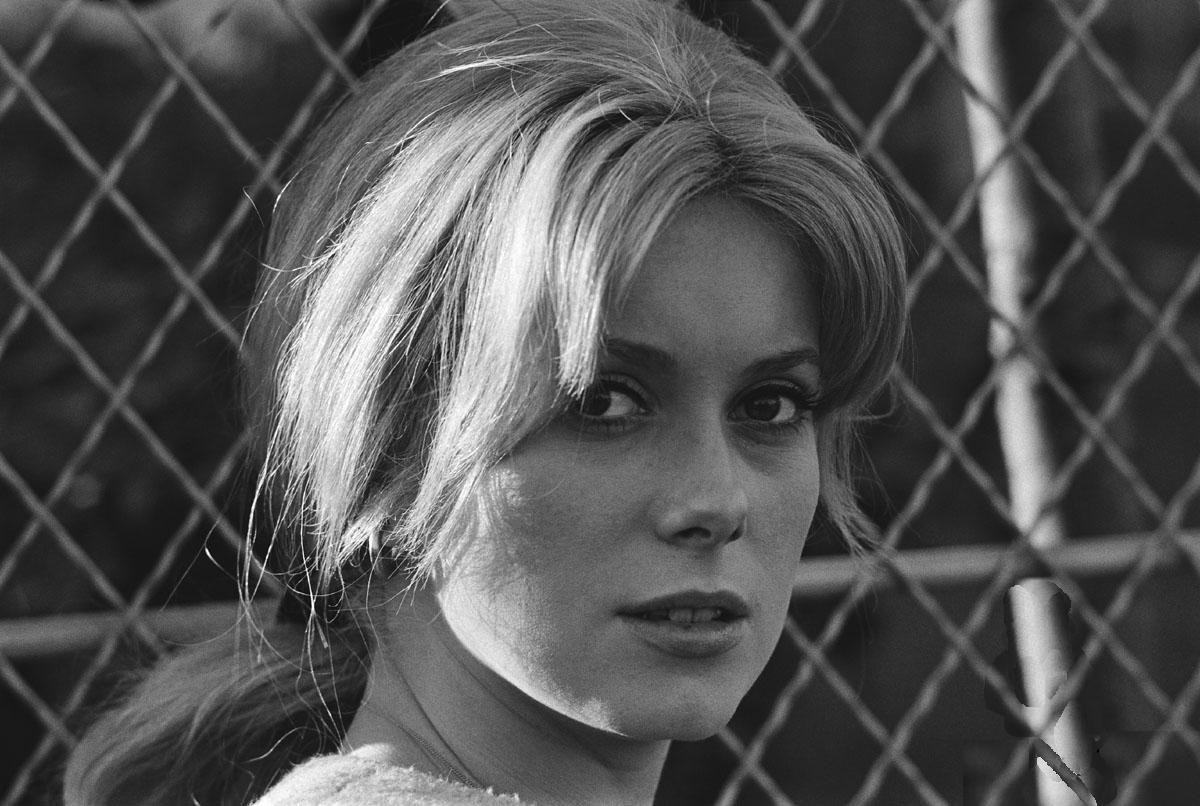 "Rape is a crime. But insistent or clumsy flirting is not a crime, nor is gallantry a chauvinist aggression ... this liberation of speech has been turned on its head ... This expedited justice already has its victims, men prevented from practicing their profession as punishment, forced to resign, etc., while the only thing they did wrong was touching a knee, trying to steal a kiss, or speaking about 'intimate' things at a work dinner, or sending messages with sexual connotations to a woman whose feelings were not mutual"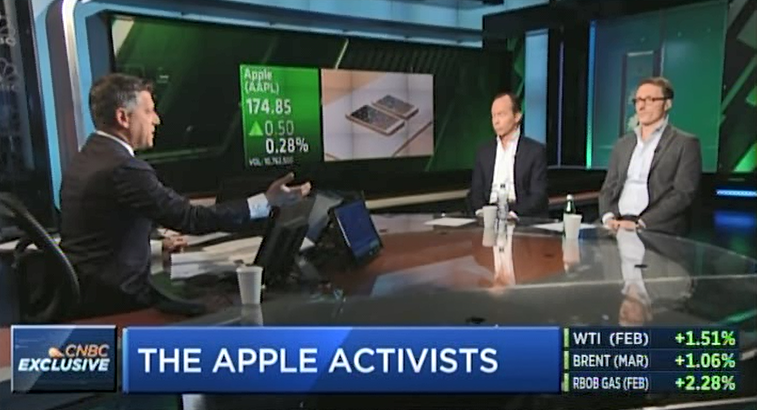 "I just find this line of questioning with all due respect kind of ridiculous ... Questions that one person, Jim Cramer, is asking. I'm not on Jim Cramer's show, I'm on your show. What questions do you have?"
Tickets $55 ... wonder if he'll talk about TARP
"When she showed me the prize receipt I said 'oh cool, $166, can I get that paid out now?' She told me to take another look and that's when I saw the extra numbers on the receipt"
"That makes us one step closer to the apocalypse"
"Intended to question why the state would sponsor a 3rd sex on driver's licenses"
$105.1 billion bests Gates', 62, mark
Fighting laryngitis: "HFPA tried to kill her illness with kindness by sending her a large bouquet of flowers daily for several days, each with a notecard quoting lyrics from one of her famous songs"
"I was devastated. I know it happens, but it's just so personal when you lose something like your skating dresses, because there's only one in the world. They're made exactly for me"
Response: Said she called 911 immediately; such calls are now diverted to 311 if the break-in is over and no suspect is nearby
Woman in October said it happened when she was 10
"The tweet was sent out by a third party agency for NBC Entertainment in real time during the live broadcast. It is in reference to a joke made during the opening monologue and not meant to be a political statement. We have since removed the tweet"
"Eventually became the voice of the Democratic Party for presidential races by Bill Clinton, Joe Biden and Michael Dukakis and other political campaigns. Success led him to move to New York in 1976"
Chooses Gucci
Coverage: Even as an embarrassing "glambot" looked on, E! red-carpet reporters asked "Why are you wearing black?" rather than "What are you wearing?"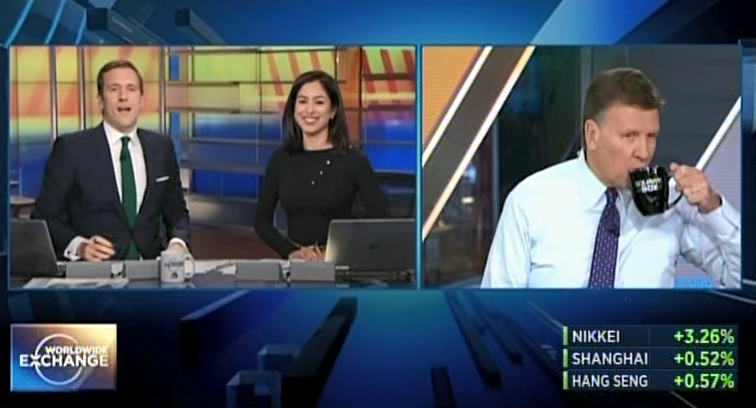 CNBC's sensationally gorjus Seema Mody reveals workout regimen
Tells Joe Kernen if he wants to exercise, "You can join me at Soulcycle at 5 p.m."
Devastating black ensemble Thursday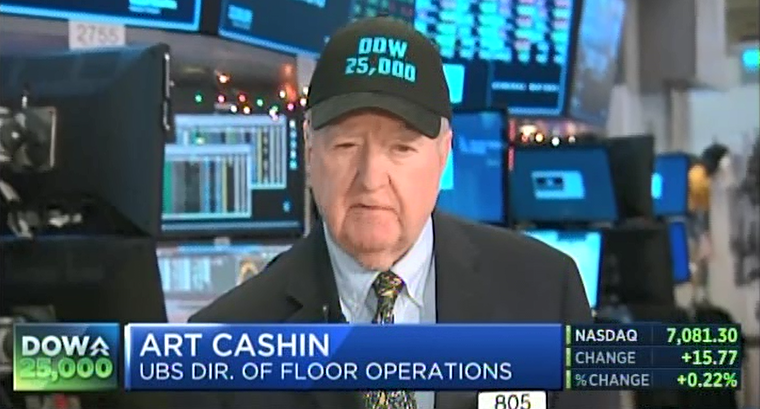 Dow, Nasdaq post best start to year since 2006
Biggest S&P 500, Nasdaq weekly gains since December 2016
GOOGL, AMZN hit record highs
23 trading days, fastest 1,000-point Dow move in history
"Valuations long term are stretched but people are looking past that because of the tax cuts"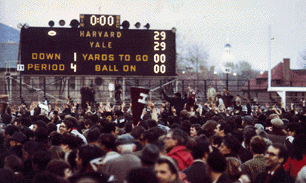 "Worst loss of my life, even though it was a tie"
Dow 25,000 hats actually made by New Era
Wall Street does it with class
AP: "It was 3 days before Halle had his first customer and a week before he made a sale. His original inventory consisted of 2 new tires and 4 retreads"
"You're kidding? Densmore Street crosses Morrison Street"
"Oh great creator of being, grant us one more hour to perform our art and perfect our lives"
"When we set the goals initially, we said, 'Boy, it will be amazing if he even comes close.' And he has so far exceeded what we had set before him. We have a hard time holding him down." ... "Mike has done an excellent job But as a person who really wants to look after the money of the citizens of Mount Prospect, I kind of wonder where we are going to go if he continues to do this. We can't give this type of compensation every year"
"The airport's 11,800 foot runway can easily accommodate the large plane, and the airport even bills itself as an 'efficient diversion airport' because the runway is so long. But the airport's gates aren't high enough to reach the plane's doors. Stairs were brought to the aircraft and passengers exited the plane into the outdoors, Gerlach said"
"The naysayers missed out on a lot last year"
Bob Pisani: "I smell a little euphoria now"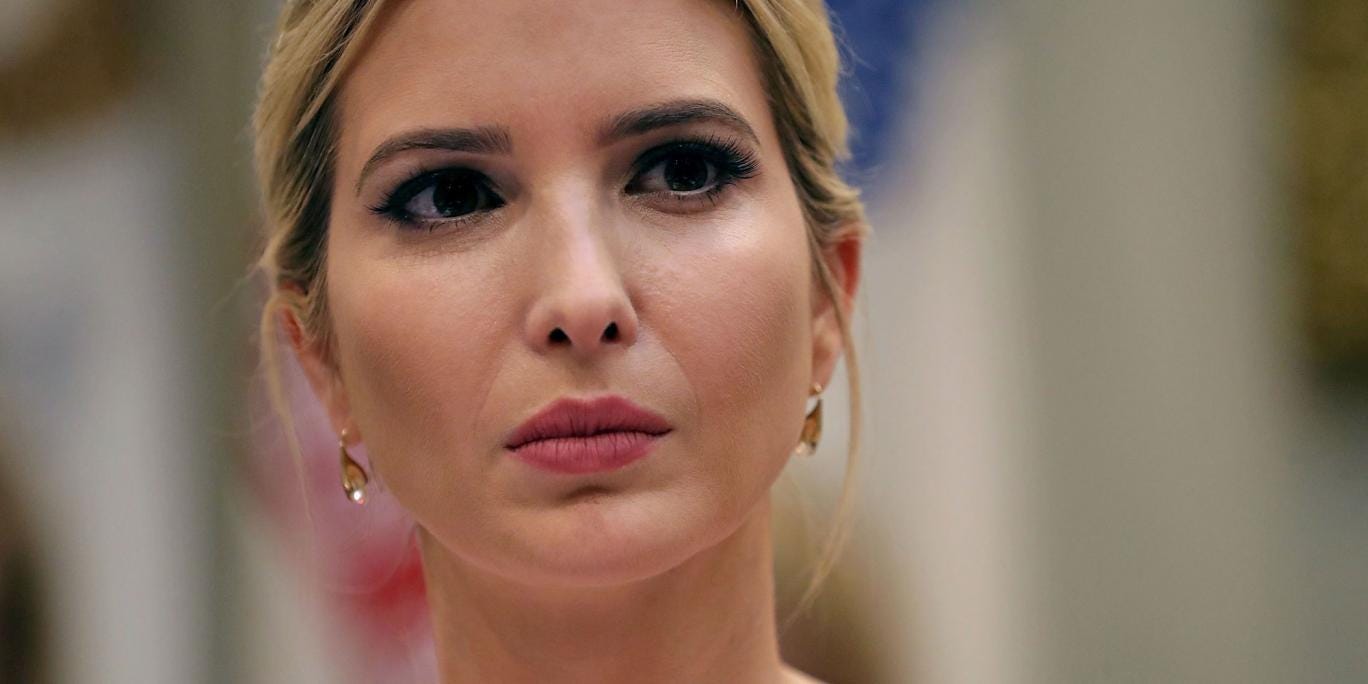 "A little marketing savvy and has a look but as far as understanding actually how the world works and what politics is and what it means — nothing"
Conclusions: "Wolff's book paints Trump as a buffoon who doesn't read, can't settle on political priorities and is unable to manage a warring cast of advisers who spend their days squabbling and undermining each other and the president ... Sam Nunberg, a former campaign aide who was ultimately fired, describes trying to explain the Constitution to the president. 'I got as far as the Fourth Amendment,' the book quotes Nunberg as saying, 'before his finger is pulling down on his lip and his eyes are rolling back in his head'"
Gruff Harley rider dropped out of university to sell Christmas trees
Skeptic: "So the loss is less than one month's job creation. Really, the report confirms that an increase in minimum wage will have no impact on employment"
Claims "conscious effort" to keep his former team out of top 10
Not injured
"Being a former training manager, I believe in it. I believe in career development and executive development"
AP: "In the mid-1960s, when writers David Newman and Robert Benton were trying to sell a synopsis for what became 'Bonnie and Clyde,' Truffaut arranged a screening of 'Gun Crazy' and suggested it as inspiration"
"This is basically an extension of what we saw in 2017"
Paper: "The Twin Cities couple wanted their guests to enjoy the meal before being told it was all plant-based. They would do the big reveal at the end of the reception. ... Instead, the caterer ruined the surprise and the meal was a disaster, the suit said. ... Servers let on to guests throughout the meal that they were eating vegan, saying they couldn't have creamer for their coffee or soy sauce because it wasn't vegan and then asking guests which dish they liked best, according to the lawsuit"
Unauthorized: To make matters worse, a guest was allowed to bring chicken fingers to the meal without the bridal couple's approval
Paper: "Revolution is offering $3 million cash for the company, agreeing to honor $750,000 of paid time off for employees who join the company, and is pledging to pay out $2 million in severance. The new bid explains it expects to keep 175 of the Herald's about 240 employees — the same number as GateHouse planned"
No one in custody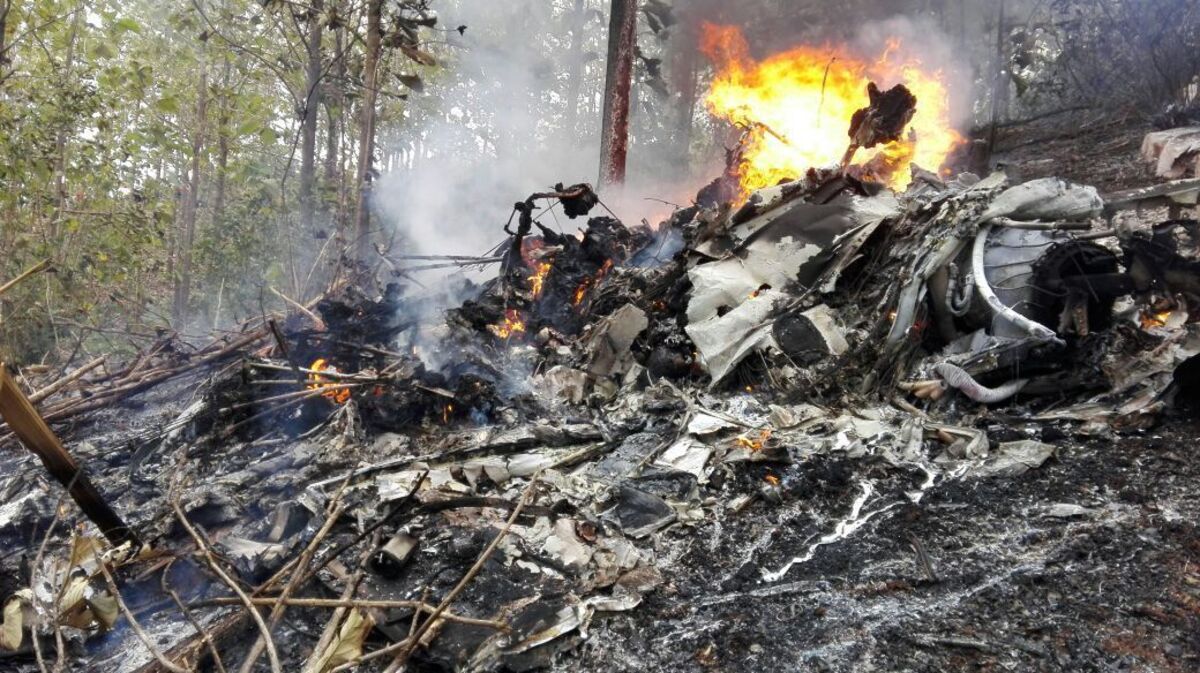 Dalio statement: "The Bridgewater family lost Bruce Steinberg (a senior investor at Bridgewater and a wonderful man) and his family. Right now, we are each processing this devastating tragedy in our own ways. At this time I will be devoting my attentions to doing this and helping others"
Got Bertolucci's "Before the Revolution" in '65: "I had no interest in distribution. I made him a very small offer and I got the film, and that was the beginning of New Yorker Films"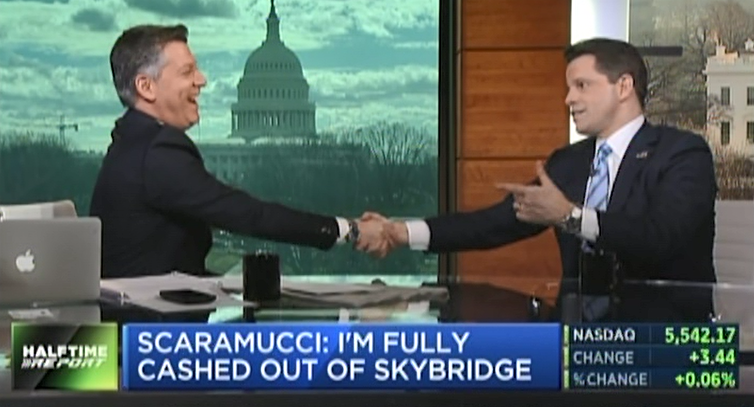 SNAP's yo-yo year delivered the bust, but the Call of the Year goes to ...
"I think there's potential legal questions on that — equal protection under the law"
"He could make fun of people without making them feel bad"
Didn't know what to do because he was in a hurry for work
Advised to do anything that would keep her from running for president
"Performance so dominating, so magnetic and monstrous"
Bullpen: "It's really not replacing [Spacey]. It's starting all over again. Although the situation is very sad. I'm very saddened by what happened to Kevin, but what can I do? I've got a role. I admire Ridley Scott and I'm thrilled to be making a movie for him. And so I thought, that was it. Ages ago I was in contention for [the role], way back. So I was familiar with it, and then Ridley came to me, and I agreed"
Editor: "I'll blame myself for it all my life"
Original text: "There are 197 countries, like France, Algeria or Germany. There are a few more, but not all other countries in the world agree that they are real countries (for example the State of Israel or North Korea)."
Known for "rapid-fire delivery and famous alliteration"
"I think there's a real renaissance to what film is. It's another tool that we have that we shouldn't give up. It's another paintbrush. Why should we be limited to one tool?"
"While on the lead, Ruffian broke down, snapping both sesamoid bones in her right front leg. She still tried to run and finish the race, which Foolish Pleasure won unchallenged. Ruffian underwent surgery and when the anesthesia wore off, she thrashed about wildly on the floor as if still running in the race"
"Wearing earbuds when his skateboard rolled off the platform, and he couldn't hear the train approaching when he climbed onto the tracks"
"It's bad people, crazy bubble, bad idea, luring people into the concept of easy wealth without much insight or work. That's the last thing on Earth you should think about"
"All-too-easy Oscar bait, but it's as satisfying and polished as you'd expect"
"He was dressed with his bags packed at the door. We think it was a heart attack"
"The restaurant's shakes will also be tailored for San Diego, with creations such as the Shark Attack, Pie Oh My, and Salt N' SANDiego"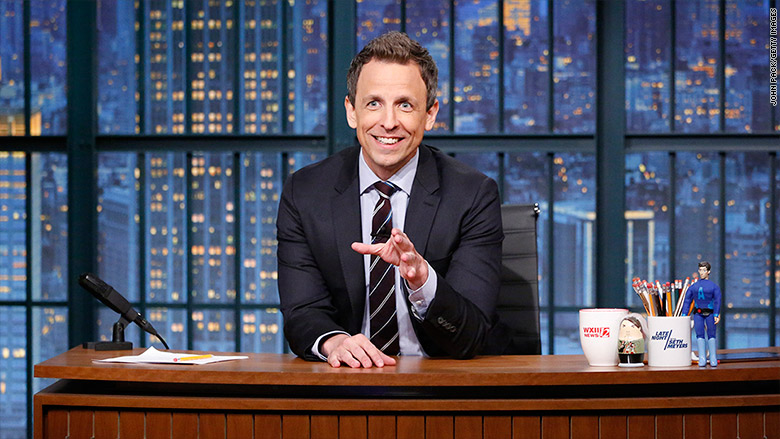 "Yeah, you know, that average American family that has two kids, a house, a white picket fence, corporate income, non-corporate business income, 3 limited-liability corporations, two S corporations, two C corporations, a commercial real estate venture, a limited liability partnership, carried interest, oh, and a dog"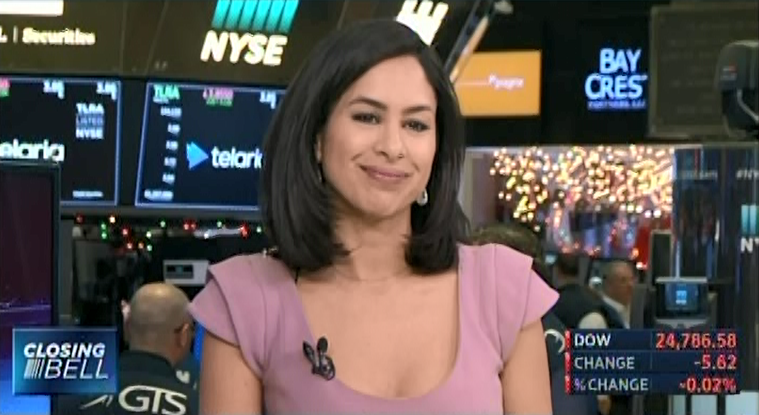 Seema Mody devastating in new lavender ensemble
Pushes pay hike for Carnival Cruise Line staffers
"The program did not sufficiently prepare (her) for a job in the tech field"
Randall: "Congress, working closely with the president, took a monumental step"
President: "Thank you for this great honor ... I am thankful for your gesture and am moved to know that the people of Israel are encouraged by my decision to recognize Jerusalem as the capital of Israel"
"He'll be a stalwart defender of Israel until he's not. That's how this guy operates. I've seen this guy operate. He was a stalwart defender of me until it became better for him not to be"
"The lead detective believed an odor of intoxicants was coming from his breath"
Lawyer: Case "baffling, without merit," client not a "druggie"
Got $200,000 business investment from Lori Greiner
"It's a $200, 1990 Ford Festiva with a '99 Camaro body mounted on it"
Employee saw tires were smoking
"Shows that downtown Portland continues to thrive"
"The earlier movie holds the record for single-day revenue thanks to pent-up demand, since it was the first film in the series in a decade"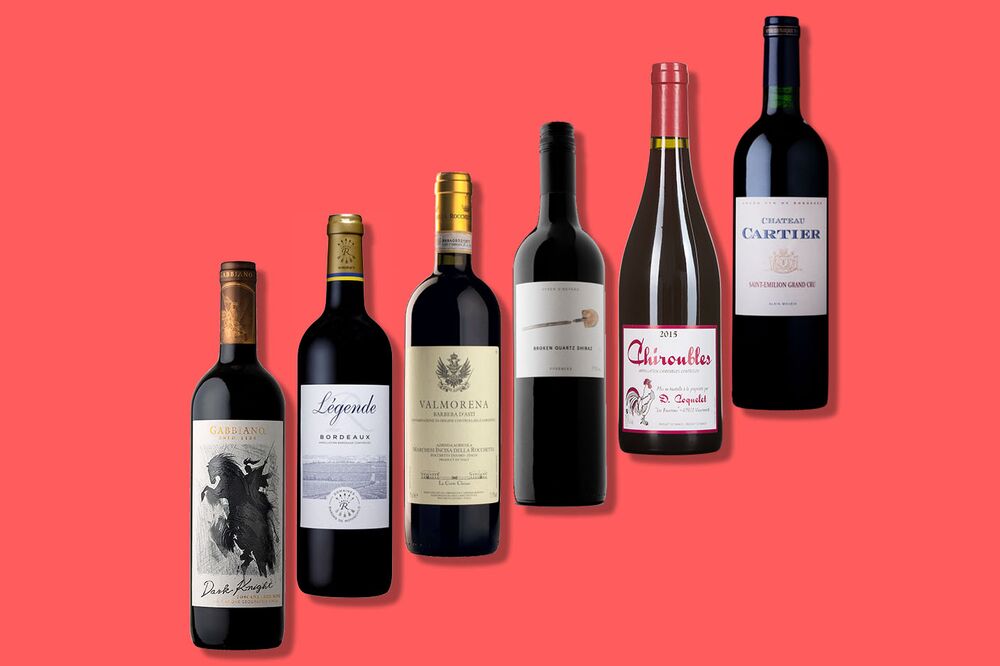 "Cool climate regions of Australia are on a roll. A boutique winery in Victoria is behind this violet-fragrant, spicy, succulent red"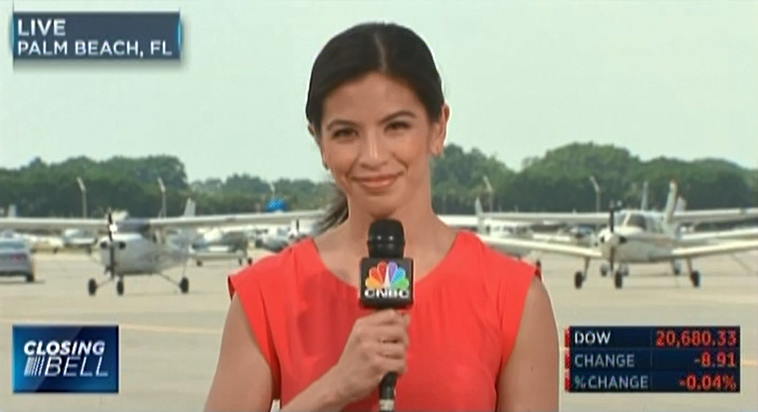 Ylan expecting
To Joe Kernen, 12/15: "I've got a 5-year-old, a 3-year-old and one on the way"
Becky: "I didn't know that! Congratulations!"
"Customers screaming expletives at AMC staff to re-start the movie ..."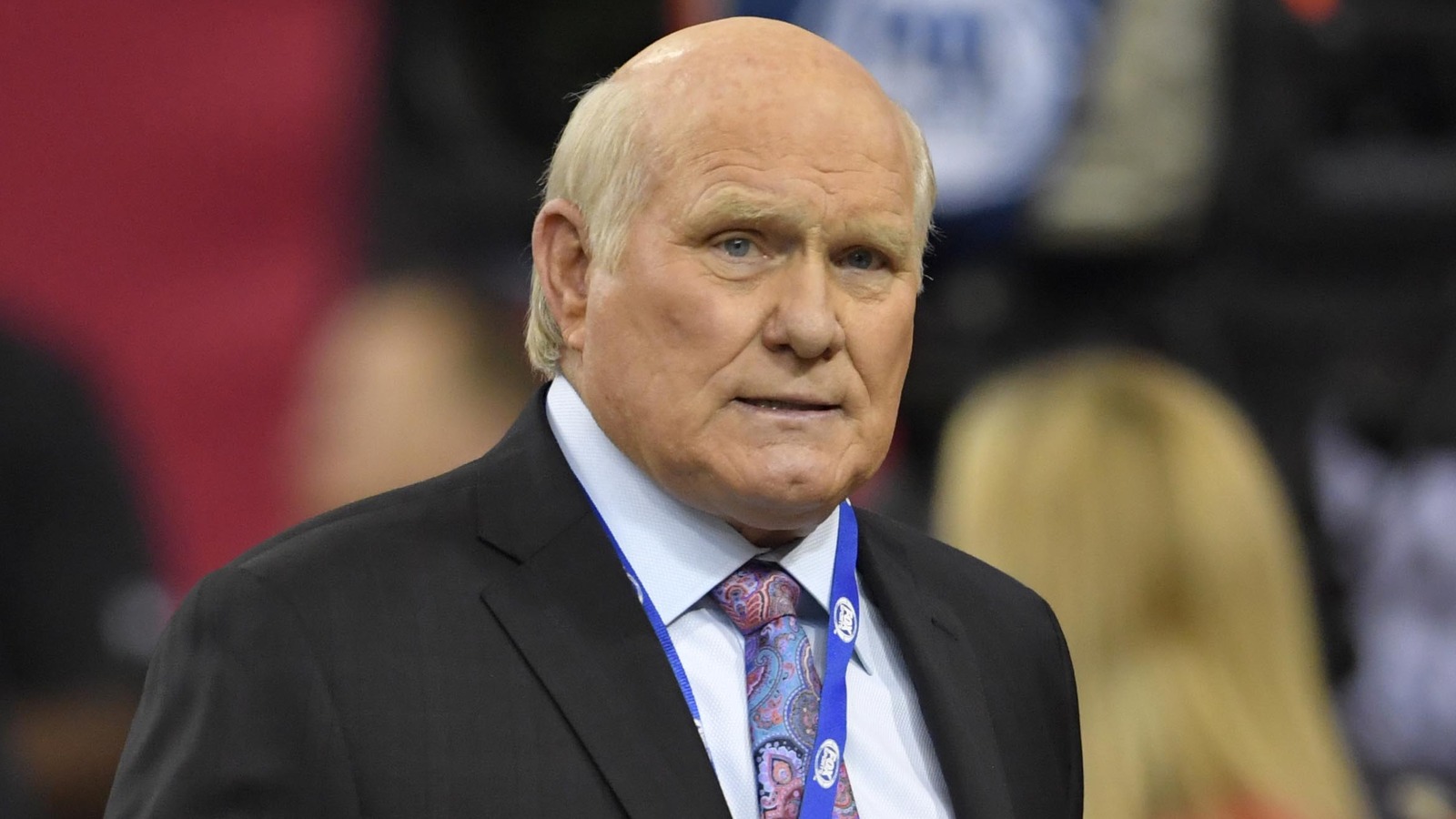 "I give him no thought. I give him no thought. I do not see him on the sideline and think cheerleader. I see him as the head coach and I give him no thought. He does not cross my mind at all. I have absolutely no opinion of him ... I probably shouldn't have said cheerleader, but I did, so I stand by it ... but If he doesn't like me, I couldn't care less"
"Put simply, PBS overreacted and conducted a biased and sloppy investigation, which led to a rush to judgment, and trampling on a reputation that I have spent an entire lifetime trying to establish. This has gone too far. And, I, for one, intend to fight back"
"They went into the Golden Pear in Southampton and said, 'Has anyone seen him?' They said they had lost him and asked anyone who spotted him to call them. They gave out cards that said 'Commerce Department security' — and told the owner, 'If you see him, will you call us immediately?' ... He was found later that day, but they were in a panic"
Commerce: "5 minutes later, they realized where he was. Mystery solved"
Braun: "I believe that a competent investigation will prove the whole story to be bogus"
"If it takes an army of people to tweet and post online to interest you and for you to respond, that is a serious issue"
"At the time, surfers were considered losers. You didn't want to tell anyone you were a surfer. It showed the general public we were good guys"
"I lost the game, 1-0, and I didn't feel anything about it"
Missy Lee stuns in sleeveless hot red on 'Fast Money'
Bitcoin, get out of the way
"This is not something a guy who's making $100,000 a year, who's got a mortgage and two kids in college ought to be invested in"
Actually down from 9,000 in June: "We've gotten kind of spoiled"
"They've obviously hit a rough patch here"
Turnover: "That many managers jumping ship at a time when the company is clearly struggling is worrying from an investor's standpoint. Not only does it suggest that they don't see [Under Armour] heading in a profitable direction, but it also calls into question the stability and direction of the company's overall strategic plans"
Walked away from work camp
Exploits featured in "American Greed" episode "Seattle Roasted"
Rejuvenated return "by no means assured"
Half the stories on cnbc.com home page have "bitcoin" in headline
"We don't want a check. We want Whole Foods to open and operate. The great thing about Whole Foods being bought by Amazon is they're a far cry from being insolvent, aren't they?"
Between former "Today" show host Dave Garroway and baseball great Bob Gibson
AP: "Earned praise from other fans for rushing better than the team's players"
"Whether it's in our stores, on our sites, with our apps, by using their voice or whatever comes next, there is just one Walmart as far as our customers are concerned"
"It was not the bank's fault. We have apologized to Union Bank for making that assessment earlier. It was human error"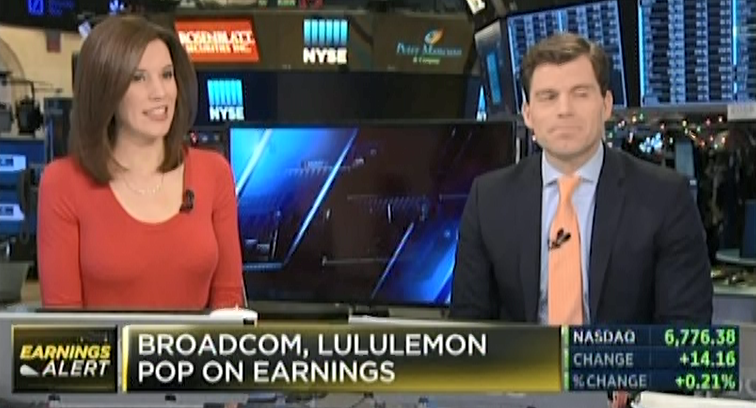 Kelly Evans dynamite in orange on 'Closing Bell'
Wrapping up the day with a flourish
"Humans buy all sorts of things that aren't worth anything. People gamble in casinos when the odds are against them. It has never stopped anybody"
"One of the placards was altered to say it expired in 2018, when it actually expired in 2013"
"There were some things she liked and some things she didn't agree with"
"About a week after they were hit, you can really start to smell them. It was for a little bit too and I probably live about a half mile away from here and it was almost like standing next to them"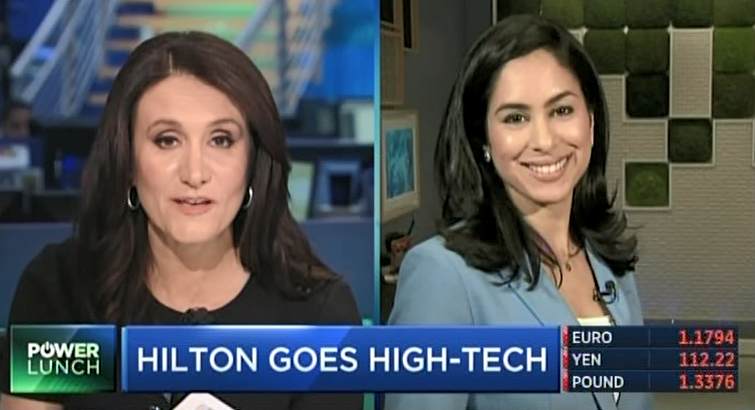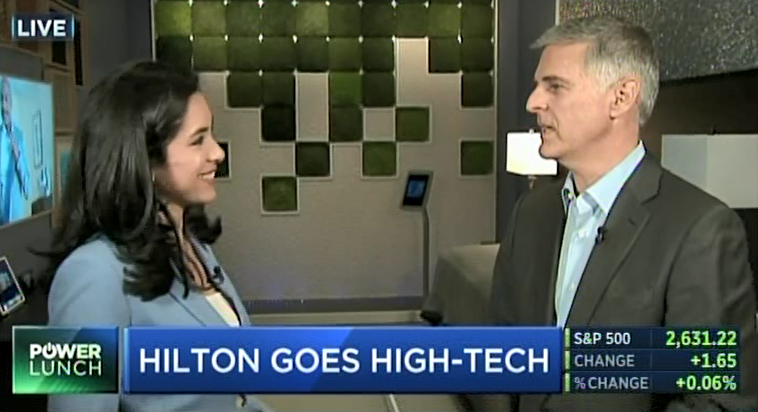 Seema Mody beams during Hilton innovation interview
Electrifies Tyson Corner
"Spellbinding classes" often ended in ovations
Lectured on WWI monument: "I started writing furiously in Scully's class. I think he has always been puzzled by my connection to the Lutyens memorial. Formally the two memorials could not be more different. But for me, the experiences of these two memorials describe a similar passage to an awareness about loss"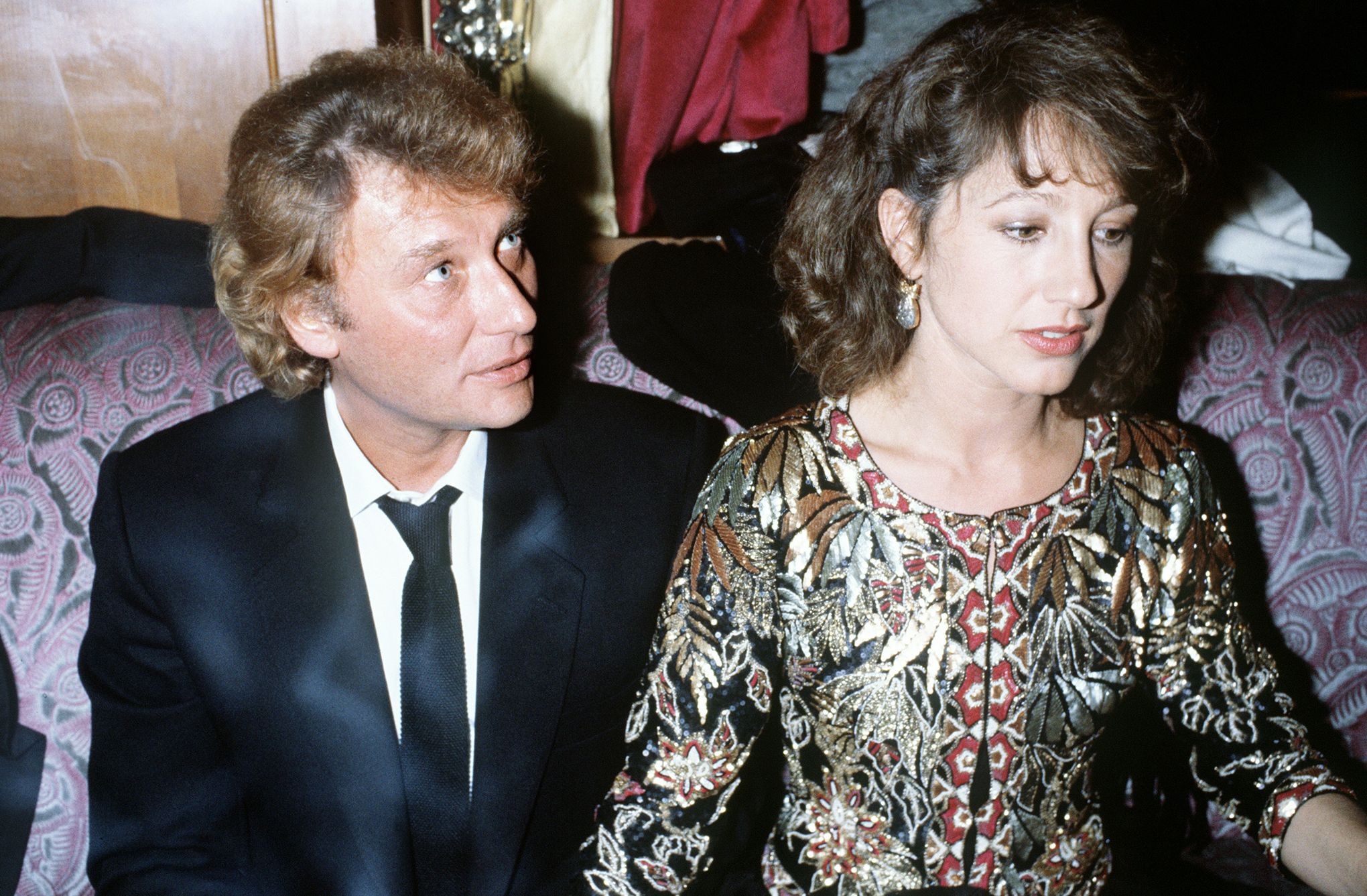 Born in Paris in 1943 as Jean-Philippe Smet
"I know everyone gives Stockton a really bad rap, but our neighborhood's really nice … Everything you have in San Jose, you have here in our area"
"There are two sides to this coin. We have to own up to the fact that women, since time immemorial, have gone out of their way to make themselves attractive. And unfortunately it has backfired on us — and this is where we are today. We must sometimes take blame, women. I really do think that. Although it's awful to say we can't make ourselves look as attractive as possible without being knocked down and raped"
Activist: "Breathtakingly ignorant and ill-informed"
ESPN, Turner pay NBA reported $2.66 billion a year for current deal
Union negotiator: "The mayor is incorrect"
"There were some rough times, especially when they had to go to Mississippi and places like that, but there was also some rough times for him out there on Vanderbilt's campus. But through it all, he said that being bitter can eat you alive. And I thought that was so noble of him, because a lot of the bitterness that he might have had during that time has subsided now. It's over and done with and he didn't allow it to change him as a person"
Good condition
Coach: "The streets call these kids, and they have decide if they are going to listen to the call of the streets or if they are going to take the football path"
"He said of course none of it was true"
Paper: "The company has not been profitable for the last 6 fiscal years"
"From our roster of all-star anchors and reporters to our ability to convene the most-wanted speakers, to our vast production resources, we're able to create best-in-class experiences for sponsors and attendees alike"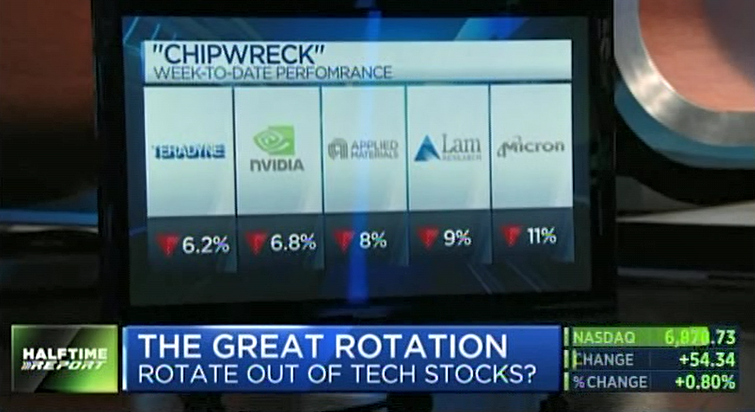 But "chipwreck" is clever
Certain to be replaced by someone a lot cheaper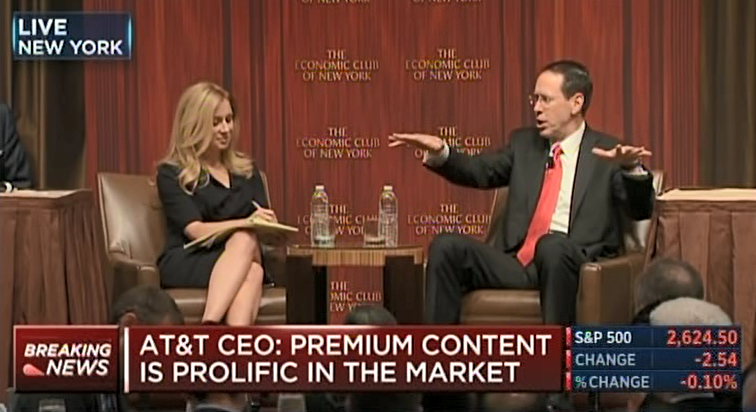 Becky Quick dynamite in black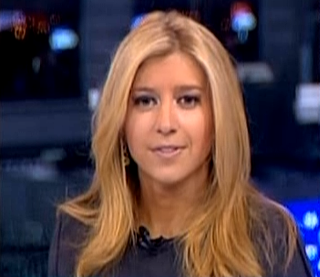 Confirms: "From physical side effects like back pain or a stuffy nose to emotional swings, anxiety and tiredness, it's tough to balance. I don't want any of my peers or managers to expect I won't be delivering 100% each day. but it takes incredible effort to fight through many things I'd previously taken for granted"
"Clint & I have been blessed to be Rance Howard's sons. … He stood especially tall [for] his ability to balance ambition [with] great personal integrity. A depression-era farm boy, his passion for acting changed the course of our family history. We love & miss U Dad"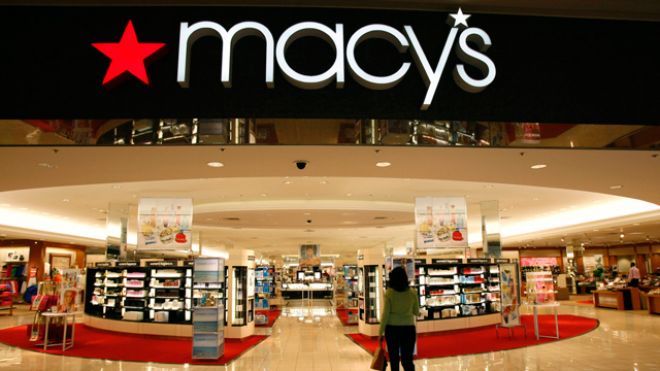 "Hey Macys, just left $300 of items on counter because your credit card machines are down at State St Chicago"
Admittedly, "this action is largely symbolic"
Hollywood Reporter: "The same source said he once noticed an oddly cropped photo of Lasseter standing between two women at a company function. When he mentioned that to a colleague, he was told, 'We had to crop it. Do you know where his hands were?'"
"He hugged and hugged and everyone's looking at you. Just invading the space"
"Going to fight the case ... We look forward to his day in court"
"He was the liberal voice of Beltway conventional wisdom and full of himself. All you had to do was watch him for five minutes making those faces, pursing his lips, his mock concern, his theatrical gravitas, to know it"
"They were an L.A. company, an L.A. company whose product and their whole platform is about health and nutrition, they give people a shot at building, if not a small business, at least a little extra income on a monthly basis. My mother sold Tupperware and Avon, I know why Latinos and blacks do it, they need a few extra bucks. It's called a multiple level marketing company. That's what Tupperware is, what Avon is — they've been around for 30 years. Pyramid schemes aren't around for 30 years"
"The employees weren't brokers, but would have been in positions that could have given them access to client data, Nancy Condon, a Finra spokeswoman, told The Post"
Tweets deleted: "Not celebrating. Villains die too"
"I'm doing well generally, all test have come back good"
"I'm actually sitting here telling you this story, afraid to say his name, because I'm worried about backlash ... Oh f*** it! It was Oliver Stone, and it was 'The Doors'"
Vehicle recovered a short time later
"Generated more than $900,000 in net profits from the diverted business, prosecutors said ... used the proceeds to purchase real estate and vehicles, including a 2010 Aston Martin that cost $199,000, prosecutors said ..."
Paper: "Was involved in negotiating a compromise on visitor parking"
Paper: "Of course, a new administration now occupies the White House, and this landmark lawsuit will be read in political context ... Trump has also frequently slammed coverage of his administration by CNN including a tweet last Wednesday how he was 'forced' to watch the news network while overseas and didn't like the 'fake' news he was witnessing"
"It is on hiatus, the company said"
DNR warden: "Majority of hunters that I contact, they're law abiding, they obey by the rules and then there's the small percentage that don't and they feel like they want to cheat the system and get away with it and become greedy"
Paper: "Wrestling with a decline in state appropriations ... so far have identified $6.6 million in efficiencies, in part by not filling 61 vacant jobs"
Cell alarm went off, shocking him awake and leading him to compress the gun's trigger
Odds were 1 in 1,040,400
"It was horrifying. I had no warning or explanation. Suddenly everyone was very cold to me. I went to tell John goodbye, and he was shocked — no one had told him. Joyce DeWitt, at least, called to say something to me about it"
Tweeter: "When your local NBC station doesn't play Jeopardy because they want to air an hour of pre-game NFL coverage, there can only be one reaction: RAGE. Don't they get this is the finals of the #TournamentOfChampions"
@StopSkycamNow Twitter account: "@NFL @SNFonNBC I made a twitter account just to tell you how much I HATE skycam. It makes the game unwatchable! #skycam #TENvsPIT #TNF"
"It only takes one crazy idiot, anywhere out there, to believe Google about this, and act on it. Am I willing to bet my life against that happening?"
"I love the way they all responded"
"The judge did a thorough review and determined that probation was appropriate"
"Reported that the assets Comcast is interested in acquiring — and that Fox is willing to part with — are the same ones that interested Disney"
"A compulsion to see things firsthand ... Leo wanted answers"
Giffords also honored: "It's been long and hard, but I'm getting better"
Paper: "The meeting stretched nearly 8 hours — the longest in student government history — before a vote was conducted under secret ballot, which was done after much debate to protect pro-Palestinian and divestment members from being subject to damaging online blacklists"
Either absorbed a substance or had reaction, became short of breath
"We are just sick of it"
"Came to the United States legally in 2007 but had overstayed his visit by several years ..."
"I think sort of the halcyon days are over"
Comma-itis plagues Barron's
CNBCfix critique: Venerable Wall Street publication, our favorite read each week, may insist on the serial comma, but there's no excuse for slowing down the reader in the Nov. 13, 2017, edition in the age of instant information …
"More than ever, what happens in Washington doesn't stay in Washington, but reverberates on Wall Street." (No comma after the second "Washington")
"The government arrested and detained dozens of princes, ministers, and businessmen accused of corruption, and quickly froze some of their assets." (No comma after "corruption," and honestly, shouldn't be one after "ministers" either)
"The Senate bill would delay a corporate tax cut until 2019, and double the estate-tax exemption to a maximum of about $11 million per person while leaving the 40% tax in place." (No comma after "2019")
"In Japan, an election win for Prime Minister Shinzo Abe's ruling coalition last month signals continued monetary easing, and has kept the yen weak against the dollar and euro, creating a near-term tailwind for many of Sony's businesses." (No comma after "easing")
"Shoppers have been less willing to take on credit-card debt; they're favoring bigger-ticket items, a side effect of the recovering housing industry; and they're buying more healthful and private-label products, and doing so online." (No comma after "products," also should be a comma and not semicolon after "industry")
"Last Thursday, the Standard & Poor's 500 index dropped as much as 1.1%, but battled back to finish down just 0.4%." (No comma after "1.1%")
"The stock surged over 30% within days of launch, but crashed after the company clarified the 'accounting treatment' of the game." (No comma after "launch")
"Anonymous sources told Reuters that the bank could raise its payout to 40% of net profit this year, and as much as 50% by 2020." (No comma after "year")
"That wager could prove catastrophic if volatility suddenly surges, and stocks fall." (No comma after "surges")
"Interactive Brokers will offer Bitcoin futures trading if those conditions are met, and consider stopping doing business with some clearing firms if they're not." (No comma after "met")
"GM is expected to earn $6.32 a share this year, and $5.86 in 2018." (No comma after "year")
"He has an Overweight rating on the stock, and a $15 price target." (No comma after "stock")
"Then they decide if they want to pay every year for insurance, or let their account grow." (No comma after "insurance")
"It also allows people to not only stay in their home, but also monetize it to help pay for their care." (No comma after "home")
"'We ask our analysts to take an independent view of what they think are the most creditworthy companies today, and 18 to 24 months into the future,' Kimball says." (No comma after "today")
"The Core Plus Bond team is organized by sector, and includes specialists in high-yield, global sovereign, and securitized debt." (No comma after "sector" and really not after "sovereign" either)
"Yet shorting the iPath S&P 500 VIX Short-Term Futures ETN (VXX) with 77% short interest, has been a fantastic investment as it has fallen some 57% annualized over the past five years." (No comma after "interest")
"It is hard to argue against Dalio's insistence that employees be evaluated with 'radical honesty,' rather than with kindness in an attempt to bring their performance up to a higher level." (No comma after "honesty," also the last 12 words could be shortened to "to improve their performance.")
"Burton Malkiel is the author of A Random Walk down Wall Street, and is the chief investment officer of Wellfront." (No comma after "Street")
"After Japan's attack on Pearl Harbor, U.S. stock markets fell by about 11%, but recovered within six weeks." (No comma after "11%")
Instances where comma is needed but missing:
"PayPal shares are up 23% since we recommended them three months ago ('Why PayPal still has room to grow,' Aug. 26) but one potential big growth catalyst that we cited then hasn't even had a chance to play out yet." (Should be a comma after "Aug. 26)")
"The major market indexes have been making new highs, but beneath the surface things aren't so bubbly." (Should be comma after "surface")
"Porsche has so far won in court and analysts see the company continuing to prevail." (Should be comma after "court")
"I do the same, but because I'm in New York we have to use a higher number — up to $2,000 a month." (Should be comma after "York")
"Most of the time they decide not to buy it, and when they do it's usually more of an emotional decision than a financial one." (Should be comma after "time" and comma after "do")
"Under normal circumstances the Securities and Exchange Commission bars funds from making 'affiliated transactions,' but there's a loophole in the Investment Company Act of 1940 …" (Should be comma after "circumstances")
While we're at it: Let's give "To be sure" a rest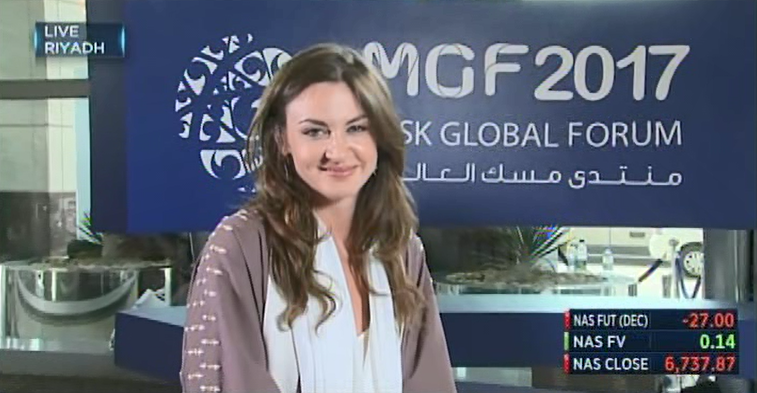 Hadley Gamble, CNBC superfox
On fire in Riyadh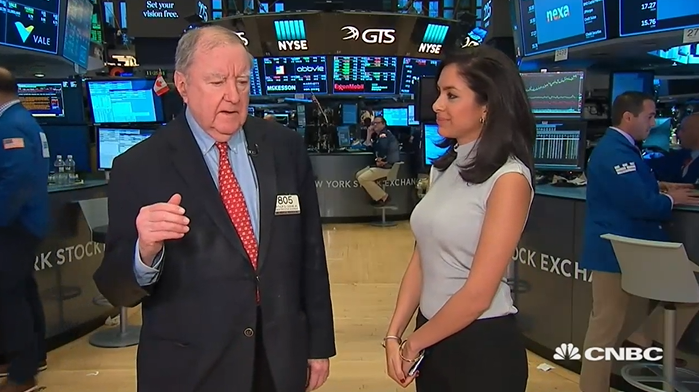 Seema Mody gorjus in gray at NYSE
Who wouldn't trade places with Art Cashin?
Unreal: Carolin Roth in red
Spectacular turtleneck on "Street Signs"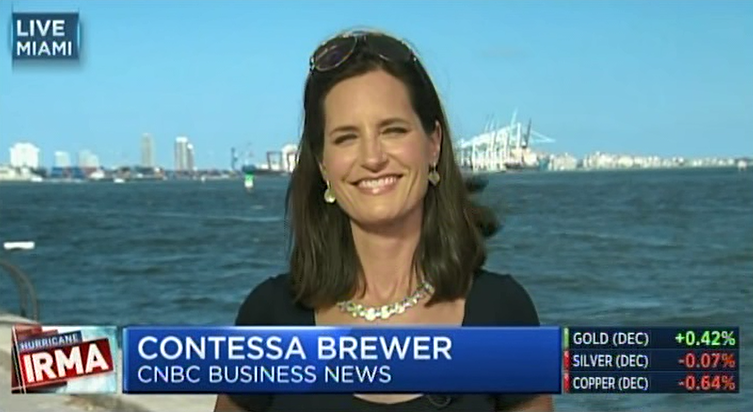 South Florida stunner: Contessa Brewer in Miami
Shades, sun, serious reporting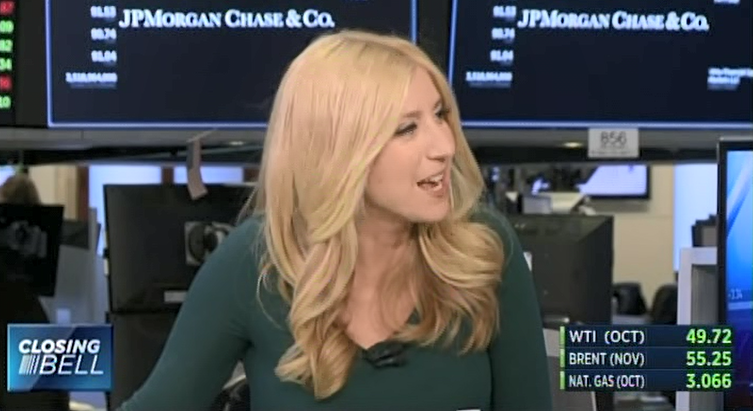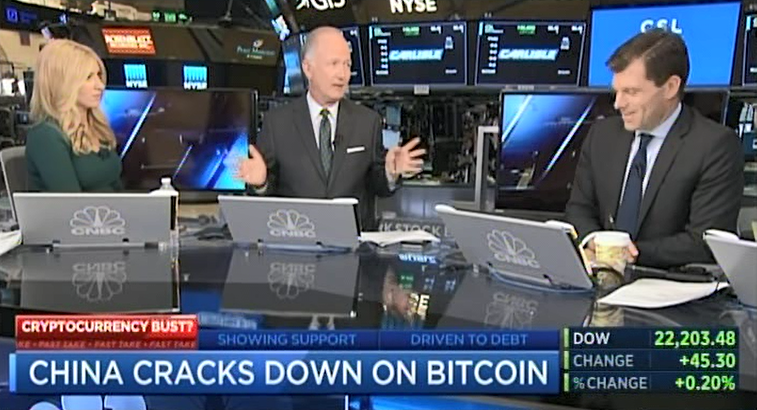 Sara mesmerizes in hunter green on 'Closing Bell'
Trump, crude, cord-cutting, Tesla, Equifax, robot taxes …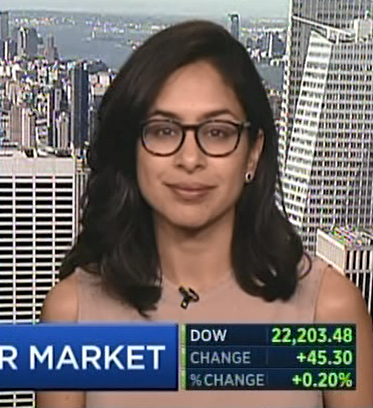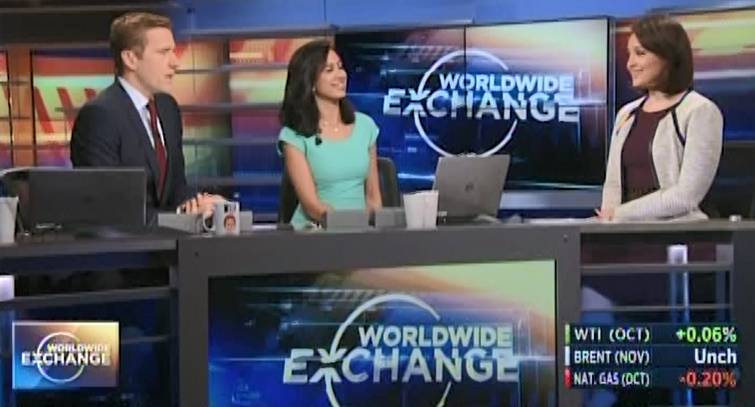 Back-to-back days! Seema opts for 2 outfits
Knee-buckling sophistication with glasses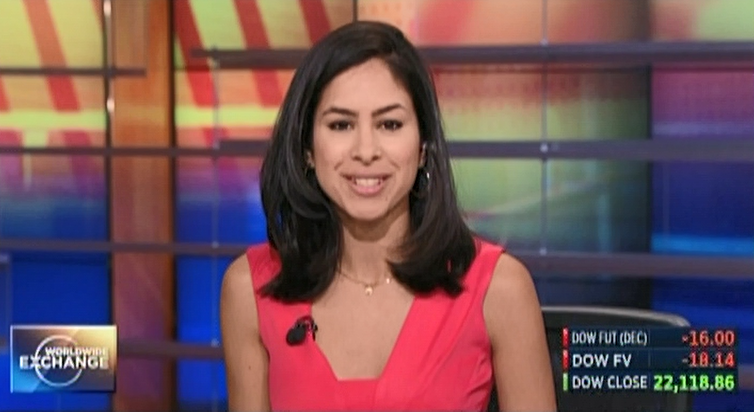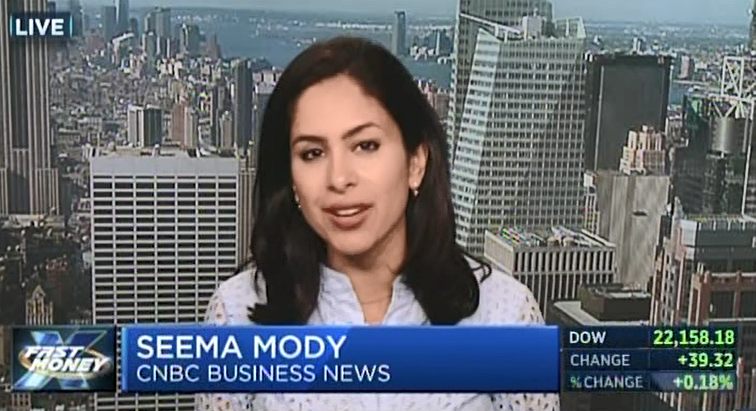 Seema Mody: 2 outfits, 1 day
Stuns in red sleeveless in a.m., caps day in new light-gray look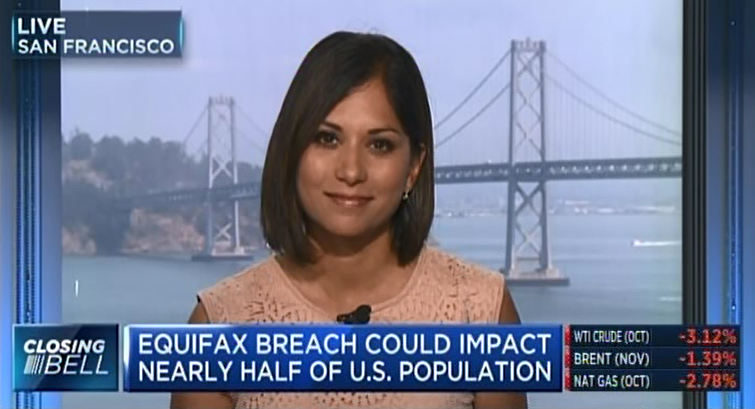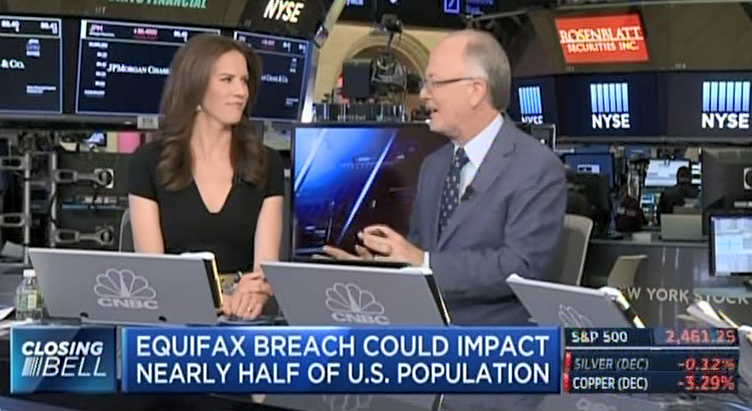 Kelly Evans regrets putting 6 SSN digits on Equifax site
Gorjus CNBC superfox Aditi Roy: "One warning: The company has set up a website for customers who might be impacted. One source however tells me that the site itself also might have some security issues, so be careful if you have to enter your information there"
Bill: "Oh boy."
Kelly: "OK, Aditi, I just entered my information there. Uh, um, What kind of secur- I mean, you know, I was wondering about this, I'm thinking, 'that's 6 digits of my SSN and my name, and now I've turned it over.' And, and you're te- can I go back in time like 90 seconds or something?"
Aditi: "One of the issues with this, is that, you can't put it back, it's like Pandora's box. Is that, once that information's out there, it's out there, and if it has been corrupted, uh, it's out there, you know, for the highest possible bidder on the dark web"
Bill: "I will say, a few people at CNBC back at HQ received emails this morning, telling them that they've been affected. They got it from Equifax itself"
Alain Delon also on hand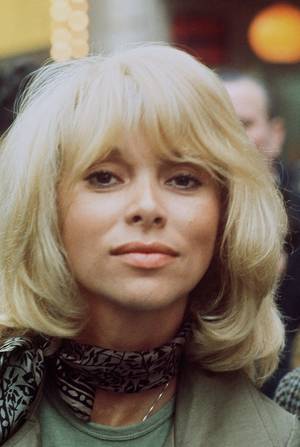 Chose stage name in reference to Joan of Arc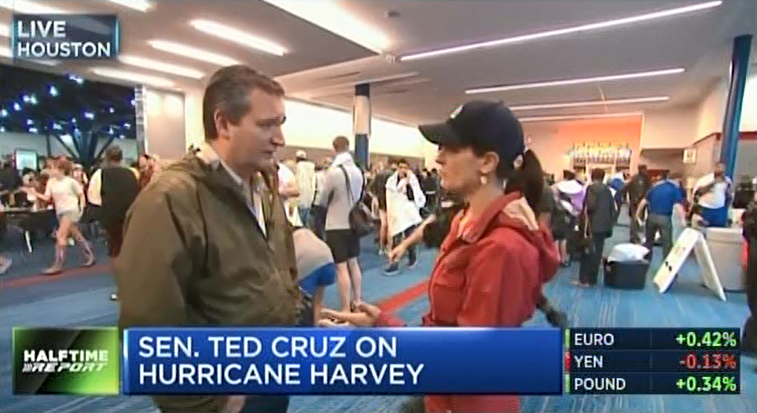 Contessa Brewer in ponytail leads stellar CNBC Texas coverage
In the heart of Houston with Ted Cruz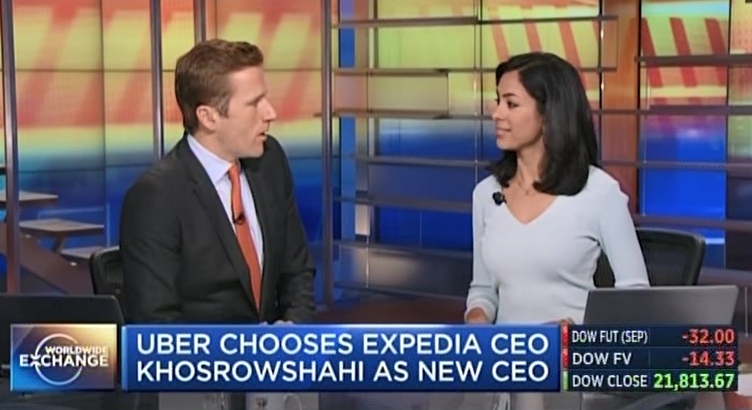 Seema Mody on fire in white/light blue ensemble
New week off to great start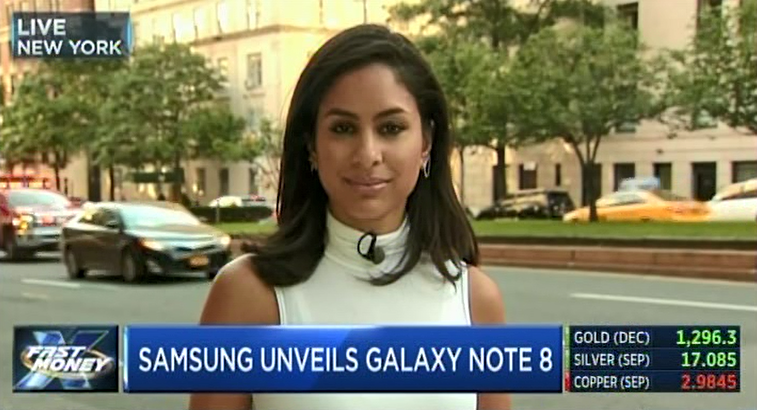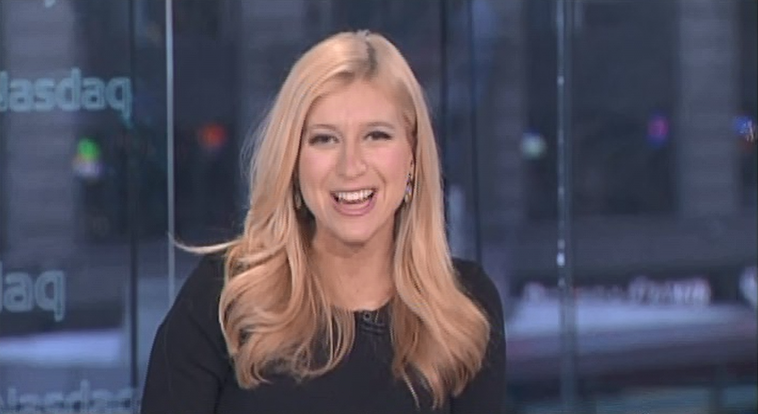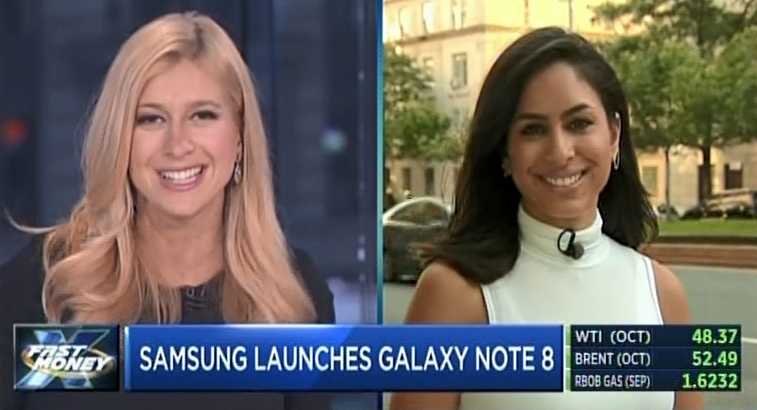 Out of this galaxy — Seema & Sara devastating on 'Fast Money'
Closing the day on a high note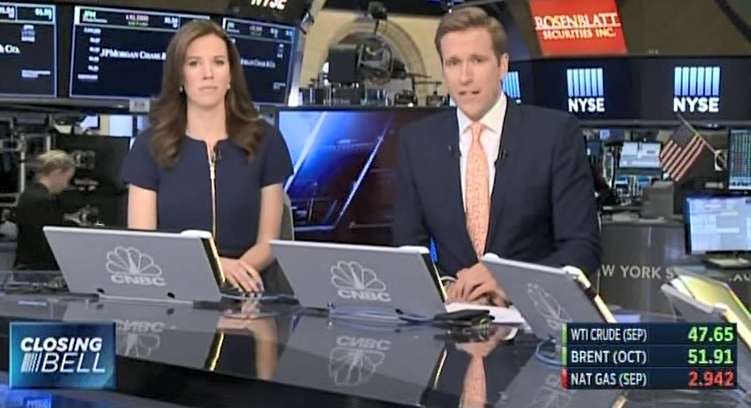 Wilfred Frost estimates Tuesday's suit cost $700
Wilf: "I don't know, 700"
Kelly: "I didn't know if you're gonna go for it. Explosive information!"
Wilf: "I don't know exactly. ... It's not super expensive"
Kelly: "Maybe not for your job. But for a suit, in general, you know, not that I know; I don't know these things"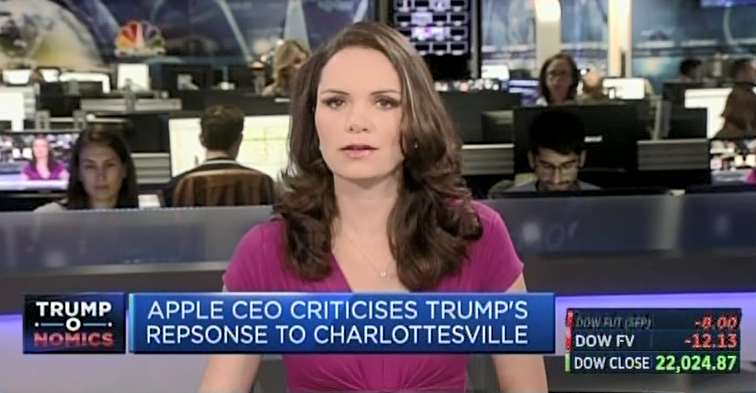 CNBC struggles with 2 words in early morning graphic
But Carolin show-stopping in magenta
Time magazine cover in 1965; honorary Oscar in 1998
Orson Welles: "The greatest actress in the world"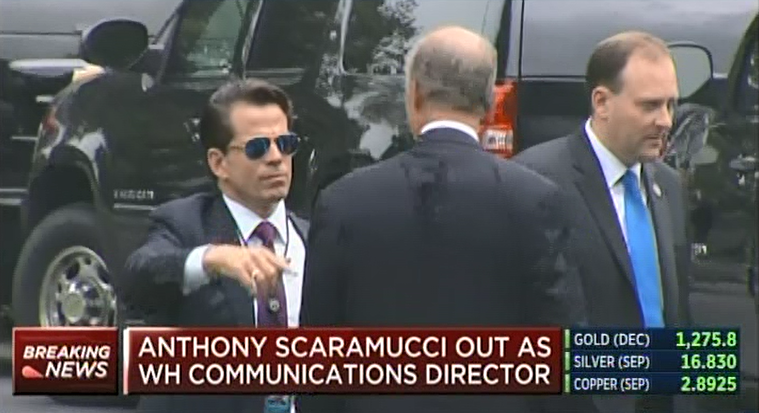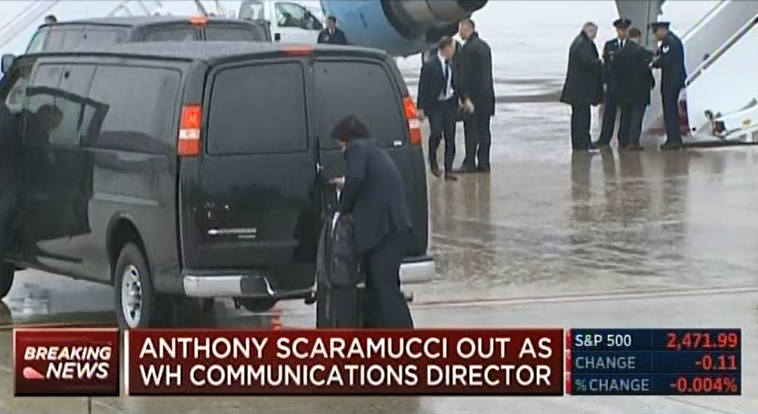 Bust
Sully: "Friendly with many of us … Anthony obviously giving perhaps an unfortunate interview to the New Yorker magazine's Ryan Lizza in which he, uh, used some choice language … maybe the most short-lived tenure of any communications director in the White House"
Melissa: "Remember that initial White House press briefing in which he took the lectern and basically wowed a lot of people, they really thought that, uh, Scaramucci had done an excellent job, that initial day, uh, and then it seemed to be sort of a descent from there"
Tyler: "This sounds like, Mr. Scaramucci, meet General Kelly. Mr. General Kelly, meet Mr. Scaramucci. And that does sounds like it did not go well"
Kayla: "You can bet that this is going to be toward the top of the list of the questions that (Sarah Huckabee Sanders) will be receiving … His appointment in the beginning ruffled feathers … at first the president really liked it, but then when Anthony Scaramucci became the story … reports in Page 6 in the New York Post about his family drama"
John Harwood: "The likeliest scenario, that, uh this is something that John Kelly, uh, who means to impose discipline on the White House staff, uh, insisted upon … Obviously in any normal White House, he would've been fired as soon as that interview took place"
Kayla: Kelly "is definitely not someone that if you are in the White House you want to be messing with"
Tony Fratto: "You can't parachute into those jobs any more than I can parachute into being a hedge fund manager"
Melissa: "It's simply bad judgment isn't it"
Pat Buchanan: Kelly "basically was repelled by what Scaramucci said and the way he said it … and he exercised immediate and swift and decisive command … I think it's an extremely healthy sign of the potential of the general ... his first step was dramatic and impressive and correct"
Sully: "President Obama went through 4 chiefs of staff in 4 years … and that was a record by the way"
John: "This is, um, a disorderly White House from the top, and that's really the problem"
Sully: "Robert Costa tweeting right now saying uh that uh apparently according to his sources the president did not like the vulgarity in the New Yorker article … He does not drink, he does not smoke, he does not necessarily curse … "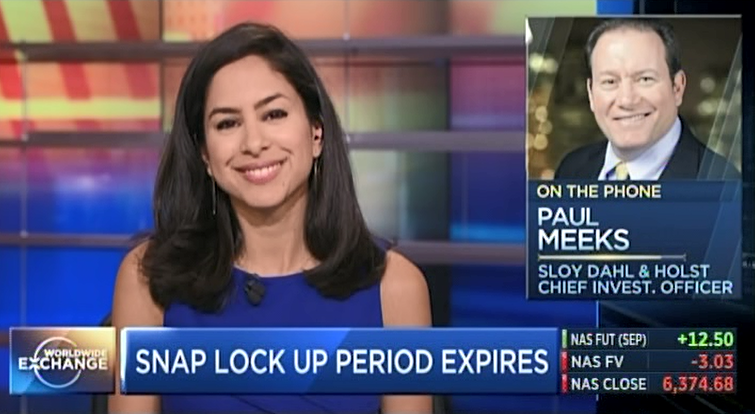 SNAP judgment: Seema devastating in royal blue
Knee-buckling morning on "Worldwide Exchange"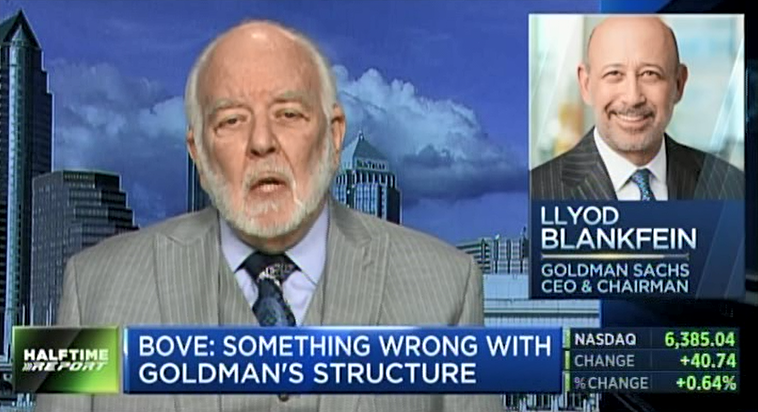 "Judge" Scott Wapner: "They are likely watching uh right now"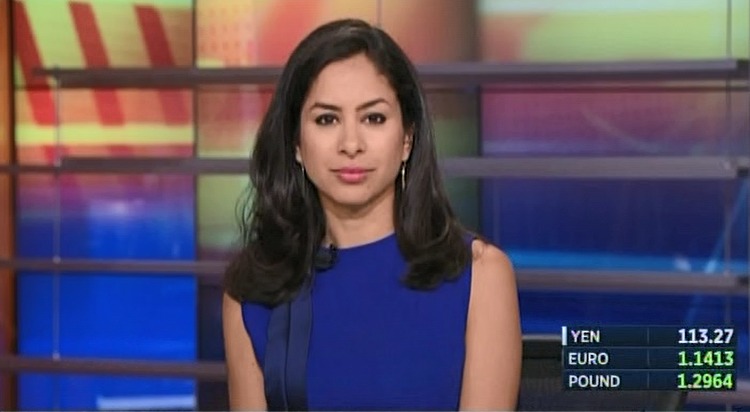 Mrs. Mody, you've got a (stupendously) gorgeous daughter ...
Seema: "Oregon is known for their sea- for their seafood. My mom's salmon is the best that you will ever have. Maybe you'll have it one day"
Wilf: "Well that would be very nice. Mrs. Mody, if you're watching"
Wilf: "I've learned since I moved here that Oregon's famous for pinor noir"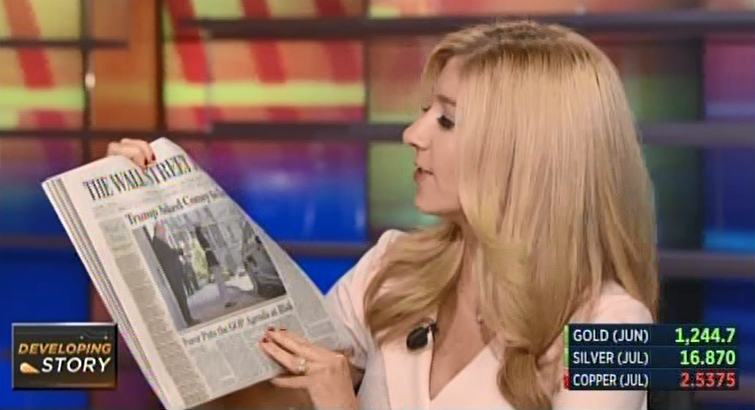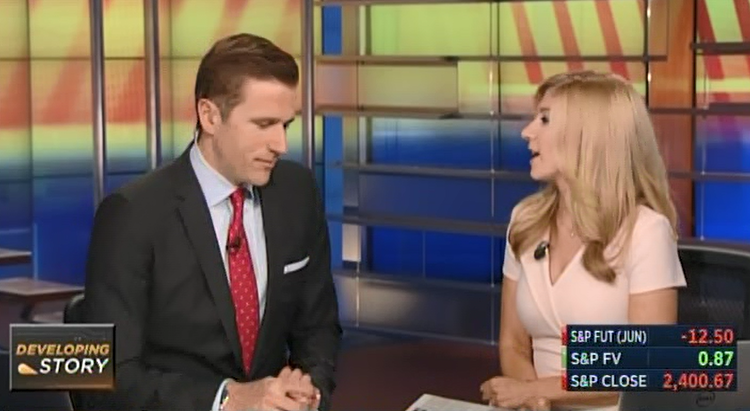 Sara on fire
Scorching in off-white on "Worldwide Exchange"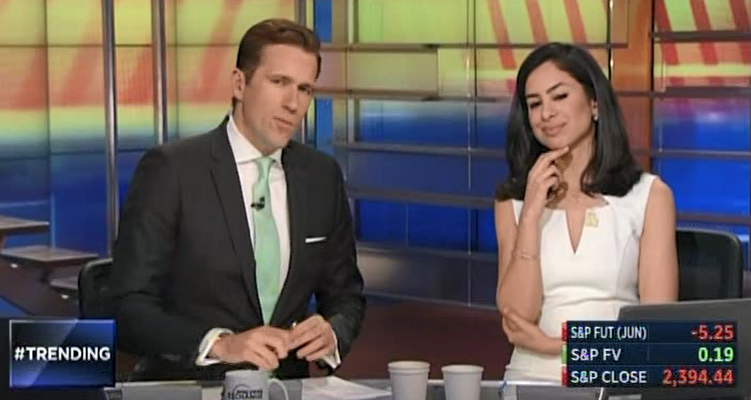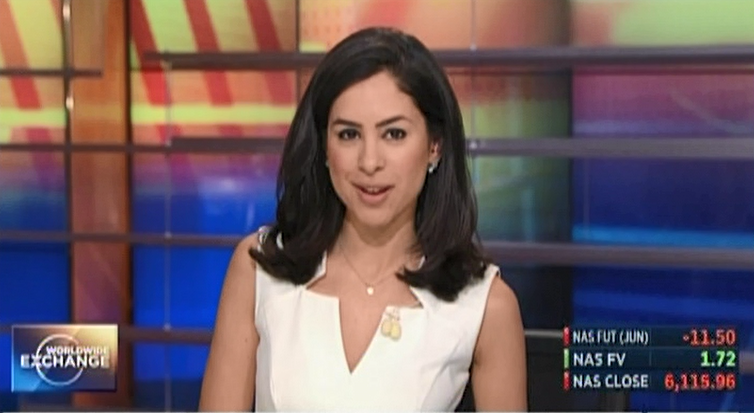 Seema wows in white on 'Worldwide Exchange'
Wants to know Dr. David Dao's financial settlement with United Airlines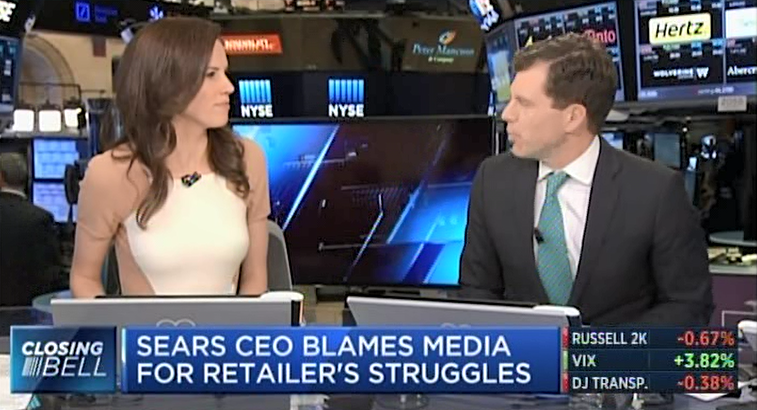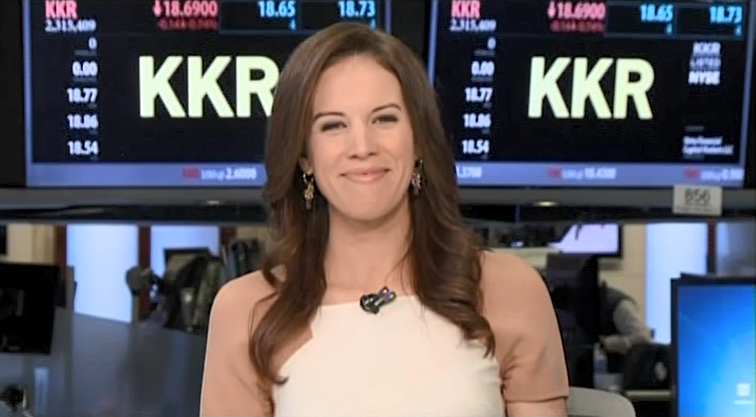 Kelly goes on shopping spree, makes 'interesting' purchases
"This is why I don't run companies. But if I ran Nordstrom, Mike, and I saw these results, I'd go, 'We're turning everything into a Nordstrom Rack tomorrow' … I went shopping for some clothes this weekend because I walk around looking like a high schooler most of the time, and I went to Athleta, and I went to Uniqlo, and I went to J. Crew. And, I, I made some- you know, it was interesting, I made some purchases …"
Santoli on Sears: "I've noticed this for years, there's a kind of a, a strand of brand-declinest porn that goes around out there. When I was at Yahoo for a while, anything that was like 'This old store chain is near death' used to click really well"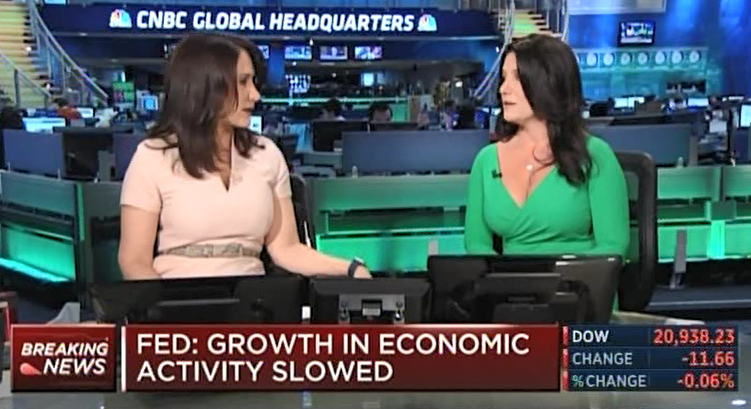 Lookalike stunners: MCC & Danielle DiMartino Booth
Oops: In dovishness debate, Steve Liesman twice calls Danielle "Diane"
Tweet: "Agree w/ your growth comments … BTW: Green (as in dress, not $) looked great"
Danielle: "Much obliged. Green is for GO and yet the Fed said so little"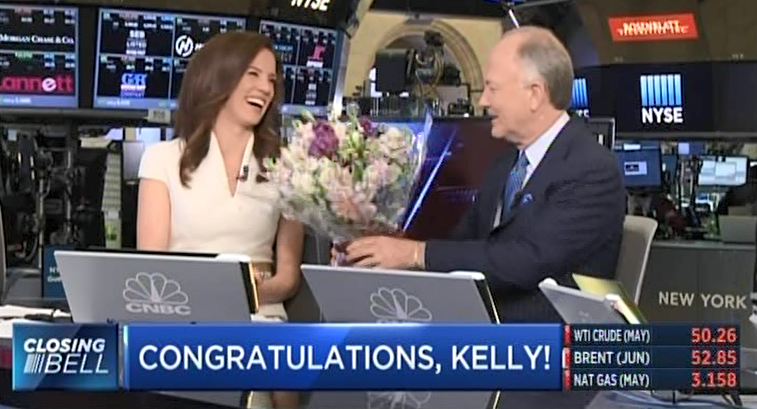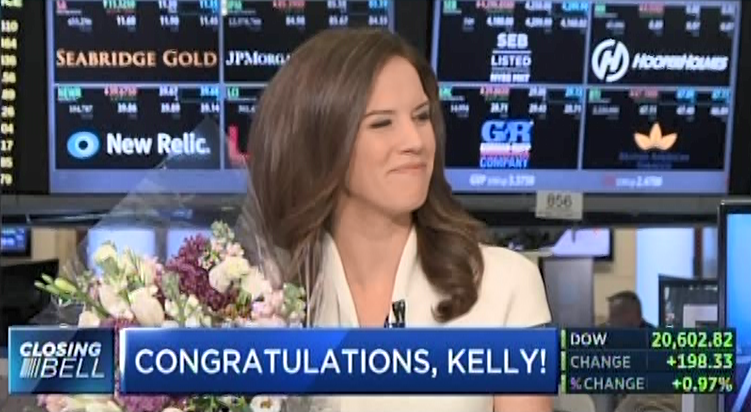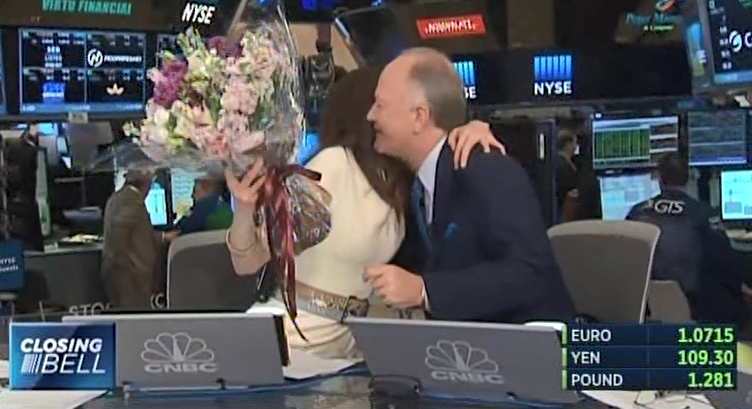 Kelly's getting married! Flowers on 'Closing Bell'
Nuptials on Saturday
Bill: "I only found out myself last hour ... you guys are a match made in heaven"
Kelly: "This is so nice ... This is beautiful. I feel like everybody watching has sort of seen me grow up in many ways, so, thank you all for being part of the journey … I love working down here by the way. These guys, and gals, are fantastic ..."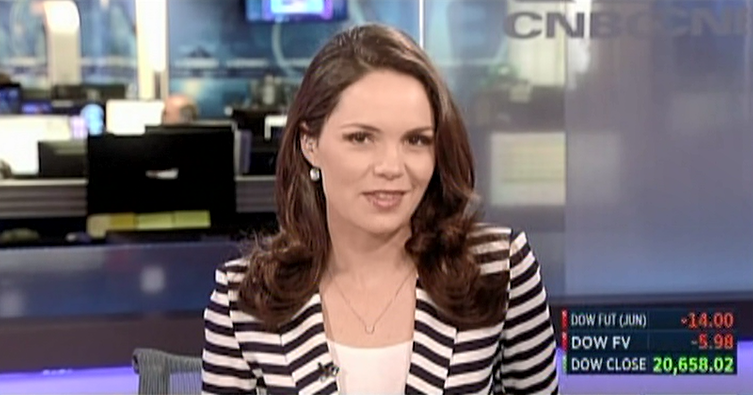 CNBC's gorjus Carolin Roth stuns in stripes
Devastating morning on "Street Signs"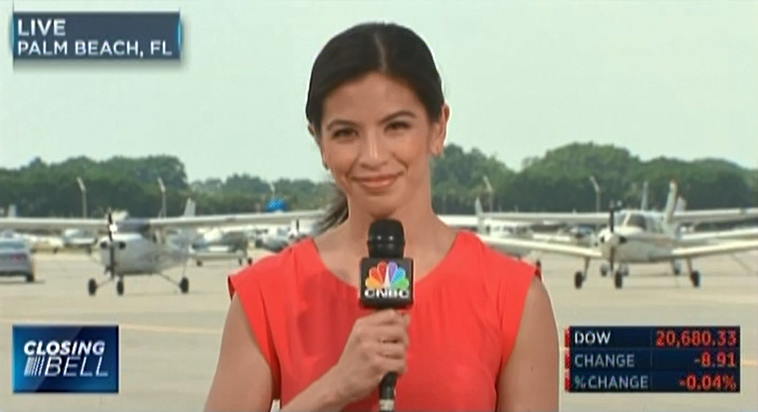 Gorjus Ylan Mui in Florida
Hair back in Palm Beach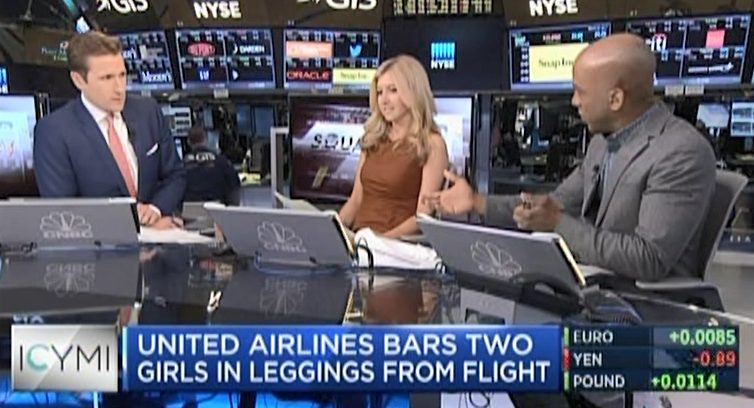 Sara Eisen complains all morning about United leggings policy
"You know I have strong feelings about this … My basic point is, sure, rules are rules. But everybody wears leggings, especially women, especially on planes, especially teenagers, it's more comfortable, this makes no sense"
Jon Fortt: "Everybody wears a lot of things though … if you want to wear your leggings on the plane … buy your ticket. If you're gonna fly on the free ticket, check the fine print … it states very clearly, no leggings"
Wilf Frost (to Fortt): "I think the issue here is that they were 10 and 11 … but either way, they've come on a free ticket, I complete agree with you"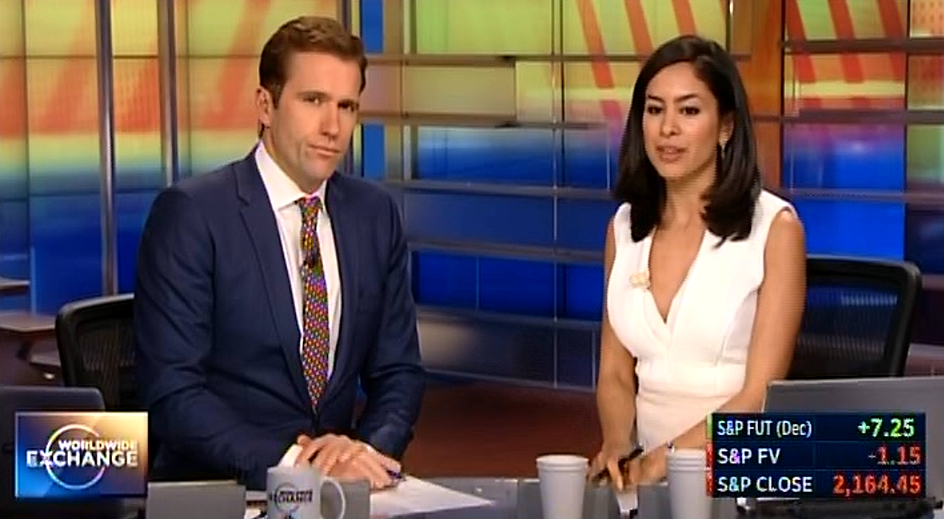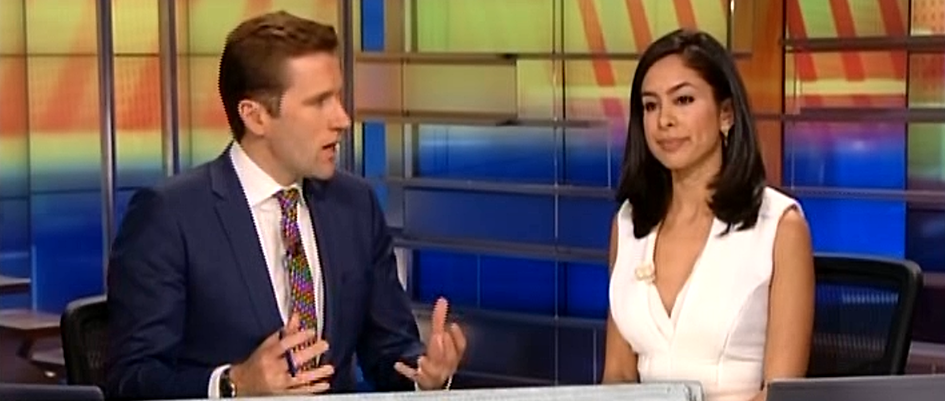 White. Hot.
Mercy. Mercy. Mercy …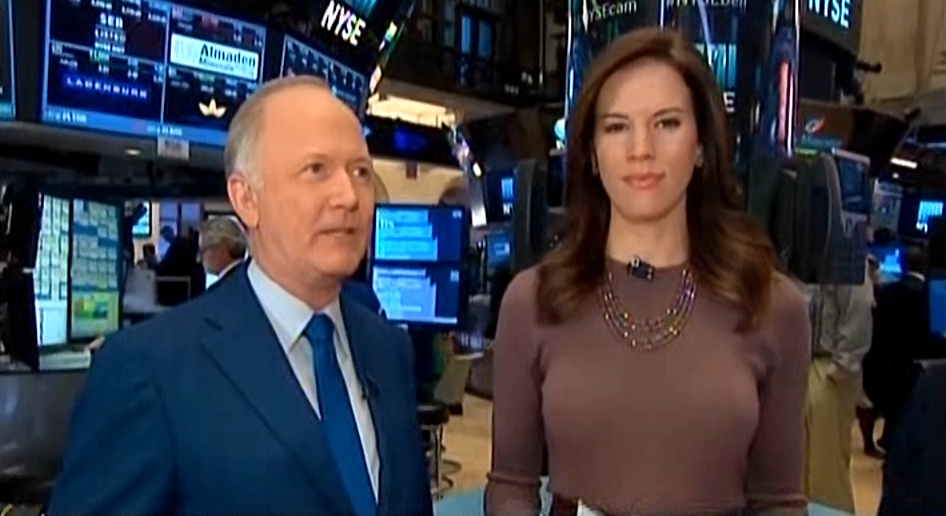 Kelly Evans scorching in Blast-Off Bronze
Brings landmark week at NYSE to spectacular close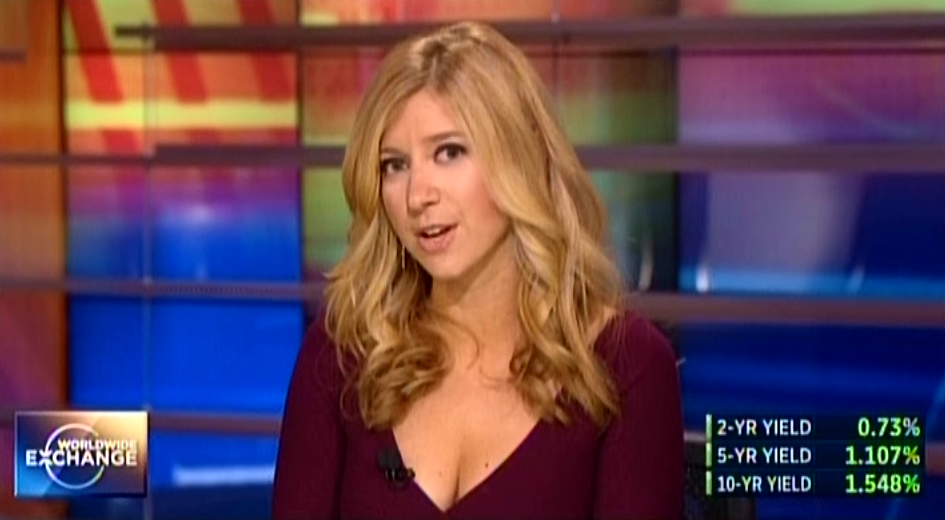 Wow! Sara in maroon on 'Worldwide Exchange'
Early morning news bombshell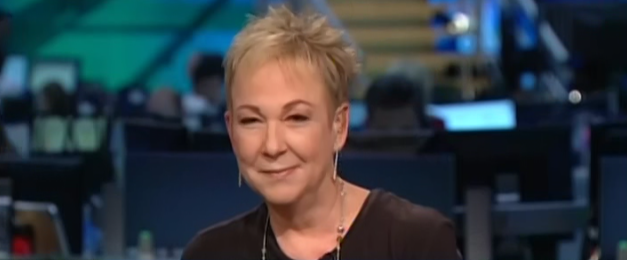 Bachelor's, poli sci, Cal-Irvine; MBA, USC
Lehman call: "People don't pay me to hope; they pay me to make an assessment. If you are managing risk by hoping that somebody is going to buy Lehman Brothers or whatever other bank is in trouble, you're not really doing your job"
Jeffrey Gundlach: "For a quarter century Bonnie was my trusted colleague and dear friend. She was honest and direct, with a sardonic wit perfectly matching her investment skepticism helping shape the DoubleLine philosophy"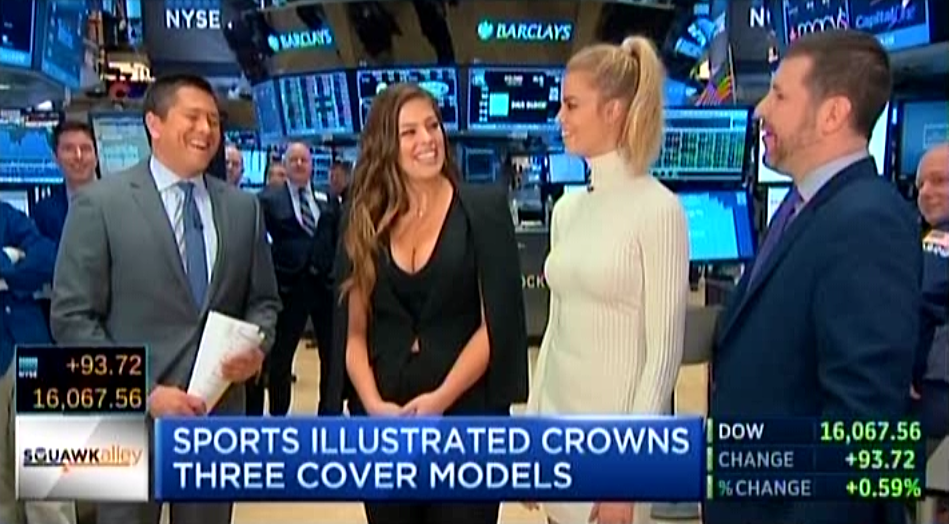 SI models stop traffic on NYSE floor
Hailey Clauson: "I mean our career is going to explode off of this. I mean, we can create businesses. Our name and our word actually mean something now"
Ashley Graham: "I had been told, you're too fat, you're too skinny, you're too ugly, you're too pretty, and at the end of the day, the moment that I said, you know what, screw all of you guys, I'm gonna do what I want to do, that's when I had my voice, and that's when I started changing the lives of so many different women"
As always, SI male accompanies the ladies to talk about the business angle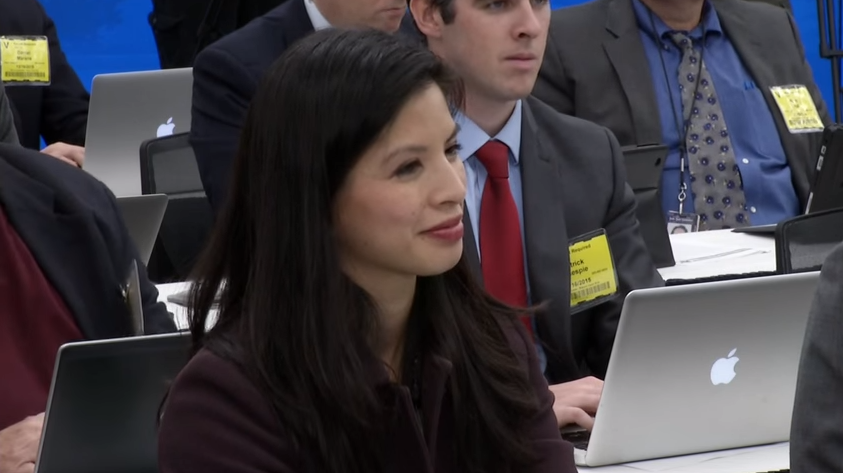 "You said earlier that expansions don't die of old age, but I think the other half of that is that it's often central banks that kill them off instead. So I'm wondering, um, how worried you are about the possibility that the Fed will have to turn around after hiking rates; um, other central banks that have tried to raise rates have had to do just that. Um, how damaging you think that might be to the Fed's credibility"
Answer: "So, when you say that um, central banks often kill them, I think the usual reason, um, that that- that that has been true when that has been true (sic redundant) is that central banks have begun too late to tighten policy, and they've allowed inflation to get out of control ..."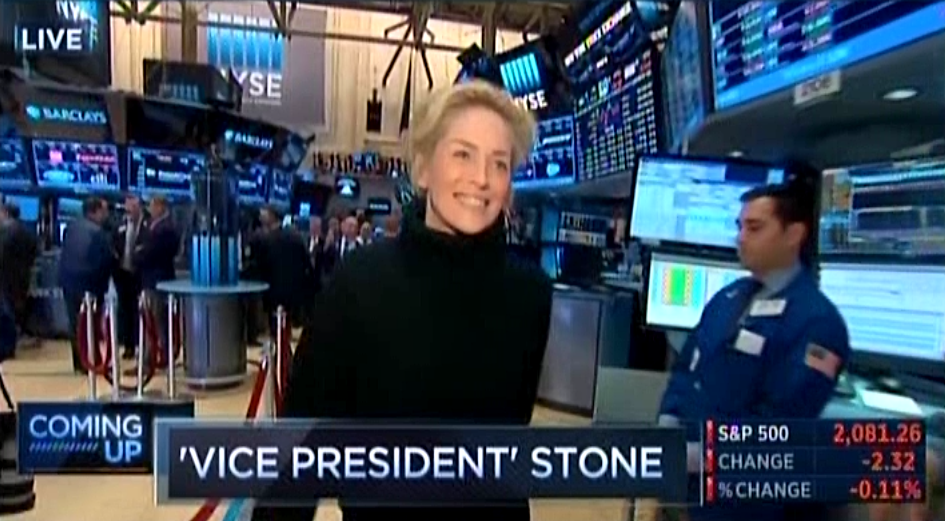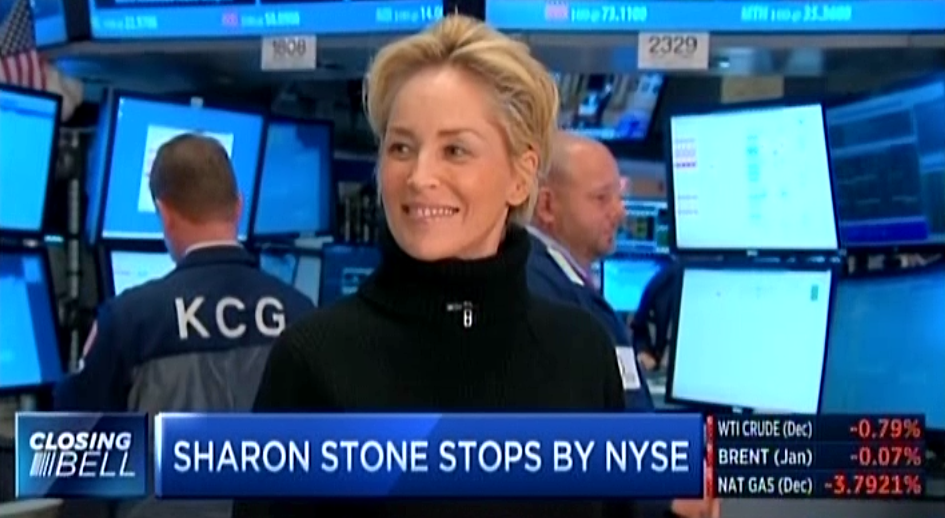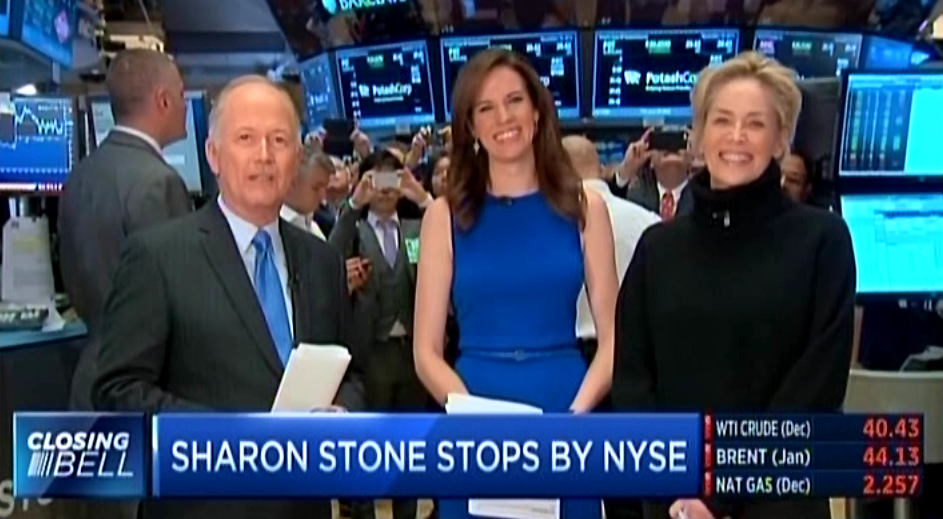 NYSE traders oblivious to Sharon Stone; fans take pictures
Evidently is playing a vice president in a TV show
"As someone with few friends, he considers business deals his way of forming relationships. (He compares doing a business deal to going out for margaritas with friends. For him they share the same pleasure space.)"
Impressive: "You can ask me anything" ... "Call me anytime"
"The Profit" supporter: "He's amazing to work for and amazing to know. He's brilliant"
"The Profit" detractor: "He's an arrogant, self-centered egomaniac narcissist"
CNBCfix editor's note: This article is a month old but was just discovered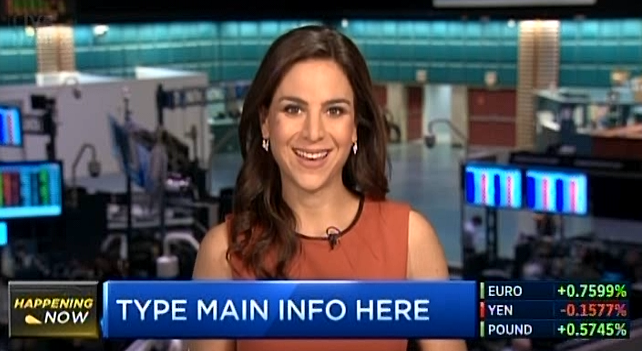 Uh-oh — someone at CNBC forgot to type the main info here
They should come up with a better strategy for dummy text
Passed
Ending: "Deals get done when there are deadlines. We'll see where it goes"
Tavern on the Green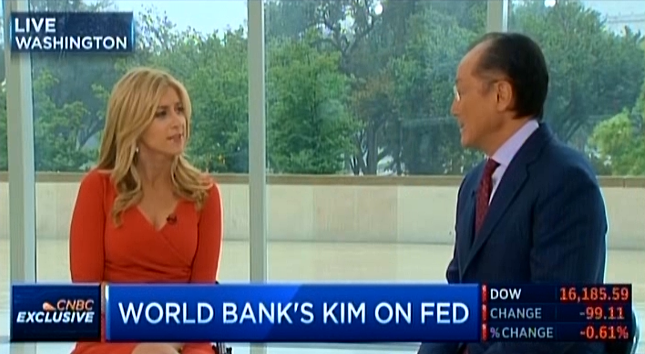 CNBC's Sara Eisen on fire in red
World Bank conversation was never so exciting
"I replayed the sequence 5 times right after the game and I still have no idea what Simms really thought or how he could go from asking why they would kick to saying they should definitely do so in the space of 10 seconds"
Disbarred in January
Team's best in 2 years
Denver: 69 share for Broncos' game
"Significantly more than the typical $50,000 that CNBC charges for its sometimes schlocky commercials for personal grooming products or gold buying services"
Ratings: Presumably channel will be OK with Nielsen this time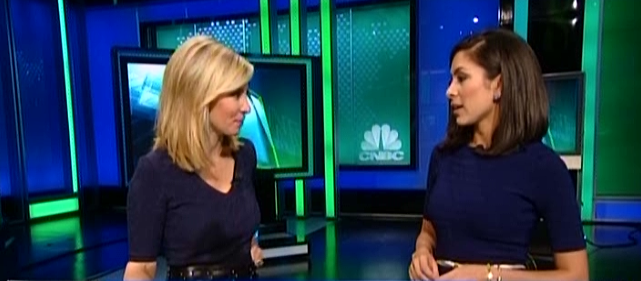 In the navy: CNBC sailing with Amanda Drury & Seema Mody
Teaming up on "Power Lunch"
Highest ratings on Sept. 13
Pregame: Joe Kernen, Kelly Evans hosting special programming
CNBCfix comment: Great move to limit main field to those at 3% or better but let's end this publicity welfare of an "undercard" debate among hapless candidates who shouldn't be in the race ... if you can't poll 3% at this stage, you do not deserve to be considered a "candidate"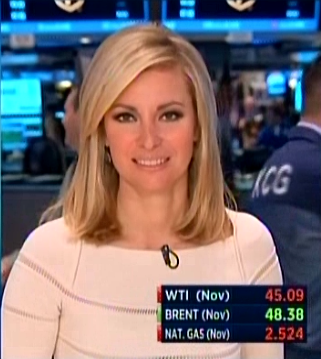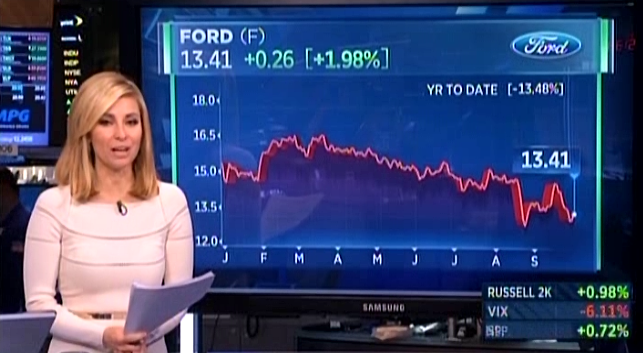 CNBC's Mandy Drury in beautiful, mesmerizing outfit at NYSE
Fashion breakthrough on "Power Lunch"
"I saw those incredible flowers, and I saw those great big giant pictures of Adam and Alison and the viewfinder. That's all I saw. You can't all of the sudden stamp the place with tragedy. It has been nothing but economic development, growth, families, vacations, happiness"
Struggling to walk to mailbox: "Everyone says, 'Oh, you're doing so well,' but they don't know that it was the careful placement of timing — from the medications and laying in my bed all the way up until the moment that the car was already started. I don't want to disappoint anyone in the process, but it is what it is. So, I give it what I've got"
1 p.m. Eastern start outdrew each of channel's prime-time matchups
"A movie about the nuts and bolts of domestic policy ... doesn't stir the conspiracy loins the way some of his other movies do"
"I turned on the light and clearly saw a spider running across the floor before hearing two stewardesses screaming 'Spider!,' but I wasn't sure if I had been bitten as it really wasn't very painful"
"This cost reflects the amount paid by the bride and groom for meals that were RSVP'd for, reimbursement and explanation for no show, card, call or text would be appreciated"
ATV club's treasurer allegedly steals about $23,000
No. 145 on Forbes' list
"Lou Dobbs Tonight beat CNBC in total viewers for the month of September. CNBC aired a variety of shows, including 'West Texas Investors Club' and 'The Profit'"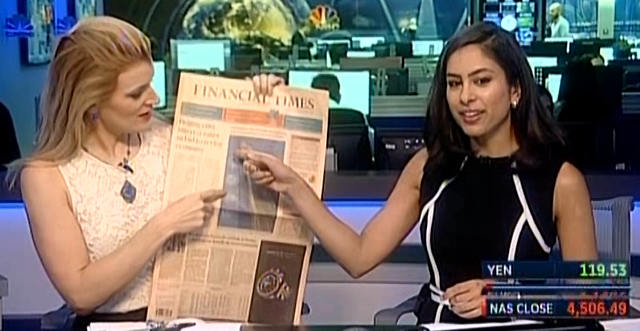 CNBC's Louisa Bojesen: 'I never go on dates'
Louisa: "Front of the FT this morning, they make a point with a big picture of the Shard, saying the Shard has defied the doubters as setting record rents for the South Bank. Here's like a little picture of the Shard, so it's a huge building in London-"
Seema Mody: "Have you ever been up there?"
Louisa: "I haven't. Have you been?"
Seema: "I hear it's a great date spot"
Louisa: "Really?"
Seema: "Yeah, I'm told"
Louisa: "I wouldn't know. I don't know. I never go on dates"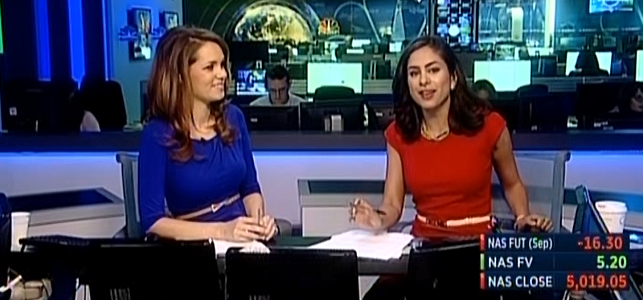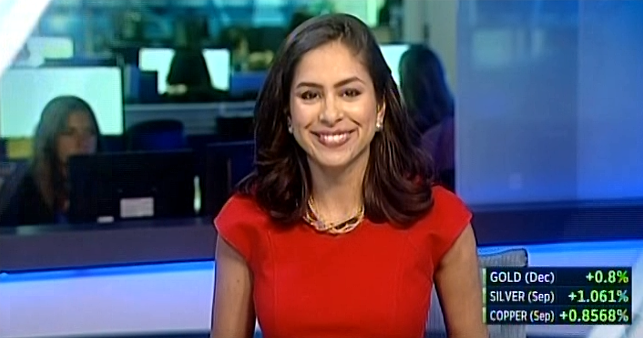 Blue & red: Carolin Roth & Seema Mody on 'Worldwide Exchange'
Carolin: "Would you wear this dress for 30 years if you could?"
Seema: "I may see; if it still fits me, why not?"
Carolin: "Why not, right"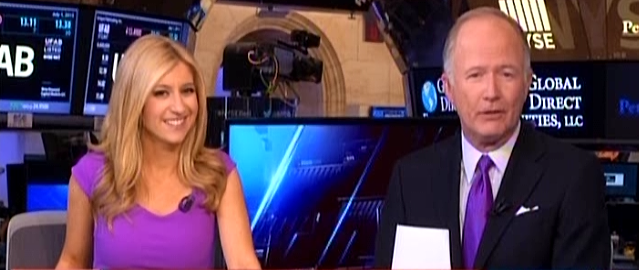 Bill Griffeth: Sara and I didn't coordinate purple attire
Bill: "This was not planned. Yes, we match, but it was nothing"
Sara: "We're just so in synch. We don't even have to tell each other"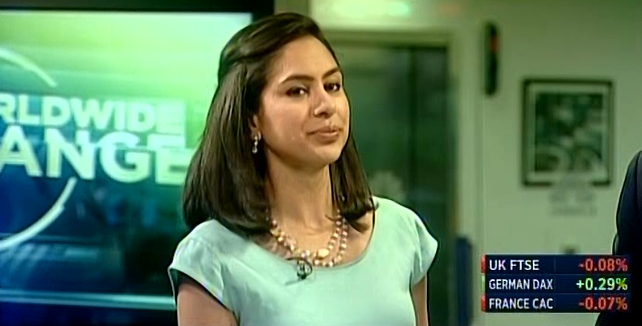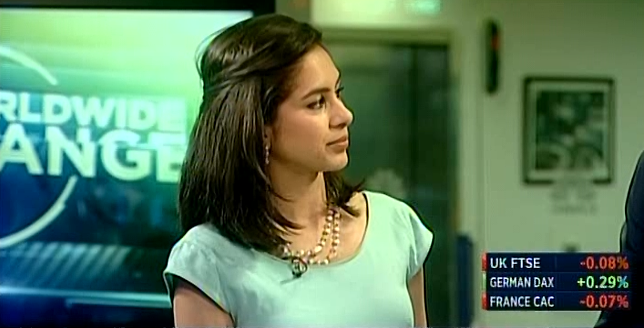 Seema Mody wows in mint green
Hears Wilfred Frost decry the existence of voicemail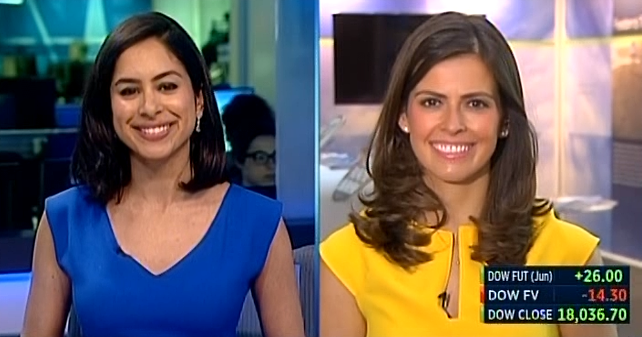 Blue & golden: Seema Mody & Nancy Hulgrave on 'Worldwide'
CNBC producer in spotlight in Madrid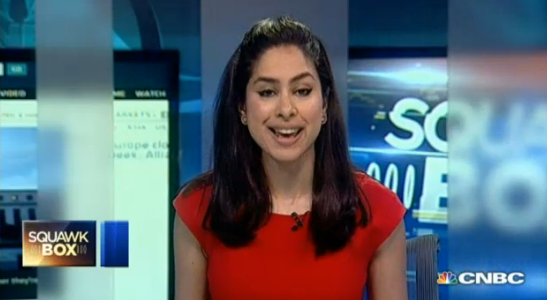 Seema Mody takes day off, gets haircut
Back on "WorldWide Exchange" after long weekend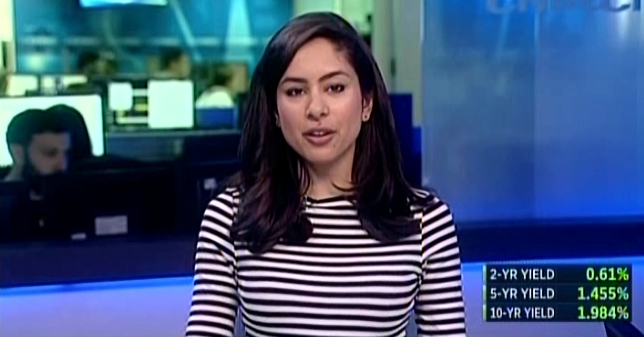 Seema Mody in stripes
CNBC's "Worldwide Exchange" ends week on a high note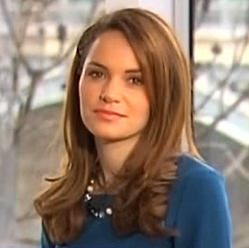 Stanchart interview closes with a visual flourish (above)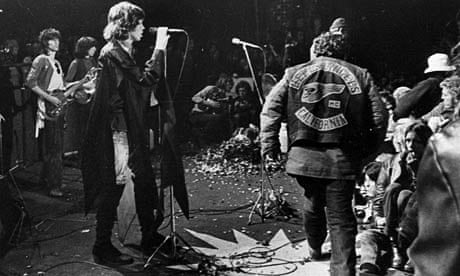 NYT: "Made ends meet by doing television commercials for large corporations like IBM and Merrill Lynch, then made their early reputation with 'Salesman' (1968)"
Credits: Worked on Sports Illustrated's annual swimsuit issue
Other than digs at Cosell and Esiason, "Miracle" man prefers compliments to controversy
The contenders: Gowdy, Scully, Buck, Costas, Nantz, Cosell ... is Al Michaels
the greatest sportscaster of all time?
"The apparent cause of Rich Ilczyszyn's tragic death was a pulmonary embolism caused by deep vein thrombosis, Rich's coworker told us today"
Family: "Rich had a love for life as well as an appreciation for the fragility of it. He always encouraged others to live fully and spend time with those they love and hold dear. iiTrader is a testament to Rich's inherent creativity and resilience. iiTrader will continue to innovate and move forward"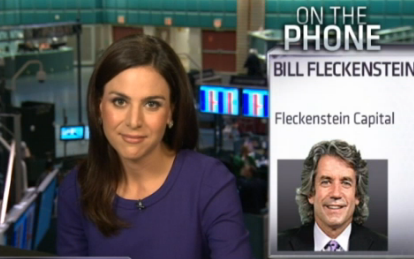 "The certainty with which the woman that I got interviewed by this week sees the future, and the need to be involved in stocks is rather remarkable since most talking heads don't know anything about investing"
Still waiting: Article notes no sign of short fund promised since late 2013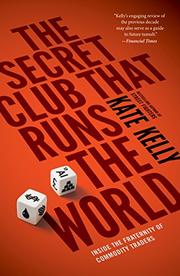 Kate Kelly's dry account of commodities world fails to pose an important airline question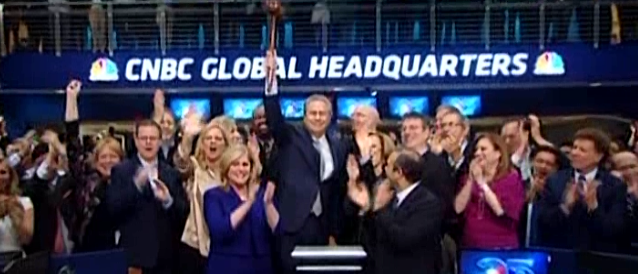 "There's been a lot of highlights ... I would say the proudest I was of the organization, was in the- leading up to the financial crisis in 2008, and the year or year and a half or so that followed it, I felt like, as if all of the hard work that had gone into building the organization over the first 20-plus years, or so, had really paid off ... I was so proud of the way CNBC not only reported the story, but the way they treated the seriousness of those events"
Tears: "Do I see a little moisture in your eyes, Tyler?"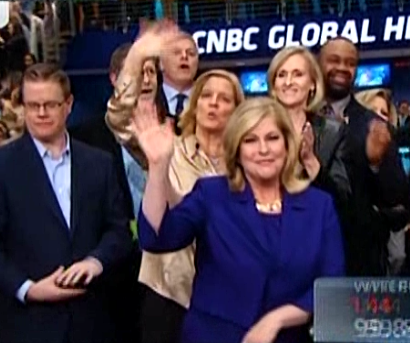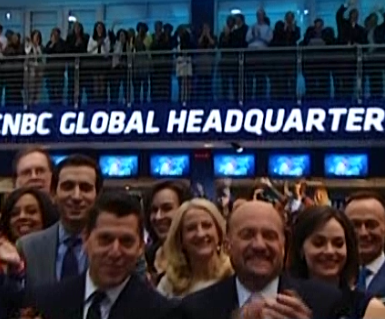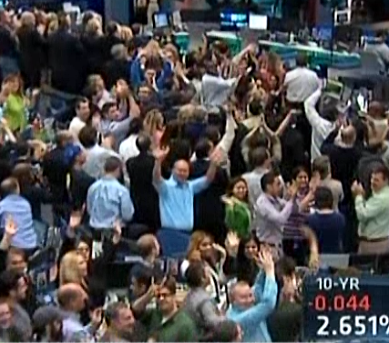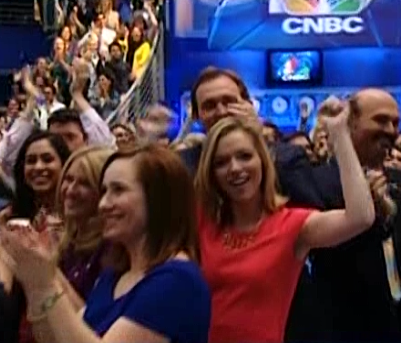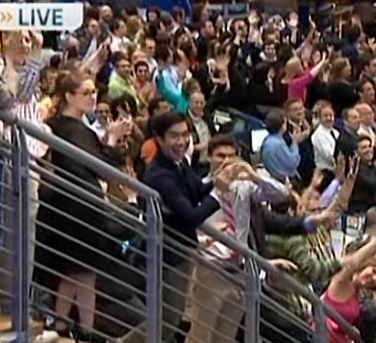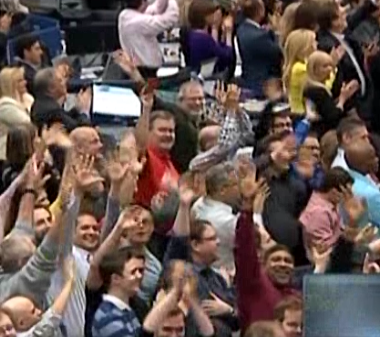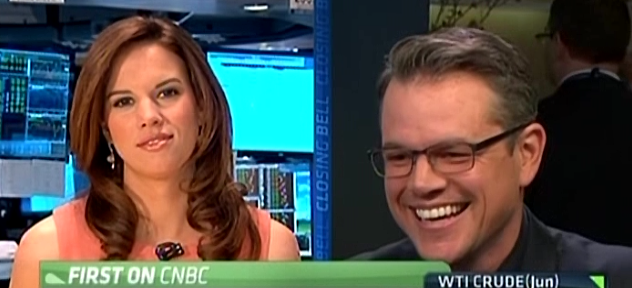 Kelly Evans: "Matt Damon, if only you could play a superhero who could deliver clean drinking water to the world's poorest, uh, dare I ask whether you could play Aquaman and in fact leverage your celebrity to draw attention to this cause through this new movie that potentially uh, rumors are out there you could play Aquaman in"
Matt Damon: "Playing 'Aguaman' (sic)? Is that the ..."
Evans: "A-qua"
Damon: "Sorry, that's a terrible joke"
Evans: "You can go the Spanish route if you want to. I mean-"
Brian Sullivan: "There is international distribution for the Justice League, so it's fine. It's the character plays (sic)"
Damon: "We're huge in Latin America, Um, uh, no, well, you know, since they, since they made Ben Batman, I've been showing up at his house every day dressed as Robin, but um, my little campaign I don't think has, has gone too well so far. So far I haven't been contacted by anyone to, to be in the movie, but with Ben in there-"
Evans: "Would you do it though Matt? Because look you have to say it would make a certain amount of sense for this cause, if you did it ONLY for this cause, it would actually make a certain amount of sense ..."
Damon: "Well, all right, uh, uh, I'm open to being in any good movie as always; it might be a bit of a stretch ..."
Karen Finerman: "Well my first response was I just could not believe he said it. And so I, I wanted to make sure that I had it right, and I went and I looked at the video, and of course you just showed it, so yes, he said it, and, uh, I, I, I know, I know that he's apologized, that he didn't mean to offend anyone, and I believe he was saying it, he was- an attempt to be very candid, I can't believe also that he didn't think that will- would never get out, but it's sort of- I mean on so many levels, it makes me wonder, 1, what if you don't nurse, do you not then have that- are you, do you keep your judgment then if you don't nurse. That's sort of something that popped into my head"
Amanda Drury: "And also, is he also saying that global macro traders that are guys are not great dads because they're always off 24/7 on the phone trading stuff"
Karen Finerman: "Right, I just- I don't really accept that premise either. If you are a mother, I really sort of do wonder, how long this would knock you off your game for. And, it, I don't know, on so many levels, I know so many women, far more successful than I, who have done an extraordinary job of raising kids, and also, uh, you know, trading, trading their books"
Michelle Caruso-Cabrera: "I think Paul Tudor Jones said out loud what we all know to be anecdotally true. That women, it's not that they don't have the ability, it's just, if they have a child, priorities tend to change. It takes up a lot of time. A child is a huge, huge commitment. And so-"
Amanda Drury: "And not necessarily a bad thing"
Michelle Caruso-Cabrera: "It's not necessarily a bad thing, he's not saying that, that they can't do it, it's just, it gets a lot tougher. Priorities often change. And I think Karen, you are awesome, but you are the exception I think that proves the rule. Let's face it: How many other women are on 'Fast Money.' I mean when you look at the breakdown of people- when you look at the breakdown of people who are on CNBC. It's a guys-and-ties network. I mean let's not kid anybody!"
Karen Finerman: "Yes I hear you-"
Brian Sullivan ridiculously removes tie: "Here we go, no more guys in ties"
Karen Finerman: "Let me just add 1 thing"
Brian Sullivan: "I don't wanna get accused of dodging the conversation. All right, I know hedge fund managers that have what they call the large-house indicator. Right. What they say is, if they have an investment manager, or a fellow hedge fund manager, whatever, that starts to build a new mansion, they will often times use that- or CEO of a company, they'll use that as a negative and either get out of it or trim, because building a home is a year-long process, takes a lot of energy, you're not focused on what you're doing. So I don't think just has to be about gender. If you've got any big undertaking you take on, that reduces your focus. I'm not defending what he said-"
Michelle Caruso-Cabrera: "Except this happens to be about having babies for women, which is just a huge thing in, in most women's life"
Brian Sullivan: "If I was a hedge fund manager and a CEO of a company bought a 200-foot yacht, I would sell the shares of that company probably short that next day"
Karen Finerman: "I mean also there's the private plane indicator, you get the private plane, you're not hungry anymore, then you don't care. I, I don't really buy that, I think it also makes the case that women don't have the judgment to know, after they've had a baby, whether or not they are still interested in being in the game. Now that may be his experience, and I believe him when he says that's what he's found to be true, and he gave a couple examples of a, you know, two women from Maryland the '70s, he probably has more recent examples than that, but is he just open to the possibility, the possibility, that maybe it's not true, that there will never be just as many women investors as men, never, period, end of story. Isn't it possible?"
Amanda Drury: "And the other thing is Karen, and you've touched on this, I mean, we would've said in the past, it would've been decades, maybe not even so long ago, we would've said that we can't have a good female doctor, she can't possibly be on call because she's got to be at home feeding her child at night. Right?"
Karen Finerman: "And now look. Now look, there are just as many women, or maybe it's about the same number of women graduating from medical school as men and you're right, years and years ago, that was thought as an impossibility"
Commodities king laughs off report, calls Oracle's 45% loss "inexcusable ... poor trading"
Told Brent Hunsberger of Oregonian in June: 'Warren Buffett is an idiot'
Responded to reader critics at Oregonian site: "Last year I did indeed lose money... 2%.
Other than that, for the previous 14 years I've averaged about +12%, with 22% as my best year.
... I'm also long of Goldman Sachs and Loews while short of Berkshire Hathaway for the past
two months, and have added to that trade along the way as the profits have built up."
Ignored? Days later, CNBCfix was only media site to pick up jaw-dropping Oregonian story
Jeff Macke on BRK-B short: "Congratulations to Dennis Gartman, who saw this coming"
CNBCfix exclusive: Baseball needs to scrap "leagues" and give fans intra-city rivalries
Overreaching documentary shows strengths, weaknesses of anchor, could use Tim Seymour
One sentence by arrogant chap deserves scrutiny for puffery at the expense of logic
Carl Quintanilla has some interesting stories, but lacks comment from Queen of Talk herself
CNBCfix review: Scott Cohn's "Secrets of the Knight" has good but unfocused material
Outsourced CNBC original with Melissa Francis mostly seems like promo for NBC broadcast
Doesn't dig as deep into infomercial ads as it could, but cuts like a Ginsu knife
CNBCfix exclusive: It doesn't provide "competitive balance," but manipulates stars
All from Jared Bernstein's fee: Consider Tony Paradiso a must-read at nashuatelegraph.com
Becky Quick, Erin Burnett, Trish Regan appear to make hot list, with nod to Maria Bartiromo
(Ex-)CNBC reporter/Arabic scholar/beauty praised by philanthropic American Ireland Fund
Impressive documentary of mortgage collapse will appeal to the pros and the laymen
Lackluster documentary is decent, but Trish Regan puts on a fashion show
CNBC travel correspondent Peter Greenberg digs into Norwegian Pearl's financials
CNBCfix.com ©2018