Paper: "At the beginning of the decade, shortly before the Amazon boom was underway, Seattle's median household income was just $60,200 — about 20% higher than the national median household income at that time. As of 2019, Seattle is 56% higher than the national median, currently $65,700."
"The Pac-12 has not received an indication it would be ineligible for the College Football Playoff due to its reduced schedule, sources said. Even if the Pac-12 doesn't have a team worthy of inclusion in the four-team field, the eligibility component is important so it can be in position to collect the sizable payout. Last season, there was a $66 million base payout to each of the Power 5 conferences"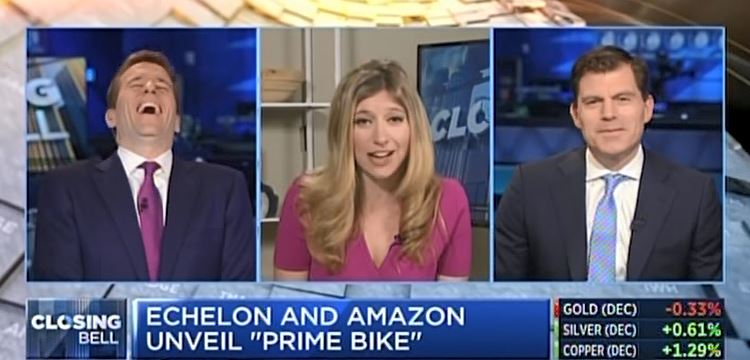 Sara has a Peloton, cracks up Wilf with Alex Toussaint slogans
Wilf: "Competitor Echelon unveiled a new low-cost exercise bike in partnership with Amazon"
Sara: "Well, I mean it can't be as good unless they hire Alex Toussaint, because that's the secret weapon when it comes to Peloton classes, but-"
Wilf: "Are you now a big Peloton user?"
Sara: "I've had to be (laughs). There's nowhere else to go."
Wilf: "I can't believe we haven't talked about this."
Sara: "And when it comes to cost; it's similar to a gym membership."
Wilf: "You slightly mocked me when I first got mine, but, uh, I knew you'd follow."
Sara: "Then I caved. But- but and then I discovered Alex, and now I inhale confidence and exhale doubt. And I think he's wonderful. But I would say (Wilf laughs), it's a reminder that the, that the, that the barrier to entry here, Mike Santoli, might be pretty low, that people can just- that other companies can just do this."
Wilf: "Right, well, I think what you do isolate though is that the barrier is not necessarily the hardware piece the barrier is the entire kind of network, the social aspect to it, the media, uh the kind of caliber of stickiness ... I'm not sure Peloton's quite gotten to the point where it's a verb yet uh, you know universally, but it's getting close to there."
Paper: "He was known for his swooping camera movement and gritty, urban lighting, and his work illuminating New York City on 'Taxi Driver' (1976) earned him the nickname 'The Poet of the Sidewalks'"
"Bars were something that we thought about early on, but it took a while for that to take off, especially with Gov. Sisolak opening them and then closing them a month later"

He said: "What deal can we have, crazy Nancy?"
The speaker: Don't "worry about that ... let that be your biggest problem of the day"
"Mad Money" apology: "It was a tongue-in-cheek attempt to make a point about the harsh tone of negotiations in Washington. But it fell completely flat and I apologize for that"
Activist: "Patronizing and condescending bile ... It's time that CNBC takes steps to remove toxic misogyny from its airwaves, and that starts by firing Jim Cramer"
CNBC.com: Includes clip of interview, no story about comment
Trump: "Jim, you didn't make a mistake. It's true, and that's why you said it. No pandering!"
CNBCfix opinion: Unless speaker calls for punishment, nothing's happening
"Barely 14 hours after he questioned Maria Taylor's outfit"
"He didn't even use one to ice Titans kicker Stephen Gostkowsi, who missed three field goals and an extra point in the game"
Fraser "let Corbat know that she was getting interest from executive recruiters to run a major bank, and if Corbat wanted her to stay, she needed to be promoted, according to people with knowledge of the situation"
Paper: "Growing up in North Miami Beach, Florida, he'd already done well in information technology with his own company, Computer Classified Incorporated. That is, until his high school sweetheart and eventual wife of 35 years surprised him with a 30th birthday party at a WhirlyBall location in Miami"
"In a few weeks, another round of eighth-graders at Catholic schools across the Chicago area will begin the competition, now entering its 13th year, and learn about saving and investing, how the stock market works and about careers in business and finance"
"Required to operate at limited capacity. In this case, that means 25%"
Mark Hackett: "There's really very little to justify (these big stocks' upward move) other than euphoria"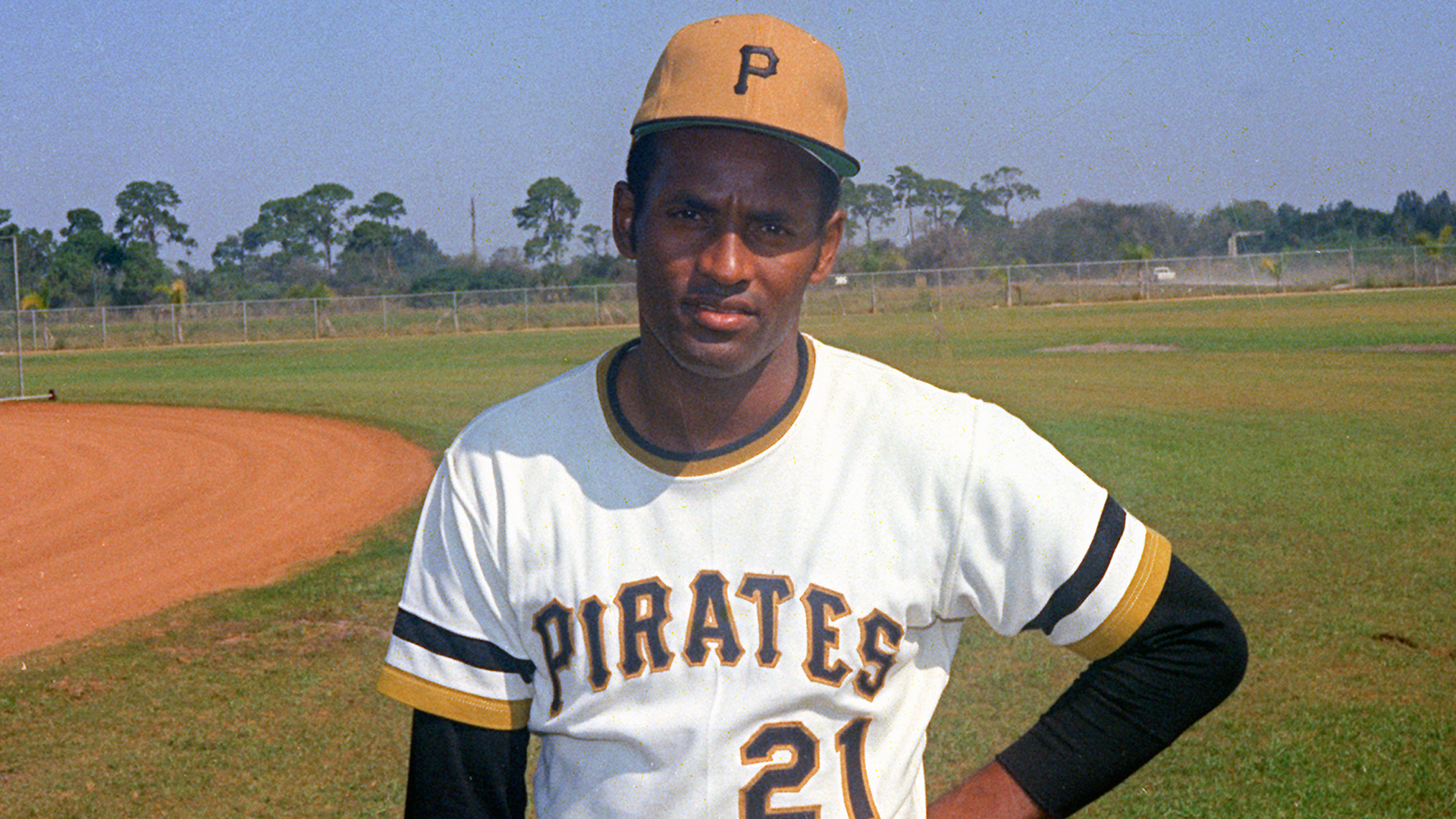 Son Luis: "Since 1973 the only persons allowed to wear no. 21 in a Pirate uniform would have been any of the three sons. I became the closest to have that honor but didn't continue to play to reach the Major League level"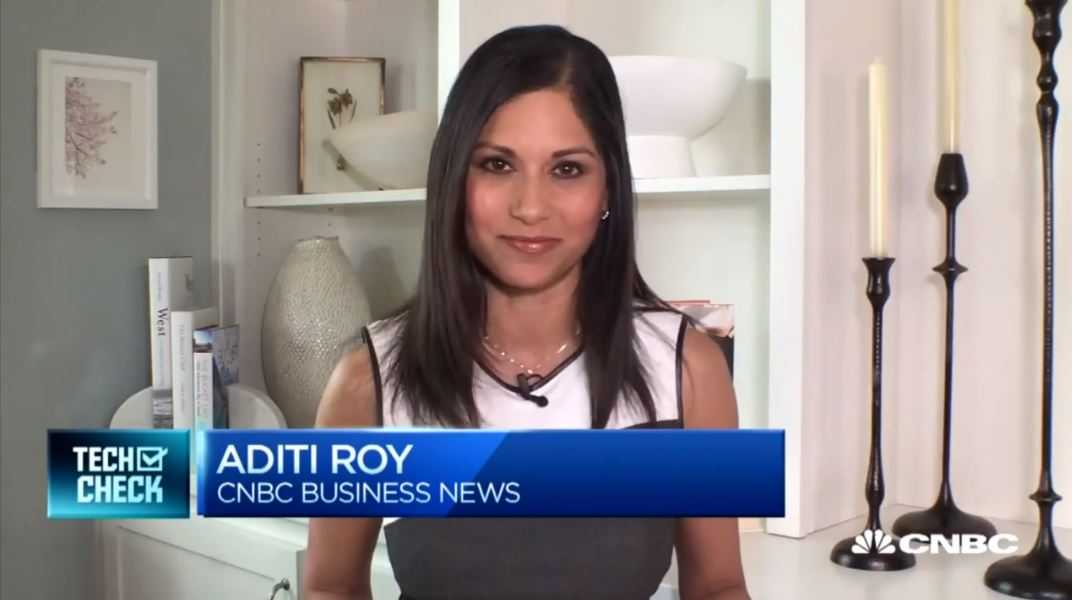 The latest on TikTok ...
Paper: "Ten theaters, operating in nine states, are the subject of an unusual motion in D.C. federal court in an antitrust case that has been asleep for more than three years"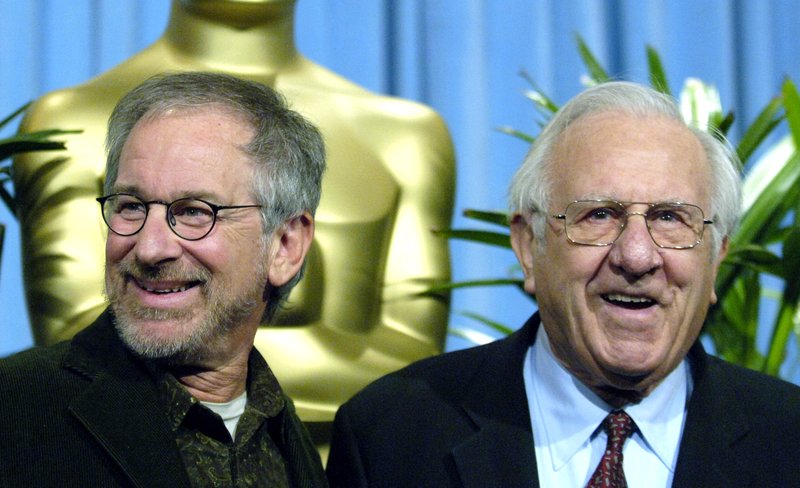 AP: "Spielberg and Charles Propster designed the GE-225 mainframe computer in the late 1950s while working for General Electric. The machine allowed computer scientists at Dartmouth College to develop the programming language BASIC"
Helped produce 1963's "Firelight": "The story was a forerunner to Steven's 'Close Encounters of the Third Kind,' with aliens landing on Earth, and I built the special effects. But while Steven would ask for my advice, the ideas were always his own"
Paper: "Against the 41% of Netflix customers likely to remain as subscribers after lockdowns lift, Amazon Prime Video was second on the Piper survey list with 28% indicating they intend to stay loyal, followed by 17% of Disney+ customers, 19% of cable TV and 7% of HBO Max customers saying they will remain subscribers for the long haul"
Harland Braun: "Roman's membership in the academy is pretty worthless and we would not waste legal fees for an appeal for no real purpose. Roman is one of the greatest directors in movie history. His art will survive long after the academy is a forgotten relic"
AAPL split: "Basically Apple — by itself — took the technology [weighting] within the Dow down from 27.6% to 20.3%. It's a significant decline. By adding Salesforce, you can come back to 23.1% of the Dow being in technology"
Boockvar: "I'm surprised by the news as energy still powers the world but we know how out of favor it is"
"The problem is there is a shortage of tests, a delayed time between the test and the lab result and that would put us in immediate violation of our agreement with the unions who represent that cast and crew"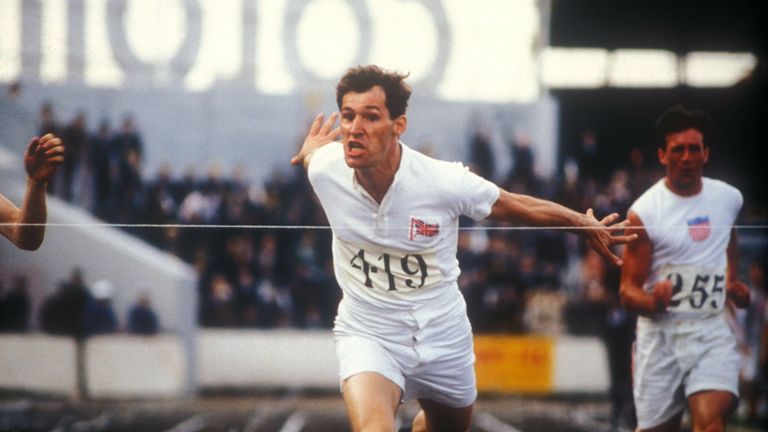 Landed role on strength of performance in 1978 version of "Chicago"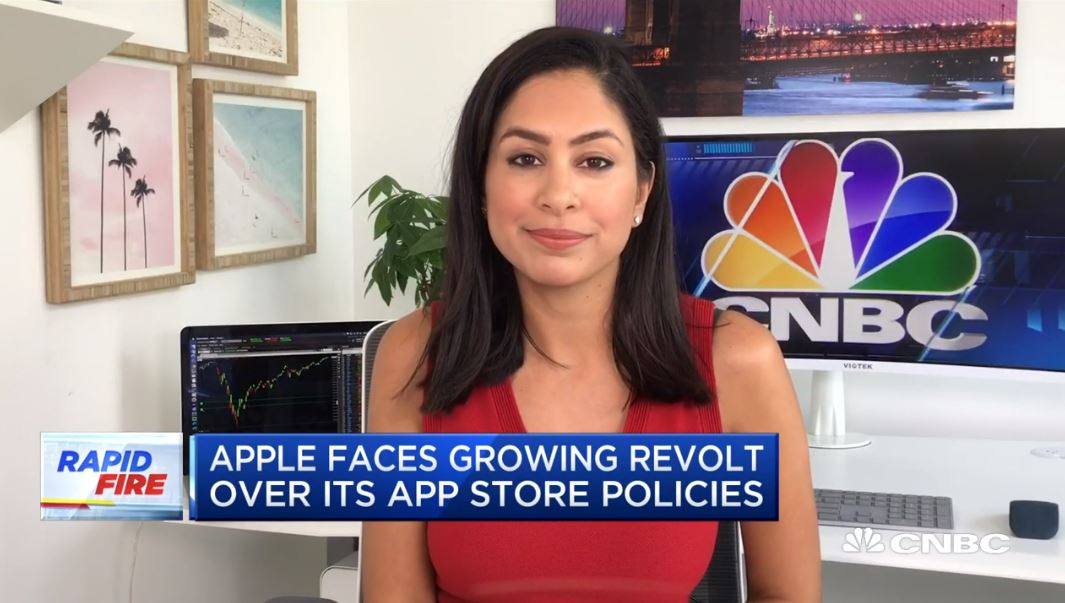 Seema Mody is 'not putting that much money into retail'
"I am not a gamer. Uh, my fiance is, so I definitely am around someone who likes to play these games ... I'm just saving my money. I'm not part- I'm not part of this whole trend of people, uh, putting money to work in retail. You know we're not going out as much, we're not going to Broadway musicals or events, so there's not a need to spend as much — in my opinion — on, on clothes and, and purses. So for now, I'm not putting that much money into retail"
15-cent movie ticket? "For myself, no, I'm just not ready to be in a closed environment"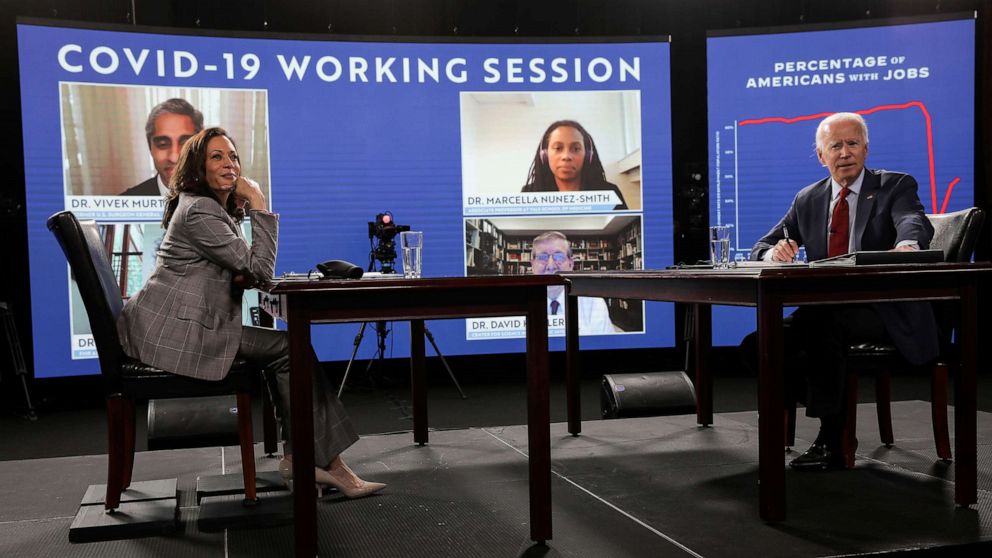 AP: "Notable because Fed officials typically avoid overt partisan politics"
Others involved: Jared Bernstein, Heather Boushey, Raj Chetty, Lisa Cook, Jake Sullivan
Associated Press: Biden has been running "relatively quiet campaign"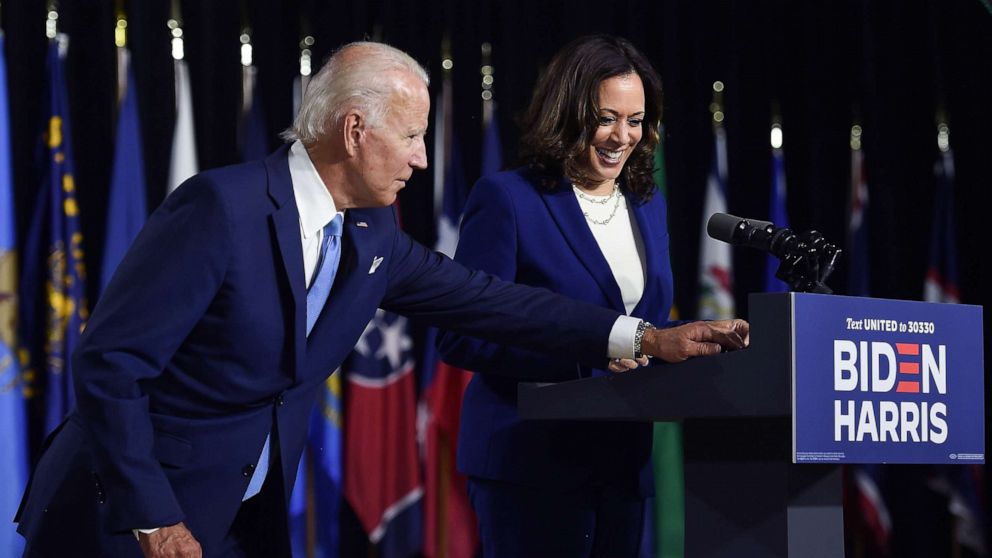 Who is Alexis I. DuPont High School named after? Numerous web searches offer no clue
Columnist: "Then came Warren's interview Tuesday on the Big Ten Network. It was eye-opening. Head-scratching. Certainly, embarrassing. What changed in the last six days? Warren did not answer. Was Nebraska allowed to play non-Big Ten schools? Warren rambled something nonsensical. Again, no answer"
CNBC.com: "Tesla shares rose more than 6% in post-market trading even though the stock split changes nothing fundamental about the stock. Theoretically, the move could mean more smaller investors could afford the stock, but those investors are minuscule compared to major institutions"
"Williams fouled a ball off his foot in the first inning"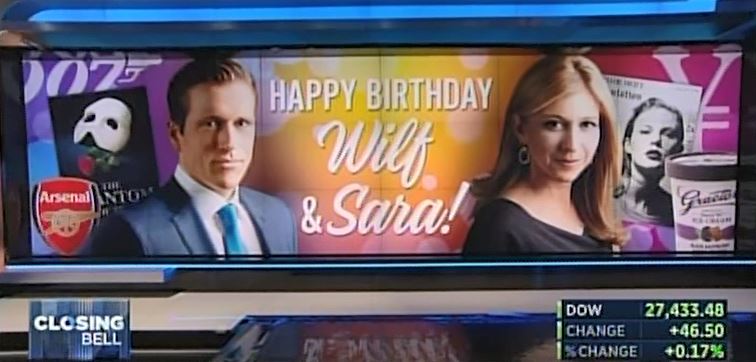 Double birthday!! Sara & Wilf!!!
Wilf: Also shared by Bill Griffeth, Brian Steel, "Mrs. Quintanilla"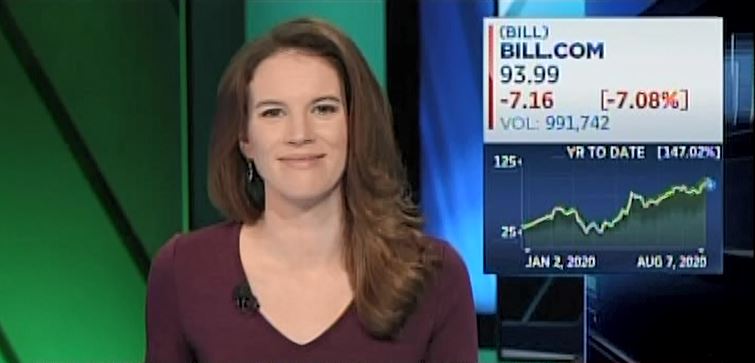 Kelly stuns in new hairstyle, partly over shoulder
Announces double birthday of Sara, Wilf
"The phones will be ringing off the hook because everyone will want to know where is my Amazon package, and it is not going to be there" ... "It seems to be happening everywhere, and it is related to the overtime thing. Service as a whole is dropping ..."
"We have banana boxes, a certain size, and it's also $19.95. You can fill it up. Anything you want in this store. I don't care, if you can fit it in the box, it's yours"
"Once the pandemic hit, it created a situation where bars were closing down and people were purchasing packaged beer instead of going to the bar and drinking draft beer. So it converted that volume into packaged beer ... It's going to create inventory shortages for quite some time"
"Frustrated, Defendant began to accuse those working to get the trust money back of being involved in some conspiracy to do the opposite"
"People still need to eat and we want to make them happy"
Charged with Going Armed with Intent
"It's definitely a decision between paying rent, or food, a phone bill, car insurance"
"It is not an exaggeration to say that there are few other industries seeking to reopen as responsibly as the film business"
Paper: "Young alleges that Trump's campaign lacks license to publicly perform the compositions entitled 'Rockin' in the Free World' and 'Devil's Sidewalk.' The musician notes that Trump has used his music for years dating back to the last campaign and played both songs at his rally in Tulsa, Oklahoma, on June 20"
"The 'Seinfeld' faithful know the Bronx native for his four appearances as Poppie"
AP: "Brimley, who never trained as an actor, saw his career take off after he won an important role as a nuclear power plant engineer in 'The China Syndrome.' 'Training? I've never been to acting classes, but I've had 50 years of training. My years as an extra were good background for learning about camera techniques and so forth. I was lucky to have had that experience; a lot of newcomers don't'"
Paper: "What baseball has become, in a world in which we're still not prepared to allow even partial crowds back to stadiums, is an experiment in minimalism, bordering on nihilism. In short, baseball has gone from 'Field of Dreams' to something more apocalyptic like 'The Postman' or any movie theater showing 'Draft Day'"
Paper: "Against the backdrop of the water, guests took in two IFC Films, Jessica Swale's 'Summerland' starring Gemma Arterton and Gugu Mbatha-Raw followed by James D'Arcy's Tuscany-set 'Made in Italy' starring real-life father and son Liam Neeson and Micheál Richardson"
Paper: "Alphabet only revealed YouTube's ad revenue for the first time in February of this year, disclosing that the video platform collected $15.1 billion in ad revenue in 2019, up from $11.1 billion in 2018 and $8.1 billion in 2017. Despite the pandemic impact, YouTube appears poised to set yet another revenue record in 2020"
Audition: "All of the other girls were very aggressive, and I wanted to show them what a nice girl I was ... (Hawks) hated my test, which usually meant you were in the trash. But then he personally supervised the hairdo for another test, and I got the part"
Related: Brother was late California surfing legend Dorian "Doc" Paskowitz
Paper: "Entertaining cinematic biography should well please the singer's longtime fans"
Legendary: "Lightfoot's band members describe the recording session for one of his biggest hits, 'The Wreck of the Edmund Fitzgerald.' Not only was the epic song cut on the first take, it was the first time any of the musicians had played it"
"We need to let the technology firms do what they do best. What we need to tell them is, 'We have an issue. How would you resolve this?' instead of us saying, 'We have an issue and this is how we want you to resolve this'"
AP: "On its website, O Magazine says it has a total audience of 10 million, while industry tracker Alliance for Audited Media said the magazine had a total circulation of about 2.3 million as of the last six months of 2019"
"My mom used to tell me, Nothing good ever happens after midnight.' Then I brought my mom down to Ya Maka My Weekend and she had a blast"
AP: "In 2017, the Tennessee retirement community where Saxon and his wife lived honored him with a film festival after residents requested screenings of his movies"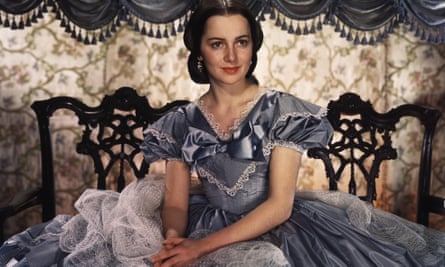 "Playing good girls in the '30s was difficult when the fad was to play bad girls. Actually, I think playing bad girls is a bore; I have always had more luck with good girl roles because they require more from an actress"
Fontaine feud: "The sisters were seated at the same table when Fontaine's name was called. Biographer Charles Higham wrote that as Fontaine came forward to accept her award, she rejected de Havilland's attempt to congratulate her and that de Havilland was offended. In fact, the sisters never got along since childhood"
Paper: "The friend retrieved a large amount of cash from Woods' bra but while doing so, officers saw several plastic baggies mixed with the money"
Question: "It seems like a lot of people are complaining about indexing issues for the past couple weeks or months."
Part of the answer: "We have to make decisions along the way, we figure out which pages we really need to have crawled and indexed and maybe which pages it's like well it's interesting that you wrote this but at the moment we we don't really know what we should do with this information so maybe we should just not index it at the moment."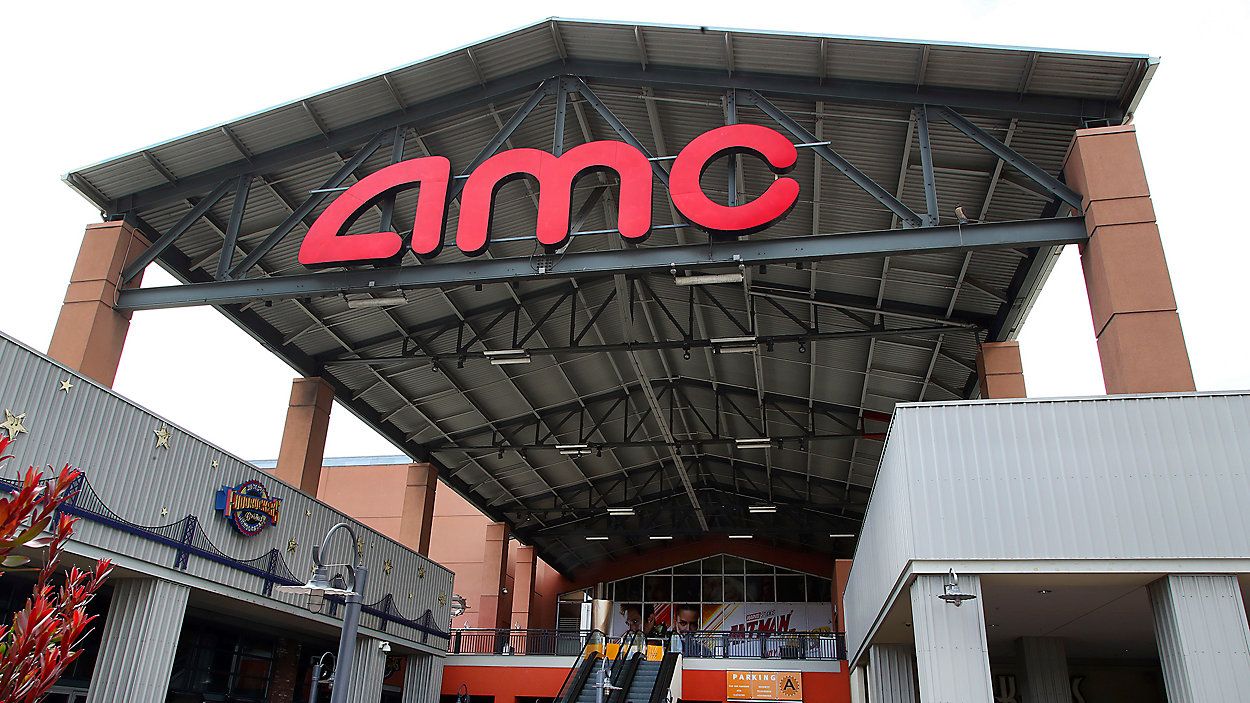 "This new timing reflects currently expected release dates for much anticipated blockbusters"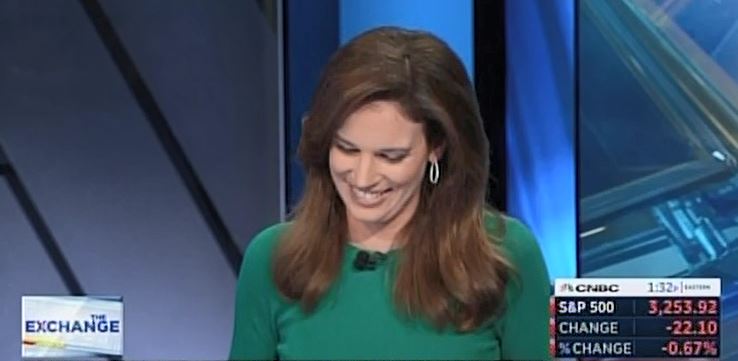 Kelly beams recalling her Taylor Swift premonition
"Has it been a little quiet on the Taylor Swift front lately?"
"By using Mr. Eastwood's name in hidden metatags, Defendants have figuratively posted a sign with Mr. Eastwood's trademark in front of their online store to attract consumers and caused the consuming public to believe that Mr. Eastwood is associated with and/or endorsed the CBD Online marketplace Defendants' CBD products, when no such association actually exists"
Paper: "As Ward was speaking with the Sun-Times, one of those workers stepped in to say a few words. 'No it's not mail. These people are waiting for f---ing packages that they can't go to the store and get,' the postal worker said. 'So if you can't buy your cheap-ass sh-- at the store, wait for us to bring it to your house'"
Customer reax: "Whether a person's mail is cheap or not, it's still theirs. ... I just don't like how they are talking to people. This is what we always deal with"
Paper: "Reporters covering the event were warned not to ask similar questions that put any blame on Boyd. Mensa approached Wojciechowski and told the reporter at one point, 'I'll take your [expletive] mic and you won't even have a [expletive] mic"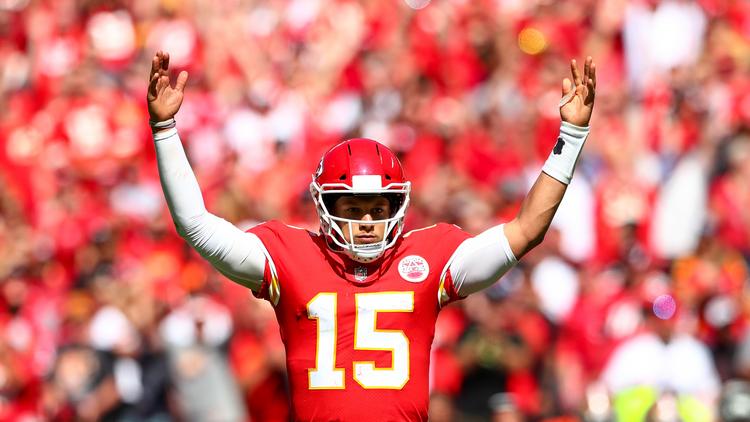 "Streaming services like Netflix, Disney+, Apple+ etc that benefited from live sports being dark have the most risk to their U.S. reported sub adds during the second half, because viewing time will move to sports, which may lower their perceived price/value ratio to consumers"
Garcetti warns virus "preys on our division" and "when we get exhausted"
Keir Dullea's "2001" suit, helmet sell for $370,000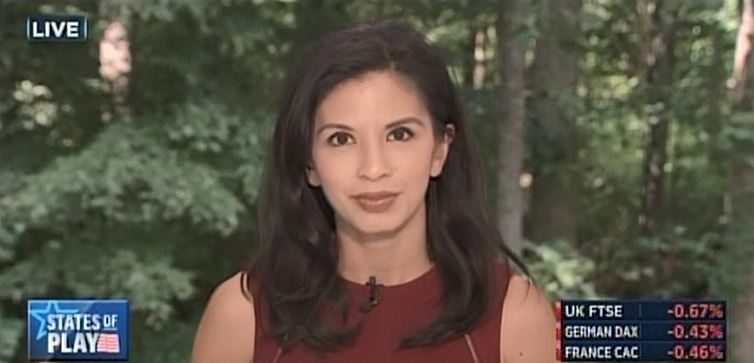 "You're now hearing Republicans talk about potentially tying additional aid to reopening the schools. Guys, that's the difference between using the carrot and using the stick"
Paper: "It claims that while winners can keep the statute for life, and their heirs can inherit the shiny, gold award, it's the Academy that actually owns it and it merely 'lends a copy of the Emmy Statuette to the Emmy winner to symbolize and honor his or her achievement'"
Response: "Julien's Auctions, and many other auction houses, have sold dozens of Emmy statuettes at auction without incident for decades. It appears that the Television Academy is now attempting to enforce new rules retroactively"
Interest: "The starting bid for the statuettes was $1,250 and each of them has already received multiple online bids — with one of the awards currently going for $7,000 ... the auction's main attraction is a space suit from Stanley Kubrick's '2001: A Space Odyssey,' which will go for at least $160,000 based on bids entered so far"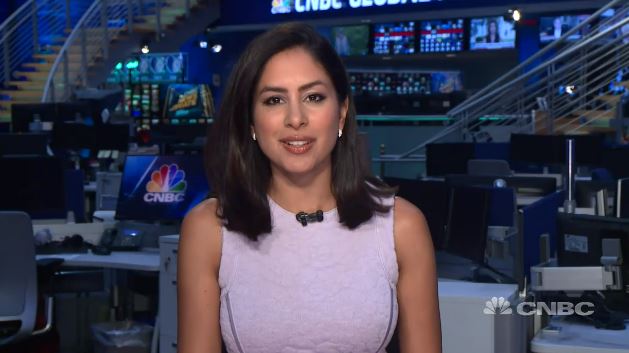 "The market's path to new highs has never looked more complicated ..."
"Stand by, you'll see community policing on steroids in this department"
Paper: "Born Oct. 13, 1962 in Honolulu, Hawaii (birth name: Kelly Kamalelehua Smith). She studied acting at the University of Southern California before landing bit parts in such 1980s series as 'Hawaii Five-O,' 'Quincy M.E.' and 'CHiPs.'"
Hoffman: "We're thrilled that Shep, who's built a career on an honest fight to find and report the facts, will continue his pursuit of the truth at CNBC"
"The article I wrote — with arguments I disowned soon after — makes for painful reading"
Original article: "Introducing women into combat would destroy the exclusively male intangibles of war fighting and the feminine images of what men fight for — peace, home, family ... There is no advantage that women bring to the front line that is worth the expense and encumbrance of providing private facilities, creating 'milspec' tampons, and keeping ships' stores stocked with feminine hygiene needs"
"Although Defendants have issued orders allowing other public assemblies such as religious services and ceremonies to open, they have withheld approval for movie theatres, which are similarly situated, if not less of a risk, from a public health perspective"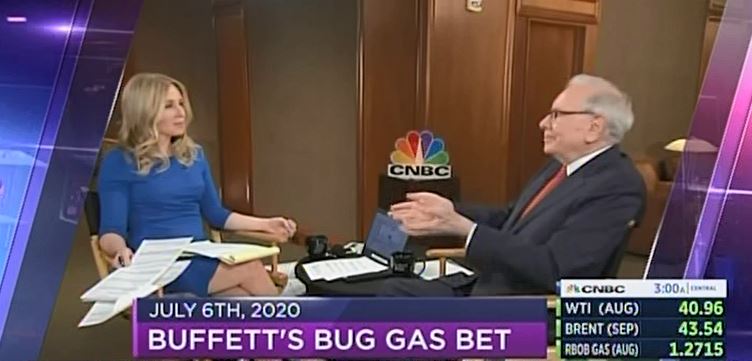 CNBC graphics crew has trouble spelling the word 'big'
Either that, or Berkshire is dabbling in Volkswagens that are NOT electric
Paper: "In November 2018, he came out as highly critical of Tarantino and the Academy of Motion Picture Arts and Sciences in an interview that was published in the German edition of Playboy, but Morricone denied making the disparaging remarks and threatened to sue"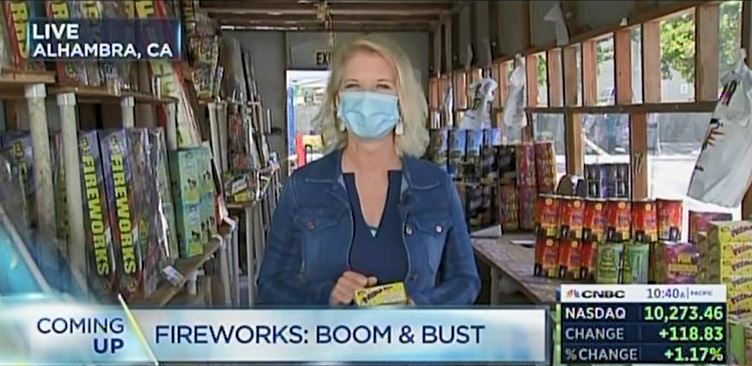 "They're runnin' out of inventory here ..."
Told employee: "Governor Brown has no authority to take our civil liberties. We aren't going to wear masks ... F--- Kate Brown"
"The tendency to invite family, friends over ... I hope you'll reconsider"
Created opening theme for "Too Close for Comfort"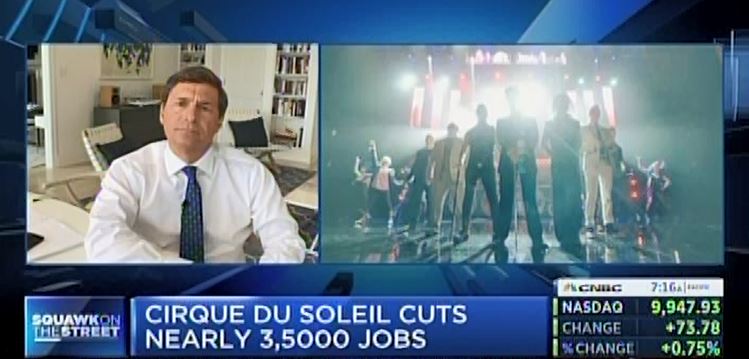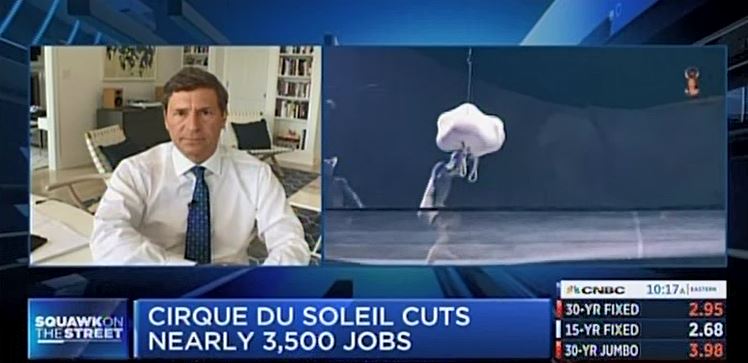 Acrobatic production needs about 40% of its seats filled to break even"
Move expected after "Tenet" and "Mulan" moved release dates to August
"We have been paying for marketing benefits that we have not received for an extended time period"
USC prof: "I would be surprised if they hadn't been thinking about a whole bunch of different versions of the re-theming, up to and including getting rid of the ride altogether"
7-bedroom, Georgian-style home sells for $3.65 million, bought for $4.9 million
Paper: "Lemonis ... also sold an adjoining 1-acre lot Wednesday to the same buyers for $1 million. Lemonis paid $1.65 million for the lot in 2013. In total, Lemonis lost nearly $2 million on the two properties, which means he sold them for a combined loss of 29% relative to what he had paid in total in 2013"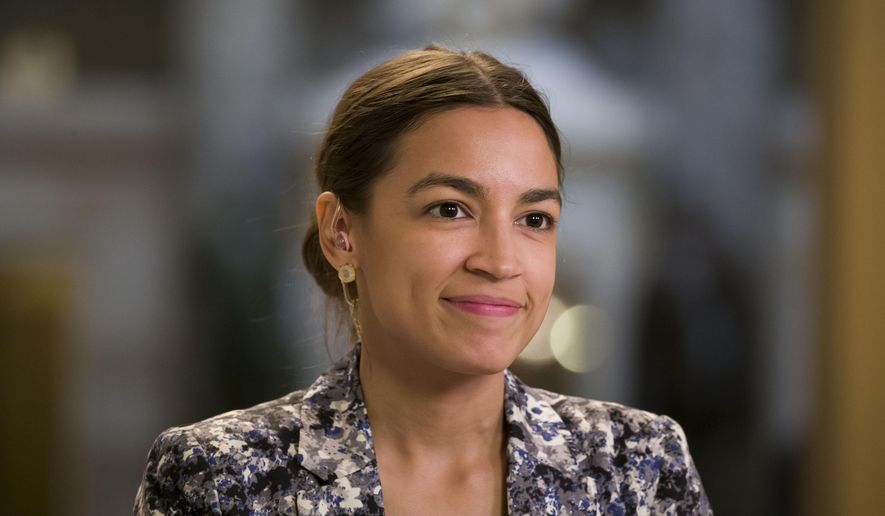 Apparently won't have to wait for mail-in count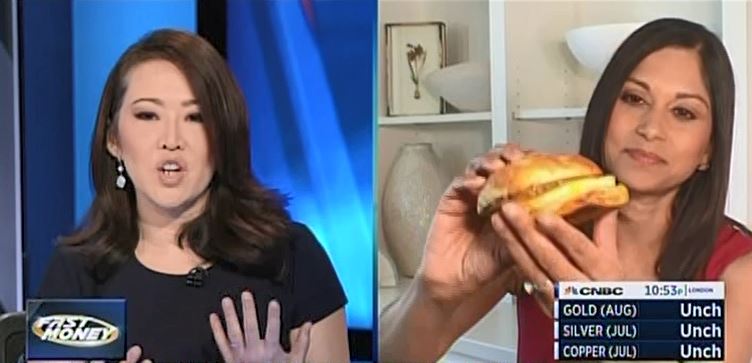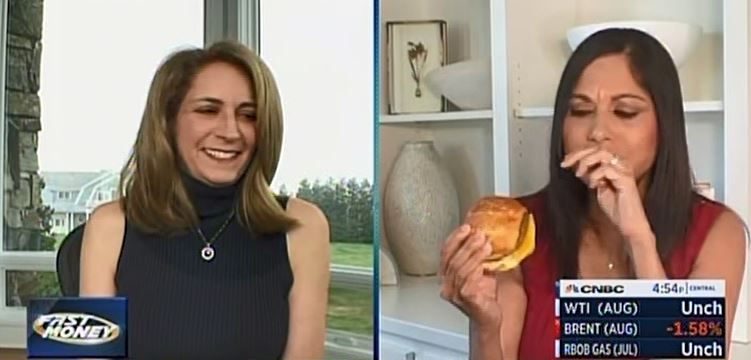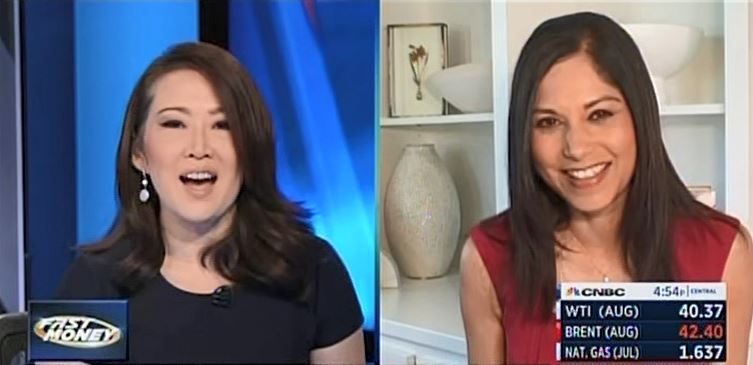 Aditi Roy, devastating in red, samples an Impossible sandwich
Melissa Lee: "When you picked that thing up, I thought, 'Ugh, that looks terrible' ... Is it good?"
Aditi: "If you want, I can take a bite"
Missy: "Such a good sport. Aditi is such a good sport"
Aditi: "You know what? It is!"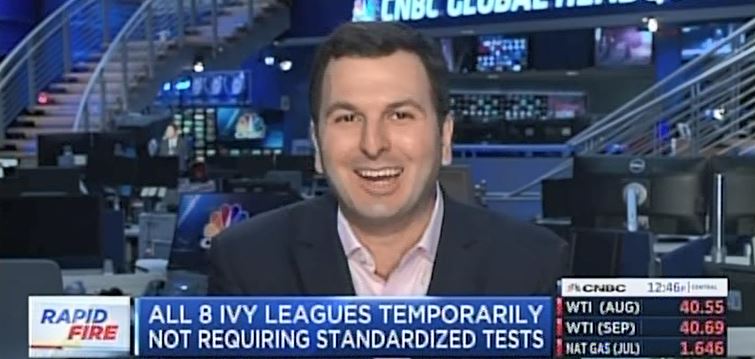 CNBC graphics crew thinks there are 8 different Ivy Leagues
Eric Chemi: "Remember the Ivy League, everyone thinks the Ivy League is some fancy set of educational institutions. They are an athletic conference. They are no different than the Pac-10, the Pac-12, Big 10, SEC ... For certain NCAA regulations, you need to meet certain SAT requirements to offset GPA numbers. So if you're an athlete, this doesn't necessarily apply to you"
Peter first said: "It's over, yes"
Peter later said: "I was simply speaking to the lack of trust we now have of the Chinese Communist Party after they lied about the origins of the China virus and foisted a pandemic upon the world"
Paper: "Pulled into the parking lot and drove his vehicle 'directly into the two glass panes,' then walked into the store to fill a prescription, according to a criminal complaint"
"This was not judging. This was legislating — a brute force attack on our constitutional system"
"The redesign of the airplane is not just limited to changing MCAS functionality. The entire flight control system — Boeing undertook this in the June-July time frame of last year — became a much more ambitious project"
Paper: "Last week, California Gov. Gavin Newsom gave theaters the OK to reopen, with L.A. County expected to follow suit. New York City is more complicated. Movie theaters are currently part of the Phase 4 reopening plan for businesses, but there's a push to make them part of Phase 3"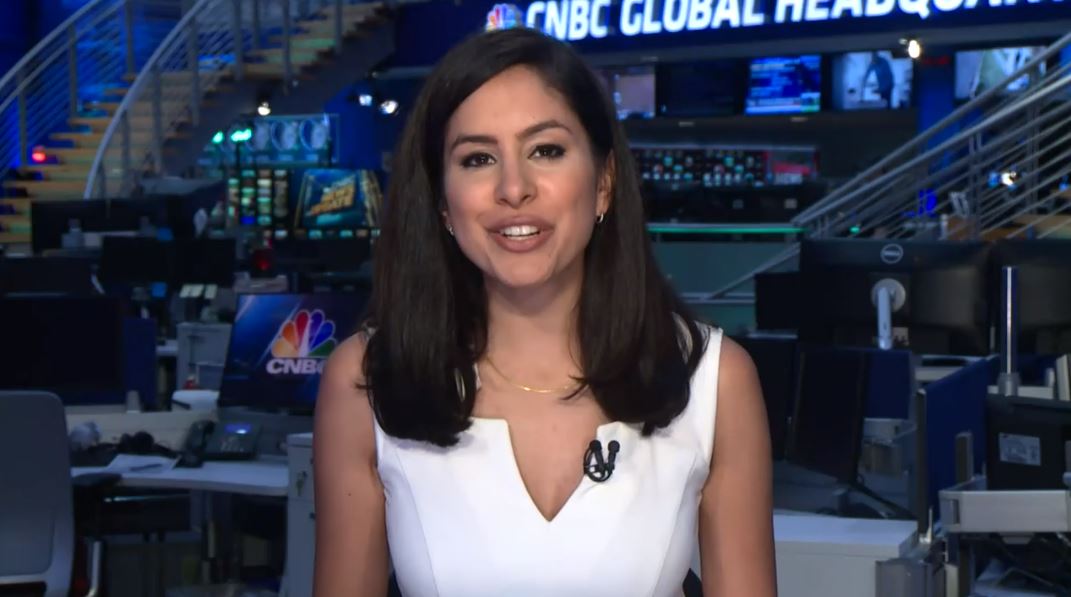 "One of the world's leading experts on Asia warns a dollar crash may be unfolding"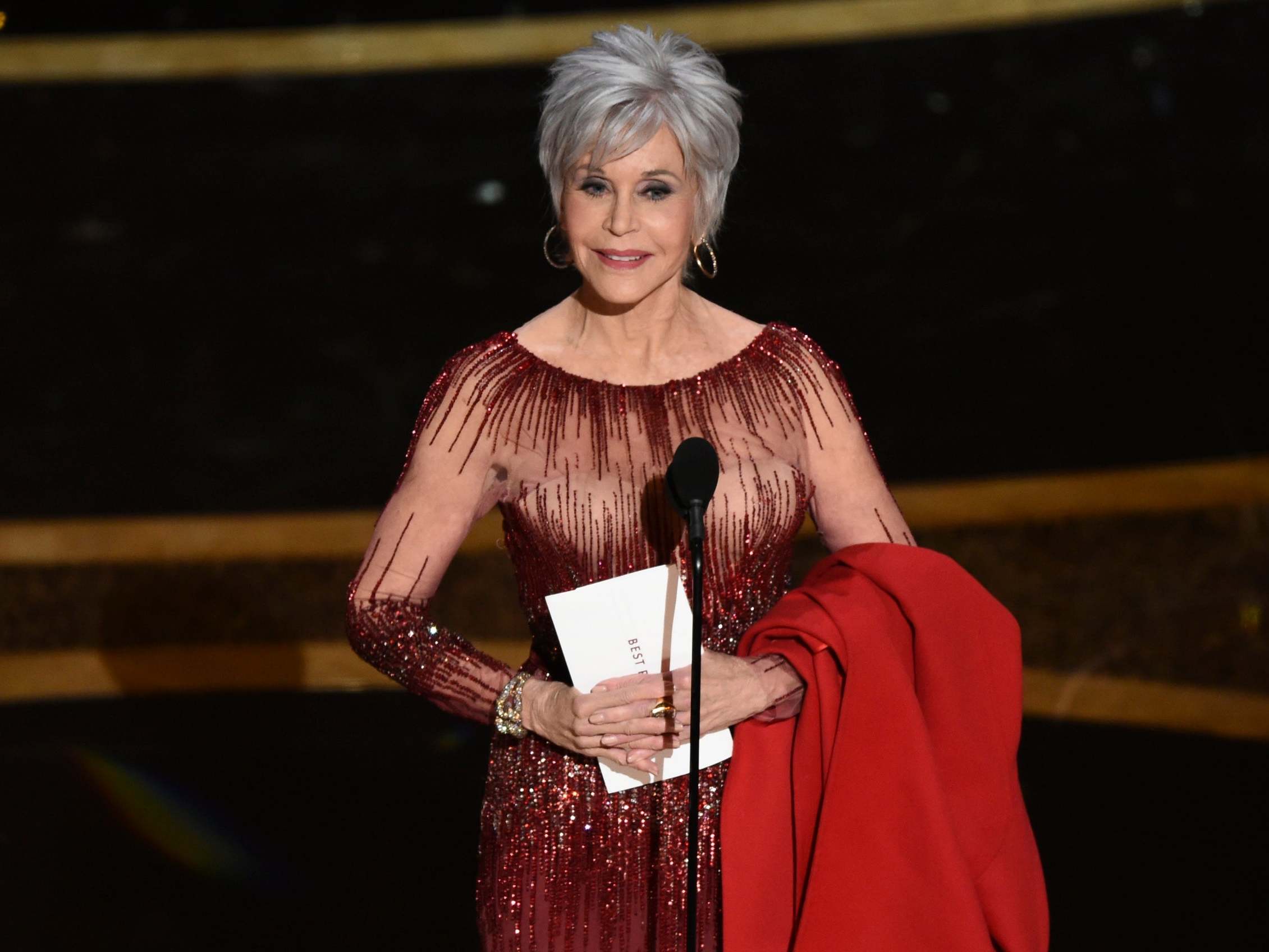 "will aire live on ABC," take place "at the Dolby Theatre at Hollywood & Highland Center"
"If Biden is elected, I think this could be more dangerous for China, because he will work with allies to target China, whereas Trump is destroying U.S. alliances"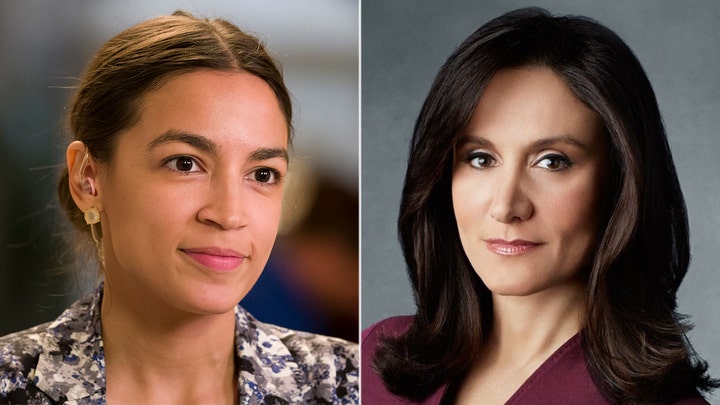 "A 2010 book she wrote proposed eliminating entire government agencies including the Education Department. It suggested ending Social Security's and Medicare's automatic benefits and instead giving people money to control themselves, risky proposals Congress has rejected"
CNBCfix review of MCC's book: "Unfortunately — perhaps by choice — what Ms. Caruso-Cabrera fails to promote are credentials. Unlike Friedman, she is not an economist. Nor is she a politician. She offers readers virtually nothing about her background or even career at CNBC ... Ms. Caruso-Cabrera, who is stunning, would figure to be a very appealing candidate. Highly skilled at television, extremely articulate, command of issues, very pleasant demeanor, wonderful sense of humor"
Against AOC: "Focusing chiefly on two things. One is Ocasio-Cortez's March vote against a $2 trillion economic relief package, the other her opposition to Amazon's plan to build a jobs-rich headquarters in a Queens neighborhood"
"The reality of great investors, including my father, is that when they get to a certain age they lose their edge. I'm not suggesting that Mr. Buffett has lost his edge, but I can't find a history of people his age who don't become relatively static in a crisis"
"Currently expect to be fully open globally in July"
Paper: "This means that Warner Bros. may still be able to launch Christopher Nolan's Tenet in cinemas on July 17 as originally planned"
Paper: "It was Bonnie, shortly after graduating high school, who first wanted to move out of church and into clubs to pursue a professional singing career. She convinced younger sister June to join her, and the two began doing gigs together as a duo in 1969. Eventually they'd convince their two older sisters, who were already married with children, to join them"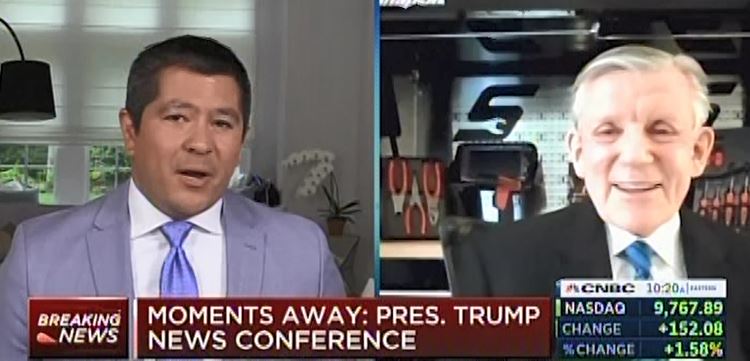 Guest on CNBC likens recovery to Vietnam
"I was in Vietnam. You know, when the bombs fell in Vietnam, people got daunted for a day or two, but those cities restored to their lives"
Original script revised: "I felt it had been cheapened. Still there was no arguing with the results. I made some money. Little girls kept telling me how much they loved it. When I mentioned my disappointment to John Eskow, a very good screenwriter, he said, 'Hey, it's a living'"
Welcome sight: Steve Grasso back on the floor of the NYSE
"Little bit surreal, Kelly ... This whole situation has become surreal. And, too- I've been on the floor since 1993, I've never been off the floor for this extended period of time. So to come back, and to come back like this, is something that I would've- you know I went through every type of crisis that we've had, since '93 on the floor, I went through Hurricane Sandy, I went through the financial crisis, this is obviously something unique to itself and different than anything that we ever thought we would experience. So surreal in a word"
Floyd's death "is on their hands, as much as it is on those officers'"
Moments later: "I misspoke when I said his blood was on their hands, but certainly their actions do not serve the enormity of his loss. What his name should stand for is the catalyst for change. I regret the remarks of that characterization, but I don't regret, nor will I apologize to those out there creating destruction. His memory deserves better"
Joe: "You panicked about the market, you panicked about COVID, you panicked bout the ventilators, you panicked about the PPE, you panicked about ever going out again"
Andrew: "One hundred thousand people died. One hundred thousand people died, Joe, and all you did was try to help your friend the President. Every single morning on this show. You abused your position"
"If police are called to a location of a party, there will be consequences"
AP: "Davis, who died in 1991, had some notes jotted down, but there weren't pages of sheet music. It was up to the improvisers to fill the pages. 'He'd say, "This is a ballad. I want it to sound like it's floating." And I'd say, "OK," and that's what it was,' Cobb recalled"
"He went outside normal practices for the time, teaming with Marvel Comics for a series that came out ahead of the release and organizing partnerships with 'The Richard Pryor Show' and 'The Donny & Marie Show.' He also teamed with CBS for the infamous 1978 'Star Wars Holiday Special' — all to keep the property in the public's consciousness"
Viewer outrage: "This is the most upset I've ever been about a channel shutting down in my 14 years of being a YouTube viewer. There needs to be a large campaign to get his channel back. This is musical history and really only half of his videos has music owned by the NFL. A lot of the other production music is owned by other composers and companies like Killer Tracks. I'm glad I have my 200 track NFL Films music playlist to run and PT every morning to"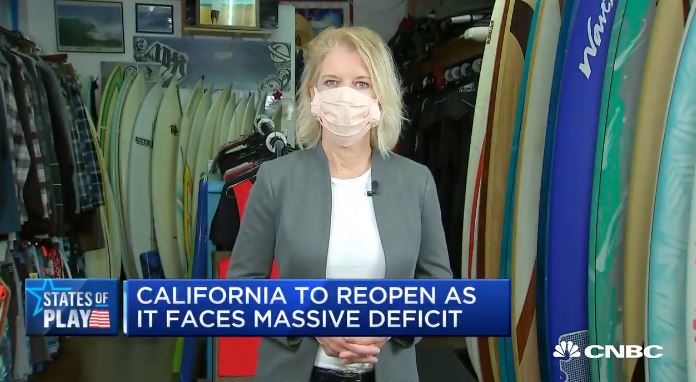 Twitter statement: "Hope one good thing from this horrible virus is breaking the higher ed business model with outrageous tuitions fueled by financial 'aid' (often taxpayer money) and student debt. If, say, 80% of tuition is being paid by 'aid,' aren't universities highbrow welfare recipients?"
Celebs: Gets tweet from Mark Hamill about 1995 encounter
Art II: "I am very certain nothing like this ever happened. I have no idea why James would make a comment like this but there is simply no basis for believing anything like this"
Employees have "mixed bag of emotions"
"She was reportedly backing up while taking photos and fell into a hot spring or hole ... Despite her injuries, the woman drove for roughly 50 miles until park rangers stopped her"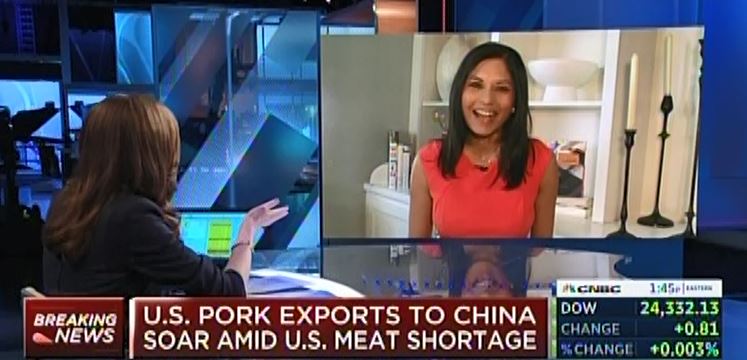 CNBC's gorgeous Aditi Roy beams when Kelly asks about Emmy
Kelly: "A baby girl, right ... I'm looking, is that an Emmy over your shoulder"
Aditi: "OK, there's a big story behind that because I had been nominated when I was in local news, I can't tell you, I think about 10 times, and never won, I was the Susan Lucci of the Philadelphia news Emmys, and I finally won ... And I did have a baby girl back in November"
Kelly: "You look great, it's good to see you, congrats"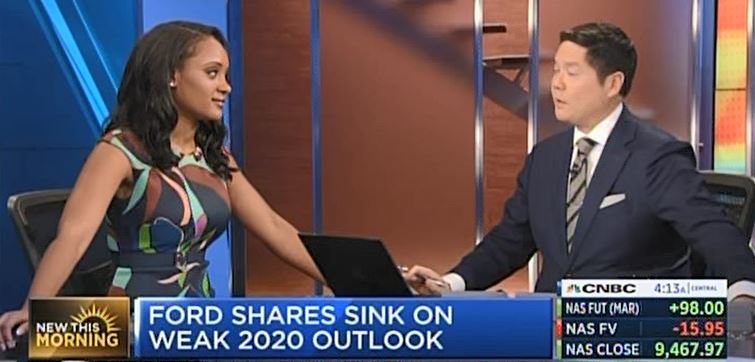 CNBC's gorgeous Rahel Solomon on fire on 'Worldwide Exchange'
"The company did not want to discuss the impact the coronavirus is having on its bottom line"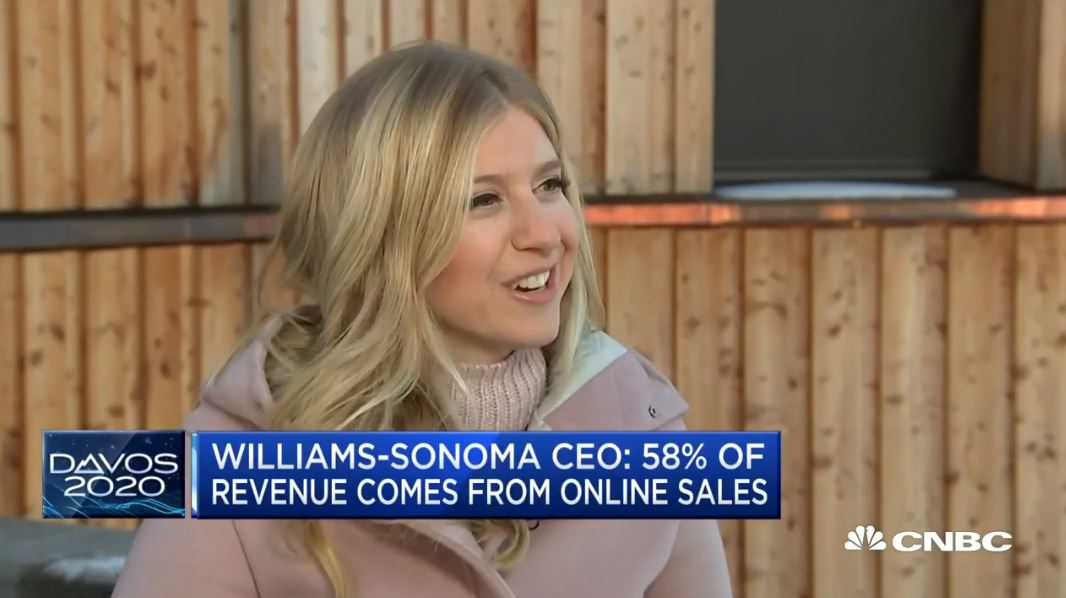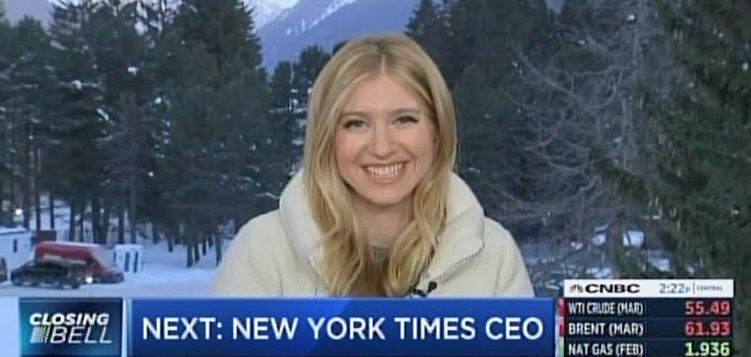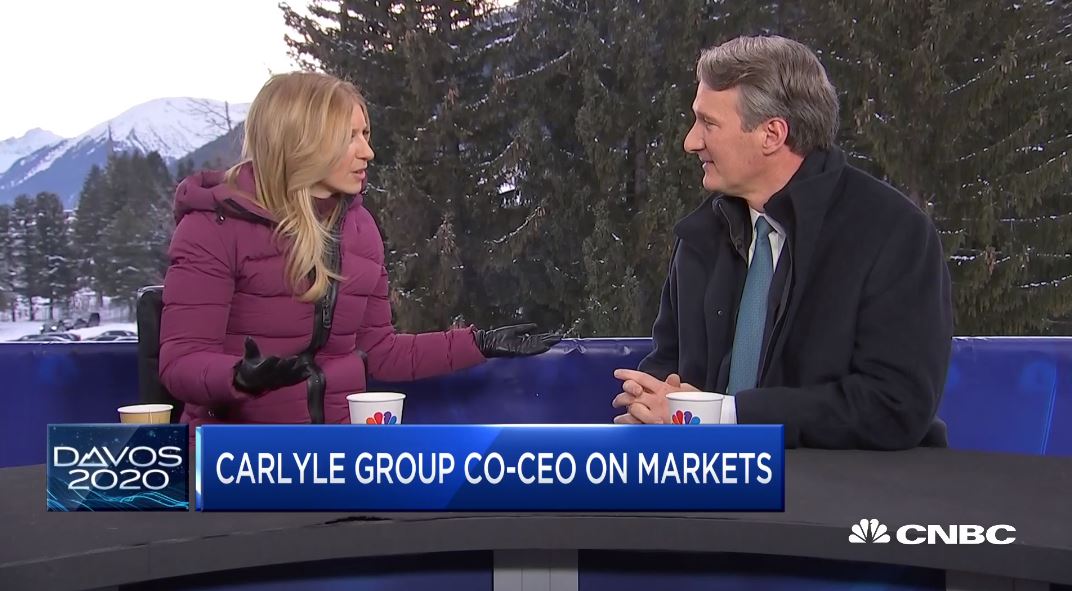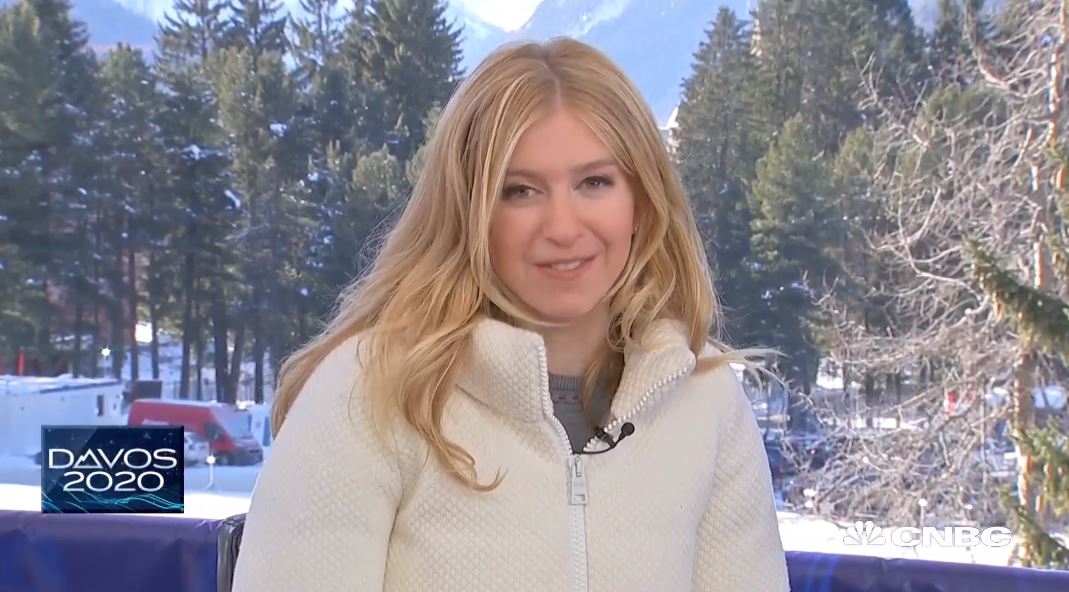 Sara's winter fashion show: Eisen gorgeous in Davos
"Why the New York Times is partnering with Facebook — but not Apple ..."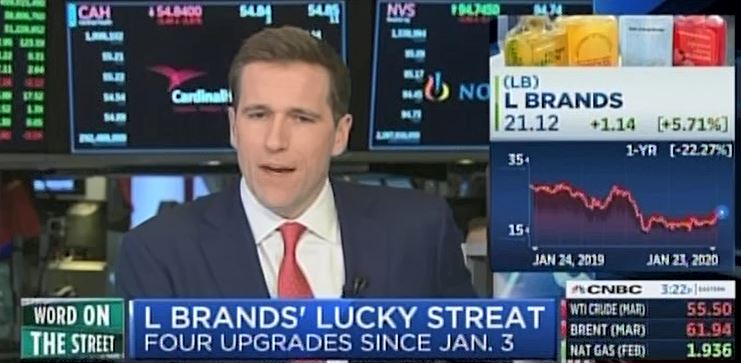 What in the world is a 'streat'?
Maybe cross between "street" and "streak"?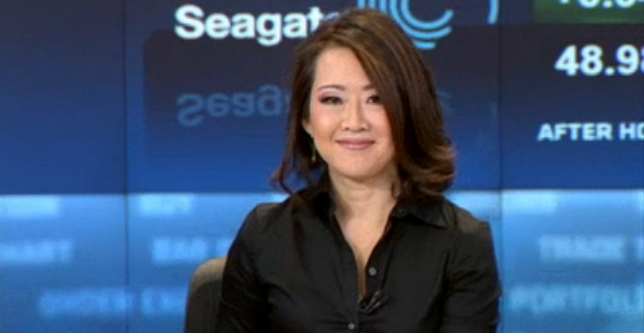 Twins!!! CNBC's Melissa Lee welcomes baby boy, girl
Guy Adami: "Happy to report she had very healthy twins, a boy and a girl"
Karen Finerman: "Melissa, we are so delighted for you. I mean it's the best news possible"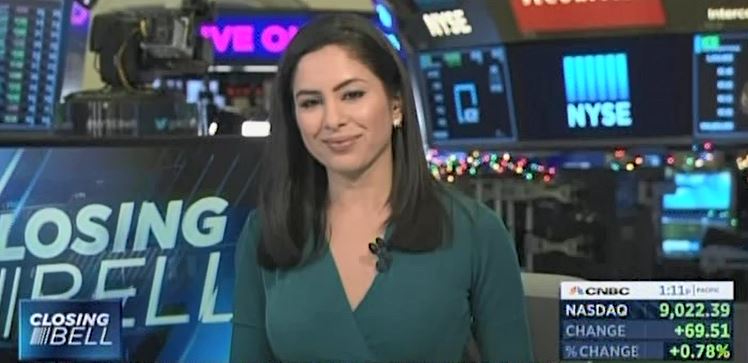 Clothing belle: Seema Mody gorjus in post-holiday green
"We've definitely seen home prices go up in my hometown, Oregon; parents are not very happy about that"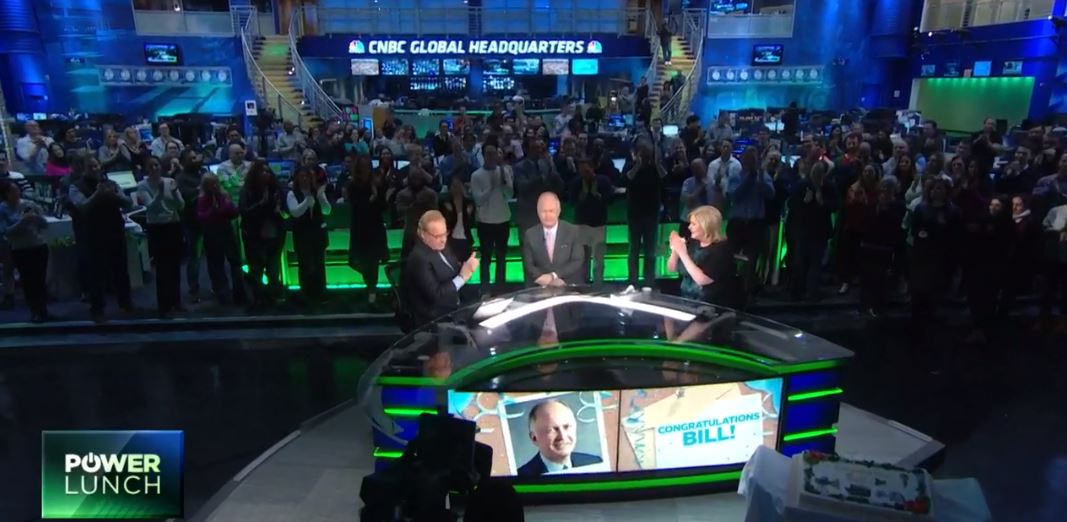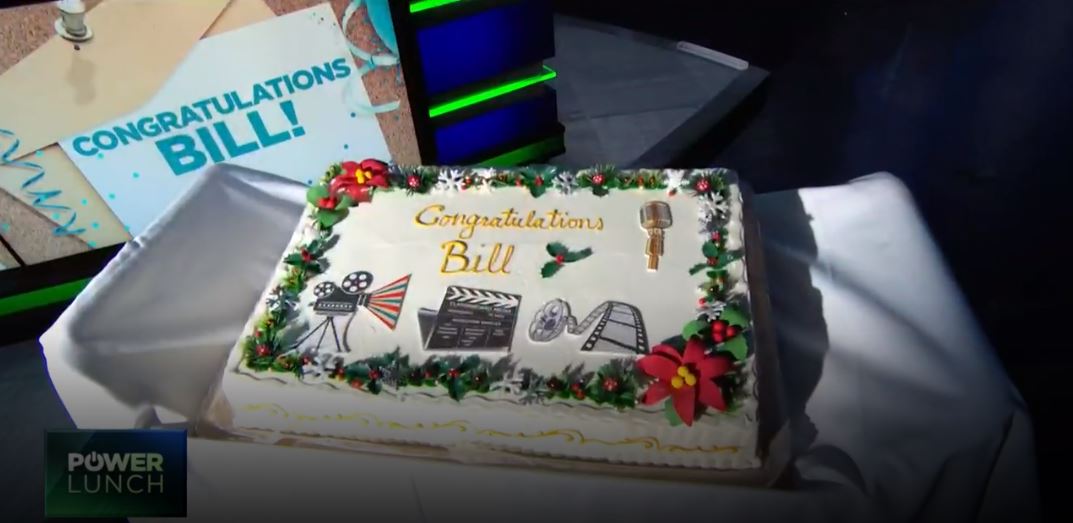 Tyler: "It's impossible to overstate what Bill means to CNBC ... He is simply put, the best communicator I've ever seen"
Bill: "I so appreciate the, the interest. I couldn't do this cold turkey. So, you know, CNBC and especially President Mark Hoffman have been so kind to allow me to transition to this new, uh, time, of being anchor at large"
Sue: "You know what they say about CNBC. It's like the Hotel California. You can check out, but you never leave. You never leave"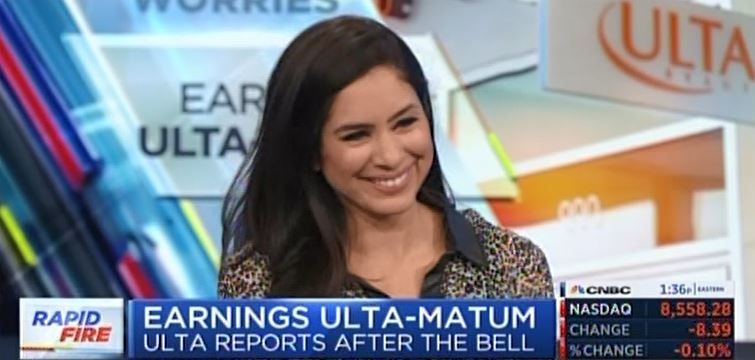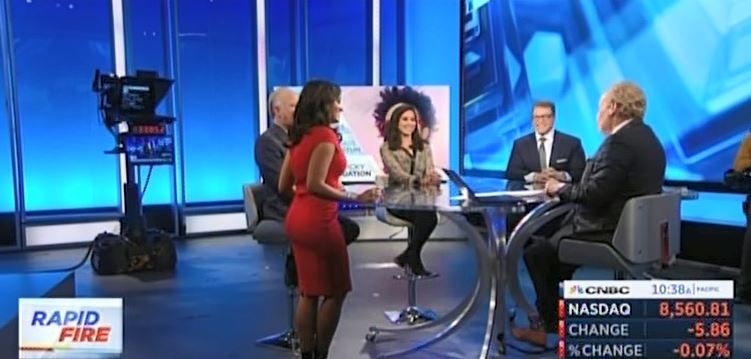 ULTA-mate beauty pair: Rahel & Seema on 'Rapid Fire'
"One of the trends right now in beauty is ironically less makeup"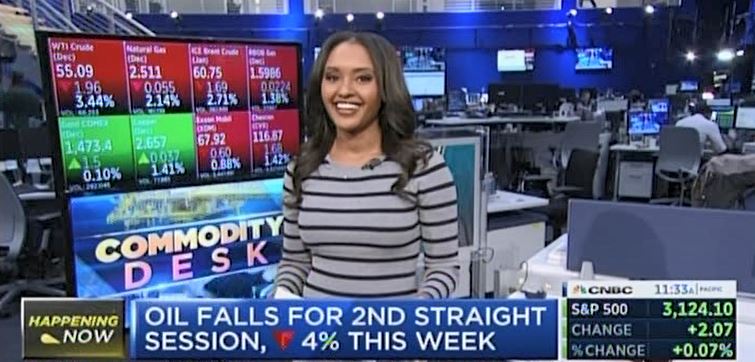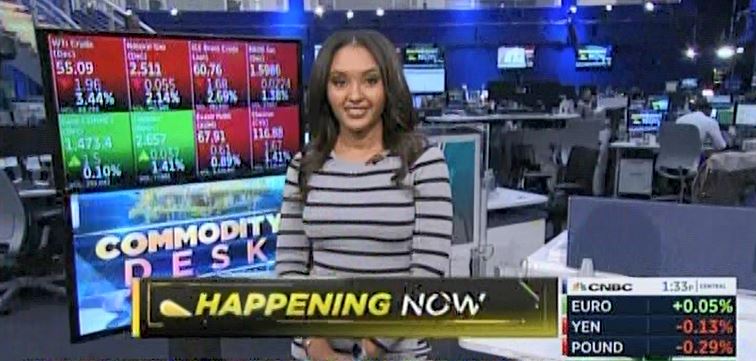 CNBC's gorgeous Rahel Solomon breathtaking in stripes
"Yet another tough day in fact for crude oil ..."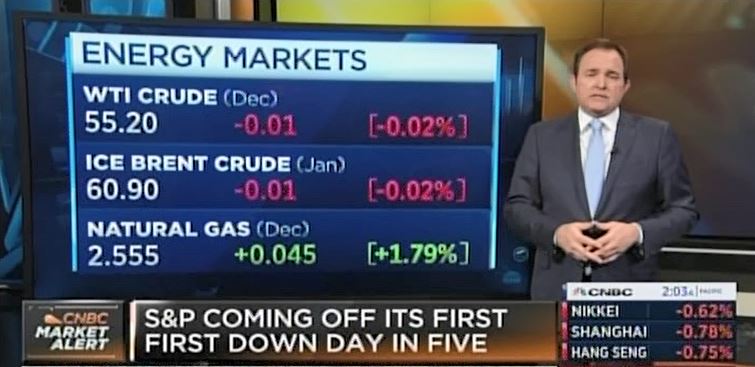 How to make graphics fill the line: repeat words
Early morning stumble for Sully's crew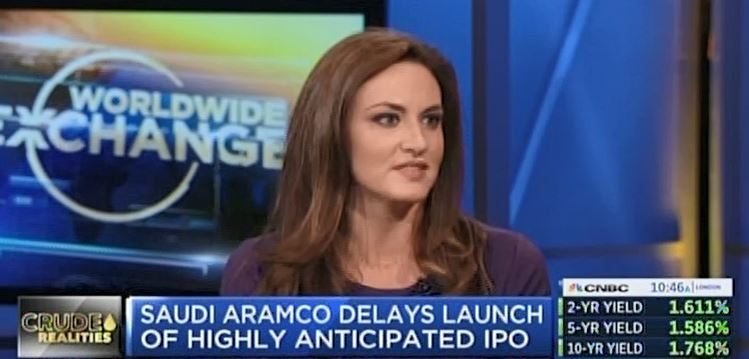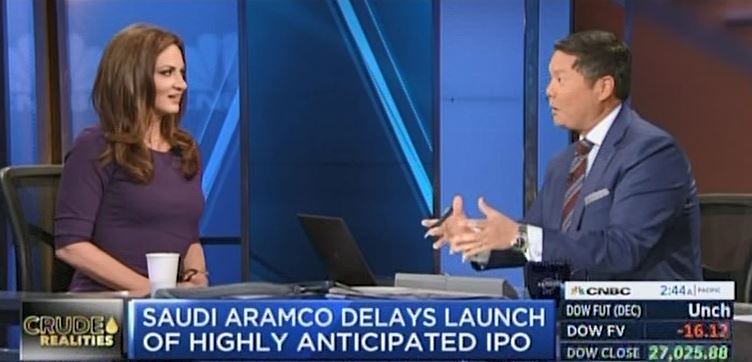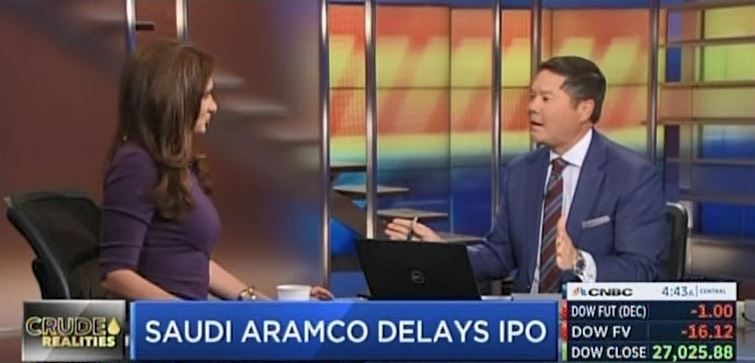 CNBC's devastating Hadley Gamble spends day at EC
Aramco: "Internally, there are a lot of questions about whether they'll reach that 2 trillion valuation ..."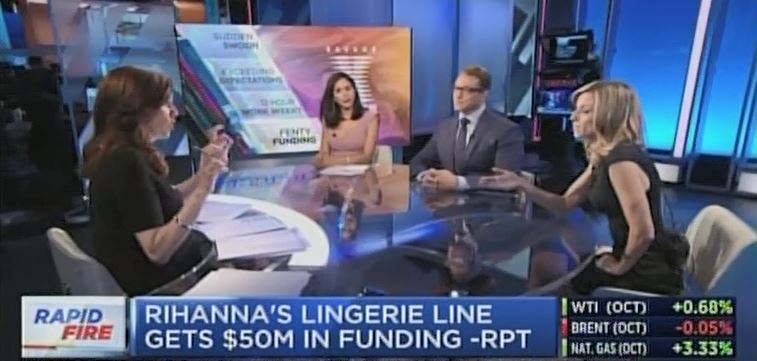 Courtney: "You know, you've got ThirdLove, and Adore Me and all of these other startups in the lingerie category"
Kelly: "I've never even heard of those, are those direct-"
Courtney: "... It's actually pretty hard to make a really good bra. Uh, you have to work really, really hard at that"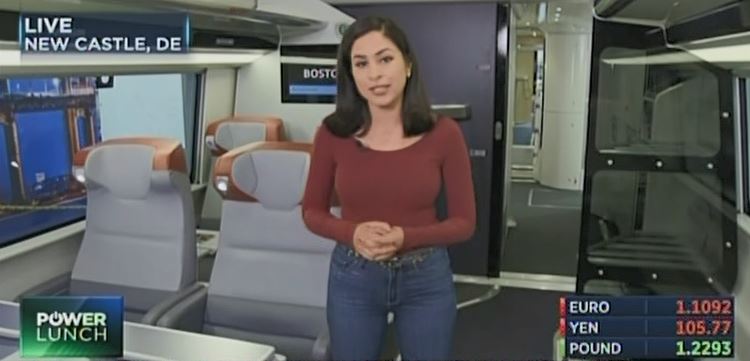 Casual Tuesday: Seema Mody spectacularly gorgeous in jeans
"There's really no timeline for that U.S. infrastructure bill..."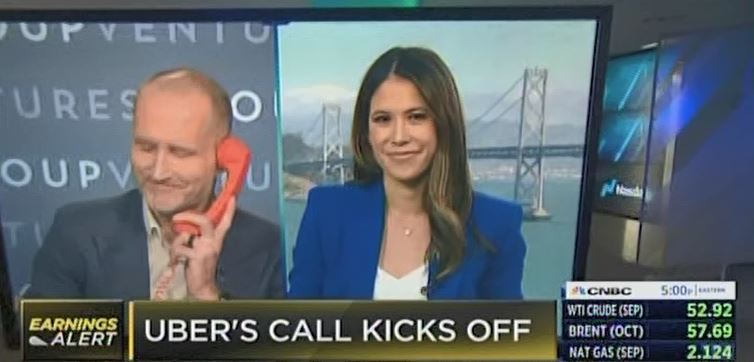 Royal superfox: CNBC's Dee Bosa gorgeous in blue jacket
"Uber's results didn't just miss, but they look particularly ugly next to Lyft's big beat"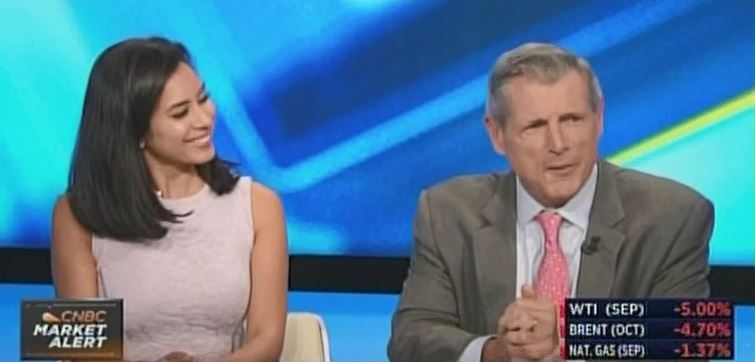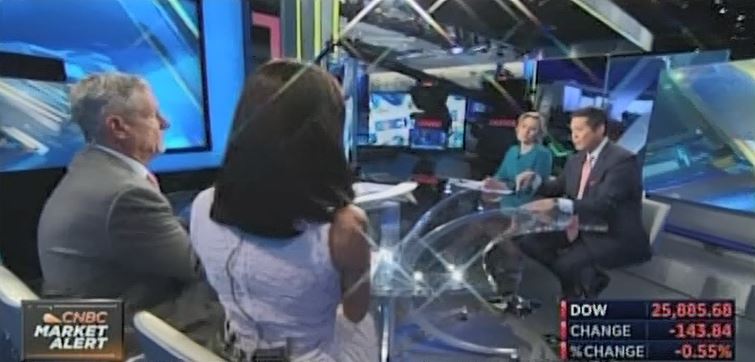 Seema Mody showstopping in new outfit on 'Rapid Fire'
"One cannot dismiss that the rise in bitcoin and gold is coinciding with the sharp drop that we're seeing in equities and bonds"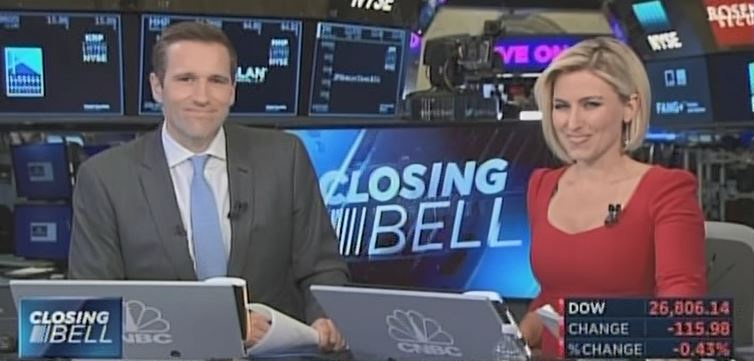 CNBC's Morgan Brennan stuns in red at Post 9
Easily handles long day with Sara off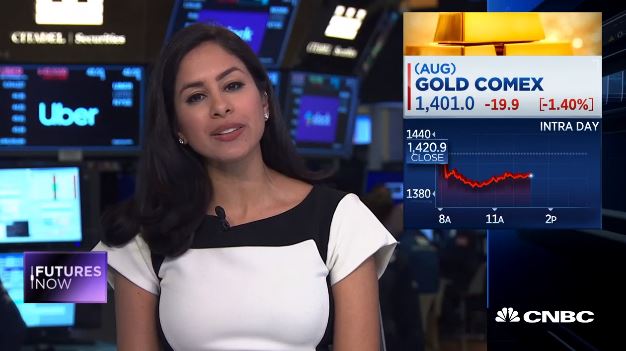 Fireworks on the 5th: Gorgeous CNBC superfox Seema Mody
"Gold on pace for its first weekly loss in nearly 2 months"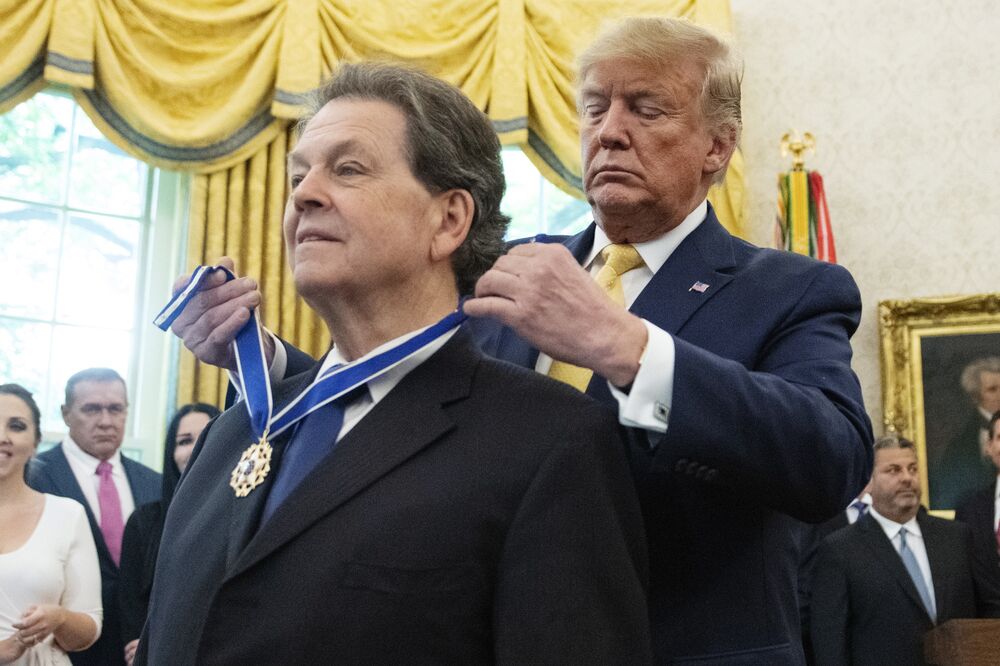 President: "I've heard and studied the Laffer curve for many years. A very important thing you did, Art"
David Stockman: "He more than any single living person is responsible for the GOP's cowardly betrayal of its historic commitment to fiscal rectitude ... the greatest Fake Economist to ever come down the pike"
Jay Inslee: "Laffer is the last person who deserves a Medal of Freedom"
Bloomberg lede: "History hasn't exactly put the 'Laffer Curve' on a pedestal"
Kansas: Paid $75,000 to advise Sam Brownback on cuts, "led to job growth far below expectations and a massive budget shortfall"
Holtz-Eakin: "Academics like to sneer because he's not an academic researcher ... We've never had a real-world experiment like the one he discussed"
Jared Bernstein: Probably the most influential economist living today ... convincing politicians that tax cuts will pay for themselves ... "None of that has occurred"
Larry Kudlow: Championed award, heard saying "yee-haw" after supply-side kudos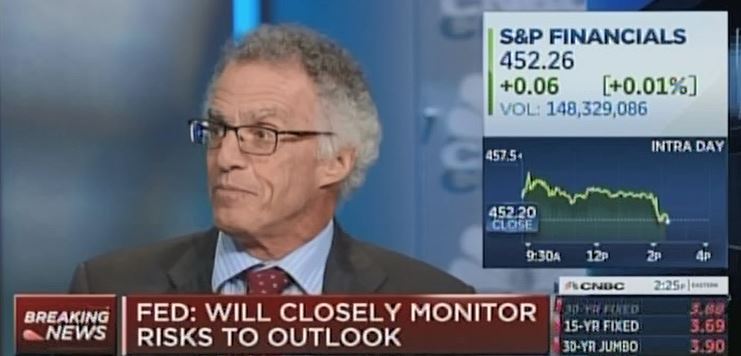 "In fact, sometimes the more outrageous the uh, the president of the bank is, the happier the board is"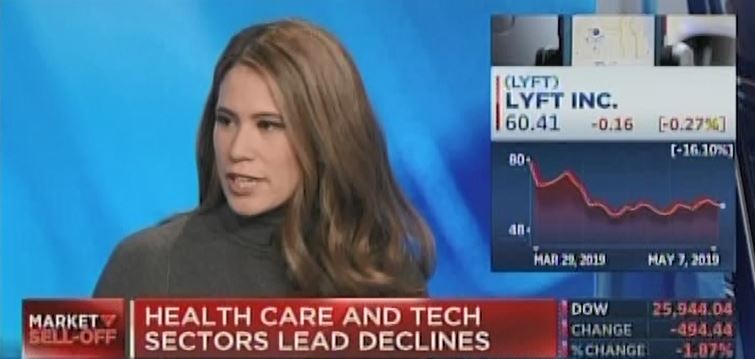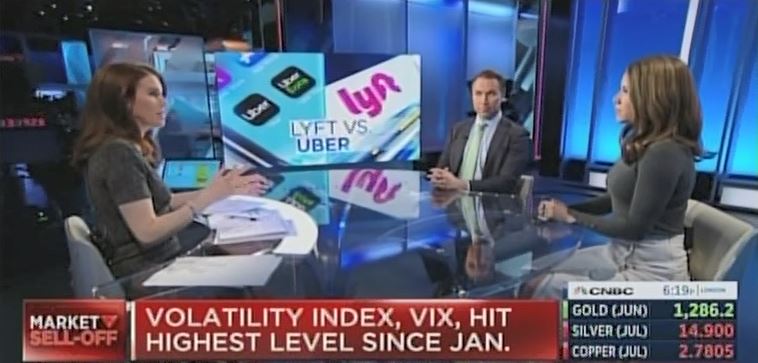 Gorjus Dee Bosa stuns in gray on Kelly Evans' 'The Exchange'
Lyft earnings: "There shouldn't be any surprises. There shouldn't have been any surprises all along, yet there have been. ... What we see from Lyft, I wouldn't be surprised if it raises a lot of questions about Uber at a critical time just days before it's expected to go public ... What's Uber more likely to trade like, Lyft or Beyond Meat? I think the answer is Lyft"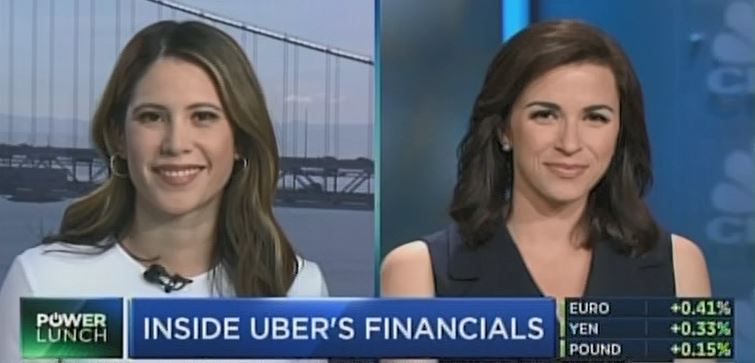 Dee Bosa & Leslie Picker: Pair of CNBC superfoxes
"The reason that Uber has been able to raise 20-billion-plus dollars in the private market is that investors also, this is the bull case, look at the total addressable market, right"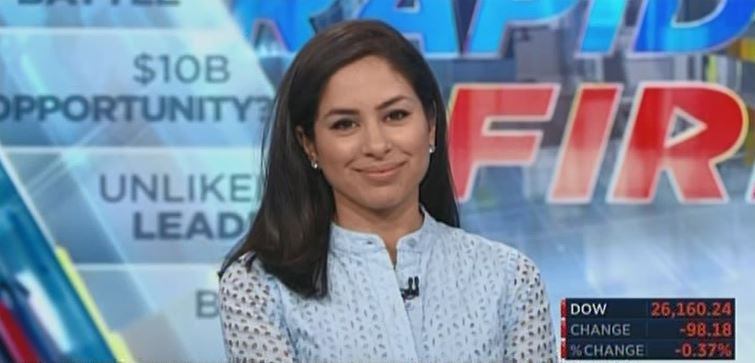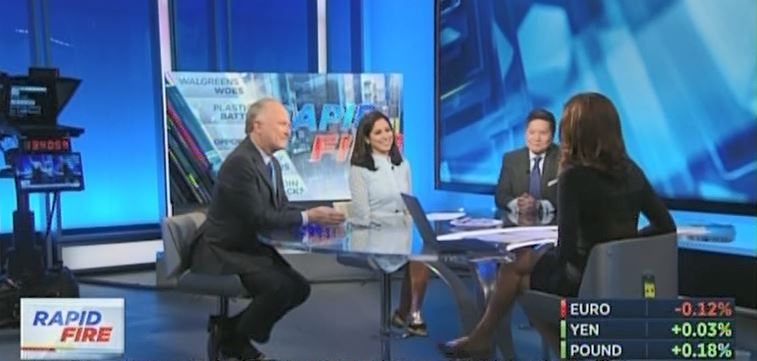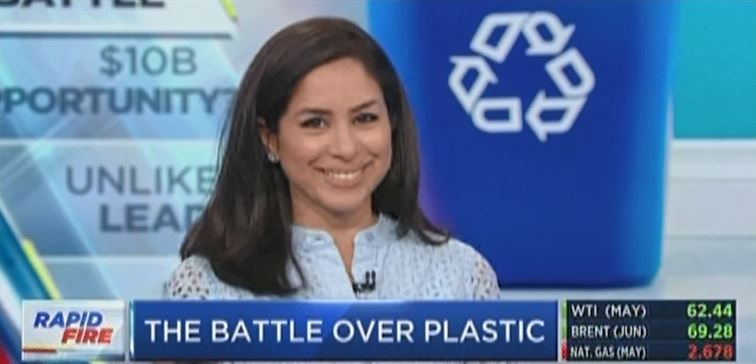 CNBC's gorjus Seema Mody owns 'Rapid Fire' in light blue
Apparently technicals are behind the gains in bitcoin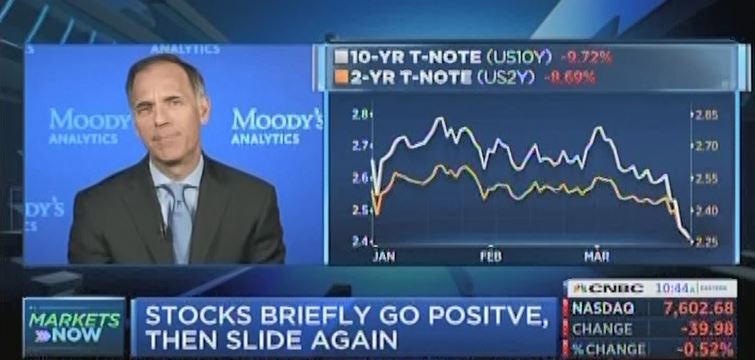 CNBCers forget spell-check
Text appeared at least twice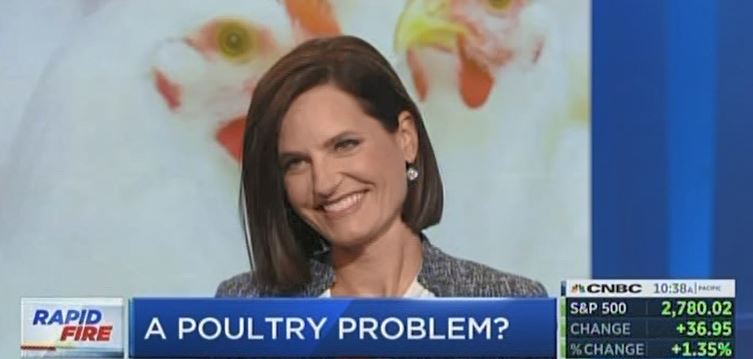 CNBC's Contessa Brewer stuns in sharp cut, jacket
Lights up "Rapid Fire" on Kelly Evans' "The Exchange": "If you see 'plane crash' and 'Boeing' in the same sentence all over social media, it's a real- this is a, a problem of crisis and communications for this company"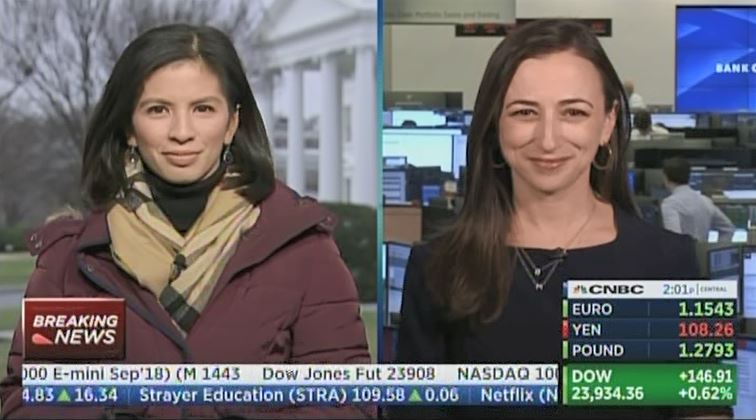 Ylan Mui & Michelle Meyer: Pair of superfoxes on CNBC
Low expectations for shutdown meeting; "The intention is to hike further"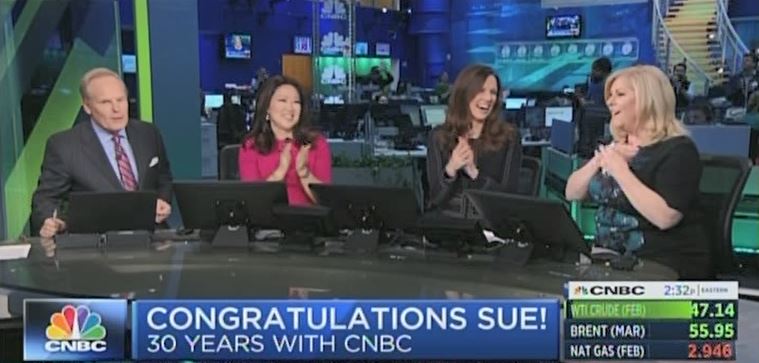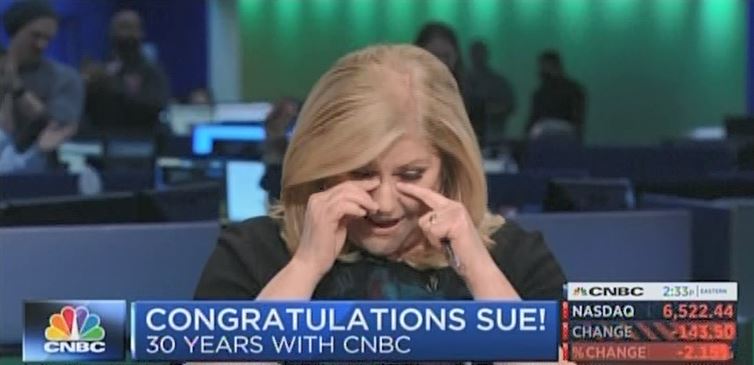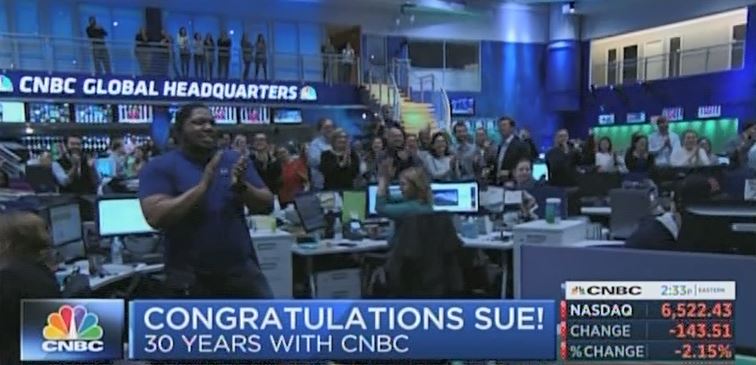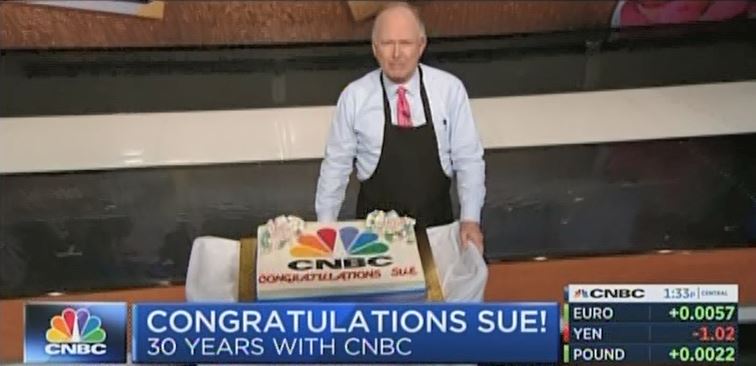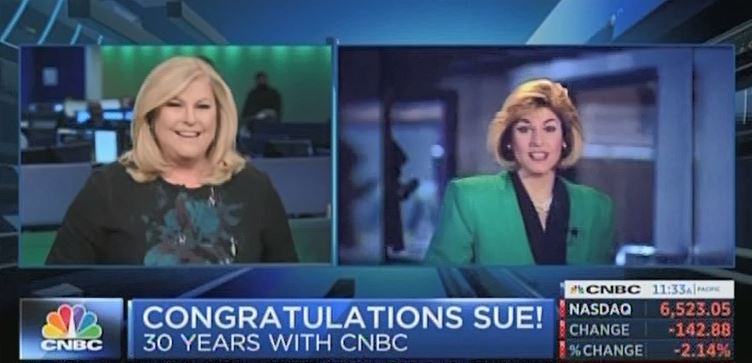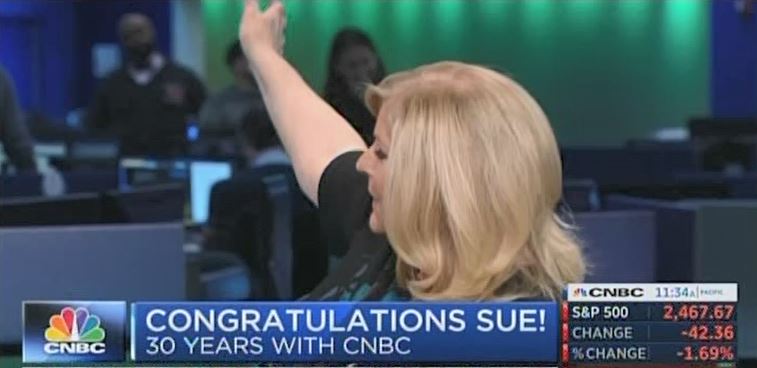 30 years!!! CNBCers give Sue Herera sensational standing ovation
Newsroom rises; Bill presents cake
Tyler: "Today is a special day. We celebrate Sue's 30th anniversary with CNBC."
Sue: "Thank you so much guys. I'm very touched. All right, you're gonna make me cry."
Melissa: "Look at the newsroom, I mean, really, rarely does this happen, Sue. All for you."
Sue: "You know what's also very rare, in any business, but especially I think in the broadcast business, where you get to work with so many lovely people."
Tyler: "There is no one better. There is no one nicer. What the viewer sees, the viewer gets. You are a gem."
Sue: "Thank you to the viewers for sticking with us, you know for all of those years."
Sue: "I had NO idea ...!!!"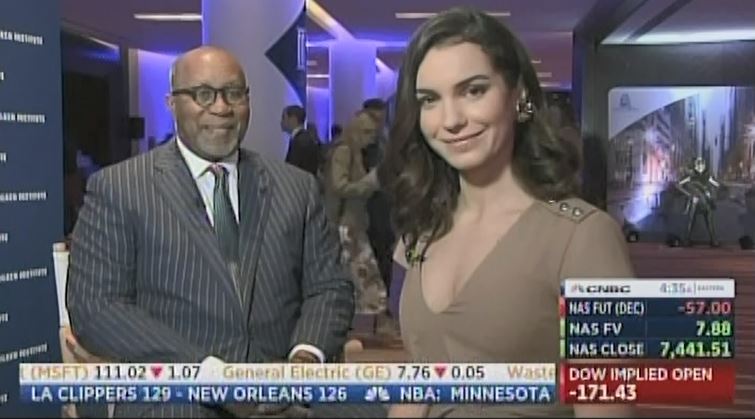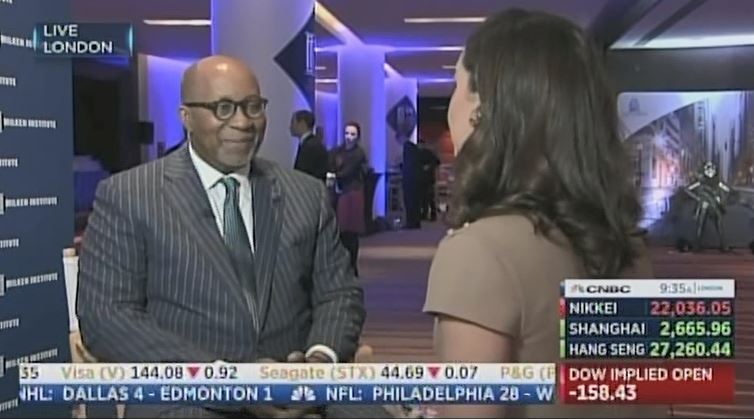 Sensationally gorgeous: Camera over shoulder
of Joumanna Bercetche in London
"It's been a big couple of days as far as trade and trade narrative is concerned"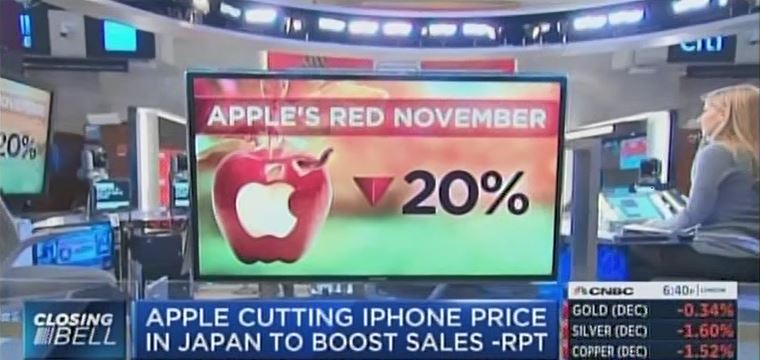 Gorjus mom Sara beams with son Sam in TV debut
Family day at NYSE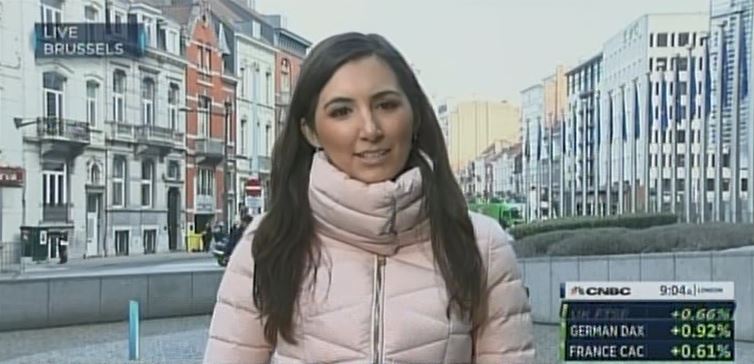 CNBC's gorgeous Silvia Amaro is cute bundled up
"The headline deficit is still expected to hit 2.4% in 2019"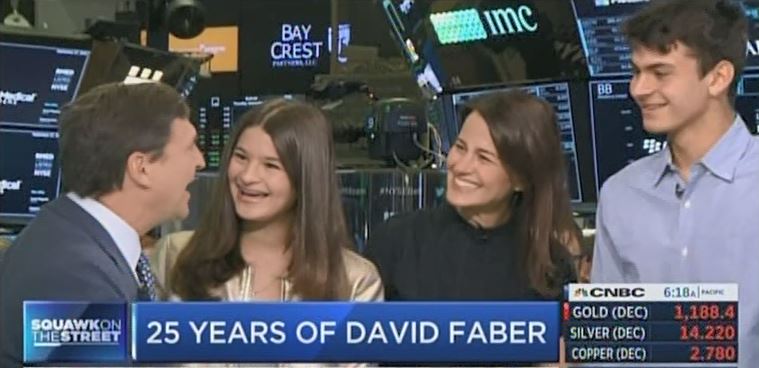 The man of the hour: "That picture with the glasses is just, holy cow. ... If you keep your hair, no offense to anybody, and it doesn't change color that much, you really don't age that much. At some point, it may catch up with me. ... Thanks to everybody for being here today. Nik Deogun. Samantha Wright, my longtime producer who came down today. Brian Steel ... Oh my God, my wife and my son are here! And my daughter! I'm not gonna cry ..."
Carl's incredibly gracious tribute: "David, you may not cry, but I'm about to. ... As long as they know that as proud as they are to have you as their husband and dad, that's how proud we are to work with you every day, David"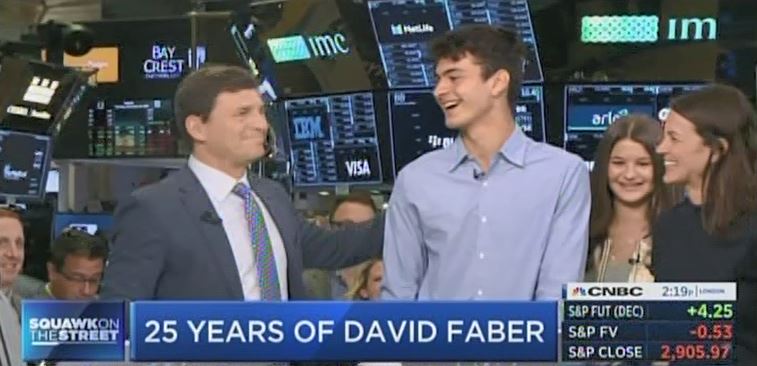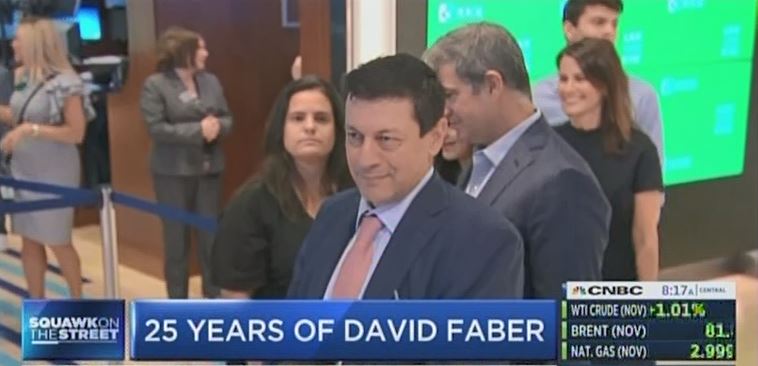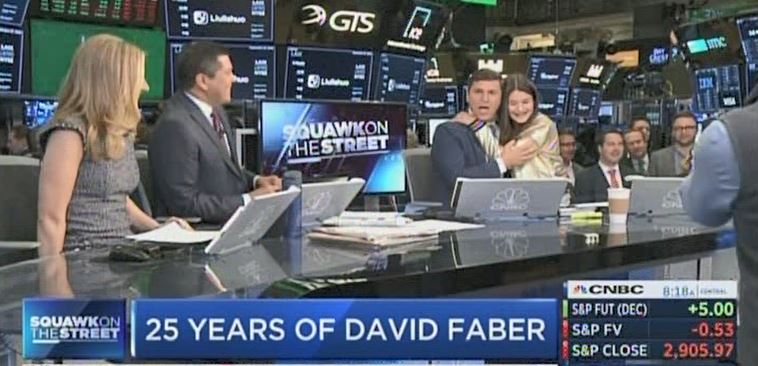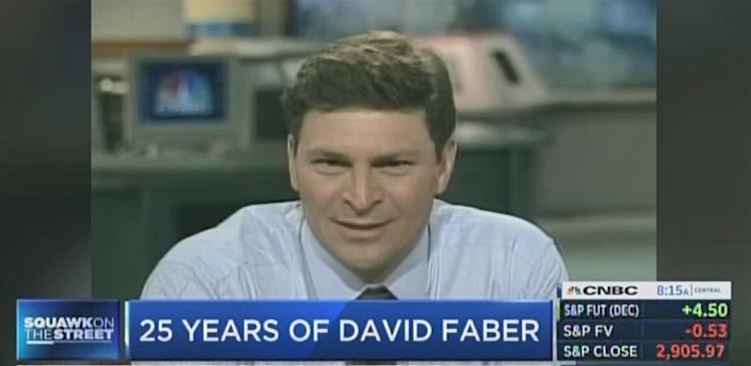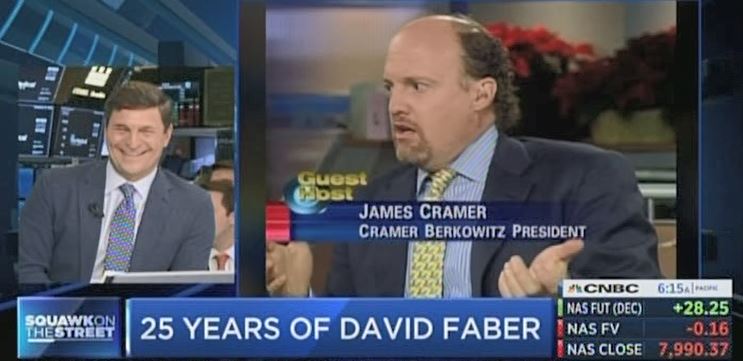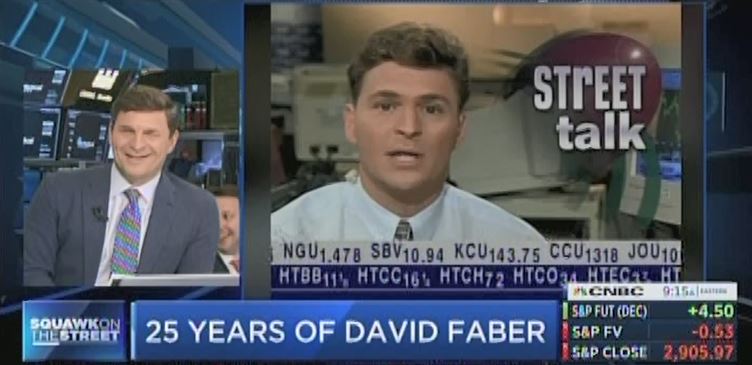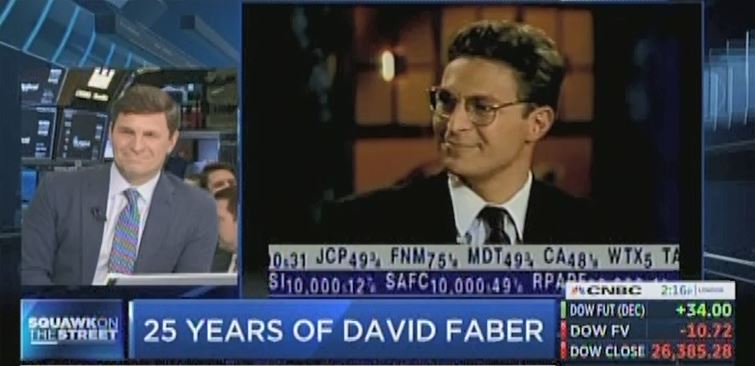 "In today's world, every company is in some ways a media company with its own story to tell, not only through traditional media channels but also directly. Understanding how to tell that story responsibly and engagingly is similar to the challenge journalism faces"
Not many specifics as far as CNBC accomplishments in Hoffman memo: "This is a tremendous opportunity for Nik, a testament to his management and leadership skills and an acknowledgment of the extraordinary contributions he has made to help build the CNBC brand and business. Nik brought well-honed journalistic chops and integrity, commercial instincts, and an exceptional work ethic to his time here"
"The video uses Instagram's stories aesthetics as it follows the two when they travel together in Jerusalem and Tel Aviv. ... The main theme in the campaign is the Israeli sun, with Boney M's 'Sunny' played in the background"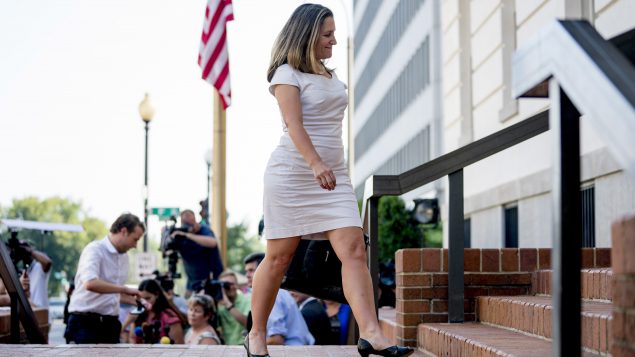 Canadian conservative: "The Mexicans simply outhustled us"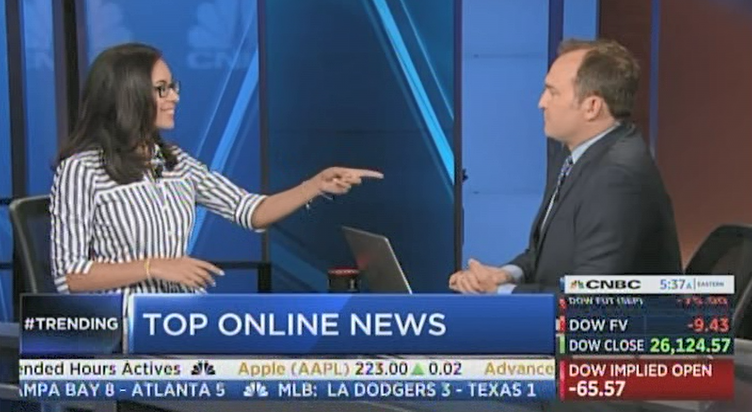 CNBC's gorjus Seema Mody sensational in stripes
To Sully: "I feel like you're the type of guy who starts his morning by saying, 'All I do is win, win'"
Sully: "I'm more of a country guy"
Seema: "I'll introduce you to my Spotify playlist"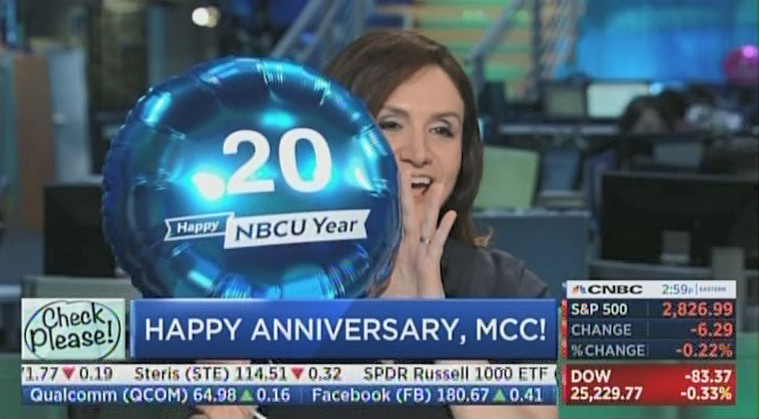 MCC marks 20 years at CNBC!
Michelle starts story: "I'm interviewing at CNBC 20 years ago ..."
Bill continues: "... I walk into the office, there's the boss with a young lady who says, 'My grandfather loves you'"
Michelle finishes: "And I'm sitting here with Bill Griffeth today. It is an honor. Fantastic."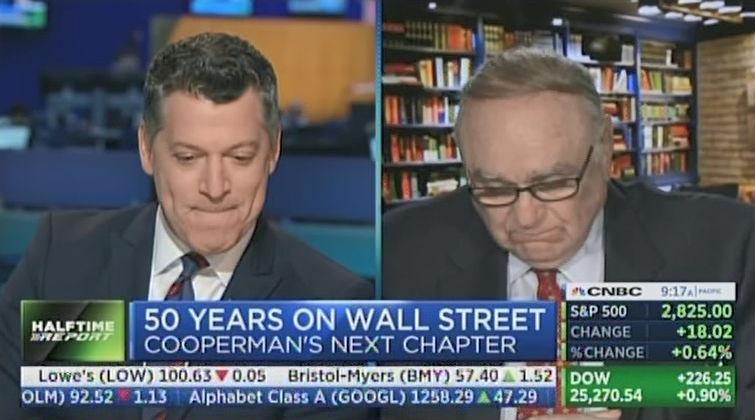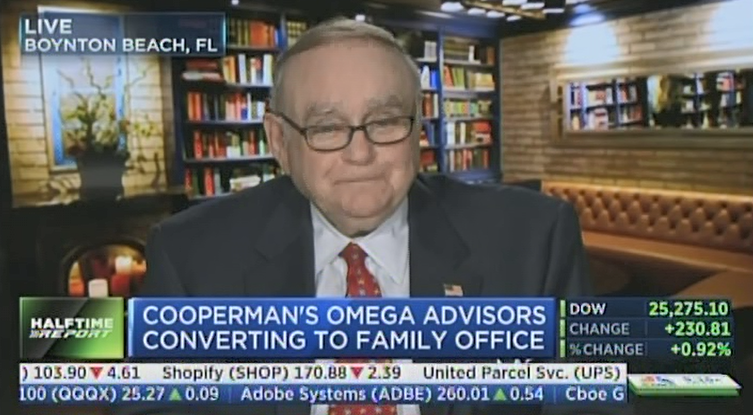 Lee Cooperman moved by extraordinary
Wall Street tributes read on CNBC
Scott Wapner: "I also reached out to some of, uh, the heavyweights if you will of- of this business, uh, to get sort of their thoughts on, on what you've meant to the industry ... Mario Gabelli, who ... stuck with you through thick and thin, writes to me, 'After Lee started his firm in the early '90s, he would grill me on stocks that he thought I had a core competency in. It was as though I was his younger teammate. He still does that.' Uh, David Tepper, uh, wrote to me, 'I knew Lee from when he headed an investment committee at Goldman Sachs I was on, and I always considered him one of the all-time great stock-pickers.' David Einhorn says, uh, 'Lee has boundless energy, is a fantastic storyteller with a long memory and has an anecdote for every situation. But even more he has a heart of golden generosity. He is a terrific example for everyone in my generation.' Uh, Lee when- when you hear that, I'm wondering what you think"
Lee: "Well, it brings tears to my eyes. … Shouldn't do that to me. Not in a public arena"
Trump's trade: "I think it's very dangerous, I think he's on the wrong track, and I hope he backs off"
SEC: "One of my cause celebre maybe in my next life will be to get a losing-party-pays legal system. Believe me, if losing party pays, I would've gone to trial"
"He has disrupted the thing so much. No one is able to counter this guy in an intelligent way"
Backpedals: "Unfortunately, if you continue as you have been, you will not have a chance to go down in history as a great president. This would be very sad it seems for you — and for the country. You are causing suffering and division"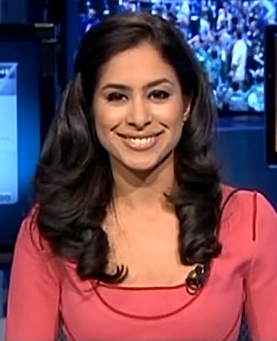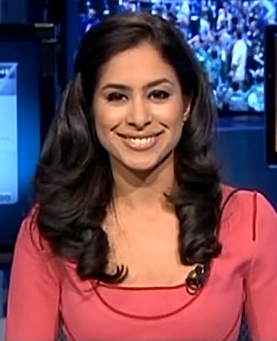 "When I sat in your seat many years ago, I knew exactly what I was going to be — a star doctor, perhaps a dermatologist. I had acne growing up, so I thought it would be a good way to give free samples and solve the problem ... I started to realize this may not be for me, but I stuck it out ... I had to let go of my dream of practicing medicine ... After a couple of stops, I found my true calling in journalism"
Pals: "Friendships matter. Having the right friendships matter even more"
Bitcoin reporter: "I did not let my limited knowledge of a certain subject stop me from saying yes to a certain opportunity"
Tributes: "Mrs. Johnson taught me how to write and inspired me to study the English language through teaching of Shakespeare ... Mr. Johnson in the math department still doesn't have very much hair ... He is amazing — relentless, but in a good way ... Mr. Braun taught me how to embrace different religions and see life through different cultural lenses. Plus he taught me how to laugh at corny jokes — that's very important"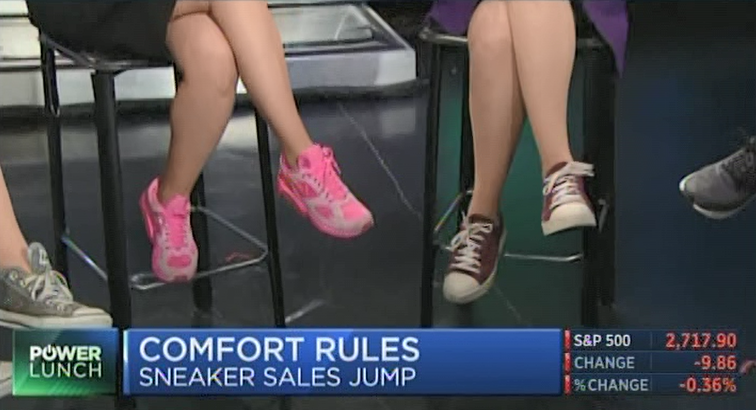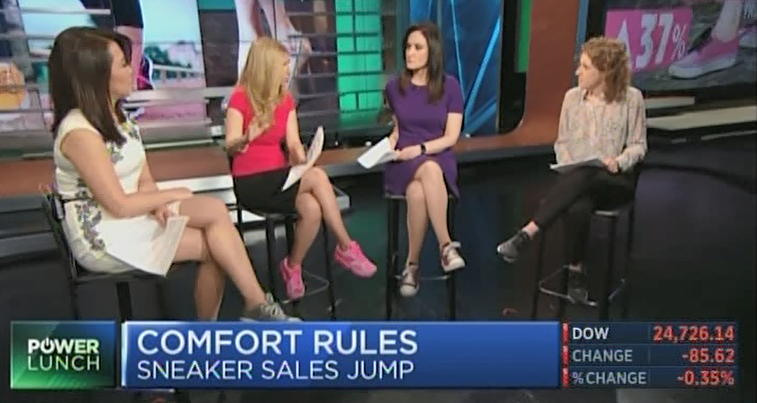 Triple-cute: Sara, MCC, Missy wear sneakers on 'Power Lunch'
Doesn't mean we have to forget about heels
Gorgeous Hadley Gamble relaxes on set in Russia
Sizzling in St. Petersburg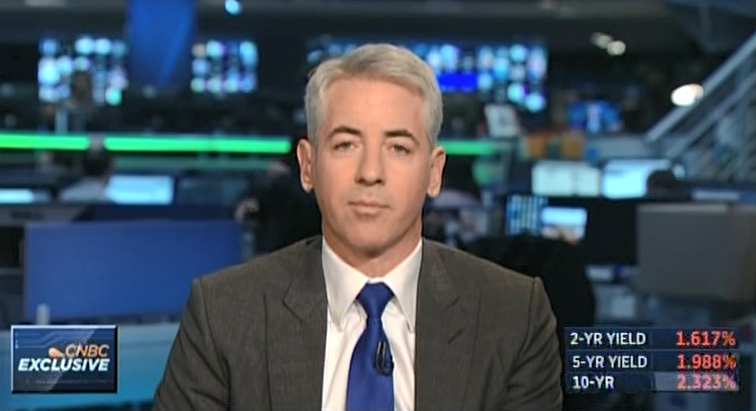 "Wapner, accidentally it seems, at times draws a beautiful contrast of America's wealth hierarchy. ... But that's below the surface. Unwilling to opine, Wapner fails to find a voice"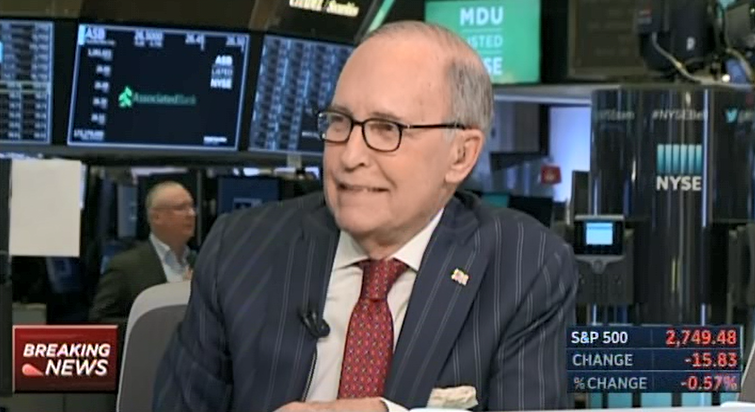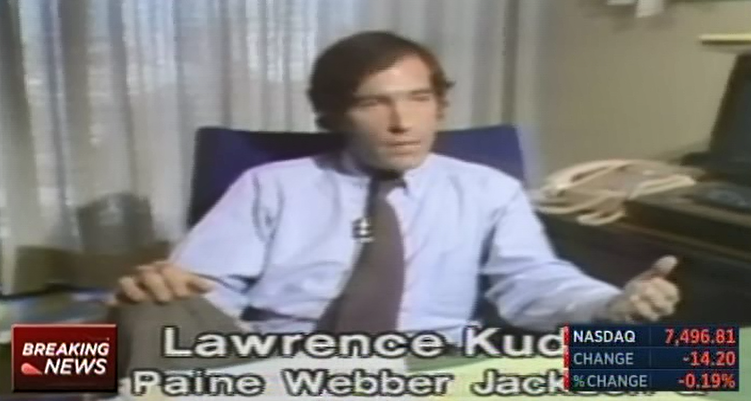 "A thought that I have is the United States could lead a coalition of large trading partners and allies against China, or to let China know that they're breaking the rules left and right. That's the way I'd like to see. You call it a sort of a trade coalition of the willing"
Hoffman statement: "Larry's been part of the fabric of CNBC since our founding in 1989. We thank him for his many contributions and wish him well."
Emotional appreciation: "I talked to Mark today; it's extremely kind. Um, the last 25 years of my life has been tied up with CNBC, which changed my life, changed my profession, um, and has been a family to me, and however this thing works out, it will be God's will, uh, if there's an opportunity when my service is complete, I hope very much to come back and help CNBC. It is my family and it has changed my life. CNBC also years back gave me a 2nd chance after my crash and burn ... I love this place"
New York Times: "Mr. Kudlow's selection startled some in the West Wing, who were unaware it was happening ... latest move by Mr. Trump to surround himself with loyalists ... Stock markets, which have been rattled by the White House tariffs, did not react positively to news of Mr. Kudlow's appointment on Wednesday. ... Mr. Kudlow criticized the president after the emergence of the 'Access Hollywood' tape in October 2016. He later re-endorsed him, but Mr. Trump, who nurses grudges, was angry for some time, according to people close to him"
Bloomberg: "He cited a source — who he hinted was Trump — telling him that Canadian Prime Minister Justin Trudeau 'has been on the phone with the president' making concessions on NAFTA negotiations 'hand over fist.' ... Earlier this month, he wrote a column for CNBC describing the president's tariffs as 'a regressive tax on low-income families.' ... In December 2007, he was arguing there was no recession and that the 'Bush boom continues' ... warned in 2010 that former Federal Reserve Chair Janet Yellen would usher in a new era of higher inflation"
Politico: "Trump offered the job to Kudlow over the phone Tuesday night while Kudlow was at dinner at Cipriani restaurant in Manhattan ... During the call, Trump said he was seeing Kudlow's photo on television and told him: 'You're looking handsome, Larry.' ... Kudlow's television presence is part of the reason Trump wanted him for the job, according to a senior White House official. Trump regularly complains that he does not have enough talented people making the case for his policies on television."
Wall Street Journal: "Grew up in a Republican family in northern New Jersey's upwardly mobile suburbs, became a leader of the antiwar movement during the Vietnam War"
Jerry Bowyer, 2013: "Larry's fundamental commitment was to optimism, not to free market capitalism ... producers calling and saying 'Larry's looking for the optimism case.' Larry putting formerly optimistic guests 'in the penalty box' for not providing it. Larry dropping good thinkers with good minds when they turned pessimistic."
Associated Press: "He converted from Judaism to Catholicism, according to a 2000 interview with the religious magazine Crisis. After graduating as a history major from the University of Rochester in 1969, he worked on Democratic campaigns in New York. But he evolved into a committed Republican ... Customarily attired in narrow-lapelled suits, Kudlow has relied on the same Savile Row-trained, New York-based tailor, Leonard Logsdail, for 26 years. Logsdail said Kudlow still wears some of the first suits he made for him. 'He does take care of them,' the tailor said."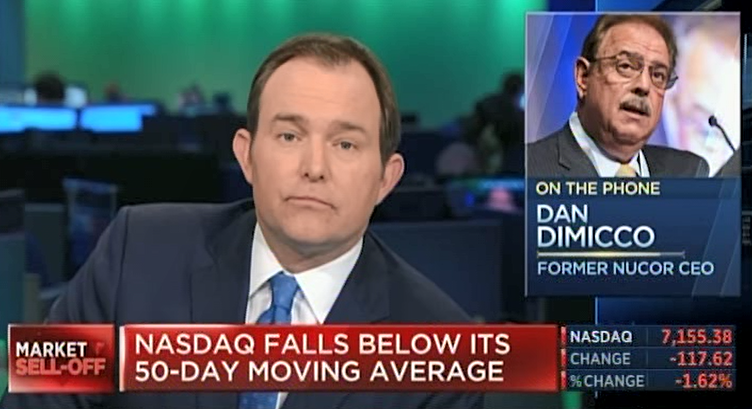 Dan DiMicco tells Sully, 'You're dead wrong'
Sully: "Dan, you know better than anybody. China is not that big of an importer of steel to the United States"
Dan: "That's where you're dead wrong"
Sully: "They're 11th"
Dan: "Is this Brian?"
Sully: "Yes it is"
Dan: "Brian, you're dead wrong on that"
Sully: "I'm not just wrong- how am I dead wrong. They're 11th"
Dan: "Those are the kind of numbers people throw out when they're trying to make a distorted point because they don't want to see what's going on for the American people. OK, here's the real deal. China's overcapacity is huge ... Just because we've won some trade cases against China in the short term that has cut back on their direct shipments of steel, doesn't mean that the steel that they are making isn't going into other countries and forcing them to sh- to move their products that they were selling in other countries in the world (sic last 3 words redundant) now into the United States"
Sully: "Dan my numbers- I just wanna be clear for the audience. I mean, my numbers are from the U.S. government"
Dan: "But they don't include the trans-shipping, they don't include the impact ..."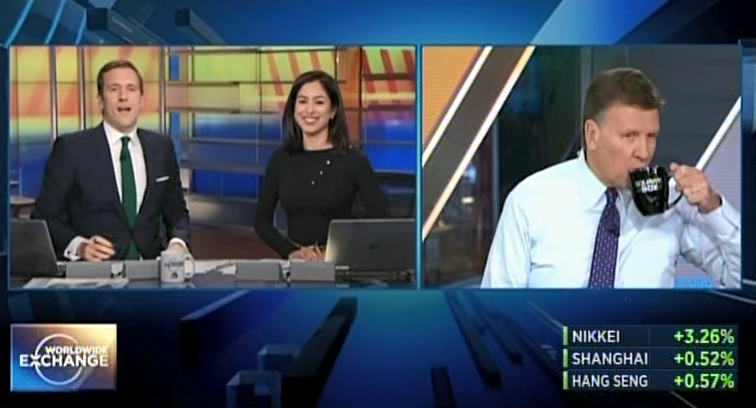 CNBC's sensationally gorjus Seema Mody reveals workout regimen
Tells Joe Kernen if he wants to exercise, "You can join me at Soulcycle at 5 p.m."
Devastating black ensemble Thursday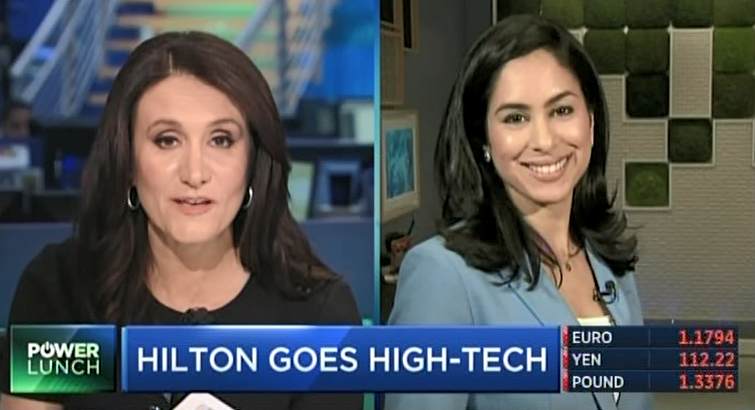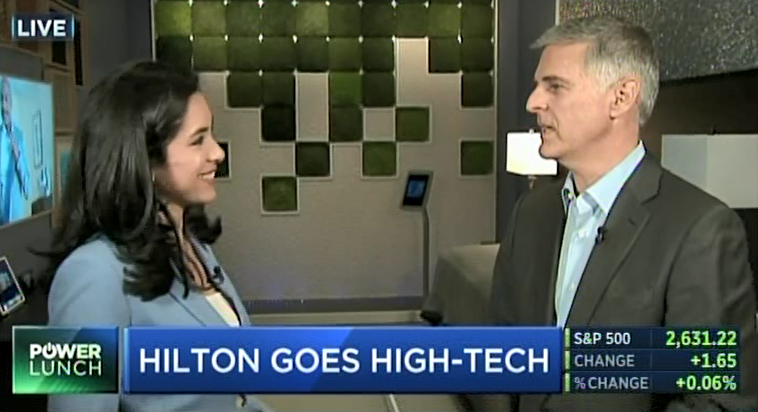 Seema Mody beams during Hilton innovation interview
Electrifies Tyson Corner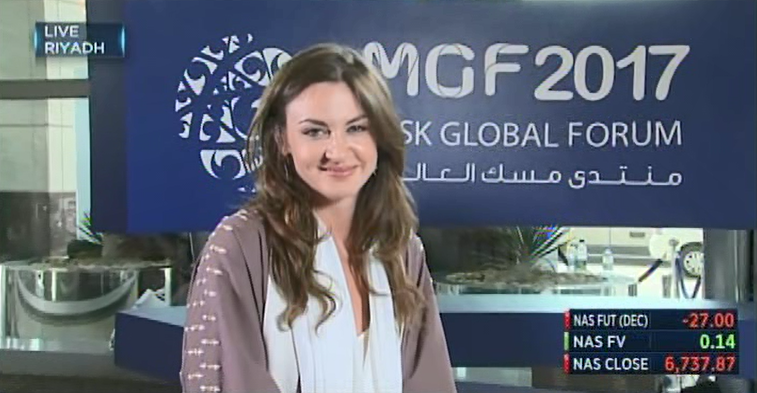 Hadley Gamble, CNBC superfox
On fire in Riyadh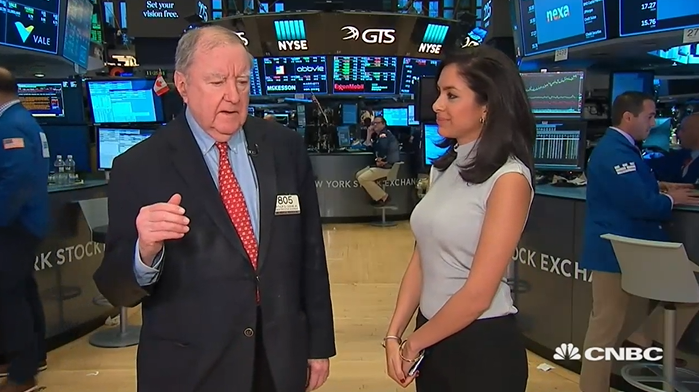 Seema Mody gorjus in gray at NYSE
Who wouldn't trade places with Art Cashin?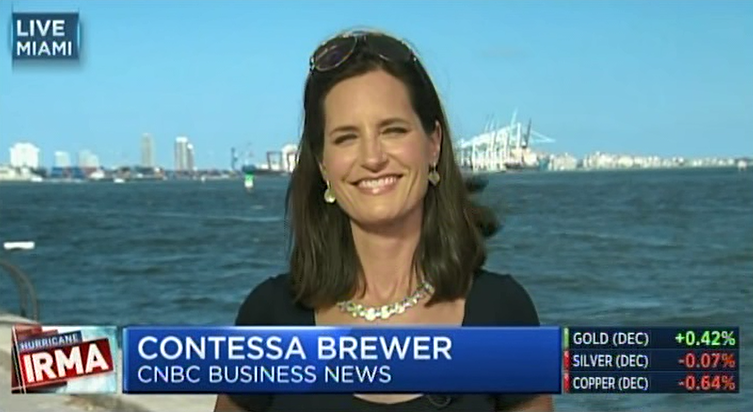 South Florida stunner: Contessa Brewer in Miami
Shades, sun, serious reporting
Alain Delon also on hand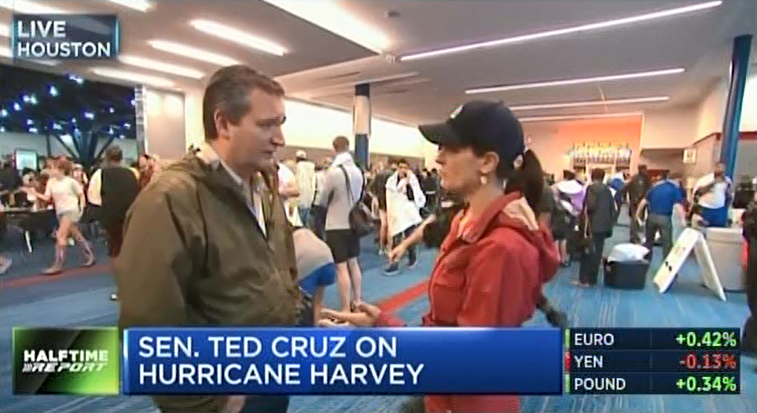 Contessa Brewer in ponytail leads stellar CNBC Texas coverage
In the heart of Houston with Ted Cruz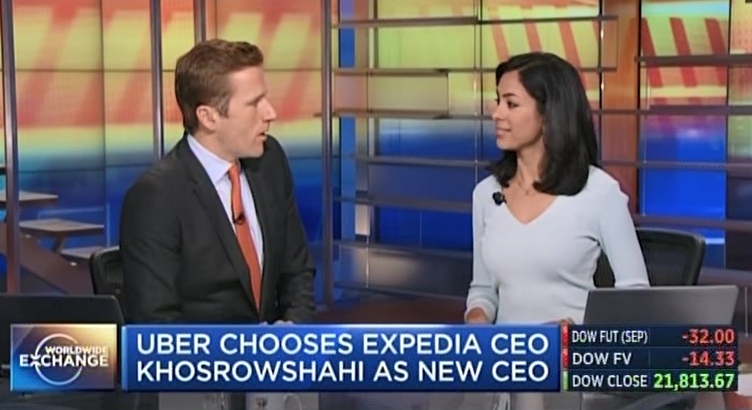 Seema Mody on fire in white/light blue ensemble
New week off to great start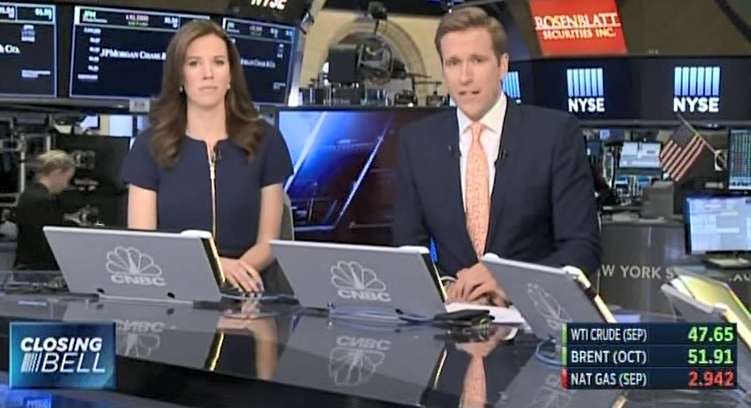 Wilfred Frost estimates Tuesday's suit cost $700
Wilf: "I don't know, 700"
Kelly: "I didn't know if you're gonna go for it. Explosive information!"
Wilf: "I don't know exactly. ... It's not super expensive"
Kelly: "Maybe not for your job. But for a suit, in general, you know, not that I know; I don't know these things"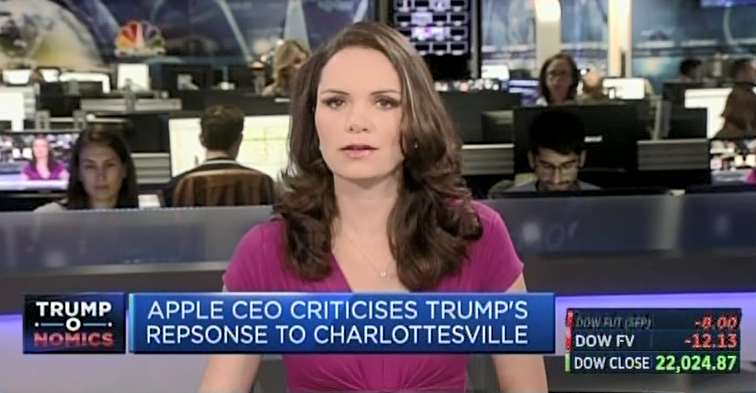 CNBC struggles with 2 words in early morning graphic
But Carolin show-stopping in magenta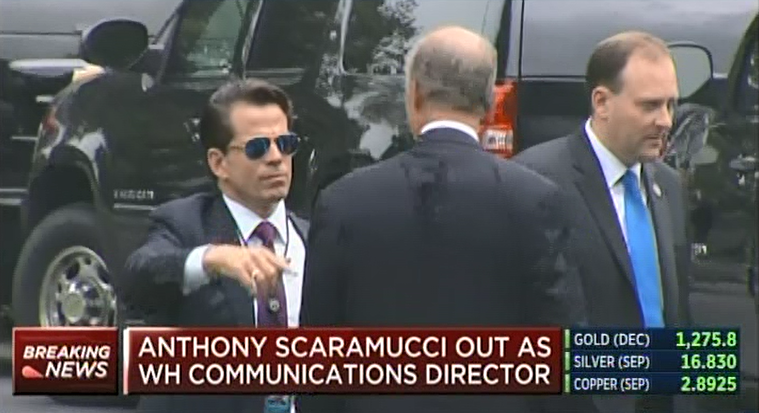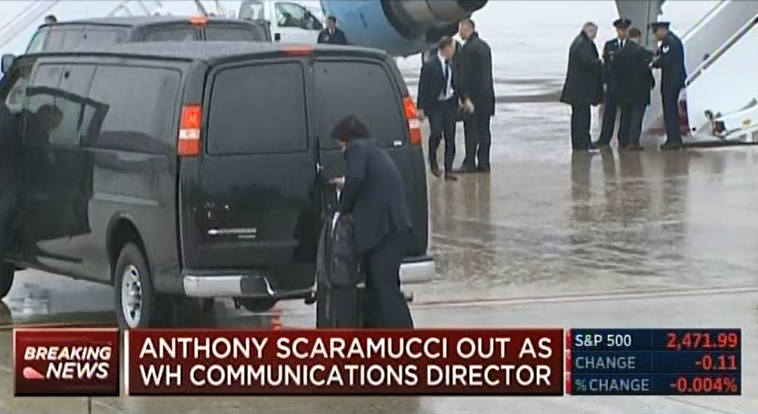 Bust
Sully: "Friendly with many of us … Anthony obviously giving perhaps an unfortunate interview to the New Yorker magazine's Ryan Lizza in which he, uh, used some choice language … maybe the most short-lived tenure of any communications director in the White House"
Melissa: "Remember that initial White House press briefing in which he took the lectern and basically wowed a lot of people, they really thought that, uh, Scaramucci had done an excellent job, that initial day, uh, and then it seemed to be sort of a descent from there"
Tyler: "This sounds like, Mr. Scaramucci, meet General Kelly. Mr. General Kelly, meet Mr. Scaramucci. And that does sounds like it did not go well"
Kayla: "You can bet that this is going to be toward the top of the list of the questions that (Sarah Huckabee Sanders) will be receiving … His appointment in the beginning ruffled feathers … at first the president really liked it, but then when Anthony Scaramucci became the story … reports in Page 6 in the New York Post about his family drama"
John Harwood: "The likeliest scenario, that, uh this is something that John Kelly, uh, who means to impose discipline on the White House staff, uh, insisted upon … Obviously in any normal White House, he would've been fired as soon as that interview took place"
Kayla: Kelly "is definitely not someone that if you are in the White House you want to be messing with"
Tony Fratto: "You can't parachute into those jobs any more than I can parachute into being a hedge fund manager"
Melissa: "It's simply bad judgment isn't it"
Pat Buchanan: Kelly "basically was repelled by what Scaramucci said and the way he said it … and he exercised immediate and swift and decisive command … I think it's an extremely healthy sign of the potential of the general ... his first step was dramatic and impressive and correct"
Sully: "President Obama went through 4 chiefs of staff in 4 years … and that was a record by the way"
John: "This is, um, a disorderly White House from the top, and that's really the problem"
Sully: "Robert Costa tweeting right now saying uh that uh apparently according to his sources the president did not like the vulgarity in the New Yorker article … He does not drink, he does not smoke, he does not necessarily curse … "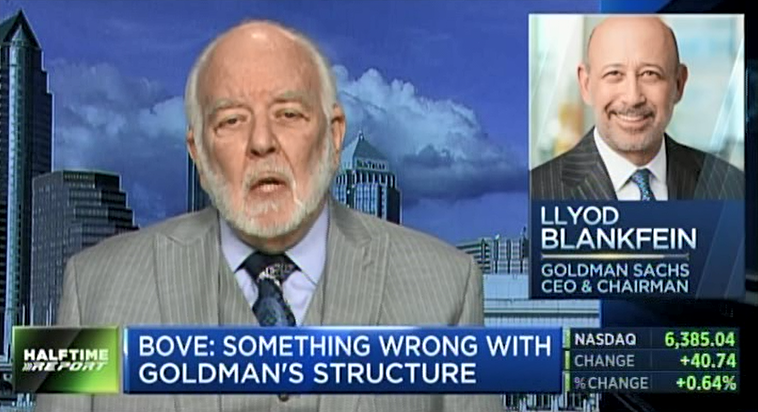 "Judge" Scott Wapner: "They are likely watching uh right now"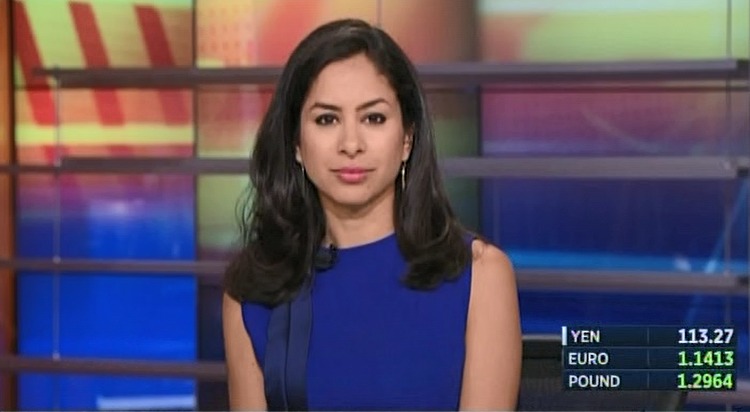 Mrs. Mody, you've got a (stupendously) gorgeous daughter ...
Seema: "Oregon is known for their sea- for their seafood. My mom's salmon is the best that you will ever have. Maybe you'll have it one day"
Wilf: "Well that would be very nice. Mrs. Mody, if you're watching"
Wilf: "I've learned since I moved here that Oregon's famous for pinor noir"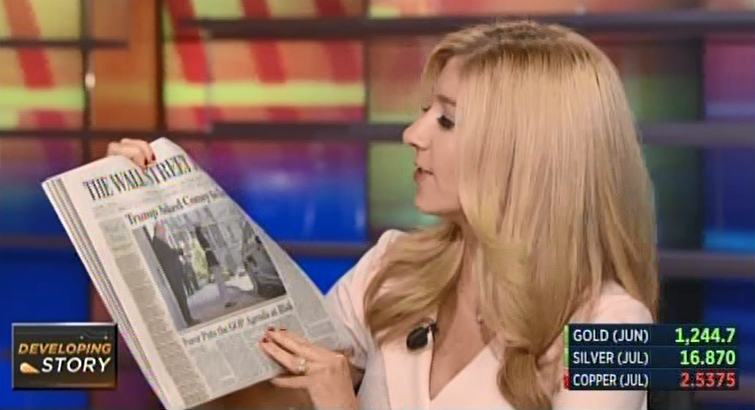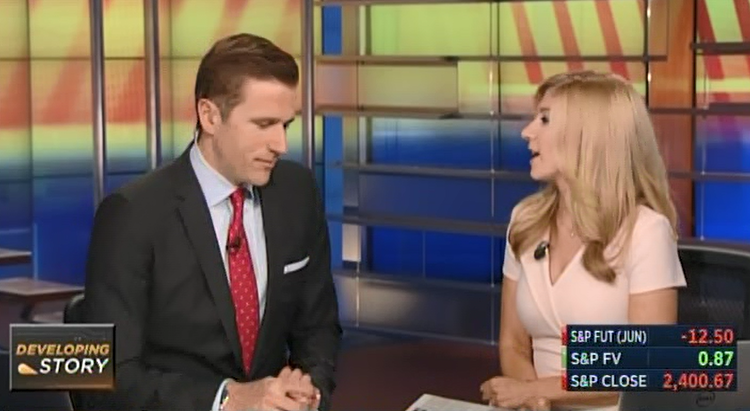 Sara on fire
Scorching in off-white on "Worldwide Exchange"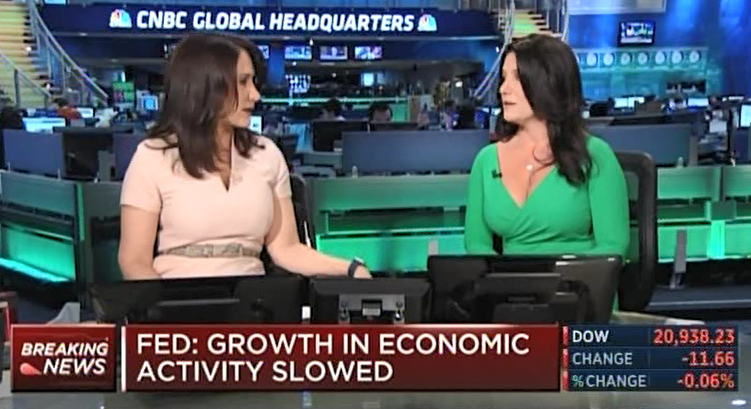 Lookalike stunners: MCC & Danielle DiMartino Booth
Oops: In dovishness debate, Steve Liesman twice calls Danielle "Diane"
Tweet: "Agree w/ your growth comments … BTW: Green (as in dress, not $) looked great"
Danielle: "Much obliged. Green is for GO and yet the Fed said so little"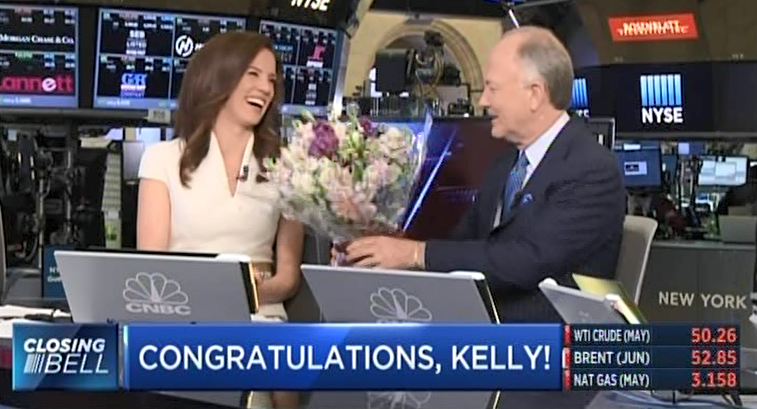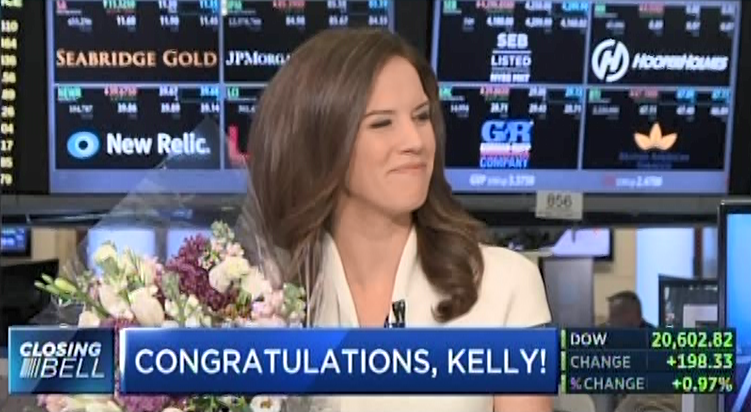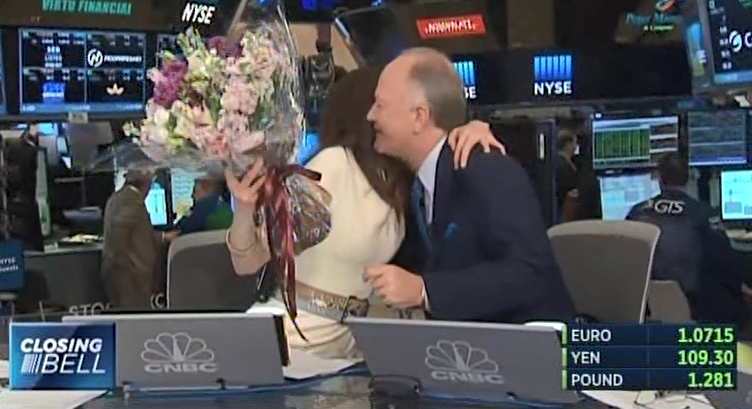 Kelly's getting married! Flowers on 'Closing Bell'
Nuptials on Saturday
Bill: "I only found out myself last hour ... you guys are a match made in heaven"
Kelly: "This is so nice ... This is beautiful. I feel like everybody watching has sort of seen me grow up in many ways, so, thank you all for being part of the journey … I love working down here by the way. These guys, and gals, are fantastic ..."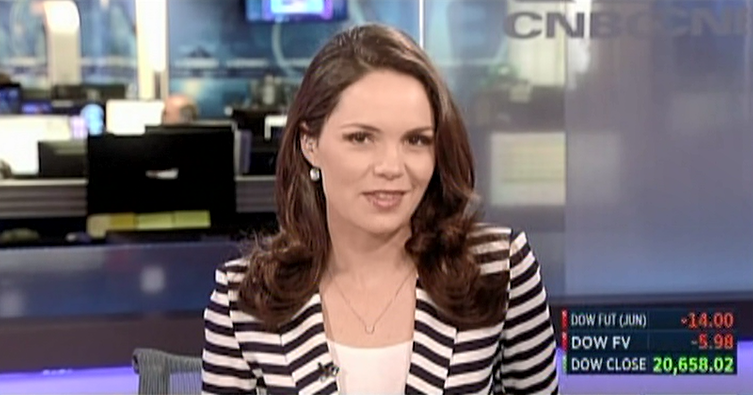 CNBC's gorjus Carolin Roth stuns in stripes
Devastating morning on "Street Signs"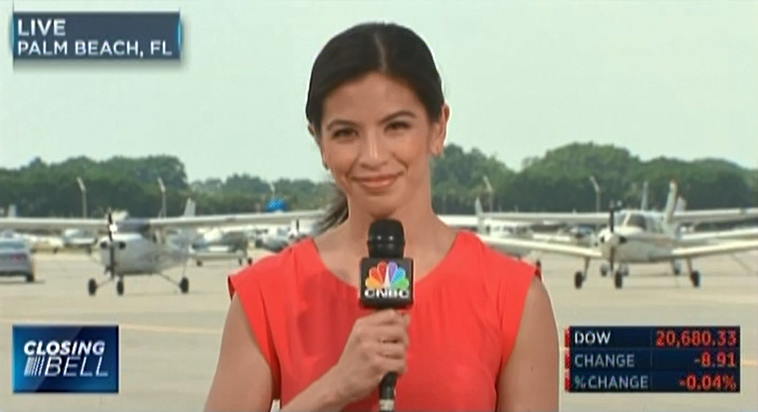 Gorjus Ylan Mui in Florida
Hair back in Palm Beach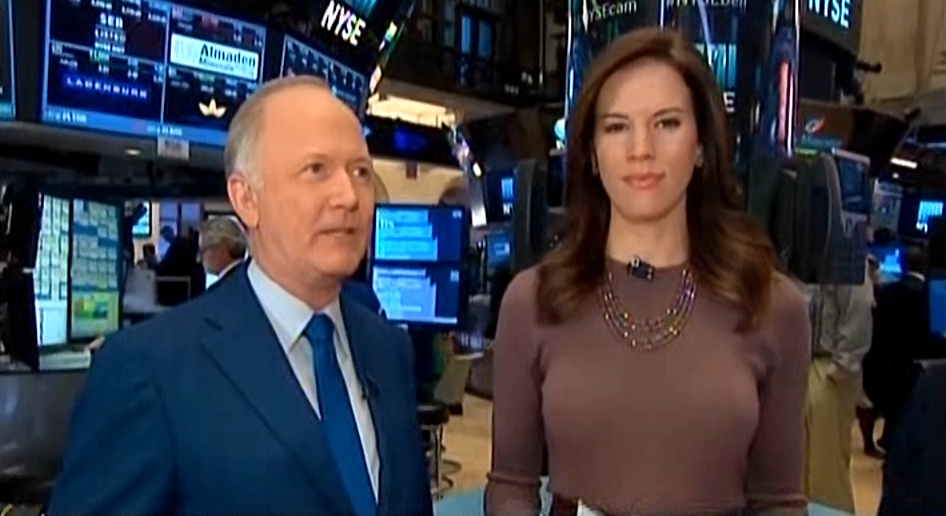 Kelly Evans scorching in Blast-Off Bronze
Brings landmark week at NYSE to spectacular close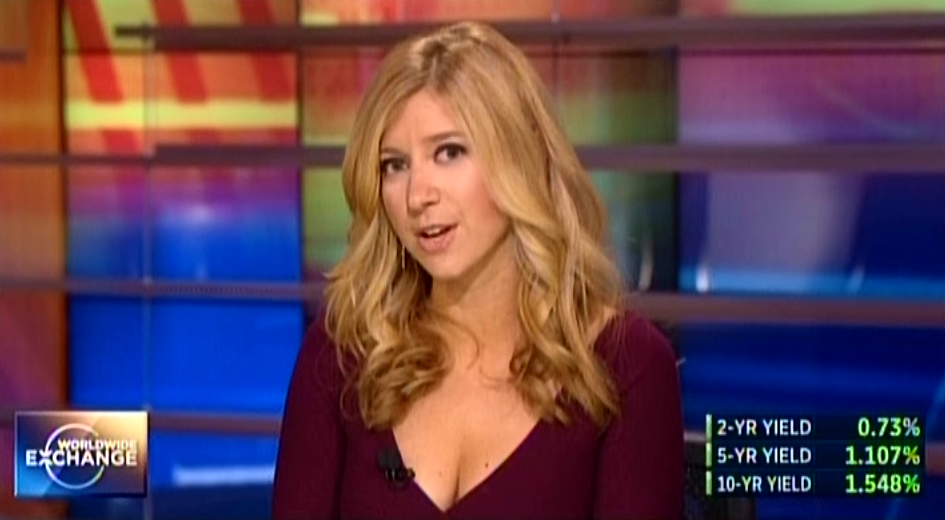 Wow! Sara in maroon on 'Worldwide Exchange'
Early morning news bombshell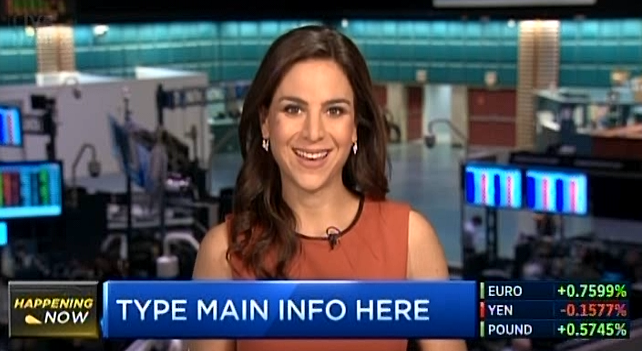 Uh-oh — someone at CNBC forgot to type the main info here
They should come up with a better strategy for dummy text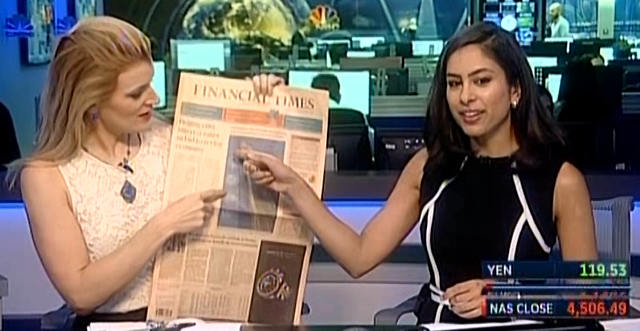 CNBC's Louisa Bojesen: 'I never go on dates'
Louisa: "Front of the FT this morning, they make a point with a big picture of the Shard, saying the Shard has defied the doubters as setting record rents for the South Bank. Here's like a little picture of the Shard, so it's a huge building in London-"
Seema Mody: "Have you ever been up there?"
Louisa: "I haven't. Have you been?"
Seema: "I hear it's a great date spot"
Louisa: "Really?"
Seema: "Yeah, I'm told"
Louisa: "I wouldn't know. I don't know. I never go on dates"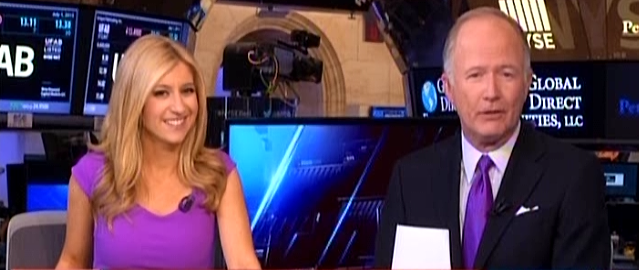 Bill Griffeth: Sara and I didn't coordinate purple attire
Bill: "This was not planned. Yes, we match, but it was nothing"
Sara: "We're just so in synch. We don't even have to tell each other"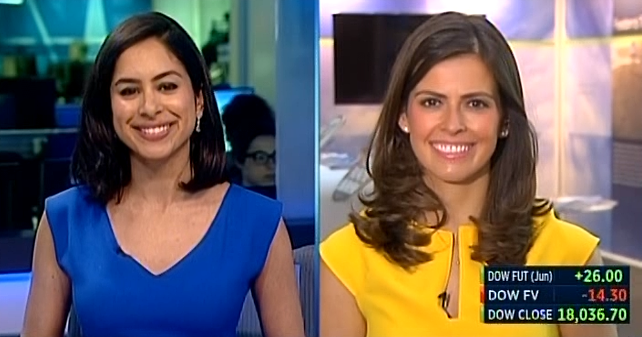 Blue & golden: Seema Mody & Nancy Hulgrave on 'Worldwide'
CNBC producer in spotlight in Madrid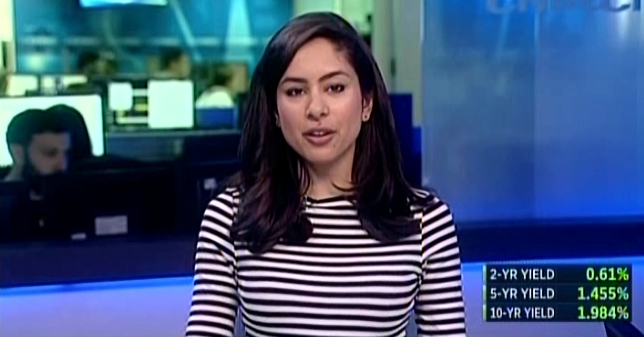 Seema Mody in stripes
CNBC's "Worldwide Exchange" ends week on a high note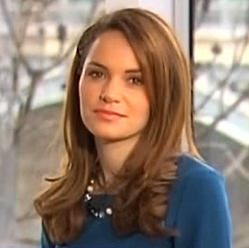 Stanchart interview closes with a visual flourish (above)
Other than digs at Cosell and Esiason, "Miracle" man prefers compliments to controversy
The contenders: Gowdy, Scully, Buck, Costas, Nantz, Cosell ... is Al Michaels
the greatest sportscaster of all time?
Family: "Rich had a love for life as well as an appreciation for the fragility of it. He always encouraged others to live fully and spend time with those they love and hold dear. iiTrader is a testament to Rich's inherent creativity and resilience. iiTrader will continue to innovate and move forward"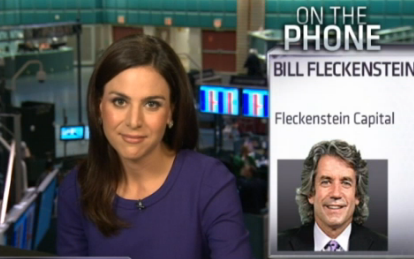 "The certainty with which the woman that I got interviewed by this week sees the future, and the need to be involved in stocks is rather remarkable since most talking heads don't know anything about investing"
Still waiting: Article notes no sign of short fund promised since late 2013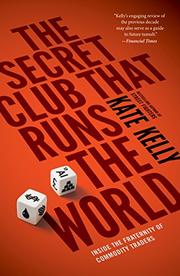 Kate Kelly's dry account of commodities world fails to pose an important airline question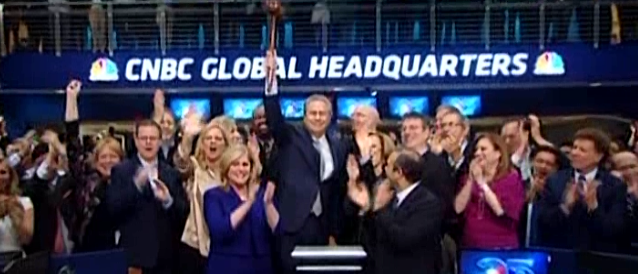 "There's been a lot of highlights ... I would say the proudest I was of the organization, was in the- leading up to the financial crisis in 2008, and the year or year and a half or so that followed it, I felt like, as if all of the hard work that had gone into building the organization over the first 20-plus years, or so, had really paid off ... I was so proud of the way CNBC not only reported the story, but the way they treated the seriousness of those events"
Tears: "Do I see a little moisture in your eyes, Tyler?"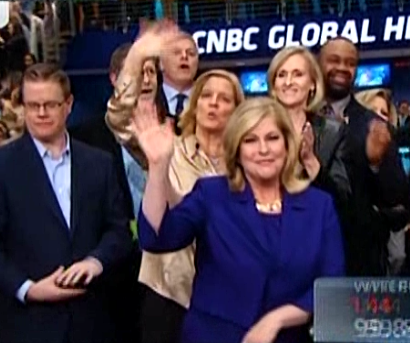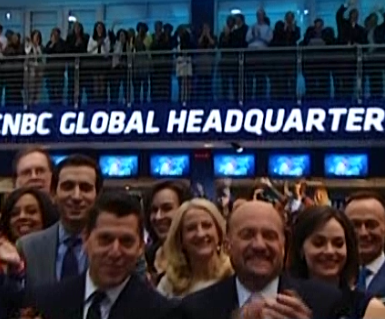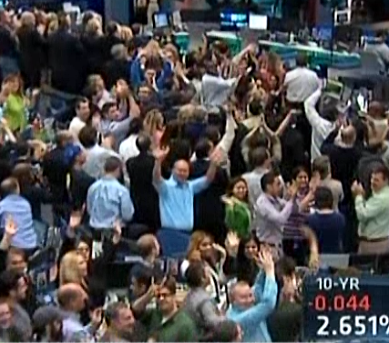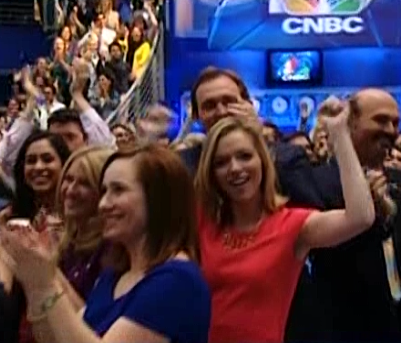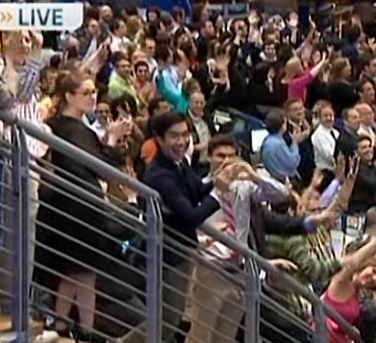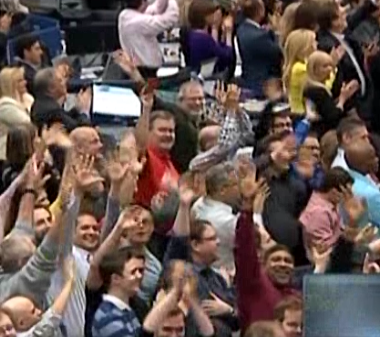 Karen Finerman: "Well my first response was I just could not believe he said it. And so I, I wanted to make sure that I had it right, and I went and I looked at the video, and of course you just showed it, so yes, he said it, and, uh, I, I, I know, I know that he's apologized, that he didn't mean to offend anyone, and I believe he was saying it, he was- an attempt to be very candid, I can't believe also that he didn't think that will- would never get out, but it's sort of- I mean on so many levels, it makes me wonder, 1, what if you don't nurse, do you not then have that- are you, do you keep your judgment then if you don't nurse. That's sort of something that popped into my head"
Amanda Drury: "And also, is he also saying that global macro traders that are guys are not great dads because they're always off 24/7 on the phone trading stuff"
Karen Finerman: "Right, I just- I don't really accept that premise either. If you are a mother, I really sort of do wonder, how long this would knock you off your game for. And, it, I don't know, on so many levels, I know so many women, far more successful than I, who have done an extraordinary job of raising kids, and also, uh, you know, trading, trading their books"
Michelle Caruso-Cabrera: "I think Paul Tudor Jones said out loud what we all know to be anecdotally true. That women, it's not that they don't have the ability, it's just, if they have a child, priorities tend to change. It takes up a lot of time. A child is a huge, huge commitment. And so-"
Amanda Drury: "And not necessarily a bad thing"
Michelle Caruso-Cabrera: "It's not necessarily a bad thing, he's not saying that, that they can't do it, it's just, it gets a lot tougher. Priorities often change. And I think Karen, you are awesome, but you are the exception I think that proves the rule. Let's face it: How many other women are on 'Fast Money.' I mean when you look at the breakdown of people- when you look at the breakdown of people who are on CNBC. It's a guys-and-ties network. I mean let's not kid anybody!"
Karen Finerman: "Yes I hear you-"
Brian Sullivan ridiculously removes tie: "Here we go, no more guys in ties"
Karen Finerman: "Let me just add 1 thing"
Brian Sullivan: "I don't wanna get accused of dodging the conversation. All right, I know hedge fund managers that have what they call the large-house indicator. Right. What they say is, if they have an investment manager, or a fellow hedge fund manager, whatever, that starts to build a new mansion, they will often times use that- or CEO of a company, they'll use that as a negative and either get out of it or trim, because building a home is a year-long process, takes a lot of energy, you're not focused on what you're doing. So I don't think just has to be about gender. If you've got any big undertaking you take on, that reduces your focus. I'm not defending what he said-"
Michelle Caruso-Cabrera: "Except this happens to be about having babies for women, which is just a huge thing in, in most women's life"
Brian Sullivan: "If I was a hedge fund manager and a CEO of a company bought a 200-foot yacht, I would sell the shares of that company probably short that next day"
Karen Finerman: "I mean also there's the private plane indicator, you get the private plane, you're not hungry anymore, then you don't care. I, I don't really buy that, I think it also makes the case that women don't have the judgment to know, after they've had a baby, whether or not they are still interested in being in the game. Now that may be his experience, and I believe him when he says that's what he's found to be true, and he gave a couple examples of a, you know, two women from Maryland the '70s, he probably has more recent examples than that, but is he just open to the possibility, the possibility, that maybe it's not true, that there will never be just as many women investors as men, never, period, end of story. Isn't it possible?"
Amanda Drury: "And the other thing is Karen, and you've touched on this, I mean, we would've said in the past, it would've been decades, maybe not even so long ago, we would've said that we can't have a good female doctor, she can't possibly be on call because she's got to be at home feeding her child at night. Right?"
Karen Finerman: "And now look. Now look, there are just as many women, or maybe it's about the same number of women graduating from medical school as men and you're right, years and years ago, that was thought as an impossibility"
Commodities king laughs off report, calls Oracle's 45% loss "inexcusable ... poor trading"
Told Brent Hunsberger of Oregonian in June: 'Warren Buffett is an idiot'
Responded to reader critics at Oregonian site: "Last year I did indeed lose money... 2%.
Other than that, for the previous 14 years I've averaged about +12%, with 22% as my best year.
... I'm also long of Goldman Sachs and Loews while short of Berkshire Hathaway for the past
two months, and have added to that trade along the way as the profits have built up."
Ignored? Days later, CNBCfix was only media site to pick up jaw-dropping Oregonian story
Jeff Macke on BRK-B short: "Congratulations to Dennis Gartman, who saw this coming"
CNBCfix exclusive: Baseball needs to scrap "leagues" and give fans intra-city rivalries
Overreaching documentary shows strengths, weaknesses of anchor, could use Tim Seymour
One sentence by arrogant chap deserves scrutiny for puffery at the expense of logic
Carl Quintanilla has some interesting stories, but lacks comment from Queen of Talk herself
CNBCfix review: Scott Cohn's "Secrets of the Knight" has good but unfocused material
Outsourced CNBC original with Melissa Francis mostly seems like promo for NBC broadcast
Doesn't dig as deep into infomercial ads as it could, but cuts like a Ginsu knife
CNBCfix exclusive: It doesn't provide "competitive balance," but manipulates stars
All from Jared Bernstein's fee: Consider Tony Paradiso a must-read at nashuatelegraph.com
Becky Quick, Erin Burnett, Trish Regan appear to make hot list, with nod to Maria Bartiromo
(Ex-)CNBC reporter/Arabic scholar/beauty praised by philanthropic American Ireland Fund
Impressive documentary of mortgage collapse will appeal to the pros and the laymen
Lackluster documentary is decent, but Trish Regan puts on a fashion show
CNBC travel correspondent Peter Greenberg digs into Norwegian Pearl's financials
CNBCfix.com ©2020